This itinerary covered my one and only backpacking trip within the boundaries of Yosemite National Park (at least in the first 15 years that Julie and I have been waterfalling).
Not one for roughing it in the wild, Julie spent time out of town with her cousins while I was accompanied by a couple of very good friends since high school. They also happened to be backpacking veterans.
While my friends were used to Eastern Sierra Lakes and mountain passes, this trip represented a bit of a change for them as we actually started from high elevation (Tuolumne Meadows) then dropped down to lower elevations while following waterfalls all along the Tuolumne River.
We were very fortunate that a snafu with the wilderness permit office didn't burn us when we arrived. In any case, while my friends would typically organize these types of trips, in a bit of a role reversal, I was the organizer of this trip. And this page summarizes the logistics of what we did to make it happen…
Trip Highlights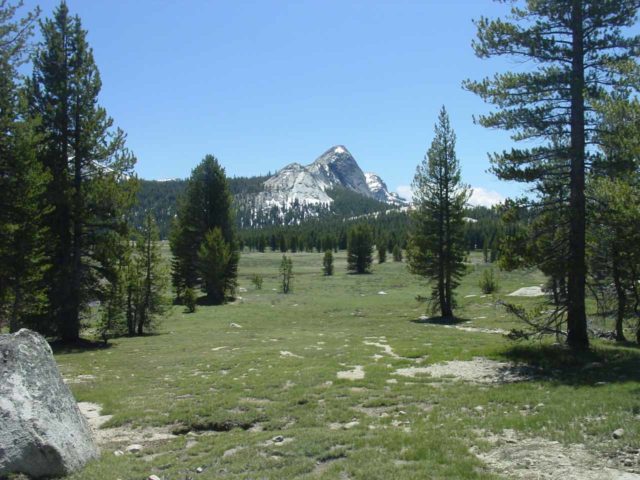 Tuolumne Meadows – In addition to acting as the venue of the trailhead to the Glen Aulin hike near Lembert Dome, I've found that the granite peaks in the background make the perfect backdrop to this alpine meadow thereby making it very photogenic. Indeed, we were able to see Fairview Dome, Cathedral Peak, Unicorn Peak, and Lembert Dome among others surrounding us as we hiked through this wide expanse of grass.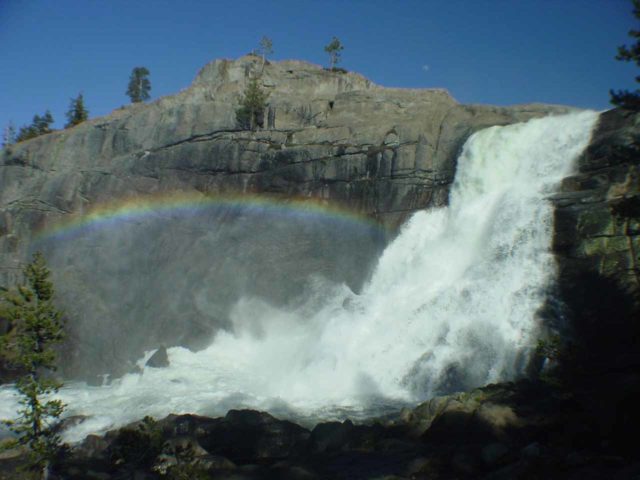 Tuolumne Falls – This was the first of the major waterfalls we encountered on the Tuolumne River, and it might arguably be the most beautiful due to its impressive drop as well as its tendency to yield rainbows.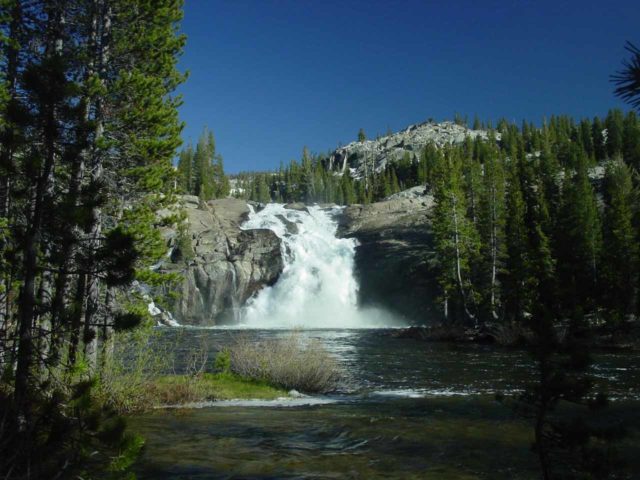 Glen Aulin Falls or White Cascade – This waterfall was the scenic backdrop and white noise generator as we were camped out by the Glen Aulin High Sierra Camp. Its wide and deep plunge pool provided an opportunity to bucket up some potable water that can be filtered, and it was a scenic neighbor for photos with rainbows as well as to just veg out while unwinding the day at camp after a long day of hiking.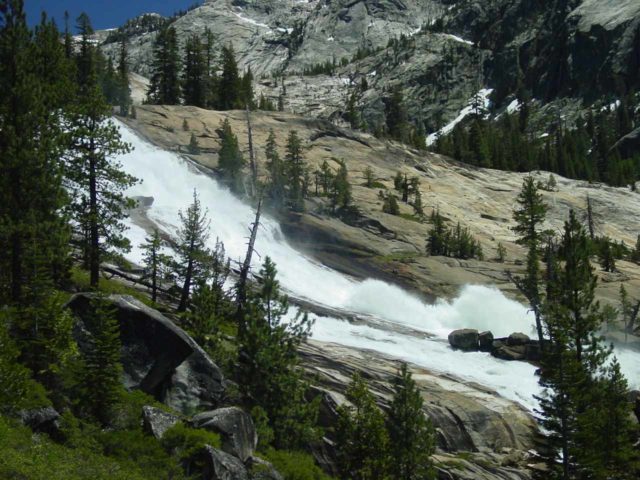 LeConte Falls – According to my GPS and Topo Map, this was the last waterfall we saw on this trip. And as you can see, it's quite easy to mistaken it for Waterwheel Falls. Still, we enjoyed the scenery here as well as basked in the unusual aspect of how we were more interested in how high the water was being thrown instead of how far the water was being dropped.
Trip Advice
In my mind, overnight backpacks require quite a bit of preparation to pull off since you're out in the wilderness with no ability to shower, and there's nothing else around except for what you (or your mates) brought yourself. There are wilderness ethics to consider as well as weight of the pack (which means making choices about what to bring and what not to bring). So there was indeed lots to learn with each backpacking trip you do. Indeed, experience matters…
Bears: One thing that happened every night at camp was that there was a bear looking to raid someone's backpack as they've learned to associate it with easy high-energy food. Unfortunately, this can be fatal not only to the bears themselves, but it can lead to a tense situation with people if they're too acclimated to human food. Not only that, but going without food for a few days would not be an ideal situation so it's also a good idea to protect your foodstuffs.
Enter bear-proof cannisters. While these are bulky, bears can't get to them if enclosed right. In addition to putting foodstuffs in there, even anything else with a scent needs to go in there as well. That includes toothpaste and deodorant. By the way, this is the primary reason why bears have broken into cars because they'll stop at nothing to get food if their sensitive noses pick up a scent inside an vehicle!
Luckily at Glen Aulin, they also had bear-proof lockers, which are shared with the rest of the community who happened to be camping there at the same time as you. So it can get a bit messy in there. But that's a last resort if say you run out of space in your own bear cannister.
Mosquitoes: It turns out that June is not a good time in terms of dealing with mosquitoes. There can be clouds of them! And they are at their worst at dusk and dawn though they still stick around throughout the day.
Generally, what I do to mitigate the issue is to put on DEET even though I can't shower for a couple of days. It was a trade between potential poisoning by chemicals versus potential long term mosquito-borne illnesses like West Nile Virus. I also try to keep moving (though that's hard to do in camp) since mosquitoes would have a harder time targeting a moving body as opposed to a stationary one. Finally, I've found that at night time, the mosquitoes that thrive in the Eastern Sierras appear to hide underneath pine needles and be dormant until the following morning at day break.
Travel Itinerary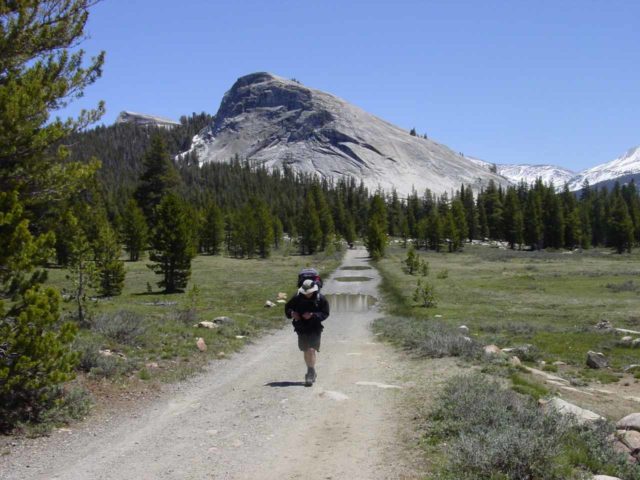 Day 1: Drive from Los Angeles to Yosemite National Park then backpack to Glen Aulin
We started the day with an early but long drive out to the Backcountry Office by Tuolumne Meadows. There, we picked up our backpacking permits, then we promptly parked the car near Lembert Dome to begin the backpack. During this leg of the hike, we visited Tuolumne Meadows, Tuolumne Falls, and White Cascade before setting up camp and sleeping.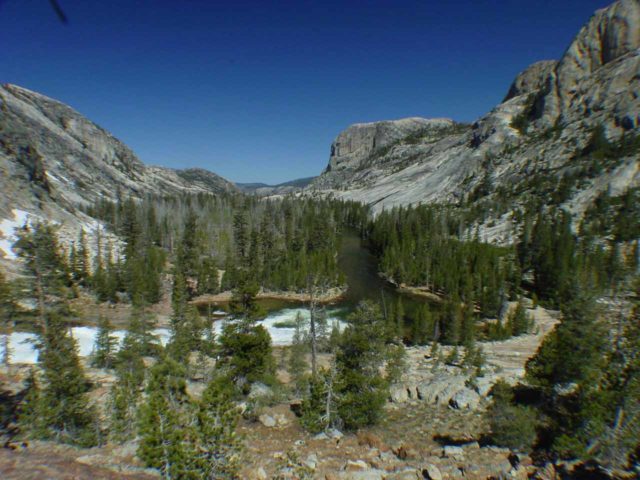 Day 2: Day hiking
This was a day of hiking without the heavy packs. We went downstream along the Tuolumne River, where we experienced Mattie Falls (which also flooded the trail), California Falls, and LeConte Falls.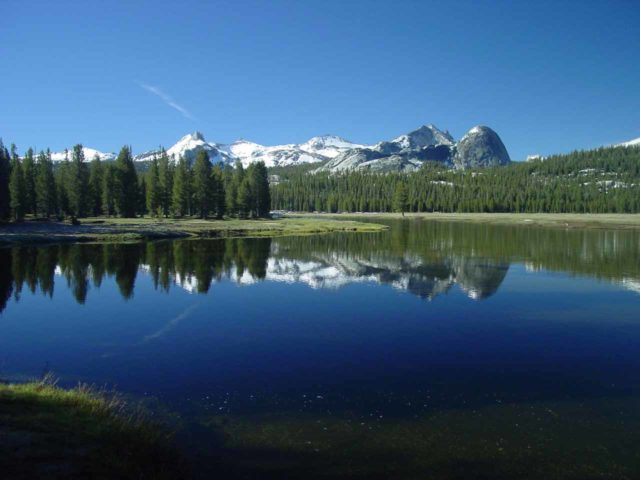 Day 3: Backpack to the trailhead, then drive home
After breaking camp, we returned to the trailhead (going by White Cascade and Tuolumne Falls again). Near the trailhead, there was a backcountry ranger checking for permits (in case you have thoughts about doing the trail without one).
What to Bring
In addition to the equipment that we bring on all of our trips as well as some backpacking equipment, we've also found the following items to be useful for this particular trip.
Trekking Poles / Hiking Sticks: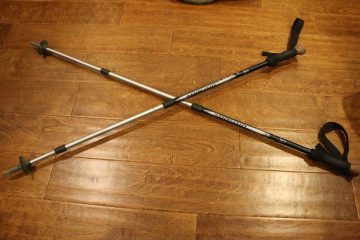 Although you can argue that hiking sticks aren't necessary on this particular hike because the trails were so well-used and established, I did find them helpful in terms of weight distribution. In case you haven't noticed, it can be very tiring on the legs to be standing (and hiking) for hours with some 40-60 pounds resting on your hips, shoulders, and back. Besides, sitting places also aren't that convenient to find, and it can be just as inconvenient to unsling and re-sling the backpack at every break (which also slows you down).
So here's where hiking sticks can help me to reduce the shock of all that pressure on my knees and legs (distributing some of it to my arms) while also letting me lean on them so my legs aren't working harder than they have to while at rest (when there's nowhere to sit).
Trip Reports
Waterfalls included in this itinerary
Visitor Comments:
Got something you'd like to share or say to keep the conversation going? Feel free to leave a comment below...
No users have replied to the content on this page