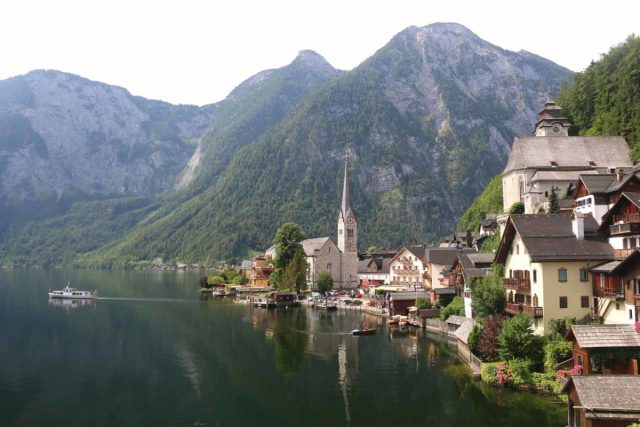 2-July 2018 to 16-July 2018:
Ultimately, we made it back down to the bottom, where we were all alone. And Tahia was so excited that she wanted to go on it again.
Soon thereafter, Julie made it down and then we went ahead and bought another ticket at around 5:30pm. I guess we had just enough time for one last run.
Once again, we rode up to the top, and I was determined to make this last run count.
And once again, Tahia rode tandem with me, but this time there were more people waiting to use the tobagans at the top. We waited until the lights turned green, and then we made our approach back down the track.
Throwing caution to the wind, we tried to gun it as we pushed the lever forward almost the whole time trying to really feel the rush of the speed of going down these things while also being so close to having something go wrong.
After we were nearly about a half-way down the track, apparently we went too fast as we lost control of the sled and even after trying to apply the brakes, I leaned too far backwards and managed to fall back onto the track. I felt something on my elbows immediately but I was more concerned about Tahia…
Day 20 (July 2, 2018 – Salzburg, Austria): "Seizing The Weather"
It was about 6am when I awoke. I basically went back to sleep after my 4:45am alarm went off, but I thought today was going to be an easy day so I just let my body get a little more caught up on sleep.
The early morning was pretty much spent blogging and marveling at the clear blue skies. I was kicking myself for not doing the Eagle's Nest and Konigssee today instead of yesterday because we could've gotten an early start and beat the crowds had we gone there this morning. Moreover, we could have gotten better lighting looking in the direction of Konigssee with the morning light as well.
We could have visited Salzburg yesterday though things would have been challenging given it was Sunday and just about everyone was closed on the ruhetag (rest day).
In any case, it wouldn't be until about 9:10am when we were finally heading into town to tour Salzburg. We had ourselves a self-cooked breakfast to take advantage of the kitchen facilities in our more spacious apartment.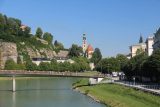 During the walk into town, we saw that there was a lot more foot traffic as soon as we had crossed the bridge over the Salzach River. The side that we were staying in was where all the accommodations were, but it turned out that most of the action was actually across the river.
There were also lots of service vehicles, which I guess was a result of this being Monday, the first werktag (workday) of the week.
As we were making our way in the direction of the festung (fortress) that was looming over the city of Salzburg, we went through some charming alleyways which were lined with shops. Perhaps the most engaging part of the walk was the Dom and the plaza nearby, where there was some golden ball that was really shining against the morning light.
Inside the Dom, we saw the usual grand cathedral interior that was now customary for every cathedral we've been to. Apparently, there was one section where some people were allowed up the stairs and watch someone play the church organ, which was audible throughout.
The visit was short since we were pretty cathedraled out on this trip, but we figured we mind as well do this quick visit considering we were already here.
By about 9:55am, we took the funicular up to the festung. We wound up buying the all inclusive package because Julie wanted to see the regency room or something like that (she was always into furnished castles, palaces, or in this case a fortress). The all-inclusive ticket also included a trip back down the funicular, and this ticket only costed about 3-4 euro more than the basic price, which only covered the funicular one-way and didn't include the extra museum visit.
Anyways, once we were at the top of the funicular, we turned right and headed straight for the panorama terrace. Up there, we were treated to gorgeous views towards the mountains in the direction of the Eagle's Nest. With such a clear sky day, we could see over the backside of Salzburg and towards the mountains which appeared to be clinging on to its last remaining bits of snow or ice in tiny sections. They looked like they'd be snow or ice free before the end of this Summer.
Next, we walked up through one of the towers before following the path to the left towards the actual interior of the fortress itself. There, we presented our tickets, got a free audio guide, and then we proceeded to self-tour through the interior of the fortress.
The self-tour involved first going through some kind of room full of archbishops or something before it went up a bunch of steps past some torture chamber. At the very top, there was yet another lookout area where we could see in all directions, especially in the direction of the Salzach River and the old town of Salzburg.
It got a bit crowded up there as soon as a large group of school children showed up.
Then, we went down the steps into a separate corridor that was the battlements. Throughout this section, we were checking out the views over both the courtyard area in the middle of the fortress as well as the views towards the old part of Salzburg and the Salzach River. By the time we got out of the battlements, there was a person there collecting audio guides, and that pretty much concluded our visit through the festung that was included with the basic package.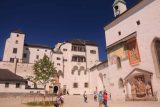 As we left the battlements, we found ourselves right in the courtyard itself and we then went around some small chappel towards a different terrace where we could get views into the old part of Salzburg without worrying about window glare. It was yet another nice photo spot, and we came to the realization that visiting the festung was more about the views in all directions than it was about the history (at least compared to other castles and palaces that we had visited to this point on this trip).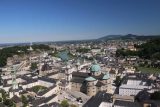 Next, we then went under an archway and up some stairs towards a museum. That was where we showed our ticket and entered a different exhibit area, which showcased some weapons, treasures, and some preserved parts of the fortress that included a chapel as well as some old Roman arches.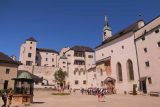 There was even a short theater or something like that as well as a couple of bedrooms. The museum was under renovation so there was quite a bit of restoration work, apparently. I guess that part of the visit was the so called Regency Rooms.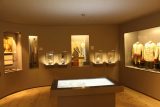 Then, we went into some rooms that showcased more modern weaponry, uniforms, and displays of Kaiser Franz Josef I. This part of the tour seemed like more of a modern warfare display as it showed what life was like in the castle during the time of World War I. The reason behind that war was still a bit unclear to me, but there was no doubt that it was a destructive one, and what we saw in that museum was a display of the equipment that was used during that time.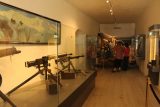 When our visit was done, we then promptly went right for the Panorama Terrace Cafe. We got there at 11:30am, and all the choice spots were already taken up as other people thought the same thing about enjoying the views over some food.
Still, eventually one table left, and we promptly seized that spot to better enjoy the views out towards the mountains and the quieter side of Salzburg. Our meal consisted of some kind of pork medallions with spatzle and veggies. Meanwhile, Julie had some creamy salmon. While they had giant pretzels in a basket ready for the taking, we knew they costed at least 2 euro a pop and we had to keep a close eye on Tahia to make sure she wouldn't touch it.
There was a trio sitting next to us, where the guy that appeared to be a tour guide sounded Australian, but he had some fluency in both Mandarin Chinese as well as German. That was pretty impressive.
By about 12:25pm, we were done with lunch. We then took the busy funicular back down into the old town of Salzburg (once again, we didn't get a chance to have choice views in the minute-long ride), and we then walked back through the now-busier alleyways of the old town getting a few shots in there.
Along the way, we stopped by some place called the Wurfel Lucker Cafe or something like that. Julie had read that they made a pretty good Apfelstrudel, and we decided to try one with an ice cream scoop at 12:55pm.
After that short visit, we then walked back to our apartment and got there at 1:25pm, where we promptly changed our clothes anticipating that perhaps we should do a hike in Halstatt with the beautiful weather. We had known in the forecast that on the day we were supposed to stay in Halstatt on Thursday night, that the weather would turn sour once again.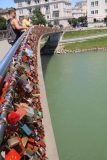 So we tried to be proactive about today's gorgeous weather and just seek out the lakeside town hoping to capitalize on the experience.
When we recovered the car at about 1:45pm, we promptly followed the GPS directions as it took us on a seemingly roundabout route towards Bad Ischl before heading south to Halstatt. While the detour might have costed us a little time wise, it did have offer some beautiful views over some lesser known lakes of the Salzkammergut Region.
It was too bad we didn't stop for any of the views as we were focused on getting to Halstatt, but in hindsight, we probably should have stopped for at least one or two lookouts (as busy as they were) for the colors of the water were a magical turquoise blue set against the mountainous backdrop and blue skies.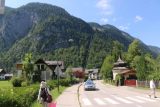 Eventually at around 3:15pm, we finally arrived at the P1 parking lot in Halstatt, where there was a sheltered underground garage. There was someone preventing people from parking at the P2 parking lot, which I guess would be marginally closer to town. In any case, it was about 3:15pm when we were finally starting to walk and experience the UNESCO town of Halstatt.
As we made our way along the street back to the charming lakeside town, there were some thunderclouds that were budding in the mountains behind the town of Halstatt, which periodically impacted the lighting. Actually, in terms of taking good photos, this place was more of a morning place than an afternoon place.
Still, like with the Colmar experience earlier on this trip, we were enjoying that the town was photographable almost every step of the way along the lakefront with timbered homes practically stacked atop each other on the steep slopes of the mountain.
Along the way, we even noticed a nice waterfall though it was hard to tell if it was possible to get a better view of it. This wasn't the Waldbachstrub Wasserfall that went into one of the valleys from the town, however. And as it was getting late in the day, I decided that I would probably have to do that hike in the rain when we would be staying here rather than making us stay late here and still have to drive back to Salzburg later on.
In any case, by about 4:25pm, we arrived at the post card view spot of Halstatt. And as expected, this too was more of a morning spot. Still, the scene of the churches of Halstatt backed by gorgeous mountains (even if the afternoon sun was somewhat against us) was a sight to behold, and we could tell that other people who managed to walk this far were feeling the same.
The tourist crowd here definitely had more of a Chinese flavor to it because it seemed like the mass tour groups were primarily mainland Chinese people. So that kind of added to the tourist crush.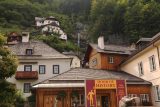 Anyways, after getting our fill of the lookout (there was a sign here that said "Point of Silence" though I doubted that this point was called that officially; probably it was more for residents trying to keep the peace), we then walked back through town and eventually to our car as we pretty much abandoned any attempt at going on a long hike on this day.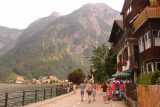 At about 5:15pm, we were back at the car, and then we proceeded to take the more sane route back to Salzburg (though it was still around a 90-minute drive given the traffic and slower traffic holdups by trucks and buses).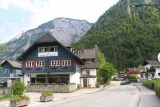 It wouldn't be until about 6:50pm when we actually took the fairly long detour to the bahnhof of Salzburg where there was a Forum 1 car park as well as shopping mall. In there, we grocery shopped at a Euro Spar (there was no more Alnatura or Rewe), and we had to get used to the Austrian way of referring to goods where the German words we were familiar with were no longer being used.
So things like Bio Quark probiotic yogurts were now apparently Topfen, and other nuances like that.
Not everything we got was organic, which was much to the disappointment of Julie. But still, with the shops closing at 7:30pm, we pretty much maxed out time wise on stocking up on supplies for self-cooking in the apartment, which we hoped would save us money and time from having to eat out all the time.
Eventually at 7:45pm, we were back at the Mirabell Car Park. And by 8pm, we were back in the room, where Julie and Tahia stayed in the apartment and got re-settled while I was busy going back into town to do a little more quick exploring.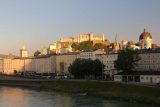 With the late afternoon lighting, it seemed like the festung was getting the benefit of such lighting, and I sought to take advantage of it in my photos. However, back at the bridge full of locks, it seemed like the river and the foreground buildings along the Salzach River were under shadow or partial shadow.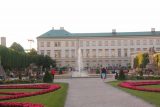 I'm guessing the best lighting would have been a few hours prior. I'm sure that was where Rick Steves shot one of his videos with the festung in the background, and that was probably around the time he made his video shoot as well.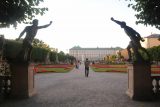 On the way back to the apartment, I spotted some attractive garden, which was apparently the Mirabell Garden. There was a fountain and some kind of palace-like thing in the background. I'm sure if Julie knew about this earlier, she totally would have taken the time to do it. But as it was, it was kind of a nice little discovery and I stopped to take a few photos of this, and the entrance to the Mozart Wohnhaus (where apparently Mozart lived).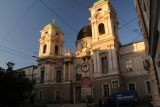 I'm sure when we divide and conquer tomorrow (where I'm on my own to do some hiking while Julie and Tahia could tour the city freely), the ladies were free to spend their time visiting these things without me getting twitchy about being confined to buildings and people (and parting with lots of euros) while I go out on Nature hikes to waterfalls.
Anyways, I was back at the apartment at 8:20pm, and after having dinner together as a family, we then cleaned up and slept as what promised to be an easy day actually turned out to be quite a busy one. But at least we got to experience Halstatt in good weather, and now we didn't feel as pressured to try to do stuff in that town when the bad weather would be expected to hit when it came our turn to stay there…
Day 21 (July 3, 2018 – Salzburg, Austria): "Sound Of Nature"
It was 4:20am when I awoke. With some errands to run before I go off and divide-and-conquer, I needed this early morning wake-up, which even preceded my 4:45am alarm.
I'd wind up spending the next couple of hours doing the blogging, then getting dressed, and then making my own leftover breakfasts while also getting my dose of kefir and Julie's unfinished topfen. I also washed fruits and gathered up some fresh munchies to hold me over throughout the day.
Julie managed to get up at around 6am, and she made sure that I left with apples and an orange as well as a couple of Slim Jim-like meat sticks. And by 6:35am, I was in the car ready to get the day started.
It took a bit of time to get out of the city of Salzburg and onto the A10 autobahn. But once I was on the autobahn, the progress went a bit smoother. Every once in a while, the car would make a beep sound, and I wasn't sure if it had to do with speeding (even though I was following people and was sandwiched by a car behind me, and couldn't possibly be speeding, could I?) or if it might be an indicator of me passing through a toll zone.
With my vignette being a sticker, I wasn't sure how the toll thing would work considering it was stuck in plain sight on the windshield. I doubted that the sticker had any kind of smart chip or something in there that would communicate with the transponder or whatever device they might have going concerning Austria's toll highways.
Somewhere around Bischofshofen, I left the A10 and took the B311 road. So with the lanes narrowing into one lane in each direction, any trucks or slower vehicles would cause log jams.
At about 7:30am, I had passed by the town of St Johann im Pongau where I saw a brown sign pointing the way to the Lichtensteinklamm. In my research, I hadn't come across it, and so I made a mental note of it to see if I had time available that I might explore it and see what it was about.
Nevertheless, I had to keep pushing forward as I continued south on the A10 as I was headed further south in the direction of Bad Gastein. I decided to make this the first waterfall of the day since I figured that it was in a town, and the later in the day it would become, the more traffic and people I'd have to contend with.
Eventually, I left the B311 and took the B167 road south towards Bad Gastein. The road first went through a few tunnels, then passed through the town of Bad Hofgastein before making the final approach to the town of Bad Gastein. Along the way as the road climbed above the valley, I noticed that there was another attractive cascade facing west looking against the morning sun. Could that be the waterfall of Bad Gastein?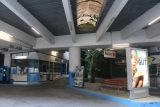 Well, I'd follow the signs which led me to a parking structure called Parkplatz am Wasserfalle. I got there at 8:10am, where the parking rates were 2.5 euro for the first hour and 3 euro for each hour thereafter. I had a feeling that I'd end up paying for two hours.
After getting ready for a walk, it was about 8:25am when I went onto a bridge with a direct view of what appeared to be the main Bad Gasteiner Waterfall. There was some signage about the history of the falls, and there was a nice downstream view over another tier of the waterfall with attractive buildings further down the ravine.
Just on the other side of the bridge, I saw steps that continued the Wasserfallweg, which climbed alongside this main waterfall, and then followed along more loud waters of the Gasteiner Ache before climbing up more steps and switchbacks to the upper bridge, where I got a direct view of an attractive upper tier of the Bad Gasteiner Waterfall flanked by some old mills. I got up there at about 8:50am.
I then did a little more exploring further up the hill to see if there was more of the Wasserfallweg to go. But the further up I went, the more I came to the realization that I should be heading back. So by 9am, I was back at the high bridge again, and then I followed the path down towards the church in Bad Gastein. Along the descent, I could see that the path I took up originally appeared to be the top of some kind of channel wall or something.
That led me to believe that perhaps the Bad Gasteiner Waterfall was more channeled and thus man-modified to enhance the waterfall effect. Who knows what the original watercourse took before all this development took place? Then again, this town was centuries old, so who knows what would constitute when and what "original" meant?
By 9:15am, I descended to a bridge by the Lower Falls flanked by the Kraftwerk building, which on its opposite end had some kind of high wooden wall that was supposed to block the mist or something. Indeed, there was quite a bit of mist being thrown by the lower waterfall.
I then continued down a somewhat steep path that apparently wouldn't be available in the Winter time (probably due to snow and ice making the steep path intractable). In any case, there was some signage here saying there was some original building that once stood here before a flood apparently took it away.
I went about as far down as the Lower Cascade Steps before turning back and making the climb back to the car park. I'd eventually get there at 9:45am, and sure enough, I had to pay 5.50 euros. Throughout the return walk, I managed to get a few more shots of the charming town's buildings, and even at some platz almost back at the car park, I saw old photos showing Bad Gastein in the past.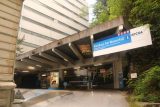 Some of these old photos were quite attention-getting as one showed crazy car park traffic, and others showed crowds of people spectating perhaps some olympic event or something like that.
Anyways, next up, I had to drive back up the B167 to the B311, and then cut across along the B163 to the B320. Once on the B320, it was pretty much following this road for a while before finally reaching the town of Schladming.
Not sure which road or exit to take to get up to the Riesachfalle (the target of this part of town), I stopped by a conveniently located tourist info center at 11:15am, where a lovely lady helped me by giving me a pair of maps – one for showing the whereabouts of the Riesachfall and another showing the whereabouts of the Steirischer Bodensee.
She mentioned that for Riesachfall, there was some kind of gorge experience on suspension bridges and metal bridges. However, she said that it was only open on Fridays. She also mentioned that the road I was about to drive on was a toll road, except it was only a toll road on Fridays, and today wasn't a Friday. I wasn't sure what was so special about Fridays when it came to this waterfall, but I guess it didn't apply to me on this day.
After what seemed like a pretty lengthy drive on a mix of 1.5-lane roads in the Untertal Valley after turning onto that road from Rohrmoos, eventually at 11:40am, I finally stopped at the RiesachFall car park at the very end of the road. From there, I walked up past some guesthouse before going up a steep path following the Riesach before the path forked towards one path going across a sturdy wooden bridge, while the path on the right went to the misty metal platform directly in front of the spray zone of the waterfall's main section.
It didn't take long for me to experience the falls given that it was such a short walk to get up here. I wasn't sure if that was the end of the whole Riesachfalle experience, but I did notice on the maps that it appeared to continue hiking higher up and possibly rejoin up with the creek again. The problem was that I wasn't sure if there was any more worthwhile waterfalls that far upstream.
In any case, I went ahead and made the attempt by going up a more exposed private road switchback, which revealed nice top down views of the Untertal Valley above the car park as well as above some cow grazing pastures. Upon seeing those cows, I thought to myself that these were what happy cows were supposed to look like (free range and grazing on grass). The Happy Cows Come From California campaign was pretty much a lie, especially once you see "Cowswitz" along the I-5 between LA and Frisco.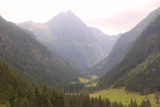 When I finally made it up to the switchback, I saw that there was still more climbing to go, and I ultimately decided that I had enough of this excursion. That said, I looked across the valley and noticed a different waterfall that was tall and only made its full appearance across the valley from this switchback.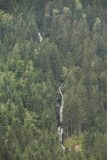 I wasn't sure what that waterfall's name was, but it was a nice distraction.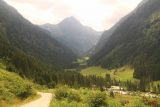 Well, that was my turnaround point, and when I headed back downhill, I was treated to more views looking towards the head of Untertal Valley (albeit against the sun when it wasn't covered up by the budding clouds threatening to create a thunderstorm).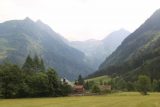 And by 12:45pm, I was back in the car, where I spent about 5 minutes to eat the cherries as well as some of the Slim Jim-like snacks.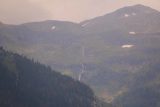 On the way out, I also made one more stop at some gasthof car park where there was plenty of unpavd parking spaces so I could look back at the head of the Untertal Valley and check out another tall waterfall way up the mountains. Unfortunately, the best and most complete views of that waterfall was from further down the valley, but there were no sanctioned pullouts to allow for such nice views of that other waterfall at the head of the valley.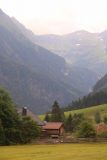 Next, I continued driving towards the Steirischer Bodensee car park, which the tourist information center lady that helped me out suggested that I take the B320 road to Haus, then follow the green signs for Bodensee.
I did have to pay 3.50 euros on the way up (as told to me by the lady), and eventually at 1:45pm, I finally made it up to the Steirischer Bodensee car park, which was quite busy. That said, I still managed to score a parking spot a short distance south from the junction of the Haus approach and the Aich approach.
I promptly geared up and then followed the mostly paved path, which was well-used by Austrian tourists and locals. It seemed like I was the only foreign tourist here as lots of people were giving saying "Gruws Gott" or "Servus" to me (just like the self-taught German language lessons I had been learning from had predicted when it came to greetings in Austria and Bavaria).
It seemed like I was an unusual presence so I did get a lot of looks that kind of said to me, "How did you find out about this place?" or "What the heck are you doing here?"
In fact, some people simply just said, "Hallo", as it was easier to just say that to cover any ambiguities as it was assumed that I didn't know any German, and that was one way to be very clear about being polite when passing by. I must have said "Guten Tag" nearly 100 times (that's how many people that were here that I just happened to pass by), and I eventually started using "Gruws Gott" instead of "Guten Tag" just to sound more local.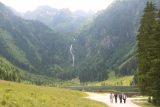 At about 2:10pm, I made it to the mouth of the Steirischer Bodensee lake. Decorating the opposite side of the lake was the impressive Bodensee Waterfall, which was tumbling with nice volume, and it was impressively tall. I kept wanting to take pictures of it with every spot around the lake that I walked because it was that appealing!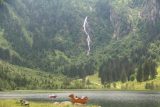 The only thing was that the early afternoon brightness and sun kind of made the lighting on the harsh side. Had I been here in the morning, this place would have really looked incredible in the photos!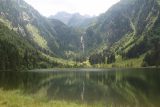 Also at the mouth of the lake was some kind of cafe as well as a fish farm. There were like 3 or 4 different pens, and one guy was doing something to one of the pens (maybe to stir up the feed or something, who knows?).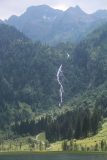 The signs suggested that the rundweg was around 45 minutes, but it also suggested that the waterfall itself was 45 minutes from here. So I figured on spending a couple of hours on this hike to take in the scenery and get closer to the waterfall itself to complete the experience.
After taking in the initial euphoria of the waterfall views across the lake, I then did the counterclockwise loop as I first followed the signs pointing the way to the waterfall. The gravel path was quite nice and flat though it was getting pretty hot with my hat and with the partial sun beating down on me (I was also wearing long sleeves for protection against the sun).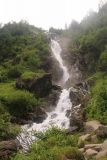 As I got further towards the head of the lake, I noticed that the lake became more of grasslands and marshlands, and I wondered if there was some sedimentation going on up there. For there was clearly a lake at the mouth, but the head was more grasslands, which was kind of surprising.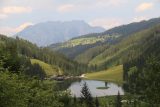 I was at the very head of the lake at 2:35pm, where there was a bridge going across the waterfall's stream as I knew to take that path on the return to complete the loop. However, I kept pressing forward as the flattened path now started to incline. The further I went, the path became rockier and steeper, and it was taking my breath away (as well as others game enough to continue the ascent).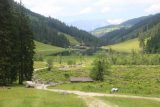 Eventually by 2:50pm, I finally made it to the Bodensee Waterfall. As expected, the view looking up at the falls wasn't as impressive as seeing it from across the lake. And even though I had climbed quite a bit to get to the base of the falls, looking back at the lake from this spot wasn't as impressive either as the bush and trees were in the way of a good view.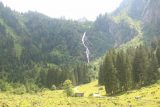 So I documented this experience, then headed back down. As I continued the loop hike to complete the other half, I couldn't help but notice there was some kind of line that was connected to a hut at the base of the climb up to the waterfall's base, and there was another remote hut closer to the top of the falls (which I didn't attempt). I figured that must have been a power line or something to harness the power of the stream from that waterfall. The wire looked too loose to be anything else.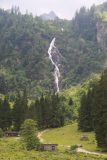 Ultimately at about 3:25pm, I finally was back at the mouth of the lake, where I got a few more shots of the beautiful scene of the Bodensee Waterfall across the Bodensee itself. I then continued walking back along the paved path back to the car park, where I'd finally make it back by 3:40pm.
One thing that I noticed about the cafe at the trailhead was that there were signs saying they served up gluten frei and lactose frei food. I'm sure Julie would have appreciated that, and she probably would have appreciated the view across the lake. Oh well, she was busy back at Salzburg with Tahia visiting some Sound of Music sights as well as Mozart-related stuff. I'm also pretty sure that Julie went looking for gluten free places to eat since eating is a big part of the traveling experience for her, and the diet restrictions must be torture.
Finally, I drove back going down the Aich approach as opposed to the Haus approach. Sure enough, there was also a toll station near that town, which was actually about 6km from this car park. Anyways, the return drive was via a combination of the B320 and the A10.
I was fighting a bit of road fatigue on this return drive, and anyone sitting by me to prop me up (though Julie always dozes off so I'm on my own), it was a bit of a struggle. Nonetheless, by about 5:20pm, I returned to the Mirabellparkplatz, where I spent some time to get some of the new tourist brochures I took along on today's excursions up to the apartment.
By about 5:35pm, I made it back to the apartment, but Julie and Tahia were still busy shopping. So I had to wait another 15 minutes more before they finally showed up, and then we could finally unwind from this busy day.
As Julie was preparing dinner and I was busy trying to get caught up on today's happenings, I couldn't help but to look out and listen to the commotion that was going on just outside the apartment.
It was kind of mesmerizing to watch the buzz of activity going on outside. All the eateries (especially the L'Osteria across the street) were busy and buzzing with people waiting to get fed, and the kids were busy letting balls float down a stream caused by a fountain and draining right before our apartment.
Seeing what was going on outside, Tahia requested to go outside and play in the water that was being released so the kids could play in it. Of course, that meant I had to stop what I was doing and go out to watch her, but I mind as well let the little girl have her fun.
So Tahia joined in with the kids already having fun there, and she like the other kids loved the water. While I was concerned about the dirtiness of the water and the pedestrian path (you never know what people track on their shoes as well as discard like those toxic cigarette butts), but we let things go on this afternoon and let Tahia enjoy herself.
With the self-cooked dinner, it was a nice way to unwind the evening. Of course from the standpoint of our room, it was also nice to people watch as Europeans tend to do in the cafes. We noticed that some people occupy the tables for hours (at least 2-3 hours or more) in one sitting. That might explain why you actually have to ask for the bill (die rechnung) because they won't bring it to your table. They're too busy tending to other peoples' drinks or foodstuffs.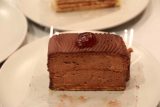 At 8:10pm, we then indulged in a little bit of takeaway sweets from some well-known (according to Julie) dessert place. While the gluten free options were limited, we bought at the Cafe Sacher, then took the sweets back (all 16 euros worth for nur drei stuck kuchen [just three slices of cake]) and had ourselves a nachtisch in the apartment again.
After that, we could finally call it a night of sightseeing though my evening didn't end as I had to conference call with the TopTal people about the contractor dispute I was dealing with at 11pm. Definitely no rest for the weary on this very long day. Hopefully tomorrow would be a bit better since I expected it to be a lighter touring day.
We'll see how it plays out though because Julie and Tahia really wanted to do the salt mine with the roller coaster, which would add to the couple of planned excursions of doing the Eisriesenwelt Ice Caves and the Golling Waterfall…
Day 22 (July 4, 2018 – Salzburg, Austria): "Resolution"
It was 5:45am when I awoke. I slept in on this night knowing that I had made a conference call with the TopTal folks at 11pm last night. I didn't go to bed until after midnight. So I needed the extra sleep.
That said, I had thought that today was going to be a light day of touring as Eisriesenwelt and Golling Waterfall were the only things I had planned on this day. However, Julie and Tahia had this idea of doing a salt mine visit at Hallein, and I thought that might be a tough go unless we got an early start.
However, since Julie got Tahia into the Sound of Music yesterday after touring the Mirabell Gardens and looking at some of the film locations for that movie in the Salzburg area, she had this idea of touring the gardens early this morning while Tahia was still asleep and the crowds wouldn't have showed up.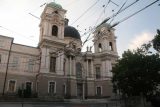 So by about 6:15am, I went with Julie straight to the Mirabell Gardens which was only a couple minutes walk from our Arte Vida Boutique Apartments, and we wound up reproducing some of the shots that the occurred in the Sound of Music concerning this garden.
Among the shots included the striding and reaching statues at the foot of the gardens as well as the arched trellises.
We also went up the stairs for a surprisingly good look back over the gardens towards the Festung Hohensalzburg, which was quite attractive in the early morning.
I'm sure the locals that were chilling out here must be wondering what the big deal was regarding the re-creation of the Sound of Music scenes, but that view back towards the Festung transcended the cheezy and went right into legit photoworthy opportunities.
Then, we went into the rose garden area right in front of the building, where we managed to show the nice flower gardens fronting the rest of the garden with the Festung Hohensalzburg in the background.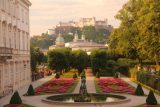 With hardly any people strolling about in the gardens, we peacefully took our shots. However, the fountains weren't running so something was missing in the shots. I guess you have to pick your poison with these things – either have the fountains running but deal with the hordes of people, or get the peace and quiet but miss out on the fountains. Looks like you can't have the best of both worlds unless you got super lucky or you paid to clear out the crowds and get your shots.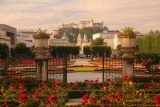 By 7am, we were back at the apartment where Tahia was still asleep as she could even sleep through the clanging church bells that were ringing for quite a while as if it was announcing the start of the day so everyone should be waking up.
As usual for our morning routine, it took a while to get ready for the day. Julie was preparing breakfast, Tahia took time to get up and even more time to eat, and before we knew it, we were finally in the car at 8:45am to start the day. This was quite a bit later than I would have liked, especially since Tahia was looking forward to doing the roller coaster in the salt mine at Hallein after getting through with the priorities for the day.
The drive out of town involved the usual navigating through the city streets to eventually get onto the A10. I'm sure it disagreed with the GPS' initial shortest distance routing, but this "get-to-the-autobahn" route, was probably the most sensible considering that the signs kind of suggested that this should be the direction to go.
One thing that I started to notice about the car now was that with the constant warning about the diesel exhaust fluid being empty, we were now getting another warning message saying that the engine restart would not be possible in the next 800km and it was counting down the further we were driving!
Now, we were quite worried about being stranded in the middle of nowhere, and that we had better get this issue addressed. At least we knew of an auto service spot for Jaguar in Salzburg (we happened to see a Jaguar sign on the way into Salzburg a few days ago), and we made it a point to go there after the day's activity would be over. Surely, the two activities we had planned should be short enough before returning to town to get this issue addressed, we thought. But squeezing in Hallein given all these other priorities was definitely pushing it.
Also, we learned that the Hertz people (at least those we spoke to) probably didn't know what they were talking about in terms of letting this car drive on without heeding the warning signs. This thing had all the makings of something that's easy to do that we could do ourselves, but without being able to read the manual that's completely in German, we weren't sure which hole under the hood we could fill in after buying the liquid from a gas station.
So that pretty much put more pressure on the salt mine visit as we now had more higher-priority issues to address. Indeed, this issue that came up a few days ago when we were entering Salzburg, Austria, was now growing to near crisis levels. I guess we always have some bit of car drama when it came to these long road trips.
Anyways, after smoothly going south on the A10 and following the brown signs for the Eisriesenwelt Ice Cave, whose exit started not long after one of the long tunnels, we then continued following the signs as we were taken past some interesting-looking castle (already with lots of cars and tour buses) called the Burg HohenWerfen. Like other castles perched in high places, this one was strikingly perched atop a rocky cliff overlooking the town of Werfen, and we started to see a pattern with nicely situated castles in the spirit of Neuschwanstein even though this castle might have nothing to do with Ludwig II.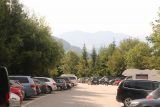 Then, we took a steep road uphill eventually leading up to the car park for the Eisriesenwelt Cave. There were lots of parking spaces, but we managed to score one near the top at 9:40am. Even though this was over an hour later than I would have liked (as there were already a lot of people here including a tour group full of kids), we were surprised by the number of people already here. I guess this place was more touristy than I would have anticipated.
As we approached the ticket office, the first thing we noticed was that there was a huge sign saying that after purchasing our tickets, we would have to go on a 20 minute walk, then we'd have to take a cable car, then we'd have to follow that up by another 20-minute walk before finally reaching the cave entrance. From there, we would have another 70-minute tour before getting to go all the way back down to the car. So we were in for at least a 3-hour excursion, which was a bit longer than I anticipated, and that salt-mine thing was looking less and less likely.
We first waited in line to purchase our tickets, which took quite a bit of time as the line itself was hardly moving and it took some time before we finally purchased a family pass for around 55 euros. The whole time, I was looking at the video on the big screen above the ausgang kind of informing us what the experience will be like on the way up to the entrance. They also repeatedly reminded us that no photos were allowed inside the cave in order to ensure a smooth experience. I knew that kind of sucked because we would be unable to take home the experience with us, especially with the amount of money we were paying.
The uphill hike from the kassa to the cable car station was a bit of a hot and sweaty affair. Fortunately, there was a direct cave route where the path was much cooler and very welcome to take a bit of the bite out of the exercise needed to get to the cable car.
Eventually, we'd make it to the cable car, wait in a short queue before we'd get crammed in the stuffy vessel, and then rise even higher above the town of Werfen as everything below alongside the Salzach River and the A10 were getting smaller and smaller.
When we got off the cable car station at the top, we then went on the next hiking section, which involved walking past some cafe before going on a bit of an uphill hike involving more switchbacks. The views up at this part of the hike were commanding as we had that on-top-of-the-world feeling, and it was hard not to want to take photos on the way up as we went.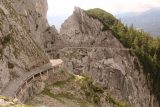 Towards the end of the hot and sweaty uphill hike, there were rock shelters set up to prevent rock slides or falling rocks from hitting people on the nogging in the steepest sections. Some of the pinnacle-like formations up at this altitude were interesting to see though also a foreshadowing of how easy the rocks up here can flake off and land on the hiking trail.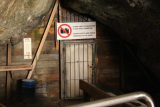 Ultimately, we'd make it to the entrance of the cave some time just before 11am. While we were a hot and sweaty mess just to make it up to this point, there were also lots of other people who have made it up here and anticipated doing their tour. At least, it was noticeably cooler at the cave entrance where we could have a seat and wait for the English-speaking tour to commence. Naturally, the Deutsch side started earlier since they had more German-speaking tourists here than English speaking ones upon our arrival.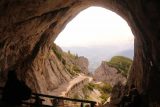 At least that gave us a chance to cool down as well as to start putting on our jackets knowing that it would be 0C inside the cave itself.
Eventually, one of the guides distributed old-fashioned natural gas or kerosene-like lamps to every second or third party as this was to serve as the primary source of lighting for our tour. Apparently the cave was absent artificial lighting, which would make taking pictures even more difficult even if you were to sneak in a shot or two against the rules of the staff here.
Once we were finally able to go on our tour, we had to get through the really strong gust of wind as the thermal exchange between the warm outside and the cool interior was quite striking. But once we were inside, we pretty much followed our guide who was periodically using his kerosene lamp to light up sticks with magnesium wicks, which shone even brighter than the softer-light kerosene lamps that some people were holding.
Given the amount of darkness in the cave, we really had to watch our steps as the wooden planks and half-metal steps assured that we would have a relatively comfortable walking surface without as much risk of slippage had we been walking directly on the ice.
Now, this cave was primarily rich with ice formations, but there were also quite a few spots devoid of ice. So it wasn't the complete ice experience like it was inside the glacier at the top of Jungfrau in Switzerland, but it was still quite an atmospheric experience as we were following the flow of the tour and allowing ourselves to really get our minds wrapped around how large this cave system was.
The tour itself involved lots of steps (the guide said 700 on the way up and 700 on the way back down). The initial part of the tour involved the bulk of the climbing.
Eventually, we'd reach sections where the ice was more predominant, and that there were some frozen waterfall formations, which he called the ice palace. I'm sure if Tahia was still into Elsa, this would be one place that would totally reinforce the need for ice.
After a bit more climbing, we then started to see other interesting formations as well as what appeared to be a smooth and flat ice lake. All this was apparently the result of water seeping through the mountain and ultimately making its way into the cave in the warmer Summer months, where then the cave would freeze the water but not before resulting in these interesting formations.
Some parts of the cave were noticeably warmer than the others, which contributed to the constantly changing formations inside. But it still remained a pretty constant 0C inside even though the temperatures can fluctuate outside (and even be colder than the cave itself like in the Winter time).
Finally, the tour then concluded with a long walk back down the steps, which once again was quite atmospheric. I really wished I could somehow capture the moment with the camera in long exposure but high ISO setting, but it was turning out to be not possible given the flow of the tour, and how the minimal light made it easy to miss a step and take a bad tumble down the wooden steps.
The tour then ended, where the guide personally greeted everyone on the way out (also probably to get a trinkeld or two), and we'd then be back at the entrance of the cave, where another even larger crowd of people were ready to make their way in.
From there, we went on a relatively quick all-downhill hike as Tahia and I rode the momentum of gravity and practically jogged our way down to the cable car station, then went back in the stuffy cable car itself to look down at everything around us as they were getting bigger and bigger once again, and then go down the last hiking section to the gift store, where I opted to take the panorama weg as opposed to the cave way back down (though the views weren't that great on that detour section).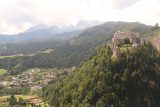 Eventually at 1pm, we were finally back at the car, where it was scorching hot in the interior despite the windows being cracked open. There were some thunderclouds still scraping the tops of the mountains around us, which limited the views, but it seemed like the clouds had momentarily lifted from earlier this morning to really produce gorgeous panoramas as if we were still on top of the world. Indeed, the views up here were almost Switzerland-like (thinking of Lauterbrunnen Valley), and on a cloud free day, the views must be sublime.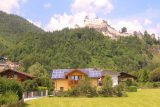 After squeezing through the car park and making our way down, we made a couple of quick stops to take pictures of the Hohenwerfen Castle. But then, we headed right into the town of Golling, where Julie wanted us to have a quick lunch stop.
We picked this cafe where everything was in German so we took our chances at 1:35pm. I kind of suspected that it might not be a great place to help her gluten free restriction considering it felt more like a coffee shop than eatery, but we still had some decent pork and beef steak medallions (that was Julie's gluten free option), but the snitzel was pretty much a veal cutlet that was probably not the healthiest option. So Tahia and I shared that.
Considering that this place didn't seem that friendly to tourists, we figured that it was cash only (confirmed by the lady serving us), and we couldn't even drink our own water when she wouldn't bring out another leitungswasser to us after we had run out (probably a good thing because we were getting charged for it).
I guess with a place that's not very touristed despite being so close to Salzburg, on the one hand I liked that it didn't feel crushed but at the same time, we did get moments like this where it didn't feel like we were very welcome. I guess that's understandable considering the language barrier, and that Julie's diet restrictions and communication style might rub off the locals a bit wrongly sometimes (which probably would trigger the "ugly American" stereotype I'm sure whether that assumption was wrong or not).
By about 2:40pm, we were finally back in the car, and now we could get going on our visit to the Golling Waterfall.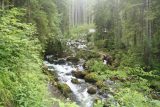 The way was quite well-signed from town, and by about 2:50pm, we finally made it to the car park, where we had to navigate quite a few narrow streets just to even get here. By now, there were some dark clouds overhead and it seemed like it was threatening to dump its load on us, so despite the warm temperatures, I had to close the windows fully just in case.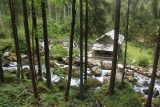 With that, we then walked into the kassa, where we paid 6 euros for Julie and I as the proprietor said Tahia was free.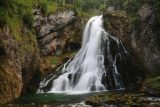 We then followed along a short trail leading to a busy area as some younger folks were chilling out by the fast-moving stream. However, we still had to go uphill a bit on a short path eventually leading to the impressive Golling Waterfall after about 5 minutes from the car park.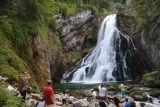 There, Julie and Tahia had a good time taking pictures while Tahia went looking for a shallow and calm spot to get a little wet. There were also quite a few other people around here enjoying the mist being thrown their way to cool off from the humidity. And indeed, Julie and I felt that this waterfall was impressive enough to get a score of a 2.5 at least or possibly a 3.
I then went ahead and continued to hike uphill as the path continued onwards towards the top. However, Julie and Tahia opted to chill out here for a bit before going back.
In the mean time, I managed to get some pretty nice views looking down at the Golling Waterfall on the ascent, and then I was able to continue on even higher as the trail would momentarily top out before descending onto the so-called Rainbow Bridge, where I could get a direct look at the spray coming out of the mouth of a surprising natural bridge, where the upper drop of the Golling Waterfall could only be partially seen as a result of the natural bridge.
There were some giant boulders partially blocking the natural bridge, and I'd imagine that the bridge might be a very temporary formation as it would continue to collapse from the underside, I'm sure.
In any case, I was welcoming the spray coming out of the mouth of the natural bridge, and I was also enjoying the views looking downhill towards the valley. But with the long shadows from a combination of the dark clouds and the sun starting to produce them with the cliffs behind me, it was hard to get satisfying shots without blowing something out.
The hike then continued further uphill along a bunch of short choppy steps before I'd reach another junction. This time, I kept right at first to check out the source of the waterfall, which was an interesting cave where the stream was flowing out of it.
Then, I went down the other fork, which went to the so-called Hexenbrucke (Witches Bridge), where I could look right down at the upper waterfall, which had a bit more of a plunge as well as an even more commanding view downhill towards the valley as well as the other parts of the trail that I had just walked.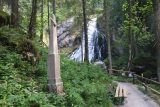 It was hard to photograph the upper falls given its height and the close proximity to it from the Hexen Bridge. It was best to capture the scene in video as opposed to a photo or in pano mode with a mobile.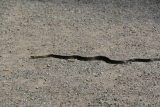 But after this experience, I knew that it was getting late in terms of returning to the trailhead and then trying to race to the Jaguar service station before they'd close for the day. So I quickly made my way back down (taking some pics along the way), and then I'd finally rejoin Julie and Tahia by the cafe at the trailhead.
Just before rejoining them, I spotted a snake going across the trail, which had a pretty long but narrow body. I wasn't sure if it was poisonous or not, but I kept my distance, took some pictures, and then let it slither back into the bush before I proceeded further.
By 4:05pm, we were back at the car, and we could then drive back into Salzburg. Julie said that while she was waiting for me, she did some more reading of the Hallein Salt Mine and said that there were very mixed reviews. So we weren't going to do it on this day, and it was probably a good thing considering that it might be a bit more of a touristy thing than something that might be authentic and genuine (even though Tahia really looked forward to the roller coaster).
By about 4:35pm, we finally pulled into the Jaguar service station where we explained our trouble to one of the sales guys, and then he directed us to work with the lady assistant.
She told us that while this was one thing we could easily do on our own, she did say that if we overfilled this fluid, the car would not work anymore. So in any case, it was a good thing that we just let the people that know what they're doing take care of this issue.
Of course, we'd get billed and pay out of pocket, and per the Hertz Roadside Assistance instructions (which she called on our behalf), we'd then seek reimbursement from Hertz upon rental car return.
While were waiting for things to get done, I couldn't help but notice that the assistant was this attractive blonde wearing a pretty revealing blue dress tank top showing a bit of cleavage as well as having a short hemline. It seemed like she was dressed to go out on the town in a night club or something as opposed to a workplace like this, but then Julie and I figured that in a facility where she was the only female, maybe this was necessary to keep the guys interested or something. Who knows?
When she went on a brief break, she was smoking outside to ensure we wouldn't get the second-hand smoke. I suspected that Europeans tended to smoke a lot because they're convinced it might make them thinner or it's an image thing or something. But it didn't seem at all surprising to me that she'd light up and do her thing.
Well, when all was said and done, we paid around 108 euros to get this done, and we made sure to affix this to the rental car documentation to make sure that we'd get reimbursed for this visit when we return the car to Frankfurt Haupbahnhof. At least finally, we felt like we laid this issue to rest, and we were assured that the top up of this fluid was probably good for 13k kilometers. Surely we wouldn't be driving near that amount for the remaining 4 weeks of this visit, I thought.
In any case, by 4:55pm, we got the car back, wished the lady that helped us a pleasant evening, and then we were on our way back to the Mirabell car park, which we'd get to at 5:05pm.
By about 5:20pm, we were finally back at the apartment, where it was a bit of a muggy walk back considering the thick and dark clouds overhead seemingly wanting to dump buckets of rain on us.
By about 5:35pm, we then headed back into town after a short change of clothes. Julie had her sights on this beer garden place called the Steinbrau or something like that, which was just across the bridge from near our apartment. We then had ourselves some boiled beef as well as a pork roast, which seemed to be gluten free as Julie anticipated when she scoped out places to eat yesterday.
However, the dessert was really what Julie was after, which was called the Salzburger Nockerl, and it was kind of a light, eggy souffle-like desert using vanilla with some raspberry jam or something that was supposed to be put into the nockerl itself (kind of like how we'd pour chocolate or vanilla liquid into the souffle to make it rise).
Julie and Tahia liked this dessert so much that they got it twice. So that prolonged our dinner, and eventually at 7:40pm, we then slowly made our way back to the apartment where we took a few more pictures of the festung with the Salzach River and lock-filled bridge in the foreground, bought a few more things from the Billa as well as some gift shop for one of those cheeky T-shirts you could only get in the country we were in, and then by 8:10pm, we were back at the apartment.
I managed to pick up a whole wheel of pizza from the L'Osteria across the way, where I got to see the busy and chaotic kitchen as I was waiting for my takeaway box, and then we spent the rest of the evening eating away at this pizza (which was reasonably-priced at 12 euros considering how expensive food can get here), and then we "walked off" a bit of our overindulgences exploring other parts of the old town near our apartment.
By around 9:15pm, we finally called it a day on our final night in Salzburg. Tomorrow, we were to return to Halstatt, but with the weather changing, we were a bit worried about trying fit in excursions before the onset of bad weather. We'll see how things play out, but in the mean time, we just got some much-needed shuteye, and were about to close the book on this most touristed and dare-I-say Americanized part of Austria as we were about to go deeper into a land that would probably be off the beaten path as far as most Americans would be concerned…
Day 23 (July 5, 2018 – Hallstatt, Austria): "Saltseeing"
It was about 5am when I awoke. It looked beautiful outside, but I wondered how long will this last given that the weather was forecasted to turn later this afternoon.
It took a bit of time to get ready as was usual on a day when we had to pack up, check out, and leave. All the hectic packing was making both Julie and myself antsy as I was lamenting that we were wasting precious time getting the late start while Julie was mad at me for rushing her.
In any case, I wound up picking up the car at 8am, where I then drove out of the Mirabell car park, but I was then greeted with some kind of local farmers market or something on the way out. I then drove back towards the familiar bollard in front of apartment (there was a cop waiting in front of the church, though he didn't seem to mind us driving into the fusgangerzone to load up the car with our belongings from the apartment.
Eventually at 8:15am, we left after waving to Herbert (the friendly guy at the reception we spoke a bit with us during our stay; Tahia and Julie really liked him) a fond farewell. And with that, we left.
The drive out to Hallstatt was a pretty typical one as we took the same route we used to drive into Salzburg, but now we were taking that route to get out of Salzburg via the A10. Then, we drove south on the A10 until we got to the familiar Golling exit, but then we headed east on the 156 road as we headed towards the Salzkammergut Lakes region of which Hallstatt was one of the towns and lakes comprising the excellent scenery there.
Even some of the Sound of Music's lakeside scenes were said to be filmed in the Salzkammergut region, and it was a fitting place to do it.
Well, the purpose of our visit to Hallstatt was to get the morning shots of the post card shot looking back at Hallstatt backed by beautiful mountains. I was hoping that our excursion wouldn't take that long so we could then go to the Dachstein Ice Caves before returning to town to finally do the Waldbachstrub Waterfall hike and perhaps let Julie and Tahia do the Salt Mine Tour (Salzwelten), which would include a roller coaster type slide that I'm sure Tahia would be stoked about.
By about 9:35am, we finally made it into the P1 car park in Hallstatt, where there were plenty of parking spaces so we had our pick of spots.
The plan was to make a beeline for the post card view with morning lighting, and I didn't expect this to be a long visit before we would move onto the Dachstein Ice Caves. I was really looking forward to doing that one because they let you take photos of the ice caves unlike the Eisriesenwelt Ice Cave that we did yesterday.
We managed to make it back to the post card view just as the walkway was starting to get crowded with mostly Chinese tourists. It really seemed like these tour groups really targeted Hallstatt, and I suspected that there must have been some kind of marketing ploy going on that sold the population on this place's scenic wonders.
Of course, I knew that it wasn't the only scenic lake as our drive to Hallstatt via Bad Ischl showed (except we didn't stop for photos to showcase birdseye views of the lakes with the backing mountains to show for it).
Eventually, we'd make it back to the familiar post card view by some time after 10am. It was still somewhat quiet over there, and as expected, the morning light was good for this signature view of Hallstatt. However, the clouds were definitely rolling in at the time, and that kind of created more hazy skies than the nice soft glow shots you'd see in the post cards or on Rick Steves.
After having our fill of this spot, we then walked back towards the P1 car park. However, along the way, we were filling up on our water bottles at one of the trinkwasser fountains. Most people walked by it, but when Tahia pointed out that the sign looked like it sanctioned the running water spigot as drinking water, that was when we dumped the tap water we got from Salzburg and loaded up on the water from this spigot, which was nice and cold and therefore refreshing on a hot day like today.
At around 11:30am, Julie and I saw the parking situation as none of the lots had any available parking spaces. So that gave us the idea to perhaps do the divide-and-conquer right now – meaning that I should do the Waldbachstrub Waterfall hike while Julie and Tahia would go up to the Saltwelten tour, which involved going up the funicular that was so easily seen throughout a good chunk of the walk between P1 and the town.
The hope was that once we were done with this excursion that we could then go do the Dachstein Caves when the parking situation would be a bit more normal. For if we did that cave right now, there's no guarantee that we could come back and secure a parking space as we were spending the night in town at the Fenix Hotel.
I was under the impression that the Dachstein Ice Cave was closed at 5pm though you never really knowing about these things (especially when they decide when the last tour was to occur prior to closing). I guess we'll have to see how it all turns out once we get to that point. But for now, it was time to go our separate ways and hopefully we'd all reconvene in time to do the Dachstein Ice Caves so we may compare it with the Eisriesenwelt Caves experience.
In any case, I went forward with returning to the garage to gear up while Julie and Tahia were to go straight to the Salt Mines.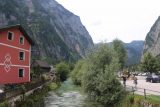 It wouldn't be until about 11:45am when I finally started the hike as I went looking for the correct path to go inland from the lake. But I never really found signage for it except for the one by the P1 car park where it seemed to take me on an incline and into another village which didn't seem right.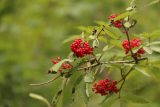 As I proceeded inland, I found the entrance to the Salt Mines which seemed to attract quite a few people. But I kept going as I then found the vaunted P2 parking lot, which wasn't sheltered and yet it was a pretty big lot. For some reason, there is always someone making sure traffic is moving along to not use the P2 lot even when there were a few spaces available, which I found to be strange. And it made me wonder how people even get to this lot whenever that someone is always there.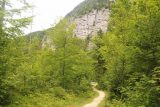 Well, we were in the P1 lot early enough so this wasn't a concern to us.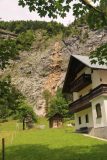 I then followed a street on the north side of the Waldbach which eventually got me past some residential area where I found some criss-crossing narrow roads and a bridge that took me across the Waldbach. I managed to get there at 12:05pm as I also started to see Themenweg signs.
On the other side of the bridge, I finally saw a "Wasserfall" sign saying it was still 45 minutes away, but the track was now the standard forested trail as it finally took me off the road where I would have had to share with bikers and motorists.
Along this part of the hike, there were some signs in German as well as a few English-German interpretive signs. Apparently this trail wasn't as unknown as it seemed given such infrastructure. However, I was pretty much the only person I was aware of on this trail (except for one Austrian couple sitting on a bench seeming like they were done with the hike).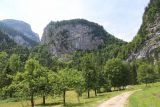 While it was warm and I was already sweating quite a bit from my dog-eared hat to protect from the bright sun, there were some incoming clouds corroborating the incoming bad weather that was forecasted to come some time this afternoon (and extend into the next couple of days). Yet it was this level of discomfort that kept the tour bus crowd and even most of the self-driving crowd in the town of Halstatt so it was delightfully peaceful and quiet on this hike.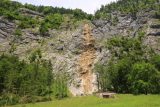 At about 12:25pm, the trail then started to really skirt the Waldbach after passing by some facility labeled Kleinewasserkraftswerk Halstatt, and then shortly thereafter I saw some modest cascade with a small cave by it. By this time, there were numbered interpretive signs explaining some of the history of what I was seeing along this trail. But aside from these signs, this was pretty much a classic forested hike.
The terrain remained mostly flat though it did have a slight incline grade that wasn't terribly noticeable.
The forested path then rounded a bend as it weaved in between some farm and houses with some logging shack. Backing this idyllic valley scene (as the trees were opening up), I saw some waterfall streaking a tall cliff wall at around 12:35pm.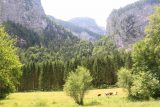 That particular waterfall wasn't doing so well, but it was probably what I saw labeled on the maps as the Schleierfall or Schleier Waterfall.
Surrounded by rounded mountains and cliffs that could have been like a mini-Yosemite in a way with cows grazing in the grass, it could have been a scene where one could just chill out and paint or just be in the moment and chillax.
But with no rest benches (this did seem like someone's work area after all), I had to keep moving and get back into the tree cover so the intense sun wouldn't be burning me.
Next, the trail started to climb a bit more noticeably as it passed by some other thing called Eulenloch, which was nothing more than a rock climbing spot as there was a hanging rope there. It wasn't anything special, nor did it look much like the interpretive sign here where there was a cave or shaft entrance or something.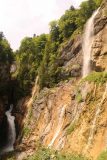 At about 12:50pm, I finally made it to the lower cascades of the Waldbachstrub Falls. The trail had split here as the lower path descended towards some bridge over the Waldbach and some signage suggested that it headed to the Gletschergarten (Glacier Garden?). I took the upper path as it said the waterfall was another 15 minutes away.
There was a family chilling at a bench here with some bikes. They were the only other people I've seen besides the couple I saw at the end of the town where the trail started to leave the road.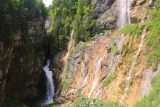 Now, the trail really climbed steeply as it went up a few switchbacks and some steps. But eventually, I got past some small split in the trail where I kept going up and kept right. And by 1pm, I finally arrived at the Waldbachstrub Falls.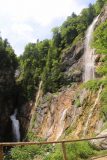 Here was a convergence of several waterfalls. There was a main pair of drops gushing out of a small gorge with a bridge above it. However, there were also several taller tiers of waterfalls plunging off the cliffs to the right that added to the symphony of waterfalls in this convergence spot at the head of the valley.
There was also an interpretive sign here explaining the beauty of this place and how it was known for over 200 years or something like that.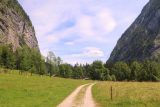 And so I spent the next several minutes just basking in the scene before me and taking what pictures and videos I could those I sensed that they really didn't do it justice. If anything, it was Julie's iPhone in Pano mode that probably captured the scene best.
As it was getting late and I was still hoping to get back to Fenix Hall to meet up with Julie and Tahia so we could still do the Dachstein Ice Caves, I then quickly made my way back down. But as I was almost down the hill, I had completely forgotten about the other spur path that I told myself mentally I would check out.
I wasn't up for climbing back up there to see where that path led to so I hoped that it wasn't a decision I would regret. But it just goes to show you that sometimes you have to seize the moment and just take the first path available then go up to the end. I've had more than one occasion where I've tried to keep a rain check on something just discovered only to have completely forgotten it later on, which would lead to regrets.
This was yet another reminder of the mistake I made.
Anyways, given the downhill profile of the hike, I quickly made it back to the upper end of Lahn, where I then followed some Dachstein Runde path, which was really more of a mountain biking path than a hiking path, but it passed by some kind of religious memorial or something like that as well as presented a few more idyllic views of horses grazing back by tall cliffs surrounding this quieter side of Hallstatt.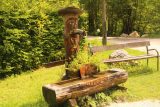 By 2:10pm, I was finally back at the Fenix Hall, where I used the hotel's WiFi to text then Facetime Julie. Unfortunately, they were still coming back from the Salt Mine visit, which was concerning. So I tried to use this time to get checked in and bringing in the luggages from the P1 parking garage.
At about 3:35pm that was when we were finally all checked in and settled in as Julie and Tahia showed up. Unfortunately, it was too late to do the Dachstein Ice Caves as apparently their last tour was at 3pm or something like that. So I was pretty bummed about not doing that as I wanted to at least take some photos of an actual ice cave instead of committing to memory what was seen and done at Eisriesenwelt. I guess Julie just didn't share that sense of urgency and I really wished that I would have gone there by myself since I had the time to do it.
So instead, while Julie and Tahia chilled out in the room, I then walked towards the Muhlbach Waterfall, which was that attractive waterfall easily visible from the busy walking path and throughfare of Hallstatt. However, with the help of the Italian receptionist who took our room payment, she told me that it was possible to get a good look at that waterfall by taking stairs to a parking area up there.
I knew it was possible to drive there, but she said that it was better to walk because they're always filled up.
So I went ahead and followed her advice, and by 3:55pm, I made it up to the P in front of the Muhlbachfall. In addition to finally getting some satisfying views of the waterfall (albeit against the sun), there was also attractive views back in the direction of Hallstatt and the Hallstattersee.
There were also a surprising number of people experiencing this lookout though still nothing quite like the crush of down below.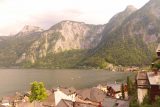 While there were dark clouds coming in, they seemed to be really slow moving so I was always contending with the sun. But I guess this was a fine consolation prize for not doing the Dachstein Ice Caves nor the Five Fingers Lookout, and I guess it just won't happen on this trip since we were to be driving to Admont tomorrow and eventually to Melk.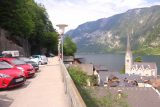 At 4:55pm, I made it back to the apartment where I was surprised to see that Julie and Tahia still didn't go to the swimming area that the receptionist recommended that was quite close to our hotel.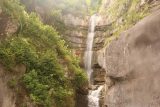 So I went ahead and got changed and accompanied Tahia there while Julie continued to nap. And by around 5pm, we would finally be in the shallow swim area between a small island and the main area. The water was quite chilly even though I had been sweating bullets for almost the entire time today during my walks and hikes.
Eventually I got used to the water temperature, but I noticed that the dark clouds were getting bigger and bigger the more I looked towards the mountains. Indeed, the slow-moving storm was budding and coming for sure.
Tahia was shivering. So after a few goes on the water slide, she then wanted to go on the swing, which we did, and then we noticed a zipline where Tahia got to go on that before rejoining Julie back at the apartment.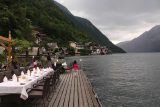 We had to get back to the room and walk into Hallstatt again because the receptionist made a reservation for us for 6pm at some place in town. Unfortunately when we started our walk to dinner at 5:55pm, we forgotten to bring that map.
So we were winging it, and Julie assumed that she made reservations for this place called the Seehotel Gruner Baum. It had a very nice terrace though we thought it was strange that they didn't have our 6pm reservation and instead had some 7:30pm reservation for 5 people.
Regardless, we were initially seated on the terrace and checked out the scene while waiting to take our order, but we could see that there were cloudbursts across the lake, and there was an incoming squall that appeared to blow in our direction.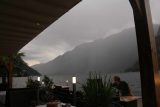 The staff worked quickly to get all the table cloths out of the outdoors and stack up all the chairs and tables, and everyone was moved inside so as to not get potentially drenched.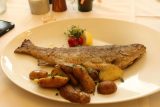 Anyways, we ultimately got to order some boiled beef, local trout from the Halstattersee, and ravioli for Tahia. We also indulged in a dessert of an Esterhazy Torte and an Apfelstrudel (as Julie talked me out of having the Black Forest Ice Cream Cake that was really eyeing).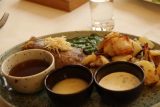 As we were waiting for the food and for ordering and stuff (service was never prompt as that's more of a European thing that we never really get used to but we've learned to just accept that you can't be in a rush at any sit down establishment), Julie and Tahia were regaling with pictures, videos, and stories of their Salt Mine visit.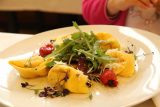 Indeed, Julie was beaming that she was glad she got to do that visit because apparently the mine they visited was the very reason why Hallstatt was a UNESCO World Heritage Site, and it all had to do with the salt and its heritage as apparently being one of the oldest salt mines in the history of civilization.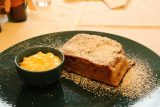 Of course, it was the pair of slides where they were going at nearly 26km/h (according to some souvenir photo they bought and kept) that was the real reason why Tahia was sold on this tour though she said she was creeped out by the darkness and the apparently skeletons or something like that where she must have witnessed it. I wasn't quite sure what she was tripping out about on, but with kids' minds, you can only imagine what our own childhood memories were like and how things scary and euphoric were amplified as our brains were still developing.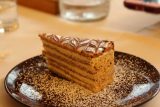 I started to sense that Julie and Tahia took a lot longer than anticipated at the Salt Mine tour because they probably spent a lot of time in the gift shop up there while also taking in the views in addition to the walking and the tour itself. They were up there for nearly 4 hours, which was longer than my hike. But at least they were happy with their visit, and sometimes you can just do it all when time and money are the limiting constraints on a trip like this.
While the service was very slow (at least slower than the slow we were used to from other European dining experiences) because we were sharing a room where a larger party was being tended to (they seemed to know Arnold Schwarzenegger or something from overhearing their small talk), we probably wound up getting the best meal we've had in Austria so far though we paid dearly for it as the meal was nearly 100 euros!
We even paid to have leitungswasser (tap water) while that other party had cocktails and wine and hor d'ouevres and the like so they must have spent a fortune so it's no wonder they got all the attention compared to us and other patrons at this establishment.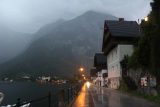 As we were leaving the restaurant, the rain was really coming down. But in seeing that there was no end in sight for this latest squall as there appeared to be another wave coming in behind us, we had to use the bent umbrellas from the Fenix Hotel and just put up with the rain. While the twilight was atmospheric, the leaking umbrellas and local street flooding made for an uncomfortably soggy experience that even Tahia wasn't too keen about.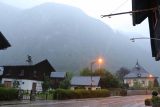 Eventually at 8:35pm, we were back in the room. And upon looking at that map that we had forgotten, I noticed that the receptionist had put a heart next to the Gasthof Zauner Seewirt. In other words, we showed up to the wrong restaurant!
No wonder why the reservations seemed all wrong at the Gruner Baum. My next thought was my wondering of what the consequences might be for a no-show of a reservation. I hope they didn't have our credit card number and put out a charge against us for this.
Regardless, we unwound the night as the heavy rain continued to fall. We tried hang-drying our wet clothes (and shoes in Julie's case), but I knew that they were not likely to dry overnight.
And with tomorrow being a long driving day that included the Admont Abbey and a hike at the Wasserlochklamm, it wasn't going to be a comfortable day to say the least. But every trip has uncomfortable moments like these, and it's all part of rolling with the punches as you do in life. Indeed, Rick Steves said that traveling is like life accelerated, and we're certainly living that adage at the moment…
Day 24 (July 6, 2018 – Melk, Austria): "Bad Breaks"
It was 6am when I awoke. It was still raining outside though it wasn't as heavy as it was last night. Nevertheless, the rain was persistent, and I knew that it was going to be a rather wet walk to the car at the P1 lot.
Not everything was dry overnight as we did our best to hang dry them against the draft from the windows. I guess the difference in humidity wasn't great enough to overcome the dampness of our clothes given last night's heavy rain that we had to walk through.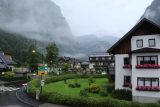 We took our time getting packed and ready to go so at least we could be ready for the included breakfast right at 8am. We didn't have high expectations for this brekkie, though, so it wouldn't be like the ones we had at the hotel in Munich. That said, Julie wanted us to get fed since we had no refrigerator even against my doubts as to whether this included breakfast was worth the wait or not.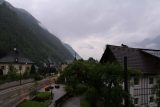 As according to plan, it was 8am when the door was open for breakfast, and it was pretty much cold cuts, fruits, cereal, bread, some pastries, and the cooked stuff was pretty much some kind of hash brown-like thing as well as a hard-boiled egg. So the brekkie didn't take long, and it was a good thing we got the early start because the selection was limited and we took up all the eggs (there was only two available).
After I was done with breakfast, I started to take the luggage downstairs and leave them at the lobby door. I then took what I knew I could lug over to the P1 garage, and I proceeded to walk through the rain. While my small luggage got a little wet and my laptop and camera bags got some rain drops as well, it wasn't too bad.
By 8:40am, I loaded up the first wave of stuff into the car, then by 8:50am, I drove back to the Fenix Hall where Julie and Tahia were waiting for me. After getting in the larger stuff, we were finally ready to go.
The drive in the rain was pretty uneventful as the combination of low clouds and wet conditions made it unpalatable to make any photo stops. I also had to make sure that we were driving slower due to the curviness of the roads and the slippery roads. That said, some of the locals were still driving at or above the speed limit (I was only going about 10-20km/h below the speed limit) despite the slick conditions.
When we passed Obertraun and the turnoffs for the Dachstein Ice Caves, I was left wondering what might have been as we had no photo evidence of any ice caves that we witnessed. I guess all we have are the memories of Eisriesenwelt and the atmospheric kerosene and magnesium lighting by hand-carrying that made that experience quite unique and rustic. Dachstein Cave was said to be artificially lit so photos would be possible as no hand would be tied up holding a lamp.
Regardless, we eventually made it to the town of Admont and the Stift Admont car park at 10:10am. It was still raining and dreary, but we managed to find parking in a lot that was partially full. It then took us some time to get out of the car as Tahia was reluctant to get out, and somehow we managed to get her car door stuck as the remote alarm wouldn't unlock it.
So she had to get out of the car over her belongings via another door, and we hoped that the car door would eventually correct itself after our visit.
Anyways, we made our walk to the abbey, where red signs clearly pointed the way to the Bibiotek (library) that they knew everyone came here for. And when we got to the kasse, we were in a slow-moving queue. After another 15 minutes or so, we finally got our familienkarte with a purchase of one photo ticket (so I could take pictures of the library and natural history museum).
They even gave Tahia a photo ticket on the house.
And after a brief difficulty trying to get through the turnstile, they opened up the handicap one for us, and then we were finally through. We had to go up a couple flights of stairs before we walked down a hallway with some video rooms, but we pretty much made a beeline right for the library.
The door was closed, and we had to quietly open the door. And once we were inside, we saw what all the internet pictures and Lonely Planet photos whetted our appetites for. Indeed, we were in a grand hallway lined with books that was two stories worth. We couldn't access the upper floor.
There were some bronze-looking statues in the center of the library flanking some columns, and there were round frescoes on the ceiling really making this place not look real in pictures (though with random people in the photos, that provided the evidence that this place was indeed real).
All the books looked like ancient manuscripts and certainly this was not a place to do any free reading (as Tahia was hoping to do). It was run like a museum. There was even one particular book that was on display towards the far end of the library for a closer look at one such exemplary work of the time.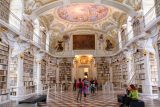 There were already groups being narrated to in German. So we had to squeeze past those groups for a little more breathing room to take pictures.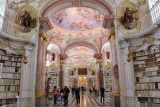 But with the room so captivating for photo taking and to just bask in this rather unique experience that wasn't on a Rick Steves, we easily spent a pretty solid hour just in this room alone.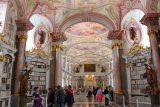 Speaking of Rick Steves, the more I thought about it, the more I realized that there weren't a whole lot of American accents in the library. Instead, we heard a lot more German and a few English. That led me to believe that the Rick Steves effect wasn't on display here since it wasn't in his guidebooks. And that also made the experience a little more refreshing albeit no less crowded as people were starting to pile in as time progressed.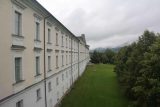 After having our fill and taking hundreds of pictures somehow trying to capture what we were witnessing in this library, we then walked up some stairs with glass windows so we could look at the cloud-shrouded local mountains before getting up to the top floor where we then went into the natural history museum.
There, we saw a rather impressive collection of animals, insects, and even an apple display. We also learned a bit more about who were responsible for maintaining this collection as well as the impacts of the 1865 fire that destroyed the abbey (so all the stuff we were seeing in the library were what remained or were restored and kept that way for 150+ years.
Some of the more interesting displays were of the tortoise sizes, alligator sizes, and whole assortment of snakes, and the insects.
By 11:55am, we were back in the car. It was still raining and I knew that the next excursion to the Wasserlochklamm would be a real uncomfortable one.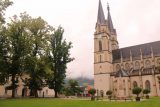 So onwards we drove further east as we made our way into the National Park Genuse (sp???) where we were passing through tall forest-clad terrain and winding roads. The incessant rain made it so that I had it in my mind to don waterproof pants and a rain poncho though experience told me that I might be getting wet from those things not being very breathable. I guess it was either my comfort or everything getting wet.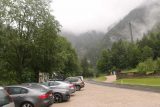 At 12:45pm, we made it to the signed Wasserlochklamm car park. For a day like today, it was surprising the number of cars that were parked here.
Still, the rain hadn't let up, and I took a few minutes to put on the waterproof pants, wear my outdoor Scottish jacket, try to put things like wallet and other things I didn't want to get wet in the jacket pocket since the waterproof pants only had one tiny pocket, and then lace up the hiking boots.
Julie and Tahia had made up their mind that they weren't going to do this excursion as I told them from my research that it was going to take 3 hours. The lady at the kassa said it was 2 hours so Julie had this expectation that I'd be back sooner rather than later. However, I knew that I would be going slow taking pictures in the miserable conditions, which might make things even slower given the elements.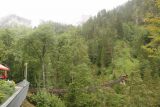 So we only purchased one ticket at 6.50 euros. At least they took credit card here, which was rather surprising.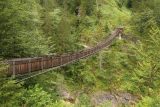 I then took that ticket and went out the back where there was some video display as well as some interpretive signs in German. I figured that in this part of Austria, hardly any Americans come here so I had to make do with my limited German to even have a chance at reading this stuff (though I tended to take pictures of the signs so I could read them later back at home when time wouldn't be so precious).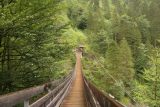 Then, I went across a suspension bridge spanning a gorge where down below there were people doing some kind of river rafting. There was a power line that kind of messed up the view going upstream where cloud-shrouded mountains would have nicely framed the river landscape. That power line no doubt was powering something on the other side, which in this case, was a self-help turnstile.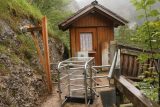 So I put the barcode part of the ticket just bought under the scanner, and the turnstile let me go through one turn. Then I followed a path that initially descended before following the river. Then, the path undulated a little bit before making a steep ascent.
There were already quite a few people going down from that ascent as they probably were finishing up their excursion. I was quite surprised by the number of people on this trail given the conditions, but I guess they were thinking like me, they had planned for today to do this activity, and it didn't matter if it was raining or shining. The show must go on.
The ascent definitely made things hot for me as the waterproof pants and jacket with rain poncho combo definitely were making me sweat from the inside out. So not only were things getting wet from the outside rain, but the sweat produced from my body was making things like my underwear and the insides of my jacket a bit wet.
So I was concerned that things like my wallet, notepad, tickets, maps, etc. were also getting wet by my own sweat.
In any case, after some initial climbing, the path then followed along a half-wooden ledgeway and half-rocky trail as it entered the Wasserlochklamm Gorge. It didn't take long before I saw the first waterfall, which was said to be 22m and it was already impressive.
Its position kind of reminded me of a smaller version of mist trail where the trail would go up alongside the right side of the falls though this one didn't produce a lot of spray.
After going up alongside this falls, the trail then followed along more ledges before entering a part that was signposted "Canyon". Here, the gorge narrowed and there were cascades and wild waters below my feet. This was starting to become customary for the klamm experience as this was the third klamm I've done on this trip, and they all seem to feature these narrow canyons and walkways above the tight inaccessible confines below.
Shortly thereafter, the path crossed to the other side of the gorge, and it briefly climbed up to the next sign, which said it was Wasserfall 2. This waterfall could only be partially seen due to a cliff and foliage protrusion that only revealed its upper and lowermost sections of its 26m drop.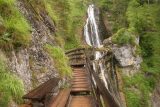 Then, the path continued uphill alongside the waterfall revealing more cascades as well as the base of an attractive semi-segmented waterfall up ahead. As I got up to that waterfall, a sign there said it was the Schleier Wasserfall at 39m tall. It certainly didn't look that tall from just looking at the part facing me, but as I continued up the stairs, I started to see more hidden tiers.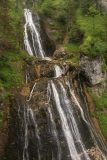 Now, it was starting to look like it could be more than 39m in total height, and it was hard to tell where the last waterfall ended and where the next waterfall began.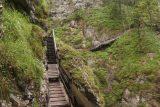 Indeed, if it weren't for the wet conditions that was threatening to ruin my DSLR camera, I would have spent a lot more time on the narrow steps taking shots of the falls while also taking videos.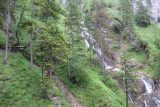 Speaking of which, there was one moment where my lens appeared to malfunction, and it wasn't until I removed the lens (carefully as I tried to prevent the rain drops from getting into the CCD sensor) and then reinserted it, did the camera start to function again. Whew, close call!
So I continued on as the trail now ascended quite steeply given the height of this waterfall. There were plenty of steps and switchbacks as well as moments to pause and try to show the cliff-hugging trail with the waterfall. And given the narrowness of the trail, I gladly paused to let people pass as I was trying to take pictures and wipe the lens of water at the same time.
Just about everyone I greeted with "Guten Tag" or "Gruwss Gott" were Austrian. There was definitely no foreign tourists here, and the look they gave me (as if I was an unusual sight in these parts) kind of on the one hand refreshing but on the other hand, it kind of reminded me how much of a stranger I am.
Nonetheless, after huffing and puffing my way up, I'd eventually reach the fifth waterfall (they counted the Schleier Waterfall as the fourth apparently), which seemed like it burst out of a narrow section in the cliffs. This one was said to be 37m tall but what I saw of it looked nowhere near that tall. Perhaps they counted what I thought to be the entire Schleier Waterfall as part Waterfall 5 and part Schleier Waterfall. So that might explain the height discrepancies that I was observing.
After the fifth waterfall, the trail then ascended steeply up several more switchbacks. The wooden cliff-ledge parts of the trail seemed to be over, and now I was on a classic mountain track. Eventually, I'd make it up to a junction where it looked like I could make it all the way back down to the cafe and car park via a different rundweg, but I instead took the spur track that went up to some kind of shelter as well as a natural bridge (which the maps promised there was one up there).
As I got up to the shelter at around 3pm, I could see that there was some additional wooden trail steps that continued onto the top of the hard-to-see natural bridge. And it was from there that there was a view down at the valley below (a sign here said it was the Salzatalblick at 850m above sea level) though it felt like I was on top of the world.
Indeed, the views from up here were commanding, but due to the low clouds, it felt like I was above some of those clouds while the mountains on the other side of the valley were shrouded in more clouds. Plus, the wet conditions made it hard to take pictures for a prolonged period of time.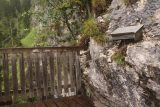 There was also a trail register with a guestbook that I went ahead and signed even though many of the pages were wet. It seemed like I had produced the only English text in this book from what I could tell.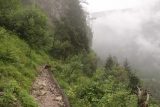 And with that, I started heading down as I knew that it was getting late and Julie and Tahia were already waiting for me for 2 hours before I even started this descent.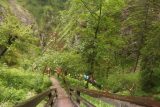 The way down went quite a bit smoother since it was all downhill though I had to be very careful about not slipping and falling on the steps. If that happened, it would be disastrous as the steps were narrow and steep and it was definitely not something for people afraid of heights. I was worried that my rain poncho might get caught in something in those stretches so I tried to be as quick but deliberate as possible in those spots.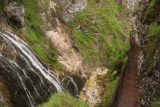 The trail was also narrow enough that I opted to wait for large groups of hikers going the other way. Again, I was quite surprised at how many people were on this trail despite the miserable conditions.
As I eventually went to the bottom of the Wasserlochklamm, I then followed the trail along the river back toward the suspension bridge. However, on one wooden ramp that didn't have planks to protect againt slipping, I managed to eat it on my last step of that ramp. Although the fall stung and my water bottle fell out of my pack, I didn't think anything of it and I just kept going.
However, it was only later that I noticed that there was blood on both of my hands, and that I felt something sting in my left knee, where there were apparently a couple of holes in the waterproof pants. I guess that would be something that I'll address back in the car, but for now, I couldnn't wait to get out of this waterproof gear, which was making me uncomfortably sticky and drenched in sweat from the inside out for sure.
Finally at about 4pm, I was back at the car where Julie and Tahia were waiting for me. I went ahead and grabbed my Chacos and dry hiking pants and used the cafe's toilet to get changed out of the wet stuff and into the drier and more comfy stuff. The thick smell of cigarette smoke in the toilets was a bit on the choking side, so I made haste to do this task as quickly as possible.
Back at the car, Julie left some leftovers for me to have a quick lunch. It was basically pork chops and pasta cold. Then at 4:15pm, we finally drove off in the rain.
The drive out of the area remained under persistent rain. It certainly made us mentally feel uncomfortable though I was definitely feeling the physical discomfort of being wet with sweat and now stinging from open wounds as plasma was oozing out of one hand and sticking to my pants on my left knee from the blood oozing out of there as well.
At 5:15pm, we entered some sizable town along the B25 where Julie decided to make me stop at a Eurospar there for some grocery shopping. She expected that we'd be in an apartment tonight so she could cook dinner and then cook breakfast the next day. So it took some time before she'd finally return to the car at 5:35pm.
But when she saw my wounds on my knee for the first time, she went back in to get bandages, and then we woundn't be continuing on the road until about 5:45pm.
By now, the persistent rains seemed to have let up. Apparently, we were out of the mountains and into the valley (the Wachau Valley, I believe). So that at least was a little bit of relief from the dreary conditions we had endured for nearly 24 hours.
Eventually, we got onto the A1 and then we got off in the direction of Melk. We had a bit of trouble looking for this apartment in Melk, but after asking around, the key breakthrough was that we realized that Google Maps was incorrect and that Apple's routing software was more correct in this instance.
We also asked locals that corroborated Apple's waypoint.
So eventually at 6:35pm, we managed to find street parking (really tight) and then we met up with the guy Julie tried to speak to over the phone earlier today concerning parking and checking in. However, he didn't really speak English so I had to get by with my German.
And when he showed us to our room, we realized that this place was not the apartment that Julie had assumed. Instead, this was merely a room of the owner's apartment. So we didn't have a kitchen nor did we have a fridge.
The place also had a pretty strong smell. At first, I thought it my own BO from all the sweating and dampness from my Wasserlochklamm excursion. However, this smell only persisted in the owner's apartment so I suspected it was the dogs and/or the owner.
At least he let us use one of their refrigerators to try to keep our meats preserved, but with the next 3 nights after tonight in Vienna and not in an apartment, we were probably going to have to deal with the meats that Julie had just bought at the Eurospar to be spoiling. That was a definite waste of money and time, and I wasn't particularly pleased about this oversight and assumption on Julie's part.
In any case, we had to make due with our arrangements as it was only for a night. So instead of bringing our luggages upstairs to the top floor, we just grabbed basic toiletries and PJs and just quickly got settled for the night.
In the mean time, we went back downstairs and checked out the Altstadt of Melt at 7pm. The town seemed kind of dead, which was unusual for a Friday night. In any case, we ate at this place called the Rathauskeller at 7:25pm, where we tried blood sausage "strudel" (more like an eggroll) as well as a beef steak with creamy chanterelle sauce, and a chicken filet. We were also charged for leitungswasser, which was becoming quite the norm.
At 8:20pm, we were finally done. And we then proceeded to walk around the quiet town despite the very dark clouds that were looming overhead.
From the main square, we could see the Melk Abbey looming above the Altstadt. It already looked pretty fancy and grand from its exterior, and we wondered what it would be like on the interior (even though I understood that no photos were allowed, which seemd to be customary in all the palaces and castles throughout Germany and Austria).
We eventually went across the St Leonard Bridge, where we managed to get more photos across the river towards the Melk Abbey. Then, we slowly walked back into the dead Altstadt, where Julie wanted us to go to the Hotel zur Post to try the local apricot dumpling dessert that was apparently the local specialty.
When we were done with the dessert (I could have done without it but at least we tried), the lighting around the town and the abbey was that magical twilight. So we spent a bit more time trying to take what photos that we could before the magic hour faded.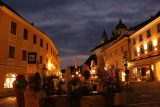 And by 9:30pm, we were finally back in the room. We definitely got the sense that Melk was primarily visited by day trippers from Vienna because the town itself was definitely dead. Still, that was nice for us since it was quiet and peaceful though it definitely lacked that ambience from the other towns. I guess it's a balancing act when it comes to mixing ambience and atmosphere.
So we looked forward to tomorrow and hopefully the weather would improve. I also had to keep an eye out on the parking situation as apparently it was free from 18:00 to 08:00. So I had to either pay the machine or move the car when the time came.
All in all, this was one of the more uncomfortable and "low point" of the trip. Every trip has one of these. But it wasn't anything to dwell on. We just had tomorrow to look forward to and try to stay in the moment day by day taking things as they come.
And with that, we cleaned up and crashed in the king-sized bed as we all co-slept rather comfortably considering the circumstances…
Day 25 (July 7, 2018 – Vienna, Austria): "Green Danube"
It was about 6:15am when I awoke. For a place that was as cramped as this room we stayed at (compared to the apartments that we were used to), I actually managed to sleep through my alarms and get as much sleep as I had all trip long. So I felt quite refreshed, and with no real major errand or activity planned except to get to the Stift Melk when they open at 9am, we had time on our side to get packed, load up the car, and have breakfast.
I also had to move the car before 8am, where upon learning that the Stift Melk parking was free, I was to move the car up to the abbey car park, then return to the owner's apartment for our breakfast before doing some last minute checkout activities before finally walking back to tour the famous abbey itself.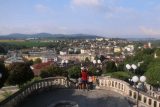 It was about 8:10am when I had parked the car at the Stift Melk car park before I then walked back down into the Altstadt where one young Chinese lady who was touring by herself was relieved that I spoke some Mandarin as apparently she told me that there weren't many Chinese people in these parts.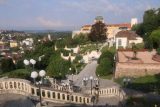 I thought to myself how surprising that comment was because I would have thought large tour bus crowds (especially Chinese ones) would descend upon the Stift Melk to get a taste of the bling that was said to rival the Vatican or something like that. At least that was the hype and expectations that we were coming in with. We'll have to see if the real deal meets those expectations.
After finishing up our breakfast, we bid the accommodation owners a fond farewell. They indulged me in my broken German as they were surprised that I knew enough to get by. They also gave Tahia a gift, which was a jar of apricot jam that the wife said she made from apricots in her garden. Since apricots were a big deal in the Wachau Valley, that was a pretty cool gift.
We also left them the frozen shrimp since we knew that we wouldn't be having a freezer in our hotel accommodation in Vienna, which was where we were going to stay for the next three nights.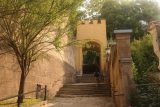 So with that, we headed up the steep signposted path leading to entrance to the Stift Melk. We wound up getting there at a little after 9am, which only happened after Julie made me take another bag full of stuff to the parked car (which was now a bit of a walk from the Stift Melk entrance). That wasn't fun as the day was heating up.
Eventually, we paid for our admission ticket, and then walked past a couple of impressively grand courtyards before going up the stairs and into the Abbey itself. There, someone opened the door and let us through with our purchased tickets. However, they reminded us that no pictures were allowed inside the abbey, and there were lots of signs in just about every room reminding people of that.
We kind of zipped through the first few rooms of the abbey as there was plenty of blinged out swords, staffs, thrones, and crowns among other things. Julie was trying to go by the Rick Steves guide to help her along, but I think she wound up blowing through the initial part of the visit when there really wasn't any rush to blow through anyways.
Since we couldn't take the experience with us through the pictures, we mind as well visit every nook and cranny of the abbey that they'd allow, right?
Well, the first few rooms were indeed impressive, and it didn't take long before we wound up past a grand empty room before going out to some kind of balcony or U-shaped mezzanine overlooking the river as well as the Altstadt of Melk.
Once we got back into the other side of the U and back indoors, we then entered a very blinged out library. The big library room was full of books with gold covers and trims. It was also multiple stories and had a very grand wooden-like interior. Julie thought that this library was better than the one in Admont Abbey, but I personally thought the one in Admont was a better experience because we got to take pictures and at least take that memory with us.
As tempted as I was to take pictures inside this library, we refrained and moved onto the smaller library room, which was also quite grand. There was also a proctor in there to make sure people were well-behaved.
Next, the tour route then took us downstairs into the church. When we went inside that church, we were immediately struck by its size as well as the bling once again. Now, I was thinking to myself that this was an indication of how powerful the church was, and it was indeed on display given the concentration of wealth that was totally on display here.
Again, as much as I wanted to take pictures, we couldn't. And even if we did, I wasn't so sure much justice could be made to such a grand place.
Tahia was fascinated with some of the altars near the main altar where there was one empty sarcophagus (cenotaph) and one that actually had the remains of some other sankt (I forgot his name since I couldn't take pictures of signs or anything).
After loitering around and just taking in the visual bling of the high-ceilinged church, we were done with the tour at about 10am.
We then exited into the courtyard beneath the mezzanine we were just at, and then we exited to the gift shop, where we were then deposited back into a long hallway where there was a side door revealing a side view of the blinged out cathedral.
Then, we made our way back across the courtyard (making one very short stop at some exhibit which contained a bunch of modern art about crosses) before going into the panorama terrace, where turnstiles allowed only paying customers in.
When we were done with the panorama terrace, we then descended into the garden, where there was a pinkish house at the far end fronted by an extensive garden area with a fountain in the middle. The pink house was actually some kind of cafe serving up desserts (of course the ubiquitous apricot nodeln (sp???) was amongst the desserts since apricots were a specialty of the area.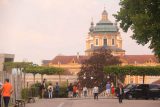 Eventually at 10:40am, we returned to the parked car where we then embarked on a scenic drive along the B3 on the northern side of the Danube River of the Wachau Valley.
During this drive, we quickly noticed that this part of Austria reminded us of the Romantic Rhine in Western Germany. Here, we saw cute villages as well as some boat traffic in the river itself, and lots of vineyards spread out between each of the villages flanking the Danube.
Julie had read that Durnstein was the cutest of the Wachau Valley villages, and so we made it a point to stop there and use a few hours to wander around a bit and soak in some of the Wachau Valley outside of the car.
One thing we noticed about the river was that it wasn't blue as one might imagine from the classic musical piece "Blue Danube". Instead, it took on more of a greenish appearance when the sun did come out against the patches of clouds around the area. That said, this drive was definitely more laid back than say the Rhine or the Mosel River Valleys.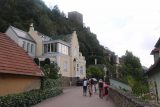 At about 11:10am, we got lucky scoring a parking spot right at the sign for the start of the pedestrian zone leading up to Durnstein. We wound up paying for the full day at 4 euros instead of risking it for 2 hours at 3 euros. We knew that if we were going to eat lunch at a sit down place here, that would consume a minimum of an hour or more.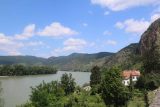 We then proceeded to walk up the narrow road where we managed to get some teasing glimpses of the Danube River though I got the feeling that we took a back way into the main part of the village of Dachstein.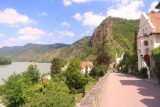 Once we got into the main drag of the town (there was a gate on one side and some hotel Durnsteiner on the other side), we then started to soak in the ambience of the town while Julie was busy trying to scope out places to eat lunch.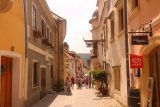 At first, we tried this one place that was a festive beer garden where some guy was playing the accordian and there were lots of people seated though the place was already thick with second hand smoke.
We got seated next to the guy playing the accordian, and he wasn't shy about playing Chinese songs then pointing to the tip jar (we didn't tip as it wasn't like we were asking for this).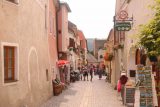 When Julie looked through the menu and didn't see any items that she could have since everything pretty much had gluten in it, we were then asked by the waiter if we wanted something to drink.
I asked him if they have "leitungswasser" and the guy said, "Leitingswasser?" and then he proceeded to laugh loudly.
Apparently, it was a thinly veiled attempt at ridiculing us for getting tap water in a beer garden, but it was usually me that would try to ask for these things since I knew enough German to get by. And yet, I'm the one being ridiculed here, when I knew that all these requests were for Julie. I guess this is the price I pay for taking it for the team even though I had a more flexible palate.
Regardless, despite the dickhead move by the waiter (as if we were forced to order beer we didn't care for or something we don't like to drink that was too loaded with sugar or grains), we were already in the mindset to leave since Julie couldn't have anything.
Eventually, we wound up at this place called the Durnsteinerhof at 11:50am, which was Julie's first choice as it had Tafelspitz, which was like rolled boiled beef. We knew that ought to be gluten free even though the waitress that served us didn't speak English (so once again, I had to try to bust out my German to see if that might smooth over the communication barrier somewhat).
When I was doing that, I noticed that she felt more comfortable talking to me even though that put me on the spot. Still, I guess after over 3 weeks of touring German-speaking regions and countries, I'd like to think that I picked up a little German to get by even more so than just the books and CDs that I had been learning with for over 6 months in preparation for this trip.
Ultimately for this meal, we had Julie's tafelspitz while I had some kind of roast pork dish with onion rings on them (not gluten free, but Tahia and I could share). At least the service was more attentive here despite the language barrier, and by 12:35pm, we were done with the meal.
Next, we walked around for a short bit hoping to check out that blue-towered church except there happened to be some kind of hochzeitsfest (Wedding Party) that made it a bit weird to spend money to go in there and mosy around with people in wedding attire trying to enjoy their big day.
We also saw glimpses of the Richard Lionheart Hotel with some ruins of where his former prison used to be.
Anyways, so this was when Julie and Tahia decided to loiter around the main drag of Durnstein while I went solo hiking up to the Durnstein Castle Ruins at the very top of the hill above the town. It was said to be about 20 minutes in each direction so I told Julie and Tahia that I'd meet up with them back at the main drag by around 1:30pm.
And so in the height of the heat of the day, I went forward with the uphill hike, which went up a combination of ramps and lots of steps. As I was making my ascent, I already started to get teasing glimpses of the Stift Durnstein tower as well as the red rooftops of the rest of the village.
As I continued my ascent, I started to get more commanding views of the Danube River flanked by more cute villages on both sides of the river itself.
Eventually at around 1:20pm, I made it up to the very top of the castle ruins, where there was a bit of a nice breeze to help offset the sweat from all the work it took to get up here.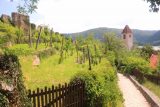 From this vantage point, I managed to get sweeping views over the Wachau Valley, which included a handful of villages along both sides of the wide river. There was even an impressive looking abbey or some kind building way at the top of a hillside in the distance.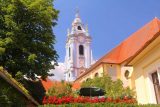 After having my fill of this regal vantage point of the Wachau Valley as well as the castle ruins itself, I then quickly made my way back down to the main drag of Durnstein, where Julie and Tahia found me and wanted me to check out some terrace dining area where it was possible to get a view back up at the Stift Durnstein as well as some partial views across the Danube River.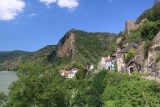 Eventually at about 1:55pm, we finally made it back to the car. However, since it was sitting under the sun the whole time, the interior was baking!
We then proceeded to drive east on the B3 alongside the northern edges of the Danube River, before the road eventually merged with the A1, and then we flew (not literally) right into the city center of Vienna at around 2:55pm.
That was where we went into a parking garage that charged 40 euros per night! And worse than that, this parkplatz that was opposite the Park Hyatt where we were staying also didn't take credit card. So potentially, we could be paying the equivalent of about $150 USD for three nights of parking all in cash!
It wasn't until Julie finally came down to the garage with room keys were we finally able to take some of the stuff back upstairs into the pretty fancy room.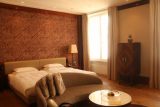 By about 3:45pm, we finally entered the hotel room as a family, and we were immediately struck by the wooden interior and bling factor of some of the decorations within this room.
Once we got settled, it wouldn't be until about 5pm when we finally went downstairs. Most of that 75 minutes time in the room was Julie spending the time looking up places to indulge her sweet tooth that was gluten free.
I kept wondering whether we would lose out on opportunities to really experience the city over chasing these food things when there were far better things to pursue. I guess she was taking for granted that we would have two full days to experience the city. I didn't plan anything for the city stuff so I left her in control of what we were going to see and do (much like we had done for Munich, Paris, and other great cities on this trip).
I did spend time talking with the concierge about getting a map and getting a run down of the city. When I asked him about Tichy (the dessert place), he told me that I was the first person who asked him about that place as apparently most of the clientelle of the Park Hyatt wouldn't consider going to these places.
Similarly, when he noted how far from the inner ring it was, he offered to hail me a cab though I told him I'd rather use the U-bahn instead.
"Are you sure you want to use the U-bahn?" he asked me.
I guess us staying in this place on Hyatt points kind of made us feel like we didn't belong or something (as if we were frauds or something). Clearly this was a baller hotel but we weren't the typical baller guests.
So he obliged me with the run down on how to use the U-bahn, and with all the wealth of knowledge that he gave me, I thanked him and we were finally on our way.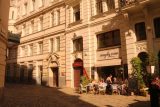 First up, Julie managed to find the first place that she looked up via internet as it was merely a few paces from our hotel. This place was called Simply Raw. That was all gluten free where they creatively used bananas, coconut, walnuts, etc. to give cakes texture. She went nuts buying two different kinds of desserts in small cups as well as a cupcake for Tahia.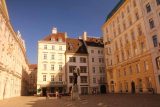 And just those three desserts costed us 18 euros. So she took those away as takeaway ready to eat them as we were expecting to have dessert at Tichy, which was something I was looking forward to after attempting to try the ice cream cake from a place in Hallstatt for dinner that she managed to talk me out of and try apple strudel instead (which I wasn't that nuts for). So I was hoping to try a slice of that kind of cake at this place.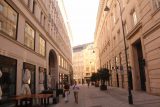 Anyways, after getting the desserts, we then wandered around looking for a U-bahn station (basically a subway). But as we were wandering around aimlessly, we were starting to see quiet streets with attractive plazas. In fact, it appeared that we were going from one platz to another before we started to see high volumes of foot traffic as we went behind some small cathedral and then went into some shopping lane.
That shopping lane then led to a very atmospheric street on the Graben and then the Singerstrasse. That was where we saw hordes of people going north and south on the Habsburgergrasse as well as east and west on the Graben. There were fancy buildings surrounding both lanes so we knew that there must be something significant in both directions.
We opted to follow Graben as there was the sounds of a marching band (though they weren't marching) playing to a very large crowd next to some statue.
As we gravitated in that direction, we saw a modest cathedral at Petersplatz, but then we kept going until we saw an even bigger one with a huge tower that reminded us of one of the spires at the Sagrada Familia in Barcelona, Spain. However, this one seemed to have a bit more of an old-world flavor to it as the Catalonian one was more modern.
That was when we pretty much were at Stephansplatz, which appeared to be the heart of the city. We briefly stepped into the St Stephans Cathedral, where there was some kind of ceremony going on. It was clear that lots of people were ignoring the signs that said some kind of service was going on (so no visitation), and we did as they did and snuck a peak.
What we wound up seeing was a very blinged out and grand cathedral with people sitting in chairs and a couple of white-robed guys speaking in German to that audience. There was a rope preventing casual visitors from getting any closer than the far back.
So we took non-flash photos, but it really felt like we were intruding upon something so we stepped back out.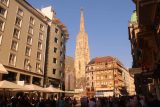 Then, we went downstairs into the U-bahn subway station nearby (within view of the St Stephans Cathedral) and proceeded to buy 3x 48-hour tickets. They appeared to do the validation system instead of the turnstile system where it seemed that no one was paying, but we did not knowing how they enforce these things. We were supposed to validate our ticket at one of the machines and I guess if someone was checking, you'd have to show the validation to avoid getting a fine.
That costed us around 14 euro per person as there was no such discounted fare for children. But with each trip costing at least 2.5 euros in each direction, I'm sure this would pay itself off royally once we got used to using this system.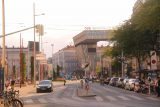 Anyways, we took the U-bahn west towards Westbahnhof, where we then walked towards Julie's selected dinner spot.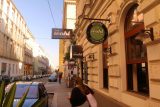 We eventually went to this place called Zum Wohl though we did make a couple of detours towards some supermarkets as Julie was hoping to get some cold breakfast that we could munch on to go without needing to buy something expensive and time consuming at the Hyatt.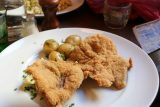 At 6:20pm, we'd finally get seated and start ordering food. The waitress there had a good command of English so communicating with her concerning Julie's diet restrictions was no issue.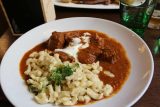 We wound up ordering some kind of beef gulash (which Julie really liked a lot) as well as a duck breast. Julie gave into Tahia having a wiener schnitzel because the breading was gluten free.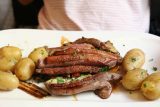 However, we also over-ordered as we wound up getting this "Zum Wohl" dumpling that was really nothing more than a giant plate of spatzel with eggs. I thought it was a vorspeise (appetizer) probably because there was another "Zum Wohl" dumpling that was mozarella cheese with tomatoes, but this was a waitress recommendation so we tried it.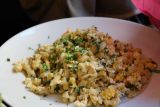 But in the end, we had three boxes of takeaway. With no stove, all these takeaways would be cold breakfast. Plus they were very starchy so it wasn't like Julie could have them. So I knew that I was going to have a very filling cold brekkie.
By about 7:30pm, we were done with dinner, which was over 50 euro but was actually a lot more food for that kind of money than most of the other places we had eaten at on this trip.
We then took the U-bahn towards the place called Tichy (pronounced "tiki" according to the concierge at the Hyatt), where we finally pursued that dessert where I had been eyeing the Schwarzwalder Torte ever since the Seehotel Gruner Braun dinner in Hallstatt that Julie talked me out of having a slice over having an apple strudel instead (which I wasn't nuts for).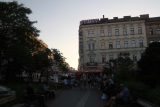 When we eventually got to Tichy, it was basically a very busy takeaway ice cream place with a sit down section that apparently had their own menu that was separate from the takeaway place. Julie thought we were supposed to order at the counter before finding a place to sit.
So we went to the counter first, but with the language barrier (I was definitely out of my depth with my German in communication with a pair of ladies who knew no English), we eventually learned that we would have to buy the Schwarzwalder Torte ice cream cake in full (i.e. the entire wheel that costed 27.50 euros!). I was expecting that we'd be able to order by the slice like for around 6.50 euros back at the hotel in Hallstatt.
I was really not up for spending that much money on dessert for a quantity that was way too much to consume in one sitting.
Well after spending minutes of awkward waiting and dialog with the counter person along with getting Julie to stay with me so I can pay (she was holding the cash), we finally decided to just get the big wheel of cake. Then, once we got the icy cake in a box, we tried to sit down at the table to eat it right away, but some other lady said we couldn't eat anything bought at the counter at those sit down tables.
So I guess this was yet another bad assumption on Julie's part and so we quickly left the place now that we were worried that the cake would melt between now and the time we returned to the Hyatt. So much for experiencing the twilight ambience of Vienna's city center on a Saturday night, I thought to myself.
At this point, neither Julie and I were happy with each other. I couldn't let go of the fact that we had just spent nearly 47 euros on dessert, and that I really wished I had just stuck with my instincts back at Hallstatt so I could try their more famous "dumpling" ice cream desserts in that visit as opposed to the original place, which led to this very expensive and not-so-pleasant visit.
Alas, that was not meant to be.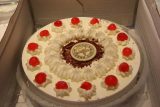 Eventually by 8:40pm, we were back at the room. At least the concierge said they would be willing to store the giant cake box in the refrigerator so we wouldn't have to gorge on it on this evening. But I'd imagine that it would take at least two days to finish this thing, and we'd probably be sick of this dessert by then.
The rest of the evening was spent eating this cake and unwinding from the day. Tahia really wanted to go swimming in the pool downstairs, and she had been asking since 9pm, but Julie was spending time ignoring her and doing other things. So by the time they finally went downstairs (and Julie finally got Tahia's swimming gear, which she opted not to bring up from the car on the first go that I had outside the car ready to go up), it was 10pm and the pool was closed.
Tahia was very disappointed that she would have to wait for tomorrow, and I'm sure we probably wouldn't hear the end of it until she'd finally get a chance to do it tomorrow night. But we better hope that the dinner will end soon enough to let her finally get her swimming shot, which is not a guaranteed thing as apparently there were lots to see and do in Wien.
Day 26 (July 8, 2018 – Vienna, Austria): "History Repeating"
It was 6am when I awoke. Outside, it looked cloudy and as if it was going to rain today. Being that we were in the city though, I didn't feel like it was going to matter too much, but I always found it interesting that weather plays more of a factor when we're in the rural areas (especially the mountains) than in the cities.
And I don't think that's a coincidence.
That's because mountains tend to be cloud magnets with their own microclimate. Cities tend to be in basins or places that are devoid of mountains in the immediate vicinity. So that probably explains why we tend to get crappier weather on our trips, especially when we're in the mountains (where the waterfalls are) as opposed to the cities, where the cloud magnets and microclimates don't exacerbate the weather extremes.
So even if it's going to rain today, I got the sense it wouldn't be the all-day rain that we had to endure like on the day we drove from Hallstatt to Melk as well as on the day we were driving from Fussen to Munich.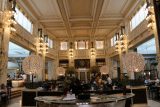 With Julie doing all the planning for what we were going to see and do in the city, I allowed myself to sleep in and gradually get into blogging and other things. Julie actually ran an errand by going to the one of the few supermarkets open on a Sunday at a Billa close to the Praterstern. That way, she could pick up something quick for breakfast on the go.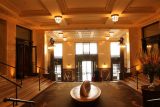 It wouldn't be until around 8:15am when Julie came back with things like kefir, smoked trout, and some fruits. She couldn't buy things for another day because the mini-bar refrigerator was not that cold. I even took a risk eating the spatzel leftovers cold as it was sitting in that mini-bar fridge.
And it wouldn't be until about 9:20am when we were finally out the door and starting our first full day in Vienna.
The first sightseeing target of the day was the Sissi Museum, which was one of several things to see and do in the Hofsburg Palace, which itself was a massive complex of fancy buildings and large gardens just walking distance from the Hyatt and the St Stephans Cathedral at the happening Stephansplatz.
By about 9:30am, we entered the paid part of the museum tour, where we were zipping through the first floor that was all blinged out with china collections, silverware, and other pots and pans that were blinged out in silver, gold, crystals, or other displays of concentrated wealth.
That part of the tour could have gone on for 40 minutes or so if we wanted to, but we were here for the appartments and royal residences. And so by 9:40am, we were then touring the Sissi Museum.
Since no photos were allowed throughout this museum, we really took our time listening to the audio guides and trying to correlate what we were hearing with what we were seeing that was on display. As we were going from room to room, and listening to the narration in the Ken Burns style of having acted voice-overs dubbed in the languages that are understandable (and not all in German), we really got the sense that Kaiserin Elisabeth (aka Sissi) was a tormented soul where she was really not into the royalty of being the empress.
She felt like the day her life ended was literally the day that Emperor Franz Josef I married her, and from that point on, Sissi had to endure the formalities and restrictions of royal court life.
Really, it was like the Princess Diana Story all over again, where at one point, the royal life was embraced to perhaps do ones own bidding, but eventually that kind of life would be all consuming, and then she'd retreat away from the royal life. However, in Sissi's case, Franz Josef I really supported her as he was head-over-heels in love with her but the feeling may not have been mutual nor was this life of being a royal blood was in her either.
So we could really see in the paintings and pictures the transformation of wearing bright colors to almost always wearing black (especially when one of her sons died). We could also see how she was more interested in pushing herself physically so she was very much into exercise and taking big risks horseriding. Same went for her poetry and learning languages.
It was as if she managed to find what little freedom she had in those pursuits.
When we were learning about the Mad King Ludwig II concerning the many Bavarian castles he commissioned and oversaw, we saw similarities between he and Sissi as they may have been kindred spirits. While the museum didn't say anything about whether the two had correspondences and found some kind of bond in each others' ordeals, their similarities in their situations and mental state seemed apparent.
Regarding Ludwig II, those castles were kind of his retreat from royal life that he wanted no part of when it came to him being unable to express himself (i.e. being gay, hating the city life, retreating into his fantasy castles, and blowing off fortunes and burdening the treasury by amassing huge debt, etc.).
It seemed like Sissi lived into her 50s or so until she was assassinated by an anarchist. But he perhaps did her a favor though the rest of the Austro-Hunagarian Empire mourned her loss and perpetuated her myth.
In a way, it's funny seeing how history tends to repeat itself. As Princess Diana felt to me like the second coming of Sissi except the British Royalty had more symbolic and PR sway than it did political sway like in Sissi's case. That said, Princess Diana was mobbed by the media and adored by people who looked up to the royalty as if they were major celebrities, and eventually she died in a tunnel in a car accident when the driver of that car tried to outrun pursuers that were said to be papparazzi or something like that.
The parallels with her and Sissi had more to do with Princess Diana's reluctance to be part of the typical royalty as she tended to give to charities and really try to relate to people in far less fortunate positions than herself. But the royal life aspect was cause for her unhappiness.
And in today, I can kind of see similar parallels between life behaving in a corporate controlled world versus being oneself while breaking out of the rat race. There's always some degree of keeping up with the Jones' and doing arbitrary pursuits of money and wealth by playing by the conventions and rules of corporate behavior and being lucked into corporate biases (in favor of or against; that aren't in your control), and so it seemed like everyone had some degree of Sissi in them. Perhaps that's why I found her story so relatable and why the Princess Diana story seemed like history repeating.
After getting through the Sissi part of the tour (which I'd have to say was the most compelling part of the tour since her story seemed to be most relatable), we then went through Emperor Franz Josef I's rooms, where we got the sense that he was the military head man and one of the last great kings before World War I put an end to the age of monarchies as the world knew it.
By about 11:05am, we then continued on the tour as we found our way to the treasury (schatzkammer). It had been raining outside by this time, but the rain had let up momentarily as we walked outside the Hofsburg Palace and then back in at a different section closer to the main courtyard where hordes of tour groups were already mobbing the city and especially this palace.
Inside the treasury, we were allowed to take pictures though the lighting was so dark that I really had to hold my breath for a bit to keep the photos from being unacceptably blurry. It was basically yet another display of bling bling and while this part was not in the Sissi Ticket, I felt like I could have done without spending money for this part of the tour.
By about 11:45am, we were done touring the Treasury, and then we meandered about the Franz Josefs Platz before going over to the Augustinaplatz. Then, we headed back into the happening part of the Wien Innenstadt (city center). Along the way, Julie made a stop at the Mozart Cafe to pick up some haughty desserts that happened to be gluten free. But we picked them up to go so we'd have to find a place to sit down casually and enjoy them.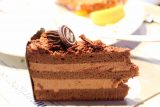 We wound up eating at this cafe-style place called Nordsee at 12:30pm, which wasn't the first time we saw something like this. But this time, Julie saw some delicious-looking shrimp, prawns, and even lobsters with grilled veggies, and it was all in self-catered cafe style.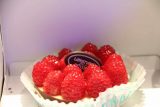 So thus, the price was reasonable and the casual sit down allowed Julie and Tahia to eat their desserts while we were already seated and no one seemed to care a whole lot about what we were eating or doing since we were already paying customers. In fact, we didn't even get charged for tap water (let alone get ridiculed for even asking for it) for a change!
We kept asking ourselves, why didn't we do this more often earlier on this trip. That surely would have saved us time and money since every sit down place was expensive, tended to burn through our cash (when credit cards weren't accepted), and took a minimum of 60-90 minutes or more of precious time due to typical inattentive service.
At 1:05pm, we were done eating and then we walked around a bit though the weather started to turn and sprinkle once again. We then spent the next few minutes walking the other side of the happening part of the Vienna city center, and then we went into the St Stephens Cathedral. I guess the other blinged out church we went into yesterday was the St Peter's Cathedral which wasn't as grand though they did have some ceremony going on there at that time.
But in this case, the main altar and aisles of the St Stephans Church appeared to be devoid of traffic as they had roped off sections and a cage keeping tourists confined to the back of the Dom as well as one side. There were some additional purchases that could be made to tour things like the crypt as well as the bell tower (Pummerin?).
After having our fill of the cathedral, we then started to head towards the U-bahn so we could head to the Belvedere.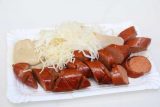 However, we made an additional stop to check out one of the street stands to have ourselves some fresh horse-raddish and mustard with some sausages that looked really good. So we fit that extra snack in before we then took the public transport in earnest.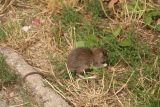 Once we got to the correct stop at the Quartier Belvedere stop, it took us a bit of time to actually reach the Upper Belvedere Palace because we took a combination of U-bahn and S-bahn (both waiting for trains and walking from stop to stop) then we managed to walk the wrong way and going on a fruitless loop before finally going where we needed to go.
Eventually at 2:50pm, we finally reached the pretty grand Upper Belvedere Palace, where there was the now-typical impressive Versailles-inspired buildings with an extensive fountained garden between that and the Lower Belvedere Palace in the distance further down the hill.
The walking path we took seemed devoid of tourists while it appeared that the other approach from the Lower Palace was the more common approach (and probably where the tram stop [strassenbahnhaltestelle] was).
The main reason why Julie wanted to go into this palace was to see some paintings. I wasn't real keen on doing this, but since we were here, and the views weren't as extensive of the city as I would have liked to warrant loitering outside, I just bit the bullet and paid another adult fare to go in. At least Tahia got to go in for free.
Then, we pretty much walked from room to room on the first floor, where the famous "Kiss" painting and some other erotic painting of some satisfied-looking woman was located. There were also other works on the floor that we were reading the signs and trying to interpret what we were seeing through what the artist wanted to communicate.
However, we were really just killing time and making our admission worth our while.
We then went upstairs to the second floor to see the impressionist and realism arts. Some of the works that I most connected with were those that had to do with landscapes as some of the locations were now more familiar to us after having been there. Such places included Lauterbrunnen, Bad Ischl, Hallstatt (before it got touristy), and the before-and-after looks at Wien.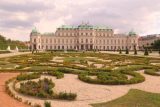 We ended off the Belvedere Exhibit Tour by spending a brief time going back down to the 0th floor to check out the medieval art, which had bolder colors (as they were oil on canvas apparently), and they also were more focused on religious themes.
Eventually at 4:40pm, we were finally done with the exhibit, and then we walked down past the Lower Palace towards the Tram 71 stop. We then took the slow-moving tram back towards Karlsplatz, where we then went on a roundabout subway route going back to Stephansplatz, then the Volkstheater, and finally the Rathaus stop (when we could have taken the U2 line direct from Karlsplatz to Rathaus though we didn't know better at the time).
The reason for all this trouble was to go to some Italian eatery called Pizzeria Scaraboccio, which sold gluten free pizzas (well at least you had to ask for it for an additional 2.9 euros). And this place didn't accept credit cards so we were going to burn through a lot of our cash here, as well.
We ultimately got there at 5:40pm, making it an hour-long commute to get from the Belvedere to here even though I was willing to bet that we probably could have walked the whole distance and still get here faster.
Regarding this restaurant, had we limited ourselves to just one pizza and refrained from the dessert, this place would have been pretty affordable. However, we wound up getting a fairly pricey main of saltimbocca (salty veal meat topped with prosciutto), 2 gluten-free margherita pizzas with buffala mozarella cheese, and a tiramisu along with mixed salad and we got charged for leitungswasser as well as some mysterious 2 euro sitting fee (must be an Italian thing).
All in all, we spent on the order of 65 euros in cash. That hurt. The service also wasn't attentive either as we eventually took it upon ourselves to just go up to the register to ask for stuff or to pay the rechnung (bill), which was something that we were pretty used to do by now.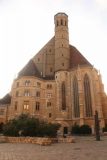 At 7:45pm, we finally made it back to our room to end off the day. I spent time with Tahia to use the swimming pool, which seemed more like a spa experience than it was a play pool. But Tahia got her fun, and we eventually went back up to the room after 9:15pm or so, and then we both cleaned up and crashed.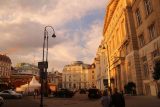 It seemed like each day took a lot out of us, and even on a day like today where we did lots of walking and didn't have a real packed itinerary, we'd still be out of energy by the end of the day. So that made me wonder what tomorrow would bring even though we had planned for a day light in activities. But somehow, I got the feeling we'll be pooped by the end of tomorrow as well…
Day 27 (July 9, 2018 – Vienna, Austria): "Wienerehrfahrungen"
It wasn't until about 6:45am when I finally woke up. This was probably the most amount of overnight sleep that I had gotten all trip long.
Looking out the window, there was plenty of sun, and it didn't seem to have the threat of rain like it did yesterday.
It took us some time to get ready as Julie made another grocery store run though this time she went to the Billa just around the corner from the Hyatt. By the time she got back, we had a quick breakfast before finally heading downstairs at 9:15am to get the day started.
The very first thing we did was to head right for the Herrengasse U-bahn station, where we then took it several stops and a couple of connections to the Schonbrunn stop on the U4 green line. We at first got off at the Neubaugasse stop, where the map given to me by the concierge was incorrect in saying that it connected with the Pilgrimgasse.
So we got back on the U3 line and took it all the way to Westbahnhof, then took the U6 line south to Langenfeldgasse before taking the U4 line west to Schonbrunn.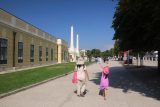 Clearly it was a popular stop, but it seemed like everyone was getting off the subway train at this stop, and then we pretty much followed the crowd all the way to the grand entrance to the Schonbrunn Palace.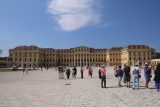 There were already large groups of tour bus crowds jamming into the eingang, which was also where we went. I really wished that we were here an hour earlier, but alas, we knew that crowds would be something we'd have to deal with on this visit.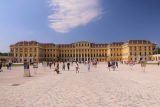 After dropping off our stuff at the cloak room, then using our Sisi Pass to cut most of the line (from a tour group) before finally starting on our tour (no photos), we then followed the tour room by room with the audio guide playing. It was pretty much a similar experience as that of the Sisi Museum at the Hofburg Palace that we did yesterday.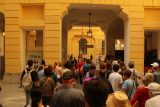 Throughout the tour, Julie found this tour to be more engaging than the grand palaces that we visited at Nymphenburg or even at the Residenz in Munchen. She also didn't recall much of our Versailles visit. So in the end, she found this visit at Schonbrunn to be even more engaging and more interesting than the previous royal tour experiences that we've done to this point.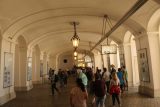 Perhaps the big highlight of this tour was the Great Gallery, which was probably a rival to the Hall of Mirrors in Versailles though the Viennese version had more in the way of high frescoes and tall ceilings and wasn't quite as long as the Versailles version (but no less impressive).
The other rooms were also interesting as we once again got to see re-creations of the furnishings of how Franz Josef I and Sisi lived in addition to Maria Theresia, who was essentially the head of the household of the Hapsburg clan.
Our Sisi ticket then extended our visit into additional rooms that included more furnished rooms as well as a walk through the original bed belonging to Maria Theresia, which was in a dimly lit room to ensure a minimal amount of fading was occuring on the bed itself.
By about 10:50am, we were done with the palace part of the tour. Then, we sought out the Imperial Gardens, which involved walking around the width of the palace and towards the backside. Along the way, there were some stairs that allowed us to look back at the main courtyard at the entrance, and from there, I could see into the Great Gallery but it wasn't photographable given all the window shutters in the way.
On the backside of the palace, we saw a grand garden area with a big Neptune Fountain in the distance. There was also a grand building at the opposite side of the garden that was kind of reminiscent of the arrangement of the Upper and Lower Belvedere Palaces that we had visited yesterday.
After taking a few shots from the backside of the main palace, we then walked up the right side of the garden upon on a semi-rocky gravel surface. First, we took pictures at the front of the Neptune Fountain before going up behind the fountain itself.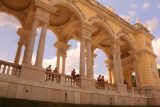 At that point, Julie and Tahia decided to chill out by the mist and coolness of the fountain, which I was sweating it out going further up towards the top of the hill.
As I did this, I managed to cut across a path just before some pond or fountain on the upper hill that wasn't very visible from down below. I got some nice views looking back towards the Schonbrunn Palace but then I continued going further up the hill right up to the structure at the top of the hill.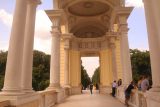 Once I got up there and got my looks back towards the garden and Schonbrunn Palace, I also noticed that the building I was standing beneath was actually some kind of cafe, where you can only enter on one side. The arches and canopy flanked by statues at the entrance presented a very Roman or Greek motif.
I didn't bother lingering too much around the cafe area as I was quite content to take my shots, then go back down the hill towards Julie and Tahia at the Neptune Fountain.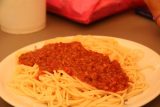 By about 12:25pm, we ate at the Tiergarten at the Schonbrunn Garden. Funny how we were intending this garden visit to be brief, but now we were eating here as Julie found this place to be nice and cool even if we knew the food probably wasn't going to be top notch nor great value as we were in a touristy spot.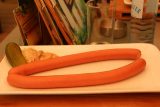 We wound up getting wurstl (basically like a hot dog with mustard and horseradish), some pretty good roasted chicken legs, and Tahia got some spaghetti Bolognese. Of course, they didn't have tap water so we had to buy mineralwasser at 3.8 euros for a 0.33L glass bottle. Rip off I know, but I'm sure we wouldn't be allowed to drink our own water while sitting down at the table.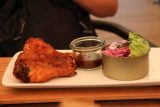 It wasn't until about 1:20pm when we were finally done eating. At that point, the palace was well overrun with tour bus crowds and tourists. So even though our experience was on the busy side, it was perhaps even more chaotic now.
We made the fairly long walk back out of the complex and then back to the Schonbrunn U-bahn stop. Then, we eventually got up and out of the U-bahn at Karlsplatz before taking another U-bahn train up to the Stephansplatz. At that point, we walked around the happening parts of the Stephansplatz trying to find the state room.
We saw signs for it yesterday so we kind of knew that it was at the Hofsburg Palace not far from Stephansplatz. And by 2:45pm, after paying for our admission, we eventually went up the stairs right into the bibliotek (library).
Inside the State Room Library, we were treated to an impressive array of books, frescoes at the high ceilings, and even some busts and statues within the room.
Since non-flash photography was allowed, we got to spend a good deal of time taking pictures of our own to somehow try to capture the grandeur and old world feel of this bibliotek.
When compared to the Admont Abbey experience, we noticed that this State Room Library had more of dark stones and wooden shelves. So there was indeed a less brighter white appearance as what was seen at Admont.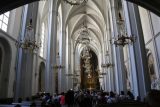 Even though the place was relatively silent (people generally kept their voices to a whisper), it was still quite busy with people coming in and out and loitering around looking for creative ways to take pictures.
After having our fill of this place we then tried to figure out if it was worth checking out the immobiliendepot for the Hapsburg furnituer collection, which was included as part of our Sisi Ticket. Unfortunately, the immobiliendepot was closed on Mondays so we wouldn't get to visit it on this day (as our window to check it out was yesterday).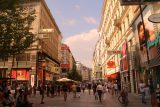 In any case, we were having some mobile connectivity troubles after we knew and confirmed that we had topped up our Holiday Orange Mobile plan this morning. So we then went to a tourist info center to figure out where was the best place to withdraw money as well as where we could pick up a sim card if somehow we got frauded out of money on the top up from this morning or yesterday afternoon.
That was when we were told that there was this place called "Drei" ("3" in German) at Stephansplatz. And once we walked our way back to the happening Stephansplatz, we finally found the place.
Then, just as Julie picked up a number and awaited her turn to get called, suddenly my phone got a text. So I guess the internet would finally be working again, and that spending any more money on an Austrian sim card or mobile plan wasn't going to be worth the trouble. I guess it took some time for the mobile internet connectivity to kick in once we had topped up.
That said, from my limited German, I thought I saw some plan saying 30 euros for 30 days for connectivity on a sim card? I wasn't sure what was the catch because the plan we were on costed us nearly 40 euros for the sim card for just 14 days! Then, we had to pay 20 euros for every 14-day top up thereafter. And we were now on the second top up (and we even had to register to get our account lasting more than a month as this trip spanned around 6 weeks).
So with that weirdness out of the way, we then saw that the imperial furniture display ("Kaiserliche Immobiliendepot") was closed all day today. So our attempts at finally checking this out as part of our Sisi pass was not going to happen. I think Julie was having regrets at not having done this yesterday as it would have been another shot at checking out things about Sisi, which Tahia was really into.
Thus, with nothing seemingly left to do other than loiter around, we decided to head back to our room, and we did that at about 4:30pm. Along the way, we did stop by the St Peters Cathedral one more time as we knew there would be no service going on this time around so we could check it out a little more thoroughly than the first time we were here a couple of days ago.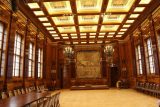 Back at the hotel room, Julie then did a little more internetting before we headed back downstairs an hour later.
Julie decided that we were going to go back to the first restaurant we dined at in Vienna because it was all gluten free. She was skeptical now that the desserts we got at Cafe Mozart were truly gluten free nor were they properly labeled. And that got me wondering what else some shady restaurants and cafes might be pulling to get people to spend money under the false gluten free labeling only to get them sick thereafter with no consequences.
Now that we were quite familiar with the metro system in Vienna, we eventually got to the Zum Wohl Restaurant near the Westbahnhof Station at 6:10pm. We took some time along the way to check out Hofer (basically the "Aldi" in Austria) as well as Billa since Julie wanted to pick up some cold breakfast for our departure tomorrow.
Once we found out that these supermarkets closed at 8pm, we punted that visit for after dinner.
Back at the familiar Zum Wohl Restaurant, we pretty much ordered the same thing that we had gotten on the first day. The thing we skipped on was the 4th main course that I thought was an appetizer, which was some kind of "Zum Wohl" "dumpling", which was really nothing more than a spetzl with eggs.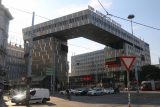 So we had the familiar beef gulash (which Julie loved) as well as the duck breast, and Tahia's Wiener Schnitzel (breaded veal cutlet).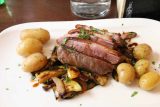 However for dessert, we indulged in a chocolate-apricot cake and I had some kind of pancake with ice cream inside as well as chocolate syrup on the outside. They were good, and Tahia really went after my pancake after saying she didn't want any.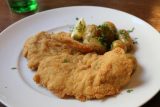 Plus, the tap water was free and I didn't get ridiculed for it. So that was yet another thing that we appreciated about this restaurant and that coming back here instead of trying something new was the safer bet on our last night in Vienna.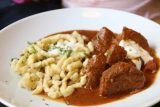 The waitresses that were helping us on this visit were different than when the time when we first came here. Both personnel were helpful and friendly. The first one appeared to have African blood but she was helpful and was fluent in German, which was a combination we didn't find very common in our travels so far.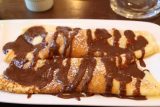 Similarly on this visit, there was a Korean waitress who also spoke fluent German, and that was probably one of the first times we saw an Asian person speaking fluent German on our travels through Austria so far. She, too, was helpful and pretty friendly as well as sensitive to Julie's diet restrictions.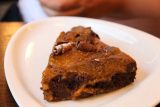 All in all, we left the restaurant at 7:40pm, which was just in time for us to get to the Billa before they closed, and we picked up some foodstuffs for breakfast tomorrow as planned.
At 8:15pm, we were back in the room. We were really getting used to the U-bahn system (still wondering if locals actually pay for their metro passes or not because we hardly saw anyone validating nor checking), and we were even figuring out that we had taken wrong street level exits even on this Westbahnhof stop as we saw that we didn't even have to cross the major streets to get to the station.
Too bad this was our last night in Wien, which was fine with us as our trip expenses were piling up, and this city was certainly not cheap.
Finally, at 9pm, I accompanied Tahia one last time for swimming at the Hyatt pool. Since it was her bed time, we engaged in this activity for a little over a half-hour. The pool itself this time was pretty busy with people coming in and out. But it didn't stop Tahia from improving her swimming and even figuring out how to stay afloat and going from wall to wall doing "laps" as she seemed to be getting more comfortable in the water.
Eventually some time before 10pm, Julie went to the sauna to try it out. Meanwhile, Tahia and I each got cleaned up, and shortly afterwards we all crashed (especially since Julie's sauna excursion was cut short by the 10pm closure of the spa and fitness area anyways).
Tomorrow, we were headed to Graz and resuming our waterfalling adventures. But it would be with a little bit of anxiety since the next couple of weeks would involve going off the beaten path and visiting parts of Austria that would be a bit off the foreign tourist path. We'll see how this all plays out as homesickness was starting to kick in for Tahia…
Day 28 (July 10, 2018 – Graz, Austria): "Within Our Graz"
It was 5am when I awoke. I used this time to catch up on blogging as well as getting packed up and ready to go. I managed to make one trip down to the garage to load up the car, and then have some cold breakfast before taking down Julie's other luggages to the car.
So it wouldn't be until around 7:30am when we finally left the Hyatt. We had to pay 120 euros for the 3 nights of parking (at 40 euros/night) so that was painful. But I guess we can't really complain otherwise since we did stay the three nights for free as we used Hyatt Points.
The drive out of Wien was a little bit confusing at first, but eventually we followed the Danube River and eventually made our way to the A2 freeway. Once we were on the autobahn, we then made good progress as we eventually exited the freeway at Wollensee (sp???) before taking local roads all the way to Muggendorf, which was the town closest to Myrafalle – the waterfall target for today.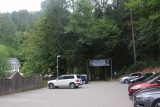 We eventually made it to the well-signed car park for the Myrafalle at 8:35am. There were already cars parking at this limited lot just as we showed up. It didn't take long before other incoming visitors would have to park further up the hill at the spillover car park.
I didn't realize that Myrafalle was so popular, but it's turning out to be the case on this visit. Yet in my research, it didn't seem like a significant waterfall, so I wondered what could be the draw?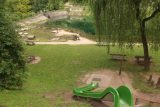 Well, Tahia was already looking forward to play time when she realized that there was a playground below the car park. Meanwhile, there was an automatic machine to buy tickets at 5 euros per adult and 1.50 per child above age 6. I only had exact change for the 2 adult tickets so I only bought those.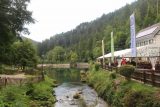 However, when Julie went to the kassa and paid for the tickets as well as for the kid, that was when the lady took my tickets and gave back cash.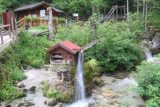 In any case, at the entrance, there was a pair of attractive small cascades as well as one that was spilling into a waterwheel that was causing a carousel to spin. That was kind of cute.
I also noticed a rock with some plaques on it showing Maria Theresia and some verbiage suggesting that she made a visit here in 1801. Perhaps this also helped to make this waterfall as popular as it seemed to be.
After going through the self-help turnstile with our paid tickets, we then walked up several wooden bridges and steps. With each level we were going up, we were seeing different aspects of the Myrafalle Cascades.
Eventually, we reached one attractive part where there appeared to still be more of the path ascending towards the top of the falls, but Julie and Tahia were content to check out the falls from here and turn back.
I actually kept going up past this point and I saw that there was another tier further upstream that was segmented and attractive. And I'd imagine that this was the last of the Myrafalle Waterfalls.
I then did a little more exploring to see if the cascades kept going. But as I got past the top of the falls, the path started to flatten out more, then cross a bridge, and then the path followed the stream past minor cascades as it continued up eventually towards the Hausstein Massif.
There was also a path that rejoined the road, which kind of reminded me of the Schiessentumpel hike in Luxembourg. But this was my turnaround point, and I went back down the path to enjoy the Myrafalle Waterfalls once again.
As I was going down, I was taking videos of each section. I was half trying to interact with the Austrians going up the waterfalls while trying to keep on filming. But there were quite a few people making their way up so the popularity of this falls was undeniable.
Eventually at about 9:45am, I rejoined Julie and Tahia at the playground. Apparently, Tahia had a good time playing there where at first she was going down the long slides then swinging on the swings. However, the thing that really made her happy was a raft where she had to pull herself across from one dock to the other.
That gave her a good workout, and it certainly was fine by Julie and I as it kept her out of the iPhone and physically interacting with her surroundings.
Finally at 10:25am, we were back in the car just as more families were descending upon the playground. I guess this excursion took less time than I anticipated so we might end up in Graz sooner than I expected. The GPS suggested we'd be there at around 12:30pm, but we told the apartment owner (that we were staying at for tonight) that we'd be there around 1pm.
At first there was some confusion about whether we had already paid or not (we did it through booking.com) and Julie got the company on the phone to communicate with the owner to ensure that we wouldn't be double paying.
But eventually when we finally got into the innenstadt of Graz at around 12:35pm, we had a lot of trouble trying to figure out where we were supposed to park. The owner kept saying there was street parking, but it didn't look like it.
As we were trying to look for the apartment, we found suddenly found ourselves in an area where only trams and pedestrians were allowed in. And we couldn't figure out how to get out. There was one pedestrian that told us the obvious (that we couldn't be in there), and so we made a three-point turn and slowly drove our way back out to where we thought the apartment was supposed to be.
After making one circle and returning to the same spot, we then found an alleyway. So we pulled over at some spot in that alleyway where none of the signs appeared to suggest it was an illegal spot. And as we were walking around looking for clues about whether we were parked ok and whether we could get the apartment keys, a parking enforcement guy showed up with a camera phone and ready to cite us.
Good thing I was there to talk to him. He said we could not stop where we were at, but he suggested that we could stop for 10 minutes in a blue parallel parking spot just behind us (a guy had just vacated that spot).
So with that, we did just that while we were waiting for Julie to do her thing.
Eventually at about 1pm, Julie came back and told us that a good parking spot had just opened up near where she was waiting for the apartment owner to show up with the keys (it wasn't in the lock as shown in her video that she sent to Julie). We probably showed up too early as the owner seemed to be in between her full-time job and managing the apartment with us checking in.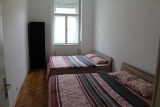 Finally at 1:15pm, the lady showed up and showed us to the apartment. We finally got settled, and the lady was quickly making her way back out to her day job.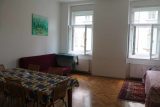 Meanwhile, I had to feed the meter, and at first, I paid about a euro, which was good for a little over an hour of parking. And in the time that we waited to feed the meter again, Julie went across the street to Eurospar and made a quick Frankfurter and kraut lunch (basically hot dogs without the unhealthy ketchup and bun, and more pure meat than what we'd find back at home).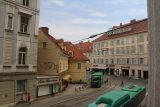 Come to think of it, the Germans did indeed invent the sausages that were essentially the pink meat of hot dogs. And apparently Austrians called the sausages Frankfurters (since they were apparently from Frankfurt, Germany) since the word "wiener" suggested that it was something that was invented in "Wien" or Vienna.
So the term "Viennese Sausage" could have very well been the bastardization of the term "wiener" referring to hot dog when in fact "wiener" was more commonly referring to the ubiquitous "Wiener Schnitzel" which was basically breaded veal chops or cutlet.
Anyways, after the quick lunch and feeding the meter the maximum 3 hours (for 5.4 euros), we then started walking around at about 2:50pm. We were supposed to come back and feed the meter at around 5:40pm. So hopefully, this would be enough time to tour Graz and come back.
However, we wound up wasting the first 45 minutes going across the river on some kind of TripAdvisor detour. Julie was looking for the city center and old buildings as well as the Schlossberg (where there was the town's signature tower and views), but we wound up far from it.
During this fruitless detour, we saw the same parking enforcement guy on foot patrol making the rounds. We already saw one car parked with a parkschein, but apparently he noted that the ticket had expired and so warranted the citation. That reminded me that we had better make sure our parking ticket wouldn't be expired with no replacement ticket to ensure we're in good shape…
So it wouldn't be until around 3:35pm when we were finally back at the zentrum near Jakominiplatz, and then we finally found a tourist info site at 4pm, where we then got oriented, got helpful city maps, and got good advice from the lady working there.
With the dark clouds looming and a rain storm coming, we knew we had to make haste in order to make it up to the clock tower on Schlossberg. However, as Julie was busy being distracted by spontaneous purchases of popcorn and figuring out how to take pictures of the main platz (Hauptplatz) surrounded by old buildings, I gave her my car keys and told her that I'll meet them at the top while they go back and feed the meter since their sense of urgency wasn't very high despite Mother Nature showing signs suggesting otherwise.
So off I went though I did think in the back of my mind that it might not be easy to rejoin them again given that the clock tower complex might be bigger than anticipated.
Regardless, after going up the steps (and not doing the lift nor the funicular), I sweated my way up to an attractive garden with a view of the clock tower in the background. Then, I soaked in the views before climbing even higher past the clock tower and going up towards the Chinese pagoda and Bastion.
By around 5pm, I had made it up to the bastion on my own, and soaked in the views of the city's red-rooftops, which someone from this city at the Hyatt concierge told us about. However at the same time, I was wondering when Julie and Tahia would join me as I saw for myself how easy it was to not find each other given how big the bastion area was (which was my biggest fear about being separated and meeting here).
In any case, I spent some more time taking pictures, and checking out other interesting parts of the bastion as well as some church tower. I also found the top of the funicular though I wasn't sure if Julie and Tahia were going up that way or going up the lift by the steps that I chose not to take earlier.
After sitting around the clock tower at 5:25pm, I then started walking back up slowly in the direction of the Chinese pagoda and bastion. That was when I started to hear Julie yelling out my name in the distance. I still couldn't see her, but I suspected that she was at the bastion overlook, and after climbing a little higher on the road leading up to the pagoda, I saw Julie taking pictures.
That was when I yelled back to her, and eventually we reunited at around 5:45pm.
Julie had already paid for tickets to go back down the funicular, but I told her that that was a waste of money because it's easy to go back down the steps and back into town. Not only that, but they would also get the best views of town as well as the best views of the clock tower.
So we went ahead and did just that just as dark clouds were definitely coming overhead while we could see rain bands in the distance. Time was definitely running out.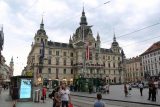 On our way back down, we took the obligatory shots of the clock tower, the attractive garden below it, and the steps leading back down to the downtown area (Innenstadt). Eventually at 6:15pm, we were finally back at ground level and proceeded to walk back in the direction of the Bio-markt called "Denn".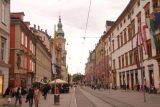 Along the way, Julie got distracted by some deals at Zara, and decided to go in there. But after not finding what she was after, we then went back outside and were greeted by the onset of some fairly heavy rain.
I was walking us towards the Denn bio-markt, but Julie wanted to go back to the apartment to get an umbrella. After it was too late and we crossed the street in the direction of the apartment, Julie finally realized what I was telling her – that the Denn was just down the street with some reasonable shelter to walk under.
Unfortunately, there was too much road traffic to jay walk back in the other direction. And so we had to deal with the rain, then go across the crosswalk in front of the Denn, and finally get into the supermarket at around 6:35pm while we were partially wet from the rain.
During our shopping run, Julie picked up some bacon, some qwark (which made her think that this place was like Alnatura), and some more fresh organic fruits.
Eventually at 6:55pm, we were back at our apartment. We once again had to walk through the rain, and we were winding down the day finally out of the rain and making preparations for dinner. I also checked the parking situation to see if that enforcement guy who was making the rounds on foot would be checking on our car, but fortunately I didn't see a citation. There was still 20 more minutes to go before parking was supposed to be free until 8am.
Anyways, back at the apartment, I was looking at the forecast. Unfortunately, tomorrow was going to rain all day. So this would involve a fair bit of uncomfortable hiking in the rain to two waterfalls as well as a castle.
Apparently, there was some degree of rain and/or T-storms in the forecast in each of the next several days. So I guess this is the new norm as we were returning to the mountains.
We'll have to see how all this plays out, but the show must go on – rain or shine…
Day 29 (July 11, 2018 – Obermillstatt, Austria): "Taking A Punt"
It was 4:55am when I awoke. It looked like there was light rain outside, and that made me worried about another uncomfortably soggy day of hiking where today's itinerary consisted of two waterfalls as well as a castle.
I was also worried about a later-than-planned start as Julie didn't get going with the breakfast until almost 6am. In the mean time, I was loading up the car in the rain to try to streamline the list of things to do. I was also taking out the trash and washing the dishes and the fruits amongst other things.
So it wasn't until around 7am when we were finally heading out. There was definitely lots of activity in the city of Graz at the time. But at least we were leaving the city. Unfortunately, with ambiguous directions from both GPS units (and Julie Facebooking instead of navigating on the phone with the GoogleMaps routing), we wound up incorrectly taking an 11km tunnel from Graz in the direction of Salzburg. So it wouldn't be until around 13-14km from the start of the tunnel before I could finally turn around and head back through the tunnel to be finally back on track.
That was a costly 30-minute detour and I was already not happy with the way things were starting out as time was of the essence, especially with thunderstorms predicted to occur in the late afternoon at Millstatt, which was where we were supposed to be spending the next two nights.
At least the drive went along pretty smoothly and the traffic was definitely light compared to other parts of both Germany and Austria throughout this trip. In fact, even the weather appeared to start letting up as we were getting closer to Klagenfurt.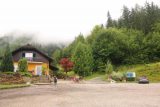 However, we first targeted the Wildensteiner Waterfall and I wouldn't start seeing signs for it until we got to the town of Gallienz. From there, I followed the signs and eventually made it to the empty but spacious car park at 8:50am. At this time, there was no rain but there were low-hanging clouds everywhere.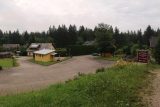 Upon seeing that the sign suggested the hike was 20 minutes to get up to the Wildensteiner Waterfall, Julie and Tahia also decided to join in on the hike. However, I pushed forward since I knew it took them a lot of time to get started and to hike up.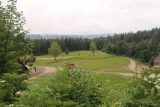 The path was pretty straightforward as it followed a sloping gravel path. However, there were false trails that wound up not going to the desired waterfall. And I managed to fall for one of them near some benches and a picnic table at a switchback. That narrow and potentially slippery and eroded path was nothing more than a shortcut skipping maybe a switchback or two, and it wasn't worth the overgrowth and wet pants.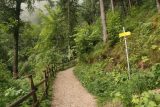 The uphill hike definitely made me sweat. It made me feel like I definitely needed to do some laundry as I was running out of clean clothes.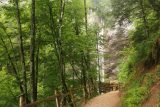 Eventually, I made it up to the dead-end where there was the impressive Wildensteiner Waterfall. It was a plunging drop of around 39m or so (I think that was what was reported), but they closed off the path leading to the backside of the falls due to the risk of rockfalls. So I was content to just get my views and document this pleasant plunging falls though Julie and Tahia were nowhere to be found even though I was lingering here for at least 15 minutes or so.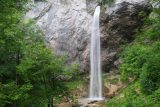 When I started heading back down, I finally started to see Julie and Tahia heading up, but they were distracted by picking wild raspberries as well as lesser wild strawberries.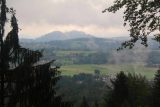 They'd eventually get up to the main lookout and partake in a few selfie shots before we had to get back down.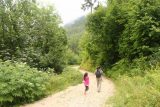 On the way back down, Julie and Tahia took their time picking more wild fruits. As we got closer to the bottom, there was one family that was coming up, and they were the only other people we saw on this excursion though we did get an early start.
By 10am, we were back at the car. Without the rain, it was still a bit warm given the exercising, but at least it wasn't soggy. And the cloud cover definitely didn't make it too oppressively hot.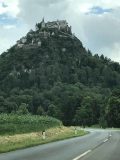 The GPS next made us take some local roads as we pretty much followed the shortest distance route. I was wondering if we could have taken a combination of the A10 and the S37 to get to the next excursion, which was the Burg Hochosterwitz. Since this wasn't on the Rick Steves literature, I knew that there wouldn't be many American tourists (we might be the only ones).
However, there remained the question of whether we'd have a pleasant surprise or something that wasn't worth the trouble of getting there.
Well, the drive as we approached the Burg Hochosterwitz was interesting as the castle was perched high up on the top of a hill. We couldn't stop and take pictures along the road, but it was definitely an imposing presence, and it whetted our appetite at checking out this off-the-beaten-path attraction of Carinthia.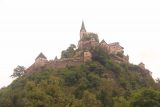 Anyways, we'd eventually get to the main car park for the Burg Hochosterwitz at 10:50am. The free parking spots were all taken up, and there was a logging crane blocking the way to get to the P4 lot further downhill. We did initially park at the very base of the hill, but when we saw that it was going to be a fairly brutally uphill hike, we went back to the car to get up to the Burgplatz.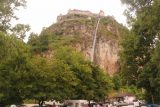 We eventually parked at Gasthaus Tatzer, which charged only 1 euro to park on their lot. Actually, that wasn't a bad price to pay and it certainly helped us to not have to deal with the circling vehicles trying to squeeze and find the limited free parking spots at the P2 lot.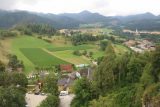 Then, we paid for the tickets to get into the Burg Hochosterwitz as well as paying for the crazy-looking vertical lift leading up to the castle itself. The price we wound up paying for the three of us was a whopping 65 euros! That might have costed us more than the combo ticket of Hohenschwangau and Neuschwanstein Castles. We were thinking that this better be worth it for this price.
Well, after going up the lift and rising quickly above the surrounding landscape, we were then deposited just outside the castle's battlements and ledges where we got commanding views of the farmlands and de-nuded parts of the forest as logging was definitely an apparent staple in this part of the country.
We also saw the context of the P4 lot, which appeared to have finally opened up as we saw a handful of cars down there.
Anyways, we walked right into the central courtyard of the castle, where there was a tented dining area. We spent some time looking around to see if there was an obvious spot to enter the castle and do some kind of tour like they'd do the other castles.
However, after walking into the museum, we saw that there was a display of armaments, armors, paintings, and even a little shrine or something.
The signs said that there were no photos allowed, but in this castle, it didn't seem like they were strictly enforcing this though we were being discrete about it. This museum visit was only for about 4 or 5 rooms. But after that, the path went back into the courtyard via a gift shop. And that was that.
We couldn't believe that we paid this much money for such a limited castle experience. And it felt more and more like a rip off.
In any case, we could have taken the funicular back down, but we decided that we should walk all the way back down and really made the castle visit worth our while.
And as we did this, we started to notice several towers during our descent. Perhaps the most compelling of the towers was a church tower fronted by a small flower garden.
Aside from that, we pretty much went from tower to tower (most of them seemed to date back to the late 16th century). However, with no real opportunity to get a feel for how this castle was used and learning more about who lived here, the experience pretty much amounted to an overpriced castle ruins experience even though the castle wasn't ruined (actually it seemed to be quite intact).
It wasn't until about 12:45pm when we finally ate at the Gasthaus Tatzer (the folks we paid to park at), and had ourselves a quick lunch of "Fitnessteller" (a fitness plate of grilled chicken salad, which was the only gluten free item on the menu) and a huge Wiener Schnitzel that Tahia and I shared.
The nice thing about this place was that they didn't charge for tap water, and that they accepted credit cards even though our meal was less than 20 euros.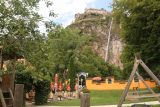 By 1:15pm, we were finally back at the car, where now the Gasthof parking lot was pretty much full when it was only about 2 or 3 cars full when we first parked here.
Regardless, we next continued our drive towards the Finsterbach Waterfalls, which was the next excursion of the day. The drive took a little bit longer than expected because the S37 highway heading towards Klagenfurt was closed near the Burg Hochosterwitz. It wasn't until we got past the detour that we finally got on the highway, and then made it past Villach before circling back to the northern shores of the Lake Ossiachersee towards the village of Sattendorf.
At first, it didn't seem like there was an obvious place to park the car (nor was the waterfall way that well-signed if you were coming by car). However, I did notice a sign that did say "Wasserfallweg", and I knew that had to be for the Finsterbach Falls.
There was one person that parallel parked on the narrow road in front of some building that didn't appear to be occupied. And even though there were some no parking signs in German that led uphill, it seemed like parallel parking on the road next to the wall beneath the unoccupied building seemed ok.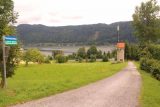 So I stopped the car at 2:10pm. Julie and Tahia opted to stay in the car (actually Tahia was napping). So if there was some parking issues, at least Julie could move the car.
About 10 minutes later, I finally got geared up and ready to go on the hike.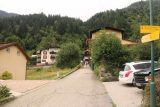 Pretty much immediately, the path went steeply up a paved road between some attractive homes with roses fronting windows, and then we went past some gasthaus with signs pointing the way to continue hiking up towards the waterfalls. Apparently, the first waterfall was a mere 5 minutes away. However, the third waterfall was said to be another 30 minutes away.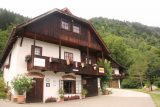 The paved path then gave way to a dual-tracked road that then quickly ended at the trail start. That was right in front of a junction with some benches and signs. And that was where I started to see the first Finsterbach Waterfall.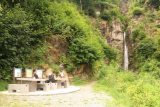 There was a spur trail that went right to its base. So I did that first, where I encountered a family that wanted me to take a family photo for them. When they left at around 2:30pm, I then spent a few more minutes documenting this pretty impressive waterfall, but I knew that there was so much more to see and do so I moved on.
The family that I helped out were in front of me, and they were going at a slow pace because the uphill trail quickly got steeper, more rockier, and rootier. It was still manageable, but I could see that some caution was definitely necessary as one other kid who was on his way down managed to slip and fall backwards though he sprung right back up and it wasn't a thing.
At one of the next junction, I saw signage pointing the way to the second waterfall. That family continued on to the third waterfall and didn't do the second one.
When I got to the second waterfall at around 2:45pm, I was all alone. It seemed like most people tended to skip this waterfall for some reason. It wasn't like it was hidden or anything.
Regardless, there was some kind of dam almost immediately downstream of the second waterfall, which seemed slightly smaller than the first but had a definite plunge. There was also a concerete wall discouraging anyone from trying to swim or get right at the base of this waterfall.
As I had my fill of this waterfall, when I started to head back to the main trail, I got some pretty decent (albeit partial) views towards the Ossiachersee and Sattendorf down below. It was neither a wide nor expansive view, but I always say lake views are best from above, and this certainly fit that criteria.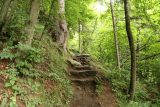 Next, the trail then climbed even more steeply where some of the rocky parts were slippery or were steep enough to cause some people to climb hand over feet. And this stretch definitely made me sweat a bit more even though the skies were overcast and threatening rain but the temperatures remained quite warm.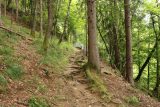 Eventually, the trail started to flatten out and then follow along the gorge before crossing a pair of bridges. There was some kind of mine or alcove or something fronting the first bridge. And after getting up to the second bridge, I started to partially see the impressive third waterfall though there was still enough foliage to make it hard to see the falls from here.
So I kept going up beyond the second bridge as it ascended steps before eventually reaching the dead-end where further progress was fenced off to keep people from becoming victims of rockfalls or landslides. I managed to get up here at about 3:10pm.
This waterfall was definitely larger than the first two waterfalls, and there were some attractive cascades immediately downstream from it though they were hard to photograph all-inclusively.
I actually had passed by that family I had helped out earlier on to get here, but as they started to linger, I started to leave as I took a video that took in all the different views of the third waterfall that I could notice and think of.
With that, I had my fill of the falls and headed back down. During the descent, I still saw a lot of people coming up as well as passing some people who were making their way down. Indeed, this waterfall was popular with Austrian holidaymakers, but I was under the impressive that I was once again the only foreign visitor.
Eventually at 3:35pm, I returned to the car where Julie and Tahia were waiting in the car. I was now a very smelly and sweaty mess from the physical exertion, and I started driving off as we were finally headed towards Millstatt.
The drive further west towards Millstatt was actually quite scenic as we were passing some lakes and villages along the way. Then, when we were approaching Millstatt, there were some attractive lakefront views (almost Hallstatt-like) except there were dark brooding clouds and mist in the distance suggesting that the rain had already started to fall.
At about 4:25pm, we saw a pretty big Eurospar barely 3km from Millstatt, and Julie decided that we should make a stop there and pick up some goods so we can eat in and self-cook.
At 5pm, we finally were finished with the grocery run. Then, we drove into the main drag through Millstatt where we found an info office that appeared to still be open. So Julie and Tahia went in there while I waited in the car.
When Julie returned, apparently, she got some disappointing news that the thermal lake and spa experience she wanted in town wasn't conducive for kids. Instead, we were referred to going to a town some 30-minutes away called Bad Kleinkirchheim, which was apparently more family-oriented than the Badehaus Millstattersee.
The Badehaus Millstattersee that Julie anticipated doing was a fully-nude type place, and that was the big reason why it wasn't a good idea to have Tahia there. I think the minimum age was like 16 years or something like that.
Another suggestion was that there was a swimming area at Spittal an der Drau. However, I think Julie had her mind set on the first suggestion, which we'd have to punt for tomorrow, depending on how much time we'd have left for it as it would be towards the end of the day.
By about 5:35pm, we finally made it up to our apartment-hotel at the Hotel Berghof, which was actually further up the mountain the town of Obermillstatt instead of Millstatt. Apparently, apartments were hard to come by in town, which was why Julie chose this location. In hindsight, however, I wondered if it would have been more kid-friendly to be staying in Spittal and der Drau since it seemed to be a bigger city and it was right off the autobahn, apparently.
The rain was coming down real hard at the time. And bringing stuff into our room was a bit of a rush while also trying to minimize the wetness. By 6pm, we finally got settled in the room. Unfortunately, there was no laundry so I'd still have to make do with re-using smelly clothes at this point of the trip.
However, everything else was working just fine as we had a bit more space, and it felt like the apartment experience that we had gotten used to throughout much of the earlier parts of this trip.
The rest of the evening was spent having the dinner and Facetiming loved ones back at home. During Julie's dinner preparations, the rain was coming down really hard, where we even heard some thunder.
However, eventually when the dinner ended, the storm looked like it blew over as we started to see some breaks in the clouds.
In any case, we looked at the forecast, and it was looking more and more than we should do the Grossglockner High Alpine Road tomorrow even though it was probably better using Zell am See as the base for that visit. Unfortunately, the weather looked foul for the rest of the days thereafter and so we would have to make that High Alpine Road experience work for tomorrow and still fit in Julie's spa experience.
There was even an attractive town at Linz, which was at the far south end of the Grossglockner Road and west of Millstatt. So by fitting that in to the overall excursion, it might be a bit much. But we'll have to see how it all plays out as there was definitely to see and do, but too little time (and lots of distance to cover) in this part of the trip.
Indeed, we'll just have to take it as it comes first thing in the morning tomorrow and see where we end up. Definitely the included breakfast (which wasn't until 8am) was not going to work tomorrow, but we could try to do that on the day we leave as I'd then be awaiting Raggaschlucht or other paid attractions to open up on our way to Zell am See…
Day 30 (July 12, 2018 – Obermillstatt, Austria): "Grossglocknered Out"
I woke up at about 5am. It was still cloudy outside, and that gave me a little cause for concern about the forecast suggesting that today was probably going to be the best weather day to do the Grossglockner High Alpine Road. Starting tomorrow, it was said that there'd be more thunderstorms or rain thereby forcing our hand into doing it today even though we were all the way to the southeast of it in Millstatt.
After Julie spent some time making eggs and frankfurters (hot dogs) with sauerkraut for breakfast (I also washed fruits and had some kefir to go with it), we were finally leaving at 6:50am.
Since it was quite the long drive to even get to the Grossglockner Road from the north (near Zell am See), I knew that both Julie and Tahia were going to get some shuteye during the drive.
One thing that was a little on the unusual side was that there was actually a toll station where people collected money for using the A10 autobahn. In our case, we spent something on the order of 11.50 euros. But I figured that it was justified considering that we had passed through a pair of very long tunnels. It's not that easy to have a road system deep in the Alps, but it appeared that the Austrians found that tunneling through the mountains was the most practial way to go.
As we went further north on the A10, we started getting into familiar territory as we were now more than half-way from Millstatt to Salzburg (even though we weren't going back to Salzburg on this day). Then, we headed west on the familiar B311 road where passing opportunities were limited. Regardless, it didn't take long before we kept going after bypassing the turnoff leading to Bad Gastein, which was something I had already done several days ago.
Eventually, I took the well-signed turnoff for the Grossglocknerstrasse, which then took me south near the turnoff for Zell am See (where we were going to spend the next three nights starting tomorrow). We were originally supposed to do the Grossglockner Road while we were staying in Zell am See, but given the weather predictions of bad weather for several consecutive days (spanning all the days that we were staying in Zell am See), we had to use today to take our shot.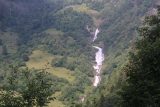 As we drove south on the road, we then pulled over at 8:45am as we saw an attractive waterfall behind some pullout with some benches and a fountain. It was overlooking some kind of wasserwerks (a dam and reservoir basically), but what I believed to be the Walcher Wasserfall was in plain sight just beyond bathed in morning light.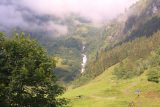 In the distance were some nice-looking alpine peaks. There were still some morning clouds clinging to parts of the northern faces of the mountains which still had some snow on parts of them, but there was enough of a teasing view to really get us excited about the road we were about to drive.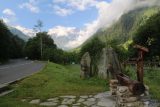 Since the focus for today was the Grossglockner Hochalmsstrasse, I took a rain check on doing this waterfall for another day. So ten minutes later, we continued our drive and almost a few minutes later, we had to enter through a toll gate near the village of Ferleiten where we had to pay a whopping 36 euros to go onto the Grossglockner Road!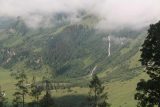 At least this toll road takes credit card, but with my mounting expenses on the international card and dwindling credit line (this trip was turning out to be one of the most expensive trips we've done to date), this didn't help our cause.
Anyways, as we continued past the toll gate, the road narrowed and climbed considerably. There were already tour buses slowly going up the narrow road as well as other passenger cars.
There were signs already marking the number of switchbacks as we were encountering them. And as the road climbed higher and higher, we were still getting partial views of the alpine scenery of the north faces, but the clouds became more persistent and it was getting harder to see what was up here.
So that made Julie wonder if we just picked a bad day to do this road. Still, I knew that today was the only predicted good weather day. It was going to be today or never.
As we continued driving higher and higher passing more kehre signs as we got up into the teens, Julie was keeping track of the map keys with some larger numbered signs. We wound up stopping at stops 4 and 5 since they were pretty much at the top of some kind of ridge where the road made a bit of a bow loop around an outcrop before making a descent.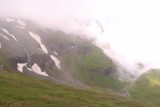 At these stops, there were definitely clouds blocking the expansive views, which was a shame. There were trails and cafes, but they didn't seem to be doing any business. Yet I did see tour buses parked here, and I thought to myself that the poor passengers that paid for that tour had to put up with stopping here and wasting precious time probably because they were on a set itinerary that said they had to stop here.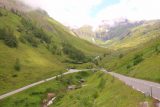 Naturally, we stopped here at around 9:20am, but we didn't linger for long. It was also quite chilly up here as the temperatures was said to be about 3C, which meant that we had to wear our jackets.
By now, Tahia had woken up but it was too bad there wasn't a whole lot to see as the clouds seemed to be getting thicker.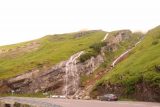 Next, we drove into some pretty dense fog where it was hard to see the vehicle in front of us. We momentarily got some relief when we passed through a couple of tunnels, and after another brief moment of thick fog, the road descended enough to be below the cloud cover and we were starting to see clearly again.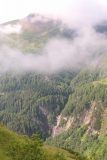 The road continued to descend, and it made us wonder if we were pretty much done seeing the high points of the Grossglockner Hochalmsstrasse. After feeling like we were getting ripped off at the Burg Hochosterwitz yesterday, this possibility was definitely on our minds.
Eventually, after flip flopping about what we should do next (going for the waterfall hike Gossnitz as well as Jungfernsprung, or continue taking this spur road up the Grossglocknerstrasse?), we ultimately continued on the Grossglocknerstrasse as now the road continued climbing again.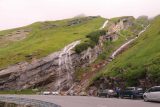 At this point, the kehre count was now in the 20s. But with the views seemingly starting to clear up even though there were still lots of clouds around, we made a stop for an unexpected roadside waterfall with a Fensterbach sign next to it. We were the first car here at about 9:55am, but it didn't take long before a good half-dozen or so cars also made a stop here.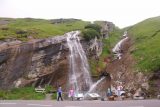 While we managed to get decent closeup views of this waterfall, it seemed like I was able to see more of this pair of converging cascades from the opposite side of the road. There wasn't a whole lot of a shoulder so I could stand by the guardrail and take my shots and videos while vehicles going downhill would be passing by, but I made do.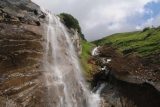 Looking downstream on the other side of the road, I managed to see an attractive plunging waterfall way down in the distance (possibly called Leitfall) as well as a tease at the steep valley down below.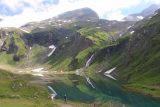 In one moment, I even managed to see the tip of the Grossglockner Peak, which revealed itself before being shrouded in dark clouds again.
At about 10:10am, we were back in the car and continued the slow drive.
However, it didn't take long before we went up a few more switchbacks as the sun was now breaking through and then we passed by an attractive man-modified wall cascade before hitting the next pullout area signed for Nassfeld Wasserfall.
Once again, we pulled over and checked out the scene, which was very scenic as there was the waterfall cascading into a colorful reservoir (held up by that wall-cascade we had driven before earlier on), but there was also a cirque further up this mini-valley.
On the left side of this valley (opposite the Nassfeld Waterfall) was another waterfall that was thinly flowing. We could even look back downhill at some cafe or gasthaus against the backdrop of switchbacks and imposing mountains partially obscured by stubborn clouds now willing to be burned off.
We took some time to walk a path that took us almost directly across the Nassfeld Waterfall, and there were fewer people willing to leave their cars to get out here, which was refreshing.
With the sun continuing to break through and burn off most of the clouds around us, we could have easily lingered here for much longer just admiring the color of the "lake" which I believe was exacerbated by the man-made contraptions further below closer to the road (probably to control the waterflow and protect the road; or at least provide water or something to the alpine house further downhill).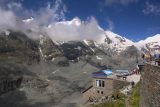 So it wouldn't be until about 10:50am when we finally got back into the car. With all the tour buses and motorcycles and other passenger cars making their way uphill, I was concerned that there might be limited parking at the very end of this road (or at least where the highlight views would be).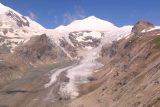 In any case, after passing by a limited car park in front of some restaurant and cafe, we kept driving as we would eventually make our way towards the covered P4 parking garage. That lower lot we had passed by earlier was where the tour buses had to stop because apparently the remaining 350m stretch of road was too narrow for them.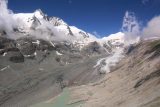 The views along this stretch of road were definitely mind-blowing as we could see the teasing glimpses of the Grossglockner Peak making in appearance when stubborn dark patches of clouds weren't covering it. However, the Pasterze Glacier was looking quite compelling though a large chunk of it looked like it was dirty ice. There were still some stretches of snow and ice further uphill, however, and it made the scene against the clearing skies look like we were on top of the world.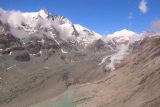 Anyways, as we were approaching the P4 lot alongside all the pedestrians walking and gawking on the paths overlooking the glacier and the valley left behind, we were relieved at seeing that the P4 lot was an indoor parking garage.
It was a smart thing that they had this parking structure to handle such a large volume of traffic. And it was nice that the parking was free (we weren't getting nickel-and-dimed for once; though it was probably included in the whopping 36 euros we paid to get on this toll road in the first place). So we had no trouble finding parking at 10:55am, and then we promptly headed out to soak in the views by foot.
Indeed, it was nice to finally get our shots of the Grossglockner Peak (when it revealed itself), which could very well be the highest point in Austria at 3798m. However, a sign said that we were now at an altitude of 2369m above sea level. Lots of people wore jackets up here, but the sun was intensifying and beating down on us threatening to cause sun burn.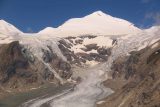 As we continued soaking in the views, we could see that there was a gletscherbahn that took people down a funicular towards the bottom of the glacier-carved valley. Unfortunately, it looked like that bahn only went down to the rocks below or at least close to the dirty ice where it was hard to tell if it was still glacier or not.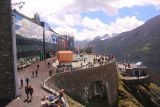 We knew that Global Warming accelerated the diminishing of this glacier (said to be the second largest ice field in Eastern Europe), and like with Glacier National Park in Montana, this place probably would only have a few more years before they're all gone (though this one might last a bit more than the 15 years remaining that the NP service predicted for those in Montana).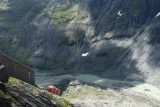 My thoughts also turned to the Briksdal Glacier, which was one glacier that we got real close to, but now I bet that that one also probably lost most of its ice volume if we'd be fortunate to come back to it.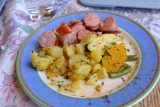 We then decided to have an early lunch at around 11:30am at one of the self-help cafes with a nice view of both the glacier and peak through giant windows. We wound up eating large hot dog-like wurstls with grilled veggies. Tahia and I shared the wurstl with cheese and bacon, while Julie got the plainer one so it was gluten free.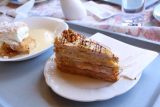 We also indulged on a bit of a dessert where some kind of merengue topping apple strudel and swimming in vanilla sauce was the non-gluten frei dessert while Julie got some kind of Esterhazytorte though she felt that one was drier than the one we had in Hallstatt.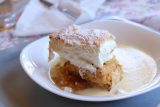 Anyways, it was a good thing that Julie gotten us to have the early lunch because by the time we were done, it became much busier. So we briefly soaked in the views, didn't spend more time on the Franz Josef Hohe (which might have been at the end of the apparent path through more rock shelters and continuing to go up closer to the bluer parts of the glacier), and ultimately got back to the car at 12:20pm.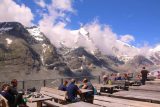 By now, we felt satisfied that we got to experience the highlight of the Grossglockner Road in pretty fine weather, and that we didn't feel the need to go back to the parts that were cloud-covered earlier on today. In hindsight, it was probably a good thing that we didn't linger there as long as we did since we still had plans to get all the way back to Bad Kleinkirchheim to let Tahia play in a water slide and have some water play time, which she was anticipating since yesterday.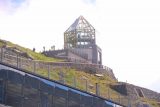 Next, we drove back down the Grossglockner Road. It was too bad that the rental car was automatic and didn't let me limit the gears at will. Otherwise, I wouldn't be burning the brakes, which we could smell every time we stopped the car.
Speaking of which, I really wished I had stopped at a couple of the pullouts with expansive views of the valley we were heading into. There were teasing views of the profile of Jungfernsprung dropping into the valley though the Gossnitz Waterfall (my anticipated waterfall hike) remained stubbornly hidden from us during our drive).
Eventually, we followed a caravan of slow drivers before we finally stopped at this town called Heiligenblut. I wasn't sure where I was supposed to park the car, and I assumed that we mind as well park in the structure here in order for me to get out and hike to the Gossnitz Waterfall. At least Julie and Tahia could check out the town while I was solo hiking, which was supposed to take me 30 minutes in each direction.
So at 12:55pm, I parked the car, and I told them that I'd be back by 2:30pm at the latest.
But as I was walking through the charming small town (with a tall-spired church fronting the alpine backdrop with a teasing view of Grossglockner Peak in the distance), I would eventually learn that I didn't park in the nearest car park for the waterfall, and I very well could have added another hour to the hike.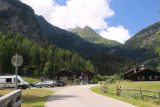 Thus, I continued the downhill hike along the road with more views of Heiligenblut clinging above a scenic valley before the road bottomed out at some quieter town full of residences and accommodations. I managed to get to the bottom of the road at around 1:30pm. I then continued walking towards signs pointing the way to camping.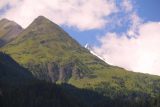 Eventually at around 1:40pm, I would finally arrive at what appeared to be the official car park for the Gossnitz Waterfall! This was called the Retschitzparkplatz, and there was an interesting Natura Mystica oracle of some sort (basically circularly-lined logs and rocks) to create this illusion that the trail was to follow the teachings of this oracle. It was kind of kitschy, but then again, I knew that it was trying to teach the would-be hiker the ways of Nature.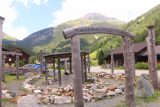 In any case, since I knew I was behind schedule with Julie and Tahia, I quickly made my way onto the footpath, which clung to a sloping ledge overlooking the rest of Winkl (I believe the name of the village I was at now), and then the forested path made it to a junction. At first, I wasn't sure if I should start by going left or keeping right, but the Natura Mystica sign pointed to the right so I followed it.
The trail pretty much continued following along some signage nestled in a serene forest. It passed by one meadow where there were those sprawling wooden "lawn chairs" that some Austrian visitors took advantage of by laying on them and basking in what sun made it through the forest cover.
As I continued the hike, I would eventually get to more parked cars, and now I wondered if this was an even closer car park for the waterfall! That said, this one seemed to be at the end of some unpaved road. I managed to get here at around 2pm.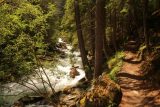 Now, after crossing a bridge, I finally saw reassuring signs for the Gossnitz Waterfall. This time, it had me follow a path that upstream alongside the stream as well as alongside some wooden canal feeding a mill. The hike continued along the stream before reaching a footbridge crossing it.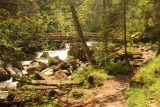 But before I crossed the bridge, I noticed a trail of use that continued following the stream. There were a couple of guys who were already up this way, and I decided to pursue it since I knew it would lead to some view of the Gossnitz Waterfall.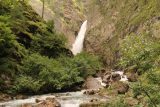 Sure enough, after getting by sections of the banks of the stream (where it would certainly be flooded if there were more water) and clinging onto eroded and overgrown sections of use-trail, I'd finally get to the end, which was right beneath a near-vertical cliff that I'm sure would be prone to rockfall. It would probably be a matter of time before some additional infrastructure would be set up to discourage going this way.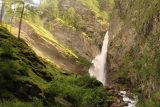 That said, I managed to get my first glimpses of the Gossnitz Waterfall at around 2:20pm. It was in a gushing profile view, and from the position of the sun, I knew that the official lookout, which was way up on a bluff on the opposite side of the stream, would be looking against the sun.
So after getting my fill of this spot (knowing that the risk of rockfall was higher where I was at), I then returned to the trail, crossed the bridge, passed some family, then went up the steep rooty path to the official lookout of the Gossnitz Waterfall.
That path got steeper the higher I went, and it eventually made me drip with lots of sweat. The spray from the Gossnitz Waterfall wafting up onto the trail was actually quite a relief, but it also made the trail slippery, especially where there were large slabs of rock.
But eventually by 2:40pm, I finally made it to the sanctioned view of the Gossnitz Waterfall where it was against the sun as I expected. It was also still in the spray zone of the falls. While the views at each of the switchbacks in the final ascent were nice of the falls, I guess the payoff for making it all the way up here was the view in the other direction towards Winkl and the Grossglockner High Alpine Road way in the distance, where I can still see cars lining up and following slow moving tour buses.
In fact, that was the thing that I found really refreshing about this hike – that it was nice and quiet and I hardly heard the obnoxious sounds of motorcycles and cars passing by. Clearly, this hike was the thing to do if getting back to Nature was what was called for.
Well, just as the family showed up, I was headed back down. And I made as much haste as I could knowing that I was officially behind schedule and they'd blame me if I caused us to run out of time to do the Bad Kleinkirchheim pool experience that Tahia so badly wanted to do.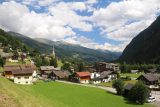 So it wouldn't be until around 3:05pm when I finally made it back to the Retschitzparkplatz (i.e. the nearest official car park for the falls), and after continuing to go uphill along the roads back to Heiligenblut, I finally rejoined Julie and Tahia waiting at a cafe just outside the parking structure at 3:30pm.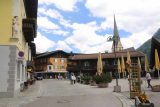 We promptly got back in the car, got the usual nagging inquiry about what took me so long (to which I explained that we stopped at the wrong car park and probably added an hour to the whole excursion), and then we promptly continued the drive as now time was of the essence.
At 3:40pm, we stopped for the well-signed car park and cafe (called Hexenkuchl which I'd imagine was Witches Kitchen or something) for Jungfernsprung. This was an easy roadside waterfall to take in, and it seemed like that best views were actually at the end of the car park opposite the Hexenkuchl.
The views from the top of the wooden steps with the maiden wooden carving on it (apparently the name of the falls was the "Maiden's Leap") weren't as good though it did reveal that there was more walking trail to get to the bottom of the falls, which we just didn't have the time to do. Besides, it was said to be 60-90 minutes walk, and we were pretty Grossglockner'd out by now.
So at 3:55pm, I got back in the car and then we made the drive all the way back to Millstatt. When we made it down to the east-west road, this was a precursor to the road we'd be taking to Zell am See tomorrow as I determined that we should do Fallbach, Malta Hochalmsstrasse, then Raggaschlucht, and Linz before making it to Zell am See. It was going to be an action-packed day, but at least that would minimize the amount of driving (leaving the Gunstner Waterfall for a free divide-and-conquer day while staying in Zell am See and while we'd be less concerned about the weather impacting the overall experience).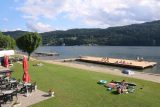 It wouldn't be until 5:10pm that we ultimately stopped at the Billa in Millstatt. Julie promptly went inside to buy a few more groceries. And in the mean time, Tahia and I went towards the lake front to check out the scene there since we didn't want to spend our time shopping.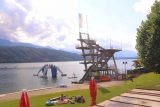 As we did this, we saw where the free play in the lake itself was at, and it was quite busy with lots of kids and adults enjoying the dock, the little beach, and even a pontoon with a rock wall that you can climb. The only thing that wasn't going was a big open-air slide, which I'm sure Tahia would have loved.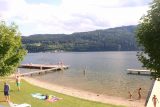 Had we had our little Kartnercard, we could have gone through the turnstile for free and joined the festivities. In fact, the nice weather we were seeing now was a far contrast to the nasty weather we experienced yesterday afternoon when it was raining cats and dogs.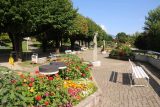 Tahia still had it in her mind to do the Bad Kleinkirchheim pool experience, and so she didn't want to join in on doing this lake now. Instead, she spent some time at a nearby playground before we headed back to the Billa and rejoined Julie at 5:30pm.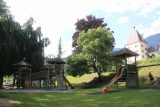 Next, we made it back up to our apartment at Obermillstatt at 5:35pm, and we promptly had ourselves a self-cooked early dinner of steak, asparagus, kraut, and some frankfurters.
By 6:40pm, we were back in the car, and now we could finally head to Bad Kleinkirchheim to fulfill Tahia's desires.
The drive up there was non-trivial as we had to follow some slow drivers on narrow roads, but ultimately at 7:10pm, we parked at the lot for Therme St Kathrein. With dark clouds looming above us, we knew that there would probably be a thunderstorm or two, but at least we'd be indoors as Julie did the research and had to choose between the thermal spa experience at a competing place in town or this one where Tahia really looked forward to doing the slide. She had better appreciate the sacrifice Julie made, we thought, since we did this for her instead of doing the more relaxing thermal thing at the competing place.
Ultimately, we made it into the facility, paid around 44 euros for the family for 3 hours (though I knew we probably wouldn't need the whole 3 hours, and it was closing in less than 2 hours anyways), and promptly got changed and right into the pools.
This was really more of an indoor pool facility where they somewhat heated the pools. The outdoor pools were much cooler and there wasn't much to do out there.
We spent some time in the large pool area which had a mushroom waterfall and some bubble jets, but that got pretty boring for Tahia real fast. Really, the thing that took the most time was this thrilling water slide where we must have gone on it at least 12 times each.
In fact, Tahia didn't want to leave when it got late and we had to go.
We probably did this slide so many times that we even experimented with going in backwards, head-first (despite the signs clearly saying to go in feet first and right-side-up), and in tandem where I tried to make us go as fast as possible.
In one of the wrong-way experiments, I managed to slam my chin on the slide when I let go of the bar to propel myself forward, and that seemed to have left me a little bit dazed.
When it came time to towel off, there was blood on one of the towels as apparently I must have cut myself on that chin. I hoped that I didn't break a bone there.
By about 8:50pm, we were finally back in the car just as we were seeing dark clouds get darker and flashes of lightning and clasps of thunder accompanying them. That kind of made that drive back a little more on the adventurous side.
By about 9:20pm, we made it back to the apartment where we could finally call it a day. I wasn't feeling too great at the time because I was still feeling a little on the woozy side. I had blamed it on my little slide accident after going backwards on it, and I was wondering if I was dehydrated, overheated, or concussed. Whatever the issue was, the sleep time couldn't have happened soon enough.
Eventually at around 11pm, we all pretty much crashed. Outside, there were more frequent clasps of thunder and flashes of lightning, and that made me even more glad that we seized the moment, used the schedule flexibility, and ultimately did the Grossglockner Hochalpinestrasse when we did. Indeed, there's no telling what the weather would bring from here on out…
Day 31 (July 13, 2018 – Zell am See, Austria): "Fitting Things In"
It was about 5:45am when I awoke. This was a bit later than I had anticipated, but I guess this was my body telling me that I needed the extra minutes of sleep even though my alarm had gone off an hour earlier.
In looking out the window, I saw lots of gray everywhere, but there was no rain. It was quite the contrast from last night's active weather where frequent flashes of lightning could be seen piercing through the darkness through the windows before I was trying to get some shut eye.
It took some time for us to load up the car, but we made it a point to try out the included breakfast before taking off for the day. So this was already one source of delay, but I didn't feel like we needed to rush to do anything on this day.
We didn't have their included brekkie yesterday because we had to get to the Grossglockner High Alpine Road and back in time before doing the swimming pool and spa at Bad Kleinkirchheim. So it was a full day and we couldn't afford to wait until the 8am brekkie. So this day was our last shot at trying it out. Hopefully it was worth the wait.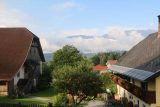 So by about 7:50am, the car was mostly loaded up. And five minutes later, Tahia and I went upstairs to the fruhstuck room, where there was a surprising amount of variety of hot and cold foods.
They had poached eggs, prosciutto, other schinken (cold cuts), bacon, scrambled eggs, sausages, and bread with nice texture that went well with the eggs. They even had a couple of small chocolate chip cookies, which I snatched up knowing that Tahia would love to have one (as well as myself). They were the only two they had.
Julie even noticed that there was champagne so we made mimosas out of the combo of the champagne and OJ. Obviously they weren't fresh orangensaft, but how often do you get to do mimosas for fruhstuck?
So it wouldn't be until 8:35am when we were back in the car and finally started taking off. Indeed, this brekkie was worth the wait, and I was glad that we loaded up so it should hold us over just in case we were to have a late lunch given our late start and a slew of activities to fit in before checking into Zell am See tonight.
The drive out of Obermillstatt and the Millstatt followed a similar route as yesterday when we were driving towards the Grossglockner Road from the north. However, after leaving the tunnel, we then exited for Gmund, where we then followed Maltatal Landstasse into the Maltatal Valley.
As we drove the valley, there was nice scenery in terms of a broad sweeping valley flanked by attractive mountains as well as nice mountains way in the background. It was too bad that pullouts were non-existent because I would have loved to pull over and take such a shot. And it was especially the case when Fallbach started coming into view to frame one side of the valley, but alas, it wasn't meant to be. They didn't have the infrastructure to pull over safely and take that photograph.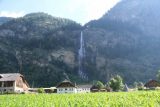 By about 9:10am, we made it to the already piling up car park for Fallbach, which was in the shadow against the morning sun. There were lots of families here.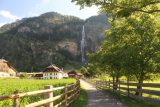 Even though the falls was easily visible from the car park, I knew that there was an admission to go in. Julie and Tahia wanted to stay in the car so I went solo.
And as I went uphill along the well-established path between some kind of corn field and some buildings, I then went into the kasse where I paid 5 euro for myself. After that, I went onto the trail, where the left fork at the split led to the kinderspielplatz area where there was a huge playground full of swings, slides, see-saws, you name it!
There was even that raft thing where kids could hop on and pull themselves across a pond, and there was also a zipline-like thing where a kid could hang on and let gravity take them to the other side!
I knew Tahia would have loved this, and I could totally see why they would charge for admission. Oh well, they missed out by staying in the car. Such is what happens when you're not in the moment. I'm sure Tahia would be bummed the moment she found out about this.
Anyways, I kept right at the split, and the path went around the playground while there was a cow pasture on the opposite side.
The higher up I went on the trail, the more the Fallbach Waterfall got closer. And when I turned around to look back, the more of the valley I was able to see.
Eventually, once I got past the playground, the morning shadow was long enough to provide me some relief from the already intense sun. Once in the shady area, I was able to start feeling the coolness of both the falls' influence as well as the shade, and I proceeded to get past a fence and into an area where apparently cows could roam free.
That meant that I really had to watch out for cow patties on the trail as they were everywhere. It kind of reminded me of the Huldrefossen excursion near Forde, Norway, where there was an agricultural school fronting the attractive waterfall but there were cow patties everywhere there as well.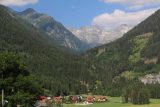 In any case, I followed along a short climbing path along a fence that took me past some more signage before ultimately making it up to the top of a small hill where I got nice sweeping views back towards the Maltatal Valley as well as a bottom up look up at the Fallbach Waterfall. One of the signs said that it was the highest free-leaping waterfall in Austria, but there were so many waterfalls like this that it was hard to tell if people are now making things up and putting them on signs.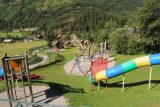 After having my fill of the falls, I then went back to the car, where I got there at 9:55am. Julie had to use the toilet when I got back (why didn't she use it earlier?), and that was when she realized that Tahia and her could have chilled out at the playground while I was doing the quick hike. Of course, had Tahia known, she would have never left!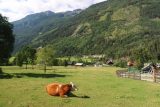 In any case, we took off, and Tahia was left wondering what might have been.
Next, we drove deeper into the Maltatal Valley, where it didn't take long before we had to get through a road toll station, where I was charged 19.50 euro toll to continue into the Malta Hochalmstrasse. Having paid 36 euro for the famous Grossglockner Hochalpenstrasse yesterday, it didn't sting as bad, but I was also not expecting to spend a whole lot of time here since we were heading up to some kind of reservoir.
This was something I wasn't thinking of spending that much time on, but I decided to give it a go since Ruth said in a submission on our site that it was one of the most beautiful drives he had ever done.
In any case, the hits came almost immediately as we drove past a very beautiful waterfall, which I believed was the Melnikfall. We didn't stop at its car park as we figured we could come back for it later. But at least we knew to target it on the return.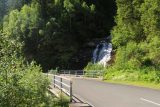 However, we then saw another small waterfall on a bridge signed for Strannerbach at 10:10am. But this was just a miscellaneous stop and we kept going on.
About ten minutes later, there was another giant waterfall that didn't have a pullout, however, as we continued on, we were stopped as there was a line of cars waiting at a traffic light. There was some sign saying the wait time could be as long as 22 minutes but we only had 3 minutes or something like before the light would change. There was even another sign saying to make use of the wait time by going up 50m to see the Maralmbachfall, which was that waterfall we saw.
So I decided to quickly get out of the car, run up the small uphill trail, and take my shots and videos of the falls before running back down to our car. And it was not a moment too soon as the line of cars started to move, and there was a nice guy who left a gap for us to get back in line (as we were pulled over at a pullout going the opposite way).
Next, we continued following the caravan of cars going up the narrow road (single lane in large stretches, which was why they had the ampel in the first place) that involved a bunch of tunnels and switchbacks. There were still more minor waterfalls en route along this path, and Julie started to think of this drive as Waterfall Alley.
Eventually by 10:40am, there was a large car park area beneath some kind of restaurant and cafe area as well as gasthaus that was overlooking the Kolnbrein Reservoir and Dam. We saw that there were people walking onto the dam so we figured that that was the thing to do while we were here.
As we were taking in the scenery, we saw that there was yet another waterfall spilling onto a reservoir below us (different from the one held up by the dam we were walking on), and there were more minor cascades spilling towards larger reservoir further upstream from us. Looking way deeper into the end of the reservoir further upstream, we saw that there were mountains still clinging onto snow and ice in the distance. There was also some other house with people parked there on the opposite side of the reservoir backed by more smaller cascades and cliffs.
Indeed, this place was a feast for the eyes. Even though I had mixed feelings about the man-made contraptions here, we definitely spent more time here than expected. We even went onto a harrowing airwalk where there was an overhanging platform with see-through glass or gratings beneath our feet so we could see that it was a straight drop right beneath us along the 200m dam wall.
Butterflies were definitely in the stomach as the body knew that we were standing somewhere we're not supposed to be, and Julie was quite nervous about standing on this thing.
Anyways, we got our photos (making sure not to drop the phone), and then headed back to the car where we headed back down the mountain at 11:20am. We made one brief stop to check out that attractive waterfall spilling onto the lower reservoir, but then we were stopped at a long traffic light at 11:35am, where it said that we had to wait for 22 minutes! We must have just missed the last caravan of cars going our way and now had to wait for a long caravan of cars going in the opposite direction.
It was too bad that the wait down here didn't have that waterfall to kill time. On this side, there was nothing to see. So we just snacked on fruits and other things while organizing the mess in the car before we could finally continue moving again at 11:50am.
By about 12:05pm, we finally stopped at the Melnikfall. But since we had stuff to do later today, all we did was check out the falls from the small car park. We didn't do as other people did and walk down to the bridge right at the bottom of the falls. We figured that the view from here was good enough.
Five minutes later, we finally resumed the drive out of Malta Hochalmstrasse, and then headed back south on the A10 before heading west along the B100 then B106 towards Raggaschlucht.
This drive went by pretty smoothly, but it still wasn't until about 1pm when we finally arrived at the very busy and unshaded car park for Raggaschlucht. When a brochure we picked up from our appartment-hotel suggested that this took a minimum of 90 minutes, Julie and Tahia decided that they were going to chill out and have lunch here while I was going on my excursion solo again. They still had yet to do a chasm walk (either a klamm or schlucht) and I knew they were missing out, but they also didn't feel like going on long excursions, I guess.
In any case, this mini-divide-and-conquer was set in motion, and I promptly geared up and walked uphill following the signs just as lots of other visitors were going down the other way. I was getting plenty of looks as I guess I was an uncommon sight in this part of the land, but that didn't stop me from greeting people cordially as I headed up to the kasse.
Once at the kasse, I paid my 7 euros in cash, and then proceeded higher up into the route, where the tour route made me go up the steep gorge on a series of wooden steps and planks (much like other thrilling gorge adventures or erlebnis) before going back down a forest path.
This particular gorge followed along some kind of water channel following the rushing stream before reaching the wooden plank part where there was a door that I guess would be controlled for closure if the conditions weren't safe to proceed. That wasn't the case today so I kept going forward.
There were plenty of signs saying to give space between yourself and the next hiker or groups of hikers. But I took my time as I was trying to capture whatever awkward photos I could of the gorge with the planks clinging onto the narrow cliffs within the chasm. I was also looking right against the sun with some pretty harsh shadows so a lot of the photos I knew wouldn't really turn out.
The higher I climbed, the more waterfalls I was seeing, but eventually, the path climbed high enough to reach the grand finale after some sign saying that there were hard white rocks that gave rise to this waterfall finale. And indeed, as I was going up a steep series of steps, the plunging waterfall was finally revealed.
After getting my fill of this waterfall from a variety of positions and levels, the path continued climbing some more leading up to an overlook with a view towards the attractive mountains in the distance speckled with small farms and villages clinging onto the slopes.
Then, I went down the steep forested path, which had a bit of loose gravel. So I tried to ride the momentum of my descent to ensure that I didn't take a nasty tumble. Other people wearing sneakers had a harder time with the slope as they used the railings and still struggled. But I managed to quickly get down this hill no problem, and by 2:35pm, I rejoined Julie and Tahia who were eating at the Gasthof Raggaschlucht.
There, they gave me a takeaway Wiener Schnitzel, where I promptly ate it up with some french fries, and then by 3:15pm, we were all finally back in the car and ready to resume the drive.
As we continued west along the B106, the GPS kept wanting to take me to the Grossglockner Hochalpenstrasse, but we rebelled and headed southwest towards the city of Lienz. I was hoping that that would be our late lunch stop, but now we were content to just go there and see whether LP was right in singing the praises of its tight altstadt.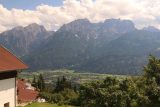 Along the drive, I saw some very attractive mountains backing the city in another one of the sweeping valleys.
But eventually at 4pm, we found a P1 parkplatz that was a mere 3 minutes walking from the Altstadt. Parking wasn't hard to find, and we opted to pay 2 euros for 3 hours not knowing how much longer we'd linger here.
Well, after getting out of the car (Tahia was reluctant to get out as it was quite warm and she was in the middle of a deep nap), we quickly got into an attractive plaza with a statue spilling water and some colorful pastel buildings fronted with cafes, cigarette smoke, and lots of people just chilling out.
We followed along a lane that was flanked with shops and quite a bit of pedestrian traffic before reaching another platz, which I believe was the Hauptplatz (actually, the whole thing might be it). Here, there was another statue and cafe eating areas.
We continued even more along the lanes until we got to some construction site. I guess that was the end of the line for this Lienz experience as Julie didn't feel like going to the Schloss Bruck, and she didn't want to bother going out of the way to pursue the Tourist Info office, which was a ways away from the Hauptplatz.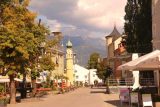 So we headed back the way we came, stopped by some backerei for a gluten free cake as well as a gelato stand. So that gave us a little pick-me-up, before we were back at the car at 5:05pm. Indeed, we probably overpaid for the parking, but we still had to drive all the way to Zell am See, where we were spending the night.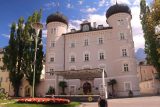 Anyways, the drive out of Lienz followed along a caravan of cars seemingly headed the same way as us. However, it didn't take long before we starting going onto a very scenic stretch of B108 Road that was flanked with seemingly big waterfalls as well as picturesque cliffs and cirques along the way.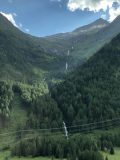 The traffic was moving quickly along this stretch of road, and the pullouts seemed very limited or came too quickly to stop and take shots. There were also long tunnels along the way, and there was even a scenic toll station where they collected 11 euros right before we got into a very long tunnel that went uphill then downhill before curving to go outdoors.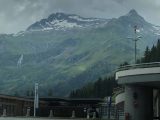 Indeed, this scenic stretch was like the poor-man's Malta Hochalmstrasse, and Julie tried to take road shots with her iPhone as I was busy paying attention to the road.
Eventually, the scenery petered out as we headed into Mittersill, then headed east along the B168 Road in a broad sweeping valley. We'd continue following the caravan of cars as we continued following signs for Zell am See. Eventually, we found street parking in Zell am See near the Post Office at 6:30pm, where Julie saw that the Spar was about to close in less than 30 minutes.
So instead of figuring out how to check in straight away, we just got our grocery bags and left stuff in the car before making the quick grocery run. Then, we returned to the car to bring up the first load of stuff to the apartment, where Julie followed the owners instructions, got the keycards, and we were in the apartment by 7:20pm.
The place was spacious, and it was a nice little spot to spend the next three nights. Unfortunately, they didn't have a laundry here so I was relegated to re-using clothes probably for the rest of this trip. I hope people don't mind my smell.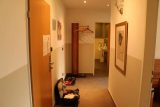 After moving the car to an even closer spot as I went down to get the second load of luggages, I was then finally settled at 7:40pm. And so ended this eventful day where we wound up seeing and doing lots of things as they were all fit into the long drive.
Tomorrow promises to be a lighter day of activities as we'd be pursuing the Krimml Waterfalls finally while I'd do a divide-and-conquer early morning excursion to the Walcher Waterfall now that the Grossglockner Road was quite close to where we're based…
Day 32 (July 14, 2018 – Zell am See, Austria): "Elbogenhaut Auf Der Rodelbahn"
It was 5am when I awoke. I took some time to get caught up on the blogging after a very event-filled day yesterday.
Upon looking out the window as the day was getting brighter was that there were more clouds looking in the direction of the mountains to the south. I hoped that wasn't a sign of bad weather to come today where I was hoping to do the Krimml Waterfalls, which was anticipated to be the waterfalling highlight of Austria.
But first thing's first. I was going to spend the early part of the morning visiting the Walcher Waterfall now that I had a bit more time than the day we were driving the Grossglockner High Alpine Road a couple of days ago.
So at 6:10am, I went to the car, which was conveniently parked in front of the Post Office (we were staying above that post office). There were lots of empty spots around me, which contrasted with the hard-to-compete-for street parking in the blue-lined areas from last night.
In any case, I got going, and by 6:30am, I eventually parked before the toll booths in the village of Ferleiten, which was hardly a village at all (more like the Ferleiten Zoo, Water Park, toll booths for the Grossglockner High Alpine Road, and some gasthouses and farms with cows grazing the pastures).
It was overcast when I showed up, but now the clouds that once covered the north-facing mountains that would have been part of the Grossglockner High Alpine Road from a couple of days ago were now totally revealed. It made me wonder "what if" had we been able to savor the views from stops 4 and 5 without the heavy cloud cover.
Anyways, there were plenty of parking spaces along the road that weren't assigned to kunden (customers) of the water park, or zoo, or even the restaurants and guest houses. After getting out of the car, I soaked in the views, geared up, and then walked towards the trails.
It turned out that there were signs saying that the hiking trail was closed due to the risk of loss of life. So I went ahead and decided to hike towards where the closures would occur as my aim was primarily to experience the Walcher Waterfall the best I could.
Now from so close to the cascade itself, I was only able to see parts of the waterfall. It was very difficult to see the whole thing in its entirety. For that, I'd imagine that I'd have to be further away, and it might be even better if there was a trail that climbed up the valley on the opposite side.
In any case, I stuck to my guns and followed along the unpaved farm road that revealed bits and pieces of the Walcher Waterfall before reaching a junction. There were signs saying that the path continuing north was private property, and that the trail going closer to the falls was closed though this time for a different reason – there was work going on from 06:00-22:00, which meant that they'd probably keep anyone from moving forward with the hike despite the warning signs of risk to life and limb.
After getting my fill of the Walcher Waterfalls from this part of the trail, I then got back to the car at around 7:30am. As I was turning around before the toll booths (so I wouldn't have to pay another 36 euros as I wasn't going that way anyways), I then started driving north back in the direction of Zell am See again.
However, as I was driving out, I started to notice that the views of the Walcher Waterfalls were actually better and more complete than what I had seen from the trail (as I had anticipated). It was too bad that the pullouts for them weren't obvious nor were they sizable enough for me to suddenly stop for them on the opposite side of the road.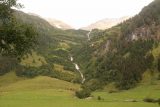 So instead, I stopped the car at the familiar pullout with the fountain and view of part of the Walcher Falls. Then, I walked alongside the road (there were no shoulders so it was a dicey move), and then I started to get my shots as I got to the other two tiny pullouts by the 14 sign. Then, after doing this, I pretty much completed my Walcher Falls experience without going on the hike to get right up to it as others apparently had done in the past (probably way back then as I suspect that trail had been closed for quite a while).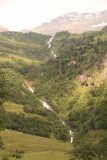 Eventually at 7:50am, I returned to the car, and then I resumed the drive back to Zell am See. By around 8:10am, I finally made it back to the apartment where I was still able to score a decent parking spot right in front of the Post Office. However, since it was 08:00-12:00 on Saturday, I had to pay an euro to ensure that we had an hour to finish up with breakfast, checking in with the reception so we can pay the remaining balance of our stay, and then gear up and get back to the car to finally start off our day.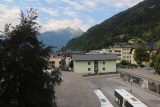 That wouldn't happen until about 9:20am. Upon paying for our stay, the owner originally wanted us to pay the remaining balance (all 260+ euros worth) in cash, which I told her that it would be tough to pull that off at the moment. However, I managed to negotiate this down to 100 euros in cash though that still put a heavy dent in our cash balance. I wasn't keen on withdrawing more euros because we kept getting hit with $12 USD worth of bank fees and foreign exchange fees. So every time we withdrew 200 euros, it was really like $250+ USD.
Regardless, the owner was helpful in suggesting some things to do around Zell am See in addition to what I didn't plan on doing. One of them was an alpine roller coaster (really a luge-like sled). That seemed like something that would be loads of fun, but we'd have to play it by ear and see if we could do it today after visiting the Krimml Waterfalls.
Anyways, the drive was under increasingly cloudy skies and I was getting really concerned about visiting the Krimml Waterfalls under a thunderstorm, which was predicted to happen some time around 1pm. It was actually raining just before we arrived at the parking lots for the Krimmler Wasserfalle even though there were some blue skies nearby.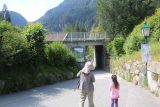 By 10:25am, we finally arrived at the P4 parking lot, which was reserved for people doing the Wasser Wunderwelt and the Haus der Wasser in addition to the waterfalls themselves and the parking. When we got our familienkarte for around 20.50 euros, we were good to go. That said, I wonder if we overpaid since the fees for just the waterfalls themselves were 4 euros per adult and 1 euro per child. I doubted that the parking fees would have made up for the remaining 11 euros and change that we paid.
Oh well, I was hedging my bets that Julie and Tahia needed something to do while I was hiking all the way to the top of the uppermost Krimmler Waterfall.
So after briefly walking down to the bottom of the waterfalls where the lighting was terrible (morning sun was totally against each of the lower tiers), we took our obligatory shots along with dozens of other people, and it wouldn't be until around 11:30am when I finally started my hike in earnest as Julie and Tahia did their own thing.
At this point, I went from viewpoint to viewpoint (I believe the maps had 12 in all), and for each of the viewpoints, I was competing with crowds of people trying to get their people shots or selfies or just plain old shots as mist was spraying all over the onlookers while creating rainbows fronting the otherwise attractive scene of the valley down below and mountains across the way.
As I went higher and higher, each of the viewpoints remained busy with people. So my theory that the crowds would thin out the higher I went didn't seem to apply at this time.
I continued going up several switchbacks as I was now working up a pretty hefty sweat. I still went from lookout point to lookout point as I'd frequently pass people, then stop to take photos so those same people I passed would pass me again, and then I continued going uphill faster than them so I'd pass them again.
Eventually at around 12:15pm, I made it up to the cafes and kiosks at the top of the Middle Waterfall. By this time, I was hoping that I had gone at least 2/3 of the way up because signs suggested that it was still another 30 minutes to the top of the Upper Waterfall though I did see a sign not long after that suggesting that it was still another 40 minutes to the top. Which one was right?
The switchbacks got steeper the higher up I went but there were also more attractive views of the Upper Waterfalls, which looked a bit more attractive from the trail than the earlier falls, where the viewpoints were way too close to really capture the various Krimmler Waterfalls in photos and even videos.
After some more sweat-inducing switchbacks, I finally made it up to the top of the Upper Waterfall at around 12:45pm. While there were much fewer people who made it this far, there were still about a dozen or so chilling out. Some did continue hiking further upstream but I knew from the maps that this was the end of the line for me.
So by around 12:55pm, I started to head back down. As the sun was starting to hide behind some of the budding clouds, the lighting became a bit more even though the scenes were still on the bright side, which made it a bit harder to figure out how to configure the camera to take advantage of the current lighting conditions.
After doing a bit of trail running and going back to some of the viewpoints that I either punted or did a do over for a second time, I'd ultimately make it back to the kiosk at around 1:30-ish. Then, I continued the long descent to the waterfallzentrum.
Indeed, it wouldn't be until around 2:20pm when I finally made it back to the Waterfall Center, where I then used the family ticket to get into the Water Wonder World and the House of Water, where I found Julie and Tahia checking out some of the exhibits there.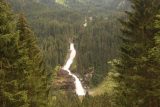 When Julie told me to go back to the car to eat the leftovers that she left there, I promptly did that, but that also meant that I couldn't go back into the area where Julie and Tahia were to enjoy the leftover lunch. Instead, I just ate at one of the tables nearest to the exit of the paid area, and I watched Tahia play while I was having the leftover schnitzel and boiled potatoes.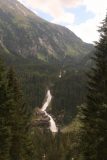 It wouldn't be until around 2:40pm when we were finally back at the car, which was baking in the unrelenting sun. But before driving back to the Sommerrodelbahn at Saalfenden, which was said to be 15 minutes north of Zell am See, we drove in the opposite direction because we wanted to check out the viewpoints of the Krimml Waterfalls from a distance.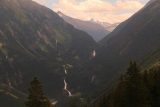 Something was missing from the close-up experience, and we were hoping to complete the Krimmler experience by seeking out the views before heading back east.
At around 2:50pm, we arrived at one of the overlooks which revealed the entirety of the lower two components of the Krimmler Waterfalls, but it was missing the uppermost tier. It wasn't quite what I was hoping to see (especially during my hike when I suspected there would be views across the valley).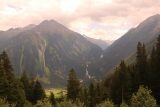 There was one hitchhiker who was hoping to get a ride from us, but when she asked which direction we were going, I told her that I wasn't sure myself since we were trying to improve the views of the waterfall. So she went to find someone else for a ride.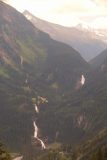 That said, I did recall glimpsing a sign suggesting the utsicht was over 6.2km away, so I figured we had to keep going to get there. And it was a good thing that I did because by 3:10pm, we finally made it up to the Wasserfalleblick, which was the desired overlook of the Krimmler Waterfalls.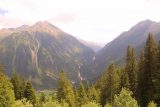 Up here, there were only a couple of other cars. For all intents and purposes, we were pretty much alone, and it was refreshingly quiet. It made me wonder why not more people checked out this view since it was far better than the lower lookouts.
Indeed, up at this vantage point, we could see all the tiers of the Krimmer Waterfalls, but we could also see the V-shaped gorge containing the falls framing the waterfalls themselves. And for scale, we could see the tiny Waterfall Center and car parks all looking teeny weeny.
It was a commanding view, and we could have easily lingered here for even longer if it weren't for our sense of urgency in trying to get to the Summer tobagan run at Saalfelden, which Julie thought was closing at 5pm. Julie actually called the facility, and they said that actually it was closed at 6pm today.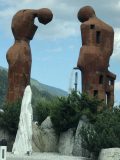 Since the weather looked pretty tame, we decided that today was probably the day to do it because who knows what the weather will be like tomorrow?
Anyways, we made haste driving back down the mountain and then past Krimml before heading back on the B311 east towards Zell am See. Along the way, we once again saw the "pissing statues" at the roundabout in Mittersill. This time, however, Julie came prepared to take pictures of them.
There was always cars in front of us going slow and causing a bit of a queue, but we made a couple of stops ourselves for a quick grocery run (knowing that just about all supermarkets were closed tomorrow, which was a Sunday) as well as filling up on diesel.
And ultimately at around 4:45pm, we finally arrived at the Saalfelden Sommerrodelbahn, where even as we were pulling up to the car park, we could see the size of the run and the chair lift taking people all the way to the top of the mountain. The run looked so long that it surely had to be lots of fun, but it was also on the order of 32 euros for the three of us per run. So that also was a bit on the pricey side.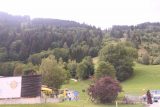 Well, when we went up to the kasse to try to buy the tickets, they momentarily closed the kasse as well as the turnstiles because someone at the top was saying that there was a long queue as well as a chance of some rain. If the track had any water on it, they wouldn't let people go on it because it would be hard to apply the brakes.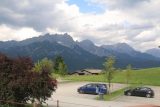 They said that maybe in 15-20 minutes, the situation might change, but in the mean time, we were willing to wait it out since they didn't close until 6pm, and we had already made the trouble to get out here in the first place.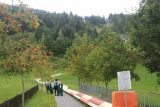 And as we were seeing people coming down the luge runs, it definitely looked like a lot of fun. However, there was one guy who didn't put on the brakes and ran into someone who was stopped in front of him. Yet that bigger guy who hit the person in front of him (and his daughter was crying) who was mad at the guy in front of him.
He not only chewed him out in Austrian but he was also complaining to staff about him. Yet from a casual observer, it seemed like it was the big guy who was a bit on the reckless side as he could have easily stopped the sled at the very end.
Well, after waiting for about 20 minutes or so, we saw that there were blue skies and the clearing of clouds. They waited another 5 minutes before we they were finally given the OK to resume the tobagan run. At that point, the lady suggested we just pay for 1 lift and run as a family, and then see if we have time to go on it again. You never know how the weather might change.
And so we eagerly parted with our money and promptly took our tickets to the turnstile to get onto the chairlift queue. Then, we got on, and we were taken for a fairly long ride as I was busy trying to turn behind me and take pictures of the beautiful landscape of the mountains in the distance and the town of Saalfenden in the foreground. There were also the luge tracks below that further whetted our appetites as we saw other people making their runs.
Once we got to the top, Tahia and I were riding tandem. At first she didn't want to do it, but I guess she had a change of heart. Meanwhile, I made sure Julie was behind us because I knew that it was better if no one was in front of us.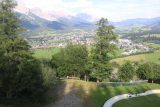 Anyways, we went on our run, and it was totally thrilling. At first, we applied the brakes pretty liberally because it was so easy for things to go wrong and fall onto the track (probably leaving skin on the tracks). And yet, it was so exhilarating that Tahia let out squeals of pleasure and excitement while I was holding on to her and controlling the speed of the luge sleds.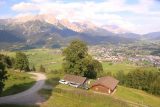 Ultimately, we made it back down to the bottom, where we were all alone. And Tahia was so excited that she wanted to go on it again.
Soon thereafter, Julie made it down and then we went ahead and bought another ticket at around 5:30pm. I guess we had just enough time for one last run.
Once again, we rode up to the top, and I was determined to make this last run count.
And once again, Tahia rode tandem with me, but this time there were more people waiting to use the tobagans at the top. We waited until the lights turned green, and then we made our approach back down the track.
Throwing caution to the wind, we tried to gun it as we pushed the lever forward almost the whole time trying to really feel the rush of the speed of going down these things while also being so close to having something go wrong.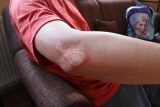 After we were nearly about a half-way down the track, apparently we went too fast as we lost control of the sled and even after trying to apply the brakes, I leaned too far backwards and managed to fall back onto the track. I felt something on my elbows immediately but I was more concerned about Tahia.
Well, she wasn't crying, and she was even talking to me about getting back on and continuing the experience. But I saw that I had a bit chunk of skin left onto the track on my right elbow, and I also saw that Tahia's right elbow also got a little scratched up. However, I also noticed a little bruise on her right eye, and I wondered if the camera might have hit her during the impact.
I'm sure Julie was going to let me have it for being so reckless, but we still wanted to get the most of our ride so we kept pushing forward and going as fast as we could but this time with a bit more caution.
Ultimately, we'd catch up to some lady in a head-scarf who was going a bit slower than us. So even after we fell and had to get restarted, I guess we still caught up to her.
It got to the point that we had to slowly follow her, and then we realized that we probably had to just stop and wait for her to go sufficiently down the course before we could resume our need for speed. However, our waiting ultimately allowed Julie to catch up to us and so we had to get going once again whether we wanted to or not.
Eventually, after going down the three thrilling drops, then going around the photo bends, we then finally caught up to the girl in front of us at the very end of the course. Certainly this second run wasn't as good as the first because of the accident and the slow-down, but all good things had to come to an end, and it was now time to get back to the apartment as it was now about 6pm when we returned to the car.
At this point, Julie saw my wound and gave me the guilt trip for putting Tahia at risk. I even think because of Julie's reaction, that made Tahia scared about the injuries she sustained. Plus, Julie was worried that my elbow might get infected.
When Julie spray alcohol onto my elbow, it had a very painful sting that even Tahia in her frightened state seemed mildly amused by my discomfort.
Thus, on the drive back to Zell am See, we went looking for a place to buy ointment and gauze. So we tried to stop at a Billa at 6:20pm as we knew Spar and other places were closed since 18:00, and unfortunately that place didn't have what she was looking for.
Eventually, we found parking (though it wasn't as close to the Post Office as I would have hoped) and then we were back at the apartment at 6:35pm. She dug into her luggage to at least put some vasoline-like cream on my elbow as well as three bandages though they struggled to stay on my arm.
And with that, Julie made dinner once again (this time it was ground beef with sauerkraut in a lettuce wrap) so we'd save money on not eating out (this was like the fourth night in a row that we didn't eat out for dinner so surely that should have helped us to save some money).
Finally after finishing up with our self-cooked dinner, we then decided that we should seize the moment and experience the pedestrian zone of Zell am See for the first time since we've stayed here. After all, who knows what the weather tomorrow will bring?
So at 9pm, we finally went back into town, which was just in time for the magical twilight which was best for photo taking of the soft light of street lamps and the glow of shops. There was also quite a happening scene of people strolling about the shopping arcades where cafes, restaurants, and pubs were alive with people chit chatting over drinks and a smoke.
As Julie was going from cafe to cafe looking for gluten free desserts for an after-dinner snack (a nachtisch, if you will), she finally found this place that kind of spoke her language. In other words, they told her in plain English if a particular dessert was made with flour, or if there was a smidge of it, or if it was completely gluten free. That was music to her ears.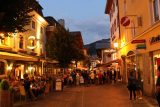 So she decided to eat at this spot where Tahia and I shared a Sacher Torte with a scoop of vanilla ice cream while Julie had a small piece of Easterhazy Torte. For her it hit the spot, and for Tahia and I, we were fighting to get all the scraps of the ice cream and the Sacher Torte.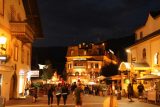 I guess Julie found a keeper in town, and she was hoping to come back here tomorrow night, especially when she found out that they were open on Sundays.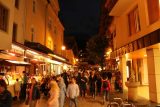 As we continued meandering about the main drag of Zell am See, we saw that the majority of the foot traffic tended to gravitate towards some Grand Hotel. But our progress was stopped short when there were a couple of guards at a fence preventing people from coming in unless tickets were paid for.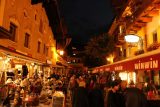 We weren't sure what kind of party or festival was going on, but that was the end of the line for us.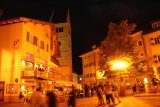 On the way back, I overheard some waiter explaining to the people he was serving that there was some fireworks show going on over the lake. So I guess that explained why it was so happening and why there were guards there making sure that only paying customers were allowed in.
Anyways at 10:05pm, we were back at our room. We were ready to unwind the night, but that was when I heard loud series of explosives right at 11pm.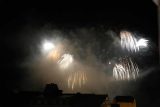 Apparently, that was the fireworks show that I had overheard some local explaining to someone else, and it wasn't until five minutes or so had passed when I realized that I should open the windows facing the other side of the building so I could at least see the fireworks show.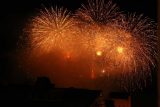 So I did exactly that, and even Tahia got in the act as we both looked out the window and got our dose of the fireworks show (or what was left of it). Eventually, things went quiet after about 11:10pm, and so ended our show. I re-closed the windows and made sure the decorations were back where they were found in the first place.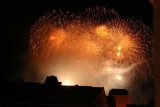 And finally, we could call it a day. Julie missed out on the show since she was already dead asleep. And it didn't take much longer before Tahia followed suit. I still had to shower, brush and floss, and only then could I finally crash and take on tomorrow.
Speaking of tomorrow, that was going to be a divide-and-conquer day as I was hoping to catch the waterfalls missed up to this point that were on the plans for a visit. Unfortunately, it would involve a bit of long driving as well as some bad weather. But I'll just have to take what comes and hope for the best. And with that, I finally caught my Zzzs though hopefully my elbow would be sufficiently healed by then as well…
Day 33 (July 15, 2018 – Zell am See, Austria): "Doubling Back"
It was 6am when I awoke. I managed to sleep late last night because there were drunks outside making loud chants and noises well after midnight. In fact, I was still able to hear some more of them stumbling about outside the apartment as apparently they must have pulled an all nighter.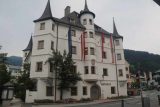 Meanwhile, I could see heavy clouds shrouding the mountains to the south of us. The forecast called for rain starting today, and for at least the next two days thereafter. So I was going into my excursion for the day expecting rain. By the way, the excursion I was targeting was the Gunstner Waterfall, which was some 97km away from Zell am See. It was actually closer to Millstatt, but we the circumstances were such that I couldn't fit it in when we were staying there.
Eventually after having a quick breakfast of kefir and fruits (I missed out on Julie's bacon and eggs), I finally headed out at 7am. I could already see rain clouds building in the mountains even more and I suspected that it was a matter of time before the rain would get worse.
Regardless, with the early start, the drive went pretty smoothly as I headed back west on the familiar B311 Road eventually joining up with the A10 autobahn. I then followed the A10 until the GPS made me get off around Altenmarkt im Pongau onto the B99.
At first, I was lamenting the GPS making me not stay on the A10, but then I recalled that there was a fairly hefty toll due to the long tunnels we had passed through before when driving from Millstattersee to the northern side of the Grossglockner Road. So perhaps the GPS directions helped me save a little bit of money.
Anyways, the drive continued pretty uneventfully as there were some light sprinkles in spots, before I finally got to the town of Tamsweg. While I passed through the town, there was a little bit of confusion on my part as to what was the main throughfare. But eventually, I'd get through the town and onto the B96 where I'd eventually follow signs for Krakaudorf.
Once I arrived in the small town of Krakaudorf, that was when I finally started to see signs for the Gunstner Waterfall.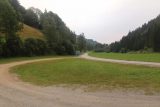 By around 9am, I arrived at a spacious grassy car park with a Gunstner Falls sign by it. I thought I had made it, and that I should be walking from here on out as there was a Fussweg sign saying the falls was another 400m away.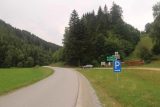 It still hadn't been raining yet and even some glimpses of sun piercing through the clouds' thinnest sections gave me some reassurance that this excursion wouldn't be under miserable conditions as I had feared.
As I geared up then walked along the narrow (nearly single-lane) road towards the Gunstner Waterfall, I saw at the unpaved turnoff that there were more signs indicating that there was parking for visitors (in German) further up the unpaved road. And sure enough, after another 100m or so of walking, I saw the cafe and a couple of cars already parked here.
I guess I managed to extend my excursion by about 1km round trip, but that was no big deal.
I pretty much followed the signs as it led me past some kind of donation slot and then onto a wooden path hugging a cliff while practically on top of the stream from which I knew the Gunstner Falls was on. And indeed, it didn't take long before I was face-to-face with the lower drop of the Gunstner Falls.
The further I walked up, the more the upper tier revealed itself (though the lower tiers started hiding itself). So after getting my fill of the falls from this spot, I continued hiking up the steps where there was a fork. Unfortunately, the trail leading to the bridge over the top of the falls was closed as it appeared the bridge might have experienced a wash out.
So that shortened my hiking route and time spent here as I basically continued along the wooden steps ignoring the signs for Markushohe (as I wasn't going to make it all the way up there) and continuing onto the apex of the steep ladders. Once there, I then had to descend some pretty rocky, rooty, and steep "paths" before reaching a couple of lookouts with benches and/or picnic tables.
From there, I was able to capture videos revealing the entirety of the Gunstner Falls, which was impressively tall when you count all the tiers together. I also managed to take some awkward photos trying to get the whole thing wherever I could. Also, the sun starting to come out also didn't do me any favors with the lighting at this time of day.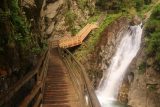 After having my fill of these lofty vantage points for the Gunstner Falls, I then went down the steep steps eventually returning to the donation slot junction. Given the amount of work that went into building this trail (as well as the ongoing repairs to restore the bridge and allow visitors to get to the other side), I wondered if the owners here really should charge for a visit instead of relying on that donation slot (no one seemed to be doing it).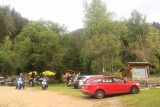 It seemed like a lot of effort went into trail building and maintenance only to do so without expectation of payment. Something tells me that's not sustainable and it would be only a matter of time before the owners would finally note the effort involved in keeping this place open and thus would charge visitors to recoup some of those costs.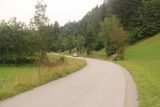 By the time I was back down, there were some other Austrian visitors, which kind of made me wonder how well known this place was with the Austrians given how there had to have been at least a dozen people or so on my way out.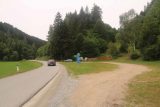 By about 10:05am, I returned to the car, and then proceeded to drive back the way I came. The GPS this time tried to take me onto the A10 autobahn which would have required tolls, but I knew from memory that I should be going back the same way I came through the Obertraun (sp???) Region.
During this drive back, there was quite a bit of stretches of rain (some of which was moderate). This was the kind of weather that I was expecting given the forecast, and it was a good thing that my Gunstner Falls excursion didn't suffer as a result of bad weather. I'm not sure I can say the same thing about tomorrow's excursion to the Umbal Waterfalls on our way to Northern Italy.
Eventually, I'd reach the brief stretch of the A10 that had a bit of a stau (stopped traffic) at around 11:40am. It appeared that most of the stopped traffic was headed towards Salzburg. When I saw some people taking the emergency lane and kept going, I ultimately started to do that myself, and sure enough, the right lane opened up to reveal the exit that would have taken me back to Zell am See.
While driving west along the B311, I noticed that there was a waterfall that was spilling from a cliff just as I was entering the east side of the town of Taxenburg. It was hard to stop for it given the rate of speed on this highway and the lack of obvious pullouts given the situation. I did notice parking lots for Kitzlochklamm, and I was wondering if that waterfall was somehow affiliated with that gorge adventure. In any case, I couldn't stop for this though it did pique my curiosity about other waterfall surprises like this.
Aside from those little hiccups, I finally made it back to the apartment at 12:45pm. I wasn't expecting to score a good spot right across the post office, but I did manage to score parking a little closer than yesterday.
Regardless, by 1pm, I was back inside the apartment where Julie was making lunch and Tahia was busy spotting me and conversing with me as I was walking back to the apartment. Apparently, they did some shopping at the local Billa while also briefly checking out the lake, but they said that it had been raining so they cut their lakeside visit short.
For the next couple of hours, we killed time having lunch together while I was also tending to some blogging duties. Neither of us had plans to do anything this afternoon. I guess this extra night spent at Zell am See seemed necessary to get all the planned activities in, but it turned out that I might have overestimated the time durations so we were afforded some margin.
That's actually a good practice to have as I've learned over the years that you need to have some room for unexpected discoveries as well as flexibility (especially with the variability of the weather).
Anyways, Julie's lunch was basically chicken pan fried along with sauerkraut and some lettuce. It was a simple meal, and it reminded us of how much money and time we actually save by doing this instead of eating out all the time.
After the lunch, Julie decided that she wanted to savor her last day in Zell am See, and so she was in the mood for a thermal spa. And upon reading that Bad Gastein had a well-known spa that was said to be one of the top European spa experiences, I think Julie was sold on the idea, and she was ready to head out there (with us following her).
Funny how I was there a week or so ago when we were staying in Salzburg. We could have knocked this out back then (though I did show up early). In any case, we were doing it now, and it felt like today was all about doubling back as the Gunstner Waterfall involved backtracking and now we're going back to another familiar place in Bad Gastein.
It wouldn't be until 3pm when we were finally back in the car. Since I had already been to Bad Gastein earlier in the trip (where I went there on a divide-and-conquer-day) while we were staying in Salzburg, the drive went mostly uneventfully until we finally scored street parking at 4pm.
We went to this place called the Felsentherme, which was said to be one of the better spas in town (or all over Europe according to The Guardian). It was also said to be family-friendly so I could keep an eye out on Tahia while Julie tried to do more of the adult stuff (i.e. the sauna area where I'm sure clothing was optional).
The drive was pretty uneventful, and I was quite surprised at seeing how much the weather was holding up as I was expecting to see more bad weather starting today and continuing on for the next couple of days.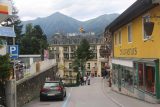 The Felsentherme was actually in a part of town that I wasn't familiar with since I pretty much hiked a loop around the many waterfalls that spilled right through town. I was actually a little disoriented by where this place was.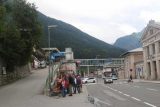 In any case, we paid the 50 euros for the family package for 3 hours, and we then experienced each of the pools. Julie went upstairs as expected, but Tahia and I stayed downstairs where we went from one lukewarm pool to the next. There was a slide that was like the Bad Kleinkirchheim except it was smaller this time around.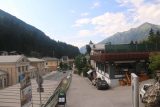 There was, however, a waterfall massage as well as bubble jets in the main pools. There was also a diving board at a deeper pool, which Tahia foolishly jumped right in forcing me to drag her out and move her to the wall (that took a surprising amount of energy to do).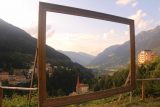 Before we knew it, two hours had passed when we finally decided to rinse off and return to the car. It was about 6:25pm when we finally started driving but my disorientation had us continuing to drive uphill on one-way streets before we finally cut across to the main road then we went downhill to the familiar road that I had taken on my earlier visit.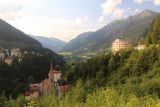 At least we managed to get one panorama shot where we did a three-point turn, and then I pointed out the uppermost waterfall to Julie as we were passing by.
Again, the weather was still holding up on our drive back to Zell am See as there was still plenty of sun and clearings in the clouds. This was definitely contrary to the forecast that called for bad weather today and the next couple of days.
As we approached the town of Taxenburg, I once again looked for that waterfall off to the left of the road. However, I noticed that the waterfall I had seen earlier had disappeared! Was this one of those waterfalls that they can turn on or turn off? If so, then perhaps that's why I hadn't seen it in the context of waterfalling – because it wasn't real?!?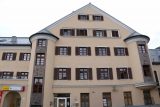 In any case, we got back to the apartment at 7:20pm, where we managed to score a good parking spot right in front of the post office. This would come in handy when we'd have to load up the car possibly in the rain that was predicted tomorrow.
The town felt a bit deader than last night, but I figured it would be that way considering it was a Sunday night.
Anyways, now it was time for another self-cooked dinner, and then Julie was planning to go back into town to indulge in another round of gluten free dessert. We'll see how that works out because the clouds outside were darkening, and perhaps that predicted bad weather was finally going to make its appearance for good…
Julie and Tahia did make one quick dessert run in town under the light rain at 9:20pm. They said there were still lots of people in town, but it was nowhere near as busy as it was last night.
And so ended this last full day in Zell am See. Tomorrow, we were headed into Northern Italy and back onto the Rick Steves Trail as apparently his books covered the places we were about to get to – the Dolomites, Innsbruck, Tirol, the Romantic Road in Germany, Rothenburg, Bamberg (not on Rick Steves Trail), and eventually Frankfurt.
But with the uncertainty of bad weather (which is always the case in Europe, especially in the Alps), this will have to be something we'll have to read and respond to. We'll see what tomorrow brings…
Day 34 (July 16, 2018 – Val Gardena, Italy: "Hohe Tauern Captivation"
It was about 5am when I awoke. Julie awoke another half-hour after that.
The big concern with today was the weather, and from looking outside, the weather looked tame so far though there were definitely clouds hanging over the familiar mountains seen from our apartment. According to the forecast, it would benefit us greatly if we could do the waterfall excursion at Umbaltal before the onset of thunderstorms and showers, which was predicted to occur around 11am.
It took some time to get ready as usual, but eventually by 7:25am the apartment was left clean, and we loaded up the car and took off.
The drive went pretty smoothly as we went back through the familiar wide sweeping valley going from Zell am See to Mittersill. Then, we turned and headed south after the roundabout at the pissing statues before going back down the familiar B108 route south towards the Felbertauern Tunnel, which were a pair a very long tunnels with a toll booth in between.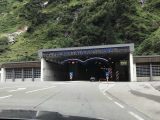 Along the way, Julie took shots with the iPhone from the car as we knew this time to try to seize any moment of scenic driving and somehow take that experience with us.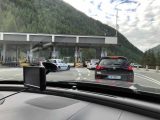 After paying the 11 euro toll, instead of just passing through like we did before (on the day we drove into Zell am See from Lienz), we actually made a stop at a giant unpaved pullout at a hairpin turn right next to the Rasthaus Hohe Tauern at 8:10am. There, we actually took the time to get out of the car and actually enjoy the beautiful scenery that was all around us.
Indeed, in this scene, we could now clearly see that there were three major waterfalls all spilling into a village below. One of the waterfalls looked like it was at the end of some kind of glacial cirque. While lots of cars were whizzing by on the hairpin turn that we stopped at, Julie and I were chilling out at the abandoned rasthaus trying to take in the panorama as best we could.
We really couldn't get enough of this place, and the beautiful weather in the morning with some clouds to add a little mood mixed in with the morning sun definitely made things interesting. Indeed, it wouldn't be until 8:30am until we got back in the car again, but then we were compelled to drive down to the village to see if we could improve our views of at least 2 of the 3 waterfalls here.
So by 8:35am, we made it down to the village down below, and it turned out that it wasn't all that great though we did manage to get more frontal views of the middle waterfall. It appeared that there were hiking opportunities as well as some kind of road with a boom that might be only available to buses or some kind of shuttle to get deep into the Hohe Tauern for some more hiking.
In any case, we moved on and then resumed the scenic drive as we approached Matrei in Osttirol, where we then turned right and headed deeper into the Umbaltal Valley along the Isel River. Eventually, we'd make it to the village of Stroden and pay 6 euros to park at the trailhead for the Umbal Waterfalls at 9:25am.
There was a view of a tall and attractive waterfall in the distance from the first car park near where we paid the lady collecting money, and we assumed that it must be the Umbal Waterfalls. So we were under the impression that it would be a pretty quick walk to take it in, then move on towards the Dolomites, which was where we were to spend the next couple of nights.
However, we saw people were still driving so we got back into the car and repositioned it to see how far we could drive. Well, we didn't get very far but we did find some shady spots to keep our cool things cool in the car a little while longer before the sun would get beyond the cliffs and trees and really heat things up for good.
I went ahead and got started with the hike and let Julie and Tahia figure out if they wanted to make the hike or stay in the car.
I didn't bring water since I thought it would be short. And so I went into the fairly warm weather morning as the head of the valley was a scenic blend of rolling pastures flanked by giant cliffs, and the trail quickly started going uphill as it entered the ravine caused by the River Isel.
After going past some lower cascades (there was a spur trail that went closer to it that I decided I'd punt that for later), the trail continued its climb as I'd eventually get to some hamlet near the tall waterfall that we had seen from the car park earlier on.
It turned out that that waterfall was a side waterfall on the Kleinbach Stream though it was compelling enough to make me think that it was the Umbal Waterfalls. However, after getting past the village, I saw that the trail kept going and the signs now pointed further upstream on another climb along the River Isel. Plus, I could see parts of a crashing cascade that I figured must be the Umbal Waterfalls, and now I could see why the signs at the trailhead suggested the hike was 30 minutes (though I swore it seemed longer than that).
Next, I'd continue that uphill hike along with many groups of other Austrian visitors who passed me as I was taking my time taking photos and videos of the beautiful scenery around me. Even along the way, there was a bridge over another stream with a waterfall in plain sight that was signed Grossbachfall. That one was a multi-tiered twisting waterfall that just made it seem like the hits kept coming.
Eventually, I'd stop at the three viewpoints for the Umbalfalle, though after getting up to the third viewpoint overhanging the waterfall, I then decided to turn back as it seemed like the waterfalls started to flatten out further upstream from there. Most of the other hikers kept going, and it made me wonder if I'd miss out on something, but in any case, I targeted this waterfall, and I made my decision to head back down.
Ultimately at around 11am, I was back at the village where I saw Julie and Tahia already waiting to order an early lunch at the cafe along the trail. Julie liked the scenery enough here, and just wanted to bask in the moment for a bit.
After I wrapped up capturing more of that side waterfall on the Klenbach Stream, I then joined them for a course of a juicy wurst with sauerkraut as well as a fitness salad of a delicious grilled chicken that Tahia actually liked!
Ultimately when we had our fill of the food, we paid the rechnung (check), and then we headed back downhill towards the car. By this time, the clouds had definitely taken over, and I knew that it would probably just be a matter of time before this part of the valley would start getting rained on.
After I made a brief detour to check out the lower cascades (which turned out to not be that great), we were finally back at the car at around 12:25pm. Indeed, the takeaway from this excursion that the Umbalfalle experience was really more about the quality side waterfalls in addition to the crashing waterfalls on the River Isel. And taken together with the scenery, it was that combination that made this place memorable and a pleasant way to spend the morning.
But now, it was time to drive to the Dolomites as we'd briefly leave Austria and check out Northern Italy for the remainder of today and all day tomorrow before returning to Austria as we'd pretty much be going back on the beaten path and resume the "Rick Steves Trail" as the places we were hitting were covered in his guidebooks so we knew that there'd be a bit more foreign tourists than what we had been experiencing for about the past week in mostly Carinthia, parts of Styria, and the eastern parts of Tirol…
Visitor Comments:
Got something you'd like to share or say to keep the conversation going? Feel free to leave a comment below...
No users have replied to the content on this page