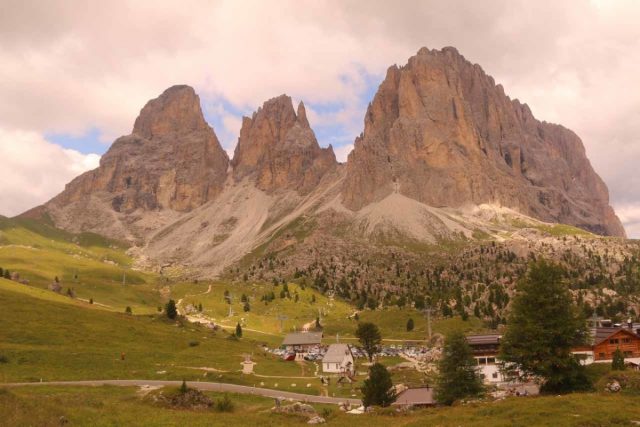 16-July 2018 to 27-July 2018:
Apparently, there was an issue with the profile of our boarding passes as somehow we were classified as students under age 30. I recalled we had a similar issue back at LAX but it didn't result in any complications other than our extra money paid for assigned seating was discarded.
However, in our current circumstance, the ticketing agent had to do his job and he didn't let us go by like back at LAX. Instead, he walked us to the ticketing and sales kiosk, where he was trying to work out the issue over there. Apparently, the agent that helped Julie with Flying Blue (to accommodate one boarding pass booked on points while getting our paid full price fares to be seated together) somehow booked us on discount fares such that we were considered students.
By this time, it was now about 9:20am, but as we did a lot of waiting, it seemed more and more like we had no shot of making our 10:20am flight…
Day 34 (July 16, 2018 – Val Gardena, Italy): "The Makeup"
It was about 12:30pm when we starting driving out of the car park for the Umbalfalle.
The drive out of the Umbal Valley involved going through some stretches of rain (mostly the thick droplets of water that we came to know when a T-storm finally started dropping its load). We'd eventually pass through some of the cells and into the partial sunlight as we entered the now-busy city of Lienz. However, instead of going deeper into the stau (stopped traffic), we turned at the roundabout and continued towards the signs for Bozen and Sillian in the direction of Italy.
That drive involved quite a bit of following caravans of slow trucks. In passing one of the trucks, I had to abort a passing attempt when a car was heading back in the other direction and I really had to put on the brakes to avoid rear-ending the slow truck. But aside from that heart-stopping moment, the drive went frustratingly along as we'd have to follow another really slow truck that caused a long line of cars and pretty much make what should have been a fairly smooth drive along the B100 (becoming the SS49 in Italia) into a frustratingly sluggish one.
That said, we already started seeing some of the dramatic Dolomite Mountains that somehow Julie and I didn't really get to see on our first trip to Italy back in 2013. Even though we had been spending several nights in Bolzano, we only visited Barbiano and Campo Tures, and the Dolomite Mountains didn't seem as pronounced over there. So that was the main reason why I wanted us to return to Northern Italy on this trip so we could at least try to get into the heart of the Dolomites. And it looked like that decision to come by and spend some time here going this way was already paying off.
Another thing I noticed was that the price of diesel in Italy was dramatically more than what we were paying in Austria! For example, I was routinely seeing prices of 1.71 Euros for a liter of diesel in Italia while we paid as little as 1.17 Euros in Austria. I even paid 1.39 euros in one gas stop in Germany on the way to Lindau and thought I was getting ripped off. So I made up my mind that I was going to hold out on filling up on diesel before returning to Austria and filling up cheaply once again. I sure hoped that I'd have enough in the tank to pull that off as I still had over 600km to go before it'd go empty according to the gauges.
Still, the traffic (there were definitely lots of cars going both directions here), the random police stops (luckily we weren't stopped), and the somewhat frustrating drive due to the truck before us, with limited time and places to pull out conveniently to try take in the views ensured that this part of our drive would only exist in memory and not so much in pictures.
Even when we got off the SS49 as that slow truck appeared to be headed further beyond Brunico and towards Bolzano or at least the Autostrada that I knew was there, we then took an even twistier and narrower road going south along the SS224. Things were moving somewhat fine until we encountered yet another truck that was going slow and with the blind curves and narrow roads, it was getting even harder to pass this guy even though there wasn't as much traffic going the other way (though there was still enough to make me jittery about taking chances).
Ultimately, we'd then turn off and drive the SS243 Road, which was even more steep and twistier as we were entering the town of Colfosco. This particular town seemed to be well-situated as it was surrounded by the bare Dolomite peaks and we even saw an attractive plunging waterfall nestled in one of the crevaces of the Dolomite finger-like peaks.
At first, the GPS threw me off making me think that we had to keep driving, but when I stopped at a pullout and re-routed, then I saw that the waterfall we saw was indeed the Cascate del Pisciadu, which was one of the waterfalls I had targeted on the way to Val Gardena, where we were spending the next couple of nights.
In backtracking towards where I thought might be a suitable trailhead (there was an adventure park so I knew Tahia could keep herself occupied while I'd do the hike), we stopped at a couple of pullouts at around 3:20pm, where we could look across the valley and right at the Cascate del Pisciadu. Although it was somewhat against the sun, the atmosphere of clanging cow bells from cows grazing further upslope of us and soaking in the scenery before us of the Dolomite Mountains with the cascate before us definitely made the place already seem atmospheric.
So this was what Julie and I had been missing from our first visit to Italia!
Continuing on, we drove back through the town of Colfosco, and then finally parked at the large parking area at 3:40pm (paying a euro for an hour as we thought it would only take that long), where I did the hike solo to the Cascate del Pisciadu (not sure if this was the correct trailhead or not), while Julie and Tahia could have fun at the Adventure Park.
I think Tahia was really determined to do all the obstacle courses, but there were height restrictions starting at 110cm and above, and we weren't sure if Tahia could qualify for some of the harder ones as she wanted to do them all.
So I geared up, and proceeded to go on the hike, where a sign said it was only 5 minutes to something relating to the waterfall. Well, it turned out that that 5 minutes only took me to the trail that led to the waterfall, which was another whopping 50 minutes away! I guess we were going to stay here longer than we thought.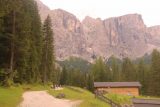 In any case, I kept going while at the same time trying to soak in the beautiful Dolomite scenery surrounding the town of Colfosco. The forested path would briefly reveal the scenery as it kept gradually going uphill while being surrounded by trees. There were lots of people on the trail, and I was back to that confusion where I wasn't sure how to greet other people (with "Buongiorno" or "Gruewss Gott"). So I found myself just saying "Hallo" to be safe (it was only if I managed to overhear conversations in the languages that I was familiar with before I knew how to greet them, but that didn't happen often).
Anyways, the Dolomite peaks that contained the Cascate del Pisciadu continued to loom large over me as the trail pretty much passed right along the base of the cliffs. There were a couple more sections of cascades that were spilling towards the trail, which were bridged at those sections. But I knew that they weren't the Tre Cascate (as some of the signs seemed to suggest).
Finally at around 4:40pm, I'd make it to a small clearing where there was a trail junction as well as a small WC. The joining trail apparently was only 20 minutes walk to some car park so I guess the path that I took wasn't the closest one for this hike. Regardless, I knew that Julie and Tahia were occupied with the adventure park so I knew the right decision was made to start a little farther away given the circumstances.
Anyways, there were also views of the Dolomite Peaks in the direction of Colfosco so there was definitely a bit to hold me here.
But it was also where I could look right up at some of the tiers of the Cascate del Pisciadu. A sign suggested that it was still 5 minutes more to get up to the falls, and I went ahead and did that.
However, after briefly going up the steep rocky track, I got to a bridge that said the trail was closed. I wasn't sure why it was the case as the bridge appeared to be in good shape, but I presumed that it must have something to do with the rockfall danger since we were pretty much right at the base of the Dolomite cliffs.
Yet, there was no view of the cascades from this spot so after following a trail of use, I saw that the next step would be to cross the creek. While other people got their shoes wet to make the crossing, I went back down to the bridge, then crossed the bridge behind the barricade and then made my way up to the end.
At this vantage point, the waterfall was spraying some mist on me, but in looking downhill, I got sweeping panoramas of the Dolomite Mountains backing Colfosco as well as some nasty-looking thunder cells in the distance looing darm and brooding over other Dolomite peaks in the distance.
After documenting the falls and having my fill of this spot, I then went back down at around 5pm and resumed the hike back to the car park, where I'm sure they were waiting longer than the hour we paid for.
Eventually by about 5:35pm, I was back at the car. Meanwhile, Tahia went on the pink obstacle course some 5 times though Julie didn't know that each time Tahia went on it, it costed additional euros so she wound up spending about 19 euros for the experience. Since the pink course was one that Tahia could do herself, at least Julie didn't have to accompany her and pay extra for herself.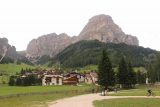 Regardless, it was now getting late and we still had to make our way to Val Gardena.
The road remained narrow and twisty. There were a couple of traffic light sections where we had to wait for one-way traffic to pass.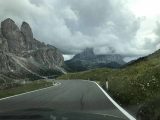 There were also more brooding dark clouds and even a few flashes of lighting in the distance as we were making our way to Val Gardena. So even though the weather seemed to hold up in Colfosco, in Val Gardena, the T-storm predictions were most likely to have occurred.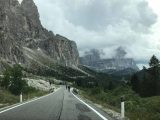 Still, even though it was a mere 8km to get from Colfosco to Val Gardena, it still took us around 45 minutes before we'd finally arrive at the Residence Antares in the heart of Val Gardena at around 6:20pm.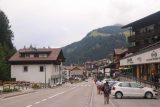 Unfortunately, the parking situation at the accommodation was such that we had to park parallel in a narrow lane following the lead of some SUV. I was worried that our car would get clipped, but it seemed like we had no choice.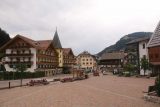 Regardless, we checked in, unpacked in the really cramped hotel studio room turned apartment, and then ran some errands like grocery shopping at the Spar nearby before finally having dinner at this place called the Restaurant Boutique Nives or something like that at around 7:30pm. Julie picked this place because they served up gluten free fare, and it was apparently Michelin rated.
The service was very slow at this restaurant because apparently there was a party of 40 people upstairs. So our dining experience turned out to be over 2 hours long.
Still, we enjoyed the appetizer of cep dumplings as well as a local deer sirloin. However, the South Tyrolean pork ribs were nothing more than BBQ ribs and Julie was disappointed with that.
The dessert was an interesting chocolate variation that included ice cream in the middle surrounded by three different varieties of chocolate. Everyone loved that dessert, and the thing was that the entire meal was gluten free (though still heavy in sugar, I'm sure).
When we were finally done with dinner at around 9:35pm, all of the sudden the town of Val Gardena went from being dead to happening. It appeared that they closed off the main drag through town, and that lots of families were out and about checking out the exhibits and stands in town. We weren't sure if we had to pay to do those so we just kept checking out the scene though not partaking in any activities. I guess we just got too conditioned to being nickel-and-dimed, and we weren't into spending more than we had to on this trip.
After an unexpected stop at the Cafe Mozart, where we got yet another course of dessert of a gluten free cake (more like a brownie), a couple scoops of gelato (of vanilla and black forest flavors), and some kind of fruit tart that Tahia was eye-ing, we'd finally be back at the apartment at 10:05pm, where we could finally get settled in our cramped room, get cleaned up, and then finally call it a night…
Day 35 (July 17, 2018 – Val Gardena, Italy): "Dolo-Dynamites"
It was about 5am when I awoke. Like with most of the trip, this was about the time I was always getting up, but I wasn't expecting Julie to be getting up anytime soon because I was going to spend the next couple of hours going to a waterfall on my own so the ladies could sleep in.
After getting caught up on the blogging, I then went into the car at 6:30am. Being unhappy with the parking situation at the Residence Hotel Antares (as it seemed like all guests were left fighting for what little parking space was available while there was a seemingly empty garage downstairs that we weren't sure how you could access it), I was surprised that still no one vacated their parking spots.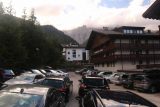 In fact, there were even more cars that showed up and people had to use their imaginations to carve out a parking spot without worrying about getting clipped by some other driver perhaps not as careful or as skilled at navigating through such tight spaces.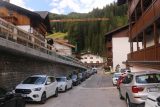 And of course, I was at least relieved that I didn't see damage so far on our car, which was probably in the most precarious situation in a driving lane where any car passing through had to be careful about not clipping our tires or our mirror that was folded in already.
Anyways, the drive out of Val di Gardena was uneventful and mostly filled with speedy motorists who were local and well more familiar with these tight curvy roads than I could ever be. So I found myself tailed pretty easily in my short drive, but at least they had somewhere to go that was in shorter distance than me so they'd be out of my rear view after a minute or two.
After passing through a couple of tunnels and entering the neighboring town of Santa Cristina, I then followed the signs for Mt Pana before parking at a free 90-minute space near the chairlifts leading towards the summit of Mt Pana (of course it wasn't operational at this time of the morning). I got there at 6:50am, which was much sooner than I anticipated considering how long of a drive it was from Colfosco to Val di Gardena yesterday even though the maps suggested that I only went a little over 8km yet it took me nearly an hour thanks to the one-way traffic lights, the tight curves, and the narrowness of the roads.
Anyways, I quickly got geared up not sure how long of a hike I should be expecting, and then I proceeded to walk along the road past the chairlift and up the steep and narrow road before reaching the first switchback. Along this walk, I was following signs saying "Cascate Pisciadoi" or something like that, and at first, it made me wonder if it was talking about the falls I saw yesterday in Colfosco, which was called Cascate del Pisciadu. But perhaps the word "Pisciadu or Pisciadoi" or whatever I thought I saw might have been Ladin for waterfall? Who knows?
As I left the road at the first switchback, I then continued up what seemed to be someone's driveway. At the top of the driveway, there was an accommodation. There was also a narrower trail switching back to go further uphill towards Mt Pana. However, I was more interested in the waterfall and so I noticed that there were signs beyond the accommodation's archway so I went there.
Once I saw the signs, it still pointed the way to another trail that left behind the accommodation and followed some fences. So I did that, then after rounding a bend, I saw the tall and impressive Cascata di Tervala. Actually, I'm not sure if this was the formal name of the waterfall since I didn't see any signage suggesting that was its name, but since it was practically adjacent to the accommodation of the same name, I presume that was how it got its name (whether formally or informally).
So I took some time taking pictures and videos of it as I had it all to myself. With the partly cloudy skies, I was also able to look in the other direction towards the main road and tunnel entrance below as well as parts of the town of the quiet St Cristina. In the distance, I could see the silhouettes of more amazing Dolomite Massifs against the morning sun that hadn't yet penetrated those clouds.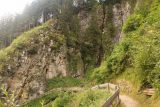 It was quite the reward for such a short hike, and it certainly made this waterfalling attraction quite worthwhile. However, even as I was soaking in the moment, I noticed that the trajectory of the stream still went over another drop, which suggested that it was supposed to be visible as I would drive the main strada statale into the tunnel going in the other direction. It also made me realize that perhaps I should walk past my parking spot and towards a more direct view of the falls to see what it might look like with that lower tier in the context of the road tunnel.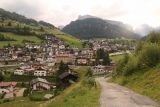 As I was also basking in the falls and documenting the experience, there was one lady who was making her way down from higher up on the trail and eventually made it to the same bridge fronting the waterfall that I was standing on. Strangely, she got to the bridge, then turned around and went uphill without saying a word. Strange.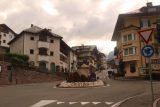 Regardless, once I had my fill of this spot, I then went back down towards the 90-minute car park spots (I wondered how tight this parking would be later in the day), and then continued walking past the roundabout and going up the sloping Strada Paul. As I got higher, I could see the cloud-capped Mt Pana (where that cable car or chairlift was supposed to go), and I was able to capture in unison Mt Pana, Cascata di Tervala, and the road tunnel.
There was some private accommodation or residence driveway where perhaps the most complete view was but I treaded lightly and didn't linger for too long on their property. I just stayed by the nearly non-existent shoulder of the narrow road trying not to get clipped by passing motorists.
Then, as I was looking at the town maps, I saw that there was supposed to be a second cascata somewhere around that Strada Paul. So I decided that perhaps I should get back into the car and go look for it. And I started doing that at around 7:35am.
But after parking the car in a couple of spots along the Strada Paul and fruitlessly finding where the waterfall was supposed to be according to that map, I eventually gave up on this search just as the loud church bells were clanging at 8am in the morning.
At 8:10am, I was back at the Residence Hotel Antares, where only one car vacated their spot all this time! Luckily for me, it happened to be a better spot deeper in the limited space car park where some six cars carved out parking spaces in the middle of a cul-de-sac space. The person who had vacated parked in the middle of the three columns so that made my job easier.
Then, I got back into the apartment to rejoin Julie and Tahia who were having breakfast.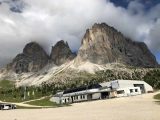 It wouldn't be until about 9:20am when we finally left the Residence Antares to start the day of touring the Dolomites. I was worried about our late start because there were definitely a lot of cars on the road now. And the places of stau (stopped traffic) primarily at the one-way traffic lights further added to the delays. There was also a big traffic jam at the car park for the Passo Sella, which was where there were three big Dolomite Massifs together (might be called the Sasso Lungo Group) that totally reminded me of Torres del Paine in Chilean Patagonia.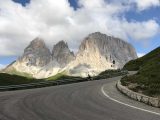 In fact, that association was made me think of the Dolomites as the European Patagonia, except it was way more developed and less wild than its South American counterpart. Anyways, while people were fighting to get parking at 5 euros for the day at the Passo Sella, we kept driving towards Sass Pordoi, which was the recommended spot during my research.
Unfortunately, we were also headed into cloudier spots so I was concerned that the view would be impacted just like it was at the Grossglockner High Alpine Road in the morning. Still, we made the commitment, continued driving more winding and narrow roads, went past another one-way traffic light, and even was stopped so a chopper could swoop by and pick up some building material before hauling it away (I guess it was cheaper to chopper things in and out than to try to haul building materials on these difficult roads).
Eventually at 10:10am, we were finally at the car park for Sass Pordoi, where there were plenty of spots in the lower lot. It was quite chilly out here, which contrasted mightily with the relatively warm and somewhat muggy weather we had been dealing with throughout this trip up to this point. So we dressed in thicker clothes knowing that it was probably going to be even colder up at the Sass Pordoi plateau.
Speaking of which, we could see the cable car going nearly straight vertically up from one station to the next. Unlike the Zugspitze, there were no intermediate pylons to keep the cables taught. Instead, it was all station to station and that cable seemed to sag quite a bit on its harrowing ascent and descent.
After paying nearly 60 euros for our round trip ticket (there was no way we were going to hike this back down), we then got into the seilbahn where there was no line and people crowded into the gondola. It was hard to take pictures under these conditions as the cable car made its ascent, where I noticed there was a thin cascade spilling near a steep trail that some people were willing to hike up.
Once we made it to the top, as expected, it was quite cold. In fact, someone said in Italian that it was "cinque grados" or something to that effect (i.e. 5 degrees C). So even as I was taking pictures as we walked generally towards the east, my hands were getting numb.
For some reason, we spent a bit too much time on the plateau side, which was pretty much nothing but barren rocks with a few giant cairns that people spent time posing next to. There were also supposed to be views looking back towards the Sasso Lungo Group except there was a cloud patch that kept making us feel like the views had a ceiling thereby blocking the full view of it from our heights.
Looking further to the east, there were even more clouds as well as more trails and some chopper activity as it seemed some kind of building or construction of what not was occurring in that direction. Since there was not much to see in this direction, we didn't linger here for much longer and we had it in our minds that perhaps we should head back down soon. But we wouldn't do this until we at least got our money's worth checking out the western side of the plateau where the views might be better.
Sure enough when we did get to the other side, we asked ourselves why we bothered spending as much time as we did on the rockier eastern side. And so we spent even more time checking out the commanding views back down towards the cable car station we had parked at as well as some towns in the distance providing the necessary subject to give the Dolomite Mountains surrounding them that sense of perspective.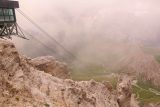 And while the views of the Sasso Lungo Group remained cloud covered from this plateau, at least I noticed that there was a giant cross fronted by some kind of pit or dropoff that was fronting it. That made me curious about seeing what it was and when I finally went down there, I saw that there was actually a natural arch!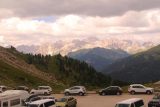 Once I had my fill of this spot, I rejoined Julie and Tahia back at the cable car station as we were all cold, out-of-breath from the high altitude, and ready to move on after finally having our fill of the Sass Pordoi. Compared to the Eagle's Nest and Zugspitze, Julie thought that the views here didn't compare to what she got to experience at Hallstatt when they did the Salt Mine Tour and got commanding views from the top up there.
Still, we did it, and got to experience what I thought was the heart of the Dolomites. Now, we were planning on returning towards Val di Gardena before continuing on towards the town of Castelrotto, which was a Rick Steves mention in both his books and his videos.
So we eventually returned to the car at 11:40am, where the car park was now full (so I guess we wound up beating the rush). Then, we drove back through the twisty and narrow roads all the way back towards Passo Sella, where Julie thought that might have been the better Dolomite experience based on the internet pictures she was seeing from the mobile with the Orange Holiday plan sim card.
So we briefly stopped at one of the rare pullouts as we approached the Passo Sella village, and got our fill of the impressive Patagonia-like Sasso Lungo Group in all its glory. I'm sure we probably could have pulled over in one of the higher vantage points but they were taken by other motorists, and the largest pullout of the all was closed for some reason.
Finally at 12:35pm, we were back at the Val di Gardena, where I was a little more relieved that perhaps the most difficult driving in the Dolomites was over (too many close calls with such tight roads and large cars making wide turns or taking up too much of the road when passing by each other).
Julie took a few minutes to ask the info center about gluten free options, but apparently, the TI was closed so she asked the hotel about any gluten free pizza places but I wondered if they might misunderstand her as gluten free pizzas was a bit of a novelty and only available in big cities where competition would be tight and more of these novelties would be a thing in such cities.
So onwards we drove towards Castelrotto, and eventually we'd find some free 60-minute parking at the Spar near the center of the seemingly quiet town where it didn't seem at all obvious that there was a central parking area for tourists.
We got there at 1:10pm, put on the blue clock on the dash to let any authorities know when we arrived at the car park and show them that we were within the hour limit, and then walked towards some place in town for a lunch. Julie was still determined to find something gluten free, but we'd eventually be directed to this Hotel zum Turm Restaurant.
The meal was actually pretty delicious as we wound up getting spinach ravioli drenched in olive oil, while Julie had a gluten-free roast pork dish, and I had some kind of venison sirloin steak, which never seemed to disappoint in these parts.
Of course, they didn't serve tap water so we had to buy a 1L bottle at about 4 euros, which was a crazy 10x markup, but that was pretty customary as it seemed that the nickel-and-dime nature of Europe as a whole had to ensure that they were making money off your visit one way or another. And that might explain why it was common to see Europeans just stopping by to have a drink and then leaving without eating anything.
Regardless, after paying our 65 euro lunch, we then headed up to the "post card view" of Castelrotto backed by Dolomites (after I went back to the Spar to change the blue clock again so we'd buy ourselves another hour).
We walked up the sloping narrow path past the Hotel zum Turm then continue our way up towards some kind of chapel area at the top of a hill. Along the way, we saw that the best views were in front of a trio of statues of people on crucifixes with Jesus in the middle. Looking back at Castelrotto from this vantage point, we could see the familiar view of the church tower rising high over the town backed by the shadowy peaks of the Dolomites in the background.
Clearly, this view would have been nicer in the late afternoon when the sun would cast a softer glow instead of shadows, on the Dolomites, but we weren't going to linger here longer than we needed to. So after having our fill, we then returned back down to the Spar to do some last-minute groceries, and then we finally were back in the car at 3pm.
Our impression of Castelrotto was that it was indeed not touristy as there were no tour buses, it was quiet, and while there were visitors, there weren't many of them. So it was actually quite a relaxing experience compared to the more touristy and crowded experiences at all the other places we checked out like Colfosco, Val di Gardena, and even Passo Sella, and Sass Pordoi.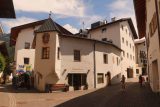 Anyways, the drive back to Val di Gardena was pretty uneventful, and we ultimately made it back to our accommodation at 3:35pm, where we finally scored a pretty decent parking spot that didn't require imagination to carve out our own space for.
From there, we killed the next couple of hours doing laundry while letting Tahia have her fill in the swimming pool area, which was quite busy with kiddies and adults sharing the rectangular pull fringed by an artificial waterfall and some artificial rock walls. I sat there keeping an eye on Tahia who kept to herself in a corner of the pool that appeared to be most shallow.
Meanwhile, Julie did load the drier while also getting an extra towel from the reception so Tahia could dry off after she was done.
It wasn't until about 6pm when we headed out for dinner as Julie decided that while in Italy, we should enjoy some semblance of Italian cuisine one last time before re-entering Austria tomorrow.
At first, we made a walk towards her first choice of a pizzeria in town as apparently they were supposed to have some gluten free options. The walk up there included some decent views of the adjacent Dolomites as we were exploring parts of town we hadn't really explored in our time here until now.
Unfortunately, when we rocked up to the desired pizzeria, it was closed as apparently lots of places were closed on Tuesdays.
So we went back towards a place closer to our accommodation, where they could make a couple of dishes gluten free, but the pizzas were in no way gluten free. So Tahia got her own wheel of margherita pizza while I tried one with arugula and prosciutto toppings.
In the end, it was a lot of food, but it was a bit more reasonably priced than what we had paid for lunch. And so when we got back to our apartment at 7:30pm, we saw that the town was once again dead, and that we closed down the day pretty uneventfully as we had a relatively easy day for a change that was relatively light on activities, and did enough laundry to last us the remainder of this trip.
We were counting down the days to the end of this epic trip, where on the one hand, we were looking forward to some semblance of normalcy (and less nickel-and-diming bleeding money on this trip) though at the same time, I wasn't looking forward to the rat race and the monotony of that kind of existence.
I guess the reality of this world is that you can never have it all. Like in all things in life, you have to take the good with the bad, and stay in the moment. And that's the mentality going forward as we try to savor the rest of this trip while not exceeding our credit line which was actually getting up there given how expensive this trip was turning out to be (not to mention the backlog of work ahead of me when I get home)…
Day 36 (July 18, 2018 – Innsbruck, Austria): "Tuxed Away"
I awoke at 5am and did the now usual routine of getting caught up on documenting yesterday's happenings.
It took some time as usual to get ready for the day, especially that we were going to check out of our cramped studio room. Julie had also spent some time cooking breakfast while I had to help with the cleaning duties, especially since this place had no dishwasher.
So it wouldn't be until about 8:15am when I fully loaded up the car, and five minutes later when we took off for good.
The drive out of Val di Gardena west towards the direction of Barbiano and then north towards Chiusa and onto the A22 went pretty smoothly. Once we were on the autostrada, we then had the familiar ticket system where the cost of the toll depended on how far we went.
We wound up paying about 4.10 Euro once we made it to the toll station near the Brenner Pass, which was actually not bad considering that we had driven over 80km on the autostrada at this point. However, after driving a bit further north towards the end of a long descent, there was a pricier toll of 11 Euro on the Austrian side, where the A22 became the A13.
Apparently when we were done paying our toll, the guy in front of us was randomly stopped by police. We'd been fortunate not to be stopped by any of the police to this point, but I wondered if the cops here were checking for those vignettes, which we dutifully bought back on July 10th for the period starting July 11th that would last for 10 days (which would put us right up to the day we were leaving Austria).
Anyways, with diesel running low and me being indecisive about what to do for today (knowing full well that today and tomorrow were forecasted to be good weather days but the weather would get worse come Friday afternoon and all day Saturday and Sunday), I knew that we had to try to get the good weather excursions in.
So I had it in my mind to drive out to the Hintertux Glacier area, where there were some waterfall hikes as well as the opportunity for Julie and Tahia to do some glacier activities while I would be doing a hike or two. That kind of divide-and-conquer approach seemed to be working out on various parts of this trip knowing full well that they could get bored waiting for me if they didn't want to be subjected to a difficult hike, which Austrian Waterfalls tended to be.
Thus, the drive resumed on the autobahn where the speed limit was pretty much capped at 100km/h, which was frustratingly slow for a multi-lane autobahn. Still, with it being too early to check into Innsbruck at this time of the morning, we continued driving onto the A12, and then eventually got off the autobahn onto the B169 road heading south into the Zillertal Valley.
This was where I paid a more reasonable price of diesel at around 1.25 Euro per liter, which was actually on the pricier side compared to the area around Mittersill or even Pongau (where I paid on the order of 1.17 Euro per liter), but it was still much better than paying upwards of 1.7 Euro per liter, which could have amounted to a nearly 50% markup in diesel price on a single fill-up!
I still didn't fill the whole tank thinking there could eventually be something cheaper along the way today or tomorrow, so we continued the surprisingly busy drive south as we'd eventually leave the B169 Road onto the Tuxerstrasse. This side road then climbed steeply before being stopped at a restrictive one-way traffic light where only a few cars were let through at a time. We got here at around 11am.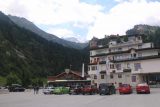 But aside from that delay, we'd eventually drive this road all the way to its end at the Hintertux Resort area (a short distance beyond the Hintertux town), and then we'd finally park the car at 11:35am.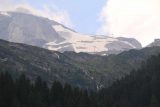 It took some time to gear up, but right off the bat, we could see a waterfall tucked away at the head of the valley behind the lowest of the cable cars (or "Gletscher Bus") as we were aware that this place offered reportedly the country's only year-round skiing resort. And it was indeed quite strange to see people in shorts wearing ski boots and carrying around skis. Clearly, the cable cars (there were multiple sections) would take people up-and-up-and-up to where there was still snow or ice near the summits of the 3000+ meter mountains overlooking the valley we were in.
By around 11:55am, that was when we started to go our separate ways as I started hiking while Julie and Tahia looked for a place to have lunch.
First up, I decided to go to the waterfalls I saw at the head of the valley. Along the way, I saw a sign that suggested that the Schleier Waterfall (one of the target waterfalls in this area) was a whopping 3 hours away! Yet I saw in my research notes that it was only 45 minutes away. So did we somehow park in the wrong car park or something?
Regardless, I went for the low hanging fruit, and after going along a mostly paved road, then passing by some kind of Water World playground (with a swing that actually gets you wet as well as water gun shooting at some shield targets), I then get past the swinging fence and briefly up to the first waterfall at around 12:20pm, which was called the Kesselbachfall.
This attractive waterfall fell into what looked like a series of rocky tiers with one small pool that didn't seem swimmable. Still, there were a handful of people here, and the spray from the falls felt refreshing even if the view of the falls was somewhat against the sun at this time of day.
After having my fill of this falls, I then continued up along a steeply ascending trail (by now, I've been conditioned to thinking that all Austrian hikes were very vertical), where there was one confusing section near some electrical substation or something like that, as I went through a broken fence to continue onto some steep switchbacks as the trail went up what appeared to be a dry gully.
Eventually as the steep, rocky, and rooty gully momentarily petered out, I then was at an overlook looking right at the Schtraubenfall, which appeared to be smaller than the first waterfall, but it had this weird quirk in that the falls' course then veered left and went right into what appeared to be a natural bridge. Actually, that span was hard to see, and even the waterfall was a little difficult to see due to the positioning of the barricade to prevent people from getting too close to the edge.
The trail then continued climbing as I targeted some fences overlooking this spot of waterfall and natural bridge or tunnel. Eventually at around 12:50pm, I had arrived at the top of the Schraubenfall, where a short spur trail led me to a different overlook in the opposite direction with a much better view into the cave-like tunnel as well as the overlook I had just been to earlier. Looking in the other direction, there were strange tiny natural arches revealing on hints of the waterfall.
Well, this was my turnaround point, and then I headed back downhill eventually returning to the resort area at 1:15pm. I didn't see Julie nor Tahia at this time so I figured they must have been inside one of the restaurants having their meal. And so I decided that if I was going to do the Schleierfall (3 hours+ and all) then I mind as well get started on it now.
So I first got onto a trail that climbed gently above the valley though it was headed in the opposite direction as the first two waterfalls. But soon enough, after the first switchback, the trail then climbed a bit more steeply alongside some fencing. Looking back towards the head of the valley, I could see more of the Kesselbachfall as well as a cascade way higher up the mountain closer to the glaciers and snow.
The view back was so captivating that I paused frequently to take pictures even though I knew that time was of the essence (since we couldn't keep the owner of the apartment in Innsbruck waiting for too long, and since Julie initially promised an arrival time of around 4pm give or take).
Eventually, the trail then split off into a flatter and wider path leading towards the Bichalm (some kind of cafe I think) with a separate path veering left up a much steeper path. I took the steeper path since the signs still suggested that the Schleierfall was in that direction.
Along the way, there was one person in a hiking group going down who asked me in English how the hike was going? I told him it was going fine, and then I asked him how far the waterfall was.
At that point, the guy looked at his watch and said it was a long ways away, and that I mind as well go to the Bichlalm for a drink or two, because he said I'd have to hike beyond that alm. So that further made me wonder whether that 45-minute trail I had read about in my research had existed or not.
This climb was definitely sweat-inducing, and when I got up to a part where I saw the next signage, I was scratching my head at the absence of a waterfall sign. Did I somehow take the wrong path or missed it? There was even a small wire fence that made me think the trail to continue was closed.
So I then backtracked across a grassy area and back onto the flatter wider trail, as I saw that there was more signage further ahead. But when I got to that sign, I saw that there was no Schleierfall sign to be found there either. So at that point, I saw that there were metal sticks that were probably snow-sticks or avalanche sticks or something like that, and I followed them up at a steep grassy slope as I sensed that this could have been either a steep ski run or an old road. It was hard to tell.
But as I continued following these sticks, the path became increasingly grassier with no trail to be found (at least none that returned to that trail I had forsaken earlier), and I then saw how high up I had to go to get up to some construction cranes and hikers, which was where I'd imagine the trail was supposed to be.
So this steep scramble continued as I was now really breathing heavily and dripping with sweat. Eventually at 2pm, I'd make my way up to the trail, which was actually as wide as an unpaved road. Then, I took a guess and continued walking towards the mountains in the uphill direction (though it was fairly flat at this point).
After asking a couple in German if my direction was to the waterfall, they confirmed and I continued with a renewed sense of hope that I would eventually get to the target waterfall.
Indeed, after some more gradual grade hiking, then after rounding a bend, I finally got my first glimpse of the Schleierfall in the distance. However, I also saw that there were a couple of paths that forked ahead of me. One veered left towards another junction before climbing up to the falls, but there was another steep straight ascent to the right that seemed to get up towards the top of the Schleierfall.
I actually went ahead and took the steeper path hoping that there would be a connecting trail that would get me to go back down the other trail. And as I was especially getting tired as this last ascent was relentlessly tiring and persistent, I'd finally make it to a point where I would climb no more near another swinging fence at about 2:30pm.
From this vantage point, I managed to get somewhat top down views of the falls with some peaks in the distance still clinging on to what snow and ice was left at this time of the year. And much to my relief, I saw that there was a descending trail leading to the base of the falls as well as people going in both directions further below. So I wouldn't have to backtrack and then go up again as I had feared.
By 2:45pm, I was in front of the Schleierfall, which was throwing up enough mist to keep me refreshed and cool. This waterfall was certainly tucked away in a side valley and I doubted that any cable car rider would even see this waterfall since it seemed to face away from everything in a different ravine.
Regardless, I enjoyed this moment and captured what I could of the waterfall even though I had promised Julie and Tahia that I'd be back in the resort area by 3pm. Clearly that wasn't going to happen on this hike, and it was conceivable that it wouldn't be until around 4pm that I'd be back if I went down the sanctioned way via the Bichlalm.
However, when I made my return to the main trail, I was at the bridge over the stream responsible for the Schleierfall, and I saw that there was actually a direct trail that left from the front side of the bridge. That must have been the trail I should have taken in the first place!
And so I quickly made my descent initially along a grassy area by the stream before the trail followed a more conventional ledge as it hung over the stream. Then, as the trail re-entered a forested area, there were some spots where the trail was a bit on the rocky and rooty side (there was a young boy carrying his bike up this path, where a group of 3 that he was with were actually speaking North American English, which was something I didn't expect in this part of Austria).
Anyways, the descent continued a short while longer before the trees started to clear and I found myself back at that spot where I made the mistake of not trusting my instincts and kept going along the trail on the way up. So indeed, the rest of the downhill hike was a breeze, and I made haste as I was thinking that Julie and Tahia were probably waiting for me for over a half-hour back at the resort part of Hintertux.
By about 3:25pm, I finally made it back to the car park, but at first I didn't see the note that Julie and Tahia left for me. So I spent another 10 minutes walking around and even back up to the Kesselbachfall before I returned to the car and finally saw their note. Apparently, they went up to the Natur Eis Palast, and they took the 2:30pm tour. So I knew at that point that it would be a while before they finally would make their way all the way back down from the top to get back to the car park.
Indeed, as I sat and unwinded at one of the rest benches near the cable car station area at 3:35pm, I was just checking pictures on my camera, while also getting a kick out of some people who left the cable car in skiing and snowboarding attire. That was indeed quite an unusual sight considering that we were in mid-to-late-July in the height of the Summer season.
Eventually by 4:25pm, Julie and Tahia excitedly rejoined me as they were back from their ice-capade, and we were back in the car. Tahia and Julie both had smiles on their faces as they beemed about their ice palace experience. Indeed, it seemed like quite an interactive experience as this tour included a boat ride on a glacier river inside the ice field as well as lots of climbing and walking through ice tunnels.
Julie said it was almost like the Eisriesenwelt experience except you got to take pictures given the artificial lighting of the ice caves. So indeed, I was glad they got to experience the very reason why the Hintertux resort area was built in the first place. And while I didn't get a chance to go up there with them, at least they weren't left bored while I was doing my hikes.
Indeed, in the end, we got what we came for, but now we had to get back to Innsbruck and check into the apartment, which was one of those things where we had to keep in contact with the owner and meet with them outside their apartment. So we couldn't keep her waiting for too long, but it was a far cry from the 4pm expected time as we were now expecting to be there at around 6pm!
But with the traffic and the delays on the way back onto the B169 and then eventually onto the A12, we were really concerned that we might even slip that expected time as well!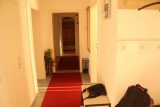 Well, overall, we'd ultimately make it to the main train station in Innsbruck at just before 6pm. We managed to find temporary street parking just a few paces from the apartment that we were supposed to be at, and so Julie did her thing and spoke to the lady she was supposed to meet while Tahia and I waited at the car to make sure we were in the right place.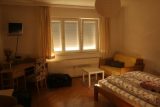 Ultimately, Julie had paid for about 30 minutes for our street parking, and then we went ahead and got most of our stuff out of the car and lugged them to the apartment where the lady was waiting for us. We then got up to the Lisa Apartment (that's what she called it, I guess even though the place had no room number), and then she showed us the rounds of this refreshingly spacious apartment.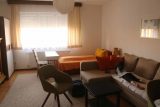 Indeed, we've found on this trip that doing these private apartments was the way to go, and this just confirmed that we'd at least have plenty of space and relative comfort for the next 4 nights. Of course, we did have to pay a city tax as well as car parking so that put us out around 56 euros in cash.
Then, after Julie and Tahia got settled, the lady went back down with me so she can direct me on where the park the car.
It turned out that it was not trivial to find the parking garage, which was a non-descript underground entrance at 30 Adamgasse. Then inside the garage, I had to make a couple of tight left turns before making a right turn and finally ending up in a spot labeled "20". So that was where I was parking, and then we had to walk back out of the car park.
While there was a pedestrian exit, she said that it was complicated and that we were better off walking up the way we drove down. This resulted in a bit of a struggle for the apartment owner as she apparently twisted her ankle real bad from high heel shoes and a misstep apparently not that long ago.
So I kept her company on the walk back to her garage where I got to practice a little more German with her some more before we then went our separate ways. Eventually at 7pm, I was back at the apartment and we were all settled in.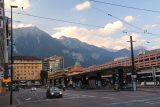 We then went back to the train station where we went into an MPreis supermarket that was open everyday until 9pm! That was crucial because everywhere else was closed at 6pm. And when we got into the supermarket, we were blown away at how big it was (relatively speaking of course) and the variety that they had even though bio-obst (fruits) were not as available.
Eventually at 8:25pm, we were back in the apartment where we actually opened the door to a parallel column of a lift and several flights of steps, but the apartment area was something we didn't recognize and it was almost as if we were in the twilight zone or something. However, when we realized our mistake, we went back down, then found the correct entrance (also by a cafe), and then finally we were back in familiar territory.
The only snag to the rest of the evening was that we realized that there was no freezer, and we had bought some bio gelato to satisfy Tahia's craving for ice cream since we didn't get ripped off at Hintertux. So we had to eat that stuff before dinner to ensure that it wouldn't leave a goopy mess had we waited any longer.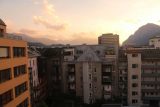 And so after our self-cooked dinner of shrimp, we unwinded on the day, got cleaned up, and tried to stay cool as it was quite warm in Innsbruck (said to be 30C or more). It was probably the warmest day we've had on this trip so far, and tomorrow, we were still looking forward to taking advantage of the good weather to do yet another high alpine road with some waterfalls to boot before the weather was forecasted to turn bad.
We'll see how it all plays out going forward as the trip's home stretch was definitely coming…
Day 37 (July 19, 2018 – Innsbruck, Austria): "Everything Under The Sun"
It was about 5:15am when I awoke. I heard lots of noises on the side of the train station since I had the window cracked open to let some air inside the apartment, but I guess that noise was the tradeoff. In any case, I once again did the usual routine of getting ready for the day after I got caught up on the blogging.
However, it once again took Julie and Tahia a lot of time to get ready for the day. I was hoping to be out the door before 8am, but it wouldn't be until around 8:30am when we were finally in the car. I had a feeling that that would put pressure on the rest of the day in terms of coming back to Innsbruck after things were closed like they were yesterday. Mentally, I thought the cutoff was 6pm since that was what the apartment owner told us.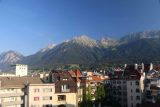 Anyways, with today's forecast for good weather, we were determined to check out the Kaunertal Glacier Road. I knew that that was the automatic call considering that it would be best experienced in good weather considering how high we'd have to climb. Also, I was planning to do the Stuibenfall, which was said to be Tyrol's biggest waterfall, and that trail was on suspension bridges and many metal steps so I also figured that we had better fit that in on a good weather day.
So with that in mind, we made our way out of Innsbruck but had a few delays on the way because Tahia couldn't find her doll in the car, and then the GPS routed us to Stuibenfall first, which I had assumed was on the way to the Kaunertal Glacier Road. Unfortunately, we were intending to do the glacier first, and that Stuibenfall detour costed us a few more precious minutes to this fine day.
Indeed, the Kaunertal Glacier Road was in the direction of Landeck (where we were intending to head tomorrow to do other excursions) and it was quite a bit further from Stuibenfall's exit, which was in the direction of Otztal Valley.
So given that, it wouldn't be until well after 10am that we finally got to the start of the road, which costed us a whopping 24 euros. For some reason, I was under the impression that the toll was on the order of 4 euros, but maybe my memory was failing me. In any case, these expensive high alpine tolls were painful, and by this time, it was one thing on this trip that certainly didn't help in terms of cost overruns as the most expensive independent trip we've done just got even more expensive.
Regardless, we were given a map that was keyed to roadside numbered signs and so we followed along as we made the drive.
At first, the drive was pretty uneventful as we were driving through a valley flanked by steep cliffs, but when the road rose up to the rubble reservoir, we pulled over and took some shots at 10:30am. This was where the nearly perfect weather combined with the calm blue reservoir backed by mountains clinging onto snow or ice in the distance really made this a compelling place to stop.
Next, we continued our drive at 10:55am, but then we started to see waterfalls alongside the road that compelled us to stop once again.
At 11am, we stopped for the Wurmtalbach Waterfall, which was looking right against the sun at this time in the morning. It was near the stop 11.
We then stoppedd for another waterfall across the reservoir some five minutes later. And then after that, we made yet another stop for the Bliggsbach Waterfall by stop 12 at 11:20am.
By this time, waterfalls were already becoming a dime a dozen and we knew that we couldn't stop for every one so we kept the drive going.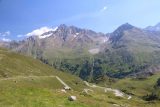 Next, the road started another steep ascent over several switchbacks. The "Kehre" signs were counting backwards so we knew we had quite a ways to go.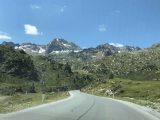 However, as the road kept climbing, the more the roadside views became more compelling. We even passed by some really clear and blue lake along the way somewhere near stop 24 though we stopped at the next stop at 25 at around 11:50am just so we could get something out of this dramatic drive. At this vantage point, we managed to capture an intriguing glacier as well as a tall thin waterfall that might have been the Bliggsbachfall again.
As we continued the drive, we passed by stop 28 which we reminded ourselves that we should come back and stop there on the return. That was where we would get a top down view of the lake we had just passed. We also passed by more trailheads and miscellaneous cascades along the way.
Eventually at 12pm, we finally made it up to the car park for the Gletscher Restaurant as well as other things. There were some running gondolas going even higher up the mountain apparently ultimately touching the Italian border though cable cars were expensive, and we couldn't stomach the time nor money to do that.
As Julie and Tahia were busy going to the self-catered cafe inside, I was busy trying to capture the landscape of the semi-dirty ice of the Kaunertal Glacier with other parts of the mountain clinging to the snow and ice. There were some parts of the ice that appeared to be covered by white tarps (kind of faking the snow, it seemed) though I wasn't sure what those were for.
Looking in the other direction from a non-functioning gondola, I looked back down towards the reservoir though there were hills in the way so the view wasn't as compelling as it was from the road.
Ultimately after having my fill of taking photos, I then rejoined Julie and Tahia in the restaurant where we wound up paying a whopping 38 euros for our lunch. But at least it was a lot of food. However, we were once again charged for tap water (which should be very clean up at these heights) and we were charged a whole small salad for our bowl of sauerkraut so we loaded up some more of it.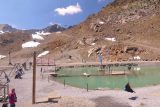 The rest of our lunch consisted of seasoned rotisserie chicken, some kind of fish, and a frankfurter for Tahia.
By the end of the lunch, we checked out the terrace and found out that there was a playground area that got Tahia excited because there was a little zipline-like contraption as well as that floating raft that was too popular for her to line up and start doing that. So instead, she settled for the zipline thingie as well as some rings acting as monkey bars.
And with that, we returned to the car at 1:15pm, which was baking under the hot sun even though the temperatures were mild up here.
As we made the drive back down, we made the stop at stop 24 to get the top down view of the lake at around 1:40pm. This was the compelling view where we also got 3 waterfalls as well as another glacier all converging in view near Kehre 7.
Then, Julie tried to capture road shots as we continued to descend down the mountain. After one more pit stop at the reservoir, where we knew there were clean toilets, we then made the long drive out of Kaunertal Glacier Road towards Stuibenfall. I knew that at the rate we were going, there'd be no way we'd be back in Innsbruck before say Julie's Denn (kind of like Alnatura in Austria) would close shop at 6pm.
Sure enough, it wouldn't be until about 3:25pm when we finally arrived at the very busy car park for Stuibenfall. I guess we were late enough in the day to score some parking spots and pay the 4.5 euros for the day, but man it was hot by the time we got here. It was so warm (had to be in the 30C range or higher) that Julie and Tahia didn't want any part of the waterfall excursion even though I knew that Stuibenfall was perhaps Tyrol's most impressive one.
That said, there were lots of people having fun in a playground area (I think it was called Badesee), where people were swimming or doing dives in a man-made lake, there were lots of playground apparati, and others were playing beach volleyball or other things under the sun. It was almost reminiscent of what we're used to seeing in the beaches back at home on a hot day. Of course in landlocked Austria, they take their water-based recreational activities where they can, and in this case, Badesee was it.
Anyways, I then went on to do the hike by myself for Stuibenfall. I knew it would take a minimum of two hours to do the hike. But I had allocated 4 hours in my itinerary because I knew they had constructed a new trail that involved metal suspension bridges and lots of lots of metal steps.
And as I was doing the uphill trail along what appeared to be a road leading to some kind of Waldcafe (where there were some water diversion contraptions leading to some fountain and other things), it would be just a few minutes more before I finally got up to the apparent first main viewing area for the Stuibenfall.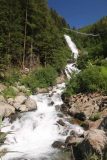 At this point, I could see that there was an impressive side view of one of the drops as well as lots of cascades tumbling its way down past the viewing area, which was very busy when I showed up some time after 4pm. However, I also noticed the suspension bridge near the waterfall itself, and supporting signage suggesting that there were at least 5 more platforms further up the trail.
And so after having my fill of this spot, I proceeded to do that trail, which climbed steeply in earnest.
It only took about 5 minutes before I got up to the first platform, which had a similar view to the main viewing area down below. The only difference was that the cascades below the main drops were more prominent.
So I continued on up the switchbacks as it would take another 10 minutes or so before reaching the second platform. Along the way, there was one switchback with a bench where I managed to get a decent view of one of the upper drops that weren't visible from further below. There was even a rainbow starting to show up in the mist below.
It seemed like the steepest inclines came from this stretch between platform 1 and platform 2. By the time I got up to the platform 2, I was able to get a more direct view of the upper drops of Stuibenfall in succession. From this vantage point, it was clear why this was considered to be Tirol's biggest waterfall, but the kicker was that the lower cascades and drops were harder to photograph from this spot.
So indeed, I could see that the 159m height figure was probably justified.
Regardless, after having my fill of this spot, I then continued along the trail which then got the start of the suspension bridge. This impressive-looking bridge spanned the width of the gorge leading right up to the cliff supporting the Stuibenfall. There were also steps on the suspension bridge, which was the result of the generally uphill trajectory that it took.
The thing was that this part of the trail was probably the bounciest part as some jokesters were trying to sway the bridge back and forth to amplify the already mobile nature of the bridge as people just walked on it.
This made me a little nervous about dropping something into the gorge below so I clung tightly to Julie's iPhone as well as my DSLR camera and lens hood. And I was constantly caught between whipping out the cameras to take compelling pictures on that bridge even despite its seismic nature.
Eventually, after getting up to the end of the suspension bridge, the trail then went up more inclines and steps before reaching platform 3. On that particular lookout, mist was blasting from the main drop of Stuibenfall right onto the platform itself. There was no way I could take any meaninful pictures from there, and it was really a spot to experience.
However, at platform 4 just a few paces further from the platform 3 spur, I was able to get a real up-close view of the main drop of Stuibenfall right before the trail ascended a pair of spiral towers labeled Stuibenturm 1 and Stuibenturm 2.
Eventually after getting up to the tops of both towers (and leaving the suspension bridge far below), I then found myself on a more conventional trail. I followed this briefly towards another smaller bridge that overlooked the uppermost drops as well as the brink of the main drop of the Stuibenfall. There was also another spur trail continuing further upstream towards some gasthaus or something like that (suggesting that perhaps it might be possible to drive all the way up here).
Anyways, up at this vantage point at the bridge, I could clearly see that there were actually two natural bridges spanning over the turbulent waters of the Stuibenfall. The first natural bridge was in the shadows beneath the upper two drops before the main plunge. The other bridge was right above the brink of the main drop.
So this hastened my paces even more to finally get down to the platform 5. When I finally got there at around 5:30pm, I got the butterflies-in-the-stomach views back towards the brink of Stuibenfall and its second natural bridge as well as looking down at the nearly circular rainbow in the mist of the falls as well as the rest of the falls itself with the metal parts of the trail in the background.
At the same time, me and a bunch of other strangers also saw a pair of climbers beneath our viewing platform. They ultimately made their way to the natural arch, where some ropes were in parallel with the arch.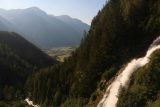 And after having my fill of this pretty harrowing spot, I then made my way back to the car park where I knew that Julie and Tahia would be waiting for me. I sure hoped they got to enjoy the experience because there was that playground and lake as well as a fairly tame hike to at least the main viewing area.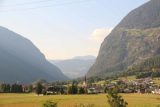 Anyways, the hike down went way faster than on the way up (no surprise there). I even managed to take a few more trail shots on the way down as the shadows grew longer (so the trail was even shadier than it was on the way up).
Finally at 6:15pm, I rejoined Julie and Tahia who were waiting by some bench. When I asked if they did the falls, Julie said they didn't. Oh well, they missed out on what I would consider to be at least a 4.5 and up there with Krimml Waterfalls as one of Austria's best.
This particular falls had a bit more of an intimate experience even though it was less powerful than Krimml, but it still held its own in terms of volume combined with its height. And in that sense, it was almost Yosemite Falls-like though the one back home in California was in a far more natural state than these adventure trails that they built around the Stuibenfall.
As we got back to the car, Julie relayed to me about her ice cream experience at one of the places here. Apparently, she thought the waitress at one of the restaurants was racist as she was routinely ignored even though she had been caling out to her. So she actually decided that rather than give money to that business, she took it elsewhere that was a little more receptive.
While we know that there can be incidents like these (especially with restaurants since they know we're not getting alcohol or anything else with a high markup), and when people are just showing up for ice cream, I guess I can kind of see where the business owners would be coming from.
Still, the treatment that Julie allegedly got didn't sit well with me either. But you gotta take the good with the bad, and pick your battles. This was one case where it wasn't wise to force the issue, and I'm glad that Julie didn't.
By 6:25pm, we were finally back at the car and headed back to Innsbruck. With this late return to the city, Julie gave up on trying to self-cook on this night. So she already had it in her mind to do Vapiano or something like that to try some pizza that could be made gluten free.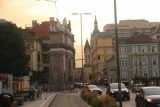 Meanwhile, on the return, we made a couple of Spar stops, and it wouldn't be until about 7:35pm that we would finally return to the car park in Innsbruck. And about 20 minutes later, we were finally back at the apartment so we could get changed into city clothes while also putting away the Spar stuff in the refrigerator.
At 8:05pm, we then headed back into town to finally start getting a feel for the altstadt of Innsbruck for the first time since we've checked in. Even though most of the insides of the buildings were closed at this time, we still were keen on checking out the old town after dinner to get a feel for the happening parts of the city in a bit of a twilight tour.
Ultimately, we'd finally find the Vapiano at 8:25pm, which was actually right next to the Triumphal Arch that looked very Romanesque. Then, we had our dinner of a pair of gluten free pizzas (I got their Capricciosa while Tahia got Margherita) and Julie got her gluten free pasta.
However, it wouldn't be until about 9:25pm when we finally got out of the restaurant and finally started checking out Innsbruck. Of course, since we didn't have a map nor Rick Steves' book with us, we were flying blind. So we just basically followed the footpath where we saw the most foot traffic.
There was also some kind of live concert going on, and mentally we figured we might check it out later in the evening after getting the altstadt touring parts out of the way.
As we continued strolling from the Triumphal Arch towards some church tower in the distance, we'd eventually stumble upon a happening plaza that was lined with shops while filled with people eating outside people watching and having a chat over dinner or just a smoke and drink.
We'd continue walking through this charming part before crossing a street and getting onto an even more charming part of town with a slightly tighter alleyway and some real old-school-looking buildings near another platz.
At this plaza, Julie managed to find the "Golden Roof", where there was some slanted roof that looked shiny gold even in the dark. There was also a tall clock tower of some sort overlooking the platz, and there were several buildings with cute paintings on them as well as pretty fancy decorations around the windows.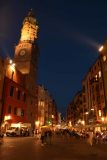 In fact, these buildings looked so elegant and old world that Julie thought they looked "feminine" probably in acknowledgement of Maria Theresa's influence if she did indeed have something to do with it. And that would kind of make sense since the Habsburgs (mainly Maria Theresa) expanded their empire by making love (i.e. marrying off her children to other important royal families) instead of war.
By this time, the twilight lighting was long gone and it was now pretty much straight night time.
So after having our fill of this spot, we then walked back the way we came, and then we made a detour towards the concert, which was busy with people just checking out the live band that was playing.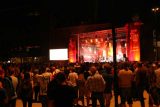 It turned out that the band was playing some kind of New Orleans Jazz music that reminded me of Big Bad Voodoo Daddy. And it kind of made me want to swing dance with Julie like in the old days when we first met. Of course, that wasn't going to happen on this night, but indeed the urge was there.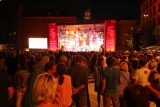 And it was no wonder that they were playing big band jazz stuff because apparently we stumbled upon the New Orleans Jazz Festival or something like that. Anyways, it was getting late and we were getting tired. So we then walked all the way back to our apartment by the train station, and finally at 10:25pm, we were back in our much quieter apartment.
With such a long activity-filled day, it was time to unwind, get cleaned up, and crash for the night. Hopefully, tomorrow's activity would be tamer, but I somehow feel that it, too, was going to be busy as somehow we'd have to get some outdoor activities in as well as Hall in Tirol before the onset of rain and thunderstorms.
We'll see how this all plays out, especially since it wouldn't be until well after midnight when we'd all go to sleep…
Day 38 (July 20, 2018 – Innsbruck, Austria): "Fitting In Before The Rain"
It was 5:40am when I awoke, which was later than I expected to get up. But considering the long day that we had yesterday and the consequential late night to go to bed, it wasn't surprising that I had overslept the alarm.
Speaking of the alarm, since it didn't look like there was going to be a French Rail Strike for the rest of this month, we went ahead and finally booked first class train tickets. Unfortunately, I wouldn't be sitting together with Julie and Tahia as apparently the other seats weren't available. Not only that, but we booked a 5:58am departure time so we better not oversleep our alarms, where setting it up for 4am would probably be a wise move.
At least Julie expected that our accommodation in Frankfurt would be right across the street from the train station. So that should remove at least one complication.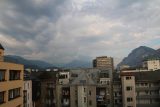 Anyways, when I was looking out the window, I could already see puffy thunderclouds starting to form over the neighboring mountains. That would suggest that the forecasts were on their way to being accurate about afternoon thundershowers popping up. The fear was that the latter part of this day would involve sightseeing or doing activities in the rain.
Now in terms of getting ready for the day, we did a little better considering that we sold Tahia on going on an alpine rollercoaster in Imst today. So that got her up and excited about looking forward to doing that. I'm sure all this waterfalling and more adult sightseeing stuff that Julie and I were more into wasn't exactly Tahia's cup of tea at this age.
So at 8:15am, we were at the car after having our self-cooked breakfast and getting stuff ready for the day.
The drive out from Innsbruck was uneventful as we took the same familiar streets to get onto the A12 and then heading west all the way to Landeck. The first target of the day was to visit the Zammer Lochputz, which was a waterfall gorge. I think this would be the first klamm experience for Julie and Tahia on this trip, and I sure hoped that it would be a pretty easy and short visit considering how some of my other experiences were a bit challenging and long.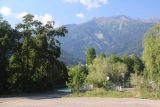 By about 9:10am, we parked the car at an empty lot with limited shade. It was already getting hot on the day, and with us being the only ones at the car park, we also weren't sure if the place was open yet. At first, I thought about going back in the car and parking in the shade underneath the A12 autobahn, but then I looked closer and saw that it was parking for some construction work or some kind of office. It was definitely not for this excursion.
After gearing up (I had forgotten to bring my wool socks so I had to hike in Chacos), we proceeded to walk up to the entrance for the Zammer Lochputz. Then we went inside, paid our 11 euros for the family, paid an additional 2 euro per chip card deposit (which we'd get back if we returned the card keys), and then we were on our way.
Right off the bat, the path made us go on a loop tour. The turnstile at the entrance immediately made that clear to us. We then started off by checking out some fountain shooting water up in the air like a geyser producing an attractive morning rainbow. There was also some kind of ruin of a smithy as well as some smaller man-modified waterfalls and mill-like channel waterfalls around.
We then proceeded to walk along a metal pathway that flatly led us to a waterfall viewing platform where we were pretty much right in front of the impressive waterfall at Zammer Lochputz. Unfortunately, the viewing platform was a bit too close to the waterfall to properly capture the whole thing. However, the mist it was throwing up definitely felt cool and contrasted the already budding heat of the day.
After having our fill of the waterfall, we then started to go up steps and switchbacks as the trail ultimately climbed up to a tunnel, where after going through it, we then ended up on a metal ledge walkway allowing us to look beneath our feet at more tiers of the Zammer Lochputz Waterfall as well as a commanding top down view towards the town of Landeck as well as the fountain and walkways that we had checked out earlier.
This part of the trail was the kind of klamm experience that I had been accustomed to after doing several of these throughout Austria. However, in Julie and Tahia's cases, this was their first time, and I was glad they got to experience this without it being too much of a challenge.
The path would continue to climb past more hidden tiers of the Zammer Lochputz Waterfall before reaching some kind of mill contraption adjacent to more attractive cascades. At this point, we then entered a doorway, which led right into a long tunnel.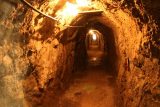 The funny thing about this tunnel (beside the apparent mirrors or window-like rocks flanking the tunnel itself) was that it was playing some kind of music. I wasn't sure what the music was for, but Julie suspected that since this rundweg was kid-friendly that perhaps it was to reassure younger visitors that there was nothing to be spooked out about concerning this tunnel.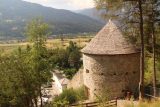 On the other side of the tunnel, there were descending switchbacks eventually leading down to an exit turnstile, then past a really small playground for very young toddlers, and then we ultimately briefly checked out the museum by the kassa where they talked about clean energy, global warming, hydroelectricity, and benefits of nature among other things.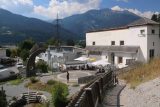 By about 10:35am, we were back at the car where suddenly the car park was full. Good thing we got the early start.
The early start also allowed us to go to the next excursion, which was to check out the Alpine Coaster at Imst. I knew this was Tahia's carrot at the end of the stick, and I decided that we were going to skip visiting Schloss Landeck as we were pretty much castled out and we were afraid of another Burg Hochosterwitz rip off experience.
So the drive went about pretty uneventfully as we eventually arrived at the packed but free car park at the Hochimst area, which was way up the hill from the town of Imst. Although it was quite hot and humid outside, we could also start to see that the thunderclouds were getting thicker.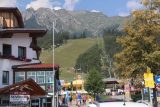 In any case, we proceeded to pay for one ride (we weren't sure if we could do multiple rides given the weather could change at any moment, and the long queues kind of made it unattractive to spend too much time forcing the issue with additional rides).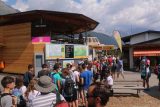 Now with this experience, there was a chair lift that took people up to the top of the coaster run. However, this place seemed like it received more visitors than the one we did at Saalfelden. Perhaps having the title of longest rodelbahn run (at over 3km) was something to hang your hat on and show up on the internet searches. At least that was my theory on why this place seemed to be very popular.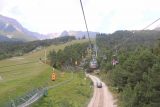 Anyways, we did the chair lift, which seemed to go faster than the Saalfelden one. From looking at the tracks below, it was clear that this wasn't on a luge course but instead on rails like a conventional roller coaster. So I already figured that this place was going to be like a typical roller coaster except we got to control the speed.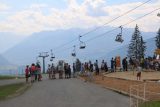 Once we were on top of the chair lift, we then had to go down to the next queue of people waiting their turn to get onto the coaster run.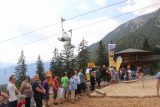 As we were doing this, the clouds were forming quickly and we quickly got sprinkled on as we were getting near the next turnstile. However, Julie and another lady in front of her were forced to go back up to the chairlift and put their bags onto the contraption so they would be waiting for them back at the bottom. Apparently, it was a problem to ride with these packs on. At least I got to carry my camera with me, but I knew that I would need both hands to control the tobagan so I couldn't film it while I was riding.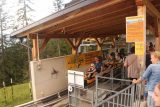 Eventually, Julie and Tahia riding together got onto their rodel first, and then I got onto mine thereafter. And when we did our run, it didn't take long for me to catch up to both Julie and Tahia. It turned out that they were already caught up to some other mother and daughter combo in front of us, and so they kind of impacted the overall experience as we couldn't keep our speed going down.
I often found myself at a full stop to give some distance between Julie and Tahia against myself, but then it got to a point where the British speed demons behind me caught right up to me and had to apply their brakes.
Thus, the rest of the coaster run was pretty much stop and go, stop and go. And by the end of the run, I felt that it wasn't as thrilling as the Saalfenden experience we had earlier even though I did manage to crash and hurt myself on one of our two runs. Plus, it had more of that thrill factor as it dropped faster and had less of a crowd than this one in Imst.
So either way, we got this place out of our system, and we then went for lunch. There were only two places to choose from and they both had very limited options regarding gluten free food. The first place Julie decided not to go for since only one main dish was gluten free and she didn't care for it.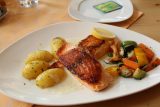 The second place had a few more gluten free options (mainly fish) but they didn't take credit card so that put more pressure on our dwindling cash supply that we hoped would last us for the remainder of this trip. Paying about $12-$15 USD for each withdrawal of 200 euros (resulting in costs of around $250 per withdrawal) very painful.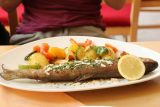 At least our lunch of salmon in creamy sauce and trout (both with grilled veggies and potatoes) was very delicious, they didn't charge us for tap water, and the service was pretty quick for a European place. So after paying (and leaving a trinkgeld), we were back in the car at 1:30pm.
As we were now driving back in the direction of Innsbruck and Hall in Tirol (the latter was what we were targeting next for sightseeing), we passed through a cloudburst as the thunderstorms were already upon us on the A12. But the weather then cleared up a bit as we got closer to Innsbruck and eventually to Hall though there were always dark clouds threatening to dump rain.
At about 2:40pm, we managed to park the car in the sheltered P2 parking lot. I could have sworn the parking said something to the effect of gratis, but I could have misread it and it just said "frei" meaning available and not free of charge. As we were walking around, we managed to pick up a map from the tourist info office across the street, but it seemed like there really wasn't much in the way of getting lost or figuring out what the touring program should be here because it really was compact according to the map and according to the reaction of the tourist info clerk who helped us.
Indeed, after dealing with a brief sprinkle under the dark clouds, the weather then cleared up in time for us to walk around the compact city center of Hall in Tirol. We first walked up a ramped alleyway into a plaza in the center of town. Then, we checked out a church which had an unusual arrangement in that the altar was off center from the rest of the aisles. I think that was a first amongst all the churches we had poked into throughout this trip.
This church also had a bit of bling to it as it was certainly ornate and worth a look. But our visit was short, and then we checked out a chapel as well as a small shrine next to some tombs that were just outside the church.
We then meandered about randomly in the compact area of Hall in Tirol, and eventually after a brief but fruitless visit to the Mint Tower (we didn't pay to go into the museum), we were then back in the car at about 4pm. With this early of an end to the sightseeing, Julie was looking forward to finally grocery shopping at the Denn Markt, which seemed to be Austria's answer to Germany's Alnatura.
Eventually by 4:25pm, we were back in Innsbruck, and by 5pm, we were back downstairs ready for our grocery run.
As we walked to the Denn, we noticed that the New Orleans festival was still going on. Plus, there was still a bit of a daytime audience checking out the performances as we were hearing a soulfoul duet rendition of the "Saints Go Marching In".
So we finally got to do Julie's anticipated grocery run, which was actually barely a half-block from the happening part of Innsbruck (though not quite at the oldest buildings). And when we got our stuff and left, it was raining outside though the rain was light. So we had to bust out the umbrellas and walk brisquely back the way we came.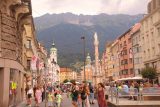 It seemed that rain or shine, the New Orleans Festival was still going on, and the audience still persisted. I guess the rain hadn't gotten so bad that people would be popping out umbrellas and perhaps impacting the overall experience. But regardless, we finally got back to the apartment at 6:10pm.
By this time, it looked like Innsbruck was getting more steadier rain, and I guess with our early end to this day, we were glad that we managed to fit in all that we wanted to do before the uncomfortable conditions under the rain would persist. While it was still muggy outside (and it was muggy throughout the day), we were still a bit of a sticky mess.
In any case, tomorrow would be our last full day in Innsbruck, and I was going to divide-and-conquer by visiting the last two waterfalls of the trip early in the morning while Julie and Tahia could do their city thing without me. Perhaps later on, we could do Innsbruck together, or if I was making good on time on my waterfalling excursions (hopefully without too much danger from the rains that were forecasted throughout the day tomorrow), we could do Innsbruck as a family without dividing and conquering.
One thing that happened when we returned to the apartment was that both the internet and the cable TV were not working. Despite resetting the cable box, it appeared that there was something going on with the service. It was amazing how much time could be spent on internetting, but now with extra time to kill, we could get to bed earlier.
The only complication was that when we booked the train ticket this morning, it was for the wrong date! We accidentally booked it for the day we were flying from Paris to home instead of the day before! Now, we had to eat exchange fees and hope there would be availability. I had also fancied rearranging the schedule to cancel the night in Bamberg, move Frankfurt up by a night, and take the train a day earlier than expected so we'd have two nights in Paris at the end.
But given the cancellation fees we were facing with the accommodations, it was best to just exchange the train tickets for the 15 euro penalty (122 euro penalty had we cancelled), and just figure out how else to kill time whilst in Bamberg and Rothenburg longer than expected. Perhaps, there might be an opportunity to visit Nurnberg or some other Romantic Road stops along the way.
We'll have to see how that plays out as we could feel our long (and expensive) Summer trip was drawing to a close with less than a week remaining…
Day 39 (July 21, 2018 – Innsbruck, Austria): "Operation Scorched Earth"
It was 5:15am when I awoke. It was definitely wet outside, and the internet (and TV) still weren't working in the apartment.
Indeed, lots was weighing on my mind this morning given the snafu that I caused yesterday morning by booking the wrong date for our return TGV ride from Frankfurt to Paris. The internet not working further compounded the issue as now we had to solely rely on the internet from the mobile sim card from the Orange Holiday Plan that we had bought back in Paris and kept topping off throughout this trip.
Funny how the internet was working well enough for me to make the wrong booking, but ever since yesterday afternoon when we returned to the apartment, all our network connectivity went kaputt (just in time for us to make it much harder for us to try to make an exchange of our train ticket for the correct date). Time was running out and we were worried about being unable to make the exchange the longer this went on.
Regardless, after having a quick breakfast of kefir and fruits, I then got into the car at the garage at 6:10am. It was raining lightly but enough so that it was getting me wet. I figured that I could take these conditions hiking in the rain, but any worse and it would get a bit more uncomfortable and awkward (not to mention the potential damage done to the DSLR from getting it wet).
The drive out to the A13 and then into the Stubaital Valley near the exit at Schonberg was surprisingly busy even in the wet weather. Apparently, this autobahn going up to the Brenner Pass was a pretty important corridor linking Austria to the Mediterranean via Northern Italy, and from the quantity of trucks on this route, that was quite clear to see.
Anyways, as soon as I got off at the correct exit, there was a toll station waiting for me. There was no one manning it at the time so I had to use the automatic machine, which thankfully took my credit card so I could pay the 3 euros. Then, I proceeded along the road through several towns even passing by an attractive waterfall that was between the towns of Gasteig and Volderau.
I didn't stop for that waterfall, but I made a mental note to come back to it. And I wondered if that was the Mischbach Waterfall that I was also targeting this morning. But for now, the main target was to visit the Grawa Waterfall.
The drive continued as I was passing some surprisingly busy car parks and trailheads, but as soon as I got up to a large empty lot right before a tunnel, I wasn't sure if I had made it to the Grawafall or not. The signage here didn't make it that obvious.
However, the GPS claimed that I still had at least another 600m to drive and so I went ahead and drove through the tunnel, where then I saw a different smaller car park right on the right side of the road. I got here at around 6:55am where it was raining quite moderately (even more so than back at Innsbruck).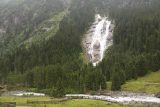 I wasn't sure if this parking was official or not, but there were plenty of spaces. And given the foul weather and early morning start, I just took one of the spots since I could clearly see that the Grawafall could be visible right from this spot.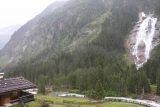 After donning my rain poncho (and realizing too late that I had forgotten to bring Julie's iPhone again so this couldn't be shared straight away), I then got the camera and proceeded to head down a driveway towards some signs explaining the Grawa Wasserfall. There were also yellow arrows labeled "zum wasserfall" pointing to the right going right to a cafe called the Grawa Alm.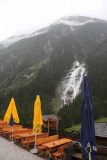 When I had my fill of documenting the impressive Grawafall from this vantage point, I then followed the signs which suggested that it was a handicap path that went around the Grawa-Alm building, and then continued onto a conventional trail that descended towards some junctions and a bridge.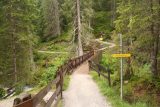 Looking upstream from this bridge, I could see another attractive cascade and small waterfall. Once I was on the other side, I then continued on a downhill path revealing glimpses of the Grawafall before I'd eventually make it down to a bridge that went across its stream. Right before the bridge, there were signs pointing the way to a couple of overlooks at least 10 minutes away.
However, in looking at the condition of the trail given the wet conditions, I thought better to not tempt fate and hike on the narrow and rocky path where every step could result in an injury given the slippery surfaces.
So I was content to take my videos and shots from the bridge, which was proving difficult at best given the spray from the falls as well as the rain coming from above. My camera was already taking a beating from all the moisture and I knew that I was playing with fire regarding its functionality if some of that water got into the wrong places in that camera.
I was still lamenting that I didn't bring Julie's iPhone as this would have been a nice one to share, and I could have taken even more photos without as much risk to my DSLR given the rainy conditions.
Thus, my visit here was a brief one. I then went back the way I came and returned to the car at 7:35am as the rain appeared to be coming down even harder than when I had gotten started.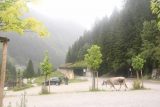 Next, I drove back the way I came in search of Mischbach Waterfall. And as I got past the town of Volderau, I once again saw that roadside waterfall, which was indeed the Mischbachfall as I had suspected.
Since there wasn't a legal pullout within view of the falls, I just went ahead and parked right at the start of the walking path on the east side of the blue-railed bridge. Given the rain, I was lazy about parking so I just went the illegal route since it was still early (I showed up at 7:55am), and I didn't even bother going up the short hiking trail leading to its base.
Instead, I was content to take my shots and videos from around the bridge. As I surveyed the surroundings, I saw that there was an impressive looking glacier in the distance that I presumed was the Stubai Glacier though I couldn't really be sure.
Anyways, I then headed back to Innsbruck at 8am. The drive back was pretty uneventful though a little bit slower than I would normally go given the rain. I also had to pay another 3 euros to get back on the A13, and it wouldn't be until about 8:40am when I returned to the familiar underground parking garage back in town.
I then walked back to the apartment just in time for Julie and Tahia's breakfast of bacon and poached eggs. At this point, the next thing on our minds was the whole mistaken train booking situation.
Well, after having the breakfast and having more unsuccessful attempts at trying to exchange our tickets for a different date, Julie next had this idea that perhaps the train station across the street might be able to help us.
So at 9:45am, we finally got ready for the day and went downstairs. Then, we walked in the rain across the street to the train station, where we were then directed to go to the OBB booking and info office. From there, we waited in line, then when it came our turn, we asked the lady about our situation.
When her eyes widened, I knew what she was going to say next.
Yep, she said that she couldn't do anything for us because they only do train bookings regarding Innsbruck, and any calls they make could only be internal to Austria. Any calls to SNCF would not be feasible or at least out of her job jar.
So at 10:10am, we were SOL and then pretty much carried around this uncertainty as we were starting our city touring of Innsbruck. At this time, Julie was in an argumentative mood with me considering it was me who screwed up on the pre-booking of the TGV tickets in the first place.
I was already beyond kicking myself for the self-inflicted wound of bleeding money (I was afraid I'd have to eat 122 euros worth of cancellation fees) at this point, and I'm sure there could be more repercussions as a result of it, but there was also this sense of deja vu where we've had things go wrong on us on trips like this. I'm sure years from now, this will just be another story to tell, but it definitely wasn't fun knowing that we're hemorraging more money on a trip where we were already spending way more than we were hoping to spend in the first place.
Regardless, we were making our way back to the Innsbruck Altstadt, and by about 10:25am, we were right at the kassa for the Hofsburg in Innsbruck. We paid the 18 euro family ticket but didn't have an audio guide (we weren't sure if they offered it, and we certainly weren't in the mood to pay for it).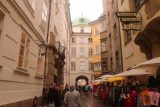 Next, we then walked up the stairs and proceeded to use the tickets to get through the turnstiles to start the self-tour of the royal apartments.
It became pretty immediate that in this tour, this place was pretty much mostly about Maria Theresia. For it was her who was the only female of royal position in the Habsburg line, and she was the one who strategically married off her children to other royal families to expand the Habsburg rule through "making love not war".
Like with the other fancy palaces and apartments we've visited throughout both Bavaria and now Austria, there were some fancy rooms full of wall paintings, frescoes, and blinged out furniture as well as trinkets as we went from room to room. Without the audio guide, it wasn't quite the intimate narrative that we got from the Royal Apartments in Vienna. So we wound up spending most of our tour reading the signs and trying to relate what we were seeing with what we were reading.
Tahia was a bit more bored with this visit as a result.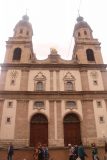 In any case, the key highlights of this tour was the Grand Room, which was once the Family Room that Maria Theresia celebrated her family through portraits of them here. This was kind of a smaller version of the Gallery Room of the Schonbrunn Palace in Wien, but it was still quite impressive.
We also went to the portrait exhibit downstairs from the royal apartments where there were portraits of various members of the Hapsburg family including Franz Josef I, Sisi, and even Marie Antoinette (of French Revolution fame).
By about 11:25am, we were done with the visit, and then we decided that perhaps we should check out the Hofkirche since we had these Innsbruck Welcome Cards that perhaps might grant us free permission into the church itself. At least that was the impression we got from talking with the cashier at the Hofsburg kassa. However, once we got to the museum entrance for both the Hofskirche and some other thing, the person at the kassa said that our Welcome Card was no good there.
So we decided against spending more money on yet another church (not knowing that there were life-sized statues of various members of the Habsburg family in there), and then we decided to have an early lunch.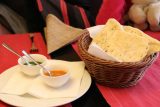 Julie was in the mood for some Indian food since we were kind of tired of the same Austrian or Tyrolean dishes. Thus, we ended up at this place called Himal, which was right in front of some Jesuit Church. We got there at 11:45am, where we seemed to be one of the first ones eating at this restaurant.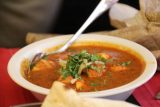 After placing our orders for a couple of different kinds of chicken curry dishes as well as some small onion salad, and leitungswasser that turned out to be free of charge, Julie then managed to find a number to call SNCF to see if we could rectify our mistaken booking situation.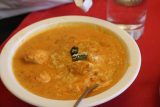 After several minutes on the phone with this person, Julie then broke the bad news to me. Apparently, our booking did not have the ability to exchange tickets for 15 euros except to be done in person. But we couldn't do it in person because the only SNCF offices in Germany were in Aachen, Dusseldorf, and Koln – all of which were pretty much in northwestern Germany and away from our route between Rothernburg ob der Tauber and Frankfurt.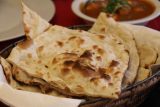 So instead, we'd have to eat the 122 euros in cancellation fees and then start over and re-book our train tickets for a different date. So essentially, if we counted this cancellation fee and added it to the ticket prices for the new train tickets, then it would be as if we bought the more expensive flexible train tickets in the first place.
Either way, the system wins as there's no way to outsmart our still come out ahead when a mistake is made. The only way to come out ahead was to stick with the booking, but what good would that be when we mistakenly had booked it on the same day as our flight back to LAX!
Given that bit of information, we accepted that we'd be bleeding the cancellation money, and then we enjoyed our lunch. The naan bread went perfectly with the curries, and all of us ate up our meal no gladly with nothing left behind.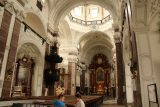 We then paid in cash (so we didn't get a third dish to try out as a result), and then at 12:45pm we proceeded to go to the jesuit church briefly. Having seen so many churches to this point, this one didn't hold our interest much (which also explained why it was so quiet and devoid of people).
Next, we headed towards the St Jakobs Dom somewhere also in the Innsbruck Altstadt. It didn't take long before we found the entrance to the cathedral, but its heavily scaffolded frontside was an eyesore. Even the scaffoldings on seemingly half the Hofsburg Building on the other side of the Dom were also eyesores.
As we went inside the St Jakobs Dom (St James Cathedral), we paid the 1 euro for a photo ticket from a machine (seemed like it was based on the honor system or something), and proceeded to check out this pretty grand cathedral with the typical high ceilings, lots of side altars, frescoes on the ceiling, and even three of those giant hanging incense spreaders that the Compostela Cathedral in Northwestern Spain featured though not nearly as huge as the Spanish one.
This cathedral was also pretty full of visitors taking pictures (I'm sure many of which didn't pay the euro for that photo ticket), and plenty of others having a seat and just looking up at all the bling plastered on the walls and ceilings of this rather ornate interior.
As it was 1pm when we were done with the Dom visit, the altstadt now took on a whole different vibe as it was crowded with tourists. Also the rain had let up so there was a bit more color in the old buildings.
We aimlessly wandered back to the Golden-roofed building as well as noticed people standing atop some kind of clock tower though we were in no mood to spend more money on going up there. Julie was aiming to go to some konditorei (cakery) for some gluten free desserts, and we ultimately found it in this spot called Cafe Munding, which was kind of tucked away in one of the quiet side alleys from the main hustle bustle of the altstadt throughfare.
We went in there at 1:35pm and we thought we were going to take these away. But instead, they gave us a ticket to take to a table so we could sit down and enjoy the desserts (and perhaps order a drink or two). Indeed, Europeans don't do take out, and they tend to go about things at a slower pace, which is probably better for the body and soul. This is definitely one of those culture shock things that travel teaches us, as it's quite a far cry from the always-rushing nature of home in the USA where it seems like a rat race everywhere you go, and it seems someone's always out to get you and your money someway somehow (though in Europe, this happens too but it's more of the nickel-and-dime type of affair).
After having our desserts of a cheesecake with chocolate brownie underneath, Julie's nutty gluten free cake with caramel mouse or something like that, and Tahia's raspberry tart, we then headed out at 2:05pm, walked back towards the Triumphal Arch (to see Maria Theresia's bust now that we knew where to look), and then return to the apartment.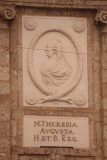 On the way back, we heard music from the stage of the New Orleans Festival again (which was dead earlier in the morning), but now that it was getting into Saturday afternoon, I'm sure it would be quite happening come Saturday Evening rain or moonshine.
When Tahia and I got back to the apartment at 2:40pm, we saw that the door was open, but there was someone in a red shirt who came in here to check out the internet since it wasn't working. Unfortunately, there was nothing he could do as it seemed to be an issue on the service provider end and not in the cable boxes or routers. I figured as much since if the cable TV and internet were both out, then something that was in common to both had to been having issues.
So that wouldn't be fixed until Monday, which would be when we would be long gone and headed back to Germany. So any other things we'd have to be doing via internet would have to be on my mobile with the Orange Holiday sim card. As awkward as that would be, it would have to do.
I guess it kind of sucked that we'd be without WiFi for another night, but in the grand scheme of things, it wasn't that big of a deal as it was merely an inconvenience. Also not having TV for another night wasn't that big of a deal either. We're here to be in the moment and not wasting time on the boob tube anyways.
Julie came into the apartment a few minutes later after going grocery shopping to make steak later on this evening. It was already after the guy in the red shirt left the apartment after telling us there was nothing more he could do.
At this point, I was already thinking about throwing out the original itinerary of our last three nights consisting of Bamberg, Frankfurt, and Paris. And instead, substitute that with Frankfurt, and two nights in Paris. We could easily visit Bamberg within a half-day on the day we show up to Rothenburg or on the full day we'd have in Rothenburg.
Since we already had to cancel our train tickets anyways, I figured the cancellation fees from our pre-bookings wasn't going to be fun, but since we kind of suspected that we didn't need to spend an extra night in Bamberg, then this rearrangement was called for.
When I told Julie about this idea, she was more than receptive to this idea, and it didn't take much convincing to get her started on making these changes happen. She really did want to have that extra night in Paris and not another night in Germany.
And so the rest of the afternoon was spent doing what I was calling "Operation Scorched Earth" where our original plans pretty much went to hell. And in its place, we had to eat whatever fees were coming to us as a result of our change in plans. And once again, we tried to tell ourselves that all this trouble was in the name of staying in the moment as best we could. When else would we have this opportunity?
Our change of plans pretty much amounted to the following…
Cancel Bamberg and eat the 80 euro cancellation fee through booking.com (owners wanted 100 euros in cash anyways for staying there; still gonna try to request for cancelling without the penalty fee)
Change the date of the Frankfurt accommodation to replace Bamberg (or cancel and re-book to something closer to the Hauptbahnhof)
Book an additional night in Paris through Intercontinental, but if that's too expensive, then try to book something cheaper and closer to the Gare du Nord so we could take the RERb to CDG Airport first thing in morning that we leave for home. If we do the latter, try to get our rewards night back.
Cancel the TGV train ticket, eat the 122 euro cancellation fee, then re-book for July 25 instead of July 26 to accommodate the additional night in Paris
Indeed, a lot had to happen in order for Operation Scorched Earth to work. However, this wouldn't be the first time we've wasted money on pre-booking accommodations we didn't stay at. I'm sure it won't be the last.
But sometimes, you just gotta do what you gotta do. And so the wheels were turning and the actions were committed. There was no turning back now, even if it put us that much closer to our credit limit…
Day 40 (July 22, 2018 – Rothenburg, Germany): "Pushing Limits"
I awoke at 5:30am, which seemed to be par for the course even as I overslept through some of my earlier alarms. However, outside the weather was calm for the moment though dark clouds were low and everywhere. I knew it was just a matter of time before there would be more rain.
I then went through the usual routine of getting caught up on blogging while also getting dressed and ready for the day. With this being our return to Germany, I figured we were going to be in for a lot of driving.
I didn't really have any particular sights in mind, and it wasn't until yesterday evening that we figured that perhaps we should target visiting Bamberg so we could spend a day at leisure visiting Rothenburg ob der Tauber the following day, and then an easier day to return the rental car a day earlier in Frankfurt the following day after that.
Apparently, we got lucky in that no one asked for additional cancellation fees (according to Julie) from Bamberg and Frankfurt as we were trying to add an extra night in Paris at the very end of our trip. However, that still didn't take away from the sting of having to eat 122 euros in cancellation fees for the whole TGV pre-booking snafu.
Not only that, but we had to eat over 400 euros in booking the additional night in Paris at the Intercontinental on top of the rewards night we had already booked on the very last night several months earlier (so the average cost per night was now a more reasonable 200 euros per night though I still didn't like having to pay that much for a single night in the first place).
The morning was spent getting the apartment cleaned up, while we were packing our belongings, and still eating Julie's self-cooked breakfast of poached eggs and bacon with some fruits eaten with dairy products like kefir or Tahia's yoghurt.
I actually went down to move the car at 7:05am, but it still wouldn't be until about 8:15am when we were finally leaving the apartment. By this time, I was hoping that we could break up the early part of the drive visiting the Ettal Monastery, which was something we didn't get a chance to do when we visited Linderhof Palace way earlier on in the trip. So I figured that this could be the second chance.
Unfortunately with today being Sunday, they had mass at 9:30am. This made me conerned that our visit would be cut short or intruding upon the service as the GPS predicted that we wouldn't get there until at least 9:30am or later.
So I made haste in the drive only to be frustrated by slower vehicles in front of me (including one that allowed a tour bus to get in front then proceeded to slow everyone down for the whole drive). I was looking for opportunities to pass, but there were too many vehicles coming from the other direction, plus too many cars to pass before even reaching that tour bus.
Julie didn't like that I was rushing to get to Ettal before the Sunday Mass nor that I was looking to pass any vehicles in the rain. But my mindset was that both Julie and Tahia knew that we should be out the door well before 8am, but they lacked that sense of urgency. Who knows when we'll be back and have this opportunity again?
At least the driving route we took got us out of Austria and quickly into Germany. That was a good thing because the 10-day vignette that I had bought when we left Vienna had expired today. I wasn't in the mood to spend more money on another vignette that was no longer necessary.
So it wouldn't be until about 9:20am when we finally arrived at the P2 car park for the Ettal Monastery. Out in this town, it appeared that the rain had stopped just as we showed up, but the clouds were moody and shrouding the neighboring mountains as they hung low.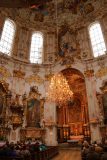 While Julie paid the bare minimum to pay for the parkschein, I made a beeline straight for the monastery knowing that the Sunday Mass service could start at any time. And when I did manage to get in about five minutes later, the place was already busy with people sitting and waiting for the service to begin. So I was already being discreet about taking pictures from the back without even attempting to walk the aisles at this time.
It was probably as rushed of a visit as you can get at the Ettal Monastery, and Rick Steves was right about trying to avoid the service times to get the most out of a visit here.
Julie and Tahia showed up minutes later just when the service started as we heard singing as people were standing up and doing the bidding of the guy at the altar conducting the service.
Of what we did notice inside the monastery, it was a small basilica though the ceilings were very high. There were also some blinged out trims as well as wall paintings. Aside from that, I couldn't stick around and notice any more things as we excused ourselves.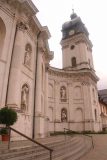 Outside the monastery, the courtyard area was also pretty compelling to photo as we tried to compose the capitol-looking building with the mysterious Bavarian mountains overlooking it. It was a reminder of the mystical quality of the mountains here that probably lured Ludwig II to come here and build his fairytale castles.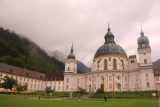 By about 9:55am, we were back in the car as we didn't bother with the kloster or any other parts of the monastery that would have costed us money and time.
At that point, we then embarked on a very long drive that took us mostly through the autobahn as we eventually made our way to the A95 heading right into Munich and then onto the A9 after getting through the congestion as the autobahn passed through several tunnels and busy streets bypassing the city center.
It was raining noticeably harder in the city and Julie was actually noticing more some giant corporate high rise buildings for Mercedes Benz as well as BMW (how many people realize that it stood for Bavarian Motor Works when translated into English?).
The drive would continue a fair bit on the A9 as we went mostly 120km/h due to the hard rain throughout the drive. There were some moments where the autobahn proceeded without a speed limit, but then it became a trade off between losing control of the car under the wet conditions and fighting the urge to go as fast as possible.
There were also plenty of moments of stau due to road construction and just the overall heavy volume of vehicles. Indeed, driving from Austria to Germany really made us realize just how many more cars were on the road in Deutschland compared to the mountainous neighboring country of Osterreich.
As the drive eventually proceeded onto the A3 as we left Nurnberg, the traffic volume was still heavy and there were still moments of stau due to road construction. The stau persisted throughout much of this section of the drive, too, as apparently this rain storm seemed to reach well north of the Bavarian mountains and into the noticeably flatter plains and hills of south central Germany.
Ultimately as we finally got off the A3 and onto the A73 before leaving the autobahn for the B22 Road (following the signs at this point), we'd eventually circle by the Bamberg Altstadt once before finding the tricky-to-find underground garage close to the zentrum at 1:40pm. Having driven nearly 3.5 hours, our butts were sore and we badly needed to get out of the car.
Apparently the rates at this car park were 2 euros per hour. But with todady being a Sunday, I wondered if free street parking would have been possible. Still, as we left the car park and walked around, we noticed right off the bat that there was a parking enforcement person about to ticket someone who didn't parked in a marked spot. So I guess saving a few euro for the risk of getting a much more expensive parking ticket just wasn't worth it.
Anyways, with it being around late lunch time, we all were looking forward to having a meal. So we promptly walked through the charming parts of the old historical center en route to finding some restaurant that Julie found on TripAdvisor (hoping there should be gluten free food there). Along the way, we were captivated by the Altes Rathaus (Old Town Hall), which had frescoed exterior with half-timbered characteristic on the side of the building facing another bridge.
It also had a tower and plenty of photo ops from any of the three bridges surrounding the town hall itself. There were definitely lots of people crowded around these bridges as well as the charming altstadt, and it kind of reaffirmed to us that we were indeed back on the tourist route. That said, Bamberg only got a mention in one sentence in the Rick Steves Germany book, but apparently it had enough publicity on TripAdvisor or other internet websites (it also showed up on DK) that there was definitely a foreign tourist presence.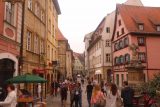 Of course, we knew it was on the tourist radar given how many Chinese tourists were here. That's usually a dead giveaway that tour buses come here. We even heard lots of American accents, which further affirmed to us that indeed, we were noticeably back on the tourist trail when we had largely been one of the few foreign tourists in much of Austria (mostly Southern Austria).
And given all the old world charm that we were witnessing in this university town as we made our stroll, I wondered if we would regret not spending a night here to really get to experience this city. Regardless, Julie kept going back to the fact that she'd rather have a second night in Paris than to vagabond it for three straight nights starting with a stay in Bamberg.
Anyways, by about 2pm, we finally found this place called Kachelofen, which was a busy eating joint just a few blocks from the Altes Rathaus. Indeed, this place apparently offered up traditional Bavarian and Bamberg fare, and the interior definitely had that old warm charm to it.
Since this place took cash only, we didn't bother with drinks or desserts though they did charge for tap water (leitungswasser). Our lunch consisted of a recommended pork shoulder dish (said to be a Bamberg local special) as well as some kind of smoked trout of the entire fish. Tahia got a Franconian Sausage with kraut.
It turned out to be a lot of food, and we were quite stuffed by the time we were done and resumed our tour of the Bamberg city center at 3pm.
First and foremost, we walked uphill and up some stairs to the Bamberg Dom. Surrounding the four-spired cathedral were lots of cobblestone streets and buildings. Since vehicles were allowed to drive through this section, it wasn't exactly the most relaxing spot to chill and relax.
On the inside of the Dom, it was not as blinged out as many of the churches and cathedrals we had done to this point, but it did seem to let visitors take pictures of some underground chambers (including what appeared to be some tombs or something like that), as well as most of the main hallways like most other cathedrals and churches.
After about a half-hour, we were done with our visit and then we walked towards an arched entranceway that eventually led us to the Rosengarten (Rose Garden) at around 3:45pm. From here, we managed to get some ok views of the red-roofed city with some tall spires in the distance. There was also some schloss in the distance but it was heavily scaffolded so we didn't think of going there or taking more pics of it.
Anyways, after having our fill of the garden, we headed back into the rathaus area again. What I didn't realize was that Bamberg was still part of Bayern (Bavaria), which illustrated just how huge this state really was (considering it took us about 3.5 hours to drive from the Austrian border out to this part of Central Germany)!
So we'd continue making our rounds strolling by the Altes Rathaus, which seemed to be best seen from a flowered bridge looking back at the rathaus. We'd then have a gelato while briefly checking out some church in a quieter part of town near some Neptune statue before finally getting back to the car at 4:45pm.
Apparently parking was free since the barricade was open, but I didn't know that and wound up paying 4 euros for our parking spot even though I swore that we were here for longer than 2 hours.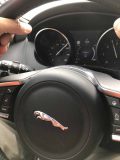 Next, we made the long drive from Bamberg to Rothenburg ob der Tauber (the signs abbreviated it to o.d.T.). The weather out here was definitely much more stable than it was back in most of Bavarian throughout this day, and so we were able to gun it on the autobahn without speed limits.
Normally, I felt uncomfortable about going too fast on the autobahn, but I did discover that the Jaguar rental car we were using had an odometer that topped out at 199km/h. I wondered if we could still go faster than this, but with my GPS showing speeds at around 10-15km/h slower than what the odometer showed, I didn't want to test that out and put our lives at more risk, especially when carrying precious cargo.
My GPS wanted me to take the southern route, which was apparently shorter in distance, but we stuck to our guns and went the autobahn route around the north via the A70 and A7.
Eventually at around 6:20pm, we finally arrived at the Altes Brauhaus, which looked like one of many historical buildings inside the city walls of Rothenburg ob der Tauber. Even getting into this accommodation required us to drive through the city gates and onto the cobblestoned streets before arriving at the front of the accommodation.
Julie checked in and then directed me to park in an underground garage right underneath the property, which was a relief considering our tired state that I really wasn't in the mood to be rolling broken luggages (especially Julie's giant blue one) on cobblestone streets for several blocks.
Finally at 6:45pm, we got settled in the spacious apartment, which was on the top floor and had views on three sides of the surrounding buildings within the city walls of Rothenburg o.d.T. This apartment was also very well equipped with a refrigerator that actually had a freezer, a dishwasher, a working WiFi, and several beds.
The slanted ceilings really made us feel like we were literally beneath the roof.
So after getting settled and unpacked, we then got into our city clothes, before walking back downstairs at 7:35pm for our late dinner. With today being Sunday, there was no way any supermarket would be open so it would pretty much be eating out tonight as well as eating the included breakfast at our accommodation first thing tomorrow morning.
As we briefly strolled the charming cobblestoned streets of the center of Rothenburg o.d.T., we'd eventually find this really happening platz where lots of people were sitting around people watching. Overlooking the scene were tall clock towers and spires as well as more half-timbered buildings.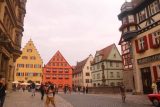 We could have easily spent hours just chilling out here like other young people were doing. But we did promise the restaurant that we'd be there at 8pm.
And sure enough by 8pm, we were at this place called the Herrnschlosschen, which was actually a bit of a fine dining establishment. Right from the moment we walked in, I knew that tonights dinner would be a splurge.
We wound up ordering a fixed price menu that consisted of some octopus appetizer, some kind of curry soup with shrimp, a venison cheek main, and "chocolate souffle" (which we were skeptical would be the real deal). Julie got some kind of roast beef, and Tahia got some kind of burger with truffled salsa.
The meal turned out to be very filling because there were also chef special appetizers on the house that further filled our stomachs before any of the main dishes came out.
They thoughtfully considered Julie's gluten free restrictions so her chef special was also made gluten free as well as the bread and sour creme.
The meal was indeed slow food as eating out in Europe was really more about the experience than the food itself. We could totally see how Europeans were really enjoying their meals and having long chats letting hours burn by, which the American table had their food and were long gone (which would be our tendency though since we got the degustation menu, we couldn't be in a hurry anyways).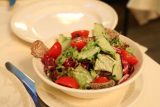 As we were patiently going about our dinner, we saw a giant group of people outside following a guy holding an old school lantern. I knew that this was the Night Watchman's tour, which was said to have begun at 8pm. This particular tour was for English speakers. Nearly 90 minutes later, we saw that there was a second Night Watchman's tour with a smaller group of people. I knew that this was for German speakers. We wondered if we should be doing this tour tomorrow evening as Julie made a mental note to look at the TripAdvisor Reviews of it.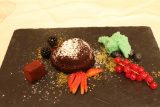 By now, both Julie and I were getting sleepy and full by about 9:30pm, which was still before the dessert. And when the dessert finally showed up, we could see that it was indeed not the real souffle (instead it was more like a lava cake surrounded with berries, mouses, and other things).
The lava cake could have really used vanilla ice cream, but it was still good.
In fact, this was one of the better meals we've had on this trip though in terms of the value, it was certainly on the pricey side.
Since the dinner took over 2 hours, by the time we were back outside and walking back the way we came to the apartment through Rothenburg's charming altstadt, I took a few more night shots of the quiet streets (though there were still a handful of people out and about window shopping or bummel gehen).
The twilight was over so the photos weren't as impressive. Still, I figured that tomorrow evening would be another shot at this, where we intended to self cook.
And by about 10:25pm, we were finally back at the apartment. With such a late end to this day, we were really looking forward to getting cleaned up and crashing in bed. And so ended this eventful day, where we could definitely feel that the end of our 6-week trip was near. It was even nicer that tomorrow was a day at leisure in Rothenburg so I wouldn't have to go crazy driving long distances or doing any more waterfall hikes. Indeed, I really looked forward to sleeping in for the first time in what seemed like a while…
Day 41 (July 23, 2018 – Rothenburg, Germany): "Leaving An Experience"
I awoke at 7am, which was way later than probably any other time on this trip. I thought about getting up to my alarm at 5:30am, but with no real agenda for today, I decided to take advantage of the extra time and sleep in.
I doubted that I could sleep any more than past 7am because the church bell went nuts at this time.
Also, I was suffering from a bit of heartburn after all the overeating from yesterday – both for lunch at Bamberg and for dinner at Rothenburg.
At 7:30am, we went down for breakfast. After paying 5 euros per person, it turned out that this brekkie was pretty good though it probably wasn't quite as good as the one from Munich, which was actually included in the room rate and probably made up for its not-so-spacious accommodation.
The brekkie had all the cold cuts you could ask for, had all sorts of different gluten-based carbs, different kinds of sausages, fruits, and even drinks that could be combined with champagne to make mimosas or using other kinds of safts (juice) to mix with it.
Perhaps the one thing this place didn't have that Munich had was the giant pretzel.
By 8:25am, I was back at the room. It wouldn't be until around 9:40am when we finally headed downstairs and started touring Rothenburg. Julie had this strange idea of being at the yellow house by the Siebers Tower in spitalstrasse without people, but I knew that starting the day this late in the morning was wishful thinking to have a peaceful tour of town.
We basically ambled over through the marktplatz (the center of town) while window shopping en route. Then, we got some info from the info office at the town square before walking over the St Jakob's Cathedral at 10:25am.
Inside the cathedral, it had a pretty plain interior with lots of different wood carvings and panels. Only I paid the 2.5 euros to get inside as Julie didn't feel it was worth paying extra euros for the rest of the family to go in and take pictures when most other cathedrals were free to pop in and out of.
I even managed to check out a wooden carving behind the organ though when I got my fill of that, the lady manning the church closed off access so I wasn't sure if I made it up there on a fluke, or if the lady was setting something up for the children who were filing into the Dom.
Next, we headed out of the cathedral and randomly took a stroll towards one end of the city walls as we sought to try to improve our views of the Dom from a higher vantage point.
Once we got up there, we briefly experienced the atmospheric wall under the shelter of the wall itself so we kind of avoided the sun that was breaking through the clouds. However, when Nature called, we had to go back down the wall and find a place to do our business.
By about 11:05am, we arrived back at the Marktplatz. We told ourselves that we'd go back and do other parts of the wall after lunch. But with it being this late in the morning, we decided to head over to the supermarket to pick up some foodstuffs to cook for the rest of our stay in Rothenburg.
It turned out that we had to walk out the east end of the walled part of the town of Rothenburg ob der Tauber, where we passed beneath at least two or three different gates along the way. We then kept walking past some cemetery before finally seeing a LIDL, Edeke, and Aldi.
Knowing that these places were definitely no Alnatura, we browsed around and didn't get the kefir or bio fruits we were looking for. However, we did pick up some meats and veggies at Edeke before indulging on some desserts bought from Lidl. Finally, we walked back to the apartment but not before buying a schneeball (snowball) on the way.
At 1pm, we checked out the window shutters opening up and revealing a couple of dudes having a drink on either side of the clock. It was certainly no Marienplatz display and we quickly got our fix before continuing on our way to the apartment.
By about 1:15pm, we were back at the apartment. Indeed, it had been quite a hike to get to the supermarkets, and we wondered if it was intentionally designed that way so tourists would pretty much buy the pricier desserts and foodstuffs within the city walls. In order to go the independent and money-saving route, we had to earn it by going well out of the city walls.
While Julie was preparing the lunch of curry chicken and veggies, I dozed off and had a power nap. It wouldn't be until about 2:15pm when I finally woke up just in time for lunch. I guess that power nap was what I needed because I felt greatly refreshed as a result.
As we were having lunch, it sounded like there was some kind of marching band that was playing music probably at the Marktplatz. As much as I wanted to be part of the action, this was the tradeoff with living in an apartment within the city walls. On the one hand, we were saving money and didn't have to deal with slow service, tip, getting charged for tap water, and overpaying, etc. However, whilst in the apartment, we weren't part of the action that was out there. And such was the tradeoff.
In any case, it wouldn't be until 3:20pm when we finally headed back into town. This was after finishing the lunch and indulging on a dessert of schneeball with Tahitian Vanilla ice cream. It was too bad that the schneeball didn't have the vanilla filling we thought we were getting (we paid 3 euros for it), but it didn't seem to have it. Were we bait and switched?
Anyways, the schneeball was nothing more than a glorified biscuit with frostings, and so we were probably over spending any more money on the stuff.
Once we were back in town, we then walked south towards another attractive gate. This time, Julie spotted a cafe that actually served black forest cake, which was probably our last go at this. So we made a mental note to come back here after we were done with this round of walking around the old town.
We then decided to head over to the city walls starting from the southeast side of town before following it backwards (from most of the foot traffic) as we walked towards the east gate. Along the way, we saw more views of the St Jakob's Dom as well as other towers and half-timbered homes. We also checked out the plaques or donor names on the city walls themselves, where we must have passed by a Japanese row because there were lots of Japanese donors back to back in a particular stretch of the wall.
Eventually, we got to the familiar east gate, then we went downstairs and headed back to the Marktplatz. From there, we continued walking west towards the castle garden. There was definitely no more marching band playing at all when we were out and about touring so that kind of took away from the atmosphere I was hoping to be a part of while having lunch.
The stroll descended towards what appeared to be a former castle gate before arriving at a park area with overlooks towards some small scattering of homes outside the wall as well as the exterior of the walls itself.
This garden could easily warrant a much longer extended stroll, but we had our fill of the immediate area near the gate before heading back through the gate itself then heading back to the Marktplatz.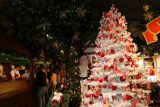 While window shopping (bummel gehen), Julie and Tahia wanted to go inside this place called the Kathe Wohlfahrt Weihnachsdorf, which was basically a giant top shop.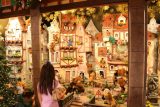 But what set this toy shop apart from the rest was that they really went out of their way to decorate this place as if it was Christmas every day! It was a bummer that photos were not allowed inside the store because there was definitely lots of cute exhibits throughout.
As we went from room to room it was clear that this place really overdelivered on creating and selling the experience of getting into the Christmas spirit even though we were in the latter part of July! It was certainly the kind of place that would induce spontaneous purchases though I wanted nothing to do with that as I couldn't blow off hundreds of more euros over toys to gawk at.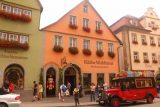 Eventually at 4:50pm we finally got out of the Kathe Wohlfahrt Weinachtsdorf where I swore that this place probably ruined it for any other toy store experience. And indeed, as we continued to bummel gehen, Julie and Tahia saw other toy stores that carried the Kathe Wohlfahrt brand though they were far more boring compared to the Weinachsdorf experience altogether.
It was almost analogous to how Le Souffle ruined the souffle experience for any other place as they simply couldn't compete with the quality of the real deal in Paris. Well, this Christmas shop in the heart of Rothenburg just did it for toy stores. There's no way any other store can compete with this except in the movies.
I'm sure if Toys R Us took a hint from this place, they probably could have survived a bit longer considering that the toy store chain that recently closed its doors after going bankrupt could have sold the experience as opposed to just selling toys which you do with Amazon or any other online shop.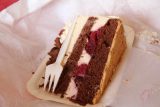 And so we'd continue to window shop along the spitalstrasse within the walls before coming back to the bakery with the Black Forest Cake for takeaway. We'd indulge on this after dinner, but with time running out on trying to cook the food before catching the Night Watchman's tour at 8pm, we had to get back to the apartment.
Eventually at 5:25pm, we were back at the apartment once again. By this time, we felt like we did about as much of Rothenburg ob der Tauber as you can do, and really the last thing left to do is the Night Watchman's Tour just to see what the hype is all about.
I still remembered seeing at least over 100 people on the tour last night while dining out, and I wondered how the experience would be impacted with so many people. In any case, we looked forward to doing that last thing as our last night in Rothenburg (and in Bavaria) was drawing to a close…
After having a self-cooked dinner of shrimp and leftovers from last night as well as indulging in finishing off the cinnamon schneeball along with cookies and cream ice cream from Lidl, we then went downstairs at 7:50pm fully stuffed and ready for our final experience in Rothenburg.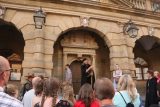 We pretty much went right to the Marktplatz where the night watchman Georg stood and drew quite the crowd just as the 8pm bell went off and the window shutters flung open to reveal the two guys enjoying a drink. Right away, he got into character, spoke slowly, was in his signature dark robe and hat carrying around a weapon that night watchman used back in the day, and we got right into his story.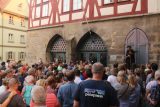 As Georg went from place to place with over 200 people following him and his every word (it was a bit tiring for me because when Tahia couldn't see and hear, I had to hold her up so she could see even with taller adults in front of her), we were really getting the history of Rothenburg spoken to us but in a very engaging way through Georg's masterful storytelling.
I found it interesting that now we were one of the many whom we saw last night while having dinner.
At first, I wanted to take pictures to show the scene of hordes of people entertained by the night watchman of Rothenburg, but by the end of it, no one was taking pictures and they were hanging on his every word. The story started back in the Middle Ages around the 12th century and it went as far as the end of World War II and beyond.
The big takeaway from the story (besides the thoroughly entertaining and informative experience) was how haphazard history is, and how Rothenburg was lucky to be the big tourism town it currently is. This just has to be experienced, and I wondered how much longer Georg is going to be doing this (noting that on the Rick Steves video, he looked much younger than he does now).
In the end, when the tour ended, everybody dropped money in his hat. We didn't have exact change so we actually overpaid 20 euros (it was 8 euro per adult and children under 12 were free). It was pretty much the honor system, but I think the way people were willing to crowd up around him and drop the money in his hat was a testament to his control of the audience and leaving everyone with an experience you can't get anywhere else.
Just like with the Christmas Shop earlier on today where them leaving a unique experience resulted in spontaneous buys, Georg was masterful in his storytelling and act and left us with an experience we won't forget. What a great way to end our experience in Rothenburg as our trip was winding down.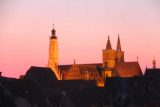 By 9:15pm, we were back in the room. Most of the activity in the town of Rothenburg (in the name of busy streets) was all because of the night watchman. Now, everyone was either retreating back to their accommodations or even retreating to their cars who happened to be staying outside the town walls.
Julie and I could totally see why Rick Steves loved Rothenburg, and the magic and mystique of the town was definitely in full effect as we were winding down this day and our time spent in Germany.
In our itinerary, this place was almost skipped because of how out-of-the-way it was. It was only at the end of our grand tour of the German-speaking countries of Germany and Austria because I had to figure out a return route back to Frankfurt from Innsbruck. I'm glad we gave this place two nights so we had the time to leisure enjoy this medieval town that was probably second only to Colmar in the charm department as far as this trip was concerned.
Tomorrow, we were headed to Frankfurt, where we'll be returning the rental car one day early (hopefully we'll be getting a refund for the extra day as well as the auto service for needing to top off the diesel exhaust fluid). From that point forward, we'll be without a car. So the rest of the evening was spent packing up, getting cleaned up, and taking care of other logistics like filling out forms for Air France on our flight home.
Indeed, this epic trip was soon coming to an end. And while on the one hand, I didn't mind going home and hopefully stop bleeding the amount of money we'd been spending on this trip. However, on the other hand, there was a part of me that didn't want this to end.
Such is life though. You can't have it both ways…
Day 42 (July 24, 2018 – Frankfurt, Germany): "Savoring The Last Of German Romanticism"
I awoke at 6:35am, which was well past my alarms. With no real agenda for today, I didn't mind sleeping in then letting most of the morning slip by as we spent that time getting packed and organized for the journey home. Since we were dropping off the rental car later on today, it only made sense that all the time spent now to get our stuff together would save the stress later when the TGV schedule would loom.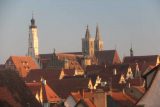 While we were taking our time in our apartment, we were getting our last looks out the windows towards the St Jakob's Cathedral as well as some people already starting to walk the old city walls.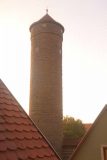 So after having a self-cooked breakfast, it wouldn't be until about 9:40am when we finally got around to loading up the car.
And at 10am, we finally left the charming Rothenburg ob der Tauber.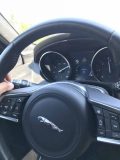 During the drive on the autobahn, I tested the speed limit of the rental car, and I saw that actually this Jaguar could go above 199km/h as we got as high as 205km/h (though the GPS said we never really got higher than around 185km/h). In any case, I never really got comfortable driving at those speeds, especially with the precious cargo that I was carrying.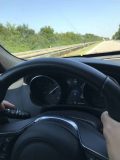 Anyways, Julie had this idea that we should make a stop at Wurzburg on the way to Frankfurt. She read reviews of the town and really wanted to do the Residenz as well as the old town plus the bridge over the River Main looking towards the fortress.
Eventually at 10:45am, we went from the zooming on the A7 towards the A3, where we were faced with some snarling stau (stopped traffic). Fortunately, we were able to leave the autobahn for the B8, which then led us into the city center of Wurzburg. However, we then had more stau around the city center.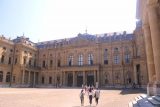 So it wouldn't be until about 11:15am, we finally managed to park in the open-air cobblestoned parking lot before the Residenz in Wurzburg. Even though the lot was full, they had one of those systems where we waited until a spot opened up, and then the machine would dispense a ticket to get in. We only waited around 5 minutes before we were finally able to get in and park the car.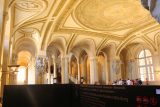 At that point, we promptly went into the Residenz, where we paid 15 euros for 2 adults as Tahia was able to get in for free. However, once again, they were sticklers for not allowing photographs (not even photo bags or small backpacks acting as purses) so we had to use a locker where putting in a 1 euro coin deposit would release the key, and then we could get our money back if we properly returned the key (so this locker use was free).
Once again, without an audio guide, we promptly went up the stairs and then into a pair of very grand rooms. Even though it was about 11:30am at the time, we managed to catch up with the 11am English speaking tour. However, they seemed to really dwell on the large room and so Julie had this idea to go visit the apartment rooms without a guide.
However, I had a feeling that the guided tour might go to rooms that wouldn't be accessible without a guide, and sure enough it happened when we were too deep in the apartments. By the time we made our move back to the main entry room at the top of the steps, the English-speaking tour guide closed the door and now we were left straggling along some other German speaking tours before we could finally get in.
The first tour we latched onto was a kiddie tour, and after listening incomprehensively to some spiel of the big room, their tour then ended and that was it.
However, there was then a second more adult German-speaking tour, and eventually after spending even more minutes waiting for the spiel to end, then we were able to walk into the more blinged out rooms, where apparently the parents of Maria Theresia had occupied. Again, we didn't get a whole lot out of the tour since we couldn't process much of what was spoken in German (even with all my language lessons and all; there's no substitute for actually having lived there for a bit of time and using it everyday).
Basically, these tour-guide-only-rooms were probably about 4 or 5 rooms. Perhaps the only thing I got from the German was that the first room we went into was the Guest Antechamber and the next room was some kind of Audience Room. Other than that, I couldn't tell this from that.
After the guided rooms were done, we then walked on our own through a few more hallways and rooms exhibiting some exhibits showing the before (where available) and the damage done to some of the key rooms in the Residenz. Like with Rothenburg, apparently it took an American officer to help with the restoration or at least save what was left to give this place a chance at restoring some of its past glory into the museum that's making Germany money at the moment.
Then, after passing through the gift shop, we were finally able to get into the apartment rooms that didn't require a guided tour (and that screwed us up in terms of being ditched by the English-speaking tour in the first place).
Those were basically smaller rooms that had re-created furnishings. Given that we had already spent well over an hour here, it kind of went like a blur. Julie read on TripAdvisor that someone claimed this experience was better than Versailles and Neuschwanstein, but I wasn't so sure about that.
While the bling factor was definitely there, I still don't think it was a very fulfilling experience, especially since no pictures could be taken.
Finally, we left the inside part of the Residenz and then proceeded to walk within the heat to check out the hofkirche (again no photos in there), and then the gardens. The gardens was quaint and manageable though the heat definitely ensured that we spent as much time in the shade as we reasonably could.
Some of the surrounding buildings in the distance enticed us to want to visit them though we knew time was limited and we had to be choosy.
After getting our fill of the gardens behind the Residenz building, we then returned to the car park at 1:15pm where the car was baking hot. After paying the 4 euro for the two-plus hours of parking, we then drove closer to the zentrum, where we found a car park structure.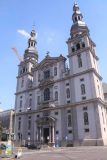 That particular car park structure had this interesting system where a guy was manning the kasse but he also issued out a ticket with an assigned parking space. We'd later have to pay him to get an exit token. But at least with this assigned parking space, we were guaranteed a place to park.
And so we drove up what seemed like several tight spirals before getting to our assigned 53 spot at 1:30pm. Once there, we then walked back down the structure and then into the city center as we went looking for a lunch spot first before doing a little more sightseeing of the city.
After some figuring out where the general direction of the zentrum was, we'd eventually land at some random Dave and Dean cafe or restaurant, which got Julie's attention because it was apparently as Californian as you can get in Germany in terms of a healthy food chain. By now, Julie was sick of Germanic food while also worrying about gluten so this was just what we needed.
We managed to get ourselves some kind of quinoa bowl with salmon and avocado in one bowl as well as some kind of Mexican-like chicken rice salad with salsa in another bowl. Tahia got some kind of chicken avocado sandwich. That was a pretty quick and efficient meal since it was self-catered after we placed our order.
Once we wrapped up this meal, we did some more walking in the heat as we tried to stay in the shade as well as walking close to the shops along the way because each entrance gave out a blast of AC coming from the inside for momentary relief from the 31C or so day (at least according to the car's thermometer when we were driving).
Eventually, we'd arrive at a really interesting platz that at first was narrow with a fountain, and it was behind some kind of reddish church building or something. But when we went to the other side of it, we were then in a plaza that was very wide as it was surrounded by that church, some other charming buildings, and some restaurants in another corner including another Dave and Deans that seemed bigger and in a more happening spot. This must have been the Marktplatz.
As we meandered some more, we then got towards some kind of town hall building with another interesting church with a pair of spires in the background. Looking in the other direction, we could see a cobblestoned road going uphill, where we knew that it was going onto a bridge over the Main River.
So we continued up onto that bridge, which was exposed to the scorching hot sun. Yet, we could finally check out the bridge with its flank of Romanesque statues as well as flowers on the railings near each of the statues. Looking to the other side of the bridge, we could see an impressive Fortress in a scene that kind of reminded us of the Festnung Hohensalzburg in Salzburg.
Still, something was missing from these views while we were on the bridge so we then walked back to some stairs where we then followed briefly along the River Main until we got to a somewhat shady spot where we could look back over the river with the fortress fronted by the Romanesque bridge. While the lighting wasn't idea (this was probably more of a morning spot), it was still beautiful and we got our views before we started heading back.
The walk back pretty much followed the tram tracks as we made our way back towards the car park. There were lots of people out and about, and we were glad to have checked out this pretty charming town that was kind of an afterthought to me when the day started.
By 3:20pm, we eventually got back to the car and its well-needed air-conditioning. Being in a parking garage, it wasn't as baking hot as it was at the Residenz.
After paying the 2.5 euros for the couple of hours we had spent in the city center of Wurzburg, we then could finally start driving towards Frankfurt. While there were still some sluggish traffic on the way out of Wurzburg, at least that stau that we saw on A3 on the way into Wurzburg was not there anymore.
That said, in between stretches of gunning it at over 160km/h without speed limits, there were lots more stretches of road construction and narrowing lanes. So it wasn't the free-flowing autobahn that we were hoping.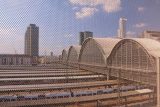 In any case, we'd eventually get back to the familiar parking garage next to the Frankfurt Hauptbahnhof at about 5:15pm. By this time, the car reported that the temperatures here were a whopping 36C! And when we were unloading the car, we could definitely feel the heat even in the shade of the garage!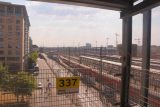 Anyways, this was the first of the accommodations where Julie switched us from an apartment to a hotel room mainly for the location. And it turned out to be a very wise move because the Tokoyo Inn Hotel was just across the street from our car park. With the amount of luggage we had to lug around combined with the heat, that was just what the doctor ordered.
So we promptly checked into the hotel first (though in our attempts to get there, we managed to drop one bag full of glass water bottles and one broke with water in it). Aside from that little snafu, we finally were into our room at 5:45pm, which as expected, was very cramped though they had some welcome card that suggested that there's space under the bed for our luggages.
Once we got settled, we then promptly headed back downstairs at 6:10pm to return the car keys, try to see what money we're getting back from that diesel exhaust fluid service that we went to a Jaguar dealer for, and then be on our way to sightseeing Frankfurt with a dinner in there.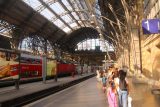 As we went back out into the heat, we were at least glad that the shadows were longer at this time in the afternoon. We promptly walked back into the familiar Frankfurt Hauptbahnhof and over to the Hertz kiosk, where we once again had to wait for someone to get his keys before we were finally able to do our thing. Seems like waiting had been synonymous with this rental car experience.
Too bad that nice young lady that helped us out when we were checking the car out was no there today. Instead, we were conversing with some Indian clerk, who told us that he couldn't support us getting reimbursed for the diesel exhaust fluid service we did back in Salzburg nearly 4 weeks ago. He'd eventually tell us that he has to check with his boss, whom we wouldn't hear from until tomorrow some time by email.
I kind of had a bad feeling about this given his dismissiveness of our situation. I don't think he even looked at our contract and the date of that receipt we showed him (which was barely two weeks into a six-week rental). He was more focused on the "blue" being only 20 euros to fill up by yourself instead of over 100 euros to have the Jaguar dealer do it.
Of course, we argued with him that we were in no position to take guesses at how to do this considering there was no obvious hole to put the blue in, the car manual was completely in German, and if we guessed wrong, the car would be even more disabled and we'd be out even more money (not to mention out more time for waiting for the car service).
So I knew that we did the right thing by going to the dealer. If anything, the blue wasn't topped off when we got out of the garage, and that shouldn't be our burden.
Well, given our last two experiences with Hertz clerks (one in Salzburg and now back in Frankfurt), I guess we got the sense that these clerks really don't know what they're doing. They're just there to issue the keys and process returns and payments, and that's about it. If we listened to the last two clerks, then for sure we would have been stranded or some other disaster that we luckily avoided by doing the right thing. Heck, it was even fortunate for us that we managed to find the Jaguar dealer in Salzburg and that we were staying four days there so we had the time to take care of this.
Anyways, that left a bit of a sour taste in our mouths, and mentally we were prepared to see if we could file a travel insurance claim for this. I wasn't sure if we could also file a claim for the ticket cancellation for getting the wrong date for the TGV.
But with that done, now, we could finally do our walk of Frankfurt at 6:40pm. And so we went down the familiar street we were at earlier on in the trip, and it didn't take long before we settled on this Indian Restaurant called "Am Doori" or something like that. It was funny how in all the big cities on this trip (Salzburg, Innsbruck, and now Frankfurt), we had Indian food.
Well, after having a pair of mango lassi, chai, chicken tikka (no curry), and some kind of curried prawns, all with sides of garlic naan, Indian-spiced fries, and spinach, we wound up with a pretty expensive dinner (especially for an Indian place) at over 48 euros.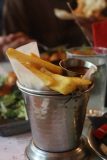 Still, as we were sick of the German-Austrian food, the Indian food was nice and it fueled us for the remainder of our last night in Germany.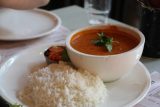 By 7:55pm, we were finally done eating. Since the restaurant had no AC, it was also quite hot in the restaurant so all of us were sweating beads (which the hot food and spices further exacerbated).
Just starting our walk was a bit of a relief and the longer shadows caused by the waning day also helped to cool us down somewhat even though we were now moving.
The walk pretty much continued along the same street we were on (Kaiser Strasse, I think). We didn't go one street over to the Rick Steves-recommended Red Light District, which Julie contended was inappropriate for Tahia. She was probably right about that though I was curious about it.
Regardless, we then found our way to a park area with a giant Euro sign as well as some giant high-rises, which was one thing that was noticeably absent throughout our trip. For while just about every city that was bombed and rebuilt chose to re-create the past, it seemed like Frankfurt embraced the future and was definitely quite the typical modern city as far as this was concerned.
Still, we then ambled around some quieter streets as we tried to find the altstadt of Frankfurt. And it wouldn't be until what seemed like another 20 minutes or so later when we'd finally find the charming square surrounded by half-timbered buildings, some churches, and a charming rathaus with a tourist info office (closed by this time well after 8:30pm) that had an attractive facade.
After soaking in this charming plaza, we then walked onto the bridge over the Main River, which was also teeming with people walking about along both banks of the river as well as the bridge itself. In the usual European way, it seemed like locks were also everywhere on the railings and girders. I guess this was now the fashionable way to leave graffiti as they were probably harder to remove than the unsightly spraypaint or scratchings.
So with the fading light of the day and the rising (nearly-full) moon, we were checking out the beautiful Frankfurt skyline as well as looking across the river towards its older side further to our right as well.
It was quite a relaxing stroll, and it was a fine way to experience the last of the Romantic parts of Germany before we started to walk back to our accomodation.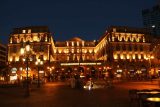 We were looking forward to using the U-bahn to get back to the hauptbahnhof (main train station), but when we eventually walked back to the Hauptwaschen stop, we then saw that we needed to use the S-bahn to go west, and that none of the S-bahn entrances were working. So that meant that we were going to walk all the way back to the hotel.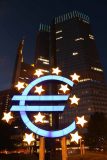 Eventually, it wouldn't be until about 10:40pm when we finally made it back to the hotel room. We were by now a hot and sweaty mess despite the darkness. We had to have walked at least 30 minutes in each direction, but it was a charming and atmospheric time spent for our last night in Germany.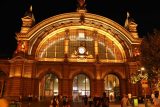 Of course the cramped quarters of our room didn't make for a comfortable stay, but we were just here to sleep. And now it was time get cleaned up, catch our shut eyes, and be ready for the TGV back to Paris tomorrow as the end of our epic 6-week trip was coming to a close…
Day 43 (July 25, 2018 – Paris, France): "Foodie Exuberance"
It was 5am when I awoke. With the TGV departure looming at 06:58, I was already packed and ready to go since last night. However, I needed to get caught up on the blogging before it was time to check out and have a quick breakfast at 6:30am sharp. Julie didn't have her alarm going until about 5:30am.
When Julie awoke, it then became a pretty hectic dash to get ready, wrap up the packing (especially the stuff in the fridge), and then head downstairs and check out with our belongings before going for the breakfast as soon as possible.
When we went downstairs at 6:25am, we saw that there were easily a dozen people or so waiting in the lobby for the included breakfast. Apparently we weren't the only ones with the same thought, but when they said brekkie started at 06:30, they really meant it. So the brekkie room was suddenly buzzing as soon as one staff member gestured for people to come in.
As expected, with this being a Japanese hotel chain, we knew that it was primarily an Asian breakfast. And we didn't mind this one bit considering it was included and the room rate was 80 euros for the night, which was dirt cheap considering the location as well. If we had more time, I probably would have helped myself to more of the miso soup and onions, which was quite good. The rest of the brekkie was standard fare of a limited selection of schinken or round-sliced salami, rice, breads, and hard-boiled eggs.
It was barely 6:40am when we left the Tokoyo Inn with our luggages and then proceeded to carry and wheel our belongings to the train station just across the street. Even with the ideal location, it still wasn't until about 6:55am when we got onto the correct train and seat numbers so we really did work up a sweat despite the fairly cool morning.
With all the chaos that went on, we really didn't get a chance to capture the beautiful god beam scene where the morning light left sun rays emanating from a cloud as we were eating breakfast.
Well, it was good that we did what we did because right at 06:58 sharp, the train took off bound for Paris at the Gare de l'Est. It went in the reverse direction as when we first got to Frankfurt from Paris so this train made stops in Mannheim, Karlsruhe, Strasbourg, and then finally Paris.
During the train ride, I had quite a bit of trouble sleeping. I think the same happened to Julie so we were trying to figure out how we should spend our time in Paris and savor every last bit of this trip before going home where we knew a huge list of things to get done were waiting for us.
At around 8:20am when the train was somewhere between Karlsruhe and Strasbourg, I managed to use the included WiFi (perhaps this was a first-class thing?) to book timed tickets for the Versailles Palace for tomorrow morning first thing. The thinking was that after seeing all the historical buildings from the Hapsburgs (just about all of them didn't allow photos), we couldn't help but notice how much of a French influence there was there, especially concerning Versailles. So now with this much perspective, why not see the real deal once again (Julie and I last saw this back in 2012 but we truthfully didn't remember much of the experience)?
At 9:10am, I was still having trouble sleeping and Julie spent a good deal of time on TripAdvisor still figuring out or planning out our upcoming time spent in Paris so we had some of the remaining cooler stuff. During this time, it looked like the TGV was topping out at 319km/h, which was way faster than the fastest speed on the autobahn we did at about 205km/h (and even that made me feel a little uncomfortable considering the safety of the precious cargo I was carrying).
Finally at 10:45am, we got off the somewhat early-arriving train at the Paris Gare de l'Est. Then, Julie had us wait across the street at a quiet corner where we'd use the Uber app and get whisked away towards the Intercontinental Le Grande where we'd spend the next two nights. One of those nights was a rewards night but we had to pay up the nose for the other night so the average ended up being around 200 euros per night.
Even though we knew how to use the metro system, with the amount of stuff we were carrying and the Summer heat in the city, we thought it was wiser to just get taxi'ed or Uber'd to our destination.
Sure enough the driver showed up after roughly an eight minute wait in the sun, and we went the 2km to the hotel, which looked like it was undergoing some extensive renovation. We got there at about 11:25am.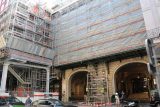 We checked in our bags with the porters thinking that it was too early to check in. But it turned out that our room was indeed ready. That said, Julie had made a booking for 12pm at Le Souffle again (to have the real-deal souffles one last time before it would be a while before having this again), and so we operated as if we couldn't check in until some time after lunch.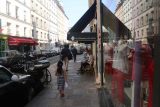 Anyways, we quickly proceeded to this gluten free bakery where Julie was really looking forward to having gluten free croissants. And when we got there (I believe the place was called Helmut Newcake and it was barely a few minutes walk from our accommodation), we then picked up some of the goodies there, then proceeded to eat them on the way to Le Souffle.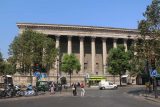 Julie was so blown away by the quality of the croissants that she wanted us to go back to have some more. However, we were running late in terms of getting to our lunch reservation. So she punted that visit until after lunch.
On the walk to Le Souffle, since we were coming in from the north (which was a part of the city we hadn't really gotten to see much), we were passing by some interesting buildings. One had a bunch of columns by the Rue de la Madeleine. There were other hidden old world buildings like some tall dom.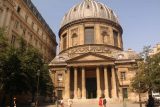 It was kind of amazing how seemingly nonchalant Paris' old world buildings nestled amongst other modern buildings could be. Contrasting this with Germany, where the old world was definitely embraced but almost overtly so. In Paris, it just seemed like it was no big deal, and this accidentally running into one old world building after another was just one of those things that made me appreciate this city even more.
I know the women love this place for the shopping and high fashion, which was clearly on display just making our walk, but that mix of old and new certainly reaffirmed to me why Paris was indeed one of the great cities of the world.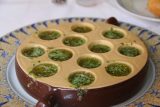 Anyways, at around 12pm sharp, we arrived at the familiar Le Souffle where once again we were seated by the window and once again we were one of the first to show up.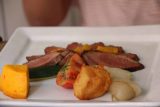 For our lunch course this time around however, we went all a la carte instead of the Le Tout Souffle menu like before. I think the memory of our lasts time here was that we had over-ordered and were really stuffed. This time, Tahia didn't get her own thing and I didn't have an appetizer souffle.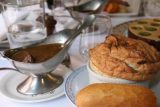 Speaking of the souffle, I had the beef bourgignon main souffle instead of the chicken and mushrooms with cheese souffle, which I think I had last time. Julie had the same duck dish and we all splurged on a dozen escargots though Tahia and I used our bread to really soak up the garlic butter that the snails were drenched in.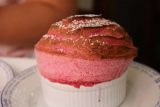 As far as dessert was concerned, Julie and Tahia shared the gluten free raspberry souffle, but I switched things up by having this souffle called Marquise, which was basically chocolate souffle using vanilla cream spiked with quite a bit of rum in it. I did this instead of doing chocolate sauce in chocolate souffle, which I felt was a bit overly chocolaty.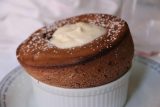 And once again by the time lunch was over, we were all satisfied and thoroughly convinced that when it came to souffle, there simply wasn't anyone that did it quite like this place. Of course, now the lunch room was buzzing with people so once again we were wise to have gotten the early start, the great service, and the quality food as always.
Just like with the first time we were here 6 years ago, it pretty much ruined all other future souffle experiences, and given all the disappointments we've had ever since that first visit, we expected no different this time around. So doing this place twice on our long trip seemed justified as far as we were concerned.
After the lunch, we then walked back in the general direction of our accommodation. We made one quick detour back at the Helmut Newcake gluten free bakery, but when we got there, the gluten free croissants were all gone. So I guess Julie may have to make do without it anymore since tomorrow we were expecting to be at Versailles and to be visiting Julie's relatives later in the day for lunch.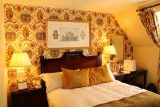 So by 1:55pm, we made it back to the room. That was where we saw that they had brought up our stuff, and the room itself was actually not bad size-wise, especially when compared with the Toyoko Inn experience in Frankfurt.
Considering how hot and sweaty we were after walking here, the AC room was quite a welcome feeling, and Julie took full advantage as she actually did a power nap before we were heading back out at 2:55pm.
The plan for the rest of the evening was to visit the Sacre Coeur as well as the Trocadero. Basically we were out to do things we didn't do the first time. Julie was also hoping to visit the Moulin Rouge.
As we made our way to the subway, we were told that there was some kind of anti-pollution promotion going on so all-day everywhere tickets were being sold at 3.8 euros per person, which was actually quite a steal considering that the cost was already covered on one round-trip fare.
So we gladly did that and promptly made use of the subways to make our way to the Trocadero. By about 3:55pm, we made it there where it was quite hot as it was exposed to the hot sun and the surface was radiating heat. Still, that didn't stop hundreds or maybe thousands of people from checking out this elevated view of the Eiffel Tower.
It appeared that they didn't let us get all the way to the railing for the fountain shot of the Tour Eiffel, which I recalled we were able to do last time we were here six years ago. So our visit wasn't very long, and we did our obligatory photos before heading back down to the temporary relief of the underground.
Next, after taking a few metro lines (including a couple of real stuffy ones), we ultimately made it to the Anvers stop where we then proceeded to walk up to the Sacre Coeur up some happening uphill shopping lane. As we were having ourselves an Amorino gelato as well as briefly checking out some kind of chocolate shop where they had giant chocolate works of Notre Dame, some kind of bull, Arc de Triomphe, etc. (I swore they used to hae one of a stilleto heel back during our first visit), we then proceeded with the hot and sweaty uphill walk to get right up to the impressive cathedral.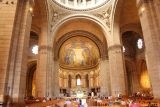 By about 5:15pm, we were finally inside the Sacre Coeur where we were all a hot and sweaty mess. It wasn't much cooler inside, and the signs said no photos were allowed but we saw that the order was pretty much ignored by lots of people so I followed suit while being discreet about it.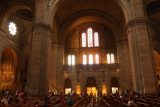 I don't think we had ever been inside the Sacre Coeur experience so it was quite an interesting treat though it lacked some of the old world bling that we had seen in other cathedrals throughout Germany. Still, this was a very busy cathedral and lots of people were filing in and out of here.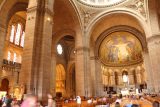 After having our fill of the Sacre Coeur at 5:35pm, we then headed back down into the heat and humidity and ultimately into the subway where we then made our way towards the L'Escargot Montorgueil. The first time Julie and I went here, it was closed for some kind of renovation. But now that it was finally open, we could clearly see that this place was packed with tourists.
Anyways, it was pretty hot inside the restaurant, and we probably went through several glasses of cold water, which the friendly waiter kept swapping out for us. And while the service was slow (because he alone was serving so many different tables), we ultimately had the traditional escargot (which was totally the bomb here), seared foie gras (which was also quite good), some frog legs (which was ok), and a steak with foie gras on it (that was ok because the steak was done a little too medium).
We topped it all off with a creme brulee.
In any case, this slow dinner was also pretty expensive at around 114 euros. But at least we could say we finally got to try out this place, and now we know how really good escargot tasted like as we never had it quite like they way these guys did it. I guess the key thing was that the garlic butter had to be very heavily garlicked and plentiful.
Finally at 8:15pm, we were done with dinner. As we were busy looking up Moulin Rouge tickets during the long dinner, Julie got the bad news that it wouldn't be available until Saturday (when we would be long gone and back home). So I guess the original cabaret show would have to wait until our next trip to France, whenever that would be.
Thus, we were in no real hurry to do anything later in the day though we did hold out hope of at least checking out the Moulin Rouge exterior during the twilight.
However, when Julie saw that there was a convenience store right across from the L'Escargot Montorgueil, we then went there and bought some creme fraiche and other things that needed refrigeration. And thus, we were forced to go back to our room, which we promptly did by 9pm. Once we felt the cool AC, Julie decided that she wanted to call it a day and not bother with going to the Moulin Rouge.
And so ended this pretty eventful day in Paris. With tomorrow being a pretty full day of visiting Versailles early in the morning and then visiting Julie's cousins (parents), we'd then see what other things we could accomplish to savor the last of our epic trip.
So far, it seemed like our time in Paris were primarily foodie runs. But I guess as they say, "the way to a woman's heart is through her stomach" and perhaps this is very true here (especially since Julie viewed Paris as quite the gluten free haven that she really struggled with throughout Germany and Austria).
Even though our trip was primarily for Germany and Austria, I got the feeling that Julie and Tahia still embraced Paris more than any other experience we've done. I guess this city has that kind of effect on the women and girls in this family…
Day 44 (July 26, 2018 – Paris, France): "Family Ties"
It was about 5am when I awoke, where I did the typical routine of getting caught up documenting yesterday's happenings by blogging.
During the rest of the early morning, we had some self-bought cold breakfast food as well as getting all ready for a full day of activities. Among the cold stuff we had for brekkie was some creme fraiche with about 40% fat from Normandie. They were really good, and that gave Julie and I the idea to try to buy some more of the stuff for tomorrow morning when we unwind the day.
Speaking of activities, on tap for today was going to the Palais de Versailles, which we knew was the one that inspired all the Hapsburgs stuff we had been seeing (but not photographing) up to this point.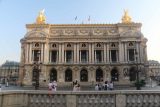 It wasn't until about 7:35am when we were finally heading out. I knew it was in our best interest to get to the Versailles Palace before they opened at 9am due to the long security lines as well as the volume of people that descend upon the site. So I was a little worried that we didn't head out of the hotel room earlier.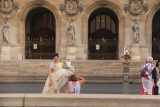 In any case, we asked some random employee working at the Opera subway station, and it was a good thing Julie took the initiative to ask because there were several train stops on the RER that weren't working due to construction and/or renovation. So he was very specific in the direction we took citing that we had to connect with the RER C line to Versailles Rives Gauche at the Javel stop.
So we executed on this plan as we ultimately got to the final train stop at 8:35am at the Versailles Rives Gauche station. Then, another ten minutes later, after walking a ways to the front face of the Versailles Palace, we ten stood in a rather short line compared to the ridiculously long unbooked ticket line, which was totally out in the open just as the sun and the associated heat was beating down on everyone in the main courtyard.
We got there at 8:45am.
So that meant that we had to wait about 15 minutes in the shorter line instead of a reported 2 hours or so on the unbooked line. In fact, that other line was already out to the front entrance gate where the initial security baggage checks and ticket verifications were taking place. But I couldn't imagine how much worse it would be for those waiting in that much longer security line without the reservations, especially out in the sun as it was already getting hot this early in the morning.
What a waste of valuable vacation time as well as an overall bad experience!
Eventually, the main door opened right at 9am, and it looked like our shorter line was the first to move as we went inside, then past some Francois Holland sign, and then past another security check (more airport-like) before getting past one last ticket scan as we finally were free to roam about the interior of the Versailles Palace.
Following the path of the tour, we quickly found ourselves moving from one building to the next. In so doing, we got some shots of the golden-trimmed exterior of the back-side of the U-shaped building which seemed to be a signature shape of the royal residences or palaces that we've seen throughout this trip. If indeed the Hapsburg buildings as well as the Bavarian royalty buildings assumed this shape based on the Versailles designs, then this made a lot of sense.
Once we were on the other side, we then went through some gallery showing the scale of the Versailles complex and other paintings and stuff along the way. Then, we went upstairs to the residences and that was when the tour of the grand rooms finally began.
By that time, it was already pretty crowded with people and as tour groups started pouring in, it only got worse. With no air conditioning in each of the rooms, it also got quite a bit stuffy as each visitor contributed their 98.7F along with water vapor from sweat and breath. Only the open windows (where available) offered some degree of relief.
Unlike the last time where Julie and I made a beeline for the famous Hall of Mirrors Room, we took a little more time trying to listen to the audio guide while also taking pictures as we went from room to room. But this was proving to be a bit too much especially when contending with the crowds so we then switched gears and did the similar strategy of taking what pictures we could (especially in the Hall of Mirrors) before backtracking and then trying to enjoy each room with the audio guide when picture taking wasn't as important.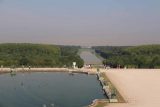 That meant going against the grain from the Hall of Mirrors to the colored rooms (antechambers and what not), but at least we could better understand what was going on.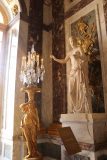 Speaking of taking pictures, that was one thing that Julie and I realized that was quite different from the German and Austrian royal experiences. Here, we were able to freely take non-flash pictures but we also had to contend with the longer queues and the crowded rooms. In the German and Austrian experiences, it was much more controlled as they either had timed entry tickets and automated turnstiles that were supervised and/or there some degree of traffic control was right at the point-of-purchase.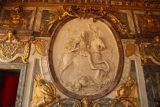 They even had security people make sure you used the cloakrooms (garderobe) to put packs away, and they had plenty of people checking for that as well as people checking for people taking pictures.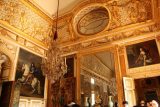 So on the one hand we could pay more attention to the audio guides while also not dealing with as much craziness, on the other hand, we couldn't take pictures and thus take memories of our visit. I'm not sure which I'd rather prefer, but at least being able to appreciate our memories of the experience still made me prefer the Versailles experience better although I'm sure the French could take a hint from what the German's and Austrian's did with their royal museum experienes.
Anyways, after the Hall of Mirrors, apparently they closed off the Peace Room and the subsequent rooms thereafter in that direction due to renovations. In fact, after the Hall of Mirrors, we then went past some more renovation jobs before getting to the Gallery of Battles which had a very grand hallway and reminded me very much of the Louvres experience.
However, in this case, all the paintings depicted battles concerning the French royalty and they were typically victories. In these paintings, there was definitely blood and dead bodies, and there was no such Romanticism seen in the Ludwig Castles as well as other painted scenes seen in the German-speaking countries.
Eventually after getting through more rooms and hallways, we then were about to conclude our visit before Julie realized that we somehow missed the Women's apartments. And it turned out that we had to backtrack, then go outside (not to the gardens though), and then go into the far end of the U-shaped layout of the buildings.
We did this at 10:40am, so while we gave ourselves an 11am deadline to get moving back to the train and head over to Chinatown to meet Julie's relatives that we had planned to meet for lunch today (at around 12pm noon), this part of our visit became a bit rushed when I realized that the audio guide did go into great detail on each room but for the last few rooms of the tour, I couldn't finish what they were saying. This was especially the case considering how hot and crowded each room became just like with the rest of the tour.
So by about 11am, we were done with the chateau visit but we totally didn't bother going to the back of the chateau to re-experience the gardens once again. But seeing how extensive they were and also seeing that there was a separate part of the palace to visit (concerning the Trianon buildings in the far northeast of the complex), we knew we had no time and we were already probably running late.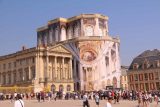 By about 11:25am, we finally made it back to the Versailles Rives Gauche train stop. Along the way, we noted that the security line had gotten even bigger than when we started. Plus, there were ambulances on the long side of the line to perhaps help people struggling with the heat and dehydration. Indeed, the conditions were no joke.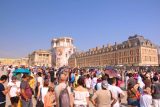 However, when we got past the turnstiles with our anti-pollution ticket (what a great value!), we saw that we had just missed the train that would have taken us back from quai 3. So now we had another 15 minute wait to get to where we needed to go for lunch, and that certainly didn't help our cause in terms of meeting Julie's relatives for lunch at 12.
By about 11:40am, we finally took off with the next train, and then we pretty much tried to plot out how we were going to cut across to the southeast part of Paris where the Chinatown was. Ultimately, we were supposed to meet at the Port de Choisy stop, which was actually directly accessed from the Tram 3a line that started at Pont de Garigliano and actually went all the way to Port de Choisy directly. However, we had never really taken the trams before in Paris, and given the RER closures we weren't quite sure if our plan would work.
However, we'd eventually find our way to the Tram 3a line at 12:05pm, and then we had many stops before finally arriving at the Port de Choisy stop. Even though the tram at first had some AC, as more and more people got on as we got deeper into the city, the hotter it got. Before we knew it, we were sweating bullets once again.
Finally at 12:30pm, we made it to the Port de Choisy stop, and then we walked towards the McDonalds that was the meeting place. After Julie called them as we got there and didn't find anyone, they then found us as they were chilling out at the Galerie across the street. At that point, we spent some time waiting as there were more relatives that were apparently on their way to seeing us.
And from that point on, we spent nearly the next 2.5-3 hours having chats over Vietnamese food at some pho place. Even though one of the relatives said that this place was known for the pho (as they made the flavor differently than most pho places), Julie contended that it was way too hot to have pho so we ended up with vermicelli dishes along with eggrolls and spring rolls as well as a papaya salad. Everyone pretty much got their own thing and we didn't do it family style.
Eventually, we'd get back to taking the metro bound for the Opera stop at 3:20pm. This was after convincing one of Julie's cousins (who was a taxi driver) that we were better off taking the metro since there was a direct line that went from Port de Choisy all the way to Opera. He was the one person that we shouldn't mention the word "Uber" to though we knew that when it came to going back to the airport tomorrow, we'd have to do it as Julie didn't want to trouble him, especially if he was going to do it at no cost to us.
So back in the metro, we had to contend with a pretty busy line in one of the old school trains that didn't have air conditioning. So it was quite hot and stuffy and Tahia, especially, had to fight off sleep as we were getting closer to the Opera stop.
By about 4pm, we finally got to the back entrance to the Opera (for visits and not for some other entrance for performances or something that required more expensive tickets), and we were relieved to feel that there was actually air conditioning as we were getting past the bag and ticket checks! Nice!
However, once we got into the historical parts of the complex, it was back to the Versailles experience somewhat. Although it wasn't quite as crowded as the Versailles experience, there were still lots of people taking pictures and there were also quite a few tour groups (especially Chinese ones).
Still, it turned out to be quite the grand experience as there were high-ceilinged rooms with elegant marble steps and huge columns as well as paintings on the ceiling with blinged out chandeliers. Indeed, it was like another Versailles but in the middle of the city right next door to the Intercontinental Le Grande Hotel that we were staying at. And now Julie and I could see why some rooms costed upwards of 600 euros per night if they were facing the Opera.
There was even a Hall of Mirrors-like hallway with hanging chandeliers and very grand statues and paintings on the ceilings and the walls. Julie was telling me that she believed this place inspired or had a lot to do with the Phantom of the Opera (which might explain why some people bought and wore masks), and it was also the same place they held ballets such that it was the setting for one of Tahia's movies concerning someone who followed her dreams to perform at the ballet here (I believe it was called "Leap" or something like that).
We also checked out the grand audience room with the balconies each with velvet seating. And we started to make the association that all those luxury and suite seatings in the sporting arenas that we were familiar with had gotten their ideas from this place! Not only that, but such grandeur of this place definitely made the Munich theater or performance center look like nothing more than a souped up movie theater by comparison.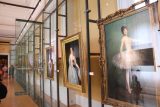 They definitely don't make opera houses like this anymore!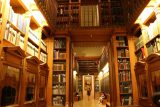 Once we had our fill of the main hallways and rooms, we then checked out the balcony overlooking a very busy roundabout as well as several rooms and galleries in the mezzanine floors, including a library that reminded us of the ones we saw in Austria (though the one at the Opera was a bit humbler albeit still elegant and Old World by comparison).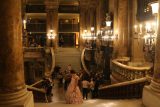 Finally at 5:15pm, we were done with our visit and returned to our room to at least get some relief with the air conditioning. That gave us some time to hydrate, check into to our international flight to home tomorrow, and do a little more research on what we were going to do for the rest of the evening.
By 6pm, we were heading out once again into the heat and humidity that was reminiscent of say New York City in the Summer.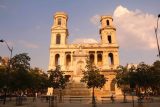 We ultimately headed towards the St Sulpice stop where we were on an errand to pick up macarons at Pierre Herme for both ourselves as well as a good friend who asked that we pick some stuff up for her to bring home.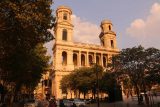 It took some time to figure out the metro system to get there in the first place, especially when we had to walk towards the store (though we stumbled upon the impressive church of St Sulpice along the way), but then it wouldn't be until about 6:55pm when we finally accomplished our mission though there was quite a bit of communication issues between Julie and one of the ladies helping us out.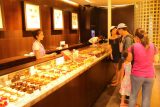 So once that was done, we then headed back to the metro and then got off at the Mabillon stop to return to this place called the Little Breizh Cafe, which was a cute little spot that Julie and I visited back on our first visit to Paris together in 2012.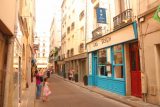 However, when we finally got there at 7:15pm, it turned out that this place didn't have air conditioning, and for the next hour or so, we'd spend it sweating beads.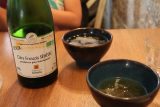 Still, they were generous with giving us cool tap water (geeze it was nice to not get nickel-and-dimed and charged for tap water), and we also indulged in some Brittany Apple Cider (I think we had the sweeter Sehedic Cidre or something like that), which was alcohol fermented from apples – a specialty of Northern France, especially Brittany and Normandie.
And then we had ourselves more traditional galettes of L'Oree du Bois (mushrooms, cheese, bacon bits, and sunny-side-up egg), Super Complet (like a Croque Monsieur of ham-and-cheese with sunny-side-up egg), and a Sardine Galette. Those were the savory ones we got, but then we followed that up with a sweet crepe using gluten free galette of nutella with chantilly and cooked banana complemented with a scoop of tasty vanilla ice cream.
By the end of the meal at 8:15pm, we were done with our last indulgence. However, as we were really fatigued by the heat and humidity (especially in Tahia's case as she was ready to sleep), we ultimately decided to head back to the hotel room to end the day instead of trying to squeeze in one last twilight touring of the Notre Dame and Seine River. That just wasn't in the cards given the conditions.
So eventually at 9:05pm, we were back at the hotel room and its air-conditioned confines once again after making a stop at a Monoprix along the way between the Madeleine stop and the Intercontinental Le Grande Hotel. And so after giving our 70+ euros worth of macarons to the reception to store in the refrigerator, we then made it back to our room to call it a night – our last night on this epic trip through the heart of Europe.
We had quite a bit of stuff to do for tomorrow before getting to the airport (like finishing up with the packing, eating a quick cold breakfast, etc.), but for sure, we better not forget about those Pierre Herme macarons on the way out!
Day 45 (July 27, 2018 – Los Angeles, California, USA): "Flying Blue"
It was 5:15am when I awoke. It seemed like my 4:45am alarm wasn't effective anymore because I didn't remember hearing it. Either way, I'd have to get re-adjusted to the time difference between Europe and PST.
In addition to getting the body clock re-adjusted, there were a bunch of other things that were weighing on my mind – getting the Hertz money back for getting the diesel exhaust fluid topped up, paying my unpaid bills waiting for me at home, getting caught up on all the blogging related stuff that I couldn't take care of due to my broken ASUS laptop (and had to limp along with the French Lenovo laptop), hoping the car will start after being idle for over 6 weeks, etc. etc.
I always get these types of anxieties when it comes to getting back to life and back to reality, and this was pretty much par for the course (though this was probably one of the more expensive trips we've done to date).
Regardless, I did my usual routine of getting caught up on yesterday's happenings as well as taking care of packing and eating my cold brekkie. I was pretty much done by about 6:30am, which was around the time I was hoping we might start getting a move onto the airport to account for other unforeseen delays.
However, it wouldn't be until about 7:15am when we went downstairs to check out and wait for the Uber driver. Now, I was concerned about whether we'd have time to take care of things like exchanging money or perhaps buying gifts for those who helped us back at home.
At around 7:25am, the Uber driver showed up, and we were starting to move after being all loaded up. This driver wasn't up for much small talk, and it was pretty much getting to the airport. His GPS said that we'd be there at around 8am, which would put us nearly 2.5 hours before our scheduled 10:20am flight.
However, when we got to the CDG airport, it turned out that there was a big time traffic jam just to get to Terminal 2E. So it turned out that we didn't even get to the terminal with our baggages until about 8:30am. Still, we thought we might still have enough time to take care of stuff and not worry too much since we still had nearly 2 hours to go.
But then when we wheeled our stuff towards the line to drop our bags, then there was some reason to be concerned. It was quite long, and there was a lady in front of us who had to catch a 10am flight. At this moment, it was now after 9am.
When it finally came our turn to drop off our bags, we did the usual drill of providing the passports and the pre-printed boarding passes. However, there was a bit of a delay in getting our stuff processed.
Apparently, there was an issue with the profile of our boarding passes as somehow we were classified as students under age 30. I recalled we had a similar issue back at LAX but it didn't result in any complications other than our extra money paid for assigned seating was discarded.
However, in our current circumstance, the ticketing agent had to do his job and he didn't let us go by like back at LAX. Instead, he walked us to the ticketing and sales kiosk, where he was trying to work out the issue over there. Apparently, the agent that helped Julie with Flying Blue (to accommodate one boarding pass booked on points while getting our paid full price fares to be seated together) somehow booked us on discount fares such that we were considered students.
By this time, it was now about 9:20am, but as we did a lot of waiting, it seemed more and more like we had no shot of making our 10:20am flight. The wait would persist for what seemed like forever as we'd still be at the Sky Miles kiosk for at least another 45 minutes or so. By this time, I was already resigned to missing our flight, but now we were worried about whether there was another flight on this day that we could catch. Or, would we have to wait until tomorrow (and eat the associated expenses with spending another night plus meals)?
We were also worried about whether we'd have to eat additional fees to make up the cost difference if it came to that.
During all the waiting, at least the ticketing agent that helped us turned out to be very good with Tahia as she was starting to cry when she realized that our return home may not happen today. He told us that he used to be an au pere (nanny, if you will) for an American family. So that explained his excellent command of English though the French accent (he admitted) also had its perks when it came to his social life.
I got the feeling that he was being very helpful to us because he might have felt responsible for us missing our flight, and that there might be the Tahia factor. Apparently, she has a way of disarming strangers, and with this ticketing agent (I think his name was Adrian), she was the perfect icebreaker to make small talk.
So after going back and forth between the Sky Priority kiosk and then the customer service kiosk, before returning to the ticketing kiosk, at around 10:50am, we finally got the good news that he was able to get us onto the next flight for 13:10 at no additional cost to us.
We still weren't out of the woods yet though as once we got our boarding passes, we still had to get through security and hope that there'd be no other ticketing agent or Air France employee causing us headaches when it came to checking our boarding passes.
Regardless, it wouldn't be until around 11:30am when we finally got through all the passport control and security as well as the trams to get all the way to the M gates, and then we finally unwound for a little bit to get some last ditch croissants from Paul as well as some last ditch macarons from L'Aduree (there seems to be a bunch of these high-priced macarons in every gift shop and airport in Paris).
Well, after almost being last for boarding the plane at precisely 12:20pm (due to a long and slow queue at the L'Aduree kiosk), we were finally aboard the plane at 12:40pm. We indeed got lucky that there was another flight on the same day as the flight that we missed.
That said, we still weren't out of the woods yet in terms of possible flight delays as well as any possible baggages lost; not to mention car starting issues, Friday rush hour traffic, and who knows what else might come up?
Well, after trying to stay awake during the flight (to perhaps ease the jetlag we knew was coming) but failing miserably.
I managed to fall asleep twice watching and re-watching Inception though the Woman in Gold was actually quite good, especially after having been to the Belvedere Museum and Vienna on this trip.
Regardless, the plane landed pretty much on time at around 3:45pm, and then after going smoothly through the Global Entry Passport Control line (actually not a line at all), then getting our luggage (probably 15-20 minutes of waiting there) before going through the short Customs Line for Global Entry, we were then waiting for our UberX ride at 4:50pm at the Departures area at LAX.
Turns out that Uber was probably the way to go as our former SOP of using the Auto Airport Parking Shuttle just didn't make sense anymore.
Then, after retrieving Julie's car and thankfully having it start, we then faced the Friday afternoon rush hour commute, and it wouldn't be about 6:40pm when we finally got home. While the heat wasn't quite as intense as it was in Paris, it was still pretty hot at home, and apparently it was about to get worse as the workweek begins.
So I've pretty much got the remainder of this weekend to try to get caught up on lots of things. Like with all homecomings from our trips, getting back to life, back to reality pretty much sucks. Still, you can have it all in this world, and so it must be that I must re-enter the rat race while trying to get all aspects of life back in order again…
Visitor Comments:
Got something you'd like to share or say to keep the conversation going? Feel free to leave a comment below...
No users have replied to the content on this page