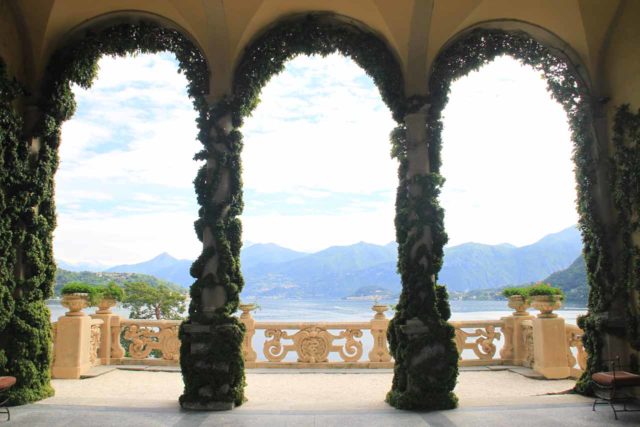 30-May 2013 to 7-June 2013:
Once we got all settled on the plane, it turned out that I was sitting next to this rather tall, but older Italian guy who got the unfortunate window seat. It was unfortunate because the seat design was such that there was a box right where his foot was supposed to be so he really had no leg room. He had to pretty much go into my space as I sat in the middle next to him.
That made for a rather uncomfortable flight right off the bat (plus the headphone's jack wasn't mating well with the armrest) so I started to look around for empty seats when the plane started moving.
When I found one across the aisle from Julie next to this fairly heavy-set American lady where it appeared that her and her husband had the entire row to themselves, I figured I mind as well go there.
So I made my move as the plane started to taxi, and to the shock of the lady sitting next to me, she said, "Uh, we paid for that seat!"
I somehow couldn't believe that two people bought four seats on an expensive international flight without going for first class or business class first, so I called her bluff. But I replied by saying that the headphone jack wasn't working on my seat.
She grumbled and didn't say anything afterwards (though she would ultimately stew and start getting racial by calling me banana as well as name-calling with "jerk off" and other things)…
Day 15: DE-SCOPING
As we left the Marco Polo Airport, I decided to rebel against the GPS which had us going directly north over some mountain pass to eventually get us to Bolzano, which was where we were staying for the night. However, I saw that we could've just as easily taken the A4 autostrada and then the A22 autostrada through Trento and ultimately to Bolzano (or Bolzen in German).
The drive on the autostrada was pretty uneventful except the A22 section was very scenic as we were cutting through an area surrounded by exposed mountains that reminded me a lot more of Switzerland than Italy.
We'd eventually get into the city center of Bolzano where we found a parking garage just beneath the main piazza at 1:40pm. We weren't sure how much it was going to cost us, but we knew it wasn't cheap. Surely, there must be a better place to park closer to our hotel, right? By the way, where was our hotel?
As Julie and I got our luggage out of the car, we went up the stairs and we found ourselves right smack in the middle of some cobblestone piazza with a statue in the middle and an attractive-looking church to one side. Meanwhile, the perimeter of the square was surrounded by cafes and shops. One location happened to be a turistic-info office and we used that to get help on where we should be going to check into the Residence Fink.
We also learned at the time that the piazza we were in was called the Piazza Walther, where that prominent attractive-looking church happened to be 15th century gothic. It definitely was different than the other churches or duomos we've seen in the country because it had more swirly things protruding from the spires and other structures rising up from the main edifice. In a way, it was almost reminiscent of the stave churches we had seen in Norway.
So regarding our accommodation, it turned out that the reception was at some other hotel (Adria) where we then got our keys and found out that there was no dedicated parking for the Residence Fink. The receptionist spoke little English so we had to go slow. Actually, I used Italian and she felt much more at home using that language but I did it at the risk of her losing me. But out-of-the-question was German since I didn't know it.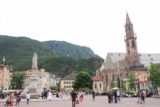 So as pricey as the parking was going to be, I guess that the effective stay rate was the base room rate plus the nightly parking. So that would probably work out to around 120 euros a day instead of the base rate of 100 euros a day. Julie and I couldn't figure out why Bolzano was so expensive if it was not really on the tourist radar (at least as far as our perceptions were concerned).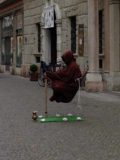 It certainly wasn't the levitating man we noticed on the way to and from the Residence Fink near the Piazza Walther, I'm sure.
Anyways, at 2:45pm we were back in the car. We ended up paying 5 euros which seemed awfully steep for just staying here barely an hour.
So with that, we decided to de-scope our intended activities (we had already skipped Cascata di Salino, which was too much out-of-the-way) as I had originally intended to go waterfalling in the Barbiano area. Instead, we decided to do something easy since it was getting late (and the info center expressed a similar concern about our original plans).
Thus, we decided on going to Cascata di Parcines, which promised to be a short outing for an attractive waterfall plus it didn't seem to require that much driving.
We followed a free autostrada northwest of Bolzano for some 24km, and after passing through a long series of some two or three large tunnels, we finally went through a town and then turned right on an easy-to-miss turnoff for Parcines.
As we were driving uphill on this road, we were awed by the pretty alpine scenery we were ascending into while the Cascata di Parcines was up ahead of us backed by a smaller cascade and some snow-capped mountains.
The road up seemed to get progressively steeper as the rental car was struggling to make the climb. As we passed through the town of Parcines, the streets narrowed even more and the steepness persisted so I was pretty much in first gear the whole way up.
But with the narrow roads, it got tricky when there was traffic going the other way. Because that would break my momentum going uphill, and then I'd have to employ the hand-brake maneuver where I had to pull up the hand-brake and get a head start with the 1st gear before releasing the hand-brake to keep moving up after letting a downhill vehicle pass.
It wasn't good for the rental car I'm sure as I could smell some burning when I'd be in first gear but not moving as I waited for cars to pass.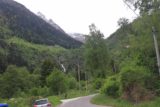 At this point, I stopped listening to the GPS as I started to notice "wasserfalle" signs and kept following those whenever it hit a decision point as I drove through the compact mountain-hugging town.
Ultimately at 3:30pm, I parked the car at what I thought was the car park. There were no signs for it, but I had wondered if I was supposed to park in Parcines and we were supposed to walk up to the falls or not. Certainly the driving wasn't any bit friendlier so perhaps walking was the only way to go at this point.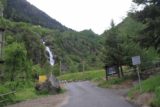 But after some 20 minutes of walking uphill and not seeing the actual start of the hike to the falls, I backtracked and recovered the car and continued the steep uphill drive in first gear until we'd eventually make it to the official car park just past the Gasthaus Birkenwald (or Birkenwald Guesthouse) at 3:55pm.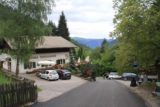 At that point, Julie and I got out of the car and walked towards the guesthouse until we saw a walking path that had other people on it as well. Clearly, that had to be the path for the waterfall.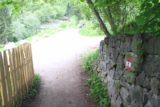 So we walked along that path as it headed towards a road bridge before it ascended steeply up some steps just before the bridge. Then, the trail got onto a grassy area where it branched off in a couple of directions.
We took the lower path initially because it headed right towards the bottom of the impressive Cascata di Parcines.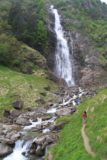 The sun was trying to pierce through the thin layer of clouds that had overcasted much of this area while revealing just enough for us to see some snow high up. When it momentarily revealed itself, the sun was pretty much on top of the waterfall so under clearer skies, this time of day wouldn't have been good for seeing the waterfall.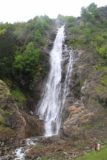 After a few minutes of picture taking from the bottom of the falls, Julie had her fill and headed back to the car. Meanwhile, I kept going up the trail as I had noticed there was an overlook near the top of the falls.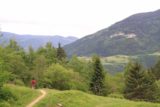 Some ten minutes later, after going through a bush-fringed path while going up several steps alongside some tributary waterflow (not on the waterfall itself), I found myself right at the Gasthaus Wasserfall (Waterfall Guesthouse) where there were some elders and some families that were either here to hike or here to stay at that guesthouse.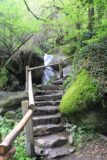 It dawned on me at this point in time that I heard German being spoken pretty exclusively. I didn't recall hearing any Italian while on the trail. Now I had read in my pre-trip research that the Sudtirol, Alto-Adige area had a bit of an identity crisis while also being a disputed area between Austria and Italy.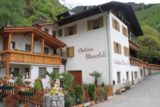 Well whatever the case was, I had trouble whether to say "Guten tag" to people on the trail or "Buongiorno." So initially, I just said "Hi" to everyone we passed by. Unfortunately, German was one language I hadn't bothered to learn yet, and this would make at least the third trip where it probably would've helped.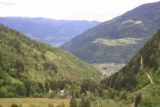 Beyond the Gasthouse Wasserfalle and some statue or shrine by the road, I then walked the last five minutes up a steep sloping trail with railings that ultimately ended almost next to the waterfall's top tier.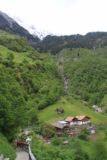 From up at this vantage point, there were gorgeous views downstream of Parcines and what appeared to be either Merano or Bolzano. I couldn't tell. But in any case, the view from up here was grand, and the surrounding snow-capped mountains with cliff-hugging chalets really made me feel like I was in Switzerland as opposed to northern Italy.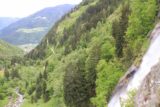 Looking back towards the guesthouse, I could see there was another cascade falling between the snow-capped peaks and the guesthouse itself. The cascade looked like it was modified though as there were terraces over which the creek fall.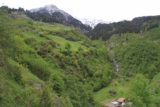 When I had my fill of this overlook, I then swiftly made my way back to the car where Julie was waiting. And at 5pm, we started driving off.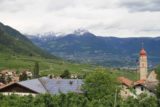 As we were driving through the town of Parcines, we were blown away by the vistas of the developments down below all backed by attractive mountains with snow on them. So I actually spent some time looking for parking in town while quickly walking to where I thought the panoramas would be.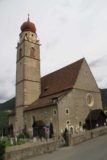 In addition to the pretty vistas from Parcines, there was also a church here that somehow reminded us of something more Russian than Italian with its rounded minaret as opposed to the pointed clock tower we had now become so familiar with and accustomed to.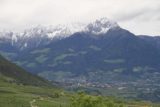 The photo run was pretty much done by 5:20pm and the drive back down the road (all in 1st gear to limit the downhill speed this time) went by uneventfully. Eventually at 6:05pm, we were back at the Piazza Walther parking structure where were about to get pillaged again by their outrageously high parking fees (all in cash by the way).
By 6:20pm, Julie and I were finally back in the room at the Residence Fink. The room was really more like a flat as it was far roomier than anything we had throughout our stay in Italy, but unfortunately, there wasn't a Wi-Fi network that we could detect from the room (as I had feared even though the receptionist said there was supposed to be Wi-Fi in the room).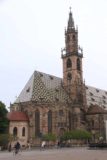 So really, this was just a place to stay based on logistics and nothing more. Julie and I weren't sure what Bolzano was known for, but I guess we now have a bit more time this evening to figure that out while looking for a place to eat.
Anyways, we have one more night of this before we head over to Trento so we'll just have to deal with not Skyping with Tahia for the next two evenings… Hopefully the weather will be as cooperative tomorrow as it was today, because I expect we'll be doing some longer hikes at either Campo Tures or Barbiano or both, depending on how well we do on time…
At 7:45pm, we walked back to the piazza from our flat, which was only a few paces as it was very centrally located. The problem was that the piazza was pretty much dead though there were a handful of restaurants and pizzerias that were open.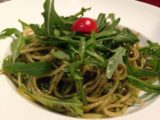 We decided on one random place that had some spaghetti pesto (as pesto was something we didn't see a whole lot of during our time in Italy, which was surprising). There was also some kind of ravioli stuffed with mushrooms dish that we wanted to try out.
So we went ahead and ordered here, had a surprisingly very good dinner (as we didn't have high expectations for eating in Bolzano of all places), and even bought a dessert as takeaway (it wasn't the apple strudel, but it was some vanilla creme with crusty flaky layers that reminded me of this Asian sponge cake with crusty flaky layers that Mom would always buy).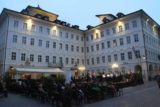 As Julie and I headed back to our flat from the satisfying dinner, we stumbled upon a live performance from an orchestra that was literally just paces from our flat.
After spending a few minutes taking in the atmosphere of this seemingly impromptu performance, the orchestral music here had the feel of a Hollywood Bowl concert (i.e. the orchestra that usually plays before the main event) except it was in a much more intimate setting.
Julie and I went back to the Residene Fink to try to do some internetting at the ground floor (it wouldn't work up on the 3rd floor where our flat was), but the signal was weak and no one was picking up our Skype videoconference requests.
So at 9:15pm, I was back in the room while Julie was downstairs internetting. And I had the windows open so I could listen to the orchestra playing the music. The performance ended at around 9:35pm so I guess that was the end of the enjoyment of this most unexpected of surprises on this trip.
Now, it was time to wind down and get ready for tomorrow…
Day 16: LIKE ANOTHER COUNTRY
It was 7am when we awoke. From looking out of the window of our room, we could see that the skies remained overcast so it was hard to tell if we were going to encounter rain while hiking. And rain would be a bigger deal on a day like today because the plan was to do at least two hikes that were going to be at least two hours long, each.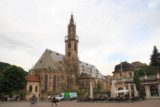 Since we were spending another night at the Residence Fink and there was no brekkie included, it didn't take long for us to get going. So after picking up a pair of croissants as takeaway, we were back in the car at the Walthersplatz car park beneath city center at 7:45am. The price for the overnight parking was 19 euros (ouch!), but we expected that given we pretty much mentally accepted this as part of the room rate.
The city was just starting to wake up as it was pretty dead after the concert last night (though there were the sounds of heels striking the cobblestone as well as some random banter here and there as our room was right above one of the throughfares for pedestrian traffic). And I'm sure the city must've woken up to the clock tower that chimed loudly at 7am (who needs the alarm when you have that church bell tolling crazily nearby?).
The overcast skies were a little light with some sun peeking through from time to time. We could see the clouds were pretty high so we could see the snow-capped mountains looming high over us as we followed the GPS onto the A22 autobahn (which by the way, we came to realize that autobahn was German for what Italians called autostrada).
The drive was pretty uneventful though the scenery was just breathtaking as we passed through valleys flanked on both sides by imposing mountains. So we drove the A22 until the GPS told us to get off where some signs were pointing to Val di Pusteria (somewhere just north of Bressanone).
After paying the toll for using this small stretch of the A22, we then drove the E66, which was pretty much a two-lane highway while passing through towns (read speed traps) from time to time.
And after rebelling against the GPS when she had me turn off at some random town called Chienes, we turned off of the E66 in the town of Brunico and headed north towards Sand in Taufers, which was in the Campo Tures area.
So far so good though the weather occassionally turned from mostly cloudy to some small pockets of rain.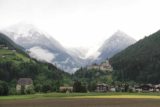 As we drove north past San Giorgio, Gais, and eventually driving into Sand in Taufers, I could see there was an impressive castle looking across the valley as the GPS had us driving through an industrial zone. The weather was still holding up so I was able to take a few photos of the castle nestled beneath some mountains with snow on them.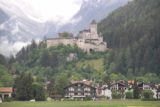 As we got into the Sand in Taufers town, I tried to follow the signs for the waterfall, but at some point, we were driving up a road where it seemed like there were no more waterfall signs to be seen while driving. So I headed back into town and chased for "i" signs hoping that there might be an info place where I can ask about where to find the waterfall in Campo Tures (where we were now in) while also figuring out where we were supposed to park.
After getting a little lost driving through the center of town, we decided to park somewhere right across the street of some supermarket and mall at 9:30am. We saw signs that said we had 90 minutes during the day so we just parked (which was a short distance from the castle of the town) and went right into the supermarket since we were in need of some fruits and more water.
We ended up getting some unique-looking red pears, apples, bananas, and cherries as well as a couple more 1.5L bottles of water (knowing it's much cheaper to buy here than back in Bolzano city center).
When we were checking out, I noticed there was a desk with an "i" for info, but nobody was there. I tried asking the cashier if it was open (after asking her "sprekken zee English?" when "parla inglese?" wasn't working), and she said he should be back in a couple of minutes.
Well, we used this time to go back to the car, put the groceries in, and then go back to the "i" desk to see if the dude would be there. But when we returned, no one was still there and after a few more minutes of waiting, we just went back to the car.
I guess it was a good thing we were back at the car because there was a lady in uniform looking for something on every parked car's dash. She then looked at our car and tried to tell us something in German.
So I asked, "Sprekken zee English?" and then she busted out some pretty coherent English.
She said we were supposed to display some kind of clock sticker on the dash. And that we weren't supposed to park where we were at without it being properly updated. Thus, we were subject to a 41 euro fine. Of course, we pleaded our innocence in not knowing those rules since the sign did say "P" and did give us a time limit, but I guess we were supposed to let the enforcement officers know when we left the car by updating that clock on the dashboard. So THAT'S what those clock things were for!?!
Nonetheless, she didn't issue a ticket (though I wasn't sure if it was just a matter of her making a call to issue the fine so she didn't have to give us a ticket), but then as she was about to go about her business, we went ahead and asked her if she knew where the waterfall was.
She then said to us that it was 3km away and she pointed the general direction it was at. So with that, I at least got some bit of information about where we ought to be going (albeit from an unlikely source). Funny that it came down to the meter maid who was about to fine us that gave us the info we needed instead of the absent info desk employee inside the supermarket.
So we navigated the maze of small streets of Sand in Taufers, and then we saw a waterfall sign that pointed us to go back onto the road through the Industrial Zone. And after a few more minutes of driving on that road, we saw another waterfall sign that had just turn left. Now where was that sign when we first drove this road going the other direction on the way into town? (was it another instance of signage being seen in only one direction?)
Anyways, we then followed this narrow road as the signs were now frequent and obvious. We had to go on one muddy detour (which made me nervous about getting stuck given our low clearance Opel) as there were a couple of guys doing some kind of construction work. And with a little scrape of mud on the undercarriage, we finally found the parking area, which was mostly empty when we arrived at 10:10am.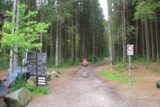 It was 3 euros to park here for the whole day, but I noticed it was 2 euros for 2 hours. Not taking a chance on being here longer than 2 hours, we decided to just pay for the day for that extra euro.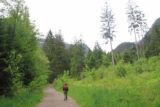 Nonetheless, we were parking next to some cafe and souvenir shop, which I believe was called Winkel. After putting the pay and display ticket on our dash and then using toilet at Winkel, Julie and I were finally on our way to see Le Cascate di Riva (which was also called Reinbachfalle).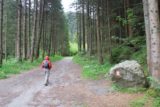 The hike was pretty quiet and naturesque, which was the very reason why we went all the way out this way to experience something a bit different from the rest of Italy. However, Julie noted that touring this place (and the rest of Alto Adige or Sudtirol) felt like we were visiting another country as signs were more often than not in German and the buildings and houses looked more like something out of the alps in Switzerland (or possibly Austria though we'd never been to Austria) than Italy.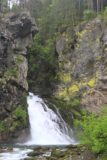 Even when we greeted other hikers, I wasn't sure whether to say "Buongiorno" or "Guten Tag".
At about 10:35am, we made it to the first waterfall, which was short but powerful. Something unique about it was that there was a rock with some carvings showing people struggling to go up it. We weren't sure if the carvings had something to do with the trail of San Francesco d'Assisi, which we noticed was on some of the trail signs.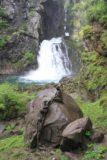 Anyways as we were busy taking movies and photos of this waterfall, we saw behind us that there was a giant tour group that was about to overwhelm us.
So we kept hiking uphill along the waterfall trail. The trail passed by some kind of display of several rock cairns stacked atop a flat rock. We weren't sure what this was all about so we just kept on moving.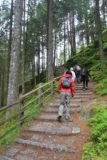 We'd ultimately make it to the second waterfall at around 10:50am.
This waterfall was very nice as there was a small lookout area with a top down view of the impressive and shapely cascade that was significantly taller than the first one.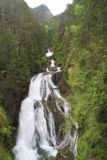 Just as Julie and I had our fill of the falls and were headed back out of the spur trail and onto the main trail, we had to weave our way out of the crowd that was the tour group that had caught up to us.
Even as we left behind most of the commotion from the tour group standing by the second waterfall, Julie and I then followed the frontrunners of the group (there were probably at least 6-8 of them). These folks were walking at a slow pace so Julie and I had to follow behind them.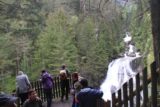 It wasn't until the leader of the group decided to stop and account for people in the group that we were finally able to pass them and be back in peaceful mode for the time being.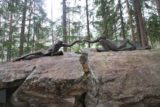 The trail passed by another set of carvings on top of rocks. This time, there were two carvings touching each others' hand. Again, I wasn't sure what this all meant, but I'd imagine it might have something to do with San Francesco d'Assisi since the signs indicated this was supposed to be a San Francesco d'Assisi Trail or something to that effect.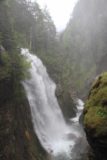 Eventually, Julie and I reached the misty and powerful third waterfall at 11:05am.
There was a very muddy and wet lookout area directly across from the main part of the third falls, but the best views were probably from the bridge spanning the gorge on which the Riva flowed. Even this view was somewhat misty, but it was nowher near as intense as the lookout directly across from the falls.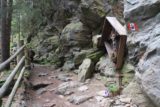 At this point, the weather started to rain a little harder. At first, I thought it was just mist from the falls, but it became clear that it was the weather when we got far enough away from the falls to not confuse the mist with rain from the skies.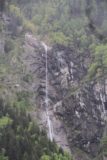 There was still more trail as it climbed beyond the bridge before the third falls. There was even a sign indicating there was yet another waterfall some 5 minutes away.
After passing by a junction next to a statue or shrine, we then got to a bench looking out towards the open, and that was when we realized that there was a fourth waterfall here, but it wasn't on the Riva River. It was about 11:15am.
That fourth waterfall was just a tall and slender seasonal waterfall with lots of trees blocking the view.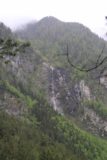 After briefly exploring beyond the fourth waterfall, I was able to see that the end of the trail joined up with a cafe as well as what appeared to be vehicles (so it must've been possible to drive up here).
Still, that was my cue to turn around and so Julie and I were going back down the way we came while trying to enjoy the waterfalls again along the way. That tour group that overwhelmed us was continuing their walk towards those cafes at the end of this trail. So the walk got quiet once again.
Unfortunately, it was raining pretty significantly so we had to don our rain ponchos as we made our way down. We had to mind our steps since there were a lot of rocks on the trail that could be slick when wet (as it was at this moment).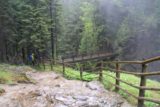 All throughout the descent, we looked to see if there might be some worthwhile panoramas, but with the rain, the cloud cover, and the desire to get back in the car, we didn't linger on this trail longer than we felt we needed to.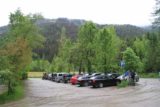 So at 12:05pm, we were finally back at the car park at Winkel. To our surprise, the car park that was once empty when we arrived was now pretty much full! I had no idea that this waterfall was as popular as it was.
Next, we drove towards Barbiano, which in the direction of Bolzano. We were a little confused by the signage when we reached the entry point for the A22, but there were Bolzano signs in blue that pointed away from the A22 entrance. So we ended up following the blue signs and that was when we realized that we had skipped the autoroute.
Well, at least it wasn't going to be that far since we were only some 20+ kilometers from that A22 entry point near Bressanone.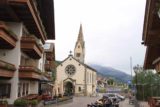 It turned out that bypassing the autoroute wasn't that bad (plus it saved us some money) as we'd eventually get into the town of Barbiano at 1:40pm.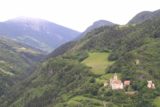 The weather improved the further away from Campo Tures we were. And by the time we found one of those 90 minute spots near the town center and the church with its leaning tower, it looked like the sun wanted to break through the high clouds.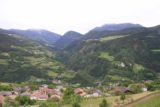 The drive up to Barbiano on the narrow switchbacks was breathtaking because of the panoramas of the mountains across the valley from the town. The imposing granite peaks were really reminiscent of our visit to the Swiss Alps, and the driving on the narrow roads amongst this type of scenery really reminded me of the time we were self driving in Norway.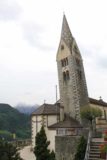 After parking the car near the church (where there was a clock tower that was leaning), Julie stayed in the car while I walked around the main city street looking for a way to photograph the panorama that we had seen on the way up. But it turned out that my walking only made me aware of where the waterfall was as I had walked far enough from the town to start seeing part of the falls behind a very narrow road.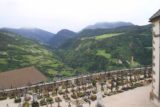 There was no road sign for the falls (suggesting that maybe you can't drive up there or at least be SOL in finding parking), but there were red-arrowed signs suggesting that it was possible to walk from town to get closer to the falls.
So I returned to the parked car at 2:05pm after an unsuccessful visit to the turistinfo center as it had been closed since 12pm. Julie wanted to get a lunch from the place across the street, but it turned out that the kitchen was closed (after some struggles with language as it was clear they were more comfortable speaking in German than neither Italian nor English).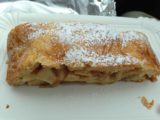 Still, we got some Apple Strudel, which looked delicious, as a takeaway. They didn't take credit card so we didn't want to incur more expenses and deplete our cash supply faster.
And at 2:15pm, we got back in the car as Julie was insistent that there would be parking closer to the waterfall.
So we took a narrow road leading in the general direction where we saw the waterfall up in the distance, and it turned out to be those familiar single-lane mountain roads that we were all too familiar with back in Norway. In fact, it had been a while since I had driven on roads like this.
Nonetheless, the goal was to look for a sanctioned parking spot for Le Cascate di Barbiano (the Waterfalls of Barbiano). The thing was that for Cascata di Parcines that we visited yesterday, we were supposed to drive up the steep road that ultimately led to a sanctioned parking area to minimize the unnecessary amount of walking. But in this instance, I had a strong feeling that we were supposed to leave the car in the center of the town of Barbiano and then do the long loop walk to take in the waterfall, the vistas, and the small town's sights.
The absence of signage that is readable by a driver was apparent the higher up the single-lane road we drove. And after a while, I knew that we had long passed the top of the waterfall (though we did see one deer cross the road and leave behind a sharp rock that rolled onto the middle of the road) so that was when I made the executive decision to turn back and head back down to town against Julie's desires.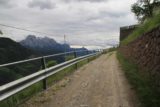 Eventually at 2:35pm, we were back in town as the stressful 20-minute drive up and down single-lane roads (with even a moment where a truck had train of two trucks had to back up around a bend so we could get past each other) proved fruitless.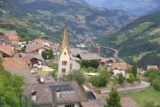 We found a different spot to park the car as there were some parallel parking spaces on the road leaving town towards the falls. I knew the more obvious parking spots closer to the town center had 90-minute time limits and there was no way I felt I could complete the hike in that time.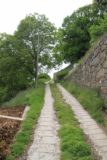 So after stopping the car, Julie decided to stay in the car as she wasn't up for the hike. So with three water bottles, some rain gear (just in case), and my heavy DSLR camera, I was off as I went up the very steep street that said Wasserfallweg 1-6. And there was no way I could think about driving that road unless I was somehow forced to given how very steep and narrow it was (I swore one sign said the road had a 25% grade!).
And with each huff and puff accompanying each uphill step I took, the smell of manure got stronger as I could see that I was passing by some farms raising horses or mules as well as what appeared to be chicken in other properties. Clearly the folks that lived here knew how to farm in limited real estate just like in Switzerland, which further reinforced the notion that the Dolomites were like we were in a different country altogether!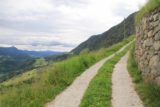 Since I was now walking the steep roads, the signs were a lot more obvious to me as now I had time to read them. So I followed them as the path took me towards some clearings where I could now look across the valley towards the exposed peaks as well as some other imposing mountains with snow on them.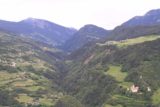 Perched beneath them were towns and some chalets that very much reminded me of Switzerland.
There were even some castles in the distance though I thought the leaning tower of Barbiano was interesting in itself though it seemed difficult to get a clean look at it with the alps scenery in the background.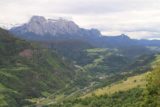 Eventually, the path started to coincide with what appeared to be a driveway with grass growing in between the concrete "rails." There was some construction work going on near a junction here, but it wasn't clear to me if I should continue walking up that apparent driveway.
So I made eye contact with one of the construction workers as I pointed to the driveway and said, "La Cascata?"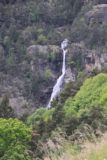 He didn't respond as he sort of gave me a quizzical look. So that was when I decided to bust out my wannabe German and once again pointed to the driveway but this time said, "Wasserfalle?"
"Ja Ja!" said the worker. And that sent me on my way. Again, it was one of those strange moments where I felt like I wasn't in Italy anymore. Julie pointed this out earlier when we noticed that the architecture here beared no resemblance to the red-tiled buildings we saw earlier on this trip. Instead, there were wooden chalets with calligraphy-type font labels on signs that very much screamed Switzerland (or perhaps even Austria). Even the signs were mostly in German with Italian underneath.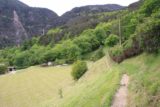 In any case, I continued the long ascent as I was then confronted by another series of confusing signs at a junction as I skirted someone's field. In one direction, there was a tractor blocking the path as there was a sign that indicated it was private property even though there were more official looking signs saying it was 50 minutes to the upper waterfall from this junction going in that private direction.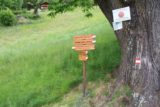 So I continued going straight where I eventually met up with the familiar single-lane paved road. And as I made it to the next hairpin turn, there was a sign that pointed me to keep walking onto what looked to be an unpaved driveway or path behind a "privat" sign.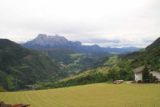 I really wasn't sure if I was supposed to walk this path or not, but as I went around someone's home, I found more signs that then pointed me to go left at the next junction. However, underneath the official-looking signs was another sign with a picture of a dog saying something in German and Italian to the effect of "Beware of Dog!"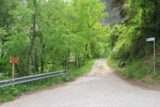 And as I continued on the path, I then saw more infrastructure that suggested to me that I did indeed make the right choice by continuing on despite my reservations about pissing off a local who thought this trail trespassed over his/her own property.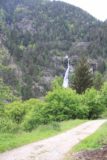 Indeed, I saw steps, benches, and even more signs as the trail left behind the property and continued climbing through dense groves of forest.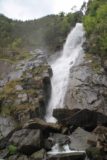 Eventually at 3:20pm, I made it to the so-called lower waterfall. It was hard to get a clean look at this part of the falls as I found myself briefly hopping over some wet boulders to try to get a better look at the main tier (which was still mostly obstructed as well as misty).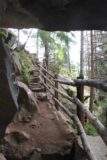 I gave up on trying to improve my views given the risk involved as I wouldn't want to slip and fall here for there were still more drop offs below me as the waterfall kept cascading. There were even other hikers looking down from higher up on the trail, which further convinced me that I ought to be up where they were at instead of down here.
And ten minutes later after going beneath a rock overhang hovering over more steep steps, I was then at the overlook where I saw the other hikers (who had now moved on). And sure enough, the view of the lower waterfall from here was far better than below as I could now see more of the main tier plus some of the upper drops as well.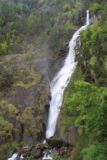 Even though the skies had been overcast most of the day, it was strange that the sun started to break through here just as I was looking against it in order to take photos of the falls (i.e. the one time I didn't mind NOT having the sun). Funny how things tend to work out this way.
To further reinforce that I was in the right place to see the lower waterfall, there were rock cairns piled up nearby as well as a bench for resting. There was also a spray-painted marking that said something to the effect of 1040 meters or something like that (which wasn't that high now that I think about it if they're counting from sea level).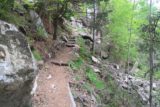 After getting my fill of this falls, I continued up the steep trail. And 15 minutes later, I made it up to what I thought was the upper waterfall. There was a large group of youngsters led by one adult that were chilling out and overtaking most of the vista from up here.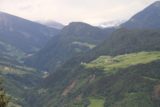 I went around them and soaked in the breathtaking panorama while also getting a partial view of the waterfall tier nearest to here.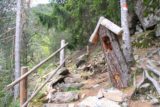 The panoramic view from here was so captivating that I easily snapped dozens (possibly over a hundred) of photos to somehow try to convey the grandeur of the Dolomitic Alps scenery in photographs. And even though it was under gray skies, I could just imagine how much more colorful and grand the views would have been had there been blue skies with the landscape kissed by the sun.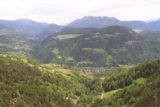 I spent some time here following a faint trail that took me directly in front of this tier of the falls. And after having my fill of this, I then continued up the trail thinking the end of the loop was near.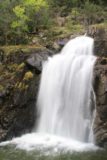 But as I noticed that the trail kept climbing, I started to wonder whether I should turn back and go back the way I came, or to keep going.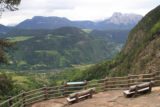 Fortunately, I kept going as I had arrived at a higher panorama with at least three or four benches facing the breathtaking alps scenery without much stuff in the way (at 4:15pm). I could also hear more sounds of rushing water, which led me to believe that this was perhaps the uppermost tier of the Cascate di Barbiano.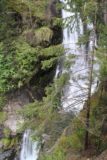 However, with this section of the falls, it was mostly obstructed by overgrowth so the falls up here didn't photograph well. If I called this section of the falls the Upper Falls, then the last clean look at the falls that I got must have been the Middle Falls.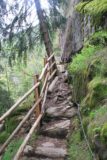 Finally after continuing on the trail beyond this section, I finally saw signs that pointed me back in the direction of Barbiano. Of course, I could have kept walking, but I wasn't sure where the other paths were going.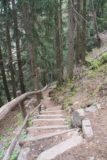 And finally, the hiking was predominantly downhill so progress I'm sure went much faster than on the way up.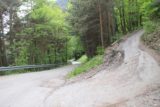 At around 4:40pm as I was walking down what was initially trail and then coincided with the narrow single-lane road, I swore that I started to hear "cuckoo" as part of the harmony of bird songs that filled the quiet alpine air. Could it be concidence or were there really birds up here that made the "cuckoo" sound that would ultimately be used in the signature cuckoo clocks from the Alps.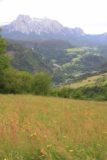 In any case, I continued descending the roads, which were steep and narrow, and they made me wonder how vehicles would be able to stay on the roads without slipping (if it was hard enough to worry about not slipping by foot).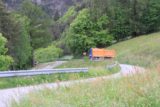 There were more panoramas backing the narrow roads, and even though I tried to rush to get back to Julie as soon as possible, I couldn't help but to keep taking photos to try to capture and convey the mindblowing alpine scenery from the trail.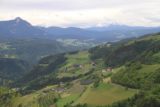 At 4:55pm, after passing by a trio of horses that were unconfined and free to roam around, I finally made it back to the car. The entire hike ended up being around 2 hours and 20 minutes though it probably would have taken longer if Julie and I did this hike together where we'd be on a more deliberate pace.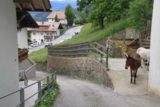 Next, we drove the car back down the steep roads from the town of Barbiano all the way down to the strada statale or SS (the Italian version of State Routes) where we then followed this road as it pretty much paralleled the A22 that we could see up above on causeways as well as through tunnel entrances.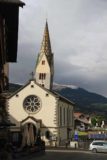 The nice thing about only having to go some 20+ kilometers back to Bolzano in this manner was that I wouldn't have to pay more for the A22 toll. After all, the toll fees plus the crazy parking fees in Bolzano really made me appreciate a little more for not having to spend more money than what was necessary as the A22 wasn't that much faster than going directly on the SS.
At 5:45pm, we were finally back at the Walthersplatz car park, which by now felt very familiar and almost like home (though we were paying 19 euros for the right to park here).
And at 6pm, we were finally back in our room at the Residence Fink after having walked through the square (somewhat self-consciously since we were the only ones in hiking gear while everyone else seemed to be dressed in fashionable city wear) carrying a bunch of stuff we took from the car.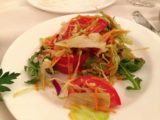 Following a brief rest in the room, we went back downstairs at around 7:30pm to eat at the Residence Fink restaurant. It wasn't open yesterday, but now it was bustling and very busy.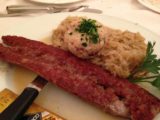 We knew LP made a review of this place, but I honestly didn't recall what they said about it. Instead, we chose to eat here because it was something different and it was directly downstairs from our room. Plus, it gave us an opportunity to try something a little more Austrian besides apple strudel (which we had again, anyways), such as sauerkraut, sausages, etc.
Their cafe area had Wi-Fi so we did that for a few minutes after the dinner, which was pretty good (though a bit on the heavy side as Julie's penne with mushrooms also had bacon bits. Meanwhile, my sausages was more like an upscale hot dog, but it was tender and juicy.
And so by around 9pm, we were finally back in the room to get cleaned up, packed, and ready for the day tomorrow as we looked forward to checking into Trento.
Day 17: FEELS LIKE ITALY AGAIN
It was 6:55am when we awoke. When we looked out the window of our room at the Residence Fink, we could see something we hadn't seen in several days… blue skies and sun!
Sure enough when 7am rolled around, we could hear the tolling of the church bells very loudly (just like yesterday). I find it funny that this was practically like he wake-up call for the entire town. I think they do the same thing at the end of the day at 7pm as well.
Nonetheless, with the bright start to the morning, that kind of gave us hope that we ought to be able to experience some pleasant weather in our waterfalling excursions today. We were also planning on devoting the better part of the afternoon to sightsee the historical center of the city of Trento, which our guidebooks claimed to be one of the prettier towns of northern Italy.
At 7:45am, we left the spacious apartment-like Residence Fink room, took our luggage downstairs to the ground level, and then lugged it all the way back to the Walthersplatz parking garage underneath the Piazza Walther.
After paying the 19 euros, we drove out of the garage, then towards the Hotel Adria where Julie dropped off the keys and then got some pastries for takeaway brekkie. And then we were off on this rather quiet Saturday morning.
We proceeded to take the A22 autoroute and before 9am, we were already within the city limits of Trento. But since we knew it would be too early to check in, we kept driving west of town along some uphill and winding roads past a pair of attractive lakes (Lago di Santa Massenza and Lago di Toblino) and ultimately to Tione di Trento.
From that town, we caught a road heading north (SS239) passing by more picturesque alpine towns nestled beneath imposing peaks (many of which have bright snow when they were lit up by the sun just when the sun managed to sneak by some openings in the high clouds above).
Much of the driving through this region involved a good deal of long tunnels as well as small towns serving as speed traps.
Eventually, we'd get to the town of Carisolo, which was where we saw the signed turnoff for Val Genova. The road on Via Val Genova was narrow though it supported bi-directional traffic. This created a few tricky situations when we had to get by a bus or truck or vice versa.
As we got into the Parco Naturale Adamello-Brenta, I noticed a sign that said something to the effect of Cascate di Nardis e Lares. That indicated to me that there was another waterfall here that might be worth seeing so I kept that in my mind the whole time we were originally intending to just visit Cascate di Nardis.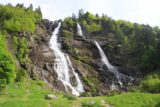 But eventually at 9:55am, we found a car park right in front of the impressive double-barreled cascades of Cascate di Nardis. At first, I thought we were supposed to park in an area 0.7km earlier as there were signs indicating that this was a limited traffic area. But it didn't appear we were going to get busted from driving this far so we didn't bother with trying to find where I perceived parking to be sanctioned.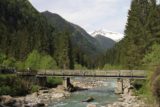 In any case, there was also a biker group sharing the falls with us. But before long, Julie and I momentarily had the falls to ourselves before the next wave of individual visitors trickled their way in.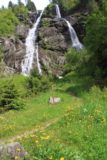 It appeared that they used to let you get right up to the base of the falls, but we could see that the fences stretched to the point that the hint was evident that they didn't want us to get any closer to the falls and the potential for rockfalls or other things that tend to happen given steep terrain like this.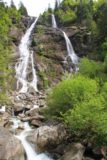 We even managed to bring out the tripod to take that rare couple photo (we didn't often get a chance to do this on this trip) while also taking some long exposure photos despite the sun and blue skies.
It didn't take long to experience this waterfall given the closures, but in hindsight, we probably should've crossed the bridge and look back at the waterfall from the cafe on the other side of the bridge.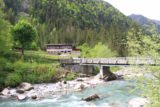 At 10:35am, we were back in the car, but then we backtracked to the larger parking area where I knew there was a map sign that I could study to figure out where I was supposed to find Cascate di Lares.
It turned out that that set of waterfalls was by the Red Bridge (Ponte Rosso) while we were currently at the Green Bridge (Ponte Verde).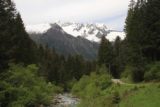 So we turned around and headed back towards Nardis, eventually passing that and going all the way to the Red Bridge as planned. There were a couple of hidden cascades along the drive, but when we stopped the car near the so-called Red Bridge, we could see a pair of tall waterfalls in the distance. And that was what I'd imagine was supposed to the Lares Waterfalls.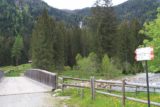 So we got out of the car at 11am, put on our hiking boots, and followed an arrowed sign that indicated that it was a 20-minute walk to the falls.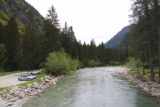 At first when Julie and I crossed the bridge, the local farmer here closed the gate behind us. At first, we weren't sure if we were allowed to park and hike here, but the farmer said in Italian that the gate was only to keep the cows in.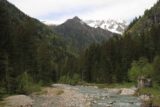 So with that, Julie and I went up a series of steps and tree roots as the trail kept climbing until it reached a viewpoint for the lower waterfall. Along the way, we noticed another path with a sign indicating there was an upper waterfall (another 15 minutes away), but we decided to check out the lower waterfall first (which the sign said was only 5 minutes away).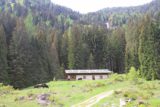 Just before reaching the viewpoint for the lower waterfall, a pair of older Italian males were on their way down. They looked familiar since we saw them over by Cascate di Nardis. So I guess we were kind of on a similar itinerary.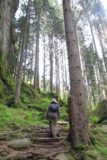 With some time to catch our breaths from the pretty steep climb, we took a series of photos of this attractive plunge of the waterfall. It looked like this part of the falls was hidden from us when we saw part of the falls from the car park by the Red Bridge.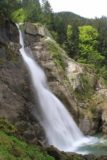 After having our fill of this falls, we then descended the steep path on tree roots until we saw some trails that cut across the hill and even hugged part of what appeared to be a vertical wall.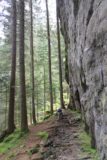 Eventually, we'd go up a long and relentless series of steps until it, too, gave way to more tree roots and formerly muddy steps as we'd get onto a grassy area. Given the silence and relentless uphill climbing, we thought about whether we were going the right way or if "cascata alta" meant the top of the same waterfall instead of the upper waterfall. But fortunately, when we started to hear the sounds of rushing water, we figured we mind as well keep going to see if indeed we were going to the next waterfall.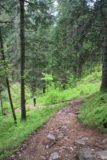 And once again, just as we were about to start to see the waterfall, the same two older Italian males were on their way down.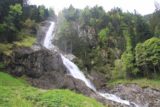 This time, they said, "Bello!" to me. Just before I had a chance to say, "Bellisimo" back to him, he took the words right out of my mouth and I just repeated "Bellisimo! Si, si!"
We both got a bit of a chuckle out of that exchange.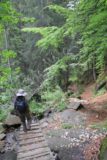 So with that, Julie and I were looking up at the two-tiered upper section of Cascate di Lares. It was a totally unplanned waterfall, and it was a good thing I noticed a sign on the drive into Val Genova that said "Cascate di Nardis e Lares."
Otherwise, we would've just seen Nardis and left it at that.
At 12:15pm, we were back at the car. I took a few photos along the way from the bridge where looking upstream revealed an attractive series of snow-covered peaks with clear water rushing beneath me. I'm sure if the sun came out brighter and less hazier from the high clouds, then the color of the water probably would've been that powdery blue color due to it being sourced by glaciers (or at least what's left of them).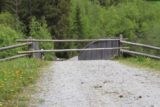 And on drive out just as the one-way road became two-way again, I saw another nice river view towards snowy mountains from the road bridge nearby. That would be the last of the photos I'd take from this area though I could totally see how easy it would be to go crazy taking many alpine photo shots or even go on some high altitude hiking trails for those mind-blowing panoramas.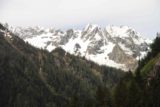 The drive back out of Val Genova was mostly uneventful except for one part where I left a tunnel and a bus was trying to get by us. That was tight as I had to inch past the bus and the bus did likewise without hitting us.
After that, we pretty much followed the signs back to Trento though the skies appeared to be hazier than before once we got to the Two Lakes area. I had hoped to take some photos from here on the way back (since on the way in we were against the traffic and the pullouts were very few and far between). But alas, I guess it just wasn't meant to be on this day.
We'd eventually be in the city of Trento after a little over an hour's drive back. And as we were navigating the city streets, we could see right away that we were in surroundings that reminded us of Italy once again as we could see more medieval or historical structures that were so prevalent in other parts of Italy and less so in the Austrian-influenced Dolomites part of the country.
The GPS led us to the Grand Hotel Trento where we were staying for the night, and we had arrived at 1:50pm. Fortunately, they had dedicated parking so after intercom-ing the reception, we were allowed in, parked the car, and promptly went upstairs to check-in.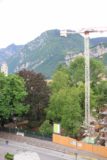 This hotel seemed like a standard hotel except we actually got pretty good Wi-Fi as well as wired internet in our room for the first time in several days. When we looked out the window, we could see some impressive mountains surrounding the city, and we also got an angled view of that waterfall we kept seeing from the highway and autoroute where we couldn't pull over for a better look at it.
I wondered what the name of that waterfall was as I couldn't see anything in the literature we had that identified it. But I guess the lone photos we have of this falls just so happened to be from our hotel room instead of from the road where it was more directly visible.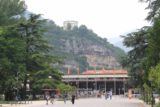 At around 2:45pm, we were pretty much settled in the room so we then headed back downstairs to get a map, get some water and guidebooks, and then walk about in Trento's historical district, which was only a block away from our hotel.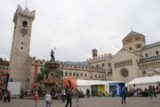 As we walked about the charming cobblestone streets along a flowery path through an arcade of shops (i.e. the outdoor shopping mall part of town), we'd eventually get into the Piazza del Duomo, which was grand and impressive with the large cathedral and clock towers with one minaret-looking tower at the front of the duomo.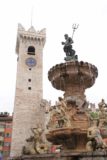 Unfortunately, there were a lot of tents and things that kind of filled in the large empty space of the piazza (as well as annoying signs on the arcade blocking distant views of the buildings of the piazza).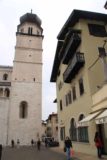 So that kind of took away from the overall experience on this day. Call it bad timing on our part again.
The sad thing was that this so-called Festival Economia Trento was about economics and politics! It was not about a festival that we'd actually want to be a part of.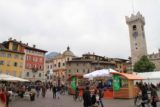 Anyways, Julie and I had a late lunch (at 3:20pm) at this somewhat upscale place called Forst where we had another go at Austrian food mixed with Italian food. And then we gave Grom another shot for our gelato fix, which unlike our Firenze experience, this Groms was actually pretty good and they weren't so stingy with the scoops.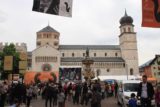 We then aimlessly walked about more arcades and alleyways of the historical center of Trento.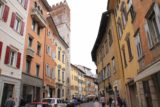 Since Julie was looking to have a lunch (something we didn't have yet), we were on the prowl for a place that would still be open this late in the afternoon. The receptionist at the hotel mentioned only a couple of places that would be candidates.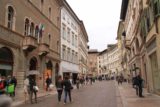 One was a pizzeria, but that place was closed. So that kind of blew away one of the places that could've been a possible late lunch.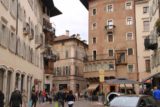 The next place that was suggested was this place called Forst. And when we walked over to where it was located according to our map, we could see that it looked to be pretty upscale. Nonetheless, they did say they were open for lunch.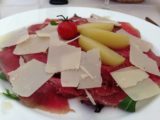 So given Julie's hunger pangs, there was no way we'd skip lunch so expensive or not. So we quickly got seated in one of the many empty tables outside (hopefully not close to anyone so we could avoid cigarette smoke for the most part), and we were momentarily off our feet.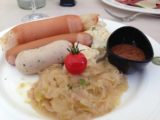 The meal would be another go at Austrian fare with a variety of sausages. Then, we'd complement that would something Italian. This time, we were going to try beef carpaccio (thinly sliced raw beef with cheese) so we were essentially testing whether our stomachs were all the way back from the food poisoning earlier on in this trip.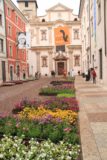 The Austrian dish was a sampler of different kinds of wieners. We know they were like hot dogs so they were probably processed meats to some degree (perhaps not as processed as the American hot dog). And then they were accompanied with mustard and sauerkraut (like pickled veggies with a bit of a sour taste).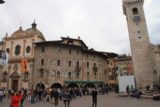 Meanwhile, the carpaccio was actually quite tender, simple, and good. It was a pretty simple lunch all-in-all, and we pretty much left some room for dessert which would only be a few more hours away.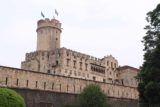 We'd ultimately get to the exterior of the Castello di Buonconsiglio (we didn't feel like spending more money to go inside the museum), and then we ambled back towardst the centro storico where we saw some BMX bikers doing tricks while catching air from a ramp on their bikes all to a crowd of people watching.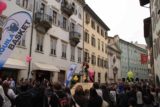 The rain (more like sprinkles) was more on-and-off throughout our tour of the city. I had desires to go up the gondola as I had seen them in the distance on the way back to the hotel, but Julie didn't want to do it. So by 5:40pm, we were back in the room to use the high-speed internet.
We'd eventually Face-time Tahia for the first time in three days. Unfortunately, only one person could be on the network at a time and Julie couldn't log out of her phone connection with the network for some reason so we had to use her dinky iPhone instead of the larger screen on the laptop with Skype.
Our dilly dallying in the room lasted until around 8:20pm when we noticed that it was still somewhat bright outside and the weather looked like it was clearing once again.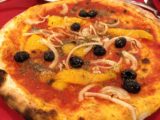 So we went straight to this pizzeria place called Chiste' that was recommended by the receptionist. It was quite busy, but we were seated right away. It was a good thing we came when we did because there were starting to be people having to wait outside for the tables to start clearing.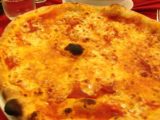 We ended up having a margherita pizza (which was really nothing more than cheese pizza at this place) as well as a siciliana pizza (Sicilian) which was interesting and had flavor.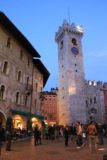 Apparently we realized after the fact that this place specialized in seafood. We saw one person have mussels with the shells on her pizza. But after our food poisoning experience, we weren't going there with the mussels.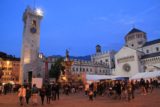 Moreover, Julie noticed that we were the only people eating pizza without using a knife and fork. In other words, we were so used to eating pizza the American way (with our hands) that it never occurred to us that it wasn't the norm in these parts.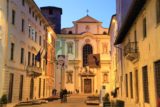 After a short stroll to the happening piazza del duomo, where it seemed like life really centered around this place, we then walked back to the room. And at 9:40pm, we called it a day.
With a very light itinerary for tomorrow, we looked forward to sleeping in, having late brekkie, and even possibly going up the cable car for a view of Trento and the surrounding mountains if the weather holds up tomorrow (we'll see…). And all this would happen before we go to Riva del Garda as well as the Grotte di Varone.
Day 18: LAKESIDE SURPRISES
It was 7:45am when we woke up. Knowing that today was supposed to be a very light day itinerary-wise, we decided to sleep in and ignore our 7am alarms that we forgot to turn off.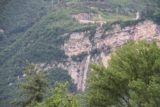 While Julie was getting ready for the day, I took the time to go upstairs to look for a way to get to the roof of the Grand Hotel Trento. I figured there ought to be better views than that from our room.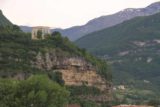 So I did just that and managed to look in all direction around me where I got a sense of where the old historical district of Trento was, where that waterfall was situated (still not knowing its name), and even that mausoleum perched high up on the mountains above the railway station.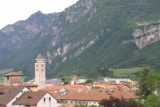 There were also solar panels, a bunch of bus bars, and lots of locked doors up here as well.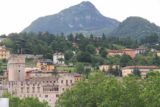 The experience wasn't quite as memorable as the rooftop of our hotel when we were in Athens and could see the Acropolis. Instead, I still had to settle for partial views of the old town, parts of the Castel di Buonconsiglio, and other things with some hideous buildings below kind of ruining otherwise mindblowing panoramas.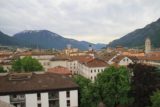 Julie and I then joined the brekkie crowd some time after 9am. And the brekkie consisted of scrambled eggs, bacon, different types of pastries, and even fruits (e.g. sweet pineapples, kiwis, etc.).
This was easily the best breakfast we've had on this trip so we savored the rare quality brekkie before we headed back upstairs to our room to get some last minute packing and internetting done.
During this session, I was trying to see if the web might help me identify the waterfall that we kept seeing right by the city of Trento. Unfortunately, I couldn't find its name anywhere in the literature. However, this search did yield me some other waterfalling ideas since we only had to go lss than an hour's drive from Trento to Riva del Garda.
Well, it turned out that there was another bonus waterfall we didn't consider doing prior to this trip, but then we saw how close it was to Riva del Garda so we decided on going for this waterfall near the town of Tiarno di Sotto called Cascata del Gorge d'Abiss.
So after mnaually putting that waypoint on our GPS, we then got our belongings together, checked out, and got out of the garage at 10:05am.
The first order of business was to hunt down the A22 autoroute, which we'd eventually get on in the southbound direction after a few minutes of figuring out which turns to make and where to get off roundaouts, etc. While autostradas (or autoroutes, which we were accustomed to using when in France last year) were smooth going, the entry and exit points were far and few between (often be at least 20km apart). I guess they had to be strategic about where to put the toll plazas because there'd be no way you can have one of these on freeway exits as frequent as what we have back at home.
So after zooming on the A22, we got off the proper exit near Rovereto, which then put us on a pretty well-used mountain route as we were following a caravan of cars towards Riva del Garda.
Looking over at the opposing traffic, we noticed how long the traffic was on the return. So this would be something to keep in mind tomorrow when we intended to go back this way to get to the autoroute so we could get to Lenno quickly.
Then again, Julie thought it was because today was a Sunday that perhaps tomorrow, the traffic wouldn't be as bad on the way back to the A22.
It didn't take long before we were descending switchbacks towards the town of Riva del Garda. It turned out that there were some beautiful vistas as we were on these switchbacks, but there were either no place to pullover and take panoramic photos of the picturesque town, or the overlooks were too crowded that I wouldn't even have had a prayer to find such a spot to stop the car and enjoy the vistas.
We'd eventually be in the bustling town of Riva del Garda where it felt almost as if the whole city of Trento was here. We knew it was still too early to find a place to park the car while also checking in at this time to so we kept driving as we were now looking for signs that said Valle di Ledro.
As we were trying to leave town, we somehow went southwards and into some tunnels. When I realized that this wasn't the way to Cascata del Gorge d'Abiss, I tried to find a way to turn around, but there were very limited opportunities to do so given the lack of pullouts and the length of the tunnels we were passing through.
After like the third or fourth long tunnel, I was finally able to turn around.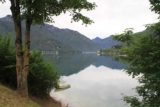 Then, I was able to follow the GPS, which took us up through some tight switchbacks as we were headed to the Val di Ledro. Eventually, we were skirting a small but quite attractive lake called Lago di Ledro, which was actually calm enough to produce some reflections.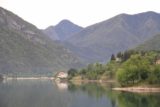 We pulled over into a parking area by Molina di Ledro at 11:30am which allowed us a moment to take some photos of the lake backed by pretty mountains. It was too bad the skies were overcast because I could totally see how blue skies would've really added some color to the scene.
Continuing beyond Lago di Ledro, we were then on our way to Tiarno di Sotto where my last-minute research for Gorge d'Abiss told us to use as the landmark to find the falls.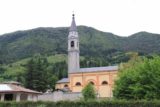 Eventually at around 11:45am, we were passing through the town (on the Via all Sega) and its impressive clock tower attached to the church in town. And we'd eventually find the signs for Gorg d'Abiss as the signs to help lead the way started at Via di San Giorgio.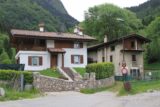 At 12pm, we made it to the dead-end at the end of Via di San Giorgio, and we found an informal parallel parking spot near the cul-de-sac. There was another vehicle with four older Italian people also about to go on this short hike to the falls when we showed up.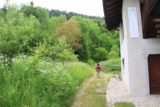 So we walked the short trail between some private residences and some kind of art house (or something like that) before the path was on a more naturesque forest setting. After passing by some abandoned-looking structure and gate, the trail went slightly uphill but was pretty much flat for all intents and purposes.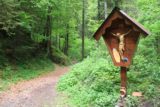 After passing by a shrine, the path then skirted the watercourse that we knew the waterfall would be on. The path narrowed onto a ledge-like walkway right next to the creek, and eventually, it dead-ended at a cove-like grotto where we could see the mostly hidden falls reveal only its lowermost section while there was also a thinner wispier drop falling alongside it.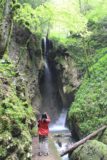 Although the falls itself was pretty small, it was a nice little unplanned diversion. And now that we accomplished our goal of visiting this waterfall, it was time to head back to the car where our hike ended at 12:30pm.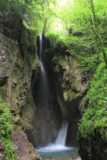 So we now drove back the way we came alongside Lago di Ledro. This time, there were some pullouts where we pulled over to take a few more photos of the attractive lake fronted by some towns and other colorful buildings adding some intrigue to the picture taking.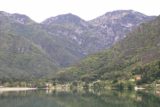 At 1:05pm, we finally made it to the busy car park for the Cascate del Varone. Clearly, this place was quite popular and fortunately there was some spillover parking further down the street from the attraction itself where there were limited parking and I had to back out of there when we realized there were no parking spots closer to the attraction.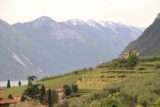 After walking to the restaurant and biglieteria, we paid our 5.5 euros per person and went right past the gate and into the complex.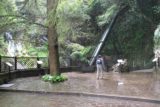 Greeting us in the complex were some gardens as well as signage of the falls. There was also some music accompanying all of this.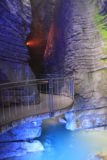 It didn't take long before we were about to enter the lower cave where there was mist flying out of it. We realized right then and there that we probably should've brought our rain ponchos.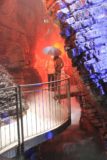 In any case, we allowed ourselves to get sprayed as we went into the source of the mist at the lower cave and made feeble attempts at taking photos and movies of that lower waterfall causing the mist to be blasting out of the floodlit cave.
So with wet clothes and after risking a waterlogged camera in the intense mist, we then continued walking up the ramps through more music and gardens as well as interpretive signage until we reached the upper cave.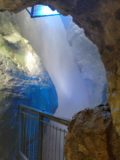 Once there, we had to face yet another intense blasting of mist coming from the taller upper waterfall within the upper cave. This time, picture taking was practically impossible. And even the movie I took once again risked damage to the camera given how crazy the mist that was blasting from the falls was.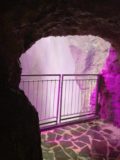 I wasn't so sure even the rain poncho would've helped us much in terms of trying to somehow capture the scene with our cameras, but in any case, we left the cave wet and needing to take some time to try to at least dry off the precious camera itself.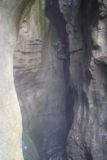 It became obvious why there were hardly any pictures on TripAdvisor showing the falls itself – because it was next to impossible to show the falls!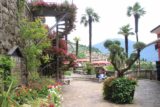 As we left the Cascate del Varone, I actually managed to get perhaps the best photo of the falls that I could get from the road though I was risking becoming roadkill as there really wasn't much space for pedestrians to try to take photos from the road.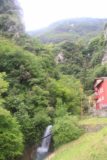 Given the fact that I was the only one doing this probably spoke volumes about the risk I took to my own safety while doing this.
At 2pm, we were back at the car. Next, we drove towards the Monte Oro Car Park which was the nearest parking lot for Hotel Sole, where we were staying for the night.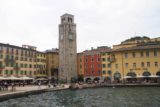 After parking the car at 2:20pm, we then checked in at the hotel 25 minutes later. The hotel then gave us an RFID card that enabled me to park at their own lot for a much cheaper rate than had I kept the car in the public car park.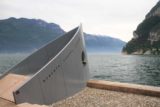 So once we dropped off the bags in our room which featured a pretty view of the lake, I went back to the car park to move the car, and then at 3:10pm, we were finally able to go into town to explore Riva del Garda.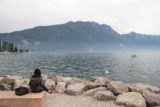 Julie and I pretty much did a short stroll in the immediate waterfront area close to our hotel. We stumbled upon a piazza where there was a stand selling doner kebabs, and we ended up buying a couple of these kebabs for a very late lunch.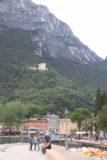 We then took the kebabs over to a jetty where we'd have our late lunch at 3:55pm all while enjoying the gorgeous view of the lake. It was the perfect way to experience the place over a picnic lunch as the sun was trying to break through the thin layer of clouds that persisted over us the entire day.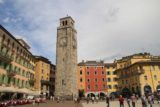 During the picnic lunch, I noticed there was a historical-looking bastione high up on the mountain flanking Riva del Garda. When we were done eating, we went back to the room where Julie decided to stay in the room to do some reading while switched back into my smelly hiking clothes so I could do the 30- to 40-minute walk uphill to the bastione.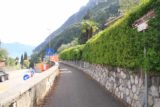 I started the walk at 4:20pm, but I could see straight away that the sun finally did break through the clouds and there were actually sun-kissed colors in my photos of the buildings in the piazza by our hotel as well as along the way up when I started to get views of the town.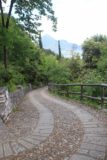 Once I was up at the bastione at 4:55pm, I saw that there was actually a bar as well as a parked vehicle. I don't know how the vehicle made it up here considering how steep and narrow the walkway was, but I guess if you're running this bar and hauling up supplies, you must be used to driving this path.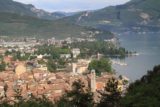 I tried to get inside the bastione, but it appeared that only the lower section was allowed. They gated off the upper levels of the bastione. So I pretty much spent some time just trying to take in the views.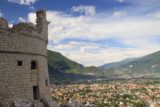 I'd eventually be joined by some mountain bikers (whom I think were Swedish-speaking dudes) as well as a group of German-speaking elders.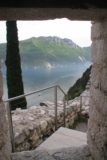 As the shadows were growing with the lowering sun, I decided to head back down into town at 5:10pm. And by 5:35pm, I rejoined Julie in the room where I took an early shower to get cleaned up.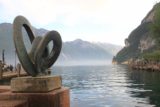 At around 6:30pm, we headed back into town to do a little touring of the main center of town. That was where we saw more shopping arcades and alleyways that have now become pretty standard in just about every town we've visited.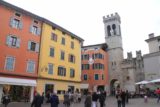 In addition to some of the more familiar blocks that we visited mostly along the waterfront, we also walked a little more inland just to see what else Riva del Garda had going on.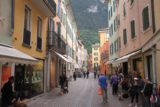 However, after exiting beneath a separate clock tower that also doubled as an archway entrance, there was another intersection acting as a pseudo piazza and we went no further as we started to see more ordinary-looking streets though the shopping arcades kept going on in all directions.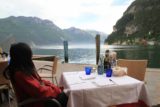 We'd eventually settle on eating at the restaurant on the waterfront where we once again got to enjoy the views of the lake as the light from the sun had already faded behind the imposing mountain to our right.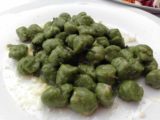 The food was OK as we tried to sample something different than the typically Italian pastas and pizzas we were used to having throughout this entire trip. We knew this place was more about the views than the food so that was kind of expected, I guess.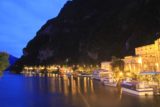 At 8:35pm, we were finally back in the room where we called it a day. Riva del Garda was an excellent start to the Lakes part of our trip, and tomorrow, we were going to make the long drive west to Lake Como. We'll see how that place compares to Riva del Garda, which turned out to be quite the hidden (or at least surprise) gem of this trip so far in much the same way Annecy was that hidden gem to us in France last year.
Day 19: THE FIRST SHORTS DAY OF THE TRIP
It was 7:15am when we awoke. Since we had slept late last night, we didn't particularly feel like peeling ourselves out of bed, but we knew we had a bit of a drive ahead of us towards Lake Como, and we intended to at least visit Bellagio, which was a small town right at the crease of the Y-shaped lake.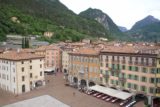 We spent the better part of the next two hours having breakfast (similar in quality to the one we had in Trento though it had slightly less fruits and selection. I also took the opportunity to go up to the roof of the Hotel Sole for some more panoramas of the general Riva del Garda area.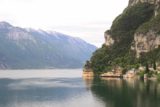 It was nice and quiet up at the roof of the Hotel Sole. I was thinking of that Drifter's song "On The Roof" while I was up here snapping photos of the scenic Lago di Garda as well as some of the mountain scenery backing this attractive town.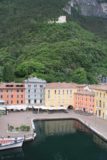 It was amazing how quiet Italian towns get in the morning, but I knew that in another hour or so, this place would be bustling once again.
At 9:15am, we finally were in the car and were on our way out of Riva del Garda.
In the back of my mind, I was hoping for that Rivendell (a Lord of the Rings reference) shot that we saw on the way into Riva del Garda from Trento via the A22 autostrada, Unfortunately, we couldn't pull over at the time because it was just too packed with cars at the viewpoint and I couldn't just halt traffic on the main thoroughfare. So I thought we might try to go back there on the way back to the autostrada (instead of doing what the GPS was trying to get us to do by going along the west side of Lago di Garda to rejoin the autostrada headed to Milan).
Unfortunately, the signage was a little confusing as I didn't know we were supposed to go through the Riva centro, and so we were on the outskirts headed back towards the main route connecting us to the autoroute bound for Modena and Rovereto. And when we did hook up with that main route, I realized that the view was headed back towards town and we joined the route further uphill from where we'd get that view.
So rather than make another U-turn at a roundabout, we just decided to go straight for Lago di Como on the Lenno side, which was where we were going to stay next. I knew it was going to be a long drive so we just kept going (knowing that I might regret deciding not to try to get that view of Lago di Garda looking like a fjord).
The drive on the autoroute was pretty uneventful (as they usually are) though it was a bit expensive to go all the way towards Milan before heading north on a pair of different autoroutes. We'd ultimately pay a couple of more tolls on the A8 and A9 autoroutes before we left the highway not far from the Swiss border (where there was a bit of a traffic jam) and very close to Como.
We didn't realize this, but it appeared that Como was very built-up and was practically a full-on city by the lower left tip of the upside-down Y-shaped Lago di Como. We kept driving on the road hugging the western shores of Lago di Como, but we didn't find any stops (or didn't have the mindset to do it) to try to photograph the lake with the imposing town of Como in the background.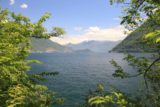 As we were driving north on the narrow two-way road, we noticed that the sun was definitely out and the weather was warm. Julie and I thought this could very well be the very first day of this trip where we were determined to use the shorts we brought on this trip. It had previously been so cold and wet that shorts simply weren't practical.
We'd ultimately make it to the town of Lenno at 1:05pm. Fortunately, the Albergo Lenno was on its own lot with dedicated parking for hotel guests. So that alleviated one source of concern for us regarding the parking situation.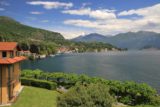 And by 1:20pm, we were checked into our room, which had gorgeous views of the lake. In fact, the skies were so blue (with patchy clouds here and there) and the sun was out in full force that our photos instantly reflected the increase in color of the scenery. Julie and I honestly couldn't recall the last time we had this much sun during the day since the Amalfi Coast.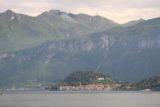 After we got settled in, at 1:45pm we then went downstairs and onto the boat dock in our shorts and short-sleeved shirts. Indeed, it felt pretty warm and we actually had to put on sunscreen to ensure we weren't getting burnt.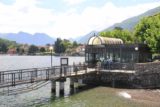 Since we learned that the villa that was featured in Star Wars Episode II (Villa del Balbianello) wasn't open today, we had quite a bit of time to check out Bellagio on this day.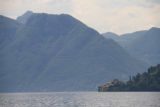 The next boat for Bellagio wasn't until 2:10pm. So we bought the slow boat, which costed just under 20 euros for the two of us on round-trip tickets. The boat ride was said to be 30 minutes so we knew that when we'd get to Bellagio it would probably be during their siesta.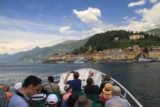 Anyways, around 2:45pm, we finally were in Bellagio. The first thing we noticed were a bunch of pricey restaurants and cafes on the marina facing the boats and docks (one of which we had to disembark on). And so as we ambled along the marina, we were looking for a place to have a late lunch since we hadn't eaten lunch yet.
As we were ambling about the marina area, we started to notice there were some charming alleyways with stairs. And after seeing two or three as we continued along looking for a place to eat, we started realizing that it were these narrow arcades that were the draw of Bellagio.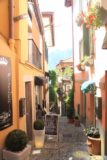 These alleyways were flanked by other cafes, restaurants, and shops (just like most other outdoor shopping arcades we've come to know in every town we've been in throughout Italy).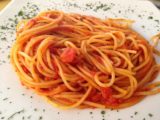 Julie and I eventually settled on this "glam hotel & bar" where they claimed that their kitchen was always open. Since we looked at others whose kitchens were already closed until dinner, we just settled on this spot for some margherita pizza and a spaghetti pomodoro (tomato). It was pretty standard stuff, but at least we were fed and they took credit cards, which helped with our dwindling cash supply.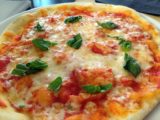 I guess by this point, Julie accepted the fact that Italians weren't as generous with their sauces in their spaghettis as she was used to. Regardless of whether it was ragu, bolognese, pomodoro, etc., there really wasn't much of a concept of sauce as they'd use ground meat in their ragu or bolognese, or just fresh cherry tomatoes for their pomodoro. And that was it. Meanwhile, the pizza was pretty much cheese pizza and despite the menu saying there was basil on the margherita pizza, we actually had to ask for it when it came out without it.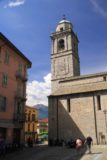 After the lunch, Julie and I explored the town a bit more as we continued up the arcade that contained our lunch spot. And when we reached the top of the stairs, we noticed another bell tower. However, when we got to it, it appeared that there wasn't a real piazza here (or at least one that wasn't being used as a car park as this one was).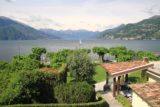 And as we continued walking, we saw that it didn't take long before the interesting arcade section of town was over. But we continued walking anyways as the road gently descended towards a place called La Punta (the point).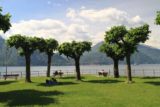 Even though there was a restaurant and bar here by the same name, we walked onto the public jetty where we could see there were views of Lago di Como looking north towards Switzerland as well as parts of the two branches of the lower rungs of the upside-down Y.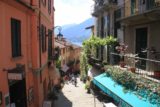 The photos looked a bit flat when faced with long expansive scenery like this so we just took a few people shots, then walked around the small park with a lawn and trees, and then we walked back towards the upper arcades of Bellagio.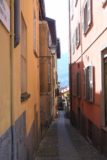 After getting to the other end of the upper arcades, we then picked one of the wider and more attractive narrow alleys with stairs as we pretty much concluded that we had our fill of Bellagio. And indeed, it seemed there really wasn't much to this town besides the arcades and shops, but without that quintessential piazza that acted as the center of the town, there was certainly a dead feel about this place.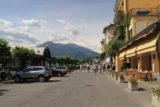 When we got to the bottom, we headed straight for the boat area to inquire about the boat ride back to Lenno. Meanwhile, there was some kind of photo shoot going on where a couple of well-dressed people in bright colors were posing for cameras and one guy managing a big flash device.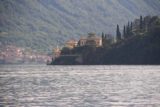 I guess that kept us entertained somewhat as we waited for the 4:10pm boat. And with a 10-minute delay, our boat back to Lenno finally showed up.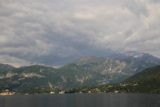 By 5:15pm, we were back at the Albergo Lenno where Julie and I did some internetting in the lobby area (including a Skype call to Tahia, who at this point seemed more interested in doing her thing with the iPad instead of talking to us). Clearly, she was getting away with murder in terms of getting spoiled rotten by the grandparents, but we can't really say anything since they were enabling us to take a trip like this.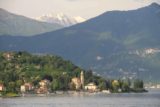 We'll just have to reset the rules and bad habits when we get back. Since Julie and I were missing her dearly, the desire to hold her, hug her, and kiss her again was very strong. We still had at least three more days left on this trip, but we were already feeling homesick for her.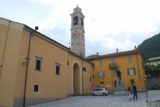 At around 7:15pm, we walked along the waterfront looking for a place to eat. The receptionist recommended Hosteria Plinio, which had local specialties. Unfortunately, they only took cash so even though we decided on eating here to be close to the view across Lake Como as well as having fresh local stuff, we knew that we would be under 100 euros left by the end of the meal, which we were hoping would last us the remaining three days.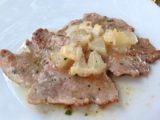 Julie ended up getting some kind of veal with lemon while I got some local lakefish. They ran out of the trout, which was my first choice. By the way, that fish was another test of our stomachs since we suspected it was seafood that did us in earlier in the trip, and this was the first seafood we would try again.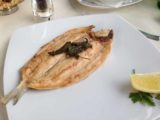 In any case, it wasn't a cheap dinner (for a cash only place), but we came here for the minimal hassle (it was close to our hotel) and the view.
At 8:15pm, we were back at the room after having pretty good gelatos from the Gelato Factory (La Fabbrica del Gelato). And that was pretty much the end of today.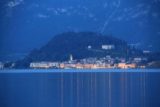 It turned out to be a pretty relaxing afternoon as we really had no pre-determined itinerary, it was warm enough to be a shorts day, and we had a plan for tomorrow to see the Star Wars villa while also heading up to Locarno for our lone night in Switzerland.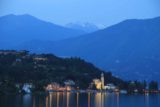 We know that tomorrow promised to be the waterfall highlight of the trip at Foroglio, but we'll have to see whether the weather will cooperate as we could see some dark clouds getting bigger and then dissipating somewhat as we got into the twilight hours.
So it would be a bit of a busier day tomorrow. Perhaps today's slower-paced day to really live la dolce vita would pay off for the rest of this trip…
Day 20: GETTING OUR STAR WARS ON
At 7am we awoke. One look outside and we could see that there were some clouds brightened by the early morning sun. However, there were darker and thicker clouds looming nearby above the mountains flanking Lake Como, and it appeared that they were heading the wrong way (i.e. towards us). That wouldn't be good for the Star Wars Villa (i.e. Villa Balbionello) if we wanted to take photos with sun-kissed colors.
So after having breakfast (pretty decent pastries at this place with croissants that Julie thought were comparable to what we had in France), we then killed some time in the lobby after checking out and putting our stuff in the car. After all, we had until 10am when the Villa Balbianello would be open.
It was easy killing time at the lobby because the Wi-Fi signal was the strongest down there. So we spent time uploading photos to the Facebook account while Julie was also reading up on the latest from her e-novels.
It wasn't until 9:30am when we finally left the lobby and started to walk the 1km path straight to the famous villa known for being a location of Star Wars Episode 2 scenes with the wedding and some other Nabu-related scenes involving Natalie Portman.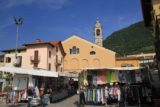 The first thing we noticed when we walked out of the hotel was how crazy the parking situation was right in front of the hotel. Then, we quickly saw the reason for the congestion as there was an outdoor market going on all along the street on the waterfront.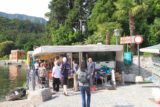 This took us by surprise and totally contrasted with how dead Lenno was yesterday. Perhaps it was no coincidence that they had these bustling markets on a day when Villa Balbianello was open (said to be open only on Tuesdays and Weekends). I guess it was a good thing we were flexible enough with our plans to delay our leaving Lenno for Locarno so we could get our Star Wars on..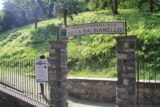 The market stalls were set up right on the street and part of the pedestrian walkways. There really wasn't a whole lot of real estate to walk through as we were weaving between people browsing and others just tending to business or even chatting and having a smoke. It was as if it was by design so you'd slow down and really pay attention to what was on offer at these markets.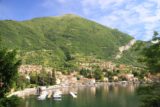 We'd eventually get past the mayhem when we started following the signs which led us through a couple of gates and a few switchbacks as the path went uphill. While we were climbing the path, we could look across a bay-like part of Lake Como towards Lenno as well as in the distance in the direction of Bellagio.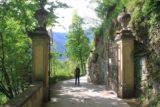 We were following a large group of schoolchildren (probably on a field trip to Villa Balbianello), and we'd eventually get to the biglieteria at a little after 10:05am. Just when we arrived at the villa, it seemed like the sun was concealing itself behind the thin layer of upper clouds that stubbornly remained and kept th sun's warm light muted.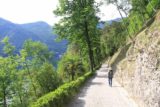 It was too bad this place wasn't open yesterday afternoon when the weather was gorgeous.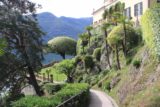 Anyways, we paid in cash our admission fee, and then headed right into the garden area where we went straight down into a terrace area with a mushroom-shaped tree as well as some statues perched atop some pretty concrete railings adorned with flowers.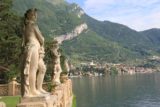 Julie thought there must have been a Star Wars scene shot here, and I honestly didn't recall exactly when and where in the movie this particular spot was used. Still, we imagined ourselves pulling a Padmei and Annikin and took photos freely to try to somehow capture the elegance and extravagance of this isolated and upscale villa's gardens.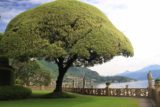 Next, Julie beckoned me to pass through the villa and onto another terrace with a small pond with plenty of shade as well as more flower-adorned railings as well as a statue or two perched atop the railings.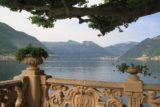 From this spot, we could look across Lake Como towards other towns and developments across the lake on both sides. However, I didn't think we could see far enough towards the city of Como on the far lower right tip of Lake Como.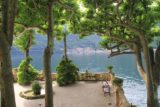 We met a British couple where (upon learning that we were from Los Angeles) the husband told us that he worked for a few years in Cypress, California. We knew the streets he was talking about, and indeed, it felt like a small world.
Anyways, we helped each other take couple shots of each other. And then we went our separate ways.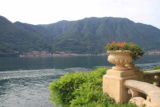 Next, we went down to a lower terrace where there were some more benches and more adorned railings. There was what appeared to be someone with a name tag just chilling out down here so we spent a few minutes here before we left her in peace.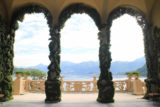 Then, we walked back up some steps (upon seeing that the villa door was now closed so we couldn't cross back the way we came), and we noticed there was a building with arches as well as panoramas on both sides.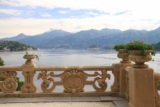 I was pretty positive that there must have been a Star Wars scene shot somewhere around here. And even though the sun's light remained muted, we still got pretty decent shots with the arches and landscape by playing tricks with the DSLR camera (though Julie's iPhone couldn't do the same as it seemed to be very bad at letting you select the subject and control the lighting exposure).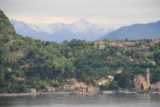 By about 11:05am, we finally left Villa del Balbianello. Now, we could totally see why they filmed Star Wars (and apparently Casino Royale as well) in this villa. It was definitely beautiful, and it was certainly worth the trouble we took to make it here.
As we were walking back through the bustling marketplace on the waterfront, we noticed some big and sweet-looking cherries, so we spent a little more cash to pick up those cherries, and then we were finally at the car at 11:45am.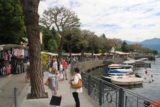 Julie was eye-ing some table cloths as well as possible clothing to buy for Tahia. However, the prices of the merchandise just didn't seem to be justified as we could easily go to Target or some other chain store back at home for much cheaper than any artigianale products in Italy.
So at that point, we drove off.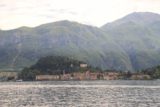 We rebelled against the GPS, which suggested that we return to Como and then take the A22 to the Swiss border. So we continued north as we passed through the town of Tremezzo while also making a few random stops to take in more lakeside views from the town's waterfront.
After going up some switchbacking mountain roads, then passing through a series of tunnels, we went through a pretty loose Swiss border patrol where we were able to get across without much hassle. Sometimes I wonder what they're looking for in order to warrant pulling someone over for additional checking.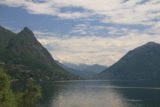 At 12:30pm, we were in a TamOil gas station for some benzina (i.e. Italian for unleaded petrol). After filling up the car, I then went to the restroom on the facility, and that was when I noticed that the toilets were besides a very scenic terrace with nice views of Lake Lugano. I swore this might have been one of the most scenic gas stops I had ever made!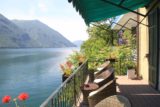 After taking a few shots under the sun from this terrace, we then continued heading north into the town of Lugano itself (where on the lake, there was a large mounded mountain that essentially reminded us of Rio de Janeiro (even though we had never been to Rio before).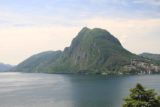 We then followed the signs as we passed through town. And I had to get over adjusting to the Swiss system as yellow lights preceded both red lights and even green lights. Moreover, the speed limits seemed to be 10km/h slower than that of Italy. So if we expected 130km/h, it was 120km/h. If we expected 110km/h, it was 100km/h. Even the 90km/h became 80km/h and the 70km/h became 60km/h. The only speed that seemed universal for built-up areas was 50km/h.
I had this strange sense of deja vu as I had to make a similar adjustment when we were driving in Switzerland for a day on our France trip last year.
Before long, we were back on the autostrada and we'd follow this non-tolled highway through a few more tunnels and pockets of hot sunny weather before we got off somewhere east of Locarno. We then had to take a pretty long drive on rural streets and roundabouts as we were in the midst of a long train of cars probably aiming to go to Locarno or something.
Anyways, as we were weaving our way through the city, we could tell right away that Locarno was indeed a big town as well as very modern. We couldn't see anything immediately obvious where we could say we knew exactly where the centro storico was or what other happening spots around town existed.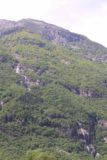 We'd eventually get to the Hotel Ibis Locarno at 1:40pm, where we put our luggages into the room, and then we were ready to be heading out with a significantly lighter load to carry. However, we were forewarned that parking on the premises might be difficult because the lot downstairs was full and the lot immediately before the lobby was prone to be full as well.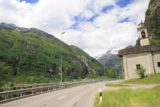 So at 1:55pm, we left the Hotel Ibis locarno and drove straight into Valle Maggia. Then, we followed the signs for Bignasco.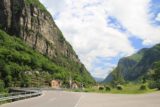 It turned out that there were some interesting waterfalls seen on the drive alongside the route taking us to Foroglio. So Julie and I used some of the informal pullouts or parking spots to get some shots of a cascade near Cevio as well as another one by the town of Bignasco.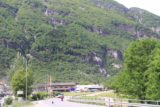 We made a brief stop in a couple places to try to photograph the Cascata near Cevio. We weren't sure if it was significant enough to warrant a name, but it was interesting nonetheless (albeit thin).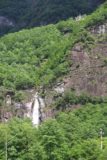 For the Cascata di Bignasco, at 2:45pm we took a turnoff that looked like it was heading closer to the falls, and our hunch was correct as we found a little parking area and walkway that took us right to the base of Cascata di Bignasco.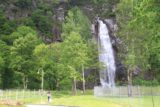 Julie and I took what photos and movies that we could of this waterfall, which I understood would be typically dry due to regulation. But on this particular day, it was flowing quite well.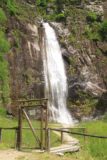 There was also a gate before the falls, which we opened so we could get very close to the base of the falls. I couldn't tell if the gate was meant to keep livestock in or out of the falls area, but it turned out that there was no lock on the gate.
Thus, I presumed this gate was largely asking tourists to keep the gate closed so no livestock could get in or out of the area.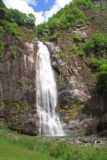 As we were busy taking photos, we also noticed how hot it was at the falls. I believe the car's thermometer indicated that the temperature was around 26C. And on a trip when we were used to temperatures below 20C, this was turning out to be yet another shorts day.
After having our fill of Cascata di Bignasco, we then continued on as we were now following Val Bavona signs (instead of Bignasco signs, which we were following earlier).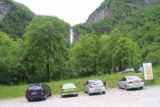 The roads were narrow pretty much throughout as we passed by a handful of hamlets (including another waterfall just as we were passing through Mondada before finally reaching the hamlet of Foroglio and the impressive waterfall overlooking the scene (at 3:10pm).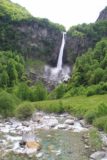 I guess it was a good thing the clouds were out because we were pretty much looking right into the sun whenever we looked directly towards the falls.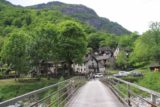 Julie and I took a few people shots with our tripod as well as hand-wielded shots of the waterfall as well photos from within the charming hamlet as well.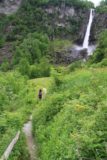 As we were busy taking a plethora of photos and movies from both the bridge and the punto panoramico path (which was flanked by beautiful wildflowers), I couldn't help but wonder how I recalled one person took a Webshots photo of this waterfall but from a perspective that was a lot higher than where we were at.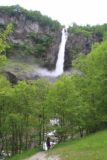 And from what I could tell, there wasn't a hiking path that would've taken me higher up the valley wall opposite the waterfall for a better elevated view of the falls and its mountain context. In fact, there was a boulder field containing some pretty giant rocks so that led me to believe that the Webshots that was etched in my memory of the Foroglio waterfall were pretty much bogus (there was no way we'd risk our lives scrambling up that boulder field for that shot).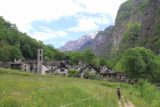 When Julie had her fill of the waterfall, she headed back to the car. However, I decided to keep exploring beyond La Froda Restaurant.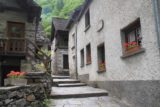 As I was exploring the hamlet of Foroglio, I noticed there were signs indicating that the falls was another 10 minutes away!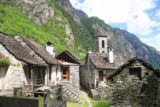 How could it be that Julie and I didn't have to walk 10 minutes to see the waterfall and yet there was another path through town that would take another 10 minutes more to get to?
Anyways, I went ahead with the walk, which steeply rose behind the Foroglio hamlet.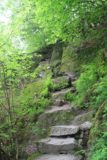 As I eventually made it to the base of the main plunge of Cascata di Foroglio, it was very misty and difficult to go all the way to the end of the trail, which was right besides the turbulently spray-assaulted base of this tier.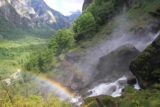 I took what movies and photos that I could, but just as I was about to leave, the sun came out and I noticed there was an attractive rainbow at the base.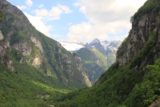 There was also a nice panoramic view of the sharp V-shaped valley backed by snowy mountains as I looked downstream from this misty spot of the trail. So indeed, I thought it was well worth the effort to get to this alternate view of Cascata di Foroglio.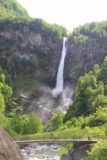 When I got back to Foroglio, I decided to investigate the immediate area to see if there was indeed a more formal trail that might take me higher up the opposite side of the Val Bavona for that more contextual view of Cascata di Foroglio.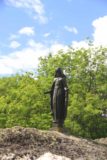 But all that effort yielded me was some statue of a madonna in offering gesture perched atop a large boulder by the road near Foroglio. Indeed, I couldn't see any trail or something worth paying attention to other than some sketchy-looking boulder fields that would need to be scaled to go high enough above the tree line to get that view of the falls that I recalled seeing in Webshots. I just felt that there was no way that was going to happen on this trip as tempting as it might have been.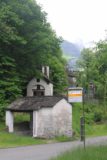 Eventually at 4:25pm, I returned to the car and the awaiting Julie. By this time, I had given up on looking for that Webshots view (or at least a somewhat safer way to achieve that view by hoping there was a trail to get up above the tree line).
On the way out, we tried to get a better look at the impressive cascade by the town of Mondada.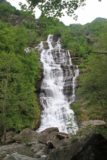 We parked next to a bus stop, and then I walked down an obvious path until it appeared to reach the front yard of someone's property. So I took what photos and movies that I could of this waterfall (which I'll call Cascata di Mondada) before heading back to the car and now continuing on to Locarno in earnest.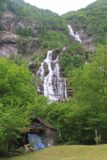 I had mixed feelings about mentioning this waterfall since I'm generally uncomfortable with trespassing to access a waterfall. And I was a bit surprised that there wasn't more infrastructure to at least steer tourists towards a view without having to intrude on someone's property.
Anyways, after Mondada, we drove towards Locarno. However, on the way out, we tried to see if we could get a closer look at the waterfall by Cevio. So far, all the views we had of it were rather distant. Perhaps there was a more sanctioned way to get closer to this tall and intriguing but thin cascade that we noticed from the road earlier on.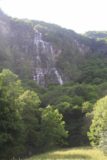 The best we were able to achieve was a rather ho-hum view after taking a small road that led us as close to the base as possible. However, there were no official stops or pullouts and we pretty much blocked a small rural road to take a photo of just the bottommost tier of the falls.
Since we had driving a fair bit on the narrow rural roads to get this view, I didn't feel like backing up for a long distance to regain where we made the detour in the first place. So against Julie's wishes, I went ahead and went forward knowing this road would eventually swing us around and back to the main road again (at least that was what I assumed).
Julie didn't like my decision and she let me know about it throughout this detour. And while all this tension was in the car, there was a lady who was pulling out of her driveway but didn't see us. She nearly hit our car as we both stopped just in the nick of time.
I could see in the opposite car that the lady was terrified that she nearly hit us. She gave a relieved expression then put her hands up to essentially gesture "I'm sorry." However, I thought nothing of it and insisted that she go ahead and keep driving in front of me. I figured she knew these roads better than me so why not let her take the lead.
And so we'd eventually make it back to the main road (albeit in a rather roundabout way), and while Julie also freaked out about my decision that she said was why we almost got into an accident with the rental car, it eventually became water under the bridge as I just concentrated on the road and tuned out the backseat driving.
By about 5:45pm, we made it back to the Ibis Hotel in Locarno. There was a bit of a traffic jam in town to get to this hotel, but in the end, we made it just fine. However, inside the hotel, it appeared that there weren't any available sanctioned parking spots (just as we had feared earlier). So we just parked on the far right side of the small lot and hoped that would be kosher with the hotel.
We spent some time using FaceTime with Tahia (as Skype kept dropping for some reason). We could see that she tried to impress us with being able to identify different shapes and colors on this videoconference call. We really couldn't wait to get home and be face-to-face with our little precious after all this time away from her.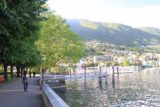 It wasn't until about 6:55pm when we finally returned into town looking for dinner and perhaps a little twilight exploration of the interesting parts of Locarno. Plus, we decided to go down into town in shorts since it was yet another warm and sunny day.
So at first, we walked along the waterfront until we found a restaurant called Sensi. Since the receptionist recommended it (which was also corroborated by TripAdvisor), we went ahead and ate there. The important thing was that they took credit cards since we didn't have Swiss Francs.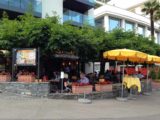 However, the place was very pricey. We knew that eating here would hurt, but then again, they had quite a bit of fusion stuff on their menu so we welcomed the change in cuisine since we were already getting too saturated with Italian food on this trip.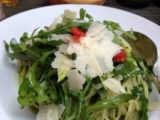 As we were eating dinner, it dawned on me that even though we were in Switzerland, this place felt like we were still in Italy as the predominant verbal language was Italian and the signs were mostly in Italian. So I found it quite ironic that we were in a part of Switzerland that spoke more Italian than the Alto-Adige region of Northeast Italy where German was predominantly spoken.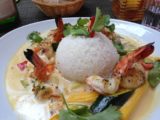 Anyways, our dinner consisted of 1L of water, a salad, a Thai curry with prawns, and a pesto spaghetti. It was a pretty typical Italian fusion dinner we thought, but then we saw the bill for 82 Swiss Francs (probably close to $100 USD), and we knew that this wasn't a cheap dinner by any stretch of the imagination!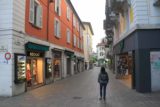 At 8pm, we were done eating, and then we decided to walk from the waterfront towards the Piazza Grande and the historical center of the city.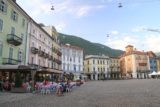 It didn't take long before we reached the wide open cobblestone Piazza Grande, which was surrounded by colorful buildings with some cafes and restaurants lining the piazza. However, this place seemed dead and it was nothing like the bustling happening piazzas encountered throughout Italy.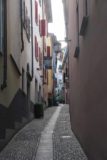 As we were strolling about the quiet piazza, we then found a Bellagio-like sloping arcade. However, this alleyway was also quiet and dead, and it made Julie a little uneasy about exploring such narrow quarters (even if it was Switzerland) when it was dead and getting dark.
After a few minutes of seeing what the Centro Storico was all about (and from what we could tell, there wasn't much to see), we then went back down into the piazza and eventually back to the Hotel Ibis Locarno.
Julie kind of hit the nail on the head when she described Locarno as very business-like and modern, and it was probably for that reason that it lacked the life and charm of Italy's towns.
When we were back at the Ibis at 8:45pm, we asked the receptionist if it was OK to park where we had left the car for most of the day. However, she said that spot was meant for bikes. So we had to leave the Ibis lot and look for parking on our own.
She did say that we might be able to find street parking, which would be free for the night until 8am. So as long as we were out of here by 8am, we should be able to save ourselves 16.2 Swiss Francs!
The worst case scenario would be to park in the covered car park at Stazione Centrale at the same 16.2 Swiss Francs for the night. And given how expensive everything was in Switzerland, we weren't going to mess with that.
Anyways, we found parking just under a couple of blocks away. Sure enough, the sign at the meter said that the fees only applied between 08:00-12:00 and 14:00-19:00. So we were good.
And at 9pm, we were finally back in the room. So much for seeing Locarno at night. At least tomorrow, it would be our last day of driving as we head into Milan. I'm sure there would be a bit of a night life and atmosphere over there as opposed to Locarno…
Day 21: THE LAST SUPPER
It was 6:30am when both Julie and I awoke. I guess with the sense of urgency to get to our car before the 8am enforcement of street parking takes effect plus the logistics of staying by the Malpensa Airport in Milan with an evening flight tomorrow, there were certainly things on our minds that we were preoccupied with.
One look out the window of our hotel in Locarno showed that there were much more clouds over the mountains surrounding the north side of Lake Maggiore than yesterday's beautiful weather. So whatever aspirations we had of taking beautiful pictures while driving along the west side of Lake Maggiore were probably dashed. Instead, it seemed like we'd be back to the same old overcast days with the threat of rain.
With no breakfast, we were packed up and ready to go in an hour. During that time, we discussed some of the possibilities regarding the complicated logistics we forced ourselves into when planned out this part of the trip. I guess this is what happens when you assume you need to fly from Milan to Rome while assuming there were convenient train or shuttle services between Malpensa and Milan. The problem was that flights tend to be inflexible, and so tomorrow's evening flight will mean tomorrow would be a day of probably doing nothing other than to wait out our evening domestic flight.
We actually thought about a couple of options to see if we could tip the logistics in our favor even if it might cost us a little more money. Option 1 was to get to the Malpensa airport and talk to the Alitalia ticketing office to see if they could change our flight to something earlier in the day so we'd be chilling out in Fiumicino with convenient access to Rome Termini Station instead of waiting in Malpensa all day long tomorrow.
Option 2 was to just swallow the cost of the domestic flight and ditch it in favor of taking the train from Malpensa to Milan Central, and then from Milan to Rome, followed by a train from Rome to Fiumicino. We'd have to see what the costs and time logistics would be for that, but in hindsight, we really should've stayed in Milan Central today, then take advantage of the convenience and flexibility of the high-speed train service.
Of course, the last option was to just do nothing at all and just swallow the fouled up logistics we put ourselves into (caused by perhaps overthinking the last part of the trip). But in the mean time, the plan was to drive all along the western shores of Lake Maggiore while stopping in Cannobio as well as any photo stops that might catch our eye while driving along the lake.
By 7:35am, we were at the car. No ticket. No tire boot. Saved 16.2 Swiss Francs. At least something good (that wasn't outrageously expensive or dead) came out of our limited time in Locarno.
So we drove out of the quiet streets of Locarno (though the traffic and activity was picking up), and we were on the narrow highway following the western shores of the lake as expected. It didn't take long before we crossed back into Italy (so no more yellow lights preceding green lights or funky 10km/h less speed limits).
When we got past the border, we saw there was a huge line of trucks going the other way (but not moving) as they were waiting their turn to get into Switzerland. I wasn't sure what that was all about, but it sure looked like it would be tough to get into Switzerland if you were just driving on your own and you found yourself behind the huge queue of trucks that wasn't moving!
At 8:10am, we followed our GPS towards the L'Orrido di Sant'Anna (which was a church with a waterfall according to some web descriptions as well as our DK book). We'd get there after passing through the center of town, then taking a signed route that was pretty much 40km/h (with some radar traps) the whole way on the southern end of the Traffiume Gorge.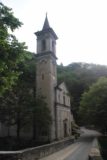 The last turnoff to get there was a bit confusing as there was a brown sign that pointed left but it wasn't clear whether we should've gone straight or taken the narrow descending road on the right. At first, we went straight, but then it appeared that the road was taking us away from the church. And we'd eventually make the sharp turn to get down on the way we didn't take.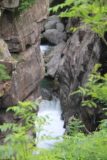 It was a narrow single-lane road, and I saw someone going up the road from my higher vantage point so I waited for her to pass before we made our way down to what appeared to be a car park right besides the small church of L'Orrido di Sant'Anna.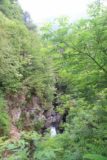 The church was said to be 14th century, I believe, and there was also a medieval bridge next to it. We could hear the sound of rushing water, but we couldn't see a clean view of a waterfall from anywhere around the church.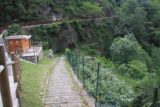 I did notice some cascades on the main stream below, but it looked like I had to get into some bar that wasn't open in order to see more of the cascades. In any case, I had to settle for a partial view of the lower tier of the cascades, which might be nothing more than rapids. It really wasn't clear to me if that would've been the waterfall that was being talked about.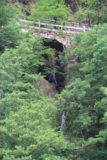 Then, both Julie and I went down a path to the rocky "beach" besides the Traffiume Stream with some reflective waters fronting the dark gorge while being overwatched by the church above all the action.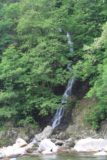 I could see there was a small waterfall besides the road bridge as well as another one that was a bit more substantial but covered up in foliage further downstream. Indeed, I got the sense that this place was more of a quiet swimming hole than waterfall attraction.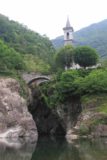 So based on what we saw, it looked like the literature oversold the waterfall attraction here. But if anything, it was really an excuse to see the church and perhaps for us to talk about the Lake Maggiore or even Lake Lugano and Lake Como on our website.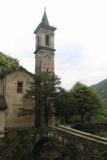 At 8:40am, we were back at the car. We then drove back towards the main town of Cannobio where we then went looking for public parking, which we found at 9am at a euro an hour very close to the old town center.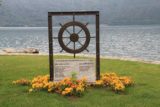 With the overcast skies and the rather quietly dead feel of the place (mostly because we were too early), we probably didn't go into here with the same kind of attitude employed when we were visiting places like Florence, Siena, Venice, or even Trento. So given that, we only put in one euro in the machine so we had an hour to get back to the car, which I hoped wouldn't feel too rushed.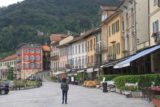 Nonetheless, we immediately headed downhill towards the waterfront where we saw that the immediate area was actually pretty charming with a church at one end and a bunch of colorful buildings fronted by cafes and restaurants stretching until an ascending walking path led into a different walking street containing some charming arcade of shops and restaurants.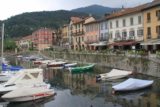 Given the dead feel of the place due to how early we arrived, it felt like the atmosphere was missing, but we could totally imagine this place would be bustling later in the day.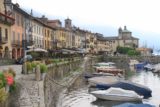 In the mean time, we meandered around Cannobio letting the charm of the place slowly sink in to us.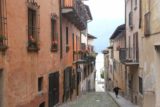 We'd eventually go north of the town's main cobblestone section of road cutting through town, and then continue walking up the arcade as it was now towered over by a bell tower.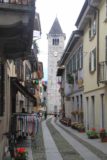 Ultimately, we'd reach a point where the arcade stopped being interesting, and this was our cue to turn back.
So we went back down the same route we took to get to the turnaround point. And by now, the main road was a bit busier than before, more restaurants and shops were opening their doors, and we were starting to see a few more people on the charming pedestrian-only streets of the old town.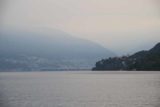 When we returned to the waterfront, we saw there were a bunch of people waiting to board a boat. Apparently, there must've been some places to explore or visit throughout Lake Maggiore in much the same way people boat across Lake Como or Lake Garda.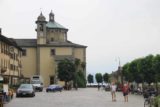 However, in our case, we just returned to the car at 10am and proceeded to continue driving along the western shores of Lake Maggiore.
For the next hour or so, the drive was pretty much more of an experience than a photo-taking tour. Even when we saw some attractive parts of the lake, the pullouts or sanctioned viewing spots were limited and not signposted. So we only had mental pictures of what we saw, but no photos to prove it.
In any case, the skies were hazy and the clouds were persistent despite there being some sun when we got closer to Stresa.
We did see there was an island that was known for having a fancy villa there (perhaps Lake Maggiore's version of Balbianello on Lake Como), but we just kept following the signs for Milan.
At some point, we perhaps followed the signs a bit too closely because we left the lakeshore drive somewhere before Stresa and then ended up on the autoroute, where we'd ultimately zoom our way through several tunnels and then ultimately to the Malpensa Airport at 11:35am.
At first we went to Terminal 2 not sure which car park we were supposed to be at.
The attendant for Europcar told us we should be parking in terminal 1 since it was apparently not convenient to get between the two terminals.
So we did what the attendant said and went to Terminal 1. Fortunately, the parking for rental car returns at this airport was far easier than it was for returning the car at the airport by Firenze.
So by around 12pm, we were finally free of the car and we took our luggage into the airport where it was now time to see how our logistical options might work out.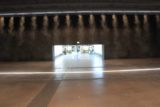 So we first acted on option 1 which was to try to change the flight time from evening to morning tomorrow. And after a bit of walking around the airport and going back-and-forth through that "magic portal" (which was nothing more than a large empty room with some floor lighting and some mist being blown downwards from the ceiling; kind of eerie as it reminded us of a gas chamber or something), we'd finally find the place at 12:25pm.
That was when the ticketing agent said we couldn't change our flight time as it wasn't that type of ticket.
So there went option 1. Next, we went downstairs to the train station. We then looked at the ticket machines to see how we might work out the logistics of the train ride to Milan Central, then to Rome Termini Station, and finally to the Fumicino Airport. But that was when we found out that just the ticket from Milan to Rome was 96 euros per person. Plus, it was another 10 euros per person to get from Malpensa to Milan. I'm sure Fiumicino would be something similar. Thus, the grand total was something on the order of 120 euros per person, which was something on the order of $300 USD total for the two of us.
That was an awfully steep price to pay for a four-hour train ride surrounded by nearly an hour train ride on both sides of the long train ride (with a connection). That would mean nearly 6 total hours of train riding and we wouldn't be counting the wait times necessary between each train transfer.
So in the end, we canned option 2 as well. We basically just defaulted back to option 3, which was to hermit ourselves in Malpensa tomorrow (especially given the rather complicated logistics to get to Central Milan and back with a flight looming tomorrow so visiting more of Milan outside of this afternoon was out of the question).
And now with that out of the way, we next had to find the free shuttle bus to get to the Holiday Inn Express, which we were supposed to check into tonight. We at least needed to check-in so we could drop off our luggage, and only then could we return to the airport and look for transport to get into Milan's city center so we could finally do some final sightseeing on this trip.
So at 1:15pm, we boarded one of the scheduled shuttles (which was actually a van shuttle as opposed to a bus), and we were eventually checked into the Holiday Inn Express room at 1:35pm.
It was warm enough to be a shorts day, but we decided to just wear jeans and actually look a little more acceptable than going around the city in hiking clothes. In any case, I'm sure we don't come close to any Italian's notion of bella figura, especially in the fashion capital of the world (Milan).
So we came as we were and unabashedly were in tourist mode.
The next shuttle back to the airport from the Holiday Inn Express wasn't until 2:05pm so we waited at the hotel lobby for the shuttle to show up. However, when we saw a van pull up to the lobby, it merely swung around and didn't stop! WTF?
By the time Julie and I were outside, the van had already left the parking lot. That meant we had to wait another hour for the shuttle to come by and take us to the airport since it was only once an hour at this time of day!
So Julie went back inside to have the receptionist call the shuttle to come back. And after nearly 10 minutes, the shuttle eventually came back and picked us up.
And once we were at the airport, we caught a 2:20pm shuttle bus headed to Milan Central Station. We ended up paying for round trip tickets (at 16 euros per person instead of 10 euros in each direction per person) and forsaking the train ride, which we didn't realize at the time would've been shorter by about 10-20 minutes though it left less frequently than the bus, it seemed.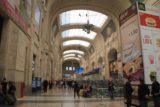 In any case, we finally arrived at Milan's Central Station at 3:30pm. When we were looking around the train station for an info center, both Julie and I were struck at how large and grand the train station was. We swore it was probably the scene of some movies as it was very much in the spirit of New York's Central Station, except this one seemed to have a lot more activity and old-school grandeur. The Italians sure knew their aesthetic architecture.
Eventually, after wasting time looking for the info center, we finally just decided to go to the metro underground and just buy a day pass. We figured that the metro would take us everywhere we needed to go. The LP map wasn't as detailed as a city map would've been, but we figured we had enough info to start exploring town.
At 3:55pm, we were going to use one of the machines to buy a pass. One girl was standing next to a machine that was already set up for English mode. She was insistent on us using that machine. I knew she was a scam artist and we probably should've chosen a different machine (even if it was in Italian), but I wasn't in a mood to make things harder on ourselves as I just wanted to get exploring finally.
Anyways, we was quickly pushing buttons anticipating what we were going to push. I really wanted to tell her to buzz off, but she always seemed to be one button push ahead of what I was able to process when I saw what was on the screen. Obviously, she'd been doing this for quite a while and she knew the machine well.
At first, we were going to buy a day pass for 2. The total was 4.5 euros x 2 = 9 euros. So we inserted a 10 euro bill into the machine, and at the last minute, she reduced the quantity to 1 (instead of 2) so there was 5.5 euros in change.
I wasn't happy she pulled that slight-of-hand as clearly she wanted to touch the coins and hang onto some coins. Anyways, she inserted the right amount for the 2nd individual day pass ticket. And once that came out, she said, "1 euro for me, OK?"
And before I could say anything, she took off. Then, Julie noticed there was still 50 cents in change. Could it be that she ran off with 50 cents instead of the full euro we were owed?
Well whatever the case, we got scammed some miniscule amount. The feeling that left me with was rather bitter, and it put us on our toes that indeed in big cities, scam artists abound as well as pickpockets and bag snatchers.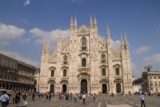 Anyways, with that little escapade over, we then took the metro directly to the stop for the Duomo. That was really the must-see sight for Milan as far as we were concerned.
And when we got out of the stop at around 4:15pm, we walked up the stairs and we found ourselves directly right in front of the impressive gothic structure, which was bathed in the warm glow of afternoon light.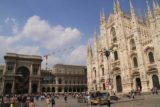 Clearly, the piazza here was bustling with lots of people and was certainly full of energy. It contrasted mightily with the dead feel of Piazza Grande in the center of Locarno.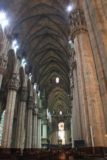 So we spent some time taking photos of the impressive Duomo, then we went inside the grand structure, where we took a few more photos, did a quick round of the interior, and then exited the dimly lit interior for the bright and warm exterior of the Piazza del Duomo.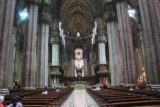 Next, we then went into a grand hallway that was really a mall. That hallway was called La Galleria. It was basically an upscale mall with all those familiar name brands like Louis Vitton, Prada, Gucci, etc. as well as some other Italian brands we had never heard of. Plus, we knew that the prices of these goods were in the "not in our lifetime" category so it was strictly to soak in the atmosphere and energy of the place as well as shake our heads at the sticker shock of all the stuff on display.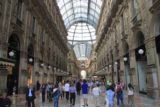 Julie and I then had some overpriced gelato inside the galleria to offset the warm weather before we then went down into the metro again to do a little more exploring of Milan. Personally, I could only take so much of shopping malls before I get exhausted and antsy about doing something else.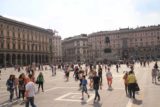 After taking a few more photos of the Piazza del Duomo and that irresistible Duomo building itself, we started to wonder if there would be a little more to see of Milan than just this piazza.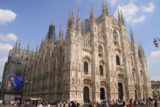 So next up, we followed an LP recommendation to visit Villa of Campiglio or something like that. We wondered if it would be like a Balbianello in the middle of Milan, but when we finally showed up to the place before 5:15pm (which we thought was before their last admission), the ticket lady said the villa was closed.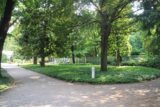 So we briefly strolled through the garden and really got the sense that this place was nothing more than someone's lavish property with really not much to see. Perhaps the LP author was into the arts (because the #1 sight was said to be the Last Supper painting), but that wasn't our thing so we didn't feel like we missed out on anything here.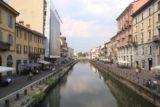 Next, we made good use of our Metro day pass and quickly went to Milan's canal area, which was known as Navigli. Supposedly, there was a lively bar scene as well as a flea market so perhaps that was an opportunity for us to soak in some atmosphere in a part of the city that wasn't as obvious as the Piazza del Duomo.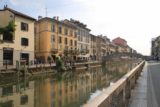 So we found ourselves outside of the Navigli area when we got off the closest station. And after walking a block through a wide arcade, we then found ourselves by the old grand canal, which was now nothing more than a polluted moving body of green water splitting a pair of pedestrian walkways alongside this canal with at least 3 or 4 bridges.
Julie didn't seem to like this area too much given the quantity of graffiti both around the train stop as well as along the grand canal. However, we did envision how this place could have been a pretty charming place for a stroll or to soak up some atmosphere.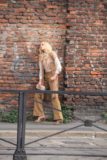 However, we didn't see the flea markets nor did we particularly feel like eating at the places near this canal since we feared none of them would take credit card. It felt too much like a locals' hangout and we just weren't in position to do that on this last full day of touring of our trip to Italy.
Once we walked from one end to the other of the main promenade area, we then headed back onto the Metro to return to the Piazza del Duomo where we went looking for a place to have dinner and people-watch. Just before leaving Navigli, however, we noticed a model being photographed for what appeared to be some magazine shoot. It seemed like the scruffy graffiti-laden brick walls were the perfect backdrop for this particular photo shoot (whatever was being sold). So I guess that was our bit of a memorable moment while strolling through this place.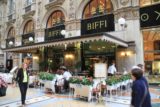 At 6:40pm, we were back at Piazza del Duomo and Julie decided to walk into the Galleria to have dinner inside. I was hoping to eat outside where we could watch the world go by around the Duomo, but she thought the people watching would be just as good inside the galleria (I begged to differ since the gallery was more closed in and the Piazza del Duomo was very wide open).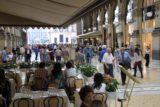 In any case, we ate at this place called Biffi's, which was claimed to be around since 1867. I found that hard to believe, but we figured perhaps we mind as well splurge on this last day since this would ultimately be the Last Supper of this trip as far as we were concerned (airport food tomorrow doesn't count).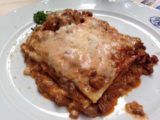 So I had some osso bucco, which we didn't realize was Milanese. Julie had some lasagna, which she hadn't had since Rome.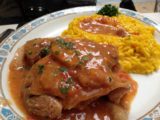 The food was good, but our bill was rather outrageous (69 euros). It turned out that there was a 6.5 euro cover charge (13 euros in all) plus 7 euros on the 1L water. So you add all that together and we paid 20 euros (almost $30 USD) on just cover charges and water alone! What a rip off!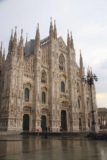 When we were done eating dinner, we headed back to Piazza del Duomo, but that was when we realized that it had been raining pretty hard in the square. I guess that was one way to empty the square of people.
So with that, we headed back downstairs to the Metro and took it back to Central Station.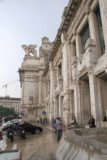 I wanted to take a few more photos of the grandeur of the Central Station, but we saw that our bus was waiting to leave for the Malpensa Airport so we exercise our round-trip ticket and got on the bus. And sure enough, it left at 7:50pm as scheduled.
I wondered about our Holiday Inn Express Shuttle as it was supposed to shuttle from the airport to the hotel at 8:45pm. I knew it was going to be tight given how long the bus typically takes.
When we were back at the Malpensa Airport, we saw the Holiday Inn shuttle as soon as we left the bus. So we ran for the shuttle, and that was when the door closed and the van was about to take off.
Julie and I caught up to the van, knocked, and the driver kindly let us in. Whew!
At least now, we wouldn't have to worry about waiting another half-hour just to go to the hotel, which was around 10 minutes drive away.
And finally at 8:55pm, we were back in the room. So for all intents and purposes, this was the end of our trip. Tomorrow was going to be the feared inefficient logistics day, and the day after would be the day we finally get to leave Italy, come home, and see our daughter once again.
Despite Italy being a country full of "wow" sights, there were things we missed about home as the trip wore on. So with Best Coast's song "Only Place" ringing in my head, I couldn't help but think about how spoiled we were with the good weather, the diversity, and the laid-back open-mindedness of people (for the most part) at home.
Indeed, we don't need to be asked, "Why would you live anywhere else?"
Day 22: ADVENTURES WITHOUT SEEKING THEM
It was about 8:30am when I finally awoke. Julie had already long been awake. But since I knew we'd be pretty much cooped up in Malpensa for almost the entire day while awaiting our scheduled 7:15pm flight, I really had no sense of urgency other than not missing out on the included breakfast (which was supposed to be done by 10am).
So I quickly got ready while Julie did likewise. We'd end up being in the brekkie area at around 9am, and it turned out that they had pretty good boiled eggs and bacon (though we refrained from having the bacon) as well as the usual pastries like croissants and some kind of pie (which we also refrained from having).
The brekkie also included cereal, bread, and even some fruits (including kiwi). It was a pretty satisfying breakfast, and very much welcome since we didn't expect to being very well-fed for most of this day.
Towards the end of the breakfast, there was a couple from Michigan who came to our table and commented to us that the way we were eating kiwi was ingenious. Basically, we scooped up the green stuff with a spoon after cutting the kiwi in half. It was far cleaner and more satisfying to eat, and it had been the way we ate the fruit ever since Julie first introduced this method to me several years ago.
Apparently, it inspired that couple to do likewise, and it ended up being a conversation starter as we learned that the wife was teaching, and that they were headed to Turin to do some hiking with some the wife's students.
The conversation turned to hiking because they noticed the attire we were dressed in was pretty much decked out in REI/Ex-officio/North Face-type clothing. So we told them about our hiking escapades, and they seemed pretty well aware of the identity crisis in the Dolomites where this part of northeast Italy felt more like Austria.
I'm sure this conversation could've gone on longer (it's always pleasant to learn from other people, including travelers), but we left them to enjoy their brekkie while we returned back in our room at 9:45am. So that basically began the next couple of hours of internetting and doing whatever it was we felt we needed to do on our computers (or iPhone in Julie's case).
At 11:10am, Julie called the next accommodation we were to stay at because we were concerned about the transportation situation. No TripAdvisor review nor Booking.com description said anything about how to get from the airport to the Fiumicino Airport B&B.
So Julie made a call to them on her iPhone, and that was when Julie had trouble speaking with the lady at the other side of the phone because she couldn't speak English while Julie couldn't speak Italian.
After the call dropped, Julie placed the call again, but this time she put the phone in front of me so I had to bust out my best Italian.
I think my attempts at Italian somewhat comforted the lady on the other side of the line, but it also put a little more pressure on me to really understand what she was trying to tell me in Italian.
Fortunately, she knew that I wasn't fluent so she was going real slow for me. After telling her we had a booking for today as well as informing her of the booking name under Julie's name, then she basically said to call a particular number when we would arrive at the airport in Fiumicino.
When asked about our flight time, I told her when we would arrive at 8:40pm.
So with that, it appeared that the transportation situation was in order. It was a somewhat stressful call as I was totally out of my element while only having my 4 months of learning Italian on my own with some limited practice with an Albanian co-worker who knew some Italian as well as the three weeks of having been in the country.
Still, when the call was over, I felt relieved and even empowered that we were able to pull that off.
Anyways, after that bit of an unexpected adventure (without even going anywhere), we then killed some more time internetting and working on blogging until it was around 12pm. Julie had this idea to walk over to the Crowne Plaza for some lunch after having seen their menu, which included brasato (that mysterious Tuscan dish we had at our wedding in Whitianga, New Zealand).
After walking a few blocks on unsigned streets (wondering if we were going the right way all along), we finally found the place, got seated, but then found out that the menu stuff was not on the menu for lunch (only for dinner, as I kind of suspected).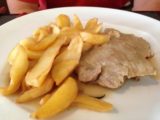 They actually had a buffet lunch, but we were allowed to order stuff off a different menu. So we ended up with veal and ravioli. Unfortunately, the fries that came with the veal was soggy and looked more like apples than potatoes. The veal also tasted like it came out of the freezer. Plus, Julie said her ravioli was missing something. The bottom line was that this was probably the worst meal we had on the trip, and all along I kind of knew that last night's dinner in Milano was pretty much the last supper so to speak on this trip.
At 1:40pm, we were back in the room. We then spent the next couple of hours in the lobby area after checking out at 2pm. Actually Julie told the receptionist that we were Ambassador members with the IHG group (starting with the Intercontinental resorts in Tahiti) and that actually saved us 9 euros on internet costs plus the extra two hours delay on check-out time.
Finally at 4:05pm, we got our stuff together, boarded the just-arrived shuttle, and then went to the Malpensa Airport.
With all the formalities of checking in and dropping off our luggage out of the way, we had ourselves one last dinner of airport food. We'd end up eating pasta pomodoro (tomatoes) and penne alla bolognese (basically ground meat) since they didn't have pesto, and that was the end of eating at this place. We also shared a 1/4-wheel of pepperoni pizza, which was the very first time on the trip that we had actually seen pepperoni pizza that was so common back home in the States but practically non-existent throughout Italy.
Anyways, our flight was delayed and finally took off some 30 minutes after the scheduled departure time. We were worried about the expected 8:40pm arrival time that I had promised the lady based on our flight schedule. But there was nothing we could do about that.
When the 55-minute flight ended, we then had to wait another 15 minutes or so for the stairs to show up so we could de-plane and take a bus to the main terminal area.
After we had finally reclaimed our luggage, we then placed the call as instructed earlier. I would end up speaking Italian with a guy on the other line, and it turned out that he was already in the airport!
We were so relieved when we met up with the guy, and when we went to the car, there was a younger guy at the wheel who actually spoke pretty good English. Anyways, they quickly took us to the accommodation (it turned out that everyone was in the same family as this was a family-run business), checked us in, and by 9:40pm, we were finally in our room to spend our very last night in Italy.
We Skyped Tahia and that further added to our anticipation of seeing our daughter and being back at home after being away for three weeks. Indeed, as cliche as this sounds, there really is no place like home. Now, we just have to get some sleep before a very early wake-up at 5am to wrap up our packing and catch our 9am flight. We were to meet with our transport at 6:15am. By the way, that transport costed us an additional 35 euros round trip, which probably offset whatever cost savings we hoped to gain by going with this B&B in the first place.
In any case, the end of the trip was pretty much last night, but even on a do-nothing day like today, it seems like adventure finds us even when we're not seeking it out. Home, here we come…
Day 23: IL SCIOPERO STRIKES AT LAST
This should have been an uneventful travel day, and all things initially pointed to it being that way. I thought I wouldn't have to write up anything concerning today, but then some strange things happened that ended up delaying us and then we were perhaps on one of the longest 13-hour flights that I could remember.
Things started off innocently enough when we woke up at 5:15am in the morning so we could eat our boxed colazione (brekkie) and be out the door by 6:15am when we agreed to arrange with the family for a car ride to the airport. We figured around three hours prior to the flight should be plenty of time to catch it, and since we were the first flight of the day, we figured there really shouldn't be a reason for the flight to be delayed due to a contingent flight prior to it.
So Julie and I were chomping at the bit to get home finally and re-experience the diversity that somehow tends to be missing on just almost all of our trips (with the exception of possibly Australia).
During the short drive, I made some small talk with the man who answered the phone last night at the airport. He was driving us, and he only spoke Italian though he seemed to have some understanding of English. He seemed to enjoy talking to me in Italian.
In our conversation, I asked about the beach (since it was mentioned by the young guy yesterday during our drive from the airport to the B&B). The driver then told me that it was literally a few minutes walk from the B&B to the beach! So basically the planning snafu that resulted in the awkward logistics from Milan to Fiumicino without taking the more flexible train option essentially costed us a possible trip to the beach at Fiumicino for one last go of enjoying la dolce vita. I guess that's life.
In any case, most of the next three hours was pretty much spent checking in, getting our boarding passes, finding a place in the airport that was open so we could have something a little more substantial for breakfast, and then wait at the gate.
All signs pointed to it being pretty uneventful as we saw the plane sitting there just as we arrived at the gate. And as it came time to board at around 8:25am for our 9:15am flight, we thought all was gonna be hunky dory as the gate started to fill with lots of people either going home to LA, catching a connecting flight in LAX, or just visiting.
But then we learned that the flight was to be delayed 40 minutes. It wasn't clear why it was the case, but we thought, ok, 9:55am flight so we could see be in LAX around 2:30pm instead of 1:40pm. No big deal.
Then, when the 40 minutes extra wait rolled around, we learned that the flight was delayed until 10:30am. Something wasn't right. So naturally, we started to hear through the grapevine (as people started demanding answers) that the cleaning crew was on strike.
That was strange since there were other flights from Alitalia that were taking off (one to New York, another to Miami, etc.) so how was it that they were able to take off while we were stuck with the cleaning crew snafu?
Then, I recalled in my language lessons that one guy had to take a train a day later than anticipated because there was a strike. I guess since it showed up on the language lesson, it kind of underscored just how frequent these strikes tended to occur!
By the way, the point of the language lesson was to emphasize how Italian words change when you go from singular to plural as he said, "Grr, un'altro sciopero! Ci sono sempre scioperi!" (Another strike! There's always strikes!)
I guess the silver lining was that the sciopero (strike) was at the very end of the trip and not anywhere else during the trip where we had to rely on contingencies. Nonetheless, there were people who were offering to clean the plane themselves, but the grapevine said that the supervisor was already busy doing the cleaning himself while il sciopero from the cleaning crew was going on.
Eventually at 11am, we started to see the wheelchair passengers board the plane. That was a good sign. However, the official flight time got changed to 11:30am in the process. We figured that was the ultimate official departure time. So it would be about 2.5 hours delay once all was said and done because we didn't actually take off until well after 11:30am.
Once we got all settled on the plane, it turned out that I was sitting next to this rather tall, but older Italian guy who got the unfortunate window seat. It was unfortunate because the seat design was such that there was a box right where his foot was supposed to be so he really had no leg room. He had to pretty much go into my space as I sat in the middle next to him.
That made for a rather uncomfortable flight right off the bat (plus the headphone's jack wasn't mating well with the armrest) so I started to look around for empty seats when the plane started moving.
When I found one across the aisle from Julie next to this fairly heavy-set American lady where it appeared that her and her husband had the entire row to themselves, I figured I mind as well go there.
So I made my move as the plane started to taxi, and to the shock of the lady sitting next to me, she said, "Uh, we paid for that seat!"
I somehow couldn't believe that two people bought four seats on an expensive international flight without going for first class or business class first, so I called her bluff. But I replied by saying that the headphone jack wasn't working on my seat.
She grumbled and didn't say anything afterwards (though she would ultimately stew and start getting racial by calling me banana as well as name-calling with "jerk off" and other things). I guess my move turned out to not be a very worthwhile move as I came to realize. So I had to take the high road and not get into a full on conflict with this person that I was perceiving to be the stereotypical "ugly American" (though if she did indeed buy all the seats, then I was in the wrong; but then why didn't she show her ticket to either me nor the stewards/stewardesses on the flight?).
Anyways, after explaining in Italian (as my confidence in Italian must've grown enough to compel me to do this) what was going on to the steward while she was pretty much complaining to no one in particular at this point, he offered to sit both Julie and I together in a different part of the plane. I appreciated the gesture, but I knew I'd ultimately get back to the seat I was assigned and let her have her way as those empty seats would've surely been filled by now. And when I did that, it seemed to finally pacify her.
So from that point on, I crowded between the old Italian man and my wife. The man didn't seem to enjoy the fact that he was back to his limited leg room again, but I explained to him that I was going back to my own seat.
And so the next 11 hours or so was pretty much spent uncomfortably getting an hour or so worth of sleep while watching several movies (which would frequently pause unexpectedly so I figured out that you'd have to hit pause then start during those times to "wake up" the machine) such as "Silver Linings Playbook", "Lincoln", and part of "Arbitrage" (which I should've watched earlier but ran out of time when the flight landed).
I also played some games of Tetris (though no one wanted to play competitively) and also some Berlitz language games (where I tried to pick up German since I kept running into it on this trip). I probably shouldn't have played these games so long because I didn't know what happened in the end of Arbitrage.
And when all was said and done, we finally got to LAX at around 3:15pm, did the usual passport control, baggage claim, customs, airport shuttles, etc. Then, in the Friday rush hour, we then went to King Taco to have something besides Italian (we were quite sick of Italian food at this point) so we detoured to King Taco for some pretty authentic Mexican burritos.
Then, we faced more Friday rush hour traffic so it wasn't until around 5:30pm when we were finally home. That was when we eagerly woke up Tahia from her nap, and hugged and kissed her over and over again. Indeed, it was home sweet home. But on this trip, we were particularly "Europed-out" and homesick probably because we realized that we could finally enjoy the diversity we are spoiled with at home (not just Italian or Austrian food all the time) and we could finally watch our daughter develop before our eyes once again.
I'm sure our food poisoning spell didn't help with the food experience, but also the overall cost of this trip (plus the hidden costs like cover charges, bread (which we never ask for), lack of tap water (always having to buy bottled water), etc. just kept adding up and making me feel like I was nothing more than a walking cash register for much of the trip. Plus, the persistent bad weather also didn't help.
So rather than singing to myself, "Back to life, back to reality…", I was now thinking of Best Coast's "The Only Place" for indeed, we've come to realize more and more that when all was said and done, LA really was "the only place for me!"
Visitor Comments:
Got something you'd like to share or say to keep the conversation going? Feel free to leave a comment below...
No users have replied to the content on this page