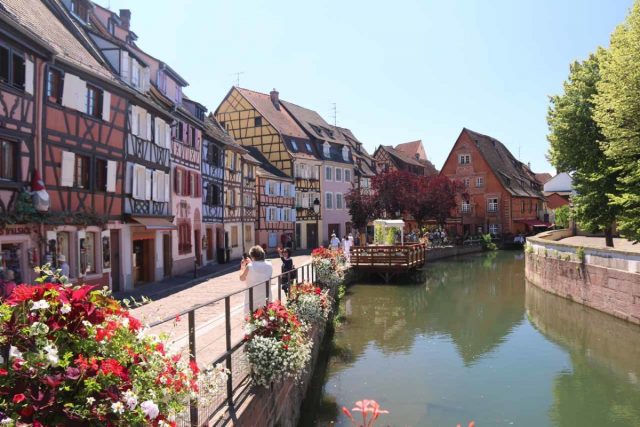 13-June 2018 to 20-June 2018:
However at around 11:20pm, as I was in the midst of getting all the photos and files onto the hard drive via the laptop, apparently the power plug that plugged into the laptop appeared to be physically broke. I guess I was finally paying the price for not having the exact power plug after the original ASUS one stopped working.
Well, now I was in a real crisis as I was real worried that I wouldn't be able to record and report on the remaining 5 weeks left on this trip once the laptop dies out (or has no more power).
I sure hoped that there would be a computer or equipment store somewhere in Colmar or Friedburg (where we were staying tomorrow), but I also had to resign myself to the possibility that I might not have a hard drive anymore if I'm not successful finding a means to keep the laptop alive (mainly the juice that keeps it running).
In the worst case, I suppose I could buy a replacement laptop but I'm sure I was screwed in terms of the apps I'd have to get back that I didn't readily have the install files and/or credentials for.
And so ended this eventful day though the losing of the power plug on my laptop was definitely not-so-great news. And so I was mentally already in the mindset of finding a stop to find such replacement parts (if they still exist)…
Day 1-2 (June 13-14, 2018 – Paris, France): "Nostalgic Indulgences"
The better part of the morning was spent packing and tying up loose ends with printing out confirmations, making sure we got our passports and Global Entry cards, and the like.
I also had to make sure that my contractor difficulties were being addressed since I was having yet another issue with someone hired to help implement functionality on the website migration. That was not exactly something I wanted to be dealing with on this trip. But when it comes to the amount of money I was paying to do the things I didn't have the time to learn and do myself, it couldn't wait. Too bad my trust was undermined yet again.
We left the house at around 11:30am. This time around, we weren't going to use the auto airport shuttle that we had been dutifully using to get from work (where I could park the car under supervision for weeks at a time) to LAX.
Instead, we were giving Uber a try. It was something that a coworker told me that I should try. And after all the pros and cons were considered, it really didn't make any more sense to do the auto airport shuttle if they were charging by the person instead of the car load. Plus, you had to wait for them to circle around the terminal, which often meant waiting around 15-30 minutes (but sometimes more) when we would arrive back at LAX on the return.
Anyways, I dropped off Julie and Tahia so they can initiate Uber, and then I parked the car. Eventually, I re-joined them and sure enough, there was an Uber driver that swung by and picked us up with hardly a wait.
Given the amount of congestion at the airport, we took a bit of a not-so-obvious path to get up to Terminal 1 before making our way all the way to Tom Bradley. We were making pleasant small talk with the Uber driver, who was a really nice young lady, and we were noticing just how many Uber drivers were in and around the airport. Clearly, decent money could be made out here, and I could totally see how conventional taxi drivers would be under pressure given this system.
Eventually, we got to the airport, checked in (though there was some kind of weird bit about us being booked on student fares or something like that), and then dropped off our bags. We then had to go up to the TSA checks where we learned that apparently our Global Entry didn't have the pre-TSA screening (different to what I thought was the case) as apparently that had to be shown on our boarding passes.
I wasn't sure if we messed up by not showing our Global Entry card upon check-in so it would show on our boarding tickets or if we couldn't do anything about it given that we didn't get our Global Entry until a few weeks ago (well after we had booked this flight).
Regardless, after getting through the slow line (made more tense because Tahia had to go potty), we still had another hour to kill before it was boarding time. So we decided to go up to the KAL lounge which was something we had never done in the past. It was something we kept forgetting about since we were Priority Pass card holders from one of our credit cards (Sapphire Reserve) going on at least two years or more now.
We got there at around 1:30pm and once inside, we saw that there was free food as well as quite a few lounge seats with small tables. It was kind of nice, but I was still under the impression that they were creating value out of nothing, and it was something I wouldn't go out of my way for.
That said, they did have showers so I guess if there was an extended stay or series of connections that required a long layover (at least up between noon and 8pm), then the priority lounge might be a good thing.
Eventually at around 2:30pm, we went downstairs with our carry-ons and waiting in line to board the Air France plane. The boarding was a bit delayed (around 30 minutes or so), and then the flight ended up being an hour delayed so we took off after 4pm instead of around 3pm. At least we didn't have to fret over a flight connection.
When we got on the plane, we saw that there was a bit of a seat assignment snafu as we were supposed to be sitting together on the aisle seats, but somehow we were separated with two of our seats being put against the bathrooms by the window side. That didn't sit well with us because we actually paid 20 euros per person to pick our seats.
Well, at least we could go to the toilets without waiting in a standing queue (waiting in our seats instead), but I knew that the seats wouldn't be reclining much so our ability to sleep would be impacted.
Anyways, I spent much of the in-flight watching Sam (some French show about an edgy middle school teacher with quite a few adult themes) as well as another show – The Game Of Thrones. But for the latter, I couldn't really get into it since I never really followed the show like a lot of people I knew had been doing in the past. Without that background knowledge, it was a little hard to follow so I stopped after watching the first episode on the plane (which started from season 7). I was kind of hoping to see some Icelandic scenery since I did know that they filmed the show over there.
Eventually by around 11am the next day, we made it to the Paris Charles de Gaulle Airport. And by 12:55pm, we boarded a Le-Bus Direct bound for Etoile, which was where the Hyatt Regency that we were staying was at for our two nights in Paris. Since we were staying free on points, we were willing to put up with the not-so-great location as we were northwest of the Champs-Elysees.
The bus ride costed us around 46 euros but we were told that taxis would have costed us 50 euros or thereabouts. In hindsight, it might have been better to have taken the taxi and shave off a few minutes since the bus had to stop at other airport terminals before dealing with the traffic to get into town.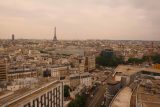 It wouldn't be until about 2pm when we finally arrived at the Hyatt Regency Etoiles. Julie did her thing in checking in, and we got into our room, which was apparently upgraded given our Hyatt status. So we wound up with a room with a direct view of the Eiffel Tower.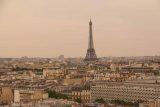 Tahia gasped with glee as soon as we walked into the room as she finally got to see the Eiffel Tower in real life! Her reaction and excitement was the very reason why we wanted Tahia to come along on our trips. The life lessons and the expansion of the possible would for sure serve her well later in life.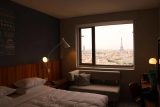 So we spent the next hour or so getting unpacked, brushing our teeth (as our oral hygiene suffered), and trying to fight the urge to want to catch up on sleep due to jetlag and not sleeping well on the plane.
It wouldn't be until about 3:30pm when we finally went downstairs and took the metro to the Tour-Eiffel. It took some time to find the nearest metro stop from our hotel, but we eventually found the Porte-Maillot stop, which allowed us to access the yellow line 1, which we then took to Trocadero for the green line 6, and took that all the way to the familiar Bir-Hakeim stop.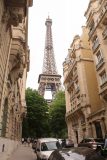 We then walked from there to get closer to the Eiffel Tower. We even passed by the familiar ramp before the Eiffel Tower fronting some hotels that I swore we had stayed in the first time we were here (though it seemed like the hotel name had changed over the years as I didn't recall any of the current hotel names we had seen at this time).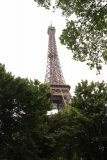 After Julie grabbed an escargot to go along the way, we then got through security to finally access the bottom of the Tour-Eiffel. It seemed like things had changed as there was now a fence surrounding the base of the Eiffel Tower, and they seemed to have re-done some of the immediate surroundings as there were now gardens and ponds.
I recalled there used to be a huge lawn area to just chill out, but maybe there was too much loitering going on there that they had to change things up given the recent terror attacks.
Anyways, we then promptly waited in line at 4:55pm to purchase tickets to get up to the top of the tower.
After lots of waiting in line, buying the tickets, then waiting in another line to get through another security check before going up the elevators to the top, we were finally up there at 5:45pm.
It was quite breezy and cold up there so it was a good thing we brought jumpers. But it was also quite crowded as expected. Nonetheless, we gleefully took pictures as all the buildings and landmarks around us looked tiny. The Seine River was perhaps the most important subject up here as we could see the famous river making its way through the city.
After having our fill at the top, we then took the elevator down to the lower section where we took more pictures as the buildings and landmarks looked closer. And then after having our fill of that, we finally made it back down to the bottom at 6:35pm.
Now, we had to make our way to the Noglu Restaurant since we had made 7:30pm reservations. But it was important that we went there for Julie because she had read about this place as being a good gluten free joint in Paris (a city where gluten-free was quite the oxymoron given things like baguettes, croissants, brioches, etc.).
Eventually after going through more metro stops, we got to the small restaurant at 7:35pm, which was right inside an attractive covered arcade with a very narrow alleyway, which was called Passage des Panoramas. As much as I wanted to explore the arcade a bit more, we had to get to the restaurant to meet our reservation and not lose our place.
As more people were showing up at Noglu, almost everyone had American accents. My conclusion from all this was that the whole thing with gut issues due to gluten must be a mostly American thing. Perhaps it was our tainted food supply. But Julie was quick to point out that it was actually a worldwide phenomenon as apparently glysophates were sprayed on wheat all over the world though it was only recently that the EU decided to ban that practice.
Anyways, we had ourselves a duck, octopus, burger (for Tahia), and a soup du jour consisting of mango with ginger in a cold soup. The food was pretty good though the duck and octopus were a little tougher than we would have expected.
After we had our fill at 8:35pm, we then were about to head out before we decided to seize the moment and check out the Bisou Creperie that we had noticed near the front of the arcade. Even though we already had dinner, we knew that we had to take advantage of dining in Paris since we didn't expect German food to be as varied nor as indulgent.
And so we got ourselves a sweet crepe of cookies and cream with some additional vanilla ice cream and nutella topping. Meanwhile, Julie got a gluten free savory galette.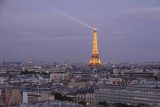 Eventually, we got out of the creperie and then headed back to our room. We got back there at around 10:10pm, which was later than we would have liked (since we were fighting sleep ever since dinner). Yet we were now treated to twilight views of the Eiffel Tower being lit up and sparking from time to time. And once again, Tahia was mesmerized.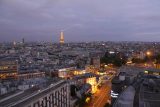 Indeed, it wouldn't be until around almost midnight that we slept. With our alarms set to 6am, it wasn't going to be a deep sleep, but at least it was an upgrade from sleeping on the plane. Of course the challenge now would be to get up so we could have both brekkie and our reserved entry time into the Louvre at 9:30am…
Day 3 (June 15, 2018 – Paris, France): "Fighting Fatigue"
It was about 5:45am when I awoke to the alarm. I wanted to sleep some more, but we had to wake up and not mess around given that we had to seize the moment on this lone full day of touring Paris on this trip. Tomorrow, we were supposed to take the TGV out to Frankfurt to begin the main goal of this trip, which was to visit the German-speaking countries of Germany and Austria.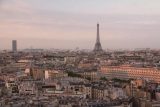 It took some time to get ready, but by 6:55am, we headed downstairs expecting to have breakfast around the lobby of the Hyatt. But when we got down there, apparently they only had a buffet petit-dejeuner, and Julie couldn't go for that given her diet restriction. In my mind, I was thinking that it was probably better that we didn't do that anyways since I viewed it as a waste of time and money.
So we continued out to the metro beneath the Palais des Congres (which was actually a mall as opposed to some Congressional Palace). On the way there, all the shops remained closed as apparently no one was open before 7:15am or earlier. Either way, we promptly got into the metro station and took the subway out to the Musee du Louvre, which still wasn't open by the time we got there at around 7:30am.
We wound up taking a different sortie (exit) up to street level, where we then wandered around until a giant archway caught our interest. It turned out that there was a huge plaza that the archway opened out to, and by the time we got around some of the giant building facades near a roundabout, that was when we realized that we were right in front of the glass pyramids at the Louvre!
Clearly, it was too early to be at the Louvre though there were still a handful of people taking pictures without as many people around. But we had some time to kill before our 9:30am admission time so we continued walking around looking for a place to have breakfast.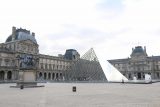 We wound up walking across the Rue de Rivoli, and Julie was following the phone in search of some place called Claus, which was apparently famous for their breakfast pastries. But when we got there at Claus, they didn't have standby spaces as the folks before us already had reservations and the upstairs dining area was closed.
It was suggested that we could walk to a different Claus location another 15 minutes away, but we ultimately decided to walk to one of the eateries we had passed by earlier closer to the Rue de Rivoli. And we eventually settled on this place called the Cafe St Honore at 8:05am.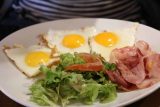 Being the first people here, we quickly had our order taken for a couple of egg and salad dishes (for Julie and Tahia). I ended up with an omelette. We also threw in a foie gras though it was more pate style (and not the smooth grilled types you'd get at the fine dining establishments).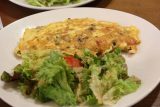 The food was decent for something quick, and it was fairly-priced considering what we had been paying to eat out so far on this trip.
By about 9:20am, we made it back to the Louvre, which didn't have a long line going into the security check underneath the glass pyramid entrance. When we went downstairs, there was the familiar courtyard where we then followed the Denon section as the first target was to see the Mona Lisa.
The Louvre was something that Julie and I didn't do when we were in Paris 6 years ago, but I was kind of interested to see what the fuss was all about this time around. Even though I wasn't much of an art history enthusiast, I was keen to see why this was considered one of the must-do excursions in Paris.
Ultimately, we walked up a few flights of stairs and then made our way to the Denon Wing, where signs for the Mona Lisa made it quite clear that we needed to target the La Jaconde room.
Indeed, when we finally got there, the Mona Lisa painting sat on the wall while fronted by a giant crowd of people taking selfies and other people pictures in front of it behind a perimeter so no one could get too close. There were also other paintings in the same room with its high walls so indeed there was no shortage of works here, but it was clear that the Mona Lisa got all the attention.
After having our fill of the Mona Lisa (whom Julie claimed that it was famous because Mona Lisa was always smiling at the viewer no matter what the viewing position as if this was by some kind of skillful trickery of the brush or by some urban legend), we then walked through the rest of the galleries on the first floor as we headed into the Sully wing before finally arriving in the Richelieu wing.
The Sully section was supposed to have Egyptian exhibits but it was closed. So we had to settle on the rest of the works in the Richelieu section as we were determined to make our way to to the Napoleon III Apartments, which was an exhibit that was beyond the Richelieu Wing. Julie was especially drawn to the crown jewels in there.
At first, we thought that when we got to the escalators overlooking some marble statues down below near the Cafe Richelieu that we were at the end, but when Julie realized after we had gone near the exit that we still hadn't seen the Napoleon III Apartments that we had to go back up and keep going into the Richelieu Wing to check out the desired section.
And when we finally got up there (after a brief futile run at the Angelina Cafe thinking that that was the tea room we wanted to check out over hot chocolate and tea; when it was nothing more than a small convenience shop partnered up with the Cafe Richelieu) that was when we got into the red carpeted halls and rooms that were very ornate and quite unlike the other exhibits of the Louvre that we had visited to this point.
It was a good call on her part that we check out this section because it was probably the highlight of our visit (probably not surprising considering that I was under the impression the Louvre was nothing more than an art gallery going into this; I had never imagined there were apartments to envision what rich people lived like back in the day).
Of course, I also saw all that gold and fine vases and crystal-like chandeliers, and thought to myself that it was also a sign of the power and wealth of the elites to whom such resources were concentrated on. It wasn't unlike what was happening now with the 1% getting all the wealth while everyone else was fighting for scraps, and you have things like the Trump Administration where an ignorant public allowed this divide to accelerate as the world watches incredulously.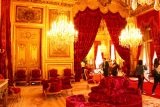 At the end of the day, are all these trinkets and decorations really worth admiring? Personally, that was probably at the heart of why I was never really into all the museums and city-related tourist attractions, but at the same time, it was also an essential part of the European experience since these also told a story of how the world came to be.
Anyways, at 11am, we were finally done with our visit of the Louvre. While we wound up spending around 90 minutes total on our tour, we only circled the first etage (floor), which was actually the second floor since they count from 0.
Heck, we only skimmed the floor we were on. We visited just a few specific rooms and works as we weren't art history buffs like say a Rick Steves would be. Yet, the Louvre actually had a -1, 0, and 2nd floor, which just illustrated how big this museum was!
At this point, we were then headed towards a familiar haunt called Le Souffle, which was actually just north of the Tuilerie Gardens. So we walked that way, and eventually we made it there around 11:45am.
We thought that we were too early since their stated opening hours was 12-2, but we saw one Chinese couple get seated as the door was already open, and so we did likewise. Julie had made reservations at 12pm and at first it didn't seem like it was necessary. Then again, we couldn't forget that the whole notion of RSVP started from the French as that acronym stood for "reservez, s'il vous plait" which also translated to "please, reserve".
We took some time to unwind from all the touring and walking this morning, and we eventually ordered a Degustation Menu, which didn't have any souffles since the only one that wasn't gluten free was the raspberry dessert one, but she wound up getting sea bass and escargots as her other courses. We also got a magret of duck a la carte for Tahia.
Meanwhile, I got all souffles for my meal, with some kind of starter souffle of spinach and salmon, then a savory one of chicken and gravy or something like that, and then the dessert souffle of chocolate with chocolate sauce.
It turned out that Tahia wasn't into her meal since we were quite stuffed on baguette as we used it to soak up the butter and garlic from Julie's escargots. In hindsight, we probably shouldn't have ordered the a la carte dish for Tahia.
Yet it was still a good meal though we were totally stuffed and I couldn't even really think about food anymore. It was also quite an expensive lunch as the extra a la carte dish of the duck put our bill over 100 euros (which was on the order of $120 USD).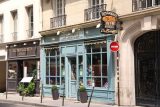 I guess we kept saying to ourselves that we wanted to enjoy French food before we were going into Germany for more functional German food. I didn't think German food would be as bad as we were expecting, but we certainly had that mentality and our actions showed it.
While the restaurant was pretty empty when we started, it was quite busy when we left at 1:30pm. We then decided that we should try to walk off all that food, and we wound up taking the metro towards the Notre Dame Cathedral.
We wound up getting out of the La Cite stop, which took us near the St Germain Chapel (which was known for the stain-glassed windows) but we weren't going to wait in line for that this time around. Instead, we followed the Seine River and eventually got to the Notre Dame Cathedral at 2:05pm, which was very busy.
And since the sun was out, it was also quite hot as well.
So after taking our obligatory pictures of the front of the dual-spired cathedral (reminding me of Royce Hall at UCLA), we then waited in line to go through the security and into the interior, where it was also quite busy. There were lots of American accents in there (and come to think of it, there were lots of American accents throughout the Louvre and randomly on the streets at the Rue de Rivoli) that it was clear that Americans love Paris.
Anyways, we took the opportunity to chill out inside the cathedral on some of the empty chairs to just sit and unwind a little bit. The low lighting made the photos in here a bit on the atmospheric side though I'm sure I wasn't picky about noise from the high ISO auto settings.
Regardless, we then walked around the ornate interior before spending 10 euros to go into the treasury to check out some crown jewels within the small isolated section. It was yet another indicator of how powerful the churches were back then, and how they wielded that wealth and power over large masses of people all the more willing to hand over that power to them (especially of the mind).
We wound up finishing our visit of the Notre Dame at 3pm because Tahia said that she had to go pee again. And it turned out that the nearest ones were right outside the cathedral at a couple of self-cleaning stalls that we were actually free to the public.
However, the self-cleaning toilets were a bit on the slow and deliberate side, so it wasn't until about a 30-minute wait when Tahia could finally relieve herself with Julie going in with her to make sure she wouldn't get stuck and being claustrophobic or alone in there.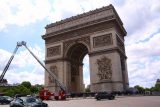 Next, we then went back to the metro where we then took it back towards the Champs-Elysees and the Arc de Triomphe. It turned out that we couldn't go underneath the roundabout and into the underside of the historic building because there was some kind of procession or ceremony going on there.
There were a couple of cranes and some military music going on, but it was hard to see or hear what was going on over all the street traffic zooming about. Ultimately, we got our quick selfies and photos from across the busy street where people were gathered to get their shots, too.
Then, we walked down the Champs-Elysees, which was a grand avenue with lots of shops. We'd eventually get to the familiar Laduree, which was now a tea room spot at 4:25pm. Last time we were here, it was merely a macarons shop in a tent as the building was being renovated or restored or something.
And thus, we indulged in a little afternoon tea with some expensive macarons (two chocolates and two vanillas) as well as an ispahan, which was a raspberry-lychee pink macaron that was actually quite delicious. Plus, the light texture of the macarons once again reaffirmed to us that indeed the French were masters of the art of making macarons and the imitations back at home had nothing on the real deal.
Of course, we also had to be mindful that Julie's gut was going to protest all that sugar even though they were gluten free.
Julie also noticed that there was a Pierre Herme shop (or at least a licensed reseller or partner) across the street so we wound up going there after having our fill of the Laduree indulgence (and expense).
It turned out that the Pierre Herme shop was partnered with L'Occitane. We made it a point to go to the real deal shop when we were to return to Paris at the end of the trip. In any case, we picked up about 5 macarons, and they lady that helped us graciously gave Tahia an extra raspberry one on the house. With each macaron costing 2,2 euros a pop, that was nice of her. I don't know what it was but it always seemed like we'd get freebies with little girl. Still, it was quite expensive, and the jasmine maacron itself was already 4 euros by itself!
Next, we then took the metro back in the other direction towards the Breizh Cafe. However, instead of going to the familiar joint in the alleyway northeast of the Notre Dame Cathedral at the 3rd Arrondissement (it was actually called Little Breizh Cafe as opposed to Breizh Cafe), we ended up at some new location at the 6th Arrondissement. We got there at about 6:05pm.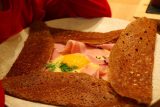 It didn't quite have the old ambience we were hoping to have, but since we were there, we just seized the moment and had looked forward to the galettes for our last meal in Paris for a while. That said, we had to endure the incoming cigarette smoke (my throat was scratchy given all the toxic cigarette second hand smoke) as well as Tahia's fussiness at wanting to sleep as she was now very tired.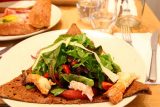 It wound up being her loss as the food was quite good as I wound up getting a langoustine galette with salad, which was light and airy. Meanwhile, Julie got some kind of crab rolls, which were galettes rolled up like sushi. That was pretty unique. And then we ordered for Tahia a truffled ham and egg galette, which she only managed a single bite as she was way too cranky to want to wake up from her sleep as I'm sure jetlag and all that walking got to her.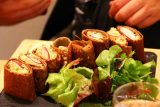 Oh well, it was her loss as Julie and I wound up eating the rest of her galette that was probably the tastiest of the galettes that we got at the Breizh Cafe. We then ended it off with a dessert of chocolate with banana and Madagascar vanilla ice cream scoop plus one non-ice cream cream next to it.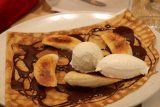 With that, we left the cafe at 7pm, and then we headed back to our room. We decided not to go to the Trocadero view of the Eiffel Tower along the way since Tahia was in no mood to push it.
And when we got back to the room at 8pm, that was when Tahia was no longer her cranky self and got back into playing with her eraser putty and checking out the Eiffel Tower again. Speaking of the Eiffel Tower, the views were a bit more glowy thanks to the late afternoon sun.
Eventually, we'd be packing and getting ready for our travel day tomorrow. And it wouldn't be until after 10pm that we'd finally crash and go to sleep. With the brightness of the afternoon the whole time, it totally didn't seem like it was time to go to sleep. I guess with the Summer Solstice next week plus the high lattitude in Paris, that probably shouldn't have come as a surprise though it did throw Tahia off guard a bit…
Day 4 (June 16, 2018 – Bacharach, Germany): "Howling Wedding Bells"
It was 5am when we awoke to the alarm. Right off the bat, I was wrapping up what I had to do to finish packing. Meanwhile, I also finished blogging about yesterday since I didn't have any energy left to do it before sleeping.
Minutes later, Julie got up and wrapped up what she had to do. We'd eventually get room service omelettes for brekkie since we had to be outta here and at the Gare de l'Est before our 7:20am train to Frankfurt Hbf (Hauptbahnhof, or main train station).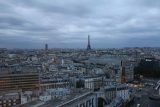 So we spent the next hectic hour or so getting Tahia up, tending to our hygiene, getting dressed, eating breakfast, letting Julie take her meds, and making sure we didn't forget anything before we were out the door.
It was quite overcast outside as we made one last look at the Eiffel Tower before we headed downstairs.
Julie then checked out while we got the Uber app going so someone would pick us up and take us to the Gare de l'Est. It was only said to be about 13 euro via Uber while we were told it was around 20 euros plus or minus if we took one of the conventional taxis that were waiting outside the entrance.
I guess this Uber thing was turning out to be quite convenient, and it made me wonder why we didn't do this more often on prior trips when it came to getting around places that were inconvenient by mass transit or with too much luggage.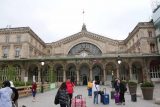 As we were being driven past the L'Arc de Triomphe and then past the Champs Elysees before going on some other side streets to the Gare de l'Est, the driver in his limited English tried to make some small talk. But when Julie tried to ask about the strike situation, that was when I intervened and I tried my French to see if we could get any answer about the manifestations.
That impressed the driver since he didn't expect us being able to get by with some French. And at least we got from him that we he doesn't really know since they made no announcements for end of July yet.
He then went on to do the small talk in French (clearly more comfortable with that language) and I did my best to keep up with his questions about the usual questions of say "where you from?" (typically loaded because we're Asian; so they want to hear if we're Japanese or Chinese as opposed to being from the USA).
It didn't take long before we were right before the Gare de l'Est, and we were promptly dropped off right in front of the station where there were a bunch of Asian tourists posing before the front facade (and we wound up doing the same since we were here).
Next, we had to crowd into a bottleneck as we saw that our train was in quay 6. Once we were scanned, we then had to walk quite a ways to the front train as Julie had us booked on first class so it would be easier to stowe the luggage and be seated comfortably.
Sure enough, the train took off on time, and I was getting a little more confident with my German as I could actually read the signs when the German came up. I guess the lessons that I was self-learning whilst commuting to work was paying off.
This train ride was actually born out of necessity because we were originally supposed to fly direct from Los Angeles to Frankfurt or Los Angeles to Munich (with Germany and Austria being the focus of this trip). Unfortunately, when we saw the airfares back in April of May for these peak season dates around June and July, we saw that they wanted upwards of $2200 USD per person! That was a hard pill to swallow for three people on just the flights alone!
That was when we started thinking out of the box and took a look at a direct flight from LAX to Paris. Lo and behold, Air France only wanted around $1200 USD per person, and Julie also wanted to use her Citi Premiere points (which she paid to keep her credit card alive for) just to have at least one flight for free (though it wasn't really free and probably a loss if you count how much she paid to keep the card alive).
And if you add the roughly $200 USD (or about $66 per person) for the TGV tickets for all three of us going there (all in first class mind you) and say add another $200 USD for the train ride back at the end of the trip, we'd still come out ahead in terms of saving money. Plus, we already got a good experience in the first two days re-experiencing Paris but with Tahia this time!
The only snags to this plan were the French Railway strike that was happening this year as well as needing to add some extra nights to the trip (which we managed to get by with Hyatt points as well as Intercontinental points for the end of the trip). We managed to get lucky on the way there as the planned strike days just so happened to be outside of today. We didn't pre-book anything on the return since we don't know how the strike situtation will pan out at the end of July.
Anyways, it didn't take long before the train was hitting 300km/h and higher (even getting up to 312km/h) so for sure it was getting up to close to 200mph! The gray skies were giving way to partly cloudy skies as the urban jungle was also giving way to rolling green pastures that were more familiar to us on our road trips to waterfalls. It definitely brought me back to those times when we were driving around France and watching the TGV blow past as it was moving faster than we could ever hope to move by car on the autoroutes.
The train was riding quite smoothly and from looking at the map, it appeared that we were heading straight east before making a few stops and finally stopping at Frankfurt. The first stop was Strasbourg, then Karlsruhe, and then Mannheim. I wondered if there was a more direct train to Frankfurt that we should have taken, but I somehow doubted it. Oh well, whatever the case, we had most of the afternoon to drive to Bacharach after getting the rental car and perhaps doing a grocery run along the way.
We'll see how all that plays out. As I'm sure it might be a bit tight to fit in any sightseeing in the Romantic Rhine on this day…
By now, the scenery was of the rolling hills of the countryside, which reminded me of how nice it was to drive around France some 6 years ago in such scenery.
I thought to myself how most tourists think of France as just Paris and claim they've seen the country just by visiting that city alone, but I knew from our three-week independent trip to France back in 2012 that there were many more dimensions to the country, and this glimpse of the countryside was a reminder of such benefits of going off on our own on a trip like this.
Anyways, it didn't take long before we arrived at Strasbourg at around 9:05am, and it seemed like the rest of the first class car emptied out with only us as being the only ones riding the first class car the rest of the way. As the train resumed its journey, I noticed that we crossed a river, then the signs started to look like they were in German. So perhaps Strasbourg was near the Rhine River and now we were officially in Germany and will remain that way for the rest of the way.
At that point, Tahia was busy playing aisle gymnastics with all the newfound freedom while Julie and I were trying to catch some shut eye.
Eventually at 11am, we arrived in Frankfurt Hauptbahnhof where we then walked our way into the train station and then towards the Hertz (and other rental car offices). When we came to pick up at around 11:20am, we were told that our reservation wasn't until about 1:30pm as we were about two hours too early. I guess Julie didn't coordinate the rental car hire with the train ticket purchase so we had to stick around for a couple of hours.
So we took our luggages and then walked into the little walking area just across the street from the train station. That was where we found a pho place, where we then decided to have ourselves a lunch (mittagessen) there.
Once inside, the guy who looked like the owner spoke Mandarin to us, and we promptly seated ourselves and ordered some dishes like a duck noodle soup, a classic pho tai, and then a vermicelli dish with some kind of lotus-wrapped beef.
The food wasn't fancy though it hit the spot. I guess the lotus-wrapped beef with rice vermicelli was different but it felt like it was missing lemongrass, which we'd imagined was difficult to procure in Germany.
Regardless, once we did our deed there and paid (in cash; no credit card) at 12:40pm, we then walked over to a foreign exchange office that also doubled as a jeweler. That was when we exchanged for some more money at a more reasonable rate of about $1.213 USD for each euro, which was way better than the $1.29 USD for each euro or the $1.345 USD for each euro at the airport.
Eventually, we were back at the Hertz at 1pm, where we were still waiting for our rental car to be ready. After another half-hour or so, that was when the lady who was helping us out said that our car (whichever that was) still wasn't ready so she hooked us up with a Jaguar.
She mentioned that she felt bad (for the company) for renting out this car since our hire was for six weeks, but she said we had been waiting long enough for a rental car so she decided to do this for us. I guess that was really nice of her. The only bad thing about this car was that it wasn't a stick shift, which I was really looking forward to using, especially on the mountain roads.
Anyways, the reaction from other rental car agents who were there (from other agencies) was one of like, "You're lucky to be driving this car for 39 days!"
Since the car wasn't a stick shift, which was what I would have preferred, I was concerned that the luxury car might be a bit too large or too baller so it would be prone to break-ins. I also worried about how easy it would be to shift gears and not rely on brakes so much on the steeper mountain roads. But Julie encouraged me to just take what we could get, and we ran with it.
After walking to the parking structure that contained the rental cars (Hertz was on the very top floor), we eventually got into the Jaguar and settled in at 2:05pm. I guess any shot we had of touring before dinner was shot by this time.
It took a little getting used to using the GPS in the car as it didn't seem like it was straightforward to enter the desired address. Instead, I had to navigate some map before it found the nearest accommodation automatically. I guess we'd have to experiment a bit more next time to properly use this device.
In any case, once we were out the door and we had a navigation thing working on both the car as well as my Nuvi we had with us (always a concern since you never really know how well these work until you get there), the drive otherwise pretty smoothly though people were driving quite fast on the expressways.
I wasn't sure if the legendary autobahn without the speed limits was in effect as I still saw speed limits reaching up to 130 km/h, and there was a little bit of minor congestion around Mainz.
But aside from that, we eventually got off the autobahn and then onto the rural country roads bordering the Rhine River as we were now heading north in the Rheintal (Rhine Valley). We had passed by one castle which I think was the Rhinestein or something like that near the town of Bingen.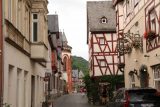 Eventually at 3:45pm, after a little bit of confusion about where to drive to at Bacharach, we eventually found the shop where we were supposed to pick up the keys and parked off the side of the small road. Tahia was a bit cranky as the church bells seemed to be going off like crazy as she was still wanting to remain asleep and undisturbed.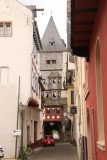 After a few minutes of bringing the luggages up to our apartment unit (going up about three flights of stairs), we saw that the apartment was spacious and nice. But I still had to go back downstairs to park the car in a more legitimate spot.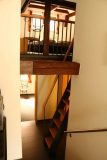 I'd eventually find some free parking spaces that were quite a bit of a walk from our apartment. It was right behind one of the unsupervised train stations where I managed to score one of the free parking spots though I could see that it could easily fill up and not be easy to find at busier times of the afternoon.
I also realized that our baller car wasn't as compact as I would have liked so parallel parking was a bit tricky. I actually had to go a little further to find a spot that offered me a little more space without dinging other cars. The radar beeping at least helped me out when I realized that I probably wasn't going to fit in my first choice.
As I walked back towards the apartment, it was starting to sprinkle but it was nothing that I was worried about. I could see that there was an attractive castle at the top of the hill as well as some chappel ruins, which I knew was a signature landmark of Bacharach. There were also high speed freight trains going by periodically.
At 4:30pm, I made it back up to our apartment where I then finally got settled and used to the place that we'd be staying for the next two nights. Tahia was already claiming the loft though we were a little concerned about the steep steps, which might be an issue if she had to pee in the middle of the night.
At about 5pm, we then strolled about the center of the historic part of town, where we saw the attractive Altes Haus (Old House) in its half-timbered style that we imagined would be how most German countryside houses would be like.
As we continued further along the main street, we then found a supermarket (supermarkt), which was a small local grocer. Regardless, Julie seized the opportunity to pick up some produce so we could at least take advantage of our apartment's kitchen.
That run meant that we had to back up our dinner reservations to 6pm instead of 5:30pm, but the restauranteur seemed to take it in stride.
Eventually after buying the produce, then taking it back up to the apartment, and then heading to the dinner spot, we made it in time for our 6pm reservation at this place called the Stuben Restaurant or something like that. It was actually next to the train tracks so periodically the nice ambience of the Rhine River and small town was broken by the trains whizzing by.
There were also those loud church bells going off once again as the waitress told us that it was not unusually like that. However, it was because there was a wedding (hochzeit) going on that that was perhaps the reason for the bells going off.
We ultimately had ourselves a pretty nice gluten free fare consisting of some kind of variety appetizer (with some goat cheese, pate, ham, and other things on a slate) then some main courses of meats in a kind of stew. Tahia's kiddie meal was actually a healthy fare of salmon and veggies. And the nachtisch (dessert) of creme brulee was quite good.
Eventually at 8:10pm, we were back at the apartment (to grab a jacket), and then we took the time to hike up to the chappel ruins and ultimately to the castle further above. Even though the skies were clearing, it was late enough in the evening to lose the glow on the Rhine River.
Eventually at about 8:45pm, we made it up to the Burg Stahleck, where we couldn't go inside due to some kind of wedding party going on.
However, we did continue hiking up to a lookout that allowed us to look down at the castle with the Rhine behind it. We also saw that there was a different lookout across to the other hillside that probably would have been a better spot to be taking pictures.
Indeed, the views were quite nice and we could totally see that we picked a pretty good spot to settle in and perhaps go back up for a morning view the next day. For sure, we intended to return to the castle to see what it would be like on the inside tomorrow.
At 9:55pm, we made it back down to our apartment. Along the way down, we continued to scout out the hiking path to get up to the better viewpoint. That appeared to be to the north of the old house and up some other side road. It didn't appear to be accessible directly except by walking uphill past the tower and then up a ramp leading up to the desired spot.
The twilight lighting wasn't as romantic nor as glowy as I had anticipated so we didn't linger any longer before settling into our apartment. The internet wasn't working but we were having trouble staying awake anyways.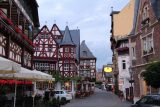 At some point, Tahia started to get freaked out about staying in the loft by herself so I eventually switched spots with her so she could sleep with Julie downstairs. That at least alleviated our fears that she would take a nasty spill in the middle of the night to go pee or something.
And so ended this day as our tour of Germany was about to begin…
Day 5 (June 17, 2018 – Bacharach, Germany): "Fathers Day at the Romantic Rhine"
It was 6am when I awoke to my alarm. As much as I wanted to sleep in more, I was also driven by catching up on my blogging and then checking out the viewpoints in Bacharach with the early morning glow.
It wouldn't be until about 7am when I got out the door and started my morning walk. It was quiet on this Sunday morning so there was a bit of silent atmosphere in the main center of town. There were maybe a handful of people out for morning walks as well. There was also the sound of church bells in the distance going off as apparently some people were doing their religious routines on this day of rest.
Knowing where I needed to go, I proceeded past the Altes Haus then went left on a cobblestoned street just past a small little waterway that was hidden beneath town (yet it was audible). I then followed the donkey signs up the steps and then right up to a sloping path between some vineyard.
When I got up to the base of the tower (a sign here said it was the Sentry Tower or formerly the Cat Tower), I then had to go up and around it as the tower's interior was gated. Yet from already this vantage point, the views back towards the ruined chappel and the church towards the Rhine River and the Burg Stahleck were quite impressive.
I continued taking pictures of the morning lighting somewhat glowing on the Schloss Stahleck and the church and chapel towering over the rest of Bacharach. Yet the lighting was becoming short-lived as clouds were rolling in and starting to obscure the soft morning light.
I ultimately hiked up towards another ruin, which looked like a wall with a tower that was once there (a sign here said it was the Spitzer Turm or Pointed Tower). I actually went past the ruins and all the way up to an apparent unpaved road where a couple of guys appeared to have camped or at least checked out the views (except both of them were asleep).
I then went back down the way I came and took a few more shots before returning back to the apartment, where Julie was in the middle of making breakfast. I returned at 7:45am.
Our breakfast consisted of thick bacon with eggs. We also had to finish off some of the strawberries bought yesterday, which were getting overripened or rotten real fast. I had those to sweeten up the unsweetened yogurt.
And while trying to wake Tahia up, I did notice a tick-looking insect on the pillow next to Tahia's head! When I showed Julie the insect, she immediately had us get rid of it because she told me that that was a bed bug! Yikes!
We then quickly looked at all the sheets and pillow cases and didn't find another one. But that was not to say that there could have easily been another one out of sight but still lurking. We also had to be careful about those critters getting into our clothing in our luggages.
It wouldn't be until about 9:10am when I finally walked out to retrieve the car. Then, I picked up Julie and Tahia and we were off to tour at least St Goar. We figured that we could spend the better part of the morning and midday checking out both the town and the Rheinfels Castle at the top of that town.
The drive north along the B9 was on the western banks of the Rhine River, which had those familiar castles perched atop the hills as well as some island castles in the middle of the river. We also saw the bend called the Lorelei, where freighter ships needed some coordination to ensure shipping disasters didn't happen. I made a mental note to stop at one of these spots for photos, but it wasn't in the cards on this morning.
I recalled from a Rick Steves DVD that these castles along and in the river were actually methods to collect taxes or tariffs from merchants who needed to ship their goods up and down this river. Given the quantity of these things up and down the Rhine River, I couldn't imagine how much of highway robbery it must have been back in the day.
We'd ultimately make it to the Burg Rheinfels above St Goar at 9:40am. I was still getting used to driving the Jaguar but since it was automatic, it didn't seem like it was that well equipped to figure out how to shift to lower gears in real-time to ensure we can go up (and down) steep hills. That got me a bit worried about trying to drive the mountain roads in Austria and other mountain roads, which I knew would be encountered later on in this trip.
It was times like these that I really wished I could drive a stick shift instead regardless of whether it was a luxury car or not.
Anyways, we paid a euro to park for an hour, and then paid 10 euros to tour the castle ruins as a family. We learned that there was an 11am tour though it was to be given completely in German. We didn't have plans to do it, but we figured that it might be a possibility since that tour would go into parts of the castle that apparently the open self-touring couldn't be doing.
Well, we began our self-tour by taking pictures from perches overlooking both St Goar and the Rhine River. Then we went up steep steps leading up the clock tower (Uhrturm). By the time we made it up to the battlements, we found ourselves at another perch with an even more commanding position overlooking both the Rhine and St Goar as well as some of the surrounding hillsides.
We then did a clockwise self-tour as we went by some wells and the front of the museum where we could see one imposing walls and structures that now look like nothing more than windows and walls without a roof. There were a few hidden nooks and crannies like small cellars and the like.
And we even spent a few minutes inside the museum checking out the re-creation of the Rheinfels Castle in miniature showing how impressive the village and fortifications once were.
By the time we were done with our self tour at almost 11am, we then went ahead and did the guided tour (after I took some time to feed the meter another hour). We then followed the same person who also collected money at the door as she was the person giving the tour in German.
There was one other couple who also couldn't process a whole lot of what the lady was saying though I could gather bits and pieces of the narration given my German lessons studied during my commute for the past six months or so.
We were taken into the outer perimeter of the castle as well as some tunnels and corridors that were not accessible to the self-touring public. Having been to many castles in the past, we kind of knew the drill about defense mechanisms from arrow slits to holes where hot oil or poop would be dropped onto intruders.
We then entered the so-called Foxhole where we had to duck and follow long dark corridors. It was quite atmospheric and fun though it was more for the experience and not for the photographs in that part of the tour.
Towards the end, there was one guy selling archery lessons, which a few folks from the group went forward and did while the remainder of the group went into the dungeon, the slaughterhouse, and then the big cellar that we had been at earlier.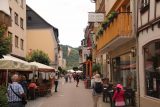 By about 11:55am, we were back at the car. And ten minutes later, we found parking near the main drag through the town of St Goar, where we paid another 1.5 euros or so for around 90 minutes or so.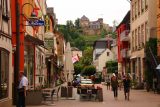 As we walked through the main drag, we settled on this place that served up what seemed like Italian-German food. Julie was drawn to this place because it appeared to be the only place in town that could accommodate gluten free food. We were definitely seeing how hard it was to do that given Julie's diet restrictions and the tendency to do bread in most of the traditional German dishes.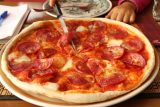 So Julie got some kind of pork chops while Tahia and I shared a pizza that was prepared in the old traditional Italian style with the thin crust and a substitution of mozarella for the cheddar.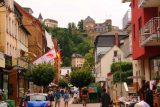 At around 2pm, we were done with both the lunch and the quick tour of the main drag of St Goar.
Next, we drove back towards Bacharach, where we then drove right up to the Burg Stahleck (instead of walking up there like we did yesterday evening).
This time, after going inside and getting a load of the main courtyard area with some umbrellas set up for the panoramic views over the Rhine and the town of Bacharach, we wanted to see other parts of the interior of the castle turned youth hostel, but they were only meant for guests.
So we wouldn't be going up the tower or the higher levels for more panoramic views nor any of the authentic rooms as it was a functioning accommodation. So that kind of made the self-touring experience a bit on the disappointing side.
By about 2:50pm, we returned to the car, and then ten minutes later (after dropping Julie and Tahia off at the apartment), I then finally found parking a bit further to the south of the train station and beyond where I had parked the night before. I was glad that I didn't have to drive again on this day, but I also knew that I'd have to move the car so we can load it up and be on our way to Mosel Valley tomorrow.
Next, I walked back to our apartment where Julie and Tahia and I then made our way back down the steps and towards the Sentry Tower (or Cat Tower) as I had noticed there had been people inside it whereas I couldn't do it earlier this morning since the gate was locked.
That would finally be the opportunity to see the ruined chappel and church perched over the town of Bacharach with Schloss Stahleck still perched atop the hill further uphill of town. We spent a good deal of time soaking in the views while also making small talk with a father-son combo from Nova Scotia who were biking from Amsterdam all the way to Switzerland via mostly the Romantic Rhine.
After having our fill of this spot, we then returned to town where we then made a spontaneous stop at a local joint next to the Altes Haus, where Julie noticed some traditional fare that we ought to try since we're here.
At first, we were soaking in the ambience whilst chilling out in the patio, but eventually the cigarette smoke got to us so we had to retreat to the rooms inside the house. That was where we were sitting alone and we were waited on by a nice lady with braces who made sure we were taken care of.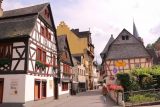 We wound up ordering some kind of really sour and fermented cheese dish drenched in a sour syrup with green onions. That dish definitely had a unique flavor to it, and it kind of reminded me of something Julie and I took to go from Pyengana, Tasmania, where there were some fermented eggs.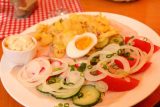 We also got some kind of roast pork cold cut slices on bread with onions, radishes, potato salad, and other toppings. Then, there was a potato dish with some kind of tzitiki sauce and four half-eggs.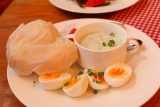 We eventually finished everything though we were a bit stuffed from this supposed snack turned into pre-dinner. Julie still intended to cook dinner back at the apartment, but now neither of us were in no mood to eat.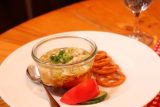 In any case, we got back to the apartment at 5:35pm, where it only seemed like Tahia had the energy to do anything. Both Julie and I were struggling to stay awake. I was certain that this fatigue was caused by our bodies still not fully adjusted from the jetlag.
Eventually, we'd have our dinner some time after 8pm. And so we celebrated our Father's Day dinner while also sharing texts with my folks back at home who also wished the same thing.
The rest of the evening was spent getting caught up on this blogging while also entertaining Tahia's urge to draw about her play house and other things she exercised her creativity and attention-to-detail for. I also took the liberty of planning ahead on the Burg Eltz opening hours so we could be out the door and time our visit to right when they open.
We had a lot to cover on the last of our days on the Romantic Rhine (and Mosel Valley), and so I mentally had this picture of how we were going to execute as we also intended to lunch in Cochem and do some final exploration and dining in Trier, where we'd be spending tomorrow night…
Day 6 (June 18, 2018 – Trier, Germany): "Moseling Around"
It was about 5:35am when we awoke. Although the wake-up felt a bit early, we didn't have much trouble getting up because we heard quite a few cars passing by at this time (apparently, our apartment was right next to a fairly busy street even though it was charming and narrow and cobblestone on the surface).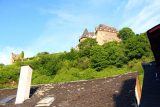 Over almost the next couple of hours, we spent time getting all packed up and ready to go while Julie also prepared breakfast. Although we consumed leftovers in addition to using up some eggs, it still took this long to get ready. I also had to do the fairly long walk out to retrieve the car which was parked perhaps at least a quarter-mile or so (a bit further to the south of the train station and a few meters further from where I had parked the previous night).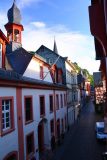 So it wouldn't be until about 7:30am that we were finally all loaded up and ready to leave.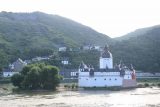 On the way out, we made a brief stop near an island castle on the Rhine River which I had made a mental note to stop for yesterday. So we found a spot next to what appeared to be some kind of stop where there was a homeless person using it as a shelter.
We didn't linger here for too long, but the spot was attractive enough to take several shots even though we were facing against the sun trying to break through the thin layer of clouds.
The rest of the drive turned out to be somewhat uneventful as we were driving some mountainous path towards the A61 once we turned inland on a twisty mountain road from Oberwesel. Once on the autobahn, we then followed the GPS as we remained on the high speed route for a short bit until we got off and followed the brown signs (which eventually became white signs) pointing the way to Burg Eltz.
We then found ourselves following the Moselle River, which was also wide but not nearly as busy and voluminous as the Rhine River. Our drive along this river wasn't for long, however, as we then followed a narrow road that left the river at Hatzenport.
Eventually at 8:35am, we parked at the Burg Eltz, where apparently we were a bit early as we found ourselves parked along with staff that happened to show up at this time. The place was not open until about 9:30am. So we killed some time slowly getting ready while still figuring out how to use the rental car's control panel, navigation system, media hookup, and more.
Then, we finally started the downhill walk along the shuttle bus route though we wouldn't be taking advantage of paying the amount of descend towards the castle. Along the way, we spotted an attractive overlook behind a Jesus statue.
The view of the castle was very Disney-like as this place was pretty isolated within a sea of green almost perched atop a lone hill surrounded by a real stream passing around it. With the circular turrets and columnar skyward profile of the castle itself, it definitely felt as if we were entering some kind of fantasy concoction seen from our childhood days.
At least now, it was becoming more clear to us how things like this were becoming more commonplace in Germany, and we were anticipating even more what other castles we were about to check out on this Germany-Austria trip.
Eventually by about 9:25am, we were wrapping up our descent towards the entrance to the Burg Eltz Castle. By now, there were quite a few other people who managed to make the walk as well as even more people who were shuttled down there after paying a few euro. After paying for our tickets, we were told that the English-speaking tour wouldn't start until 10am so we still had some time to kill checking out other aspects of the castle.
Among them was the Treasury, which was a multi-level section of the castle that featured lots of encased gold artifacts. It was quite impressive that there were that many trinkets and chalices and other things that symbolized the wealth of the Eltz family. There were also weapons, armor, and other things that really made it apparent that this was indeed a medieval castle.
Once the English-speaking tour began, where suddenly there were at least a dozen or so people on it (making this feel more like a Rick Steves led us here kind of moment), we then toured several of the rooms, where the young female guide explained to us that the Burg Eltz Castle was actually three separate living quarters as there were three brothers who inherited the property and had to split evenly with each having their own families and privacy.
We wound up touring two of the three living quarters, which was quite atmospheric and informative as we learned that a good deal of the stuff we were seeing dated back to the 15th century. Seeing anything that was modern (like a few of the family photographs) felt out-of-place, yet this showed that we were indeed in a still-active still-privately-owned castle.
It was too bad that we couldn't take any pictures of the interior of this part of the tour because there was definitely lots to note. Well, at least the English explanations painted quite a picture of what life must have been like living in this castle (unlike the Rheinfels Castle ruins where the entire tour was in German and we probably didn't get a whole lot out of it).
That said, what we saw in this castle was a bit more understated than some of the furnished royal castles that we had visited like those we saw in Scotland (I'm thinking of both the Stirling Castle and the Edinburgh Castle).
When the hour-long tour ended, we then walked back up to the parking lot where there were now a lot more people entering the castle. There were even those who took the 90-minute trail that met up with the road right at the foot of the bridge. I'd imagine that trail came from some neighboring town further down below closer to the Mosel River.
While the uphill hike made us sweat a bit, we got decent exercise out of it as well as a few more looks back at the Burg Eltz Castle with sun still trying to break through the thin layer of clouds.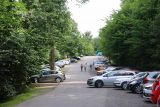 At 11:15am, we were back at the car and then resumed our drive where we followed along the Mosel (Moselle) River for nearly an hour until we arrived at the town of Cochem. After a short bit of time spent figuring out where was the best place to park the car (and mistakenly going into an office area car park that we weren't supposed to go into until a friendly guy who worked there helped us get out), we then settled on this multi-story parking garage at 12:15pm where we paid around 1.6 euros for 2 hours (not bad considering how much we paid at St Goar and its castle, for example).
As we were walking into town, we wound up at Zum Goldenen Fass Restaurant, which was right beneath some imposing gate. Julie settled on this spot when she saw that they took credit card (after rapidly depleting our cash in hand after paying our way through other restaurants on the Rhine Valley that only took cash).
Our fare was an Argentinean fare of steak while I had some kind of fish while Tahia had a bratwurst. With gluten so difficult for Julie to avoid, this was the best she could do. We had to pay a bit for bottled water as this was one of those spots where they refused to serve up tap water for reasons that the Mosel River was too polluted to do so. In the back of my mind, I'm sure they tried to make money off drinks, including water and wouldn't allow tap; as this was the second or third place in the area that did this that we encountered.
After about an hour had passed, we were done with our lunch, and then we finally had a chance to tour the main touristed part of Cochem. That was when we saw that the Akropolis Restaurant (known to be gluten free) happened to be next door though I guess we totally missed it in our haste to find a spot to eat.
The main part of Cochem was quite busy with foot traffic. We even heard lots of American English (again, it was like another one of those Rick Steves brought me here kind of place), including seeing once again a couple from South Carolina that we had spoken with prior to our Burg Eltz tour.
The pedestrian zone area had quite the atmosphere complete with narrow alleyways flanked with shops and lots of people passing in both directions. As we were drawn towards an impressive tower with a gate to pass through at its bottom, it then revealed to us the square at the center of all the commotion, which was the culmination of the charm of the town.
Once we were here, surrounded by half-timbered pastel-colored buildings with some dining tables and shops surrounding the square, I felt like we could have spent an evening here to really take it all in instead of worrying about getting a parking fine for not getting back to our car in another hour or so. Our brief visit really wouldn't do this place much justice.
Indeed, this scene brought me back to how charmed we were in a place like Stein am Rhein in Switzerland where we encountered a similar cute square like this except the buildings had frescoes over there while this one didn't.
With other side streets to explore, we meandered for another couple of blocks encountering other old buildings that appeared to want to lean onto the alleyways. Although there were enticing descents towards the Mosel River and its walkways, we remained in the alleyways and that cute square at the heart of Cochem.
We then got onto the bridge over the Mosel River, where I was able to look back over the river towards an impressive castle as well as the tower overlooking the cute square at the heart of town.
As much as I wanted to linger around here and even check out the other side where the hotels seemed to be, time was running out as it was already about 2:20pm when I started heading back to the parking garage (right at the expiration time for our pay-and-display permit). It's times like these where I wondered if we would have been better off spending a night in Cochem as opposed to a brief afternoon here.
Meanwhile, Julie and Tahia made their way back to the garage before I did, except Julie checked out a historic mustard mill where she bought some stuff that she could use for dressing or something like that that wouldn't contain gluten or other undesirable additives for a mustard.
Eventually at 2:35pm, we were back in the car and resumed our drive towards Trier at the head of the Mosel Valley.
The GPS had us continue on some other inland route until we'd eventually get onto the Hwy 48 then Hwy 1 moving at high speeds into the city of Trier. We didn't continue along the Mosel as I mentally thought I did when envisioning this part of the trip, but it was probably a good thing that we didn't because it was getting later in the day and we still had parts of town that we wanted to visit as time was running out in terms of going inside some of the Roman monuments in the city center.
Eventually at 3:50pm, we parked at the Mercure lot which was said to be 15 euros a day. It happened to be right across the street from the Porta Nigra, which was a well-photographed Roman ruin. After getting our luggages, we then walked around the Porta Nigra, where we then met up with some guy named Ben who was standing right outside the apartment we were staying in, right in view of the Porta Nigra.
He then took the time to show us the apartment as we got settled in at around 4:40pm. Unfortunately, the payment machine ran out of paper so we couldn't complete our transaction on the spot and we'd have to coordinate with him on wrapping that up somehow before we had to check out and leave the next morning for Luxembourg with a couple of waterfalls and a castle to visit.
Ben even told us a little joke about one of the beds that Tahia could sleep in as apparently, it was very close to or next door to where Karl Marx had one stayed or was born (I forget the story). In any case, he said that if Tahia slept with her head towards the apartment wall closest to Karl Marx's old apartment, then she'd wake up communist. But if she woke up with her head away from that apartment wall, then she'd wake up capitalist.
I guess we were in a city where the birthplace of Marxist socialism was very much alive through Karl Marx himself. I never knew that everything here would be Marx this or Marx that, but now that Ben had made it known, I started paying more attention to it.
In any case, once all the formalities were done, we then promptly checked out the main pedestrian zone area of the zentrum of Trier. There, we followed a wide pedestrian shopping lane, which converged onto the Hauptmarkt, which was another attractive square flanked by half-timbered buildings (something we've come to associate with German-speaking regions).
As much as we wanted to chill out here and soak in the ambience and scenery, we saw the St Peter Cathedral (Dom St Peter) off to one alleyway, and we quickly went in there knowing that the last admission was 5:30pm (it was around 5pm by the time we got there).
Once we went inside the grand interior, there was some organ music playing and we promptly took our pictures. Having seen so many cathedrals throughout Europe, we didn't linger here too long. Instead, we tried to make our way to the Throne Room that Ben had told us about, which we realized was at the Konstantin Basilika.
So after making our way there, we happened to get in at around 5:20pm. This was even more understated than the Dom we were at as it was a large room also arranged like a church except it was essentially large rectangular box-like arena. We went up to look backwards towards the organs, and we didn't linger for too long.
Legend had it that this large room was where commoners would complain to Caesar about civic stuff, but the room was so big and it literally took 15 minutes or so before they got to the emperor that they would forget why they came there in the first place after making it across this room.
Afterwards, we then walked back in the direction of the Hauptmarkt except we then noticed an organic grocer called Bio Gate. There, we spent a pretty solid half-hour or so getting some goods that we had trouble finding elsewhere in the country so far.
It wouldn't be until about 6:25pm when we returned to the room to put the food in the fridge. But this wasn't before we soaked in more of the ambience of the Hauptmarkt as well as the fussgangerzonen (pedestrian zone) along the way.
Once that was done, we then went back out onto the streets and went back in the other direction for Julie's dinner spot, which was some place called Brasserie (with "Bitte ein Bit" scrawled on all of the umbrellas and in the framed posters inside the restaurant).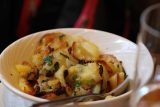 We wound up getting gluten free fare (at least for Julie's sake) as she got some kind of veal liver dish while I got the venison steak. Tahia got spaghetti as we didn't want her to fuss and get too picky with her meal this time around. We also supplemented our meal with sauerkraut (cooked) as well as other high-carb things like the usual bread as well as Spatzel (which was like an elongated gniocchi).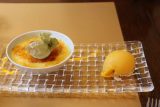 We ended it off with a creme brulee with mango sorbet dessert though Julie was breaking out again from having too much sugar (I guess it was hard to turn these down when there was so much to experience and taste and the body telling you that you couldn't).
The dining experience was made easier since the waiter spoke very good English so Julie could explain her food allergies. Apparently, the waiter was from Namibia, which was why he had such a command of English.
After the dinner was done at around 8:30pm, we then did some more touring of the Hauptmarkt as well as the Dom square. With all the activity dying down (but still happening) from earlier in the day, the whole experience took on a different kind of ambience yet still atmospheric.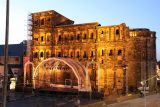 The sun was also breaking through the clearing in the clouds as we also managd to squeeze in some blue skies behind our buildings shots as some of them were getting an afternoon glow (which was crazy considering it was now around 9pm at this point). Even the half-moon was rising above one of the attractive towers overlooking the Hauptmarkt.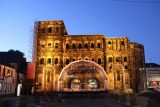 Eventually at 9:45pm, we were back in the room to conclude our whirlwind tour of Trier. Sure it would have been interesting to check out the Imperial Baths and the Archaeological Museum, but they either weren't open on Monday or they were too far to reach in our limited time.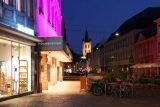 Now, we had to get cleaned up and try to get some shuteye knowing that we had a pretty full day tomorrow, exacerbated by trying to meet up with Ben to arrange to pay for our stay. I didn't even have time to try to follow up with the situation about my website contractor snafu that was really weighing on my mind…
Day 7 (June 19, 2018 – Luxembourg City, Luxembourg): "Flipping Back to French"
It was 5am when I awoke. So far, it had been quiet out in the square as the area in front of Porta Nigra seemed to be devoid of people and cars. I was hoping that with the hectic morning ahead of us that we would be up and out of Trier pretty early so we wouldn't have to contend with too much city traffic during the rush hour.
However, it ultimately wouldn't be until 7:30am when we finally made it to the car with our luggages and started to head out. Ben came by to give us a receipt to sign at around 6:30am. And we made sure not to forget anything nor leave the place messy when we left (especially washing the dishes and placing them on the drying rack).
Next, we followed the GPS towards Saarburg. The parking for the night in Trier was a relatively mild 15 euros though we had to pay in cash. We were kind of hoping that the Mercure Hotel would allow us to pay by credit card since cash was becoming in short supply given all the unexpected cash expenses on our first few days in Germany so far.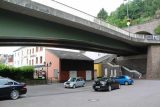 Eventually we managed to find parking in Saarburg at about 8:20am somewhere beneath a road bridge next to the Moselle River. We had driven through what appeared to be forbidden pedestrian-only areas but it was still very early with hardly a pedestrian around. Eventually, we had found a place to stop the car at what seemed like a not-so-obvious designated parking area.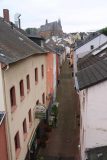 With Tahia napping, Julie and I quickly headed out to find the Saarburg Waterfall as we weren't quite sure where it was. At first, I went up on the road bridge and managed to get a view over the Moselle River towards Saarburg. However, I still couldn't see the waterfall from there.
So I went back down to the alleyway that we had driven through and then we made it to a junction where a narrow and steep path (also that we had illegally driven through at the GPS's urging) was where we were to walk up next. Eventually, we could hear the waterfall and we spotted a viewing spot that yielded a nice direct view of the waterfall.
Now, I could finally say the trip had started as we had seen the first waterfall on this trip.
I spent some time savoring the visit as I was also visiting the cafes and the scenery further upstream of the falls. I probably lingered here for another half-hour, which was a little more time than I had anticipated given my low expectations for a heavily-man-modified waterfall.
But my visit was eventually done as a whole bunch of school kids started to inundate the views of the Saarburg Waterfall.
I returned to the car at 9:05am. Julie wondered why I took so long as she had already returned to the car about a half-hour earlier. But I told her that I was too caught up in trying to savor the moment as the Saarburg Waterfall took me by surprise, and I guess it just showed how starved I was to see a waterfall on this trip.
Next, we drove towards the Schiessentumpel Waterfall, which was a waterfall that we were made aware of from a guest visitor to our website named Ruth Williams from Bath, England. The GPS had routed me through a lot of rural side roads, which made me wonder whether I was being misled again as I would have expected a more significant highway to get to the Mullenthal, which was apparently the valley containing this waterfall.
Eventually, we arrived in some obscure forested area where I saw signs for Schiessentumpel/Mullenthal, but then it appeared that with no obvious car park nor signage, we kept driving until we left the Schiessentumpel/Mullenthal and the GPS kept taking us around in circles. We started to suspect that there was some brown signs before a visitor center area in Mullenthal, and that that was the place to be.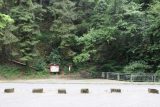 There was also another car park in a more understated forested area, and after looking at the signs there, it appeared that the other side of the trail leading to the Schiessemtumpel Waterfall was closed due to flood damage. Apparently, this area must have been hard hit some time in the not-too-distant past.
So we drove back to the brown signs near the center of Mullenthal, where there was plenty of parking. We got there at about 10:25am, which was about 30 minutes after the predicted arrival time as we had gone on a bit of a half-hour wild goose chase.
Anyways, once we put on hiking boots, we then walked towards a junction where it appeared that we could go one of two ways for 0.9km to the Schiessentumpel Waterfall.
However, we noticed that there was a visitor center nearby, and we decided to go in there first since I wasn't sure if some of the trails were closed.
Well, it was a good thing that we asked the visitor center person about the trail conditions because she told us that the trail we were about to go on was closed. So we backtracked and then walked pretty much along the road as we passed by a private camping area before eventually passing by some bridges with closure ribbons and fences to block further access across the creek.
Eventually, we'd reach the Schiessentumpel Waterfall, which was quite a small waterfall. But for a waterfall in Luxembourg, where we wouldn't have expected to see one (except for a Ruth submission that made us aware of it years ago), we took what we could get. At least we got a good dose of Nature, which was something that was somewhat lacking on our trip up to this point.
At 11:30am, we were back at the car. We then decided to drive towards the Chateau de Vianden, which once again seemed to involve some more driving on side roads until we eventually got to some highway that ultimately got us to arrive in Vianden.
Along the way, I managed to fill up on cheap diesel before we started to see the castle perched high up on a rocky foundation. We tried to drive as close to the castle as we could, but we ultimately turned back around a nice panoramic view of the castle.
Then, we eventually parked in one of the free parking spots not too far from the turn right before the ascent to the castle at about 12:35pm. We then walked down into town where we went to some place called the Cafe du Bruxelles or something like that, where the person working there spoke only French.
So I had to muster my not-so-great French to get by, but at least we had ourselves what we think was a gluten free meal of chicken, entrecote of beef, and some escargots.
Once we were done with the lunch, we then made the uphill walk up to the Chateau de Vianden. We'd eventually get there some time near 2pm, and then we proceeded to pay and enter the facility. The TripAdvisor reviews led us to believe that this place was going to be a quick visit where only two rooms or so were furnished.
However, we were pleasantly surprised by our visit as it turned out to be around 90 minutes long, and it included some 22 rooms, where most of them were furnished (just the way Julie likes so she doesn't have to try to imagine too hard what life was like back in medieval times).
The tour mazed us up and down several rooms and lookout sections, but eventually we got castled out, and it was time to return to the car and check into our apartment in Luxembourg city. The walk back wasn't too bad as it was mostly downhill with the slight uphill at the end to get up to our parked car.
However, we were glad that we didn't bother with the chair lift as it took people way high, then they'd have to walk down to the castle, and probably continue their walk downhill into town after their castle visit.
We got back to the car at around 3:40pm, and then we proceeded to drive the 34km back south towards Luxembourg City. After dealing with quite a bit of roundabout traffic, and then some parking woes as we tried to drop off luggage near our accommodation, we ultimately gave up on that as there were no temporary parking spaces at the time.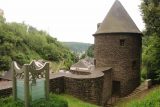 Instead, we tried to find this place called Parking Martyr, and we'd eventually get there and stomach the nearly 35 euro nightly fee to park. We ultimately got our stuff out of the car and started walking to the Hotel d'Italia at 5:05pm. The lift only took us to the -1 level as we had to lug our luggages up a couple of short flights of steps.
We were then deposited at some garden surrounded by some interesting buildings. But we then wasted no further time as we walked some short pedestrian street before returning to the Rue d'Anvers and eventually to the Hotel d'Italia, where we finally got to check in.
At 5:45pm, we got settled in the fairly spacious apartment. After spending about a half-hour letting my phone get charged while we were figuring out what we should do the rest of the evening, we eventually decided that we should go downstairs and do a grocery run to see if it would be feasible to make dinner for tonight instead of paying a lot more money (and time) to eat out again.
At 6:15pm, we made our move, and eventually found a Mono Prix supermarket though this one was small since it was almost smack in the middle of Luxembourg City.
We'd eventually pick up some fruits, a kefir, and a water. We also found a rotisserie chicken, where we figured that Julie wouldn't have to cook dinner as long as we had this meal (like how we managed on our road trips involving stops at Whole Foods).
And by 7:05pm, we were back in our room once again to get started on the quick dinner.
It wouldn't be until about 8:30pm when we finally headed back downstairs into town as we pursued the Chemin de la Corniche as well as Le Grund. The walk took us along some of the streets of downtown Luxembourg before crossing over a high bridge overlooking what appeared to be a village flanked by tall walls.
Eventually at about 9:05pm, after walking past the biblioteque with a nice panorama over another lowered part of the city of Luxembourg (possibly in the direction of the Grund), we finally arrived at the overlook at the Chemin de la Corniche, which Julie saw on TripAdvisor.
It was really nothing more than a lookout overlooking the Grund down below. There were some historical churches as well as some aqueduct remnants. However, in my mind, it was the walls holding up the chemin that we were on that was the more interesting part of this part of town.
We were told by the person who checked us in at the apartment that Luxembourg had an interesting history as a sunken city in a pit where the inhabitants had a strict curfew during war times. So I kept envisioning that this chemin we were on was a way to look down upon the trapped residents below.
After having our fill of the chemin (we didn't really go that far as we were already content with our views to this point), we then walked down to the Grund. But it turned out that it was nothing more than a series of bars in a short but tight alleyway flanking some stream passing through the city.
So with nothing really to hold our interest down at the Grund, we then followed some underground tunnel towards a lift that took us right back up to the biblioteque. From there, we walked back towards the street, and then across the bridge on the sidewalk opposite the side we took in.
Eventually at 9:50pm, we finally returned to our room. At this point, we were about to call it a night.
However at around 11:20pm, as I was in the midst of getting all the photos and files onto the hard drive via the laptop, apparently the power plug that plugged into the laptop appeared to be physically broke. I guess I was finally paying the price for not having the exact power plug after the original ASUS one stopped working.
Well, now I was in a real crisis as I was real worried that I wouldn't be able to record and report on the remaining 5 weeks left on this trip once the laptop dies out (or has no more power).
I sure hoped that there would be a computer or equipment store somewhere in Colmar or Friedburg (where we were staying tomorrow), but I also had to resign myself to the possibility that I might not have a hard drive anymore if I'm not successful finding a means to keep the laptop alive (mainly the juice that keeps it running).
In the worst case, I suppose I could buy a replacement laptop but I'm sure I was screwed in terms of the apps I'd have to get back that I didn't readily have the install files and/or credentials for.
And so ended this eventful day though the losing of the power plug on my laptop was definitely not-so-great news. And so I was mentally already in the mindset of finding a stop to find such replacement parts (if they still exist)…
Day 8 (June 20, 2018 – Freiburg, Germany): "Running Out Of Moves…"
Once again, I awoke to the 5am alarm. Today promised to be a very busy day as we had a long drive ahead of us as well as a visit to Colmar before returning to Germany in Freiburg im Breisgau. Of course, the added complication of losing the ability to recharge the laptop was also weighing on my mind though I was really hoping that finding a replacement power supply plug or adapter would do the trick.
Eventually at around 6:35am, we started to load up the car after finally having a quick cold breakfast, getting Tahia up, and then lugging our belongings for a few minutes to the parking garage at the Place de Martyrs. Perhaps the surprising thing (in a bit of some good surprises for once) was that the parking was only on the order of 10.8 euros instead of the anticipated 36.8 euros. Not sure why that was, but I'll take it (perhaps I had misread the signs in French about the overnight rate).
Knowing that there was the long drive ahead of us, I knew that Julie and Tahia could sleep in the car and get caught up on some rest. But I knew that I wouldn't be so fortunate since I was the driver.
In any case, the drive south of Luxembourg went pretty smoothly as we took the A3 autoroute south towards the France border, where it then became the A31 autoroute bound for Nancy. On long drives like this, I started to notice trivial things like perhaps Nancy might be a French name much like Lorraine could be a French name considering that we had just entered the French province of Lorraine.
Nonetheless, this autoroute didn't have a toll road though the volume of traffic considering how long we were driving for kind of was a bit surprising considering how light traffic on the autoroutes were in the south of France when Julie and I toured that region some 6 years ago. Of course, those autoroutes required tolls.
One thing that did concern Julie and I was that Tahia was complaining about a tummy ache and headache and wanting to throw up. Since Tahia hadn't eaten much this morning, we weren't sure why. However, we did preoccupy ourselves with the thought that maybe that bed bug I had found on her pillow back at Bacharach might have been a tick instead and could have potentially transmitted some kind of illness. She eventually went back to sleep, which stopped the complaining, but that kind of made our drive a bit uneasy as Julie was using the phone to do some research.
Regardless, once we got past Nancy, we then took the E33/N57 and eventually got off at the D420, which eventually allowed us to access the D11 somewhere near the town of Epinal. Next, we followed the D11 as we started to see signs for the Cascade de Tendon, which was always a good sign.
By 9am, we would arrive at the car park for the Grande Cascade de Tendon, where we actually skipped the signed turnoff for the Petite Cascade de Tendon. The 800m or so spur road we took to get here was on a narrow single-lane road going past an auberge, but since we were the first ones to arrive apparently (save for a car already parked here where we weren't sure if it was a visitor or some staff or something), we didn't have a whole lot to worry about in terms of traffic going the other way.
Much to our relief, when Tahia woke up, she was no longer complaining about nausea. When we looked at a wound that was near her ear on her scalp, it looked as if her wound had healed, and that there was no sign of the bullseye rash or other things that would have been telltale tick infections.
When we got out of the car, we noticed that the Grande Cascade de Tendon was pretty much near the car park. There was a longer trail leading back to the Petite Cascade de Tendon, but we knew that we could just as easily drive back there to check it out now that we saw how little effort it took to get up to the Grande Cascade de Tendon.
The views from the bottom were somewhat obstructed by trees, but going up the rocky trail made it easier to just get to an outcrop with a nice unobstructed view of the waterfall.
There was also some kind of trail that veered to the left but I couldn't tell where it was leading to. And with time tight on this day, we couldn't afford to explore it and see where it went.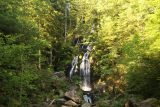 So, the trip was pretty short and most of the time was spent trying to take selfies or making use of the tripod (finally) to take long exposures as well as family shots with the camera on timer.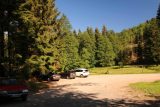 By about 9:50am, we were back in the car and quite surprised to see that all of the sudden there were at least a half-dozen other cars that had showed up! Apparently, this little place was quite the popular spot!
Anyways, we decided to complete the experience by backtracking to the Petite Cascade de Tendon. Five minutes later, we would take the signed spur and follow a short 150m unpaved road to get there, where there were a couple of other cars already parked under the shade.
Like with the Grande Cascade, the Petite Cascade was for all intents and purposes a roadside waterfall. But unlike the first falls, this waterfall required a short descent to get down to its base. Along the way, we were enjoying the views looking down at its entire segmented and tiered characterstic.
It was a more intimate waterfall than the first considering there were some sections of the creek that allowed Tahia to get a little wet and enjoy herself for a bit. Meanwhile, Julie and I took a few moments to chillax for a bit and witness the falls. But that was cut short when a middle-aged couple came by with their tripods and one guy started smoking, which filled the area with the unwelcome second-hand cigarette smoke. It was too bad that one of American's worst inventions once again came to bite us in places where Nature should prevail.
By about 10:40am, we returned to the car. Then, we proceeded to drive further to the east along the D11 before joining up with the D417 road. This road was much more twistier and climbed up and down past a couple of cols before making its gradual approach further east to the scenic Lac de Gerardmer.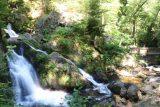 This was one of those lakes where it would have been nice to experience a side of France most tourists wouldn't get to see or experience, but we had to stick to the course and continue our drive further east to Colmar, which we had anticipated would be the highlight of our touring for today.
Unfortunately, there was road construction going on that blocked the D417 so we wound up taking a detour through some residential streets. In hindsight, I had mistakenly missed a turn at a roundabout and yet that probably would have worked and saved us a few minutes.
Regardless, the drive continued to the east as we left the Vosges department and headed into the Haut-Rhin department. We had to follow a caravan of slow drivers (including one RV that refused to use any of the pullouts for slow traffic), and we'd eventually get into the city center of Colmar.
Throughout this drive, I was amused to see signs of places with French articles and prepositions but German words. Clearly, there was a German influence in this part of France.
After some time making one circle in search of a suitable parking structure, we eventually parked at the Rapp Car Park at about 12:15pm. As soon as we got our day belongings and started walking out of the garage, we could already feel that it was a pretty warm day, which was quite unlike anything we had felt up to this point as we had pretty mild weather (although it was pretty much overcast the entire time up until today).
This was the first time on this trip that it was clear skies and beautiful weather.
Julie's first order of business was to find a place to eat given her diet restrictions. However, the cuteness of the old town of Colmar quickly gripped us and before we knew it, we were spending lots of time pausing to take pictures as the narrow alleyways flanked by historic timbered houses leaning over these alleyways kept drawing camera clicks.
Indeed, this seemed to be like a larger scale Rambles in York or extended version of Cochem that we had just seen the day before yesterday.
When we got all the way down to the Koifhus and Schwendi Fountain after walking along the Rue des Marchands, we then followed the Place de l'Ancienne Douane up to the Grand 'Rue towards this place that served up galettes called Le Gourmand. We eventually got there at 1:05pm.
We wound up getting galettes like La Complete, La Romaine, and Le Forestiere. They pretty much hit the spot. Then, Tahia and I also shared a sweet crepe of nutella and chantilly cream. They didn't do it a la mode as I would have liked.
Regardless, at around 2pm, we then started to explore a little bit of the town but not before we stumbled upon an FNAC shop, where we quickly went in and picked up a replacement power adapter hoping that would do the trick. Unfortunately, I didn't bring my laptop so I couldn't test it out right then and there.
That kind of sucked, but we still had touring of Colmar to do. So we then left the FNAC and finally started our tour though Tahia was already complaining about the heat and making it a little rough for Julie and I to enjoy the Little Venice part of town.
We'd eventually randomly follow the canal along the Rue des Tanneurs before getting to the Covered Market (Marche Couvert) though we wouldn't find a gelato place to help pacify Tahia's complaining. Regardless, we still tried to enjoy the moment as just on the other side of the market was the Quai de la Poissonerie (Fishmonger's District).
Once we saw that part of town, that was when we finally saw the charming canals of Colmar as there were a handful of little gondola tours going up and down the canals with flower-fringed bridges and flanks watched over by half-timbered houses that really gave this place a unique charm that surpassed our feeling of touring the old town of Annecy six years ago.
As we continued walking along the Quai de la Poissonerie (a tight alleyway leading to the Petite Venise), we then got to a bridge overlooking the legit part of the so-called Little Venice, where there were more cute timbered homes flanking the narrow canal.
All the lighting was such that the half-timbered homes would have been backlit had we been here in the morning. But we'll take what we can get in our limited time in Colmar.
The heat was still pretty intense as we ambled along and gladly snapped photographs. Tahia finally got her citron gelato so at least she was pacified for the moment.
Eventually, we got to the plaza near the Roesselmann Fountain, where there was some filming going on for some kind of Chinese television show or something like that. I knew something was up when we saw some heavy camera equipment. They even put some signage to turn what seemed like some other kind of restaurant into a Chinese restaurant.
Anyways at 3:40pm, after having our fill of this part, where it seemed like the charm factor of Colmar started to decrease the further to the west we went, we then went back the way we came towards the Parking Rapp. Once down there at the car park at 4:45pm (once again, we were drawn to other squares and alleyways that caught our attention and camera clicks; as well as buying some ice cream to offset the heat), we then tested out whether the Asus laptop could still be charged with the replacement power adapters.
While the plugs were finally a perfect fit for the laptop, I saw that metal contact inside the socket was broke. And so my worst fears came true.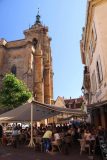 We now had to take the laptop and go back to the FNAC. We eventually got back there some time around 5pm, and then I had to wait for the person that helped me previously to become available. And sure enough, they confirmed with me that the new adapters didn't work, and so I had to return those plugs with a 10% restocking fee. So I wound up losing about 5 euros and some time in that exchange.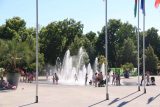 Then, when I saw that the computers they were selling were all in French, I was probing whether I could use them. Well, the person then told me that there were some dedicated dealers on another street that I could try. And so I promptly walked out there and further along the Grand 'Rue before making it to the Rue du Nord and Rue Saint Eloi.
That was when we went into one such dealer, but he explained that we were pretty screwed in terms of finding a way to replace the contact or at least solder it back to working condition. I kind of suspected that would be the case, and he pretty much confirmed that these were the type of issues that you would have to send back to the manufacturer.
So we eventually went back to the FNAC, and after waiting for the person who helped me before to help me again, I'd eventually purchase their cheapest laptop, which was some kind of Lenovo notebook. After staying until the place closed at 7pm, we'd eventually get the computer set up to as much English as possible. Even the QWERTY keyboard was restored though I'd now have to ignore the markings on the keyboard itself since now the French system no longer applied. That meant I'd had to rely on my touch typing muscle memory.
I also had to get by with the setting up of the Windows in French before we even got to that point where things were mostly in English. This was where my self-studying of French actually helped quite a bit. I guess as useless as it might seem to try to learn a foreign language, you just never know when it comes to serve you in emergency situations like these!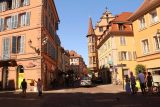 And with that, we eventually returned to the Parking Rapp at 7:15pm with a new Lenovo notebook in hand (costing me about 230 euro) and still some work to do when we would get to Freiburg in terms of getting this laptop set up to work in a way that I could still limp along for the rest of this trip.
We were also under time pressure to get to Freiburg before we'd be shut out for good. So we couldn't afford to have a meal in Colmar, and in hindsight, I wished that I had spent the night there (must have been the third or fourth time we thought this so certainly it was on our minds).
Anyways, we drove off and paid the nearly 11 euro in parking. Even though we spent about 7 hours in Colmar, 3 of those hours were computer-related issues. That was not good. For sure, this was going to be a town we'd have to target on a more extended return visit to France.
Eventually at 8:05pm, we found parking at the Karlsbau structure, which was beneath some shopping area by the Mercure Hotel.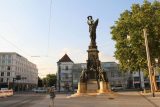 After carrying our luggages and walking towards the general direction of the apartment we were staying, that was when we met up with someone who was waiting outside the door at the apartment. She promptly took us up to our spacious apartment where she explained some things and allowed us to get settled.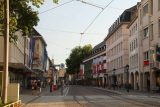 We did have to pay another 20 euros for Tahia as apparently, it wasn't in our booking reservations (not sure why Julie didn't do it for this case).
Anyways, time was running out, and it was about 9pm when we went downstairs for our grocery run. We learned that one restaurant that could prepare the food gluten free was open until 10:30pm though there was some deal with their "big menu" being closed at 9pm so we'd have to order off of their "little menu".
Regardless, we found a Rewe within walking distance that was closed at 10pm so that was the first order of business. We promptly went by the road construction to get to the supermarket, and then picked up some water and some other goods like fruits before returning to the apartment to take advantage of the refrigerator.
Then, we headed back downstairs to the main drag (trying to avoid some loiterers outside the apartment) before finding an impressive cathedral in the midst of a massive plaza. It turned out that the restaurant Julie had called was the Oberkirchs Weinstuben, which was at the edge of one side of this square.
And so we had ourselves a bit of a twilight dinner while trying not to mind the cigarette smoke too much which enjoying the clear skies and the Dom towering over the scene.
The food was a pretty straightforward affair of steak, pork chops, and some cold stringed wurst salad we had gotten for Tahia (which was not in the form of a hot dog that she would have liked).
It wouldn't be until about 11pm when we were back at the room. Finally, we get cleaned up as I knew that I was a sweaty and stinky mess throughout our time in Colmar. So Julie and Tahia ended up in bed at around midnight.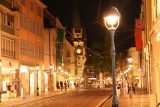 However, I was still struggling with the new Lenovo that I had bought from the FNAC. The major issue was not so much the French setup (which was now configured for much English as possible), but the big issue was that apparently the Windows 10 that was pre-installed had blocked my ability to run any other software that was not Microsoft.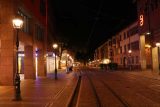 This artifically, planned-obsolence measure was absolute crap. Now, it kept me from running Mapsource (to download GPS data from my etrex and Nuvi), it kept me from running Adobe Bridge (for naming photos in batch), and running Notepad++ for text editing without the baggage and bugginess of the minimalist WordPad or Notepad.
I eventually figured out I could at least capture the GPX files directly from the Garmin Nuvi. However, I couldn't do the same thing with the handheld Garmin etrex that I would need while on the trail. So that's one situation where I would really have to ration the old laptop's charge in order not to lose handheld data from memory overflow or lack of batteries.
As for the photos, without Adobe Bridge, I basically had to offload the photos onto the computer without naming or marking them. That would just increase my workload at home to get all caught up. But at least that wasn't a showstopper on this trip.
And so it was that I had finally found somewhat of a battle rhythm to limp forward. Even though I was running out of moves to salvage this trip from this bit of drama from equipment malfunction, at least this should hold us over for the remaining five weeks of this trip before I really have my work cut out for me back at home…
Visitor Comments:
Got something you'd like to share or say to keep the conversation going? Feel free to leave a comment below...
No users have replied to the content on this page