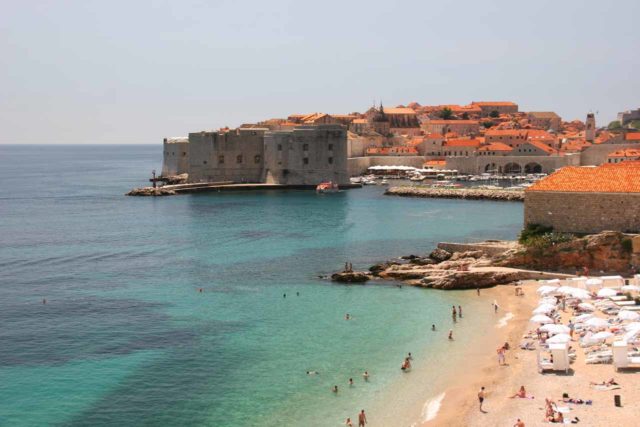 30-May 2010 to 7-June 2010:
…our luck in finding a parking space was soon trumped by the fact that we had to deal with a very archaic parking meter. Apparently, they only accepted cash and you had to pay up front at a rate of 10Kn per hour (ouch!). Since we were going to park for at least the next 44 hours, this was going to cost about as much as a night's accommodation.
But that wasn't the worst of it. It turned out that the machine only accepted notes in 50 Kns or less as well as coins. But we only had 200 Kn notes. Who on earth carries that much change with them if they wanted to park long term?
In any case, no one wanted to give us change. Even the lady at the souvenir shop didn't want to. The parking enforcement guy was also a bit cheeky and didn't feel like helping us in that regard either other than to write tickets. So we ended up just paying for an hour (that was all we could figure out anyways at the time). And we'd have to come back in an hour just to feed the meter maid once again….
Day 11: ADVENTURE ON ONE-WAY STREETS
Well, the flights on Malev Air from Thessaloniki, Greece to Zagreb, Croatia via Budapest, Hungary went pretty uneventfully. Even when Julie and I dozed off on the longer 90 minute flight to Budapest from Thessaloniki, the stewardess left behind a couple of cups of orange juice plus a package of nuts and another of some chocolate covered wafers. I thought it was very nice of them to do that.
I guess it's experiences like this that you remember and make you want to be a return customer though I wonder when would be the next time we'd fly Malev Air.
On the Budapest to Zagreb leg, the 50 minute flight was on a real tiny propeller jet plane. It seemed rather small for an international flight, but I guess Croatia wasn't quite high enough in traffic volume between the two cities in order to justify using larger planes.
At 7:15pm, we finally arrived and picked up the rental car from Hertz. The passport control and baggage claim went about as fast as we had ever had to deal with. I'd say it was less than 5 minutes before we were ready to show up to the Hertz kiosk.
Anyways, the lady at the kiosk was giving us quite a bit of straight talk about travel, politics, cost of living, and especially the deal with the Euro (and Croatia's attempts to join the EU). In her mind, cost of living has already gone way up in the last few years (she thinks politicians and banks are stealing in much the same way that our banks and political puppets are raping taxpayer resources). But integration into the EU would make the cost of living even higher as it already had for countries like France and Greece. So she wasn't a fan at all of the idea.
That was just one of the many things she talked to us about in a very matter-of-fact way. Julie and I were quite amused with the dark humor and fatalist views. But she was a very nice person and offered us good advice about foreign exchange ("don't exchange all of it at once," she said. "Just do it as you need it.") and told us about the weather, the Croatia tourism situation (it's their turn now to be the popular destination as Italy and Spain once were), and all the rates for car hire insurance options (in which she patiently let us discuss amongst ourselves before spending the money).
So it wasn't much longer before we left the Zagreb airport and drove into the city center of Zagreb.
The first thing we noticed was that the car we were driving was a Ford. It seemed a bit bigger than the cars we were used to in Greece. But once we got on the road, it turned out that the streets themselves seemed wider and more spaced out than in Greece.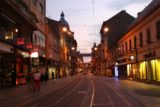 Once we got into the city center, we tried to follow the GPS
directions, but then it started to tell us to go in opposite directions of the one-way streets and even through pedestrian streets where vehicles are prohibited.
It was also bit strange to share the road with trolleys with tracks coinciding with the car traffic. It reminded me of the driving conditions in Melbourne, Australia, except Zagreb didn't necessarily make the trolley tracks exclusively in the middle of the road usually not totally coinciding with the flow of traffic like it is here.
It turned out that we spent over an hour looking for the destination (on our GPS
) while navigating the maze of one-way streets and pedestrian streets.
At 8:30pm, we finally parked at some signposted car park, which was a structured parking lot requiring the use of self-help tickets dispensers. We ended up walking at least 4 or so blocks to finally reach our rather hidden accommodation.
Once we were done with all the check-in formalities, the nice guy at the reception desk informed us that there was a closer car park that was property of the hotel. So he gave us the keys to the gate and wrote on our paper city map where we needed to go.
So once we were all checked in, we took the gate keys and proceeded to walk back to the car.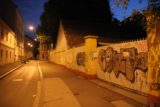 Finally, once we recovered the car, we drove back into town and followed the directions as the receptionist clearly stated. Eventually, we made it to the obscure gate (with graffiti all over it) next to some school.
We had no trouble opening up the left door with the key. However, swinging open the second door didn't prove as obvious or as easy until some passerby saw that we were struggling and took a little time to try to help us out. Eventually, he figured out the slide mechanism that locked the gate on the right side. And once that was done, we parked in one of the limited spots within the enclosed walls of the car park.
Finally, we felt that this bit of mis-adventure was over and now we could finally enjoy the town. It always seems like adventure finds us, and in this particular instance, it resulted in a couple hours of figuring out the one-way streets of Zagreb plus figuring out the unexpected puzzles like that gate.
But this is what independent travel is all about. Sure it's full of the unpredictable, but it's also the most rewarding. For in most places around the world, you get tested in that you have to adapt to the way things work wherever you go (not the other way around). And all these things make you grow and ultimately more flexible, which can be applied back at home (it was always a pet peeve of mine that folks back at home expect conditions similar to home when they travel and refuse to adapt to the circumstances).
After 9:15pm, we went from parking the car to walking in town. Eventually, we'd find this place called Vinodol, which was something our receptionist recommended.
By 9:35pm, we ate at Vinodol. It was Sunday night and we were told most restaurants don't even open on Sunday. So while we were a bit tired and hungry, we mind as well just go for this place, even if the decor looked rather on the high end.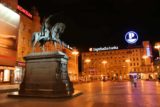 Our suspicions were correct in that this was a fairly high end restaurant. But the truffle sauce beef dish that I got was really good.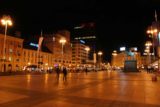 After the dinner, we explored the city center for a bit. First, we noticed a large square area with another statue of a guy on horseback (very Alexander the Great like). Then, we walked further north for another block seeing the tall and impressive church of St Stephen's (LP
says it's now called the Cathedral of the Assumption of the Blessed Virgin Mary).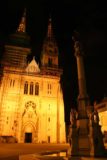 It was a little tricky taking photos in the dark without a tripod (I didn't bring it on this trip so we could pack light), but I guess that was a tradeoff that had to be made since we knew traveling light would benefit us later on in this trip.
So it wasn't until 11:05pm when we concluded our late night walking tour and made it back to the Pansion Jagerhorn. Now it was time to finally get cleaned up and ready to go to bed.
Day 12: SICK
It was 8:30am when both Julie and I got up out of bed. But we could hear from the loud thuds coming one after another that it was still raining pretty hard. So we didn't really feel like we were in any hurry to get up out of bed and do any additional sightseeing in Zagreb nor get to Plitvice Lakes earlier in the day to do some sightseeing considering the real crappy weather.
But perhaps what was more on my mind was having to walk a few blocks in the soggy weather lugging our luggage around risking water damage to any of our electronics. I was practically plotting mentally how to drive illegally on the Ilice Street towards the front archway to our pension/accommodation, load up the car, and then go the way we're supposed to go to get out of town.
Anyways, I resigned myself to the fact that we probably wouldn't be doing any additional sightseeing of Zagreb today nor on the rest of this trip. We were quite glad that we seized the moment and did our touring of the city late last night even at the expense of getting a decent night's sleep.
Sure we could've toured more of the city, but I thought we got a decent flavor anyways, and that now it was time to get onto the main courses of this leg of the trip.
In any case, we had a basic breakfast, engaged in more chatting with the friendly receptionist (which Julie said looked like Waldo with his dark hair, thick glasses, scarf around his neck, and striped shirt), did a little internet surfing since it was complimentary, and then checked out.
Among the conversation topics with Waldo (we'll just refer to him as that even though I'm sure it's not his real name) were truffles (I guess they're also grown in far west Croatia in addition to Italy) and the weather forecast. According to Waldo, today's weather was real bad. Tomorrw was said to be not as bad (30% chance) and then the day after was said to be 40% before it gets bad towards the evening.
It wasn't exactly the news we wanted to hear, but then again, we had no choice but to just roll with it. So I asked Waldo if this was typical weather, and he laughed and said, "No way." It's supposed to be sunny and in the 30C range, which we confirmed by looking at the historical weather data for this Memorial Day after our conversation.
We're not sure if this late season drenching was due to climate change or some strange effect from the ash cloud spewed out by the Eyafjallajokull volcano in Iceland.
The rain had let up somewhat from the downpour of this morning when we were ready to lug the luggage a few blocks to our car. And by 11:10am, we finally left the car park, locked the gate, put the key in the dropbox, and left the umbrella in the secured car park area. So we were good to go even though the traffic in Zagreb seemed infinitely more hectic than it was yesterday (but perhaps that was because yesterday was Sunday).
So the drive out of town was fairly straightforward. Before long, we made it out to the expressway, where we picked up a ticket from a toll collection gate and then exited the expressway to pay the actual amount (ala New York).
Not long after the toll collection station, we saw a place where a lot of locals were shopping for groceries and other stuff called Supernova. So at 12:20pm, we parked the car and went in there ourselves to pick up some fruits, junk food, and cheap bottled water.
It was 1pm when we finally left, and the rain was really coming down.
The drive went on fairly uneventfully until we reached a point where the traffic just stopped completely at around 1:30pm. This lasted for about 10 minutes before we were finally moving again. We suspected there might have been an accident considering the heavy rains and slippery conditions.
I was getting a bit sleepy from the rather long but somewhat monotonous drive. But eventually at 2:35pm, we arrived at the Bellevue Hotel turnoff.
Just as we were about to get onto the complex, some guy beckoned me to stop the car. And when I did, I rolled the window down, and the guy said we were supposed to park the car outside on another lot as this one was for hotel guests only. Of course we were staying here and let that be known, and only then did he let us pass. Strange he assumed we weren't staying here instead of asking.
Anyways, we saw him do the same thing to someone else a few minutes later so I guess his job was to be the enforcer or deterrent for anyone trying to use the hotel parking as general parking for the park.
After getting a little settled at the hotel, we headed back out at 3:30pm. 15 minutes later, we drove briefly over to the Hotel Jezero's souvenir shop to pick up an umbrella (something we were kicking ourselves for not buying at the supermarket/department store earlier today).
Once we got that in hand, we returned to our hotel where we then parked back at our lot, walked across the street to pick up a map as well as pay for tickets, and then walked over to the main part of the park.
It turned out that the receptionist at our hotel in Plitvice said we didn't have to do what we just did. I didn't quite follow him on that point as we weren't sure if admission was part of the room rates or not. In any case, what was done was done. Even if we overpaid, I guess it ought to go to a worthwhile cause in protecting this park.
Not long thereafter, we walked our way down to bus stop #2. There, we caught one of the frequent shuttles over to bus stop #1, which seemed like a fairly significant drive (maybe at least 10 minutes or so), which meant there was no way we were going to walk that in any reasonable amount of time.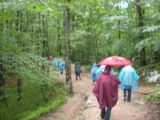 Once we got off the bus, we proceeded to walk along a well-developed path along the upper rim of the gorge looking down at some of the Lower Lakes with a few waterfalls positioned in between these lakes.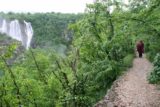 Soon enough, we got near a switchback that turned back on itself as it descended before the Great Waterfall. We were already getting impressed with the sheer size and volume of this waterfall. I recalled the first time we saw a part of it along the trail, Julie exclaimed, "Whoa!"
Then a minute later, we found more openings in the foliage affording us views of the Veliki Slap (Great Waterfall). That got Julie to say "Whoa!" again!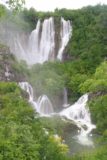 Finally, when we got to the switchback, we saw the main waterfall plus a few others below it. It was at this point that Julie and I said aloud that this waterfall was sick!
It didn't matter that the rain was still coming down fairly hard. The light was still even and the only worry that I had was damaging the camera from the rain.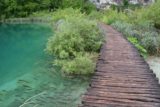 Anyways, the path eventually descended down a couple more switchbacks before it was right at lake level. A boardwalk curved its way across a break in the lake to get to the other side. And during this stretch of the walk, we noticed some fish in the lake.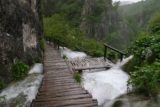 Shortly after that, we took a right turn at an intersection and proceeded to get right up to the base of the Veliki Slap. It wasn't easy taking photos or videos from this spot due to the crazy mist that was being sprayed on us. We couldn't tell if it was rain or the waterfall itself causing the water droplets to rain down from above!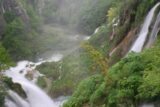 Given the amount of rainfall there had been up till now, a few parts of the boardwalks seemed to have a little water flowing over them. Still, it wasn't bad enough to become anywhere near dangerous, though we did wonder whether we were walking where we should be had it not been for these boardwalks.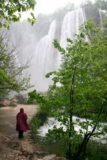 After struggling with taking photos and movies at the base of the large waterfall, we then climbed up some more stairs to get right up to a top down view of the falls. The stairs were pretty relentless though the tunnel the trail passed through was kind of neat.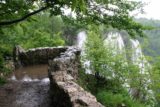 The overlook at the top of the falls was flooded due to the heavy rains. But that didn't stop us since we were wearing gore-tex boots. But even up here where there's a tree canopy, the relentless rain still made photography difficult.
Once we had our fill of the Big Waterfall, we headed back down towards the main boardwalk where we'd continue walking and get up close and personal with some of the smaller waterfalls that we had noticed from the top.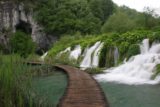 We ended up walking further along the Kaluderovac Jezera right up to the Velike Kaskade. Here, the boardwalk curved right in front of the very wide and attractive waterfall. The path then met an intersection where one path went left up some stairs towards a cave known as Supljara.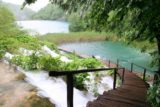 The other path went up wooden stairs alongside the Velike Kaskade's lower tier. Unfortunately, those steps were all wooden and blended in with each other so it was quite easy to miss a step and maybe take a spill right into the waterfall (especially since many parts don't have railings). Definitely something to keep your eyes on the ground and concentrate.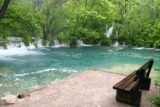 We went about as far as the Jezero Milanovac. But this lake seemed long at first glance and we decided it was time to turn back. So on the way back, I made a brief detour up to the Supljara Cave where I got some decent photographic views of the Velike Kaskade from the mouth of the cave.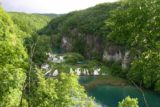 In any case, we were conscientious of the fact that the last shuttle bus back to Stop #2 was at 7:30pm. And when it got a little past 6pm, we were making a little haste to take what photos that we could while not being left behind by the last shuttle.
And just as we were making the climb back up to the top of the gorge, it looked like the rain stopped and even the sun started to come out!
If this keeps up, this might mean we would be in for some decent weather come tomorrow, which would be good news since we intended to see the Upper Lakes where hopefully the colors of the lakes come out more.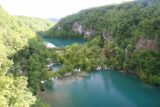 And now that the tour groups seemed to be either gone or well-dispersed by now, we even had some time to notice some awesome top-down views at the waterfalls we had just visited as well as a hint of some of the color in the lakes feeding them.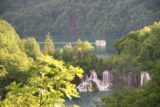 As we got closer to the shuttle stop, Julie and I noticed a waterfall down in the gorge that we hadn't quite noticed before. And it was only then that we realized that perhaps we didn't go far enough along Milanovac to get close to this waterfall. So I guess that meant we had to come back here tomorrow, time permitting.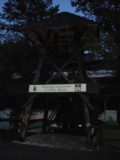 Eventually at roughly 7pm, we caught the next to last shuttle just in the nick of time. And after returning to Stop #2, we all exited the bus and were about to get settled down and cleaned up again. But this wasn't before we made eye contact with one of the Croatian workers who Julie and I both swore reminded us of Kristen Stewart of Twilight
.
At 7:15pm, we were back at our room where we left behind most of the superfluous stuff. Then we got into our car and went for a quick drive out to the Licka Kuca Restaurant. That was when we had ourselves a surprisingly delicious meal (since when did National Parks serve decent food?) consisting of some locally made sausage as well as a local veal main.
It was probably our first main course of the day since we ended up skipping lunch. Nonetheless, we endured this hectic day and hectic weather, and now that our appetite for more waterfalls had been piqued, we couldn't wait to see what tomorrow brings (if the weather holds up).
Day 13: SLAP
The day began at 7:15am when we awoke. Once again, I didn't heed the 6:30am alarm but my intention was to beat the tour groups and at least enjoy the waterfalls with an hour or so of peace before the chaos ensues. Another thing was that I looked out the window and saw partly cloudy skies with pockets of blue. That was already better than the conditions we had to deal with yesterday so perhaps we might catch a glimpse of some of the color in the water when the sun does show itself.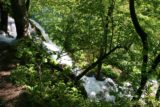 So after a quick breakfast, we left the hotel at 8:30am and arrived just in time for a shuttle bus taking everyone to stop 4. By 9am, we started walking.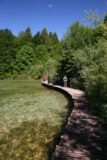 After an initial wrong turn and walking past the toilets, we backtracked and followed a large tour group that went onto the boardwalk, which I believe was path H. The first thing we noticed while going this way was there were loud sounds being made in unison somewhere in the reeds we were walking by. At first I thought they were ducks, but as we got closer, there weren't any ducks to be seen, and I could only imagine that they were frogs making those sounds – and lots of them!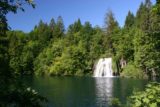 The walk pretty much followed the top of the waterfalls separating Proscansko Jezero and Ciginovac at the top with Okrugljak at the bottom. It wasn't the peaceful experience we were hoping for because a couple of the folks in the large group in front of us were smoking and spewing out second-hand smoke. One guy couldn't stop smoking his stogie.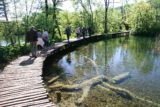 At least the weather was good and we did see some shades of green in the lakes thanks to the sun. The track continued following the east side of several lakes before descending, passing over a network of waterfalls separating a multitude of small lakes, then follow the west bank of Galovac.
Galovac Jezero (Galovac Lake) was said to be the most beautiful lake in the park in a waterfall sense, and we agree that there were some photogenic waterfalls compared with those near stop 4. However, I'm not so sure about this being the most beautiful lake.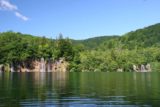 Then again, perhaps we were being a bit harsh with the claim of "beautiful lake" because after having seen Jiuzhaigou in China, anyone making claims has a tall order to even be on par with China's treasure.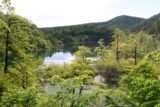 The next major network of boardwalks and waterfalls involved crossing over the mouth of Galovac Jezero passing above Galovacki Buk, Mali Prstavac, and Veliki Prstavac before going right in front of them in reverse order as we headed back to the west bank. All this was near stop 3, and we took mental notes to ourselves to come back here tomorrow morning first and foremost.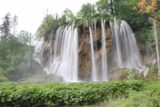 This was probably the most impressive stretch of waterfalls and ponds with Jiuzhaigou-like qualities. Here, we saw submerged trees in the clear greenish waters (as opposed to the deep blue we saw at Jiuzhaigou), but the key here was that Plitvice definitely trumped Jiuzhaigou in the waterfall factor.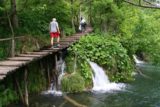 In fact, Julie and I both agreed that this waterfall probably belongs on our Top 10 Waterfalls list even supplanting Angel Falls at #4.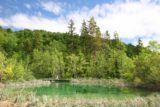 By the time we made it to this part, we were inundated with super large tour groups coming in from both sides (the top and the bottom). It was a little tricky to take photos or even pass people since the walkways were exposed and it was very easy to fall into the water if not careful. This was especially true when the walkways had stair steps where you couldn't really tell where the steps were if you weren't paying attention. Julie and I wondered how many people have managed to fall down because of the optical illusions imposed by the wooden logs being placed one after another.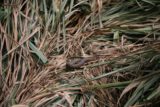 I guess the tour groups did have perks because amidst the chaos, a handful of people spotted a snake resting on the reeds. That little reptile provided quite a photo op for many of us, including yours truly.
So it was this experience that made us hope that tomorrow's weather would be kind of like today's except that we'd come here first thing before the tours arrive. We'll have to keep our fingers crossed on that.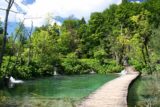 Once we made it back to the intersection not far from stop 3, we continued to descend the west bank of Gradinsko towards the lower series of waterfalls. After having seen the last series of waterfalls separating Galovac and Gradinsko, this set seemed less impressive by comparison.
Eventually, we made it to the P2 boat stop where we took a boat back to P1 and walked up the stairs back to the vicinity of our hotel. We had ourselves a cafeteria-style lunch before returning back to our roomat 1:10pm to take a break.
Julie napped until about 2:15pm when we finally left the hotel for our second wind at 2:30pm. Unfortunately, it seemed like the clouds were becoming a little more persistent as the afternoon wore on. I began to wonder if we closed the window of photo-making opportunities today by an hour or so due to our little siesta.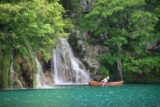 It didn't take long before we returned back down to the P1 boat stop where we caught a boat to the P2 boat stop just in time to catch an awaiting boat headed over to the P3 stop across the long Jezero Kozjak.
By 3:10pm, we finally landed and started walking.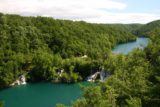 This time, we were determined to catch one of the signature photos of the park, which featured on our map and on another brochure. The key (according to an info booth worker) was to follow path A all the way to a viewpoint beyond the top of the Veliki Slap (The Big Waterfall), which we saw yesterday.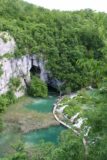 It turned out that this lesser-used relatively peaceful path also yielded a handful of other overlooks of the Lower Lakes with some waterfalls (like the Milanovacki Slapovi) before getting back to the top of Veliki Slap. I think at one of the viewpoints near there, we could hear thunder cracking and the ominous dark clouds approaching.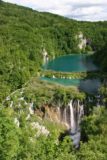 Eventually, we finally made it past the top of the Big Waterfall, then turning right on a small spur path. And sure enough, there was an overlook yielding the view that we were seeking.
While the afternoon light was still to the right of us and behind, there were shadows being cast by the cliffs to the right. Thus, the waters didn't produce the nice colors we might have seen in the literature. Nonetheless, this was definitely the money shot we were looking for, and we tried all sorts of angles and exposures to ensure that we didn't take anything for granted while we were here.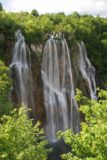 We still wanted to return to this spot tomorrow if the weather cooperates because we wanted to see the Sastavci juxtaposed with some of the greenish blue colors of the lakes near it.
When we had our fill of this money shot spot, we then went back to the familiar top down look across the Veliki Slap. There were lots of photographers here with SLRs and tripods. But we snuck in our quick shot somewhat against the sun where the falls didn't quite seem to have the same vigor as it did yesterday.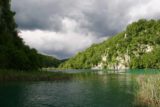 Then, we went down the steep and slippery stairs back down to the base of the falls, where stopping there was fruitless as it was totally against the sun.
However, we did stop for top down photos of the Sastavci where we saw an afternoon rainbow in the mist below. We also heard more thunder from the dark ominous clouds that have gotten even closer.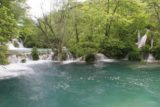 Then, we continued on the same walk alongside the Lower Lakes that we didn't quite finish yesterday. But this time, we intended to complete the loop by going by the east bank of Kaluderovac, Gavanovac, and Milanovac along with all their accompanying waterfalls. We even finally got a closer look at the Milanovacki Slapovi, but by then the thunderclouds had overtaken us and it was raining.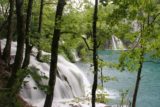 Plus, the Milanovac, which was said to have one of the prettier lake colors, didn't exhibit such colors since the sun had been long gone behind cloud cover by then.
At 5pm, after crossing the Milanovacki Slapovi just minutes before in the rain, we had just missed a boat leaving back for P2. So Julie and I killed some time waiting for the next boat in a half-hour where we watched the weather get even worse.
This unsettled weather this late into Spring and close to Summer is really making us worried about how the weather will be like in Switzerland next week. For we had heard about the record rains in Poland, and we had seen satellite images of long cloud bands throughout much of central and northern Europe. We'll just have to hope for the best in the mountains of Switzerland.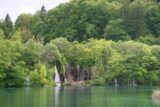 Finally at 5:30pm, we boarded the boat (the guy actually checked tickets which was the first time since we got into the park that someone actually checked). Then, a large group of unruly kids boarded the boat with us and there went all the tranquility.
At 6pm, we were finally back at the hotel. Fortunately, the boat didn't stop at the P2 stop and went straight for the P1 stop instead. That at least meant we didn't have to deal with the kids waiting for another boat.
And so ended yet another eventful day at Plitvice Lakes.
Tomorrow, we have a day at leisure to see just the best of what we think the park has to offer. However, given the turn in the weather in the late afternoon, we are a bit worried about tomorrow's intended sightseeing being compromised. We'll have to see about that…
Day 14: THE ZOO
At 8am we awoke to a cloudy day. At least it wasn't raining hard as we had expected, but we somehow felt that the rain was not far away.
Late last night, we managed to cancel our third night's accommodation in Plitvice and book at the very last minute with the Hotel Skradinski Buk in Krka National Park. Prior to the trip, I had thought we could use Split as a base for Krka National Park or see it in a short half-day trip en route from Plitvice to Split.
But as we spent more time in Croatia and did more reading about Split as well as experiencing Plitvice's waterfalls, I think the reality of what was doable within reason sunk in. Thus, the last minute switch-a-roo with the accommodations was called for.
Anyways, given all that had developed last night, we had to get packed and ready to go. And we managed to do all that was necessary plus have a quick breakfast in time for a 9:05am check out and departure. The only downer was that I once again somehow lost my combo lock for my luggage. Julie made me feel bad about it since it was probably the third or fourth time I had lost such a lock.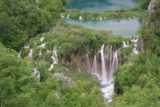 At 9:25am, we had arrived at a place near the overlook looking down at the Sastavci, which we had called the money shot. For it was this overlook that seemed to yield the post card views and we had even seen a copyrighted photo that seemed to be used over and over again in the internet.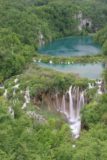 We had noticed that there were cars up here yesterday during our rather long walk so we were determined to come here by car before we left Plitvice for our next night's accommodation. But getting up here wasn't obvious because we head to drive north outside of the park, then turn left and double back up some narrow roads towards Poljanak??? before finally arriving at the familiar car park near the bridge over the river responsible for the Veliki Slap.
Immediately, we got out our cameras and hustled over to the overlook where there was a family of three already there. And straight away, we were taking photos under the cloudy and lightly sprinkling skies. I had lost count of how many photos we were taking up here, but that's real easy to do when you're experimenting with all sorts of exposures, compositions, and even polarizations.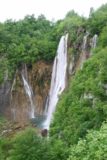 As we were about to call it quits, the father from the family of three told us that there were additional viewpoints – one of the Veliki Slap and another of a frontal view of the Sastavci. We thanked him for the advice (especially since we would've missed those) and then headed straight for those viewpoints.
Sure enough, we managed to get right onto a precarious rock outcrop with a nice view towards the Veliki Slap. And under the even light, we were experimenting once again with various exposures, compositions, and polarizations.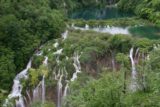 Once that was done, we tried to find the other overlook, which wasn't quite as easy. This one required going through some overgrowth and we ended up with a view that wasn't as open as we had hoped. Then again, maybe we didn't go far enough, but we weren't really in the mood for too much scrambling just for another shot when the money shot was still back at the sanctioned overlook.
It was a good thing we took the photos that we did and that this location wasn't very well-known. That was because we could see in the distance the boardwalks were already crowded with armies of tours and large groups. We sure weren't missing that aspect of enjoying Plitvice.
At 10am, we were finally back at the car. And about 15 minutes later, we headed right back to the Hotel Bellevue for one last bathroom break. Finally, at 10:30am we left Plitvice for good.
The drive south was mostly uneventful except for the fact that the roads were only 2 lanes in opposite directions so we always found ourselves behind a slow campervan or big truck belching out diesel in our direction. And given the curvy roads, it wasn't easy to pass them. Though we did notice one town that had a little speed trap with a cop with an old fashioned radar gun pointed back at passing vehicles.
Once we finally made it onto the expressway, the speed limits went up from 80 or 90km/h to 130km/h. And that stretch of highway went pretty smoothly.
At around 11:30am, we were going through a long 5km or so tunnel called Sveti Rok. The length of this tunnel really reminded me of Norway. But when we finally saw daylight at the other end of the tunnel, there were two more smaller ones we had to get through.
Throughout the drive, the clouds were threateningly dark, but they never really dumped their load on us. Perhaps we were getting so far south that we weren't in the midst of the storms that we felt firsthand the day we got to Plitvice two days ago. However, this still didn't alleviate the worries we had about going to Switzerland with these unusual late Spring/Summer storms still persisting throughout most of Europe.
At least during the drive, we were checking out some Croatian radio stations (as we had been throughout the drive even from Zagreb to Plitvice), and came to realize that there were lots of American music.
Finally at 12:20pm, we arrived at the Hotel Skradinski Buk. The clouds were still above us, but it looked like the sun was doing its best to break through the clouds and make the scene bright.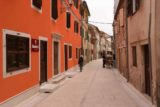 After we were done checking in and settling in our room (this place required lugging our stuff up four steep flights of steps), we headed right into town, which immediately disarmed us with its unexpected charm. Already, we were glad we made the last minute change to switch from a third night in Plitvice to one night in Skradin.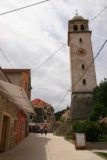 I was beginning to see a pattern here with Croatian towns emphasizing pedestrian-only alleyways and streets. And this town certainly had that. However, this town was a bit quieter and more compact until we got right out onto the harbor front.
The harbor was actually of a large lake and not of the Adriatic Sea. However, it certainly felt like we were bordering some large body of water. There were lots of boats docked as well as cafes and boutique shops facing the water.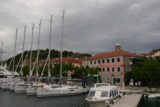 After Julie and I figured out where the tourist info center was, we went there to buy tickets as well as get a map of Krka National Park. Then, we had a 1:25pm lunch within one of the charming small streets right underneath some tall church tower.
We decided to have a meal at this pizzeria, which touted pizzas baked in a stone-fired oven. Well, the pizza wasn't Grimaldi's, but the crust definitely had that texture and taste that it was traditionally oven fired. Julie had some seafood pasta, which was also tasty. Clearly, there was some Italian influence in these parts just like some parts of Greece (Nafplio comes to mind).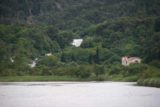 At 2pm, we were done with lunch and immediately headed over to the boat area where we were just in time to catch the 2pm departure boat.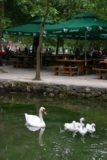 By 2:40pm, we were off the boat and started walking. But after a few minutes of walking, we could hear some noise getting louder and louder as we got into some general quad area with food stands, a pond with some geese, and a large lawn area with a whole bunch of kids running amok. Clearly, this was the source of the noise, and we already had this forboding feeling that there wasn't going to be any peace at Krka National Park. And like Julie said, this place was like a zoo.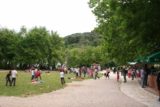 A lot of the stalls and buildings in this quad area also gave me the sense that Krka was definitely more like Disneyland (i.e. more commercialized) than what Plitvice Lakes were like.
Anyways, straight away, I headed over to a long footbridge where I was immediately wow'ed by the wide waterfall before me. Julie knew that I was going to take quite a bit of time taking photos here so she went to one of the food stalls to get herself a chocolate crepe (which she noticed other people eating, which was why she wanted one).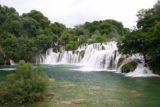 The waterfall wasn't the easiest to photograph given its length. Plus, there was always some shaking going on the bridge since there was always a large train of foot traffic going by (especially from the unruly kiddie groups). It wasn't unusual to have some random kid assume I was Japanese (as if they think all Asians must be Japanese) and shout out, "Konichiwa!" In any case, after maybe a half-hour, we finally proceeded to the other side of the bridge, then climb and start looking for more overlooks.
The next ones started to show a bit more of waterfalls a little further upstream from the main we we had just seen as well as a different angle of the main one itself. Except the overlook here didn't seem official as it involved people hanging onto rails on a wall with lots of foliage in the line of sight.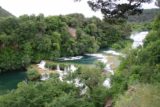 As we continued further up the stairs (following more mega tours and kiddie groups), we made it to another large area where we saw even more waterfalls further upstream from the main one. After taking what shots we could from the quieter side of the quad, we then went back to where there was once a large crowd (at least it wasn't so bad when we got there) to take a few more photos before continuing on.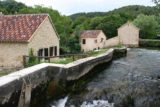 After a few more paces uphill, we then went into an area that felt like a tiny little village complete with souvenir shops, cafes, and even a museum all nestled amongst the waterfalls. We even noticed a few canals and tiny water channels that started to make me wonder whether some liberties were taken to mess with the natural flow of the falls in order to accommodate this little bit of civilization in the middle of the waterfalls.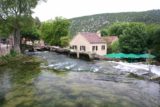 I'm sure it would've been a pretty neat place to chill out and listen and watch the moving water, but we were just content to take photos and movies. At least it seemed like the worst of the kiddie groups had moved well ahead of us so we did have this brief moment of peace.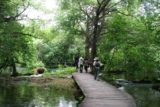 Next, we climbed up some more to the top of this little village. There, we noticed a car park with some parked tour buses. I guess this would've been a place we could've parked the car had we driven (but the boat was part of the admission price so why not take advantage of it?).
Anyways, we next veered left and onto a boardwalk that stayed just above the moving streams and waterfalls below. This part of the walk was very Plitvice-like. However, here the tree canopy kind of made the walkway a bit darker and the water a little less colorful than say Plitvice.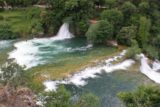 We did have to contend with some more unruly kiddie groups that caught up to us as they ran along in their long lines shouting "Konichiwa!" to us. There were a few that shouted "Guten tag," which was a bit of a change. But for the most part, this section of the walk was more about the experience and the naturesque settings than the camera clicks.
It was also during this walk did Julie mention to me that we'd been getting quite a few looks and stares from other people not just in the park but also in Skradin town. We suspect that was because we were the only Asians here (or maybe it was because we were dressed in hiking attire). We certainly weren't the only tourists here. In any case, this was nothing new to us since we had a bit more of an extreme case of standing out when we were a little off the beaten path in India and even Zambia and Uganda.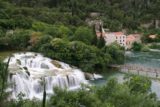 About a third of the way along the boardwalk, there were some detours that took us to some interesting overlooks from the other side of the river of the same waterfalls of the Skradinski Buk network we had seen earlier. We did our best to take what photos we could before the crowds started showing up and inundating the scene.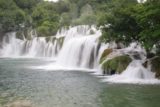 We did likewise for a few more interesting overlooks of the Skradinski Buk, and it was after the overall experience did it start to sink in that this waterfall certainly had the Plitvice-like beauty and certainly had the potential to be on our Top 10 Waterfalls List. But I felt it had a bit too much commercialism, man-made interference, the more lax protection, and the zoo-like atmosphere to really have that experience that blew us away at Plitvice.
At 5pm, we were back at the boat dock waiting for the next boat back to Skradin. But before getting there, we had one last go at taking photos from the bridge of the main falls as well as treating ourselves to one last helping of the killer chocolate crepe at one of the food stalls.
We were a bit tired from the long drive and the touring of the Skradinski Buk so our aspirations of wanting to fit in the Roski Slap (another waterfall further upstream) wasn't going to happen today. This was yet another example of why we were quite happy to have changed plans and spent the night here at Skradin.
Anyways, at 5:45pm, we were finally back in town. Julie made a snide comment about why the other boats to the monastery on an island plus the Roski Slap took so long… "because the boats went as slow as molasses."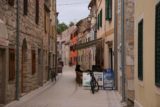 Anyways, we were back at our room at around 6:15pm. I was probably a little more tired than I gave myself any credit for as I dozed off and napped broken by a little bit of Croatian News (the TV was on) showing footage of flooding. In my consciousness, I could only attribute that as relating to the rain storms and threatening rain we had been noticing on this leg of the trip. But it was too bad I didn't understand Croatian because I sure would've liked to have known whether this weather was unusual and if so, whether it was grossly unusual due to Climate Change or the volcanic clouds still in the atmosphere from the Eyjafjallajokull volcano in Iceland.
At 8:30pm, we had a nice (albeit expensive and cash only) restaurant in town called Konoba Dalmatino. There, we actually tried real scampi (not the shrimp scampi you see back at home, which are nothing more than plays on name) which required breaking hard shells (risking cutting the hand in the process) along with tomato sauce. That was delicious, and they even offered grappa at the end of the meal on the house (again, an Italian influence we suspected).
Finally after 10pm, we were back at our room. It was sprinkling a little harder outside, but we were too tired to do anything more for today. So we looked forward to tomorrow…
Day 15: SPLIT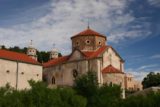 It was 7:30am when both Julie and I awoke. When I first looked out the window, I was relieved to see a little sunlight. That was a little contrary to the dire weather predictions from yesterday. However, there was still that concern that things could go south as the day continues.
Much of the morning was spent packing as well as doing some internetting in the lobby. Eventually at 9:45am, we left the Hotel Skradinski Buk and went north towards the Roski Slap, which was Krka National Park's other main waterfall.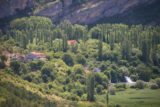 After a fruitless detour towards the Visovac Monastery (it ended up going to some docking area but no photogenic views), we continued north eventually going past a narrow bridge over the top of the Roski Slap waterfall network and ultimately arriving at some car park area patrolled by a handful of Krka National Park employees at 10:25am.
After they looked at our ticket, they told us that we had to buy another one as our ticket was only good for the day even though we had bought it late in the afternoon yesterday. So we had to fork over another 95 Kn per person, which we figured would be kind of a rip off. And that made us regret not pushing ourselves to visit the Roski Slap yesterday despite the late exit from Skradinski Buk and the gradually deteriorating weather.
In any case, what's done was done. We helped the economy by buying another ticket.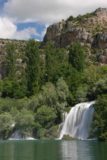 We then learned that they did have boat cruises, but none of them went in front of the Roski Slap Waterfalls. However, they did have boats that continued further upstream from the so-called Necklace Cascades leading to other smaller waterfalls even further upstream in a two-hour tour.
We weren't going to do it despite an employee's best efforts at selling us to spend more money either on the boat tour or on the poster at their kiosk (which was taken from the air by their admission).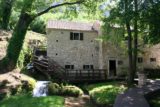 So we wandered about the lower waterfalls, which were viewable from a boat dock near another museum and cafe. We were taking what photos we could of the waterfalls down here, which were nothing like the Skradinski Buk in terms of volume and beauty.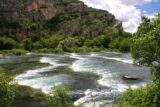 After getting our fill of this part of the falls, we then walked a loop around the so-called Necklace Cascades, which were nothing more than cascades arranged in thin sheets one after another. It wasn't anything terribly impressive, and all this reinforced the notion that perhaps this part of the park should be either free or not even patrolled at all for fee collections.
Besides, it seemed like nothing was being protected here as there were private areas used for farming in the midst of the cascade area.
Anyways, at 11:30am, we were back in the car.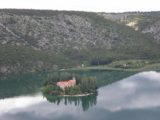 Half an hour later, we arrived at some pullout area with an overlook of the monastery on an island called Visovac. It turned out that the east side of the lake had the best views of the monastery. So we took a few shots from up here before finally continuing on our way to Split.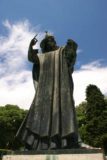 Once we got to Split, we followed some dodgy directions for some parking area near the Golden Gate (which we didn't see as we were driving) of the old Palace. Eventually, we just took a guess that a fairly sizable car park near Vukovarska and some other street was the one we should leave the car at, and then we paid the 5 Kn/hour parking rate. We ended up leaving the car near some church and walking area. We called Irina (who was the owner of the apartment we were staying at these next two nights), and ultimately met up with her as she found us waiting by our car.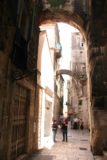 Next, Irina led us through the Golden Gate (of Diocletian's Palace) and towards our apartment for the next two nights. But we didn't enter the city before rubbing the toe of a statue (I think of Diocletian himself) for good luck. We could tell it had been rubbed many times because it was the only part of the statue that was shiny.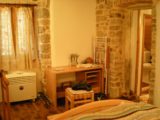 And at 1:55pm, we were finally settled. The apartment was a very charming and traditional room, and every bit of its interior seemed like we were residents within the historical core of Split. Even though there was so much going on outside within the palace walls and on the waterfront, somehow I got the sense that we could just as easily veg inside the apartment. Irina told us about the amount of work that went into renovating the place, and it definitely showed.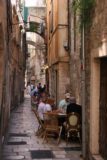 At 2:25pm, we went right around the corner and had a very late lunch at this trattoria (called Konoba Trattoria Bajamont) where Irina knew the owner very well. The dining experience was very charming as we were sitting on this alleyway and tour groups would constantly parade by our table (and others lined in the alleyway) staring at our food and ourselves. I guess it brought new meaning to the saying, "It's like watching you eat."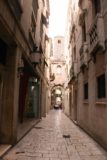 At 3:40pm, we were done eating and tried to walk off the food by walking around and exploring both the palace areas as well as the waterfront. Basically, we were going where the action was.
It turned out that the Palace area within the city walls and gates were quite cozy and small. It didn't take very long before we walked from one gate (which were more like archways) to the other. The ground was mostly this smooth almost tiled surface and they were always flanked by fairly tall buildings.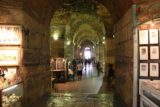 We had spent quite a bit of time just getting tranced and mesmerized by the sheer cuteness and charm of the Old Town. Of course, with these tight quarters, it was also rather crowded as tour after tour would flood this place.
Eventually after walking through the so-called vestibul (basically an underground "basement" area with shops and entrances to a couple of dungeon-like areas), we explored the waterfront which was lined with cafes full of people watchers (and smokers of course) as well as boats and a nice wide promenade.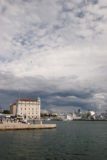 It seemed like the weather remained cooperative for the remainder of this afternoon despite the threatening clouds surrounding us both up and down the coast. It was almost as if Split was the magic spot on this day. And the sun's rays seemed to have this ability to bounce off the narrow walls within the palace and give this strange glow.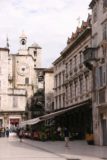 Even though we had only meandered for a couple of hours, both Julie and I felt a little fatigued. So we decided to leave the palace area and go for Mexican food since we were getting a little tired of Croatian food. And it turned out that the food was tasty, but since we were only two hours removed from the late lunch, eating this full meal really made me feel like my stomach was about to explode.
At 6:25pm, we were finished eating the food, and headed straight back for the apartment. At that point, we opted to stay in, miss the sunset, and just nap the arvo away. There were lots of sounds outside making it seem like there was still lots of action outside, but our tired bodies kept us from being part of it for the time being.
I certainly hope the weather holds up tomorrow so we could give it another go at this time, and maybe even catch the sunset…
Day 16: 101 DALMATIANS
At 8am I got up. There was some thumping noises upstairs so I guess it was time to wake up for I certainly wasn't going to remain asleep with the raucous up there. It kind of reminded me of the old dorm days in college or some of the crappier apartments I've stayed in when I started living on my own.
But what really kept me from sleeping peacefully was a constantly high-pitched buzz from a mosquito that managed to get some blood from both Julie and I.
At 9am, Julie finally got up. I was kind of hoping to see the fortress area of Split before the tour buses have arrived, but I think that was all a pipe dream when Julie woke up late.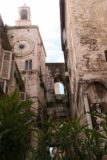 It wasn't until 9:55am when we finally walked into the suddenly busy and crowded town. We decided to eat at some cafe just outside the Iron Gate (west gate) for a quick breakfast while doing some people watching like the Europeans like to do.
It was a little fun to see people from all over the world taking photos of the charming tight quarters that we've now become familiar with. Plus, we could see who weren't the tourists as they were typically fashionably dressed and walking like they're more on a mission that they have somewhere to go.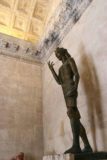 At 10:20am, we were done eating and decided to do a little more exploring of the town that we didn't see yesterday.
First up was this place called the Jupiter Temple. There was a tour group that beat us to it so we trailed behind the suddenly crowded room. There was nothing more than a little money pit in the middle of the dark room plus some statue with a few fingers being held up in the back.
At 20kn per person, this place was pretty much a rip off.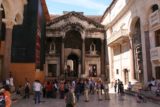 So we didn't spend a whole lot of time there.
Next up, we walked some more back towards the Peristil part of the palace, which was flooded with lots of human traffic (mostly tour groups as usual). And something that caught our attention was that the doors to the upper reaches of the Bell Tower were open now. I guess since Irina informed us that yesterday was a National Holiday, many places (including the Bell Tower entrance) appeared to be either closed or escaped our attention.
After paying the 25kn per person to go up, we headed right up the narrow, dark, and steep steps. The stairs were so steep that you could conceivably climb up on all fours.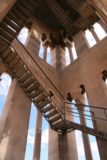 Anyways, after the first few flights of steep steps, it reached a little outside area where there wasn't a whole lot to see, but at least it was light after the dark corridor we had just passed through.
Next, we had to climb up more steep steps before they started becoming metal steps. The metal section started when we had to ascend up and right next to some bells. I don't think this would be the place to be when the clock stikes the hour hand when the bells start ringing. I'm sure at this proximity to the bells, they wouldn't be the only things ringing.
After probably the 3rd or 4th flight of steps as they spiral up along the walls with arches opening to the outside, it was fairly easy to get a little vertigo. This was certainly not one place to take a tumble or for the steel steps to fail.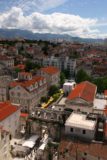 But it also somehow reminded me of the Eiffel Tower scene in the James Bond movie (and Duran Duran song) A View to a Kill
. Don't ask me why. It just does.
Eventually, we got right up to the top of the tower where there was a commanding view of the surrounding area of the city of Split. The weather was quite decent this morning so the lighting looking out towards the mountains and even to the harbor were quite colorful and lively.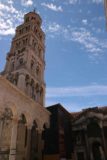 Given the high density of buildings and narrow walkways, looking out from this vantage point certainly made the city below seem like a chaotic jumble of red-tiled buildings. But since we were a little familiar with the palace area, we could at least make out the Silver Gate, Golden Gate, and the Iron Gate.
After having our fill of this "A View to a Kill
" spot, we headed back down a few minutes before the 11am bell would've sounded.
Next, Julie and I did some more strolling looking at the rather quiet northeast section of the palace part of town where there was the Split Town Museum. We didn't go in because it didn't seem open, and we weren't exactly chomping at the bit to do another overrated museum anyways.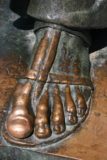 After exiting the Golden Gate (north gate), we had some fun rubbing Diocletian's toe for good luck again. Obviously we weren't the only ones doing this since everyone hears the same story about rubbing the toe for good luck. Besides, the big toe was the only part of the statue that has a shiny sheen to it. I wondered how much bacteria has accumulated on there.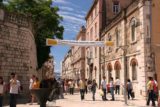 Now that we were outside of the palace, we decided to do a little exploring of the northwest region that was still part of the historic core of Split (just not in the palace). While there, we found a supermarket where we picked up some water (I was a bit tired of overpaying 25Kn for 750mL of water at restaurants when we could buy 1.5L for 5Kn) as well as a few fruits and a cereal.
Once outside the supermarket, we did a little more meandering back down in the direction of the waterfront. But that was when Irina spotted us and said "Hi" to us. She was so eager and excited about our interest in checking out Split that she wasn't shy about letting us know that the part we were in was still part of historical Split while exchanging in more dialog with us about our impressions so far of the town.
Anyways, we arranged to meet up with her at 1:30pm today to take care of some business-related issues (like payment for the apartment) and other things.
And with that, we continued on just meandering around more of Split before eventually having a pizza at some popular local dive. The pizza wasn't the Italian types that Julie was craving for mainly because they used Dalmatian cheese. I guess expecting Grimaldi's in Croatia where they do cheese their own way and not Mozzarella the Italian way was a bit unrealistic.
After the filling lunch, we returned back to the apartment where our laundered clothes were almost dry. So while we were waiting for Irina, we spent the time folding clothes and putting them in our luggage.
Eventually, Irina showed up and we told her about a problem with water that was poured from the ceiling (probably from the person above) that spilled right into our room. We were concerned that something was amiss and that it might ruin her charming apartment.
Anyways, she seemed a bit concerned about this and did some more investigating upstairs. Anyways, we'd meet her again at her store later today to finalize payments.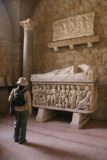 At 2:30pm, we walked back into town.
Going on LP
's advice, we decided to walk a few blocks outside of the historical core of Split towards the archaeological museum. The authors of the book thought it was worth it. But after paying our 20Kn/person and feeling a bit underwhelmed (especially after seeing the Greek museums), we begged to differ.
So we walked back towards the historical core again where we meandered aimlessly towards the waterfront and eventually back towards the Vestibul part of the Palace at the south entrance (i.e. the "Bronze Gate").
While down there, we visited the basement of the Diocletian's Palace, which had a bit of a mysterious and spooky subterranean feel to it. It was hard to believe that this area was once a sewer or waste repository. For the walls and passageways down here seemed intricate enough to feel more like a dungeon. There was even a device down here to make olive oil that was somewhat preserved (not a likely place to have this, if you ask me, since this place also used to store waste?).
As Julie and I explored as much as we could, we certainly got our 25Kn/person worth as this atmospheric dungeon was a little fun to photograph and explore.
However, Julie was a little hasty to leave as she felt a little bit spooked thinking something might just appear or pop out of the next corner (ala horror movies).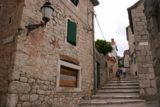 When we were done seeing the basement, we did some more meandering about Split at 4:40pm where the skies continued to look threatening and even starting to cover the sun. I guess we could forget about a sunset on this day.
But at least the city felt relatively quiet as it seemed the town was mostly on siesta as were most of the mega tours overwhelming the city. So that allowed Julie and I to just absorb the scene and let the Mediterranean pace of life dictate our pace.
At 6:15pm, we were pretty much done wandering around and decided to go cheap and local for dinner. First up was this place that made this thing called a cevapi. It was pretty much like a Croatian fast food composed of sausages, onions, and some bland red sauce wrapped in some kind of bun. I guess this was a uniquely Croatian thing (actually in hindsight, it was Turkish in origin) so we were glad to try it.
We were going to do this other place down the street called Hravanin, but they didn't seem open for business tonight. Maybe it was good that that happened since I did feel like saving some money today.
At 6:45pm, we were back at the apartment. There, we heated up some leftovers from yesterday's restauranting. We heated up some Mexican leftovers as well as the gnocchi in truffle shavings from the trattoria downstairs. That was filling as well as simple, cheap, and allowed us to make ourselves feel more at home in the charming apartment.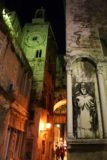 At 9pm, Julie had to tend to some work-related issues back home so while she was taking care of stuff via long distance Skype calls, I headed back out on the town. This time, I was game to check out the personality of Split in the evening, which was something we took for granted yesterday. Then again, it was quite loud and happening last night as it was a National Holiday. It seemed like this evening, it was a bit more subdued even though it was Friday night.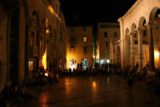 But as I was exploring the now dimly lit corridors, I checked out a performance at the main section of the palace right in front of the Luxor (I think that's what it's called), which was right across from the Bell Tower at a fairly wide squarish area surrounded by steps. There was some duo performance singing a few American songs that I recognized like that Mercedes Benz commercial and some Tina Turner classics. That seemed to have drawn quite a crowd.
And when I wasn't at the main square, I was checking out the Iron Gate, which took on a different personality in the evening (plus the ice cream stand was still open as were the cafes).
In the darker alleyways, I could smell cigarette smoke and hear the chatter from numerous younger folks at bars chatting the night away, doing more people watching, or perhaps hoping to get lucky getting someone in bed.
All the photo taking I was doing while holding my breath (since I didn't bring a tripod on this trip) easily occupied the next hour. And by about 10pm, I rejoined Julie in the apartment content to call it a night now that I finally experienced the flavor of Split in the evening.
I told Julie that she missed out and she knew it. But I guess sometimes you just can't be in two places at once.
Day 17: AND THEN THERE WAS DUBROVNIK…
At 7am, I woke up. It seemed like during my semi-conscious state while trying to stay asleep, I heard parties that were still going on well into the evening. I even heard more lots of shouting at around 4am.
I guess that's the drawback of staying where the action is an old school charming apartment. The walls are thin!
It brought me back to my college dorm days where you could hear thumping from the neighbors upstairs, chatter from just outside your door or window, and practically little to no chance of getting any decent night's sleep unless you're a real heavy sleeper.
I guess you gotta take the good with the bad on this one.
At 9:20am, Julie and I were all packed and ready to go, and we lugged our stuff out to our car. Already at this hour, the tour groups have arrived and the town was already starting to see some heavy traffic within the fortress walls. But the traffic also started picking up outside the fortress walls as well (and we were about to join them).
At our car, the car park seemed a lot more crowded than it was 2 days ago. Some lucky guy was patiently waiting for us to load up our stuff and leave so he could take our spot.
As we left Split, the D1 linking Split with the A1 high speed motorway was closed. That created a traffic jam and it took over a half-hour just to get on the A1, which itself was some 7 or 8km out of Split.
Then, the driving along the A1 went smoothly as expected. The forecast from earlier in the week called for nasty weather when we get to Dubrovnik, but it seemed the weather so far looked to be mostly sunny. We could even see from the temperature gauges on the roads that the mercury was rising.
But the smooth driving on the A1 came abruptly to an end some 80km from Split. At that point, it was 2-lane mountain roads. And unfortunately, that also meant we had to risk our lives doing some daring passing of tour buses who seemed to refuse to use any opportunity to pullout (although in their defense there weren't that many pullouts) lest we breathe their diesel fumes and get to our destination in double the time.
I guess the road etiquette in Croatia wasn't as good as we noticed in Greece where it seemed drivers could understand what it's like to want to pass someone slow (especially one who refuses to pull over or move over to the right to make it easier for the guy behind to pass). Then again, I'm sure the driving in etiquette in Greece wasn't the norm since more often than not, we don't get such driving behavior back at home on the mountain roads.
So for over the next 120km, the drive meandered through mountains before curling along the coastline bordering the calm Adriatic Sea. Irina (the lady who owned the apartment we stayed at in Split) was right on three fronts.
First, she said the motorway from Split to Dubrovnik wasn't complete. Second, she said there would be traffic as she had firsthand knowledge since she used to live in Dubrovnik. And third, the route was scenic.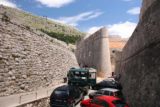 But eventually by 12:50pm, we arrived in Dubrovnik. We were lucky in finding parking right outside the fortress wall. And I must emphasize that we were lucky because I'm sure it's not easy in general finding such parking.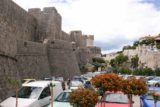 However, our luck in finding a parking space was soon trumped by the fact that we had to deal with a very archaic parking meter. Apparently, they only accepted cash and you had to pay up front at a rate of 10Kn per hour (almost $2USD/hr; ouch!). Since we were going to park for at least the next 44 hours, this was going to cost about as much as a night's accommodation.
But that wasn't the worst of it. It turned out that the machine only accepted notes in 50 Kns or less as well as coins. But we only had 200 Kn notes. Who on earth carries that much change with them if they wanted to park long term?
In any case, no one wanted to give us change. Even the lady at the souvenir shop didn't want to. The parking enforcement guy was also a bit cheeky and didn't feel like helping us in that regard other than to write tickets. So we ended up just paying for an hour (that was all we could figure out anyways at the time). And we'd have to come back in an hour just to feed the meter maid once again.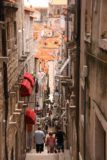 So it wasn't until about 1:30pm when we finally put the ticket in the car, then lugged our stuff up the ramp, then through the fortress gate, and then down the numerous flights of steps before finally getting to a flat surface at the Placa or Stradun (both names of the same main thoroughfare in town).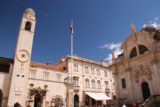 There were heaps of people on this stretch and it seemed this was the obvious thoroughfare as we could see a tall bell tower in front of us as well as another in back of us off to the side.
As we continued walking around the Placa de Luza (the square with a medieval statue, a clock tower, and a cathedral), we then headed towards the harbor area so Julie could compare her notes and photo printout of where the apartment was supposed to be. And once we recognized it, we immediately headed straight for it going up a few flights of stairs and then down a back street.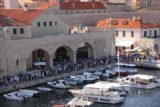 Finally at around 1:45pm, we found another set of stairs to a couple of unassuming doors. It didn't look like we were in the right place, but when Julie knocked and called out Renata, she opened the door and asked, "Julie?"
That was a relief. Because otherwise, I wasn't sure how anyone would figure out that this was the apartment we'd be staying at the next two nights. Julie certainly did her homework on this one.
Anyways, five minutes later, after lugging our stuff up another four flights of narrow stairs, we finally got to our room at the very top floor overlooking the harbor.
The apartment was very homey and quite spacious. Maybe it lacked the old school charm of the place we stayed at in Split, but this place definitely got the job done as far as I was concerned. It even had a separate computer for internetting, which was good so Julie and I didn't have to time share the little laptop.
I'm sure Renata must've thought we were nuts bringing all this luggage (which wasn't much considering we packed for three countries with differing climates and all our stuff could technically all pass as carry-on luggage and personal items on American Airlines). But it was what it was. And fortunately, we didn't pack something even more usual for international trips like the larger luggage we used in China and Japan.
After taking a quick break from all the travel from this morning, we headed back out at 2:30pm. Fortunately, I realized that Julie's ticket was good for only one hour (she had originally thought it would last longer than that) and we immediately headed back to the familiar meter maid to feed another 60Kn (6 hours worth). That still meant we had to return by 8:49pm for another damned trip to feed the meter maid.
It was times like these that I wish they had a more sensible system where you pick up a ticket and pay on your way out. But maybe they didn't want tourists parking so close to the fortress (reserving them to locals who probably need it more). There was a newer car park seemingly quite a ways outside the old town, but we didn't feel like walking the extra distance on the slope and in the heat to carry the luggage was justified (at least Julie was very strongly opinionated on that one and especially since Renata recommended the place by the fortress walls).
Who would've thunk that a parking situation would create so much tension and drama? In one exchange I thought Julie was going to argue it out with the parking enforcement guy who was still being a smart ass and not even trying to be of any help.
Only after about 2:45pm did we finally have lunch at some harborside cafe. Julie didn't like the food even though it was an LP
pick. But at least we managed to get a little more change to feed the meter later.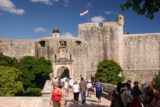 Still, parking drama aside, the charm within the city walls was definitely palpable. I thought Split was pretty charming. And then there was Dubrovnik…
At 4pm, we were done eating our late lunch. We proceeded to walk the alleyway just one short block north of the Stradun. Here, there was a market where we bought a 1/2-kilo of cherries at a pretty hefty price of some 40Kn for a half-kilo. And then we continued walking to its end eventually rejoining the main promenade right next to a fountain and entrance.
There were tickets to walk the city walls at 70Kn per person, but we didn't feel like paying that much this late in the day (we didn't know that this might entail a pretty long and hefty walk around the old city and its walls). So we went outside the main gate and checked out a gelato place. Julie managed to break another 200Kn and get even more change for the parking.
What a big pain this parking situation has become!?!
Not helping our moods were heaps of kids running amok like they were in Skradinski Buk, and it seemed like we constantly heard a random "Konichiwa" from several kids as if they thought just because we look Asian we must be Japanese.
Certainly we don't go up to any Caucasian-looking person, assume they're Italian and say, "Buongiorno!" or assume they're Greek and say, "Kalimera" as if we assumed all white people look alike.
It was annoying to get these from time to time, but at least it wasn't as bad as some of the squint-eyed mockery accompanied by "ching-chong-chang" we got in India and even once Norway (and these were perpetrated by adults and not just kids who didn't know any better). I guess you don't forget those things very easily though we did seem to sense an increased bit of racism towards Asians in Europe (though we hope this wasn't the norm).
Anyways, looking beyond the racism, we strolled some more about the main thoroughfares of Dubrovnik just soaking in the atmosphere.
At 5pm, we were back in our room. We were now chilling out some more and even enjoying the view out our window looking down at the harbor or people watching those who paid to walk the city walls.
Julie eventually took a nap.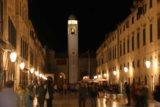 At 8pm, we were finally back out in town. The first order of business was to return to the meter and feed it once again as time was about to expire. So this time with the newfound change we got, we paid another 230Kn so at least now we're good until 7:30pm tomorrow.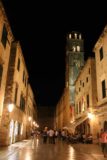 We then went to eat at some vegetarian restaurant called Nishta. And I think this was just what Julie was looking for. After all, we were a little sick of Croatian food or Mediterranean food in general, and we were looking for something different for variety. And this place certainly exceeded our lowered expectations (especially in light of our failed attempts to do the same cross-cultural dining in Greece).
When the dinner ended, night had sunk in and parts of the old town were lit up while still retaining somewhat of a lively atmosphere like in Split. Except, Dubrovnik stayed charming and wasn't as much of a party pit as Split was. I was telling Julie that it was almost as if Split was to Mykonos what Dubrovnik was to Fira or Oia. That was the best analogy that I could come up with when summing up the differences between our experiences within the two popular Croatian cities.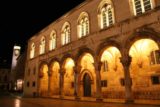 And after having our fill enjoying taking night photos (while practicing how long I could hold still and hold my breath for the photos sans tripod), we finally returned to our comfortable apartment room at 10:20pm.
The winds were picking up outside and making the windows move a bit in our apartment (I could easily envision them slamming shut and even breaking the windows). But we're keeping a watchful eye on that and might have to leave them closed.
In any case, that was it for a pretty long and eventful travel day. I could only hope we take nothing for granted tomorrow as it would be our last full day in Croatia…
Day 18: LAST DAY IN HRVATSKA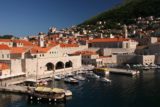 At 7:45am we awoke. Last night's sleep was a little interrupted because it was very windy last night. A lot of shutters were moving around and even banging from time to time. The bathroom door was making creeking noises and it was almost as if someone was inside the apartment with us. Needless to say, it was easy to envision how horry moies get their inspiration.
We spent most of the morning just tidying up and letting Julie do whatever it is she had to do for her travel client. So it wasn't until after 10:15am did we finally get out of the apartment to do some more sightseeing.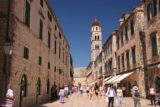 Almost immediately, we made a beeline through the thoroughfare to the Stradun and through to the Pile Gate. There, we forked over the 140Kn for the both of us and proceeded to go up the stairs to the ramparts of Old Dubrovnik.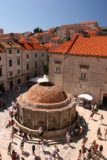 Straight away, we did our best to take the familiar postcard shots of the fountain and the Stradun despite being against the light.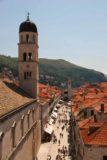 The scene was bustling both down at the Stradun and the fountain area as well as on the city walls. And since we had gotten a fairly late start to the day, the heat of the sun from this clear day was also starting to make its presence known to us.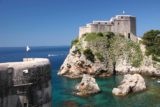 We also looked towards the fortress, which was fronted by gorgeous blue-green waters. Now this was the Mediterranean colored waters we've come to expect while being in these parts of the Adriatic. I guess the clear weather here helped a lot.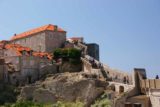 Come to think of it, this might be the clearest day we've had since coming to Croatia. So we're glad it finally showed up on our last day in Hrvatska (Croatia in Croatian) though I certainly would've appreciated it if this weather persisted when we were in Plitvice.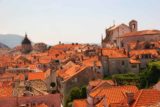 Our walk continued in a counterclockwise direction along the city walls. This was the side bordering on the Adriatic, and it yielded some views and juxtaposition of subjects that kind of reminded me of the way we were photographing Oia in Santorini, Greece. I guess this would be fitting since we think of Dubrovnik as Croatia's Santorini (and Split as Croatia's Mykonos).
At about 12:10pm, we were closer to our apartment in which we took a quick breather for a bathroom break before resuming the wall walk.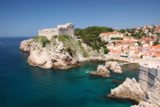 Now, we had to climb more stairs as this part of the wall was on a more elevated part of the city. However, this part of the wall was also narrower and yielded nice views of the towers higher up the hill (the most prominent one on the northwest side of the walls I think was called the Minceta Tower) as well as the hordes of tourists leaving the harbor to eat on their cruise ships.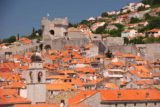 As it was very high noon on a clear, still hot day, we were still roasting on the city walls as we snapped photo after photo finding it hard to resist the views of the ref-roofed city as we looked inwards and the shimmering Adriatic Sea as we looked outwards.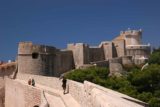 By now we were on the north side strolling along the city walls overlooking the parking area. And it was here that we noticed car parks without the hassle of feeding the meter each time (kind of like the way we did the parking situation in Split). I'm sure it was still 10Kn per hour, but at least we wouldn't have to keep feeding the meter maid the way we've been doing yesterday and still have to do again tonight at 7:30pm.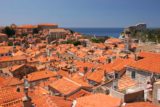 I guess there's always that woulda coulda shoulda moment, but we'll just stick out what we've been doing especially since we were much closer to the city walls than the other car park (though not by much, and it was a little flatter).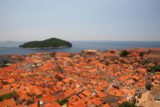 After climbing up to the highest tower (the Minceta Tower) along the wall, it was hot and sweaty and we worked up quite a sweat. So at 12:45pm, we concluded our morning circuit of the city walls and walked back down into the Stradun area.
The very first thing we did was to go for some gelatos. I found a flavor I liked in Biscotto, and I think I'll get it again except in all biscotto instead of a combo with vanilla. Julie didn't like her fruity gelatos and she still preferred her Greek experience (or even reaching back further into her memories of Italy and even La Boca District in Buenos Aires, Argentina).
We then snacked on some doner kebab which was served with the same dough as cevapi. It turned out that we learned that cevapi was also a Turkish creation and not necessarily uniquely Croatian. Still, they seemed popular amongst the locals.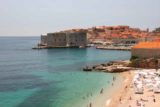 After having our brief lunch sampler, we then walked outside the Ploce Gate (to the northeast) and out towards the area where there was this beach that we noticed while touring the city wall. Now it wasn't anything like the beaches we've come to know, but it was still popular as plenty of people were busy sun bathing. We also got some shots (albeit a little against the sun) of Dubrovnik's Old Town walls from here.
As we made our way out of the gate, I engaged in a brief chat with a local from Dubrovnik who was also wielding a fancy Canon DSLR. He told me that he wrote a book that was coming out in 7 days about the City of Dubrovnik. And being an author myself, I knew how difficult it was to put one out. So I wished him luck and we continued on our ways.
Then, we stopped and chilled out in the shade (while watching some locals hitchhiking comfortably – I guess locals know each other in these parts).
At 2:45pm, we were back at the apartment again. This time, nobody napped. We were just taking a short refuge from the hot sunny day before getting our second wind and touring more of the town including some re-visits of the City Wall as well as the fortress outside the old town (since it's part of our admission). Indeed, we had to savor every last bit of this full day (our last) in Hrvatska.
At 4pm, Julie and I headed back into town. We had a little more unfinished business in terms of making full use of our ticket to see the city walls (namely that fortress outside of the Old Town). So at first we went back up to the city wall right at the Pile Gate. But before we went up, the guy checking tickets stopped us. Apparently, we weren't supposed to re-visit the same area twice. And I guess our ticket was already scanned at this spot earlier this morning.
Julie managed to tell the guy we were just going up to take the fountain (which we were). And so the guy relented. And after taking our photos (which weren't as impressive as I had thought), we hastily headed back down to the bottom and then out the gate.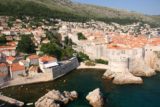 At 5:05pm, we went to the Lovrenjac (Fortress), which was just outside the Old Dubrovnik town. There were more stairs to go up, but at least it was very quiet as it seemed most of the day trippers from cruises were done for the day.
And while we were up there, we took what photos we could of the sea-facing side of the city walls of Dubrovnik (since they had favorable lighting in the afternoon). We also noticed an as-yet completed cable car going up to the top of the hill. That was when a British guy who overheard us told us that they were about to open the cable car in about 10 days. He said he walked up there and got commanding views of the city. Obviously being short on time and energy, there was no way we were going to do that.
At 6pm, we returned to the city where we walked around the narrow alleyways looking for a place to have dinner later on. Eventually, we found this Irish Pub called the Gaffe Cafe where they actually served hummus! It was the first time on the Mediterranean part of the trip that we saw hummus being served (which was a big surprise to us in Greece since it was nowhere to be found). And we ended up finding it in Dubrovnik, Croatia of all places.
Nonetheless, we snacked on the food at the pub (trying to tolerate the smoke despite it being a no-smoking area) and were pleasantly surprised by it. Plus, it was probably one of the healthier hummus' we've had as we dipped cucumbers, tomatoes, or carrot sticks instead of chips or pita bread.
At 6:30pm, we once again returned to the apartment to take yet another quick break. But it was almost time to feed the meter maid again one last time.
So at 7:15pm, we set out back into town, back up the stairs, out the gate (turning down soft touts in the process), and finally feeding the meter for another 13 hours. So the next expiration time is now about 8:49am, which should be sufficient for us to get all packed, lug the stuff back to the car, and get going on our way to some signature overlooks of Dubrovnik on the way to the airport.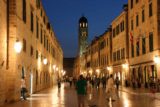 At 7:45pm, we decided on having one last night (splurge) for our last night in Hrvatska. So we ended up eating at this place called the Konoba Sebastian based on some TripAdvisor recommendations.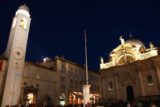 Well for starters, it turned out that the seafood was fresh, the bruschetta we got was flavorful, and they even gave us garlic bread on the house. The service was also unexpectedly very good (we had been used to being forgotten about in most places we've been to on this trip), and we thought this was a nice bookend to our culinary experiences in Croatia.
At 9:15pm, we returned to the apartment for good. Now, it was time to get cleaned up (our skins were very sticky with a combo of sunscreen and dirt) and packed for tomorrow where we transition from Hrvatska to Switzerland…
The next day, we basically checked out of the comfy apartment in Dubrovnik at around 8:30am. Then, we lugged the luggage back up the stairs to the gate by our parked car. I managed to take a shorter (with fewer steps) was instead of the thoroughfare leading to the Esprit Shop on the Stradun.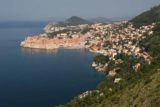 We then drove out of town taking in a few panoramic viewpoints looking back at the city of Dubrovnik and the fortressed walls of its Old Town. By about 10am, we arrived at the airport, which was small yet clean. And from there we left the clear and hot weather in Dubrovnik and were on our way to Switzerland where we expected the weather to be a bit less sunnier…
Visitor Comments:
Got something you'd like to share or say to keep the conversation going? Feel free to leave a comment below...
No users have replied to the content on this page