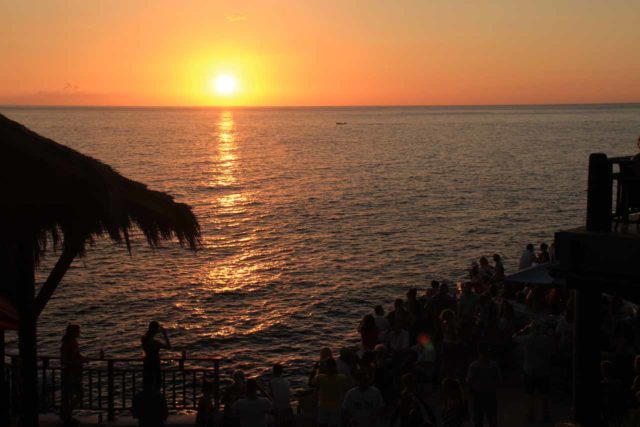 26-December 2011 to 31-December 2011:
A local guide told us that it was only about 10 minutes walk so it didn't seem all that bad we figured. But once we started hiking, it became real apparent that we were sort of going on some primitive trails that were made very muddy and slippery from some recent rains. I think Vincent was suffering a bit as he was dressed somewhat professionally with dress shoes and slacks on. I think this hike was about to ruin his shoes. And I remembered Melvin looking at Vincent's attire and jokingly asked him, "your bush clothes?"…
Day 1: THE LONG JOURNEY TO IRIE LAND
Christmas Day was pretty low key for us as most of the family activities took place on Christmas Eve. On that day, we merely spent the time doing some last minute packing as well as other trip logistics all while tending to baby Tahia's needs.
When we left the home, we found it difficult to leave Tahia behind with Julie's Mom (and some visiting relatives) as it seemed she had just learned how to wave to us good-bye.
Anyways, we eventually made it to the airport at around 7pm where the facility seemed relatively quiet. We went through security without a hitch and we managed to kill a couple of hours at one of the restaurants with some TVs past the security check. That allowed us to at least catch the first half of the Clippers vs Warriors game as well as the Green Bay vs Chicago game.
Anyways, we boarded the plane on time, but Julie and I were quite surprised at how packed the flight was considering it was Christmas night. Still, we were pretty tired and we anticipated trying to get some sleep on the 4.25-hour red-eye flight to Miami.
We arrived at 5:10am local time in Miami where we killed some more time chilling out, reading LP, and giving the newly-built Sky Train a look (wishing LAX would have something similar to this).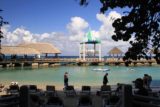 At 9am, we finally boarded the Miami-Montego Bay flight, and at 11:45am, we had finally gotten through immigration and customs as we were awaiting the long bus ride to our Sandals Resort in Ocho Rios. It wouldn't be until about 2:20pm when we finally had a lunch at our resort, but our room wasn't ready at the time.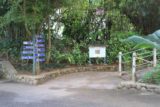 At about 3:45pm, with our bags still in the lobby awaiting our room to be ready, we went on a planned excursion to the Coyaba (apparently pronounced "CUY-ah-bah") River Garden and Mahoe Falls (pronounced "ma-HO") via private tour. Actually, we ended up going for the waterfall and not really exploring the gardens.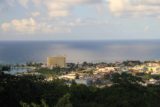 So after about 4pm, we were on the premises checking out some views of Ocho Rios and the Caribbean Sea as well as some top down views of the Mahoe Falls itself.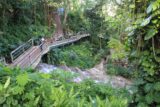 We first went left towards an overlook of Ocho Rios as well as a four-foot pool at the base of the first main set of travertine waterfalls. The pool seemed somewhat modified and manicured, but we were assured by the local guide (Vincent) that this waterfall was indeed natural and genuine originating from springs higher up on the hills here that were also responsible for the local populations' drinking water.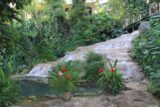 The falls was much bigger than we anticipated but it was difficult to get a clean photo from these vantage points. So we went back up to the top before descending down some steps towards other viewing areas on the opposite side of the falls.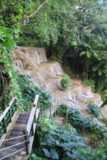 Since we weren't swimming, I'm sure we could've done as the locals were doing by spending more time at the falls. But we were content on being just sightseers so we took what photos and movies that we could before we moved on.
I asked Vincent if there was a way down to the bottom of this waterfall since it appeared a fence blocked further access to go lower, but he said there was no way to get there from where we were at.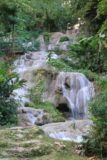 Once we get back to the car at 4:40pm, little did Julie and I realize that they were actually going to take us to some bonus waterfalls at some restaurant. But it turned out that today was a holiday so the restaurant was closed (strange that they celebrated Christmas Day on Boxing Day and Boxing Day the day after).
At 5pm, we made it to the unpaved driveway of what appeared to be a somewhat well-kept property though Vincent said no one currently owned it. Since he said he lived in the local hills just upslope from here, he knew that locals came to this spot to experience the falls. We doubted that tourists would come to this part. In any case, I felt better about this apparent trespassing as there were some make-shift signs asking for donations to keep the falls clean.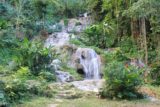 Nonetheless, we were impressed by the waterfall scene down here, and we even managed to startle a pair of local ladies who happened to be bathing higher up in one of the pools. Vincent mentioned that Mahoe was actually short for mahogany, and we definitely noticed some mohagany trees on the paid-admission part of the premises.
After having our fill at the base of the falls, we returned to Melvin and his car and proceeded to head back towards our Sandals Resort. However before we got into the car, there was a bit of commotion with some kids running downhill and an angry person yelling at them then complaining to our driver and guide. It turned out that those kids hitched a ride in his vehicle but didn't pay. Not cool. Still, we were at first a bit fearful that we were getting chewed out for trespassing though it didn't turn out to be the case.
Anyways, we passed through the main part of Ocho Rios though our impression of the area was such that it probably wasn't realistic to venture out on our own there this evening. There were hardly any tourists around though the main town center was rocking with loud reggae music and locals out and about.
At 5:15pm, we made it back to the resort where we promptly paid the $60 for transportation (not including the $20 for the waterfall visit) and proceeded to finally check into our room. I thought the tour was a bit steeply priced considering how close the garden and falls were to our resort, but I would like to think we were paying the true cost of the transportation as well as the time for both the guide and driver though I still couldn't shake the feeling that $60 USD to go a few kilometers was a bit of a rip off.
The rest of the evening was spent on a pretty sub-par Italian dinner before we cleaned up and got some much-needed rest. Even though we were probably mentally exhausted from the long travel day to even go through with a waterfalling excursion this day, at least we'd hit tomorrow's full day of waterfalling excursions with some momentum and time on our side…
Day 2: EXTREMES OF POPULARITY
Julie and I were still trying to get adjusted to the Eastern time zone so when our alarm went off at 6am (think 3am Pacific), it wasn't until about 6:45am when we finally got up out of bed.
We were having breakfast at around 7:45am on a pretty muggy morning. There were some tropical rains that cleared up just in time for us to have a meal. But our hearts sank when we saw a cruise ship coming closer to Ocho Rios. We knew right then and there that we were going to be seeing lots of people at Dunn's River Falls and I'm sure there'd be other fallout from the cruise crush. I doubted that we'd be able to beat the cruise crowd to Dunn's River Falls, which we were hoping to do before 9:30am.
Anyways, within no time, we were down at the lobby at the expected 9am pick-up time and we were once again met by our driver Melvin. We picked up Vincent along the way and we were off for touring on this day.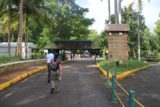 Considering it was only 4km from Ocho Rios to Dunn's River Falls, we were there around 9:30am. And with the number of vans parked there already, we knew there were lots of people inside. I guess this comes with the territory when you're touring Jamaica's most popular waterfall and possibly its most popular natural attraction.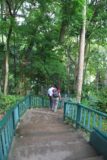 But after going through the entrance gates with our proof-of-admission wrist bands on, this place did feel more like a theme park than a natural attraction. There were souvenir shops, paved walkways, shoe rentals, and guides complete with lots of signs and even a performing reggae band hoping to score some tip money.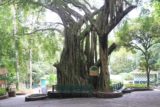 We weren't sure we were going to climb up the falls, especially since it would take time and because it became apparent that we wouldn't make it up with our camera equipment intact. So it was just Vincent acting as our guide instead of one of the local ones leading you up to climb the falls. Besides, we figured we didn't need to hold hands with heaps of strangers and lose a lot of time to get caught up in the crowd while waiting for everyone to go up.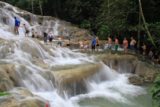 In any case, the falls were indeed long (definitely longer than rope or "langa dan rope") and quite scenic. By the way, the full saying is "time is langa dan rope" where it's better to have time than rope (or whatever material things you covet or possess).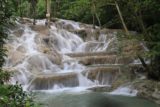 But considering that it was an interactive waterfall (i.e. one that you climb on), it certainly wasn't a nature experience as expected. Still, it was photogenic and we tried to take as many shots as we could. The long chains of tourists cooling off in the river as they were climbing made for interesting photo subjects showing just how big the major cascades were.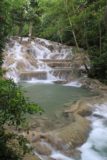 Eventually at 9:55am, we descended down towards the bottom-most reaches of the falls where the stream flowed right onto a partially submerged sandy beach flanking the Caribbean Sea. When the sun showed itself (albeit briefly) the turquoise color in the water really showed itself.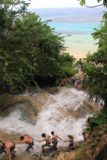 But I guess I was pleasantly surprised by how this falls actually flowed right into the seas. I never knew about this aspect of Dunn's River Falls so now I can totally see why it was as popular as it was and why it was considered by many as the most beautiful falls on the island. Even the mass commercialism couldn't quite take away from the inherent beauty of the place.
Anyways, Julie and I were content with taking photos as it became totally obvious at this point that we didn't really need to climb the falls. I did manage to climb up a couple of cascades just to provide photo ops while Julie was photographing me. But we thought it was a bit gimmicky to actually climb up the falls to the exit, which consisted of at least three or four major cascades with lots of smaller ones in between.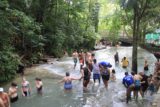 We were back at the car at about 10:35am. By this time, we could see that there were heaps more people either coming into the park or already in the park and waiting their turn to climb up the falls. I guess we managed to leave the place before it really became a zoo.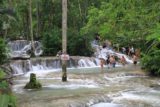 Next we embarked on a little bit of a drive to the east. We were cruising along to Irie FM, which our driver and guide seemed pleased that we were open enough to use that as our cruising music.
We went in search of both Kwaaman and Tacky Falls. But considering how our guides didn't know about Kwaaman Falls and how only Melvin knew about Tacky Falls, both of us had a feeling that this was probably going to be a bit of an off-the-beaten-path adventure.
As we cruised eastward across a pair of parishes (said to be segregated by major rivers though not all of them flow), Vincent was pointing out to us various things during the drive like a nude island, some local cruise-ship employee who remodeled his house after a cruise ship, some Ian Fleming (you know, the James Bond 007 author) tid bits, and other resorts on the island of note.
As we got somewhere within Port Maria or some other neighboring town, we left the main road and went into some secondary roads. That was when the roads narrowed even more and there were even sections full of potholes as well as unpaved. The sense that we were going on an adventure was even stronger as it was pretty obvious that hardly any tourists come to these parts in the countryside.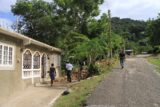 It wasn't until about 11:40am when we stopped the car next so some building with another car that was already there. That building was blasting some loud local reggae music.
We weren't sure if this was the end of the road or not, but our guide told us that we would have to walk from here so I guess it was time to sweat a bit.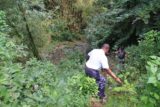 A local guide told us that it was only about 10 minutes walk so it didn't seem all that bad we figured. But once we started hiking, it became real apparent that we were sort of going on some primitive trails that were made very muddy and slippery from some recent rains. I think Vincent was suffering a bit as he was dressed somewhat professionally with dress shoes and slacks on. I think this hike was about to ruin his shoes. And I remembered Melvin looking at Vincent's attire and jokingly asked him, "your bush clothes?"
Both Julie and I had Keens on and even for us this was a bit of a struggle. Incredibly, our guide went barefoot.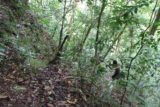 Anyways, the initial descent from this guy's property down to the river level was very steep and slippery. We were hoping that this was the most difficult part of the hike, but soon we would find out that it was only the beginning.
After crossing the low stream with some rock hopping on very slick rocks, we then followed the banks of the stream through some pretty heavy overgrowth. It was already muggy and sweaty down here. It wasn't long before another group of folks joined us. At first we thought they were locals that wanted to come along with us, but I guess it became apparent that they too were tourists probably from Jamaica itself.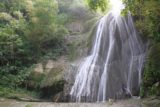 By the time we got to what seemed like the top of the falls, we then had to take a very narrow path along a ledge before descending steeply. Julie and I had done a few of these kinds of hikes before, but this one definitely made us aware that there was a dropoff to our right and a slip-and-fall here would probably be fatal. The local guide told us to grab hold of sturdy trunks and roots with our left hand throughout this traverse. The local dog that followed along was pretty confident and needed no such help.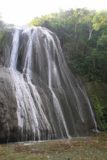 Next, we made a few more steep descents along some makeshift switchbacks going around some trees. But eventually at 12:10pm, we finally made it to the base of what turned out to be the upper tier of Tacky Falls (I had thought this was Kwaaman Falls at first). We could see that there were more tiers further below, but the local guide said that it would be too difficult to make it down there.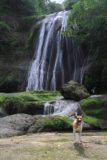 So both Julie and I took what photos that we could here being careful not to slip and fall as the footing was terribly slippery here. The sun was in an unfortunate position at this time of day so our best photo ops just so happened to be when some clouds got in its way. Otherwise, the sun was pretty much right on top of the falls.
The footing was slippery because most of the rocky surface beneath our feet were covered in wet algae. It was so slippery in fact that Julie took a spill and managed to hurt her wrist though it didn't appear that she tore any ligaments like what Kobe Bryant did not too long ago in a pre-season game against the Clippers.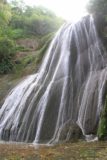 We left the falls at 12:20pm as did the other folks that joined us.
The ascent was much easier than the descent but it was still hairy in a few places given how steep and muddy the hills were. In any case, we made it back to the car 20 minutes later as a hot and sweaty mess.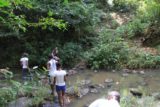 The local guide wanted tips from us, which we obliged. However, we were a little surprised that we weren't asked for an entree fee before even being guided to the falls so perhaps we unknowingly undertipped the guy.
Still, after going through this experience, we weren't sure that we wanted to fork out more money, time, and trouble for Kwaaman Falls. Apparently, it wasn't all that close to where we were at as we would have to drive there and then do some more walking. I guess going to the island's most popular waterfall and then following it up with perhaps one of the island's least popular waterfalls (as far as foreign tourists were concerned) was like experiencing the extremes of popularity, and so we thought that was enough for today.
So we decided not to pursue Kwaaman Falls (a decision I kind of regretted), and we headed back towards Ocho Rios. But during the drive, Julie had an idea of reviving the White River tubing tour which was originally replaced by our little Tacky Falls adventure. So by 1:40pm, we returned to the borders of the St Ann Parish and went right to the White River tubing tour.
It seemed like we had to take some back roads to even get to the start of the tour. But once we got into the tour, we were relieved to finally do something that was a little more relaxing.
The tube experience started off with a few mini-rapids and cascades which was a little exhilirating. But the cold water was a bit of a welcome relief from our adventure – not to mention a bit less stressful.
Our local guide Haldino was serenading us with some Bob Marley songs with his own little twist (e.g. adding Red Stripe beer to "feel alright" instead of giving thanks and praise to the Lord in the song "One Love"), but when the river calmed down a bit, we chatted with him about singing some other reggae tunes. When I asked if he had some dancehall reggae songs he wouldn't mind sharing, he had to think long and hard about a suitable one since he was afraid of offending us with some explicit lyrics. Eventually, he did one by Shabba Rank, which he acknowledged was way back in the day.
At 2:10pm, we made it to the end of the tour where Vincent and Melvin were waiting for us. We tipped Haldino and wrote in the guest book. It definitely seemed like they had gotten lots of cruise tourists an hour ago for they were all bundled together while it seemed like Julie and I were all by ourselves.
Still, we felt pretty refreshed and glad that we brought this little excursion back on today. But now we were starved as we hadn't eaten since breakfast. So it was time to check out the Scotchies in Ocho Rios. Both Melvin and Vincent insisted that this Scotchies was no different than the one in Montego Bay so we mind as well give this place a shot. We really looked forward to having authentic Jamaican Jerk chicken.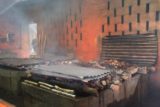 We arrived at about 2:30pm. The place seemed a little hidden, but there were plenty of cars here and there were even more tourists waiting in line for their shot at the grub. We figured these folks were from the cruise ship that came in this morning.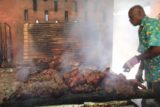 In any case as the line inched along, we did manage to see the employees prepare both the jerk chicken and jerk pork. The meats were laying on wooden beams while corrugated tin sheets covered the meat and confined the smoke. The whole cooking area was covered in smoke and soot so at least it provided some entertainment while we waited.
It wasn't until about 3:10pm when we finally found an open table. And a few minutes afterward, Vincent and Melvin came with our food and drinks. So we devoured our food as we were all pretty hungry. I commented that everything tasted better after the adventure we had today. Vincent added that everything tasted better after Tacky Falls.
It was pretty apparent that Tacky Falls was probably Vincent's most difficult tour he was involved in. But given his lack of hiking attire and he was a little on the heavy side, we gotta give it to him that he actually made it to the falls and back.
At 3:50pm, we returned to the resort. Scotchies emptied out during our meal so it was a far quieter place when we left than when we entered.
And so ended our adventurous day. We anticipate another day of adventure tomorrow, but we knew it would require a lot of driving. So Melvin recommended an 8:30am start…
Day 3: A BIT OF A REACH
We woke up earlier at 6am on this morning because we knew we had a whole day of touring and a lot of driving. So we got down to business, had a healthier brekkie than yesterday, and then proceeded to join up with Vincent and Melvin at about 8:40am.
Melvin showed up in a different vehicle than the 4×4 we had been riding in the last couple of days. This time, we were riding in a pretty beat up station wagon.
The first thing Julie and I noticed when we got in was that there were no functioning seat belts. We felt pretty naked without them, especially considering the third world driving conditions here. So our safety was pretty much now in the hands of Melvin.
We immediately got going towards the Port Antonio area with our plan to visit Somerset Falls, Reach Falls, lunching at a Boston Bay jerk stand, and maybe even paying a visit into the Rio Grande Valley to check out Scatter Falls and Fox Caves. It was an ambitious schedule to say the least, and it was always on the back of my mind that perhaps it was overly ambitious the driving conditions as well as the twistiness of the roads as you get further away from the touristy areas.
The drive proceeded without any dramas. The day was mostly clear, sunny, and pretty hot (at least compared to yesterday).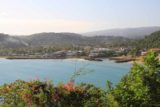 When we reached Port Maria, we continued on the main road instead of veering into local roads, which we did to reach Tacky Falls yesterday. As we continued driving past Port Maria, we ultimately got to a point where a detour went around a part of the main highway that was washed out. Just after this washout, there was a fork in the road that Vincent indicated was another way to get to Tacky Falls. Julie and I wondered if somehow the LP authors stayed at Robin's Bay, took a bamboo raft, then caught a vehicle transport to get back on the main road only to take this turnoff to get to the falls. That was because whatever they described in their experience was nothing like the drive from Port Maria through secondary potholed roads along with the arduous scramble that we partook to get there.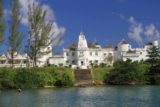 We did make a couple of impromptu stops to get a look at one of the bays in the St Mary parish as well as an old Jamaican Castle. As we got into the Portland parish, the sunny skies gave way to overcast skies as it seemed that the Blue Mountain was a cloud magnet.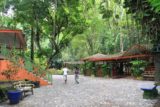 When we got to the entrance for Somerset Falls at 10:15am, the skies were completely overcast and threatening tropical rains.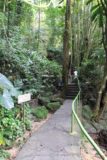 After paying the admission fee, we brought extra clothes (thinking we might get wet on this excursion) while listening to some loud dancehall reggae music blaring from the otherwise quiet restaurant and bar.
It wasn't much later that we saw a shelter next to a small cascade while up ahead was what appeared to be the namesake Somerset Falls. A large pool segregated the two tiers of the waterfalls, but this pool was also flanked by a makeshift dock where manual boat rides led to the Hidden Falls, according to a sign here.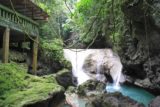 We dropped off excess clothes as well as other breakables into the adjacent locker there. I did manage to bring my DSLR camera because the guide saw that I had a bag for it.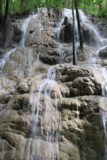 When it came time for both Julie and I to go on the boat ride, the guide promptly rowed us past the light-spraying Somerset Falls before going into a narrow gorge that curved around a corner. Just past that corner, the guide stopped the boat right before the so-called Hidden Falls, which had higher volume than Somerset Falls but was shorter.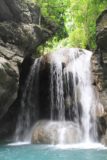 After spending some time trying to take photos of the falls, we then covered up our cameras as the guide proceeded to row us into the cave right behind the waterfall. Actually, it was more of a dark grotto than a cave, but it was dark in there save for the light from above where part of the falls dropped through.
From behind the falls, we took more photos before I left the camera behind with Julie and the guide. Then, with Julie looking nervously on, I went into the water where I climbed onto a rock where the falls was splashing. Julie took a few photos of me getting pelted by the Hidden Falls.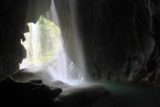 Next, the guide encouraged me to jump through the falls from the inside out while plunging into the pool outside the grotto. But before I made my move, the guide rowed the boat back out of the grotto to give Julie the opportunity to capture this on film.
The water didn't feel as cold as I had expected, and it was a nice refreshing swim considering how humid it was in this part of Jamaica's bushlands.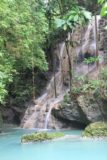 After the short tour was done, we proceeded to get our stuff from the locker, try to dry off with a towel (we neglected to bring a resort towel), and then take a few more parting shots of Somerset Falls. It was during this time when I realized that there was a path with stairs that said it led to waterfalls. Unfortunately, this path was closed.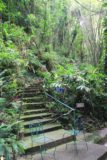 Part of me wondered whether this was closed intentionally so the only way you can see Hidden Falls was via boat ride instead of up the path looking down at it. Then again, maybe it was closed for safety reasons. Who knows?
At 11:15am, we were back in the car. The priority of the day was still Reach Falls, but Julie had this idea to maybe check out Blue Lagoon if we had time. We ultimately decided to return to Blue Lagoon on the way back to Ocho Rios. It would still take some time to even get to Reach Falls and we still wanted to try some Jamaican Jerk from one of the jerk stands in Boston Bay – said to be the place where jerk originated.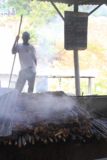 So after another hour of driving, we made it to the rows of jerk stands at Boston Bay at 12:10pm. Julie had read about Micky's so we ended up trying this place. And once again, all four of us were eating jerk chicken, jerk pork, and festivals together. This rendition of the Jamaican street foods seemed to have a little more spice than Scotchies, but Julie and I wondered if we were expecting something even spicier that didn't exist because it somehow didn't quite live up to what we envisioned. In any case, it was good, but we were still left wondering…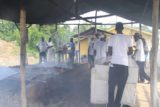 One thing was for certain, however, and that was we probably won't have an authentic Jamaican jerk experience in the US because it wouldn't meet safety fire codes nor public health codes. After all, you had this stuff fire-roasted and smoked on top of wooden beams with corrugated tin roof sheets covering the foods to confine the smoke and maintain that smoky flavor.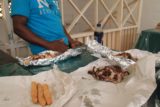 At 12:35pm, we were done eating. Now it was time to proceed to the priority of this day – Reach Falls.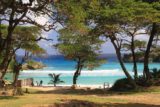 It still took over another 45 minutes or so to get there from Boston Bay. So we noticed and pulled over to photograph some of the pretty beaches in the Boston Bay area before our attention turned inland once we reached Manchioneal.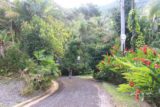 At 1:10pm, we reached the car park for the falls after a few minutes of driving on a potholed side road to get here. Yet despite the somewhat rough drive, the facility did seem to be a little built up. Besides, there were quite a few cars here so perhaps this place wasn't as off the tourist path as we had thought.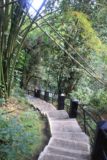 Julie had forgotten to take off her orange wrist-strap from Somerset Falls. The lady putting red wrist-straps on us commented that orange was the color of the People's National Party. The election was tomorrow, and the lady hoped that Julie would still wear it since she probably supported the PNP. And Julie wore the orange band for a bit before having two bands got a little awkward for her so she eventually managed to remove the excess one.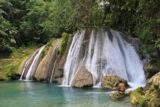 It was only a five-minute walk down a paved walkway flanked by lush jungle to get to the falls. However, the falls itself seemed underwhelming as it was probably barely 30-40ft tall though it was wide. But if this was all the waterfall had to offer, it hardly seemed like it was worth the long drive from Ocho Rios to even get here. Did LP overhype this falls?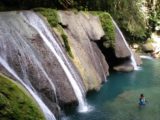 After we had our fill photographing the falls, I decided (against Julie's initial will) to go ahead and follow a guide to continue upstream towards another falls and cave. My mental image was that there would be some serious climbing and that the cave was huge. And it was that same image that prompted Julie to discourage me.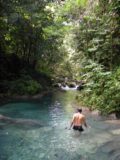 Anyways, it took us a little time to get started because we had gone down to the falls without a change of clothes. So we had to go back up to the car park (to a surprised Vincent and Melvin), but we indicated we wanted to get the swimming attire, which was baking in the car. Once we did that, I got changed, and both Julie and I returned to the falls.
Once at the bottom, I switched cameras with Julie so I wouldn't put the DSLR at risk of getting an unexpected dunking. So with her smaller Sony Cybershot, I waded across the waist-deep plunge pool before climbing up the rocks and joining the guide as well as a group of other folks also partaking on the excursion.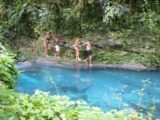 After some slippery walking along wet rocks, we eventually went upstream from the two main falls in the general area where the stream calmed down and there were very clear and very blue water before us.
Parts of the guided tour involved swimming (which was optional) and when that happened, the guide took the dry path while keeping the camera from getting wet in the process. In between the swimming, there were some more slippery bouldering as well as hanging onto ledges as well as wading through pools.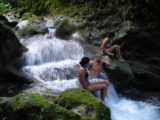 Eventually, after a couple more swims, we made it to another cascade. By itself, this falls wasn't all that impressive. However, the guide went upstream, disappeared, and then reappeared at the base of one of the drops of the falls. It turned out that the cave that was being talked about was somehow underneath this cascade.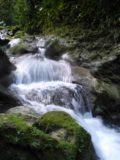 So with the camera and other belongings safely resting in a dry spot, we all took turns going up the cascade and then slowly descending into a hole where the stream just to happened to not flow into. Once I got into the hole (with the guidance of the guide to place my foot on the correct natural footholds), I found myself inside a bluish cave with half my body under water and the upper half in the cool cave. There was even a small waterfall plunging through a hole and right into this cave.
Boy did I wish I have a waterproof camera or waterproof a DSLR to capture the scene down here. I don't think I had ever experienced anything like this before. And it was at this point that I started to have a different take on the whole Reach Falls experience — that is, one that wasn't all that photogenic but was definitely a unique experience where photographic sightseeing doesn't do it justice.
After this initial cave, we had to duck under some rocks while briefly putting head under water before re-emerging back in the open in a mini-gorge with water falling around us. But then, there was another duck-under-water moment which put us in yet another cave (albeit smaller). The next duck-under-water moment involved holding the breath a little longer and getting pulled outside a waterfall. It was at this point that we were back at the base of the falls where the guide originally emerged when he did his little demo to us.
The rest of the party went back up the small cascade and into the caves again. I remained behind with camera in hand to capture as much as I could from the outside. However, I knew that even taking movies from out here just didn't do it justice.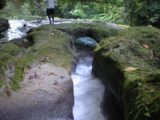 After this bit of fun was over, we proceeded to swim/hike back downstream to get back to the main area. We all had lots more mozzie bites, but I figured this was worth it.
Back at the main area, we then went to the middle cascade just above the big plunge at the end. But now the guide had us into the middle cascade which flowed right into a heart-shaped hole. The guide showed us that there were a few spots to chill out within the rush of the cascades creating a virtual jacuzzi effect.
After taking a few more photos and movies from here, the rest of the party went down the main part of the falls (they stopped the practice of plunging from the top due to the potential for death). Meanwhile, I joined Julie back at the steps, and after tipping the guide, we headed out. It was getting late as it was already past 3pm. We still had the Blue Lagoon to go plus we still had to get to Ocho Rios, which we preferred to do before it got dark (and the roads get that much more treacherous).
And so at 3:05pm, we were back at the entrance. And then we quickly got back in the car as we headed back in the direction of Ocho Rios. It became obvious at this point that our original desires to go up the Rio Grande and visit both Scatter Falls and Fox Caves was a pipe dream at this point.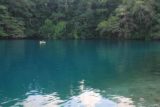 At 3:55pm, we took the short detour to the Blue Lagoon. But once we got there, we could see that it was a very calm inlet with some signs as well as some stands with people eagerly trying to sell us on tours or other things that we really didn't need. Especially given our time crunch, we got the gist of this place, and we saw all we needed to see. It was now time to return to our resort and the daylight hours were fading fast.
After some quick driving with lots of horn-honking and passing by Melvin, we ultimately made it back to our Ocho Rios resort at 6:05pm. We were a little nervous given that we didn't have seat belts, but we ultimately made it back in one piece. And so ended our time in Ocho Rios and most of northeastern Jamaica. Tomorrow, we were headed to Negril, where we looked forward to seeing the western and southwestern parts of the island.
Day 4: ELECTION DAY
After respecting the fact that today was Jamaica's election day (primarily a two-party race between the JLP and PNP), we had some decisions to make regarding what we were going to be doing today. Originally, we were arranging for private transport from Ocho Rios to Negril with a detour to Mayfield Falls. However, we learned last night that Sandals had already booked a private transport for us. And since it was voting day, I was sure it would be difficult for our itinerary to be fulfilled at the expense of the driver's ability to vote.
So as expected, we hauled our bags over to the lobby shortly before 9:45am (we were determined not to be rushed in getting our bags ready because we didn't want to risk the porters confusing our bags with those going to the airport). And at 10am, we were promptly whisked away to Negril by Angie.
We spent the long drive talking to her about various things. It started with tour operators in the Ocho Rios area where she happened to be a competitor with Pete Taylor. Of course she took the high road by not saying good or bad of her peers. However, Julie and I noticed immediately that Angie drove much more safely than Melvin did on our excursions.
Angie picked up her daughter in Mo Bay before we continued onto Negril. We learned during this part of the drive that it might take more time than we expected to go to Mayfield Falls so even as we deferred this falls for the last day we're in Jamaica, it was going to be pretty tight given our airport shuttle would leave the resort at around 1pm. I guess that would seal the deal in terms of getting an early start on that day.
We also entertained the notion of adding Little Ochie to tomorrow's itinerary to YS Falls and the Black River Safari. I guess the extra 3-hours return of driving just to get to the restaurant (and not including the eating itself) would be a bit too much to fit in a day. I'm sure there's good seafood there, but we've had good seafood in other places and it wasn't a life and death thing if we missed it.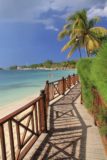 Anyways as we were mulling over our options, we decided to chill for today since we would've gone over three hours of riding on the road to get to Negril. We arrived at Sandals Negril at 1:10pm. The room wasn't ready at the time so we had some food at the grill under some really hot weather when the sun came out. There were even short bursts of tropical rain during our lunch.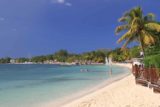 I also had a bit of a rude awakening by a sandfly biting me so apparently that was my first experience with these things since New Zealand.
When the lunch was done, we returned to the lobby where we found out that our room was ready, and after a short orientation by one of the front desk people, we were in our room at 2:25pm.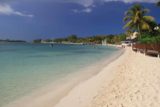 During our time in the room, Julie decided she wanted to check out the snorkeling here. So we caught a 3pm tour at the last minute. And at that time, the sun was mostly hidden behind clouds so that muted most of the colors in the reefs below. I'm sure it would've been more colorful under better weather, but perhaps we were spoiled by the Great Barrier Reef anyways so it would be hard for any other place to live up to it.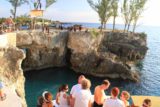 When we were done with this tour, we returned to our room to rinse off before heading back out to our awaiting driver at 4:30pm. We ended up going to Rick's Cafe to check out that cheesy-but-must-do-touristy cliff dive watching and sunset viewing.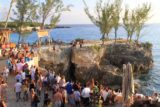 The place was pretty packed with mostly American tourists, but there was certainly a buzz to the scene here. Anyways, aside from the sideshows, it was a pretty scenic spot. But we were content to get our movies and photos before ordering a lobster.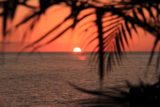 At 6:10pm, we left Rick's after finishing our pretty average lobster. The sunset we watched just 20 minutes earlier or so wasn't as spectacular as it could've been due to the absence of clouds here. We always contended that it's the clouds that make the sunsets. By the way, the photo on the Rick's menu was total BS as it showed a big globe sunset with light coming in from a different direction. Clearly this was photoshopped.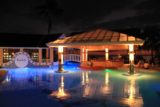 At 6:30pm, we were back at Sandals. By then, we had been in full communications with Rocky our tour operator for the next day-and-a-half so we expect to be up and out at 8am tomorrow. We expected to do YS Falls and Black River Safari, but there was no way we could fit in Little Ochie by Alligator Pond.
After a dinner at the Barefoot Restaurant on the property, we were back in our room at 7:55pm. And so ended this pretty chill and non-waterfalling Election Day in Jamaica. But the thought did cross our minds that there was the possibility of political unrest if something foul happens in these elections. We'll have to keep our fingers crossed…
Day 5: MANY HAPPY FACES
We awoke to our now usual 6:30am and went through the drill of getting ready for the day. After a short brekkie (bumming that this buffet in the Sandals Negril didn't have Jamaican dishes like the Ackee & Codfish save for a fattening Festival), we met up with Rocky at 8:05am.
The first thing that struck both Julie and I were that Rocky brought along a pretty big bus (that can seat 28 people) except it was only going to be Julie and I. I guess this was one of the perks of doing a private tour of YS Falls and the Black River Safari when Sandals offered the same thing for less money including admission fees and lunch (probably because they can take larger groups).
So anyways, Rocky proceeded to drive us towards the Black River Safari, which we were doing first today. We passed by a pretty massive sugar farm where we saw a giant field of sugar canes stretching from the road all the way to the mountains in the far distance. I don't think I had ever seen a sugar field so big in all our travels except possibly in Queensland, Australia.
While pointing out various things that tour guides usually do, our casual conversations gravitated towards the elections that happened yesterday. Rocky was in a real good mood because he and a lot of other people in the parishes this side of the island supported the PNP who apparently won by a landslide.
When we got to Sav-La-Mar (or Savannah-La-Mar – Plains by the Sea), we saw lots of people still celebrating the election victory by the PNP clad in orange clothing.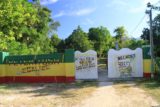 At about 9:15am, we made a brief stop at the entrance to the resting place of reggae legend Peter Tosh, who was part of Bob Marley's band, in Belmont. It was at this point that when things got a little quiet that I encouraged Rocky to turn up the reggae music. Irie FM was talking politics so he busted out his reggae CD, which provided the music background noise to the scenery we were seeing as we were looking out the bus windows.
In another topic of conversation, we talked a little about Little Ochie since we had read about this place from LP but decided we weren't going to push our luck driving all the way out there just for seafood. Rocky also said the road was narrow, bumpy, windy, and long just to even get there. Besides, we've had fresh seafood that we got to pick before eating it ala Bloody Mary's in Bora Bora so going out of our way for the Jamaican version of it just didn't seem worth it.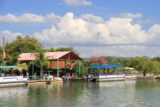 Nonetheless, Rocky did tell us that Little Ochie was the type of place where you take someone else's girl out for a romantic dinner. The problem was that other dudes would be thinking the same thing so one could still get in trouble if people you happened to know just so happened to be there when you were there.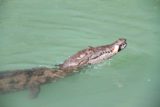 At 9:50am, we made it to the dock for Black River Tour. The tour began as expected at 10am and it included a lot of people. At the time we did this tour, there was hardly a cloud in the sky and the sun's rays were intense.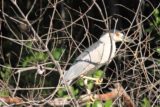 During the nearly hour-long tour, we got a chance to see a couple of American Crocodiles (or are they alligators?) which the guide seemed to know where they usually hang out. But to ensure that the tourists got decent photos, obviously the guide tossed some fish so the gator could munch on it and pose for the cameras as it was busy swallowing its food.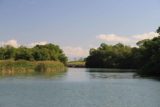 There were also lots of birds as well as mangroves, tall reeds, and other foliage typically found in wetlands or swamps not unlike our Yellow River tour in Kakadu National Park, Australia.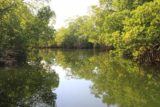 All in all, the tour was pretty relaxing, and it ended off with the guide kissing one of the smaller crocs (I think its name was Joshua).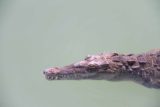 We had the included lunch at 11am, which consisted of pork and chicken made with some basic sauces and rice. It was simple and it kind of reminded us of our chicken meals at the Lusenga Trust in Kwawambwa, Zambia. In other words, it was simple but delicious.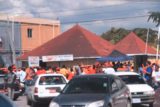 At 11:35am, we were done eating and proceeded to head to YS Falls. We had to go around another big celebration of orange-clad Jamaicans in honor of the PNP victory before leaving the Black River township towards the falls.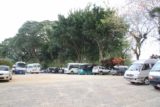 We eventually got to the car park at about 12pm. And the car park there was very full of vehicles, which also seemed to have surprised Rocky.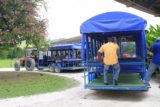 Once we showed our ticket showing that we bought a packaged deal with the Black River Safari and lunch, we promptly boarded a tractor-pulling jitney, which then hauled a bunch of other tourists towards the YS Falls themselves.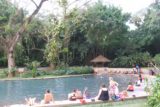 We ultimately got to the YS Store and waterfalls at 12:20pm. That was when we saw that this place was also almost theme park-like except it wasn't nearly as crazy as Dunn's River Falls.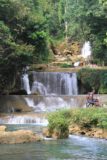 After getting changed into swimwear, we proceeded to walk past the artificial swimming pool (which happened to be full of people) towards the YS Falls themselves. And after seeing a few smaller cascades before us, we could see up ahead, there were many more cascades in succession.
Right away, Julie and I could see that this waterfall definitely was one of the prettier ones on the island. Of course, it was also very busy with tourists so photographing the falls in its natural state was a bit of a challenge, but we did have fun taking movies and photographing people diving off a rope swing as well as zip lining on the Chukka Canopy Tour across the all the way above the entirety of the falls.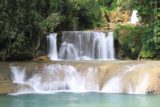 It was easy to spend time mesmerized by not only the beauty of the falls but also the fun scene that unfolded before us. Sure it wasn't exactly a naturesque experience, but somehow the fun this place brought out with the swimming, ziplining, diving, and sightseeing, etc. definitely gave it a certain energy that was hard not to get caught up in.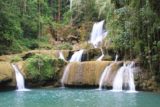 Throughout most of the time spent here, Julie and I were busy trying to take it all in. We stopped at each of the falls tiers until we ultimately stopped as far as we were allowed to go where there was a wide waterfall as well as a gate blocking further access upstream. I believe I counted at least 6 or 7 significant waterfalls comprising the greater YS Falls.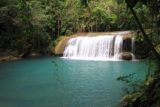 Once we were done sightseeing, I spent some time taking a dip in the bitterly cold water near the lowermost of the cascades besides a large picnic area.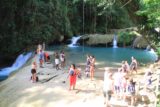 When all was said and done, it was 1:55pm when we were waiting on a jitney to arrive to take us back to the car park where Rocky was waiting for us (and socializing with other tour operators and drivers I'm sure). Ten minutes later, we finally boarded one of those tractor jitneys, and by 2:15pm we left YS Falls.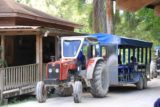 Rocky said he had never seen the falls this busy before. We weren't sure if it was because of the tourist holidays or because of some indirect factor relating to the PNP victory in yesterday's elections. Whatever the case, it seemed like orange was the color of the day.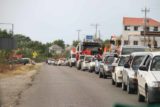 A little before 3pm, we passed through the fishing town of Whitehouse again. However, this time, there was some more celebrating going on and it apparently jammed the eastbound traffic. We were fortunate to be headed westbound so we weren't tied up. Still, all this prompted Rocky to say with a laugh, "Many happy faces."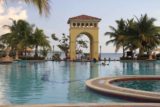 At 3pm, we made a brief detour to the Sandals Whitehouse Resort. There, we finally got to have our crepe fix by eating at their Cafe de Paris, which we had originally thought was Josephine's – in reference to the crepe place on the Sandals Grande property in St Lucia.
One thing we noticed about this Sandals facility was that it was very quiet compared to both Ocho Rios and Negril. In any case, we got our yummy crepe as well as soft chocolate chip cookies along with vanilla ice cream. Couldn't ask for a better-tasting combo of weight-gainers during tea time.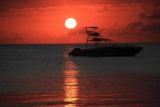 We left the Sandals Whitehouse at 3:35pm, and along the way, we passed through Savannah-La-Mar again where we saw an even bigger PNP celebration rally in the center of town. It wasn't until 4:55pm when we returned to Sandals Negril where we happened to arrive just in time to play in the water a bit before watching a colorful sunset thanks to the thunder clouds that reached well past our resort.
Like I always say, it's the clouds that make the sunset. And today was no different.
Day 6: THE REAL MCKOY
We once again awoke to the usual 6:30am alarm. Due to the distraction of the Clippers vs Bulls game last night, we didn't sleep until after midnight so we were a little groggy getting up. Plus, we still weren't totally done packing.
Nonetheless, we managed to get everything in order at about 7:45am then had a rushed breakfast. Still no Jamaican ackee and codfish so we stuck with small portions since we didn't feel like stuffing ourselves with more average junk food as empty calories.
So with our luggage left at the front desk and our room totally checked out, we left with our driver Presley at 8:15am, which was only 15 minutes later than our original departure time.
Today, we were embarking on our final excursion of the day, which was to Mayfield Falls. Apparently, Sandals used to offer this tour from the resort, but now it was no longer offered. Both Julie and I wondered why this was the case, but Presley didn't know either.
Presley told us that a friend of his recommended a "new road" from his usual route, which he remembered was narrow, windy, slow, and full of potholes. He was game to try out this new route so perhaps the time it would take to get there might be a little less. It might even save his car from more wear and tear if it panned out.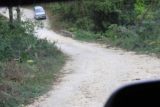 So the route we took was south of Negril and towards Sav-la-mar. Once we headed inland (north) towards the massive sugar cane fields, I could see the doubt starting to creep into Presley's mind as the road immediately started to narrow and become potholed.
Even though we passed by his friend's house, the road conditions didn't improve any as we proceeded. About a half-hour later, the roads really degenerated into partially unsealed and rutted roads possibly requiring high clearance. Still Presley was supremely confident that we'll make it Mayfield Falls, but I'm sure this wasn't the conditions he was hoping for.
"This is going to take a few years off the life of your van," I said.
"Yeah, mon. That's right," said he.
"How does this compare to the road you usually take?" I asked.
"About the same," said Presley.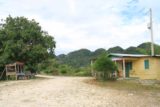 Mercifully at 9:35am, we made it through the worst of the road conditions and finally arrived at the car park for Mayfield Falls. But given how empty the car park was, it seemed like we were the only ones here.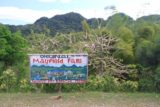 A few minutes later, a van carrying a group of German tourists showed up, but they proceeded to walk down the sloping road past the sign (that said "The Original Mayfield Falls — the Real McKoy") towards the main complex where there were shacks for a restaurant and bar, change rooms, and other quarters.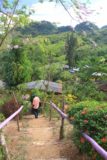 So we followed suit towards the main area where we proceeded to pay the $15pp entrance fee and were then escorted by our guide Sean.
Julie was really concerned about getting our stuff wet so she requested to Sean that we do the dry tour since the water tour involved swimming and there was no way we could keep our non-waterproof stuff (especially our cameras) dry.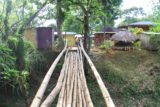 So once we crossed a pretty creaky and unstable bamboo bridge over the river, we then veered off the main trail and proceeded onto a signposted Cocoa Walk.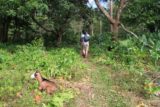 It became apparent to me that this would start off as more of Nature Walk and I had already started to wonder whether we'd be missing out on the waterfall itself, especially considering the time schedule we were on. It was already 10am and we had to leave for Sandals Negril no later than 11:30am.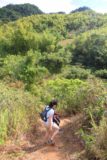 Anyways, it got pretty humid as Sean showed us various plants, fruits, and other things along the walk. Among the things we saw was the mimosa plant which shriveled to the touch and would reopen slowly for about 15 minutes. Apparently, it was a defense mechanism to ensure the plant got sun.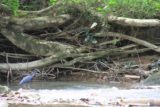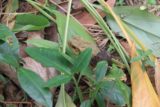 We also saw guava, African tulips (introduced), the ackee fruit which was apparently poisonous in its current form and required the shell to open up to reveal the edible part that we get in our ackee and codfish which was indeed authentically Jamaican. We even saw some birds (including a blue heron) as well as an interesting looking frog or toad.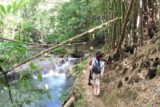 All the uphill hiking in the heat and humidity really made it real tempting for me to take a dip in the cool freshwater. And so at 10:15am, we promptly made it to a small cascade (barely 5-10ft) where Sean went into the water and I happened to join him after taking off all my clothes save the underwear (I guess we didn't think we needed swimwear, which was a mistake).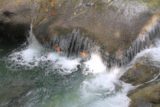 This first falls had a small grotto behind it so we were putting out our hands through the waterfall with the rest of the body hidden behind it. It was kind of a cool photo op, but more importantly, the cool water felt real good. Julie stayed dry and took the photos.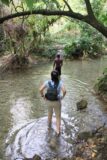 After getting our fill of this waterfall, we then did some more hybrid of hiking and stream crossing. We ultimately made it up to a slightly bigger waterfall that they called the "Washing Machine." We had to be careful not to dunk the camera in the water as we rock-hopped and waded to get right in front of the falls, but there were no dramas.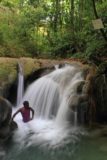 I chose not to dip in this waterfall, but Sean didn't mind the turbulence underneath this falls, which allowed me to take some photos and movies.
At 10:30am, we proceeded to walk back the way we came. And at about 10:35am, we were back onto the Cocoa Walk.
"Are we done? Is that all?" asked Julie.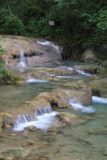 "Of course," said Sean. "The Washing Machine was the last waterfall. You chose the dry tour and not the wet tour, which is more fun and goes up all the waterfalls."
"Oh so there is no big waterfall?" asked Julie.
"No," he said. "The river is the waterfall. There is a lot of small ones you climb. That's why I asked you if you're sure you don't want to go in the water."
Then he added, "Mayfield Falls is just the name. There is no big one it's named after. It's the whole thing."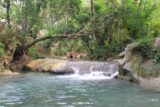 And with that realization, as we continued to head back towards the bamboo bridge, I asked Sean if we could go back to the lower parts of the river where we heard people screaming (probably due to getting into the water for the first time).
"Ya, mon," he said. "But I thought you have to get back soon."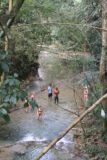 I told him we technically have until 11:30am and it was only 10:55am so with that, we went to the lowermost of the cascades we could access. But right away, the base of the first cascade was met by a pool deep enough to require swimming to continue. And so I left the camera with Julie, stripped down to my underwear, and joined Sean.
We went up about 4 or 5 of the small cascades each with their own little "jacuzzi". Between each waterfall, it required getting deep into the cool refreshing water and I'm sure any documentation of this would require a waterproof camera, which we didn't bother with on this trip.
I also noticed several stairs leading down from the other side of the riverbank towards the river itself. It seemed like this was what was missing from the tour that we took so we could take photos all along the river. So I asked where these ladders came from?
Sean said they came from the other property. I wondered if this could be the one that was competing with "the Real McKoy." I'm pretty sure it was since Sean didn't entertain the thought of going up those steps.
So after going up the first waterfall once we lost eye contact with Julie way downstream, we proceeded to head back. We took a scrambling path alongside the stream (not up the steps) before we went back in the water to get back to Julie.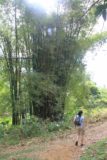 The whole time I was feeling subconscious about my out-of-shape body wearing only underwear as other tourists were going the other way (hey, maybe they thought I was wearing a Speedo), so I felt pretty relieved to return to Julie and put my clothes back on.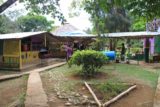 The tour ended at 11:10am where we promptly tipped Sean and then grabbed our stuff before we took off up the hill to join a napping Presley at his van. At 11:20am, we were headed back to Sandals Negril.
During the drive back, I processed the experience which could've easily been construed as disappointing. But if you take this waterfall for what it's worth, it's really more about the experience than it is about the scenery. I wondered what the other of the falls looked like (since it was said to have 21 waterfalls in all), but I somehow felt that it probably wouldn't have been photo worthy anyways.
I guess now we know why Sandals Negril stopped offering this tour. Perhaps too many people complained about it considering the mismatching expectations.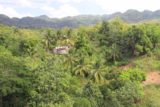 Anyways, we could see straight away that Presley took a different path but it eventually veered back into the massive sugar cane fields though it still had lots of potholes. But overall the road was a little more tame than the one we took up.
I also managed to take a few photos during the drive since it did have some attractive mountain scenery before we descended down into the sugar cane fields.
The size of the sugar cane fields made it clear to us that sugar was very big business in Jamaica. Presley said it used to be the biggest industry until tourism grew to the point that it overtook it as the number one export.
When the roads calmed down a bit, Presley called up his buddy to tell him that the road he took up this morning was "painful." It was kind of comical to hear him chew out his buddy in the Jamaican Patois language, but at the same time, I felt for Presley since this vehicle was his primary means of income.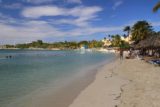 At 12:50pm, we finally made it back to the resort. It ended up being a 90-minute drive compared to the 80-minute drive on the way in, but in the grand scheme of things, the latter approach probaby didn't lessen the life of his car to the extent that the morning route was.
And so ended our touring of Jamaica. Fortunately, Sandals allowed us to shower and change in their spa before getting a last-minute buffet lunch with some more cocktail drinks. I'm sure I was pretty buzzed when the shuttle van picked us up to go to the airport, but I took my afternoon siesta during the hour-long drive anyways.
I woke up with a little bit of a headache, but I figured we'll have the two airplane rides (to Miami then to LAX) to recover. Both Julie and I couldn't wait to see our baby daughter.
That would have to wait, however, as we had to go through a pretty stressful transfer in Miami as we had to go through customs, immigration, security, and long queues every step of the way just to even make it in time for our connection back to LAX. Even back in LA, our shuttle (there goes that stupid, no-public-transport system again) took a lot of time to pick us up before returning to our parked car. So we counted down the New Year at the airport.
But all in all, it's funny how we took this trip to take a break from baby Tahia. However, after so many days on this trip, we realized that it's very difficult to go so long without her. So while most people were out partying away to celebrate the New Year, we'll do our celebration with lots of hugs and kisses for our baby daughter when she awakes first thing in the morning…
Visitor Comments:
Got something you'd like to share or say to keep the conversation going? Feel free to leave a comment below...
No users have replied to the content on this page