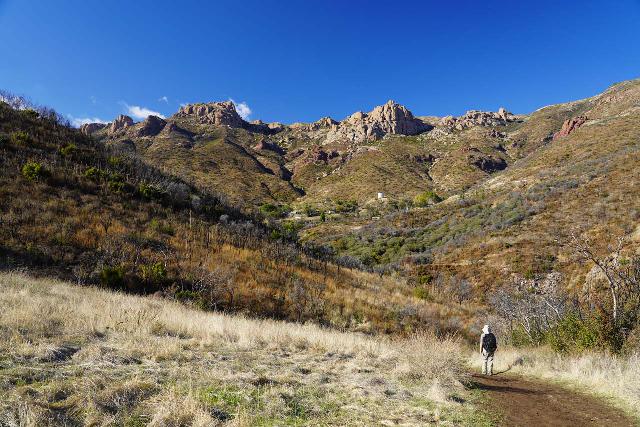 30-January 2021:
It didn't look like it was possible to get beneath the chockstones where there was the sound of trickling water as well as music and some voices.
However, Julie asked some women who said that there was still another waterfall further downstream even though it was trickling, and we figured that that was probably the actual Grotto Falls that we were seeking out.
And so we were headed down that way though we did notice another party with dogs that were also whimpering. There was something about this place that dogs didn't seem to like apparently…
Almost all day yesterday and starting on Thursday night, we finally got some more significant rain from the biggest storm of what had otherwise been a rather dry and disappointing Winter season as far as precipitation was concerned.
So I already had this mentality that we should just do a waterfall hike today, especially considering that we don't know when the next storm will come this year.
It kind of reminded me of how we would go on trips because we don't know when that trip would be our last (whether for reasons of having a kid or for other life situations; though who could have predicted the pandemic situation?).
Furthermore, I was getting tired of doing the same waterfalls over and over again, so I figured that with the fairly big storm, we ought to at least try a new waterfall that we hadn't done before.
While these kinds of falls were becoming fewer and farther between, there were still a few waterfalls left in the Southland that were in Ann Marie Brown's book, and the one that came to mind was the entry at Circle X Ranch in the Santa Monica Mountains.
When I brought this up to Julie last night, she was skeptical. She thought that perhaps Etiwanda Falls would have been a more reliable option (since it was fed by snowmelt), but we had already done that 6 years ago.
She also looked at the Yelp reviews and the consistent theme there was that it was disappointing due to there being no water for the amount of effort required. That said, it wasn't surprising considering that the Santa Monica Mountains don't typically get snow and thus the waterfalls there tend to be short-lived, especially in dry Winters like this one so far.
Indeed, the waterfalls that were pretty much left in Ann Marie Brown's book that we hadn't been to were either overgrown (in disrepair), closed (due to development, ownership, fires, other forms of damage, trailhead access situation changed, etc.), or were too much trouble for the risk vs reward.
Circle X Ranch's "The Grotto Falls" certainly fit that bill. And so was the Santa Paula Canyon Falls, which turned out to be the famous "Punch Bowl Falls" that I saw in the interwebs.
Deep Creek Falls was another (though this one was closer to Lake Arrowhead) such waterfall, and so was the Dark Canyon Falls near Idyllwild (where I'm not sure if the Yellow-bellied frogs being endangered caused this closure).
So it was certainly slim pickings, but with social media and the internet pretty much revealing all the spots out there that were once in books (though I suppose our site didn't help in that front), I guess that was the reality of the situation.
In any case, Julie eventually gave in, and we were going to do the Grotto Falls after she was done going to the Farmer's Market at 8am.
As a result, we didn't leave the house until 10am after we spent an hour or so having a rushed breakfast and getting our gear together.
This was a bit later than I would have liked for an excursion way out west in the Santa Monica Mountains, but I figured this was going to be an all day family thing anyway.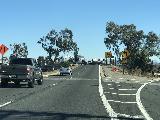 The drive along the I-5 towards the I-10 west and eventually PCH was beautiful as today was a nearly picture-perfect sunny day.
We always say that Los Angeles looks its best right after a clearing storm, and the San Bernardino Mountains and some of the San Gabriels looked like they were blanketed in white, which is always nice to see.
The traffic was surprisingly not too bad at this time of day, though it did get considerably busier along PCH, which wasn't surprising given how much of a beautiful day it was.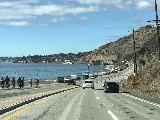 The beaches were indeed quite busy though we did notice more people wearing masks out here than they did at Bonita Falls a couple of weeks ago.
It just goes to show you that there are indeed differences in regional attitudes when it comes to public safety, which has sadly become politicized in much the same way that Climate Change or almost anything else that requires cooperation to fix.
I figured this was likely because the solution to these problems involve an adverse impact to some rich constituent who profitted off the status quo and is fighting tooth and nail to ensure their cash cow doesn't go away.
History tells us that slavery was that way and it ultimately led to Civil War, but these days we've got so many more issues that are existential with Climate Change, Black Lives Matter, the Global Pandemic, Mass Extinctions, Global Instability, Trumpism, and more.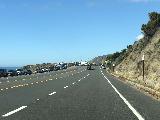 Anyways, the drive out towards the Circle X Ranch involved going through Malibu all the way to Yerba Buena Road, which was just past the Leo Carrillo State Park, which itself was near Point Mugu State Park.
So I figured that this was essentially almost to Oxnard or at least west of Thousand Oaks as it was essentially the western end of the Santa Monica Mountains (and we're actually closer to Santa Barbara by now).
Eventually, the gorgeous drive along PCH gave way to the narrower and twistier Yerba Buena Road, which followed along some canyon (possibly Little Sycamore Canyon).
We took this road a little over 5 miles before we started to see some pretty knobby mountains (the likes of which we hadn't seen since we did the Sycamore Canyon Falls hikes).
And eventually at 11:30am, we finally made it to the signed turnoff and ranger station for the Circle X Ranch Day Use Parking Area.
There was actually a gate and road that went further down, but Julie urged that I just park at the available spot next to a couple of portapotties.
So with that, we took some time to gear up, get masked up, and I actually took some time to go up the steps towards some kind of faultline observatory as well as weather vane at the top of a hill next to the Circle X Ranch Ranger Station.
Up there, I could see that there appeared to be more parking down below as well as a gorgeous view back towards what appeared to be Boney Mountain (the knobby sandstone mountain we had seen on the way up), and I suspect Sandstone Peak (the highest point in the Santa Monica Mountains) was likely among these knobs.
Eventually by 11:55am, we finally got started as we promptly followed the road down to the first additional parking lot which was next to some kind of building that didn't seem to be in use.
Then, the road split from there and went down to another switchback where there was a sign for more day use parking (though that part didn't look legit).
But finally, the road ended right at the Circle X Ranch Campground and Grotto Trailhead, which right now acted as more of a picnic area, and sure enough, there were even more parking spaces down here.
I guess technically, we could have saved all that walking (maybe a 1/4-mile or so), but it was small potatoes in the grand scheme of things.
At least we know now that this was actually not that crowded compared to all the other known spots we saw along the way like Escondido Falls and Solstice Canyon Falls, especially with the extra two lots that were empty as we went down to the Grotto Trailhead.
We briefly overheard some conversation with a ranger and some young inquisitive guy about how this area was not National Forest but it was actually under the jurisdiction of the National Park Service (as part of the Santa Monica Mountains National Recreational Area).
The trail then promptly descended into what appeared to be a burn area that was likely affected by the Woolsey Fire back in 2018.
The trail seemed to be intact and easy to follow, and it seemed like Nature was just going along healing itself despite the increasing frequency of these wildfires due to Climate Change.
We continued to generally descend even though there were some minor undulations along the way. So I knew that it was going to be a bit of an uphill hike on the way back.
But every once in a while, I'd turn around and see the beautiful knobs of Boney Mountain so I suspected that the way back would be scenic and appealing.
Indeed, this hike was already feeling like an invigorating Q-time with the family amidst Nature, and it was definitely something that was kind of lacking a couple of weeks ago when we were stressing out about how crowded (especially with unmasked people) it was at Bonita Falls.
I think that crowd factor was what was missing even though this spot wasn't exactly unknown or empty. But it already felt like a refreshing respite where we knew that we wouldn't have this at neither Escondido Falls nor Solstice Canyon Falls, which we saw already had lots of people las we drove past along PCH.
The hike continued to rather silently as all the gullies looked dry. I kind of knew that the Grotto was one of those places where you don't want it to be too wet but you also don't want it to be dry either.
Julie would randomly ask passerbys if they went to the waterfall, and the first two parties we encountered essentially said that it was a bit of a slippery (muddy) and steep scramble.
It kind of confirmed Julie's suspiscions from what she had read on Yelp or whatever else she reads before the hike. But I personally wasn't deterred as I figured we should at least go down there and see for ourselves what was going on.
One couple said they only went to the top and decided they weren't going to go down any further since their dogs didn't want to go down there.
I also noticed that their shoes weren't exactly the right kind to make boulder scrambles, but then again, we still had to see for ourselves just how much of an obstacle these things were.
As we continued further down the Grotto Trail, we did see some signs and junctions leading to the Canyon View Trail (though I didn't pursue that as much as I was curious about it) and some pipes crossing the trail as well.
We also saw some beautiful views of the contours of the canyon we were in, which I believe was a drainage of the West Fork of Arroyo Sequit.
However, it was still mostly silent as there was definitely no surface water throughout the hike from what we could see so far.
Nevertheless, the scenery continued to be pretty as the fault-caused Santa Monica Mountains continued to put us at ease in Nature despite our anxieties about whether this hike would be worth it or not.
But there was still quite a bit of quiet time throughout the hike, and even if the waterfall might be disappointing, it was still worth the hike and the time spent in my mind.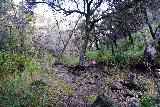 Eventually, the trail started to really skirt alongside what appeared to be some standing pools of water as well as some hidden springs that we could definitely hear.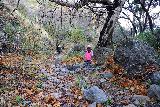 So we must be getting closer to the Grotto.
After taking a trail that went towards a somewhat slippery and dicey descent back to the creek, we backtracked and decided to hike in the bouldery creek instead.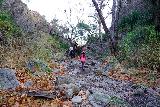 Sure enough, we eventually started to approach the sound of what appeared to be someone playing music on the iPhone (which I still contend is rather ghetto when you're supposed to enjoy the sounds of Nature). This was at around 12:50pm.
But at least we knew we were getting close as the sounds were echoing, which suggested that people were either down by a waterfall or they were down by a different waterfall.
Whatever the case, they all seemed to be hidden as we were at the top of a jumble of boulders and narrowing cliffs.
There was one lady sitting with a pair of dogs (both of whom were whimpering), and she helped direct Julie and Tahia on where people were scrambling to proceed to go lower.
This was probably the dicey part that people had warned us about earlier on during our hike, but so far, it didn't seem too bad.
As Tahia complimented how cute the dogs were, we did notice that their whimpering made it seem like they either didn't want to do the bouldering or they were away from their owners who did do the bouldering.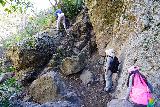 After the first bit of the scramble, we got to the top of what appeared to be some hidden waterfalls beneath a pair of chockstones, which Tahia said reminded her of Kjerag (even though she didn't actually do that hike with me in Norway back in 2019).
It didn't look like it was possible to get beneath the chockstones where there was the sound of trickling water as well as music and some voices.
However, Julie asked some women who said that there was still another waterfall further downstream even though it was trickling, and we figured that that was probably the actual Grotto Falls that we were seeking out.
And so we were headed down that way though we did notice another party with dogs that were also whimpering. There was something about this place that dogs didn't seem to like apparently.
As much as I wanted to pursue the hidden waterfall where the music blaring was coming from, I decided that we mind as well first get to the lower waterfall that I figured was the main one.
So we proceeded to descend past the first "platform" which was above the pair of chockstones and possible above the hidden grotto that got me curious (where the music was coming from), and then we watched another family make a dicey descent along a slippery and steep section.
This could be the spot where someone had warned us about during our hike down.
So after that family was done doing their thing (and I did a little exploring looking down at the very bottom from this intermediate section; I wonder if that hidden grotto was accessed from here?), we then went up that part where we kept left and away from the muddy gully immediately on our right.
Soon after getting to the top of that dicey scramble, we then had to skirt around a ledge before descending another slippery and muddy section ultimately leading down to the floor of the West Fork Arroyo Sequit.
From there, we then scrambled upstream along the rather stinky stream where there was a pool with a giant boulder that seemed to conceal the main waterfall as we finally got there at around 1:15pm.
With Chacos on my pack, I decided to take off the boots and put on the Chacos, then wade into the dark recesses of that grotto that was behind the boulder.
It was kind of cool to get the full experience as I was slowly wading in the very cold water while trying to capture the experience of being in that section.
After finally having my fill of this lower waterfall, there was another group that showed up. During the whole time, Julie and Tahia were watching as they were busy picnicking while I was doing my thing.
When I rejoined them, we took some selfies with the SwitchPod for a few more minutes. However, I managed to cut my foot while scrambling on a rock trying to improve the viewing angle so I was worried about bacteria from the smelly water getting into the wound.
In any case, we finally had our fill of this spot at around 1:50pm, and then we started to scramble back up just as more people were making their way down. Luckily, I realized that Julie's pack didn't have the trekking poles so I went back down to get it before we would have lost them for good!
Julie and Tahia made a beeline up towards the start of the boulder scramble for the next 20 minutes. And during this scramble, I completely forgot about going to that hidden grotto section where we had heard the music from earlier on.
By the time we got back to the main stream bed and onto the more conventional trail (and past more whimpering dogs on the way up), we then proceeded with the uphill hike all the way back to the Circle X Ranch Station.
It took us around an hour to make it back there, but we enjoyed the scenery (as I expected it to be) while basking in the thoroughly enjoyable day of hiking together.
We did have a bit of a stop-and-go break because Tahia was having trouble with the tongue of her hiking boots that kept sinking deeper into the top of her foot.
I guess the designs of these kid shoes to not have true shoelaces didn't allow for that tongue to stay above the foot like normal hiking boots or shoes (or shoes in general) would do.
I'm not sure whether that's a design flaw or just a consequence of using kids shoes where perhaps moderate hiking isn't expected of them.
So that was a bit of an annoying problem for Tahia, but since it wasn't long before we'd be back at the car, at least she could suck it up a bit and then get out of her shoes in less than an hour.
There were still people showing up, and heading down at this time, which was kind of surprising to me as there wasn't that much time left in the day before it would get dark.
Still, we took our time on the return hike, especially since it was mostly uphill, but Boney Mountain always drew camera clicks from me.
We also noticed that there were a couple of dry waterfalls now that we were facing the other way (I guess we hadn't noticed them on the way down).
And when I looked at the Ann Marie Brown book, apparently the one close to the trail near the Canyon View Trail junction was called Botsford Falls.
Before that, there was another thin waterfall whose streaks I could see in the distance, and I'd imagine perhaps in wetter times, I might be able to see that waterfall more legitimately.
I do intend to come back so we'll see if we can time that visit to see these features a little better.
In addition to the odd blue jay that we saw around the trail, we also spotted a gliding bird high above. We weren't sure if these were the endangered California condor or not, but it was pretty cool to watch them glide against the nearly cloudless sky.
Anyways, when we did return to the Grotto Trailhead, we saw that there were actually more cars now than there were when we went down.
In fact, even the parking area by the Boy Scout building was almost full, which was really surprising.
Anyways, by 3:10pm, we were back at the car, where we got out of our boots, sanitized our hands, made one last pit stop, and then finally started to drive off at 3:25pm.
The drive back was quite scenic though not surprisingly, there were lots of cars along PCH, and it was pretty stop and go.
Then, when we got past the Santa Monica Pier and headed east on the 10 Freeway, it was also very busy there as well.
so it wasn't until about 4:50pm when we finally arrived in Little Ethiopia to get some takeout from Bunna in Little Ethiopia, which is something we don't get to do often.
By this time, we were all quite hungry, but even after getting the takeout, it would still be another hour on the freeway before we'd finally get home and get around to eating the well-earned dinner.
Sure enough, by 5:50pm, it was now pretty much past sunset, but it was quite the nice bookend to a spontaneous adventurous day, and we're definitely up for more days like this…
Visitor Comments:
Got something you'd like to share or say to keep the conversation going? Feel free to leave a comment below...
No users have replied to the content on this page