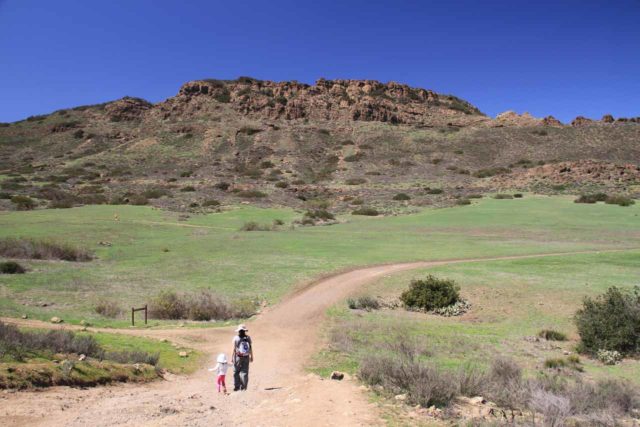 30-March 2014:
Then, we turned left at the familiar signposted junction for Paradise Falls. Tahia was doing quite well during the hike, and we were still proceeding with Julie in front and Tahia trying to play catchup with her. In a couple of spots, Julie was pointing out the cacti to Tahia, and I think after one touch, Tahia didn't particularly like being close to the cactus…
It wasn't until about 10:20am when Julie, Tahia, and I had finally left the house. We were anticipating doing a hike, but it had to be something we felt Tahia could do on her own. Even though we had brought the child carrier
, and I had anticipated carrying it, we figured that we mind as well see how independent Tahia really is on this hike, especially since she likes doing things by herself.
For one reason or another, we had hoped to do more local hikes (especially to Etiwanda Falls, which we hadn't done before), but that one was said to be pretty long (on the order of 5 miles return) and plus there hadn't been much rain except for one really intense weekend and a few really light overnight showers. Indeed, we were in the grips of the third straight year of very light rainfall and it was said to be a pretty severe drought to this point.
So we had some pretty lowered expectations of what this waterfall would be like on this day, but we were itching to go somewhere. It was almost April and we still hadn't done any local waterfall hikes to this point. This entire Winter and Spring to this point felt like a drag to this point, especially with all the overtime going on at work and all the house-related work that Julie had to contend with. Add to all that Tahia growing up very fast and exerting her independence and will, and it was simply we were in serious need of an escape.
As we were driving the freeways, we had a few minutes to decide which waterfall we were going to do. Our first choice was Paradise Falls, but it was about 1.5 hours drive plus we were concerned about traffic. On the other hand, we thought about going easy on the driving and doing Eaton Canyon Falls, but we had done that so many times that we were kind of sick of it. Then, Julie thought about doing Sturtevant Falls but that one wasn't easy for Tahia to do plus the parking situation would be hopeless given our late start.
So in the end, we eventually got onto the I-5 and proceeded to head towards the 101 bound straight for Thousand Oaks. It wouldn't be until about 12pm when we were finally in the Thousand Oaks area though we had probably lost a good 15-20 minutes from traffic at the 405/101 interchange. In any case, we ultimately decided to have a quick lunch at a Jersey Mikes since we knew that if we did the hike first, it might not be until after 2pm before we'd have a lunch.
Once that was done, we finally drove out to Avenida de Los Arboles (despite Google Maps trying to route us to Janss St and going some other route that we weren't familiar with) as we trusted our gut instincts knowing that we've gone this way before and it was reliable. Eventually, we arrived at the busy car park as 12:35pm, and I anticipated having to do some street parking. But fortune smiled upon us and we found at least one open spot.
I guess we missed the morning wave of visitors which helped to explain why some cars were parked on the street and not in the parking lot. Though with these things, you never know how screwed you are in the parking situation without an early start.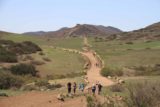 So with that, we got ourselves in gear as Tahia was anticipating finally getting to go on a walk. Meanwhile, Julie and I were busy putting on sunscreen, donning packs, and other things. And it wouldn't be until almost 1pm when we'd finally get moving. at first, Tahia wanted me to carry her in the child carrier, but she didn't put up much resistance when we encouraged her to try walking on her own.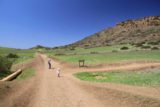 So we proceeded on the familiar trail under the nearly cloudless Sunday afternoon and of course, many people were encouraging Tahia or smiling at her as we was walking between Julie who was up ahead and me who lagged behind to watch the both of them. We were trying to use Julie as the motivation for Tahia to catch up to Mommy.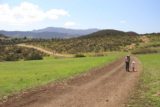 We followed the main trail and noticed that the wide fire road was actually in use by people parking at the Parking Lot No. 1. I think in all the times we had done this hike, we had never seen that lot being used. My guess is that if the ground was dry enough or something, then the authorities would open that up. So it was strange to have to share the road with automobiles on the initial part of the hike.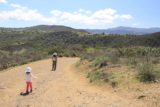 Then, we got past a familiar barricade where at this point it was all foot traffic and bike traffic. I think in the past, we had hiked on the fire road towards Parking Lot No. 1, then went on any one of some random trails leading to the Indian Creek as well as a cave that I recalled was there. But since we were trying to get Tahia her waterfalling independence, we continued on the foot trail that went by a couple of bright yellow natural gas pipes as well as the attractive cliffs to our right.
Then, we turned left at the familiar signposted junction for Paradise Falls. Tahia was doing quite well during the hike, and we were still proceeding with Julie in front and Tahia trying to play catchup with her. In a couple of spots, Julie was pointing out the cacti to Tahia, and I think after one touch, Tahia didn't particularly like being close to the cactus.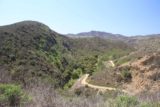 Still, despite her reservations of being near those things, she was also curious as the same time, so the next cactus she saw, we went towards it, but didn't go all the way to the point of touching it, but that didn't keep Julie and I from keeping a very watchful eye on her just in case she might fall onto it.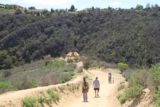 The fire-road-like trail was slippery in spots due to the loose dirt acting as ball bearings against the cracked hard dirt. But Julie held Tahia's hand to help assure her though it seemed like Tahia didn't really need it. The mostly downhill stretch ultimately led us down to the familiar tee pee, but then we immediately headed to our right and continued on the trail down to Paradise Falls.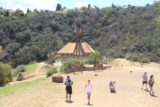 Given the gorgeous sunny day we were experiencing, I managed to take perhaps the best photos I was able to take of the surrounding landscape from the deep Wildwood Canyon that we were about to head into to the suburban developments in the surrounding area backed by some other attractive foothills. We figured that those homes might be the very reason why the water near Paradise Falls might smell, so I'm sure most people wouldn't think about swimming in their right minds.
That said, Tahia was still independently going on her own walking side by side with Mommy as they got to the narrower trail cutting us down to the stairs ultimately leading down to the plunge pool. Again, other people were openly encouraging Tahia saying things like "Good job!" as she was going down the stairs by herself and avoiding the dropoffs as well.
By about 1:30pm, we were finally at the busy base of Paradise Falls. And like before, the view was a bit blocked from this near side thanks to the protruding rock and cave-like alcove. So after taking a few initial shots from here, we crossed the reeds and the creek, and ended up on the other side, which was far less crowded. I had my gore-tex boots on so I was able to carry Tahia across, then help Julie get across in her tennis shoes.
And so we spent the next few minutes keeping a close eye on Tahia, while also taking a bunch of photos of Paradise Falls. We were quite surprised at the satisfying flow of the falls considering the drought we were facing, and it made us wonder why this was the case. In any case, the beautiful sunny skies helped us to take perhaps the best photos to date of this waterfall, and I was really enjoying seeing the vibrant colors show up on the camera as I was taking the familiar photos that we had taken of this falls so many times before.
After a few family shots where Tahia and I were making the same funny facial expressions (like father, like daughter as Julie would say), we finally left the waterfall at 1:40pm. We once again negotiated the stream crossing, then we let Tahia go up the steps (again with encouragement and surprise from other people) as she exercised her independence.
Once we got up the steps and then up the narrow trail back up to the main trail, Tahia started to ask if we could carry her. I think she was not used to this much exercise and she was starting to feel a little hot and tired. But after giving a few sips of our bottled water, Tahia seemed to have a second wind and we used the tee pee as the motivation for her to keep going before we could take a rest and snack on some clementines.
It was breezy at the time we made it to the tee pee so it was starting to get a little bit chilly. But we were all basking in the quality time we were spending together, and we knew that this was what we really needed all this time. Certainly, we could have done it earlier, but the climate change and drought had something to say about that this year. Still, we also knew that we had to take matters into our own hands and find ways to keep this thing going knowing that Tahia seemed to be pretty into it.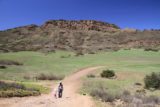 By about 2:10pm, we had left the tee pee, and hiked back the way we came. I had entertained going the longer way along Indian Creek then towards the cave before going back up to Parking Lot No.1 then making it back to the familiar car park, but we figured it was starting to get late in the afternoon with tomorrow being a work day.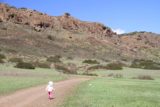 Tahia was doing quite well on her own even as we were going uphill. Despite it being slippery in spots, Tahia seemed to keep her balance quite well. Again with smiles and greetings from strangers seeing the little girl do her thing (while Tahia kept saying "doggy dog!" to every dog she saw), I was happily taking pictures of these priceless moments as well as the beautiful scenery of the trail fronting the attractive cliffs in the background.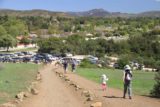 Indeed, this was at least the fourth or fifth time we did this trail, but it seemed like we were noticing more subtleties or things we didn't quite appreciate before. Yep, it was almost like wine that got finer with age.
Eventually at 2:35pm, we were finally approaching the car park. Just before we were about to wrap up the hike, we passed a group of college-aged folks or others where one guy said, "If that baby can do this hike, then I can do it, too!"
There was another lady with a daughter who said, "She did better than I did," as she labored her way towards the car park while trying to keep up with her spry daughter.
Yep, when all was said and done, we were reminded of why we like waterfalling so much. And now that we have a growing daughter who also seemed to get into this, it seemed like we were well on our way to keeping this thing going. We definitely need more of these activities, and hopefully the climate and our circumstances will cooperate…
At 4:05pm, we were finally close to home. That was when we saw Julie's mom walking as she must have gotten off a bus stop not long ago. What timing! So we used this opportunity to go to Gen for a family dinner. It was crazy that we showed up at 4:30pm and we still had to wait for almost 30 minutes before we got seated, but we'll take it. It's not often we get to do family stuff like this these days…
Visitor Comments:
Got something you'd like to share or say to keep the conversation going? Feel free to leave a comment below...
No users have replied to the content on this page