15-January 2022:
Maybe it was a good thing that there wasn't more water here or else there would be no way to even get a look at even part of the falls without getting right to a flat part by its brink (next to a tree that had a rappel wrapped to it).
While trying to maneuver myself to the other side of the creek, my water bottle fell out of my pack and apparently it broke the flip-top lid.
When that happened, the creek's water contaminated the water inside my pack, and so we had to dump that water since I wasn't interested in getting sick from the water here.
So I guess for the rest of this hike, I was going to go without water, which was kind of a bummer, but at least I knew that it wouldn't be for too much longer (about 2 miles in each direction)…
It was 6:40am when we awoke. For some reason, my alarm (set for 6am) didn't go off because I must have set it for PM instead of AM after a power outage.
These things happen, I guess, but it was Julie's alarm that went off at 6:30am.
Anyways, one look outside and we saw quite a few clouds as it looked like it was threatening rain today.
That said, the forecast indicated that today's rain wasn't going to be major, and I had bet that if we were to go south into the OC, the rain down there would be even less than the 30% or whatever they had forecasted for the rest of the LA basin.
So based on that observation, we decided at the last minute that we were going to go to the Upper Hot Spring Canyon for a hike, and so we texted Mom to see if she wanted to join us at the last minute.
Minutes later, she responded, and so we had some time to wait for Mom to come by before we'd be carpooling on our way south.
Regardless, I took some time to spray some waterproofing on some new La Sportiva boots that Julie bought me with the cash we got from Red Wing (the company responsible for the Vasque St Elias boots I always wore).
However, our latest version of those St Elias boots were less waterproof and prone to inducing blisters than the previous versions I had.
And since there were supply chain issues for replacement boots, they then gave us cash instead, which is a testament to them standing behind their products.
Nevertheless, I took some time to spray the stuff on, and then we did our usual preparation with having breakfast to power up for the day, and do this while we were getting our day hiking gear together.
By about 8am, Mom showed up as planned, and then by 8:25am, we carpooled in her car and headed out.
Unlike the last time where we went down to San Juan Capistrano and then weaved our way up to the San Juan Loop Trailhead by the Ortega Oaks Candy Store, we instead went east towards the I-15 and then south towards Lake Elsinore.
Along the way, we noticed some snow-capped mountains as we looked towards the San Bernardino and San Jacinto Mountains, and we decided that once we'd get onto the Ortega Highway, we'd stop by a lookout to soak in the views over the lake.
Sure enough, by about 9:25am, we stopped at the familiar Lookout Roadhouse, where we briefly took our shots (hastened because there was one guy smoking there and we really didn't want to breathe in the second-hand smoke longer than necessary).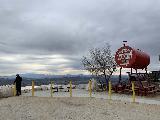 Under the overcast skies, the views probably weren't as grand as we had envisioned, but we did notice to the north that one of the snow-capped mountains (possibly Baldy) appeared to have gotten some morning glow from the sun that did make it through the clouds.
After having our fill of the Lookout Roadhouse (which also sold Adventure Passes though we already had a spare one from before), we then followed the familiar Ortega Highway until we turned right onto the Long Canyon Road.
This was a narrow and paved road that we had never taken before, and my maps seemed to have suggested that it was unpaved at some point.
However, upon driving this narrow road (which was almost single-lane in spots and made for some scary moments when people going the other way were speeding past the 15mph limit around blind corners), we realized that it was pretty much paved.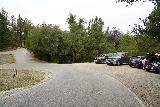 Ultimately, we made it past the Blue Jay Campground and then past the Falcon Group Campground, and we eventually made it to the Upper Hot Spring Canyon trailhead at 9:45am, where there were already at least 4 cars parked here.
We snagged the last spot (where someone must have vacated it just as we showed up), and then took some time to get prepared for the hike before heading out some time a little after 10am.
Recalling from memory from looking at Cris Hazzard's (aka the Hiking Guy) Youtube videos, we knew to keep left at the pair of starting points of the hike.
So we naturally did that, and then we followed a fairly well-used trail through an open area before going in and out of some groves of prickly trees and bush.
There were quite a few false trails going to our left and to our right, which got a bit confusing.
Fortunately, I was also using my Gaia GPS map navigated by my iPhone in addition to my watch, but the Gaia map was much more detailed and I was able to tell how most of the false trails basically led to the left back to the Falcon Group Camp.
There was one false trail that went right and then disappeared at some gully, but at least we pretty much were able to follow along the trail, which kept to the right of the stream that I'd imagine was Hot Spring Creek (though none of the maps said so).
However, that stream was pretty much non-existent at the beginning of the hike, but then it became sections of stagnant water further down the trail.
At one point, the trail seemed to have started clinging to some eroded ledges, and at that time, there was a couple coming back the other way via the opposite side of the creek.
They told us that it was less steep and easier on their side while the side we were on was also sandy (i.e. slippery) on the descent.
So we backtracked and took their advice though I was curious about how well my new hiking boots would grip these sections.
Anyways, we then weaved on the left side of the creek before going back to the right when the trail disappeared on the left side.
From there, we pretty much continued following the right side of the creek, which remained pretty straightforward for the most part, but we were also started to feel the odd sprinkles as it was threatening to rain.
We probably encountered maybe two more parties heading back the other way when we approached the first waterfall of the creek leading into Upper Hot Spring Canyon.
When we got to the first waterfall at 11am, we were disappointed to see that the waterfall was trickling.
I guess we were two weeks too late as it was definitely flowing pretty well on New Year's Eve and New Year's Day, but I guess this was how quickly the creek would disappear after the last of the intense rain storms in late December.
Perhaps even more disappointing in addition to the poor waterflow was the presence of graffiti by this waterfall.
After spending a few minutes checking out this waterfall from a few different angles, Julie and Tahia decided to stay here while Mom and I continued to pursue the second waterfall.
We knew that it was going to be a bit rougher going for that second waterfall, but given the disappointment of the first one, we figured we mind as well check it out since other people we spoke to said it wasn't that bad.
I suppose they must have also seen The Hiking Guy's videos and it probably wasn't as bad as what his video made it out to be because it was drier today than the rain-soaked conditions that he did it in.
Almost immediately downstream of the first waterfall, we saw that there was a second tributary stream coming in from the right that instantly turned the creek into one with more satisfying flow.
The first maybe 1/2-mile or so of this hike was pretty benign as we were still able to follow a trail, but soon enough as we started to encounter the first of what appeared to be intermediate waterfalls, we then had to go into the creek a few times.
Straight away, we could see that the darker rocky surfaces tended to be more slippery than the brighter ones, but they were all pretty much slippery.
Mom struggled more with her older hiking boots while even I had a little bit of struggle with some of the smooth surfaces with my new hiking boots.
So we had to employ a little sit-and-scoot from time to time, and we even took some time to enjoy each of these intermediate waterfalls.
That said, the weather continued to sprinkle and conspire to wet the rocks we had to traverse through so that made me a little nervous about where we were at and how much further we had to go.
Shortly after the first intermediate waterfall, we then had to cross back over the creek to the left before making a bit of a long hop back to the right across a deep part of the creek.
We didn't have too much trouble with this one on the way downstream, but we wondered how much of an obstacle it would be on the return given how slippery the rocks were.
As we continued further downstream while the canyon continued to narrow, we encountered a second intermediate waterfall that was quite pleasant to look at.
Given the higher flow here, it was certainly better than the first waterfall though it wasn't as tall.
But it was still baffling to see that there was even more tagging that went on over here.
As we continued further downstream, the canyon continued to close in as we now pretty much hugged a canyon wall in between some overgrowth while noticing the everpresent poison oak.
We also had to watch out for the water in the creek.
Eventually by about 11:45pm, we finally made it to the top of the second main waterfall in Upper Hot Spring Canyon, where we got a very precarious view over the top of the falls.
Naturally, I looked to see if it was possible to continue to find a way to get to the bottom of this waterfall safely.
But given that it was still sprinkling and the ledge next to the brink of the falls was both sloping downwards and slippery, it wasn't wise to tempt fate with continuing there.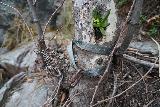 So we spent some time trying to capture the experience as best we could at the brink of the second waterfall (which was definitely taller than the first waterfall), but it made both mom and I nervous to be here.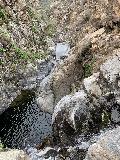 Maybe it was a good thing that there wasn't more water here or else there would be no way to even get a look at even part of the falls without getting right to a flat part by its brink (next to a tree that had a rappel wrapped to it).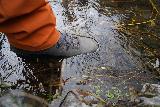 While trying to maneuver myself to the other side of the creek, my water bottle fell out of my pack and apparently it broke the flip-top lid.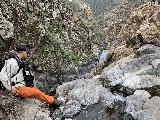 When that happened, the creek's water contaminated the water inside my pack, and so we had to dump that water since I wasn't interested in getting sick from the water here.
So I guess for the rest of this hike, I was going to go without water, which was kind of a bummer, but at least I knew that it wouldn't be for too much longer (about 2 miles in each direction).
Besides, the weather was cool, and it wasn't as if I was going thirsty compared to how much hotter this area would tend to be in later months.
Eventually at 12pm, Mom and I left and started to head back up to the trailhead.
The hike back was mostly uneventful though I'd eventually tire of carrying my trekking poles for balance, and I had mom help me put my poles back into my pack at the second intermediate waterfall (forgetting about the first one).
However, when we got back to the big step over a deep part of the creek shortly downstream of the first intermediate waterfall, that was when mom got across and then fell on a slippery rock.
It induced a cut on the bottom of her hand, but she seemed to be ok.
I borrowed her trekking pole to get across the same obstacle without slipping on the slippery dark rocks on the other side, and in hindsight, I guess we definitely prematurely stowed my trekking poles.
The rest of the way, we pretty much kept going back uphill to the trailhead seeing a few more people along the way (one pair of guys went pretty fast but they were in street shoes).
Back at the first waterfall, there was a couple beneath the graffiti as well as a couple other parties with dogs.
But aside from that, we pretty much made it back to the trailhead at 1:35pm, where Julie and Tahia were waiting for us inside the car.
With that, we left at 1:45pm, and then decided to take the Ortega Highway down towards San Juan Capistrano.
At 2pm, we decided to stop by the Ortega Oaks Candy Store seeing that it was closed early for New Year's Eve the last time we were here.
But that was when we saw some verbiage stating that they're closing this place at the end of February.
After buying some brownies and some sweets (perhaps overwhelming Tahia since she was the proverbial kid in a candy store), we learned from the clerk that this place had been open for 66 years.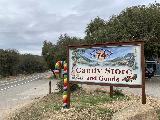 No one knows what's going to happen with this real-estate after it's vacated, but we didn't get into why this place closed though I speculated that either the owners were done managing this place or the pandemic didn't help matters.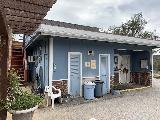 We pretty much bought the stuff that was home made, and even tried some (and bought more) before leaving at 2:20pm.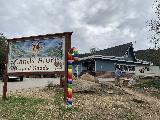 Then, we drove all the way down the Ortega Highway towards San Juan Capistrano where we then picked up the freeway going north on the I-5 in the direction of Lake Forest.
By about 3pm, we eventually got to the Chili Chutney for some Afghani food, but it turned out that there was only one person waiting on everyone so the service (even for us getting seated) was really slow.
In fact, it wasn't even until after 3:30pm when we finally placed our order, and we didn't get our food until some time after 4:15pm.
We didn't get our lamb shish kabob side order, but at least we ate up the rest of the stuff with hardly any leftovers.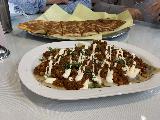 The borani was really good (something we hadn't tried before; even if it had gluten) and the ashak and mantus hit the spot as well as the chicken curri and the koobidehs.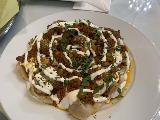 The guy working was probably the owner, but he said that the person that was supposed to show up didn't so it was clear that he was getting overwhelmed.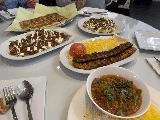 It took some time for us to even pay the bill and get the leftovers boxed up, and so it wasn't until about 5:10pm when we finally got back in the car and headed home (basically our lunner took over 2 hours).
By about 5:50pm, we were finally back at home under some rain, so I guess most of the weather was indeed up in LA county whereas most of the Santa Ana Mountains lacked that rainfall.
But with that, Mom thanked us for taking her out on another excursion, and she headed back to her place while we pretty much wound down the rest of the day.
Even though it was lightly raining right now, Julie and I had this sinking feeling that waterfalling season was definitely coming to an end as the forecasts didn't call for any new rain for the foreseeable future.
So we'll probably have to go back to Big Tujunga Canyon next week to see if Josephine Creek Falls has become a casualty though my ulterior motive was to go to Fox Canyon Falls…
We'll see how that turns out…
Visitor Comments:
Got something you'd like to share or say to keep the conversation going? Feel free to leave a comment below...
No users have replied to the content on this page