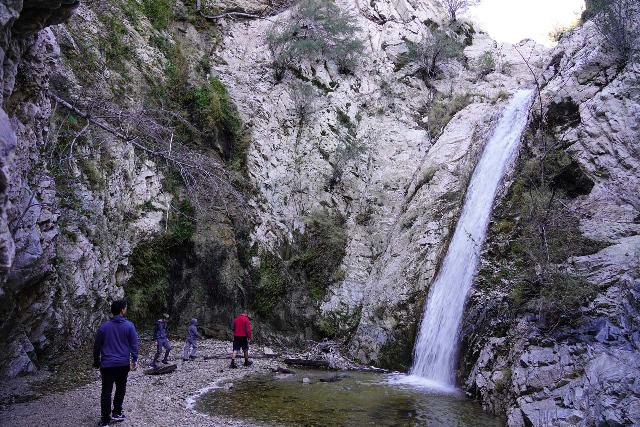 28-December 2019:
I guess when you're young and oblivious to the dangers, you tend to do things like this.
Julie and I were hoping big time that it wouldn't result in a really bad injury to one of them where we'd likely get blamed for bringing them to this hike in the first place should such a calamity happen.
So I guess that further hastened the timeline in terms of enjoying the lower waterfall more before going up to the main waterfall. I guess I had to just go up there immediately to get this out of their system, but we made sure that the parents of these boys were fine with the risk because the dicey parts of the scramble started immediately above the lower waterfalls…
The seeds of the excursion for today were set up by Julie and Wendy over a week ago when we were meeting up with other friends whom we hadn't seen for a while at the Snow Drift Tubing Park near Running Springs back on December 21.
That was a day or two before the series of storms that produced a lot of rain in the LA Basin but lots of snow in the mountains over the Christmas week.
Unfortunately for Wendy's family, they couldn't make it snow tubing on that day, and we had been discussing alternatives all week long.
Should Julie, Tahia, and I go back to Snow Drift the following Saturday so we could all re-experience this place with all the new snow with Wendy's family? But then that would mean we might have to deal with the mad traffic and putting on chains even if it doesn't rain or snow on the few days leading up to today?
Should we go sledding at Wendy's preferred spot near Mountain High in Wrightwood?
Should we just forget the whole thing and continue a sedentary week of dinner parties with family while passing the time binge watching Mr Robot with a new perspective ever since the reveals from their series finale back on December 22 (by the way, Mr Robot is a masterpiece and we're not even into watching TV very much, but that show really makes it hard to not think about it)?
Or should we do a local waterfall hike? And if so, which one?
Most of the more seasonal ones that would be flowing in both the Santa Monica Mountains as well as Orange County would likely be closed due to fire damage. If they weren't they were either repeats that I didn't feel like doing, too difficult or risky to put the children at risk of their safety, or too far of a drive or hike since Wendy expressed interest in bringing her parents along as well.
In the end, I ultimately decided on a lark that we should do Switzer Falls since I figured it shouldn't be too bad of a hike, and I didn't hear anything about closures that would prevent us from doing it.
Besides, we had to do one more waterfall in this decade, and while it didn't quite have the flair of our last waterfall in the last decade (when Julie and I were back in New Zealand), sometimes things don't have to be spectacular to be fine.
And that was the decision we went with on this day…
We didn't leave home until after 9:15am, and I wasn't exactly stoked about expecting to get to the trailhead of Switzer Falls well after 10am.
I knew that it would be late, and that it would be difficult to find what limited parking that they had there.
So with those expectations to brace for an anticipated rough start to the day, we drove up the 605 towards the 210, and in so doing, we saw lots of snow.
We even saw dustings of the snow further to the west, including around Mt Wilson!
So that kind of made things a bit anxious for us in that was the Angeles Crest Highway 2 going to be closed before we even get to the Switzer Falls Trailhead?!?
Indeed, as Julie researched on her phone for more clues about where the Hwy 2 closure began, I noticed more roadside signs saying something about Hwy 2 closed at Big Tujunga Canyon Road as well as another saying it was closed around Mt Wilson.
If only the latter was true, then we shouldn't worry about Switzer Falls being inaccessible. However, if it was the former, that would be a bit of a problem because then we'd have to walk from the Clear Creek Ranger Station at the road junction, and then walk down to the Lower Switzer Picnic Area where the Switzer Falls Trail would typically start for us.
With an anticipated large group since Wendy was expected to bring quite a few people, I wasn't sure if we could do an extended hike like that, especially with the threat of snow still lingering on the ground.
Regardless, we just pushed forward and see where this would take us. In the back of my mind, I did think about going to Trail Canyon Falls as a backup.
As we eventually left the 210 and got onto the Angeles Crest Highway 2, we followed a line of cars up the familiar twisty mountain road.
The further up the road we saw, the more we started to see snow along the road's banks as well as snow covering the mountaintops surrounding us.
I didn't recall ever seeing so much snow on this side of the San Gabriel Mountains in our years of waterfalling, but now it kind of made me wonder if we were even going to make it to the Switzer Falls car park (even the upper one) before the Hwy 2 would be closed due to snow.
On top of that, we also didn't have a forest service pass so I thought in my mind that we should stop by the Clear Creek Station by the Big Tujunga Canyon Road to buy one.
But when we got up there at about 10:15am, Julie tried to go in and buy one but the office was closed.
So with that, we got back in the car, forsaken the view from up here back down to the basin, and then continued during another minute to the east or so to the upper parking lot for Switzer Falls.
Given that there were so many cars parked up here already, I had assumed that they had closed the road leading down to the lower picnic area, where we normally started all of our previous Switzer Falls hikes.
Not surprisingly, all of the closest spots weren't available so after a little back and forth arguing with Julie about trying to save on the walking distances, we ultimately found some pullout space along the Hwy 2 behind an idling snow plow.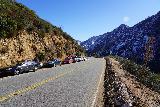 It was only a few paces from the upper parking lot, and that was where we ultimately parked the car at about 10:20am.
Wendy and Van had already found parking right at the same time as us so Tahia, Konnor, and Farrah were all already doing snowball fights at the upper parking lot.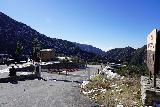 We also met one of Wendy and Vans' friends in Sal and his daughter Natalie who were joining us on this hike.
We chilled out for a few more minutes at the upper parking lot before Teresa (another one of Wendy's friends; she also showed up on a previous hike that we did to Sturtevant Falls last Memorial Day) showed up with her two sons – Sebastian and Alexander.
By about 10:40am, we finally made our way down past the gate and spikes, and proceeded to walk down the road leading to the Lower Switzer Picnic Area.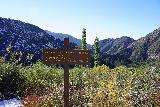 A sign along the road near the upper parking lot said that it was 0.5 miles to the Lower Switzer Picnic Area.
So that meant that starting from this upper parking added an additional mile round trip to the anticipated 4-5 miles or more round trip had we started from the lower parking lot.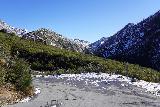 Unfortunately, as I was busy taking pictures, I noticed that I only had about 13% battery life to start with on this hike as we were giving the mirrorless Sony DLSR camera a shot.
Yet it was too bad that we didn't prepare to use this camera by charging it last night. Instead, we only charged it partly this morning, and now I really had to pick and choose when I could take pictures instead of just taking pictures at will like I would normally do.
Anyways, as we got deeper into the cool shade at the Lower Switzer Picnic Area, we noticed a couple of cars that somehow made their way down onto this road despite the gate being closed.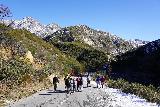 I tried to make sense of how they got in here (whether they were insiders or not), but after smelling campfire smoke filling the Lower Switzer Picnic Area, that made it clear to me that these people weren't employees or people with inside access.
Nope. They were people who likely managed to defeat the spikes by perhaps covering them with a rubber mat (you know, the kind you put in the floor of the interior of your car), laid them on the spikes to protect the likelihood of puncture on the tires, and then remove the mats so no one else could follow them down.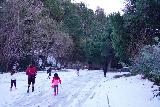 Once we got towards the bottom of the descent, we then took one of the steps down to an elongated parking lot seemingly covered in mostly ice.
Walking on the pavement was tricky because that was where the black ice was at. So maintaining balance was difficult at best, and I quickly learned that I had to walk outside of the pavement in order to stay upright and not take a slippery spill.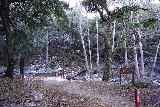 By about 11am, we finally made it down to the familiar bridge over the Arroyo Seco at the trailhead (just past a misleading sign saying it was a mere 1 mile to Switzer Falls from here).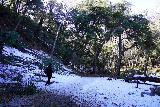 The trail generally descended alongside the Arroyo Seco. At first the trail was partially paved and still prone to black ice in stretches as there remained remnant snow from the intense storms earlier this week.
We also noticed lots of fallen trees, which further reinforced to us that we were early in the season. That said, the damage that we witnessed while doing the hike seemed more to me like this canyon might have undergone a flood or heavy winds or something.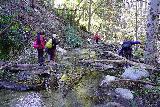 Because I was not used to seeing this much damage to this trail before. Then again, this was also the first time that the gate to the Lower Switzer Picnic Area parking lot was closed, but after seeing the amount of ice and snow still down there, it was no wonder why.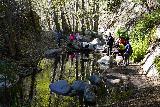 It took quite a bit of time to make it down this stretch of the trail because of the higher volume of the Arroyo Seco, which made getting across the streams a bit trickier without getting wet.
It was a good thing that Julie recommended gum boots, which Wendy, Julie, Tahia, Konnor, and Farrah all had. I brought my hiking boots so I was good for the most part. However, the rest of the party (all 12 of us) had regular tennies on.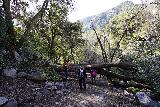 And thus, progress was rather slow going for this typically easy stretch of the Switzer Falls hike.
That said, we encountered quite a few hikers going in the opposite direction, and they tended to be what appeared to be Korean elderly people on a morning hike it seemed. It was not unlike something we saw like this in the past at other waterfalls.
We also saw and were passed by other groups so clearly even with it being too early in the season for any trail maintenance here, I guess it was still a popular place to be. I'd hate to imagine how much busier it would be later when the Spring hiking season comes around.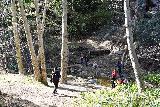 It wasn't until about 11:55am (almost an hour from the trailhead at the lower car park) when we made it to the stream crossing by the three stoves.
Those stoves marked the departure from the easy part of the trail and onto the ledge skirting the canyon containing all the three parts of Switzer Falls.
Our 12-person party stretched out where Julie and Sal were towards the front with the kids wanting to race ahead. Meanwhile, I was straggling behind with Wendy and Van making sure that no one was behind me.
I always went by the group-hike mantra that you're only as fast as your slowest hiker, and by me being in the back, I assured ourselves that I would be the last one in the group even though I was probably the most experienced one in our party.
So near a part of the ledge trail where it was possible to see a little bit of the main drop of Switzer Falls, I saw the kids sitting down and having a snack. Since I was carrying Julie's pack with all the water, Tahia and Julie had to wait for me to show up.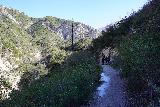 But with that short break, we'd continue further until we got to the familiar trail junction where the Gabrielino Trail continued going uphill while the continuation of the Switzer Falls Trail went back down into the canyon.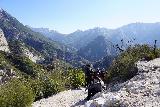 Of course, we had to get our shots of the beautiful wrinkled mountains of the San Gabriel Mountains ahead of us, which drew a lot of gasps and impulses to take people shots.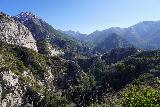 We next descended along the narrow ledge trail ultimately leading us down to the Arroyo Seco itself once again by about 12:25pm.
From here on, it was pretty much stream hiking though there were still a few more crossings to negotiate.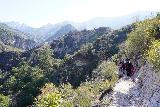 At least there was no presence of snow down in these depths so I was now considering the prospect of going up to the main waterfall just to see how much the conditions have changed since the last time I was up there three years ago.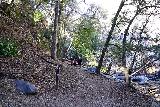 I pitched the idea to both Van and Sal, and they both seemed very keen on the idea. That said, I knew that like before, I had to leave Julie and Tahia behind at the lower waterfall since it was too dangerous for Tahia to even try to go up higher on the non-sanctioned trail.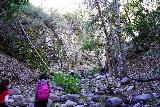 I figured that Wendy and Farrah would do the same. I wasn't sure whether Teresa would stay with the girls and the ladies as well.
It wasn't until about 12:35pm when we finally made it to the Lower Switzer Falls. There were a handful of people already here, but they seemed to head out just as we showed up.
So after taking a few shots, I decided that it was time to go up. By now, I only had about 2% battery life left and I had to make sure that I could still take pictures and videos of the main part of Switzer Falls.
The boys (Konnor, Alexander, and Sebastian already seemed to have it in their minds to climb up where the continuation of the scramble to get up to the main falls was. And they did so without even me making mention of where we had to go.
I guess when you're young and oblivious to the dangers, you tend to do things like this.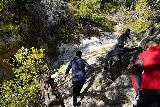 Julie and I were hoping big time that it wouldn't result in a really bad injury to one of them where we'd likely get blamed for bringing them to this hike in the first place should such a calamity happen.
So I guess that further hastened the timeline in terms of enjoying the lower waterfall more before going up to the main waterfall. I guess I had to just go up there immediately to get this out of their system, but we made sure that the parents of these boys were fine with the risk because the dicey parts of the scramble started immediately above the lower waterfalls.
Indeed, after climbing up under a tree and then onto the informal trail leading to a narrow ledge, I could already see that this ledge appeared to be narrower (or at least the fallen tree next to the ledge) went further to the left exposing more of a dropoff.
That already created a little bit of a tense moment, but we all made it through that obstacle.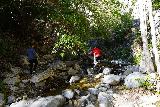 Next up was the hardest one that I remembered from last time, where we had to scramble up a slippery slope on the rock surface where a slip could lead right down to the pair of drops of the lower waterfalls.
With some careful maneuvering, the boys made it past this obstacle, and then after one more tricky ledge hug, we then crossed over a narrow part of the lip of the Lower Switzer Falls before finally commencing the upstream scramble to the main drop of Switzer Falls.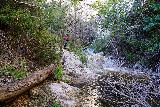 Like with the earlier "easier" part of the hike in the first mile, there seemed to be lots of fallen trees or branches. There also seemed to be quite a few more stream crossings or parts where we could easily get wet as there was definitely more water in this narrow canyon than I last remembered from back in 2016.
For the most part, the scramble went pretty uneventfully though there were a couple of stretches where it was easy to slip into the water that goes above the shin and even the knee.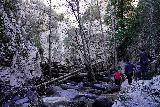 We saw a pair of guys make their way out while we were making our way in so I looked at Sal and told him that clearly this was a reasonably doable hike as demonstrated by these two guys that just went past us.
After keeping right at a familiar logjam, we then finally made it to the familiar main drop of Switzer Falls at about 12:55pm or so.
And while I would go nuts taking as many pictures as I could, the battery life on the Sony camera was now down to 1%. So once again, I had to be real strategic about what I could record or photo and what I couldn't.
That was a bummer, but it was what it was.
While the boys were busy chucking rocks into the plunge pool (which seemed larger than when I last saw it back in 2016), a lone female hiker made it up to the main waterfall behind us – it was Teresa!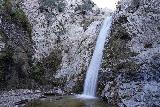 With her non-hiking shoes, I was quite surprised that she made it up here given the obstacles and dicey footing that she had to deal with. But I had a feeling that she was game to take a few more risks on the hikes than what Julie and Wendy and the girls would be willing to do (and what I would allow them to do knowing the kinds of risks they'd be taking).
In any case, we spent a few more minutes around the main drop of Switzer Falls before it was time to go when the battery life of my camera was vacillating between 1% and the no battery icon.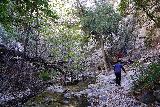 I'm sure I left some shots and footage with this self-inflicted limitation, but alas, I still wanted to capture a little bit of the Lower Switzer Falls before it was time to go.
So the seven of us started the return hike at about 1:10pm, and after getting through the same familiar obstacles while staying cool under the shade of the deep canyon, we ultimately reached the daylight as the sun was already starting to hide behind the horizon of the mountains around us back at the Lower Falls.
After a little more tricky scrambling to get back down to the plunge pool before the Lower Falls safely, we rejoined the five ladies and girls back at the lower falls by about 1:35pm.
We spent a few more minutes chilling out and snacking at the waterfall, but I noticed that Tahia was starting to shiver as the shadows were growing quickly. Indeed, with the short amount of daylight, the sun was fading fast.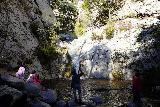 So after taking a few group photos and other people shots, we then headed back downstream to the trail that would eventually ascend back up to the junction with the Gabrielino Trail.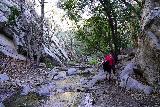 Even though it was chilly in the canyon, I knew the climb would make us sweat.
Once again, the group kind of strung out where the boys, Julie, and Teresa were in the lead while I stayed behind talking with Van and Wendy with Farrah really slowing things down as she wasn't too keen about the uphill hike. Tahia stayed somewhat back with Farrah as well.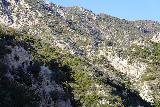 As we continued with the ascent, I could see way up ahead that the leaders of the group continued on. And I knew that there probably wasn't going to be any more rest breaks as people were keen on getting back.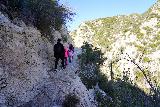 Forget about lunch. I had a feeling that it wouldn't be until dinner time when we'd finally have a legit meal, but at least we planned on doing that at Urban Plates in Pasadena.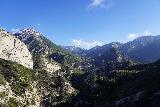 After taking some fleeting shots of the main Switzer Falls (which Wendy just realized was the one that we had scrambled to earlier on), we then got back to the stoves and then continued slightly uphill as we had to negotiate the handful of stream crossings to get back up to the Lower Switzer Picnic Area.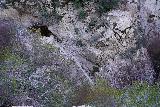 Each of the stream crossings seemed more non-trivial than earlier this morning, and I suspected that that was a result of the snowmelt all draining into this canyon.
Sal completely gave up on the idea of keeping his feet dry at this point and he just plowed through each of the crossings, especially to carry his daughter over the crossings so she wouldn't have to risk falling in or getting more wet than she already was.
I stayed back with Van and Wendy while Tahia and Farrah seemed to go further ahead ultimately catching up with the rest of the kids though it was now Natalie's turn to be the kid trying to keep up with the rest of the adults straggling in the back.
Once we made it back to the Lower Switzer car park, we saw that the rest of the party was nowhere to be seen so I was certain that they already had made it back up to the upper car park or were well on their way to do so.
Meanwhile, we took a different flight of steps up to the road and followed this road past the parked car that was still there by the other steps that we took this morning, and then we continued up the pavement which was reminiscent of the end of the Sturtevant Falls hike.
When we got closer to the top of this half-mile climb, we caught up with the kids who were busy doing snowball fights with the snow that still remained along the banks of the road.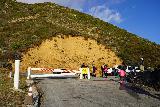 By about 3:45pm, we finally made it back to our parked cars along the Hwy 2 at the upper parking lot.
With the shadows growing longer and the familiar orangish glow of a setting sun in the late afternoon, it really felt like we had spent the whole day here (actually we spent nearly 6 hours of daylight here).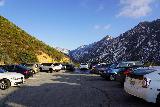 There were lots of cars heading downhill as I guess they were coming back from either trails or snow play areas, but it was surprisingly busy for such an early season on the mostly-closed Hwy 2. Still, it made me wonder where these folks must have gone.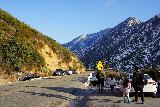 Anyways, we changed out of our hiking boots or gum boots, and then proceeded to drive to Pasadena for one last bit of hanging out at the Urban Plates. It was also a last chance for the kids to hang out in the restaurant.
We ultimately got to the restaurant at about 4:20pm, and it definitely got quite chilly quite fast. But at least for the time being, we were once again back indoors and enjoying good food with good company.
It wouldn't be until about 5:40pm when we were getting close to the end of the parking validation period, and that pretty much signaled the end of today's unexpectedly fun and fulfilling excursion with some unexpected snow.
Again, even though our last waterfall of the decade was merely a local one, sometimes the waterfall and the adventure acts as nothing more than a backdrop compared to hanging out with good company and making new friends along the way.
Sure it wasn't the waterfalling and whale watching in Kaikoura that Julie and I did before Tahia back in New Zealand at the start of this decade, but at the end of the day, I think it's about the relationships that we keep that matter the most.
And I'm quite glad that the common glue to it all, was the waterfalling.
Here's to another decade of engaging in this activity…
Visitor Comments:
Got something you'd like to share or say to keep the conversation going? Feel free to leave a comment below...
No users have replied to the content on this page