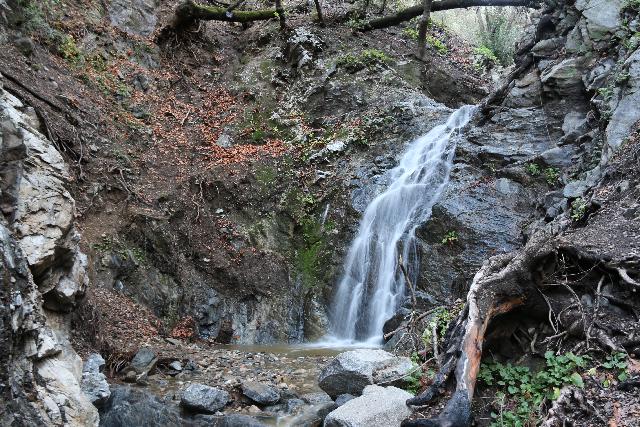 19-January 2019:
So given all of those factors, today's excursion really felt like we were shaking off the cobwebs and getting back into the old MO of doing waterfall hikes opportunistically while writing about our exploits.
With the re-launch of the World of Waterfalls right before New Years Day, I could finally start to feel like things were starting to settle down somewhat though I know there's still more work to be done. But at least things were now more or less in maintenance mode instead of re-launch mode.
But just as it felt like we were getting back in the swing of things on this trip, I realized that I had forgotten to bring my daypack and handheld GPS. In fact, I even forgot to bring my Nuvi, which meant that I couldn't track where we were driving to!
Indeed, this was one of those cobwebs that really bit me in the butt, and I felt pretty naked without them….
Given the pretty extensive storm system that produced non-stop rain (or at least mist) from last Sunday all the way into early Friday, we had this thought that it was time to finally head into the Santa Monica Mountains vicinity to visit some waterfalls that we had been neglecting for several years.
After all, I never really trusted that the waterfalls there would flow due to the all-or-nothing feast-or-famine climate that the whole state of California had been experiencing thanks to Global Warming.
So who knows when the waterfalls in that neck of the woods would be flowing again?
We definitely had to seize the moment, and we decided that today was going to be the day to get out there and try to explore some waterfalls we hadn't done before.
The original plan was to get an early start and visit Santa Ynez Falls in Topanga State Park as well as The Grotto by the Circle X Ranch today. Then, go to Newhall near the junction of the Hwy 14 and I-5 and visit the Placerita Canyon Falls tomorrow.
However, those plans were quickly dashed when we saw that the combination of last Falls' Woolsey Fire and the Trump-Wall-induced Federal Shutdown ensured that Circle X Ranch couldn't be reached since it sat in the newly-gazetted Santa Monica Mountains National Recreational Area.
That meant that those mountains were now under federal control, and therefore it was subject to the dysfunctional politics that has been de-stabilizing the United States let alone the world and having real-world consequences to ordinary people.
So at a minimum, we were determined to get to Santa Ynez Falls first, then play it by ear whether to stay on the west side to take a chance on La Jolla Canyon Falls or head north to Newhall and visit the Placerita Creek Falls.
One thing was for sure though. We needed to get an early start. The hope was to be out the door by 7am.
And as much as I wanted to sleep in, Julie got up at 6am and I got up about a half-hour later. We knew it would be difficult to get Tahia up early in the morning, especially since she was recovering from a lingering cough that was going away but not really.
After having a quick breakfast, we were rushing to get out the door but it wouldn't be until about 8:15am when we finally left the house.
My primary concern was traffic and parking, especially since I had no idea just how limited parking would be for the Santa Ynez Falls.
Well, it turned out that as we were routing to Santa Ynez Falls, Julie was routing via her iPhone on a combination of Google Maps and Yelp (or whatever the iPhone uses to do its mapping and navigation).
It was kind of confusing getting conflicting directions from both softwares running at the same time, but I at least knew that we had to get all the way to at least the 10 freeway. The deviation was whether we should keep north on the I-405 to the 101 Freeway or whether to take the 10 west to the PCH route towards Malibu.
Mentally, I was thinking the latter since I was more familiar with that route, and I presumed that Santa Ynez Falls wasn't too far from Temescal Canyon Falls since that one was also in the city of Pacific Palisades. One of the directions wanted us to go to some other trailhead closer to the 101 Freeway.
And as we were making the drive out to the west side, the phone had us taking the 105 to the 405 instead of the direct 5 to 10 route that I would have expected. I guess maybe the flow of traffic was already impacted by the ongoing road construction on the 5 and the increasing volume on a Saturday morning?
Anways, we stuck with the 105 to 405 approach. And during the drive, I got to think about a few things like trying to figure out when was the last time we did a local hike as a family…
As a matter of fact, we didn't do a local waterfall writeup since Spring of 2017 (nearly two years ago!) and we didn't do a local hike since Eaton Canyon Falls last April I believe.
Eaton Canyon was kind of an excuse for us to introduce a friend called Wendy and her kids to some of the local hikes. So it was more about them and less about making another writeup. Julie and Tahia also did a few other familiar hikes to Monrovia Canyon Falls and Sturtevant Falls since those were reliable waterfalls when Southern California were in drought.
I was also very busy with the website migration project, which was really taxing me as I couldn't rest and unwind after work. It was pretty much like a second job, and all the technical aspects of web development as well as dealing with contractors were really preventing me from being in the moment when it came to waterfalling both locally as well as abroad.
So given all of those factors, today's excursion really felt like we were shaking off the cobwebs and getting back into the old MO of doing waterfall hikes opportunistically while writing about our exploits.
With the re-launch of the World of Waterfalls right before New Years Day, I could finally start to feel like things were starting to settle down somewhat though I know there's still more work to be done. But at least things were now more or less in maintenance mode instead of re-launch mode.
But just as it felt like we were getting back in the swing of things on this trip, I realized that I had forgotten to bring my daypack and handheld GPS. In fact, I even forgot to bring my Nuvi, which meant that I couldn't track where we were driving to!
Indeed, this was one of those cobwebs that really bit me in the butt, and I felt pretty naked without them.
So with that sudden realization that I didn't come as prepared as I had hoped, we were already out on the west side and there was no turning back. I'd have to make do without some of the tracking equipment to help along with my write-ups, and indeed my rust was already showing. I'll just have to figure out how to push on without them.
Julie was smarting that I was rushing everyone out the door and yet it was me who forgot some of the equipment. Lesson learned!
At least I didn't forget the camera!
Anyways, by this time, we headed west on the 10 freeway. Volume on the 405 north was already pretty heavy, but it started alleviating momentarily on the 10 west before it got a bit busy on PCH again.
Indeed, with such a beautiful day, we knew things might get a bit crazy, especially since this was the first blue sky day all week long!
Eventually, we followed the Topanga State Park signs, which began at Sunset Blvd and Palisades Drive intersection. We then took Palisades Drive through some seemingly fire-prone canyon before turning left into a residential neighborhood at Verdera de la Montura.
Ultimately at 9:05am, we arrived at some street parking for one of the trailheads of Topanga Canyon State Park right by the gates at the intersection of Camino de Yasato and Verdera de la Montura.
There were already about a half-dozen cars parked along the street here, but we definitely had our choice of parking.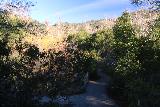 Julie and Tahia took some time to get ready so it wouldn't be until about 9:15am when we got started.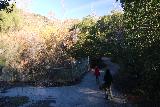 It was actually kind of chilly on this morning so we made Tahia wear a jacket. Julie also wore one. And I had my long sleeved Les Stroud shirt.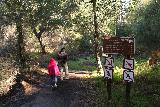 So we descended past the gate (I wondered when they open and close it since it doesn't say), then we got onto a somewhat maintained hiking trail surrounded by prickly trees clearly affected by a combination of a dry climate (drought?) as well as some with black bark (clear evidence of past fires and makes me wonder about the homes here).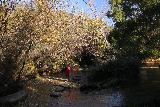 It didn't take long before we had to traverse a long concrete slide with some circular steps to help with the slick footing. There was definitely water running over this slide for sure.
Shortly thereafter, we ran into what appeared to be a flooded stream crossing. Right off the bat, it looked like we were going to get our feet wet as it looked quite deep.
We did manage to find some kind of muddy and dead-fall traverse off trail to the left, and we managed to get through that though I wondered if Julie's Keens were able to handle it since they were low top. I had my high-top Gore-tex boots, and that seemed to work on this obstacle.
We had to take turns carrying Tahia across such obstacles since she definitely would have been taking in water on her feet had she tried to walk across on her own.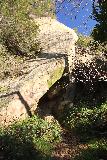 As we continued with our hike, the trail crossed the creek more times though for the most part, we were able to figure out how to rock hop across without getting our socks wet.
Along the way, there seemed to be firefighters doing a trail run so we had to step aside and let them through. Julie and I suspected that they might be busy during fire season here, and I'd hope that the local property taxes would at least incorporate the fire risk here and thus their services, especially when you're building where Nature tells you fire happens a lot here.
Anyways, the firefighters appeared to be running towards Trippet Ranch, which I'd imagine was where the other trailhead was (the reason why Julie's iPhone wanted us to take the 101).
That was where it appeared that we deviated from their trail and kept right to follow the Waterfall Trail.
It didn't take long before the trail descended towards the next stream crossing, and with some signage telling us where the trail continued (as it started to become ambiguous where the trail crossed the stream versus where the trail became the stream), the progress was increasingly slower.
For much of this stretch, it definitely felt like we were on our own as we didn't really see other people except for a couple heading out noting that we were definitely going to get wet. So we consider ourselves warned.
Eventually the stream scramble degenerated into more of a bouldering scramble.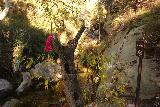 There was one obstacle where we had to climb up the left side of a small 10ft waterfall. At first it looked dicey as we checked and re-checked our trip research notes. We certainly weren't going to climb up a wall and attempt to cling to a ledge with overhang to get around the right side of this obstacle.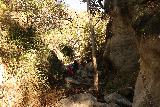 Upon further inspection, I saw that there appeared to be natural footholds going up the more direct left side of this waterfall obstacle. So that was what we did.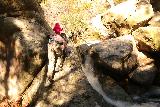 Once we got up past this waterfall, we then had to get around some pretty deep pools and attempt to cling to the right side to avoid getting our feet pruned up. By this time, it seemed like I was already starting to feel the squish of wet wool socks in my right boot so I started to resign myself to the fact that I couldn't keep my feet and socks dry at this point.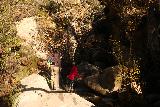 Still, I didn't feel like I ruined my boots.
Regardless, there were a couple more bouldering obstacles where I had to help lift Tahia up to a boulder and have her sit and scoot and wait for Julie and I to traverse some tricky steps to avoid falling into a pool.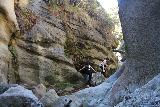 After traversing a dead-fall and a few more slippery boulders and mini-waterfalls, we finally arrived at the Santa Ynez Falls, where there were a couple of young women who were already chilling out at the waterfall.
They were the first people we encountered for a long stretch so for a brief moment, we didn't have the falls to ourselves. But when they left, we did for probably about a good 15 minutes or so.
We got to the falls at around 10:30am, which meant that it took us around 75 minutes to go the nearly 1.2 miles to get here. That kind of gives you an idea of how slow we were going given the scrambling that was going on.
For such effort, this seemingly 25ft waterfall was quite attractive as the creek seemed to spill between some rock walls and boulders. There was a rope with some man-made footholds on the left side of the falls, but I had no interest in making that climb to see what was above.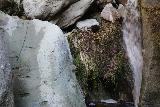 I just wasn't interested in adding risk to this excursion, especially given how wet and slippery everything was here.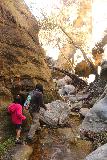 Eventually, another couple showed up shortly after we tried to take selfies at this waterfall. They helped to take a photo for us and we returned the favor. And as more people started to show up at this waterfall, we knew that it was time to start heading out.
Just like on the way in, it was fairly tricky and slow going on the way out. But Tahia was doing pretty well, and she even picked up a hiking stick to help with balance. We were quite impressed with her problem-solving skills given the obstacles before her.
We continued with the stream scramble but it was pretty clear that by now our feet were definitely getting squishy and pruny at this point. Both Tahia and Julie were hopelessly wet-footed by this point. Meanwhile, I only felt it on one of my boots, but it was definitely not comfortable to say the least.
Plus, I was worried that we'd have to hike in these wet attire for the next excursion after lunch. At least that was where my mind was at.
The further out the walked, the more people we saw were heading towards the falls. It was pretty obvious to us that this was a pretty popular place. Amazing that after all the years of local waterfalling, we had never been to this place before.
I guess with the amount of effort it took to get here for such a small waterfall, that was pretty much all that was left for us to do in terms of new experiences.
Eventually at 11:40am, we made it back to our car. By this time, the Verdera de la Montura street was full of cars! I didn't think we saw that many people on the trail, but apparently I was wrong.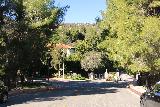 As we were finally getting out of our shoes and into sandals, a lot of adult passerbys were having a conversation with Tahia as they were curious to see what Tahia thought about the excursion.
She was clearly telling people how much she liked the adventure, which put a smile to a lot of the adults she engaged with. Indeed for the additional considerations we had to make for doing a hike like this, moments like these were what made bringing her along so worthwhile.
Eventually at 11:50am, we headed out and looked for a place to have lunch. Ordinarily when we'd be in these parts, we'd check out Malibu Seafood or Neptune's Net (depending on how far up Malibu we'd be going).
However, since Julie had to eat clean, fish sandwiches and fish 'n chips were not an option. Too much gluten and too much lectins. So we opted to go to this place called Malibu Reel Inn.
We got there at around 12:05pm. We paid $3 for parking there, which was fair. I didn't want to deal with trying to find parking especially given how much high speed traffic was along PCH.
The parking attendant said that he was from near Riverside. Apparently he had been doing this for nearly 20 years, but he enjoys being by the ocean as opposed to the Inland Empire. He said the Summers here can get crazy, and he wondered if we come here in the Summers. I told him we tend to avoid these places during those times, and he said, "That's smart."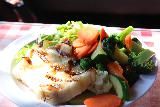 Once we got into the restaurant, we got some pretty pricey jumbo scallops as well as a Chilean Sea Bass dish. The sides were basically green salads with olive oil and balsamic dressing.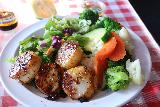 Although the meal costed us on the order of $45 or so, it hit the spot.
At about 1pm, we were back in the car. Even though we saw that there was state park parking, it was $2 per hour. I guess we could have saved money parking next door and doing that, but that extra $1 was not worth losing the piece of mind.
Anyways, Julie suggested that we continue heading west towards La Jolla Canyon at Pt Mugu State Park and just do that for the after-lunch excursion since we were already here. I wanted to go to Placerita Canyon since we hadn't done that one before, but perhaps we might be able to do it tomorrow.
And so we c ontinued driving west on the PCH, where we were back on the familiar drive that took us to places like Solstice Canyon Falls and Escondido Falls among others.
But seeing that Escondido Falls was closed (and it was actually beyond Corral Canyon Rd – for Solstice Canyon Falls), I came to the realization that things were actually much further away that I had remembered. I guess when you're younger, you tend not to mind the inconveniences and the struggle as much as when you get older.
Indeed, it wasn't until about 1:40pm when we finally made it to the Point Mugu State Park where La Jolla Canyon Falls Trail was supposed to be.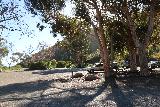 When we got there, I saw a lot of people hiking up the Backbone Trail. I never remembered having to climb to visit the waterfall so that felt a bit off.
But when I looked closer at a gate and barricade, I saw right then and there that the trail to the La Jolla Canyon Falls was also closed due to hazardous conditions in and around the waterfall.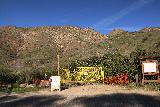 I guess that pretty much meant that this detour was for nothing. And that I'd still not have a chance to see that waterfall flow as the previous two times we were here, they were not flowing.
By now, it was about 1:50pm, and with daylight starting to run out, I decided that we should drive out to Newhall to pursue the Placerita Creek Falls since we were already here. That would at least free up tomorrow.
But I couldn't help but feel like this La Jolla Canyon Falls pursuit was a bit detour and waste of time (probably costing us at least an hour of precious daylight that we knew was fading fast).
And so we made the drive further west towards Oxnard knowing that we were closer to that part of town then going all the way back to the busier Santa Monica and Malibu area.
After a lot of local driving around some strawberry fields via Las Posas Rd and Hueneme Rd, we ultimately found ourselves on the Hwy 34, which eventually hooked us up with the 118 Freeway through Simi Valley.
This drive felt familiar because just three months prior, we took this route to avoid traffic on the 101 Freeway after coming back from Big Sur and Santa Barbara for our little anniversary and birthday trip.
This time, however, the drive felt quite smooth. After hooking up with the 405 north, then briefly on the 5 at Santa Clarita before taking the Hwy 14, we finally got off the Placerita Canyon Rd exit just past the Newhall Rd exit.
We then followed Placerita Canyon Rd for a few minutes before arriving at the Placerita Canyon Nature Center, which was quite the busy place. But after looking more at the descriptions in Ann Marie Brown's book, we saw that the waterfall hike from here was much longer at 5.5 miles round trip.
So we continued driving east on Placerita Canyon Road for another 1.5 miles before we saw a gate with no parking as well as a pullout area just to the east of it. So we claimed one of the few remaining spaces to park along with the half-dozen or so other cars that were here.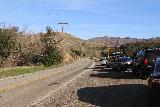 By now, it was about 3:05pm and we were definitely racing against the onset of darkness, which we knew was going to happen some time between 5pm and 6pm.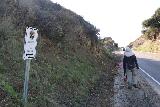 After wearing our wet boots and socks again (we let Tahia wear her Natives), we then got started on our hike at 3:15pm.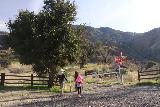 The gate we passed through was technically the Walker Ranch Trailhead, and from here, it was said to be 2.4 miles round trip to the Placerita Creek Falls. I believe this falls was also known as the Los Pinetos Waterfall since we were also close to some area called Los Pinetos.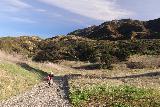 The trail was downhill as we descended towards a crossing of a wash that definitely had water. Tahia being Tahia walked right through the water and insisted on getting her feet wet. But all that did was track sediment into her Natives, and so she was uncomfortable with all the rocks and sand in her shoes.
Anyways, on the other side of the creek, we saw that there was a picnic area on our right as well as a labeled Waterfall Trail continuing towards our left.
We followed the trail as we were hiking among scenery that was reminiscent of the terrain of the Cedar Creek Falls hike near Ramona what with knobby hills that were starting to grow green with the recent rain.
The trail was pretty straightforward to follow before we reached a climb as the trail went up above the creek instead of alongside it. There was a father and son we saw here who said they didn't make it to the falls, but they did say something about the hike being easier in the stream and on the actual trail itself.
I wondered what he meant by that, but I figured it was another one of those wading in the water type things instead of clinging to an eroded ledge. So I considered myself warned.
After the short climb, the trail hugged a ledge but it wasn't difficult to follow. There were a couple of poison oak signs before the trail entered the canyon as the walls closed in and we were pretty much right back alongside Placerita Creek again.
Shortly thereafter, we encountered a cascade obstacle, but we saw that the slope to the left of the waterfall was gentle enough to traverse.
Then, we pretty much followed the trail some more past a few more creek crossings. It was kind of deja vu again given our earlier excursion from this morning.
After traversing past the right side of another cascade obstacle (also slippery and potentially treacherous), it didn't take long before we encountered what appeared to be steps going up on the left side of the creek.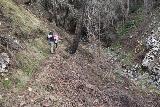 Naturally, we went up the steps and crawled beneath a deadfall, but then we saw that the trail was badly eroded and we had to backtrack before going right into the creek.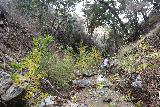 We saw one guy heading back out that was already down there so clearly that was the way to go.
I guess this was what the guy earlier meant by the creek was easier than the trail itself!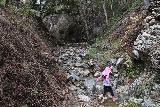 After a few more minutes of stream scrambling, we'd ultimately keep right at a confluence with some unnamed creek to continue on Placerita Creek. There were lots of rocks spraypainted with "32K" on it, and they seemed to be going the correct way.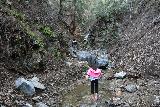 I wasn't sure if they were gangster markings or if they were sanctioned. But whatever the case, they were there and kind of hinted to us that many people having gone this way before.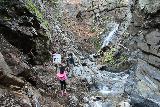 After getting past a jumble of boulders just past the confluence, then rounding one bend to the left, we finally started to see the sloping Placerita Creek Falls.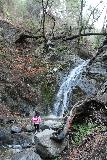 By about 4pm, we were finally before the base of this 20-25ft waterfall. We had to go past some closure sign urging people not to go further, but it wasn't all that bad to get there. I guess the threat of rockslides or landslides in the steep terrain above was the greater threat here.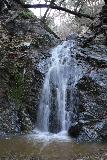 Anyways, having this waterfall all to ourselves with the fading daylight, we savored the moment though Tahia was starting to get cold. Her insistence on not bringing her jacket on this hike was a lesson in letting her know that her actions had consequences.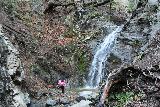 Nonetheless, after having our fill of this pleasant waterfall (seemingly easier to reach than Santa Ynez Falls earlier this morning), we were carefully stream scrambling our way back out.
Back at the confluence with the unnamed stream, some smart ass with the same black spraypoint wrote on a rock "Dat Way" with arrows pointing into the unnamed creek.
We knew better than to follow that though I did wonder if that side creek would lead to some other waterfall. Well, with the fading daylight, we weren't going to find out.
Compared to the Santa Ynez experience, the remainder of the trail was very smooth going. The only tricky parts were descending the pair of cascade obstacles since the surface was slick and sloping. But aside from that, we were back on the ledge trail where we noticed a fairly substantial full moon off in the distance to our right.
That got Julie noting that tomorrow was supposed to be some kind of blood moon at around 6:30pm, so I guess we were having another one of those lunar eclipses or something like that.
They're not as uncommon as one would think. I recalled seeing such a thing going to work last year. And we even witnessed one of these things in Duluth, Minnesota on a Great Lakes Trip back in 2015.
Regardless, we'd eventually re-cross the wash and climb back up to the Placerita Canyon Road by about 5pm. Now, we could finally get out of our wet shoes for good and let our feet breathe.
Darkness was definitely taking over but I still wanted to make a stop back at the Placerita Canyon Nature Center one last time to get a feel for what that place was like.
And after briefly checking out the Walker Cabin (a sign here said it once fit 14 people!), I also noticed that the Waterfall Trail from this spot to where we were at earlier was actually closed! So I guess we did the right thing by shortening our hike.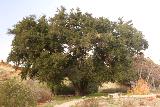 Finally at around 5:15pm, we started the drive back out toward civilization again.
This time instead of roughing it on the I-5 through Los Angeles to get home, we actually drove east on the 210 Freeway, which was actually quite smooth going. We'd eventually arrive in Pasadena at around 5:55pm, where we had ourselves a dinner at Urban Plates.
That was the perfect way to unwind an unexpectedly full, fun, and adventure-filled day. And indeed, I missed having days like this. I guess that was the toll the website migration was taking on me for the past three years, especially last year when I had to take over most of the work myself.
After the pleasant dinner, we finally made it home at around 8:20pm after a short grocery run. With all the waterfalling we wanted to do on this day, I could at least look forward to sleeping in and having a restful Sunday.
It felt like quite a while since that last happened…
Visitor Comments:
Got something you'd like to share or say to keep the conversation going? Feel free to leave a comment below...
No users have replied to the content on this page