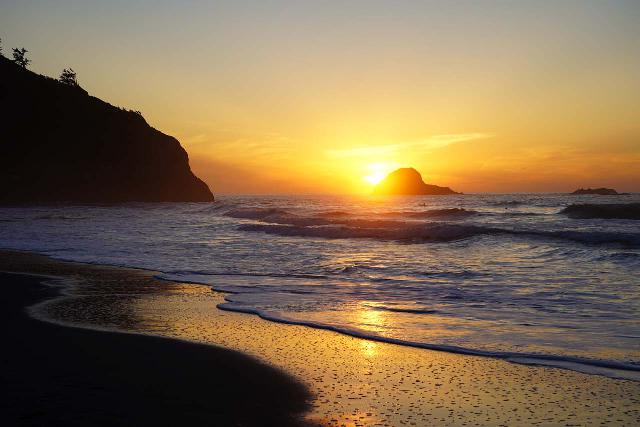 19-November 2020 to 23-November 2020:
It was an unfortunate circumstance since the mood had now soured from what should have been a serene and peaceful hike through the forest in pursuit of another one of the waterfalls along the James Irvine Trail.
And it became a bit of a back-and-forth where both Julie and Tahia were ganging up on me while I was trying to either block it out or retort with some smart-ass comment about Julie owning up for her own decision to go forward without letting me help her let alone not bringing the right shoes for the hike (though it was my fault for forgetting to bring trekking poles).
I even went so low as to tell her to not be a Donald Trump and own up to her own actions instead of laying the blame on someone else. I'm sure that cut deep, but in any case, I think this changed her mentality such that she was going to head back to the car after we would get to the turnaround point of the hike…
Day 1 (November 19, 2020 – Santa Rosa, California): "Last Minute Trip, Last Minute Results"
There were lots of things that just happened suddenly in the past day. And those things opened up an opportunity to go on a super last minute trip to the far north coast of California, which we finally acted upon and the chaos continued into this morning.
You see, I only learned a few days ago that Tahia didn't have school from Friday through next week (Thanksgiving week). I also only learned yesterday that I didn't have to give a presentation for work on Friday either. So with Friday free, it seemed like an awful waste to not take advantage of Tahia's days off with a trip. Who knows when opportunities like this would arise again?
Indeed, this all started from last weekend when I was toying around with the idea of trying to visit waterfalls in the seemingly forgotten corner of California's far north coast (i.e. Mendocino and Eureka).
When I saw that the forecast for this weekend went from being rainy to being sunny yesterday, I just decided right then and there to do this trip.
Once that happened, I got Julie to book a very last minute rental, which we made just 30 minutes before Enterprise Rent-a-Car office that we had booked with closed.
When we showed up to pick up the rental car, we had expected to get a full-sized SUV that we had booked for. However, apparently they had some kind of Ford recall and that took out the possibility of our driving off with a spacious, high clearance vehicle. So when this bomb was dropped, we were about to be SOL on this trip when at the last minute, we just went with some crappy mini-van with pretty poor clearance.
I worried what that might mean later on in this trip (especially since I anticipated some issues with clearance on driving Davison Road to the Gold Bluffs Beach and Fern Canyon), but I guess we'll just have to deal with it and see how bad that obstacle would be. I had read that we might have to extend the walk a little over a mile in each direction from that obstacle to the actual trailhead, and I'm hoping that it might not be too bad of a fallback, but we'll never know until we actually get there.
In any case, at least we had a rental car for this very last minute trip. It was better than the alternative of trying another place tomorrow literally on the day that we were supposed to be making the long drive north.
That said, they charged us another $16 per day (or around $96 for the rental) so that was kind of like insult to injury. The clerk that worked with me said that next week, the mini-van rentals costed $150 per day!
And so on this day, we still had to wait for Tahia to finish her virtual classes before we could finally load the car and make the long drive up to Santa Rosa, which was merely an intermediate stop on a much longer drive to get to Eureka or Arcata.
I had a feeling that we wouldn't be leaving until around 2pm, which only meant we would have less than 3 hours of daylight left on this long drive (which was said to be around 7-8 hours). So most of this drive would be in the dark, which was a risk in and of itself.
In the mean time, Julie had a doctor's appointment, I still had a work meeting at 10am, and we still had to get packed, make some printouts, upload stuff to the GPSes (especially the one for driving), and do some last minute researching.
On top of that, my normal travel laptop was being repaired, and Julie actually had to buy a new laptop because her old one's WiFi card died (or Windows was doing something weird that kept turning it off by itself). So that meant that I had to set up her new machine, and I'd eventually have to put stuff like BaseCamp, Notepad++, Chrome, and Adobe Bridge just to get her beefy laptop into a shape that I could use it as a travel laptop (though it doesn't really fit into my laptop bag).
However, I also had to get rid of the annoying Windows 10 S Mode, which the machine came installed with, which further put time pressure on what needed to get done.
Anyways, as anticipated, we'd eventually start to leave the house at 2pm. At least the mini-van was the most spacious vehicle we've driven yet. It seemed like we were getting progressively roomier interiors for our rental cars with Enterprise (this was the third time in the past 5 months that we were using them [our big Summer Road Trip, our Colorado long weekend trip, and now this one]).
But in this case, this red mini-van was too spacious, it had low clearance, and it seemed ghetto compared to the other rental cars we've used in the past. It still had a wiry antenna in the front, and it seemed to have some things that weren't working like the rear windshield wiper pointing upside-down frequently (discovered after I drove it off the lot at Enterprise).
Julie said to me, "Last minute trip, last minute results." But I guess when you have such uncertainties regarding travel freedoms with COVID-19, this was basically our attempt at taking what we can get. Who knows whether even doing a trip like this can be possible going forward? We don't even know if we can travel internationally the way we have been for nearly the last two decades.
So after getting through the first hour or so through some sluggishly heavy Los Angeles traffic, we'd eventually make it down to the Grapevine some time around 3:45pm or so.
With daylight fading fast, we then got onto a somewhat smooth ride on the I-5 though there were always people clogging the left lane. Again, it just seemed like Californians had a real hard time understanding that you're supposed to keep right except to pass.
Regardless, we'd ultimately have a late dinner from a Chipotle in Livermore at around 7:05pm. Then, at 7:30pm, we'd resume our drive in the dark, where we took the 580 across the Richmond Bridge, and we'd eventually make it to the US101 heading straight north to Santa Rosa. Apparently, there's no cash collection booth but they're going to snail mail the toll fee by looking at photos, probably billing the rental car service, and then the rental car service likely going to bill us many weeks down the line.
I guess with our late departure from home, there was no opportunity to splurge on some fancy (takeout) food from one of the wine and dine establishments in Napa and Sonoma.
Even if we had the opportunity, it would have been a risk to eat at the establishments. We already learned the hard way from our Boulder, Colorado experience that fine dining eaten as a takeout was actually not a good experience. It definitely wasn't a good value.
That said, with the country going through a third wave of COVID-19, it just seemed like half the country still voted to continue this.
These past four years were a disaster, but all I know from what we've seen in the elections was that we're not only deeply divided, but we're pretty much screwed. That said, whether the new president can even make a dent in undoing the damage done from these past four years remains a huge question because the Senate is all screwed up too.
Nevertheless, we were making good time heading north on the US101. Of course, it wasn't all free flowing as I was surprised to see one CHP hiding with its lights off while everyone was pretty much speeding. Aside from that close call, we'd ultimately make it up to the familiar Hyatt Regency Sonoma Wine Country (even though we were in Santa Rosa) by about 8:55pm.
But we wouldn't be settled in until about 9:45pm where Julie and Tahia had sanitized the room while I took the car to pump gas before rejoining them in the room.
And with that, we had to do some last-minute showering and clean-up before finally ending this really long day of driving. But the long haul driving doesn't end here though because it seems like we still have another 5 hours of driving tomorrow chasing a pair of waterfalls before finally making it up to Eureka (well, more like Arcata).
Indeed, there's a reason why we hadn't gone to this part of our home state of California. But maybe that's a good thing considering we also don't want to encounter too many people either…
Day 2 (November 20, 2020 – Arcata, California): "A Very Different California"
It was about 6am when I awoke. I was hoping that Julie and Tahia were going to get up at this time because I knew that daylight was precious, and that it was going to get bright by 7am while the sun would set at around 5pm. So that wouldn't leave us very much time to do the anticipated 5-hour drive to Eureka as well as the pair of waterfall excursions that I hoped wouldn't end in disappointment.
After all, waterfalls in California in the Autumn was kind of like an oxymoron. Nevertheless, maybe the Northern Coast of California might not be as dry as Big Sur. After all, this far north of California seemed to have more in common with Oregon than the rest of Cali's coastlines further to the south. So perhaps there's some hope in some new waterfalling experiences to be had here.
Nevertheless, with so much time anticipated to be spent on the road, I didn't want for us to lose out on such precious limited daylight while spending it sleeping in at an accommodation in Santa Rosa. That wasn't why we made this last minute trip in the first place.
Thankfully, Julie finally got up at 6:20am, and when I offered Tahia to have a ride on the hotel's dolly to make lugging our stuff to the car easier, that did the trick to get her up.
Anyways, I managed to start loading up the car with Tahia in a couple of trips, and then by about 7:15am, Julie was finally done checking out and getting her last remaining stuff into the vehicle.
It was actually already bright by around 6:45am so technically, we probably could have gotten up a half-hour earlier if we really wanted to milk as much daylight as possible.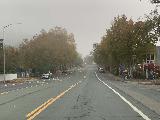 And so the drive north on the US101 pretty much was uneventful as the traffic wasn't too bad the further north that we went. In fact, once we got past Healdsburg, the freeway was pretty much lightly trafficked where most people really did respect the convention of keeping right except to pass. And even if some people clogged the left lane, the traffic was sparse enough for it to not cause issues.
Another nice surprise with this drive was that we were seeing a fair bit of Fall colors, which I didn't realize even existed in California. Indeed, the further north we were going, the more we were weaving in and out pockets of coastal fog along with the increased density of trees. In fact, it also seemed more like we were entering scenery and climates more consistent with something we expected to see in Oregon as opposed to the Northern California coast.
So after over an hour on the road, we then headed west on the Highway 20 towards Fort Bragg. This was a detour towards Chamberlain Falls, which was kind of an obscure waterfall in the Jackson Demonstration State Forest.
I always say that our trips don't begin until we finally experience a waterfall, and hopefully, this waterfall would be that start of this last-minute trip.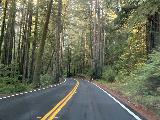 Eventually, the twisty Hwy 20 got us to the not-so-well-signed Road 200, which I only knew to make the turn thanks to uploading some pre-trip waypoints onto our Garmin DriveSmart 50 unit.
Once we got off the Hwy 20, we then headed north on an unpaved road that wasn't too bad for our mini-van. I'm sure the drive could have been smoother with a higher-clearance SUV, but our van handled it just fine. It was pretty obvious to me that this road was pretty well-used for logging purposes. In fact, earlier on while driving the 101, I noticed quite a few big rigs hugging felled trees, which suggested that logging was a major part of the economy of this part of California.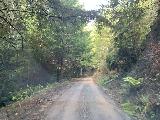 Personally, I think there's something really wrong when a tree is more valuable economically dead than alive. It's clearly one major contributor to Global Warming since virgin forests are supposed to be the best carbon sinks.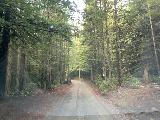 I was a bit nervous about chasing Chamberlain Falls because the literature didn't really say much about it. We only knew about this place from Ann Marie Brown's California Waterfalls book. In fact, I never would have considered visiting this part of Northern California except her book planted that seed in my mind to at least check this place out. Of course, it took nearly 20 years before we finally got around to doing it on this trip.
The logging road initially followed Road 200 before briefly going on the Main Chamberlain Road.
Then, we climbed the West Chamberlain Road, which was the road that was ultimately supposed to take us to the trailhead.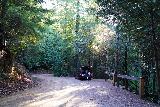 But there didn't seem to be any hints of the railing or what not that we were supposed to look for. In fact, my pre-trip notes almost had me turning around pre-maturely. But finally by about 9:10am when I was looking for a place to turn around, we then stumbled upon the aforementioned railing at the top of some wooden steps leading down to the Chamberlain Creek Waterfall.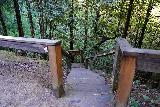 It took Julie and Tahis some time to put on hiking shoes, and it was also quite chilly since the forest was still mostly in shade though the bright sun was definitely piercing through the forest's canopy by this time.
Heck, it was so quiet here that we could hear our own echoes bouncing off in the distance of this expanse of forest.
Moreover, we were assured that we were in the right place thanks to a sign saying "Chamberlain Creek Waterfall" about half-way down the wooden steps.
When Julie and Tahia finally got out of the car, we then proceeded to descend the steps where we noticed someone had left behind a pair of women's boots that didn't look like they were meant for hiking. They seemed a bit out of place here, which made us wonder why it was here in the first place.
Nevertheless, we then followed a trail that skirted by some ferns as well as some tall coastal redwood trees with black bark (suggesting that there was a fire that went through here; maybe many of them, especially given our recent history with severe droughts and Global Warming).
The trail was narrow in spots, and it appeared to have been re-routed (probably to avoid further erosion in the steepest parts). Speaking of which, I was quite surprised at how well-maintained this trail was. The steps at the beginning even seemed to have gotten some recent maintenance, which was incredible given how seemingly off-the-beaten track this waterfall was.
As the trail continued to descend deep into the forest floor and going underneath some fallen trees propped up by other trees, we were encouraged by the sound of moving water. All this time, I was worried that this waterfall was going to be dry, but by 9:40am, we finally arrived at the Chamberlain Creek Falls, which was trickling, but it was at least flowing and photographable.
So we spent some time taking pictures and videos, then Julie and Tahia went back up to the mini-van. Meanwhile, I lingered around a little more to check out the falls from right at its base. I can only imagine how much more enjoyable this waterfall would be under higher flow, but I was also enjoying the serenity of this place as we had no trouble social distancing since we were the only people here.
After having my fill of the Chamberlain Falls, I then headed back up to the parked mini-van by 10:05am where Julie was getting some food out so we could have our makeshift breakfast.
Unfortunately, the hard-boiled eggs were crushed in the car and so were some persimmons that she had brought on this trip, too.
I wound up eating most of the crushed stuff while Julie got some of the eggs and persimmons in better shape. We also ate a couple of bananas as well.
And with that, we left at 10:25am as we then headed back out on the logging road and ultimately back to the Highway 20 where we then headed back east towards the US101 to resume our long drive towards Eureka.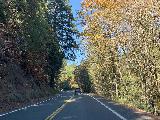 I wasn't getting much reception from KNBR sports radio in this region so we were listening to my iPod.
When we got back on the US101, we then resumed a rather smooth drive though we really had to watch out for CHP which seemed to look for speeders, especially around construction work zones where the speed limit was supposed to be either 55mph or 45mph while the speed limit would be typically 65mph.
That said, people were really gunning it at over 70mph despite the twistiness of the highway.
The next stop was another Ann Marie Brown special, which was called Dora Falls. From reading her book, this waterfall sounded like an informal one that required crossing the US101 by foot. However, I was a little nervous about having to find parking across from the US101 on the west side, especially given how fast people tended to drive this road. Plus, there were long sections of there being at least 2 or 3 lanes on both sides of the highway.
Fortunately, by about 11:55am, we found a sanctioned parking area on the west side of the road around where my pre-trip waypoints for Dora Falls was. That sanctioned parking area was spacious and easy to pull into though I did have to make a rather sharp turn so as to not miss it suddenly.
The lot was spacious because it was meant for some kind of coastal redwood grove called the Frank and Bess Smithe Grove. It seemed like there were a couple of other vehicles parked here and checking out this grove. But apparently no one bothered to go across the US101 and into the drainage containing Dora Falls.
So after briefly checking out the coastal redwood grove (where I saw quite a few tall trees as well as some kind of river access), I backtracked to the other side of the US101 where I saw that I had to hop the railing then scramble further along the stream to the east.
At least I saw that there was water in the stream leaving some kind of tubular contraption so that gave me some hope that Dora Falls might be flowing despite Ann Marie Brown's description saying that the falls would likely to be only flowing after Winter rains.
After hopping the barricade, there was quite a bit of overgrowth along the somewhat semi-obvious trail, where I then kept going a few more yards through the wet foliage before ultimately getting close to the source of the sound of falling water that indeed belonged to the Dora Falls. I got there at around 12:15pm.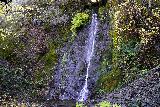 Unlike the Chamberlain Falls, this waterfall actually seemed to have better flow though it was a far cry from the double-barreled segmented drop that was shown in Ann Marie Brown's book.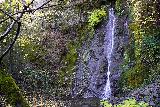 Yet despite all that traffic and people out by the US101, I was all alone in front of the Dora Falls. So I gladly took photos and videos and tried to milk this visit as much as possible. It was too bad Julie and Tahia didn't come to this waterfall because they would have enjoyed it.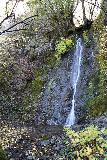 Nevertheless, I was totally enjoying the social isolation here, and with such limited real estate, I was glad I didn't need to wear my mask here.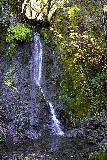 As described in Ann Marie Brown's book, it did seem like this area was affected by some landslides, but it didn't seem to grow or reduce the size of the falls unless that aforementioned landslide must have been part of the cliff that was responsible for the waterfall's original-sized drop.
Anyways, when I made my way back to the parking area by the 101 Highway, Julie and Tahia wanted to take some pictures within the redwood grove. In fact, we were momentarily all alone at this grove, which was kind of cool.
But setting up the tripod and timer and getting Tahia to cooperate with taking our family shots was a bit on the cumbersome side.
Finally at 12:55pm, we resumed our drive further north on the US101. Now, we had to make the final stretch towards Eureka.
I wasn't sure what there was to see and do in town, but I was kind of expecting that perhaps we might be able to check in when we get there, and then spend the rest of the afternoon checking out bays or sunsets or whatever.
I really didn't have much plans to do anything else on this day, but I was already in a pretty good mood given the waterfalling successes from this day.
The drive north on the US101 continued through more mountainous terrain but it was moving at pretty high speeds. Aside from a couple more speed traps, this drive pretty much went by without incident. Plus, there were more pockets of Autumn colors though I did notice even more seemingly evergreen trees, which really reminded me more of Oregon than California.
By around 2:25pm, we finally arrived in Old Town Eureka. The city of Eureka was actually a seemingly unremarkably large town with box stores, fast food joints, and some industry. Yet strangely, it kind of also reminded me of something we might have found along the Oregon Coast (Coos Bay comes to mind, especially with the US101 splitting into one-way streets). However, Julie finally got enough cell phone reception to direct us to this place called Jack's Seafood for some late lunch.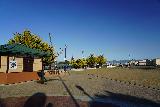 After parking the car at the lot of the restaurant, we did notice there was quite a bit of homeless people on the benches as well as laying on the ground around the restaurant. So we took a risk and decided to dine inside the joint where the tables and seating arrangements were spaced out enough to be at least six-feet apart.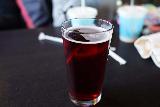 However, since it was indoors as well as cold outside, we were definitely aware that we violated our SOP by choosing to dine inside here.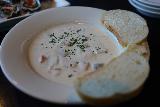 Still, Julie was in a mood for some hot seafood soup (she was really craving the Cioppino), but there were other goodies here like fresh oysters as well as seared scallops. My main actually came with a New England Claim Chowder so that also hit the spot since it too was a hot "soup".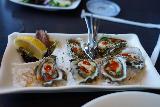 Tahia settled for a chicken sandwich kids meal since she didn't seem to be at all interested in the local stuff we wanted.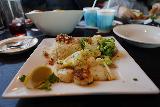 We also had a local Humboldt cherry cider, which was pretty good.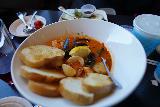 As we waited for the food to arrive, we did some brief internet searching for what there was to see and do at Eureka. And apparently the Victorian buildings of Old Town Eureka caught our attention. In particular, there was the Carson Mansion that really looked like it was worth checking out.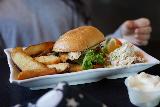 So when all was said and done, we ended up splurging and spending about $130 with tax and tip (the lady that waited on us was really friendly).
And after taking a few photos around the bay by the restaurant, we then got back in the car and drove for a few minutes towards the Carson Mansion and Carson House at 3:55pm.
Once we got to the mansion, we saw its impressively tall green facade though it was some kind of exclusive club establishment so all we could do was to gawk at the nice-looking building.
Right across the street was an attractive pink house, which was called the Carson House.
Indeed, we took some time taking pictures and imagining what the interiors of these buildings might be like, but there was also some more rif raff headed our way (one guy wanted us to take a picture of him), and that got us to hastily retreat to the car.
Once there at 4:05pm, we finally headed to Arcata where our accommodation (actually a residence) was located. By this time, the lock box should be working since we were told that it wouldn't unlock until after 4pm.
Nevertheless, just our small sampling of Eureka and the amount of homeless people we've encountered in such a short time was a bit surprising. I wasn't sure if this was the norm, or if this became the new norm after COVID-19. I'm sure living in this area (or anywhere in Northern California) wasn't cheap, and I'm sure the pandemic couldn't have helped this situation.
Anyways, by about 4:25pm, we finally made it to the Arcata home. I didn't realize that Arcata was home to the Humboldt State University, and the area seemed to have a bit more of an upscale feel to it, especially compared to Eureka.
Because this place was an entire house (which we paid nearly $700 for our entire two-night stay), I'd have to say that it was worth the splurge considering how spacious it was, how homey it was, and it was a fitting way to celebrate Julie's belated birthday.
Still, with such spaciousness, it took us quite a bit of time to sanitize the place, and it wouldn't be until after 5pm when we finally got settled in the house. We pretty much spent most of the evening killing time where the girls were reading while I was busy working on the computer.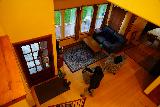 Tahia and I did play a round of chess after she had been inspired from watching some movie called the Queen's Gambit or something like that. But I think Tahia then discovered that she could watch YouTube on the TV's Roku box where she then dwelled on watching some kind of Roblox-related stuff *sigh*.
After having a rather late dinner after 8:30pm, where we finally had some hot dogs wrapped in lettuce along with a side of mushrooms, we then spent the rest of the evening getting cleaned up and trying to pry Tahia away from the TV.
Tomorrow, we were planning on going to Gold Bluffs Beach and Fern Canyon. With the tempered waterfalling successes of today, hopefully we'd have similar successes tomorrow.
For that would be as far north as we'd go on this trip before heading back south towards Mendocino the following day…
Day 3 (November 21, 2020 – Arcata, California): "From Drama To Dramatic"
It was about 5:30am when I awoke to the alarm. Knowing that we didn't have an anticipated long driving day (but a possible long hiking day instead), I still had to do what I could to ensure that we'd be out of the house by 7am or so to ensure we took maximum advantage of the limited daylight.
So I helped Julie prepare some of the breakfast as she was getting ready, and we were listening to The Briefing Podcast, which had a more in-depth weekend episode where Tom Tilley interviewed Mary Trump.
Let's just say that she had a very interesting insight to the Trump family since she is the niece of Donald Trump. She also articulated a lot of how Donald may have been a byproduct of a super rich dad (or her grandfather) who had a lot of the characteristics that apparently might have been "passed" or filled by the Donald.
Indeed, the bottom line was that she articulated not only the how Donald came to be as the "world's most dangerous man" (and not in a Ken Shamrock way), but she had quite the level-headed take on America as a whole. After all, nearly half of the country voted against their own self-interest as long as he resonated with those peoples' own opinions on very specific biases and fears.
This combined with a political party that enabled his irresponsible behavior, we wound up with the worldwide disaster that resulted from the lack of checks and balances when both the president and senate strongarmed the demolition of democracy as we know it for selfish gains.
Julie and I were quite captivated by this interview even though we kind of broke a cardinal rule that I had about trips like this, which was to stay in the moment and leave the political stuff out of it as much as possible.
In any case, even with all the help that I was providing making toast as well as washing fruits, it still wasn't until about 7:10am when we finally left the house to start the day. There was frost on the windshield, and we had to take some time to turn on the ignition and defrost before feeling confident enough to head out.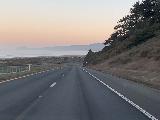 So we drove north from Arcata, but not long into the drive north on the US101, we saw what looked like a deer (turned out to be an elk) frantically crossing the highway in front of us as well as another car next to us that we were about to pass. When the "deer" got to the center of the divided highway, it was about to run back across the northbound lanes before it finally turned around again and headed further west across the south-bound lanes as we finally passed it.
That was a bit scary, but it made me very keenly aware of the danger of striking animals darting in front of moving traffic on a high speed highway like the 101.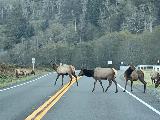 The drive continued further north through some hills and forests as the sun was piercing through the cold frosty morning, and things were proceeding along pretty smoothly until we encountered a large herd of elk pretty much grazing besides the road and stopping traffic somewhere just south of Orick.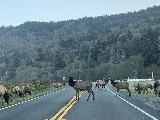 The cars going south managed to inch by the herd, but when it came to my turn, there was one elk that was partially on our lane, and I was hesitant to try to drive past. After all, I thought that Autumn was elk rutting season (I could be wrong though), and I didn't want the rental van to be rammed.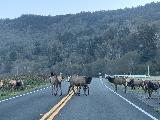 So this persisted for around five minutes as the elk refused to move, and it wasn't until there was a local in a pick-up hauling a trailer containing some stock passed the line of cars that we caused and just drove right towards the elk to freak them off the road.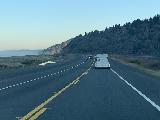 When he did that, we pretty much followed the trailered truck close behind to minimize the chances of us getting rammed (at least in my mind), and we were finally back on the move after five minutes or so.
After a brief stop at a shoulder in Orick at 7:55am (so Julie could use our portable toilet as she needed to go pretty badly), we then continued north past the town (which didn't seem to be anything remarkable other than a small settlement with a few roadside markets and lots of farms as well as dilapidated shacks and houses), and then turned left onto Davidson Road and Elk Meadow.
Given how frosty it was in the morning, there was a layer of low-lying fog right on the frosty grass in Elk Meadow so clearly the elk weren't really here to graze at this time. And not long thereafter, we then drove onto an unpaved road, which went right through a grove of forest (including what seemed to be some redwoods).
The drive went by without too much dramas though the forest cover seemed thick enough to block out the daylight in some spots. But eventually we got to the entrance kiosk for Redwood National and State Parks, where we paid $8 in a self-help envelope. The signs at this kiosk also said that there was a stream crossing two miles ahead, which was a little cause for concern about whether our mini-van could handle it. It was the very reason why I wanted to rent an SUV in the first place.
Nevertheless, we pushed forward on the rather potholed (but I've seen worse) unpaved road and eventually reached the aforementioned day-use parking area, which was next to a beach campground. Then, I decided to continue driving just to see how bad the stream crossing was.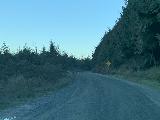 Well, soon thereafter (there was a gate that was open), we then encountered what turned out to be the first of the stream crossings, which actually didn't seem all that bad. So we took the chance and managed to go across this stream since I really didn't want to hike an additional mile in each direction given that we were already in for a pretty long day of hiking (or at least I was).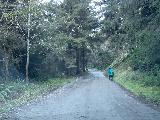 That said, there were actually two more stream crossings though they weren't as wide as the first one. However, one of them had a deep enough incline to briefly scrape the underside of the van on the way up the other side. So I wondered if we were going to have an issue driving back through these stream crossings later in the afternoon, but we'll have to see how that goes when it happens.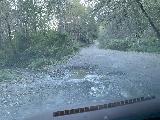 In the mean time, we ultimately made it to the parking area at the end of the Davidson Road at around 8:30am, and the first thing we noticed was a white sedan with a Florida license plate that was already parked here. Indeed, if that car managed to get out to here, then surely our mini-van should make back out, I thought.
Nevertheless, I could totally envision how much worse those stream crossings would be come Winter and especially Spring. I also took that to mean that perhaps the waterfalling in this area might not be as good given the less amount of water in the stream. Consider it a bit o a catch-22, so-to-speak.
Anyways, it took some time for Julie and Tahia to get ready, especially since Tahia insisted on wearing a cozy jacket that's not meant to get wet (especially since she was really cold and wasn't interested in getting out of the car). Still, I wanted this day to be a family affair, and it wasn't going to justify us driving all the way out this way if we were going to stay in the car all day long.
So it wasn't until about 8:55am when we finally started hiking. At that point, we briefly walked around 0.1-0.2 mile before reaching the mouth of Fern Canyon. Then, we headed inland along Home Creek, which had a bridged path going north towards the James Irvine Trail, but I knew that Fern Canyon was best experienced inside the canyon so from here on out, we had to negotiate each of the stream crossings.
Julie lamented straight away not bringing rain boots, and now we were going to have to carefully maneuver across each of the stream crossings so as to not get wet. Good thing I had brought the Vasque boots because I knew they could do the job in just these types of situations, and I could take advantage of them to help both Tahia and Julie get across each of these crossings.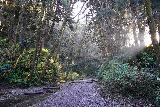 Right off the bat, we could see that at each of these stream crossings, there was enough trail maintenance to place fallen logs or branches and rocks to faciliate the traverse without getting the insides of shoes wet.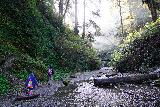 It was still tricky for the shoes that Julie and Tahia wore, and it reminded me that we probably could have benefitted by bringing hiking sticks along for this trip (which I completely overlooked). It was yet another strike that turned Fern Canyon into more of an adventure than we bargained for.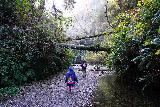 Anyways, we the adventure through the canyon was actually quite atmospheric and scenic as the walls of the canyon were covered in ferns. But the morning sun piercing through the frosty air also created interesting glows and god beams as well as some backlighting in Home Creek itself.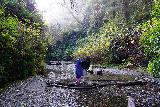 After about at least a half-dozen or more stream crossings, we then got to perhaps the most dramatic part of Fern Canyon where there were really pronounced walls of ferns on both sides of us as well as where a waterfall was supposed to spill into the canyon.
Obviously, it wasn't flowing this late into the season, but it definitely gave me the excuse to document it.
However, just beyond this really scenic spot of Fern Canyon, we then saw that after the next stream crossing, there was an obstacle with a lot of fallen trees.
That was concerning as we weren't sure if we could turn back from here. So I went forward to take a look while having Julie and Tahia stay behind.
And as I proceeded closer to the apparent landslide obstacle, I saw that we'd have to climb on some wet or damp logs with still some crossings along the way. And not sure how much more of such obstacles we'd have to tackle, I decided that it might be too dicey for both Julie and Tahia to continue on with the wrong shoes.
So I turned back and returned to Julie and Tahia, but just as I was about to reach them, I saw that Tahia attempted to make a crossing to get to me, and she wound up slipping and falling! So she got her bag wet, her pants wet, and that cozy jacket wet.
She had insisted on making this move even though it wasn't necessary, and now Julie was freaking out and mad at Tahia for doing this (especially since she thought her gymnastics experience would suit her well on balancing on the logs here), and she was now hiking with soggy feet. It was the very thing we didn't want to have happen.
Anyways, now we headed back the way we came so we had to do all those stream crossings all over again. And on one of the stream crossings, just as I was helping Tahia across a particular crossing (though she kept refusing my help), Julie proceeded forward with the next crossing and didn't wait for me to help her. And she ended up slipping and falling hard on her side.
So she got her shoes, pants, pack, and other things wet. And at that point, she was freaking out, and she was taking out her frustrations out on me for "taking them into Fern Canyon"! Imagine that!
Indeed, as we made the final few crossings out of Fern Canyon, we then crossed the lone sanctioned "bridge" over Home Creek, and then climbed up to the James Irvine Trail, and then followed that trail along the rim of the canyon.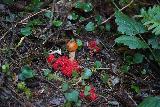 Unfortunately, Julie's frustrations and anger didn't end in Fern Canyon. Indeed, she was still taking it out on me as we were hiking the James Irvine Trail insisting that we shouldn't hvae gone into Fern Canyon.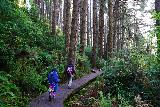 It was an unfortunate circumstance since the mood had now soured from what should have been a serene and peaceful hike through the forest in pursuit of another one of the waterfalls along the James Irvine Trail.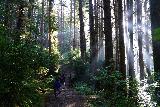 And it became a bit of a back-and-forth where both Julie and Tahia were ganging up on me while I was trying to either block it out or retort with some smart-ass comment about Julie owning up for her own decision to go forward without letting me help her let alone not bringing the right shoes for the hike (though it was my fault for forgetting to bring trekking poles).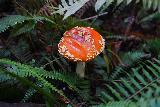 I even went so low as to tell her to not be a Donald Trump and own up to her own actions instead of laying the blame on someone else. I'm sure that cut deep, but in any case, I think this changed her mentality such that she was going to head back to the car after we would get to the turnaround point of the hike.
Indeed lost in this drama, was that we were walking by some interesting mushrooms as well as huge redwood trees as well as mossy trees and still more ferns even though we were now above the famous canyon.
We did pass by some trail junctions, including one that rose up out of Fern Canyon, which I considered exploring just to see what we had missed out in Fern Canyon beyond our turnaround point.
Not long thereafter, we also passed by another trail junction for the Friendship Ridge Trail. However, just around the corner of that trail junction, the trail then veered towards a bridge traversing Home Creek where I had a pre-trip waypoint pointing out that there should be a waterfall here.
Unfortunately, once we got onto that bridge (which had a couple of benches and a memorial) at around 10:15am, there was a tiny waterfall that was barely visible feeding Home Creek, and it hardly seemed like it was worth the effort.
But I know the feeling of putting something like this in a publication like Ann Marie Brown's book. After all, Fern Canyon was so captivating that she was looking for an excuse to talk about it through waterfalls.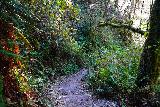 Anyways, this was finally our turnaround point, and maybe that waterfall below the bridge might be more worthwhile under wetter conditions, but I would hardly count it as a legit waterfall. The more seasonal one inside Fern Canyon seemed to be a more legitimate excuse to talk about waterfalling in this area.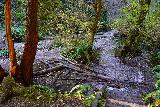 So as we headed back, both Julie and Tahia were intending to return to the car to get out of their wet clothes. So I took this opportunity to explore the inner parts of Fern Canyon beyond the deadfall obstacle from that signed junction we had passed earlier.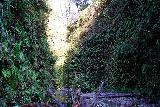 Indeed, I descended that trail, and then got down to the floor of the canyon, where I saw two temporary signs and stands suggesting that perhaps we could have kept going up to this point in the first place!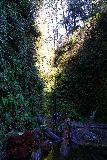 And so when I backtracked along what seemed like a featureless part of Fern Canyon, I then got back to the deadfall obstacle, and indeed, it really didn't seem all that bad from this side.
And as I was briefly documenting that dry waterfall from this obstacle, I then saw a pair of people with trekking poles making their way further upstream. I knew there were going to be quite a few more people heading up Fern Canyon so in the interest of social distancing, I didn't linger and headed back up to the James Irvine Trail.
Once I was back up on the James Irvine Trail, I encountered a ranger who was busy documenting mushrooms. He said he was running some kind of Fungi Fridays program though it was Saturday today. Still, it seemed like a perk of the job of working for the park service in this park to occupy time by observing some of the amazing subtle aspects of Nature here.
By about 10:50am, I finally made it back to the mouth of Fern Canyon where I then headed north towards the Gold Dust Falls. By this time, Julie and Tahia were long gone and were probably back at the parking lot trying to dry off. And so I was really on my own now in pursuit of the waterfalls.
From hearing the voices within Fern Canyon, there was definitely a lot of people here even though it was low season. However, as I was getting through the muddy terrain and deadfalls on the coastal trail (i.e. the so-called Davidson Trail) where both Home Creek and Boat Creek drained into a bog, it really felt like I was completely alone on this trail.
After getting past the boggy part, I then kept going north as the bog then gave way to more sweeping open terrain fronted by tall grasslands sandwiched by the ocean and some bluffs providing some shade to my right.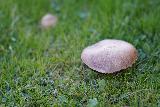 Yet, I continued pretty smoothly as the trail went by more interesting-looking vegetation as well as some mushrooms and the odd elk scat.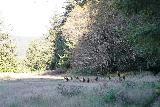 Speaking of elk, at about 11:30am, I suddenly encountered a large elk herd blocking further progress on the Davidson Trail. I stared at them hoping they might move, but kind of like the roadblock incident earlier this morning, these elk seemed pretty happy where they were at and had no intention of moving.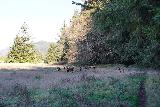 So after I finished eating some snacks while waiting for them, I then decided to move into the tall grass and try to go around this herd without causing them to attack me. After all, it was around a dozen elk versus just me, and even one elk was enough to be very careful around it.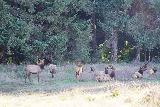 Fortunately, I managed to get around this herd of elk, and eventually got back to the Davidson Trail on the other side of them. The elk were all staring at me and were well aware of my presence.
But this incident passed without further drama, and I thought I would continue further along the trail.
However, I couldn't ignore the fact that I heard the sound of falling water coming from somewhere behind this herd, and now I needed to backtrack along the trail, which seemed to go into a grove of trees.
As I went back there (always wary of getting too close to the elk) at 11:40am, I then saw what turned out to be an attractive but thin waterfall dropping right into the vegetation that gave rise to this grove.
I wondered if this elk herd liked this spot because there was free clean water that they could drink from with relatively few humans around. I'm sure drinking from Home Creek wouldn't be a good idea for them if there were always going to be lots of people around.
Nevertheless, I took some time to check out this tall waterfall, but I knew from Ann Marie Brown's descriptions and from my GaiaGPS map, that there was yet another Gold Dust Falls further to the north.
So not long thereafter, I then encountered the next grove with the sounds of falling water, and there was a bench next to the trail in vicinity of what turned out to be the main Gold Dust Falls.
This waterfall also had quite a bit of overgrowth around it, but it also looked quite similar to the first waterfall except it seemed to have a little more flow.
I spent quite a bit of time documenting this waterfall while also listening to the sounds of coastal birds doing their song. Indeed, it was just me and this waterfall, and it really felt like you couldn't get any better social distancing than this!
Then, after finally having my fill of this waterfall at around 12:25pm, I decided to use the rest bench to both change out batteries as well as to look at Ann Marie Brown's book to see if there was yet another waterfall here.
Right around this time, there were a pair of mountain bikers going past, and these were the first people that I saw on the Davidson Trail today. Yet their presence also indicated that they must have gotten past that herd of elk, which meant that maybe the return hike should be drama free in terms of them blocking the way.
Anyways, it turned out that there was another waterfall to the north, and so I pursued it. It was only a minute or so further when I got to the third of the Gold Dust Falls, and this one probably had the weakest flow of the three. But it, too, was tall and thin, and it was worth briefly checking out before I finally had my fill and headed back south along the Davidson Trail at around 12:40pm.
The sun was definitely low on the horizon as I was pretty much facing the sun with less shade than earlier on. In fact, Julie had all the hats and I wasn't wearing mine since I didn't have it on me. Nonetheless, I was making pretty quick progress on this flat trail, and I did see the herd of elk grazing closer to the ocean and no longer hijacking the Davidson Trail.
Eventually when I got back to the boggy area between Boat Creek and Home Creek, I saw a group of mountain bikers about to continue further to the north. They seemed to struggle around the boggy parts and had to walk their bikes while also trying not to get their feet wet.
Meanwhile, when I returned to the mouth of Fern Canyon, I saw many more people heading both directions. So it was a good thing that we did Fern Canyon first to avoid the complications of social distancing. Plus, I was pretty much all alone on the Gold Dust Falls hike, and so I felt good about the way this went down.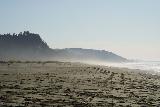 Finally at 1:15pm, I made it back to the now-busy car park where it turned out that Julie and Tahia were still in it. I was shocked to hear that they were in the car this whole time and didn't even bother going to Gold Bluffs Beach! Moreover, they didn't even bother having the picnic lunch that Julie had packed and put into the cooler!
What on earth were they doing this whole time?!?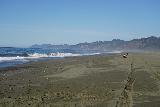 So we took some time letting them have their picnic lunch in the back of the van. I also had some as well, but I wasn't thrilled about the idea of wasting a half-hour or more at the parking lot while still not going to the beach.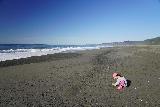 So it wasn't until around 1:45pm when we finally made our way to Gold Bluffs Beach, where there were only a handful of people on the wide sweeping expanse of dark-sanded beach. There were also crashing waves as they were probably about 7ft tall (some barrels seemed taller than we were), and we could see for miles in either direction at coastal bluffs as well as some sea mist.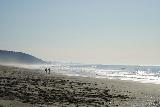 Indeed, Julie and Tahia should have spent there time here instead of the car, and that sand castle that Tahia was building could have been a lot bigger and more engaging the whole time I was hiking!
Anyways, eventually at 2:10pm, we were back at the car, and now it was time to start heading back in the direction of Arcata.
As we drove out through the familiar unpaved Davidson Road, we saw that there were still people driving towards the end of the road even as sunlight was already fading pretty quickly.
The entrance kiosk was also manned and collecting fees.
Nevertheless, by about 2:40pm, we then ended up at the Elk Meadow parking lot because I wanted to fit in a hike to Trillium Falls. After all, this was the one waterfall in the area that seemed to have signage for it. So Julie and Tahia stayed in the van while I went ahead and got geared up to do this quickie.
At first I followed a paved path that went around towards the Davidson Trail, but then the Trillium Falls split off and ascended to the right. There was huge Phillipino family that I had to get past since I didn't want to be breathing their droplets (none of them were wearing masks and even one commented among themselves that there's someone [me] wearing a mask).
So I made sure to hike quickly and past them so social distancing wouldn't be a problem. Fortunately, the hike was a bit uphill as it switchbacked its way among towering redwood trees. As much as I wanted to linger on the trail and enjoy being in the presence of such majestic trees in this grove, I still had to race my way to Trillium Falls before that family showed up.
I'd eventually catch up to another couple that were kissing when I showed up and broke up their session. They they decided to hike in front of me and I'd have to stay behind them so as to not breathe their droplets.
By about 3pm, I ultimately made it to Trillium Falls where there was a trio chilling out by the base of the falls beneath the footbridge. One guy there was smoking. The couple in front of me wanted to get down there so they waited, and as the smoking trio started to leave, that was my opportunity to take photos from the bridge without people there.
But by the time I got around to taking a video, a ranger showed up just as the couple went down with their dog to the base of Trillium Falls and wouldn't leave. The ranger told the couple that they weren't supposed to have dogs and she could cite them but didn't. She said that they had to watch out for elk because there could be a dangerous situation with pets reacting to elk.
So I documented what I could of Trillium Falls before I headed back to the trailhead just as more people were showing up to the bridge. And not long after getting past about a half-dozen people, I then went by that large Phillipino family without masks.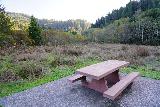 From there, I ultimately got back to the Elk Meadow Parking Area at 3:30pm, and then we finally resumed the drive back towards Arcata though I wanted to see if we could catch the sunset at a scenic beach along the way.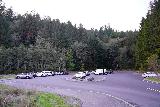 During the drive, Julie and I had this discussion where it seemed like over the years of our waterfalling, we seemed to savor these more farflung and less-trodden waterfalls more so than the big famous ones we used to see when we started our waterfalling adventures.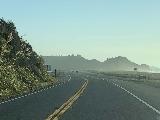 I guess the effect of the internet, social media, and crowds had something to do with it. Plus, COVID-19 certainly limited our options and kind of forced our hand to find such places domestically.
Who knows how much longer our waterfalling can last, where politics, health, pandemics, overcrowding, fires, or what not will impact such freedoms for the benefit of mental health and body?
But we'll just keep taking what we can for as long as we're able…
Anyways, it turned out that the beach with some sea stacks that were in the area (which I had glimpsed on the drive earlier this morning) was at Trinidad Beach.
So we ultimately got there at around 4:05pm, but it took some driving around with false stops and some views along the way before we finally stopped at the lighthouse and beach at 4:25pm.
Indeed, there were quite a few cars here, and it must be a pretty popular spot to see the sunset, which was what we were about to do.
So once we got out of the car, we all enjoyed the sand, the orange glow of the setting sun, and some of the sea stacks that were in the area.
Sure it was no Ruby Beach, Canon Beach, or Bandon Beach further up in Oregon and Washington, but this beach was an example of where California meets the Pacific Northwest.
And so we finally basked in this dramatic scenery, which made us forget the dramas from this morning.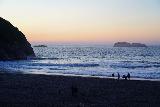 And ultiately by about 5pm, we were back in the car after the sun had set, the moon went over the lighthouse, and the skies turned pink to the west.
After a brief stop at the Safeway in Arcata at 5:20pm, we finally made it back to the Air BNB that we were staying at by 5:45pm. And from there, we finally got to unwind on this eventful day.
Day 4 (November 22, 2020 – Little River, California): "Mendocino Charms"
It was 4:30am when I awoke from my sleep. My memories of my dreams were hazy, but it was some kind of nightmare that woke me up, and I couldn't go back to sleep. Perhaps I also had to get caught up on yesterday's happenings knowing that we had another drive ahead of us.
So I spent the next couple of hours getting caught up on the blogging, but I was also playing some Friday shake-up on Triple J Hack, which went over some Australian war crimes by the defense force in Afghanistan. Sometimes I wonder what unreported atrocities the US Forces might have done considering that Australia self-policied itself even after 10 years since the incidents, but it seemed no one else (let alone the US) was really doing such a thing to keep their own military in check.
After having a breakfast, we got cleaned up, got packed up, and by 7:35am, we finally left the spacious and comfortable Air BNB home in Arcata.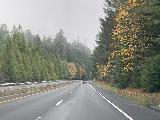 At this point, we headed south on the US101 under some fairly cool (but not frigid) weather so this time there was no frost on the windshield.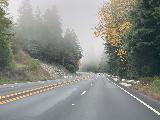 It also looked like the weather was about to turn as it wasn't so sunny like yesterday anymore.
Instead, there were some pretty dark clouds looming out at sea as well as some fog lingering around.
After filling up in Eureka, we then drove further south on the US101 where there were a handful of CHP looking for speeders.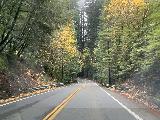 Other than that, the drive went by pretty smoothly, and I even noticed quite a bit of Fall colors again along the way.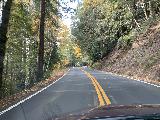 Eventually near Legget, we then left the relatively high speeds (and CHP speed traps) of the US101 and headed south on the Hwy 1.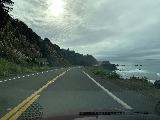 And right off the bat, this road induced quite a bit of motion sickness in Julie because it was full of 15-20mph hairpin turns as it weaved into a forested ravine.
If this wasn't in Northern California, I'd swear a road like this would be unpaved in a place like New Zealand.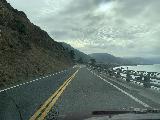 Anyways, after quite a bit of this twisty drive, the Hwy 1 eventually got to the coastline, which immediately reminded me of the type of scenery typical of Big Sur.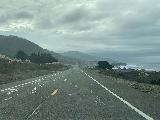 However, in this case, it seemed to be a lot less crowded than the Big Sur Coast.
I'd imagine this was due to the fact that Big Sur was reasonably close to San Jose and even Los Angeles.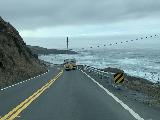 Nevertheless, the Mendocino Coast was quite a ways north of San Francisco.
This coastal drive was under some seemingly partly or mostly cloudy skies as the weather seemed to be a stark contrast from the very clear skies that we had experienced yesterday.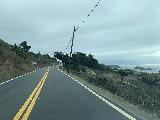 Anyways, it wasn't until around 10:50am when we finally reached the backside of Russian Gulch State Park, which was where the shortest trail leading to the Russian Gulch Waterfall was near the North Boundary Trail.
This trailhead was right where the Road 409 stopped becoming paved and started to become unpaved.
There were quite a few cars parked on the road shoulders near this trailhead though we did manage to find one of a handful of parking spots by the road.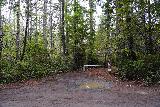 And I suspected this place was popular both because it yielded a shorter hike to the waterfall, and apparently there was no fee to park here. Maybe over at the legitimate entrance to Russian Gulch State Park, an entrance or parking fee might have applied. Who knows?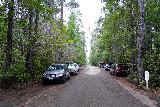 Nevertheless, it took Julie and Tahia some time to get ready, but eventually after around 15 minutes, we then finally started moving.
Initially, the hike followed along past a gate before reaching a fork at another gate. We kept going straight, which was apparently the North Boundary Trail or something like that.
But sure enough at around 11:10am, we then reached a signed junction for the Waterfall Trail as well as Fern Canyon.
This much narrower trail went right into a redwood forest where once again, we were flanked by numerous redwood trees. Although there was a family in front of us, they went at a pretty good pace so we had no trouble maintaining social distance.
The hike pretty much descended deeper into the forest so we knew that it was going to be a somewhat moderate uphill climb on the way back as apparently this was an upside down hike.
Still, the hike itself was pretty easy going as we were able to go at a pace that allowed us to have a conversation (typically it's about politics these days with Julie and I though Tahia never stopped talking about Roblox). The hike did have a couple of moments of false trails (including one at a bend where the false trail kept going straight), but at least I had my Garmin Fenix 6X Pro map for an easy at-a-glance peek at the trail map that came included with the watch.
As backup, I also had my Gaia GPS loaded on my iPhone while recording our tracks from this hike as a backup tracking tool as well as backup navigation system (or sometimes primary if Gaia GPS had the better map detail than the watch).
Finally at 11:50am, we descended alongside then right down to the Russian Gulch Waterfall, which was quite busy with people both at one end of the footbridge as well as on the other side where there was a rest bench as well as access to some of the fallen logs.
While I've seen pictures commonly shown in the literature of this being a multi-segmented waterfall (at least two segments or in even higher flow, it might drape over its underlying bedrock), we happened to see it in rather low flow where only the rightmost segment was flowing.
So we took our time documenting the experience, and as we were chilling out here, we even managed to get some people shots as well as some brief moments where it was only a handful of people here.
I also kept going a little further up the opposite end of the trail (the side where most people seemed to be coming from), and it was up at the higher vantage point that I was able to get a more top down view of Russian Gulch Falls as well as its barely flowing companion.
After having our fill of the Russian Gulch Falls, we then turned back the way we came, which was more of an uphill affair. Having already done Fern Canyon yesterday, we had no interest in prolonging this hike to do neither the Waterfall Loop nor the Fern Canyon Trail that was here.
Thus, after some more family bonding over this serene hike, we ultimately made it back to the car at around 12:50pm. Thus, ending what was perhaps the lone waterfalling excursion of this day, and now it was time to continue south towards Mendocino for a lunch.
Eventually at 1:05pm, we then found parking in the main drag of downtown Mendocino, which was basically a quaint block in the seaside village with some shops and restaurants in the immediate area.
Julie had this craving for some kind of seafood soup so we eventually settled in on this place called the Mendocino Cafe, which actually had a bit of a Thai flavor to their dishes because the owner's wife was Thai.
Ultimately, we got seated some time close to 1:30pm, and then we enjoyed a lunch of clam chowder, a Thai burning pot (which was basically a coconut curry soup with noodles, veggies, and some rock shrimp. Then, I had a clam soup that was also in some kind of coconut curry while Tahia had a chicken quesadilla.
Needless to say, this lunch was quite filling. We even got Tahia an apple juice, which tasted legitimately like apples.
While waiting for the food, we did some basic internetting to see what we should do between now and going to Little River. We ultimately decided that maybe we should check out the Mendocino Headlands to see sea arches.
I wasn't sure how many of them we'd see, but I figured in my head that maybe we should check this place out before pursuing a blowhole at the Little River (or perhaps a different sink hole or blowhole closer to Russian Gulch, which we happened to have skipped).
Plus, the view towards the ocean was pretty nice though it was somewhat obstructed so it wasn't like the million-dollar view like say at some spots in Big Sur.
Still, by around 2:40pm, we were done with lunch and then we headed back to the car. We promptly drove west towards the Mendocino Headlands and then found parking near the first of the parking areas on Little Lake Rd. Right away, we could see that there was an attractive sea arch seen against the afternoon sun.
So we took some time checking out the views from here as well as some of the sea stacks to the right of it. If finding an arch was this easy on our first parking spot, it made me wonder if there were more interesting sea arches to see without spending too much time away from the car.
Thus, about 15 minutes later, we returned to the car and then drove another five minutes to the next parking area further to the north. This particular area had a lot of trails going out to some ridges and outcrops with some scary views of more sea stacks and little rock islands.
Some of the inlets had blowhole and sea caves. There were also more sea arches though they weren't as easily seen as that first one. I even walked out to the end of one of the peninsulas though I found taking photos of the rock stacks around me to be a bit tricky as there wasn't an obvious subject like a sea arch.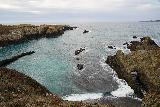 Eventually, I walked out to a second arch that was pronounced but narrow and way down at the bottom so it wasn't like I could see sky through its span (basically the best way to photograph such things). Then, once I had my fill of this spot, I then retreated to the car at about 3:20pm.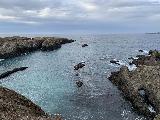 Now, it was time to head out towards Little River though in my mind I was hoping to hike to the Little River Blowhole, which I had read about now wondered if it was worth going out of the way for it considering blowholes seemed to be a dime-a-dozen along the Mendocino Coast.
I did entertain the thought of backtracking to the Russian Gulch to check out their sink hole and blow hole as well as views of the Mendocino Bay, but I didn't mind going towards Little River to finally check into our accommodation and figure out our dinner situation. Were we going to eat in Little River, or would we have to drive back to Mendocino for dinner?
As we drove south on the 101, we ended up driving past the GPS waypoint that I had tagged for the Little River Blowhole Trailhead, but I couldn't find a sanctioned spot to pull over and start the hike. It seemed like there were residences and driveways along this stretch of the Little River community.
And so by 3:35pm, we eventually found the Seafoam Lodge, which was where we were spending this night before continuing south towards Sonoma and ultimately to home tomorrow. Julie did her thing by checking in at the office, and then we took the next half-hour or so to sanitize, unload, and get settled by about 4:15pm.
Julie would eventually learn that some of her choice options for dining weren't possible on this night as they were all booked out thanks to COVID-19 as well as it being Sunday evening. So we ultimately settled for this Italian place back in Mendocino called Luna Cafe and Trattoria.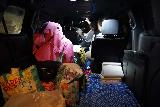 However, we had to order takeout because their limited seating was all booked out. Thus, we placed an order, then promptly left for dinner at 5:10pm.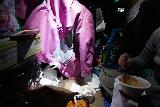 The ground was actually very wet outside because it was raining during our brief time getting settled in our room. Given the forecast that I saw for no rain in the forecast all weekend long, I certainly wasn't expecting this. But maybe this might revive the Phillips Gulch Falls that I was hoping to see tomorrow.
Anyways, by about 5:20pm, we ultimately got to the Luna Cafe, where we found parking alongside the narrow residential road. Then, we had ourselves a little picnic inside the spacious back of the van. It was a rather novel arrangement that we had never done before, but I guess we were making lemonade out of lemons again in this case, and managed to have our meal of Toscana-style Ribeye Steak, some home made ravioli, and Julie's Cioppino, which actually had a bit of a kick to its sauce.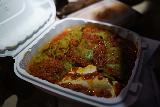 Julie and I split some sort of Panna Cotta type custard with fruits, which I guess was their take on the French Creme Brulee. I guess every European culture had their way of doing this from the Italian Panna Cotta to the Spanish Flan.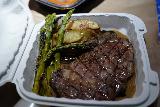 Although the eating arrangements weren't that comfortable as Julie and I were sitting Indian style in the back of the van on a blanket while Tahia insisted on sitting on her back seat, we made it work. We were fogging up the windows of the van as we wanted to trap the heat as the temperatures plummeted rapidly as it got darker outside.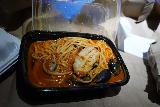 Finally at 6:25pm, we were done eating, and we were actually quite stuffed since once again, there was bread in this meal, and Julie's Cioppino had a lot of pasta in it (something she wasn't expecting out of a Cioppino).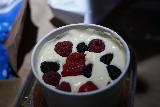 We then looked for a gas station in Mendocino, and there was a tiny one in town. But when I saw that the pump suggested that the prices were on the order of over $6 per gallon, I decided right then and there to drive the 7 miles north on the 101 towards Fort Bragg.
Only after filling up there at a very reasonable price of around $3.15/gal (compared to the rest of the trip at least), we then drove back south to the Seafoam Lodge, where we arrived at 7:05pm. And thus ended this final night away from home on our last-minute road trip to the far northern coast of California.
We still had a long drive ahead of us tomorrow with still a couple more things to hopefully see and do, so I didn't expect to make it home until pretty late at night. But with tomorrow being the start of a short week of Thanksgiving, I'm pretty sure the mood at work is not going to be terrible productive or busy as many coworkers would be out-of-town.
I personally wasn't in the mood to do anything to give away such precious time with limited family in our first Thanksgiving under the COVID-19 pandemic. Nevertheless, so far this trip has gone remarkable well for such a hastily-planned and executed long weekend. Knock on wood, hopefully, our successes would continue…
Day 5 (November 23, 2020 – Los Angeles, California): "Deja Vu"
It was 5:15am when I awoke without an alarm. With today being a very long driving day, I was kind of itchy to get started as soon as possible, but it was still dark outside.
So I had to use that time to get cleaned up and then start packing while hoping that at least Julie would respond to her alarm that was about to go off in 15 minutes.
By the time Julie did get up to her alarm, she prepared some hard-boiled eggs in the pressure cooker while I also munched on some fruits and water that didn't get consumed throughout this trip.
Then, when it almost came time for us to start loading up the car, Tahia didn't need too much convincing to get up since she was looking forward to going home and playing Roblox as well as having an In N Out meal, which we promised her that we'd do on the way home.
Of course, getting her to help with loading up the car to speed things up was a whole other animal.
Nevertheless, by about 6:55am, we finally started to head out just as daylight was increasing. It wasn't as cold as it was the last couple of mornings, and I was guessing that the short bursts of rain (which wet the pavement) might have had something to do with it.
Anyways, the drive south on the Hwy 1 was proceeding along smoothly though there were quite a handful of locals driving very fast that I managed to pull over for to let them pass. Good thing this highway had plenty of them so there really wasn't an excuse not to let them pass or risk getting tailed for long stretches and possibly driving distracted (especially on the curvy parts).
The scenery was also quite majestic as we headed south, and it was quite reminiscent of the Big Sur stretches of coast. However, it really felt a bit quieter than what we were exposed to further south, and I supsected that the Mendocino Coast was really quite out-of-the-way even though it was probably around 3-4 hours within reach from San Francisco.
And during the drive, we did manage to stop at one pullout (though we were tempted for more) to take pictures of attractive sea stacks against some morning skies featuring pink clouds just as the sun was rising.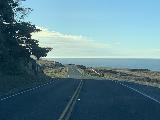 At first, I was about to stop for Navarro Beach and the Arch of the Navarro, but having already seen some nice sea arches at the Mendocino Headlands, Julie and I decided to just keep going and focus on visiting the Phillips Gulch Waterfall, which I thought might be worth pursuing and taking the slightly longer coastal route back towards Sonoma instead of the faster US101 via the Hwy 128.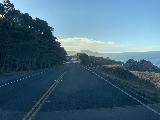 Indeed, we actually veered right when we got to a fork in the road where the Hwy 128 continued straight along the Navarro River while the Hwy 1 went across a bridge over that river.
From there, we continued along the very beautiful stretch of coastline what was surprisingly straight for long stretches but also had quite a few stretches of curviness whenever the road would enter a gulch, cove, or waterway before climbing back up to the sea cliff tops again.
As the sun was continuing to rise, it started to get into my eyes due to its low position on the horizon, especially since the days were near its shortest come the Winter Solstice (which was just under a month away).
Anyways, Julie and I were conversing about how this entire trip felt nice because we were exploring a part of the California coast that we had never done before. And so we were getting that sense of discovering new things that we hadn't felt in this state for quite some time. In fact, Julie reinforced that her good vibes on this trip confirmed that she was more of a coastal girl than a mountain girl as she didn't have to contend with any high altitude headaches on this trip at all.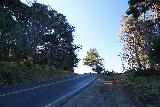 Finally at around 8:30am, we made it to the approximate location of the Phillips Gulch according to my pre-trip waypoints. And just as I suspected, there was no sign, but there was a fairly extensive unpaved pullout near a bend where the Hwy 1 crossed Phillips Gulch. I also spotted a much smaller pullout that probably wasn't a legitimate pullout yet it had a trail that left from it.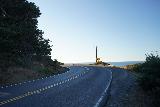 So I found a spot to make a 3-point turn, head back towards the more substantial unpaved pullout, and then pull into there to explore around Phillips Gulch in pursuit of the waterfall.
Even though this place was part of Salt Point State Park, apparently this rather unsigned aspect of it made it a rather unknown spot that only folks in know would know about.
And thus given the unknown nature of what this hike was like and what obstacles I might face (and whether this waterfall would flow or not), I laced up my hiking boots and immediately got started with the exploration while Julie and Tahia were busy taking their time to get ready to join me down there (hoping they'd also find their way).
So I walked up along the Hwy 1 to the smaller (seemingly illegitimate) pullout near another bend in the road further to the south of the bend that we pulled out at, and then I followed the trail through some tall grass on an open area in the direction of Phillips Gulch.
There were quite a few trails criss-crossing this way and that, but I made a beeline towards where I suspected the Phillips Gulch Waterfall would be, and sure enough, I did see a narrow trail cutting right through the tall wet grass that was wetting both my boots and my pants.
Eventually, the trail descended kind of out-of-sight from the start of the trail by the Hwy 1 so I was a bit worried that Julie and Tahia wouldn't find me or know to look in this direction.
Nevertheless, I knew that they wouldn't be here for a bit given how long they take to get ready so I promptly descended right down to the secluded cove where the short 15ft Phillips Gulch Falls dropped.
In any case, by about 8:45am, I finally spotted the Phillips Gulch Falls. However, the more remarkable thing about this waterfall was its backdrop where the turbulent waves were crashing against some remnant cliffs or sea stacks that were already worn away by the relentless Pacific.
It was too bad that the morning light didn't touch the secluded cove that the Phillips Gulch Falls was in because that made for some harsh shadows against the bright coastal backdrop. So I took some shots in RAW hoping that one of these days I might finally figure out how to photoshop the pixels such that I can manually even out the high dynamic range conditions here.
I knew that one of these days, I'd have to come back when the waterfall would have higher flow as well as better lighting in the afternon. It wasn't in the cards on this trip since we were just starting the long drive back towards Sonoma and then continue on all the way home in LA. So it was a marathon drive, and I didn't have the luxury of waiting until the afternoon on this day.
And so I spent a pretty good amount of time taking what shots and videos that I could of the Phillips Gulch Falls all alone. Unfortunately with the positioning of the sun, the Sony Mirrorless camera was getting too smart for itself as it kept insisting that I had my eye into the eyepiece so the LCD kept turning off spontaneously, which was very annoying.
I wish there was a way to shut off that feature (which I couldn't figure out to this point). Heck, they shouldn't even bother with the eyepiece since it was a full-frame camera and looking through the LCD was good enough and even preferrable against looking through the eyepiece.
Anyways, it took some time for Julie and Tahia to finally find me, but when they did, I knew from Julie's reaction and Tahia's lack of complaining that they were also captivated by the ocean scenery here.
Then, we took some people shots before we headed back to the mini-van. On the way back, I took a more coastal trail that allowed me to look out towards other rocks that the waves crashed against and made some huge splashes. I also looked against the sun towards Stump Beach, which looked very quiet at this time of the morning. Indeed, I made another mental note to come back in the afternoon so even the views back towards the beach wouldn't be right in the sun.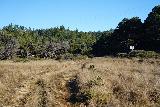 By about 9:50am, we had returned to the mini-van. And then we resumed our coastal drive, which not much longer after getting started, it stopped in fits and starts because of one-lane sections of road maintenance as the Hwy 1 continued with its dramatic scenery.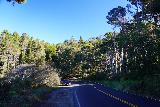 That didn't help our cause in terms of wanting to get home at a reasonable hour so during these delays, we looked at the GPS for alternate inland routes that might not be as subject to such delays. Obviously, the sea cliff roads were harder to maintain due to the likelihood of rock slides as well as erosion undermining the foundations of the roads there (just like the Big Sur experience).
Indeed, this whole drive had that deja vu, and even the increased traffic (including pricks that don't use pullouts when going really slow) were more prevalent as we were getting closer to the urban centers of the Bay Area.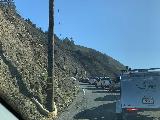 After stomaching rather lengthy road delays at 10:15am and 10:25am, we finally reached the Hwy 116 near Jenner, and then we worked our way inland towards Sebastopol.
Actually, there was another delay on the Hwy 116 so we actually turned back and took a connecting route (the so-called Bohemian Highway), which ultimately joined up with the Bodega Highway en route to Sebastopol.
Then, we pretty much followed highly-trafficked roadways (including lots more sheriffs and CHPs), and ultimately made our way towards downtown Sonoma by 12:15pm.
There, we went to the Girl and the Fig, which was our first time back since earlier this year in February on our last trip to this area right before the COVID-19 madness that took hold.
Although we originally had reservations for 1:15pm, they ultimately seated us at a semi-sunny outdoor spot at 12:20pm, and from there, we pretty much relaxed and had a belated Julie's birthday splurge here.
Indeed, our meal consisted of some pate as well as cheese and charcuterie board. We also shared one glass of red wine.
Then, we had a main of duck confit, flounder meuniere, and a ham and Gruyere cheese sandwich, which I think Tahia thought was going to be grilled and hot like a Croque Monsieur. However, she insisted on the ham and Gruyere and so she only ate a few bites before not eating any more of it.
Finally, we ended off with two desserts, where one was the profiteroles while the other was a couple of very good chocolate chunk cookies with a milkshake (that tasted a lot more like regular milk though it was thick).
Yep, when all was said and done, we were stuffed, and I was pretty sure our careful lectin-free diet went to hell over this weekend. Still, we were fully satisfied (and even had some takeaway boxes) when we left at 1:50pm, and now came the long marathon drive back home.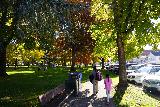 Sure enough, traffic was really heavy as we left Sonoma and drove through the base of Napa Valley along the Hwy 12. Then, when we finally got to the I-80 and then the I-680 Freeway, we then had to join up with the familiar I-580 freeway, which was all heavy.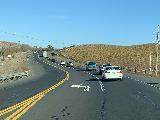 Indeed, it took forever for us to finally get on the I-5 south, which had also a high volume of traffic, including big trucks that seemed to be playing musical chairs with themselves and really slowing the flow of traffic. This wasn't helped by pricks that clogged the passing lane by squatting there and enabling the trucks to play this game.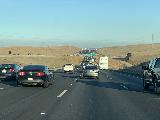 Finally at 5:50pm, we were around Kettleman City where we then decided to finally indulge Tahia in her cravings for In N Out. It had been a very long time that Julie and I had had this stuff, but we knew that the meat ought to be as fresh as it could be since we figured Cowschwitz was nearby.
Anyways, Tahia's tendencies towards junk food was probably not helped by my Mom going for the cheap stuff whenever Tahia along with her cousins would stay over at Mom's.
So we each got our burgers (Tahia had the most traditional one while Julie and I had protein-style ones) while we shared fries and a milkshake (which Tahia and I split), and we pretty much picnicked in the back of our spacious mini-van just like we did last night in Mendocino.
Then by 6:40pm, we finally resumed the remaining home stretch of the drive, which pretty much went without incident though we definitely got the feeling that the high volume of traffic throughout this drive must be due to the short Thanksgiving week, which prompted many people to take road trips instead of taking changes flying thanks to the third wave of COVID.
Finally at 9:30pm, we made it home. Just like with our long weekend trip to Colorado, we had returned home at the exact same time under very similar circumstances involving marathon drives of around 14 hours on the road.
It was deja vu indeed, but I was quite glad that we did make this super last-minute trip. Even if it didn't start off quite as planned (and it costed a bit more than anticipated for such a short trip – I'm guessing around $1600 when you factor in all the accommodation, food, gas, and unexpected rental costs), we came back with more memories and we're definitely doing what we can given the whole uncertainties behind the COVID-19 madness…
Visitor Comments:
Got something you'd like to share or say to keep the conversation going? Feel free to leave a comment below...
No users have replied to the content on this page