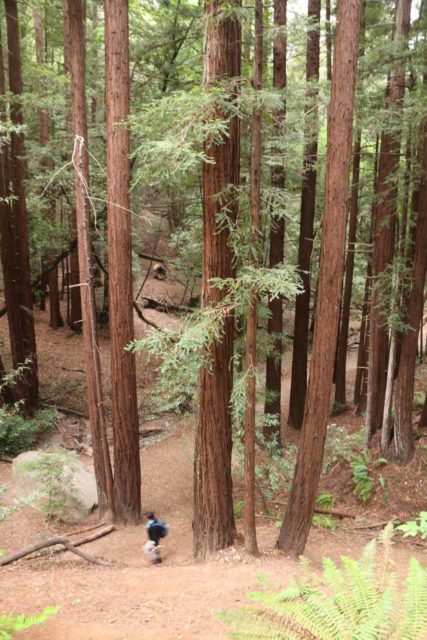 19-May 2016 to 22-May 2016:
So we continued driving northeast along the I-80, which was surprisingly heavily trafficked with not only trucks but also other passenger vehicles that appeared to be weekending in North Lake Tahoe or Reno or something. We didn't intend to go that far, but we could see that the interstate was climbing quite a bit. Anyways, the weather started to go from sunny to sunny with hail. Then, as we went further up the interstate, the hail became more persistent and we even started to see some accumulations of ice off the side of the road.
According to our GPS, we only had around 5-6 miles to go, but soon the weather continued to deteriorate from hail to heavy snow flurries. Now, things were getting serious, and it eventually got to the point that the traffic stopped completely. Seeing that the road was starting to accumulate snow and that we weren't prepared for the snow (i.e. no snow chains), we got off the nearest exit we could find so we could turn around and go back southwest along the I-80 to go back down the mountain.
It turned out that the exit we took was exit 155, and the road was already covered in a little snow. So it was a good thing that we were turning around at this point. However, when we got onto the on-ramp to go west and south on the I-80, we had lost traction with the road and started to slide sideways…
Day 1 (May 19, 2016 – Morgan Hill, California): "High Efficiency Road Tripping"
With Julie not feeling well, Mom stepped in and joined me on the first mother-son trip we've had in nearly 10 years. Indeed, it allowed a long-anticipated Northern California Waterfalling long weekend to happen though I knew it wouldn't quite be the same without Julie and Tahia on this trip. Anyways, given the uncertain state of affairs with Julie's health, nothing was booked until the very last minute so that meant that we'd be staying at a pretty dumpy motel somewhere in the Oroville vicinity on Friday and Saturday night (all the quality spots were either sold out or ridiculously expensive at over $300 per night). But other than that, we were successful in finding a place to stay on the first night in Morgan Hill, which was between San Jose and Gilroy. Having been on business trips to Silicon Valley in the past, I knew that San Jose traffic was nasty, and we wouldn't want to waste precious vacation time stuck in rush hour.
Well, the plan was to leave LA by 5am, but it wasn't until about 5:40am when Mom finally showed up. During this time as I was waiting for Mom to show up since 4:45am, I took the opportunity to cancel a booking at a place with bad TripAdvisor reviews in Yuba City called Lexington Inn & Suites and wound up booking a place directly in Oroville. The alternate spot (called Sunset Inn Lake Oroville) was also allegedly dumpy, and the combined room rate was another $100 more, but at least we wouldn't be wasting as much time driving.
So with that, we were off. As expected, there was some degree of rush hour traffic along the I-5, but thankfully, it wasn't too bad. It wouldn't be until another couple of hours later would we finally enter the Grapevine and Bakersfield vicinity, well beyond the rush hour of the LA basin.
At around 9:05am, we made a gas and quick brekkie stop at a Mickie D's somewhere between Bakersfield and Kettleman City. Right off the bat, our relatively clean and healthy diet was already going to hell. Anyways, we then resumed on the familiar featureless drive through the Central Valley along the I-5 until we'd ultimately arrive at the junction with the 152 near Los Banos.
Weather wise, it was pretty hot and sunny throughout the Central Valley. Given that, I didn't have high hopes going into this trip about any of the Bay Area waterfalls, but we were going to try for at least the Uvas Canyon Waterfalls as well as the Castle Rock Falls before continuing our journey further north towards Oroville, where the main prize was visiting Feather Falls.
However, the first thing we noticed while on the 152, we saw that the winds were quite strong and there were deep marine layer clouds seemingly coming from the west. I guess the strong winds was probably a result of the high temperature gradient between the hot Central Valley and the cool coastal area. Still, Mom and I were making such great time that we eventually got to the Holiday Inn Express at Morgan Hill (where we were staying for the night) at 10:50am. We were hoping for an early check-in so we could drop off our belongings before doing the hikes without providing any more temptations for a car break-in.
Unfortunately, none of the rooms were ready so we had to get right into our hike. And the first one of the day was at the Uvas Canyon County Park, which was said to be about a half-hour drive from Morgan Hill. So by 10:55am, we were back out on the road, and we followed Tennant Rd then Butterfield Rd, before getting to Uvas Rd, and finally the narrower Croy Rd.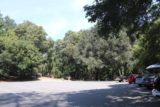 Once we got to the end of Croy Rd, we then had to pass through some private community called Sveadal (which sounded like something out of Norway; corroborated when I saw a sign saying something like "Trollbo"), and then once we got through that, we found the Uvas Canyon County Park. So after paying the machine-operated $6 vehicle fee, we then parked the car in the mostly empty lot at 11:25am and immediately laced up our hiking boots and got moving.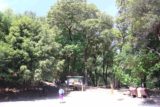 It was a good sign that we could hear a rushing creek as we got out of the car and headed to the restrooms. Then, we promptly went through a picnic area with lots of intersecting trails, which kind of made it a little confusing to us as we weren't quite sure whether we even got to the waterfall loop or not. Anyways, we were also trying to figure out if we should do the waterfall loop clockwise or counterclockwise. But that was a decision we ultimately punted for later.
As we walked past the picnic area, we saw there was a spur trail going up to our left for Alec Canyon. I took note that this might be an additional excursion to be doing after we're done with the waterfall loop as my research (and the map corroborated it) that there was a Triple Falls up there. Unfortunately, that waterfall seemed to be a little out of the way so we'd have to play that one by ear whether we'd have enough time for it or not (knowing that we also wanted to hike at Castle Rock State Park after doing this excursion).
Shortly after passing by the Alec Canyon spur, we saw further down to our right some small series of waterfalls. We saw that there was a trail that descended down towards a bridge fronting that waterfall, and as we got closer, we saw a sign saying it was called Granuja Falls. So Mom and I took a few minutes to photograph this falls before we resumed the hike further upstream along Swanson Creek.
After going by some attractive-looking (and signposted) live oak tree, we then went past a bridge before reaching a junction. We knew this junction was one end of the waterfall loop, and we decided to do this loop in a counterclockwise direction thinking that the right side was easier than hiking alongside (and possibly crossing) Swanson Creek. But as we continued along the trail to our right, we realized that the trail ascended as the ravine was deeper making the alternate trail appear lower the further we went.
The uphill hiking was kind of on the featureless side, and it was at that point that I regretted not starting with the lower creekside trail to the left first. Oh well, we made our decision, and we were now well into our ascent. Anyways at about 12:10pm, we ultimately reached a bridge with a small cascade next to it on our right. We then saw that there was a small trail of use to the left side of the bridge, and we decided to scramble alongside it.
Before we knew it, we found ourselves at what turned out to be Black Rock Falls (shortly after climbing past another smaller but attractive cascade). Mom went past the barricade and scrambled a bit closer to the small falls for a closer look. So we briefly checked out the falls, and then followed a more obvious trail to our right (as we went back downhill), which ultimately rejoined the main waterfall loop again.
We then continued going uphill and upstream when we then saw a pair of waterfalls to our left. As we got closer (at 12:25pm), we saw a sign identifying it as Upper Falls. We got closer to it, and realized that it was perhaps the most attractive of the falls we had seen in this park so far. So we lingered for a little while though the sun peeked through and shone right on the lower falls, which made the photos a bit less than ideal.
After having our fill of Upper Falls, we then continued walking upstream, and not long thereafter, we reached Basin Falls at 12:40pm. This was a pretty tiny waterfall compared to Upper Falls, and as Mom and I was busy checking out this falls, apparently there were mosquitos because I got a bite above my left eye plus I heard one high-pitched one buzz right by my left ear. So we hastily took our photos, then left.
As we headed back downstream, Mom wanted us to hike the part of the loop that went alongside the creek (the one we probably should've done at first on the way upstream). And as we did this, we were having a relaxing time briskly walking to the soothing sounds of Swanson Creek while still enjoying the shade from the tall trees around us.
At about 1pm, we reached a signposted waterfall called Little Falls. It was yet another example of why I regretted not doing the loop in a clockwise manner (as we could've checked out this falls while facing it on the way up). But anyways, we seized the moment and took photos of this falls before continuing towards the end of the waterfall loop right at the junction with the Alec Canyon Trail. The time was now 1:15pm.
It was getting late in the afternoon and Mom and I wavered as to whether we should do this side hike to Triple Falls or not. We still had Castle Rock State Park to do later today as well as checking into to our hotel plus having a quick lunch. Yet I also knew that we'd be facing Bay Area rush hour if we punted Castle Rock State Park for tomorrow morning. Nevertheless, Mom said that we were already here so we mind as well do this extra side hike, and so that was what we did. Sure enough, the Alec Canyon Trail was steeply uphill as the maps had indicated.
The uphill progress was slow thanks to the steepness of the trail, and it didn't take long before both Mom and I were a sweaty mess as the shade started to give way to exposure to the sun. At about 1:35pm, we reached some kind of partially obstructed lookout with a bench. I had thought this was the Manzanita Point (as indicated on the map), but it turned out to not be the case. Five minutes later, we then passed the Contour Trail Junction, where we saw the other end of this trail between Basin Falls and Upper Falls back at the Waterfall Loop.
Mom and I noticed at this lookout that the hills on the other side of Uvas Canyon as well as further down the canyon appeared to have shown signs of deforesting. It was a disturbing development, but we theorized that people with money from Silicon Valley must've bought up lots of land here, cleared it, then built McMansions. We even saw further up the hillsides even more cleared lands as well as other homes with large swaths of deforested areas. I guess this was a clear demonstration of perverse economic incentives in our economic system resulting in severe deterioration of Nature to the point where we'd run out of these things long term.
Shortly after this obstructed lookout, we then noticed that the trail had flattened out somewhat so our progress was a bit improved. We'd finally make it up to Manzanita Point at 1:45pm. While we were here, there was one lone older guy who caught up to us and was zipping by like he was on a mission. Clearly, Mom and I weren't the only ones on this trail.
After Manzanita Point, the trail actually started descending, which was worrisome since we knew we had to climb back out of this elevation loss after eventually visiting Triple Falls. Once we returned to the shade of the tree cover, we then encountered a signposted trail junction, where there was a seemingly dry creek adjacent to the Triple Falls Trail. We still had 0.2 miles to go, and so we hastily made our way up that trail to get to the falls as it was still getting late in the afternoon (dry waterfall or not).
At 2pm, we finally arrived at Triple Falls while passing by some interesting coastal redwood trees, which seemed to be even more abundant than around the Waterfall Loop we had done earlier. Fortunately for us, when we reached Triple Falls, there was some water in the falls, which meant that the dry parts of the creek really concealed the stream as debris was above the stream itself. But unfortunately, the water wasn't much. I guess this drainage received far less rainfall and springs than further down the hill. So the consensus between Mom and I was that Triple Falls wasn't really worth it, and perhaps that was why we didn't really see this waterfall in the literature.
Now that we had our fill of Triple Falls, we headed back to the car park. And since most of the hike was downhill (except for that initial uphill in the sun), we quickly made it back there by 2:40pm (passed once again by the lone hiker we had seen earlier). There was still one more waterfall to visit at the Lower Falls (which Ann Marie Brown called Uvas Falls in her book
), so I was determined to at least do that one before finally leaving Uvas Canyon County Park. So after Mom took a potty break at the restroom near the car park, we then descended past the picnic area, and then we found a sign fronting a narrow trail dropping back down towards Swanson Creek.
Once we got to the creek, we walked downstream, where we then followed a narrow trail that went around a large rocky cliff or rock formation before dropping down towards the base of a waterfall that turned out to be the Lower Falls. This wasn't a tall waterfall, but it was nice compared to some of the other falls we saw on the Waterfalls Loop. It was flanked by some impressive cliffs, and both Mom and I had this falls to ourselves so it was nice and pleasant.
Once we had our fill of this falls, we then quickly went back up to the car park, and we'd get there at 3:05pm. Once we got back up there, we startled a couple of deer, which sensed our presence and pranced their way around the car park before disappearing into the bush up the hill. There appeared to be quite a few more cars in the parking lot at this time, which made me wonder if people started to get off work or something then came here.
As we drove off, we decided to try a different road to get back to the Holiday Inn Express in Morgan Hill. It turned out that we probably should've taken the original way as we were driving some narrower and twistier roads through some ranch lands (including one ranch where there appeared to be a wedding going on). So now we know. By about 3:40pm, we finally made it back to our accommodation, where we promptly checked in and then drove off 15 minutes later as we went looking for the recommended Beach Hut Deli for a quick takeaway lunch.
We'd finally get to the Beach Hut Deli at 4:05pm, and then 10 minutes later, we finally returned to the car with our takeaway food. Finally, we could drive off in search of Castle Rock State Park, but indeed it was getting late in the day, and I was getting nervous about not being able to do it on this day let alone on this trip.
Luckily for us, the traffic on the 101 freeway was mostly going south. Heading north, it was pretty smooth going. Then, when we hit the 85 going west, it was also relatively smooth. So we were making good progress as we then took the Hwy 17 due south past Los Gatos and into the Santa Cruz Mountains. Once we eventually got off at the Montevina Rd off-ramp, we then drove north along the freeway towards Black Road. We then headed west on Black Road and things were going pretty smoothly until we were stopped by some power pole workers who said the road was closed and that we had to take Gist Road in order to continue past this point.
They said that there was a fallen tree or something, and that our late start was now going to be even later thanks to this detour. So immediately, we backtracked and drove some 1.3 twisty miles before turning right onto the single-laned Gist Road. Since there was traffic going in both directions, we had to be very careful when passing by cars going in the other direction. There was one car in front of us who was kind of a pathfinder.
Eventually, we'd be done with Gist Road and finally onto the Skyline Blvd. At that point, we continued driving north along Skyline Blvd until we finally arrived at the entrance gate and car park for Castle Rock State Park at 5:15pm. Seeing that the park was said to close at sunset, Mom ensured that we wouldn't be locked in the day use car park area by parking just outside the gates like what many other people seemed to have done as well. Anyways, contrasting with the weather back at Uvas Canyon, where it was more like in the 70s, here at Castle Rock, the temperatures was more like in the 50s. So it was quite chilly, and the marine layer was apparently taking over as well as the sun was starting to become even more blocked out.
With daylight fading fast, Mom and I immediately made our hasty hike downhill in pursuit of Castle Rock Falls. Of course as we were racing against the daylight (and dinner at a reasonable hour), we were also delayed by stopping for the scenic coastal redwood trees that were all over this trail. I'm sure under less hasty conditions, this would be quite the scenic hike to enjoy. Anyhow, onwards we marched as the trail was going downhill until at 5:35pm, we'd eventually reach the overlook for Castle Rock Falls.
The viewpoint up here was a bit on the disappointing side since looking down at waterfalls from its top typically was not a very fulfilling experience. We did notice some faint trails of use traversing the creek responsible for Castle Rock Falls and going up the other side perhaps in pursuit of a better view of the waterfall. But it was all unofficial, and given how late in the day it was getting, I decided to appeal to my better judgement and skip out on trying to improve the view of this waterfall.
So now Mom and I hiked back the way we came, which was mostly uphill. Having seen some signposted trail junctions for Castle Rock, we decided that on the way back, we mind as well make a detour to see what this Castle Rock was all about. We had seen glimpses of some interesting sandstone rocks with hotpoles and mini-arches in them, and so we were curious whether the namesake rock might be worthy of having a state park named after it.
The detour trail seemed like it took some time, and we wondered if 0.3 miles (as stated in the signpost) was really shortchanging the actual distance. But eventually at 6:25pm, we'd finally arrived at the Castle Rock. There was one barefoot hiker who was rock climbing some of the other rocks here, but it was he who pointed us the way to the main Castle Rock itself, and boy was it pretty impressive.
Indeed, this rock was full of interesting arches and holes, and it made Mom and I wonder how the sandstone became this way. As we walked around this imposing rock formation, we saw on the windward side that there was a tongue-looking pedestal as well as a little alcove with very interesting science-fiction alien-like patterns on the alcove walls. Indeed, this wall kind of reminded me of something I might have recalled seeing while playing the game System Shock
on the PC many years ago. Mom and I theorized that such patterns must have been a result of the fact that this area might have been under water millions of years ago. Otherwise, we couldn't figure out how such strange alien-like patterns could be possible.
After having our fill of Castle Rock, we then hastily walked back to the car park. And we'd eventually get there at 6:45pm. As we drove back along Skyline Blvd, we saw that Black Road was still closed so we had to go back down via Gist Road again. But unlike on the way up, there was much less traffic on the way back down. And so once we were back on Black Road, then on the Hwy 17 headed back to Los Gatos, we'd finally be in town at around 7:15pm.
Our first choice for having dinner was some kind of cafe that rated #1 on Yelp for Los Gatos, but that place was closed as it wasn't a dinner spot. So we eventually walked all the way to this place called the Forbes Hill Steakhouse. And after entering the restaurant, it was clear that we were way underdressed for this place. But in any case, it was a Thursday night, and we were hungry.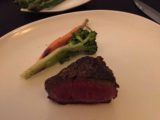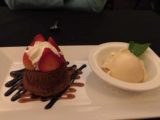 So we had ourselves a steak dinner split between us as well as an assortment of appetizers (foie gras, seared tuna, scallops, and some kind of mushroom ravioli. The dessert was a classic chocolate cake with ice cream. Anyways, the dinner was satisfying though I'm sure we both spiked up our sugar and carbohydrate intake in this one meal. Plus, the cost of the dinner was around $150, which was way above the budget I was expecting to spend for dinner.
Still, Mom was not used to having this kind of food, and she seemed to enjoy herself. It wouldn't be until around 8:50pm that we were finally done with the dinner and then back in the car. And at 9:25pm, we finally made it back to the Holiday Inn Express at Morgan Hill. With this long day finally over (that started with a 4:30am wake-up), both of us were beat and crashed in our rooms after having taken a shower and tending to our oral hygienes.
Tomorrow, we were going for another long drive as we'd leave the Bay Area and head north towards Oroville with some stopovers at a few waterfalls, including a real out-of-the-way one at Grouse Falls…
Day 2 (May 20, 2016 – Oroville, California): "Snow Dramas"
It was about 5:40am when I awoke. I had my alarm set at around 5am, but clearly I had overslept. I guess I was really beat from the long day of driving and hiking yesterday. In any case, Mom was already ready to go, and so I quickly got my stuff together while freshening up for the day. It didn't take long before we loaded up Mom's car and then we promptly got right to the atrium to have breakfast right when they were open at 6am.
The brekkie was the typical Holiday Inn Express fare with fruits like bananas, apples, and oranges, as well as some oatmeal, cinnamon rolls (hot), danishes, bacon, eggs, and pancakes. It was stuff to hold us over, but I'm sure it would be terrifying in terms of the carb- and sugar-free diet that Julie and I had been committing to in order to heal our guts.
Nevertheless, it was about 6:30am when we checked out and left Morgan Hill bound for Oroville, where we were going to spend tonight and tomorrow night. As expected, the traffic going north on the 101 Freeway was a little on the heavy side, and so I knew we made the right decision in not punting Castle Rock Falls for today and fitting that excursion in yesterday. So we promptly drove east of downtown San Jose then in the general direction of Pleasanton then Stockton as we were headed towards Sacramento.
Unlike yesterday, the skies were very overcast, and it looked like it was threatening to rain. Having not looked at the forecast when we did this last minute trip (assuming that this weekend would be as dry as the rest of the California Spring we've been having), I didn't expect to be hiking in the rain. Anyways, once we went through Sacramento, we then continued driving in the northeast direction towards Auburn. Once there, we then got off the I-80, filled up on gas, and drove onto Foresthill Road where the weather was already starting to sprinkle. I figured that would be a worrying development considering that we were pursuing a pretty remote waterfall called Grouse Falls, which involved driving on some unpaved roads as well as climbing up to a higher elevation, where it might be possible we'd be encountering snow.
When I was trip planning, I thought this waterfall was way out of the way and would take a very long time to reach and experience perhaps due to bad roads, but it turned out that the Foresthill Road was pretty smooth going as it was completely paved, and it had nice scenic views in the direction of the Middle Fork American River. Mom wanted me to stop and take some pictures of the canyon, but I knew that with the weather threatening the way it was, we had to get to the falls first before heading back and only then considering additional stops for photos.
Eventually as we drove some 16 miles into the community of Foresthill, the GPS then had us turn right onto Mosquito Ridge Road, which was a narrower but paved and quite scenic road twisting its way deeper into the Tahoe National Forest. While on Mosquito Ridge Road, we were driving some 19 miles, and it seemed like we were the only ones on this road. Our loneliness was broken up by a car going the other way deep along Mosquito Ridge Road. He flashed his blinkers and high beam to try to get us to stop and talk to him. When we obliged, he asked us about some dam that we had never heard of. We told him of our intentions to visit a waterfall and knew nothing about the dam, then he also said he was running out of gas, which reminded us that we were wise to have filled up on gas before even taking on this drive. So aside from that little exchange, Mom and I continued on the drive without anyone else in sight.
To break up the long drive, fortunately, I was getting reception for the Jim Rome Show (probably from CBS Sports Radio in Sacramento), but eventually we were so far away from civilization that I was getting nothing but static (and hence the "thefty" Mickelson take at the time) as we were about to leave Mosquito Ridge Road for Peavine Road.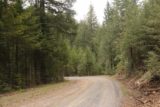 Once we got onto Peavine Road (where a signpost notified us to go left for Grouse Falls), the road became unpaved, but it was a wide gravel road. At first we didn't think it was the right road because it wasn't explicitly signed for Peavine Road, but after going back and forth once, we decided to just pursue this road and it turned out to be the right decision after seeing yet another sign for Grouse Falls. This time, the sign had us turn left onto a more dirt road that was still well used but it did give me some concern about mud if it would be raining hard. Fortunately, this road was only this way for the last half-mile.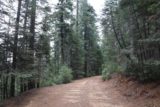 Mom's thermometer in the car said it was in the high 30s and low 40s F, and so instead of rain, we were getting hail. Eventually at 10:35am, we finally made it to the trailhead for Grouse Falls. Mom and I were a little worried about hiking in both rain and hail, but the weather appeared to have calmed down by the time we got to the trailhead. We both donned a jacket as well as some rain gear just in case.
Next, we walked on a pretty obvious trail that snaked its way amongst some impressive tall pine trees as well as perhaps a sequoia or two. The hike was mostly downhill and we knew that we'd have to get back this elevation loss on the way back. Still, we hastily continued our hiking as we were looking to experience this falls then head back to Auburn for lunch.
Eventually at around 11am, we eventually arrived at the lookout platform, where the tall trees opened up and allowed us to get a distant view of the impressive Grouse Falls. We didn't have measuring equipment to tell exactly how tall this waterfall was, but we've seen figures on the order of 500ft or so. But since we were far away from it, we couldn't really get a real impactful sense of its size.
It didn't look like there was a sanctioned way to get closer to the falls for a more intimate experience, and so we basked in the overlook experience for as much as we could before having our fill and returning back uphill to the trailhead. Mom had this idea that we should have a picnic here, but given the threatening weather and the plunging temperatures, we thought better of it and headed back a few minutes after taking our photos and videos.
As we were hiking back uphill through the grove of tall pines and redwoods, it started hailing again. In fact, it hailed heavily enough that we were starting to see some ice accumulation on the trail (at least enough to present some white against the brown surface of the trail). Mom and I were preoccupied with looking at the pebble-sized hail stones before continuing our hike and arriving back at our parked car at 11:30am.
Just when we returned, there was a pick-up truck that had just showed up with a couple. Once again, we weren't alone. This couple said that they chanced upon this waterfall after having visited some other thing nearby. They did mention there was some grove of sequoia trees not too far from here, but without a map marking its location, we couldn't really trust the verbal instructions given that there were all sorts of intersecting roads, and this was certainly not the place to get lost with a looming storm. When we parted ways the guy kept saying to us not to tell anyone else about this place! I guess this area was one of the better kept secrets in California…
So after a brief futile search for the redwoods after driving off from Grouse Falls, we'd eventually be back on the Mosquito Ridge Road headed back to Foresthill. And it wouldn't be until about 1:10pm when we finally got to a lunch spot in the town of Auburn at this hole-in-the-wall called the Flaming Burrito. The food turned out to be pretty filling yet delicious as both Mom and I split a grilled fish taco along with a very satisfying and tasty carnitas burrito. They also had a fresh chips and salsa bar, which really filled us up.
When we left the place, we were given a warm good-bye from not only the friendly lady cashier, but we also got smiles from the Latino cook, who we suspect must be the owner. Indeed, when you get authentic Mexican food from the heart, you almost always get a positive experience.
So it was about 1:40pm when we were back in the car. The skies were now partly cloudy and the sun was definitely out. The temperature in Auburn was definitely much warmer than Foresthill as the temps were more like in the 60s and 70s instead of the low 40s. And since we still had a whole afternoon left before arriving in Oroville, we figured that we mind as well try for a quick waterfall along the I-80 called Devil's Falls. After all, the more waterfalls we experience on this trip, the fewer waterfalls we'd need to experience on future trips to this part of California (that we never really had surveyed before).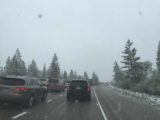 So we continued driving northeast along the I-80, which was surprisingly heavily trafficked with not only trucks but also other passenger vehicles that appeared to be weekending in North Lake Tahoe or Reno or something. We didn't intend to go that far, but we could see that the interstate was climbing quite a bit. Anyways, the weather started to go from sunny to sunny with hail. Then, as we went further up the interstate, the hail became more persistent and we even started to see some accumulations of ice off the side of the road.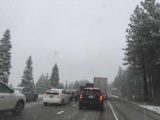 According to our GPS, we only had around 5-6 miles to go, but soon the weather continued to deteriorate from hail to heavy snow flurries. Now, things were getting serious, and it eventually got to the point that the traffic stopped completely. Seeing that the road was starting to accumulate snow and that we weren't prepared for the snow (i.e. no snow chains), we got off the nearest exit we could find so we could turn around and go back southwest along the I-80 to go back down the mountain.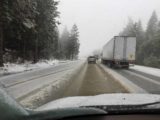 It turned out that the exit we took was exit 155, and the road was already covered in a little snow. So it was a good thing that we were turning around at this point. However, when we got onto the on-ramp to go west and south on the I-80, we had lost traction with the road and started to slide sideways. Luckily, no other cars were around us, and when we finally regained our traction, we then slowly got back onto the I-80 and now left a lot of space between the car in front of us and ourselves.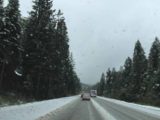 Just like our surprise snow experience near Kitchen Creek Falls east of San Diego some 8 years ago, I knew that I had to tread that fine balance between keeping the distance while not stopping. I knew that if we stopped, we might lose traction with the road in getting started again. It was a bit unnerving driving with this much snow without chains, but we were making good and slow but steady progress.
Eventually, we were at low enough elevation that the snow eventually became rain and the pavement from the I-80 could be seen again. So with our plans for Devil's Falls nixed, we next pursued Rush Creek Falls, which was another waterfall we targeted on visiting before continuing on to Oroville. So we'd eventually leave the I-80 and drive onto the Hwy 174 where the weather was now a pretty persistent rain.
Once we got through the busy Grass Valley town, we then drove northeast along the Hwy 20 before finally heading west on the Hwy 49. I wondered why we couldn't drive the Hwy 49 from the I-80 originally, but then I realized that the Hwy 49 was where Devil's Falls was, and we never made it that far thanks to the snow.
So it wasn't until about 3:35pm when we finally found the South Yuba Independence Trailhead, which was essentially a large paved pullout with at least three handicapped spots. Mom and I were a little nervous about break-ins since the trailhead parking was so close to the busy Hwy 49, but we donned our rain gear and promptly got started as the weather was still raining at first before the rain started letting up and became more overcast skies.
At the trailhead, we took our much needed bathroom breaks, and then we had to decide on which trail to pursue. Apparently, there was an Independence Trail West and an Independence Trail East. Upon studying the signage a bit more, we saw that Rush Creek was on the Independence Trail West, but the East Trail had an arch rock. So I made a mental note to come back here and walk part of that other trail just to check out that arch. After all, I didn't expect this hiking excursion to take that much time.
With the foliage dripping with moisture and the trail muddy with puddles (and many of these red-colored lizards or salamanders scurrying across the trail in many spots), this hiking experience reminded me of Oregon. Speaking of the trail, it was interesting in that it was often split between an upper and lower section. Since this was supposed to be a handicap-friendly trail (perhaps that's why it was called the "Independence Trail"), the lower trail was wider and more wheelchair friendly while the upper trail was for those who could walk.
There was a trail junction along the way, where a sign indicated that it headed towards the Jones Bar Road. Since I knew that this trail was supposed to be wheelchair-friendly, we kept going on the main trail, but the map showed that this spur trail descended towards Rush Creek, and it made me wonder whether the waterfalls would be down there.
Nevertheless, we stuck to our guns and kept at the main trail. Mom and I remained vigilant about accidentally trampling those red lizards or salamanders as they were abundant, especially where there were puddles from the rain. But after about an hour on the trail, we reached this real interesting section where there appeared to be a long curvy bridge with open-air bars lined overhead. It was kind of like the line of red torii in Kyoto, Japan, except what we saw in this apparent "flume" section was mostly wood. There were plenty of signs expressly prohibiting smoking for obvious reasons.
Mom and I were busy trying to see if we could get better views of the cascades on Rush Creek seen downstream from the flume. But while there were more impressive tiers, we never really got a clean look thanks to all the overgrowth. Now there was also another section of the flume that zig-zagged down to the banks of Rush Creek, but there were a few wooden planks nailed in I guess to prevent access.
Mom and I weren't sure why this part was closed, but there was enough space beneath the planks to crawl underneath and then check out the rest of the flume. And it was a good thing we rebelled in this way because it turned out that we were able to get an attractive look at one of the topmost tiers of Rush Creek Falls, and it was the only spot on the creek where we had a satisfying view of any of its cascades.
So we enjoyed this waterfall for a bit before having our fill, and then we returned to the main trail shortly after 4:40pm. Thinking that the rest of the Independence Trail would be flat and easy, I decided that perhaps we should continue the loop trail. We had anticipated the hiking to be on the order of 2 miles round trip, and perhaps the completion of this loop would make the 2 miles.
But as we continued our hike, the more we started to realize that perhaps completing the loop hike was a mistake. For it was now getting closer to 5pm and it seemed like there was no sign of the Jones Bar Road at the other end of the loop. In fact, it wasn't until 5:25pm when we were finally at the Jones Bar Road, which was a seemingly unused unpaved road.
And as Mom and I followed the Jones Bar Road back towards Rush Creek, we noticed that the road was descending. We'd eventually make it all the way towards where Rush Creek joined up with the South Yuba River, where there was a bridge over Rush Creek. And down at this bridge, there was indeed no waterfall, and so completing this loop was indeed a mistake as we had surmised earlier on. So our anticipated two-mile round trip hike was now probably more on the order of 5 miles!
Anyways, beyond the bridge over Rush Creek, we saw the steep uphill trail returning us to the Independence Trail. Both Mom and I were huffing and puffing as the ascent was taxing. And it wouldn't be until about 6pm when we finally regained the Independence Trail (probably about an hour behind schedule at this point). Five minutes later, we were back at the trailhead, where thankfully, our vehicle wasn't broken into. However, there was another van parked here so apparently we weren't alone on this trail.
Even though it was now pretty late in the day and no matter where we would eat dinner, it would be during the busiest time, I was still determined to check out the arch rock before heading back to Grass Valley for a bite. So we hastily made our way onto the Independence Trail East, where we probably walked a good 1/2-mile or more passing by a very scenic bridge with a view down towards the South Yuba River with rapids and cascades loudly crashing below. And then a few minutes after this scenic stretch, that was when we finally saw the Arch Rock at 6:20pm.
It was a small rock that could be argued that it was more of some rocks stacked onto each other forming the "arch", but it was still interesting nonetheless. The weather at this point was now partly cloudy as the sun was poking itself through the clouds. And after having our fill of the Arch Rock, we then were back at the trailhead at 6:40pm. There was one young lady walking her dog along this trail so perhaps that van belonged to her.
Once we were back in the car, we now had to negotiate a tricky re-entry onto the high-speed Hwy 49 as there was a blind turn near the trailhead. So I kept the windows down listening for any oncoming traffic before quickly speeding onto the Hwy 49. And once we were on the highway, we were then promptly in Grass Valley at 7:10pm. After seeing some Yelp reviews, we decided to eat at this place called Cirino's, which was an Italian restaurant.
The walk to the restaurant was interesting in that Grass Valley seemed like a historical town with some interesting architecture reminiscent of the 19th century or something. I'm sure this could've been a pretty neat place to stay and check out despite the cold weather and threatening rain. But since we still had to drive up to Oroville, we were here for dinner, and then promptly leave thereafter.
We had to wait for a bit before being seated and served, and we really weren't sure what we should be ordering here. But we ultimately got samples of their Bloody Mary (which was like a V8 with some alcohol) as well as some Bloody Mary slider, some Moroccan chicken salad, and some kind of interesting prosciutto-wrapped grilled prawns. The food was good and we didn't really overeat though I somehow got the feeling that we didn't really get anything they were famous for since we knew there were pretty large portions here.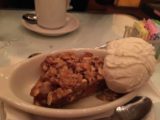 At 8:30pm, we were back in the car. The temperature was now 44F and it was quite cold as we started to drive off. As we got onto the Hwy 20, the sun was setting and we were pretty much driving in darkness. It took some time before we then drove north on the Hwy 70, which was a pretty straight shot road. And ultimately by 9:30pm, we arrived at our sleepeazy in Oroville called the Sunset Inn Lake Oroville.
Beggars can't be choosers with last-minute bookings like this (especially on a Friday and Saturday night), and so we wound up with a smoking room (it definitely reeked of smoke) with a broken toilet seat cover and plenty of stains in the bathroom and the sink area. There were even cigarette holes in the sheets and the nasty duvet cover.
Indeed, this place was a sleepeazy (which was our code for "sleazy" borrowed from the Simpsons), and we'd have to put up with it for the next two nights. But given that we'd be out for most of the day tomorrow as well, we figured that it was a small price to pay for at least having a roof over our heads as well as a hot shower. Tomorrow was the big hike to Feather Falls, but the weather forecast didn't look good as it was forecasted to rain all day tomorrow. Yikes!
Anyways, for better or for worse, we were doing this hike no matter what. So we mind as well get our rest and see what happens when tomorrow comes…
Day 3 (May 21, 2016 – Oroville, California): "Doing it the Right Way"
It was 5am when Mom and I awoke. Having seen the forecast from last night, our mentality was that we were racing against the rain. When we looked out the window, it was still dark, but the ground didn't look wet so we knew it hadn't rained yet. And when Mom looked at the forecast on her phone, apparently, it was supposed to rain at around 11am today, which suggested that if we didn't want a soggy hike, we had better get started as early as possible.
So by 5:40am, we were already freshened up and got dressed for our hike. Bringing along our rain gear and our waters, we were mentally ready for our 9-mile hike rain or shine. After grabbing a quick breakfast to go from the nearby McDonalds, we then drove on Lumpkin Road towards the Feather Falls Trailhead.
As the daylight started to break through the darkness, Mom and I could clearly see that it was very overcast, and that the clouds in the direction of the mountains looked pretty dark. It was already starting to sprinkle a little as we were further along Lumpkin Road.
Speaking of the road, it was all paved though it was surprisingly narrow for a two-lane road that was said to be very popular. It was a good thing we spent the night in Oroville instead of Yuba City (over an hour away) because the drive seemed to have taken longer than expected. In fact, it wasn't until about 6:40am when we finally made it to the mostly empty Feather Falls Trailhead. The only people that we were already here were folks who saved money by camping in the cold weather.
At 6:50am, Mom and I got started on the hike. The ground here at the trailhead was wet so indeed it looked like the rain definitely had hit this area. We signed in the trailhead register, and I noticed that some of the previous entries said something to the effect of "Don't do it!" I wasn't sure if they were joking or if they really meant it, but I suspected the 8-9 miles we were signing up for had something to do with it. Anyways, as we were hiking, the weather pretty much vacillated between sprinkling and overcast skies. The weather was also quite cold (in the high 40s and low 50s) so there was also quite a bit of low clouds creating a misty foggy effect.
About 15 minutes into the trail, we reached a junction. A sign at this junction said the falls was 3.3 miles away if we went left, while an adjacent sign said the falls was 4.5 miles if we went right. Recalling from a write-up of this hike from Leon Turnbull, we knew we were better off going right. Little would we realize just how much of a wise move this would be.
Anyways, most of the initial part of this hike was either flat or gently downhill amongst a dense grove of tall pine trees and oaks or other cold weather trees. This scenery persisted for the next 30 minutes or so as within the grove of trees, it was still dark enough for my camera to require me to hold still to take photos even though our eyes could clearly see that it was definitely daylight.
At 7:35am, we then got to a bridge over a rushing creek with a nice cascade just upstream of it. A sign here said it was Frey Creek, and there was an interpretive sign saying something about a riparian environment. Anyways, the attractive shape of the falls was reminiscent of something we might have seen in Tennessee at Bald River Falls without the fall colors. In fact, on its own merit, this falls could've easily been an attraction on its own.
Still, we had bigger fish to fry so to speak, and so we continued on with our hike. Beyond Frey Creek, the trail definitely started to climb. It was the first uphill stretch we encountered on this trail, but at least this climb wasn't terribly steep. It was just somewhat of a steady climb before the scenery started to open up a bit and we could see patches of low clouds hovering just above the thicket of trees all around us.
At 8am, the uphill stretch of trail peaked at a lookout for the Bald Rock Dome, which was way in the distance. There was also some waterfall also in the distance near that one as well. I knew that wasn't Curtain Falls as that other waterfall was on the Middle Fork Feather River. I wasn't sure what that other waterfall's name was. In any case, the presence of this dome kind of brought us back to the kind of granite scenery more typically seen in Yosemite National Park. In fact, the interpretive sign here said that it was similar in geology to that of Half Dome.
Beyond this lookout, the trail was pretty much flat to slightly downhill again, but the density of trees was less so we could always look in the distance towards the contour of the canyon carved out by the Middle Fork Feather River. This stretch of trail persisted for the next 45 minutes or so, and though Mom and I pretty much had this trail to ourselves, there was a young Indian couple that passed us at 8:45am.
Five minutes after they passed us, we then got to another trail junction with a signpost labeled "Falls" pointing to our right. There was also a path going left, but since there was no signage in that direction, I figured that was the continuation of the loop hike but headed back to the Feather Falls Trailhead. So we followed the sign and promptly went uphill on a couple of long switchbacks before the trail straightened out while continuing its uphill climb.
The surprising thing about this part of the trail was that it looked like it was paved (or at least paved at some point in its past). We couldn't imagine why a trail like this would be paved, but perhaps they didn't want overgrowth to take over or something with the pavement. Anyways, at about 9am, the climb peaked again, and we found ourselves at the Middle Fork Feather River Lookout, where there was a railing and a bench along with signage.
We could clearly see the river further downstream, and we could also hear the faint clashing of water of what clearly must be Feather Falls. Indeed, we must've been very close. As we were busy taking photos of the river from this overlook while also seeing the clouds move in and out of view, I couldn't help but notice how clear Mom's photos were as they were taken from her iPhone 6
. It made me wonder if the quality of the Canon EOS 70D camera
just wasn't as clear nor as good as the iPhone, and it certainly made me wonder if I had made a mistake going from the Canon EOS 7D camera
to this 70D model.
Anyways, after getting our fill of this overlook with the nice view, we then followed the railings and continued to get closer to Feather Falls. As we continued on the hike, we could start to see parts of Feather Falls through the thick foliage. There wasn't a clean view of the falls so we knew that we had to keep going.
Eventually, we'd reach a sign that pointed to the left and down for "Overlook", while there appeared to be remnants of steps to our right. We figured that the other trail must be for the top of Feather Falls and perhaps beyond.
Anyways, continuing with the descent to the overlook, the views of Feather Falls continued to be obstructed by all the neighboring bush and trees, but the falls was definitely very loud and it just hastened our pace to keep going. Eventually at 9:15am, we descended the last stairs before reaching the dead-end of the trail right at the overlook. The platform smelled like new wood or something as its aroma was intoxicating. Still, to the right, we could get a clean top down frontal view of the impressive Feather Falls. We were also able to look downstream at the Middle Fork Feather River (though Feather Falls was technically on the Falls River) as well as some imposing rocks and cliff formations almost next to the overlook that appeared to be perched atop some rock spire or something.
Just looking down from the overlook platform was enough to induce butterflies. And so Mom and I spent a good deal of time taking photos and just enjoying the place. It still hadn't rained as the forecast had predicted, and in fact, there was even a little sun breaking through.
When we arrived at the overlook, the Indian couple that caught up to us were still at the overlook, and after spending a good 30 minutes enjoying this spot, we left the overlook while they were still there. Mom suspected that these folks were probably waiting us out so the guy can propose or something. At least that was her theory.
So as we climbed back up to the "Overlook" sign, we then took the continuation of the steps to our left and followed a more overgrown trail as it skirted the ravine near the head of the canyon responsible for Feather Falls. We were trying to be very careful about limiting our exposure to poison oak due to all this overgrowth. And eventually, we were at a point where we saw some trails of use (i.e. informal "trails") descending steeply towards the banks of the Falls River.
At first, there really wasn't a whole lot of things to see up here besides the river itself. And we suspected that people would probably chill out here under lower flow and hotter weather to go for a swim or a dip here (without getting swept up in the current). But the unsatisfying experience from a scenic standpoint made me wonder if it was possible to scramble closer to the brink of Feather Falls. After all, from the main overlook, I had seen some fencing right by the brink of the falls.
So after spending a few minutes looking for a way to the top, it was clear that none of the trails in the bush appeared to go where we needed. And so we eventually rock scrambled our way closer to the falls, and then we got to a spot where I was able to crawl through an "arch", which was really more like a huge rock stacked on top of two other rocks leaving the gap that was just big enough for me to crawl through.
Once I got to the other side of the arch at 10:10am, there was a small bit of scrambling to get right up to the fencing by the brink of Feather Falls. It was difficult to get a clean view of the waterfall from up here, and I could see why people would be tempted to take risks to get a closer look. There was even a sign here saying some guy died from this spot.
But perhaps what was even more surprising to me was that there was a plaque above the crawlway saying something about "Cooper Point in memory of Dr O.O. Cooper". And as I examined the area even further, it looked like there was some remnants of supports for what might have been a former overlook here. Perhaps this spot was a sanctioned trail and lookout, but then it might have been washed away in a flood or something in high flow. And so what's left now is only for those willing to do a little adventuring to find out about this spot.
Now while I was up here checking out the falls, I was able to look right across the deep ravine towards the overlook we were at earlier. The Indian couple was still there, and I wondered if they were able to see me from their vantage point.
Anyways, with nothing else left to do or see at this point, we scrambled back onto the spur trail, and by 10:40am, we were back at the main trail near the "Overlook" sign again. When we regained the main trail, we saw the Indian couple in front of us though they were faster hikers so they eventually left us in the dust. But when we got back to the Middle Fork Feather River Overlook, we encountered a handful of more hikers about to go to the end of the trail.
And after getting our last fill of this overlook (where we noticed there was a boat in a calm part of the Middle Fork Feather River), we were now headed downhill along the paved part where we encountered even more hikers going the other way. Clearly, our early start afforded us some peace and quiet, and now we figured that the overlook would probably be a bit more crowded as time would go by and we'd be seeing even more people going the other way.
By 10:50am, we made it back to the "Falls" sign, and now we continued our anticlockwise loop hike as we were now on the lower part of the loop. The trail continued to descend fairly moderately, and we were certainly glad that we went in this direction because as we were seeing other hikers going the other way, we could clearly see a lot more heavy breathing from the apparent prolonged uphill of hiking they had to do.
This lower loop trail was pretty much a continuous mix of dense forest with even denser gullies to skirt in and out of, where the overgrowth seemed to be the most intense. These stretches of overgrowth and moisture were also where we spotted a bit more of those red lizards or salamanders that we had seen so much of on the South Yuba Independence Trails yesterday afternoon.
The trail would eventually bottom out before undulating for a bit as we briefly climbed towards a lower lookout of the Bald Rock Dome (getting here at 11:15am). The signage here was the same as the one from above, and it was clear to us that the photo on that sign was taken from this spot since it seemed to have a cleaner view.
The trail then continued to climb beyond this point as it made its way up towards Frey Creek. And when we got to another bridge over Frey Creek at 11:50am, we could clearly see that there was no waterfall. However, there were benches, and just merely walking alongside the stream was relaxing. But other than that, this stretch of trail had been more featureless than what we had encountered on the longer part of this loop further uphill.
Beyond the Frey Creek Lower Bridge, now the trail went up a series of switchbacks. We knew that with all the elevation loss we had benefitted from for most of this hike, we had to get it all back sooner or later, and the pain was now, pretty much towards the end of the trail. So both Mom and I were breathing heavy as we slowly made our ascent while still more people were making their descent.
At about 12:20pm, we arrived at some interpretive sign covering the Maidu Indian Native Foods Prep site, which was really a jumble of big boulders in somewhat of a clearing surrounded by tall trees. We'd eventually catch up to the Indian couple again shortly after this spot as apparently the female was catching her breath from the long hike. They'd eventually pass us once again not far from the original trail junction at about 12:25pm.
A few minutes later, we finally returned to the familiar car park at 12:35pm. There were yet more hikers starting their hike at this time, but they wondered whether they should be going left or right. And based on our experience, we advocated going right even though it was longer than the left from a distance standpoint. But seeing how much the other hikers were suffering from going the left way, we were certain that we did this right.
Anyways, we were surprised to see just how full the Feather Falls lot was. And unlike the weather forecast we had seen earlier this morning, there was quite a bit more sun and blue skies now. So clearly, the forecast from this morning was wrong. But our early start was warranted given that some people even had to makeshift park further down the road as the main parking spots were pretty much all filled up.
The drive back to Oroville took a bit of time as I was getting a little sleepy behind the wheel. And thankfully, we'd be back in the town at around 1:40pm or so. Since Mom was hungry, we went looking for a lunch spot, but the top eatery here was some Greek place that was right across the street from the Sunset Inn that we stayed at. Unfortuantely, that place was closed. And then the second place we went to was also closed (called Jenn's Cafe). Mom was willing to settle for the Appleby's, but I stuck to my guns and went to the nearby Italian Kitchen for a sandwich or wraps and a salad.
So at 2pm, we finally had our lunch, and 30 minutes later, we returned to our sleepeazy. While I was tempted to try to fit in another hiking excursion on this day given how early we had returned to Oroville, I decided that we were better off just resting up and relaxing for the first time on this trip. Mom was relieved that we wouldn't be doing any more hiking anyways since her knees were getting sore from all the hiking of this weekend so far.
We spent the next couple of hours napping and forgetting how dumpy our room was.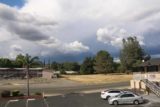 At 5pm, we were finally leaving for an early dinner. As we went outside, we could see there were some menacing dark clouds in the direction of the mountains. Perhaps it was snowing again or something up in Reno and Lake Tahoe, but it wasn't really raining at all (plus there was quite a bit of sun and blue skies in town). So perhaps our decision to take it easy this afternoon was wise.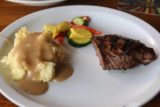 We went deeper into the historic part of Oroville, which had some interesting architecture in that it reminded us of something that might come out of the 19th century during the gold rush days. In fact, Oroville might have been a mix of Spanish (oro is gold in Spanish) appended with "ville". We were looking for this place called Miner's Alley Pub seeing that there didn't seem to be that much of a foodie selection in town anyways and perhaps this was the best one open at the time.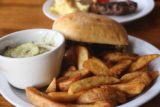 But there were quite a few rif raf loitering about in some of the closed parking lots, and there were even some hispanic gangsters both around the Sunset Inn as well as some parts of the historic downtown area. So I guess we weren't in exactly the nice part of town. Still, once we finally found the pub, we got ourselves some of their rosemary fries, an average steak dinner, a decent pulled pork sandwich, and some "evil brownie" a la mode. Overall, the food wasn't extraordinary, but I figured it was better than Appleby's.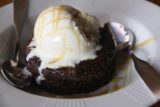 By 6:30pm, we were back at the room just as the Miner's Alley Pub was getting busy. By this time, the menacing clouds further dissipated over town though they were still dark over the mountains. So we had the rest of the afternoon to get cleaned up, and eventually get an early start on sleep. We didn't intend to sleep in on this night given that we were in a dumpy sleepeazy, so our early sleep meant we could also get an early start on the long drive home with a detour towards Sonoma tomorrow…
Day 4 (May 22, 2016 – Los Angeles, California): "Getting Greedy"
It was 4am when Mom and I awoke. We weren't exactly in the mood to be sleeping in despite it being dark outside, but it still reeked of cigarette smoke and it just overall felt pretty dirty in here. So we did what we had to do in order to tend to our oral hygiene while also getting dressed. It was about 4:40am when we left the sleepeazy, and so we figured that we'd have some time in the morning to do at least one (maybe two hikes) before having brunch or lunch in one of the famed restaurants in Sonoma before finally heading home.
The driving south along the Hwy 70 was fairly quick though I was always cognizant of running into deer at this time even though it might have been an irrational fear given how much farmland was surrounding us. Still, you never know.
I was getting some reception regarding sports talk for the Bay Area that kept the monotonous drive somewhat interesting. Though I have to admit that sports talk on the weekends had nothing on the weekday talk shows like Jim Rome's. Anyways, we were cruising along as we passed through Yuba City, then the Hwy 70 started to become more like a freeway. Eventually, we junctioned with the familiar I-80, and we took this freeway to the southwest in the direction of the San Francisco Bay just as the sun was well on its way to breaching the horizon.
Given that it was still early, I thought that perhaps we should head to Marin County first (near Larkspur) and check out Dawn Falls before going back towards the north to check out Sonoma Creek Falls, and finally downtown Sonoma. And so instead of heading west on Hwy 12, we kept going south on the I-80 towards the east end of the San Francisco Bay.
When we got towards San Pablo, the GPS didn't recognize that there was a connecting road continuing onto the I-580. So we stayed on the I-80 and had to take a couple of local streets before finally getting onto the I-580. So I guess my Garmin map updates weren't updated enough despite the upgrade I had just made a few days before going on this trip.
Anyways, that didn't cost us too much time, and after crossing the toll bridge, and getting into the town of Larkspur, we then followed Ann Marie Brown's directions (against the GPS's wishes) and eventually arrived at the rather obscure trailhead for the Dawn Falls Trail. We managed to get there from taking some local streets after getting off the US 101. In particular, we drove from Tamalpais Drive to Corte Madera Ave, then we went under a bridge where there was an obscure left turn onto Madrone Ave.
At first, we thought the road was closed, but then we saw that the sign indicated that the closure wasn't until tomorrow. Anyways, as we continued on Madrone Ave, we immediately saw that it was flanked by impressive coastal redwood trees. The road itself was a bit on the rough side, and I suspected that roots were growing beneath the road thereby making it bumpy. Perhaps that was what the road repair was all about.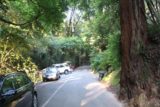 The road continued to get narrower as we went deeper into the residential area, and it started to look like we weren't really headed to the trailhead. But we persisted with Ann Marie's directions, and by 7:10am, we finally made it to the dead-end of Madrone Ave (which by this point was Valley Way). There were a couple of parking spots (one was parked in tandem), so we seized the lone convenient spot (the other was a tight parallel parking job), and then we promptly got out of the car and started walking.
It was quite cold here as it was in the high 40s and low 50s. So the air was very crisp, but the presence of tall coastal redwood trees all around us was undeniable. And that alone made this hike well worth the detour in my mind. So once Mom and I got onto the trail, it didn't take long before we reached a bridge over Larkspur Creek. There was water in the creek, and that gave us hope that we ought to be seeing a waterfall further up Baltimore Canyon. It was also reassuring that we saw signage calling this trail the "Dawn Falls Trail".
As Mom and I were busy hiking up Baltimore Canyon while constantly being distracted by attractive coastal redwoods, we kept getting passed back and forth by what appeared to be locals doing some jogging. We seemed to be the only ones in hiking attire as everyone else we'd encounter here were more middle aged and in sweat pants. A few others were on a more deliberate pace walking their dogs.
The walk seemed longer than I would have imagine for something that was said to be 1.2 miles in each direction. At first, Larkspur Creek seemed to have plenty of water, while even producing a tiny (hard-to-photo) 5ft waterfall or so. However, somewhere along the way (after the junction with the Ladybug Trail), Larkspur Creek suddenly went quiet and mostly dry. This happened where there was a side creek feeding Larkspur Creek, but upstream of that point, it appeared that the rest of Larkspur Creek wasn't flowing. It made me question whether we had somehow missed the falls or not. But we kept pushing on.
Eventually, Baltimore Canyon started closing in, and Mom and I then encountered some switchbacks climbing steeply above the canyon floor. When Mom and I finally went high enough on this series of switchbacks, we finally encountered Dawn Falls at about 8am. The problem was that the falls was merely a trickle, which was very disappointing especially after the initial indications of Larkspur Creek having water. So we documented this experience knowing that the photos and videos wouldn't really turn out. But since we were here, we mind as well be in the moment.
While we were at the falls, we suddenly heard some rocks tumbling across the trail and towards the floor of Baltimore Canyon. Clearly the geologic processes responsible for deepening this canyon continued to be at play, and we were fortunate that we weren't in the slide zone of that minor rock slide. As we looked at Ann Marie Brown's directions, we only then realized that we probably could have dramatically shortened this hike by starting from the trailhead further up the hill about a quarter-mile away. But then, we would've missed the impressive redwoods. And it was a good thing we did the trail from the bottom just for the redwoods and serenity themselves because the falls was definitely a dud.
So with that, we quickly headed back towards the car, and we'd eventually get there at 8:35am. This hike took a little longer than I had expected (by about 30-60 minutes) so I knew that we were at risk of having to wait a while for brunch at one of the Sonoma places. Anyways, we drove off and got back onto the US101, then we followed this freeway until the GPS had us get off onto the Hwy 37 then onto the Hwy 121 going straight north into Sonoma Valley. The target waterfall there was Sonoma Creek Falls, but Dawn Falls kind of gave me a feeling that Sonoma Creek Falls might be a dud as well. Still, that was my excuse to combine waterfalling with wine country so I still felt like since we were here, we mind as well do it.
Mom was paying particular attention to this area because she said that she could partake in some golfing trips that involved Sonoma and Napa Valleys. And now that she had seen the golf courses and the wineries flanking Hwy 121 then Arnold Drive, she had a better idea of what to expect on such trips.
This drive also took a little longer than I had expected, and I suspected that it had more to do with traffic lights and two-lane roads. At least I was now listening to Dave Smith, who was a good sports talk guy in the LA area who always spoke the truth, and he held passed the time while driving this stretch. It wasn't until we were getting closer to Sugarloaf Ridge State Park that we realized that we should've ignored the GPS and remained on the 101 towards Santa Rosa, and then take Hwy 12 back south towards Sugarloaf Ridge.
Anyways, it wasn't until about 9:45am that we had driven up Adobe Canyon Road, which was a little on the narrow side for a two-lane road. It weaved between some residences before reaching a gate where the road then climbed. We noticed that there was a cluster of cars parked alongside the road just before the gate before the ascent, but in following the directions, the actual Waterfall Trailhead was supposed to be further up this hill.
Both Julie and I badly needed to go to the restroom at this point so we ultimately got to the Sugarloaf Ridge Visitor Center at 9:45am. We had to pay $8 for the vehicle fee to get into this park, and it made Mom and I wonder whether those cars that were parked just outside the gates at the bottom of the canyon was really to avoid paying this fee. After all, we only expected to spend no more than an hour here so that would make the $8 fee a bit steep.
When we were done doing our business, we went back down the hill towards the car park for Sonoma Creek Falls. There were already quite a few cars parked here, but there was still enough room for perhaps a couple more. So we stopped the car at 9:50am, and then we promptly got onto the Waterfall Trail, which descended immediately. We knew that the further we had to descend on this trail, the more uphill walking we had to do.
Anyways, the descent was for the most part pretty much a breeze. There were a few false trails conspiring to bring us closer to Sonoma Creek, but we weren't really sure what these trails were for and so we resisted the temptation to keep getting sidetracked by these false trails.
It wasn't until about 10:10am that we finally arrived at the Sonoma Creek Falls. There was a family here with a couple of kids in child carriers, but they were leaving just as Mom and I showed up. And to our surprise, Sonoma Creek Falls had a pretty good flow even this late into Spring. It was definitely better than the Dawn Falls experience, and I was sure glad we made the detour to come here. Perhaps the rains over the weekend that eventually dumped snow in the Sierra Nevada had something to do with the health of this falls. Who knows?
So Mom and I took our time taking photos and savoring the moment. When we had our fill of this falls, Mom suggested that she go back up the trail we had come down on so she could recover her car and pick me up at the bottom. That would allow me to complete this trail to its other end just to see what that was all about.
And sure enough, the lower part of this trail was mostly flat except for one last slight incline to get back up to the Adobe Canyon Road. Now I probably could've walked uphill along this road just to complete the loop, but instead, I decided to walk further down the hill since there really wasn't a place for Mom to stop if she had found me here.
And as I was doing this, I did notice some signage for the Waterfall Trail suggesting it was 0.25 miles from the particular pullout I had passed by. Eventually, I'd reach the bottom of the canyon, where I walked past the gate and approached another pullout where there was maybe a half-dozen or so cars with little room for us to find parking here. Nonetheless, Mom found me near this spot and I got back into the car and resumed the driving duties.
In hindsight, had we known better, this lower car park was the better spot since it only involved walking barely a quarter-mile up Adobe Canyon Road before going onto the Waterfall Trail, which was flanked by nice redwoods. And the trail itself didn't require any steep climbing so I would've given the nod to this lower method for less exertion than the upper approach.
In any case, we left Sonoma Creek Falls at 10:35am, and now it was time to drive back south in search of downtown Sonoma so we could have our last splurge of this trip by having a lunch at the Girl and the Fig. It was either this place or the El Dorado Kitchen based on the Yelp reviews, but I had this fear that they'd be serving brunch and the better stuff that would usually be on offer for dinner wouldn't be available (like the Duck Confit).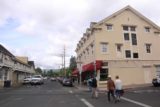 Still, we couldn't control the circumstances, and we still had to get home after this brunch, which was another 8 hours drive away. So when we managed to find parking near an attractive park-like area for downtown Sonoma, we then promptly got into The Girl and The Fig and got seated at around 11am. We didn't have to wait, which was good, because I had read that some people had to wait nearly an hour or more to eat here.
As I had feared, the menu was pretty limited breakfast fare. Given the minimal carb diet that I tried to adhere to for Julie's sake, we wound up forsaking omelettes and croque monsieur (though in hindsight we probably should've gotten them) and gotten a fish stack as well as some mussels and fries. It didn't seem like much, but the prices here was on the high side so it was still priced as if we were eating dinner at a fancy place. The fish stack was like smoked salmon and flounder with some pickled condiments to be eaten on some toasted bagel buns.
To Mom, this food was different, and I wondered if she would've been happier with steak or something a bit more substantial. Anyways, after the tasty profiteroles dessert, we were done with our meal and decided that since there was an attractive park nearby as well as some interesting architecture surrounding this park, we mind as well explore a little bit of this part of downtown Sonoma before going home.
So we checked out the park, which would've been real enjoyable for Tahia had she been here as it featured a few playgrounds and some open spaces shaded with nice trees. There was an interesting-looking building at the heart of the park, which turned out to be Sonoma's City Hall. And as we passed by the northeastern part of the park, we saw there was some kiddie band playing to an audience just soaking up the relaxed ambience of a lazy Sunday afternoon.
Mom and I then continued going to the northeast towards an unassuming historical Spanish Mission called San Francisco Solano. Julie and I had been to the mission in Santa Barbara last year, and we figured that we wouldn't have enough time to properly visit this mission and then go home. So after having our fill checking out the complex's exterior, which was adorned with colorful flowers, we then made one last restroom stop near the kiddie band's stage, and then we finally returned to the car at 12:55pm.
By now, this part of town was definitely busy. We had to be a little on the patient side as we followed the flow of traffic before finally getting out of the downtown Sonoma area. The drive back onto the main highways (starting with Hwy 12 and then Hwy 29 beneath Napa Valley) was also quite busy with lots of cars plus traffic lights. And with gas running out, we were keen to fill up somewhere before doing the long haul home.
It wouldn't be until about 2:15pm where we were near Walnut Creek off the I-680, and that was when we finally got gas. It took a bit of effort because each of the off-ramps were busy, and the gas stations were not by the freeway so they weren't easy to find.
And so after doing this fill-up, Mom and I switched driving responsibilities so Mom got to drive while I finally got to take a nap. And so I found myself sleeping through the part of the drive where Mom merged us onto the I-5 and eventually got us past the 152 turnoff towards Los Banos.
The drive back was mostly uneventful, and we eventually switched back our driving duties as I regained the wheel at around 4:30pm. By this time, I was starting to get ESPN radio on 710 so I could listen to the Oklahoma City-Golden State playoff series, and it turned out that I was able to listen to the entire game though if I was a Warriors fan (or being a part of "Dub Nation"), I would've been quite disappointed as the Warriors got trounced.
Anyways, after a bit of heavy traffic on the I-5 going through the heart of LA County, we finally got home at around 7:55pm. It was indeed quite the long drive, but now I finally got to see Julie and Tahia for the first time in about 4 days. Too bad that I still had to go to work tomorrow, but just doing this trip at this time gave us the idea that perhaps we could do a few more of these quick-hitting trips later this summer… We'll see…
Visitor Comments:
Got something you'd like to share or say to keep the conversation going? Feel free to leave a comment below...
No users have replied to the content on this page