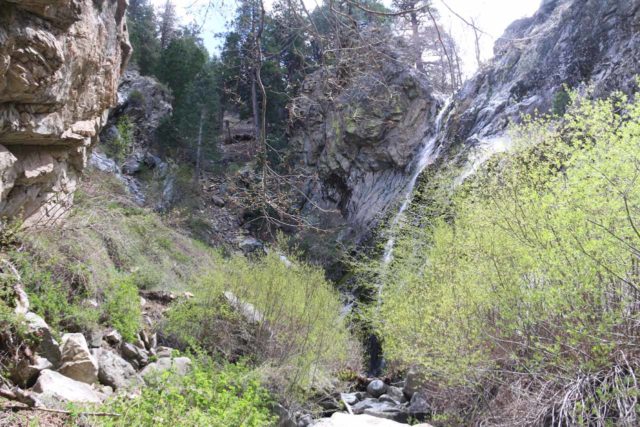 1-May 2016:
Aside from that family, I was pretty much alone in my creek scramble. Not knowing or appreciating how far I had to scramble my way up, I pretty much stayed on the boulders of the creek, but then that presented some issues when I had to scale some small waterfalls. Most of the small waterfalls weren't significant enough to really stop and admire them, but they were significant enough to present bouldering obstacles with potential dropoffs.
As I was getting into the rhythm of scrambling and route finding, I'd eventually try to avoid the dropoff hazards by scrambling through waist-deep groves of poison oak…
And indeed, there were plenty of moments where I had to make a decision on whether to make a risk-laden boulder scramble with dropoffs or wade through the poison oak.
It was definitely a case of me having to pick my poison, where I'd damned if I do, and I'm damned if I don't…
Since last week we decided at the very last minute to hike to Switzer Falls, we made it a point to visit Cooper Canyon Falls this weekend. But unlike last weekend, where we had gotten a pretty late start, we were determined to get an earlier start to ensure that we'd be back home at a reasonable hour. After all, Cooper Canyon Falls required a longer to drive to get all the way to its trailhead, and we knew that the hike itself wasn't short either. And on top of that, I needed some additional time to make the attempt to witness Buckhorn Falls since I had never done that one before (though we knew it was near Cooper Canyon Falls).
So after a quick breakfast, we finally left the house at 9am, which we figured ought to be early enough to beat traffic (more or less) while also getting started early enough so we wouldn't be racing against time while out on the trail.
As expected, the drive up the 605 and 210 was pretty much uneventful, though it always seemed to us that traffic tended to get pretty heavy heading west on the 210 freeway for one reason or another. But once we get off the familiar exit for the Angeles Crest Highway, we followed that road through the suburb of La Canada/Flintridge before Hwy 2 became the familiar mountainous road once again.
At first I was a little nervous about bringing Tahia (she was a little over 2 years old at the time) on this road because the last time we tried to bring her all the way out to Cooper Canyon Falls, she got car sick and threw up in the car. The puke was everywhere, the car wreaked of puke, and we didn't have a change of clothes for her. So needless to say, this event aborted that trip. But at least we got some lessons learned out of it.
Fortunately for us, the drive up this time was fairly smooth though there was one moment where some paramedic with its lights on made everyone pull over and let them pass. There was a truck that I was following, which was going at a fairly fast rate, and he was a good pacemaker.
Somewhere a little past the turnoff for Mt Wilson, we saw there was an accident as there was a downed motorcycle. The rider wasn't there, but I did recall seeing the same paramedic that went up the mountain go back down. So they must've picked up this injured rider and took him to the hospital. We could only speculate as to how he fell, but I wondered if it had to do with overspeeding and somehow losing control.
Meanwhile, there was one moment where we caught up with a slower SUV near this remote cafe called Newcomb's, which seemed to be a favorite biker hangout (and it was packed!). And once we got past that, the slow truck holding us up slowed down even more when we realized that he spotted a deer that was about to dash onto the road!
That was a bit scary considering that at this point it was past 10am, and that kind of debunked the theory I had that deer tended to be out and about at night time. But this little incident just proved to me that you never really know what Mother Nature can throw at you, and you always have to be on your guard.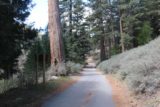 When we got to the familiar easy-to-miss turnoff for the Buckhorn Campground, we noticed that for the first time in all the times we've been to Cooper Canyon Falls, the gate to the campground was open! That was huge for us because now, we wouldn't have to walk all the way to the campground, then walk all the way to the trailhead for the Burkhart Trail before even getting started on the hike itself to Cooper Canyon Falls. This also gave me some additional hope that I should have time on my side when I'd pursue Buckhorn Falls after doing Cooper Canyon Falls with Tahia and Julie.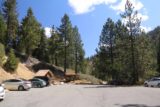 So at 10:30am, we finally parked the car at the Burkhart Trail Day Use Parking area. We managed to score a shady spot near the front of the cul-de-sac, and from there, we promptly put on our hiking gear and displayed our Forest Service Pass on the rear-view mirror. There were already a lot of cars here, which meant that we were fortunate. Had we not scored parking here, we would've had to park back at the Angeles Crest Highway like before, which I'd imagine would've added nearly another mile in each direction (i.e. it was pretty much back to the way we had been doing this hike when the Buckhorn Campground would be closed)!
It wasn't until around 10:45am when we finally started hiking. Now with Tahia along with us on this hike, we were certain the experience would be different than all the times that Julie and I have done this before. And with all the hiking that Tahia had already done to this point, we felt that she should be able to take this trail pretty well though it dawned on me that this was an upside down hike, which meant the return hike would be a bit more taxing. Plus, this trail was closer to 5,000-6,000ft so there might have also been some altitude (i.e. thin air) to contend with.
Now unlike Tahia's last few hikes, she actually started complaining early on this time around. We tried to keep her engaged with chatter, but I guess she wasn't exactly feeling up to it on this day. Still, she persevered (as did Julie and I considering we had to put up with her whining and stopping for no reason).
Meanwhile, I was paying close attention to Buckhorn Creek, which was to the right of us along the Burkhart Trail. We noticed that there was definitely water in the creek, and it seemed like we spotted a few smaller waterfalls though we were trying to see if it would be possible to spot the taller Buckhorn Falls from the top.
But the further along the Burkhart Trail we went, the steeper the canyon got, and it was pretty clear to us that there was no way we could pursue going downstream along the Buckhorn Creek in pursuit of that waterfall. Still, we surmised the approximate location of the Buckhorn Falls simply by hearing some loud sounds of rushing water, which was loudest when the ravine went nearly vertical down below. This was right around where the trail started to reveal some nice vistas across the canyon.
That just strengthened my resolve to do Buckhorn Falls today after doing Cooper Canyon Falls, and so our pace quickened as we continued going downhill as the Burkhart Trail switchbacked its way down towards its junction with the famous Pacific Crest Trail (now the Reese Witherspoon movie Wild
was on our minds whenever we think of the PCT).
During the descent, we encountered the familiar creek crossing at 11:30am, which we now realized was Buckhorn Creek. That was the very creek that I knew that I'd have to scramble upstream in pursuit of Buckhorn Falls. And after briefly studying the bouldery creek as we were crossing it, both Julie and I realized that it wouldn't be easy, and it would be another one of those times where she and Tahia would have to be left behind while I'd solo it.
Anyways, that was for later, but we knew Cooper Canyon Falls was near. And indeed, after joining up with the famed PCT, we then quickly got back to the familiar part of the trail looking down at the top of Cooper Canyon Falls. There was definitely water on its creek, but now we had to find the trails of use leading down to its base, and this was the part that I was a little worried about whether Tahia could make it down there (with our assistance of course).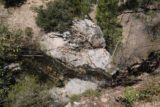 Well, it turned out that we took a rather harder way on the descent before we finally joined up with the much easier and gentler sloping part of the descent. I guess we were a little impatient by not continuing a little further along the PCT where then it would've been obvious to take the sloping trail of use down towards the steepest part of the descent, which was assisted with a rope.
And so once we got back to the trail-of-use we should've taken earlier, it didn't take long before we had to negotiate the rope-assisted descent. Julie led the descent as she slowly made her way down to the nearest ledge. When she did that, Tahia would then sit and scoot her way down with Julie always there to catch her (if she somehow slipped and fell). And when it got to the wet and muddy steep part, Julie once again went down first, but then I went down to the next highest ledge where Tahia would be sitting, and then I'd lift her down towards Julie before Tahia could finish the descent by herself.
Eventually at 11:50am, we were at the base of Cooper Canyon Falls, where there was one lone female hiker reading while sitting on some neighboring rocks. Julie, Tahia, and I joined her while checking out the falls, and it was but a few more minutes before another couple made their descent down to the base of the falls as well.
So while we were chilling out at the falls, we rewarded ourselves with some clementines, cara cara oranges, and some seaweed. There was another group of four that also showed up. So it was kind of like a fairly busy scene down at the falls though it was nowhere near as much commotion as most of the other more popular waterfalling spots in SoCal.
After having our little snack, Tahia occupied herself while tossing little rocks and twigs into Cooper Canyon Falls' plunge pool. While this was going on, Julie and I couldn't help but notice how little water there was in the falls compared to the last time we were here (though that was in March). Still, having seen what shape Buckhorn Creek was in, I was hoping that Buckhorn Falls would still perform. If anything, I figured that boulder scramble I was about to sign up for would be a little easier than if Buckhorn Creek had more water in it.
It wasn't until around 12:30pm when all three of us had our fill of Cooper Canyon Falls, and it was time to head up. The scramble up was once again nervous time since we had to help Tahia past the steep and muddy rope assisted climb. But once we got over that, it was pretty smooth sailing for her. Still, Tahia had to make frequent stops as she complained that she kept getting pebbles into her hiking boots. We suspected that was because she kept kicking the dirt instead of walking normally.
Anyways, knowing that I had the scramble ahead of me, I dashed ahead and got started on the Buckhorn Creek Scramble at 12:45pm. At first, I was bouldering my way up Buckhorn Creek when I passed by a family that was chilling out here. The apparent father of this family sounded like he was explaining stuff to the son while wielding a cigarette (wonder where he was going to discard it). Nonetheless, moments like this I'm sure would be a teaching moment, and such moments out in Nature are simply priceless and underappreciated in our modern, artificial-pleasures world.
Aside from that family, I was pretty much alone in my creek scramble. Not knowing or appreciating how far I had to scramble my way up, I pretty much stayed on the boulders of the creek, but then that presented some issues when I had to scale some small waterfalls. Most of the small waterfalls weren't significant enough to really stop and admire them, but they were significant enough to present bouldering obstacles with potential dropoffs.
As I was getting into the rhythm of scrambling and route finding, I'd eventually try to avoid the dropoff hazards by scrambling through waist-deep groves of poison oak. Since I was wearing long pants and a long-sleeved Les Stroud shirt
(Les Stroud of Survivorman
fame), I figured my skin exposure to the irritating resins of poison oak would be minimized. And indeed, there were plenty of moments where I had to make a decision on whether to make a risk-laden boulder scramble with dropoffs or wade through the poison oak.
It was definitely a case of me having to pick my poison, where I'd damned if I do, and I'm damned if I don't.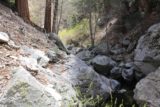 The stream scrambling felt like it was going on forever, but I'd keep noticing traces of people having been here, especially where there were scraps of an old aluminum balloon, some broken beer bottles, some beer cans, and even an old tire! I wasn't sure if they were tossed into the ravine from the Burkhart Trail or if they were mindlessly left behind by people who had done this scramble before me.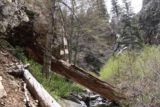 There was even one moment where I spotted what appeared to be some kind of campfire ringed by larger rocks. So clearly there were people who were here even though it felt as if I was entering some forbidden territory.
It wouldn't be until around 1:30pm when I'd finally approach the base of the elusive Buckhorn Falls. And as suspected, this waterfall was both taller and more impressive than Cooper Canyon Falls. The sun was kind of hovering right above the top of the falls, but fortunately there were some clouds that helped to make the lighting less harsh and allow me to take photos of the falls.
I could appreciate the full scale of the falls when viewed from a distance, but there was quite a bit of overgrowth obscuring much of its base. But when I scrambled closer to its base so that the overgrowth wasn't as much of a factor, then I had to contend with the fact that the falls was too tall to get in one shot. Again, it was another pick your poison moment, but at least I could revel in the fact that I got to cross this waterfall off the bucket list. Still, this waterfall was better than Cooper Canyon Falls, and I guess it could be in the running for one of our Top 10 Southern California waterfalls.
In Buckhorn Creek, I couldn't help but notice there were these eccentric water bugs with long legs floating in the creek. They didn't seem to be bugs that I was real familiar with, but I figured that these kinds of surprises tended to occur where few people would show up. And this non-trivial scramble that took me around 45 minutes to get here would certainly be quite the deterrent.
As I was trying to document my experience here, I saw that my camera batteries were running out of charge. And when I tried to replace the existing one with one of the two backups I had carried, I was horrified to see that the two backups had no more juice left in them either! So I just put the struggling battery back in the camera and documented as much as I could knowing that I might never come back to this spot again.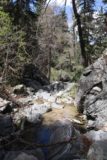 It was a good thing that the camera battery didn't die on my by this point because that would've been real disappointing to have come all the way here only to not be able to document it. I guess I'll have to make it a habit to charge the camera batteries whenever I'm done with a trip or about to go on one (even for day hikes like this) because you just never know when they quit on you.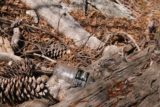 Anyways, it was getting late as I knew Julie and Tahia would be waiting for me for around 90 minutes by the time I'd return to them. So I had to get going, which I did at 1:45pm.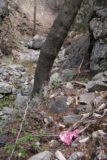 The downstream scrambling was just as awkward as it was going upstream, but I felt like I made a little better time as I was going through flatter parts of the scramble through the poison oak. And indeed, I was making good time, which was proven out when I finally got back to Julie and Tahia at 2:20pm back at the Burkhart Trail.
When I was about to take a picture of Tahia by one of the big pine trees along the trail, that was when the camera battery finally died. So there'd be no more trail photos the rest of the way no matter what kind of spontaneous photo op I might have…
Now, it was well past Tahia's post-lunch nap and she was complaining about being tired again as we were hiking back uphill to the car park. I kept trying to assure her that we were close to the end, but she kept disputing my condolences saying we weren't close to the car.
And truth be told, she was probably right since the hike back to the trailhead was pretty much all uphill while the air was thin. There were quite a few families still making their way downhill, and I wondered if they were camping here or not given their late start. Anyways, it wouldn't be until 3:15pm when we finally returned to the car. According to the GPS log, the one-way distance from the car park to Cooper Canyon Falls was around 1.6 miles (or 1.3 miles to the Buckhorn Creek Crossing from the trailhead). And the Buckhorn Creek scramble to Buckhorn Falls was about 0.8 miles each way (no wonder why it took 45 minutes in each direction?!?!).
I bet that this hike to Cooper Canyon Falls was probably more like 5 miles round trip had we parked at the Angeles Crest Highway, but thankfully, we were done with this hike about a mile earlier at the Burkhart Trailhead. Now, we could put on more comfortable shoes, and we could look forward to having a lunner in Pasadena. Meanwhile, Tahia could finally sleep in the car while I still had to drive on the winding road back to the LA Basin.
The drive back was interesting in that it was actually raining (albeit lightly) around the Newcomb's Cafe area and it lasted even as we were approaching the turnoff for Mt Wilson. I guess this rain wasn't expected, and I was fortunate that flash flooding didn't happen while I was down in Buckhorn Creek stream scrambling.
There were also a couple of moments where I had to pass slow drivers who refused to use the plethora of pullouts along Hwy 2. But other than that, we'd eventually get to the familiar Tender Greens Restaurant in Pasadena at 4:30pm. This time, we parked at a lot where they validated (though we still only had a hour in there before the fees started to apply).
We had ourselves a pretty satisfying dinner of salt and pepper dark meat chicken as well as the backyard steak and their special pork loin. It definitely hit the spot. And at 5:15pm, we left fully sated and finally headed back home. The long drive home was also pretty uneventful (though there was a little bit of traffic going east on the I-210). We noticed some persistent clouds over the mountains we had just been in, and I figured that they were responsible for the surprise rain we got on the drive back to Pasadena. But the clouds went no further away from the mountains so it was still dry throughout the LA Basin.
At 6:05pm, we were finaly back at home. That was when Julie got a text saying that the kids were having their little "bike club" at 7pm. It was perfect timing, and Tahia could finally indulge in her long awaited desire to ride her bike with the other neighborhood kids. And why not? After all, even with tomorrow being yet another rat race week, it didn't hurt to hang out with good friends and savor every last bit of our weekend before resuming the same rat race drill again…
Visitor Comments:
Got something you'd like to share or say to keep the conversation going? Feel free to leave a comment below...
No users have replied to the content on this page