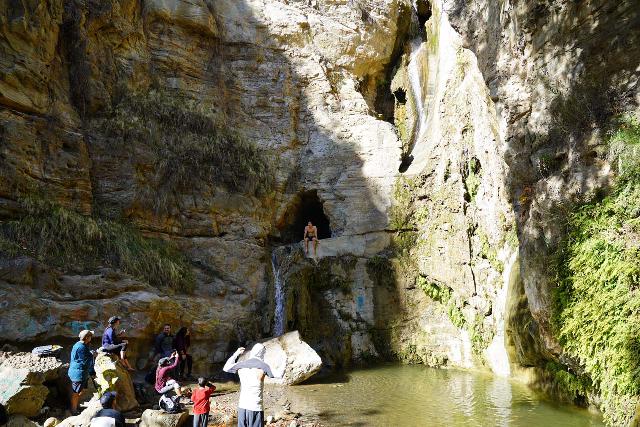 4-January 2020:
Well over an hour into this stream scramble, we started to encounter even larger boulders that made for nearly vertical climbs.
We even had to scramble and skirt by some slippery and eroded ledges or dropoffs (including one rope-assisted part) where Tahia got real nervous and even cried as she was starting to lose confidence.
That started to make me feel like a douche as I was all of the sudden feeling like "that guy" that endangered the child by bringing her onto a hike like this…
It was about 6:30am when Julie and I awoke.
As much as we wanted to sleep in and stay warm in bed shielded from the cold morning, we had decided at the last minute last night to do a hike on a Saturday before I had to go back to the daily grind at work on Monday.
And with the pretty intense rain storm that happened back on Christmas night, I figured that by now, the water in Black Star Creek ought to be enough for the waterfall to perform.
However, the waterflow would also have to be not so much that the anticipated stream scrambling and bouldering would be dangerous and too difficult.
Personally, I was nervous about doing this hike not so much as a question of whether I could do it, but because I was bringing Tahia along.
I really didn't want her to get seriously hurt over my desire to finally visit this waterfall after about 9 years of being aware of it (when a website visitor let us know about it on a website submission).
Indeed, we waited a long time and we slowly brought Tahia up by doing easier hikes while building up to longer hikes as well as those with scrambles in spurts.
We tried to test her abilities as she was growing up, but this hike was going to be another leap in terms of testing her hiking capabilities with a greater risk of injury.
So the Black Star Canyon Falls hike was going to take all day, and it involved a much longer stream and boulder scramble stretch than just about anything we've done in the past with her.
So that weighed on my mind the whole time, but the only way we were going to find out whether Tahia could do it and whether it would be worth the trouble to finally visit this falls was when we actually do it.
No amount of internet reading on Yelp or past trip reports were going to inform me further about this excursion.
And so after a hasty breakfast, we got dressed and we ultimately left the house at about 7:40am.
As we were driving away, it was still cold enough to see my breath inside the car. And Julie even had to turn up the defrost so the condensation from overnight would help with the visibility on the freeways.
Anyways, I had anticipated a relatively long drive heading in the direction of Lake Forest or somewhere well south of Irvine, but Julie's iPhone directions had us going east on the 22 Freeway.
When we joined up with the 55 Freeway, it had us going north instead of south, which was another surprise in my mind. I guess my mental picture of the Black Star Canyon's whereabouts really was a bit off.
In any case, we got off the E Chapman Ave exit, which was the first exit we took once we got off the 55 Fwy northbound after the 22 Freeway interchange, and we then proceeded on a fairly long surface street drive through several lights as we continued east.
We passed by a familiar Mining Company restaurant where we once showed up to a friend's wedding, and then we got to the intersection with Jamboree Rd, where I recalled turning left onto that road to go to some kind of Irvine Railroad Company Park or something like that.
We used to go there a lot since they had a pretty fun Halloween setup that we would take our daughter to when she was merely a toddler.
Anyways, we kept going east on what was now Santiago Canyon Road, and we continued to drive through what seemed to be foothills as we went past the 261 and 241 toll road intersections.
Eventually, we then turned left onto Silverado Canyon Rd before hanging another left onto Black Star Canyon Rd.
There was some worrying sign saying something about an event that was happening today, which made me wonder if this event would prevent us from doing the Black Star Canyon hike.
But it turned out that this event was early on in the road and we just kept driving for another mile before we finally got to the locked gates marking the end of the driving for us.
Luckily, we snagged one of the parking spaces near the gate so at least we wouldn't have to be hiking extra just to get started.
We got to the trailhead at around 8:20am, and probably about another 10 minutes later, we finally got going.
The hike continuing along Santiago Canyon Road was pretty much flat but unpaved.
Although we could see fairly long stretches of open spaces, the morning sun was low enough to still cast long enough shadows to keep things relatively cool.
The Black Star Canyon Road stretch of the hike was for the most part featureless.
While trying to see if there would be of anything of interest that caught my eye (e.g. gates leading to other places in the preserve or signs saying something more about the trail or private property concerns), we pretty much just kept walking along while still being passed by other hikers as well as mountain bikers.
With Tahia with us, I was still a bit nervous about the upcoming stream scramble the whole time, but so far she wasn't complaining on the road portion.
Maybe Julie promising her that she could play Roblox back at home served to motivate her into sucking it up on this hike for the delayed gratification of screen time afterwards.
After about 9:05am, we encountered a bridge where if the creek that we traversed was Black Star Creek, then it was a good sign that the creek definitely had water this far downstream.
Of course, I've been juked before (like at Dawn Falls) where there was plenty of water in the creek well downstream of the falls, but most of the water came from a spring that did not flow over the waterfall itself.
After seeing water still in the creek beneath the next two bridges, I was even more hopeful that the Black Star Falls would be flowing.
The question was how much flow were we going to see? A trickle? Or something that wouldn't require us to come back just to get a decent experience out of it?
Eventually at 9:40am, we finally got past the last of the bridges and the private properties before reaching a signed spur pointing to our right for Black Star Falls.
This was when we left the Black Star Canyon Road and descended into the creek itself. We noticed use-trails that we could follow that skirted alongside the Black Star Creek, but we could already start seeing creek crossings.
So we knew that if there were a handful of stream crossings this early on, it was inevitable to have to cross it many more times as well as within the creek itself as the canyon would narrow the further up the canyon we went.
Sure enough the stream crossings started to become more non-trivial the more upstream that we went, and even the boulders in each creek crossing were bigger and more slippery given how worn smooth they were over the years.
I couldn't help but notice the greater presence of graffiti on the boulders, especially where they appeared to hint at where the easiest parts of the stream crossings were.
But I'm sure over time, the trails of use combined with the boulder arrangements would be altered with each passing storm. So I could totally imagine how confusing it would be to continue following paths but they get changed or would be different from whatever memory or trail descriptions that preceded it.
Tahia started to insist that she was the boss or leader so she should be the one in the front of our party of three.
Unfortunately, the stream scramble made things slow going for Tahia, and she started to hold up faster hikers behind both Julie and I who were held up by Tahia.
Nevertheless, Tahia still insisted on being the leader and wanted to be in front of both Julie and I.
I tried to tell her that if she wanted to be leader, then she'd have to bear the responsibility of pacing us, navigation, and ensuring our safety.
Indeed, being a leader was more than just being in front of the group. It was kind of like the responsibility that I was burdened with for ensuring her safety on this trail, which definitely weighed on my mind as we were going from one obstacle to the next.
I don't think she fully understood what I was trying to tell her, but every time Julie or I went in front of her as she was slow getting over a creek crossing or traversing an obstacle or two, she'd frequently yell out "Hey! I'm supposed to be the leader!"
Well over an hour into this stream scramble, we started to encounter even larger boulders that made for nearly vertical climbs.
We even had to scramble and skirt by some slippery and eroded ledges or dropoffs (including one rope-assisted part) where Tahia got real nervous and even cried as she was starting to lose confidence.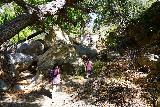 That started to make me feel like a douche as I was all of the sudden feeling like "that guy" that endangered the child by bringing her onto a hike like this. I remembered how Julie and I reacted when someone brought their little girls onto the Three Sisters Falls hike near Descanso.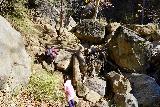 Anyways, Tahia eventually got over it and managed to handle a few more climbing obstacles as we passed by some more intermediate waterfalls as well as potentially slippery boulder scrambles and climbs.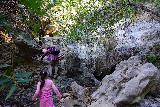 The midday sun was definitely illuminating much of the canyon floor by this time so we were certainly feeling the mild heat of the day causing us to sweat a lot.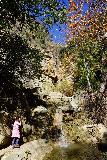 I lamented wearing an undershirt beneath my Les Shroud hiking shirt because that undershirt was cotton and it was very wet with sweat. Both Tahia and Julie also had to remove their jackets because they had more layers on due to the cold morning, but now they were also sweaty and hot.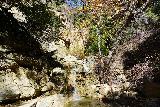 The last of the hard obstacles involved a particularly steep and dicey climb to get around some giant boulders as well as another intermediate waterfall that we had no way of being able to climb up or alongside given their slick footing and verticality.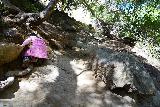 The climb was heavily eroded which made it difficult to stand up unassisted, and we really had to use tree roots and sturdy branches as handholds to maintain our positions without slipping into the dropoffs.
Once we finally got past this particularly exposed and hairy obstacle, we then finally approached the end of the hike right at the Black Star Canyon Falls.
It was about 11:30am when we finally made it up to the falls so that meant we took just under 2 hours on the nearly one-mile of stream scrambling alone!
Julie was already complaining that her legs started to feel like jelly, and she started to echo the sentiment that we had overheard when people were saying the falls were nice, but they wouldn't want to do it again.
Nevertheless, when we first showed up to the falls, there was one kid playing in the water at the plunge pool (he seemed to be a few years older than Tahia). We also noticed one other kid that was on his way back down near one of the intermediate waterfalls so Tahia wasn't totally alone as far as being a kid on this strenuous hike.
Julie and I were also pretty happy that there was definitely water in the Black Star Canyon Falls.
Even the apparent cave or tunnel seemed to be a rather unique aspect about this waterfall as the stream went right through it and then over the lower falls at its mouth.
I don't think I could say that we've seen this attribute in a waterfall before.
However, I had learned prior to the hike that the cave or tunnel was man-made from an old mine shaft back when this area was owned and operated under the Black Star Coal Mining Company moniker.
If the tunnel was somehow a natural bridge, then this easily could have been a real special waterfall. But now, we can see green algal streaks to the lower right of the tunnel, which I'd imagine that this was the original trajectory of the falls, which would only get water there under very high flow conditions.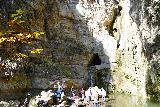 As we basked in our accomplishment of making it up to the Black Star Falls, it didn't take long before more groups of hikers showed up.
In particular, one group of seemingly college-aged hikers took their shoes off and started scaling the nearly vertical wall flanking the lower waterfall to access the mouth of the mine shaft.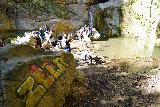 Once that happened, pretty much all the photos we took would have them in it, which served us well in terms of providing a sense of scale of the Black Star Falls.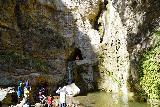 A handful of other people figured out a way to make it up to even the very top of Black Star Canyon Falls, and apparently there were people who climbed up a steep gully behind us and to the right side well before the plunge pool to do it.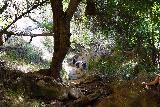 That scramble was so steep that one person accidentally kicked down a rock and it rolled down towards Tahia where it struck her on her butt while she was squatted.
She said it was no big deal, but the people around us kept asking her repeatedly if she was OK.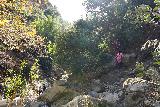 Eventually after having our snacks, more water, and a few people shots before the falls, we finally started to head back downstream at around 12:05pm.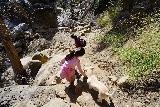 Like on the way up to the falls, there were lots of people scrambling and bouldering in and around Black Star Creek.
However, it felt like there were even more people headed upstream in the opposite direction as us.
And even heading back downstream was just as difficult as going upstream because now we had to face the dropoffs in the steep vertical sections wile also being prone to turning back if we reached a dropoff that was too dangerous to take a leap of faith from.
Julie reiterated that she would likely never do this hike again as her legs continued to feel like jelly.
Eventually by about 1:50pm, we ultimately returned to the Black Star Canyon Road again. And we were quite relieved that the worst of the hike was behind us.
However, we still had a ways to go along the unpaved road to return to the trailhead. And with the sinking afternoon sun (low on the horizon due to the shorter days of Winter), the shadows were getting longer already.
The hike back was definitely featureless again, and with the relative lack of privacy and toilets, I know I struggled to hold on my bladder despite this part of the hike taking another hour or so.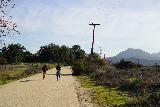 I was also surprised at how many more people were heading in the opposite direction, and I wondered if they were going to make it back out before it got dark, especially if their intent was to visit the Black Star Canyon Falls.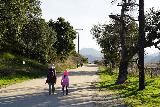 By about 2:55pm, we finally returned to the Black Star Canyon Trailhead and quickly got out of our hiking boots into something more breathable.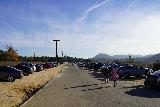 Having been on the trail for about 6.5 hours, we couldn't wait to be off our feet, but we also looked forward to having a meal as it was late enough to essentially have a "lunner".
We left the trailhead at about 3pm and we ultimately drove to the Fish House at the OC Canyon Plaza at around 3:15pm.
Once there, we placed our orders for fish curries as well as used their restroom facilities for a much needed handwashing as well as a toilet break.
We thoroughly enjoyed the food, and we were also quite glad that we weren't that far from home (as opposed to how much more driving we'd need to do if we were coming home from say Trabuco Canyon or Lake Forest say).
Anyways, the fish curries and curried shrimp hit the spot, but Tahia's sea bash lunch special was especially fresh and good.
Once we were sated with our fairly pricey lunch, we then made a couple of grocery stops for Julie, and eventually by about 5pm, we finally returned home to end this eventful day.
While Julie was sore and not really in the mood to go on another hike tomorrow (a planned one for Millard Falls with Wendy's family and Cecilia's family (something easy and short except for competing for parking I'd imagine), all that was on our minds on this evening was Julie watching Star Wars movies from the Disney+ trial while I was helping Tahia assemble her bike she got for Christmas, and Tahia playing Roblox, which we promised to her to motivate her on the hike.
And speaking of her being a trooper to do this hike, both Julie and I were very proud of her for accomplishing what was her hardest hike to date, and I guess with the right motivation, she could certainly do anything when she puts her mind into it…
Visitor Comments:
Got something you'd like to share or say to keep the conversation going? Feel free to leave a comment below...
No users have replied to the content on this page