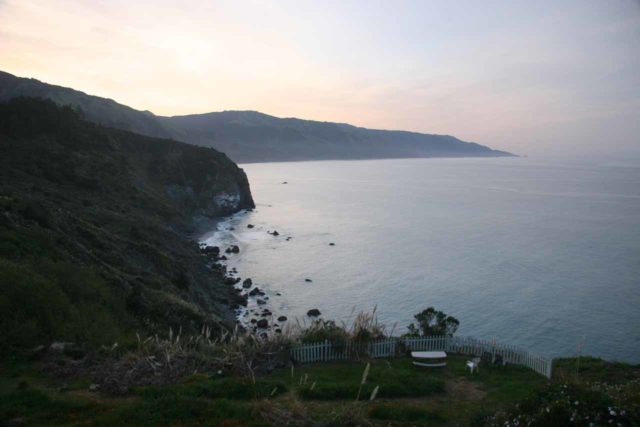 18-March 2010 to 21-March 2010:
As we got towards the middle of this stream crossing, there came a point where we had no choice but to wade through shin deep to knee-deep of water. Further progress meant resistance was futile. So we just sucked it up, got our feet completely wet as water was now coming in the boots through the top, and we were squishing our way forward from this point on…
Day 1: WHERE THE OCEAN MEETS THE SKY
With about a six hour short day at work, I had to rely heavily on Julie to wrap up all the packing and car hire formalities back at home. She had dropped me off at the Metro station early in the morning, and she would pick me up at work some time during lunch.
So with a pretty busy workday as far as I was concerned, Julie freed me from this hectic day as we left together for Big Sur at around 12:30pm.
As with last minute trips like this coupled with a hectic week (much of which was stress and frustration caused by this new computer with Windows 7 on it, which we promptly returned last night), there were a few things that were forgotten like Julie's eye drops as well as some water (knowing it would be real expensive if we waited until we got to Big Sur to buy the supplies).
So after leaving the Target near Thousand Oaks and filling up gas at around 2:15pm, we proceeded to continue northwards along the 101 Freeway.
At 3pm, we ran into some slowdown traffic near the Santa Barbara area. We suspected it was rush hour traffic this Thursday afternoon. Along the drive to the town as well as beyond it, we noticed some rolling green hills as well as colorful wildflowers blooming alongside the busy freeway. Indeed, Spring was here even though technically the equinox wasn't until a couple more days.
The drive was mostly uneventful except there was a time when we continued north on the 101 past San Luis Obispo, when we realized that our Nuvi
wasn't talking and that we must've missed the junction for Hwy 1. So at 5pm, when we made this realization, we ended up continuing towards the Hwy 46 and cutting across back towards Hwy 1 and the Pacific Ocean near Cambria.
Not long after Cambria, we were approaching Ragged Point, site of our accommodation for our first ever trip to this area way back around 2001 or 2002, I think. However, we were hoping for some nice sunset views and photos at McWay Falls, but fog seemed to have rolled in with full force and conspired to ruin those plans.
Miraculously, the fog seemed to have subsided as we went past Salmon Creek Falls (though we didn't stop here), and the sun was back out although the skies were a bit hazy from the sea spray and the air was fairly cold relative to the 80s we had been getting back at home and the 70s along the coast.
Throughout the drive, there was plenty of evidence of mudslides as well as eroding cliff taking parts of the Hwy 1 with it. There were also a few one-lane stretches as well a long part with a traffic light to control bi-directional traffic.
I had recalled similar conditions on our previous visits here, but as we're now older and wiser travellers, we now asked the question of whether this was one of those instances where man constantly struggles to keep this corridor open even though it might be one where Nature could whimsically make it real difficult year after year. And with this Winter's barrage of rain storms, I guess it couldn't really come as any surprise.
Both of us wondered how much money is spent going into this road and how much tax dollars or other sources of revenue goes into it as well. Clearly, it's one of the most scenic highway, but it's also a definite reminder of how scenery and danger can go hand in hand.
When we got to Limekiln State Park, we noticed that it was closed due to fire damage so we wouldn't be able to re-visit Limekiln Falls, which was kind of a bummer. I was hoping to revisit this waterfall and improve the photos taken of it several years back.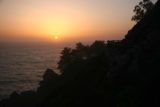 Anyways, we were supposed to be checking into to our accommodation at Deetjen's at around 7:30pm and have our dinner reservation at 7:45pm. But it wasn't until 6:50pm when we arrived at Julie Pfeiffer Burns State Park, which was where we would check out McWay Falls.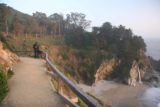 With the sun quickly setting beyond the horizon, both of us quickly got our cameras and ran towards the waterfall and ocean. I had never changed out of my work clothes so I'm sure it must've been a strange sight for other people to see a 9-5'er out here wielding a Canon EOS 20D while wearing slacks and a button-down collared shirt.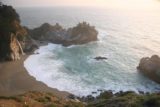 It seemed like we showed up just in time despite the nearly half-hour delay from going the wrong way. For the sun was casting a fairly warm glow onto the hidden beach and cove onto which McWay Falls spilled. Sure the haze kind of muted the colors a bit, but it was still a pleasant, naturesque, and serene scene. And we took photos while getting the most of this locale where the ocean meets the sky, and the sun was quickly about to hide itself behind the ocean.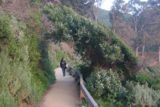 For the most part, Julie and I had the falls to ourselves though there were a handful of other tourists toting big cameras (even one with a tripod) as well as other romantics at the falls. And shortly after 7pm, the sun retired for the day.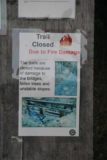 At 7:15pm, we were back at the car. Unfortunately, there were signs that got our attention at the car park when we saw that the trail to Canyon Falls was closed due to fire damage. So I guess tomorrow, we wouldn't be able to re-visit this waterfall as well, and it was starting to look like we'd have more time than we know what to do with it given all these closures we didn't really anticipate.
Anyways, we didn't have a whole lot of time left for our upcoming dinner reservation so now, we had to continue up the highway towards Deetjen's. And by 7:40pm, we finally made it to the accommodation for the night. But with all the cars that were parked here, this place sure looked real busy!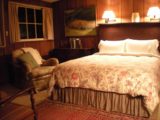 When we got to our Faraway Room, we realized that there were no locks on the doors so we opted to keep our stuff locked in the car until we got to occupying the room after dinner. And by around 7:50pm, we finally had our dinner, which turned out to be one of the better places to have a fine dining type experience than we could remember. We had heard they had a good breakfast here, too. And we can't wait to check it out tomorrow morning…
Day 2: BIODIVERSITY IS WONDERFUL!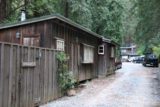 The day began with an unalarmed 8am wakeup. Shortly after we woke up, we could already start to hear some cars whizzing by along Hwy 1. Our Faraway room at Deetjen's was definitely within earshot of the busy highway (even for a place as remote as Big Sur) despite the pleasant sounds of the waterfall and creek behind our room. That stream continued down the canyon under the highway bridge at the hairpin turn and eventually to the ocean.
We even heard the beeps of the trash dump truck backing up at the exit of the property near our room.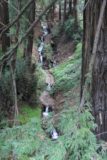 As Julie was getting ready for the day, I took the time to walk around the property and take photos. What particularly caught my attention was the waterfalls both upstream and downstream from the property bridge. From the Hwy 1 bridge, you could see almost the entire cascading drops of the lower waterfall, which was surprisingly tall.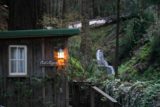 When Julie got out of the room and we were done loading up the rental car, we headed to the dining area since Julie's iPhone research indicated the brekkie here's quite good.
Along the way over, we were talking with an employee at this property. She had very bright blue eyes, and Julie commented on them saying they were as blue as the ocean!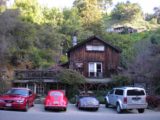 Anyways, the employee said she worked here for 27 years even though she hailed from Vermont. She claimed that maybe the man upstairs helped to guide her here, where she seemed quite at home.
Upon learning that we were from Los Angeles, she mentioned that Big Sur did have the potential to chew people up and spit them out if they're not in the right mindset. Must be that Hollywood reputation or something. But I could see where she was coming from considering there's no TV, it takes quite a while to get here, and there's definitely not all the amenities we took for granted back in city life.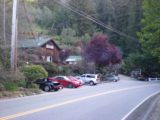 This place has attracted artists, writers, and even famous actors, but most certainly it's those seeking to really feel this place that gets the most out of it. She even said that some people can go to the Esalen Institute nearby to get that "feel" for the place without going insane.
She also mentioned that each of the cabins and rooms on the property was endowed with some kind of spiritual being, where you could literally hear yourself think and listen to the buildings saying something to you. I could say that we weren't into the whole religious interpretation of things, but we could definitely appreciate how places like these can feel like an escape from reality.
At 10:20am, we were stuffed with some tasty blueberry pancakes as well as some eggs benedict and the Deetjen's Dip (a type of guacamole and turkey sandwich). And at 10:30am, we finally left Deetjen's, but now we're headed northwards in the direction of Carmel. However, a few minutes later, we decided to check out one of the old waterfall haunts from the past – Pfeiffer Falls.
We got to the state park at 10:30am where there were a pair of employees ensuring visitors pay the $10 day use fee. I guess the state really needed money because the fee shot up way more than however much we were charged 7 or 8 years ago.
I remembered the old trail that started near one of the lodges here and was but a barely 0.4 mile hike each way to the falls, or it could be done in a reasonably short loop that encompassed the Valley View Overlook. Unfortunately, we learned that the falls couldn't be accessed directly on the shortest trail, but we could take the Valley View Trail until it junctioned and joined the falls. That was because there was a fire last year that ran through the area and pretty much killed most of the hiking trails, and then the heavy rains from this Winter destabilizing the non-vegetated ground.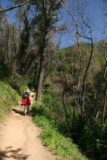 That might also explain why places like Limekiln State Park and a big chunk of Julia Pfeiffer Burns State Park also suffered at the hands of the fires from last year.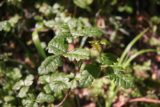 In any case, the barely 1 mile round trip hike all of the sudden became a roughly 2 miles round trip of hilly walking. We must've been out of shape the first time we did this trail because my memory kept telling me the hike was more difficult than it felt like today. Although it did feel quite dry and hot today, which contrasted with the fog we experienced further south of here late yesterday afternoon.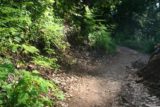 But one thing that really didn't change was the prevalence of poison oak that was all around the trail.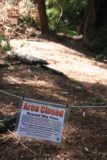 At around 11:30am, we made it to the familiar falls. The flow wasn't a whole lot different from the way we remembered it, but the viewpoint here was certainly a bit different than before thanks to the fire damage. For the viewing decks were gone, but we could still get decent closeups of the falls. I even noticed an upper waterfall that somehow escaped our attention the first time around.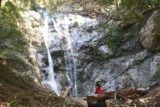 Another thing I noticed was that there looked to be some kind of stone wall with an opening for the stream. I didn't recall that was there before, and I wondered if its sole purpose was so you could get right in front of the falls or something. In any case, that area was all closed off due to unstable earth either above it or right behind that wall. It was a bummer since we wanted to get real close, and at some point, I just took the risk and went over there.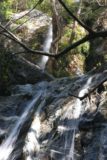 After getting our fill of the falls, I made a brief detour on the return hike towards the Valley View overlook. The view of the valley and towards the lighthouse in the distance was quite familiar. But I didn't linger here and rejoined Julie at the car at around 12:10pm, but not before seeing a bunch of rescue workers head in the opposite direction.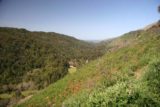 One of them asked if I had seen anyone injured on the trail, but I didn't go all the way to the end of the Valley View spur which the guy mentioned where the injured person was believed to be. It was actually quite a fair-sized group that went up for this cause as a pair of them were carrying a stretcher while others had first aid.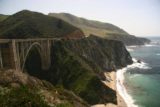 Now, we were continuing north towards Carmel. Julie was hoping we could meet up with a friend from Julie's old company who lives in town. But it depended on whether her iPhone email made it to her and how soon she'd send us a response or a phone call.
So we continued a few minutes further north towards Monterey.
It wasn't until at around 2:05pm when we made it to the Fisherman's Wharf. Hungry for a lunch, we had some food at the Fisherman's Grotto. During the dinner, we learned that Julie's friend was up in Oregon this weekend so we couldn't meet up today. In any case, the food was a bit heavy and we left more than stuffed at 3:20pm.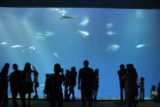 Despite the hefty $30 per person admission price, once we got inside and checked out the various displays, we could see that the cost was certainly justified. That was because the exhibits were definitely elaborate with live sealife as well as plenty of interactive displays.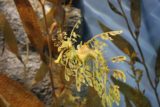 We were sure if we were fortunate to have a kid, that this might be a pretty cool place to take him or her. But even for us adults, we thought there were some really neat displays like the jellyfish area (which really looked like alien beings against the illuminated water) as well as the secret life of seahorses, which included sea dragons that looked almost like the kelp they were around. There were even other cool areas showing tidepool habitats complete with artificial waves and even an indoor waterfall to show coastal stream habitats.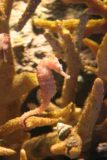 There was also a Vanishing Sealife area where we could see shark, sea turtles, and tuna among other sealife that are quickly being overfished to extinction even if they're not the intended purpose of the harvesting (as they often get caught in nets or other fishing gear). They had displays where things like sushi or tuna sandwiches are transformed with the pull of a level to the scene of the fishing practices that lead to that particular dish. I had to say it's all pretty depressing stuff and really made us think hard about our love for sushi, but this exhibit seemed to be a pretty effective way to connect customers with the pressures that society puts on the ocean's resources and biodiversity on an emotional level.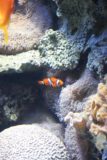 While appealing to the conscience can turn people gradually (or become fatalist about it), personally I think you need economic rules that put pressure (instead of rewarding) these practices meaning seafood needs to reflect their true price (as all other things we do) so the practice can be more sustainable and the responsible company can thrive while the irresponsible ones better adapt or go out of business.
Anyhow, the longer we stayed here and checked out each of the exhibits, the more we could see the recurring evidence of life adapting to its surroundings that maximize their likelihood of survival and passing on their genetic code to the next generation. Those who think evolution is a fluke really should come here and see for themselves how these organisms survive.
And with that said, another thought that went through my mind as we spent quite a bit of time here was the tremendous biodiversity of our oceans. Sure much of it is threatened, but a walk through here certainly makes you keenly aware that biodiversity is a wonderful thing. Now if only we could maintain the planet's biodiversity…
It wasn't until about 5:10pm when we got back to the car. Next up was a drive back south through the winding roads of Big Sur.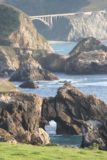 We managed to pull over a few times for some interesting coastal shots, especially a memorable one before the Rocky Creek Bridge where we could see a sea arch that was still there.
Then we found the Big Sur Bakery, where we arrived at 6:30pm. Julie had read some good reviews about this place so we decided to dine here. The real selling point for us was that the chef used to work at the Campanille on La Brea Blvd in Los Angeles, which was one of the more well-known fine dining establishments. So we were sure the food here must be pretty good.
Even though we were still stuffed from our heavy lunch (and even breakfast for that matter), we just simply made room in our stomachs for the mains and especially the dessert. After all, the food was delicious (albeit expensive like the rest of our food experiences so far) and we made sure none of it went to waste.
At 8:10pm, we left the restaurant and drove southwards towards our accommodation at the Lucia Lodge in the dark. It was too bad that our rental car couldn't maintain a high beam so that made driving a little bit trickier than I would've liked, but by and large it was a mostly uneventful drive as I had no problems pulling over for faster drivers on this road (since I was going slower than usual thanks to the car's inability to hold the high beam).
And at 8:50pm, we made it to the Lucia Lodge. Fortunately the owner was walking around and headed to our room to help us into our room. Otherwise, we'd be fumbling around in the dark looking for the guy to get us the key.
The sky was certainly clear and we could see many stars in the night sky while hearing the waves crashing ashore at the base of the cliffs far below us. It was reminiscent of the experience we had some seven years ago, and certainly not a whole lot has changed here.
And so ended a rather busy day even if we didn't get in as much waterfalling as we had expected at the start of the trip. That waterfalling day would have to be tomorrow where we set our sights more southwards…
Day 3: RESISTANCE IS FUTILE!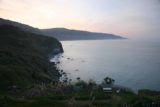 Julie and I awoke at 7:30am. As soon as that happened, I got my camera and braved the cool crisp air as soon as I realized that there was no fog and the sun hadn't quite risen over the mountains. So in the morning shadows were the familiar precipitous cliffs diving right into the crashing waves below. Indeed, Lucia was known for the location, and it was just as we remembered it.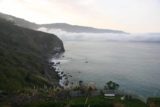 Then, I just realized that today was the first day of Spring, being the 20th of March. I guess it was fitting that there were lots of wildflowers blooming in the foreground of the cliffside scenery that Lucia Lodge was known for.
At 8am, we checked out the complimentary breakfast, which was more like a Costco breakfast. At least the sugar rush should be enough to get us going, but I don't think this was something worth staying around for if we had to get an early start to go somewhere (which we anticipated today).
At 8:30am, we left the Lucia Lodge and headed south. On tap for today was a long drive out towards Arroyo Grande and eventually towards Lopez Lake where we were hoping to see both Big Falls and Little Falls in the Santa Lucia Wilderness.
It wasn't going to be a trivial trip because it's at least 2 hours each way from where we were at. But if it wasn't for this out-of-the-way waterfall excursion, we'd have more time than we knew what to do with given that Limekiln Falls was closed and we had already seen what we could on the northern end of Big Sur yesterday.
Anyways, right off the bat, we were delayed by some road work, which lasted about 10 minutes. But after that, the drive was mostly uneventful as we zoomed along Hwy 1 towards San Luis Obispo (the very stretch of road we missed on Thursday afternoon).
At 10:10am we made it to San Luis Obispo and filled up on gas. Not long afterwards, we followed Ann Marie Brown
's directions towards Little Falls, which required us going on the Hwy 227 off the 101 Freeway.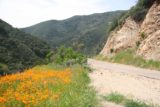 We ended up going quite a long ways on the local roads until we finally got to Huasna Rd, where a sign pointed left to Lopez Lake. And from there, we followed this road towards the High Mountain Road turnoff and proceeded along this route as the road gradually narrowed.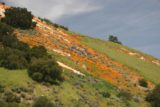 Ultimately, we made it past some Boy Scout Camp where the road started to go past some 6 concrete fords (none of them deep) and towards the Upper Lopez Drive. During the drive, I was fretting a bit about the fact that our rental car might not be able to make it to any of the trailheads given the low clearance and the fact that Lopez Creek might be too deep in any one of the many stream crossings according to the description. This was something I only realized after taking another look at the directions while filling up on gas back in San Luis Obispo, but since we were already this far, we mind as well go for it anways…
We weren't certain if we were going the right way when we went well past the Boy Scot Camp and the road started to switchback its way up towards a ridge (passing by several patches of lovely orange California poppies – the state's flower) before descending towards a juction between the Waters End Road and the Upper Lopez Road.
We turned right onto the Upper Lopez Road and saw a reassuring sign that both the Little and Big Falls trailheads were ahead about 1.5 and 3.7 miles respectively. But shortly after this sign and conference center we passed through, we immediately encountered a pretty deep looking stream crossing.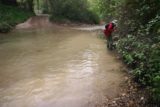 At first we went in and tried to cross it. But Julie noticed some steaming going out the front sides of the car and started freaking out that we might be shorting something or doing some water damage to the motor. So that stopped me right in my tracks, got my heart racing, and immediately I backed up out of the creek and continued until I could do a three-point turn.
From that point, I returned to the junction and just parked the car there at 11:10am. Obviously, Big Falls was going to be out of the question since there was no way we'd walk 3.7 miles one way just to get to the trailhead, but we could at least walk to Little Falls. Unfortunately, we're probably going to get a bit wet in the process.
Even though I did have Chacos
, Julie didn't have anything that would allow her to wade in water. So both of us donned our hiking boots (knowing they'll probably get ruined on this excursion). I decided I would suffer with her so she wouldn't be suffering alone.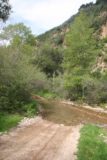 And sure enough we gingerly waded through the first two stream crossings every so often watching high clearance SUVs and trucks going past with drivers waving at us.
By the time we got to the third stream crossing, it looked rather long. There was a guy wading in the stream wielding a machete. Then there was a couple on the other side with a dog watching both us and the dude with the machete.
We said hi to the guy with the machete, and he was quick to point out that he was trying to kill some invasive fish called carp, I think, that was killing off the trout in the area. He probably sensed we were a little suspicious and apprehensive of the fact that he was carrying a weapon. But he was in good spirits and very friendly so that kind of disarmed our fears anyways.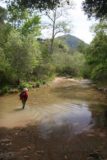 As we got towards the middle of this stream crossing, there came a point where we had no choice but to wade through shin deep to knee-deep of water. Further progress meant resistance was futile. So we just sucked it up, got our feet completely wet as water was now coming in the boots through the top, and was squishing our way forward from this point on.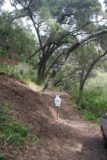 After about 5 more stream crossings (this part of the walking couldn't have ended soon enough!), we finally got to the signed Little Falls trailhead at about 1.5 miles from the sign (just as it said). There was a truck parked here, and it was probably one of those trucks that went past us.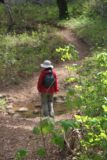 At this point, the walk was now on a real trail, but it was flanked with lots of poison oak. Some of the stands were taller than Julie, and in any case, we had to make sure that we weren't rubbing them too much. And as we made our way through, I came to realize that even had I walked in just Chacos
, I might've had difficulty keeping my exposed feet from getting exposed to the toxic oils on the poison oak that were so ubiquitous here.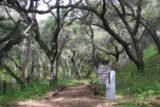 Eventually after another 20 minutes or so of walking, we got to a point where there was a yellow ribbon and a pink ribbon leading in different directions. The left one followed the stream and was basically a scramble amongst some poison oak as well as within the stream itself. The other way crossed the stream and went who knows where.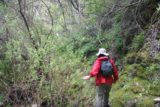 After a few minutes of awkward scrambling, we saw a trio of people and a couple of dogs enjoying the lower tiny falls. We still couldn't see the main falls we came for, but we knew it couldn't be that much further.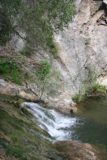 Sensing that we wanted to see the main falls, one of the guys already here told us to scramble on the right side of the stream as it was supposedly drier and easier.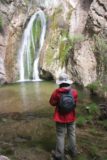 So we did just that and within another minute, we finally saw the prized Little Falls. Indeed, it was a 50ft one and it had its own little picturesque cove and plunge pool. So Julie and I were quite relieved that all the trouble we went through to get here at least wouldn't be for naught.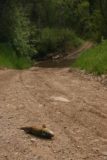 After taking as many photos as we could and savor the fact that we went to someplace quite remote that few people outside of the locals knew about, we headed back out towards our car. Along the way, I noticed a fish on its side in the middle of the road that still looked like it was breathing. It did, however, have a cut wound and blood coming out of it so maybe it was already about to die.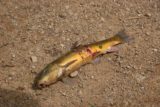 At first we were about to take the fish and put it back in the stream we were about to cross, but then we thought about the guy with the machete we saw earlier. It could very well be the invasive carp he talked about that was killing off the local trout. So we ended up leaving the fish on the road.
By 1:15pm, we finally were back at the car where we could relieve our pruny feet by removing the drenched boots and hiking socks and put on something more comfortable (Chacos
for me, clogs for Julie).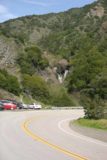 By 2:35pm, we made it Morro Bay where we had a quick but heavy Mexican lunch at Chapala's. We left Morro Bay at 3pm and eventually made it to Salmon Creek Falls. We had passed through some thick fog between Cambria and through Ragged Point, but the fog seemed to lighten up a bit around the falls.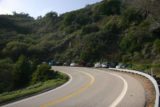 The pullout here was almost completely packed. I guess this was the price to pay to see the waterfall in the correct lighting situations. For the quieter mornings involved seeing the falls against the sun. So at least this would be the first time we'd finally see the falls with afternoon backlighting.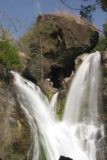 So we spent even more time taking photos of the falls and getting a kick out of some people who scrambled up to the top of the falls. There were heaps more people trying to find a decent way to photograph the falls from the base. One frustrated tourist had his tripod and camera all set up, but nobody would leave one of the rocks below the falls so he never really got his Ansel Adams type shot.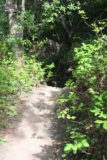 And once again, we had to be careful not to get toxic oils from poison oak which were everywhere. I was especially susceptible given that I had Chacos
on.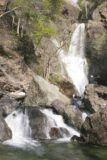 Once at the base of the falls, I waded in the really cold pool to get more photos. But my feet and ankles were starting to feel pain due to the cold, and I was also worried that some poison oak oils might be carried in the stream.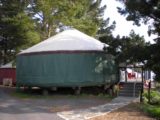 Once Julie and I had our fill of the falls, we returned to the car at 4:40pm. Then, we continued north and found Treebones, where we made a brief stop to see what their dinner menu looked like.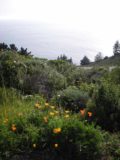 And once we saw some stuff we liked, we made it a point to return here for dinner once we put away our drenched boots and socks, but not before getting a few photos of the ocean from this higher vantage point.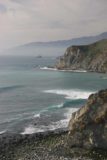 After continuing on to Lucia, we made another stop at a pretty large vista point car park considering the nice warm afternoon lighting painting the rugged cliffs ahead of us.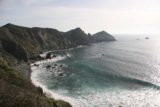 We figured this would make a pretty nice photo stop considering there were heaps of other cars here, but when we got to a point where we could take photos at the cliff's edge, we noticed even more cars down below us and apparently lots of surfers in the water as well.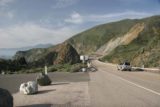 Indeed, this was one of the more happening roadside spots, and it seemed to be a pretty good time to chill for a bit and soak in the scenery that Big Sur is known for.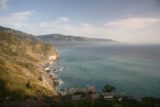 We finally made it back to Lucia Lodge at 5:40pm and we headed back down to Treebones at 6:30pm.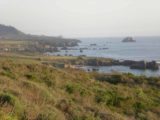 With the continuing fading of the sun, the rugged coastline was once again presenting pleasant vistas under the sun's warm glow. We managed to stop for a few photos before continuing on. And at 6:50pm, we made it to the restaurant, which was surrounded by tent cabins called Yurts. And there, we got to see a gorgeous sunset.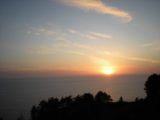 Even though the view at Nepenthe was desired, we didn't feel like doing the longer drive in the dark after dinner. But the one here at Treebones wasn't bad either. In fact, we were treated to a gorgeous sunset from the dining area. Not bad for our last night on this trip!
Besides, the butterfish was good, the short ribs were fall-of-the-bone, the eel roles were real good, and they even had sticky date pudding! We also had a great time talking to the worker here who also had a zeal for travel, and we discussed various things like Hawaii (where she and her boyfriend chef was from) as well as Australia amongst other things.
We eventually made it back to the Lucia Lodge at 9pm under another star-filled sky. And so it was time to kick back for one last night in Big Sur before heading home tomorrow morning…
Visitor Comments:
Got something you'd like to share or say to keep the conversation going? Feel free to leave a comment below...
No users have replied to the content on this page