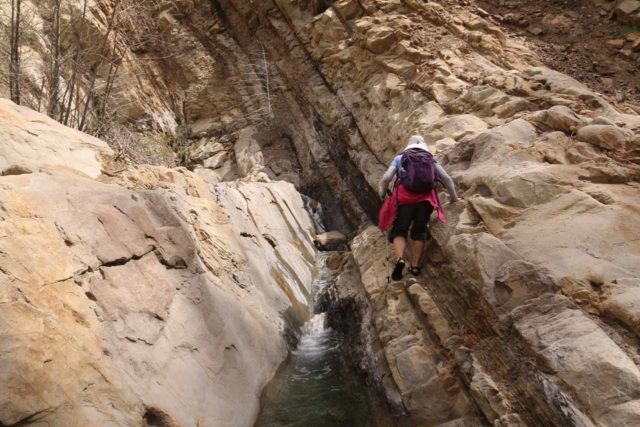 19-March 2017:
With the time being 2:50pm, I figured that it would probably be another 40-50 minutes before we'd finally be back at the trailhead. But at least now, we knew that we'd be hiking on trail again, and that would be way easier than the scramble adventure that we had just gone on.
Indeed, the hiking was swift, but as we were back in the open part of the trail, Mom was complaining that her leg was starting to cramp and lock up. I knew that cramps were a function of dehydration so we momentarily stopped so Mom could get into her third bottled water, which she had been rationing. But now was a good time to consume it….
When I awoke at around 7am on Sunday morning, I was awaiting Mom to show up as we had pre-arranged for her to join us on a hike out to the Ojai area – especially to Portrero John Falls, which was one waterfall I was anxious to go visit after all these years of drought. But after Julie and Tahia came home late last night at around 11pm, I figured that they were probably in no mood to wake up in time to get the necessary early start in order to pull off a hike way out by Ojai as a day trip.
So I did what I could to get ready, and when Tahia and Julie finally got up about 30 minutes later, my Mom also showed up to our door ready to go. But Julie knew that Portrero John Falls wasn't going to be an easy hike so she wasn't very keen on doing this day trip. As a matter of fact, we were scheming all kinds of ways for both Julie and Tahia to be occupied while Mom and I would do the hard hike and scramble, but with Tahia more interested in going to the beach, we just couldn't see how this could be possible given that Portrero John Falls and Rose Valley Falls along the way were way inland north of the Ventura and Oxnard area.
Eventually, Julie decided to just stay at home and be less "stressed" from the rigors of a hard hike. So it was just going to be Mom and I for another mother-son bonding time out in the bush. At least with this arrangement, we didn't have to worry too much about the additional logistics of Julie being on a strict meal plan as well as the distinct possibility that the Portrero John Falls hike was unsuitable for Tahia at her age.
And so at 8:05am, Mom and I left with our gear. Given that we anticipated quite a bit of stream hiking, I decided to bring my Keens
to keep it light and not have to worry too much about getting my feet wet. Mom also brought water sandals just in case though hers were Tevas
and I wasn't sure how appropriate those would be if the anticipated stream scrambling involved lots of boulders, fallen trees and branches, or other things that she might end up kicking.
Both of us also brought our hiking boots just in case though I figured I might not need them with the Keens that I hadn't used since New Caledonia a couple of years ago, and I had almost forgotten that I had them.
Given that we had gotten out to a relatively early start (though not as early as we used to be), we managed to cruise along the combination of the I-5 and US101 freeways. Although the traffic was pretty light, I was surprised at how many cars were already out on the road. Mom said that the LA Marathon was going on today, which might have explained some of the exits being closed, but other than that, the event wouldn't be affecting us since we'd be closer to Santa Barbara than downtown LA.
Indeed, getting all the way out to Oxnard and Ventura was quite far, and we even encountered a stretch of some pretty thick fog near the part of the freeway where it descended towards Camarillo and beyond. As we were passing through the Thousand Oaks area, we thought about perhaps paying a family friend a visit after our planned excursions as one of the family members living here was in coma after falling, especially in his advanced age. We didn't expect our hiking to take too long, we figured.
After leaving the 101 to go north along the Hwy 33, we'd eventually get to Ojai, then we'd continue on the Maricopa Highway (still Hwy 33) as it went well into the mountains. We passed by the familiar signposted Rose Valley turnoff which we figured we could do on the way home after doing Portrero John, and we'd eventually make it all the way to the unassuming Portrero John Trailhead at about 10:20am.
When I looked at the Nuvi
, I saw that we would have already made it to Santa Barbara long before making it to this trailhead. So no wonder why this place was as obscure as it was.
That said, there was already a truck parked here in the limited parking space so we squeeze in between it and the actual start to the trail. Since we had a small car, we were able to fit in no problem.
Out at the Portrero John Trailhead, the fog was long gone and the weather was actually pretty warm. It took another ten minutes for us to get started as we were busy strapping on our packs and making sure we brought plenty of water and snacks. But just as we were about to lock the car and get started, a pair of backpackers emerged at the trailhead and headed for their truck. Mom asked them if they had seen the waterfall.
Then, the couple gave us a quizzical look and told us that there was no waterfall here. They told us that they went to the campsite, which was about 1.6 miles from this spot. But I knew from the research that the waterfall was a rough scramble beyond the campsite so perhaps these folks didn't go much further than that camp. In any case, they took off, and we pushed forward with the hike. There was also a couple with a baby doing this hike minutes before we got started though I wondered how far they were going to get given how hard we anticipated this hike to be.
Sure enough, we passed the couple and baby right before a rockfall traverse as they were busy changing the baby's diaper. That brought back memories of when we had to do the same thing with Tahia in her very early years while we were out and about hiking, and boy was I glad those days were over. Still, once we got past these folks, it was pretty much Mom and I hoofing it alone in the Sespe Wilderness.
We had anticipated many stream crossings, and they definitely came fast and frequently. The start of the hike was within a pretty scenic gorge with interesting cliff formations, but before we knew it, as we passed the Sespe Wilderness sign, the trail then entered a more wide open (but still bushy) expanse where we could see more cliffs and mountains in the distance. Some of those cliffs reminded me of the kind of cliffs I'd expect to see in Southern Utah, which was quite a surprise considering we were in Southern California!
Anyways, the hike was for the most part uneventful for this first 1.6-mile stretch though we did encounter one part of the trail where it seemed like an underground spring had made the trail a little muddy in spots. The cliffs in the distance in this wide open expanse reminded me of the kind of striated and wrinkly cliffs I'd expect to see in Southern Utah in the Grand Staircase. But here we were in Southern California, which was totally unexpected.
Nevertheless, with all the exposure to the sun and the increasing heat of the day, we knew that this would definitely not be a pleasant hike later in the year when Summer would come in full effect. That said, perhaps the bigger concern at this point was how much longer it was going to take as it wasn't until about 11:30am when we made it to what we believed to be the Portrero John Camp.
There weren't any signs indicating that we had made it to the campsite, but I could see across Portrero John Creek that there were clearings and some organized piles of wood perhaps for campfires and such. I made me wonder though how quickly fires could spread here as all the bush around us were of the hard and prickly variety reiterating just how dry and arid this area could be.
Beyond the camp, the trail kept on going as it eventually convered onto Portrero John Creek. I guess it was at this point that we had to resign ourselves to creek scrambling though after a few minutes of doing this, I saw there was a trail up a steep embankment that seemed to offer a quicker alternative to the rough stream scrambling we were engaged in.
As we followed this trail, it didn't take long before the trail really narrowed and became quite overgrown. Still, as we pushed forward, the trail persisted though we were already getting scratches from having to rub against the hard overgrowth. There was even one fallen tree that Mom had to climb over and sit on before hopping down and continue the bushwhack.
Mercifully, this part of the trail was over and we regained the Portrero John Creek where we then decided that we mind as well stay in the stream to avoid that bushwhacking experience again. But the more we creek scrambled, the more it too was slow going and quite rigorous. We'd frequently find ourselves stumbling while trying to balance on loose rocks or trying not to get whipped by hard branches that were in the way (usually at face-level).
It was a good thing we also brought trekking poles, but there were some moments where they'd get in the way when hands were required on some of the scrambling stretches. And indeed, it was definitely fortunate that we didn't bring Tahia on this hike. She would've hated it!
There was one moment where we scrambled alongside a scenic cliff that reminded me of The Wave in Paria Canyon somewhere near the border between Utah and Arizona. I know that place required permits and they only issued like 5 in a day or something like that. Plus, getting to the trailhead probably required 4wd as it involved driving in sand. I wasn't sure how close this place was to the real deal, and I was hoping that perhaps we wouldn't need to do The Wave to check off another thing on the bucket list, but somehow I doubted that.
Anyways, onwards we scrambled.
The rough scrambling seemed like it went on forever because of all the scratching and awkward walking in the stream. I think the rough terrain took a toll on us, and especially Mom's boots. That was because the rubber sole on the bottom of one of her boots was coming off and her shoe was starting to behave like Pacman.
That was when Mom realized that she had brought the wrong boots and now she had to switch to her Tevas
, which offered little or no toe protection. By this time, we had been about an hour into the stream scramble and we were wondering when we'd finally get to the waterfall as it was already starting to get late in the day and we weren't even half way through this excursion yet!
So Mom left her broken boots at this spot to keep things light while we trudged on as the stream scramble didn't get any easier. We'd eventually reach some cascades where it appeared that we had to scramble into them in order to continue further up ahead. There were also other dicey spots where we found ourselves clinging to minor ledges while trying not to mind the consequences of falling or sliding into a dropoff.
Eventually, we'd reach a twisting cascade where once again, we had to scramble alongside a ledge where there was a bit of a notch in the gully carved out by cascades that were before us. The scrambling was definitely awkward, and there was a point at the top end of the notch that we pretty much had to scramble directly in the cascade before using all fours to climb up on a wedged rock then up to the top of the cascade where we found ourselves right in front of a fair-sized waterfall (probably 20ft or so).
However, further above this cascade was a much taller one. That one must be the Portrero John Falls! But as we looked around the rock walls supporting the lower waterfall in front of us, we were looking around to see where it would be feasible to continue climbing up past this falls and get right to the base of the main falls.
Fortunately, we saw a bit of a steep bush scramble to the left side, and we knew that we'd have to do that scramble in order to finish off this hike. And so after briefly documenting the falls from this spot (just in case), we then went on the scramble that required the use of our hands as the slope was very steep. Unfortunately, there were some leaves that had some sharp edges to them and they stung our hands. Even the dead leaves were pretty sharp!
I also managed to knock my head on a low-hanging branch which jolted me a little bit, but eventually, we'd get up above this scramble (going down would be another matter), and then we found ourselves on a wider ledge above the smaller waterfall with a nice contextual view towards the main Portrero John Falls. That main falls was said to be about 70ft tall, and I guess with all the trouble it took to get here, Mom and I were kind of underwhelmed though I'm sure if we looked at this waterfall objectively against the other So Cal waterfalls already in our Top 10, I'm sure this one might make the list.
So we took our time trying to celebrate our accomplishment. The water felt nice though the warm weather from this morning was kind of being tempered by some high clouds that were starting to block out the intensity of the early afternoon sun. Meanwhile, Mom and I were looking for picnic spots but we were pretty much exposed to the sun at the falls and there wasn't really a nice shady spot to picnic.
So after having our fill of the main Portrero John Falls, we then had to make the steep scramble back down to the lower waterfall (again, those star-shaped leaves jabbing our hands painfully as we were also trying to support ourselves on the steep slopes) before we made it to the bottom only to realize that even down here, there wasn't much of a spot to chill out and picnic. So we scrambled a bit more downstream where the cascades were, and only then did we find a couple of rocks to sit on just within the shade.
By the time we started snacking on apples and some crackers, it was about 1:35pm. We were also trying to stay hydrated as the weather out here was quite dessicating. I definitely had to get into my other 40 oz bottle, and I sure hoped that it would be enough to get us through the end of this hike. Anyways, our minimal lunch was definitely refreshing, but with the stress of having to do the stream scramble on the way out while it was getting late in the day, we didn't bask in our momentary picnic lunch for long.
By about 1:50pm, we resumed the return hike. About 10 minutes later, we got back to Mom's broken hiking boots. Knowing that prolonged scrambling in Tevas was just asking for an injury, I convinced Mom to wear her boots even in the broken state it was in. Actually, she used her long shoelaces to MacGyver it in a way to keep the loose sole attached to the main part of the underside of her foot. And so that seemed to at least allow her to continue on with the scramble a bit more confidently and with protection.
The return hike was actually coming along pretty swiftly as we knew generally where we had to go as well as we were going downhill (albeit slightly). But just as we were making pretty good progress, we then reached a point where we started to lose the trail again and the stream scramble got rough again. I even managed to drop my stainless-steel bottle (it was on the side of my day-pack), and that drop must have put a pretty big dent in it, which I knew would probably remain that way or worse for as long as we were using this bottle. That's definitely one big drawback for using stainless steel as opposed to risking it with the plastics like the Nalgene bottles.
When I looked at the GPS tracks on my etrex
, I recognized that we indeed deviated from the route that we had taken earlier on. And that appeared to be quite a ways ago.
So now we pretty much stream scrambled further down all the while looking for signs of a trail to our right. When I saw on the GPS that we had gotten within the vicinity of the previous path we had taken, I did a scramble up the embankment and sure enough, I saw a more established trail that we could walk again. This also happened to be near the Portrero John Camp.
With the time being 2:50pm, I figured that it would probably be another 40-50 minutes before we'd finally be back at the trailhead. But at least now, we knew that we'd be hiking on trail again, and that would be way easier than the scramble adventure that we had just gone on.
Indeed, the hiking was swift, but as we were back in the open part of the trail, Mom was complaining that her leg was starting to cramp and lock up. I knew that cramps were a function of dehydration so we momentarily stopped so Mom could get into her third bottled water, which she had been rationing. But now was a good time to consume it. I also had another half-bottle or so in my stainless-steel bottle just in case she needed more.
After another five minutes or so, we resumed as Mom's legs were loosening up. She was still stiff at times, but eventually at about 3:40pm, we finally made it back to our car. Fortunately, no one bothered to break into to our car as it sat alone at the trailhead. And we couldn't wait to get out of our smelly sandals and boots.
With Mom's cramp remaining a concern, I asked her if she still wanted to do Rose Valley Falls. I think at first with the day getting late, we wanted to skip it and do it sometime in the future with Julie and Tahia (knowing that it was a much easier excursion than the hike we were just on). But then Mom decided that since she was already here, we mind as well seize the moment and just do it.
And so we drove off with the intent of making the short detour to Rose Valley. And at about 4pm, we arrived at the familiar Rose Valley Campground and Trailhead. It was definitely a bit busier than when Julie and I last remembered this place, especially since it was pretty late in the day on a Sunday. I guess this place (like other seemingly obscure waterfalls) were getting more and more popular over the years.
As we pulled up to the familiar trailhead, we saw that the upper tier of the Rose Valley Falls wasn't really flowing, but there was a strand of drop that was visible even from the trailhead. So even on a year where we were getting intense rains for the first time since 2011, it appeared that after nearly a month without rain, the water levels for this falls quickly reverted back to "average". I guess the same could be said for Portrero John Falls though we were more glad that that one wasn't in high flow for the scrambling would have been even more difficult than it was.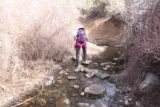 Anyways, the short hike went gently uphill with about two or three creek crossings though they were easy (so easy that even kids were able to do them without getting wet). And eventually, we'd get to the familiar Rose Valley Falls at 4:20pm. This was Mom's first time here so I'm sure it was a treat to her. However, there were a handful of locals here who enthusiastically told us about a cave that existed right behind the falls.
That was something I wasn't aware of before, and now they piqued my interest. The air filled with cigarette smoke as they were chilling out here. And after documenting the falls and getting somewhat accustomed to the bad air quality, I went ahead and took their advice and literally crawled beneath a low opening at the base of Rose Valley Falls and then got right into the darkness.
It was too dark and cramped to try to take a photo or movie without a flashlight. Plus, I was trying not to ruin the camera with water given that I had to crawl essentially in the stream. So as I was crawling, I was also trying to keep the camera bag above the running water, which was kind of an awkward bit of maneuvering.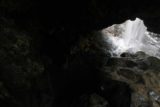 Eventually after crawling and squeezing further through the light at the other end of the crawl space, I emerged at the other side of the Rose Valley Falls where I found myself looking right up at the water falling on either side of me as it draped along the mossy travertine that I'm sure the water from the falls helped to grow over the years.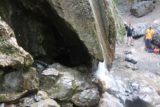 As I returned to the group of folks chilling, it was then Mom's turn to bring her iPhone
and crawl through herself. Again, she took the attitude that she mind as well do it while she was here. Sure enough, she, too emerged from the other side, and when she returned, she showed us the flash pictures that she took of the "cave" inside, which was something I couldn't do. I was relieved for her that her phone also managed to survive.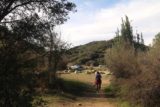 At about 4:40pm, we had our fill of Rose Valley Falls and started hiking back to the trailhead. By about 4:50pm, we were back at the car. By now, we were starving as we had skipped lunch and we were pretty much going to have ourselves a late lunner probably along the way before finishing off the long drive to get back home.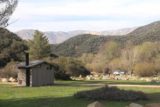 The drive back down to Ojai and then down to Ventura definitely had a lot of cars, especially of the variety of slower cars refusing to use the pullouts and holding up traffic. I kenw that there'd be no way we'd be getting home in less than 2.5 hours. So we mind as well try to grab a bite to eat along the way, especially since we were facing traffic along the 101 East as we went through Camarillo and into Thousand Oaks.
During the drive, we called Julie and told her that we probably wouldn't be making it home soon enough for us to have a dinner together. But she did recommend that we should check out the Mendocino Farms in Thousand Oaks, and that was exactly what we did. So by about 6:15pm, we found ourselves at the Mendocino Farms, where I looked forward to having my usual Peruvian Steak Sandwich.
But when we saw that they also had a Korean BBQ Steak Sandwich, that also piqued my interest. So we also got that. Then, Mom got eye hungry and got yet a third sandwich (to bring home), which was a steak BLT. I guess this is what happens when you go without a full meal for the entire day until now.
Anyways, the meal was satisfying (albeit quite guilty and filling), and now we could take on the remainder of our drive back home as we left the Mendocino Farms at 6:45pm just as it was getting dark.
Indeed, the traffic along the 101 was sluggish, but we'd eventually get home at around 7:55pm. At least I had the UCLA March Madness basketball game to listen to on the drive home. Anyways, I was quite beat and I'm sure I could've used some additional down time before having to go to work tomorrow, but sometimes you just gotta seize the moment and go for it then deal with the consequences later.
And so ended this adventurous day. My mind was still full of trying to figure out how to take advantage of all the precipitation we had gotten in the Winter months this year before the season ended. But for now, the only thing I could think of at this point was to take a much needed shower and crash in bed…
Visitor Comments:
Got something you'd like to share or say to keep the conversation going? Feel free to leave a comment below...
No users have replied to the content on this page