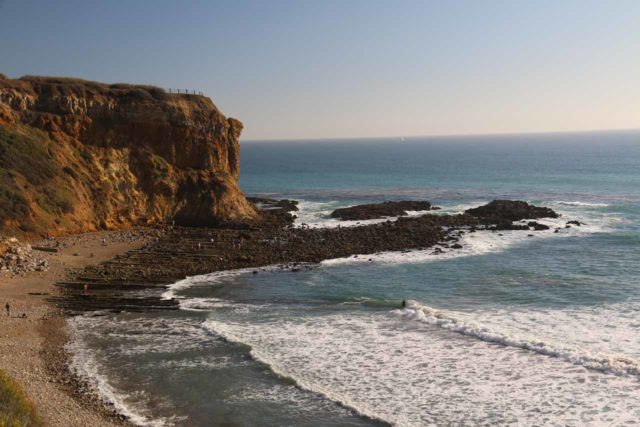 20-February 2016 to 21-February 2016:
Anyways, they kept going on Trabuco Creek Road, but Julie was still way behind trying to make sense of those internet blog directions that all of the sudden didn't make any sense to her. Still, she was insistent that the blog was right, but it still didn't add up to what I saw on the maps and what I was observing in the canyon.
So while Julie and I were having this GEICO Commercial moment (where Tarzan and Jane were arguing over directions), and Tahia was getting antsy about this hike becoming longer than she had bargained for, we kept going back and forth arguing over where the hiking began. And all this was happening while lots of other cars kept driving by either going to Holy Jim or coming back from Holy Jim or somewhere else. There was even some laughter from one of the passer-by cars obviously sensing that we were lost and we were about to put our daughter at risk…
Day 1 (February 20, 2016 – Los Angeles, California): "Unsustainable Practices"
It was about 12:45pm when we finally left the house. Even though Tahia and Julie came back from Chinese school about 15 minutes early, I guess the spontaneous get-out-of-the-house move for today was to go to Abalone Cove, especially since Julie had read on her phone that low tide was around 2pm today.
I was kind of hoping for a lazy weekend, but I knew deep down that this outing would be good for the family. Besides, I knew that Tahia was going to have fun looking for sea life in the tide pools. We had read good things about Abalone Cove in Rancho Palos Verdes, and we thought that perhaps we might see a bit more life than the tide pools at Crystal Cove in Newport Beach, which we did earlier this year.
And so we were out of the house. I was still kind of half out of it as I was still recovering from a real nasty flu bug. And while I was now able to sleep through the night finally, last night was my first restful night in that I spent longer than 8 hours in bed. That said, some of that was tempered by Tahia having a nightmare and I guess she crawled into our bed and started kicking us all night long. I don't think she was even aware of what she was doing throughout the night.
In any case, I was the driver and we took the 91 west to the 110 south. Then, we took the 110 south all the way to the end of the freeway. Even after all the years we've lived in Los Angeles, it felt like we were in unchartered territory as we were following some local roads until we'd ultimately wind up in some coastal road weaving through pretty exclusive residential neighborhoods before getting to the Trump National Golf Course.
I could tell from the conditions of the road that this area was probably not meant to be developed. After all, parts of the road seemed to be sinking and they just put new pavement over the sinking road. Who knows when the road would collapse?
Speaking of unsustainable practices, we could see these exclusive homes on this side of PV, and the first thing I wondered to myself was how there was enough water to feed the thirst of the residents here? On top of that, the brown on the hills here told me that the area must also be fire prone. I wondered how much taxpayer city resources would be needed to keep these million-dollar (probably closer to billion-dollar) homes from going up in flames? Or would the residents here chip in enough of their own property taxes and fire insurance to pay for its own firefighting? I somehow doubt the latter would be the case.
Anyways, after having been to the many natural spots around the world over the years, we definitely have a sense for where Nature would eventually take over. This seemed like one of them. Malibu further up the coast was probably another.
Well, we ultimately got to the car park for Abalone Cove at around 1:40pm, but we had to wait another 10 minutes before we were finally let in the gate since the parking was full. We weren't in that much of a hurry so we patiently waited, and then once the gate was open, we patiently waited again for other people to vacate their parking spots. And so it wouldn't be until around 1:55pm when we would finally park the car and get ready for the short walk down to the tide pools of Abalone Cove.
As far as preparing for an outdoor excursion, I was personally probably as ill-prepared as I had ever been. I had jeans on, a T-shirt, no sun protection… Pretty much I only brought my camera. Good thing Julie thought for the household as she brought our Keens as well as backup shoes for Tahia. She also brought some clementines and some water.
And so we promptly made our walk along the scenic bluffs yielding nice views down to the tide pools we knew we were headed to as well as the beaches and rocks down below. The water had a nice blue hue to it but they were nothing near the deep blues we were accustomed to seeing in less-developed and exotic locations. But what could we expect in a place as well-visited and as developed as Rancho PV?
We wound up going down a fairly steep trail to a paved sidewalk before we reached another junction. We saw that the most direct trail was this so-called Sea Dahlia Trail, which we had read might get a bit rough. However, after seeing where it was going, it didn't look bad at all. So we went ahead and did that Sea Dahlia Trail. After all, we had the right shoes on, and our footing was pretty sure. I couldn't say the same for this other family that tried to race down before us and wound up not moving that far as the girls in that family couldn't seem to handle the slippery terrain.
Eventually at around 2:15pm, we would finally arrive at the tide pool, which I think was called Portugese Bay or something like that. Whatever its name was, there appeared to be a life guard on duty as well as a lot of striated rocks with pools of water between them. Lots of people were already down here examining the wildlife in these tide pools. And we were about to join them.
As we were examining the tide pools, we could definitely see there were some fish in there as well as slow-moving sea cucumber and sea slugs. We even saw a handful of small crabs as well as sea urchins and sea anemones.
Tahia was busy being fascinated by all this life around her. Meanwhile, Julie realized that some of these sea anemones would respond (by closing up) to the touch. As they were busy being pre-occupied by the tide pools, I looked around and soaked in the atmosphere of the scene as other families were busy doing the same thing. Some of the more daring folks scrambled towards to where the crashing waters were.
I even noticed some tiny waterfalls that seemed to be replenished by the waves. Of course those don't count, but it was kind of an immediate lesson on how you get waterfalls in the first place, even in the unlikely example of tide pools.
Meanwhile, as I was looking around and enjoying the scene, I couldn't help but see numerous examples of some kids and parents picking up shells and collecting them. I knew this was a no no, but it seemed like there were way too many people doing it, and it seemed like the life guards here were more concerned with surfing the waves than actually enforcing the rules or keeping people out of trouble.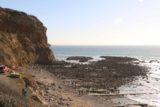 I guess that's what happens when you have people too disconnected to Nature to really know how to care for it. Instead, you get lots of unsustainable and thoughtless practices, and I knew deep down that it would only be a matter of time before this tide pool area might be just as lifeless as that of Crystal Cove.
We were hoping to see starfish and some of the other more complex organisms touted in the signs here, but I knew that perhaps the popularity and the unsustainable practices over the years probably meant that it wouldn't be possible except for those rare times when people would hardly be here. But on a Saturday afternoon, that was probably next to impossible.
Julie was saying that some friends who came here earlier did manage to see starfish, but that was probably years ago. I doubted that it could be recent.
Well, all good things had to come to an end, and we decided that we had our fill of this place by about 3:45pm. We thought that we could take the slow local roads all the way to Belmont Shore where we could have ourselves some cupcakes as well as an early dinner at either Open Sesame or Creperie. Of course, we also had to pay for the parking of this place, which we promptly did after making the hike back up along the Sea Dahlia Trail.
So eventually by around 4pm, we were finally driving away, and following some bridges near the Port of Los Angeles on some more unfamiliar roads that we hardly ever take. Julie's iPhone then gave bad directions when she tried to get me onto Ocean Ave, but we somehow wound up on Anaheim St then passing through Cambodia Town before finally getting back to Ocean Ave near the Long Beach Performing Arts Center.
Julie and I were reminiscing about a dinner at the Sky Room in one of the high rises around here, then we followed more coastal roads before we'd finally get to the Shore. Eventually, we'd find parking in one of the usual spots along 2nd street, and we'd finally settle in on having dinner at Creperie since we hadn't eaten there in a long time (we usually favor Open Sesame).
It was a good thing Julie called in for Chocolate Chocolate cupcakes at Frosted since they always run out. Then I'd bring that over for consumption at home while we were busy having escargots and West Indies dinner at Creperie. Tahia was being picky as always but at least she ate the veggies.
Eventually at around 6:30pm, we'd finally make it home. But that wasn't before we heard a thump from some guy aggressively parallel parking and hitting an adjacent parked car. That got us wondering if some punk did the same to our car since we saw a bunch of broken class and partial head or tail lights from cars around our parked car. But upon inspecting our car, we didn't see signs of damage. So there must've been some kind of accident somewhere near where our car was.
Anyways, that was the end of this day, but just as we were about to go to bed in anticipation of hiking in the OC for a hidden waterfall tomorrow, it seemed like Tahia was coming down with pink eye again. That's not good, and it could very well jeopardize our aspirations of doing the long awaited hike to Hidden Falls or Falls Canyon Falls in Trabuco Canyon…
I guess we'll figure out if it's going to happen first thing tomorrow based on Tahia's condition…
Day 2 (February 21, 2016 – Los Angeles, California): "Just Like The GEICO Commercial"
It was about 7:30am when all of us were fully awake. However, it certainly didn't feel that way as Tahia was fighting a nasty cough with a temperature as well as what appeared to be symptoms of pink eye, yet again. She had the pink eye condition a couple of years ago, and Julie was very vigilant about applying eye medicine to help the body fight off the virus responsible for pink eye.
Anyways, Tahia was hacking throughout the night so we knew that she wasn't getting a good night's rest. And her coughing could be heard through the walls of our bedrooms so that further conspired to make it difficult for us to get a good night's sleep. Indeed, all signs were pointing to this anticipated waterfalling excursion to this so-called Hidden Falls in Trabuco Canyon being cancelled.
But since Julie and I knew that we had to take our opportunities where we could, especially with Global Warming causing our rainy season in Southern California to disappear or dramatically shorten from what was once reliable months of rain in the late Winter and early Spring months, we reasoned to ourselves that perhaps we should just do this hike anyways since Tahia needed the Vitamin D from the sun.
I remembered having a similar dilemma last Saturday when I decided that as heavy and beat-up as my lungs felt from a nasty flu, I figured the fresh air and exercise to Fish Canyon Falls would do the body more good than harm, especially if the alternative was to just be couped up at home exposed to more indoor air pollution and hardly any of the healing properties of the sun.
And so we made up our minds, Julie prepared a quick brekkie for Tahia and I, and it was about 8:40am when we finally left the house.
The drive going south on the I-5 was pretty smooth going. Before we knew it, we were well past Irvine and then into Mission Viejo, where we took the Alicia Parkway exit after refusing to listen both Julie's iPhone and my Garmin Nuvi, who both insisted that we should take the toll roads on the 133 and the 241.
Then, we followed the busy Alicia Parkway, which took us through several lights including a pretty scenic stretch of what appeared to be a man-made like (called Lake Mission Viejo), which itself was flanked by expensive-looking homes. I'm sure this was one of the better-planned residential zones, and I'm willing to bet that some real estate photos must've been taken of the lake and the homes around it for the purposes to propping up property values here.
Anyways, once we got to a 3-way intersection with Rancho Santa Margarita Parkway, we then turned right, then crossed over the Hwy 241, which was one of the toll roads the GPS wanted us to take, before turning left onto Plano Trabuco Rd.
Next, we continued past more suburban developments before Plano Trabuco curved left and became Trabuco Canyon Road. Then, the road narrowed as it winded and descended its way down to the Trabuco Arroyo. But just before crossing the bridge over the creek, we turned right into a half parking lot and half unpaved gravel road. My memory wasn't that great of the last time we were here for Holy Jim Falls, but once we were on the gravel road, which the GPSes confirmed to be Trabuco Creek Road, then I knew we were in the right place.
The drive continued pretty uneventfully as the gravel road seemed pretty tame for the first couple of miles. But sure enough, we started to see some deep ruts and potholes, and now we had to maneuver our car around some of these craters without scraping the underside of Julie's car. Tahia seemed to be enjoying the bumpy ride since she was always the thrill-seeker.
We then got to a large pullout adjacent to a gate and a concrete ford. According to my pre-trip waypoints that I had inserted into the Garmin Nuvi, we were still 3/4-mile from the trailhead. So I kept driving, but Julie was now studying her internet directions and she kept nagging me to go back to the concrete ford to start the hike there since those internet directions said so.
Something had to give because I wondered how the topo map could be so incorrect. So I kept driving, but the further I went the stronger Julie's nagging became. Finally after we went past my pre-trip waypoint from where Falls Canyon was supposed to be, I finally found a turnaround point, which appeared to be near some informal campgrounds, which I think was part of Trabuco Canyon Campground. There were other hikers around here watching what we were doing, but they kept walking towards Holy Jim Trailhead as they realized we were turning back per Julie's nagging.
So eventually at 9:50am, we were back at the concrete ford and large pullout. But now there were a lot more cars parked here than before. So we awkwardly parked between a pair of cars just as at least four more cars had pulled up around this spot. One guy asked if he was in the right place, and Julie was telling him that Holy Jim was further ahead while we were in search of a different waterfall.
Apparently, that different waterfall caught that guy off guard (not knowing this Hidden Falls existed). In any case, he was on his way, and so were the other cars. Meanwhile, we were busy lacing up our boots and walking past the concrete ford before Julie was religiously trying to follow the hints provided on her printout of the hiking blog that alerted her to this place in the first place.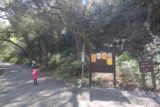 Anyways, I suspected that we had to hike an additional 3/4-mile just to even get to the mouth of Falls Canyon, but Julie kept insisting that the "trail" was only a few paces away from the brown Holy Jim sign on the other end of the concrete ford. I knew it couldn't be it because I looked around the canyon and saw no such opening in the immediate area. Indeed, we were still in Trabuco Canyon and Falls Canyon was nowhere nearby.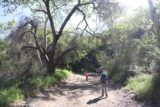 There was then a group of four younger folks (2 ladies and 2 men) carrying the book Afoot and Afield in Orange County by Jerry Schad. We asked if they were going to Falls Canyon, and they affirmed that they were. According to a map in their book, they had to hike on Trabuco Creek Road for 3/4-mile or so as I had suspected before entering Falls Canyon. But that map didn't seem to show there was a trail going into Falls Canyon, which made me suspect that off-trail scrambling would be required.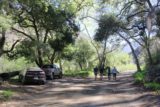 Anyways, they kept going on Trabuco Creek Road, but Julie was still way behind trying to make sense of those internet blog directions that all of the sudden didn't make any sense to her. Still, she was insistent that the blog was right, but it still didn't add up to what I saw on the maps and what I was observing in the canyon.
So while Julie and I were having this GEICO Commercial moment (where Tarzan and Jane were arguing over directions), and Tahia was getting antsy about this hike becoming longer than she had bargained for, we kept going back and forth arguing over where the hiking began. And all this was happening while lots of other cars kept driving by either going to Holy Jim or coming back from Holy Jim or somewhere else. There was even some laughter from one of the passer-by cars obviously sensing that we were lost and we were about to put our daughter at risk.
Finally, I convinced Julie that I'd hike back to the car then pick them up and drive back to the original spot where I thought Falls Canyon was supposed to be.
That would at least save us the extra 3/4-mile of hiking.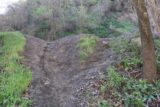 So eventually at 10:45am, we finally pulled over at an unsigned pullout just east of where I had noticed there was a tributary or side canyon emptying into Trabuco Canyon. I suspected that that must be Falls Canyon. But it wasn't until we stopped the car (we were the only ones parked there at the time) then got out of the car and looked around where I pointed to the mouth of what I thought was Falls Canyon did Julie finally see the log crossing Trabuco Creek that she saw in her internet directions.
Not long afterwards, the group of four that had overshot this spot just so happened to come back and realized that we had probably found the correct scrambling route for Falls Canyon.
So they were the first to go down the steep little gully down to Trabuco Creek, where they then crossed over the log that was pictured in Julie's printout. Julie and Tahia followed behind (one of the guys was nice enough to help Tahia in some of the trickier spots), and then I came in last as I was trying to document the whole thing.
Just beyond the log crossing, there was then another short climb over a fallen tree, and right after that, there was a little cave on the opposite side of Falls Canyon. Yep, that pretty much confirmed that we were in the right place!
The group of four chilled out at the cave for a bit as I'm sure that presented some good social media photo ops. One of the guys who got all the way up to the cave said that the cave didn't go anywhere. So I guess it was really nothing more than a visual hint that we were in the right place.
Beyond the cave, the trail was fairly obvious to follow as it meandered back and forth across the stream responsible for Falls Canyon. That stream was mostly dry, but the further up the canyon we went, the more we started to notice stagnant pools of water, and then eventually we started to notice the creek had some flow along with a few mini-cascades.
We eventually let the group of four pass us as we were letting Tahia set the pace. We had to go slow because there was quite a bit of poison oak growing around the narrow trail. Plus, there were a few rocky spots where we had to use all four of our limbs to get over some rock walls, and we had to be careful around some eroded sections where we had to watch where Tahia was placing her feet in case she would take a misstep and fall into the minor dropoffs.
It wouldn't be until around 11:30am when we finally made it to the Falls Canyon Falls (aka "Hidden Falls"). Just as that group of four and ourselves were enjoying the falls, there were these black flies that kept swarming around us and annoying the heck out of us. Fortunately, they didn't seem to be the biting kind of insects so we just let them be while we were basking in the glory of finally witnessing this waterfall, which appeared in none of our guidebooks and seemed to be one of the few new waterfalls we've visited that weren't duds.
The young group of four that were here were busy cliff scrambling and even noticing some ropes that seemed to go up to the top of the falls. There would be no way we'd be taking those kinds of risks, especially with our little one depending on us so we were content to take our pictures and movies as well as watching Tahia build up her arm strength throwing rocks into the shallow plunge pool beneath the Falls Canyon Falls.
This waterfall reminded me of Little Falls in the Santa Lucia Wilderness not far from Arroyo Grande given its split mossy appearance, but Falls Canyon Falls seemed to have rapidly dimishing flow. Julie said she had seen an Instagram photo of this falls just two days prior that seemed to have better flow than what we were seeing, and since we knew there had been fairly decent rain on Wednesday night and Thursday morning, that meant that this falls might only last one more week before diminishing to nothing more than a trickle.
Perhaps that would be another reason why Falls Canyon Falls was so "hidden" as it probably didn't have a very long season, if our observations and conclusions were to hold.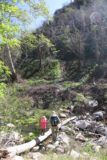 As we were making our way back towards the beginning of Falls Canyon, there was another group of four folks that were coming in. We wondered if they found this place thanks to our parked car providing the hint as to where to get started. In any case, we then got past the cave, then past the familiar log crossing of Trabuco Creek, and then back up the steep mini-gully to get back onto Trabuco Creek Road, where sure enough, there were quite a few cars passing by (further attesting to just how busy this road was despite the rough conditions).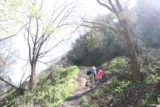 Julie found the colored ribbon on the ground nearly out-of-sight from Trabuco Creek Road, and we wondered if someone knocked it down to keep it from being a hint for others to find this place easily. I was always wary of such "landmarks", and sure enough, it seemed clear to me that some locals didn't want this place to be found so easily.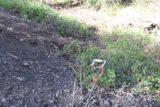 Back at the pullout, as suspected, there was one car parked behind ours, which I'd imagine belonged to that one group that had just entered the canyon when we were leaving.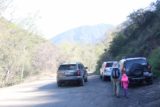 By 12:30pm, we were all back in the car. We each had ourselves clementines for an injection of vitamin C (especially since I was still shaking off the remnants of my flu and Tahia was fighting off hers that seemed to become more full blown). Still, Julie and I hi-fived each other despite our GEICO commercial moment earlier in the day, and now we could head home fully satisfied that we finally found this elusive falls when it seemed like we would be defeated.
By about 12:50pm, we were back on Rancho Santa Margarita Road as we were leaving Plano Trabuco Rd, and five minutes later, we were finally back on Alicia Parkway eventually sending us back onto the I-5 north. And on the way home, we decided to spoil ourselves with a quick late lunch eating in the car at Brodards for their signature nem nuong. Meanwhile, Tahia was lulled to sleep by the motion of the car.
Once we were done eating the late lunch at 1:45pm, we then left, where 30 minutes later, we'd finally make it back at home. Now, we could finally unwind the rest of Sunday afternoon and prepare ourselves for the work week ahead…
Visitor Comments:
Got something you'd like to share or say to keep the conversation going? Feel free to leave a comment below...
No users have replied to the content on this page