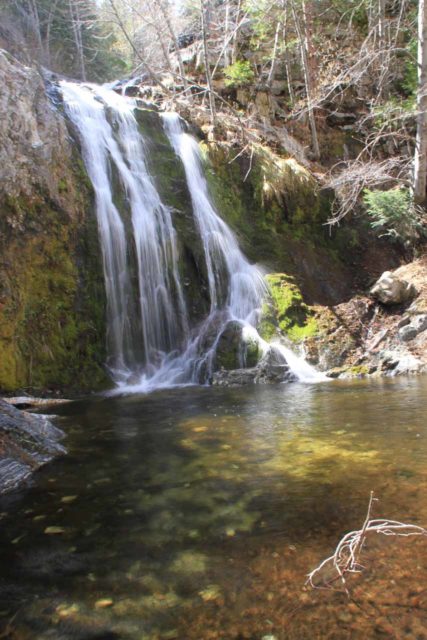 17-March 2013:
At the Day Use area where we parked (and where there were many other cars parked), we went past a bathroom and picnic tables then past a gate as the paved road curved downhill. We followed this road until the pavement eventually looped into a little cul-de-sac with a picnic area, but then the road turned back up and there was no apparent trail to keep going.
Something was off…
It was 8:30am when my Mom came by to pick up Tahia and babysit her for today while Julie and I would give Cooper Canyon Falls another try.
Two weeks ago, all four of us (Mom, Julie, Tahia, and I) were going to Cooper Canyon Falls, but after nearly an hour drive on the Angeles Crest Highway, Tahia apparently got car sick and threw up. At the same time, she had also pooped and it got onto her pants as we had tried to give her a pullup diaper in the hopes that she would be uncomfortable enough to associate pooping with not wanting to be walking around with the stuff in her pants.
It kind of backfired for us because we didn't bring an extra jacket and shirt to replace the soiled shirt from her barf. We also had to take the seat cushion off because it too was soiled with barf and the foul smell that came with it.
And to top it all off, there was poop on Tahia's pants. Well, at least we could give her a replacement set of pants since we had anticipated that, but we were also worried that her stomach had been upset for the past week or so and the smell of her poop did seem like it was more diarrhea than regular poop.
So given the circumstances, we had to abort that trip.
Anyways, with Tahia now headed to my parents' place, that left Julie and I to retry the Cooper Canyon Falls hike, which would be our first time in 10 years.
There wasn't a whole lot we remembered about that hike since it was so long ago. We also weren't as diligent with taking notes and photos for writeups back then. So there was a lot to look forward to on this go around.
We would eventually leave the house at 9:25am, which was earlier than two weeks ago, but it was still a bit later than I would have liked.
Once again, the drive went along pretty uneventfully. Thankfully, there wasn't much traffic on this Sunday morning. Plus, I was entertained listening to ESPN radio while Julie was busy reading her Kindle.
Then, the drive up the Angeles Crest Highway past La Canada also went without a hitch. In fact, it was smoother on this go around because there were no construction zones where traffic would be stopped for single-lane traffic in opposing directions.
Eventually, we'd make it to the Buckhorn Day Use Area at 10:50am. However, something seemed a little unfamiliar about where we parked because I had recalled a road that went straight to the Buckhorn Campground, which ultimately led us to the Burkhart Trail to Cooper Canyon Falls.
At the Day Use area where we parked (and where there were many other cars parked), we went past a bathroom and picnic tables then past a gate as the paved road curved downhill. We followed this road until the pavement eventually looped into a little cul-de-sac with a picnic area, but then the road turned back up and there was no apparent trail to keep going.
Something was off…
When Julie and I walked back up to our parked car, we proceeded to drive a short ways further east on Hwy 2, but it was barely a minute when we saw a sign that said "Buckhorn Campground turnoff 500ft" or something like that. And when we passed by the narrow turnoff, that sense of familiarity was back.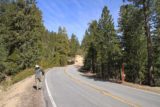 So we ended up parking a short distance east of that turnoff at a pullout flanked by snow. We were the only ones parked here, but at least we knew we were now in the right spot. However, I still wondered where all those people associated with those cars at the Day Use area went?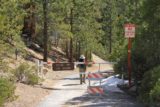 After displaying our Adventure Pass (we still had at least 3 or 4 more excursions to make the $30 annual fee at least break even), we locked the door, and headed along the highway and then turned right onto the narrow paved road leading to the Buckhorn Campground. It was about 11:15am when we had made it to this point, which meant our little Buckhorn Day Use Area escapade costed us 30 minutes.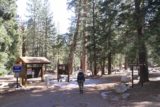 Unsurprisingly, the road was closed for the season, but we knew from memory that the walk on the road wasn't very long.
At 11:30am, we made it to the bottom of the road where we saw the Buckhorn Campground, which looked quite modern with clean-looking bear lockers, bathrooms, and fresh signs. Clearly, this campground must have gotten quite a bit of use as well as maintenance over the years, especially since the Angeles Crest Highway reopened in 2011 after the Station Fire of 2009 made most of our local mountains off limits.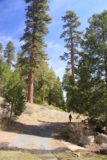 While at the campground, we started seeing signs for the Burkhart Trail, which was reassuring.
As we continued following the signs and meandering towards camps 26-28, we'd eventually make it to the Burkhart Trailhead. But that wasn't before we had noticed some pretty tall trees that looked Sequoia-like.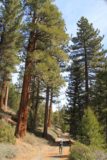 Julie and I were incredulous that redwood trees could exist this close to Los Angeles, but perhaps we had mistaken them for some other species of trees that just so happened to have trunks that reminded us of redwood trees. But whatever the case may be, it really did feel like we were getting Sierras scenery in our local mountains, just like Ann Marie Brown had mentioned in her California Waterfalls book.
I hypothesized with Julie that perhaps elevation had something to do with it because we were between 6000-7000ft, which was similar to the elevations we had faced when we were at the Mariposa Grove of Big Trees in Yosemite National Park a month ago. In fact, the thinner air up here was definitely noticeable, and the patches of snow that we saw along the Hwy 2 as well as a few icy remnants along the trail further reminded us that we were pretty high up.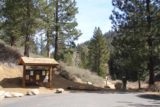 At 11:40am, we had finally left the paved roads and we were back on the familiar foot trail of the Burkhart Trail. I remembered when Stacey, Andy, Julie, and I were on this trail 10 years ago, we were the only ones here. Plus, it felt like we really were back in nature as the only other prints we saw on the trail were animal prints.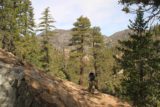 I recalled we were busy checking to see which animal prints belonged to whom and all we could speculate were that some belonged to squirrels, deer, mountain lion, coyotes, or maybe even the elusive bear.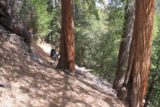 However, on this go around, we saw plenty of boot prints and only heard the song of birds.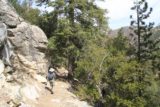 The trail continued descending, which was something we didn't really pay attention to before. Maybe it was because we were busy talking amongst each other to notice. But this time around, Julie and I knew that with all the downhill hiking we were doing now, that meant we would have an equally long climb up no the way back out.
A little more than half-way down the trail, we momentarily were treated to expansive views of some mountains in the distance.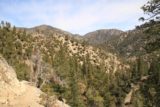 Much of the scenery here was green, which contrasted mightily to the black trunks and bare mountainsides of the Angeles Crest that we had passed through on the way here. I wondered whether the Station Fire really affected this area since the other area was hit way worse than here.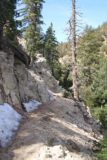 As the expansive scenery started to give way to tall trees again, the Burkhart Trail curved to our left and continued its descent, but this time under more shade. We still noticed a few more snow patches in this stretch as all this shade probably slowed down the rate of snowmelt since the sun wouldn't be directly melting away what was here.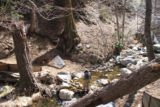 At around 12:15pm, the descent had finally bottomed out at a stream crossing that was also familiar from our last time doing this hike. I had recalled that the stream crossing was a little trickier and higher 10 years ago, but at least this stream had some healthy flow and that had to be a good sign that the waterfall would at least have somewhat healthy flow today.
Eventually the Burkhart Trail was joined by the Cooper Canyon Campground trail, where we saw a pair of women momentarily resting with their frame packs. We briefly conversed with them about the falls, and they told us that it was going pretty well though the flow wasn't high. They also told us that there were a lot of young boys down there so we knew right away that this experience was a less quieter than 10 years ago.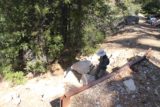 About 15 minutes from the stream crossing, we reached a point where we saw some unattended frame packs left by the trail. Nearby there, we saw a steep path going down a gully with some voices coming from below. As we examined the steep path below us, we saw there were people down by the falls so we knew that this was probably the place we were supposed to make the steep descent.
I had recalled there was a rope to help with the steepest parts of the descent from 10 years ago, and I wondered if that rope was still there.
Anyways, Julie made the initial move gingerly as the steep slope did force us to go slow and really pay attention to our footing. As we went lower down the gully, we saw a pile of poop and a couple pieces of toilet paper with poop stains left behind. I reckoned it was human poop, but it was kind of strange to see that there, especially since it was real easy to step in it as it was smack in the middle of the scrambling path.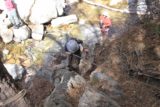 As we got towards the bottom of the descent, we saw there was a rope tied to a tree that had been cut. I wondered if that was the rope we had used a decade ago. However, there was another rope that led down a slightly different path to the right. Towards the bottom of the descent, it was a little wet and the rope was also wet and icky.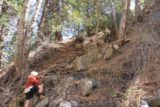 Eventually, Julie and I both made it down to the bottom. And it was just in time for the young boys that were down here to be on their way back up. Apparently, they were Boy Scouts who were busy skipping stones or engaging in some kind of game involving the falls.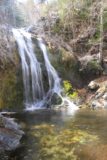 The sun was kind of in a terrible spot as we were trying to photograph the falls, but it was directly above us and slightly in front as well. We had to shield the lens with our hands, which made it hard to take long exposure photos without a tripod.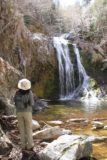 In any case, the falls indeed did have pretty satisfactory flow though it had nowhere near the volume from 10 years ago. At least the benefit of that was that we could scramble a little further onto the stream's middle where we could get direct looks at the falls (if not for the annoying sun getting right into our eyes).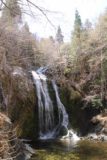 When the Boy Scouts had vacated the premises, Julie and I had the falls to ourselves for the next 15 minutes or so. We naturally took photos as well as movies, which was something we didn't do last time.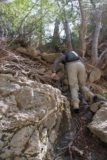 And with that, we accomplished what we had set out to do that was 10 years in the making. And by 12:50pm, we were back on the Burkhart/Cooper Canyon Trail after making the steep ascent which was much easier than going down.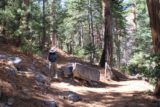 My head was starting to throb a little bit, which was probably due to the altitude. That was something I wasn't very used to having to deal with in the local mountains, but that was further proof that the thin mountain air was something not to be taken lightly no matter where we were geographically.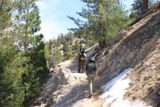 As we walked up the trail, we had caught up to the line of Boy Scouts as the troop was spread thin as some hiked faster than others while the last person in the pack was an adult to ensure no one was left behind. We could see that it wasn't easy to be hauling that much weight while tackling the long uphill climb, and that was when I reminded Julie what Ann Marie said in her book that day hikers tend to get "more smiles per mile." Amen to that!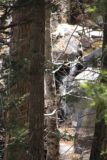 As we were busy passing one troop member after another, we'd eventually get to one of the adults closer to the head of the pack. He was regaling us of some fishing stories near Yosemite, which was something we couldn't really relate to since Julie and I never got into angling. But to hear his excitement about being able to see the fish go for his bait through the clear water, which allowed him to know when to pull on his line, that was something I'm sure would be a pretty cool thing, especially considering it became their dinner.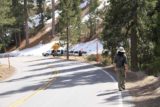 We'd eventually make it back to the car at 2:10pm. I had run out of water by then, and so did Julie. I guess we had underestimated the amount of water we would be consuming on this hike so the next time we do a 4-mile hike like this, we ought to have known better than to stray from our usual policy of 2 Kleen Kantene bottles of water per person.
Anyways, as we approached our car, we noticed that there were at least 3 other cars parked next to us with a couple of families sledding in the snow and ice adjacent to our car. I briefly tried to practice my spanish with this family, which caused turn some of their wary looks into smiles.
So as we were finally able to change shoes into something much more breathable and comfortable, we hopped into our car and proceeded to head back towards the 134 and 210 Freeways near La Canada. It was too bad that the Azusa Highway between Hwy 2 and Crystal Lake was closed because that would've dramatically cut down our drive time towards my parents' place.
Thus, it wouldn't be until about 3:30pm when we Julie and I decided to have a late lunner at Penang for some Malaysian food that we hadn't had in many years. Their roti canai really hit the spot, and we also enjoyed the Nasi Lemak though we Mango Chicken that used to be a favorite of ours had a bit too much food coloring for our liking, which probably attested to how much we changed in terms of how much we're paying more attention to what we were eating.
Nonetheless, it was satisfying and by 4:15pm, we were back at the parents' place to finally see our daughter once again as well as a few of my parents' guests who were family friends that we hadn't seen in since I was little.
All in all, it was a pleasant reminder of why Julie and I go out to go waterfalling, especially with the looming return to the rat race in front of us tomorrow…
Visitor Comments:
Got something you'd like to share or say to keep the conversation going? Feel free to leave a comment below...
No users have replied to the content on this page