Day 3 (August 18, 2019 – Los Angeles, California): "Crane Valley Detour"
It was about 5:30am when I awoke. Mom was already up at this hour, and it was still dark outside. Indeed, I had to still come to grips with the fact that we're no longer in Scandinavia where early sunrises and late sunsets were the norm all Summer long.
It took quite a while to prepare the remaining hot dogs and eggs for breakfast.
Then, we had to clean up the cookware as well as breaking camp.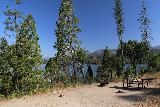 So it wouldn't be until about 9:20am when we finally left Bass Lake. And it was none too soon as it was already getting hot. Plus, we wanted to beat out the inevitable traffic along the 99 and especially on the 5 as we'd return to the LA basin later in the day.
The original plan was to go to Oakhurst to pick up some more ice for the cooler to preserve the unopened meats and veggies still yet to be consumed. We could still cook those at home.
Plus, we thought we could fill up gas for cheap in Oakhurst after seeing how cheap the gas prices were compared to the rest of Central Valley as well as Los Angeles.
But the GPS had us take one of the back roads in Crane Valley, and it eventually brought us to the 41 somewhere south of Coarsegold.
Thus, we ultimately ditched the idea of going to Oakhurst, and we wound up picking up ice before returning to the 41.
We then filled up at a cheap gas stop in Tulare, which was where I noticed that station earlier on in the trip when we were driving up.
And finally, we made a spontaneous lunch stop at this place called Raffi's Place in Glendale, which was apparently the place to be for Persian food.
Initially, Julie floated the idea about having Ethiopian food in the Fairfax District, but knowing that parking would be very difficult to find, we eventually decided to go to Glendale instead.
We got to Raffi's at 1:40pm, but we didn't leave the place until about 3:40pm. We had to wait to get seated, then we had to wait quite a while for our food.
Indeed, that place was quite busy and so the slow service was not unexpected.
We ultimately got a ghormehsabzzi (a staple that I always go with when going to any Persian Restaurant), as well as a Fesenjan, and a couple of different kebab-like dishes (I think they called it Soltani).
We had way too much food for a single sitting, but we sampled the good stuff, took the rest of it home, and that would be my leftovers for lunch at work tomorrow and possibly later on this week.
Eventually at 4:30pm, we finally made it home. And with that, now we had to get through the chores of unpacking, cleaning up, doing laundry, and getting ready for the week.
It's times like these that I wish I didn't have to work, but we all know that can't happen in reality. Indeed, you have to take the good with the bad as it's like the yin and yang that has to occur in life…
Visitor Comments:
Got something you'd like to share or say to keep the conversation going? Feel free to leave a comment below...
No users have replied to the content on this page