Day 2 (August 17, 2019 – Bass Lake, California): "Near Misses and Near Hits"
It was about 5:45am when I awoke. I was aroused by a baby making noises from a neighboring camp so I guess at this point, there was no going back to sleep.
Even though the sleep wasn't exactly the most comfortable because Julie kept rolling in my direction as apparently we were sleeping on a slight slope, I was surprised that I never had to go to the restroom in the middle of the night last night.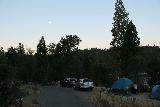 Regardless, I was already a sticky and oily mess, and my mindset was to take a much needed shower later this afternoon provided that we could get there before the recommended place at Miller's Landing would close.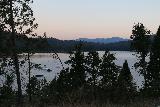 At this time of the pre-dawn hours, I could see the full moon about to set. Mom also got up at this time of day, which she tended to do out of habit anyways.
Her back seemed to be holding up despite sleeping outdoors, and perhaps that had to do with the air mattress that they brought on this trip. By comparison, Julie and I (as well as Tahia) were sleeping on Thermarests, which were way thinner than the mechanically-inflatable air mattresses.
Regardless, the kids ended up being awake at around 6:10am, and as much as we tried to shush them to stay quiet during quiet hours, they still had plenty of moments that I'm sure would frustrate neighbors trying to sleep.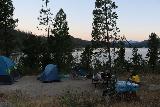 We wound up spending a good deal of time preparing breakfast as well as setting up the above-the-table tent, which we didn't need to do last night. But in this instance, not long after the sun went up, it definitely started to feel warm.
We all ate hot dogs, kimchi, and some greens for our brekkie. Julie and I also tried to consume some of the self-made kefir that we had brought on this trip.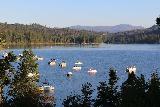 So far, it seemed like the coolers full with ice were doing a respectable job in keeping the meats and other vital produce relatively cool. But we'd probably have to return to the Forks Store to pick up some more ice as well as a couple of towels that Mom forgot to bring for Joshua and Sophia.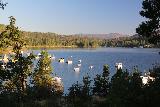 While we were preparing for breakfast, I took some time to enjoy the views towards Bass Lake as the morning sun was shining in the right direction.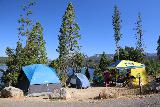 Right at 8am, we started to hear motorcycle-like noises from the water, and sure enough, there were people already boating as soon as the quiet hours have elapsed.
As much as I wanted to get an early start to ensure we'd have a parking spot for the Willow Creek Trailhead (the target of today's hike for both Angel Falls and Devils Slide Falls), it wouldn't be until about 9:20am when we were finally heading out for the day.
I wasn't sure if we were giving ourselves enough time to hike to at least Angel Falls, which was said to be about a mile from the nearest trailhead by the Road 274 bridge (according to the Ann Marie Brown directions), and the fallback was supposed to be at the Willow Creek and Forks Day Use areas, which would have extended the hike a bit more.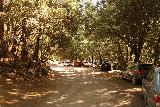 Anyways, by about 9:30am, we found the parking area for Willow Creek, which already had quite a few vehicles here. However, there seemed to be plenty more space for parking. I'm sure it would be totally full when it would get hot later in the day.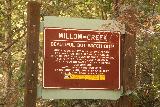 Regardless, it took some time for everyone to get geared up. And when we finally did get ready, I saw that it wasn't the best thing to walk along the Road 274 shoulder (of which there was none) towards the bridge.
So we spent some time going past an ominous sign saying Willow Creek was beautiful but dangerous before looking for a more sanctioned and straightforward path (especially since I saw some people pull up and yet none of them walked the 274 Road to the trailhead by the bridge.
After several minutes of looking around and not finding what we were looking for, we ultimately decided to follow the Ann Marie Brown instructions and head back to the Road 274 then walk the shoulder (or lack thereof) towards the trailhead on the far side of the bridge over Willow Creek.
We ultimately got there at around 10:10am, and now we were back in business as we were following a pretty rutted road.
It turned out that there were a couple of cars parked at some informal spots around here, and this gave Dad the idea that perhaps he could have parked here instead of the other spot that we were at.
Shortly thereafter, we noticed that there was a small bridge leading to some kind of narrow trail, which at first was fairly straightforward to follow as it followed along the east side of Willow Creek.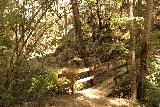 Eventually, the trail degenerated into something where there was a bit of a climb, which concerned me regarding Dad's gimpy knee and Mom's tight back.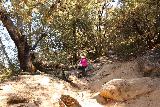 Julie and the kids were up the furthest ahead, while I straggled behind as I kept getting distracted by side trails leading to some interesting cascades along the way.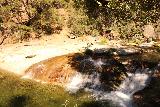 In one instance, I noticed a rope swing by a cool water slide. I also noticed some people walking on the other side of the creek, which made me think that we must have missed the sanctioned trail leading from our car park.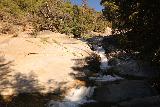 Oh well, in any case, after seeing another attractive water slide that seemed inaccessible from this side of Willow Creek, I ultimately caught up to the rest of the family at a different attractive cascade.
Julie thought this was the Angel Falls, but I had a feeling that it wasn't. Regardless, they decided that this was going to be their chill-out spot while I'd continue to pursue the Angel Falls (assuming this one wasn't it) and the Devil's Slide Falls further on.
And while I was busy taking pictures before heading out, we noticed that Sophia slipped and fell into a shallow part of Willow Creek.
Dad aggressively went into the creek after her when he, too, slipped and fell into the shallow part of the creek.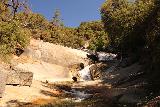 Fortunately, there wasn't a dropoff in the immediate area, and we eventually got Sophia out of the creek though not without a bit of a struggle.
Julie was somewhat panicking though I didn't see much of a reason to panic.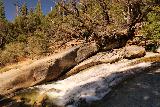 Dad was a little stuck in the creek because he had trouble getting up against the weak current of the creek as well as the slippery terrain. But I eventually helped Dad up.
As I looked around, I saw that there might be a spot a little further downstream where it might be a little safer to play for the kids though the descent to get down there was somewhat dicey and slippery.
The leaves covering parts of the granite surface were concealing a wet streak that make the footing all but uncertain at that point.
So given all that, Julie decided that it was time for the rest of the family to head back. It was simply too dangerous for the kids to be playing here.
I guess upon reflecting upon the sign we saw at the car park on Road 274, they did mention that since 1989 there had been at least one fatality on Willow Creek every year since. And with this experience, I could now appreciate why that is the case.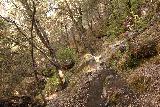 We ultimately decided that while I pursued the waterfalls on Willow Creek by myself, they'd head back to camp to perhaps play in the lake or at least prepare lunch. After all, it was already 10:50am.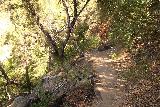 We agreed that we'd meet at the trailhead (Dad mentioned the one by the bridge) at around 1pm, which I estimated would be the latest that I'd arrive.
So with that, I took off and continued on the non-trivial trail as it skirted a narrow and steep path alongside Willow Creek.
I had doubts about whether I was on the right path to Angel Falls or not, but eventually I started to notice water pipes, and I used that as the clue to follow along the faint trails there to get to the waterfalls.
At around 11:05am, I ultimately made it to Angel Falls, which was a beautiful and large slide waterfall with some kind of dam or weir near its top.
I guess that contraption must have been related to the water pipes that I had been seeing to this point.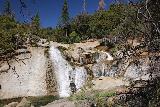 Anyways, I could see now that there were a few chill out spots down below in the sun (one person apparently claimed such a spot as there was a towel placed there on the hot granite surface).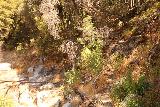 Meanwhile, I was checking out the views from the trail before I saw that the trail actually continued either along the pipes or made a steep climb up an informal path to the right of it.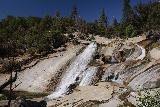 Regardless, I took some time checking out the falls from the bottom as well as the side view from the trail. There was even a nice view back in the direction of Bass Lake way in the distance from the trail.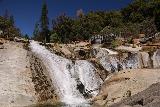 As I was busy documenting the falls, there were a group of four guys that showed up. Plus, the guy downstream who had his towel set up was back. And he was apparently free to change clothes and just sunbathe in the nude.
After having my fill of the impressive Angel Falls, I then had to decide whether to follow the pipes to get to the top of Angel Falls or to take the narrow and steep informal path to the right of it.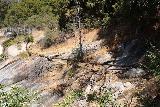 None of this resembled nor came close to the ease by which the Ann Marie Brown book had suggested this trail should be. However, I did notice some people in the distance seemingly walk uphill from the top of the falls, and perhaps they figured out the official Willow Creek Trail that we should have taken in the first place.
Speaking of which, there didn't seem to be any signage throughout the hike, and that perhaps made for an awfully confusing experience. Still, the family missed out on this waterfall (that's what happens when your mindset is such that you're ready to leave and give up more so than pushing forward and seeing what's around the next corner).
And I guess they probably felt it was a waste of time for them for missing out on at least Angel Falls, which was the target waterfall for the family.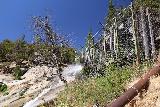 Anyways, I ultimately decided to follow the pipes to get up to the top of Angel Falls. Meanwhile, the guys took the high road and we ultimately got up to the falls at the same time.
When I asked them whether that path was easier or not, the first person replied, "Not really."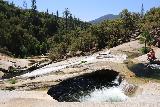 And so by 11:30am, we were all enjoying the top of the falls. There were a few dozen people already up here basking in the sun or looking for calmer parts to bathe in further upstream from the sliding part of Angel Falls.
There was also what appeared to be some kind of rope-assisted crossing (or at least that's what it looked like from my vantage point).
Regardless, after having my fill of this top of Angel Falls, I then decided to keep pushing on towards the Devil's Slide Falls. By this time, it was getting late as I had promised to be back by 1pm, and I knew I still had about 1.5 miles each way to go.
Beyond Angel Falls, the trail was definitely more obvious and so I was making quick progress.
Along the way, I spotted some intermediate cascades, including one with some interesting eddies carving notches into the bedrock besides Willow Creek.
Beyond that, Willow Creek calmed down as the trail skirted by some wide pools as well as a well forested area providing enough shade to allow me to make the hike without needing to wear the hat in the Summer heat of the day.
Eventually, after a bit of an uphill stretch with a teasing glimpse of the front of Devil's Slide Falls in the distance (if not for the damned trees in the way, this would have been an awesome spot to see the entirety of the falls), I finally made it to the safety fences preventing sanctioned access to various sections of the long cascade of Devil's Slide Falls.
By about 12:10pm, I finally arrived at the very top of the Devil's Slide, and that was where the safety fencing stopped.
There were a few seemingly calmer sections of Willow Creek upstream from the long cascade of Devil's Falls, but it was a rather unsatisfactory experience.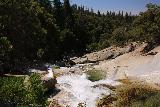 Since Willow Creek was in a Summertime flow, and the footing seemed to be a bit more secure, I actually went to the other side of the fence and carefully scrambled alongside the sloping surface trying to get the maximum experience out of this waterfall.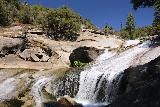 There was one section where I was looking down at what appeared to be the main slide of Devil's Slide Falls (probably earning it its name), but its viewing spot was perched precariously down a steep slope where it was a little dicey to pursue a better view.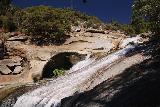 I could totally foresee that a spot like that would be why they erected safety fences along the trail to keep people from being tempted to coming here.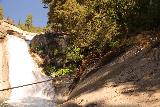 As I was about to have my fill of this precarious viewing spot for Devil's Slide Falls, I did notice that there was a continuation of a trail of use going further downhill around and away from the slippery granite dropoffs and slopes.
As I took this steep path, I encountered what appeared to be a rope set up to help with maintaining grip on the slippery granite surface towards the bottom of the Devil's Slide Falls. Without that rope, I wasn't sure if it would be possible to do a rappeling-like maneuver to maintain contact and friction on the way down to the bottom.
Eventually by about 12:25pm, I finally arrived at the bottom of the falls, where I got a frontal look at the main sliding part of the Devil's Slide Falls.
There was enough water coming down the falls to produce a light mist that threatened to put waterspots on my camera lens as I was taking pictures and videos against the falls in half shadow.
At least with getting to check out the falls from this spot, I finally felt like the added effort to continue beyond Angel Falls was worth it. And I managed to get as much as I could out of this spot before heading back up the ropes and back onto the trail by 12:35pm.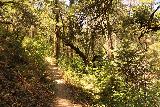 I opted to not continue downstream to see what other parts of the falls was worth seeing. Again, with a 1pm rendez-vous time with the family at the trailhead, I couldn't linger any longer.
On the way back to the trailhead, it was mostly downhill and I was going at a quick pace.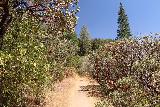 Now I noticed more people swimming in some of the calmer parts of Willow Creek that was previously empty on my way up to Devil's Slide Falls. I even noticed some older people doing jumps into a deeper part of Willow Creek.
By about 1pm, I finally made it back to Angel Falls, where I then promptly crossed the creek beneath the wire rope traversing it.
The wire rope was quite high, and when I got to the other side, I realized that this rope actually supported a contraption where one would sit in it and pull themselves across the creek.
Anyways, by this point, I decided to return to the car park from the other side of Willow Creek instead of following the official Willow Creek Trail on the east side of the creek (just to see where we should have gone in the first place).
And so I began my descent and quickly made my way down while vacillating between ignoring detours going to intermediate cascades on Willow Creek as well as stopping for some of the more obvious or convenient ones.
In hindsight, we probably should have tried harder to find the trail on this side of the creek because there seemed to be many more opportunities for the family to enjoy the water. However, towards the top of Angel Falls, it didn't appear that the trail was that obvious to pursue either.
Regardless, after making a few more stops alongside Willow Creek and watching other visitors enjoying the cooler waters to offset the hot Summer sun, I finally made it back to the Road 274 car park at 1:20pm.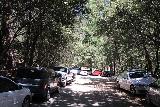 The cascade with the rope swing turned out to be barely a few minutes from the Road 274 car park, which further confirmed that we messed up by not coming here first.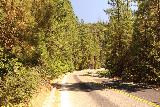 Well, back at the car park, I didn't see anyone here to pick me up. But I did notice that there was hardly any more parking space in the area. Indeed, any opportunity to play in the water was a recipe for a busy spot in the Summer.
Recalling that I should meet up with whoever is picking me up by the bridge on Road 274, I then promptly walked back along the road to get back to the familiar car park.
And when I saw that no one was parked at the trailhead (not that you could park there anyways), I then walked back along the rutted road before I finally saw Mom and Dad chilling out by the white car that was and still is parked there from this morning.
I got there at 1:25pm, which was a little less than a half-hour later than anticipated, but Mom and Dad said that they only got there about 6 minutes or so ago.
So all things considered, it pretty much worked out. Still, I had to break them the news that they didn't see Angel Falls, and when Mom saw my iPhone footage of it, she immediately wished she could come back here to do it. Maybe another time when her back feels better and there's still water in the creek…
At about 1:40pm, we were all back at camp again. Apparently, everyone had eaten lunch except me, and we had to prepare some more hamburger buns and an additional burger with some salad to make it a lunch for myself.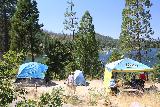 The kids were busy trying to rush me to finish eating so they could play in the pool or in the lake. They simply couldn't wait to get to play as apparently they didn't get to play in the water the whole time I was busy doing my hike.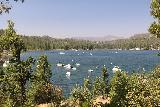 Little did the kids (especially Joshua) realize that they were slowing me down by pestering me like that, and thus they were delaying when we might get to a water play area around Bass Lake.
It wouldn't be until about 2:45pm when we were finally leaving camp again.
The initial thought was that we'd go to Recreation Point for day use swimming, but we saw that the area was actually for groups only, and it costed like $213 for one group site and $107 for the other two spots. And this was the cost per night!
When we went back to the Bass Lake Ranger Station, they pretty much confirmed that we couldn't go to Recreation Point for water play.
However, they did mention that the Falls Day Use Area as well as Denver Church were good places for kids to play in the water at. Then, they also said that they were full or very likely to be full.
So with that bit of disappointing news (not that it was surprising to me), we ultimately decided to just drive out to the north shore of the lake in pursuit of the Falls Day Use Area.
When we eventually got there, it turned out that we got lucky scoring a parking spot. And so the kids finally got to have their play time in the water!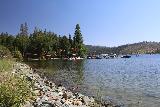 It was some time after 3:15pm or so when we parked, and we ultimately spent the next 90 minutes or so floating on the blow-up floaties in the shallows of Bass Lake.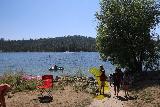 The water seemed to have a little bit of a soapy consistency or film to it, and I wondered if that had to do with all the motorized boating going on in the lake. It kind of reminded me of the filthiness of Lake Elsinore.
Regardless, we looked past the filth and just enjoyed cooling off from the Summer heat.
The kids were busy trying to play "Chase Uncle Johnny" and we were having a blast splashing each other as well as getting some good exercise in the water.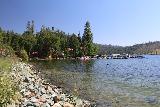 Even Julie got into the act as she was relaxing on one of the blow-up floaties.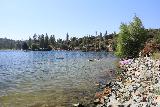 All in all, it was good fun, and it was the long-awaited water play that left all the kids pretty satisfied by the time we got out of the water and back into the car at 5pm.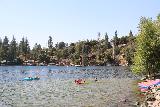 On the way back to camp, we even stopped by the Forks Resort store so they could pick up an ice cream of their choosing.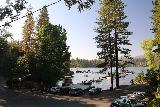 Then, we continued driving towards Miller's Landing, where we all had ourselves a much-needed shower though I didn't think it was cheap as we wound up spending nearly $45 for the shower tokens as well as for a couple of backup towels for Joshua and Sophia.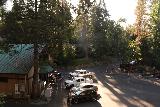 Finally at 6:45pm, we were back at the camp. We knew that they were going to sleep very well tonight.
With the tent cover up protecting the table, I used it to hang dry our towels, clothes, and bathing suits.
Aside from an unfortunate discovery of dog poop left by our campsite without the owner picking it up (kind of a dick move, if you ask me) and learning the hard way that making spaghetti was probably not the best choice of camp foods (too long to prepare and even harder to clean up), we ultimately had ourselves a nice family dinner as well as a shared moment of having campfire smores.
Indeed, this was what I had envisioned for the family when we organized this camping trip. And it took 7-8 months after the cancelled trip due to bad weather (going to Joshua Tree instead) to finally get there.
But as Mom pointed out, now the kids have yet another priceless moment with Uncle Johnny as we took pleasure in the simple things in life as well as quality time as a family. It's too bad Joshua and Sophia's parents weren't into this stuff (they're more into resorts, snowboarding, golfing, etc.), and so it's pretty much up to Julie and I to bring the Nature into that side of the family.
We all went to sleep at some time around 11pm, and the kids definitely slept soundly as the afternoon couldn't have gone any more their way than it did on this day…
Visitor Comments:
Got something you'd like to share or say to keep the conversation going? Feel free to leave a comment below...
No users have replied to the content on this page