Day 1 (August 16, 2019 – Bass Lake, California): "Limits of Darkness"
It was about 7:15am when I awoke. With last night being somewhat of a failure in terms of trying to pack and facilitate today's chores before driving up to Bass Lake for a make-up camping trip, we were now faced with a long morning of getting ready to go.
Not helping matters was that my jaw was hurting all night and it continued this morning. I wasn't sure what was going on, but I was worried that perhaps I was clenching my teeth while asleep and perhaps it might have caused a fracture or strain or something.
That was on my mind, but it wasn't debilitating to the point that we had to cancel this trip.
Speaking of cancellations, my Mom was also ailing from a bad back, which seemed to be a recurrence of a herniated disk issue that she had a while ago. But she didn't want to disappoint Joshua and Sophia so she was the trooper and kept up her end of the bargain to go on this trip.
Julie and I were concerned that her back would hold up considering even car camping wasn't exactly the greatest thing for back problems.
Anyways, we pretty much spent all morning getting our stuff together and trying to get out the door as soon as we could.
I intended to fit in a hike right after we check in so it was paramount that we had to be out the door as soon as possible (preferably no later than 10am just to avoid the bulk of the rush hour but not show up to Bass Lake so late that it would be too dark to hike).
I thought about doing two hikes tomorrow, but I knew that it wasn't practical to do that, especially if the kids wanted to swim in the lake. So I had to at least get the easier of the two hikes in today.
Indeed, with a totally full vehicle, Tahia bugging the heck out of Julie and I about showing off her discovery of nail polish (the smell of which was giving me a headache), we were finally out the door by 10:45am, which was not helpful in our cause to fit in today's hike.
Regardless, it took us some time to get out of the LA traffic. At first, Julie wanted to stop for a lunch at a Chipotle in Bakersfield, but when we saw how much traffic there was when we got off, we decided to abort that effort and go back on the road.
That was another ten minutes or so wasted as we resumed the drive on the CA-99.
We wound up stopping at a Chipotle in Tulare at around 2:30pm. It was a late lunch, but Julie and Tahia had to eat and skipping lunch was non-negotiable. I was still worried about running out of time, but when you're sharing experiences with loved ones, you have to make compromises, and this was one of them.
By about 2:50pm, our quick Chipotle lunch was over, and we then continued with the drive on the CA-99.
The drive north beyond Tulare was a little smoother thanks to the third lane (it was only two lanes somewhere between Delano and Tulare). However, there seemed to be quite a bit of road construction going on where a lane would be closed and traffic would be diverted briefly.
Anyways, we would eventually arrive at the Bass Lake Ranger Station at around 4:30pm. It was scorching hot when we got there as we guessed that the temperatures were easily in the low 90s. The forecast called for highs to be 94F today, so this was probably par for the course.
Once we secured our permits after checking in with our reservations (it was $37/night, which wasn't cheap for a campsite, but the important thing about this trip was for the kids to play with each other and play in the water), we then drove up to the Forks Campground.
After finding our site at 4:45pm, which had a view of Bass Lake, we saw that there were probably more premium spots (like site 22, which was close to the restroom and had ambple shade), we eventually took an hour to pitch our tent and get our stuff out of the car.
My parents let us know that they were going to eat dinner in Fresno so they wouldn't be at camp until it got dark.
Thus, by 6:05pm, I couldn't wait any longer and had to go solo towards the Lewis Creek Trailhead to pursue the Corlieu and Red Rock Falls. Julie and Tahia stayed behind at camp, especially since Julie just decided to cook her own dinner considering that it was both expensive and time consuming to eat out, especially since compliant foods were very hard to come by for her.
I was very concerned about the onset of darkness considering that my hike was at least 4 miles round trip. But I was determined to fit in this hike, especially since I wasn't sure when would be the next time I'd be out this way.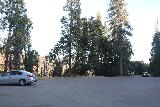 By about 6:25pm, I arrived at the Lewis Creek Trailhead. I was surprised that I was all alone at this fairly spacious pullout, especially when you consider how much traffic passes through this stretch of Hwy 41 between Oakhurst and Yosemite National Park.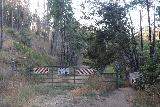 As I was gearing up and getting ready for the hike, there was one other car that pulled up. They looked like they were looking to go into the water and less so for a hike.
One of the kids echoed what was stated on a sign warning of hiking alone in mountain lion territory (probably in reference to me since I was by myself), but I knew that I was taking a chance.
Anyways, it didn't take long before I reached a signposted trail junction shortly after getting past a road closure gate. I veered right at the fork to go to Corlieu Falls.
The trail descended along a single-track path before going down a few wide switchbacks. It seemed like there were both false paths leading to the banks of Lewis Creek as well as hard-to-see aspects of Corlieu Falls as it was nestled behind a lot of foliage.
It was actually quite easy to be led astray by these alternate or false paths, but from my research, I knew that there was supposed to be a viewing platform after a bit of a descent.
Sure enough, by about 6:45pm, I found the platform for Corlieu Falls. While there were more tiers of the falls further upstream, and I'm sure there were probably more tiers further downstream, I was content to experience the falls from the platform as well as from the base of the falls below the platform.
Viewing the falls even from the platform yielded a bit of obstructions which meant that I would never really get a fully satisfying view of the entirety of this main part of the falls.
But it was still a nice and somewhat easy waterfall to experience. Plus, I had this place all to myself as the family that I saw at the trailhead earlier must have continued towards Red Rock Falls or something like that.
The shadows were definitely long by this point, and I was concerned that I might not make it to Red Rock Falls before it got dark. So after hastily documenting the Corlieu Falls, I started heading back up by 7pm.
About ten minutes later, I returned to the trail junction, and this time, I continued straight towards Red Rock Falls. On the way up, I saw three dudes with a dog checking something out at one of the switchbacks so apparently, I wasn't alone on the Corlieu Falls part of the trail after all.
Anyways, it also didn't take long after the trail junction when I reached an unbridge crossing of Lewis Creek.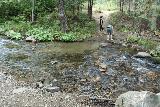 The family that I saw at the trailhead was actually playing in the water here at the Lewis Creek Crossing. But when I showed up, most of the people here heading back up to the trailhead. There were two other girls that waded to the other side of the creek and continued on.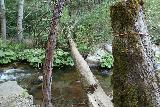 The water looked a bit on the deep side for just plowing through in hiking boots without ruining them. However, I did notice that there was a fallen log with a rope (for a false sense of balance) just further downstream.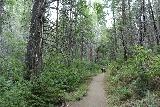 I wound up taking that path to get across the creek, and then I resumed the hike further to Red Rock Falls.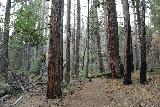 After passing the girls further along the trail, I was now truly alone on the trail as darkness was continuing to descent upon the gorge containing Lewis Creek.
I could see and hear cars whizzing by on Hwy 41 on the other side of the ravine as I was continuing the hike, but then the trail started descending deeper into the thickness of the forest (which also showed signs of being burnt not too long ago).
Further along the trail, I noticed a deer that was holding still as it was keeping a watchful eye out on me.
I managed to get a snap of it through the low lighting conditions, but with the wildlife apparently being out, the thought of a mountain lion waiting to pounce or pursue me was definitely on my mind.
Still, I knew that I was pretty far along in the hike, and the Red Rock Falls couldn't be that much further so I persisted on.
Eventually, I encountered a signed trail junction with a sign for Red Rock Falls pointing left. By about 7:55pm, I found myself at the top of Red Rock Falls.
However, I couldn't find an obvious way straight down to its base so I followed one of the more overgrown and fainter trails to reach the base of the falls.
Once I got down there, it was getting so dark that bats were flying around the waterfall. I also had to crank the ISO up a bit to let in whatever fading light was left in the day to at least get a satisfactory shot of the falls (though I'm sure it would be a bit grainy and noisy).
With no time left to spare, I got my videos and shots, and then proceeded to get out of the area some time at around 8:05am.
I was going as fast as I could as I was following the trail and trying not to turn an ankle on the odd rock or root. Every so often, I'd turn around to see if a mountain lion might be pursuing me.
Eventually after getting past the semi-open area with the sounds of Hwy 41 across the ravine, I then paused to take out the headlamp so I could at least see where I was going.
I still had to get past a fallen log obstacle, a minor stream crossing, and the deeper one of Lewis Creek with the log bridge crossing.
After getting through all that, I finally arrived back at the trailhead at 8:35pm. By this time, it was pretty much well past twilight as darkness definitely came on quicker than I had anticipated.
Regardless, with no cell service, I had no way to informing Julie and the gang where I was until I got back to camp. So I wasted no time in getting in the car (not even changing shoes), and just driving back to the Forks Campground.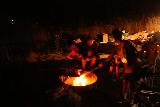 It wouldn't be until about 8:55pm when I finally returned to camp, where everyone by myself were already there.
The kids were busy having smores, Julie's hot dog dinner was already eaten and more had to be made, and both Julie and my Mom gave me a hug since they were worried sick about me.
I did tell Julie that I expected to be back at around 8:30pm, but I guess my underestimating of how quickly darkness fell and the lack of cell coverage didn't help matters.
Regardless, I at least had my hike of the day accomplished, and now we could resume the camping trip as intended.
By 11pm, after having my dinner and the odd smore by myself (that's no fun since the kids were already done with theirs), I was finally in the tent trying to sleep.
No one showered on this night, but I did change out of my sweaty clothes into thermals and something a little more appropriate for sleeping.
I managed to get melted chocolate on my hiking pants during my smores session, and with that being my only outdoor pants on this trip, I guess I had to just live with it tomorrow and possibly on Sunday when we drive home.
Anyways, with the full moon rising, the kids were once again sharing the big tent with my parents while Julie and I were sharing my two-person backpacking tent.
With the seam seal cracking and shedding, and the tent material starting to stick to each other, I wondered if it might be time to start investing in a car camping tent so Tahia could stay with us if her cousins couldn't come.
Well, that's something we can worry about on a future trip. But for now, I was simply trying to catch my Zs amidst the commotion from neighboring campsites as well as the relative lack of comfort of trying to stay somewhat comfortable and relaxed on the Thermarest with mummy bags…
Visitor Comments:
Got something you'd like to share or say to keep the conversation going? Feel free to leave a comment below...
No users have replied to the content on this page