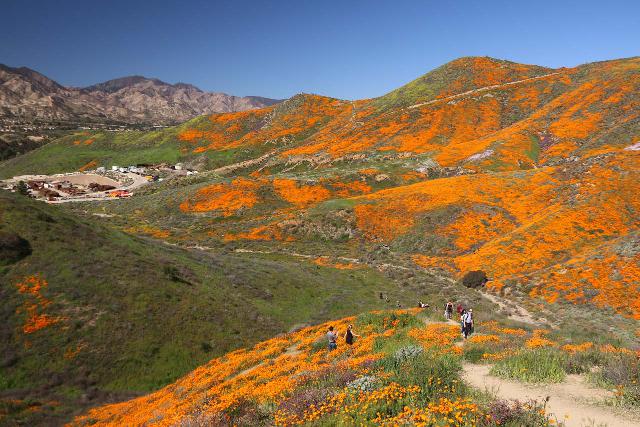 17-March 2019:
We also saw lots of cars looking for parallel parking and that parking situation looked pretty hopeless. It kind of made me wonder if we should abandon our attempts at checking out the poppies. On the one hand, we had to seize the moment because who knows when the next time this will happen?
On the other hand, we questioned whether we could tolerate the inevitable gridlock and waiting that I was now certain was going to take the better part of this day. Certainly, it wasn't going to be a relaxing time by any stretch of the imagination!
…
One of the cruel ironies of all the rain storms that we had been getting this year was that most of the places we had been wanting to go to for the first time in many years in the Santa Monica Mountains were unavailable due to the aftereffects of the Woolsey wildfires a few months ago.
With damaged trails, dead falls, and mudslides, the only options left to capitalize on all the water the Southland had been seeing boiled down to familiar places like the waterfalls in the San Gabriel Mountains (which I was kind of getting tired of – like Eaton Canyon Falls, Sturtevant Falls, Millard Falls, and Monrovia Canyon Falls among others.
But when Julie chanced upon a friend's Instagram photos about the California Poppies doing a superbloom in the Lake Elsinore area, we thought we ought to try to get an early start and then hit up Tenaja Falls and Ortega Falls while we were at it.
However, we were also well aware of the publicity the superbloom was getting as it even made the local news as well as some national news on the internet. So it was going to be crowded for sure. We thought that by getting an early start (leaving no later an 7am) that we might have a less painful experience.
So when Sunday morning rolled around, Julie and I both got up at around 6:30am. Tahia got up a few minutes later, but Julie insisted on making breakfast and eating it before we left.
I think the fact that it was still somewhat dark outside though it was quickly starting to get brighter than Julie was getting complacent thinking that this was "early".
But given those delays, it wouldn't be until about 7:45am when we finally got into the car. I was already a little nervous about this later-than-desired start.
Well, there were already quite a few cars out on the road as we headed east on the 91 Freeway, but it had been relatively fast moving traffic. However, there was already a bit of a traffic break and slowdown near the I-15 interchange.
Then, when we headed south on the I-15, there was already a line forming on the freeway waiting to get off at the Lake Street exit. We were in that line by around 8:25am.
On the opposite side of the freeway, we were already seeing large orange mats of California Poppies easily visible.
We also saw lots of cars looking for parallel parking and that parking situation looked pretty hopeless. It kind of made me wonder if we should abandon our attempts at checking out the poppies. On the one hand, we had to seize the moment because who knows when the next time this will happen?
On the other hand, we questioned whether we could tolerate the inevitable gridlock and waiting that I was now certain was going to take the better part of this day. Certainly, it wasn't going to be a relaxing time by any stretch of the imagination!
There was also a sign saying that three miles past Lake, there was the Nicholls Street exit where there was a $5 per person shuttle. I thought we should do that, but Julie insisted that we try our luck at the Lake exit.
Well, by the time that we finally made it to the traffic light at Lake Street, the authorities already blocked the road and we had to go straight back onto the freeway!
That was a waste of about 30 minutes!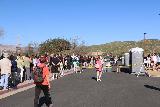 It wouldn't be until about 9:05am when we finally arrived at the Outlet and parked the car. I knew we should have gone straight here in the first place!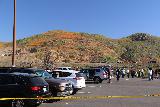 There was already a long line of people that made a U shape at the far southern end of the ride share lot area that kind of butted up against one of the shops from the outlet. We actually parked closer to the shops and not where the shuttles were getting in and out.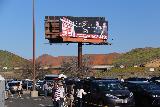 I had a feeling that it wouldn't be good to park there anyways as I was certain the gridlocked traffic would be bad in trying to get back onto Nicholls Street when all was said and done.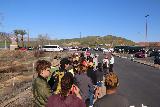 So after getting our stuff ready, we promptly used the portapotties, then got in line. I had overheard some speculation that the wait would be between two to three hours.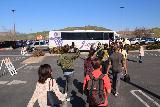 Well, whatever the case was, we had to change up our expectations and possibly just spend the better part of the day getting close to the poppy fields of Walker Canyon.
It wouldn't be until around 9:50am when we finally paid our $15 (for three people total) and got onto the shuttle.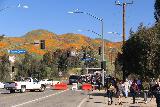 From the looks of it, it appeared that there was some kind of strategic partnership between the outlet, the nearby wineries or tour companies, and the local authorities. The outlet seemed to provide the parking, the authorities seemed to run the traffic diversions and road closures, and the wineries and tour companies supplied the shuttles.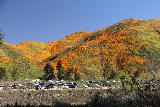 So for $5 per person, it seemed to be a win-win lucrative partnership that kept the people running the scheme happy, and it seemed to solve the problem of getting people to the poppies without as much fights and road rage though I'm sure no one likes to be caught in traffic with all this stuff going on.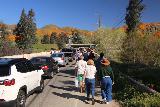 The shuttle appeared to avoid most of the gridlock already forming by the I-15 on- and off-ramps. Instead, the shuttle went more inland along the residential roads before getting onto Lake.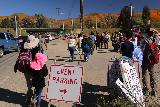 Then, it dropped us off near the traffic light between Lake and Temescal Canyon Rd. At that point, we had to walk along Lake Street beneath the I-15 and then straight ahead to the Walker Canyon.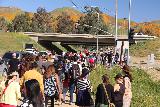 It was certainly a zoo here as hordes of people were walking in either direction. But as we got closer to the mats of orange, we could see that this bloom was even more impressive than the orange mats that we had seen in Arroyo Grande some 9 years ago when Julie and I did a Big Sur trip together and did a day trip out to Little Falls in the Santa Lucia Wilderness.
Once we got onto the 4wd road and walked up Walker Canyon, we could see right away how beautiful the contrast of the orange mats of California Poppies combined with the deep blue morning skies were. It was like a photographer's or Instagrammer's heaven.
So we spent the better part of the next half-hour or so doing people shots within the fields of poppies where there were use-trails. We also could see that there were more mats of orange further up the hills to our left (where it got the benefit of nearly perfect morning backlighting) as well as way up the canyon towards a ridge.
I wasn't sure we needed to make it all the way up there, especially given how crowded it was here.
It was funny how they treated this superbloom like a "Special Event" in much the same way that the Firefall was in Yosemite. However, this one seemed like all of Los Angeles was here as there were people from seemingly all walks of life checking out this pretty rare superbloom.
Apparently, the deserts in Joshua Tree as well as Anza Borrego also seemed to have similar superblooms. However, Lake Elsinore seemed to have the lion's share of the traffic due to its convenience.
Indeed, Tahia even said she saw some classmate from her school here.
Meanwhile, I couldn't help but notice there were lots of Vietnamese, Chinese, Indian, Latinos, and even some people from abroad speaking other languages that weren't of the aforementioned nationalities.
While Julie and Tahia were content to take their photos and run back to the shuttle for a lunch possibly in Lake Elsinore, I kept going up Walker Canyon just to see what else there was before heading out.
And it turned out after getting past a yellow gate that people were ducking under or trying to get over, I noticed that it seemed like that blooms were even more impressive up past the gate.
Indeed, there was another canyon off to the left side from the ridge, which had the benefit of good lighting though there was also an unsightly workspace or quarry as well as the I-15 to the left with concentrated mats of orange poppies as well as a few odd purple flowers nestled within.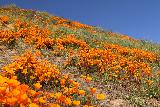 So I tried to capture what I could up here though Julie and Tahia didn't seem that interested in making it up to where I was.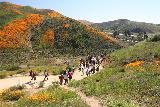 Eventually, I went back down towards the gate to rejoin Julie and Tahia, and then we headed back to the Lake Street and ultimately to wait in line for the shuttle. We had to wait for a local sheriff to direct traffic while holding pedestrians at bay.
But ultimately at about 11:20am, we started waiting in line somewhere before the traffic light before the Temescal Canyon Rd and Lake St.
Well, it wouldn't be until about 12pm when we finally got onto the return shuttle and it started taking off.
The expressions of people just getting off the shuttle seemed to be an unpleasant surprise of seeing how long the shuttle lines were, and that they would have to wait in such a line when they're done experiencing the poppies.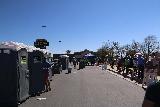 It wouldn't be until about 12:15pm when we finally made it back to our parked car. We saw the gridlock of people trying to head back north on the I-15 at Nicholls St. So we thought it might be better to try to go south towards the I-15 ramp to get to Murrietta before checking out Tenaja Falls.
Unfortunately, the gridlock wasn't any better as there was severe traffic going straight past the Riverside Drive (Hwy 74) towards the next main street where there'd be the ramp to get onto the I-15 south.
So seeing what we were up against, we decided to reset our expectations once again and turn right onto Riverside Drive so we could just take the Hwy 74 towards Ortega Falls instead.
At least the traffic was going a lot smoother, and we'd ultimately get past the town of Lake Elsinore by about 12:45pm.
On the way up the Ortega Highway, we stopped at one of the earlier pullouts to check out the views over Lake Elsinore and the orange mats of poppies in the background. There were also mountains topped with snow in the hazy background.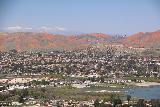 Unfortunately, the photos didn't seem to turn out that well, and it seemed like the sights were better seen in person than through a camera.
Still, we took our shots, then continued further up the Ortega Highway.
Eventually at a little after 1pm, we managed to score a parking spot at the familiar pullouts by the Ortega Falls. However, this time, the sign saying parked vehicles must display a forest service pass was gone. It was also very busy here as we were fortunate to score a parking spot where a low clearance vehicle wouldn't have made it past the gully or dip without scraping the underside of the bumpers.
While we knew we'd be having lunch pretty late, we just seized the moment and geared up once again so we could finally salvage a waterfall out of the craziness of today.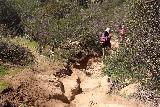 The short scramble to Ortega Falls seemed a bit rougher than we remembered. But then again, the last time Julie and I documented a visit here, it was about ten years ago!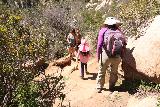 Indeed, the use trails leading to the main falls seemed to be a bit more eroded than before. And I had to attribute that to a combination of increased rainfall this year and possibly two years ago as well as the increased amount of human traffic as this waterfall was no longer the obscure attraction it once was.
I guess nothing around Southern California can be done without crowds these days.
In any case, we still didn't have too much difficulty making it back to the familiar spots around Ortega Falls. I even managed to sneak in a few shots of the lower falls where there were lots of people playing around the pools down there as well!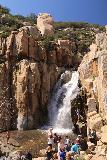 But at the main waterfall, there were even more people getting in the waterfall's spray. We even spotted a handful of Vietnamese women in colorful dresses doing glamor shots as some guys with serious DSLR equipment (with L-series telephoto lenses, tripods, powerful flash, etc.) were shooting away.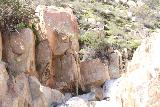 We weren't sure if this was like a family thing or if they were shooting for some kind of Vietnamese calendar or posters or what.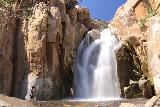 I think Tahia accidentally got onto some of their shots as she was obliviously playing in the water enjoying the cold water. She tried to get Julie and I to go in the water with her, but I was kind of trying to save myself from peeing in my pants since I needed to potty and didn't get a chance to go ever since returning from the shuttle.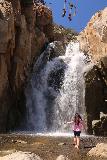 I guess the last-minute change of plans kind of backfired on me.
In any case, Tahia really enjoyed herself. Meanwhile, Julie and I did a few selfies. Then, Julie and I were just chilling out before continuing the drive towards San Juan Capistrano. It was about 1:35pm and I knew that lunch was going to be more like lunner.
Despite the quantity of people here, it seemed like everyone here was having a good time. And at the end of the day, that's really what waterfalling is about – people enjoying themselves in Nature and sharing the experiences with loved ones.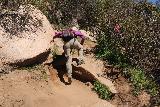 By about 2:15pm, we had scrambled back to the parked car. We thought the pullouts here were busy when we got started, but it was even busier when we returned!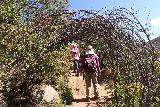 Once we returned to the Ortega Highway, we continued past the bar or diner with a funny sign saying something about one person can't be Irish because one her has to drive! Ha! I had totally forgotten that today was supposed to be St Patrick's Day. No wonder why Tahia was busy pinching Julie and I!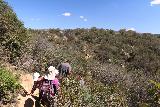 Anyways, we then continued pas the Ortega Oaks Candy Store though one guy driving some kind of trailer had cut us off and nearly caused us to hit him. He then proceeded to cause a bit of a backup with his slow driving as there were at least over a half-dozen vehicles following behind him while still refusing to use the numerous pullouts.
I guess some people just roll that way.
By the time we made it down to San Juan Capistrano, we were planning on going to the Chipotle in Mission Viejo. But at the last minute, Julie had this idea to try something different.
So by 2:55pm, we wound up at this place called Public 74, which was a kind of gastro-pub kind of place. It was a little on the quiet side when we showed up, but it turned out that the food came out quite slow.
Still, we enjoyed each others' company, engaged in conversations, and basked in the amazing yet crazy scenes that took place today.
Eventually at around 3:45pm, we finally got our food (both appetizers and mains came out at the same time), which consisted of brussel sprouts, pork belly, and cauliflower as our appetizer dishes. Then, we shared our mains of Julie's Rosemary's Bird as well as some Kimchee Steak.
The food was quite good, and Julie really enjoyed the gluten-free options so she had to watch out about the sauces that might have sugar in them. Tahia also resourcefully used her water to wash off the spicy sauce on her pork belly.
But other than that, the waiter gracefully didn't charge us for the pork belly, and we wound up with a pretty reasonably-priced lunch or lunner.
By about 4:15pm, we returned to the car. Then, we proceeded to drive into Irvine or Tustin so Julie could do some grocery runs before going home. We mind as well since we were already in the area.
At 4:45pm, we went grocery shopping at the Wholefoods off Jamboree in Tustin. Then, we went to the Costco across the street. I always wondered what the giant hangars here were for as they appeared to be abandoned. Yet we also noticed that there were new housing developments in this area as well.
It wasn't until about 6:15pm when we finally made it home.
Just as we were unwinding for the day, Julie saw on her phone that the city of Lake Elsinore had shut down Walker Canyon until further notice due to the amount of congestion and lack of resources to handle the situation!
I guess it was a good thing we got in our visit when we did. As I suspected, you just never know when fleeting moments like these go away only to never happen for many years.
That's what life seems to be increasingly like these days. I guess that's really all we can control as life continues to get crazier as time goes on…
Visitor Comments:
Got something you'd like to share or say to keep the conversation going? Feel free to leave a comment below...
No users have replied to the content on this page