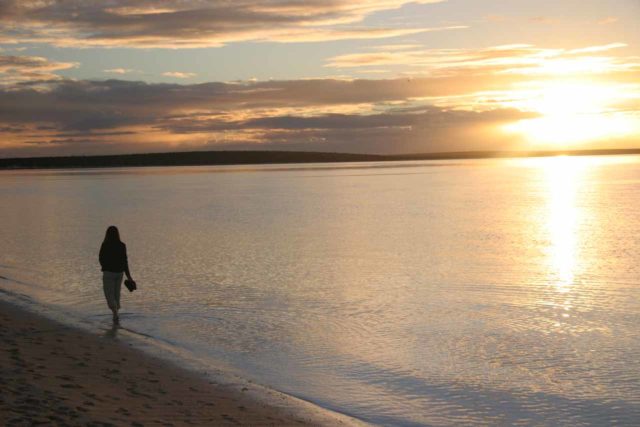 10-June 2006 to 16-June 2006:
Still, we didn't know what it was nor did we know if it was life threatening. So once we got into the visitor center, Julie asked the Aboriginal woman behind the cashier if she had ever seen this before. Julie then had me lift up my shirt and I turned my back towards them. Their soured faces and surprised reaction was not exactly reassuring…
Day 1: START OF THE LONG HAUL TO NOWHERE
After two adventure-filled days (primarily involving aircraft) in Kununurra, it was time to go by aircraft once again. But this time, we had to fly to Broome, and that would mark the beginning of the long drive from there all the way around Western Australia to circling around the Margaret River area south of Perth to eventually circling back to Perth through Hyden.
We had no disillusions about the long driving distances, but we figured that this leg of our first trip to Australia would be where we would truly immerse ourselves in what we thought were pretty much off-the-beaten path from most of the country's attractions that were more along the east side of the country.
So after getting our stuff together and checking out of the All Seasons Hotel in Kununurra, we were shuttled to the airport where we did the usual chore of checking in and getting our boarding passes.
However, given the regional nature of our flight, everything had to be checked in. There was simply no room (except for our smallest personal carry-ons like my day pack and Julie's black over-the-shoulder bag) that even stood a prayer of fitting in the small propeller plane.
The flight was only 90 minutes, but it turned out that we had to lose another half-hour (given the Northern Territory's weird time zone of being on the half-hour instead of the full hour. During the flight, we were consistently looking out towards the seas north of Australia.
We figured this part of the country was probably closer to Asia than the rest of the country, and indeed in our time so far out here, it definitely felt somehow that we were in places far different from what the rest of Australia might be like.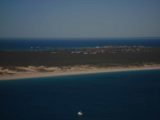 As we got closer to Broome, we could see that it was a small town even though my maps indicated that it was the only town of any significant size in these remote parts. I recalled having trouble even pre-booking a flight to get out here given its regional nature and how seldom flights would come here and take off from Kununurra.
In any case, we eventually landed in Broome at or before 10am. We had some time to pick up our belongings (not hard to do given what a small flight this was) the rental car, which was kind of what looked to be a beat up little white car with some things in the interior broken about it like the windows and the missing cap for the cigarette lighter. At least that meant that with the decline of the car rental insurance, they shouldn't be too picky about little nicks and scratches that were already there.
Then, we drove over to Cable Beach thinking that perhaps we should at least see something out here before having a lunch then making the long drive out to Port Hedland.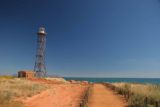 Cable Beach was a place that we kind of noticed in some brochures. I don't think we had planned on visiting this place prior to coming here so if it weren't for the literature that we just happened to chance across, we might have missed it altogether.
So we eventually made it to Cable Beach at around 11am. The skies were clear and deep blue and that contrasted well with the pinkish cliff formations that we were standing upon as we were checking out this rugged beach. Actually, where we were at wasn't really a beach at all as it was more of a scenic place to take photos.
There were beaches around here, but we didn't go over to them. We knew time was short and we enjoyed the photo ops that Mother Nature afforded us during this spontaneous visit to perhaps Broome's most well-known attraction. By the way, I didn't recall why they called this place Cable Beach, but it was probably due to some kind of heritage pertaining to ships or perhaps they routed some kind of communications cable and it came up out of here from under the sea.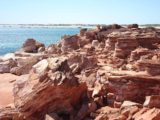 After having our fill of Cable Beach, we then drove towards the main part of Broome at a little after 12pm to do a little bit of errand shopping mainly for things like laxatives, water, and other things.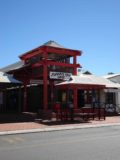 The little plaza we were at was called the "Johnny Chi Lane" which kind of got a kick out of me. Anyways, we had food at Frangipanis, which had a little bit of an Asian flavor. Having not really eaten up to this point, it kind of hit the spot.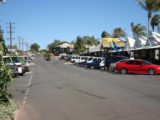 Then, the cookies and cream milkshake at the main food court to top it all off helped with some of the heat of the day we were starting to experience (at least it wasn't stifling heat given that it was the Dry Season now).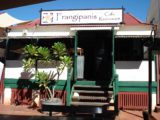 We eventually left Broome at a little after 1pm knowing that we had a very long 6.5-hour drive ahead of us to Port Hedland.
As expected, the drive was pretty much featureless. It seemed like some parts of the highway had no speed limits but all the roadkill on the side of the road made me realize that perhaps the threat of hitting kangaroos and other wildlife out here would be the check to the speed limits.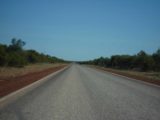 So the drive went on pretty uneventfully though earlier on the trip, we did discover Triple J Radio and that helped to kind of break through the long monotonous driving. Actually, we heard a little bit of that station with bad reception out in Uluru and in the Top End, but we weren't quite sure what we had found until now when we found the station again.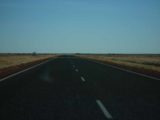 I knew that I had found my radio station (kind of like the lost KROQ station in Los Angeles or at least what it used), except this radio station had no commercials, witty and more down-to-earth DJs, back-announced songs so we'd know who they were (though most of them I hadn't heard of), and the best alternative rock music that I could recall since my college and high school days.
I probably spent a fair bit of time always trying to tune the radio to find the station whenever we could get reception. It was cool that it was a national radio station. And when I started to hear music that really were catchy and started to stick in our minds like…
Trousers by Old Man River (perfect for the outback feel we were experiencing)
LDN and Smile by Lily Allen (ironically cheerful)
Setting Sun by Howling Bells (hauntingly beautiful)
Love Like Semtex by the Infadels
Sleepy Jackson (the featured artist of the week)
We're All In This Together by Ben Lee
Long Distance Call by Phoenix
Who Cares? by Gnarls Barkley
and more…
…I knew that I might have found something that might very well be the thing that would bring me back to music that I was into (i.e. forget the commercial radio stations back at home). I knew that I'd have to find a way to listen to this radio station back at home when we'd get home.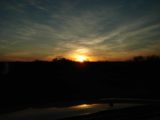 Eventually, the sun was getting low when it became around 5pm. We watched the sun set as we were driving along the Northern Highway. It was too bad we were out in the middle of nowhere, but that sense of beauty was quickly overtaken by concern as we knew we were now driving at a time when kangaroos would be out and about, and all that roadkill we were seeing off to the side of the road was becoming more predominant in our minds.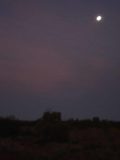 Then, the full moon came out and that at least cast a little bit of light on the quickly darkening skies.
It wasn't until around 8pm that we finally checked into our accommodation in Port Hedland called the All Seasons Port Hedland Hotel. We expected to be getting up very early in the morning tomorrow considering we had more long driving ahead of us. So this brief recharge in town was going to be short-lived.
After dropping off our stuff in our room, we then headed into the rest of the town of Port Hedland where we found some kind of gastro bar. I didn't recall the food so much, but I did remember going up to pay for the bill and the lady at the bar asked me, "You're in Port Hedland, why?"
"We were headed to the Pilbara," I told her.
She gave me this look like nobody comes out here (unless maybe you're here to work in the mines or something). In a way based on this little small talk with the lady bartender, I knew we were entering areas that were way off the beaten path in Australia.
And with that, we returned to our room, set our alarms, checked out early (so we just had to drop the keys), and tried to stay warm as the coldness of the night was setting in.
Day 2: THE SHINGLES
It was 4am when Julie and I awoke. After prearranging an early checkout last night at the All Seasons Port Hedland Hotel, we were able to leave the keys in the room and immediately pack the car and leave from Port Hedland for Karijini National Park several hours to the south in the remote Pilbara region.
We were still a little bit fatigued from the long drive between Broome and Port Hedland yesterday.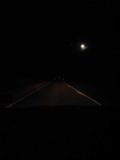 So by 4:45am, we left the town and headed south under the brightness of the full moon.
Knowing that kangaroos were nocturnal, I made sure we took our time driving by going at least 20km/h below the speed limit. And so we'd proceed to go forward with this drive for the next 5 hours. We made one petrol stop at the Munjima Roadhouse, and Julie picked up a surprisingly juicy, fresh, and delicious steak sandwich.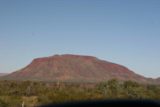 By 9am, we had made it to the Banjima Drive, which left the highway and headed into Karijini National Park near Fortescue Falls, which was our first destination.
But for some reason, I had thought the Tom Price township wasn't all that far away and perhaps we could have an early check-in as well pick up some literature of the national park while we were there.
After nearly an hour had passed, we finally made it to Tom Price. I couldn't believe how far it was from the national park. And now we had to backtrack at least an hour just to get back where we were.
So when we got to our night's accommodation at the Tom Price Motel, Julie asked if we could check in. Unfortunately, we were too early. So given this set of circumstances, I really regretted my decision not to head into Karijini National Park when we had the chance. We could've spent another 2 hours in the park without worrying about darkness.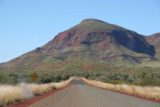 What was I thinking?!?
Anyways, we headed back to the paved part of Banjima Drive and by 10:15am, we had finally arrived at the car park for Fortescue Falls. By now, the car park was pretty busy so apparently this place was popular.
I found it hard to believe that a place could be so busy and popular in a place as remote as this. Even though our goal was mainly to see the waterfalls in the park, I guess there really was something in the middle of nothing after all.
And so Julie and I followed the red-sanded path towards the overlook of the cascading waterfall. It was very unusual to see a waterfall like this spilling over the red bedrock. I had seen desert waterfalls before in the American Southwest, but this had a character of its own.
The path then descended down the cliff with handrails to prevent people from falling into its depths. The path was pretty easy going and eventually reached the red bedrock over which the falls tumbles over. Most of the area was still in shadow, but the falls was shining brightly.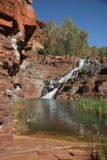 There were class 2 and class 3 signs that actually hinted at how we could get to the base of the waterfall. So we went ahead and did that, fortunate not to take a tumble on the slippery and wet surface.
Finally at 11:20am, we were at the base of the falls and joined a pair of men who were already there photographing it. When they were done, Julie and I spent some time down here taking our photographs and enjoying the unusual yet popular scene.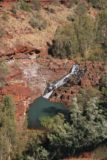 By 11:50am, we headed back up the cliff and back to the top of the falls. We took a few more photos of the falls from the top before we returned to the car.
As we headed back to the car park, my back started acting up again. It continued to sting and itch. Each time I reached back, it felt as if there were a series of hard dots on my upper back. When Julie saw it, she was concerned that I had been bitten by something or had some kind of poison. And so we decided we'd make a stop at the Karijini Visitor Center to perhaps pick something up that might help relieve the symptoms. The center was only a few minutes from the Fortescue Falls car park.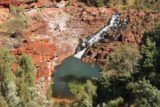 Still, we didn't know what it was nor did we know if it was life threatening. So once we got into the visitor center, Julie asked the Aboriginal woman behind the cashier if she had ever seen this before. Julie then had me lift up my shirt and I turned my back towards them. Their soured faces and surprised reaction was not exactly reassuring.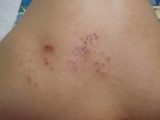 "Oh!" she said. Her son also had this look of surprise. Then she continued, "I don't think I've seen this before. I could be a spider bite, but I don't see the fang marks."
"He's started noticing this at Uluru," said Julie. "That was a little over a week ago."
Another woman (Caucasian and just visiting) who happened to be there watched the scene and interjected, "It's the shingles. I know because I just got over mine."
Neither Julie nor I knew what the shingles were at the time, but basically they are chicken pox remnants that remain in your body for life and for some unknown reason can sometimes act up. I guess I was the unlucky one for this trip.
Julie picked up some ointment sold at the center and asked the Aboriginal woman if it would help.
"It should help," she said. "I'd still go see a doctor about it."
"You'll be fine," said her son. "If you've had it for this long and you're still not sick, I think you'll get over it."
And with that we headed back to the car to continue our self drive through the rest of Karijini. I pretty much subscribed to the "no worries" mentality and let my body fight it off.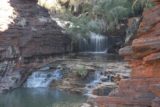 At 1:05pm, we arrived at the car park for the Kalamina Gorge. The walk down to the waterfall there was quite short. The falls itself was flowing, but it wasn't particularly impressive. However, there was an arch further down the gorge. The problem was that it would take 2 to 3 hours to do the whole walk.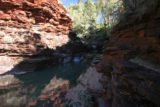 Now I really regretted my decision to drive to Tom Price before visiting the park. Then, we would've had plenty of time to see the arch in the gorge. Once again, I couldn't understand what I was thinking earlier on today.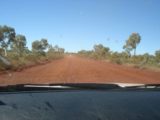 And so we continued with our tour along the unpaved Banjima Road.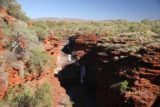 We ended up at the car park for Joffre Falls at 2pm. The walk to the platform was very short but there were those annoying flies buzzing everywhere.
They didn't bite, but man they were annoying. And when they would stand on my upper back, that part of the body was so sensitive that it stung. It was also a bit hot even though it was winter time in Australia.
The waterfall itself was half in shadow. These conditions were terrible for taking photos and I reckoned the best time to photograph it was around midday. That way the whole gorge would be in the light.
So I did the best I could to take photos before Julie and I returned to the car.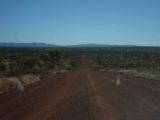 Next, we basically drove to the various overlooks before finally arriving at the Oxer Lookout. It was here that four gorges converged, but the afternoon lighting was such that only one of the gorges could be photographed.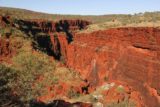 Deeper into the shadowy depths of the gorge, we saw that there were a flock of birds or some kind of white feathered organisms dotting about in the shadows down there. I guess given the remoteness of this place, it shouldn't have been too surprising to see at least this much wildlife in the form of birds here.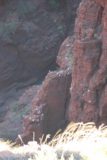 It was interesting, but not something we could easily convey in photos. Anyways, when the black flies were sufficiently annoying, we headed back up to the car park.
And from there, we drove back to Tom Price. We would arrive there at 4:45pm. First, we filled up on petrol to ensure tomorrow's long drive to Coral Bay could be done successfully. Then, we finally checked into the Tom Price Motel.
As we entered our room, it was immediately apparent that this was one of the dodgier places we had stayed at on the entire trip. The room smelled like smoke and the floor felt dusty. And of course, the shower had no partition on the floor to keep the water from running all over the whole bathroom. The shower curtain didn't really do much to keep the water confined either.
Perhaps, we should've stayed at Paraburdoo, which was a little further from Karijini but possibly more catered to tourists. Apparently, Tom Price was more of a mining town.
When both Julie and I got cleaned up, we were hungry and looked to have dinner. Unfortunately, the Tom Price Motel had nothing but a basic buffet and pizza. Since we weren't fans of buffets, especially given our overpriced disappointment at Uluru, we went for the pizza.
After the dinner, Julie and I returned to our dingy room. I kept thinking to myself that there really was nothing out here. Although Karijini was that something in the middle of nothing…
Day 3: THE GREAT ESCAPE TO CORAL BAY
It was about 5:45am when we left Tom Price after quickly waking up to our alarm and getting our belongings together. I guess given the "sleepeazy" feel of our accommodation, we were doubly motivated to get moving, anyways.
Today, we were supposed to drive all the way out to Coral Bay. However, we also knew that there would be close to 7 hours of driving to even get there. And that would be driving through pretty much nothingness. Triple J Radio reception was spotty as well.
At least we were headed out in the direction of what appeared to be the still-continuing full moon. That kind of injected us with a little bit of energy to break up the monotony of the drive. Of course, the roadkill off to the side of the road (and even within the road) kept us on our toes as we were still driving out pretty early in the day when the kangaroo risk was high.
Meanwhile, as the day started to dominate and the kangaroo risk was becoming a little less, we then started to notice free-roaming cattle. It was yet another thing we had to be cognizant of even though there seemed to be no speed limits out in this part of the Australian Outback.
Anyways, the featureless drive then became a battle of trying to keep awake while driving. It gave me a new respect for truck drivers who had to haul supplies across the country and having to deal with such long drives.
Fortunately at 9:40am, we arrived at the remote Nanutarra Roadhouse. It was in the middle of nowhere and the price of $1.82 AUS per litre of petrol was very painful!
That said, the steak sandwich takeaway that we got from there really hit the spot. Julie and I couldn't recall when was the last time gas station food (essentially what these roadhouses were like) could taste so fresh and so good. Was the food quality in Australia in general just way better and fresher than anything we could get in the States?
As we continued along the long drive out to Coral Bay, we noticed even more roadkill. With us pretty much being alone on the road (we didn't see anyone else), we wondered how much time would have to pass if we were to hit a kangaroo out here and the car was disabled. We shuddered at the thought.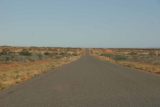 While on the topic of roadkill, we also saw some huge black birds (possibly eagles) picking away at the roadkill. Those birds were so big that I wondered if they were able to get that big on a steady diet of roadkill. I even wondered if these birds could be able to grab a baby or even a toddler and take them away…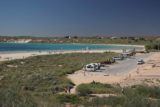 It wasn't until about 12:10pm when we finally arrived at Coral Bay. I couldn't wait to get out of the car as we had been sitting in it all morning long.
So we checked into our accommodation, and took a brief breather (plus took another look at my shingles) before we headed out onto the Ningaloo Reef. The accommodation was essentially right by the water, and the serenity of the waters here made for a real relaxing reward for the great escape that we had to make to even get here.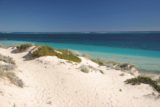 Given how quiet it was out here, it truly felt like we found a gem of a place. Even though we hadn't been to the Great Barrier Reef (something that was high on our wish list), we somehow wondered if the Ningaloo Reef could rival it.
Now we didn't really have an itinerary nor an idea of what we wanted to do. So we basically just waded out onto the water, got our snorkel masks, and tried to do a self-snorkel tour.
It was all good except the water was actually quite cold. That cold water was also making my shingles act up, plus I was also starting to get headaches the longer I buried my face in the water to see what was down there.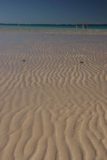 I didn't know it at the time, but I was actually starting to realize that I actually got seasick snorkeling!
When we were done doing our self-snorkel experience, we then dried ourselves up and had ourselves a late lunch. We had ourselves a burger, which was probably the juiciest burger we could ever recall having. It was easily the best burger we've had in our lives so far. Wow!
In a way, it kept us wanting more. So we were looking forward to doing it again either tonight for dinner or tomorrow during lunch again.
As we were trying to figure out what else we could do to pass the time on this day, we looked at the excursions that were on offer. Apparently, a huge excursion to partake in here was to swim with the Whale Sharks. It wasn't as scary as it sounded because the Whale Sharks were bottom feeders and fish feeders, but they were quite docile especially compared to the more dangerous reputation of the other sharks in the region.
We also thought about blue-ringed octopus or other poisonous organisms though since we were well in the Dry Season, it seemed unlikely that they'd be around in the cold waters.
So we eventually decided on doing a glass-bottom boat ride later in the afternoon. In the mean time, we just chilled out some more, waded in the water, and took photos.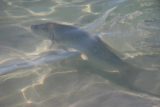 When we did the brief glass bottomed boat ride (to try to get better reef photos than what we were able to get while self-snorkeling), we did indeed get some better photos so the reef seemed to lack the colors we were hoping to see (kind of like at the Great Barrier Reef, or at least what the literature would say about it).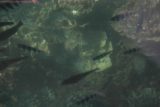 Plus, the boat operator seemed to be a little clumsy as he would frequently scrape by some reef. I'm sure that caused some irreparable damage to the reefs that wouldn't come back for decades.
When the boat tour was done, Julie and I spent the remainder of the afternoon just walking amidst the ripples in the sand (very interesting patterns) while watching the sun set. Basically, it was more photo ops, but overall, we just basked in the slow-paced and relatively quiet nature of our time here in Coral Bay.
Who knew that a roadie out to the WA could yield a gem like this?!?
Next, we had ourselves a dinner by the beach at one of the restaurants here at Coral Bay. We decided to save the fine dining experience at Shades for tomorrow. So instead, we went to some place called the Beachcomber. Once again, it seemed like a quiet and relaxing time as we had some grilled fish as well as some kind of surf and turf meal (i.e. prawns and beef).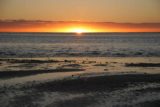 It was a nice way to cap off this first night at the unexpected tropical (somewhat) paradise.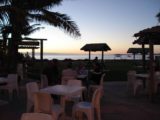 Since we had all of tomorrow to chill out here at Coral Bay, we wondered what that might bring. After all, we had a little more time than we knew what to do with it. It was a nice problem to have for a change…
Day 4: A DO NOTHING DAY
Contrasting the vagabonding that we had to do so far on this trip, this was the first day where we actually had nothing to do. It was basically an entire day at Coral Bay.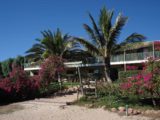 So we slept in (for a change), then just chilled out, played in the water some more, and then had a lunch. Once again, the main draw of the lunch was the best burger we ever had. Juicy, big, and just totally satisfying.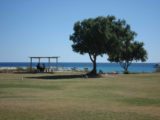 During the lunch, we were so busy doing nothing that we were able to pay attention to some of the subtler things about the Ningaloo Reef and Coral Bay. For example, we were watching ants working as a team hauling away some piece of lettuce (that we might have dropped from our burger), which was way bigger than any individual any or six, but as a team, they were able to haul it away.
Pretty impressive!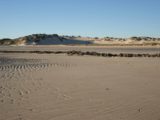 The rest of the afternoon was spent taking photos in the winds amongst some sand dunes.
In hindsight, we probably could've splurged on doing one of those Whale Shark tours, but it would take at least a half-day plus it was around $400 AUS per person. Plus, we would need an underwater camera to capture the moment (which we didn't have).
Thus, we just chilled out again. Sometimes doing nothing was all that was necessary.
Eventually for the nightcap, we had ourselves an early dinner at the Shades Restaurant. The food was an interesting fusion mix of seafood with regional influences (e.g. the prawns in curry). And of course, we had already fallen in love with the sticky date dessert.
It was a nice way to end our time in Coray Bay. Tomorrow, we'd be back out on the road again…
Day 5: ROGUE WAVES
It was about 4:53am when we left Coral Bay. We figured that with the early start, we would maximize the daylight available to us as we would make a detour to Carnarvon and the Quobba Blowhole before continuing onto Monkey Mia, which was where we'd be spending our lone night there.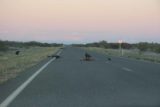 Of course with the early start, we were concerned about kangaroos again. And sure enough with this early start, we had a couple of close calls where kangaroos were going alongside us while others were skipping in front of us.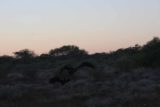 It was a good thing we were going below 100km/h, but I even wondered if that was slow enough.
It wasn't until around 7:30am when we were in the Carnarvon vicinity. All along the way, we noticed more roadkill with giant birds pecking away at them.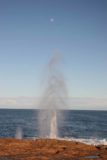 Then, we continued driving out towards the Quobba Blowhole, which given the nice morning light seemed to be a pretty good time of day to check it out.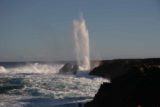 So it wasn't until about 8:50am when we finally arrived at the Quobba Blowhole. At first we were looking for the attraction as it wasn't immediately clear to us where we should look, but every so often, we heard the whoosh of the blowhole meaning it would just be a matter of time before we'd find it.
There were signs out here warning us that rogue waves could pluck us out of the cliffs which seemed to be sufficiently high enough above the churning ocean. However, there was a sign here recounting one guy's close call when a rogue wave plucked him off the very cliffs we were at.
So we were checking out the blowhole with half a sense of trepidation of Nature's mercilessness if we were to be plucked off, and at the same time we were also half anticipating the blowhole so we could get that beautiful shot of water shooting up in the air high up above the churning ocean.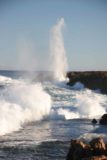 Julie and I easily spent over 40 minutes here. It was a pretty cold morning, but the sun was quickly warming us up as we were being patient trying to time our photos for the blowhole events.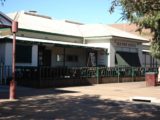 Then, we drove back towards Carnarvon where we had ourselves a morning meat pie while also making phone calls with Australia One (given the snafu with Lords Kakadu Safaris a week ago). Anyways, it wasn't until after 11am when we left Carnarvon and continued on our way to Monkey Mia.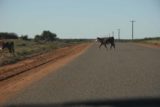 Once again, we were dealing with another long drive (as if getting to Carnarvon itself wasn't long enough), but it wasn't until about 3:15pm when we finally arrived at Monkey Mia (after making a short lunch and gas stop at Denham 20 minutes earlier). By the way, Monkey Mia is pronounced "Monkey MY-UH" not the Italian way.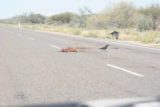 After getting settled at our accommodation at Monkey Mia, we pretty much just chilled out and walked the beaches here. It was a bit busier than at Coral Bay, and we wondered if it was because of the dolphin feeding, which we were anticipating tomorrow morning. After all, it was the only reason why we bothered to go out this way even though I had mixed feelings about people feeding dolphins instead of leaving them wild.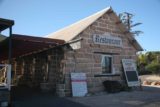 Julie and I watched some people cutting up and cleaning fish on some makeshift benches specific for this purpose. Apparently, this was a prime fishing spot given all that infrastructure and people making use of it.
Given this activity, there were also giant storks waiting their turn to be fed as well as plenty of other gulls and birds swirling about trying to get their freebies in.
For the evening nightcap, we had ourselves another mix of surf n' turf mains while Julie tried her hand at some grilled fish draped in some sweet and sour or chili sauces. Good stuff.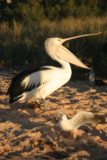 Thus ended this day and evening. Tomorrow, we were going to start off with the early morning dolphin feeding before continuing on towards Kalbarri – yet another long day of driving…
Day 6: THE MONKEY MIA DOLPHINS
Knowing that we wouldn't have to have a pre-dawn drive out of here, we were able to sleep in a little bit though not by too much since we still wanted to catch the 8am dolphin feeding. That said, we were still out and about before 7am as we were catching the sunrise while trying to keep warm at Monkey Mia.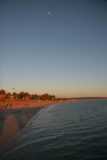 Even as we were chilling out at the beach, there were already some people out and about fishing and cleaning their catch.
And along with all the bounty were a bunch of storks and other gulls looking for their freebie just like yesterday.
In the mean time, there was some beautiful lighting over the pier where we were expecting to see the dolphins start showing up.
There was even that bright moon that had persisted every morning we had been touring this side of Australia since Port Hedland over a week ago. And of course, there was hardly a cloud in the sky.
As for the dolphins, sure enough by around 7:30am, there were already a few dolphins starting to slowly swim their way towards the shore we were eagerly awaiting the spectacle. It was almost as if these dolphins knew exactly when they should come out here.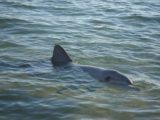 And as more dolphins showed up, we could see the crowds gathering about as well.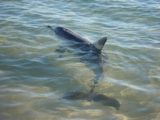 When 8am finally rolled around, a staff member came out here and started addressing the audience. Actually, as she was slowly feeding the dolphins here, she was explaining to the crowd that this feeding activity was actually a way of keeping the dolphins who had become dependent on fishing boats.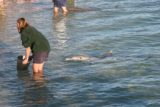 Apparently, this activity had been going on for four generations of dolphins at Monkey Mia. We happened to see 5 of these dolphins getting fed.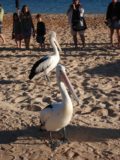 When the presentation and demonstration was over, then the audience was able to feed the dolphins themselves. Actually, it was primarily for the kids who were doing it with some guidance from the staff here.
Eventually at 8:30am, we were back in the car. Next, we had to drive all the way to Kalbarri.
As we were making our way out of the Monkey Mia Peninsula, we encountered some emus that were running alongside the road. Suddenly, one of them decided to cross right in front of us. We nearly hit it!
All this time we were worried about kangaroos in the evening, but here we had a near miss of an emu while it was well into the morning! I guess in Nature, you never can be too sure about things.
Whew, that was close!
Anyways, we eventually made it to the main highway heading south and back onto the familiar highways through desolate outback though we at least always knew there'd be coast not far from where we were driving (instead of the desert desolation at the Pilbara that we encountered a few days ago). Along the way, we went over to this place called Hawke's Head at around 12:15pm, then we had a brief lunch stop at this place called Ross Graham.
Then, we continued driving out to the Nature's Window, where we finally parked the car at the so-called Loop Car Park at 1:50pm. That was where we walked along a short trail that afforded us some views of the gorges here.
However, the highlight of this walk was of course the Nature's Window. It was actually a small natural arch, but it gave us the chance to see distant gorges throught the span of the arch. Plus, the cloudless blue skies further augmented the pleasurable experience Julie and I were having here.
I did recall some disturbing buzzing sounds while we were walking this short loop trail to Nature's Window and back. I believe they had something to do with a swarm of bees or something. But whatever it was, we were careful not to disturb them, and we made sure not to linger around those sounds either.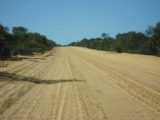 Whew!
At 2:30pm, we were back at the car. After driving for another 20 minutes or so towards this lookout called the Z-bend, we then did a short walk around this area, eventually leaving the Z-bend car park at 3:20pm.
Finally at around 4:30pm, we showed up at the Natural Bridge and Island Rock viewpoint. This time, we were overlooking what seemed to be a big sea arch below us while the coastline here was against the turbulent Indian Ocean.
With the warm afternoon glow of the soon-to-be-setting sun, the cliffs were showing up well on our photographs, and Julie and I lingered here for a while longer until the sun was about to set.
At that point, we then drove into the neighboring town of Kalbarri to finally check in, drop our stuff off, and then go for a bite.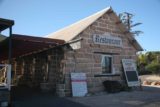 It was a quaint coastal town and we had ourselves a fairly expensive dinner consisting of crayfish since apparently this area was known for them plus it appeared to be crayfish season.
And so ended this pretty eventful day. The road trip would continue tomorrow as we'd go from Kalbarri to Cervantes. But at least we figured that the drive for this stretch wouldn't be as long as it had been on previous days. So there was no real sense of urgency to have yet another pre-dawn wake-up. And that was a pretty comforting thought as we went to bed.
Day 7: CRAYFISH AND PINNACLES
With the relatively shorter drive to get from Kalbarri to Cervantes, we decided to sleep in a little bit. So it wasn't until about 8:05am when we finally left Kalbarri.
The drive to continue further south along the WA coast was pretty uneventful.
At around 10am, we arrived at the town of Geraldton, which was actually a bit of a larger town than what we were used to seeing up to this point. However, it was still a bit early so we didn't stop for too long other than to fill up on petrol.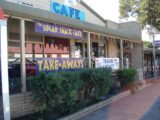 At around 11:30am, we then arrived at the town of Dongara. It was here that we decided to make a brief stop for a lunch. Actually, according to our LP book, there was supposedly an affordable crayfish place, and really, it was a takeaway place where each of us had a messy steamed crayfish (kind of like lobster) that we really had to get in there to get every bit of meat it had.
It was good, and it was relatively affordable as the whole thing costed us on the order of $40 AUS for that plus the drinks.
At 12:05pm, we left Dongara and continued further south to the town of Cervantes. We'd eventually be able to check into town at 1:45pm. And after a brief time of getting checked in, we then headed back out as the afternoon sun was waning fast.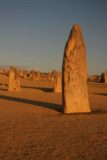 By about 4pm, we arrived at the Pinnacles Lookout (after a short 20-minute drive from Cervantes). The formations here were literally pinnacles (or spires) protruding out of the sand dunes here. And there were lots of them. It was almost as if they were termite mounds or something like we saw earlier in the Northern Territory, but I don't think these were termite mounds.
I'm sure there was an explanation for all this, but we didn't take the time to read the signs given that the sun was setting fast and we wanted to make the most of our self-tour of these Pinnacles.
With the soft glow of the waning afternoon sun, watching the pinnacles glow orange then red was quite a sight. Plus, the cloudless skies and the deep blues contrasting all this warm afternoon glow was what drew the majority of our camera clicks.
Once again, we were very glad that we made it out to this part of Australia. It was literally better than the literature showed.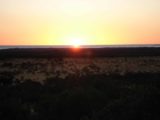 When we had our fill of the Pinnacles, we then retreated to Cervantes. The dinner that we had was kind of a pseudo-fine dining type place. I didn't recall what kind of mains that we had, but we definitely had an authentic Australian dessert of pavlova. It was one of those ultra sweet meringue-like desserts with fruits on them.
Truthfully, it wasn't our thing, but at least we tried it. Little did we realize that this was actually named after a Russian ballet dancer who toured Australia and New Zealand in the 1920s. So even though Australians think of this dessert as an Aussie tradition, it seemed to have Russian roots.
Well whatever the case, we figured we mind as well try it since this place didn't have our favorite sticky date pudding.
And with that ended our night in Cervantes. This would pretty much conclude our adventures of the WA Outback north of Perth. However, we still had a few hours of driving from Cervantes to get down to Perth, but at least we knew that once we'd get to the city, we'd get into the more temperate parts of the country that we'd imagine would be a little more built-up than what we had experienced so far.
Visitor Comments:
Got something you'd like to share or say to keep the conversation going? Feel free to leave a comment below...
No users have replied to the content on this page