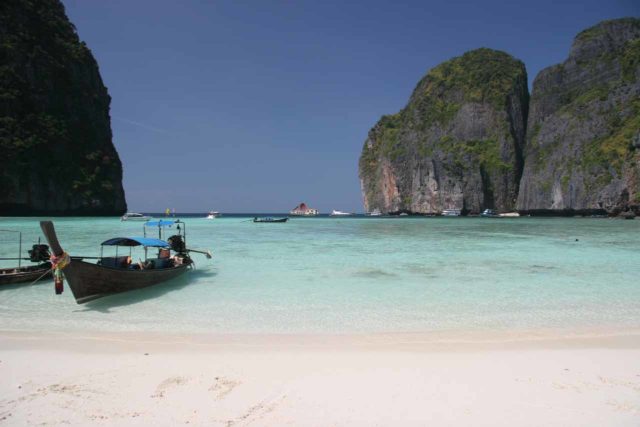 21-December 2008 to 28-December 2008:
The taxi driver kept asking us if we wanted to have dinner and that he knew of some great places to eat. Fully aware of the joyriding schemes from both tuk tuk drivers and taxi drivers in Bangkok, we insisted on having him "just take us to the hotel, please."
So the driver continued zig zagging through the rush hour traffic. I kept my eye on the meter fully aware that the nice lady at the Baan Chantra reception told us we shouldn't have to pay more than 50 Baht to get back from Wat Pho to the hotel. Despite this, we were going on roads that didn't look familiar and eventually when the meter stopped at 58 Baht, the taxi driver stopped the car then said something that we couldn't quite understand in his limited english.
Julie started to freak and said, "Where's the hotel?" in a raise voice.
The taxi driver pointed to the alley way. This definitely didn't look like the street we arrived to the Baan Chantra in. In any case, it looked like we were had and now we had to figure out where we were and how to get back to the hotel…
Day 1: A VERY LONG TRAVEL DAY
On the day that we're leaving LAX, it was December 19th and we were at the Cathay Pacific check-in. Julie and I had spent a lot of time, money, and effort to try to arrange things for this entire trip so we wouldn't have to check-in any bags.
We had it down to those small, medium-sized rolling suitcases that usually fit on the overhead compartments in most of the American Airlines Boeing planes that we were accustomed to. We didn't even pack hiking boots thinking it'd be hot and Keens were enough even for the anticipated Thi Lo Su Waterfall adventure later on in the trip.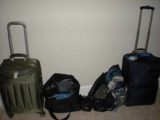 But when we were at the Cathay Pacific check-in desk, the lady didn't believe it when we weren't checking in any bags so she asked us to put our carry-ons on the scale. They both weighed about 12-13kg, but she shook her head and said, they're more than 7kg so we had to check them in.
Julie and I were dumbfounded. That was a ridiculously low number, and despite our efforts to plead our case, she was merely following protocol and doing her job and we had to suck it up.
Worrying about the wheels on Julie's new rolling bag breaking from the usual rough-handling of checked baggage, we knew there was nothing more that could be done. Worrying about it didn't do us any good at this point, but it didn't stop us from worrying anyways.
When we finally arrived in Hong Kong the next morning, we had to go through a long security line (in cynically typical Asian style, it was more like a bottleneck rather than a line) before finally getting to our gate in time for our connecting flight to Bangkok. Eventually, that flight took off on time and we eventually made it to the Suvarnabhumi Airport.
As we had to go to yet another connecting flight here (collecting our luggage and going through immigrations and customs in the process), we finally went on our connecting flight to Phuket.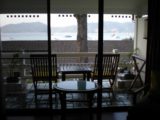 When all was said and done, it was 5:15pm on the 21st of December. There, we were finally settled at the Amari Coral Coast Resort near Patong Beach.
The place was pretty nice as it had the familiar tropical getaway look and feel with the open lobby, views of the ocean as well as Patong Beach in the distance, and we realized that it was probably a reasonable walk away to the somewhat Waikiki-like town. Julie was glad this resort was far enough way from the madness by the town to still feel like a getaway yet be accessible to the action when we desired to get into it.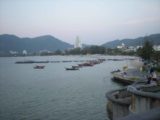 So by 6pm, we did exactly that. We walked into town turning down every tuk tuk (kind of like 3-wheel motorbikes with a canopied passenger sitting attachment) while trying to figure out which Thai restaurant to eat in.
We did all this while still fatigued from our long distance travel combined with jetlag. We ended up eating at some miscellaneous place where I had the familiar duck curry with coconut, but it was really spicy. Something neither of us were that used to. Julie's went safe and got pad thai, but she wasn't thrilled with it.
When we were done eating, we were so fatigued that we didn't bother walking further into Patong Beach Town. We just walked back to the end of town then up the hill and crashed in our room.
Day 2: BOND… JAMES BOND… ISLAND, THAT IS!
It was around 6am when we awoke. We were supposed to be picked up for an excursion to Phangnga Bay at 8am. So we got ready and quickly went to the buffet breakfast.
I always hated buffets because it meant fighting typical urges to stuff yourself silly, but when Julie and I saw chicken satay with peanut sauce as one of the items, we gorged on it and forgot about all the Western stuff (you know, eggs, bacon, ham, quiche, omelets, etc. – all that heavy fattening stuff).
At 8am, we were picked up from our hotel and were shuttled for about an hour (picking up another client along the way). The driving itself was about 30 minutes from the west side of the Phuket Island to the east side.
By around 9am, we got to the Royal Phuket Marina. When we finally identified this orientation (I personally didn't do a whole lot of trip research for this part of the trip), I came to the realization that the west side of Phuket (where Patong Beach was facing) was where the tsunami in 2004 hit (since the upthrust of the fault from the Sumatra quake was further west).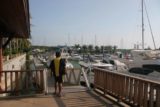 At that point, we met our tour guide, who called himself "Bam Bam" and the owner of the tour we were who was named Jenny. Soon thereafter, we were on the boat and set off for the excursion.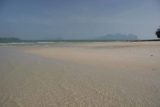 At 9:30am, we made a brief stop at some island where we could see some distinct karst peaks in the distance. The view of those islands were rather hazy, but we learned later that the haze came from the industrial pollution emitted by China.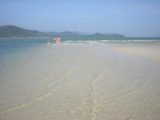 The beach island we were on was quiet and there we were given delicious banana bread as well as some fruits (including the southeast Asian dragonfruit as well as grapefruit-like palmelos). It was a pretty relaxing way to start off the trip considering we hadn't really done anything other than ride a boat to this beach and just chill out for a few.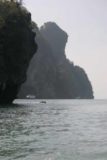 At around 10:30am-ish, we returned to the boat and went amongst some of the karst islets we had seen earlier through the haze. Upon inspection of the karst cliffs as we got close to the islets, we noticed many of them were overhanging.
There were also lots of tiny sea arches, which attested to how porous the limestone was as well as to how corrosive the forces of the sea were. Since we were also into arches as well as waterfalls, we took note, but many of the arches were rather insignificant and probably wouldn't excite people in much the same way that trickling or tiny waterfalls might have the same effect for waterfallers.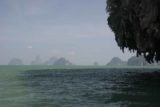 Some of the karstic cliffs seemed like whole sections were overhanging. The cliffs themselves were very rough and seemingly skeletal towards the bottom as it would frequently interact with the rising and falling tides.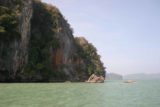 This part of the boat ride probably persisted for almost the next hour as we would just soak in the bright sunshine, the tall karstic mounds, and other boats that happened to be in our line of sight.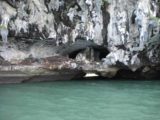 When there were natural arches along the way, we definitely noted those, but most of them happened to be very small and probably just a dime-a-dozen consequence of the porous nature of limestone interacting with water.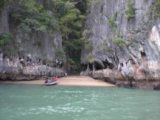 Somewhere along the way, we made a brief stop at a cove on one of the islets. It seemed kind of like a wild place as there were no docks, and we merely landed on a small sandy beach.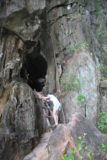 We were then given headlamps as we were told that we could get off the boat and head up a ladder leading up into a cave. The owner and a guide joined the group to ensure that everyone was accounted for.
We definitely needed the headlamps as the long cave definitely blocked out much of the total brightness of the sunny day. The surface itself was slippery in places in the darkness so we had to be extra cautious of our footing.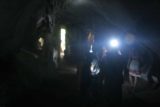 The guide explained to us some thing about the cave (though I honestly forgot a much of what he said). And as usual, there were stalctites and stalagmites (signature features of almost every cave) as well as sleeping bats hanging on the ceilings of the cave.
Eventually, the path ended at the other end of the cave where an opening faced a dropoff and a secluded (albeit inaccessible) body of water sandwiched between the karstic cliffs. I guess since this cave had no dead-end, it was technically a natural tunnel or natural arch (depending on one's definition of it). But there wasn't much more to this cave so we headed back.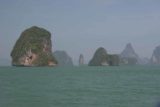 Next, we continued our boat journey amongst more impressive karstic islands as we were making our way closer to the so-called James Bond Island.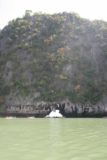 At 11:30am-ish, we passed James Bond Island and headed for a sea kayak pontoon. We were told that we'd return to James Bond Island later in the day so that allayed our fears that one of the checklist items on our itinerary would be skipped.
Here, we rode a sea kayak paddled by a local that went through a big sea arch (the breeze through here was nice breeze given the heat of the area). We passed by more overhanging cliffs as well as smaller sea arches. The paddler eventually took us to some outcrop. No other kayakers were doing this so this part of the tour felt kind of weird.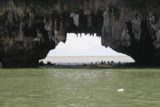 When we stopped onto the outcrop (barefoot), the rocks were sharp and painful. We were encouraged by the local guide to scramble further onto the sharp coral outcrop to get some photos. But truthfully, I wasn't sure this little side photo stop was really worth it.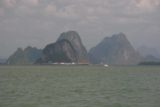 Anyways, when that was little photo stop was mercifully over, we rejoined the main kayaking route that everyone seemed to be taking and returned to go back under the sea arch before returning to the pontoon where we'd regain the larger boat.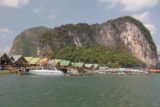 From there, we headed to lunch at some place called Panyee, which seemed to be a collection of buildings that were half-stilted and half-floating. The lunch itself was quite good because it consisted of some local food (mostly seafood influenced) but there was also some fried stuff for Westerners needing some sort of familiarity. In all, it was a nice mix of local catches and fruits in a BBQ lunch style that really hit the spot.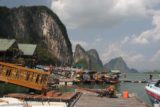 After the lunch, we walked around the Panyee town. Part of this walk was to satisfy our curiosity of what there was to see here, but I was also motivated to walk off some of the calories we had gained up to this point.
The town itself was interesting because it seemed like it was completely rested on stilts to deal with the tidal variations. However, it was disturbing to see some of the locals walking around town with baby gibbons trying to coerce you to take photos with them to get paid.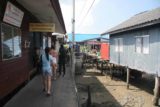 We learned that these gibbons were taken from their pregnant mothers in the jungles. Plus, only 1 in 10 gibbons survive the fall from the tree when the mother's killed. When all's said and done, typically for every gibbon taken from their natural habitat, 19 gibbons die. That seemed to be a rather unsustainable practice yet it's being done because there must be some profits to be gained that was substantially more than what doing it the "right way" would fetch in order for locals to be engaging in this practice.
We didn't need to be told twice about shunning this practice and not paying attention to the peddlers walking around town with the gibbons, but one of the kids who was on tour with us really wanted to do it. I guess he's too young to understand or he didn't care, and I guess that was probably the very thing driving the demand (how could one resist?).
Meanwhile, while walking around town, we checked out a school, a market, and even a mosque.
Shortly after the brief tour of Panyee town, we were back on the big boat and we departed Panyee for Julie's big ticket attraction – James Bond Island.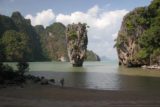 By around 2pm, we arrived at James Bond Island. At that point, we joined the crowds and tried to get that familiar photo of us back-to-back with that protruding thumb rock rising out of the bay. The shadows from this time in the afternoon didn't help the photography, but at least we could say that we were there.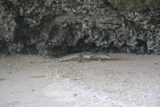 Just before we hopped onto the boat to depart James Bond Island, some of the tour participants spotted some kind of small alligator-looking thing. For some reason, I thought it was some kind of molitor lizard or something. But whatever it was, we all wanted to take photos of it, but none of us wanted to get near it.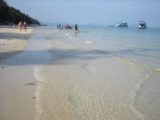 At around 4pm, we made it to another sprawling beach where some people were riding waverunners while others were just chilling out on the beach itself. We opted to just do the chilling out thing. Of course as the afternoon wore on, we could see sandflies were wanting a piece of our legs.
Nonetheless, all this was tempered by an additional helping of cut fruits for our tour group.
At 5pm, we were back at the marina, which ended our seafaring part of the tour. And an hour later, we were taxied back at the Amari Coral Coast Resort, which gave us a little bit of time to get changed and try to look up a place to eat in Patong.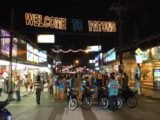 At 7pm, we walked back into town in the dark. We ended up walking well into the bustling town at a place called Savoey. It wasn't cheap (at least by Thai standards), but the fish was good (although the sweet chili was quite spicy) and Julie loved her Tom Yum Goong. The Thai Iced Tea also helped temper the fiery food we were eating and it really tasted like tea (unlike some of the ones we were used to back home in Los Angeles).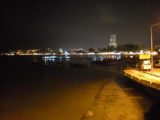 At 10:30pm, after weaving through lots of foreigners and peddlers (and probably some scam artists), we were back at the resort. It was yet another long day of touring. We still have another one to go tomorrow…
Day 3: MAYA ON THE PLAYA
Next morning. Same drill. Get ready, eat buffet breakfast. Except this time, the breakfast didn't have chicken satay and peanut sauce anymore! Doh! Only Chicken Tikka Masala, which itself isn't bad, but it's not good here and it's cold. The Nan was also kinda hard.
At 8am, we went through the familiar drill of getting picked up along with other tourists joining us on the van ride to the other side of Phuket Island. This particular tour seemed to be much busier and more popular than yesterday's. We were headed to Phi Phi Island today.
At around 9am-ish, we were back at the Royal Marina. The guides were once again Jenny (the owner) and Bam Bam as well as other supporting crew.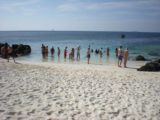 The first order of business as we left the marina was to boat over to some small island with some beaches and an area for snorkeling. The ride to get here was rather bumpy as we were cutting through some choppy waters instead of the inlets of yesterday's tour.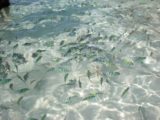 At around 10am, we'd arrive at the small island. At first, it didn't look like a promising place to go snorkeling because the waters were choppy, but then we walked to the other side of the tiny island and saw hordes of people in a tiny twin bay. It was here where the snorkeling was to occur.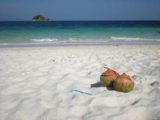 There was a good deal of guides throwing food into the water to get the fish to cluster around their paying customers for photo ops. I wasn't sure about this practice. I also was reminded once again that I can get seasick snorkeling as my headaches were slowly starting to return. Nothing some more banana bread and fruits couldn't fix I suppose, so we munched on those.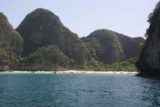 At around 10:45am, we started on the long journey to Ko Phi Phi Don Island. Again, it was bumpy and I tried to position myself in the boat to minimize the oscillating up-and-down motion to mitigate my oncoming seasickness.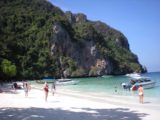 At around 11:30am, we got to some cove in a place called Monkey Island, which was one of the islands near Ko Phi Phi Don. This was a very busy place as it was loaded with lots of tour boats and people on the beach.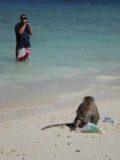 When we get off the boat and out of the chopping waters onto the shell (and glass) ridden beach, we quickly saw why the island got its name.
Barely a few minutes walk, we could see guides throwing bananas to a whole troop of monkeys. I think they're still gibbons (not unlike the baby ones we saw yesterday at Panyee Town in Phangnga Bay). I wasn't too keen on humans giving handouts to wild organisms, and we could see that these monkeys were totally dependent on people now. Some were even abnormally fat.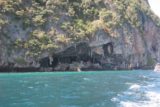 At around 12pm, we took off and briefly glanced at some kind of cave with some decorations that were somewhat facing the beach at Monkey Island. It was merely a photo subject as we didn't stop for a closer look.
Next, we then headed over to the resorty part of Phi Phi Don's dumbbell peninsula. It was here that the tsunami hit the area on both sides killing thousands. From the distance, it looked like this area had already recovered, but it might've been interesting to stop by here to check out the scene and get those postcard views of the two-sided beach. Not so on this trip though as we quickly turned away and headed to a different part of the island.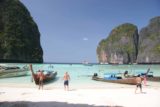 A few more bumpy minutes later, we got to lovely bay and beach known as Maya Bay (which I think is on Phi Phi Lei Island). This was Julie's holy grail as she said she saw this on some movie called "The Beach."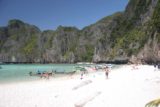 To her, the juxtaposition of blue-green shallow water with blindingly bright white sands and towering karst cliffs made this place on par with the Whitsundays in Australia or even the beaches and lagoons of Bora Bora. I might be inclined to agree with her if only this place wasn't so crowded.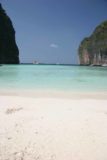 We picknicked here and took photos. Though I wasn't sure if any were of post card quality. There was one moment where we had someone on tour with us take a photo of Julie and I on the scene. However, I overlooked the fact that that tourist had hands wet with sea water handling the finicky Canon. Little did I realize what kind of impact that would have later on on this trip!
We walked around the small island after lunch and a quick time playing in the shallow beach. We got to know some other tour members (namely a Vietnamese lady and Cambodian guy from Silicon Valley).
By about 1:30pm, we snorkeled in some rough waters directly behind Maya Bay on the other side of the small islet we were on. Some of the coral reefs here were quite strikingly colorful (especially the pulsating purple ones), but the rough waters exacerbated my seasickness so I had to cut the snorkeling short.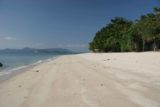 On the long haul back to Phuket, I tried to close my eyes and nap the headaches away. But before that, we briefly stopped at some place called Rang Yai Island at around 4pm. This place was another small islet with a white sandy beach.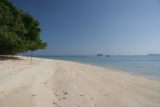 So we chilled here for a bit munching on more fruits while getting to know an Australian couple from the Gold Coast. I was teasing the lady about Triple J Radio (my favorite radio station) since she was working for a commercial competitor as a news reader.
At 5pm, we were back at the marina. And once again at 6pm, we were back at the Amari Coral Coast Resort.
It wasn't until around 7:30pm that we walked into town. But this time, we ate at some place called Patong Seafood. But we didn't buy any more of the expensive fishes like yesterday. Just a simple spicy crab curry and a pad thai did the trick.
Afterwards, we walked around the very busy town. There were some night markets here, but we weren't really in any mood to buy. Little did we know that this type of bustling night market scene would captivate us later on in the trip.
In any case, we dodged the tourists, peddlers, tuk tuk requests, massage requests, and shopowners urging you to check out their wares, and eventually made it back to the Amari Coral Coast Resort at around 9pm. Considering that we really wanted to unwind and recoup from another long day of touring and walking around, we were glad this resort was far enough away from the night life of Patong Beach but still within walking distance.
At 10pm-ish, I managed to catch some show about Global Warming Part 1 of 2. Wish I could've watched part 2 of it. The contents were nothing new considering this was an issue I worry about a lot and I already knew what was involved and why it's such a hard battle to overcome. However, I saw on the show that it seemed the people really holding the key to cracking this problem (as far as US politics was concerned) were the Swing States. Unfortunately, these were also the states that emitted the most pollution because they had most of the coal mining and burning facilities. So it was not surprising I suppose that these were the same states that voted Republican and re-elected Bush.
Anyways, we're on holiday right now. No need to get my blood boiling about this so I was glad I was tired and slept without any further thought on the matter.
Day 4: ONE NIGHT IN BANGKOK
Our flight back to Bangkok that was supposed to be for around 9am-ish this morning was cancelled so we had to settle for a flight around 1pm. This was a bummer because we wouldn't have as much time to walk around the city of Bangkok as we had wanted to. So all this time, Julie and I were scheming to try to figure out what sights to see and what to do in the limited evening we had in town.
We woke up without an alarm on this day knowing that there would be some down time this morning after brekkie before we'd be picked up to go to the airport to fly to Bangkok. The thing that probably got us to get out of bed sooner rather than later was the brekkie.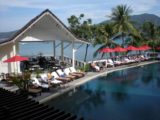 Once again, they didn't have the satay or the other Asian stuff we were looking for to. That was a bummer. So when we were done with the brekkie, we had some time to kill.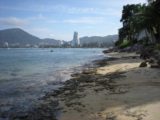 We briefly walked around the property as it was probably the first time we actually took a brief tour of the place we had been staying at for the past couple of days. Funny how we were finally getting to know the property on the morning that we were about to leave.
It wasn't until around 10:30am that we were picked up from the airport. This late start and down time gave me a chance to get caught up on some trip musings up to this point as well as organizing the photos. However, somehow, Julie lost her REI hat. We're not sure how, but it's gone now.
At 11:15am, we made it to the Phuket Airport. No incident so far… except for an unannounced gate change…
It wasn't until around 3:50pm that we made it to the Baan Chantra Guesthouse. Given the feedback that the taxi driver (who worked for this place) told us, we made our minds to try to get some sightseeing done tonight (for the recommended Wat Arun and Wat Pho) and make changes to our itinerary tomorrow to see the Grand Palace, which should've occurred earlier today.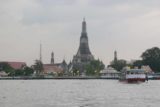 We had to make some phone calls with our tour operator first thing tomorrow morning, but in the mean time, we wasted no time getting the very helpful and friendly receptionist to help us book a tuk tuk ride to one of the frequent ferry wharfs to get to Wat Arun.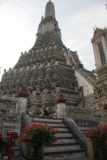 Within minutes, the three-wheeled tiny tuk tuk navigated the city streets and dropped us off within a short hop to the riverbank. There, we walked through an unfamiliar side street and little market before seeing the ferry crossing for a measly 6 Baht.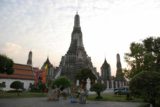 Not much later, we crossed the river getting decent shots of Wat Arun on the other side. When we landed, we quickly zig zagged to the towering temple (not quite knowing exactly where the entrance was). Along the way, Julie noticed some unattended cardboard cutouts before a view of the Wat Arun. She wasted no time putting her face through one of the face openings and I obliged with a photo.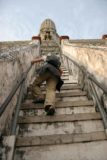 Just then, a guy came out to me and demanded money.
Julie and I looked at each other dumbfounded. Then, the guy pointed to the lower part of the cardboard cutout where 40B was written.
I sighed and reminded Julie of how something similar to this happened in Seydisfjordur, Iceland.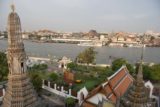 Anyhow, we paid, then continued on into the Wat Arun. There, we climbed up the very steep and exposed steps. There were two main flights of steps and it was tough not to feel butterflies in the stomach whenever we looked back the other way.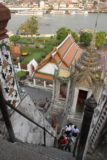 Still, there were nice views of the city and the river cutting through it. We spent nearly an hour here before Julie started pressing me to hurry up. She was worried that the other temple we were to visit (Wat Pho) would close soon.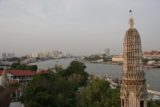 It was difficult to pry ourselves away from Wat Arun given this sense of urgency to move onto the next place. For each nook and cranny we explored while amongst the tall and narrow tower, we saw more views of the city or more interesting things about the tower itself that we didn't notice before.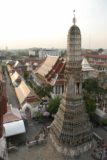 After putting up with butterflies in the stomach as we carefully made our way back down, we took some more parting shots of the impressive Wat Arun – both of its steps as well as from its base.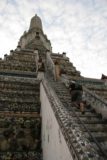 We seriously could have spent hours here trying to play photography games in an effort to communicate to imagined viewers just how steep and vertiginous this structure was. But all that came to an end when Julie hastened the pace further by forcefully making me stop and heading back towards the ferry to cross the river again.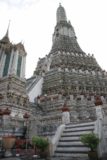 So by 5:30pm, we were back at the boat dock and 15 minutes later, we made it to Wat Pho. What made this place stand out was that there was a giant reclining Buddha. When we got to the ticket booth, we noticed the place was supposed to close at 6pm so we managed to make it in time I suppose.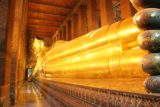 We took off our shoes at the entrance to the buddha shrine and then proceeded to walk around the massive idol trying to get photos of it.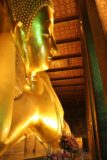 Julie's observation of the spiky head ornament on this Buddha's head prompted her to say, "His head looks like durian!" Clearly, having this southeast Asian fruit fresh was on her mind.
It was hard to get a photo of this giant idol in one go unless we photographed it from severe angles. And so that we did, though I'd imagine our photos wouldn't come close to communicating its scale.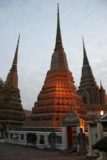 With the fading light of the day, we quickly made our way outside to check out the structures of Wat Pho knowing that there wasn't much time left.
Given the low light, we were forced to hold our breaths taking pictures of the chedis and fancy-roofed structures of Wat Pho. It wasn't an easy thing to do so quite a few of our shots turned out blurry since we didn't have our tripod with us at the time.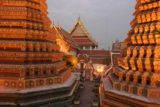 Still, with limited time to explore this place, we did whatever we could to explore it without any real sense of what else we were supposed to see here. That probably compromised the efficiency with which we were to tour the attractions.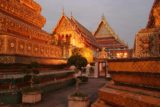 It turned out later on that there were a few more things we could've checked out, but they were either closed or we didn't know about them (since we didn't really know too much about Wat Pho prior to visiting it). Indeed, it felt a bit rushed, but I guess that was what happened when our flight departure was four hours later than what was planned.
So we eventually had enough and sought out a taxi to get back to the Baan Chantra.
Of course, a nearby taxi jumped at the opportunity seeing our need and offered his services. However, after being aware of the scams that can take place with taxi drivers and tuk tuk drivers, we worried about being another one of the victims.
Still, we quickly stepped in to the taxi and we headed off. It was pretty clear that the taxi driver didn't have a command of english that would facilitate meaningful conversation. On the other hand, the taxi driver asked us where we were from as well as whether we had eaten yet.
As a matter of fact, the taxi driver kept asking us if we wanted to have dinner and that he knew of some great places to eat. Fully aware of the joyriding schemes from both tuk tuk drivers and taxi drivers in Bangkok, we insisted on having him "just take us to the hotel, please."
So the driver continued zig zagging through the rush hour traffic. I kept my eye on the meter fully aware that the nice lady at the Baan Chantra reception told us we shouldn't have to pay more than 50 Baht to get back from Wat Pho to the hotel. Despite this, we were going on roads that didn't look familiar and eventually when the meter stopped at 58 Baht, the taxi driver stopped the car then said something that we couldn't quite understand in his limited english.
Julie started to freak and said, "Where's the hotel?" in a raise voice.
The taxi driver pointed to the alley way. This definitely didn't look like the street we arrived to the Baan Chantra in. In any case, it looked like we were had and now we had to figure out where we were and how to get back to the hotel.
At first, we walked down the small alleyway. Julie insisted that we not continue down this path. As the streets looked to get smaller and smaller, we turned back to the place the taxi driver dropped us off.
Thinking that we might have to catch another taxi just to get back to the hotel, Julie was getting really pissed at this point.
Next, we made a left and followed the main street hoping to find the Baan Chantra along the way (recalling the taxi driver saying it was a block away). But after walking a couple of blocks, we started to ask some people where our place was.
One particular exchange took place with a tuk tuk driver. Of course they offered us a ride, but we were more interested in knowing where we were and how to get back to our hotel.
So since I had a feeling we were dealing with another con artist, I was in a mood to be a smart ass when one of the drivers asked us, "Where you from?"
"Uh. China," I told him. I'm not a real good liar so I couldn't stifle my smile very well.
After a brief pause, the Thai guy said, "I know you come from another country. People from China speak little english. You speak english too well."
"Well, uh…" said I, and then I said nothing more. By that point, Julie figured we'll turn around and walk back the other way.
The next stop was some convenience store. Julie once again asked a local behind a cash register where the Baan Chantra was. The conversation didn't seem to be going anywhere because it seemed that hardly anyone in Thailand spoke english.
Then, someone in line who was a Caucasian living in Thailand jumped in and told Julie that our hotel was back the way we came (towards the place where the taxi dropped us off). She knew it was a "boutique hotel" so it was a relief to get this kind of help.
From that point on, we were back at the Baan Chantra at 7pm – finally!
So we briefly recovered and then asked the friendly receptionist where was a good place to eat authentic Thai food. Well, she suggested this Thai place right on the riverfront and about a block or two away on a really small street.
She already earned our trust earlier on when we checked in and got a tuk tuk ride to Wat Arun thanks to her so we didn't hesitate to take up on her suggestion. By around 7:30pm, we were at the restaurant.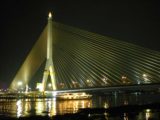 The restaurant was bustling with customers both Thai as well as farang (foreigners). It was interesting to see scantily clad women in short skirts and heels serving food and taking orders. These were the type of women you'd expect to see at some Asian car show I reckoned. Nonetheless, it was eye candy, but Julie would pinch me when she noticed I was staring.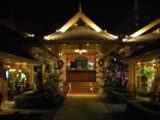 Plus, there was the usual live music, which we were familiar with back in Thai Town in Hollywood. The food was pretty good, though expensive. Still, it was reasonable by US standards considering we got three different seafood dishes. We continued our mission not to repeat the food poisoning I had from two previous trips (in Peru and in Kenya) by avoiding uncooked veggies.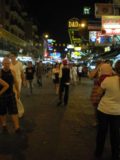 After our delicious but expensive by Thai standards dinner, we made it a point to walk a couple blocks to the famous Khao San Road. This was a very happening street with lots of foot traffic as well as shops, bars, clubs, etc.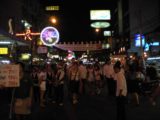 Again, there were even more of those Thai women dressed like Asian car show models plus there was a band playing funky music featuring a didgeridoo. That didge brought me back to our brief time at the Mindil Beach Night Market near Darwin, Australia.
By 9:45pm, we were back at the Baan Chantra, where we showered and slept despite the constant traffic noise just outside. At least we were tired so sleeping wasn't difficult at all.
Day 5: MONKS AND DRUNKS
It was about 8am when we finished breakfast (a nice curry with rice breakfast; I thought it was unusual to have foods that could've been lunch or dinner for breakfast) and took care of a lot of things while in the Baan Chantra lobby. There, we met our guide for the next 3 days who calls herself Pang.
She actually had pretty good command of english so Julie explained the situation to her (about changing up the itinerary for today) and reinforced that we should try to see the Grand Palace this morning and then try to fit in the Erawan Waterfall later today while forsaking the Sai Yak Noi Waterfall (which after some research on it, seemed to be a worthwhile collateral for the Grand Palace).
We also learned from the owner of the Baan Chantra that Thai Iced Tea was really a Chinese invention by those who migrated to Southern Thailand. We inquired about the history or authenticity of this drink we saw so often at Thai restaurants since some places didn't seem to know what we were talking about when we mentioned Thai Iced Tea. Thus, Chinese Thai would have this drink, but other places are probably not likely to have them.
She also told us that Phuket is more Chinese than Thai. She also said downtown Bangkok wouldn't have Thai Iced Tea.
In any case, she briefly disappeared and came back with a couple cartons of Thai Iced Tea.
Julie reached into her pocket to get out some Thai Baht to compensate, but the hotel owner said, "Don't worry. I'm happy to see our guests enjoying Thai food."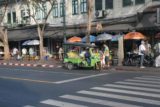 As Pang and the driver took us from the Baan Chantra to the Grand Palace, Pang asked us what we did last night. When we told her of our Khao San Road experience, Pang relayed to us some funny stories about how usually at this time of day, you get drunks who partied too hard and at the same time you get monks who do their morning rounds fielding offers for food.
The image of disciplined monks on the same street with staggering drunks was comical. Monks and drunks! Indeed!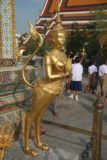 It was around 8:30am when the Grand Palace opened its doors. After loitering outside for a few minutes (since we got there too early), we walked into the huge place. It was difficult to try to capture it all in photographs as the complex was so massive and buildings were so tall and grand so we had to be selective about our photo subjects.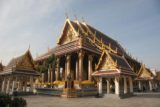 During this tour, we were quite glad that Pang could communicate easily with us so we better understood the history of the place and the significance of some of the attractions within.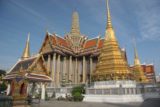 There was also quite a few places where you had to take off your shoes and walk barefoot anywhere close to a sheltered Buddha statue. We had read about this in our pre-trip travels, but little did we know that this would be a recurring practice in almost every temple we went to.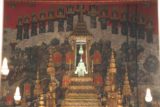 Our tour through the Grand Palace was a whirlwind of one temple after another. I recalled staring into a small temple where there was a jade Buddha perched high up on its little altar with quite a few people looking in.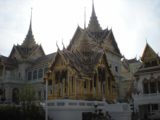 We also spent a bit of time trying to somehow compose our photographs and convey the intricate yet extravagant architecture of the sharp chedis and prangs adorned in bright gold (or some kind of shiny gold-like coating) which would really stand out whenever they were lit up by the sun. But since it was still pretty early morning, we were still within the shadows of these buildings and only some of the time we saw the full gold effect from the sun's light.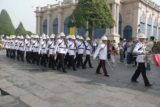 Towards the end of our tour of this place around 10am, we noticed a troop of Royal Guards marching while playing snare drums as they proceeded into the forbidden Royal Quarters. Pang said they were training for processions in the future.
The next nearly three hours were spent in the car. We got more familiar with Pang and her of us. But eventually, the long drive drove both Julie and I to sleep. I guess for once I wasn't doing the driving so I can now understand why sometimes Julie conks out while I'm driving when we go out on road trips.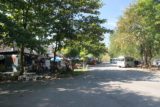 At 12:45pm, we made it to the rather busy Erawan Waterfall Car park. There, we ate some Thai BBQ and other local stuff. The Thai BBQ was finally something that was familiar to us as there was a multitude of these types of places back at home. And of course, it was fresh and yummy here. The sweet chili sauce was a bit spicier than Julie would've liked though.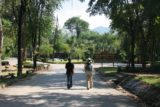 At 1:30pm, we finally stopped stuffing ourselves and proceeded to start the walk to take in the Erawan Waterfalls.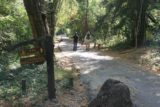 The hike began with about a 600m walk to the first of seven parts of the waterfall. We noticed that you could take a go cart for this stretch if you didn't want to walk, but we needed the excercise. Besides, we didn't want to pay extra for that.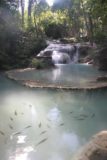 Once we were at the first tier, we took this opportunity to take photographs and bask in the shaded forest scenery. What was cool about this waterfall was that there was a multitude of fish at some of the plunge pools beneath. I couldn't remember any time in our travels where so much fish appeared in a waterfall photo.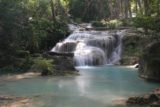 We spent some time at this first waterfall trying to capture both the waterfall and the fish together. We figured it wasn't often that we could combine the two things in one shot.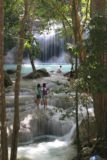 A few minutes later, we continued on to the second tier. This one was way busier than the first. As we were approaching the falls, we saw there were numerous little travertine pools and natural dams where people would chill out in their bathing attire to offset the somewhat tropical heat of the jungle.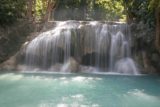 This was the level where you could see people stand in a tiny limestone shelter behind the waterfall. Speaking of limestone, there were also several components of the waterfall where the limestone gave the waterfall a texture and color that was very attractive.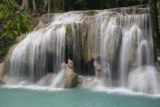 Julie and I spent some time just chilling out by one of these travertine dams while admiring the scene. We didn't join the folks here for a swim as we were quite content with the view and the atmosphere.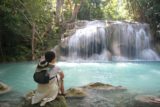 And like the first waterfall, we saw there were many fish swimming about right in front of tier 2 of Erawan Waterfalls.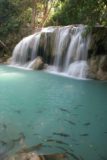 In most circumstances, this second tier would've been sufficient for most waterfall attractions before returning home, but we knew there were still another 5 levels to go. So onwards we continued (and spared Pang further boredom by lingering at tier 2).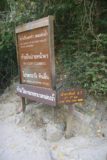 As the trail proceeded to climb above the 2nd falls, we were supposed to deposit some Thai baht for bringing plastic bottled water. It was an interesting system and the more I thought about it, the more it made sense. After all, if you want your money back, you'd better not litter. The only thing that could've improved this system was to charge more than what they were charging.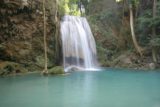 It was also at this time that we learned that the park was to close at 5pm. That only gave us about 90 minutes to check out the rest of the waterfalls…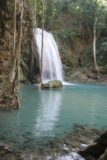 The third tier was only a few minutes walk past the 2nd tier involving a bridge that offered a view of an attractive cascade that didn't count. Unlike the first two tiers, the third tier was a tall, plunging type waterfall. Once again, there were some fish at its plunge pool. We didn't linger here for too long as we didn't have a whole lot of time to see the rest. So onwards we proceeded.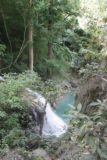 The path climbed up past the top of the third tier, which yielded a slight view of some smaller waterfall (or the brink of the third waterfall; we weren't sure), but it really didn't amount of much visually.
It seemed like a while before we finally got to the fourth waterfall. We had to climb up a long series of steps, bypassed an overlook, and even noticed some fair-sized cascades that easily could've counted towards the seven (but didn't).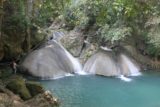 At one point, I noticed there was a real loud noise of falling water that could only mean that it had a pretty significant drop. Unfortunately, that big drop wasn't very visible.
Eventually, we'd get to what they called the fourth falls, which was merely a segmented cascade where one of the segments was a water slide. We just happened to catch one person doing the slide.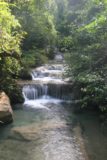 The fifth level involved quite a bit more uphill walking. There were even a few trees wrapped in what looked like prayer garments. Pang said those were supposedly holy trees or sacred trees and that these trees were not to be felled due to their sacred nature.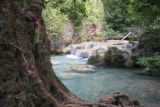 In addition to the garment-wrapped trees, we saw even more tiny cascades with pretty and colorful pools. It seemed that the further up we went, the fewer people we noticed swimming or hiking. If we weren't so pressed for time, I could easily envision making a stop and either swimming or just admiring the scene.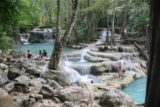 We once again passed more cascades that easily could've counted but didn't. When we got to the fifth waterfall, it was a bit anticlimactic. Although the falls were wide and had attractive limestone segments, it wasn't all that impressive. It was really merely one you can swim in.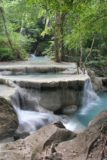 Continuing on.
The next bit of hiking was through more jungle as we were passing by some attractive but small limestone cascades. These didn't count as legit waterfalls in our minds so we snapped a few photos but kept pushing on.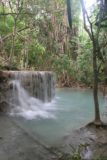 We'd eventually get to tier 6 after passing by yet more attractive limestone cascades that didn't count. The trail involved a few steps and rickety ladders, but nothing difficult.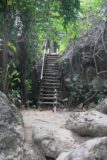 At this tier, there were a bunch of smaller cascades that you walk over until you get to the main part of the stream. With our Keens, this was no problem. Once at the main part of the stream, we could see several tiers further upstream as well as a wide attractive one at its bottom.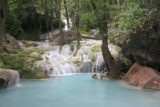 Once again, there was fish in the plunge pools to add to the allure of the place. There also appeared to be lower cascades further downstream but we couldn't see them since we're above them.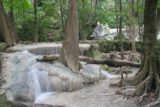 When we had our fill of the 6th falls, we now had to continue pushing our way upstream. The hiking was certainly rougher as we had to hike through parts of some streams (with slippery footing on the limestone) as well as hiking over tree roots and more rickety ladders.
There were also a few instances where we had to use all of our limbs in some spots that felt more like a scramble than a hike.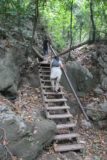 By this time, it was almost 5pm. I thought Pang was going to lead us back to the visitor center, but I was surprised when she pointed us further upstream where the trail continued to degenerate into even more of a scramble.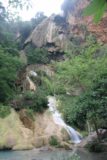 There were a few tricky and slippery parts, but eventually, we made it to level 7. At its current state, it wasn't anything special. Supposedly there were upper cascades falling over some overhanging limestone cliffs. If water was flowing over the cliff, you'd get three segmented columns of water each resembling elephant trunks. Since Erawan was supposedly a 3-elephant-headed Hindu god, it became clear why this water was so named.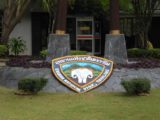 Still, Pang said it had been years (maybe four years ago) since water had come over that upper tier (even counting the wet season). She thinks it might have something to do with Global Warming.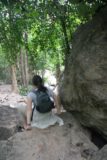 After taking our photographs of this attraction, we quickly made our way back to the Visitor Center, recovered our deposit, and then returned to the car park where the driver was awaiting us.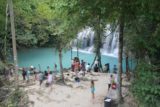 With this excursion over and with us forsaking the Sai Yok Noi Waterfall, we were now in a position to have plenty of time for the next two days to see temples in Ayutthaya and waterfalls in Khao Yai National Park. The prior version of this itinerary made things a bit tight as Erawan would've been done tomorrow morning…
At 6:30pm, we made it to docking area. There were a lot of cars here so apparently our Jungle Raft accommodation tonight was going to be pretty full of people.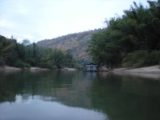 We next loaded up a smaller canopied motorized long boat and got in. Then, the boat took off upstream. Within a few minutes, we were at the Jungle Raft accommodation. We could see rooms floating on the river as well as the lobby area floating. Our pre-trip research indicated to us that this isn't a luxury experience as the shower is cold, the "shower stall" shares the same floor space as the toilet, the toilet doesn't flush (you have to dump water into the toilet after use), and you have to provide your own light source. But upon checking in and seeing our room, it was actually quite charming.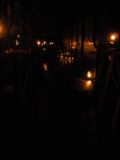 We spent Christmas Night having more Thai food (which some of them actually seemed more like Chinese food) accompanied by a large tour group of what seemed to be German tourists and few other individuals touring independently.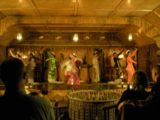 At 8pm, we checked out an ear-splitting dance show by the local Hmong People. The Hmong People are said to have come from Myanmar (Burma) as refugees who are now providing cheap labor on the western border regions of Western Thailand. Apparently, they have some Chinese descendence, which might explain some of the cultural similarities that we noticed.
As for the dance show, no one really explained what the dances mean. So all we did was just watch the local performers move about and some of the more muscular guys do backflips. The live music, which resembled Chinese opera, was very loud!
As the night wore on, Julie and I tried to sleep. This was made difficult because you can pretty much hear what your neighbor's doing and every time a river boat would pass by, the wake generated by that boat would rock everyone's rooms. The noise from the boat wasn't exactly good for the ears either.
But like I said earlier, luxury accommodation this is not!
Day 6: GETTING TEMPLED OUT
Despite the shortcomings of the accommodation conspiring to keep us from sleeping, we awoke at 6:30am fairly well rested.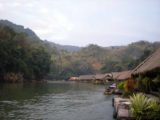 I spent the morning reflecting back on the experience of this place. It kind of reminded me of the Lacam Lodge at Sipi Falls, Uganda since it was also a back-to-nature type accommodation where there was no electricity and you had to bury your waste in their makeshift toilet. But this Jungle Raft had far more people as it probably had something like 40 to 50 rooms.
Still, I wondered about the environmental impact of this place considering that everything gets dumped into the river. Not only that, but all the boats going up and down the river must be releasing some of the fumes and fuel into the river as well.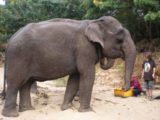 Over breakfast, Julie noticed that there was some commotion on the bridge connecting the raft with the main land. That was caused by some domesticated elephants who made an appearance for some feeding. Being used to seeing wild elephants in Africa, it felt kind of weird to be this close to these elephants.
At 8:30am, we left the raft. Now it was time to get to Ayutthaya.
The drive eastwards was pretty much through an extensive flat area dominated by rice paddies. The driver seemed to have a penchant for driving very fast. Since there wasn't a whole lot of traffic on the roads here, I guess we were a little more at ease than if we were to be frequently weaving in and out of oncoming traffic passing drivers in front of us.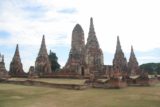 At 11:15am, we arrived at something called the Wat Chai Wat Tanaram. Here, the ruins looked old, but preserved enough to have chedis and prangs standing tall.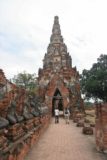 There were lots of beheaded Buddha statues here and we were able to climb up the steep stairs of one of the faces of the central tower. Once again, the stairs were steep and we really had to watch our step so we can avoid a rather nasty fall.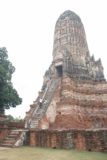 The steepness of the steps were probably more of an issue going down since we were constantly facing the long drop. It was interesting to see Pang confidently standing as she side-stepped her way down as she clearly must've been here many times. Meanwhile, Julie and I were employing the sit-and-scoot maneuver to minimize the risk of taking a potentially fatal fall.
Since this ruin was by the river, Pang explained to us that the city of Ayutthaya was strategically surrounded by several rivers. In fact, it was the capital of Thailand before Bangkok and after Sukhothai.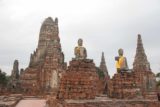 On the other side of Wat Chai Wat Tanaram, there were Buddha statues sitting facing the river before the main chedis. At least these statues weren't beheaded like the rest.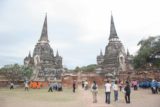 After lunch, which consisted of more spicy Thai curries, we went to the big ruins called Wat Phra Si Sanphet. A whole army of kids were out running amok. On top of that, there were quite a few other people touring the place as well.
Apparently what makes this ruin famous is that there were still three big chedis standing as well as a giant Buddha shrine nearby. It was difficult to try to capture these chedis since they were so big.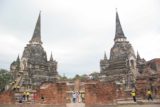 Perhaps the best that I could pull off was just to focus on fewer chedis and try to compose them in a way that somehow dwarfed the tourists to convey the scale of these things.
After walking around the big chedis, we walked to a neighboring building that housed a big sitting Buddha. Once again, it was shoes off here.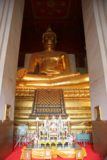 Seemed like there were lots of Thais in this attraction. In fact, many of them were here praying before the statue itself fronted by burning incense.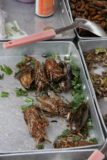 With all the ruins and temples seen so far, I was already starting to get templed out. So we made a quick walk amongst some local street vendors around the Wat Phra Si Sanphet. There, we noticed some rather unappetizing giant water bugs for snacking.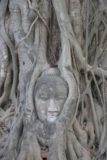 The next ruin we visited was basically famous for having a Buddha head covered in tree roots. It gate the sensation that a statue was either coming out through the roots, or the roots managed to decapitate the Buddha.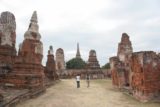 There were more ruins within this complex afterwards, which we quickly checked out before moving on.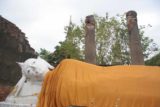 There was yet another one to seen at Wat Yai Chai Mongkhon, which featured an outdoor reclining buddha as well as one of the tallest chedis (possibly the tallest) in Ayutthaya.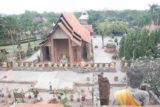 So we spent some time walking around the premises checking out more Buddha statues (many of them lined in a row, each wearing a golden sash across their torsos). There were some sections where we could climb up some of the steps for the lower chedis while soaking in the view around us.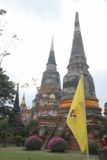 Meanwhile, the tall chedi drew a few more camera clicks from us, but it didn't really stand out much compared to many of the chedis we had seen so far. As a matter of fact, we were getting pretty "ruined out" at this point, and we could use a little change of scenery. Hopefully, Khao Yai might do the trick since we were going to head there tomorrow.
By 4pm, Julie and I were finally dropped off at our hotel to end the day and rest up for tomorrow.
Day 7: CROWD YAI
We left for Khao Yai National Park at 9am. Julie and I were sleeping during the car ride (again, not my usual MO since I try to get as much input as possible on every trip), but when we awoke, we were greeted to standstill traffic. Pang intended to take us to some local market before going to Khao Yai, but it looked like we had to go straight to Khao Yai.
Both Julie and I also noticed some strange grinding sounds whenever the driver had to brake. I wondered if this had anything to do with the guy going over the speed bumps too fast or if he brakes are just totally worn out.
The road to Khao Yai was interesting as it looked like there were giant caves suspended high up on the cliffs of nearby mountains. The scene was also noticeably more lush than the more urbanized scenery we'd been exposed to in Ayutthaya. Even with that said, it was strange to see the trees with leaves of changing color (since Thailand is technically in or close to the tropics).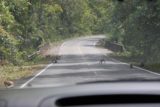 At 11am, we had lunch. It was a bit early but Pang managed to get the chef to get over his desires to wait another hour and just cook the food now.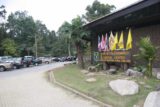 After lunch, we drove to the Khao Yai visitor center getting there at 12:50pm. Along the way, we noticed there were a bunch of monkeys along the road looking for handouts. Apparently, people have been feeding them and now they'll settle for nothing less than high-carb human food. I guess some people will never get it.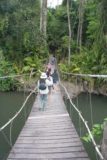 It also gave us an excuse to ask about tigers, which are the critically endangered cats of this part of the world. Pang said four years ago there were 10 left, but she fears they're either all gone or there are much fewer left now. That's a shame.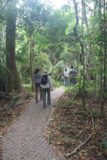 Come to think of it, I haven't even noticed any tiger carvings in the local markets. Mostly Buddhas, temples, and elephants. Even monkeys and lions (there's lions in these parts?). But no tiger. If only Thais (and especially the Chinese) could respect this species and let them live, but deforestation and poaching (especially for Chinese medicine) is all but assuring their extinction…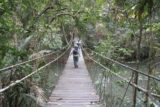 The visitor center was really busy. Pang took us on a rainforest loop hike, but there wasn't any waterfalls despite signs here indicating that the Kong Kaeo Waterfall (or Gong Gheo Waterfall) was only 100m from the visitor center. The one waterfall that was on the rainforest trail could only be experienced from the top. I think we could've done without this part.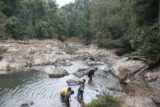 However, I wondered if we somehow overlooked the Kong Kaeo Waterfall because the amount of people we saw on the rainforest trail did not correlate to the number of cars in the car park. Clearly, those people must've been somewhere we weren't.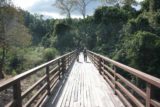 We next drove to Heaw Narok (I've also seen it spelled Haeo Narok) and got there at around 2pm. This was the waterfall I was looking forward to see because it seemed to drop in multiple stages for a cumulative drop of roughly 150m. After seeing how crowded the visitor center was (for an attraction we thought wasn't a big deal), it wasn't surprising to see another large crowd at the car park for this waterfall.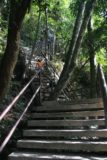 The 1km walk to the viewpoint of the falls involved going down lots of steep temple-like steps. The trail was paved the entire way and I noticed some people even walked the trail dressed in slippers or even dress shoes.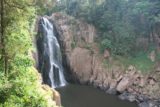 The view of the falls was the one where you only get to see the top 50 or 60m. There was only one overlook here and there wasn't another way to see the falls doing it this way.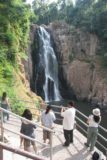 I was disappointed that we didn't get a chance to see the whole view of the falls like I saw on the internet photo of the falls taken by the Thailand Association of Tourism, I think (or TAT). At first Pang thought this view of the waterfall we showed her was from a helicopter, but we showed her multiple shots of the full view of the falls at different times of the year which made it seem unlikely that those people photographed it from the same spot in the air.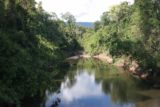 So I was disappointed that we didn't get to see the whole of Heaw Narok. Here was one instance where we might've been more persistent and flexible enough to seek out the overlook of the whole of the falls, but since Julie went with the guided tour, we had to take the hearsay and move on.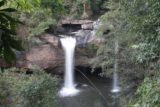 Next up, we drove to the car park of Haew Suwat waterfall. Along the way, we passed by a couple of campgrounds. The campgrounds were so densely packed with tents, you could probably open your tent and look right into your neighbor's. I don't think I had ever seen anything quite like this because we're used to assigned camp spots. It seemed like it's a free-for-all in Thailand.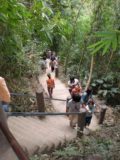 By 3:30pm, we were at the car park for Heaw Suwat. This was also a very busy and popular spot. It's difficult to try to get the photographs you want (especially if it involves setting up the tripod) without someone walking right into your photo.
This waterfall seemed to have a couple of drops side-by-side. Even though it wasn't tall, the fairly low volume of the water seemed to give it some character. I can imagine in the wet season how much of a raging mess this falls would be and therefore be unattractive.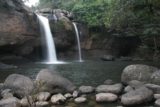 At 4:15pm, we were back at the car. Pang, sympathetic to my desire to see the whole of Heaw Narok, asked the staff about that viewpoint. At first, the person she asked also said it was probably from a helicopter. But then when I voiced my doubts because it's not likely you get the same shot from the air, the guy thought about it further and said (with Pang translating) that it was one of those things where someone guided a photographer from Thailand Tourism and is not a publicly accessible viewpoint. I guess that made sense since one of the photos in my trip research was accredited to TAT. So in the end, I just dropped the issue. I'm still not sure whether I buy these explanations, but that was that.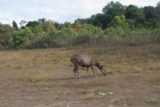 I wasn't accustomed to seeing deer in these parts, but it was interesting nonetheless. These guys seemed a little different in that they had a small head with big bodies. They were proportionally different than what we were used to in the Sierras, Rockies, or even in Utah.
However, we did stop to photograph a panorama, but the low lying cloud cover pretty much limited our visibility and kept all the forested peaks in the distance concealed.
At 5pm, we made it back to the Juldis Khao Yai Resort. We noticed there was some kind of cowboy festival on the outskirts of town. In fact, it seemed that the Thais in these parts were into the whole cowboy thing. I even saw a show about it on a Thai channel on TV. Pang said it's a Khao Yai thing probably due to the farming and agriculture outside the park.
Day 8: FINALLY, A PEACEFUL WATERFALL
With some time leftover, Pang decided we should check out another waterfall near the Heaw Suwat Waterfall before we leave for the Bangkok Airport. So we got an early start at a little after 7:30am.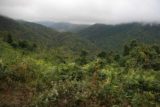 Before getting deep onto the road leading to Haew Suwat, we stopped at an overlook. This one yielded views of a valley in the distance along with lush scenery within the park boundaries. But the park sign was brutally honest when it flat out said that if it weren't for Khao Yai being a National Park, this viewpoint would've been nothing but farms and corn fields.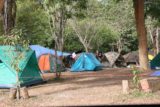 And by almost 8:30am, we were back at the Heaw Suwat car park once again passing by the crowded campsites. The car park now seemed much quieter than it was yesterday afternoon. Pang says that's because the Thais haven't woken up yet.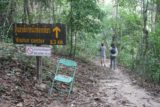 So we walked down the familiar path to get to Heaw Suwat Waterfall, but then we took a detour at a signed turnoff where you're supposed to take it with a guide. Since Pang was our guide, we followed her onto the more primitive path (i.e. some overgrowth and no concrete).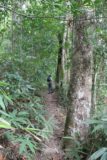 The path was a little steep in places as we descended down to the falls itself. There were a few downed trees to get over and some narrow ledges to stay on so I can easily see why they want you to come with a guide.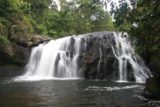 The falls itself wasn't all that tall as I'm guessing 5m or so. But the one thing this one had going for it was that it was peaceful and quiet here. Just us and the sound of rushing water and even a few songs of birds perched invisibly to us somewhere in the forest canopy.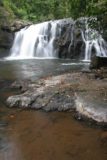 By 9:30am, we were back in the car. I think the walk for the Heaw Sai Waterfall (which I later learned was its name) was about 1km each way. But the steepness and scrambling nature of the hike definitely made it seem like it was a bit more strenuous than the other waterfalls we had visited in Khao Yai thus far.
As we exited Khao Yai National Park, we noticed another one of those Asian deers grazing in the grass in one of the more open areas. If we weren't so intent on going back to the airport at this time, we might've been inclined to stop for it.
The drive back to the Suvarnabhumi Airport in Bangkok was uneventful as far as I was concerned because I was once again asleep. This is why I prefer to do my own driving, but Julie feared that I might get in an accident what with how crazy the driving is in the cities here.
And by 12:30pm, we bid farewell to Pang and the driver (not the talkative type). And so concluded the Southern Thailand portion of this trip. Next up was Northern Thailand; starting with Chiang Mai, which was where we were flying to next.
Visitor Comments:
Got something you'd like to share or say to keep the conversation going? Feel free to leave a comment below...
No users have replied to the content on this page