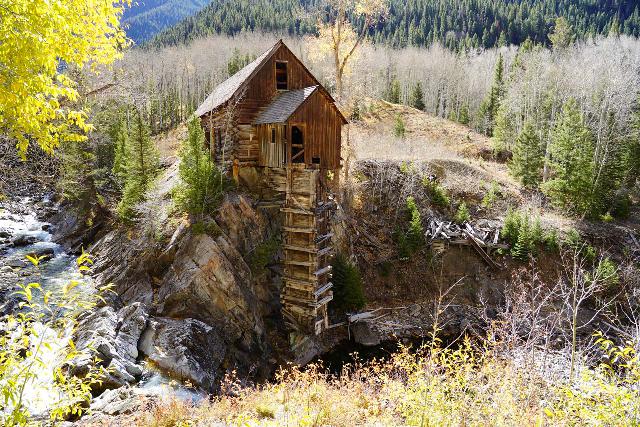 15-October 2020 to 19-October 2020:
As I was climbing and getting a few final shots back down at the Devil's Punch Bowl, I saw that there was a couple of jeeps making the death-defying drive down! I took this opportunity to take pictures (though I should have taken a video in hindsight) showing how even these souped-up jeeps needed all of their clearance!
A couple from the trio of ATVs down by the bridge before the Devil's Punch Bowl also walked up perhaps to scout out the conditions of the road. It was quite interesting to watch, and I guess I can see what's possible here, but in my mind, this is really more of a hiking trail than a 4wd road. But I guess in this state, driving such roads is as much the Colorado experience and thus I guess I could understand the shock of people that I talked with upon realizing that I walked to the Crystal Mill and back…
Day 1 (October 15, 2020 – Ouray, Colorado): "Allegiant"
It was about 3:30am when I awoke to my alarm. I was a bit anxious about not making it to Ouray before it got dark, and I was hoping that we could be out of the house by 4am.
I had woken up at around 2am earlier in the night after hearing some neighbor's dog bark, but I guess I needed more than three hours sleep to do a 13-hour drive (plus losing an hour as we'd eventually cross into the Mountain Time Zone).
By about 4:15am, I ate up my kefir breakfast, where I tried to clean out as much of the fridge as possible on this one meal.
Then, Julie finally got up at around that time so I knew that getting out of the house by even 4:30am was not realistic.
Eventually at 5:25am, the rental vehicle was fully loaded and we were finally starting to leave. The rental vehicle was a Toyota Highlander, and it was way more spacious than the Jeep Cherokee that we had driven over the Summer.
Really, we should have driven the Highlander on that Summer Road Trip and the Cherokee on this Road Trip.
Oh well, when it comes to renting vehicles, it's not like you can choose exactly which one. I guess they were all in the same mid-sized SUV class (unless we were upgraded this time around).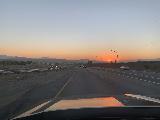 The drive out of Los Angeles in the dark was pretty smooth. It took some getting used to the cruise control on our rental car because it had some kind of radar proximity algorithm where the cruising speed would automatically reduce to maintain distance with the vehicle in front.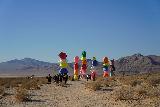 Regardless, it wasn't until around 8:30am when Julie had me go check out the Seven Magic Mountains, which was something we were meaning to check out at the end of our Summer Road Trip. But I guess showing up early in the morning on our way to Colorado was just as fine.
Indeed, if we weren't going to make it to Ouray before it got dark, then I guess it made sense to take advantage of the daylight that we did have right now to finally go see what this Seven Magic Mountains was all about.
When we pulled up to the signed parking lot, we were quite surprised at the number of vehicles that were already here. Some groups had children. Didn't they have school on this Thurday morning?
We probably spent about 25 minutes away from the car to check out these so-called Seven Magic Mountains, which was basically seven pillars of stacked painted rocks.
These colorful stacks of rocks definitely stood out against the deep blue morning skies. And there were really less than a dozen or so people at any one time here so it was pretty easy to maintain social distance.
This was apparently some kind of free art exhibit designed by a Swiss artist. According to the sign, the art installation was opened to the public in May 2016. So this explained why I never recalled ever being aware of this place since we pass by Jean so often on our way to Utah as well was Vegas.
After having our fill of the Seven Magic Mountains (now that we finally got to experience it for ourselves), we then resumed our drive after filling up at the nearby gas station at 9am.
We then resumed our all-day drive along the I-15 as we headed into Las Vegas. It turned out that Jim Rome was on here, so I enjoyed listening to him while switching a little bit to hear Colin Cowherd. The sports talk that I rarely listen to since I'm using at work at this time also got me to notice Allegiant Stadium, which was the new home of the Las Vegas Raiders (formerly Oakland/Los Angeles/Oakland Raiders).
Since both Julie and Tahia were really into the whole Divergent Series movies (and now reading the Divergent Series books), I pointed out the stadium name to Julie, who just so happened to be reading Divergent and Insurgent while I was busy driving.
Anyways, our marathon drive involved a brief stop at the Chipotle in St George, Utah, where Julie noticed that there were people eating inside the restaurant there.
We had lost an hour as we entered into Mountain Time so we actually showed up at 12:15pm instead of 11:15pm. So it wasn't as early of a lunch as we had anticipated.
Anyways, by 12:30pm, we resumed our marathon drive as we continued up the I-15 north with another brief stop in Cedar City to fill up on gas again, and then we eventually headed east on the I-70.
Knowing that this highway didn't have much development while also being quite scenic in spots, we were going at a pretty good clip as we headed east across the state of Utah.
Eventually, we got to where the scenery was almost Capitol Reef-like as we were cutting through the San Rafael Swell. Eventually, we got past Ghost Rock and some other interesting yet classical desert southwest canyon formations before we made another rest stop at the Crescent Junction Rest Stop near the Hwy 181 turnoff (which would have gone south towards Moab) at around 4:20pm.
Continuing east on the I-70, we went through more desolate stretches of interstate where we pretty much gunned it. I don't think it made up very much time, and I resigned myself to knowing that we weren't likely going to see Bear Creek Falls near Ouray before it would get dark today.
The radio stations along the I-70 East were disappointingly devoid of sports talk and a lot of political talk. I guess the propaganda engine was certainly in full effect in these parts, and it was pretty much a captive audience.
Julie did help fill some of the silence (when there was nothing on the radio and I was a little tired of hearing my own iPod songs repeating) with some revelations of how different the Divergent books were to the movie.
Obviously, the movie had to move the plot along quickly and cut to the chase given budget constraints. But it was interesting to see how invested Julie was in the book as she was surprised by what she was reading. Of course, she already knew the ending, which might have influenced how the 3rd movie bombed and they got greedy splitting it up into two movies so the 4th movie was never made and there was no theatrical conclusion.
After making a brief gas stop in Grand Junction, we then headed south on the Hwy 50, where the setting sun had illuminated some of the golden cottonwoods or aspens while painting the skies pink and then purple.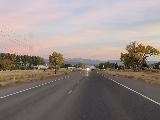 It was a nice sight to see but difficult to photograph such fleeting moments while driving at the same time.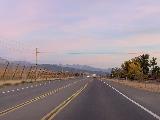 When the skies then got dark, I was following a big truck that was actually going pretty fast. I tried to keep close to him because I was well aware of the possibility of deer darting out onto the highway.
I figured that with the big rig setting the screen and plowing through any wildlife that might jump onto the highway, at least it wouldn't be our rental vehicle bearing the brunt of the damage.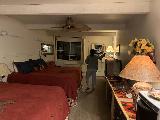 Ultimately by about 7:15pm, we finally made it to the Hot Springs Inn. And after promptly checking in, we then spent the next 45 minutes sanitizing our room. Without Tahia helping on this trip (as she had to do distance learning at my Mom's), we not only had to spray the Lysol and wipe the high-touch areas, but we also had to wave the UV wand on the fabrics, which Tahia was doing for us on our Summer Road Trip.
Anyways, by about 8pm, we were pretty much all settled into our room.
Outside, it was quite chilly already (it must have dropped into the 40s by this time) as it was also very dark so we could see lots of stars in the sky despite some of the light pollution from neighboring accommodations.
Julie then used the instapot to make hot dogs so we had ourselves a very basic dinner. She did look at the lodge's food options, but they were charging like over $30 per plate. And given that the COVID cases were surging again, we thought better to not chance it and subject ourselves to stay up later just over food.
Thus, our humble dinner was satisfying, and Julie and I pretty much spent a quiet evening together where she was busy reading the Divergent books while I was busy sorting out photos, map breadcrumbs, and doing this trip report…
Day 2 (October 16, 2020 – Crested Butte, Colorado): "From Peak To Just Past The Peak"
It was about 6am when I awoke to our alarms. We couldn't bring ourselves to wake up to Julie's 5am alarm because it was so chilly outside the sheets yet so toasty inside. I almost forgot what that felt like given how our Summers at home seemed to have been so extended that we don't really get Fall until October is over.
In any case, we took the time to get dressed, have a quick breakfast of eggs, onions, and avocados.
Immediately thereafter, I loaded up the car in the cold morning. And after all was said and done, by about 7:25am, we were finally leaving the Hot Springs Inn and headed south through the town of Ouray before going up the familiar Million Dollar Highway (the stretch of Hwy 50 south of Ouray).
By about 7:30am, we then arrived at the pullout just past a road tunnel. This pullout was for the Bear Creek Falls (not the same one as the one by Telluride), and for some reason, we didn't stop for it some three months ago when we were here in the Summer.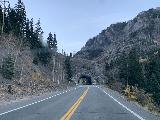 Anyways, it was such a frigid morning with some biting wind chills that my hands were going numb while taking pictures of the still-flowing waterfall. Julie just took a couple minutes to take her shots before retreating to the car to heat up. She didn't want to drop her phone over the lookout platform given how the cold tended to compromise our motor control of our fingers.
There were also some golden trees scattered about the shadowed canyon as the early morning sun still had not breached this canyon yet.
I was surprised by the number of vehicles that were out and about at this time of the morning, but it seemed like they were continuing south on the Million Dollar Highway in search of more fall colors, which seemed to be peaking this far south in the state. Strangely, none of them stopped for the Bear Creek Falls.
By about 7:55am, I finally had my fill of the Bear Creek Falls just as the morning sun started to shine on the peaks of the east-facing wall of the canyon.
We then headed back down to Ouray where we made a brief stop for the Ouray Lookout just to see some fall colors framing the scenic town of Ouray – the Switzerland of America).
After having our fill of this overlook (noticing that Box Canyon was empty), we then continued down towards Ouray with a brief detour turning towards Box Canyon just to investigate what's going on there.
Despite what the website said (that it was open from 8am to 8pm), the signs clearly stated that the hours were 9am to 5pm today.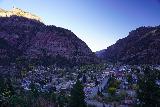 Soon thereafter, there was a gate blocking further progress where one family was already there at the gate closure. They intended to go down to some kind of lookout of part of a creek below. As much as I was curious about what was there, with COVID-19, I opted to back up and get back onto the main road.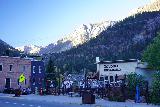 After all, I wasn't interested in waiting nearly an hour for Box Canyon considering we were there three months ago and the only thing missing from that visit was the High Bridge that spanned the canyon (we skipped that due to the number of people not wearing masks there).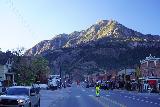 While back in Ouray, we got a donut from the same place we bought at some three years ago when we were first here (just for nostalgia sake even though it wasn't compliant).
Then, by about 8:15am, we continued to drive further north following a caravan of cars as we headed towards Montrose. With the morning sun continuing continuing to rise, it was definitely bringing out the fall colors that was hinted at yesterday as it was getting dark on our way to Ouray.
Eventually, the GPS had us turn right onto 12th street, which turned out to be some random residential street going by Columbine Middle School. Thinking of the words Columbine and Colorado got me thinking about the massacre that happened years ago, but upon Googling that with our spotty internet, that incident happened in a high school in Columbine, Colorado.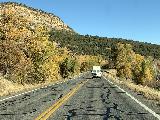 The GPS-induced detour eventually got us back north to Main Street, which then took us east towards the signed turnoff for the Black Canyon of the Gunnison National Park. This was a reserve that I had never been to before, and I figured that since we finally had the opportunity to check it out, why not do it today?
Besides, one of my co-workers used to work at this National Park, which got our boss' attention when looking through resumes.
Anyways, after waiting for a queue of about a half-dozen cars, we showed our Interagency Pass and got through into the park's south rim. By about 9:40am, we then stopped for the Pulpit Rock, which was one of the recommended lookouts in the Black Canyon of the Gunnison.
When I got out of the car and walked the short trail to the pair of lookouts, I was treated to a nice view into the deep canyon where the Gunnison River could clearly be seen. Unfortunately, I looked against the morning sun, which was made things a bit hazy. Nevertheless, it was still attractive and worth the stop.
Even though we were only one of two cars here when I got started, by the time I got back to the car at 9:55am, the handful of pullout spots were now full. I guess the lemmings effect was in full effect by this time of the morning.
Next, we drove out towards the Painted Wall pullout, which was also next to the Chasm View. After getting there at 10am, while Julie took some time to get ready so I walked back to the Chasm View to check out the viewpoint, which I had to myself for a few minutes. Again, the view towards the east (which Chasm View faced) was against the morning sun so it wasn't great, but it certainly was precipitous.
Eventually, a family showed up, and the mother of the family asked if I was hiking the whole way seeing that there was no car at the pullout there, but I explained to her that I walked backwards from the Painted Wall pullout.
So after having my fill of this viewpoint, I then rejoined Julie at the Painted Wall pullout, and we briefly walked down to this overlook, which was actually facing away from the morning sun so it had good lighting except for the interior of the chasm, which was still in shadow.
Anyways, we got back to the car at about 10:25am, and five minutes later, we took a few more shots of the Sunset View, which was also facing towards the west.
We eventually made it to the High Point parking lot and trailhead at 10:40am so we can walk the Warner Point Trail. But we didn't go very far on this walk since it was descending and Julie still wasn't totally acclimated to the high altitude.
Nevertheless, we got some views in the direction of Montrose before heading back to the car by about 11:10am.
We then drove back towards the South Rim Visitor Center, where there was the Gunnison Point, which was the last of the recommended viewpoints. At this lot, there were lots of families and lots of cars, which surprised me considering that I thought we were past the peak of the Fall Colors so it was not peak season.
There were lots of cars with families (i.e. kids). Since this was a weekday, weren't they supposed to be attending school? After all, that was one reason why we couldn't bring Tahia on this long weekend trip.
Anyways, I concluded that in this case, it must have been at the peak of the Fall Colors in this part of the state, and visitation to the National Parks seemed to have gone up since the pandemic outbreak. So perhaps this shouldn't have been surprising.
Finally at about 11:40am, we were done with Black Canyon of the Gunnison National Park, and now it was time to drive towards Crested Butte. Julie wasn't that impressed with this park as apparently we read in the trail guide that it was established due to someone who liked juniper trees so much (which grew here) that he fought to protect it.
I guess when we've seen lots of other National Parks, it's easy to get jaded by other lesser-known reserves though you wouldn't know it by how many people were here today!
Anyways during the long drive to Gunnison and then Crested Butte, I was bumming because there was no more Jim Rome sports talk so I ultimately settled on some kind of classic rock station, which was the only one with reception in these parts.
This was a pretty long drive as it went along the Gunnison River due east, and then into the town of Gunnison. From there, we then headed north towards Crested Butte.
As we approached Created Butte, we could see an impressive mountain towering over the town. So that mountain must have been Mt Crested Butte.
By about 1:30pm, we ultimately made it to the Nordic Inn, which was where we were staying for the night. When we checked in, it was a bit on the dead side, and it made me wonder if the this part of Colorado had already seen the peak of the Fall Colors.
It was also quite windy when we showed up so perhaps those winds helped to blow off most of the leaves because most of the trees around the town of Mt Crested Butte were all pretty much bare. Only maybe one or two trees around the inn still had their leaves but we could clearly see the wind blowing them off.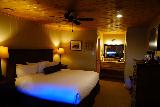 After sanitizing the accommodation and bringing our stuff up, we then went back down into Crested Butte just to scope out the town. We thought that we had some spare time to do this extracurricular activity before fitting in Judd Falls. In hindsight, that was probably not a wise thing.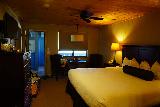 Nevertheless, there was a restaurant that was recommended by the receptionist at the Nordic Inn, which was called the Elk Avenue Prime. And that was where we were headed to just to see if we could walk in for a quick lunch or at least book for dinner in person. But the more we researched, the more we realized that this was a fine dining kind of restaurant and we had to make reservations as they were only open for dinner.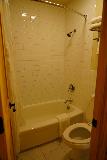 Still, Julie wanted me to drive by there, and it turned out that we couldn't find parking in the historical business district in Crested Butte at the time (it was around 2:30pm) so we decided to leave town and head back up the Gothic Road in pursuit of Judd Falls. That was a bit of a half-hour wasted detour.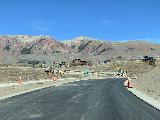 So we wouldn't have lunch on this day, and we still had to do this waterfall since that was one of the main reasons why we came here. We also found out that we had to book our dinner reservations online anyways.
Thus, just as we were passing back through Mt Crested Butte, Julie made the bookings though it seemed like they didn't accommodate outdoor seating anymore. So the only opportunity left to dine at this place was to eat indoors, and we knew that it was going to be a risk if we were eating there, but it seemed to the only establishment of note that served local fare (i.e. the elk).
Anyways, once we got past the residences beyond the accommodations of Mt Crested Butte, we then got onto the unpaved part of the Gothic Road. And the road wasn't too bad though there were some potholes that could trip us up if we weren't careful.
Eventually at about 3pm, we finally made it to the very busy Judd Falls lower parking lot. Since Julie had made 5:30pm dinner reservations, we had to get moving to ensure we'd be back in time for dinner.
So after getting geared up, we promptly walked up the rough high-clearance road which looked a bit too difficult to even consider driving up (and we had an SUV rental).
Amazingly, we saw a sedan that actually made it up here, but I wondered how much damage it sustained to get up here, but I couldn't see how it could have cleared some of the rocks and ruts.
By about 3:25pm, we finally made it to the Upper Judd Falls parking area, which only had two or three cars (including that sedan). The mostly uphill hike to this point took a bit out of us (especially Julie who was still battling the altitude just like last time three months ago), and I guess it didn't help that Crested Butte was nearly 9000ft, and we were even higher than that on this trail.
Anyways, we then proceeded to do the main trail beyond the bumpy road as we passed by a bunch of bare aspen trees devoid of its round leaves.
However, when we got to one of the trail signs beyond the end of the road, we saw a few aspen trees that still clung to its leaves. So we spent some time seizing the moment and taking pictures here until one family was catching up to us.
Not wanting to deal with hiking behind a large group like that with COVID-19 around, we had to make haste and continue on with the hike.
By this point, the hike beyond the road was initially level, but then it descended, which meant we had to do another ascent on the way back out. We also saw quite a few hikers making their way back throughout this hike so it made us feel like we were one of the last people on this trail.
By about 4pm, we eventually made it down to the Judd Falls overlook. Unfortunately, the waterfall, which consisted of two tiers, was already half in shadow. So it didn't photograph very well with the mirrorless camera (so I had to shoot in RAW just in case I might want to doctor the image to bring in the dynamic range). That said, the iPhone seemed to do a little better with the dynamic range.
The family that was behind us eventually made it to the falls while we were here, but then they left soon thereafter.
So after taking a few more shots and videos, then we finally left at 4:10pm.
Julie was complaining of headaches again as we had to climb back up to the apex of this hike.
Good thing I still had spare water for her to take some of mine when she ran out.
We then eventualy passed the family, which was moving slow because they had to carry one of the children. I could feel their burden since I had to go through that 5-6 years ago carrying Tahia everywhere.
Anyways, by about 4:45pm, we finally cruised on the downhill and made it back down to the lower parking lot for the Judd Falls. By now, we were one of maybe 3 or 4 cars left while the late afternoon sun was definitely hiding behind the imposing mountains opposite the trail.
So with that, we wasted no more time and promptly drove back towards Crested Butte so we could find parking and then walk to the Elk Avenue Prime Restaurant.
By about 5:10pm, we finally made it back to Crested Butte and walked the historical business district of town. It was still busy here though it wasn't quite as busy as it was earlier in the day.
Still, this stroll let us enjoy this charming part of town before finally getting up to the Elk Ave Prime Restaurant by our scheduled time of 5:30pm.
When we walked inside and got seated, there was maybe only three tables occupied in the restaurant, but as we were waiting for our food, there were a lot more people that showed up. So again, we definitely knew we were taking a risk here, and we certainly hoped that we wouldn't regret it.
Nevertheless, we hadn't eaten inside a restaurant since March, and so it felt nice to experience this once again. However, the dinner wasn't cheap, but I guess that probably made up for our skipped lunch.
Our dinner consisted of a small side of brussel sprouts, some kind of cauliflower gratin (which had a lot of cheese on it), an elk tenderloin with foie gras add-on, and Chilean Sea Bass.
Given how expensive this place was, we didn't have dessert and didn't have drinks either. But it was still a bit of a birthday splurge (which was the point of this trip anyways). Indeed, it was a satisfying meal though I did have that guilt of knowing that I spent over $200 when all was said and done, but everyone's struggling so I did feel compelled to tip better as a result.
So after leaving the restaurant at around 6:40pm, we then walked back to the car while enjoying the twilight lighting as the sun was well past setting at this point.
By 6:50pm, we made it back to the car, and by 7pm, we made it back up to the Nordic Inn. And thus ended this rather busy day of waterfalling and sightseeing. However, tomorrow was full of uncertainty because we don't know how far we can drive the Gothic Road and then hike to Devil's Punch Bowl.
It's probably not likely to make it all the way to Crystal Mill and back on a super long hike, but we still also have to get to Aspen at a reasonable hour so we can get the keys to the accommodation.
That was something we had trouble with the first time we were here three months ago. So that kind of added more time pressure for us to get to Aspen before their office would close considering we still had that Devil's Punchbowl hike along the way…
Day 3 (October 17, 2020 – Aspen, Colorado): "Risk Versus Reward"
It was about 5:45am when we awoke. Since it was another vagabonding day, we quickly got our stuff together and had a quick pressure-cooker egg breakfast.
Unlike yesterday in Ouray, it didn't feel as cold in our room in Crested Butte, and this probably had something to do with the way the heater was working.
However, when I loaded up the car, I actually didn't need my jacket as I was bringing stuff to the car.
So by 7:15am, we started to head out, and once again, the TPMS was on. But seeing how it turned itself off yesterday, I wasn't sweating it this time.
Anyways, we headed back up the Gothic Road (317) but this time we were headed to Schofield Park. Given what the receptionist said yesterday about how there was an avalanche field somewhere near Emerald Lake, I wasn't sure how far we would be able to make it.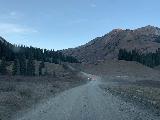 Indeed, this was the part of this long weekend trip that gave me the most anxiety because our main goal was to visit Devils Punch Bowl, but this could be as little as a 2.4-mile round-trip hike or as much as a 9-mile round-trip hike. And it all depended on how far we could take our stock Toyota Highlander.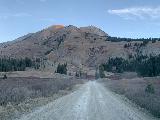 The drive was quiet as it was still somewhat dark though the morning light was increasing by the minute.
There was one car that we let pass us on the way, which had a similar build to our car except theirs had 4wd. But I figured that if they caught up to us this early in the morning, then we mind as well let them lead the way.
It turned out that beyond the Judd Falls Trailhead, the Gothic Road / Schofield Pass Road became a bit rougher with more potholes and even some narrow stretches. Most of the potholes as well as rocks I was able to avoid, but I did notice that the SUV in front of us was going slower and even stopped at one point as they probably started to engage the 4wd.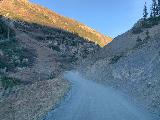 Indeed, some of the uphill stretches probably would be beneficial to use the 4wd, but I knew that with our 2wd, I would need momentum to go up the uphills and hope there wouldn't be a dip along the way to possibly cause damage to the front bumper.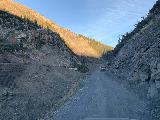 Then, shortly after a pretty scary narrow shelf part of the road (where it would be scary if a car would come up the other way), we reached a fork in the road where the SUV in front of us made a left.
I wasn't sure if we were supposed to go left or right, but upon following the SUV in front of us to the left, it didn't take long before I saw a bit of a rocky dip that I didn't like.
So I backed up out of that spot and stopped at the fork as I was looking up the trip descriptions that I had printed out before this trip.
There was one person that was coming out from the road on the left that we saw, and he stopped to tell me that we were already past the debris field that had closed this part of the road a couple of years ago. He also told me that the road on the left was going down to Emerald Lake so at that point, I knew that I was supposed to keep right to continue to Schofield.
So maybe the receptionist was acting on old information? Indeed, when I inquired with the forest service, they actually recommended that I go past Schofield Pass and keep going to the West Maroon Trailhead #1970. But this gave me hope that we can keep going though Schofield Pass just like the forest service said.
But would the road still allow me to do it? It was already a little on the rough but doable side so far to get to this point.
And so we proceeded up the road on the right, which followed another shelf that seemed like it was just recently plowed and turned into a road made from this debris field that appeared to have originally slid right down towards Emerald Lake.
I don't know how much longer this road would last, but it was smooth and we actually drove past a couple of hikers that were walking past Schofield Pass, which was an unassuming passage with a couple of signs full of stickers on them.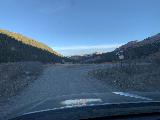 We then followed the road keeping right at the next fork where another road went off somewhere else before the road went down about three short switchbacks as the road descended. I was a little concerned about whether the 2wd would be able to make this climb if we happened to see another car coming the other way on the way back, but that was a concern we'd have to deal with later on today.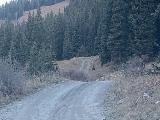 We then drove through a wide valley where we saw the West Maroon Trailhead #1970 where there were quite a few cars parked there already. If I had to bet, these people were probably already parked there overnight to do some hiking in the Maroon Bells without dealing with the red tape regarding the shuttle and parking from the Aspen side.
Regardless, we continued on with the drive as we then went past the hamlet of Schofield while also noticing what appeared to be either a coyote or a fox that went across the road.
And when we finally approached the main trailhead parking at Schofield Park, where there was a parked Honda CRV there (so the road to get here couldn't have been that bad), we then noticed some kind cross between a fox and a beaver or something.
I don't think I had ever seen this kind of animal before, and Julie quickly handed me my Canon with the telephoto on it so I can take pictures of it.
Finally at about 8:10am, we parked at the Schofield Park Trailhead right next to the Honda CRV. There were more parking spots, but there were a lot of rocks, and I just took one of the nearest spots that didn't have to deal with as many of those rocks.
It took us some time to get ready, but eventually by 8:30am, we finally started hiking. Sure enough, as the sign said, the road that we hiked on was already rocky and rough to begin with.
There was a false trail on the right on the initial descent, but we kept left to continue following the 4wd Schofield Pass Road.
By about 8:45am, we then encountered what appeared to be some kind of creek crossing. And from there, we noticed that there was an attractive side waterfall that was worth checking out. I recalled that some people from AllTrails had mistaken this for the Devil's Punch Bowl, but I knew that there was no way this could be it.
Still, we took a few moments to get closer to the falls where we noticed some interesting icicle formations in the stream as clearly it was cold enough to freeze the water here.
After having our fill of this side waterfall, I then did a little exploring to see if this ford (even though it was doable without getting wet) could be avoided.
After all, I wanted to see what was the proper trail to take under normal circumstances where this stream would have flowed a bit higher.
During the course of my explorations, I followed a fork in the road that we had passed by to get to the fork in the first place. Then, upon doing that, the road that then turned into a single-track trail eventually disappeared near some overgrown tiny cascade. However, as I headed back to rejoin Julie on the main 4wd Schofield Pass Road, I then saw that there was a makeshift bridge.
Upon looking closer at that bridge, I saw that it was doable but I wondered how much longer it would last as the logs would continue to weaken over time. Nevertheless, there was a sign that said something like Bridge to Terabithia. I wasn't sure what that meant, but at least it gave us the ability to cross the South Fork Crystal River that I knew would eventually feed the Devils Punch Bowl.
Once on the other side of the bridge at 8:55am, the foot trail was pretty easy to follow so clearly lots of people have taken this path before.
It eventually went onto a ridge, and then it made a steep descent into another smaller valley where the trail ultimately skirted around the creek crossing where the 4wd road would have crossed it.
There was still ice on that creek, but given the rather low flow of the creek at this time of year, it did look doable so I considered going back that way on the return hike.
Next, the road entered a canyon and descended steeply. The road continued to be very rocky and rough, and Julie and I kept thinking this was really more of a trail than a 4wd road!
Of course, she also interjected complaining about the way Allegiant ended to me as she felt like the unfinished movie actually told the story better than the book, but she also hated the way the main character died while the bad guys got to live.
Anyways, by about 9:45am, we finally made it to the Devils Punch Bowl, but it was a rather steep descent to even make it down here, and the road continued to be a bit rough even for us hikers.
I couldn't imagine how people would actually drive this road!
The morning sun still had not penetrated into the deep canyon so we were able to look at Devils Punch Bowl with its nice colorful plunge pools and without having to look against that sun.
And so we took some time to get our photos while I was now mulling over whether I should continue hiking down to the Crystal Mill since we were already here, and I knew that it was about 3 miles away from here.
Julie had no interest in doing that hike so at 9:55am she started to head back up the "road" to the parked car. This was just as the morning sun started to penetrate the rim of the canyon thereby making us look against the sun at the waterfall.
However, I kept descending towards the road bridge, and then beyond the bridge, the road continued its steep descent.
Good thing Julie decided to head back up since she was still complaining about headaches. This climb back up would have been real brutal on her.
The "road" skirted past some cliff walls with some ice and streaking water on them while at the same time skirting by some cascades on the South Fork Crystal River.
As the road kept descending, I kept walking past more large loose rocks and boulders, and I kept thinking to myself how you'd need some serious clearance to even attempt driving this part of the Schofield Pass Road.
Continuing with the long descent (that I knew would be a killer uphill on the way back up), I started to encounter some Autumn colors still showing up where some aspen trees still clung onto their leaves.
I also looked further down the canyon towards an area where I thought Crystal might be as well as where Marble might be as well.
Looking across the South Fork Crystal River, I couldn't help but notice that the mountaintops still had snow on them, and there even appeared to be a small glacier up there.
By about 10:40am, I ultimately descended to a signed junction that said the Lead King Basin was a mile to the right while Marble was another 6 miles. Then, by 10:55am, I finally made it to Crystal where now I started to see more people as well as vehicles. Indeed, I was pretty much all alone on the hike along the Schofield Pass Road, but now it seemed like I had re-entered "civilization".
At Crystal, it was just a hamlet with some private cabins and a single store. It was in an open clearing where I could look to the west towards a canyon or valley that I'd imagine was also in the direction of Marble.
By about 11:10am, I finally arrived at the Crystal Mill, where there was a table with a bunch of waiver forms as well as a person in uniform keeping watch over the Crystal Mill itself as quite a handful of people were checking it out from behind the roped off fencing.
Unfortunately, the mill was somewhat against the sun, and I couldn't even see the waterfall next to it from behind the rope.
But I was intending to pay the $10 anyways, and so I did that while asking about the road from Marble to Crystal.
He actually said that the road was "non-technical" and he has taken his Subaru Forrester with his girlfriend out here many times before. He also noticed people driving in street cars to Crystal though he wouldn't recommend it.
If anything, he said that the drive was "rocky" while Schofield was said to be "smooth". Both required high clearance, but he said you just had to be careful about the rocks that might scrape the undercarriage of the car.
After getting my shots from the rope and paying the $10, I then went towards a boulder where there was a steep scrambling path that descended down to the banks of the Crystal River.
On the way down, I took as many shots as I could of the mill with the waterfall and the nicely colored pool at its base.
I came to realize that perhaps early afternoon was the best time to photograph the mill, but I still seized the moment and took what shots that I could. This was especially the case when I went all the way down to the bottom, where I was pretty much all alone for a good chunk of my time here.
Indeed, after spending the money and seizing the moment, I must have had a few hundred shots of just the mill and the waterfall with some remnant Fall colors on the trees above and opposite the mill itself.
It was too bad the aspens behind the mill had already lost their leaves because it would have been even more photogenic, but I kind of knew that we had missed the peak by about a week or two.
It wasn't until around 11:50am when I started to leave the Crystal Mill. By this time, there was one woman and a couple that made it down here.
I couldn't wait another hour or two for the right lighting to shine onto the Crystal Mill since I knew that there was still a long drive to get to Aspen even after returning to the parked car back at Schofield Park.
So now was the brutal ascent along the South Fork Crystal River as I had to leave the Crystal Mill and back through Crystal before going back up the Schofield Pass "Road".
During my ascent, it still felt like I was pretty much all alone on this brutally upside-down hike, but by around 12:15pm, I actually saw a group of hikers coming down from Schofield. They were the first people that I saw throughout this part of the hike.
But roughly at 12:40pm, there was another couple coming down as well.
And then after that, there was a family with kids coming down (they're going to have a rough time coming back up if they didn't do a one-way shuttle hike), and then there was yet another group of hikers coming down as I was getting up towards the narrow parts of the canyon near Devil's Punch Bowl.
By about 1:20pm, I had finally made it back up to the Devil's Punch Bowl where there was an SUV parked there as well as a dude on a bike. I couldn't believe that someone was able to drive down here, but clearly he must have been rather experienced with this "road".
When I saw that they were chilling out by the base of Devil's Punch Bowl, I decided that I should go over there and at least enjoy some time resting at this waterfall before continuing the brutal climb back up.
So I did that by taking some shots, chatting with the guy who made the drive (saying that it was a one-way downhill drive and there was a choke point near the top), and then having some chips and avocado dip while sitting on a log for a bit.
My rest was eventually stopped by someone who wanted me to take a picture for him and his parents in front of the Devil's Punch Bowl.
And after doing that (though I didn't have my own hand sanitizer so I had to be careful about what I touched now) and taking my own shots in front of the waterfall, I then started to continue the climb back up at 1:50pm. But just as I was doing this, there was a trio of off-road ATVs that pulled up by the bridge.
Apparently, they intended to go up past the Devil's Punch Bowl but I warned them that it was an even rougher drive up above the waterfall.
As I was climbing and getting a few final shots back down at the Devil's Punch Bowl, I saw that there was a couple of jeeps making the death-defying drive down! I took this opportunity to take pictures (though I should have taken a video in hindsight) showing how even these souped-up jeeps needed all of their clearance!
A couple from the trio of ATVs down by the bridge before the Devil's Punch Bowl also walked up perhaps to scout out the conditions of the road. It was quite interesting to watch, and I guess I can see what's possible here, but in my mind, this is really more of a hiking trail than a 4wd road. But I guess in this state, driving such roads is as much the Colorado experience and thus I guess I could understand the shock of people that I talked with upon realizing that I walked to the Crystal Mill and back.
Anyways, after the brutal ascent and getting past the choke point that the guy with the SUV earlier on talked about, I then got back to the stream crossing at 2:20pm. While the water looked a little deeper than this morning when it was partially frozen, the Vasque boots that I was wearing still was able to keep the water out.
I knew the Salomon 4d Quest that I had worn on the last trip couldn't have handled this. So this further validated my decision to stick with the Vasques though Julie told me that they don't make this one anymore.
Eventually after a somewhat gentle uphill except for the final stretch past the side waterfall, I finally made it back to the car at 2:45pm. By this point, I was quite tired, but I knew that we still had to get all the way to Aspen, and we still had to check in after hours.
So the drive out of Schofield Park was for the most part uneventful though there were a handful of cars still going towards Schofield! Fortunately, we didn't meet any of them on the narrow ledge portions by Emerald Lake.
Then, we followed a caravan of cars on the Gothic Road as we all headed towards Crested Butte. When we got to town at around 3:20pm-ish, the GPS kept wanting to take us on the long road back to Gunnison and then west towards Montrose before taking the 133. But I knew that there was the Kebler Pass Road leaving Crested Butte.
So despite the GPS protesting, I just pushed forward with the drive on the CR-12, which was a mix of paved and unpaved roads.
Then, it went through an extensive forested area with lots of bare aspen trees though we did spot a few groves still clinging to their leaves.
But finally after what seemed like a pretty long "shortcut", we finally got to the Hwy 133, when we then went up to the McClure Pass, and then descended towards the familiar turnoff leading to Marble. But with the shadows continuing to grow longer, we just kept going as we'd eventually stop at the large pullout for Hayes Creek Falls.
I don't know what possessed us to not stop for this waterfall three months ago when we were driving past (especially since there were at least two large pullouts), but I finally seized the moment now at about 5:30pm.
After waiting for cars to pass by the Hwy 133, I then crossed the road and scrambled right up to the base of the Hayes Creek Falls which was kind of still hanging on to its last flows. It had definitely seen better days, and it made me regret not stopping and taking pictures of it back on our Summer COVID-19 Road Trip.
When I had my fill of this waterfall, I then headed back on the shoulder of the Hwy 133 where I saw another couple checking out the falls from across the road. Thinking there might be another view from there, I went over there, where I then engaged in a conversation with the couple who recommended visiting Marble.
I had considered doing a hike from Marble to the Crystal Mill, or even driving that road seeing how the ranger at Crystal said it was "non-technical", but I figured I'd bring that up with Julie and seeing if she's up for visiting the town as well as maybe the mill tomorrow.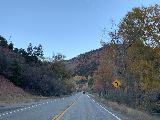 The drive continued as we then ultimately got to the Frias Office in Aspen at 6:50pm, where a security guy got us the keys and had us sign something. And from there, we finally checked into the familiar Chateau Eau Claire at 7pm.
And after sanitizing the accommodation (which wasn't as nice as the one we had over the Summer but it was still spacious), we finally got settled at around 7:45pm. We also had ourselves a self-cooked curry chicken dinner while finally unwinding from yet another eventful day.
At least now with the most demanding and uncertain part of the trip behind us, we earned a relaxing day tomorrow. And even if we don't have any hikes or waterfalls planned, I didn't mind considering we pretty much hit all the waterfalling highlights that we had targeted on this trip (that we also happened to miss from the Summer Trip).
By about 8:30pm, Tahia gave us a call, and we had a nice chat with her though apparently her cousins weren't at my Mom's place because they misbehaved. So I'm sure she must've been bummed about that, but still we relayed the fox sighting and other experiences with her while she still wanted to play Roblox…
It wasn't until around 1:45am that we went to bed, but at least we got to look forward to sleeping in for once…
Day 4 (October 18, 2020 – Aspen, Colorado): "Marble Theme"
It was about 7:25am when we awoke to the daylight. Neither of us had an alarm to wake us up.
So we took our time having breakfast while I also wrapped up on my blogging from the very busy day yesterday.
Indeed, it wasn't until about 9:25am when we finally left our condo and started heading out just as Aspen was starting to become active with traffic (both vehicular and foot).
As we drove out of Aspen, we noticed that the city actually had pretty good Fall colors, but when we looked towards the mountains and higher elevations, then the trees were bare. So that didn't bode well for our visit to the Maroon Bells, which was booked for tomorrow morning just before we should be heading towards Las Vegas and Los Angeles to end the trip.
So the plan for today was to drive back towards Marble. Julie apparently checked out TripAdvisor and wanted to see the history there regarding the namesake marble.
The drive wasn't trivial as it wasn't until about 10:40am when we finally got to the Marble Historic Site. Along the way, we got a decent look at some Fall colors flanking the Hwy 133. But then when we got into the small hamlet of Marble, most of the trees looked like they had lost their leaves.
Anyways, we then walked around the Marble Historic Site, which featured quite a few marble slabs, tables, pillars, and even some buildings with marble facades.
We stuck around long enough for some people shots and examining some of the marble slabs more closely. Julie seemed more into this visit while I was kind of along for the ride.
I guess with our waterfall-centric and hiking/driving heavy excursions to this point, today was reverting back to the more subtle and non-nature excursions that were more TripAdvisor-influenced.
In one instance while we were at the Marble Historic Site, there was one lady who offered to take a picture for us while we were busy taking selfies. However, we politely declined given the COVID-19 concerns.
Anyways, we were done with our visit maybe roughly a half-hour later, and then we went to the Marble Gallery, where Julie picked up a gift that was made of marble. The shop had some interesting marble sculptures outdoors, but it was a pretty short visit.
Upon overhearing the proprietor talking about some things to see as well as the BBQ place in town, we decided right then and there to have a lunch in town instead of rushing back to Aspen for it.
So by about 11:45am, we stopped in front of the Groovin' BBQ in town but they weren't open until 12pm. So Julie waited first in line after figuring out what she wanted from here. In the mean time, I walked towards the town church and took some photos before walking back to the front of the line.
By about 12pm right when they opened, we made our order and then we sat in one of the outdoor tables. We ended up picking up a half-pound of brisket, a half-pound of pulled pork, some twisted potatoes (basically potato chips), and kale salad.
It was a good thing that they let us only order a half-pound even though the menu items had prices written in full pounds. So we wound up with a pretty full meal, and we left the place stuffed at around 12:50pm.
That pretty much concluded our visit to Marble as we then drove back towards the Hwy 133. Then, by about 1:10pm, we finally stopped for the Redstone Coke Ovens, which was those beehive kilns that we always kept passing by but never stopped for.
It was a brief visit where we checked out a closer look at the coke ovens, which were there to burn coal or something to make some kind of pure carbon or "coke", which ultimately got shipped to some steel factory in Pueblo, Colorado.
I also crossed the busy Hwy 133 to go onto the bridge leading to the hamlet of Redstone, which offered more photogenic opportunities though the Fall colors were somewhat muted considering we were here maybe two weeks after the peak.
After our brief visit, we then returned to the car by about 1:25pm and proceeded to drive all the way back to Aspen. By 2:25pm, we made it back to the Chateau Eau Claire where we then chilled out in the room to unwind from the day. Julie wanted to have a bit of a siesta at this time.
By about 3:55pm, we then walked into town both to explore the walkable parts of the city as well as to check out some French Restaurant that Julie read about during our down time. So as we walked around and looked at some of the Fall colors in town during our walk, we did notice how masks were mandatory both indoors and outdoors in the main part of town.
The requiring of masks outdoors was unusual, but it seemed like Aspen was really trying to maintain a safe visiting environment.
Anyways, we eventually got to this place called the French Alpine Bistro at 4:20pm.
They did have outdoor seating, but because we didn't have reservations, they sat us in some lounge chairs pretty much against a lot of foot traffic going by. I don't know if that was COVID-19 safe (both for us as well as for the people walking past), but at least it was outdoors.
We wound up ordering some apple ciders that weren't on the menu as well as having a terrine de foie gras (pretty much like a pate) as well as some escargot in some kind of orange sauce, which was totally unexpected.
For the mains, we got a Colorado rack of lamb, which was juicy and good. Julie got a classic galette (buckwheat crepe) filled with ham and topped with an egg. She couldn't finish her food so we had to take it away on a to go box.
The dinner ended up being over $160 so it was yet another splurge, but this place was a bit disappointing as it was nowhere near as good as what we came to expect from places expecting to be French. I guess maybe we're a pickier with age, especially after having had good French stuff in the past and after Julie has done a lot of cooking herself.
By about 5:30pm, we left the bistro (just as it was getting much colder as the sun hid behind the mountains towering over the town to the south). Then, we did a little more walking around just to check out the rest of the walkable parts of town.
Along the way, we ended up spending some more money at the Paradise Bakery, where we got some gluten-free chocolate chip cookies as well as some Black Diamond cookies and cream gelato.
The ice cream was ok, but Julie really loved the chocolate chip cookies. However, she doubted that they were actually gluten-free. So we'll see if the would pay for it later on tonight.
Eventually by 6:30pm, we made it back to our room at the Chateau Eau Claire. This pretty much ended our light day of touring, and we ended up spending the rest of the evening unwinding from today and probably getting drowsy from our gluttony since we ate out for both lunch and dinner. Prior to today, we had gotten by skipping lunch for each of the last two days and having self-cooked dinners except for our splurge dinner in Crested Butte.
Tomorrow, we'll exercise our parking permits to see the Maroon Bells after checking out of the Chateau Eau Claire. We did notice that we had the parking permit at the Nordic Inn from Crested Butte, so we'll have to call them and snail mail it back to them though I wondered if they charged us already.
Day 5 (October 19, 2020 – Los Angeles, California): "Last-Minute Decisions"
It was about 7am when we awoke without an alarm. It was already starting to get bright outside, which was kind of like our natural alarm clock.
Julie and I knew what we had to do as we promptly got up, brushed, got dressed, then promptly went to the kitchen to finish up whatever leftovers we had since yesterday. It was basically the galette from the not-so-great French place yesterday along with some leftover curry from our first night at the Chateau Eau Claire.
After going about our business packing and loading up the car, it was about 9:10am when we left the Chateau Eau Claire and started to drive towards the Maroon Bells.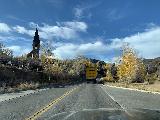 The Maroon Bells was the very reason why we anticipated spending the night in Las Vegas this night instead of gunning it all the way home thinking that arriving at home at around 2am was not a sound idea. So we had already spent some rewards points to pre-book the familiar Desert Paradise Resort, which was a condo that we had stayed at during the end of our Summer COVID-19 Road Trip.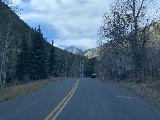 Then, the plan was to wake up very early the next day so we could get home before 10am when I was supposed to attend a 10am meeting for my day job (so I can see what I had been missing late last week as well as today).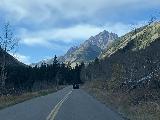 The drive out towards Maroon Creek Road was pretty busy though it was nowhere near as busy as the traffic queues going into the town of Aspen. I guess this must be what daily life must be like on a typical workday here as the queue seemed to extend out from around the roundabout with the Maroon Creek Road leading into town.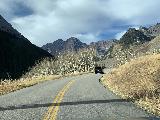 Anyways, we drove the familiar Maroon Creek Road where there were still some Fall colors on the trees flanking the road, but we could clearly see that further up the mountains, most of the aspen trees were devoid of leaves.
After getting past some road construction, and then past the welcome center where we showed our permit, we then arrived at the parking area for the Maroon Lake area at 9:40am.
We promptly got the tripod (which didn't get use throughout the trip until now) along with the mirrorless camera as we then walked the short path leading to the Maroon Lake.
When we got there, our suspiscions were confirmed as there were hardly any Autumn colors around the lake. But what was surprising to us was how much Maroon Lake seemed to have shrunk since three months ago when I was here.
Although it was pretty quiet around Maroon Lake, I guess it could have been busier a couple of weeks ago had we been here during the Fall colors explosion. That's kind of the good with the bad that we had to deal with when it came to timing these things, but timing wasn't exactly something I knew was in our favor when we made plans for and booked this spontaneous birthday trip at the last-minute.
So we took our time taking our usual shots (though I did set up the camera to shoot in RAW just so we could experiment with these shots when we get home and when spare time would permit). Then, I set up the tripod so we could take couple shots of us fronting the signature views of the Maroon Bells backing the reflective Maroon Lake.
By the way, given how much the lake shrunk, we couldn't really see the Maroon Bells reflected in the lake as its waters had receded quite a ways away from the roped off trail. In order to see the reflections, you'd have to go past the ropes and trample on places you're not supposed to, which I'd imagine some park employees would be doing the rounds to make sure no one does that.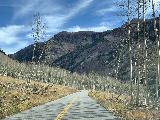 It didn't take long before Julie and I had our fill of the Maroon Bells views so by about 10:20am, we were back in the car. Thus, we only used up less than an hour of our three-hour window of 9:30am-12:30pm, and that meant that our return drive would happen a couple hours sooner than planned.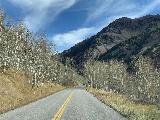 This planted the seed in my mind that maybe we might be able to make it home on this day even though we had already booked a non-refundable stay in Las Vegas. So Julie and I debated whether or not we should just go home or not with the default position to stay in Vegas for the night since the GPS estimated that we'd be there some time around 7pm.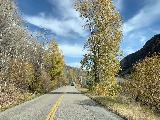 So the drive out of the Maroon Creek Road went without a hitch, and then we drove the familiar high-speed surface streets between Aspen and Glenwood Springs. Again, there were some Fall colors showing up throughout this drive.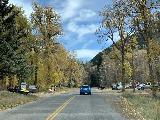 Unfortunately, I was getting annoyed that the only AM station that got any reception was some Republican propaganda talk on 980AM. There wasn't any sports talk (especially Jim Rome), which was a bummer since this was the time that it would have been airing. It got me thinking deeper about a similar observation when we were driving towards Ouray and had to put up with lots of similar talk when we were passing through Nevada and Utah (and I'd have to keep scanning the frequencies for the sparse sports talk channels).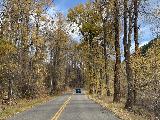 Anyways, this big picture observation made Julie and I wonder if this was one of the big reasons why most of rural America tends to politically lean right. After all, if this is the predominant voice (or the only radio station in this case) that you can listen to while driving long distances or even just living here day-to-day, then after hearing the same messaging over and over again, eventually the people listening to this stuff would be more likely to be manipulated to accept it as truth or "gospel".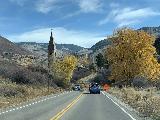 Perhaps, this was the extent of the right-wing propaganda machine that buys up air time and whole stations so they can spread their influence. They can do this since the laws have been twisted to protect oil interests or other petro-military-industrial complex interests that have been favored for decades and use their ill-begotten wealth to rig the political game even further in terms of buying off politicians as well as the propaganda engine itself.
I'd bet that this messaging and manipulation would spread like cancer into these rural communities. And then with social media, these biases become reinforced and radicalized to the point you get these Q-Anon conspiracies that actually work because the target audiences are those who have an inability to critically think about or consider the sources of information they're accepting.
Indeed, this seemed to be the insight as to why you have alt-right leaders like Trump in the USA and other countries like the UK and Brazil. You could even argue that the ScoMo government in Australia was derived from coal interests so they have a similar rural-urban divide there as well.
And while the rest of the world look at us and wonder why our voting is so contrary to what's beneficial to the world (especially with respect to climate change) as well as how fragile our democracy is, perhaps this also sheds light into how Trump getting re-elected (or at least a Republican senate majority to block any measures even if a non-right-leaning president was elected) continues to be a real possibility in this upcoming election and any future elections.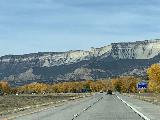 It was kind of a revelation that this must be what's going on all over the rural parts of the country. And perhaps this was an insight as to why the electoral college was one of the ways the political game was rigged against the popular opinion and voting. But also the way senate seats are filled further illustrate why you're likely to always have a conservative senate majority unless those states that vote for their senators in those right-leaning states finally wake up.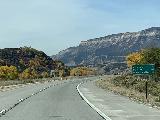 After all, these are systems that make votes in specific states (that tend to be dominated by more spread out populations and counties) matter more than those states dominated by cities. The disproportionate geographical representation as opposed to popular representation seem to be manifested in these rules, and it's the very reason why gerrymandering is one of the primary ways to control the government despite the popular vote.
Anyways, after finally getting onto the I-70 and heading west towards Grand Junction, that was when I was finally able to fill the long hours of driving with other stations (primarily sports talk). Too bad that when I finally was able to listen to Jim Rome show, it was only his last hour on air before they replayed Dan Patrick.
By the time we were further west of Grand Junction and going across Utah, we then found a Salt Lake City sports talk station where they had a long-form conversation with guests (kind of how Joe Rogan does his podcasts, which I found interesting). Though even during these sports talk interviews, the long form discussions ultimately becomes political as I'm sure it's on everyone's minds these days. Interestingly though, the guests that were on here seemed to be critical of Trump, which I thought was surprising considering how Utah traditionally votes conservative so I wouldn't have thought to hear dissenting opinion in Utah's talk radio.
In between filling all this air time with sports talk (and politics sprinkled within), there were still nice Fall colors flanking the I-70 throughout much of the drive even as we headed into the San Rafael Swell and the vicinity of Capitol Reef.
It wouldn't be until around the mid-afternoon when we finally made it to the I-15, and then we headed south on this much busier highway. Aside from the limited selection of sports talk to fill the monotony of the long drives, I always enjoyed the sparse traffic along the I-70 across Utah, but now that we're heading south on the I-15, I knew the traffic factor would ratchet up a notch.
Eventually at around 6pm, we finally got to Las Vegas just as the sun had set and we were entering twilight. Julie had this idea that we should eat takeout at this place called Lotus of Siam since they were the original owners of Renu Nakorn, which was one of the Thai restaurants that we liked to go to in LA.
Apparently, this place served up some dishes that we couldn't get at home, and so we figured that we mind as well have this last-minute dinner since we had skipped lunch again on this long driving day.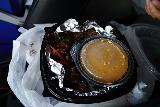 It turned out that Lotus of Siam was kind of in a sketchy part of Las Vegas somewhere near the Stratosphere. We had an awkward time eating in the car (as a COVID-19 safety measure) as we got some kind of crispy duck curry dish as well as a crispy prawn dish. The latter dish made me nervous because I was worried I might break out into hives or some kind of allergic reaction any time I eat shells of any shellfish or the heads of such shellfish (including shrimp but especially prawns).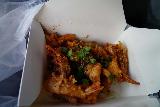 At the same time, I didn't want to waste food, and Julie was full pretty quickly. So I ended up eating the rest of the takeout food knowing that I might pay for this several hours later.
By 6:30pm, we finally left the parking lot at the Lotus of Siam, and then we headed towards the Desert Paradise Resort. But just as we were filling up gas to make sure we could make it home without another stop, we realized that we could actually make it home at a reasonable hour on this night.
Once again, we debated about whether it was worth eating the cost of not getting our money back and no-show at the Vegas condo, but if it meant not having to bring luggage up and then back down the next morning while rushing to get home so I could show up to my 10am meeting, then perhaps it was a price worth paying.
I also realized that since it was so easy to book Vegas accommodations at the last minute, perhaps in hindsight, we shouldn't have pre-booked a night here and waited until to last minute to see if we needed to spend one more night or not. But on this night, we finally decided that we should just extend the marathon another 4 hours and get home.
So by 6:55pm, we left the gas station in Vegas somewhere Decatur Blvd, and then we headed right back to the I-15 where we could drive to LA in hopefully lighter traffic. Speaking of the traffic, there was still a surprising volume of cars on the road even at night like this, but at least we were able to gun it for the most part where notoriously inconsiderate California drivers that clogged the passing lanes (i.e. the left lane) weren't too much of an issue though there were moments where risks had to be taken to get around them.
Indeed, by 10:25pm, we finally made it home, which was at least a half-hour sooner than expected. We had consistently gone at around an 85mph clip between Vegas and LA, and I knew I was pushing it in terms of getting a speeding ticket. But now that this drive was finally over, at least we could finally sleep in our own bed and try to resume "normal" life first thing in the morning tomorrow.
I always hate that feeling knowing that we have to get back to the grind (even under the pandemic) at the end of these trips, but it's all part of that cycle of work, work, then play, and then repeat…
By the way, the following morning, I had to wake-up early because as feared, the allergic reactions to the shellfish took hold. So I couldn't go back to sleep at around 4:30am (which was when I'd usually wake up to go to work anyways), and now I had to deal with the consequences of my actions from last night.
Indeed, my body was itching all over with rashes everywhere, and even my face and throat were swelling up. But instead of trying to block out the symptoms while making a futile attempt to sleep, I just decided to start my workday and use that as my excuse to block out these symptoms and focus on something else instead…
Visitor Comments:
Got something you'd like to share or say to keep the conversation going? Feel free to leave a comment below...
No users have replied to the content on this page