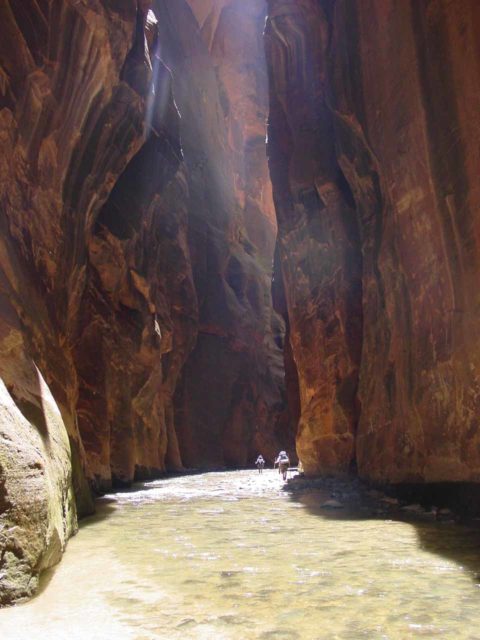 18-June 2003 to 21-June 2003:
It was about 9am when I finally headed north on Hwy 89. I was careful not to speed as I had received two traffic tickets a month ago along this stretch of road. The drive proceeded as normal as the daylight continued and the summer heat started beating down with increasing intensity. Suddenly out of the corner of my eye, I noticed something running very fast towards the minivan…
Day 1: AVOIDING TRAFFIC
It was Thursday evening and all four of us (Cindy, Ed, Julie, and I) were beat from our full day of work. We all took time preparing for the upcoming trip with backpacks packed, food and camping arrangements done, and a plan of action for this coming weekend.
The plan was to do the Zion Narrows this weekend. It had been a long wait and the Half Dome hike with all its preparatory hikes in the weeks before then at least got Julie and I in shape to do the Narrows.
So after we had our dinner, we all met at my parents house at about 8pm. There, I picked up dad's old MPV and we quickly loaded the minivan. And we were off to the Watchman Campground in Zion National Park a little after 9pm.
Cindy and Ed must've thought I was mad for wanting to leave this late on a nearly 7-hour drive from LA to Springdale, Utah. But my rationale (especially given the fact that we had visited Zion (twice), Bryce, and Monument Valley earlier in the year) was to avoid the traffic on the I-15 that was miserable due to the road construction and the hordes of people looking to go to Vegas on the weekend.
So we proceeded with virtually minimal traffic. The drive proved to be mostly uneventful under the bright lights of the nearly full moon. Ed kept me entertained with a number of topics (most of which was political) to keep me awake as it got past 2am.
We finally arrived in the Watchman Campground some time just before 4am. It was obviously too late to pitch a tent and make noise so we just had an uneasy sleep in the car for a couple of hours. But we had to make sure we got up in time for the Backcountry Office to open up so we could secure our permits.
Day 2: SECOND TRY AT UPPER CALF CREEK FALLS
It was about 6am when we awoke. The skies had a few patches of clouds but the sun easily passed its rays between them to give promise to the new day. It seemed like Ed's fears of getting flash flooded while in the Narrows were allayed.
It was time to head over to the visitor center and pick up our permits. The backcountry office still wasn't open yet so Ed and I patiently sat in front of the window along with a couple of other folks who were already there. We weren't taking any chances procrastinating. After all, we had waited months for this trip to occur and we weren't about to be denied. Cindy and Julie were still asleep in the MPV.
When the office window opened, we got our permits, were handed foil-looking zip lock bags to carry our solid waste, and paid the necessary fees. We got the usual spiel from the backcountry ranger about the dangers of flash flooding though the forecast said for very fine weather and the Virgin River levels were low. None of this was surprising because I had monitored this information throughout the weeks leading up to this trip.
Now with full light of the early morning fully upon us, we did what we had to do to make the Narrows happen and now we just had to wait for our pre-arranged shuttle pick up tomorrow morning at 6am.
Everyone pitched their tents and got the camp ready for the next two days and two nights in Zion National Park. When our temporary "homes" were set up, everyone wanted to take a nap to get caught up on sleep.
I was still restless that the new day was upon us and wasn't really in the mood to sleep under the increasing heat of the early summer desert sun nor waste this free day. So what was I to do?
Well I had this "brilliant" idea to give Upper Calf Creek Falls a second shot. The first time, mom and I missed the correct trailhead and got lost a month ago. I thought having the whole day to drive 150 miles (one-way) out to the falls and back was reasonable. The rest of the group could have a leisurely day using the free shuttle service to explore Zion Canyon when they woke up.
So I failed to convince any of the other three to abandon their naps to join me on this excursion and I took off. Julie had reservations about me going alone, but she knew I had to get this itch scratched so she didn't stop me.
By now it was after 8am. I said my good-byes and headed east on the Zion-Mt Carmel Highway (Highway 9) passing through the tunnel and the Checkerboard Mesa on the way to US89. It was a little slow going because there was an RV in front of me who refused to use any of the pullouts despite going painfully slow on the twisty red-colored paved road.
It was about 9am when I finally headed north on Hwy 89. I was careful not to speed as I had received two traffic tickets a month ago along this stretch of road. The drive proceeded as normal as the daylight continued and the summer heat started beating down with increasing intensity.
Suddenly out of the corner of my eye, I noticed something running very fast towards the minivan…
Before I could process what it was, it ran right in front of the MPV and I immediately slammed onto the brakes…
…and it was too late!
With a sickening thud, the MPV hit the deer in its rump and instantly dented the driver side. The deer bounced off the minivan and buckled on the other side of the road.
Not sure what just happened, I kept driving thinking the dent wasn't that bad. But as I approached the town of Orderville, the engine light came on and the reality that I wasn't going to make it to Upper Calf Creek Falls started sinking in.
My next thought was that I had to somehow return to the Watchman Campground. So with that, I headed back towards State Highway 9. I expected to see the deer that I had hit several minutes ago, but that deer was nowhere to be found!
Did it survive the impact and run off? Did someone tow the deer off the road that fast? These thoughts quickly gave way to the sense of urgency to get back to my friends who were napping in the campground not suspecting what had just happened.
Anyways, I eventually made it back SH9 and started the climb up into the sandstone wilderness of Zion's east side. However, I knew this was going to be a tall order as it seemed the minivan struggled to climb and the radiator system appeared to be busted.
It wasn't long before the engine overheated and I was stranded on the two-lane road with no shoulder and a sloping embankment right off the road. Thus, I was partially on the highway and now I started to lose my sense of reason.
After futile attempts to pour what water I had left to try to cool off the engine, the MPV would no longer start. I was worried the engine was fried.
By now, it was 11am. The summer heat was on its way to peaking and the only shelter I had left was the shade inside the sweltering car.
Vehicle after vehicle swerved around my vehicle with curious glances at the damage to the car. Some even honked as if I was in the way and should've drove it further off the road into the dropoff. Those idiots!
Anyways, I waited and waited; hoping someone would call a tow truck for me. It wasn't until about 1pm when someone called a tow truck driver out of Orderville.
It wasn't long after that when a state trooper pulled up behind me in his squad car to inquire about the situation. When I explained to the big burly cop a deer did this damage, he stoically took down the information and processed my drivers license and dad's vehicle registration.
Then, he went on to tell me that I should be cited for a hit a run. Well in my panicked state, this was not what I wanted to hear. So asked him if I was going to be cited.
The cop, sensing my despair shook his head. He went on to tell me that I did the right thing by not swerving and running off the road. "Better you than the deer," he said. "Man, this is quite a way to ruin your vacation."
And with that, the tow truck driver finally arrived and the cop took off. The tow truck driver must've thought I was making a weird request to have him take me to the Watchman Campground upon me learning there was no mechanic in the nearby town of Springdale.
When we finally arrived at our campground at 2pm, he asked that I pay him for half the total distance he drove since I didn't have Triple A Plus (just the regular Triple A). So I obliged and he was off.
Nobody was at the campsite. Julie, Cindy, and Ed must've been in Zion Canyon having a quiet time doing the usual touristy stuff there, I thought.
At this point, I knew the minivan would eventually need to be abandoned so I spent the time removing everything left in the van. It was during this time that I had found Ed's cell phone. I was kicking myself for not making use of it when I was stranded on SH9.
So with that I called dad. Obviously, he was upset and assumed I had oversped. But eventually, cooler heads prevailed and he went on to urge me to call 21st Century Insurance to report the incident. The insurance operator wasted no time hooking me up a tow truck out of St George. I realized at this point that I would have to get the wrecked MPV to St George (nearly 45 minutes west of Zion) then rent a car from there. Apparently, St George was the nearest town of any size that could tend to this little emergency that threatened to jeopardize this long awaited trip.
At this point, I had left a note on the picnic table informing the rest of the party of what had happened. I felt real bad for putting us in this situation and I wasn't sure what to say or do when I finally face my peers.
Finally at a little after 4pm, the tow truck arrived. He wasted no time hooking up the MPV and we were off. We worried about getting to the National Rent-a-car after their closing time at 5pm so we hastily drove back on SH9 towards the I-15.
During this drive, the driver and I talked about deer and cars. To my surprise, the driver told me that this type of incident was actually very common. Many of his calls pertained to damage from striking wildlife.
We eventually made it first to the National Rent-a-car at 5pm. Fortunately, they didn't close yet. I wasn't about to get picky with the cars so they rented me some gas-guzzling Chevy SUV. And with all the payments and paperwork done, I drove off in the behemoth and followed the tow truck driver to his wrecking yard and shop.
I have to say that this guy was extremely supportive and seemed genuinely interested in my well-being. My cynical mind kept thinking there's gotta be catch to all this, but no. He insisted that he and 21st Century are under contract together and he'll take care of all the legalese and processes needed to file this claim and get the inspector out to his shop and all that.
After he placed a few calls and I filled out some forms, I gladly gave him a firm handshake and was back out on the road heading east to the Watchman Campground again.
It was a little after 5:30pm when Ed's phone rang. When I answered, Julie told me that they were in the Zion Adventure Company getting outfitted for tomorrow's Narrows trip. She urged that I hurry up as they were about to close. I was almost at Springdale so I immediately headed to ZAC and arrived a few minutes later.
Soon, I got outfitted with a comfortable pair of 5-10 Canyoneering shoes. I didn't need anything else as I already had hiking sticks and I didn't intend to immerse my garbage-bag-lined gear in water.
And with that, we were ready for tomorrow's trip. We left ZAC and headed to our campsite to pick up our showering stuff and fresh clothes. Then, we proceeded back to a camping and trailor park area near the end of the north end of Springdale. It was there that we had finally showered and some sense of normalcy had returned.
After a delicious and nutritious dinner that Cindy and Ed had prepared, I filled everyone in on the drama that I had to go through on this day. Julie told me that she had a bad feeling about me going off on my own. "Things always happen to you when you're alone," she said. And she was certainly spot on in this case!
Knowing that we had to be at the visitor center all packed and ready to go for the Narrows tomorrow morning, we did as much as we could to ensure we wouldn't forget anything when the shuttle would pick us up. That also meant our sleeping bags were already packed (though our Thermarests were in use since we still wanted something soft between our bodies and the hard ground).
And so we tried to sleep the night away. But we were all freezing without our sleeping bags as strong winds threatened to blow our tents and picnic table items away. It was difficult to sleep to say the least with the unnerving howling winds and the wind chill. Perhaps it was a mistake to pack the sleeping bags beforehand…
Day 3: FINALLY THE NARROWS!
It was about 5:15am when we awoke from our uneasy sleep. We were still shivering from our miserable time trying to stay warm without our sleeping bags. But at least we didn't take long before we were packed and ready to go. We proceeded to walk to the Visitor Center area in the Watchman Campground and patiently awaited the shuttle. And like clockwork, the vehicle arrived on time.
The shuttle was really more or less a van with high clearance. There wasn't a whole lot to see during the drive. I had seen just about all the SH9 sights we had covered already. When the shuttle left SH9 towards Chamberlain's Ranch, the road was unpaved but still manageable for passenger cars.
At around 6:40am, the driver dropped off a small group of four people at the head of Orderville Canyon. It didn't look like much from where we were at. But I knew it was be a nice experience having been in the lower parts of that canyon a couple years ago.
Finally at around 6:50am, the shuttle bus dropped us off right in front of the private property of Chamberlain's Ranch. The driver took off the other way and we were left to start the 16-mile through hike in the Virgin River.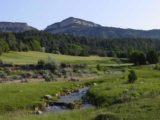 The scenery here was mostly pastures with a few odd hills. We saw some cattle grazing but our thoughts were on following the four-wheel drive track towards the actual trail itself. The other folks who caught a ride with us were already well in front of us. Our group took its time getting used to the pack weight and building a rythm walking as we talked amongst ourselves.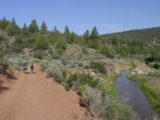 Before long, we crossed an unimpressively flowing Virgin River and then followed the trail as it paralleled the gentle river. A little over an hour into the hike (8am), we passed by a dilapidated building with its roof looking like it was caving in. This building was called Bulloch's Cabin, but we didn't linger here much longer after taking the obligatory photos of it.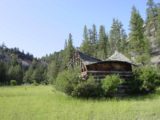 It took a while before the dirt trail eventually converged onto the Virgin River. It started crossing the river numerous times before we finally hit a stretch where we had to walk in it for long stretches.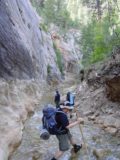 The canyon walls were gradually closing in, but it looked nothing like the famed Narrows we had seen in postcards and on the web. So far the cliffs were probably a hundred feet or so tall at most. The hike uneventfully went on for a couple hours like this. However, by 11:15am we finally reached an area where it legitimately looked like we were in some narrow section of the canyon.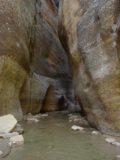 Shortly after going through the first of the so-called Upper Narrows, we had a quick lunch break. We enjoyed the company of a lizard who was basking in the sun on one of the rocks before us as we had our sandwiches. The reptilian served to remind us that we were still in the desert even though we were in the middle of a deep canyon that seemed nothing like our idea of what a desert was supposed to be.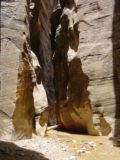 At 12:20pm, we arrived at the top of a waterfall obstacle. I had heard of people hastily jumping off this obstacle and risking a bad fall, but I knew there was another way. Sure enough, there was a bypass route that went through a narrow slot to the left of the waterfall.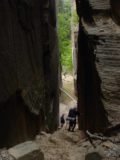 When we got to the bottom, we took the time to head back upstream briefly to get a look at that waterfall obstacle. It was about 12ft tall and there were logs at its top with water pouring over them. I thought those logs probably helped to improve the height of the waterfall somewhat, but all it takes is a big flash flood to snap those logs and perhaps reduce the size of the falls.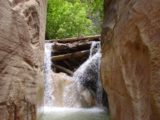 At about 1:20pm, we reached a confluence of Deep Creek and the Virgin River. We noticed a signposted campsite in a delta just above the confluence of the river. The sign said "2" so we wondered how we missed campsite 1. Anyways, that got us in the mood to carefully look for clearings and signposts so that we wouldn't miss our assigned campsite #6.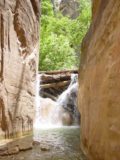 Now the Virgin River was consistently about knee deep and in some places thigh deep. The boulders on the river were increasingly slick and slippery. Apparently, Deep Creek really added to the volume of the river and the Virgin now seemed like it was flowing like a legitimate river.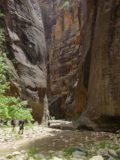 After Deep Creek, we noticed there was an intriguing cave. Or at least we thought it was a cave. But when we got up close to it, the opening was nothing more than an alcove that was deep enough to give the appearance that it was a cave until we looked straight into the opening.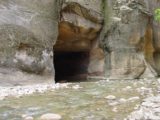 By 2pm, we reached the confluence with Kolob Creek. This side canyon looked dry, but all of us were tiring and eagerly looked forward to setting up camp. Nearby the confluence was the signposted campsite 5. Ok, the next one was it.
Finally at 2:30pm, we arrived at Campsite 6. It was a pleasant little sandy cove sitting beneath a huge fallen rock that now provided a little shelter. It was well elevated from the Virgin River (like the rest of the campsites) so we weren't as concerned about flash floods should it occur.
It felt good to finally remove the soggy canyoneering shoes and neoprene socks. Our feet felt that much better and we walked around barefoot amongst the sand. There was even a somewhat private spot to relieve ourselves of solid waste, which Julie actually had to do into one of those specialized bags that she would have to pack back out. Ewww! The rest of us shuddered at the thought of carrying our own poop out so we actually held on and probably abused our digestive tracts by doing so.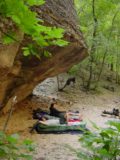 We quickly lined the ground with garbage bags before we unfurled our pads and Thermarests and placed our sleeping bags on top of them. The ladies quickly reclined on their resting spot and wasted no time relaxing and enjoying the serenity and calming and constant sounds of the Virgin River rushing below us. We left our tents back at the Watchman Campground purposefully to save weight. Thus, we'd be sleeping out in the open. It took a little getting used to this idea, but comfortable weather quickly made us forget any dirty inconvenient thoughts we had earlier.
I took my collapsable bucket and scooped up half a bucket of water so we could boil it on our compact pots and pans over my Pocket Rocket burner. We had a simple meal and basically enjoyed a comfortable silence together broken by a few odd comments here and there about the scenery.
Some time at around 6pm, a backcountry ranger and a companion visited our site. He asked for our permits, which we gladly showed and then engaged in a little talk with him about the howling winds we had experienced last night. Apparently it was a natural phenomenon that had to do with the canyon releasing the accumulated heat of the day. With that explanation, we worried about being in a little sandstorm in this canyon as we slept out in the open. But we couldn't really do anything about that now so we just tossed those thoughts off to the side and let things be. The ranger eventually left us to check up on other campers to see if they were legitimately here.
We realized that it was the summer solstice today – the longest day of the year. So I didn't recall seeing the skies turning dark before I eventually conked out and slept like a baby.
Day 4: LAST DAY IN THE NARROWS
All of us awoke at around 6:30am. I swore I had never slept better before in my life. I felt totally refreshed and I couldn't believe sleeping in the open like this could be so comfortable.
The rest of us except Ed slept well. Ed said he always has trouble sleeping in a camp and this was no exception. Apparently, the wind storm experienced two nights ago didn't happen last night.
It wasn't long before we were packed up and back onto the Virgin River at 7am. Unfortunately, a strap on one of Ed's Canyoneering Shoes broke. I'm sure that made for some uncomfortable hiking, but he taped up the shoe and was good to go.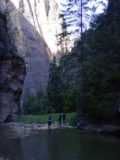 As we went downstream on the river, we noticed there were people camping in the "forbidden" campsite 7. This was our first choice as I had read it was the prime spot on the internet. However, the backcountry ranger told us it was closed because of irresponsible use in the past. Now given the fact that a ranger came by and checked our permits, shouldn't he have kicked out these guys?
Campsite 7 was called the "Alcove." And sure enough, it had a nearly cave-like alcove that seemed perfect for a group gathering around a fire. The only problem with this site is that it was right next to the trail so you wouldn't have much privacy.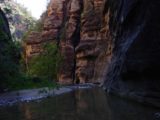 Ed and I wondered if we were being lied to by the permit-issuing ranger so they could hook up some friends here. Anyways, it didn't matter because we enjoyed Campsite 6.
At 7:45am, we reached the confluence with Goose Creek. We briefly explored this side canyon but didn't bother to go any further when some fallen trees blocked our progress and we had no interest in scrambling past it.
So we continued to head downstream on the Virgin River with the shadows of the morning dominating the scene and the moon showing against the blue sky above us. For the next half hour or so, we sloshed through the deeper river. The water was cold but we had now gone a day and a few hours in the river so we were well used to it.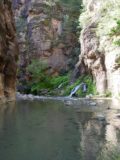 At 8:30am, we finally got to a place called Big Spring. Like the name suggested, it was a spring that rushed out of the cliff and into the poison oak surrounding it. After all the similar (albeit gorgeous) scenery that we had been seeing for several consecutive hours, this pseudo-waterfall attraction varied things up a bit and so we spent some time here just relaxing a little.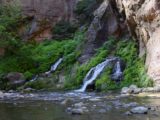 We also recharged on water. So with caution, Julie and I filled up the collapsable bucket with its cold fresh water and proceeded to pump and fill up our nalgenes full.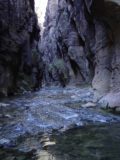 Next, the Virgin River was nearly wall to wall. I knew we were about to enter the famed Narrows that we had read about prior to this trip. Sun had still yet to penetrate the depths of the canyon so we quickly sloshed our way through this area.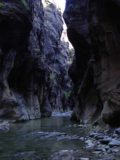 This was certainly no place to be in a flash flood as there would be no place to go sideways and up out of danger should it happen. But at least it was morning and thunderstorms don't usually build up until the afternoon.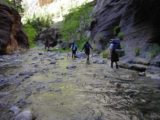 It was about 10:20am when we started to see the first hikers coming up from the bottom of the Narrows. It was also around this time that the sun started to penetrate the canyon depths as well.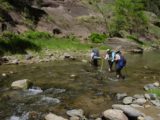 By 11am, the sun had fully penetrated the canyon floor and we were treated to a spectacular scene of towering fluted walls glowing with the reflected sunlight off both the river and the nearby canyon walls. So this was the famous Narrows that I had read about.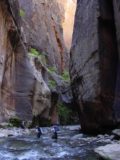 Even though the scenery was beautiful, I kept lagging behind as I was taking photos. Progress was slow since the water was typically between thigh and waist level. Nonetheless, it was just way too easy to get distracted by the scenery and keep trying to capture and document what was being seen here.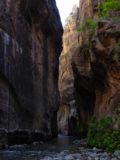 Indeed, the hits just kept coming, and we responded in kind as we took our sweet time sloshing along the river and taking plenty of photographs. It was difficult to convey in our photos the sheer magnitude of the canyon walls dwarfing us lowly folks in the river, but Ed and I certainly tried our best.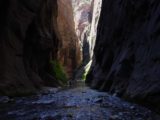 The Narrows section kind of alternated between sunny sections and cold shady sections. It wasn't until we got towards the end of a particularly narrow and shady section did we start to see hikers going the other way (i.e. upstream). That was an indicator to us that we must be getting fairly close to the Riverside Walk.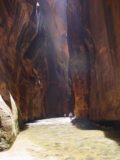 At 11:55am, we went around a scenic bend before the river finally met up with the confluence of Orderville Canyon. By now, the Virgin River was at full flow, but the worse depth we had experienced was about waist deep in a standing pool. The rest of the time, our canyoneering shoes and hiking sticks pretty much kept ourselves and our gear upright and dry.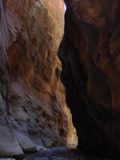 Having been in Orderville Canyon two years ago, Julie and I weren't interested in re-exploring that side canyon. All four of us looked forward finishing the hike and eating a nice hearty meal. I was also looking forward to the decent toilet facilities in our campsite as well.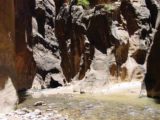 At 1pm, we started to see a tall and trickling waterfall that spilled out of Mystery Canyon. It was Mystery Falls.
None of us were technical canyoneers so we could only imagine what it must be like canyoneering in the mysterious depths of the slot canyon of Mystery Canyon. This waterfall was the only piece of that spot we could experience.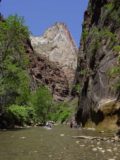 Finally at 1:30pm, we made it back to the Gateway to the Narrows and the back end of the Riverside Walk. It felt good to finally be out of the river and now we just had to do the short half-hour walk on the paved trail to the shuttle stop at the Temple of Sinawava.
And so ended one of the most memorable journeys all four of us had ever experienced. We didn't know it at the time, but the subtle and unusual features of the Virgin River really grew on us. Sure it didn't have any striking features like a Half Dome or giant waterfalls we could brag about seeing. But the cumulative experience of being in the mysterious depths of the thousand-footed fluted sandstone walls was definitely etched into our memories.
We basked in our accomplishments after returning the gear at the Zion Adventure Company. Ed received a business card with a handwritten note saying he'd get free rentals on his next visit since he complained about the broken canyoneering shoe he had to put up with. He promptly gave me his card not anticipating another Narrows-type trip but it's still sitting in my wallet unused (even three years after the trip). I wonder if they'll honor it if I present it to them to do this again (I still want to do a one-way Subway semi-technical canyoneering excursion one of these days).
We eagerly chowed down some Mexican food at the Bit 'n Spur in Springdale. It felt good having the hot food tumbling down into our stomachs and the ice cold drinks to wash it all down. We were also mentally relaxed as we couldn't stop talking about our Narrows experience.
The rest of the afternoon was spent walking around the Zion Visitor Center complex at the Watchman Campground. All this time, I had forgotten about the deer incident yesterday. But one look at that rental SUV parked at our campsite reminded me that I'm about to burn a hole through my wallet with the aftermath of my little crisis once the trip is over.
THE AFTERMATH
After returning everyone safely home in the hired SUV, mom and I went over to the nearest National Rent-a-Car center, which was in Whittier. It seemed like the guy at the counter wasn't exactly sure what to do since we were returning a car that came from St. George, Utah.
However, after getting continuous offers by the clerk to sell us one of the abused rental cars, mom finally hired an alternative rental car (to temporarily replace dad's MPV) while leaving the Utah SUV here.
The fallout from all this was that I had to pay a one-way drop fee of some $500 but the insurance would cover the car hire for mom.
About a week after the end of the Narrows trip, dad's MPV was declared totaled. So dad collected whatever little amount the car was worth from the insurance company and proceeded to buy a new SUV, which mom was happy to have after going through decades of driving beaters. Besides, the MPV paint was peeling (doesn't it seem like all MPVs do that?) and it was already on its way out, she contended.
Personally, I'm not a big fan of gas guzzling SUVs, but at least we now have a recreational vehicle that was roomy enough for our gear and removes the hassle of hiring a car and arranging to pick it up and all the baggage that comes with it. I certainly took mom and dad along on several more trips with their new car so at least we were making good use of its high clearance when we had to go on unpaved roads.
And that was the end of that. It looked like 21st Century really came through on this incident (can't say the same for other more trivial incidents when I wasn't at fault in more recent years though), and life went on business as usual.
Visitor Comments:
Got something you'd like to share or say to keep the conversation going? Feel free to leave a comment below...
No users have replied to the content on this page