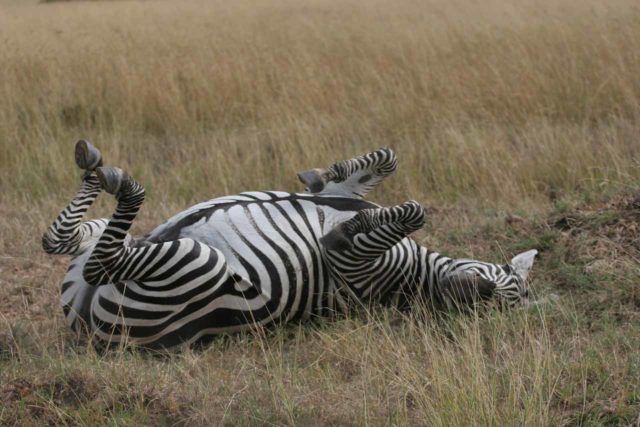 18-June 2008 to 24-June 2008:
The next two hours or so of driving was torture for me. I didn't pay too much attention to the fact that the unsealed shortcut Siraj took through the Aberdare Mountains was a bit muddy and slippery from the drizzling rain. That was because my nausea returned and I knew that I was going to throw up again the next place he was going to stop the vehicle…
Day 1: "HARAKA HARAKA HAINA BARAKA"
After having breakfast, Julie and I carried our luggage to the lobby of the European-style Norforlk Hotel at 7:30am as stated in our printed itinerary handed to us just the night before.
There was our guide and driver Siraj waiting for us. But before we could get the day started, he said, "Did I not tell you we were supposed to meet at 7am?"
As we entered his safari van, he also told us that we shouldn't be carrying our own luggage to the safari van by ourselves. At the same time, he was also driving home the point that we were late because we're now stuck in rush hour traffic in Nairobi.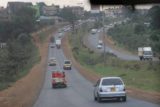 "See?" he said pointing to the traffic in front of us. "This was what I was trying to avoid."
It was a pretty tense start to the Kenya safari, and both of us felt like we were being lectured about how we're supposed to be good clients or something like that.
The drive out to our first reserve was long. We left the city of Nairobi, then weaved through the equatorial town of Nanyuki before dropping down to the dry side downslope of Mt Kenya by Isiolo – a hot, dry, Somali town that even features a few camels.
Througout the drive, I couldn't help but noticing the many police-monitored road spikes. Clearly, you were going to slow down for these unless you were willing to get a flat tire.
I wanted to take a photo of them, but I was told taking photos of authorities was forbidden. I guess I could see why because they could be used for purposes of sabotage, espionage, or whatever.
Like I did for other drivers, I kept Siraj company in the front seat. We discussed numerous things, though I was spending a good deal of time with him trying to enhance my Swahili.
As he was hastily making his way along the dusty, unsealed road into Samburu National Park, Siraj gave me a Swahili saying which goes, "Haraka haraka haina baraka."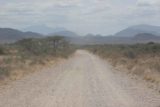 It means something to the effect of "haste haste has no blessing" or "haste makes waste." I thought of the irony of this saying considering we were attacking the unsealed and dusty road at maybe 80km/h and he did what he could to go around slower trucks kicking dust back at our suddenly hot car (there was no AC).
There was also a nice reticulated giraffe (something we hadn't seen before) grazing against a scenic backdrop. But in Siraj's haste to keep moving, he didn't stop and we didn't get to capture this moment.
At 1:35pm, we made it to the Samburu Serena Lodge where we checked in and then had our buffet lunch.
The park itself seemed rather dry and dusty, and it contrasted sharply with other game parks we have seen in Tanzania. I asked Siraj if this desert-like weather was usual, and he said it was unusual; especially considering very little rain fell in the previous rainy season.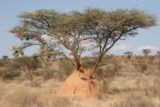 After the lunch, we had ourselves a little siesta before rejoining Siraj for the 4pm game drive.
During this game drive, we saw some animals unique to Samburu National Park such as the gerenuk (impalas that get on their hind legs to browse on bushes) and the oryx (a larger antelope with straight horns). We did manage to see a female lion waiting for thirsty prey to drink at the river. Plus, we saw some elephants.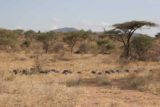 Siraj noted that "you guys are particular" because we weren't enthusiastically photographing the commonly-seen animals unless they were doing something unusual. He also noted that we didn't like birds because he would point them out to us, and both Julie and I were sort of ho hum about them.
Still, the wildlife sightings were rather disappointing, especially considering what we had seen in Tanzania. The big cats seemed harder to come by. Personally, I wondered why Siraj didn't spend more time around the watering holes considering how hot and dry Samburu was, but what do I know?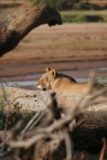 I started to speculate whether the intense cultivation on the slopes of Mt Kenya and other ecosystems around the central highlands area might have exacerbated the climate change of the area brought about by Global Warming. I know matters regarding climate are very complex, but I wondered whether Kenya's fast track to economic success through intense agriculture and tourism might have somehow had a negative effect on the health of its ecosystems.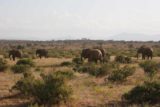 Anyways, the disappointing (relative to Tanzania) sightings was perhaps best epitomized when a group of safari vehicles were watching elephants instead of cats. Slim pickings indeed.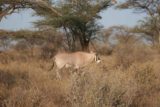 At 6:15pm, we were back at the lodge. Siraj seemed to be pretty much on a schedule, and this too contrasted greatly with Salim's (Tanzanian guide) laid back approach. Perhaps today's fairly dry run at the wildlife was just an anomaly. We still had two more nights at this lodge, and Siraj said this was his favorite park.
Day 2: THE SAMBURU 5
We passed the evening rather uneventfully, which was good because we were told by Siraj that we were going on an early morning game drive today so we had to get up early. We embarked on our game drive at 6:30am.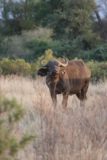 This was the first time we did a game drive this early. Considering wildlife tends to be more active at night, I guess it makes sense to do an early morning game drive in the hopes that you might get lucky catching some predators in the act of hunting or eating.
Still, after two hours, wildlife sightings were once again lackluster. We probably spent more time looking at the mountainous surroundings than we did the wildlife.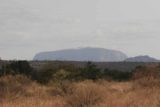 There was a particularly interesting mountain the distance that had a flat top, but Siraj didn't know what it was.
It probably wasn't until around 9:30am when Siraj finally went over to where there was a group of vehicles. Clearly there was something special.
It turned out that there was a cheetah. Just as we were getting closer to the vehicles, they started to disperse. That was a bad sign…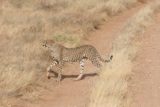 Well, we managed to see one cheetah cross the road before disappearing into the tall grass. It seemed that we were late to the party. I wondered if this was one of those things where Siraj did his own thing trying to find something on his own before finally giving in and joining the rest of the safari vehicles who have already found something interesting at the start.
There seemed to be less cooperation and collaboration here than we witnessed in Tanzania. Or perhaps, Salim was more responsive and flexible with his game drives than Siraj was.
In any case, it was obvious that Salim's safari was more efective than Siraj's and I wasn't so sure Siraj will come anywhere close to his counterpart's success.
At 8:45am, we were back at the lodge for breakfast.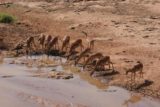 We continued with another game drive at 10am. At this point, I seriously wished we added more waterfalls to our Kenya itinerary instead of going for more wildlife; thanks in part to Siraj's lack of success and also because we were getting wildlifed out.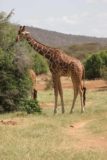 On this game drive, Siraj finally went to a different part of the park. It was across the Ewaso River into the Buffalo Springs Reserve. During our time of fruitlessly finding wildlife, Siraj told us about a time when a female lion actually nursed a calf of one of the herd species. When we arrived at the Buffalo Springs gate, there was a painting on its gate that showed a lion and a calf together under the words "Buffalo Springs – where nature defies itself."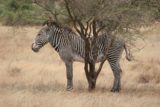 Inside the reserve, we started to see something we hadn't seen at all until this point – a Grevy's zebra. These thinly striped zebras were unique to Samburu. We also started to see more of those reticulated giraffes, which had more interesting patterns compared to the other giraffes.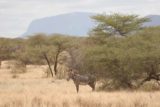 There were still no cats.
Some time at about 12pm, we spotted the rare blue-necked Somali ostrich way in the distance with a pair of binoculars. We couldn't photograph it.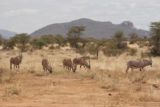 Somehow during the last hour or so of this game drive, the topic of conversation shifted to politics. I guess with the arid and dry conditions out here and the lack of solar panels at the Samburu Serena Lodge, the discussion shifted from why solar panels aren't getting widely implemented to corruption by the Bush Administration and supporting Republicans as well as Siraj condemning corruption in the Kenyan government.
One thing was for certain. Decentralized renewal energy by solar power wasn't going to fly because no one can monopolize the energy for economic gains under the solar regime.
Siraj also sensed that we had a better experience with wildlife sightings in Tanzania (which was true). But then he started talking about Tanzanians as being jealous of Kenyans because they're more economically successful, they have more popular safaris, and they just do things better and more successfully than their cousins.
We didn't agree with Siraj on most of these points but I did begin to suspect that Kenyans were more successful because they're more aggressive about economic development. Their fast track to success probably also meant making progress at the expense of their own natural resources (i.e. their environment). I wondered if Samburu suffered in some way from this.
Moreover, the Tanzanian government seems to get it in terms of conservation and protecting their resources. They probably took the slower but steadier approach to tourism, and that's what I suspect is why Tanzanian tourism is lagging behind Kenyans, but the quality and authenticity of the safaris were far superior to that of Kenya from what we could tell in our limited experience.
With the depressing talk of politics and how meaningful change to the world isn't happening (and doesn't seem likely to happen in our lifetime), we returned for lunch at our lodge at 12:15pm in a rather somber mood.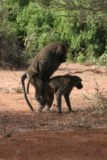 With another afternoon of siesta, we embarked on our third game drive of the day at 4pm.
We barely left the Serena Samburu Lodge when we noticed two baboons mating. Julie and I laughed and enjoyed the moment probably because the way they do it looks so close to the way humans can do it.
"I didn't see anything," said Siraj innocently.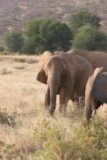 This game drive was just as lackluster as the previous two game drives; perhaps more so. There were still no cats, and you know it's slim pickings when a crowd of safari cars sees an elephant herd.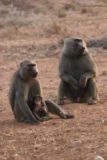 At 6:15pm, we were mercifully back at the lodge. I personally thought one night and one early morning game drive was enough for Samburu. I wished we had Amboseli National Park on our itinerary for that other day.
At 7pm, we saw a slide show, which ended up being very informative. In it, we learned more about the Samburu Five (gerenuk, reticulated giraffe, Grevy's zebra, Somali ostrich, and oryx). We also learned about the Big Five, but the rhinocerous was last seen in 1985 when Samburu was much greener and before poachers wiped them out. We also learned about that flat-topped mountain, which was called the God Mountain (and which Siraj couldn't tell us what it was) and held some sort of significance as villagers would orient their homes to face. Moreover, we learned that Mt Kenya was the only place in the country where there's still snow, but Global Warming is putting an end to that!
With regard to rhinos, the slide show also taught us that the white rhinocerous (a Dutch bastardization of wide-mouthed rhinocerous) was stocked from South Africa. I guess that made our black rhino (narrow-mouthed rhino) sighting in the natural habitat of Ngorongoro Crater that much more special.
Julie and I both agreed that we learned more in this slide show than we had in our time with Siraj.
Day 3: TOTALLY CONTRIVED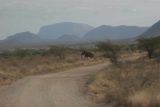 We finally left Samburu and the Serena Lodge there at 8am. We headed directly for the slopes of Mt Kenya, where our next accommodation would be. I didn't know what to expect with this place, but both Julie and I hoped we'd have a better experience that in Samburu.
By 11am, we crossed back over the equator at Nanyuki and headed upslope to the Serena Mountain Lodge.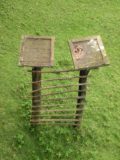 At 1pm, we were having lunch at the lodge. Apparently the main attraction here was the waterhole right outside the backside of the lodge. Near the watering hole was a man-made well as well as an elevated wooden platform with meat on top of it.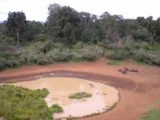 Julie and I couldn't believe our eyes. It looked like this lodge artificially attracted animals!
Salim warned us about Kenyans feeding animals, and it looked like he was right. It was another tactic at putting Kenyan tourism on the fast track to success at the expense of the natural order of things, I reckoned.
Now I really felt that this lodge was a waste of time and money, and that it should've been replaced with Amboseli National Park (which we weren't going to do).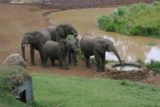 Around the waterhole were cape buffaloes, bush bucks, and a territorial herd of elephants. The elephants were drinking out of the manmade well.
This is wrong, I thought.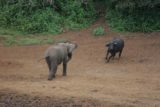 With the whole afternoon to contemplate the rather shameful scene before us, it got me thinking. Where do you draw the line between too much interference with nature to put on a show?
Was the manmade well crossing the line?
Is placing the lodge right next to the waterhole crossing the line?
I started to wonder if that water hole itself was natural now. I mean that meat placement was definitely crossing the line!
But even as I try to play Devil's Advocate, I guess you could question the impact of game drives, especially at night time with the spotlights. Could the game drives be causing soil erosion or interrupting predators' hunts. I guess some concessions have to be made in order to earn a living by showcasing nature as well as protecting it.
Anyways with all the though exercises I was going through, I had to admit that it was interesting to watch the wildlife for an extended period of time. I wondered if tourists even cared about seeing animals in the wild or seeing them get manipulated.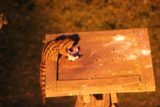 "This is wrong," I said to myself.
Julie and I had dinner afterwards. She had fish, but she didn't eat it because she feared it might have bacteria.
Seeing how I don't like food being wasted, I ended up eating her fish.
We slept at 10pm. We couldn't wait to leave tomorrow into more natural settings. As much as we complained about Samburu, it was far better than this place…
Day 4: MGONJWA
At 6am I got out of bed, but I had a restless night as I was feeling nauseated and my stomach felt strange. Even in the middle of the night, something didn't feel right, and I had feared that I was suffering from something I had suffered from just two months ago while abroad in Peru – food poisoning!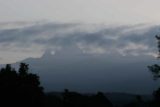 Indeed, I tried to fight it off by going up to the top of the lodge and taking what photos I could of the peak of Mt Kenya against the rising sun, but even the few scattered clouds weren't cooperating with me after getting a glimpse of the mountain's peak.
As I waited for the clouds to move, I was caught between wanting to throw up and trying to handle the camera.
At 7am, I went up with Julie for breakfast, but I wasn't hungry. Actually, all the food on display looked disgusting to me. I guess it was my body's way of telling me not to put any more food inside an ailing stomach. Still, I managed to eat a couple pieces of bread and drink tea.
By 7:40am, I tried to hurl in the bathroom of our room, but I wasn't successful.
Still, the nausea continued, and ten minutes later, I finally managed to induce vomiting. I hoped that this might make me feel better.
It seemed that news was getting around about my ailment. Julie was quick to point out that it was probably the fish from last night's dinner that did me in. So as we were leaving the lodge and joining Siraj in the car park, I was bombarded with "I'm sorry. I hope you feel better" expressions of sympathy from many of the lodge staff.
"Pole!" said a concerned Siraj at the safari van.
"Nimeshapoa," said I weakly.
As Siraj drove us out of the property, he asked how our stay was.
That was when we vented to him that we didn't like the lodge and they should really stop feeding the animals.
I think our feedback kind of froze Siraj thinking we would like it.
Anyways, we got involved in an interesting conversation where Julie let him have it saying the Mountain Lodge was a waste of time and money.
"If we wanted to see animals fed, we wouldn't be spending so much money to go to Africa. We'd go to a circus or a zoo back at home," she said.
We weren't sure if he was defending the lodges actions or condemning them. In any case, Salim warned us about this act, and he was right. And we think Siraj was a little out of line criticizing Salim for telling us. After all, the truth is the truth…
The next two hours or so of driving was torture for me. I didn't pay too much attention to the fact that the unsealed shortcut Siraj took through the Aberdare Mountains was a bit muddy and slippery from the drizzling rain. That was because my nausea returned and I knew that I was going to throw up again the next place he was going to stop the vehicle.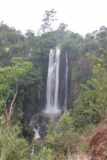 Mercifully by 10:10am, we were finally at Thomson's Falls. This was the only waterfall on this safari (perhaps the only one easily doable as part of a common wildlife safari), and one I really looked forward to visiting. However before that could be accomplished, I had to rush to the nearest restroom amongst the little shops and peddlers there and throw up once again.
I felt that I had let out much of what was in my stomach on this go-around. But when I was done, I felt weak and Julie noted there were spots on my forehead and cheeks.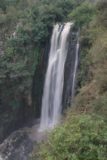 Clearly I didn't look well.
Even the Kenyan shopkeepers were concerned, but when Julie and I started to head over to the overlooks of the falls, that didn't stop them from urging us to go to their boutiques when we were done.
Indeed Thomson's Falls (also known as Nyahururu) was an impressive 82m waterfall. The views from the various overlooks were quite nice, but it was hard to enjoy the falls in peace when there were peddlers all around you trying to sell you stuff or get you to pay to take their photographs.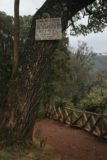 I really wanted to hike to the bottom of the falls, but a sign posted on a tree there warned of potential pickpockets and muggers, and that guided walks for a fee were recommended.
This got Julie to try to discourage me from going down. Plus, in my weakened state with the food poisoning, I didn't put up much of a fight.
At 10:40am, we were back in the car. It was a shame that I didn't get to fully experience the only waterfall on our Kenyan safari due to my health. But at least we got to see it and bag this one as yet another impressive waterfall seen on this trip.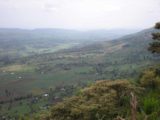 Nyahururu was very close to the equator, yet it didn't feel hot and humid as we would've expected. That's due to the high elevation. And it was for that reason that Siraj pointed us out to some runners in red jackets training for long distance running in the Olympics or for marathons. The high elevation training was to help them strengthen their lungs.
At 12:50pm, we made it to the Sarova Lion Lodge in Lake Nakuru National Park. The drive to get there seemed really long because I was starting to feel nauseated again. It was too bad because there were great views of the great Rift Valley as we descended towards Kenya's answer to Lake Manyara in Tanzania.
At the lodge, I was still feeling nauseated, but we still had to check in and walk all the way to our room.
Some of the lodge staff could tell I wasn't feeling well.
"Mgonjwa?" asked one Kenyan lady to Siraj.
"Ndiyo," said Siraj confirming that I was sick.
Siraj told us we'd go on another game drive at 4pm today. But given my current health, I really wasn't sure if that was going to happen.
As we walked up to our room, there were numerous stairs to get there. Indeed the walk seemed like it took forever.
By the time I crashed in our mosquito-net-sheltered bed, I was curled up like a shrimp with chills and high fever.
It was around 1:15pm by now and it really didn't seem like I was going to leave the room. Julie had lunch by herself.
During the next couple of hours, I was in between sleeping, tossing and turning, and getting up to diarrhea or on one occassion vomit.
But miraculously at 4pm, I felt like I was ready to tough it out and join Julie and Siraj on the only game drive in Lake Nakuru that we were scheduled for.
Siraj seemed proud of me as we went on the game drive because I was toughing it out.
"You have to show you're strong like a man," he said. I don't think Julie liked that comment very much.
Anyways, the weather was deeply overcast and it was also starting to rain a little.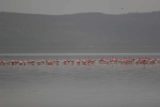 We spent this game drive along the shores of Lake Nakuru seeing many Marabou Storks and Pink Flamingoes. There were tree climbing lions in the park, but again we didn't see any cats.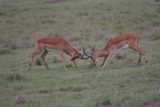 The highlight of the game drive happened when we left the lake shores and Siraj spotted a white rhino wallowing in the mud. We spent lots of time getting a close look at the impressive animal. I guess that one was one member of the Big Five that we can't say we saw in Tanzania; even though white rhinos aren't native to this area.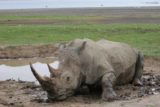 We also spent a short bit of time looking at the panorama from the Baboon Cliffs. I saw signs for Makalia Falls along the way, but we didn't do it, and I saw on the map that it was a bit out of the way.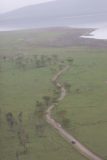 Besides, the rain really intensified and it was time to get back to the lodge.
I spent the next hour laying down in the back seat as my nausea came back again.
By the time we got back to the lodge at around 6:30am, I went back to bed to lay down and try to sleep it all off.
Unfortunately, in the middle of the night, my stomach was in great pain and it wasn't until I was sleeping while sitting upright against the headboard that I was finally able to get some rest until the following morning. I swore that all that throwing up and not being able to eat might have caused an ulcer or something because my stomach was in pain whenever I was laying down…
Day 5: UNDERSTANDING THE MAASAI ROLE
I awoke at 6am, but absent was the pain in my stomach and the nausea. Could it be that I was getting better already?
After joining Julie for breakfast (the first time I had eaten at Sarova Lion Hills' dining room), Siraj came over to me and was elated to see me.
"You've made my day," he said.
We left the lodge at 7:30am and then left the park as we made the rather long drive to the Maasai Mara Reserve.
At 10:10am as Siraj was topping off on gas, he said we were doing good on time so we might be able to visit the Maasai Village on the way to the park.
At noon, we did just that.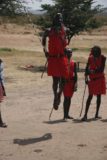 It felt a little strange having the whole village do several dances for us. Particularly memorable was the dance of lion jumping which involved the signature jumping of the Maasai warriors.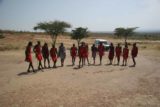 We toured the humble village and saw a demonstration of making fire without any modern tools.
We also learned about lion hunting by the Maasai people as part of the rite of passage for males into adulthood. No wonder why lions fear red (especially the Maasai red) so much!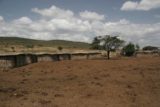 Of course when it comes to the wildlife of both Tanzania and Kenya, the Maasai tribe seems to be the one tribe that is most associated with East Africa. I wondered why this was so, but then I recalled the slideshow back in Mt Kenya discussed how the Maasai tribe were one of the first to have a treaty with the British when they colonized the area.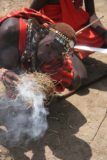 In addition, Maasai people were cattle herders and farmers. Their life and subsistence revolved around the cow. I could easily see that if it were any other tribe who happened to poach or hunt for bush meat (like most everywhere else in Africa), there wouldn't be the healthy ecosystems of the Serengeti, Ngorongoro, and Maasai Mara. After all, we've seen how poaching decimated wildlife in Zambia and Uganda.
Indeed, the Africa of Legend owes its existence and preservation (whether by conscious effort or luck of the draw by the Maasai way of life) to the Maasai tribe. So I guess their embodiment of the East Africa most tourists look for when they visit was well deserved.
At 2:15pm, after Siraj rushed us through a long drive within the Maasai Mara reserve (I thought he said we were doing well on time), we made it to the Mara Serena Lodge just in time for lunch.
With my weak stomach, I was still on somewhat of a BRAT diet (bread, rice, apples, tomatoes). But at least I was eating again.
At 4:30pm, we went on our first game drive in the Maasai Mara.
Julie and I knew that our game drives were not likely to be as successful as the Serengeti because we witnessed the wildebeest and zebra migration on the western end of the park just over a week ago. So it wasn't likely that the migration would make it to the Maasai Mara until at least the end of July. So we had lower expectations.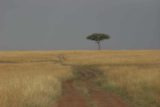 But what struck us most about the scenery of the Maasai Mara was that the scene was dominated by vast plains with the odd lone acacia tree sprouting up here and there. Siraj told us that "mara" meant "spotted" as in the plains being spotted with bush and acacias. In any case, we thought the general scene here was the classic Africa we had seen in postcards and logos.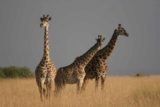 Yet still after we returned to the lodge at 6:30pm, we came back empty-handed (no cat sightings) once again. At this point, we were wondering whether it was our driver's skill, our poor timing in coming here at this time, or just plain old bad luck. Still with the rather disappointing string of game drives on this safari, it was hard to ignore what the results were telling us.
Day 6: JEALOUSY
With my stomach still on the mend, we had ourselves a light breakfast before going on a 7:30am game drive. The drive started off on a somber note when Siraj announced to us that Morgan Tsvangirai withdrew from the scham Zimbabwe election due to Mugabe's cronies using their police and military force (even killing and torturing some MDC supporters) to get their residents to vote for Mugabe. That was too bad.
Anyways, this time on our game drive, Siraj tried something different by letting us have breakfast first instead of having the early morning game drive, and stringing this game drive together with the mid-morning one.
Well his strategy seemed to pay some dividends because he spotted a cheetah sitting on top of a hill in the distance.
With no obvious way to get a closer look, Siraj proceeded to drive right into the grass and create his own track in an effort to get closer to the cat. But Siraj was faced with rocks at the base of the hill and couldn't go any further.
Julie and I were a bit disturbed by this move as we knew that this practice disturbs the soil of the fertile Maasai Mara. We wondered if other drivers here do the same thing.
Julie actually talked to Siraj saying she didn't agree with this practice. But Siraj defended his actions saying there's no way the tourist would get close to the animals if confined to just the roads. Now I actually see Siraj's point because the Mara plains were quite big, but the Serengeti plains were also extensive and we didn't see Salim do such a thing (though some of the tracks off the main road could've been started by someone and then followed and made deeper by others).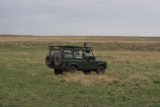 I guess this debate was sort of one of those gray areas of wilderness ethics. Plus, we saw other drivers do the same thing, and this was yet another knock on why I thought Tanzanians did a better job at taking care of their environment than the Kenyans.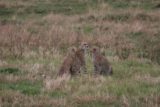 Anyhow, half an hour later, Siraj saw another vehicle off the road stopped. There were two cheetah cubs and a mother there. We stopped near the cheetahs to watch the cubs play while the mother looked in the distance for some potential food in the herd of gazelles.
She even tried to hunt them, but the gazelles saw them from too far away and the mother aborted her hunt.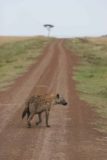 The next couple of hours were spent driving around seeing other wildlife like hippos in the Mara River as well as a few jackals and hyenas.
I did notice that we passed by a road junction where the Tanzanian border was only 3km away. However, the sign said it was closed. I asked Siraj why it was closed and he was quick to point out that Tanzanians were worried about Kenyans capitalizing at their expense somehow.
Truth be told, I actually thought it might have something to do with Kenyans being a little too liberal with their off-roading practices and the Tanzanian authorities didn't want such liberties destroying their parks and reserves…
At 10:35am, we saw a safari vehicle with some heavy duty camera equipment (Siraj said they're filming a documentary) parked in front of a tree. The passenger pointed somewhere in the direction of the tree (we weren't sure if it was on it or on the ground) and said, "Chui."
That was the magic word ("chui" is Swahili for leopard).
Siraj tried to spot the leopard from a different position than the other vehicle but wasn't successful. When the other vehicle drove off, Siraj took its spot, but none of us were able to see the leopard.
Both Julie and Siraj looked up at the tree. I could've sworn the previous guy pointed somewhere closer to the ground. But in any case, Siraj seemed ready to leave and did so when he thought it wasn't in the tree. Julie and I thought he gave up on this way too soon.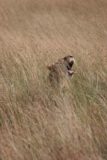 At 11:15am, we spotted a pride of lions sleeping in tall grass not too far from the road just down the hill from the Mara Serena Lodge. We didn't see the male of the pride. Also, the lions weren't all that photogenic amongst the tall grass.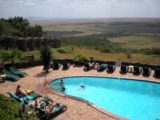 At 11:45am, we were back at the lodge to have a lunch and another afternoon siesta.
At 4pm, we went on another game drive. With the successes of this morning, perhaps we might get lucky with more interesting animal sightings and possibly a rare kill.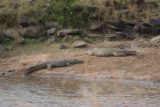 Siraj first took us to the banks of the Mara River near the lodge where there were some huge Nile Crocodiles trying to cool off. These crocs looked big enough to rival the saltwater crocodiles in Northern Australia!
But after another two more hours of game driving, it turned out that we weren't successful finding any more cats. As a matter of fact, there wasn't that much wildlife period (even amongst the herd species except for a few odd gazelles, topis, wildebeest, zebras, and giraffes).
Siraj acted on some fellow safari vehicles' advice on two male lions, but we came up empty.
We were back at the lodge at 6:15pm. At this time, Julie and I were feeling a little homesick (though the lackluster game drives didn't help) and we couldn't wait for our Kenya portion of the trip to end.
Day 7: THE LAST GAME DRIVE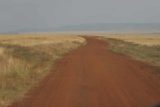 With the relative lack of success (especially compared to our Serengeti experience) on our game drives here at the Maasai Mara, our 7:45am game drive on the way out of the park felt like it was to be endured rather than anticipated.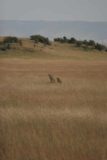 At 9am, we saw a pair of brother cheetahs around a termite mound surveying the scene and possibly about to attempt to make a kill. Siraj said when two male cheetahs are hunting together like that, their chances of being successful are greatly improved.
Unfortunately, Siraj didn't stick around to see this hunt develop.
"Haraka haraka haina baraka," thought I.
By 10:10am, we were at the gates of the Maasai Mara Reserve and were about the leave the park.
On the way out, we saw a pair of ostriches pretty close to us. The male had a very pink neck and the female was flapping both wings. Could they be about to mate?
We stopped the van for a brief moment to see what would unfold. The female ostrich was flapping both wings and doing her dance still. Apparently, she looked ready. But the male kept grazing and seemed oblivious to her hints.
"He's a very stupid ostrich," said Siraj jokingly, suggesting the male ostrich was turning down a golden opportunity to spread his seeds.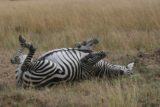 Anyways, as we were just on the outskirts of the reserve, we noticed a group of zebras. What made this moment interesting was that one of the zebras kept rolling on its back. Apparently, it was real itchy and needed to relieve its itch.
By 1:30pm, we had a lunch break at a curio shop. This was the first boxed lunch we had in Kenya, and it brought back memories of having boxed lunches each day with Salim in Tanzania.
Ah those were pleasant memories. For this lunch, it was just Julie and I eating together. Siraj was eating with some locals at a different table.
We continued onwards to Nairobi at 2:05pm and by 3:30pm, we were back in our hotel in downtown Nairobi.
It marked the end of our safari in Kenya, and it felt like it was a merciful end. Perhaps it wasn't fair that Kenya had to follow Tanzania, especially since it was a very hard act to follow.
Nonetheless, we spent the remainder of the day relaxing and looking forward to the final leg of our trip of a lifetime, which starts tomorrow as we leave Nairobi for Cairo, Egypt.
Visitor Comments:
Got something you'd like to share or say to keep the conversation going? Feel free to leave a comment below...
No users have replied to the content on this page