Day 5 (November 14, 2019 – Upolu, Samoa): "After-the-fact Discoveries"
It was about 7:05am when we awoke naturally to the morning sun.
Both Julie and I felt pretty warm despite the AC running in the room, and we suspected that it must have been all the food that we had eaten last night that caused us to sweat out the calories.
By about 7:55am, we headed out for the breakfast, as we were settling into the resort routine once again.
As we were having our continental breakfast as well as the additional orders of American Breakfast and the omelette of the day (salmon dill this time), we couldn't help but notice that there were considerably more clouds on this day than there were throughout the previous days on this trip.
After having our fill of the brekkie (where it felt like we were still stuffing ourselves after last night), we were then back in our room at 9:05am.
With today being an anticipated light day of touring, we ultimately decided that we were going to go check out the Giant Clams Sanctuary so we rented out snorkel gear while getting our bathing suits.
And by about 9:25am, we got into the car.
The drive further west was for the most part uneventful. Unlike the drive further to the east, it seemed like people were less receptive to me waving as I was passing by.
I wasn't sure if this was due to the fact that there happened to be more people in these parts of 'Upolu Island and the people were more jaded to passing tourists or something, but there was definitely more vehicles and more people on this drive than say throughout the eastern part of the island.
Eventually at 10:05am, we made it to the Giant Clam Sanctuary, where signs suggested that this was the Savaia Marine Protection Area.
There were no road signs pointing the way to the sanctuary, which made us wonder if this was one of those spots where perhaps it was intentionally that way to keep this place from being overrun with people.
A local girl collected 10 Tala in total (5 Tala each) from us, and she told us that there was a blue and white ball where the clams could be found.
One other local girl in the fale also chatted with me about how we knew about this place. I pretty much told her that it was from the internet so someone had already let the world in on this place.
That said, we weren't the only people here as there were a couple of other self-drivers here already. The girl also mentioned that tours do show up here as well.
These tours actually came from the nearby Return to Paradise Resort as well as other resorts such as the Sinalei Reef Resort.
Anyways, we promptly geared up and went into the water, which felt cold initially, but then we got used to it.
We had to swim about 100m past the sandbars before getting into the reef area between the drums.
There were gratings where the Giant Clams as well as the baby clams were, and we figured that it must have been either infrastructure set up to make the clams easier to cultivate here or at least help them stay in place in case the next tsunami might hit.
As far as the snorkeling experience, it was full of life here as the interesting coral attracted lots of different kinds of fish.
Meanwhile, we could tell that the Giant Clams were definitely alive as a couple of them were moving or at least opening and closing their mouths.
I was struggling with my snorkel mask as water kept getting inside the snorkel, which was very annoying.
Anyways, Julie had her fill of the incredible snorkeling experience, which definitely delivered. Perhaps the only thing we wished that could have happened was the muted colors of the reef due to the overcast conditions.
Had the sun been out, perhaps it might have been a better snorkeling experience as the sun would have surely brought out the colors of the reef.
Anyways, back at the fale, we got our stuff and then rinsed off and got changed at the nearby Savaia Womens Community Center or something like that.
We spent a few more minutes taking pictures now that we were on dry land where there were a few more Kiwi visitors going for their snorkel. There was also an arriving van that came from the Sinalei Reef Resort.
So we probably got our fill at just the right time.
It was about 11:15am when we were back in the car, and it was already getting to lunch time so we decided to drive back towards the Coconuts Beach Club to return the snorkel gear while also going for a lunch at Lupe's next door.
We got back to Coconuts at around 12pm, where the resort seemed to be pretty quiet.
We saw Tess the manager back by the reception area, and we chatted a little more about our experiences as well as chatted about the other dining options outside of Coconuts.
She showed us that there were actually steps between the rock wall barricades separating out the properties between Coconuts and Sinalei.
So that made it so we didn't have to drive.
Anyways, we learned that there was some kind of a measles outbreak going on in Samoa at the moment, and that school was about to be out for the majority of Samoan kids (which explained why we noticed quite a few kids already out and about and not in school during our trip).
Thinking back to the awkward exchange we had with the guard at Sauniatu Village when he asked whether we were afraid of something, it finally made sense after the measles revelation.
He probably thought I was a doctor or something.
Anyways Tess also mentioned that there was a diabetes problem in Samoa as well, which we figured was largely due to the high sugar and starch diet.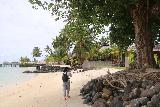 We then went ahead and checked out both Lupe's and Fiafia, but the latter seemed to be more of a burger joint though they had tables closer to the beach.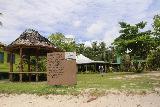 Lupe's was more of a garden dining establishment, and we wound up eating here because they had a more substantial menu that could accommodate gluten free.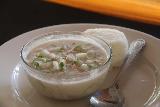 We ultimately got a Palusami (baby taro leaves cooked in coconut cream), a fish curry, and another Samoan Oka.
The food was quite good though I was already starting to get toxic burp so I figured that perhaps from yesterday's oka that was sitting out, I might have contracted a bad fish (just like in the past when I ate raw fish and had food poisoning symptoms).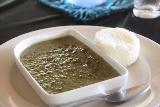 In any case, that all made me not feel terribly hungry, but I still had to eat something nonetheless.
When we were done with our slow-paced lunch (where another couple that was here was smart in that they wanted to sit closer to the beach while we were getting nailed with mozzies), we then chatted with the cook and manager that was working here.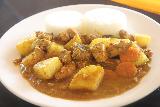 He told us about the tsunami that really affected most of 'Upolu Island even as far west as where we were at.
He also told us about Savai'i since he used to work at Coconuts next door for nearly 20 years, and he used to run day tours from there.
So he seemed excited to tell us about what we could expect on that island as apparently not that many tourists take the trouble to go there.
And so our lunch ended and we returned to the Coconuts Beach Club to settle our bill knowing that tomorrow morning, we had to get up and out early in order to ensure we would catch our ferry to Savai'i.
We had another pleasant chat with Tess as well as Brian who showed up at the reception. He told us about another couple who used to live in the Southern California area before moving to New Zealand some 40 years ago. Indeed, there seemed to be a strong representation of local So Cal people here.
Anyways, by 2:30pm, we were back in the car and headed north towards Apia. With the agreeable weather, we figured that we mind as well go check out the Papaseea Sliding Rocks as we weren't sure how available this place would be on Sunday when we expected to return to Apia.
But you never know about the weather and I didn't want to chance it with visiting under dangerous conditions if it got too rainy and slippery.
As much as we wanted to nap, we just made our way on the Cross-Island Road where it seemed like the northern side of the island was very sunny compared to the cloudy southern side.
It made me wonder if Savai'i might also have better weather considering that it seemed like the south was getting the clouds.
In any case, we got to the Papaseea Sliding Rocks at about 3:20pm, and it seemed like it was just us and another couple at the car park, which had a nice view back down towards Apia.
It was quite hot and humid when we showed up, so we knew that it was going to be a sweaty affair. Nevertheless, we paid the 10 Tala in total (5 per adult) and then promptly made our way down the steps towards the stream responsible for the waterfalls making up the Papaseea Sliding Rocks.
There was a fale towards the bottom of the steps where there were three or four girls speaking Spanish to someone on their phone (though one person had an American accent while another had a Kiwi accent).
Julie and I went around them and then checked out the upper two waterfalls where the smaller uppermost one was called Le Telesa's Pool while the next one looked like a really dicey one called the Men's Pool.
We then continued to descend along some more steps taking us towards the base of the Men's Pool as well as the top of the so-called Childrens Pool and the Women's Pool further downstream.
And like the Men's Pool, these other pools looked really dicey to slide down. In fact, I'd say they were pretty suicidal.
The English couple that was already at the bottom of the English Pool said that they didn't bother doing the slide and they were just enjoying the water.
Neither Julie nor I were interested in going in the water this time around, but with the heat and humidity, it sure looked inviting.
Anyways, the water on the Papaseea Sliding Rocks seemed to be on the low side. And yet, even if there was more water in the stream, sliding down these steep slopes with seemingly a lot that could go wrong made us wonder that there could never be a place like this back at home without someone getting sued.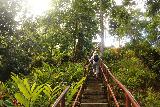 By about 4:10pm, we were back in the car after sweating beads on the ascent as anticipated.
We then tried to figure out if we should eat dinner in Apia except most places were closed until at least 5:30pm or even 6:30pm at this expensive place that Lonely Planet recommended.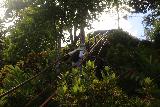 Well, with tonight being our last night at the Coconuts and with the early morning ferry, we really weren't up for staying up later than we needed to just for food.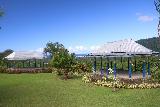 So we ultimately decided to fill up on gas and then start heading back perhaps to eat back at Sinalei Resort or something.
But just as we were ascending the Cross Island Road at around 4:55pm, we stumbled upon a Curry House, which had touted authentic Indian cuisine, and we decided to just give this place a try since they were open.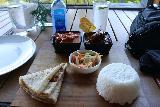 We went in despite not reading any reviews or anything.
But we promptly went ahead and sat in their garden with a partial view back down towards Apia. We then proceeded to order a Meat Thali (where I got butter chicken and lamb korma) while Julie got a really good prawn curry.
The meal came with roti and rice, and it really hit the spot, especially since we were looking for something a little different from more fish, which I wasn't in the mood for given my toxic burp symptoms.
After the dinner, as we were settling the bill, we had a nice chat with the lady who owned this place. Apparently, she had been a resident of Samoa for 19 years and told us how this place might have been disappointing about 10 years ago because the tourism infrastructure wasn't built up yet.
But she felt that this place was coming to its own in recent years.
She also had some restaurant recommendations for us considering we were staying in Apia on Sunday night, but unfortunately, most spots were closed on that day. The only spots left that she recommended were the restaurants affiliated with the resorts such as the Sheraton Samoa Aggie Grey.
At about 6:20pm, we were back in the car and resumed our drive back south to the Coconuts Beach Club.
At about 6:35pm, we made another stop at the Papapapaitai Falls where there was a local loitering there. Julie and I wondered if he wanted to collect money from us, but it turned out that he started to walk off and leave us alone.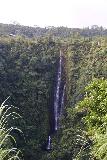 So I briefly took advantage of the overcast skies and the even light to document this waterfall once more before we resumed our drive five minutes later.
Finally at about 6:50pm, we were back at the Coconuts Beach Club, which was just in time for sunset.
We took our drink vouchers and had another chat with Brian (about American Samoa as well as other flight options to get to Samoa from Los Angeles) before enjoying a couple of complimentary cocktails.
Julie paid 10 Tala for a pineapple kombucha while we used our vouchers for the mojito as well as the coconut (except it wasn't served in a coconut and it didn't have young coconut meat so that was misleading).
Regardless, after the sun had set and we were done with our drinks, we then proceeded to walk towards the overwater bungalows, which was something we hadn't done in all the times we were here.
And as we were walking past our Vila Alii bungalow, we couldn't help but notice that the other beach bungalows didn't have names. Instead they were called Fale A through Fale F or something like that. Plus, these other bungalows seemed smaller than the one we had.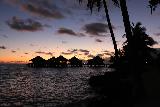 So that was when we realized that perhaps Brian upgraded us upon learning that we were on our 15 year anniversary! That was really nice of him.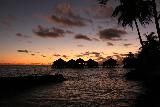 When we got onto the overwater bungalows (the only ones we're aware of on this island), Julie lamented that we really should have checked these out when it was brighter in the day.
But standing here reminded me of the time that we had Tahia with us in Bora Bora, and she was able to open the door by herself before the age of two, which really made us aware of how easily a toddler could drown here.
Anyways, by 8pm, we were back in the room to get all cleaned up as well as to finish packing. The staff brought to our room the continental breakfast (which we totally forgot about), and with that, we got to enjoy our upgraded bungalow one last time before heading off to Savai'i tomorrow…
Visitor Comments:
Got something you'd like to share or say to keep the conversation going? Feel free to leave a comment below...
No users have replied to the content on this page