Day 4 (November 13, 2019 – Upolu, Samoa): "An Adventure Circle"
Julie and I got up at around 6:15am, and despite the short burst of rain that we heard last night, it looked like the skies were partly cloudy this morning with the sun coming back out.
We got to the breakfast area at around 7:45am, where we had our included continental breakfast while also having ourselves a couple orders again.
I got the omelette of the day this time (which was some kind of cheese and garlic omelette) while Julie got the same French poached eggs though this time there was more tomato sauce and there was cheese. Julie hoped this wouldn't set her off.
After finishing off our brekkie and renting out some snorkel gear anticipating perhaps a swim out to the Palolo Reserve, we ultimately got into the rental car at about 9:15am to get started on this day's adventures.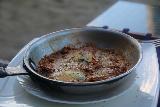 With the day already getting hot and humid, we welcomed the air conditioning in the car.
Unlike yesterday where we pretty much stuck to the southern coast to get as far as Lalomanu Beach and back, this time, we were heading north to the northern coast after going past Sopoaga and Fuipisia Falls.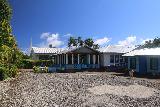 After going over a mountain pass with a nice view towards the northern coast, we eventually got to the well-signed Falefa Falls at around 10:15am.
This place had another car park similar to those we had seen for other private waterfalls, where the owners used their front yards as car parks.
This time, our visit amounted to $10 Tala ($5 per person), and we promptly paid an owner then walked down the steps from the manicured garden walkway down towards the banks of the river or inlet.
Julie and I noticed crabs scurrying about the concrete in the area, but we also noticed that way downstream was what appeared to be the open ocean.
Looking further upstream, we saw that there was the Falefa Waterfall, which actually had a second segment except that it was suffering from being in the shadow so it was hard to photograph.
Around the lookout area along the banks of the stream or inlet, we saw several crabs scurrying about. They seemed very skittish as if they knew to hide in the shadows or the cracks of the walkway whenever they felt any sort of vibrations on the ground from approaching footsteps.
Anyways, it was just Julie and I enjoying the falls until there was one other lady who had shared the lookout for Falefa Falls along with us. However, she came later than us and left earlier than us.
I guess she had no intention to swim in the very wide swimming hole at the base of the Falefa Falls.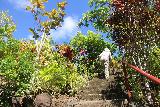 And Julie and I also didn't intend to do any swimming here as we were anticipating visiting the Piula Cave Pool to swim or go for a snorkel or dip.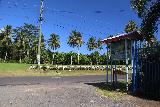 So after getting our shots and videos, we then headed back up the steps and back up to the car park. There was some kind of work going on near the restroom (seemed like everywhere we were going there seemed to be some kind of construction work of some kind), and I guess November seemed to be that month to partake in those activities.
At about 10:50am, we were in the air-conditioning of our rental car, which felt like quite the relief after sweating beads making it back up the steps.
I guess when it's this hot and humid, it's quite easy to really sweat it out, especially when you're going up steps.
As we continued on our drive up to the north coast then along it, we then found a signed turnoff for the Piula Cave Pool, which went right into some kind of Episcopal Church.
As we drive the 5km/h on the driveway alongside the church, a guy walked towards us and greeted us.
We paid 10 Tala (5 Tala for each adult) to enter the grounds, but Julie wanted to pay an additional 10 Tala to drive our vehicle down to the Piula Cave Pool instead of walking down from the church.
I guess she wasn't looking forward to sweating it out with the heat and humidity to have to go down there especially since we weren't quite sure how far we would have to walk had we parked up here for free.
By about 11:05am, we finally arried at the car park for the Piula Cave Pool. We claimed a spot next to the toilet, where there was ample shade.
Then, we promptly got our stuff and walked towards one of the fales facing the Piula Cave Pool itself.
There were already quite a few people (both locals and tourist alike) swimming into the natural swimming hole, where there was a natural tunnel or cave in the far reaches of the cave pool while the other half of the pool was exposed to the hot sun.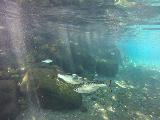 I realized just then that I didn't bring my swimming trunks so I had to essentially unzip the lower leg part of my hiking pants and then use the rest of the pants and its quick-drying properties as my swimming trunks.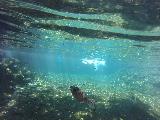 So with that, I got the snorkel gear from the resort and promptly went into the Piula Cave Pool, which was quite cool at first, but then I got comfortable.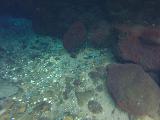 It also took a little time for me to get used to the gear as well as the clarity of the water, where I noticed some fish swimming around though they blended in quite well with the submerged rocks and sand.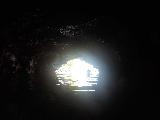 After floating about in the pool, I then proceeded to go into the cave, where the lighting became increasingly dark.
Unfortunately, the GoPro that I brought with me seemed to be out of charge, which I found amazing considering that it was full chart all day yesterday.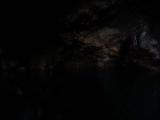 I guess I should have left it charged with the laptop overnight to ensure I'd have something for this excursion.
Anyways, I went as far as the end of the cave, where I saw there was something glowing underneath the water.
Upon closer inspection, i saw that there was a bit of a tunnel opening that I would have to dive and then squeeze into to get to the other side.
While I was curious to see what was there, I thought better to not do it. Besides, I couldn't capture anything anyways since the GoPro battery life died at that moment.
So I eventually went back out just in time for some local guys to do cliff dives into the Piula Cave Pool despite the signs saying "No Jumping."
Once I had my fill of the pool, I got back out and then Julie took her turn to go into the pool to enjoy the cool waters as well as the fish life sharing the pool with the other people trying to beat the heat and humidity.
As I was busy checking out Julie as well as the commotion at the Piula Cave Pool, some of the locals wanted to take a picture of me with three other guys around me.
I wasn't sure what their intentions were, but I guess it was probably unusual to have an Asian-American at these parts.
Anyways, Julie and I eventually had our fill of the Piula Cave Pool, and by about 12:15pm, we made it back to the car.
Although it was probably time to have a lunch at this time while going to Apia, we still had to go to the Sauniatu Waterfall, which was nearby.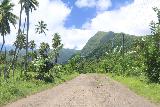 So we promptly drove the main road out west before seeing a sign pointing left towards Sauniatu Waterfall, which was for another 6km.
I thought that wasn't too bad of a distance, but after the first kilometer of the climbing road, it quickly degenerated into a badly potholed and eventually unsealed rough and rocky road.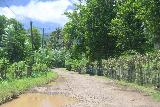 So that made the 6km drive seem very slow and white-knuckle as I tried not to pop or cause any damage to our rental car.
That said, there was a reason why we rented a high clearance vehicle, and a road like this was precisely why.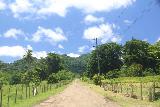 It wouldn't be until about 12:50pm when we made it to the village of Sauniatu, where a watchman asked what we were doing, and we told him we were visiting the waterfall.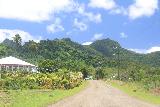 His English wasn't that good so we were kind of misunderstanding his line of questioning of us regarding what my occupation was and whether I was here for work.
We told him we were merely just visitors and we didn't live here, and he mentioned something about some kind of warning about something while telling us to be careful.
Anyways, we then parked the car in the open sun right behind another rental vehicle.
We then got our stuff and we could hear the waterfall so we eagerly anticipated going closer to the source of that noise.
After going across a lawn and then down some yellow-railed steps, we then started to see the impressive chute waterfall, which plunged in half-shadow (which made photographing it tricky).
There were already quite a few people swimming around the falls as well as others doing a cliff dive. There were also three women in the plunge pool of the falls while others seemed to do a climb behind the base of the falls.
Aside from aggressive mosquitoes figuring out where we failed to apply DEET, this place was quite the find so we were glad that all that adventurous driving wasn't for nothing.
Anyways, we heard American accents from most of the people here (though there were three Kiwi women making their way back up as we were headed down). We suspected that this was probably a Mormon family as apparently Sauniatu was a Mormon community.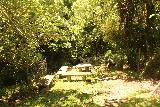 After having our fill of the falls, we then headed back up the steps and promptly returned to the car at 1:20pm.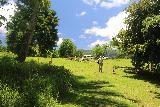 Already sweating bullets while the vehicle had roasted in the sun, the AC was turned up a lot, and now we could finally look forward to driving back down to the main road before heading west towards Apia.
We didn't get cell phone reception until we were back at the main road at around 1:45pm. And that was when Julie looked up possible lunch spots in Apia.
She stumbled upon this place called Nourish Cafe, and after seeing their pretty inventive lunch menu as well as their focus on whole foods and gluten free fare, we made a beeline for that restaurant, especially since they closed at 3pm.
By about 2:20pm, we made it to the Nourish Cafe, which happened to be next door to the Immaculate Conception Cathedral, which was an impressive looking church.
Inside the air-conditioned confines of the restaurant, we promptly looked at the menu and got eye hungry.
We wound up ordering some four dishes as well as couple of kombucha – one of ginger and another of soursop.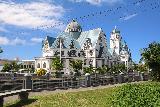 The four dishes consisted of breadfruit tacos, breadfruit wedges with an interesting green dipping sauce, Nourish sushi (wrapped in spinach leaves instead of seaweed), and coconut-crusted chicken (which was giving Julie ideas about how to make gluten free katsu or fried chicken using coconut "breading" back at home).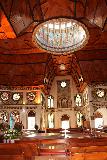 We saw that this place was open on Sunday so for sure we would likely come back again and try out some of their other things.
When we were done eating at around after 3pm, we then walked next door to check out the Immaculate Conception Cathedral, which pretty much had to be visited given how impressive and close by it was.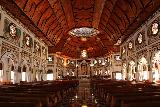 As we walked up to the car park and towards one of the handful of open doors, we saw that were a handful of people sitting and contemplating.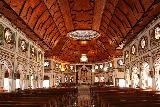 There was one guy keeping watch on the whole thing and I greeted him while quietly making my way to the back to take pictures.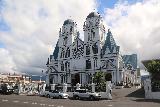 Although Samoa seemed to be full of churches, this one in particular had an elaborate interior where the roof was wooden, and there was a very tall navel.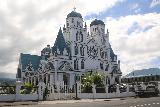 We probably could have lingered here a little longer and check out every angle and corner of this big cathedral, but we didn't want to cause a disturbance so we quietly made our way to the back.
Once there, we saw that there was a visitor center across the street.
There was one guy who was a tour operator who greeted us and was apparently hoping to guide us around though we were only there to ask questions about the Palolo Marine Reserve and the cultural things going on here as we were trying to figure out what to do tomorrow.
By about 3:35pm, we got our questions answered, and then we walked back to the car.
This kind of gave us a taste of what it might be like walking around Apia, which was definitely busier compared to the quiet southern side of the Upolu Island.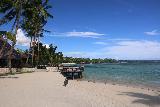 Anyways, we drove the cross-island road back south to the Coconuts Beach Club Resort as we drove the familiar 22km road that we had taken the first time around.
We skipped the Papapaitai Falls since the sun was still out and it would be a similar experience to the first time we were here.
Plus, we were running out of time to return the snorkel equipment, which the guy said to bring it back by 4:15pm.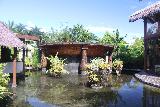 Sure enough, we got back to the Coconuts Beach Club at 4:15pm, and after returning the snorkel gear (and Julie buying 1GB of data at the resort since there was no cell reception for Blue Sky here), we then used up our bandwidth on Facetime with our daughter back at our room at 4:30pm.
We then napped a little (especially Julie) since it was still quite hot and we had some time to kill before our 6:30pm dinner.
When 6:30pm rolled around, we drove to the Sinalei Reef Resort and had ourselves the traditional Samoan buffet, which had a lot of food.
We got a little of everything though we gravitated towards the Samoan Oka (poisson cru), lots of meat dishes, seared tuna, the pork cooked from an umu (underground), and some stir fry.
We also had a pina colada because they ran out of mint for their signature mojito.
By about 7pm, the show started as a group of youth with equal amounts of young men and young women were partaking in a traditional dance that involved a bit of slapping.
I was imagining the entrances of the WWE Usos when they would do some kind of Samoan dance before going to the ring though I sensed that the one we were seeing seemed to be more authentic and from the heart.
After the dancing part of the show, we then watched two kids do fire dancing as they were twirling sticks of fire.
The boy started first, but then the girl did her thing and she was totally bad ass.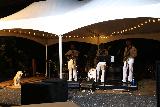 She lit the floor around her with flames while doing the twirling, and she was essentially surrounded by flames in a display that I had never seen before in all the fire dancings that I had seen around the Polynesian Islands over these years.
When the show was essentially over, we then watched uniformed US Navy officers perform jazz as a band called Big Wave.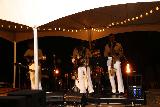 They were very good and very smooth, which kept the audience entertained and seated through the whole performance with the setting sun acting as a backdrop.
Not only that, but in the last song, the lead singer sang something like a cover of the Red Hot Chili Peppers in Samoan, which really impressed the owner of the Sinalei Reef Resort.
After the performance, the owner walked to us and had a chat with us (that's how we found out he was the owner). While we were talking, we learned that fire dancing was originally Samoan so these kids knew what they were doing.
Not only that, but with all the ligitation around what could go wrong in other countries (especially in the USA), the way they did the fire dancing was more daring here and could never be done elsewhere.
The traditional dancing was also from the heart, according to the owner, so he was quite proud of how tonight went as we could totally tell how proud of the Samoan culture he was and of this night.
We then greeted Tana (the person who was helping us out make the booking for this night as well as serving us throughout the dinner) before we left as Julie thought she was very sweet.
She wanted to tip her a lot but I don't think it was customary to tip in Samoa (and we definitely didn't want to offend anyone by doing that).
By about 9:45pm, we were finally back at our room at the Coconuts Beach Club. All in all, we had a wonderful evening at the Sinalei Reef Resort, and they seemed genuinely glad that we showed up as guests even though we weren't staying there.
And with that, we were all tired and quite hot. Even with the AC on a low temperature, it took quite some time to get cool in the room and get cleaned up.
It definitely felt like the weather was turning even though it had been breezy when we first showed up, but the forecasts were saying that it would rain tomorrow, and we'll have to see if they're on or not.
Of the people we've asked (including Brian the owner of Coconuts Beach Resort), they all seemed to say that the weather was unpredictable and the forecasts are frequently wrong.
We'll have to play it by ear pretty much as tomorrow was going to be our last full day staying at this resort and on Upolu Island in general…
Visitor Comments:
Got something you'd like to share or say to keep the conversation going? Feel free to leave a comment below...
No users have replied to the content on this page