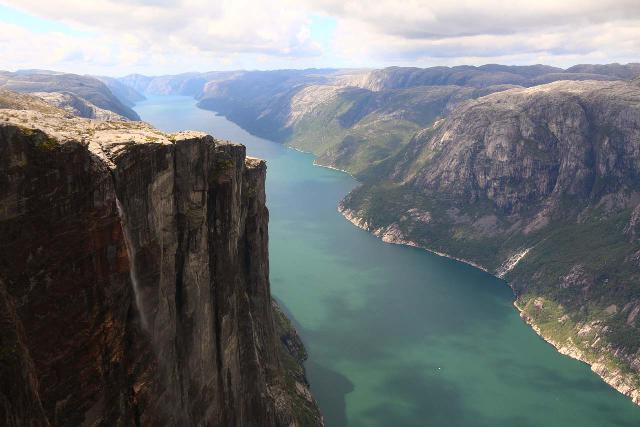 16-June 2019 to 29-June 2019:
Ultimately at 9:10am, I arrived at the Kjerag car park, but it was pouring rain!
This wasn't what the forecast had called for so I decided to wait out the squall. In the mean time, I was putting on waterproof pants and hiking boots inside the car (not a lot of room mind you).
I then pulled out the rain poncho so I could at least pay the parking, which was a whopping 300 NOK (that was like paying $35 USD or something).
One Norwegian guy was making sure everyone that pulled into the car park was paying to park as well as having proper rain gear, even in the heavy rain.
Once I did the deed and put the ticket on the dash for display at 9:30am, I was then waiting out the rain after using the toilet.
As I was doing so, the same guy that was reminding everyone about the parking situation and gear preparation went over and talked to me.
He started off by asking me sarcastically, "So how's the weather, eh?"…
Day 4 (June 16, 2019 – Oslo, Norway): "The Scavenger Hunt"
This writeup is a continuation of the write-up "Completing Experiences" after the first four days of our Scandinavian Trip in Sweden. We pick up from the middle of Day 4…
…At 1:35pm, we returned to the car from Elgafossen. The weather started to drizzle and turn somewhat rainy.
So I guess this was our re-introduction to the fickle Norwegian weather.
Anyways, with hardly anything in the area around Elgafossen for a meal (or at least one that Julie could have given her diet restrictions), we decided to drive to Sarpsborg first and hope to find a place to have a late lunch.
The drive north on the 22 in Norway (was 165 in Sweden) meant that the radio stations were starting to not pick up NRJ anymore and we were now listening to spotty coverage of local Norwegian radio.
Once we got up to Halden, we then drove west past lots more speed cameras before returning to the E6 bound for Oslo.
However, we ultimately got off at Sarpsborg where we eventually got into the center of town, which seemed very quiet for this Sunday afternoon.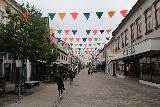 We eventually found a place to eat at this place called the Longhorn Steakhouse. The original spot that Julie wanted to eat at was the Kaffeliten, but it had been closed on Sundays.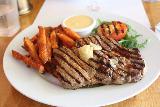 So we sat in and had a fairly pricey lunch (especially given the exchange rates, where the NOK was seemingly stronger than the SEK).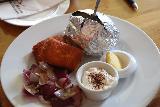 We had ribeye steak and salmon, while we had the veggies prepared simply as just steamed so it would be healthier.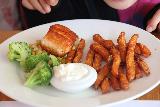 The guy who waited us was very friendly and seemed to love giving Tahia free stuff (well that was because kids ate free here apparently), and he reminded me of the wrestler Fandango for some reason.
Anyways, we were done with the meal at 4pm though we paid over 800 NOK for the meal (almost $100 USD). Indeed, we knew food in Norway was expensive, and we just had to get used to it.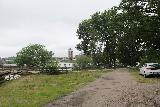 Next, we drove towards Sarpsfossen, and we managed to find some unsigned parking area as we weren't sure where we could stop the car at about 4:10pm.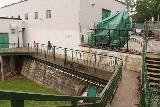 There was another family that pulled over and parked on the road connecting the Knut Bryns vei to much busier 118. We were on the Brattveien.
Regardless, we saw a sign that went to the Utsiktsplata (the overlook platform) for Sarpsfossen, which brought us on an industrian walkway towards the overlook peering right into the turbulence of the Glomma River.
Indeed this waterfall looked intimidating as there was such a rush of dirty brown water (that had that familiar polluted smell like any other waterfall in an urban area with infrastructure around it) spilling and throwing up lots of mist.
The falls had the powerful display reminiscent of what one might find at Niagara Falls but with a much more intimate and better experience than say Willamette Falls or Spokane Falls.
I could only imagine just how much more impressive and a world wonder this waterfall could have been had it not been surrounded by ugly smoke stacks and industrial buildings clearly harnessing the power of the Glomma for hydroelectricity.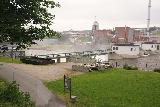 After having our fill of the falls at 4:40pm (including a nerve-wracking look from the 118 on the bridge with passing traffic), we finally headed out of Sarpsborg and towards Oslo in the hopes of ending off this eventful day.
Well, knowing that today was Sunday, we knew that there wasn't much that was open. So Julie sent us to the suburbs of Oslo in search of a place to buy groceries so we may perhaps have a self-catered brekkie.
Eventually at 5:55pm, we found a Rema 1000, but it turned out that the only part of the supermarket that was open was the convenience store part of it. The main part of the supermarket was not open. Bummer.
Regardless, we picked up some eggs, chicken, veggies, fruits, but we didn't have enough water (we had mistakenly picked up water with gas but no flat water).
Anyways, we were back in the car at 6:15pm and looked for the Forenom office so we could finally pick up the apartment keys.
Well by about 7:05pm, we finally found the 7-eleven that Julie's email said for us to go to after the office had apparently been closed since 4pm. Just driving to the area was a bit of a challenge even though it was Sunday light in downtown Oslo.
However, we spent quite a bit of time in the 7-eleven as there was no key code to open the box and get the keys. So we had to call the Forenom customer service.
Eventually, the customer service person had us go to the Dronningensgate 8B address (as the 7-eleven place was incorrect even though we were told the wrong info in the email). He said the key was somewhere there.
We were there at around 7:50pm as this was an apparent scavenger hunt. Good thing parking was light (albeit illegal) so Tahia and I could sit in the car while Julie did her thing talking to customer service.
Eventually, she got the keys when we got back to the car at 8:10pm.
Next, we had to look for the apartment. This time, we finally went to 19 Skippergata in downtown Oslo. And after finding the place at 8:35pm and parked illegally right in front of the apartment, we dropped off the luggage and put our stuff away.
Finally, when that was done, Julie and Tahia joined me back at the car and we drove around looking for a suitable parking garage. We eventually found the Paleet Parkhus, and regardless of how much it cost to not have to drive for the next two days, I just had to eat it.
Indeed, by around 9:10pm, we finally got settled in the apartment, and five minutes later, we had to go back downstairs to a quick casual spot for eating before closing. And we wound up going downstairs to some place called Mamma's Pizza at 9:20pm.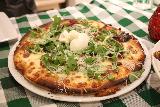 The pizza here wasn't that great, but they did have good ingredients regarding the cheeses.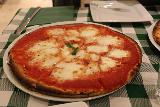 This time, we got two wheels of pizza and a salad, and we wound up paying around $60 USD for the meal. At least it wasn't the $50 pizza that Julie and I got in Hemsedal, Norway back in 2005. But still, we had to get used to high prices, and I just wondered how fast we're going to burn through our money on this trip.
Only time will tell…
When all was said and done, we finally returned to the room at 10:25pm, but it wouldn't be until after midnight when we finally got some shuteye. It was strange how outside wasn't really dark (like a perpetual twilight), and I'm sure that was going to be a foreshadowing of the lack of darkness in this part of the world.
Julie was fretting that we wouldn't be able to visit the interior of the Royal Palace in Oslo because they don't give guided tours until June 22 and later. I guess we were a week too early for that.
Anyways, there was a lot to see and do, and we were intending to make amends for the rushed and not-so-memorable visit to Oslo 14 years ago; especially now that we're older and wiser…
Day 5 (June 17, 2019 – Oslo, Norway): "Haphazard Events"
It was about 6:40am when I awoke. By this time, it was quite bright but overcast outside.
Tahia was long awake as well, but she went right to playing on the iPhone, which I found to be a rather disturbing trend as neither Julie nor I wanted to see her building a dependence on these devices.
When Julie finally came around to waking up, we were out of water, especially when we realized that the water bought yesterday had gas. There was none that was without gas.
Anyways, while Julie was making breakfast at 8:25am, I was sent on an errand run to do the groceries.
However, by around 8:45am, I finally found the Meny supermarket in the Oslo City mall right across from the central station. Unfortunately, they didn't open until 9am.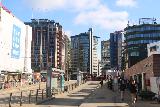 So I took this time to do a little bit of basic sightseeing right around the central train station area. By this time, the skies were bright blue and it was starting to warm up.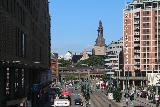 I primarily chilled out at a plaza in front of the train station, then I went over to a bridge over some busy streets with views back towards the Oslo Cathedral.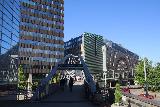 But all in all, without a map and without any real sense of what there was to see and do, it wasn't all that fruitful of a sightseeing jaunt.
I was merely just killing time.
Eventually, after Julie gave me more instructions on the shopping list over the phone (now that we were communicating via text with each other; justification for having two pre-paid sim cards), I promptly returned to the Meny and did the grocery run.
It took a while to end up buying nearly $80 USD worth of groceries, but I figured that we had to have been set for at least the next couple of days we were in Oslo.
Anyways, after lugging the heavy grocery bags back to the apartment, it was 10am and then I could finally have breakfast. Whatever aspirations of being efficient about sightseeing on this beautiful day were dashed as I suspected our late start to the day wouldn't have much benefits.
Indeed, it wasn't until about 11am when we finally started to go downstairs and check out the Oslo City Center.
Of course, we really had no clue how to go about touring the city and so we haphazardly walked towards the waterfront area where we saw an interesting-looking white building with large ramps on either side of it as well as its front.
It turned out that this building was the Opera House, and it looked quite sleek and modern.
We then continued to walk along the waterfront where we eventually walked through the Akershus Festning grounds. And we eventually made it to the Akershus Festning itself (i.e. the castle) by about 11:30am.
Next, we toured the castle grounds, which seemed to be undergoing some heavy restoration or renovation work. All that resulted in some unsightly tarps on the buildings that should have been the barracks.
The turrets of the tower itself was said to have inspired Elsa's Ice Castle in Disney's Frozen. But after seeing this place in person, it just seemed like another medieval castle in my book.
We then bought about 240 NOK worth of tickets to get into the fortress itself. And from there, we pretty much followed the program from room to room.
There wasn't anything particularly remarkable about the interior of the castle itself because most of the rooms seemed to be devoid of furnishings (something that Julie would rather see so she could envision what life must have been like here).
But then again, this place was an active military installation and not so much a royal residence. For that, there were other palaces, including the simply-named Slottet.
Anyways, after having our fill of the views and the self-guided audio tour itself of the Akershus Festning at 12:30pm, we thentried to figure out what was the best walking path to get to the Aker Brygge.
It turned out that there wasn't much of a shortcut way to get there, and we had to bite the bullet and walk past some shipping area to get there.
Eventually, we walked along the waterfront as the amount of foot traffic became more and more. Clearly, we were getting close to the Aker Brygge as well as the City Hall (Radhuset).
And since it was past 1pm, it was about time that had a bite to eat.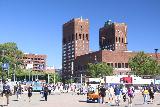 Eventually at 1:35pm, we found ourselves seats at the Fisketorget, ordered three fresh fish – mackerel, monkfish, and halibut. Then, we paid another 199 NOK for them to cook the fish meat that we selected.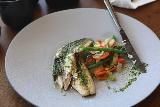 This food was supposed to be as clean as it gets considering the fish we chose were caught from the sea.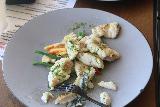 While we were waiting for the food to come out, I did some reconnaisance myself of the promenade in the Aker Brygge while also asking an informal tourist information mobile kart manned by a couple of nice young folks.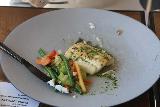 Once I got the info I needed, I realized that any aspirations of visit Frognerparken or at least the Viking Museum would have to be punted for tomorrow since the distances might be too impractical for a walk.
They definitely impressed upon me that we'd have to take a combination of tram and/or bus and/or subway for some of Oslo's main sites. Plus, we had to buy pre-paid cards (it sounded like we wanted the 108 NOK day pass, which would be good for 24 hours).
Anyways, the fish we got was fresh and simple.
Julie really liked the halibut as well as the mackerel. But it seemed like both her and Tahia weren't that keen on the monkfish.
When we were done eating at 2:35pm, Tahia pointed out that the dish of the day was whale meat (though we must have misread it to say "whole meat").
That might have been an alternate to having the monkfish in hindsight.
Regardless, we then walked a bit back and forth along the promenade around Aker Brygge. Then, we headed to the City Hall (Radhuset) but upon getting to the entrance, we were turned away by someone standing at the gate.
It turned out that there was some kind of special event going on and we'd have to come back tomorrow to check out the building's interior.
So that was a bit of a bummer, but regardless, we kept on walking past the National Theater then towards Karl Johans gate.
This buy street full of pedestrians made a beeline for the Royal Palace (Slottet). At this point, there was a little bit of deja vu as we noticed the columned facade of the University before getting up to the grand square fronting Slottet.
We got to Slottet at about 3:35pm, and whilst up there, we noticed quite a few people lined up to one side anticipating some kind of event going on here.
There were guards and a two motorcycle motorcade escorting a couple of fancy black limo-like vehicles that were clearly carrying dignitaries. Whether they were the Norwegian king and queen was anybody's guess.
I don't know what it was about our timing, but these special events were proving to be quite the inconvenience as far as sightseeing was concerned. And yet we always seemed to run into these things.
Case in point of this trip so far, we couldn't go inside Kunglinga Slot in Gamla Stan of Stockholm at the start of this trip.
Then, we had to deal with the Gay Pride parade that forced us to wait out the road closures before we could finally check into our accommodation in Goteborg.
Next, we had the Radhuset closure due to some "special event".
And now, we had this sighting of some important people as they were leaving Slottet.
Anyways, we decided to walk down along Karl Johans gate, which in hindsight should have been the street worth walking going in the other direction (as Slottet would undoubtedly be seen throughout).
We saw the famous Freia sign as well as the Parliament Building.
At around 4:45pm, Julie and Tahia decided they were going to shop for some goods at the H and M.
I didn't join them since I wasn't interested in wasting time shopping for clothes, especially when abroad.
Ultimately, we walked around the Oslo Cathedral before heading to some place called Harald's Vafler (which contained gluten-free waffles).
Unfortunately, according to TripAdvisor, it was at a closed facility on Torgata. It was actually moved to some other plaza that was closer to the university and to Oslo Central.
Upon understanding this issue, both Julie and Tahia lost interest in pursuing the food and decided to go back to the apartment.
By about 5:50pm, we finally made it back to the apartment to essentially call it a day. There was still some unfinished business to attend to (e.g. including picking up mass transit tickets in preparation for tomorrow).
That said, after a brief nap, Julie got right into cooking the shrimp that I bought from the grocery store.
And so ended the sightseeing on this day. But that was leaving us a rather hectic day tomorrow, where the weather was forecasted to deteriorate significantly towards the end of the day.
At 8:35pm, after having self-cooked dinner of shrimp curry, we decided that we should purchase our 24-hour mass transit pass at one of the 7-elevens. Then, take that to the place that Julie wanted to go to for gluten free Norwegian waffles.
Originally, I was going to go all the way out to Vigelandpark, but it seemed like a stretch to get there and enjoy the place as the day was getting darker and into perpetual twilight.
In any case, we headed downstairs, went straight back to the Oslo S Central Station, got our passes (costing us around 270 NOK for all three of our tickets as Tahia's was cheaper), and then took the tram line 12 up to the stop before Olaf Ryes plass (because the tram wouldn't stop there due to construction work).
Anyways, we eventually found Julie's waffle place and indulged. Both Tahia and I got a Nugatti topping (basically Norwegian Nutella) on the cinnamony gluten free waffle. I got whipped cream and vanilla ice cream on mine while Tahia got whipped cream and passion fruit.
Julie just got a plain one.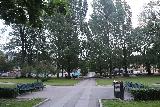 The dessert was satisfying though Tahia couldn't finish hers so I had to eat the funky combo of Nugatti with passion fruit iskrem.
When we were done with the dessert, we then scoped out the gluten free pizza place that Julie wanted to try out tomorrow. So we walked across St Olaf Ryes plass and found Villa Paradiso.
After mulling over the menu and Julie badly needing to go #2, we ultimately decided to have a second dinner at 9:55pm and share a wheel of pizza just before the kitchen was closing at 10pm.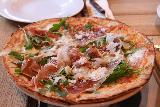 Julie managed to get the pizza to be gluten-free crust while giving in to the parma flavor, which had prosciutto, some kind of nuts (which she scraped off), buffala mozarella, and arugula. It was a delicious pizza and definitely better than the one we had last night at Mamma's.
When all was said and done, we left at 10:15pm (it was turning out to be a very expensive day since every time we eat out or eat a snack, it was costing me at least $30 or more at a time), and then walked to the nearest functional tram stop.
Eventually, we were deposited back in front of the Oslo Central Station, and then we walked back to our apartment on Skippergata. I couldn't believe that we didn't bother to walk the Karl Johans gate from the beginning as it was literally right next to our apartment.
Oh well, you live and learn.
Anyways, with that, we crashed for the night. We at least should have the opportunity to better use Norway's mass transit system now that we've already paid through the nose for our tickets…
Day 6 (June 18, 2019 – Oslo, Norway): "Loveland"
It was about 5:45am when I awoke. Julie waited last night until near 7pm to get ready to try to improve her prospects of recovery.
While Julie was sleeping in, Tahia and I had some kefir and lots of raspberries and blueberries bought from yesterday.
When Julie got up, she made the familiar brekkie of eggs with veggies in a curry.
We ultimately got ready and headed out by 8:10am. It was cloudy outside and contrasted heavily from the beautiful blue skies we were getting yesterday.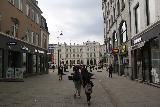 Still not quite knowing the lay of the city when it came to mass transit, we walked for a couple of blocks towards the Oslo Central Station. There, we went underground and took the T-banen (i.e. subway) towards the National Theater.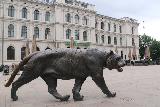 Once at the National Theater at 8:25am, we then waited at the nearest bus stop to take the line 30 towards Bygdoy. That was where we were going to head to the Viking Ship Museum and the nearby Folk Museum.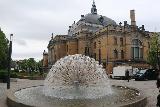 Those were a couple of the must do experiences on Julie's list of things to do after consulting with her Rick Steves book.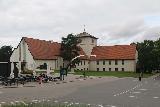 The bus surprisingly got us to the Viking Ship Museum (Vikingskipene Museet) by 8:45am, which was 15 minutes before the opening time of 9pm.
We then patiently waited for the opening of the museum while also using the lockers to store our backpacks (they seemed pretty strict about this).
Eventually, we went in and checked out the impressive Viking Ships, which occupied three of the wings of the building.
The furthest wing contained artifacts like carriages, statuettes, fabrics, staffs, tools, and other things.
It turned out that this museum was the result of excavations and discoveries by local Norwegians, which essentially brought the Viking Age to life.
While we were touring the museum, there was a Spanish tour group that pretty much inundated the museum. However, when we were done doing our museum visit (the part with the paid admission), there were at least two other tour groups which made for a very busy scene.
Right before leaving, we checked out a couple of videos upstairs where the music had a very Game of Thrones feel to it. Even though I didn't really watch the TV series, it kind of made me wonder if it was typical to associate dungeons and dragons type fantasies with Scandinavia.
Regardless, by about 9:40am, we were done with the visit. And it was just in time before the arrival of another couple of tour buses.
Next, we walked back towards the Folk Museum. By about 9:50am, we paid our admission and went onto the open-air museum where we checked out turf farms and some authentic homes from bygone eras from all over Norway.
The priority of this visit was to check out the stav church, and we had to go up a hill to get there. It had a black exterior, which made me wonder if it had tar on it to act as a fire suppressant.
Right across from the stav church, we visited one of the larger residences in the village, where a nice lady working there explained some things to us.
Among the education we were getting from her were the wealthy people who happened to have owned this house in the past. She also explained to us about the harsh winters here and how large abodes tended to be more difficult to retain heat.
Upon asking her about the turf farms, she said that they tended to have about 9 layers of birch trees on the roof before planting grass.
She said that the grass would bind the material and it could even keep moisture out of the house beneath. In some cases, they could even grow roots deep enough to grow trees so there was a bit of maintenance necessary to keep this all natural solution.
She also mentioned to us about how there was a project bringing some of the far north of Norway buildings to this museum but that was a currently ongoing project.
After thanking her for her explanations (as more people were going inside), we then walked around the grounds some more as we checked out more interesting farms.
We then checked out a farm with live horses and geese.
Then, we headed back to the Gamle Byen (Old Town) of Oslo, where there was a re-creation of more modern times post World War II.
Indeed, this Folk Museum was like a time capsule on Norwegian life, and we easily could have spent all day here.
Eventually by 11:30am, we were done visiting the museum and then we caught the 30 bus all the way to the end, where we were hoping to use our transit pass to catch a ferry to Aker Brygge.
Unfortunately, our pass didn't cover that particular ferry. So we had to wait until about 11:50am to take the 30 bus all the way back to the National Theater.
After getting off the bus at the National Theater, we then walked towards the City Hall (Radhuset); getting there at 12:30pm. This time the place was open, but we still had to wait to take a guided tour in order to go inside.
Once the tour commenced and we got past the airport-like security, we were then led to the main hall, which was surrounded with giant murals depicting all the struggles and ideals regarding how Norway became independent as well as how they want the society to run.
It was an educational tour, and it kind of required some assistance to interpret all the mural art as the amount of activity in those murals could be busy and overwhelming, especially given their size.
Eventually at 1pm, we were done visiting Radhuset, and then we walked to the familiar Pipervika Seafood restaurant at the Fisketorget building right at the north end of Aker Brygge. We got there at 1:15pm.
The weather was now more overcast than yesterday as well as threatening rain. However, we did see that the special of the day still included whale meat, which we wanted to try.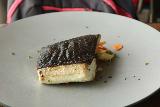 We also got two 200g of halibut since that was the best of the fish we had yesterday. And given these things, it turned out to be a less expensive lunch than it was yesterday though it was still pricey (costing me close to $80 USD by my estimation).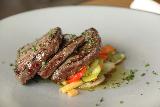 Next, Julie was fretting about not being able to top up our sim cards. So the next order of business was to visit the Telenor kiosk back at Torgata near the Oslo Cathedral, and then see if the clerk there can help us out.
It was Julie's insistance, but as I suspected the clerk couldn't do anything about this. But I guess it didn't hurt to try other than to kill time.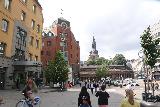 So at 2:10pm, we left the Pipervika Seafood and took the tram line 12 back to the central station. From there, we walked over to the Telenor (getting there at 2:45pm) and that was where the clerk pretty much told us that Telenor in Norway was different than Telenor in Sweden (where we bought the pre-paid sim cards in the first place).
Thus, we still had this issue unresolved.
But at this point, Julie and Tahia were going to go grocery shopping next door. Meanwhile, I was going to take the tram by myself to get to Vigelandspark (or Frognerparken).
Armed with my cell phone (so I wouldn't be locked out as long as Tahia had access to the other phone with the sim card), I managed to take the busy tram line 12 back in the other direction.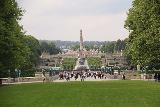 Eventually, I'd get to Vigelandspark at 3:20pm, where there were tour buses parked right at the main gate. There were also quite a few people gathered around some impressive sculptures up ahead.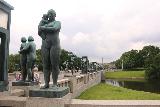 After walking across a long lawn area, I then got to a bridge lined with small green statues (green because bronze or copper turns that color after oxidation).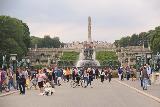 And near the middle of the bridge to the left (facing the big column up ahead), I saw the famous angry boy. It was nowhere near as big as I had imagined as it was merely one of the many of the smaller statues on top of the bridge rails.
I could clearly see that the boy had been touched on the left hand (as the green wore away and exposed a shiny brass there) as well as the tip of his penis.
It was kind of an incidental sculpture, and I was surprised at how few people were around it at the time.
Anyways, the rest of the statues by the bridge seemed to depict people in different postures. And the white ones on top of tall pedestals seemed to show humanoids interacting with sea creatures or something.
As I continued further up the park, I got up to the fountain where it looked like naked bodies were holding up some kind of cauldron that housed the fountain spraying water.
Surrounding the corners of the fountain were other smaller humanoid statues clinging to vines or something like that.
After having my fill of this fountain, I then walked up steps as I was headed up to the column. It seemed to have a kind of dildonic quality to it.
Anyways, as I got all the way up the steps to the column itself (surrounded by other sitting statues in different postures and poses), I could see the column was composed of human bodies all piled and meshing into one another.
It kind of reminded me of a fan video of the B-52s song Loveland where there was all sorts of artistic depictions of people making all sorts of shapes and touching each other.
And this Vigeland statue totally reminded me of something out of that video. Perhaps, maybe the video bit off of something inspired by Vigeland?
Anyways, after having my fill of this dildonic column, I could see there was still a couple more sculptures towards the back of the park.
As I descended the steps, I found myself in front of a half-globe with some smaller engravings showing astrology symbols or something like that.
Then, I continued further up to the back of the park, where there was the so-called Circle of Life, where bodies were bending over backwards touching another body bending over backwards until they made a ring.
It was interesting though it didn't draw nearly the amount of the people that the dildonic column had.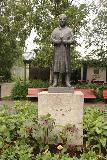 Eventually at 4:10pm, I had my fill of the park and returned to the tram stop to take the 12 back to the apartment.
By about 4:30pm, I got off at the Dronningensgate instead of the Oslo Central Station as it turned out that there was a stop right around the corner from our apartment on Skippergate. Indeed, this was one of those things where you live and learn as you explore the city.
And luckily, as I called the other cell, Tahia picked up and did her best to make her way down, then slipped the room key under the front door so I could open the heavy door myself. Julie had been dead asleep the whole time, and I kind of suspected that if Tahia wasn't awake with the phone, I would have been stranded outside the apartment!
Anyways, I was quite tired as it was kind of like the siesta wind down, which was how my body seemed to be working on this trip. At least I wasn't as sleep-deprived as I was on our first Norway trip back in 2005.
Regardless, I managed to be in and out of consciousness in front of the computer as I was busy processing photos and attempting to blog.
Heck, I even noticed some band playing outside at around 5:30pm but that didn't last long.
Eventually, Julie got up from her nap at around 6:15pm, but she suddenly realized that her little glass cup and metal straw that she used to take her meds was missing! She immediately realized that she might have forgotten it at the Fisketorget or Pipervika restaurant that we lunched at.
So in a desperate attempt at hoping against hope, we immediately got dressed and headed out the door to take the tram 12 back to Aker Brygge.
When we got there, we saw that there was some kind of private function going on. So we had to talk to the bouncers, who then talked to the staff.
But unfortunately, the staff member (who lived in Santa Barbara upon learning we were from Los Angeles) told us that he couldn't find Julie's cup and metal straw. It was likely to have been thrown away.
So with that, we were now on a different mission. We now had to buy a replacement set of metal straws as well as a replacement cup for Julie to take her meds.
After taking the tram 12 back to the Oslo Central Station, we then walked back to Torgata where we saw a shop that looked like the closest thing to a Target.
Inside there, we ultimately picked up replacement metal straws as well as a sturdy plastic cup. The cup wasn't ideal, but they didn't have any stainless steel cups.
Regardless, Julie now has what she needs as far as taking her meds again. Then, we walked over to a chemist (apotek), where she wound up buying another $50 USD worth of meds to try to sleep through chest congestion and cough.
Eventually by 7:15pm, we were back at the apartment where Julie could finally start making dinner.
However, there were still more things on the honey-do list. So at 7:50pm, I went back outside to go on another grocery run to pick up some water as well as a ginger and garlic.
Only at 8:35pm did I return to the apartment after dropping off the waters at our car. And so ended this rather eventful day where it seemed like we got to know Oslo quite a bit better than before.
But tomorrow, we were headed to the fjords, where we were well aware of the weather being more variable and how our excursions would be at the mercy of Mother Natures' whims when it came to the conditions.
The forecasts weren't looking promising for the places where it counted (for Kjeragbolten, Preikestolen, and Trolltunga hikes), but we'll just have to play this by ear and take the opportunities where we can even if the weather wouldn't be ideal…
Day 7 (June 19, 2019 – Rysstad, Norway): "Newbie Mistakes No More"
It was 4am when I awoke to a weird sounding alarm.
It took some time for me to process what this alarm was when it suddenly dawned on me that it was our home alarm!
So the first thing I did was to get up and check the phones. Sure enough, when I saw the footage, I saw that it was Julie's mom who had opened the door while it was still armed.
I guess they didn't realize that we were asleep (to disarm the home) as we were about 8 or 9 hours ahead of them.
Anyways, I managed to disarm the alarm, then communicated with Julie's Mom and our next door neighbor who was also helping her out.
Eventually, Julie got involved so there would be no more language barrier as they'd be communicating in Hainanese (my Mandarin wasn't the greatest to communicate effectively with her Mom anyways), and that was that.
Then, Julie went back to bed for another hour while I was busy washing the dishes, getting packed up, tending to my dental hygiene, and preparing kefir breakfast for both Tahia and I.
Ultimately, Julie got up and cooked breakfast, and after all the hoopla about sorting out the trash, we eventually left the apartment and headed to the Paleet P-Hus at 6:45am.
Ten minutes later, we finally loaded up the car, paid the parking fee (I paid near 1000 NOK or over $110 USD to park here!), and then drove off.
Like with our first trip to Norway in 2005, we followed pretty much the same driving route as before.
We drove southwest towards Drammen before going further inland to Hokksund then to Kongsberg (where we saw a surprise waterfall that reminded me of Willow Falls) before continuing west to Notodden.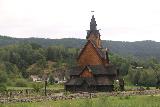 Just to the west of Notodden, we then arrived at the Heddal Stavkirke (Stave Church), which was something we only briefly stopped to take the exterior of in the past.
But apparently, we showed up an hour too early at 9am (it opened at 10am) so we had some time to kill to take pictures around the outside of the church.
There was a large graveyard surrounding the church, which was something a bit unusual or unexpected on our part. Then again, we didn't make a thorough visit the last time we were here 14 years ago.
Anyways, it didn't take long before we were done taking pictures of the wooden church from all possible angles under the overcast skies.
So rather than wait out the whole hour just to take a peek inside, we ultimately left the place before they opened.
We still had stuff to do the rest of the day, and the stave church wasn't the main thing. Besides, we still had two more chances to go inside one of these churches later on in this trip.
So with that, we took off at around 9:35am and made our way west to a junction with the 361, then we joined up with the Rv37 en route to Tinn then Rjukan.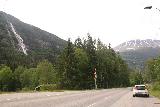 Along the approach to Rjukan, we started to see an imposing mountain still with snow on it. Although the skies were still overcast, we could see most of the mountain.
It turned out that this was Gaustatoppen, which was said to be one of the most beautiful mountains (if not the most beautiful) in Norway.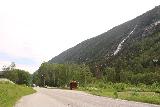 I managed to make a couple of roadside stops to take pictures of it. Right across the Rv37, I noticed a familiar-looking waterfall that was definitely not a tiny ephemeral one.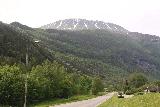 In fact, at the first pullout I was able to take, I managed to capture both that waterfall (I still don't know its name) and the Gaustatoppen in one shot.
The mountain was indeed impressive, and I'm sure we could have easily found an excuse to spend more time here to go up near its summit or go up a different road across the valley to get a more full view of the mountain.
Regardless, we wound up eating at a kro (cantine) in Rjukan town at around 11am. The choices were quite limited in town, especially with Julie's food sensitivities, but we decided we could order here and have them not put stuff like sauces or breadings, or even just bread.
The food costed us over 520 NOK (which was like nearly $60 USD), but at least we were fed and ready to pursue the Rjukanfossen waterfall (something we totally whiffed on the first time we came here 14 years ago).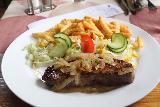 While the food was pricey, it wasn't that far off from what we've been spending back at home (if you account for the 25% markup on the hidden cost of tax and tip). In fact, Europe in general may seem expensive because the price you see is the price you pay.
No sneaking up on you with the extra costs like what happens back at home.
At about 12:10pm, we left the Hytterby cantina in Rjukan and then continued driving west out of town in pursuit of the main waterfall.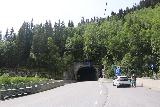 When we finally got to the Rjukanfossen pullout at 12:25pm, the most striking thing about the pullouts on either side of the tunnel were that there was no signage specifically for the waterfall.
No wonder why we couldn't figure out how to find this waterfall back on our first visit. That was when the internet and social media didn't even have much in the way of finding this spot if you weren't a Norwegian local.
Anyways, after crossing the road, we walked up what appeared to be the former road (Maristien?) before the Maristigen tunnel was built.
Along the way, we got some partial views looking back in the direction of Rjukan and the Vemork Power Station.
That power station was an instrumental part of the history of WWII since it was a heavy water facility – one of the ingredients to make a nuclear bomb.
The walk to the view of Rjukanfossen didn't take long. In fact, it was shorter than I had anticipated. However, there were dandelion-like things snowing all over the place.
To our surprise, the waterfall was actually flowing quite well! I had anticipated that this waterfall wouldn't have much flow since it was regulated and only allowed to flow for certain occasions.
I wondered what was the occasion this time around. Regardless, at least I wouldn't have to wait for July 24-27 to see this falls flow as coincident with some kind of local play that would take place here called Marispelet.
So we spent quite a bit of time checking out the waterfall from as many different angles as we could. I even managed to get all the way up to what appeared to be a shelter (which was nothing more than the far end of the Maristigen Tunnel).
It was too bad that the sun was right above the falls so we were somewhat looking against the sun (this was probably more of a morning waterfall).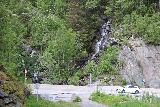 Still, I wasn't going to complain considering that this waterfall flowed well and displayed why it was Norway's "Cradle of Tourism" before it was regulated for hydro purposes.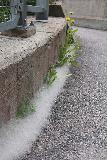 By about 1:15pm, we had returned to the car. The funny thing about our visit was that we were the only people here.
There were lots of cars that had passed by through the tunnel totally oblivious about the falls. Little did they realize what they were missing!
Anyways, the next leg of the drive was going to be a long one as we would go from Rjukan to Rysstad in Setesdal Valley. It was hard to believe that on our first visit back in 2005, we were nuts enough to drive all the way to Kristiansand via Setesdal Valley after visiting Rjukan with a start from Oslo!
As we continued to drive west, we passed by some familiar moorish or tundra-like mountain plateaus with tarns and even the odd patch of snow.
The weather also seemed to give way from partly cloudy skies to more ominous looking conditions as the clouds became darker and it eventually started to rain persistently.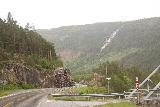 I was also fighting a little bit of road fatigue as the drive was slow and long. The roads taken didn't have center divider lines because the roads were tight even though they supported bi-directional traffic.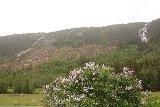 I remembered back on my first time driving here, the narrow roads took a bit of getting used to. However, these days, I've been versed enough in driving in Europe (particularly mountain roads) to be somewhat accustomed to this.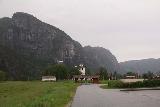 I don't even flinch that much anymore when it came to scootin by cars at near speed going in the opposite direction as us on these narrow roads.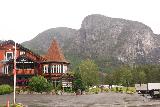 Eventually at about 3:55pm, we finally arrived in the town of Rysstad. Along the way, we made a brief stop or two to check out the familiar Kallefossen though with the rain, we didn't linger outside of the car for too long.
Once in Rysstad, we did a grocery run at the Coop in town. I also filled up on gas where the rates here were a whopping 16 NOK (nearly $2 USD) per liter!
We wound up buying quite a bit of food for tonight's dinner as well as breakfast tomorrow morning.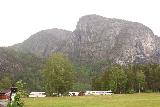 At 4:45pm, we checked into our hytte (cabin) at the Solvgarden Feriesenter which had a full kitchen but the place was a bit on the cold side as it lacked insulation and the outside weather didn't help.
We were also charged 450 NOK for renting towels and bedsheets (around $50 USD) which we treated as part of the room rate, but we mind as well buy our own! This wouldn't be the first place that does this on this trip either!
Speaking of the rain, the forecast for the next three days weren't looking great and that was going to put my aspirations of doing the Preikestolen and Kjerag hikes in jeopardy.
Anyways, I also checked the forecast for tomorrow morning concerning whether I should re-visit Reiarsfossen today rather than first thing tomorrow.
And it turned out that they were also predicting rain tomorrow morning. So why wait?
After getting settled in the hytte at 5:10pm, I went out on my own to continue on the Rv9 further south of town towards the Reiarsfossen.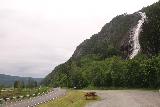 I'd eventually get there at about 5:40pm, and it still looked every bit as impressive as when Julie and I first saw it 14 years ago.
So far the weather was holding up when I showed up at the falls though it was still raining on and off during the drive here.
After having my fill of the official view from the bottom, I then pursued some kind of wide path before reaching a side branch of the trail that went through overgrown (with poison oak) spots. This was something that we didn't do before so I wanted to check it out.
Eventually, I scrambled my way up to some rocks (while dodging poison oak with my bare feet in Chacos) where I could get a look up at the impressive Reiarsfossen.
A young couple that just showed up when I got started also went to the rock before me and did their thing in documenting the experience.
I'd eventually have my fill of this viewpoint of Reiarsfossen at 6:05pm. Then, I took the car across the street towards the familiar camping area, where I could also get a nice contextual look at the falls.
And unlike the last time we were here when Julie and I were squinting against the late afternoon sun, we would have no such problems today given the overcast skies. However, the campground seemed like it had grown over the years.
It wasn't as wide open and as grassy as I remembered it when making the visit with Julie. So there were more things in the way, and it seemed like I was intruding on someone's property without staying here.
Anyways, satisfied with my visit of Reiarsfossen, I started heading back to the Solvgarden hytt in Rysstad.
It wouldn't be until about 7pm when I finally got back, but I took my time as I had noticed beautiful views of the Setesdal Valley as well as some secondary waterfalls.
The scenery of the knobby and steep granite-like cliffs were very much reminiscent of driving through Yosemite. Even with the low clouds and on-and-off rain, it was moody and beautiful.
Perhaps there was no coincidence about the resemblances to each other because there was clearly evidence of glaciers that might have shaped this place just like in Yosemite.
There was even one waterfall backed by the tall Yosemite-like cliffs reflected in the calm river or lake that I could see from a bridge near a side road leading to what appeared to be someone's farm just south of Rysstad.
Once I got back at 7:10pm, Julie was busy cooking but she noticed some weird white stuff growing or coming out of the shrimp we had bought earlier.
She wanted us to go back to the Coop to return this shrimp. So I guess the day still wasn't over yet.
Back at the Coop, after a little bit of debate with store clerk, Julie did manage to get her faulty shrimp refunded, and we managed to salvage a ground beef dinner.
And eventually by 7:20pm, we managed to accomplish our mission, and Julie could finally finish cooking with a clearer conscience as we cooked ground meat instead of spinning the roulette wheel with seafood from the supermarket.
When all was said and done, we got cleaned up and looked forward to sleeping in somewhat given that I had accomplished as much as I was reasonably able and willing to do considering the wet conditions.
And so ended this eventful day. With the last-minute change to finish Reiarsfossen today (instead of tomorrow), I definitely looked forward to sleeping in. Now's the time to relax and see where the weather and circumstances will take us next.
But I gotta say that it wasn't looking real good considering the rain was definitely coming down this night.
I had to hope against hope that I wouldn't be hiking in this hike of weather around the Lysefjord – particularly for Kjerag and Preikestolen (the two hikes that made me anxious about the weather).
Day 8 (June 20, 2019 – Stavanger, Norway): "Not Going To Be Denied"
It was 6:30am when we awoke. The original plan was for me to wake up early and visit Reiarsfossen while Julie and Tahia could sleep in.
However, given the weather forecast, I wound up visiting Reiarsfossen late yesterday.
It was a good thing I did this because indeed the weather forecast was spot on about the continuing rain. Besides, after all the long driving and sleep deprivation from earlier on in the trip, the sleeping in was welcome.
So we took our time preparing breakfast, getting packed, and getting ready for the day. This was becoming our usual routine by this point.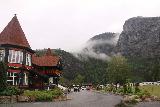 Outside the cabin, the weather seemed to have finally calmed down a bit, which revealed some very moody skies as clouds were clinging to the vertical Yosemite-like cliffs of the Setesdal Valley.
Ultimately by 8:50am, we finally checked out of the Solvgarden cabin and left Rysstad for the Dirdal Highlands.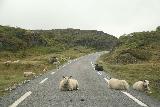 As we drove up the road, it started to become that familiar narrow paved mountain road where white dashed lines defined the "shoulders" (if you can call it that) while there were no dividing lines in the middle of the road.
That's because the roads were too narrow to have them. So it was essentially like driving 1.5 lanes and we'd have to drive into the "shoulders" for other cars to pass by.
Where the road was even narrower single lane, there were plenty of pullouts to let people go by (even faster drivers pass us if we were courteous enough to do that).
Anyways, this Summer only road passed through the highland moors where the terrain was mostly tundra with some alpine tarns or mountain lakes.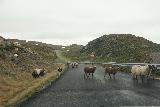 One thing I noticed about the moorish highlands in Norway (and even Scotland for that matter) was that you don't have to go that high in elevation (we were only around 3,000ft or so) the further up in latitude you are.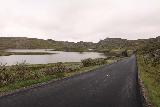 However, when you're closer to the equator, you have to be well over 10,000ft to experience such tundras.
Even with the dreary weather, the scenery up here was stunning. I was once again reminded of how rewarding driving in Norway can be regardless of the weather – just like it was when Julie and I first drove around the country 14 years ago.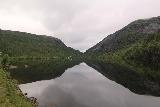 But now that we're older and wiser, we tended to take things a little more slowly while appreciating more of the subtle aspects of every experience to really make the trip more meaningful as well as memorable as opposed to how we used to tour just the highlights (like how most people travel).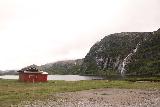 The weather seemed to be improving somewhat in one stretch in these moors before it started to go into Gjesdal, which was another stunning valley with granite cliffs flanking it.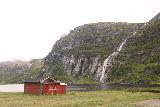 Along the way were more waterfalls that I'd imagine were nameless though they were definitely legit and not just some other random miscellaneous ephemeral waterfall.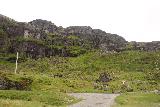 There was one in particular that we stopped for at 10:20am where a waterfall spilled into a lake as we watched from a clearing with a lot of barrels or something.
The road went from the Fv337 to the Fv987 when we crossed over from Aust-Agder county to Vest-Agder county. I had read somewhere that they were going to merge the two Agders though I wasn't sure if that was still the case during this visit.
Regardless, the road eventually joined up with the Rv45 where we kept going west instead of taking the other road which would lead to Lysebotn and the Kjerag trailhead. That would be for another day.
Eventually, we drove to Gilje, where we then turned off the Rv45, we then drove past the town and entered a spooky nearly 5km tunnel going towards Frafjorden.
The weather seemed to continue to be rather rainy and the weather seemed to continue to threaten to get worse as we went deeper into Frafjorden.
Unlike the last time we were here when it was mostly sunny, I had to reset expectations about what this experience would be like.
Indeed, there wouldn't be a rainbow at Manafossen, and we would have to contend with slippery terrain regarding the climb up to the viewpoint while holding onto chains.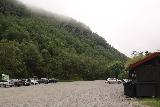 I didn't remember there being many steps being set up the last time we were here, but I wondered if they had improved the trail over the years.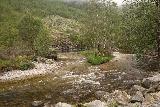 Anyways, we finally reached the Manafossen trailhead at 11:10am where there were quite a few cars parked at the trailhead.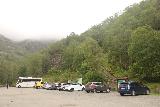 The last 600m of the road was somewhat unpaved or of a different grade than the asphalt we had been driving to this point.
Regarding the car park, it was definitely more visited and popular than when we did it 14 years ago judging by the number of vehicles parked here (and still coming in).
Somehow, we missed Eikeskogfossen on the way up, but I figured that we'll seek it out on the return.
After it took Julie and Tahia some time to get ready, the weather went from somewhat calm to drizzling rain. It was bad enough that I had to don a rain poncho while Julie and Tahia were wearing heavier waterproof jackets.
Indeed, we didn't start hiking until 11:25am and I wondered if this delay would cost us.
The hike was just as I had remembered it before. There were definitely chains to help with the trickier and more slippery parts of the climb (going down was definitely going to be tricky) and there were a couple of spots with steps.
There was also a mobile spot where we could pay for 40 NOK for the parking at the trailhead without putting in cash or coins (since there was no reception at the car park).
The climb continued as Julie and Tahia carefully made their way up. There were lots more people going down (including a very large group of younger individuals probably in their 20s).
When we made it up to the Manafossen overlook, we managed to make it just in time before clouds started to descend on the falls. There were already clouds threatening to block the view when we showed up.
So we quickly took photos and videos for as long as the falls remained visible. There were also tiny bugs that seemed to be biting though they didn't look like mosquitos and I didn't see any welts coming from their bites.
Indeed, barely a couple of minutes into our visit, the clouds really descended even deeper into the gorge with Manafossen so it not only concealed an upper waterfall in the distance, but it also concealed the main waterfall itself.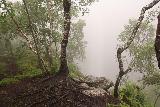 There in lies the problem with rain when you have big waterfalls like this. The low clouds tend to kill the view.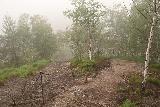 To rub more salt in the wound, the weather started to produce more rain and drizzle as we waited for the weather to cooperate a little more.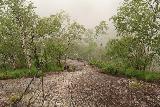 Eventually by 12:30pm, we gave up on the wait and headed back down the 400m trail.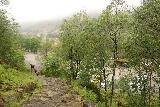 Since the descent was trickier and more slippery, I used the chains as hand-holds while keeping my back towards the open and facing the slope.
That way, the weight distribution was right and I wouldn't be facing the descent with the weight the wrong way.
By about 12:50pm, I was back at the car park when it was raining again. Inside the car, I was feeling a bit chilly since I was getting hit with the rain while I was out there.
As we left the Manafossen car park, we then made a brief stop for Eikeskogfossen. However, I actually had to park at a pullout a little more downhill than the nearest one (which was now an apparent driveway occupied by two local vehicles).
After having my fill of this waterfall, we then continued driving back down the mountain and back onto the Rv45 as we made our way to the E39, which would ultimately go to Stavanger.
This was another lesson learned from the last time where we had aspirations of doing things like Preikestolen and Manafossen as well as Kjerag, but we didn't stay in Stavanger.
This time around, however, we were spending three nights here. So that should at least give us some weather flexibility while also affording at least me the ability to do the long hikes.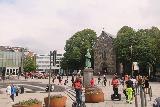 Since we weren't allowed to check in until after 3pm, we drove towards a car park near the harbor at the city center. We wound up arriving at St Olavs Plass car park at 2:15pm.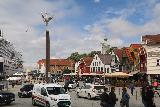 We figured we can walk to the harborfront and look for a lunch to kill some time before checking into the apartment.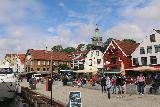 The lunch was at this place called Fisketorget. Julie was lured to this place because she knew seafood stood a good chance of being gluten free and fresh.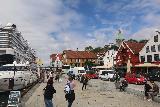 So after placing an order for a traditional Norwegian fish stew that was tomato based as well as the catch of the day and a shrimp sandwich for Tahia on gluten free bread, I then took advantage of the food preparation time to do a little exploring of the harbor.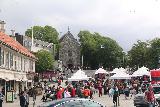 I picked up a map from the info center at the far left side of the harborfront, where the walkways were full of cruise passengers who have disembarked.
There were many more that also waited for Lysefjord cruises.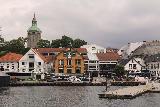 Anyways, with the weather forecast calling for only partly cloudy skies in the afternoon, I figured that today would be my opportunity to finally hike the Preikestolen.
I knew I would be getting a late start, given that we still had to check in and drop off luggage after this late lunch. And this would be kind of a deja vu moment since Julie and I also attempted to do the same thing 14 years ago with a late afternoon hike.
However, this time, I knew that the hike was going to take 4 hours (and not just 2 hours as I had previously thought before), and that we were staying closer by in Stavanger as opposed to way further up north in Sand.
Indeed, I was not going to be denied this time around. Waiting 14 years was too rare of an opportunity to mess this up.
By the time I had returned to the Fisketorget, the food was ready.
It turned out to be a pretty good as Julie's catch of the day was very good.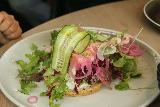 Also the tomato-based traditional fish stew that was recommended by the waitress was also very good (something that Julie was willing to take the lectin from the tomatoes for).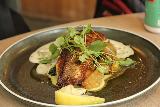 Tahia's shrimp sandwich on gluten-free toast was also pretty good (reminding me of the shrimp salad that we had in Narvik 14 years ago while almost witnessing the midnight sun).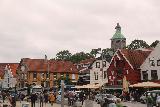 We ultimately left the restaurant satisfied with our meal at 3:25pm. However, the waitress brought to my attention that our bill ended up being 666 NOK, which drew chuckles from everyone.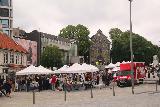 Hey, at least we knew that we were going to Hell (near Trondheim) just like 14 years ago, and we literally went to Hell and back. So I guess this was nothing new to us.
Eventually at 3:55pm, we managed to park at the front of the apartment that was on our itinerary on Solbakkveien 12.
However, upon studying the text messages that Julie got from the proprietor, it turned out that we had gone to the incorrect address.
Instead, we were supposed to be staying closer to the center of the city near the harborfront.
So we ultimately drove back into town where there happened to be street parking when we got to the apartment at 4:05pm.
However, we had to pay for 2 hours since the street parking fees didn't end until 6pm through 8am the next morning. In the end, those two hours costed us around 40 NOK, which in the grand scheme of things actually wasn't that bad (it was more like $4-$5 USD).
After dropping off the luggages, I left Julie and Tahia in the apartment while I went out to pursue Preikestolen, finally.
I left at 4:25pm and now I was on my own to make this hike a reality. The drive was fairly uneventful though there was a bit of heavy traffic on the E39 as I was heading south.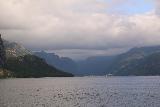 Eventually, I left the E39 near Sandnes and then drove northeast on the Rv13. This road took me to the ferry at Lauvvik, where I then paid the 84 NOK to get on board and be taken to Oanes. I got there at 5:05pm.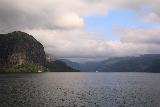 Once at Oanes, I then followed the long caravan of cars continuing to make their way further north into the Ryfylke area while I got off at the well-signed Preikestolvegen.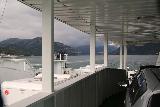 I then ultimately made it to the Preikestolen car park at 5:45pm. There were still lots of cars parked here, and I saw that they instituted a system where the parking was a hefty 250 NOK flat rate.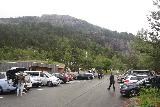 I was surprised that even though I was getting a late start that there was still this many people here though I figured that most of them were already finishing their hike.
So I wasted no time lacing up the hiking boots, getting the backpack on with 2x 1.5L bottled waters as well as a cherry bag in my pocket and some cassava chips that we brought from home that Tahia had already opened up and started to eat.
I figured that ought to hold me over for this long uphill hike.
I then hiked as quick as I could as I was ascending the familiar rocky path that I knew relentlessly climbed for almost the entire 4km route leading up to Preikestolen.
Just about everyone I had encountered on the trail were going back down at this time.
There was one lady who I had actually passed on the way up around the half-way point of the trail.
The relentless hike up the rocky path was already a bit killer on the knees and I was breathing heavily sweating bullets despite the cold weather and overcast skies.
At the top of a steep climb after going about 2.5km from the trailhead, I looked back towards the islands in the distance back in the direction of Sandnes or Stavanger.
And like 14 years ago, I distinctly recalled seeing this scene with an orange glow in the distance as the sun was already in its perpetual twilight state.
So that suggested that Julie and I had actually made it up to here on our first time before we decided to head back as we were running out of time.
Anyways, I pressed forward as the trail went through a combination of rocky flats before undulating and dodging around alpine tarns.
In one flat area, I saw some people chilling out on a false path where a sign generously told would-be detractors that this was not the correct trail.
So upon correcting my mistake there, I then continued along the moorish flats. Along the way, I passed an Indian family so that was the only other time I was aware of that I had passed people in my haste to do this late hike.
When the trail shifted from hugging rock walls with railings and a wooden surface to open granite again, this was where a different valley to the left revealed itself as well as a long cascade that seemed to drain a lake above it.
The scenery continued to become more dramatic the further I went as I started to finally see the Lysefjord while also approaching the final ledge leading to Preikestolen.
By 7:25pm, I had finally arrived at Preikestolen where there were probably about a dozen people or so chilling out up here.
I had seen pictures showing that this plateau was completely full of people before. But this late in the day, it was not the case.
I took my time taking photos of the vertical profile of one side of the Preikestolen, but there was something more that was lacking about working so hard to get up here only to settle for limited views and limited experiences.
So I had it in my mind that I would pursue a way to get a more top down view of the Preikestolen after I had a chance to experience this common spot as much as I could.
There was one lady who was up here asked me to take a picture for her while she was at the top of the Preikestolen edge. We briefly chatted where she told me that the lady I had passed well before the half-way point was her colleague who was struggling with this hike.
She also told me that the ferry actually had a closing time at 11pm.
So that kind of upped my sense of urgency to do what I had to do before hauling ass to get back to the car park.
I mentally gave myself a 10pm time limit to be back at the trailhead at this time to ensure that I'd be at the ferry well before it was time for them to stop service for the day (thereby stranding me away from Stavanger).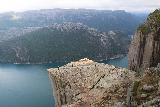 However, I still had to figure out how to get the upper overlooks of the Preikestolen. And when I was about to start walking back, I noticed some interestingly-placed red Ts on the rocks situated higher up above the path.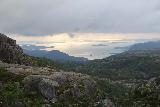 No one else seemed to be taking that path. But I wasn't going to be denied so I went climbing up on the rocks and following those red Ts.
I wasn't sure how long this detour was going to take, but I figured that I gotta try while I'm here.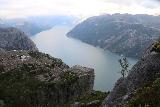 Anyways, after the initial climb, I then followed an elevated plateau that was unseen from the main trail below.
I then did a little more climbing before getting onto another plateau at 7:40pm. This allowed me to look down at Preikestolen on the left side, which was interesting, but it wasn't quite what I was after.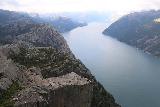 I then continued further away from the Preikestolen where the path ultimately led me to a different climb with a view towards the islands near Sandnes and Stavanger in the distance.
I found some rock cairns but no more red Ts so whatever I was doing at this point was pretty much trails of use.
It took some time to figure out where I was supposed to go, but eventually at 7:55pm, I found a very high view looking down at the Preikestolen backed by Lysefjorden.
Still, I found myself a bit too high to really make out the detail and awe factor in my photos. However, I saw a lower lookout down below with a rock cairn on it.
So I went down there, and that was where I got the view that I was after all this time.
Indeed, I was low enough to see the vertical detail of Preikestolen, but I was also able to see the nearly square top.
From this vantage point, it's easy to see why it's called the Priest's Chair (or Pulpit Rock when translated to English languages).
It was interesting to see how the handful of people that were still at the plateau of Preikestolen did not even notice where I was. I could clearly see them, but apparently they didn't bother to notice their surroundings.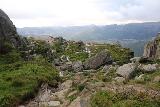 By 8:05pm, I finally left my vantage point. However, I still had to get back to the main trail, which meant that I had to return to Preikestolen.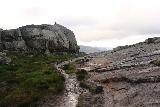 On the way down, I tried to figure out what was the best way to go. But I ultimately decided to go down, which included a short dropoff that was clearly a moment where there was no going back.
After making that leap of faith, I was then looking for the trail going up to where it needed to go to regain the path back down that I took earlier.
Indeed, I did find it, and by 8:20pm, I returned to the Preikestolen.
There seemed to be consistently about a half-dozen to a dozen people as some were still actually showing up! I guess they were probably camping so they took advantage of the long daylight hours like I was without consequence.
However, I still had to catch the ferry so I had to get moving quickly. I wasn't sure if the 11pm cutoff was for real or if it could be cut off earlier than that! So I couldn't take my chances with the 11pm assumption.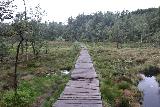 During the descent, I passed by the same Indian family when I returned to the spot where I almost took the wrong trail. Actually, the couple of guys who appeared to be camping or eating a dinner there had now grown into a full blown group of at least a half-dozen or more people.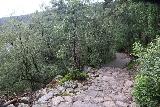 Next, I made the very steep descent where towards the bottom, I encountered the lady I helped to take a picture of as well as her colleague.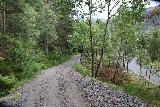 By this time, my knees were aching and I'm pretty sure that I was not going to enjoy how they feel tomorrow morning.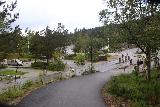 An even more amazing observation on this hike was that there had to have been at least a half-dozen or more parties that were actually going the other way! I suspected that they too were camping so they could get away with the late start.
Ultimately by 9:30pm, I made it back to the Preikestolen car park. Not surprisingly, most of the cars have left by now.
There were some people at the trailhead though I couldn't tell if they were about to get started or not.
I quickly started the car, paid my hefty 250 NOK by swiping my credit card to allow the boom to go up, and then I quickly drove back to Oanes to catch the return ferry.
At 9:55pm, I boarded the ferry. They ticket kiosk was already closed, but a sign said to pay aboard the ferry.
After getting through the ferry ride, I then drove back to the familiar Stavanger sentrum, where I ultimately returned to the apartment at 10:50pm.
That was when I finally ate Julie's dinner, which I had to re-heat. And then I had to shower and brush.
It turned out that I wouldn't be going to sleep until almost 2am, but at least it seemed like it was dark outside with a glimpse of daylight in the distance. Still, any amount of darkness was actually welcome since it meant that it would be a little easier to fall asleep…
Day 9 (June 21, 2019 – Stavanger, Norway): "Menacing Skies"
It was about 7:05am when I awoke. Actually, it was Tahia who woke me up.
When I looked out the window, I was surprised to see some sun. I thought the forecast had called for rainy skies all day long today.
Still, I wasn't complaining. And I figured that we ought to do our Lysefjord cruise sooner rather than later so we wouldn't succumb to the menacing skies that I was certain was coming into this area.
So to that end, at 7:35am, I pre-booked a Rodne Cruise tour that only went to Preikestolen and Hengjanefossen but not any deeper on the Lysefjord. They only did tours for 10am, 12pm, and 2pm. We picked the earliest one.
Next, we spent some time eating breakfast.
Julie was lamenting that this place seemed to lack some basic necessities like a cutting board, an eating table (we pretty much had to sit on the floor to eat off the coffee table; I was using the bar seating for working), and no hair dryer (a pet peeve of Julies).
We also had to figure out the parking situation, but in the end, instead of moving the car around, we decided to just keep feeding the EZPark app two hours at a time since our parking spot was technically subject to a two-hour time limit between the hours of 08:00 and 18:00 on weekdays.
I sure hoped that the Lysefjord cuise had mobile reception so we could keep doing this.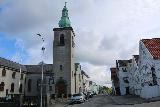 Anyways, it wasn't until about 9:10am when we left the apartment and walked towards the harbor.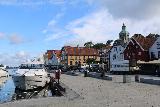 It turned out that our apartment was actually a couple of blocks from the park area behind the Stavanger Cathedral. And the front of that cathedral faced the familiar harborfront.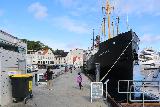 Once we made it to the familiar dock area where the Rodne Cruise operator was situated, we showed our confirmation of purchase and then waited to get on.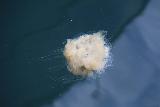 During the wait, Tahia was obsessed with counting jellyfish that were plentiful in the waters of this harbor. Some of them had beautiful rings on them while others were like a yellow glob with wires hanging out of them.
Given the number of jellyfish in the water, we wondered if the waters here were polluted or if there was something else going on that we didn't understand or know about. Whatever the case, swimming in here wouldn't be a wise thing.
Eventually, the cruise allowed us to board about 10 minutes until departure, and we then initially picked one of the outside seats.
However, I could see in the distance that there were some dark clouds and it was inevitable that we were going to face rain at some point during this three-hour tour.
As the boat slowly left the calm waters around Stavanger and the surrounding islands, Tahia was once again busy spotting and counting jellyfish.
I think she got up to around 400 or something like that. It just went to show how abundant these things were.
The boat then sped up as it continued to make its way further to the east and right into the dark clouds.
The thing that kept people from staying upstairs or off to the side was the wind that the boat created. It was like a 30mph wind that kept blowing cold air into faces and blowing off caps or hoods.
Eventually, the cruise made it to the mouth of Lysefjorden when it started to rain somewhat.
The rain was stinging because it was not only falling, but it also got the boat's speed which meant the water was hitting us at that speed.
We were vacillating between going outside the shelters of the boat and back in the protected areas due to the on-and-off again rain.
Yet, the weather still held up long enough for us to appreciate the Lysefjorden bridge, and then further in the fjord where we could catch a partial view of Preikestolen before turning around right by the Hengjanefossen.
The boat didn't go any further to the other waterfall I noticed from Preikestolen last night. So I still had no idea what the name of that waterfall was.
The boat then pulled away from the waterfall, which seemed to be just in time to avoid a nasty rain that was headed our way. At least it was just enough time for us to enjoy looking up at the impressive Preikestolen from the bottom.
This time, the clouds didn't cover it up. And lots of people crowded on the uppermost deck to check out the popular cliff and rock formation.
However, just as the boat started to pull away from Preikestolen, that was when the rain squall really hit the boat hard and everyone beat a hasty retreat downstairs to avoid getting drenched.
The boat then spent the next few minutes getting up to a goat clinging to the bottom of one of the cliffs, and then the boat entered something called the Fantahola.
This was basically a narrow opening to a dead-end. Somehow it got a name associated it with a hole.
When we got up to the upper deck to check out the Fantahola, I looked back in the direction of the squall we had just experienced, and indeed it was nothing but very dark clouds with no visibility through the rain.
Anyways, that was pretty much the last of the main sights of this cruise, and we spent the rest of the time inside the interior of the boat where it made its eventual return to Stavanger.
Along the way, there were more rainy sections, and I wondered if the city was going to experience the same kind of weather that had just hit the Lysefjord but largely missed the city up to this point over the past couple of days.
Ultimately by about 1pm, we returned to the port of Stavanger, and then we went looking for a lunch spot. The sun was definitely out in the city, and I guess that answered my question regarding whether the weather in the Lysefjord had hit this area yet.
After looking around for something besides Fisketorget, we settled back on Fisketorget because of yesterday's good experience.
We got there at around 1:15pm, and there were no more seats inside. So we sat outside where there was sun as well as a bit of a cold wind.
This time, both Tahia and Julie got a catch of the day while I got the traditional fish stew again, but this time apparently they couldn't make it the tomato-based one we had last time. Instead, the version I got was creamier.
We eventually finished our lunch at 2:10pm. This time, the bill was a bit bigger than last time and somehow it didn't quite taste as good either.
With lunch over, we then walked towards the shopping area of Stavanger as Julie pursued a colorful row of store fronts.
We ultimately got to the sought after spot where it appeared that the early afternoon crowds had just started to show up.
As the sun was still out, the color of the buildings was pleasant to experience though hard to photograph with the shadows.
Still, this was easily the most charming spot of the city that we had seen so far. And we spent quite a good deal of time experiencing this stretch.
Many of the store fronts here had the hashtag #fargeveien (the colorful street) so clearly the businesses here were in on the act to bring the tourists, especially the cruise passengers here on limited time.
We then spent a few more minutes getting lost in the alleyways and shopping arcades before retreating back to the colorful store fronts and then eventually back around the harbor to the Gamle Byen (Old City).
Compared to the colorful buildings of the shopping area we had just come from, the Stavanger Old Town had a more low key feel to it.
Instead, there were old white wooden homes lining narrow cobblestoned alleyways.
We even got to go inside a Worker's Cottage, which was decked out in furnishings and clothings that made us appreciate what the living conditions were at the time of the 19th and early 20th century.
At 3:30pm, we then spent some time chilling out at the Kafe Go Nok (Cafe Good Enough), which Julie on a whim decided to stop by for a gluten free dessert (they only had one type) while Tahia and I tried a couple of the local pastries.
By the time we were done with this visit at 4:20pm, the rain had overtaken the city and we had to walk in the rain to get to the supermarkets on the way back to the apartment.
After wrapping up with our errands, we then returned to the apartment to call it a day at 5:25pm.
Along the way, I stopped by the park next to the Stavanger Domkirke, which featured a gazeebo, a man-made lake, and a fountain.
The rest of the evening was spent together over Julie's dinner though after eating the salmon she bought from the supermarket, she learned after the fact that the Norwegian farmed salmon may not be what we should've had given Julie's gut sensitivies.
This made me wonder about the salmon parasite that killed off a lot of the salmon during our last visit 14 years ago in Norway. I didn't hear much about this parasite anymore, but then again, maybe a chemical solution was used to get rid of it.
Regardless, after watching some YouTube documentary on the salmon farming trade, we learned that from here on out, there seemed to be quite a few dirty secrets going on in the fish farming trade.
So we concluded that if it's not Wild Alaskan Salmon, then we better not take the chance.
I guess it's gonna be cod or herring the rest of the way on this trip…
Day 10 (June 22, 2019 – Stavanger, Norway): "Pleasure Pain"
I woke up at 5:30am. For some reason, my right eye was crusted shut, but it wasn't red.
The first thought was that I somehow had pink-eye, which was why I was checking for redness.
When Julie got up, I had her check since she has had pink-eye before. However, she looked at it and thought I didn't have it since it would have been red and pussy persistently. In my case, it seemed to not have that persistence.
Anyways, upon checking the Lysebotn forecast, it said that the weather was supposed to improve over yesterday's forecast so I decided that I would leave Stavanger a bit earlier than I anticipated.
I had originally planned on leaving Stavanger right when the free parking ended at 8am but considering that it predicted that rain would be gone by around 8am, I thought why not just go for it so I could get back to Stavanger earlier.
So after a hasty brekkie of kefir and fruits, I got into the car at 6:35am.
And then I drove off as the roads were very quiet at this time of day.
I thought I might go for some cheap gas since it seemed like the gas stations here were on the cheap side, but for some reason, all the gas stations I saw weren't less than 15 NOK per liter as I swore I had seen earlier.
I couldn't understand why. Did they increase the prices over the last few days?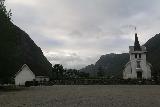 Anyways, I decided to punt on the gas fill-ups until later even though I was already at half-tank and perhaps I was taking a risk of running out.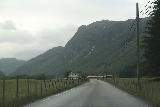 Before long, I was back on the scenic Hunnedalsvegen, which passed right through the familiar scenic valleys that we had passed through earlier when we drove from Rysstad to Stavanger (albeit in worse weather than now).
Since the roads were quiet, I managed to take a few road shots as well as stop for a couple of random waterfalls that might be legit but I knew not their names nor if they even had them.
Clearly, there was no signage for them though in one case at 7:25am, there was an emergency pullout right by the Giljajuvet Tunnel, where there were a couple of trails (one going past a bridge) with some fairly sizable waterfall outside the tunnel.
Continuing on with the drive, the weather definitely seemed like it was improving but I saw that with still some 40km or so to go, my tank was down to 3/8 and I was worried about not being able to make it back.
So I managed to fill about 160 NOK worth at Sirdal though it was at a 16 NOK per liter rate (close to $2 USD per liter or nearly $7 USD per gallon!).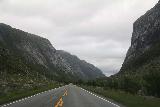 The gas station there was weird in that they reserved some 1000 NOK though some signage there said they won't charge the full reserve amount if it's not all used.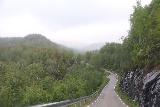 Anyways, continuing on with the drive, I saw that the weather appeared to deteriorate up ahead in the direction of Lysebotn.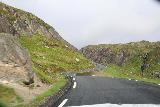 When I got off the Fv987 and onto the Fv986, the road narrowed quite a bit in single lane in most spots as it passed through barren moors and granite tundra dotted with alpine tarns.
Ultimately at 9:10am, I arrived at the Kjerag car park, but it was pouring rain!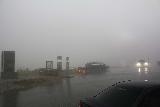 This wasn't what the forecast had called for so I decided to wait out the squall. In the mean time, I was putting on waterproof pants and hiking boots inside the car (not a lot of room mind you).
I then pulled out the rain poncho so I could at least pay the parking, which was a whopping 300 NOK (that was like paying $35 USD or something).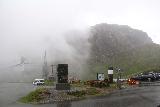 One Norwegian guy was making sure everyone that pulled into the car park was paying to park as well as having proper rain gear, even in the heavy rain.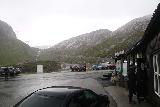 Once I did the deed and put the ticket on the dash for display at 9:30am, I was then waiting out the rain after using the toilet.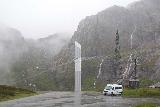 As I was doing so, the same guy that was reminding everyone about the parking situation and gear preparation went over and talked to me.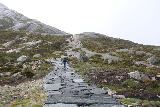 He started off by asking me sarcastically, "So how's the weather, eh?"
After exchanging chuckles, we chatted about the hike. The general gist of the conversation when we compared this to Preikestolen and Trolltunga was that he liked Kjerag compared to the others because this one was "technical".
He said Trolltunga was actually easier than this one even though it was longer.
And he didn't like Preikestolen because it was too popular, too easy, and he said the plateau wasn't all that unique.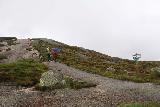 He also told me that for today, it was the last day of some kind of base jumping event. The weather had been so bad all week long that of the over 300 planned jumps, only 70 were done the entire week!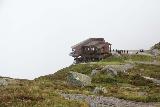 That's probably a damning statement of how bad the weather conditions were all week long!
Anyways, he went on to tell me that there was a nice viewpoint at the Nesatindane, where the entire Lysefjord could be seen. He even claimed that I would be able to see all the way to Preikestolen from there on a clear day.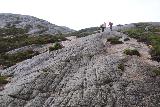 It didn't seem like it would be likely with the current weather, but his phone confirmed the forecast that I was going on in that the weather was supposed to be clearing up in another 15 minutes.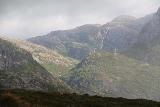 So after saying "Takk for hjelpen" to him (and getting a "Vaer sa god" response), I then proceeded to go onto the hike.
It was still sprinkling, but it was the wet granite that made for particularly treacherous footing.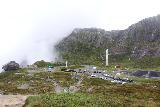 While going up seemed to be easier (especially with the aid of the chains), I knew that going back down on the return would be difficult – especially on the knees.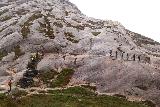 There were already lots of people on the trail, and it seemed like they were in a race to get to Kjerag before the crowds.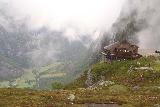 I wondered whether the weather would still be optimal that early. So I still kept taking my time taking pictures where I could.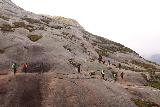 It was a little awkward trying to do this hike with a rain poncho as there were moments where I would step on the bottom of the ponchos while trying to go up so I kept feeling its pull.
Some of the sections of the granite were very sketchy (i.e. wet granite and needing to traverse or directly ascent slippery inclined smooth slopes).
Under these conditions, they would never have allowed people on the trail back in the States. I figured that we were so crazy about law suits that we can't do anything at home. Whereas here, the onus is in the individual to assess the situation and adjust accordingly.
The Norwegian government seemed to be more hands off about these kinds of things.
Anyways, after the initial climb (which was quite brutal; the guy at the car park said it was the hardest part of the hike), the weather did indeed seem like it was clearing up.
However, I did a stupid thing in carrying my cherries during the initial climb so I could eat them as I went, but one of the chains snagged he bag and tore it apart. And so I lost all those cherries!
Anyways, I could see behind me the car park looking small though there were thick clouds still concealing Lysebotn.
When I finished the initial climb at 10:20am, I saw that there was a descent leading down to a a meadow of some sort (likely to belong to Litle Stordalen according to signed maps I saw at the trailhead).
The trail then proceeded to go onto the next round of climbing which included more rock steps and chains on slippery inclined granite.
The weather at this point couldn't make up its mind about whether it wanted to continue to sprinkle or produce rain, or to produce sun and pockets of blue skies.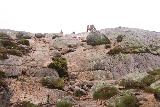 There was definitely some instability in the clear-up of this weather.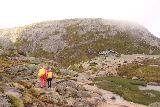 The next ascent was also not easy even though the first ascent was already hard to begin with. So I was definitely started to get hot.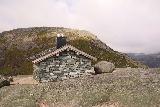 Finally at around 11am, I managed to make it up to the top of this second ascent where there was an emergency mountain shelter that was proving to be quite the popular photo subject for other hikers.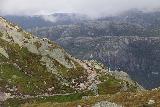 I kept hearing lots of German and Spanish so I'd imagine that most of the people I had seen on this day were from tour groups representing those Nationalities.
By this point, I took off my rain poncho and waterproof pants as I took a gamble that it wouldn't be raining again. Besides, now I wasn't feeling so hot since the Goretex stuff tended to not be breathable.
Next, I continued with the hike as the path now descended a rather steep and treacherous slope towards the next stream, which the trail crossed on a rock-bridge over a stream crossing draining an attractive alpine tarn.
Just beyond this crossing, there was yet another ascent. This time, it seemed to be long and steep, and I could see the entire ascent from the mountain shelter and beyond.
It wouldn't be until around 11:40am when I finally made it past the chains. Then I found myself ascending some more on what appeared to be a granite plateau.
This part kind of gradually became flatter the further I went so it was hard to tell when this final ascent ended.
Regardless, the barren granite scape here was tricky to navigate, but DNT has spray-painted red Ts on some of the rocks as well as placed huge rock cairns to help with the navigation.
This stretch seemed to go on for a while, but it wasn't a walk in the park so to speak because even though the net elevation gain was minimal on the plateau, there were plenty of little hills and gullies each causing slippery slopes on the granite.
Eventually at about 12:10pm, I saw the first sign that I had seen in a while (the first one on the plateau that I encountered). I wasn't sure if this pertained to the Nesatindene that the guy at the car park pointed out.
Still, I had another kilometer to go. So I pressed forward.
Ultimately, the trail descended to what appeared to be a narrow. At this point, the hike became a semi boulder scramble before the trail went onto a large patch of snow.
That was a slippery patch considering that lots of people had been walking on it and packing it to a somewhat icy and slushy texture.
This was where the famous view of the Kjeragbolten was. And indeed, there were lots of people gathered here at 12:25pm.
At Julie's suggestion, I already decided that I wasn't going to queue up to go onto that rock. Besides, I had no helper to help me take the picture as I would be waiting to go on.
Beyond the Kjerag view, there was an area where most people were chilling out. It was almost a festival like atmosphere (similar to like what you might see at the summit of Half Dome).
However, there were lots of cheering and wooing for the base jumpers who were making dives off the nearby waterfall plunging over the vertical cliffs in the distance.
There were also other waterfalls (albeit smaller) around this chill out spot as there was one draining the melting snow right beneath Kjeragbolten as well as another on the opposite side of the resting spot.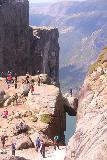 The weather at this point was a combination of sun then another dose of sprinkles. There was an interesting phenomenon that was happening here where the waterfall beneath Kjerag somehow refroze and was blown back up to this resting area as snowflakes or something.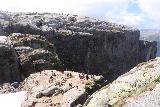 One random Norwegian person was talking to someone else in English saying that this was actually a really cool and rare thing.
Anyways, I decided that I wasn't going to chill out here for lunch given how many people were here.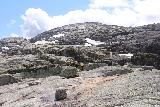 And instead, I went back through the narrows, past the triple waterfall spilling into the narrow, and then scrambling along the top to improve the view of what I believe to be the Kjeragfossen.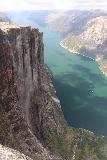 Eventually, I got to the very end where I managed to get a commanding view of the entirety of Lysefjorden as well as a more improved view of Kjeragfossen.
I got here at 1:15pm and I was essentially by myself for the time being as I had passed by a few couples chilling out at other parts of this plateau.
After spending about 15 minutes documenting this experience (and taking advantage of the mobile coverage here to text Julie), I then took my lunch break.
This was when I checked out base jumpers looking tiny yet falling like missiles plummeting to the ground.
As I was doing this, more people were showing up around this viewpoint so it wasn't as secluded anymore. But at least it wasn't the zoo that was down by Kjerag.
Eventually by 2pm, I was done with lunch. Sure enough, this was no longer the secluded spot that it was when I first showed up.
So that was my cue to get going.
At this point, I followed some cairns across the plateau until I reached some signage suggesting this was the path to the Nesatind. It was different that the path for Kjeragbolten, but I wasn't complaining.
I would eventually return to the main trail by about 2:20pm. At that point, there seemed to be just as many people going towards Kjerag as there were people leaving.
Given the soreness in my knees from all the brutal hiking (especially on slippery granite surfaces), going back down wasn't easy.
Indeed, it seemed like when I was descending any sort of steps, my right knees would give me some pain. When I landed on it, I was fine for the most part.
However, when that knee was bent with all my weight put on it, then that was the problem.
Still, I pushed forward and eventually by 2:55pm, I was back at the cables and well within the long descent that was the steep climb earlier on in the excursion.
But this time, going down was definitely the challenge since I had recalled needing to go up very steep and slippery granite surfaces.
There were some real sketchy spots, and in one part of the descent, I had slipped and fell on my back.
Luckily, my backpack provided all the cushioning from that fall and I managed to pop right back up to keep moving.
The only thing bad about that fall was that it mentally messed with my mind about pushing the traction limits on these new pair of boots that we had bought from REI over a month ago.
So I struggled a bit the rest of the way, especially regarding my knee discomfort.
t ultimately wasn't until about 4:30pm when I finally returned to the car park.
I couldn't believe that there were people just getting started at this time, and Kjerag was a longer hike than Preikestolen (which took me around 90 minutes for the 4 miles to get here). I guess they were just taking advantage of the long days with the perpetual twilight that happens around midnight.
With still some time left to go before, I decided to take advantage of the nice weather and go back to Manafossen.
Given the bad weather we had when visiting this falls, I just had to redo it since it was on the way back anyways.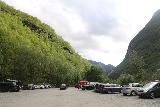 So eventually by about 6:10pm, I finally returned to the familiar car park for Manafossen. And this time, it seemed to be very busy as the parking lot was pretty much full.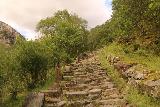 With limited time, I decided against taking more trail photos and just went straight up the steep trail leading to the pair of overlooks.
When I got to the first overlook at 6:30pm, I saw that a pair of Norwegian ladies had set up a hammock and were watching the falls from it.
It was right by the edge so clearly they had no fear of heights.
So I couldn't watch from the same spot as before and I went to a higher spot right next to them to document the falls, which now revealed all of itself, including a smaller companion waterfall further upstream.
Since it was later in the day, I didn't get to see any bold rainbows like last time, but it was still beautiful nonetheless.
After having my fill of this spot, I also checked out the other overlook. Again, I had to be careful since my right knee was really hurting.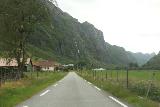 Finally, by about 6:45pm, I had my fill of the falls and headed back down. Just like with the Kjerag hike, I had to go back down steep slopes aided by chains. And with one inflamed knee, I had to take my time going down.
The same pair of Norwegian girls surpassed me on the way down after breaking up their hammock setup.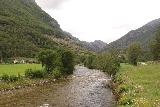 By 7pm, I was back at the car park, which was still busy. I'm guessing that most of the people's cars had to do with going further than Manafossen all the way to the Man Farm or something.
That's because the number of people I saw at the overlooks were far less than the number of cars parked here.
The drive back home was on the uneventful side. By 8:20pm, I was back at the apartment.
With such a long day, I looked forward to having dinner with Julie and Tahia, which consisted of reindeer that was made her own way so we didn't have to worry about introducing gluten and extra sugars let alone soy or other things we didn't trust.
By the way, this was something that was becoming quite a bit of a struggle when we were eating out. So that coupled with how expensive it was to eat out in general kind of made it a no brainer for us to do these self-catered things as we were continuing our epic redo of Norway…
Day 11 (June 23, 2019 – Odda, Norway): "The Other Side"
It was about 4:45am when I awoke. I was groggy considering that I didn't really sleep until around midnight.
These early wake-ups with less sleep were probably catching up to me, and it was kind of reminiscent of our first trip here in 2005, when I was even more sleep deprived than this time around!
Regardless, it took time for us to get all packed and ready to go.
So instead of leaving at around 6am as I had hoped, we ultimately got into the car at 7:15am.
I knew that today was forecasted to be pretty good weather, and that the weather was forecasted to deteriorate starting late afternoon tomorrow. It was definitely not going to be good weather the day after that.
In any case, we took the E39 north under a couple of tunnels that went under the water between islands (the tunnels were Byfjordtunnelen and Mastrafjordtunnelen).
Then, we had to catch a fairly lengthy ferry across Boknafjorden from Mortavika, which we got to at 7:50am. That ferry costed about 200 NOK.
After boarding the ferry at 7:55am, I tried to get some brief shut-eye but Tahia kept kicking my seat and being a nuissance.
We got to the other side some time after 8:20am, then we embarked on a fairly lengthy (and road fatigue-inducing) drive further along the E39 then onto the E134.
This particular route was never done by us before on our first trip. In fact, the whole experience in Stavanger and driving the E39 was not done either in our past.
The drive along the E134 alongside the southern shores of Akrafjorden involved numerous tunnels. But in the end, we ultimately arrived at the familiar stop for Langfossen at 10:10am.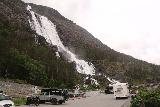 Like before, this waterfall had very satisfying flow. Now, it seemed like there were more signs for tourists at this stop, which had at least a half-dozen cars or so.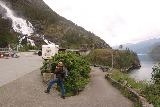 It felt a bit busier and more developed for tourism, but one thing I noticed that wasn't there was a sign talking about plans to regulate the stream responsible for this waterfall.
Whatever the case was regarding its regulation, it seemed to no longer be an issue since this falls was still here in all its glory.
Instead of just treating this as a roadside view, we took some time to go down a ramp towards some picnic tables with a different perspective of the falls we didn't have before.
There were also lots of interesting rocks by the picnic tables, which exposed the interesting geology of the area.
There were steps leading further down from the picnic tables towards the shores of the Akrafjord. Apparently, that would have been the launching point for cruises of the Akfrafjord, which a sign here said occurred daily.
I'm sure that would have yielded very satisfying views of Langfossen.
Anyways, I knew that the view of the falls from here left a lot to be desired. But from our visit last time, we also knew that there was a more panoramic view of the falls from the bus stops near the next tunnel further to the northeast.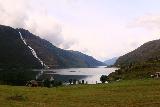 So we got back to the car at 10:45am, then we made a quick stop for the familiar roadside shots of Langfossen framing the contours of Akrafjorden.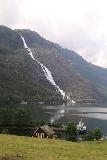 Unlike 14 years ago, the clouds weren't threatening to obscure the upper parts of the falls. Instead, even some sun was trying to break through the persistent thinning clouds.
Once we got our fill of this view, we then made a spontaneous stop for a camping area pointed to by the Rullestadsjuvet signs.
There was a familiar segmented waterfall spilling on the opposite side of a lake, and this time, we decided to go over to the camping site to check it out.
Indeed, there was a cafe here as well as a nice area to walk around on the shores of the lake, which I took advantage of to document this falls and some of the surrounding area in this hamlet of Rullestad.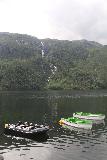 Before, we thought of this waterfall as just some other miscellaneous waterfall in Norway, but now with this infrastructure and persistent waterfall, I'm thinking it ought to get a write-up of its own (I would learn later that this waterfall was called Sagfossen).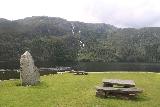 After having our fill of this cute hamlet at 11:10am, we then drove towards Skarre before heading north on the familiar Rv13 into Oddadalen.
I knew that there would be a lot of cars on this road, but it seemed like it was busier on this day than how we remembered it 14 years ago.
I guess you could say that in general though, because the world is more populated, and Norway wasn't the boutique destination it once was in the past.
Now, it seemed to be on the World's mainstream like the rest of Europe, especially with these bucket-list Instagramable attractions like Preikestolen, Kjerag, and Trolltunga (the last of which I was going to do tomorrow).
By about 11:25am, we stopped at an informal (and steep underside-scraping) pullout so we could check out Espelandsfossen again. This one seemed to get little fanfare compared to the next one we knew that will – Latefossen.
Like before, this waterfall threw up a lot of mist and it was difficult to capture without the lens getting wet.
After doing this falls, we then managed to score one of the parking spots right by the kiosk for Latefossen at 11:30am.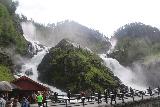 There seemed to be a constant stream of tour bus traffic so there were always loads of tourists by the parking lot, by the kiosk, and on the narrow bridge fronting the misty dual waterfall.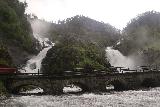 This time, I noticed a sign or a plaque commemorating Kaiser Wilhelm II, who apparently loved to go to Norway in his heyday leading up to World War I. The sign was in German, and most people seemed oblivious or uninterested in the signs let alone this memorial.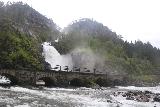 After getting our fill of the falls from the parking area, Tahia and I then went down to the rocks on the shores for a bit of a lower and more frontal perspective of Latefossen (which we didn't do before).
It was also quite a bit less crowded since the short descent was a steep one, and if you didn't have the right footgear, you better know where to make your steps or else take a nasty slip and fall.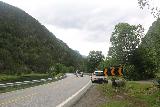 Once we had our fill of Latefossen, we then got back in the car at 11:45am and continued north deeper into Oddadalen.
Next, we saw Vidfossen, but unlike before, there were no more pullouts or spaces to park the car and get a closer look.
Instead, we had to drive all the way towards the bridge beyond Vidfossen and stop the car at an informal little pullout right by that bridge next to a concrete barricade for a different road (probably a bike path) leading somewhere else.
I then got out of the car at 11:50am, and walked along the Rv13 back towards the Vidfossen waterfall though I wasn't able to get as frontal of a view as before (mostly because I didn't bother walking that far).
The experience was a little less satisfying given the restrictions or lack of infrastructure to even enjoy this nice waterfall. And it started to make me wonder how many other roadside waterfalls would be similarly affected.
At 12pm, I was back at the car, and then we headed further north to get to the last two remaining major waterfalls in Oddadalen.
Ten minutes later, we ultimately made a stop at the familiar clearing by a closed off unpaved road leading up towards Tjornadalsfossen.
That followed a brief roadside stop to capture somewhat awkwardly the Strondsfossen. However, the more frontal view of that waterfall was no longer available as it was last time (where Julie and I were able to get down to the Sandvevatnet lake shores).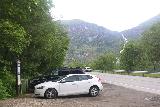 Indeed, it looked like they had erected walls alongside Rv13 so it wasn't even possible to find a shoulder to pullout and check out the waterfall over the lake.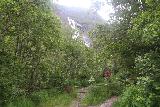 Regardless, I laced up my hiking boots and got going while Julie and Tahia chose to remain in the car.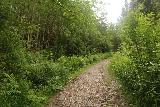 I had expected this to be a very short excursion like before (14 years ago), but I also noticed a sign talking about some kind of Hillfort here.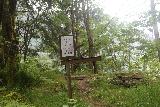 I thought that would have been an interesting thing to pursue so it was in the back of my mind as I was attempting to at least get to the familiar bottoms up view of Tjornadalsfossen.
Well, it didn't take long before I got to the first switchback of the pedestrianized unpaved road, and I saw that there was actually a sign saying Bygdeborg was merely 1.1km away.
I never recalled this being an option before, but then again, maybe because it was all in Norwegian and they didn't really have the tourism infrastructure for foreign tourists back then.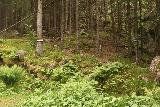 But I knew right away from looking at the condition of the trail that it wouldn't be easy as it looked to disappear right into a rather thick forest with red Ts spraypainted on some of the tree trunks.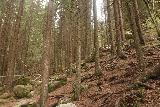 Anyways, I ultimately decided to pursue this fort just to see how else to experience this waterfall as well as see what kind of historical relic I might be able to spot.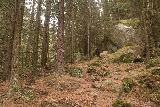 That said, I also knew that it was going to extend this excursion longer than the 15 minutes that Julie and Tahia were expecting back at the car.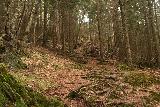 Regardless, I promptly climbed seemingly vertically on this trail as it was already taking a bit out of me. It induced beads of sweat, lots of heavy breathing, and that feeling of anxiety knowing that Julie and Tahia were waiting for me though I'd be taking longer than expected.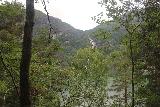 Eventually, I got to the top of the initial nearly-vertical climb, then the trail flattened out somewhat though it got to a point where I got lost and I couldn't find any red Ts anymore.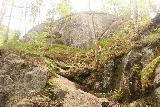 Just as I was about to head back down and give up, I saw a Norwegian mother and daughter doing this hike and getting past the part that stumped me.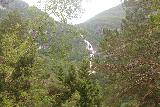 The trick was that there was a rock that had to be climbed. They clearly knew where they were going.
If there was a spot where DNT should be spray-painting a red T, it would be that rock!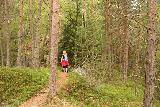 Anyways, after seeing where they went, I then went ahead and went up that rock, too.
Once up there, I saw a few informal paths leading to better views of Tjornadalsfossen from a more elevated perspective.
The first two spots I got these elevated views of the falls were unsanctioned. But there were enough trails of use to get me there.
That said, I wondered if over time, those trails will become more defined later on or if someone will start to put barricades on them or revegetation signs or something like that to discourage such views.
I'd ultimately arrive at the location of the Hillfort at 1:20pm, which was nothing more than just Nature with another view back at the Tjornadalsfossen.
There was what appeared to be a box with some kind of bird food or something inside it (was it a geocache?).
There was also another sign further down the hill that let me know that this was for sure the Hillfort location. You really had to play imagination to get understand how this was such a location.
At least that made me appreciate the trail I took to get up here because it was not easy, and I'd imagine any fortress being build by an army or Viking warriors or what had to do this.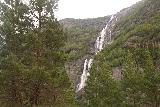 Anyways, I briefly chatted with the Norwegian mother and daughter who were chilling out at this spot.
They told me that they live nearby (that would explain why they knew where they were going). They also suggested that I should do the full 3.7km loop since hiking down the road would be far easier than going straight back down the trail we went up.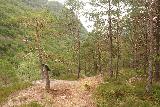 I then took this opportunity to ask them about the walls that were erected alongside the Rv13.
When I explained to them that I was here 14 years ago, they told me that tourists would use the peoples' yards as a toilet.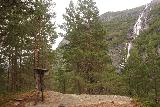 They found that to be very disrepectful, and that they took matters into their own hands by making these things less accessible and less convenient.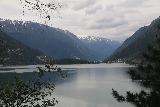 I could totally understand their point.
I guess this was one of those things where the Norwegian government could help out matters by putting more vista pullouts and sanctioned WCs to prevent visitors from treating property like a toilet.
That even explained why I saw more signage on this trail urging people to not use the trials as toilets. So much for Nature calling in Norway.
After parting ways, I decided that I didn't have the time to do the full loop so I had to go back down the way I came up. There was a sign saying "Saga" pointing back the way I was going.
By about 1:45pm, I managed to find a nice elevated view over Sandvevatnet towards Odda. Then, about five minutes later, I finally made it back down to the pedestrianized road.
I then went up some more seeing that there were a couple of false paths for Tjornadalsfossen. And the scramble to take happened to be just at the top of the steep road where there was a red and orange trash bag hanging on a tree.
At this point, I finally saw the familiar view of the Tjornadalsfossen that we had from before.
Then, after having my fill of the falls, I returned to the car at 2:15pm. Not surprisingly, both Julie and Tahia weren't happy with me as they waited in the car for nearly two hours instead of the expected 15 minutes.
They probably should have at least checked out Tjornadalsfossen to make the time pass a little more quickly.
Anyways, we then drove into the town of Odda and parked at the public area at 2:20pm. It looked like the parking was free here.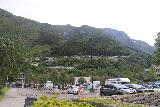 Then, we proceeded to have a late lunch considering that we weren't supposed to check in until after 4pm.
We wound up eating at this place called Smeltehuset, which served up some stuff that Julie should be able to handle as long as the sauces were removed.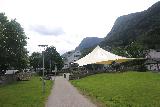 We ultimately ordered a reindeer steak (which was really nothing more than roast beef-like cuts of reindeer) as well as a local fish.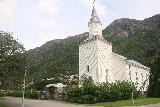 It definitely wasn't compliant food, but we knew that with small towns like this one, the choices were limited.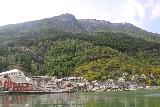 As we were waiting for the food to arrive, I took some time to check out the scenery around the Sorfjorden, which Odda sat at the very southern tip of.
The place was very beautiful, but I could also see why Odda could be considered ugly because of all the smoke stacks and industry that was definitely on display here.
It was a shame because this place had all the potential of being a world class fjord town.
Instead, it was more of a low-key spot that acted as a base for us so I could at least do the Trolltunga tomorrow.
So when we were done eating our food at 3:35pm, we then took some of the groceries that were still in the car (because nothing was open on Sundays so we bought frozen stuff last night) and then took that into the apartment where we promptly used the refrigerator.
Then, by 4:10pm, we were all settled as we had brought stuff from the car up to the unit.
At this point, Julie and Tahia were going to stay in the apartment while I was going to do a late solo hike into Husedalen. At least that was the plan.
So I left at 4:15pm and then I drove up the narrow Rv13, which definitely tested how well I knew the width of the rental car as this road seemed to be a major throughfare yet it was so tight in many spots.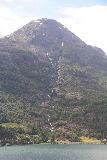 Indeed, it seemed like of all the changes we had seen in Norway, this road still kind of stayed the same. So it was narrow and it supported buses, lorries, cars, bikers, you name it! I remembered how much this road really initiated me into getting used to driving narrow roads in Norway.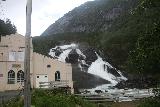 Eventually at 5:15pm, I ultimately made it back to the familiar Husedalen, but I saw that sanctioned parking was actually quite a ways back down the hill from the Kinso Kraftverk power station.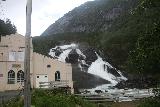 From looking at the GPS, it seemed to extend the hike by another 1.5km in each direction! So that would make an already long hike even longer (possibly an all-day affair). And that really sucked.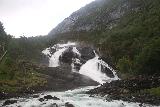 But on the flip side, I could understand why they did things this way because the narrow single-lane unpaved road was difficult to resolve if someone was coming the other way.
Plus, it was starting to rain in this valley so all these things conspired to make me not want to take on this hike at this time.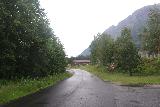 Besides, I saw a sign here now saying that getting to the third waterfall now required three hours! That was definitely time I didn't have despite the weather for today supposedly being better than in two more days when I'd have time to do this hike.
By about 5:35pm, after doing some scouting, I decided to head back down and instead head over to the mouth of Hjolmodalen.
I wasn't sure if I was going to do the Valursfossen hike, but I knew it was going to be late by the time all was said and done even if I didn't do the hike.
So by 6:30pm, I eventually got to the mouth of Hjolmodalen. There was a five-minute light as well a quite a bit of road construction going on in Eidfjord.
There was even an underground roundabout as well as a bridge over Eidfjorden (instead of a ferry that I remembered us taking the last time).
Plus, the town of Eidfjord looked way busier now than it did in the past. It was no longer the scenically located sleepy town by the fjord.
Anyways, I could see at the Hjolmodalen, there was actually signage describing the nature of the single-lane road that I knew was "scary" the last time we did it.
At this point, I decided to head back towards Odda noting what it would take to do this excursion now, and it would definitely not be a bad-weather excursion.
On the way back down the Rv13, I then managed to see the familiar Skrikjofossen, which was visible from the Rv13 only heading south. It was hard to see heading north on this road, which was why I missed it on the way up.
As I was pursuing a way to get back up to Elvedalen like before, I noticed that the road we took 14 years ago was now a pedestrianized road only for people and bikes.
After a rather fruitless loop detour past someone's farm, I then returned back to Lofthus via the Rv13 and stopped at a public car park by the Sorfjorden with a distant view back up to the back of the valley with Skrikjofossen falling visibly.
Then, I continued driving south when I saw a sign pointing the way uphill to the Hardanger Hostel B & B (or Hardanger Folkehogskule – possibly a school turned into holiday accommodation ala the Iceland model).
I wasn't sure where it would lead, but it seemed like it might be the way to Elvedalen.
Indeed, after a bit of hesitant driving up the steep and narrow roads, I ultimately returned to the familiar spot at 8:20pm.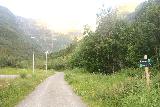 I saw there were signs for trails leading both to Elvedalen as well as another one that might actually go up to the Hardanger plateau with a possible look down at the Bjornabysket (Bear's Leap), which was a hard-to-see waterfall since it faced away from the rest of Lofthus.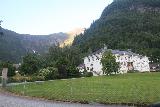 I wasn't going to do that hike at this time though this part always piqued my curiosity. I just wasn't sure how much of a time and energy commitment this was.
Anyways, I then continued the drive south back towards Odda, but along the way at 8:50pm, I stopped right by a tunnel so I could check out the AEdnafossen seeing that the old pullouts were no longer available.
This stop with a pedestrianized road that went around the tunnel seemed to be the only sanctioned way now to experience the many waterfalls across Sorfjorden with AEdnafossen being the main one.
With the fading light of the day, the orangish hues of the skies accentuating the silhouette of the Sorfjorden was a sight to behold.
Of course with my camera batteries running out, I had to make sure that I documented this experience properly before returning back to the apartment.
Eventually at 9:20pm, I finally made it back to the apartment, where we had a late dinner and finally called it a day.
But sleep would be short because tomorrow, I had to do the long Trolltunga hike, and I intended to get a very early start so I could at least score one of the thirty spots at the P3 at Magelitopp.
Indeed, lots on my mind on this night, but that was the last of the major hikes of this trip to do…
Day 12 (June 24, 2019 – Odda, Norway): "The Tourist Trifecta"
It was 4am when I awoke. With today being the big day to do the last of the big bucket list hikes (this time to Trolltunga), I made sure to obey the alarm.
Twenty minutes later, I was already dressed and ready to go. So into the car I went with a backpack full of snacks, 2L of water, and my usual GPS gear, camera, etc.
I also brought along rain gear just in case I was still out on the trail by around 5pm when the rain was predicted to come.
By 4:45am, the relatively light and uneventful short drive from Odda brought me up to the car park at Skeggjedal.
Right at the P3 gate, which didn't open until 6am, I found myself the fifth car in line (out of 30 for the day).
With over an hour to wait, I got out of the car and did a little walking around pretty much taking pictures of the P2 parking lot area.
The intent for getting this start and striving for the limited P3 parking lot at Magelitopp was to save myself 8km of hiking out of the 28km round-trip distance to hike to Trolltunga.
It was an epically long hike, but it was apparently one of the bucket list items that represented the third of such hikes (Preikestolen and Kjerag being the other two).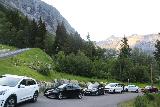 Of course, the car park pricing certainly reflected the highway robbery for the right to do such hikes as this time they charged 600 NOK (close to $80 USD) to park at the P3 while they charged 500 NOK to park at the P2 with an additional 130 NOK to ride the shuttle up to the trailhead by Magelitopp.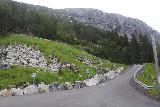 The cheapest was the P1 parking lot which was 300 NOK I think. But you'd only be forced to park there if there was no space at P2 or you had a larger vehicle with trailer. I wonered if there was a different shuttle to make up the insurmountable hiking distance had you started way down there.
Anyways, as I was killing time, I watched the P3 queue grow. By about 5:25am, I watched the queue grow to 19. It made me wonder if I could have slept in another 30 minutes before arriving, but then again, I might have taken the risk of getting shut out.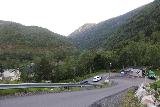 You just never know about these things and the extra wait was probably worth not doing the brutal 4km climb on 17 switchbacks that could easily be driven.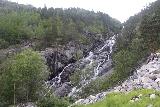 At least there was an attractive waterfall spilling right behind the P3 payment kiosk so that kept the scenery somewhat interesting during this wait. I also took advantage of using the WC at the car park.
Who knows if there'll be another one throughout the hike? And knowing how Norwegians view doing Nature calls as disrepectful (and especially given the popularity of this hike), I doubted there'd be any opportunity to do this throughout.
Finally at 5:30am, I saw two workers come down in one of the green shuttle bus vans, and they promptly set up the payment kiosk while one guy was busy explaining to each vehicle where to park while waving them through the boom gate one-by-one.
Eventually at 5:50am, I arrived at the limited car park for Magelitopp. Up at this elevation, it already felt like I was on top of a high mountain plateau.
I could see in the distance some waterfalls that might have spilled into Odda on one side. Meanwhile looking in the other direction, I could see another waterfall feeding one of the gullies that fed the dammed man-made Ringedalsvatnet.
That dam, by the way, was one of the reasons why I didn't bother doing this excursion the last time Julie and I were here 14 years ago. In fact, I wasn't even sure that this hike was available nor that it had already become as touristy as it was now.
Anyways, since I had already prepared everything (including putting on the hiking boots) back down at the P2 car park waiting for the P3 boom gate to open, I promptly got going on the long hike.
Initially, I had to go downhill to the first prior switchback. That was where the actual Trolltunga Trailhead was.
Then, the trail traversed a combination of dirt trail and granite surfaces, as it gently went uphill over a couple of bridges and roughly 1km towards some mountain huts in the distance.
Somewhere before the 2km marker (saying that there was still another 8km to go), the trail then started a brutally long ascent.
This was a real ass-kicker as the climb was relentless and it went over uneven terrain composed mostly of organized rock steps for decent footing.
Even though one worker I spoke with at Kjerag car park told me that the Kjerag hike was technical and difficult while saying Trolltunga was non-technical but very long, this climb certainly put this particular hike in the hard category.
It was definitely more than just distances involved here though it didn't seem to be technical as he stated.
By about 6:45am, I eventually made it up to the 3km marker, where it was at the end of the brutally steep part of the long climb. However, there was still more climbing to do over slick granite surface.
Looking back down at this lofty vantage point, I could see more people partaking in the brutal climb way down below. I was already passed by a couple of pretty fast and young hikers during this climb so I probably wasn't one of the first folks at this point any longer.
But then again, I did make frequent stops to take pictures and try to document the experience.
By about 7:10am, I made it to the 4km marker (still 6km to go). By this point, I was past the initial long brutal climb, including most of the granite friction pitch beyond the steep rock steps.
Most of the 400m ascent out of 1200m total was over, and the rest of the climb was going to be a mix of more gradual climbing with some short steep stretches, I'm sure.
At this point, I was traversing through moorish plateau with lots of alpine tarns and streams dotted throughout the exposed plateau.
The hiking was pretty uneventful as I passed the 5km point at 7:20am, but then the trail started climbing again. There was the first survival cabin not far from here as well as other mountain huts that I'd imagine were for workers.
Towards the top of this next stretch of climbing, the views of Ringedalsfossen in the distance became more dramatic as it sat at the very head of a man-made lake held up by a dam just upstream from the P2 car park.
I probably moved the slowest at this point as I tried to seize every moment I was getting views of Ringedalsfossen. After all, I wasn't sure how much more I'd get to experience this waterfall throughout the hike.
I've learned over the years that you take advantage of every opportunity now rather than punt for later because more often than not, circumstances prevent you from recapturing that moment. It's why I advocate being in the moment because such things are so fleeting.
So I made long pauses at 7:30am, 7:45am, and 7:55am. Each time, the views of Ringedalsfossen seemed to get better and better as the views became more direct while fronted by Ringedalsvatnet.
Anyways, I eventually got past the climbs yielding more and more of Ringedalsfossen and then the trail once again undulated (not really "flattened out") for a fairly long stretch.
By 8:05am, I passed a stream area where smaller mountain cascades flanked the trail while the trail itself involved walking on some kind of rocky stream bed. With hiking boots on, it was easy to get through such streams with no thought to getting wet.
I'd imagine with tennies on, they might get wet with a misstep.
At 8:10am, I managed to get to a spot with a full view of Ringedalsvatnet. Ringedalsfossen was still visible from this point.
Finally at 8:25am, I made it up to the second survival cabin, and this was at the end of another spurt of climbing.
Next, the trail followed more or less a flat stretch while flanking some power lines that I knew was probably responsible for the compromise of at least the Tyssestrengene waterfall, which this trail passed above.
When I approached what I thought was the Tysso stream, I saw there were a couple of dams holding up the stream. Downstream of the dam, it looked like there was hardly any stream. However, there were snow patches and I'd imagine if the waterfall was flowing at all, it would be due to those snow patches melting.
There was definitely no running water because of what this dam was doing to the stream.
Then, the trail started doing a gradual descent before dropping into a steeper one into a gully, which I knew was going to be brutal on the way back.
Right at the other side of the gully (which I'd imagine might have something to do with the stream resulting in the Tyssestrengene Waterfall but I tried and couldn't find a way to get a view of it on this hike), there was a steep climb involving some ropes to help with the slippery parts.
This was perhaps the only "technical" part of the hike, but it was nothing to the difficulty of the Kjerag hike.
After this next burst of climbing, I ultimately got to the 8km marker (or 2km left to go) at 8:35am.
Now, the hike pretty much went through another lengthy stretch of granite plateau hiking as there were definitely quite a few hikers going in both directions at this point looking for red Ts and rock cairns.
By about 8:50am, I got to the 9km marker (or 1km left to go).
And then, finally at 9:35am, I finally made it to the group of people gathered around the cliff edges to look down at the famous Trolltunga ("Troll Tongue").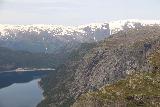 The view up here was quite breathtaking, but in order to try to recreate the views shown in the post cards, it looked like you had to be willing to brave the fear of heights and climb down to a very dicey spot (which I saw one person do).
No thanks.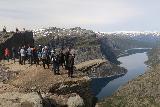 So I settled for a slightly more elevated spot and took pictures with everyone at other people taking turns at getting their moment standing on the tip of the Trolltunga.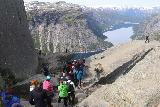 I did take a few moments to climb down the ladder and get into the queue which was only about a half-dozen or so people long at the time.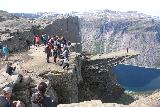 One person was kind enough to take a picture for me while I was on the tongue itself. And indeed, if anyone else was here without companions, there would definitely have to be some degree of coordination with total strangers going on.
Generally, most people were helpful and even offering to do such things.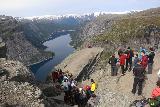 Finally, at 9:40am, I was having lunch with a nice view of Trolltunga and the procession of people getting their moment on the tongue itself.
It was getting a little chilly up here but the sun was also breaking through thereby causing a little more color to the scenery.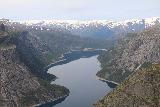 As I was enjoying the scene, there was one Russian lady who managed to pop a bottle of champagne right at the Trolltunga, and then she proceeded to remove her shirt and post topless.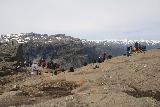 Eventually at 10:25am, I was done with lunch, which pretty much consisted of cherries, walnuts, and an apple plus water to wash it all down and dilute the sugars.
By this time, I saw that the queue as well as the population gathered around the plateau to have exploded. Now, in order to get your turn on the tongue, the wait grew all the way past the bolted ladder and onto parts of the viewing plateau itself.
Good thing I got the early start. I could totally see how some people wound up waiting for 4 hours to get their turn!
After a brief time climbing beyond the lookouts for Trolltunga, I managed to get one last look from the top back at Trolltunga and its queue. I also managed to get a different look at Ringedalsvatnet with some cascade that we must have walked upstream from way in the distance.
Still, I was always on the lookout to see if Tyssestrengene could be seen, but I still had yet to see such a thing (at least without a drone).
I did, however, see the outflow of the Tysso stream where it was supposed to feed Ringedalsvatnet.
By 10:40am, I finally got my fill of this spot and started hiking out.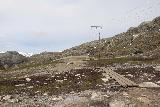 I was pretty much on a mission with very limited photo stops on the return hike. However, there was one moment where I was past the gully near the dam holding up Tyssestrengene, and I noticed (or was reminded of) balloons or orbs or something in the distance on some other plateau that I forgot to check out.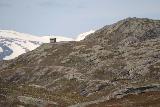 Could that plateau have my only shot at looking at Tyssestrengene?
Unfortunately, I was already well-past the gully at this point, and checking that out would mean backtracking and undoing the climbing I did on the return to get here.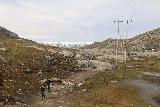 I made a decision at this point that I'd just keep on going with the return hike hoping that I wouldn't regret this decision. I kept telling myself that the falls wasn't flowing, but now I had this doubt in my mind that perhaps I didn't truly complete the experience from a waterfalling perspective without at least doing this.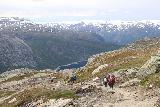 Anyways, there was nothing definitive about what I was missing out on. All I knew was that I did notice some people on the plateau. So clearly, it was a sanctioned hiking spot, but I didn't recall seeing much in the way of getting there (unless there was a trail junction with signage that I ignored or forgot about on the way to Trolltunga?).
Regardless, I continued on with the return hike as I also watched more people going up the other way as I was making my return.
It made me realize that I must have been one of the first people on the way out.
By about 11:35am, I had returned to the second survival cabin. At this point, I knew that most of the return climbing had been done and now it was going to be downhill for the most part.
After a fairly lengthy stretch on the plateau from the second cabin, I ultimately got back to the first cabin at 12:10pm.
Then, after another lengthy stretch of plateau hiking from the first cabin, I got to the start of the brutally long descent at 12:45pm.
It started with friction pitches before going down steep steps that were really jarring on the knees (reminiscent of how brutally hard the hike was on the knees for Preikestolen).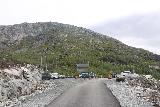 Eventually at 1:35pm, I finally made it back to the Magelitopp car park.
I was still hoping that I wouldn't regret not pursuing the plateau that potentially could have yielded a Tyssestrengene view, but at this point what's done is done.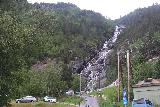 That last uphill stretch to go up the paved road to the P3 lot was brutal. But in the end, I got out of my gear, out of my hiking boots, and then finally drove down the road to the P2 parking lot.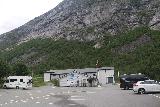 By about 2pm, I made it back down to the larger and more public lot where I finally got to use the WC. The entire time throughout the hike, I didn't once go pee and I didn't see an opportunity to do so either the whole time.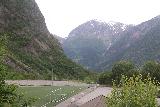 Then, at 2:20pm, I finally made it back to the Blue House in Odda, where Julie and Tahia were in the midst of having their lunch.
As I joined them and talked to them about the hike, we enjoyed a Thai food lunch since it was just downstairs from us.
However, we were reminded of how sugary eating out can be (especially when it came to Thai or Vietnamese foods) and I don't think Julie's gut appreciated this momentary cheat.
With still so much daylight left to go, I told Julie that the forecast was going to deteriorate starting tonight and would get worse tomorrow.
So she finally decided to go out to Voringsfossen, which I knew was a long drive from Odda out past Eidfjord and back, especially given how narrow the Rv13 road is.
One thing I realized when driving that road back and forth was that it was a heavily-used throughfare.
And even though it seemed like there had been lots of changes over the years with better tourism signage for things we only guessed at back in 2005 (e.g. the blue scenic icon symbol signs were now replaced with more descriptive signs showing the place names in brown) as well as no more manual tolls, more tunnels, etc., the Rv13 still remained narrow and quite dangerous to the uninitiated not acclimated with the bi-directional traffic on such a limited width road.
Anyways, we got back out of the apartment at 3:30pm and then did the drive way out to Mabodalen.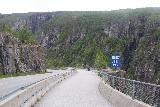 Eventually at 5:10pm, we finally arrived at the lower car park for Voringsfossen. To my surprise, there was no one collecting a fee for parking here like there was the last time we were here.
However, it looked like it just started to sprinkle and drizzle so we had to make our visit quick.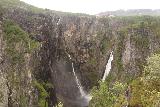 Once we got back to the familiar lookout, we could see that the falls still looked nice but it didn't quite have the volume (at least on the thinner and taller component on the left) as it did back in 2005.
There was definitely no rainbow at the base of the falls this time around. However, in the distance, we could clearly see more developed catwalks and lookout railings.
The rain got harder and harder the longer we tried to take our shots.
So after having our fill, we then retreated to the gift shop, where Julie and Tahia took a lot of time checking things out. During that time, I was looking at postcards, and I saw that it was actually possible to take a 90-minute or longer trail to descend into Mabodalen to reach the base of Voringsfossen.
I think that trail was closed due to landslide at this time, but it definitely opened up the possibility of doing such a thing in my mind that I had never considered up until now. Of course, we'd have no time for such an excursion even on a trip as long as this one.
Finally at 5:40pm, we got back in the car and then proceeded to drive up to the car park by the Fossli Hotel. This was the place where I remembered purchasing my good-luck Norwegian socks back in 2005 because I had completely forgotten to bring hiking socks on a hike to Valursfossen. So I wound up buying that lucky pair just so I wouldn't be hiking bare-footed in hiking boots.
Indeed, at 5:50am, we were back at the Fossli Hotel vicinity, and to my surprise, there also wasn't a person collecting a fee to park here as well!
With the rain coming down, we hastily went onto the catwalks where there were views looking right down at Voringsfossen. And unlike the last time, these railings actually allowed everyone to safely get good views.
I recalled the sense of vertigo that we got when there were no such railings and it seemed crazy now thinking how the best views required braving the fear of heights to get as close to the edge without falling to get that better view of Mabodalen and Voringsfossen.
It seemed like despite the weather, the overlooks still got crowded as more pushy tour bus groups would show up, but eventually we'd have our fill of all the overlooks here, and by 6:20pm, we were back in the car.
At 6:50pm, we were back in Eidfjord as Julie had fancied eating out in this area, but when she saw that the food served at the Eidfjord Fjell og Fjord Hotel restaurant didn't have compliant stuff, we decided to head back to Odda to self-cook and at least have control of what went into our own food.
Finally at 8:15pm, we were back at the Blue House. By this time, it was raining for sure though I wondered in hindsight if I could have snuck in a wet excursion to the Furebergsfossen, which wasn't far from where we were staying.
But with the long day that I already had, I decided against it thinking that I might be able to do it tomorrow…
Day 13 (June 25, 2019 – Odda, Norway): "Long Workday"
It was about 6:25am when I woke up. On this day, I intentionally ignored the alarms and tried to let my body recuperate from all the sleep-deprivation and activities from the entire trip leading up to this point.
As I looked outside, I could see that it was definitely raining pretty hard so it was good that we managed to get in what we could yesterday, especially the Trolltunga hike, which would have been miserable under such conditions today!
So with such dreary weather, Julie and Tahia decided to make this a relatively easy day. They were going to stay behind in Odda town while I was going to make it a day dedicated to waterfalling.
The forecast said that the weather was slated to improve at around late morning depending on the region. So I was in no hurry to get started.
And indeed, after having full breakfast with the family, it wouldn't be until 9:55am when I started to leave the apartment and go out solo.
It was very cold and still rainy as I got out to the car.
I was hoping that the forecast would be correct in that the weather would improve by the time I would arrive to the first waterfall for the day, which would be Espelandsfossen in Granvin municipality.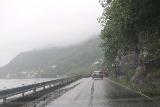 This was one of those waterfalls where I didn't properly see it the first time around. So I was hoping to correct that mistake this time around.
Anyways, the drive up the Rv13 was busy as expected, but it was also raining pretty hard.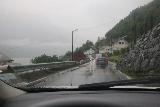 The Sorfjord was all fogged up so there would be none of the gorgeous fjord views with waterfalling tumbling as seen from across the way.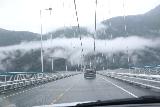 Eventually after taking the underground roundabout and following the path to Ulvik, I found myself driving across the new Hardanger Bridge (something that definitely wasn't there on our first visit as we had to ferry across Hardangerfjorden) though that came with the hefty toll price of 146 NOK.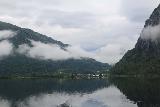 I was afraid that I'd have to do this three times (once to get back to Odda and once more to go back across when we head over to Bergen tomorrow).
Anyways, by about 11:30am, I found myself driving the narrow Rv572 east towards the lake Espelandsvatnet and stopping informally at a view of both the lake and the Espelandsfossen waterfall together.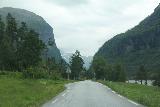 I wasn't sure if there were any legit parking spots and the Espelands camping probably had to deal with uninvited guests in the past so parking there was also out of the question.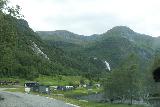 Regardless, I managed to find an informal "pullout" in front of someone's driveway where I did manage to put on emergency blinkers and then take a few shots before continuing on to closer to where the actual trailhead was supposed to be.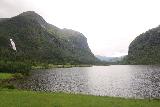 I had seen before that this trailhead could have the access blocked off as I had seen on Google Maps.
In any case, when I showed up at 11:30am, I was surprised to see that the trailhead car park was actually open! It was really no more than a small clearing and it looked like someone's little parking area.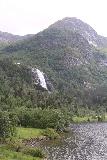 There was no signage suggesting that this was the starting point. However, I did see signage suggesting that a hike started from here.
Seeing that the terrain looked to be very wet and muddy, especially from this morning's rains, I had to change out of Chacos and put on hiking boots.
Once that was done, I then proceeded to go up the steep and informal-looking path uphill, which seemed to lead to some kind of cabin.
There were wooden red arrows on the ground pointing the way away from the cabin and further up the ridge towards the front of Espelandsfossen.
I'd ultimately get up to the front of the falls, but it was throwing up so much mist that it was difficult to capture adequately without potential damage to the camera.
So I continued to follow the muddy and informal trail of use to get beyond the spray zone and have a more angled back look at the falls.
By this point, I was able to look back towards Espelandsvatnet as well as some smaller ephemeral waterfalls tumbling around. It was quite the scenic spot to be sure.
It also looked like the trail kept climbing up, but I had no interest in doing that (though I was curious to see where else this trail would go).
Indeed, I was merely content to capture the falls and then head back down after documenting the experience.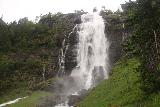 By 12:20pm, I was back at the car. I was quite surprised that I was the only person doing this visit as I had recalled the Rv572 was a fairly busy stretch of road between Granvin and Ulvik back in 2005.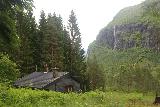 However, with the tunnels that pretty much bypassed this whole area, it seemed to have restored a sense of quiet to this part of Norway.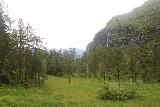 And maybe the landowners here wanted it to be that way (and perhaps why the trailhead was available to me as the landowner probably graciously allowed access now that the crowd problem wasn't as much of an issue – but this is just my theory).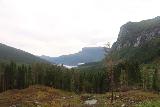 Next, since I had already driven past the bridge and paid a somewhat hefty toll for that priviledge, I decided to drove over to Skjervsfossen and see Skarvefossen or (Skorvefossen or Skorvofossen) along the way.
I knew those were roadside waterfalls worth a short stop.
Anyways by about 12:45pm, I made it to a pullout just beyond the bridge in front of the upper drop of Skjervsfossen. Somehow I had missed Skarvefossen near Spildo along the way.
I made a mental note to come back to that waterfall after having my fill of the Skjervsfossen.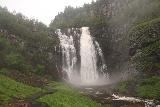 And like last time, there was a path leading closer to the upper drop of Skjervsfossen, which took me out of the spray zone and into a much calmer and easier-to-experience part.
I was hoping that with all the new developments that I knew was going on here that there'd be a sanctioned path going up then down the road to the switchback with the full view of the falls.
However, only the stairs going up was there, and it only led up to the brink of the falls.
So after having my fill of this upper falls, I wasn't going to go up the steps and instead, I'd drive up to the last switchback and look for a place to pull over.
So at 12:55pm, I did just that. Oddly, there were a bunch of folks with lawn chairs sitting at the switchback looking at me with smiles.
I wasn't sure if they were just chilling out over there, or if there was something else going on. But regardless, I said hi to them and then went about my business.
Indeed, this still was the best position to view Skjervsfossen as well as the valley below. And I still found it rather incredible that most people still don't realize that the best view was here and not the sanctioned spots.
Finally, after having my fill of this spot, I then went to the sanctioned WC and parking area at the top of Skjervsfossen. There, I checked out the overlooks, which included the brink as well as a cross profile view of the brink of the falls.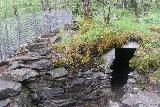 I also didn't realize that there were remnants of what appeared to be a mill (or at least the foundations of it) here. Along with signage, that made for a little more intrigue to this area than just another pretty waterfall.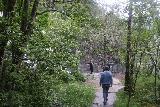 When I was done with the falls, I finally used the facilities once more, but this time, I came to realize that this was one of the prettiest public toilets I had ever seen.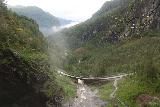 There was a window allowing you to do your business and look at the rushing stream below. Meanwhile, the stainless steel toilet looked modern as did the sink and soap dispensing facility.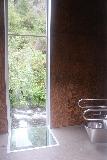 The ceilings were high and slanted.
If there ever was a display of public infrastructure being more like a splurge rather than the bare essentials, then this would be it.
I wondered if I'd get a chance to use the WC again if passing by again.
Anyways, at 1:25pm, I was back in the car. Then, I was about to drive back down the switchbacks below Skjervsfossen when a lady suddenly stopped me at that first switchback with those people in lawn chairs chilling out.
She told me that the road was closed. I asked her whether this just happened now and she said that it had been closed all morning (though I mentally thought how did I get up here in the first place if it had been closed?).
Anyways, that would explain why there were people sitting in lawn chairs at the top switchback. I guess the road was only closed in one direction, and I just happened to show up right when they closed.
So it was a good thing I got the view of the falls when I did.
Thus, I went back in the other direction and it turned out that the Rv13 was just over 1km away so it wasn't that bad of a detour. The only drawback was that I'd have to pay another road toll to go back through the tunnel on the way back.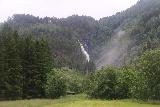 Then, I turned back onto the narrow road towards Spildo, where I finally managed to pull over at a bus stop and check out the familiar Skarvefossen at 1:45pm or so.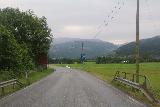 Once I had my fill of that falls, it just started to rain again.
Next, I drove back down towards Eidfjord again. By this time, I made the decision to pursue Valursfossen instead of the Husedalen Waterfalls given the added trail length for the latter that I simply didn't have the time for.
The weather definitely looked like it had improved in that area though the low-lying clinging clouds was evidence of the weather that was here just this morning.
I then proceeded to go up the Hjolmo Fjellvegen, and at first it didn't look good as low lying clouds caused fog in the lower reaches of the valley.
However, soon enough, the road climbed above the fog and did allow me to get a good look at Vedalsfossen at 2:40pm.
For some reason, this road didn't seem as scary as it did the first time we drove it back in 2005. But then again, I was a newbie in driving Norwegian roads let alone European roads in general, and there was a lot I didn't know or wasn't experienced with back then.
This time around, I was able to zip through this single-lane stretch (actually the whole road was single lane with a few pullouts to let traffic pass), and then I went up the switchbacks alongside the misty Berastoldafossen.
Eventually, I got up to the lower car park for Valursfossen though I didn't see any explicit signage for the falls here anymore like last time. It made me wonder whether this was no longer the official trailhead for it.
By about 3:05pm, I made it up to the uppermost car park at the end of the road right on the Hardanger plateau. There were many more cars up here than I had ever recalled back in 2005.
Indeed, it just seemed like Norway was no longer the boutique destination it once was 14 years ago. Now, it seemed like even remote spots like this were no longer secluded spots as it seemed like everyone knows about some obscure place.
Regardless, I did some scouting of this area for about 15 minutes before I drove back down to the lower car park and got there at 3:30pm.
At that point, I geared up and got going on the hike. My curiosity was really getting the better of me for this part of the hike because I never did it this way.
So I was wondering what I was missing out on.
Anyways, the hike began across a bridge over a rushing stream that was responsible for Berastoldafossen down below.
The trail was already on the steep and somewhat rough side marked with the familiar red Ts as it skirted by one of the mountain cabins.
Next, the trail followed alongside the river with a partial view over what appeared to be an attractive gushing waterfall in the distance. I knew this wasn't Valursfossen, but yet there really didn't seem to be a satisfying spot to get a fill for this intermediate falls.
As I continued on the trail, there were more potentially confusing spots as I really had to pay attention and to trust the red Ts when I found them.
There were some parts of the climb that seemed both muddy and quite vertical, and it made me wonder how this could be the official Valursfossen trail (though that might be why they got rid of the signs I saw for it from before?).
Eventually, I got past a few more cabins and I noticed more signage for places like Vivelid (which I realized after the fact that it was some kind of remote mountain cabin) as well as Asbyrget, Liset, and other random names.
I also saw a sign for Valursfossen in more improved DNT signage that definitely made the trails seem more legit than they did 14 years ago when we were hesitantly taking paths that weren't all that well signed.
I had to make a mental note that perhaps I should use this junction to take the upper trail that I had scouted out earlier in order to avoid the trail I had just taken to get to this point.
Once I was on the official Valursfossen Trail, the trail immediately got muddy and rough. It started to climb up a steep rock wall, which revealed a nice view of Hjolmodalen at the top.
I got there at 4:10pm, and at this point, the valley was filling in with clouds that seemed to be growing and getting worse (could the weather be getting worse while I'm out here?).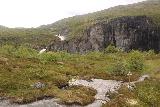 Next, the trail traversed a combination of muddy moors as well as up-and-down rock walls along the way.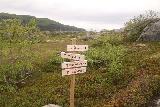 Julie and I remembered how hard this hike was in the past, and yet this trail seemed to be a bit harder than I remembered it. It definitely seeed more up and down that I had recalled.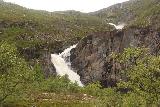 And some of the muddy spots looked like they couldn't be avoided. In one instance, my foot went in deep and mud seemed to be coming in over the top of the boot!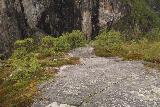 After what seemed like a long time of doubts and incredulousness at how this trail bordered on sanctioned scrambling as opposed to a hiking trail, I finally reached Valursfossen.
I had to descend a bit further down than my memory suggested, but then again, memories tend to fade and perhaps little details like that tend to be forgotten over time.
Unlike the first time Julie and I were here, the weather was quite a bit overcast.
However, like the first time, I was all alone. So what were all the other cars parked at the trailhead going for?
Anyways, it was getting late in the day and I had to get moving. So I wasted no time going back towards the trail junction, which I managed to do by 6pm.
Next, I took the longer trail to the upper car park, and I got back there by 6:20pm.
Finally, I walked down the switchbacks on the road and eventually made it back to the trailhead that I parked the car at by about 6:40pm.
On the drive back down, I managed to get a few views of Vedalsfossen's top along the switchbacks alongside Berastoldafossen. There were a pile of pocks at the best switchback for views of Vedalsfossen though it was nothing official.
Once I was back on the main roads, I then decided to make one last detour towards Skytjefossen or Skykkjedalsfossen.
I was curious about whether they didn't allow driving to the falls anymore or not. But I had to see for myself.
Along the way as I drove into the scenic Simadalen (seeing god beams over the Hardangerfjord en route), I then found myself driving an unpaved stretch of road with grass growing in the middle.
I still wasn't sure if this unpaved part was sanctioned driving, but I pressed forward.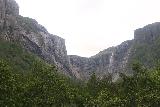 Eventually at 7:40pm, I finally made it to a tiny informal pullout beneath power lines right in front of the familiar waterfall.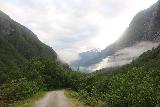 Just when I took some time to document the experience, I saw that clouds suddenly rolled in and started to block the views of the falls just above me.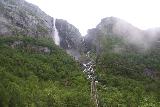 The clouds continued to get worse and worse before the falls was completely covered up and didn't seem like they would leave any time soon.
So that pretty much ended my brief visit though I did check out what was at the end of this road, which was basically a dead-end in a clearing.
There was someone camping here, and I wondered if this was the better view of Skytjefossen without the ugly power lines in the way.
Anyways, by about 7:45pm, I started to drive back to Odda.
As I was going back down the Rv13, the weather once again seemed to be improving and the scenic Sorfjorden seemed to reveal itself and its waterfalls once again.
By about 9:30pm, I finally made it back to the Blue House in Odda again, and it was just in time for one last dinner at our apartment before heading to Bergen tomorrow.
I did fancy a late after-dinner out-and-back excursion to check out Furebergsfossen, but Julie talked me out of it citing that I need rest so I can drive fully alert.
So with that, this long workday of waterfalling was over. And like with the Tyssestrengene yesterday, I wondered if I would regret not fully re-visiting Furebergsfossen nor the Husedalen Waterfalls on this trip.
I guess it's not always perfect no matter how well you plan your trip. And I'll just have to live with the results.
Regardless, it's now time to look forward and try not to look back…
Day 14 (June 26, 2019 – Bergen, Norway): "Love and War"
It was about 5am when I had awoke, but I had intended to get up at 4am. Apparently, I had overslept the alarm.
That wasn't good in terms of trying to leave Odda and allow ourselves more time to check out waterfalls along the way to Bergen let alone the city itself.
After getting all packed and ready to go as well as having a last full self-cooked brekkie before leaving, I finally managed to go over to the sentrum parking lot to retrieve the car then park in an ad hoc (and illegal) manner inside the private parking area since all the Blue House parking spaces were taken up last night.
By 6:40am, we finally left Odda and went about our day's activities en route to Bergen.
Like with other mornings, the weather was wavering between cloudy skies and some odd bouts of rain. This seemed like par for the course as far as weather in the Norwegian fjords were concerned.
I guess from our trip back in 2005, our experiences must have been the exception rather than the rule when we went almost the entire 2nd half of the trip with beautiful sunny weather!
However, as far as the forecasts were concerned, we should be expecting rain almost every single day. And so far, the weather forecasts have been pretty spot on. So this wasn't looking good as far as our hopes of experiencing the Lofoten Islands with good weather.
Anyways, with such a cloudy and semi-rainy morning, which I knew would improve as the day went on according to the weather forecast, as long as the bad weather was happening while we were driving and the roads weren't closed, then we'd be in good shape.
Sure enough, as we were cruising along the roads (at least the best I could with this being like the 4th or 5th time I had driven up and down the narrow yet highly-trafficked Rv13), we finally arrived at the Skjervsfossen WC at 8am.
After my experience with this place yesterday and knowing that we all needed a potty break (with WCs few and far between), at least I knew where it was and I knew that Julie would appreciate the fancy interior.
Anyways, we had no intention of revisiting Skjervsfossen and it was only 1.2km from the Rv13 (which was now a pretty wide two-lane road). Besides, it was very foggy and visibility was poor.
Once we did our business (and Julie was getting a kick out of this place while taking pictures; one of the finest public toilets ever), we then continued driving towards Voss and then to Tvindefossen to take advantage of the cloudy weather.
After all, I knew that the waterfall was perfect for long exposure photographs. The only complication with this waterfall was whether the clouds would persist and impact the overall experience by blocking the visibility of it (thus making the detour to the waterfall a useless endeavor).
I guess we won't know until we get there.
Eventually at 8:30am, we made it to Tvindefossen.
We were the only car parked at the butikk there though there was one other couple visiting the falls who walked over from the nearby camping.
So for a few minutes, we had the whole waterfall to ourselves and I even started using our tripod for the first time on this trip.
However, roughly 15 minutes later, a tour bus just showed up and I knew at that point, the tourist bus madness would begin.
Sure enough, after getting our fill of the falls (or what we could of it in peace), then we had to deal with the mass of humanity descending upon the falls and getting in the photos.
So my mentality shifted from nature shots into using these people as subjects to communicate what the scene was like.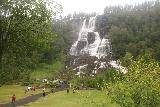 Then, another tour bus showed up. The first one was apparently a Korean bus tour. The next one was a Spanish one since I heard the language being spoken.
By this time, Julie and Tahia were briefly checking out the gift shop though Julie did have to spend 10 NOK to go use the restroom one more time.
Meanwhile Tahia and I knew that we could return to the Skjervsfossen WC one more time since the GPS had us return back that way in order to take the Fv7 towards Norheimsund from Granvin so we could pursue visiting Steinsdalsfossen.
Anyways, we left Tvindefossen at 9am and then we managed to return to the Skjervsfossen WC at 9:25am. It was still foggy over there.
After doing our business, we then followed the GPS's instructions and took the Fv7 after leaving the Rv13 near Granvin.
I'm sure the tolls were adding up by this point.
The Fv7 was like the Rv13 in that we were on narrow roads that supported bi-directional traffic. However, buses and trucks also shared the road so it created a few tense spots.
It was still raining on and off and the clouds were still hanging low.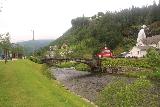 But eventually the roads started to widen as we got closer to the town of Norheimsund, and then by 10:45am, we arrived at the familiar Steinsdalsfossen.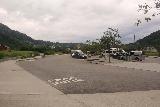 Unlike the first visit 14 years ago, this time, the gift shops appeared to be on the other side of the bridge over the stream responsible for the falls.
There was also a fairly-sizable dedicated car park with a visitor center further east of the bridge.
It definitely felt more legitimate this time around with good signage as opposed to last time.
Not surprisingly, there were still also lots of tour bus traffic here as I knew this was a popular one for the convenience of dropping off dozens of people at a time.
Anyways, we wasted no time walking towards the falls though I went up to the backside of the falls first.
Although the skies were bright, it was still cloudy. So that kind of wreaked havoc on the light meter when taking pictures.
So after what seemed like some 20 minutes or more, I was pretty much done documenting the falls from its backside as well as from a viewing platform on the other side of the falls.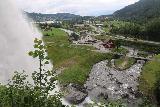 The whole time, I was waiting for Julie and Tahia to catch up to me, but they never bothered to come up after all this time.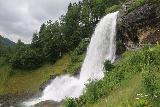 Eventually, I went down to join them and we took our photos besides and on the bridge itself. There also seemed to be a picnic area with memorial to some astronomer by the picnic tables there.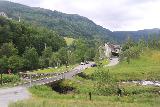 This picnic table area seemed to be where the old souvenir center there as well as the area for tour buses that I had recalled from before.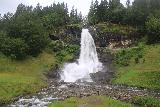 Either my memory had faded me or things did indeed change over the years. There was even a residential area nearby that I didn't recall was there before.
Regardless, once we were done taking pictures, we then went into the gift shop since Tahia seeemed to be drawn to them. Unfortunately, we noticed some people were gathered around some woman who was laying down in the grass.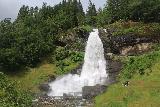 Apparently she might have collapsed as she was touring, but I knew something was off when the people around her were calling around for anyone to ask for help.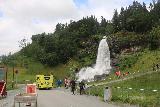 So while all this was going on, after another 15 minutes or so, the yellow ambulanse showed up and now sanctioned experts showed up and were in control.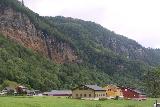 Only when that happened did we finish our tourist mode and then we returned to the car at 11:45am.
I did find it interesting that dozens of other tourists were completely oblivious to the scene and kept on going on as life the ailing lady wasn't there.
Next, we drove further west on Fv7 through some tunnels and past some bigger waterfall alongside the road that we couldn't pull out for. I knew that one was there, but I think Julie managed to help me take a picture of it as I was driving back on our first trip (either that or we were successful in finding a pullout which we didn't see this time around).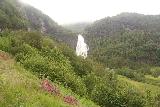 Finally at 12:05pm, we exited the Fossenbrattetunnelen and pulled over on the opposite side of the road at an elongated pullout just like before.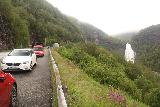 But unlike that first time, there were many more cars there than just the odd car or two the first time. Of course, the reason why people would stop here was to visit Fossen Bratte, which translated to mean "the steep waterfall".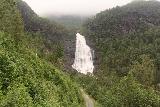 I also noticed that there was quite a bit more signage about it than before when it just kind of came up on us suddenly when we were heading east on the Fv7 en route to Steinsdalsfossen from Bergen back in 2005.
Regardless, we got out of the car and we had intended it to be a short visit (or at least that was Julie and Tahia's expectations), but I was determined to really get a sense of the significance of this place.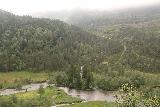 After all, after that first trip, I had read that there was some kind of WWII thing going on here. And I was keen to learn more.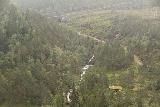 So when we walked towards the WC building there, Julie and Tahia maybe walked a few steps down the trail going down towards the base of the falls before turning back.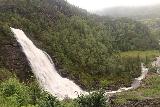 However, I took the upper path signposted for Krigsminne, and we didn't know the meaning of the word at the time though I suspected it might have something to do with "war" since I knew the German word for war was krieg.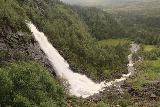 In any case, I was well up the gradual uphill path hugging the cliffs when Julie yelled in my direction that krigsminne translated to mean "war memorial", which was what I kind of suspected.
That hastened my steps further and along the way, I got alternate views of the impressive Fossen Bratte, and see for myself just exactly how steep this waterfall was.
Once I got up to the top of the falls, there was a cannon here as well as some signage explaining what happened regarding the fighters who fought an overly optimistic (and hopelessly suicidal) mission for the soldiers who attempted to delay the German advance towards total occupation of Norway in WWII.
The names of the brave soldiers who gave their lives here were immortalized for as long as the monument stood and people can remember. There were also flowers planted near the signage as well as nice views back in the direction of the farm closest to the bottom of the Fossen Bratte.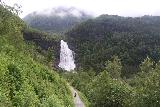 After having my fill of this spot, I then returned to the WC at 12:35pm before descending the even steeper gravel path down to the base of Fossen Bratte so I can finally get better documentation of this falls as compared to 14 years ago.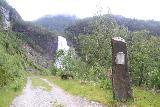 I also knew that along the way, I'd pass by another memorial. This time, it had some verbiage in French though I'm sure that over the years, the signage had worn and now it's difficult to read.
Someone on the website told me that this plaque had something to do with forbidden lovers who somehow lost their lives here over the falls.
So in either case, tragedies took place. However, one was for war and the other was for love. So I guess you could kind of think of this waterfall as the "Love and War Waterfall".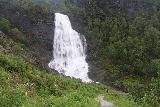 At the bottom of the falls, I got towards the wet and slippery rocks and right into the mist zone. There was one young couple down here, too, but the dude scrambled higher up on the rocks perhaps for a different vantage point or something.
I was ill-equipped for that and was content just taking the typical frontal views of the falls.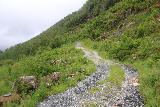 When I got back to the car at 12:55pm, Julie and Tahia (not surprisingly) were upset at me for taking so long. Still, I now left the waterfall was a better sense of its significance and thus I figured it was worth the momentary chewing out knowing it might be awhile before we would return to Norway again (if ever; you just never know about these things).
Next, we pretty much followed the heavy traffic caravan of cars and trucks on the way to Bergen. And eventually at 1:50pm, we finally arrived at the Hotel Ole Bull, where we were checking in and dropping off the luggage for storage since our room wasn't ready for at least another hour (check-in was technically starting at 3pm).
So once we accomplished that, we then drove to the nearest Q-park car park, and that was where we finally left the car at 2:15pm. However, I saw that the parking rates here were on the order of 55 NOK every 2 hours, and so this could add up really quick!
By my estimation, 24-hour parking would cost us on the order of $80 USD or something like that. So it was going to be a painfully expensive parking here, but I guess the price of staying this close to the sentrum of Bergen was justified.
Anyways, we walked right down the familiar pedestrianized zone with some kind of squarish fountain with people facing outwards (we saw that fountain on the first trip and I learned later that it was the Seafarers' Monument), and then we walked through the atmospheric Torget (the square; though it was really the famous fish market) before finally arriving at this place called Bryggeloftet at 2:35pm.
Julie was drawn to this place because apparently they had gluten-free options for mains, and that seemed to be hard to come by in Norway.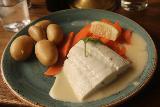 This was especially the case since gluten-free doesn't necessarily mean excess-sugar-free nor does it mean soy-free nor other non-compliant things as part of the plant paradox regimen that Julie had to follow that it seemed not many people around the world have caught on.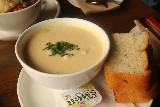 We each wound up getting different kinds of fish soups while Tahia got a kid-menu halibut.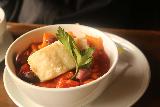 The food was pricey for lunch, but it was still manageable albeit not terribly filling.
Still, we were done at 3:40pm, and then we promptly walked back through the atmospheric fish markets at Torget.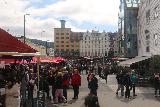 Then, we walked around the harbor taking pictures of the Bryggen (the famous old houses there) from across the waterfront as well as Julie and Tahia doing some grocery shopping at a very small Rema 1000 there.
I also managed to get a map and some info from the visitor center there, where I took a number, waited my turn, and then got some basic questions answered by the young lady who helped me.
It seemed like that they answer so many of the same questions that I could kind of sense the disinterest in her responses. But at least I now had a better sense of the city and how we would get onto the Hurtigruten on Saturday afternoon.
Eventually after having our errands done and having food to self-cater back at the apartment, we then finally checked in and got settled in the apartment at 5pm.
Once we were unpacked and all good to go at the apartment, Julie didn't feel much like cooking on this night. And so she wanted to go back to Bryggeloftet for dinner.
I knew that this was going to be a splurge, but we hadn't really had such a dinner on this trip.
So by 6:10pm, we headed out of the apartment and walked into town.
Twenty minutes later, we had returned to the Bryggen vicinity and entered the Bryggeloftet og Stuene once again.
This time, we sat towards the back of the atmospheric establishment and proceeded to have reindeer, lamb, and wolfish (i.e. the scary-looking catfish we saw at the fish market).
The food was good, but we certainly paid up through the nose in order to pay for all three mains and the gluten-free bread orders.
Once we were done with dinner at 7:50pm, we then walked off a bit of the dinner by strolling through the crooked and narrow alleyways hidden behind the front facade of the famous houses of Bryggen.
It was nice to visit those areas at this time because most of the tour bus crowds and cruises have left for the day.
So it made for a more peaceful and less hectic experience. However, a lot of the exhibits and shops were also closed at the time, which made for a bit of that classic catch-22.
You never can really have it all. Even if it you did, word would get out and it would get busy and unaccessible soon thereafter.
It was a short visit strolling around the Bryggen alleyways, and eventually by 9:30pm, we returned to our apartment for end off this day.
We also took our time returning to the apartment as Julie and Tahia kept visiting shops and cafes along the way.
We were all exhausted from the day's activities, and I personally had been out cold lying in bed. So I didn't even get a chance to do my night time routines of showering and brushing and flossing before sleeping.
That didn't happen until after midnight when I got up from my spontaneous sleep and finally did the hygenic routines before going back to sleep.
I guess all that sleep deprivation combined with my age (I wasn't the young buck I once was when we were first in Norway 14 years ago) was certainly catching up to me…
Day 15 (June 27, 2019 – Bergen, Norway): "The Essence of History"
It was 5:30am when I awoke. Apparently, I once again overslept my alarms but this was intentional considering that I didn't have to drive anywhere on this day (however I knew I'd be paying up through the nose in parking fees at the Q-park).
Having woken up in the middle of the night to shower and brush, I guess the cumulative hours of sleeping on this night had to have been at least over seven hours, which was the most sleep that I could recall getting on this trip (except maybe when we stayed at Gamlestan in Stockholm on that first jetlagged night).
Julie apparently didn't feel much sense of urgency in getting up because she got up at around 7:35am. So whatever plans we'd have of touring Bergen wouldn't be happening until later this morning.
The hope was that upon a Rick Steves recommendation to do the Bryggen guided walking tour, maybe we should try doing the 10am one so we'd have the rest of the day to do Mt Floyen via the Floibanen and perhaps re-visit some of the museums that came with the price of doing the guided walking tour.
However, we couldn't pre-book this tour since we're trying to do it last minute on the day of, and we wouldn't know if we're shut out from the tour being sold out today until the office opens at 9am.
In any case, we'd learn that the tour wasn't sold out and we could pay at the door as long as we're in line 5 minutes before the tour began.
So after having brekkie and getting dressed, it wasn't until about 9:40am when we finally left the apartment.
That didn't leave us very much time to get to the Bryggen Museum in time for this tour.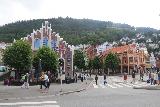 So we made a beeline right through the familiar walking streets and past the Torget then past the front facades of the famous houses of Bryggen.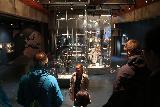 Eventually at 9:55am, we found the proper museum entrance right in front of the Radisson Blu hotel and there we waited in a fairly long line of other mostly English-speaking people also waiting to pay and be part of the same tour.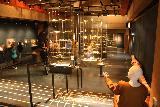 Julie and I paid our 200 NOK per adult and Tahia was free.
Shortly after the scheduled 10am, the tour began with our tour guide apparently a last-minute replacement or something as apparently she had just learned that she was giving this tour.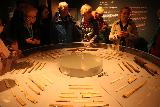 The first thing our guide did was to hand out blue-tooth hearing aids, which allowed us to hear her without her needing to shout.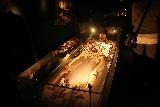 Then, she led us downstairs into an exhibit on the lower floor where apparently parts were once under water (hence the walls painted blue to symbolize this).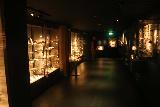 Down at this level, there were numerous excavated artifacts and trinkets showing things that were perfectly preserved because of the lack of oxygen levels when these things were buried beneath layers upon layers of development.
I forget the phenomenon that caused the oxygen levels to go away, but it was currently happening and causing the famous Bryggen structures to sink (thus causing the places like the original Hanseatic Museum to be closed for years).
In any case, the tour guide was good and she was doing a good job explaining a lot of how Bryggen came to be and how these items were excavated as well as how they told the story of the area from the 1100s through the rise and fall of the Hanseatic League and up until modern times.
She said this underground exhibit just opened yesterday, which was rather extraordinary.
Next, we walked around the exterior of the museum where we saw the St Mary's Church as well as the red brick ground demarcating the size of the excavation area. Some of the excavation work remained in progress as we could see in one section through the windows underneath the foundations.
Then, we briefly saw the backside of Bryggen (which was already being inundated with tourists) before we went around to the front.
There, our guide explained how there were new facades made to look like the rest of Bryggen though they had straight walls and they were meant to be store fronts for the Radisson BLU.
And we could clearly see how the old school houses had crooked door ways and some houses were leaning against each other. Those imperfections definitely held a charm all of their own.
Next, the tour guide then took us into a not-for-public part where there was the foundations of the old town hall, which sat beneath a street.
We went in there and saw a very helpful video showing how Bergen developed over the years, and how the excavations told such a story. It definitely helped us visualize the very things that the tour guide was saying to us.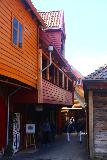 We also learned about the Hanseatic League, how it got started, and how it diminished in importance.
It began as a conglomeration of countries for the purposes of gaining trading favors by banding together to form a trade association. She said it was not unlike the European Union that was going on today.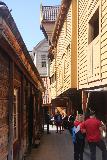 Perhaps more fascinating was how the League of Nations fell in importance as there was greater nationalistic sentiment and less emphasis on cooperation between other countries.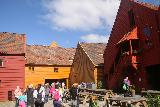 In a way, it was like history was repeating itself with the EU as we could see it was being torn apart as there was a rejection of the EU due to higher cost of living, more cheap labor replacing incumbent labor, and thus you get things like Brexit, the Scandinavian Countries not joining the EU, Switzerland not joining, and troubles with Greece, Italy, and Spain as far as them pulling their weight in the organization.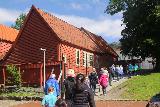 When we were done seeing the video and getting a closer look at the foundations, we then went back to the back of the Bryggen area where the guide showed more details of some of the construction of the old houses.
While most of them required re-work, it took the efforts of Norwegians with an interest in learning the old ways of doing things and applying them themselves did they properly do the restoration work.
In fact, she said there was a Norwegian TV show about this very thing, which drew more young Norwegians into the project and turned into a pretty successful campaign. And now we can see the fruits of their labor in the old Bryggen.
Finally, the guide took us to the Schotstuene, which were the assembly halls. While there were already other tour groups occupying the largest of the rooms, we went to one of the other rooms to learn a little more of what went on here.
Eventually by about 12pm, we were done with the guided Bryggen walking tour, and we were glad that we had done it. We were especially glad that we had fit in our own tour of Bryggen the evening before, which allowed us to appreciate the tour guide narrative even more this time around.
We then slowly walked back across the front of the Bryggen towards this Ethiopian restaurant called Naomi, which happened to be pretty close to the Torget (the famous fish market on the harbor of Bergen).
It turned out that the food here was way more affordable than the place we ate at yesterday, and they served up gluten-free bread (which was fermented and you use it to pick up the food with your hands).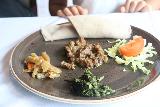 I ended up getting some kind of spicy dish in a very big plate with two kinds of lentils, cabbages, spinach, and a beef.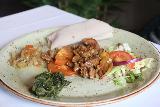 Julie got some kind of beef lunch special dish that wasn't as spicy, and Tahia got a specially made kids lunch meal with a non-spicy beef meat as well.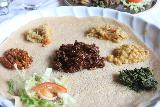 Needless to say, the explosion of spices and flavors were very welcome, and it really hit the spot. I don't think anything else we had eaten on this trip came anywhere close to being as flavorful, and it kind of rekindled in us a desire to give another go at Ethiopian food back at home as long as they do the bread gluten-free.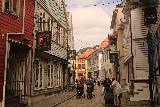 At 1:25pm, we were done eating. I think Tahia really enjoyed being able to eat with her hands, and I'm pretty sure that anything else we eat throughout the rest of this trip will be bland by comparison.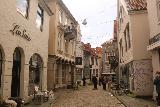 It made us wonder why we didn't find any Indian food in Norway so far.
Anyways, we then walked towards the Floibanen to do the long-awaited ascent to its summit for a classic view over the Bergen sentrum and harbor. We waited in a long but quickly moving line at 1:50pm.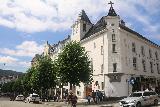 We managed to get the bottom seats for the funicular ride, which allowed us to take pictures as we were quickly ascending to the top of Mt Floyen.
Once we were at the top at 2:30pm, there was a large crowd of people checking out the views from a stadium-like steps arrangement before reaching the railings.
Of course the railings were busy with people busy taking selfies or people shots as well as just taking the breathtaking panorama of the busy harbor itself.
We saw one of the Hurtigruten ships pulling into the harbor, and we instantly saw how small that ship was compared to the giant cruise ships that had also pulled into the Bergen harbor.
After having our fill of the views, we then went over to the playground area to let Tahia play in there for a bit.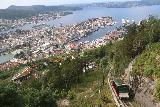 There were some rather unique apparati over there like a slide that only consisted of two parallel slanted bars in slide formation but nothing to sit on. I guess you were supposed to slide with your armpits down that "slide".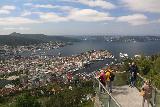 There was another one where kids could try to spin on a slanted rotating thing where it was hard for kids to hang on as it required being able to shift weight as the thing was spinning.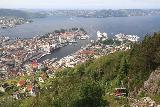 Tahia had a hard time with that one though there were some of the older kids who managed to figure that out.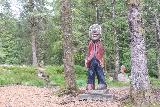 Since we had bought a one-way ticket up to Mt Floyen, we had to hike the 3km back down to the city center.
There were many ways to get down there, but I did manage to pick up a turkart (tourist map) showing the hiking options available. One of the things that caught my attention on the map was Starefossen though it looked a bit out-of-the-way from what we were prepared to do on this beautifully sunny day.
After climbing up and walking past a Trollskog (Troll Forest), we then took one of a pair of descending paths going through a paved but well-shaded forested area providing welcome shade.
We were quite high up but the downhill hiking wasn't difficult as we at least had gravity to help with the momentum.
Eventually, we got down to a part where the descent then followed along a combination of sidewalks and pedestrianized slanting paved roads.
There was one really long slide that Tahia really liked to do, and she liked it so much that she went up and down it three times.