Day 24 (July 6, 2019 – Alta, Norway): "Night Rider"
It was about 6:55am when I awoke. I had intentionally slept in on this day knowing that we were intending to have a very light sightseeing day.
However, the evening would be a different story, because the forecast called for partly cloudy skies at around midnight.
Hopefully, the forecasts were on so we might have a chance to catch the midnight sun before leaving for Narvik.
The problem with this plan was that we were going to be quite sleep-deprived as it was at least a three-hour drive from our accommodation to Nordkapp.
Would it even be worth the drive to make it up there?
Anyways, as we were tending to our daily hygenic chores, Julie's phone seemed to indicate that there had been another strong earthquake around LA county (more like Ridgecrest, which was closer to Olancha and Trona).
The latest earthquake was said to be 7.1, which was even stronger than the 6.1 that was measured a couple of days ago. So that suggested that the first earthquake was the foreshock to the main shock.
After Facetiming both Julie's Mom and my mom, it seemed like nothing bad had happened regarding home.
So with that, we had a fairly lengthy breakfast and we didn't leave the cabin until about 10:15am, which was a very late start to the day.
For now, the rain from earlier this morning appeared to have stopped. Still, with the weather looking not so nice here in Alta, it made me wonder when the clouds would be clearing so we might have a chance to experience the midnight sun tonight.
It took a while to drive back through the town of Alta given the combination of distance from the Alten Lodge as well as the numerous 50km/h and 60km/h speed zones with traffic cameras.
So it wouldn't be until about 10:45am when we finally arrived at the Alta Museum on the far western end of Alta. There were already two tour buses that pulled up here at the time.
After paying about 280 NOK for all of our admissions, we then proceeded to check out the inside exhibits, which contained a lot of the preserved artifacts, including faded rock art that was protected in glass.
The exhibits seemed to then go through from the stone ages towards more 17th-19th centuries before covering the more modern aspects of Finland and the Sami culture in the downstairs exhibits.
There were also interesting displays regarding the World's Most Important Room (i.e. seed banks stashed away in Svalbard to defend against the inevitable doomsday likely from Global Warming or pandemics or world wars).
Once we had our fill of these exhibits, we then went to the auditorium, which displayed a lot of the Sami fashions.
Then, we went outside and walked to the closer exhibits on the left side. There, we saw bright red rock art, which were painted.
Julie and I were skeptical how rock art could be so bold and well-preserved, and we suspected that there had been some modern intervention to bring out the rock art (and thus make them photo friendly).
After getting through the painted rock art, we then walked towards a Lavvu (i.e. a Sami teepee) where there were a couple of young workers showing off some reindeer hides as well as some tools from Sami culture.
Tahia went in there and saw some of the crafts that she could take a part in making.
And indeed, for 50 NOK, we let her converse with one of the young workers who taught her how to make a small Sami purse, which was out of fish skin.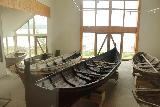 During that time, we also conversed with the worker, who happened to be Sami.
We learned quite a bit about how the Sami were kind of like what Eskimos or Inuit would be to North America. Either way, the cultures were primarily nomadic given the harsh conditions.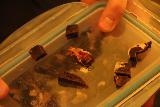 We also learned that the bay the museum overlooked was translated to mean "seal skin bay" or something like that.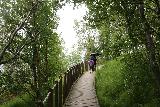 He even gave us some dried reindeer heart meat to try out, which was actually pretty good. It was still gamey though not as gross as say eating the heart or liver directly.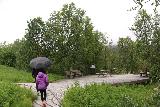 Regarding the painted rock arts, the worker said that they were augmented by modern means to make the art stand out just as Julie and I suspected. I figured this was the case because older rock art would fade more easily, and perhaps those we saw in the museum behind glass were as original and well-preserved as this evidence can be.
Anyways, the Sami worker seemed genuinely pleased that we were here learning more about the culture. He seemed glad to share his culture with us while others were popping in and out of the Lavvu for a few seconds.
When Tahia was done with her Sami purse, we then continued our walk towards the unpainted rock art. And that involved a bit of a longer walk than the one we had just done earlier.
When we got up to the rock art, we could see that these were much harder to see without the painted aids. Still, they were visible before the rain started to fall again.
Once the rocks got dark and wet, it became much harder to spot to the Sami rock art.
The rain pretty much ended off our walking tour of the Alta Museum, which was actually a surprisingly impressive place.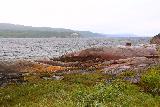 It was especially interesting to see some private homes, and their backyards could literally be said to contain these UNESCO World Heritage rock arts.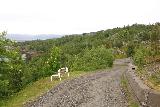 By about 1:05pm, we were back at the warmth of the museum just as the rain became a bit harder and more persistent.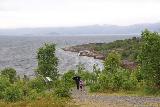 Once inside the museum, we enjoyed a couple of gluten-free desserts as well as some tea. It really looked like Tahia got into tea thanks to Solveig. We figured that Norwegian kids got into tea since they had to endure much colder winters than we did.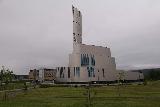 It wouldn't be until about 1:55pm when we finally got back to the car and ended our visit to the Alta Museum.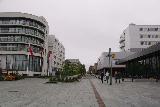 Next, we drove towards the Alta Church, which had a sleek modern design with a spiral roof or something like that.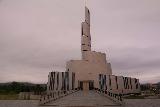 Then, we made a brief stop at one of the Rema 1000 stores to pick up some ingredients for lunch and possibly dinner tonight. Since we didn't have a kitchen in Narvik tomorrow, we felt that we didn't need to buy frozen goods (especially if we were planning to leave Alta early in the morning).
After our grocery run, we then headed back towards the Alten Lodge.
Along the way, we stopped for this three-tiered waterfall that we kept noticing each time we popped in and out of Alta Town.
We tried to see if it was possible to drive closer to this waterfall, but in the end, it looked like most of the land in Seterdal Valley belonged to some local farmer or two.
So we contented ourselves with taking pictures and videos from a rather hideous-shaped road full of craters and massive potholes. Clearly, the owners using this road were used to having 4wd with high clearance.
After having our fill of this "Alta Waterfall", we then finally made it back to our cabin at the Alten Lodge at 3:10pm.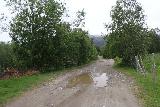 By this time, it was raining again. But it didn't matter to us for the time being as we were going to have a late lunch, then a long siesta after lunch.
Hopefully, that siesta would revive us enough to spend at least 6 hours on both the road and in Nordkapp towards midnight today.
We'll have to see if this actually plays out…
So I wound up falling asleep at some time after 4:30pm with the intent to wake up two hours later. However, Tahia tried her best to be a clown and prevent me from sleeping (thereby increasing the road fatigue risk tonight).
Eventually by about 6:45pm, I woke up again. However, upon looking at the North Cape webcam, it looked like it was still foggy and depressing out there.
I sure hoped that the forecast was correct in this instance to justify a long drive out there to catch the midnight sun…
We took our time eating dinner, and Julie and I were debating about whether or not we should even bother with Nordkapp based on the foggy webcam that seemed to persist even though the forecast called for only about 40% or less cloud cover by about 11pm.
I've seen poor webcams in the past only to be pleasantly surprised when we were actually there like at the Eagle's Nest last year.
However, this one might be a different story since the actual Nordkapp was way at the coast facing the sea. Who knows if there were local fog that wasn't within the resolution of the weather forecast itself.
By about 8:45pm, I ultimately made the decision to pursue Nordkapp by myself. Julie and Tahia stayed behind so they can get rested and be ready for leaving for Narvik tomorrow.
Whether we'd be leaving by 6am as scheduled or much later than that remained to be seen…
So I drove off and so far in the Alta vicinity, it was mostly cloudy with some drizzle spots. There was also some degree of fog immediately on the highland plateau above the basin containing Alta.
In fact, the roads here were actually surprisingly straight shot for the most part, but the fog was what made other tourist drivers very hesitant (though they refused to use the pullouts).
Regardless, the traffic was light enough that I was able to pass them no problem.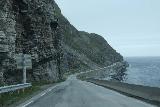 The drive was long as expected as the road transitioned from the E6 to the E69 at Oldenfjord, but along the way, I spotted some surprise scenery and waterfalls as the drive was surprisingly very scenic despite the gloomy weather presiding over much of the drive.
There was one waterfall that was tall, long, and stringy near some Silver Shop facing the Berents Sea.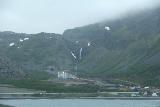 Then, there was another seemingly gushing waterfall right next to the output of a tunnel that was in the process of being built (perhaps to bypass a narrower and longer tunnel that had a couple of blind turns that required people to go 30 km/h).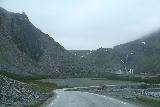 This particular waterfall looked very legit, but with all the ugly infrastructure set up in support of the tunnel construction, it wasn't meant to be a tourist attraction for the time being.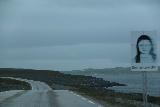 There was a WC and rest stop all the way by the coastline hugging a bay around this spot so perhaps there were greater plans for this place.
In any case, this would have been a rest stop to take a breather from the long drive to Nordkapp from Alta (at least in my mind). After all, it was still about 244km from Alta to Nordkapp, and from this waterfall, it was still over 120km or so further.
The drive resumed somewhat uneventfully though I was seeing that there was a lack of speed cameras in tbe places that were devoid of power lines so I was definitely over fartsgrensen (over the speed limit).
Still, when the weather shifted from locally mostly cloudy to foggy once again (especially in the final stretch leaving Honningsvag to Nordkapp), I saw more drivers that were taking it very slow and refusing to use pullouts.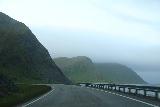 It was also quite windy out there as the low clouds were blowing in and seemingly in constant supply.
I guess in this case, the web cam didn't lie, and it was still staying this way despite what the forecasts said. So my worst fears came true on this day.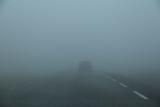 It just wasn't meant to be to see the midnight sun at Nordkapp.
When I got to the entrance booth within the thick fog at 11:40pm, I decided to turn around and not pay the 285 NOK per person fee. It just wasn't worth it to persist here.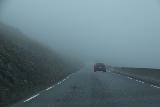 The guy at the booth did say that the ticket was good for 24 hours so I could go in and out of here, but I knew it was a lost cause. Despite my best efforts to delay our visit to Nordkapp with tonight being the final chance, it just wasn't going to happen.
Besides, I still had a long three-hour drive to get back to the Alten Lodge.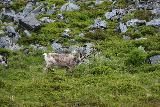 So I now went against the light traffic from people hoping as I was to catch the midnight sun at Nordkapp.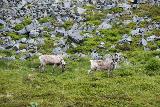 Eventually, I got back down from the dense fog and back through Nordkapp Camping (where we were originally supposed to stay last night) then through Honningsvag, where I was then able to gun it again.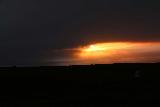 Along the way at around 12:30am, I started to see some pink clouds. And at one fleeting moment, I saw the appearance of elusive midnight sun and its orangish-reddish glow.
So I guess I did manage to see the midnattsol; it just wasn't at Nordkapp.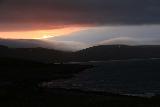 I also spotted more reindeer grazing by the roadside (making me keenly aware of the road hazard that they present) as well as a long brown fox (an arctic fox? though he scampered off before I was able to reach for the camera and take a picture of it).
At about 1:05am, I was back at the giant waterfall by the tunnel-under-construction, where I found a pullout and took a brief break to assess the area and document it despite the low lighting and thick overcast skies.
Continuing on, I managed to fill up over 450 NOK worth of gas at the cheapest gas stand that I had found at Skaidi. Just as I was leaving, I noticed a fairly big rabbit scurrying across the road.
I guess the animals were definitely out and about at this time, which coincided with the least amount of human activity. That said, it wasn't devoid of people as there were still people on the roads as well as others doing round-the-clock fly fishing.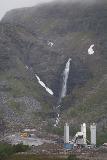 Finally at 2:35pm, I was back at the Alten Lodge. And I wasted no time to brush my teeth and take a shower.
Thus, the sleep-deprivation adventure ended.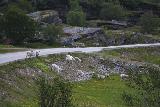 Sure I didn't get what I came for in terms of a midnight sun sighting at Nordkapp, but I did get other ancillary benefits and saved a little money (though I did pay a lot for gas for this nearly 500km drive).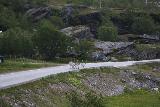 Anyways, I crashed some time at around 4am. I'm sure I wouldn't be feeling great when it came time to leave for another 500km drive for Narvik…
Visitor Comments:
Got something you'd like to share or say to keep the conversation going? Feel free to leave a comment below...
No users have replied to the content on this page