Day 23 (July 5, 2019 – Alta, Norway): "Foreign Influences"
It was about 4am when I awoke to my alarm for a change. I did this because I knew that if we wanted to save some driving, we had to cut through the Lyngen Alps across a pair of ferries, which only departed about once an hour.
I had fancied visiting a waterfall within the Lyngen Alps, but that might have been a bit too ambitious in terms of fitting in excursions plus long drives in a single day.
Anyways, today and tomorrow were the result of making last-minute changes to our bookings as a result of the weather. We were originally supposed to go all the way to Nordkapp and stay at a camping spot there to view the midnight sun.
However, we instead opted to stay in a cabin in Alta for two nights because the weather looked lousy for Nordkapp on this night. Tomorrow didn't appear to be a whole lot better, but at least it wasn't forecasted to rain late in the evening.
Even with the early wake-up, we still didn't leave Tromso until about 6:10am. Even though the parking lot we were at said 190 NOK for a 24-hour period, for some reason, our EZ-park said we still had to pay 218 NOK. I don't get that at all.
Regardless, the drive out from Tromso was under the familiar heavy overcast skies with some light rain in spots.
But instead of driving back to the E6 all along the E8, then going north on the E6 to Olderdalen (a drive that would take over 3 hours), we went along the Rv91 towards Breivikeidet, where we were to catch the first of two ferries.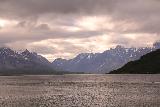 We ultimately got to Breivikeidet at about 6:55am, and we could see that we were about 25 minutes too soon.
There were about 4 other cars in front of us though.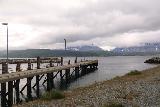 Nonetheless, I took advantage of this prolonged waiting time by using the facilities here as well as taking pictures across the Ullsfjord towards some of the impressive Tetons-like peaks in the distance.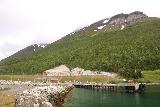 The weather was a bit on the chilly and windy side here, and I could see that in the distance were some rain haze that we had passed through earlier to get here.
Eventually, the ferry boat showed up on time, and we had driven on while paying as we went.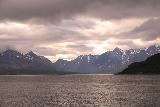 Once the ferry got to the other side of the Ullsfjord, we then took the Rv91 south then east towards Lyngseidet, where we were to take the next ferry.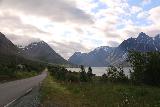 Along the way, we were getting breathtaking views of the Lyngen Alps as we were passing through the head of a small fjord and right through to the Lyngen Channel at the other side of the valley at Lyngseidet.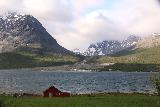 It was tempting to make as many roadside stops as possible because the scenery here was just awesome even with some high clouds casting a ceiling over the skyscraping pointed mountains.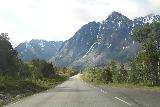 Ultimately by about 8am, we waited to board the next ferry from Lyngseidet to Olderdalen.
When we were finally able to board at about 8:10am, the guy who ran our credit card knew that we were from the states and said to us as he handed us the ticket, "One ticket to Mexico."
That drew a chuckle out of us.
Regardless, once we parked the car, I knew that since this was a longer ferry than the one that traversed the Ullsfjord, I could get out of the car and look around for an outdoor deck so I could take photos.
Sure enough, as the ferry took off, I was on the chilly outdoor deck at the third level, where I took numerous shots of the surrounding mountains fronted by cute homes.
Finally some time after about 8:45am or so, we were now on the E6 and resumed the familiar drive north.
We were still in familiar territory as I knew we had taken breathtaking shots of the Lyngen Alps on our first trip when the skies were much more clear and blue while the Lyngen Channel was calm enough to produce some reflections.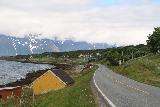 I managed to stop at a couple of informal pullouts mainly to photograph both the Lyngen Alps as well as a very big waterfall that I wasn't sure had a name or not.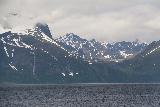 Plus, I also noticed glaciers in the nooks of the Lyngen Alps as well as a few smaller or ephemeral waterfalls.
I felt that Julie and Tahia missed out on this one as they were sleeping as I was driving.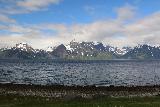 Nonetheless, we moved on as we resumed our drive towards Sorkjosen, Storslett, and ultimately towards the Navitfossen Waterfall.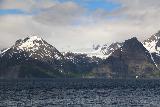 I knew that when we would pass the trailhead of Fosselvfossen, we would have gone into unchartered territory for us.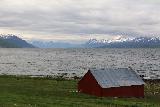 I had contemplated doing the Fosselvfossen one more time, but I also knew that I had to take some extra time to go up the steep trail to get closer to the falls. And that was time I doubted that we had today.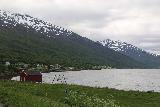 Besides, I recalled in the past that the lady at the Fosselvfossen Camping let me park there to do the hike. I doubt that this courtesy would be extended this time around 14 years later!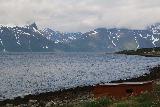 Anyways, when we got to the Fosselvfossen Camping, I did see that there appeared to be some kind of clearing across the street near the bridge. I wasn't sure if this was sanctioned parking or not.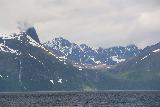 Kind of like with Espelandsfossen in Granvin earlier on in this trip, nothing was signed explicitly.
Regardless, we kept on going, and resumed our drive.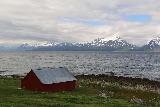 When we got closer to the turnoff for Kvaenangsbotn (Fv367), we saw a clearly signposted turnoff for Navitfoss. So clearly, this place appeared to be more pretty inviting and conductive for a visit.
Thus, we turned off the E6 and took the unpaved road for 7km towards Navitfoss Camping.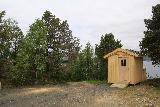 However, this unpaved road seemed to have quite a few potholes so I had to be careful about where I was positioning the car as I was crossing each one.
I wasn't sure if they tires on this car was able to handle such shocks, and as I knew that we were in pretty remote and spread out parts of Norway in the far north, now would not be the time for roadside assistance induced by driving over potholes.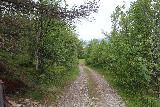 Ultimately by about 10:45am, we parked the car at a clearing that was right across from the Navitfoss Camping.
We weren't sure if this was sanctioned day-use parking as all the signage here pointed to the Navitfoss Camping but not to the actual waterfall itself.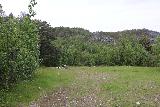 There were also some newly-built houses that might act as shelters or something in the same clearing that we were parked in.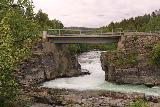 We saw that there was some kind of makeshift road that might have also acted as a trail to get closer to the Navitfossen waterfall. So after gearing up briefly, we all went to check it out.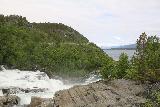 It didn't take long before we saw a big clearing with some evidence of intentional fires perhaps to keep warm. Shortly behind this clearing, we went onto some geometrically-shaped bedrock flanking the top of the Navitfossen Waterfall just downstream from the road bridge.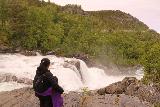 When Julie and Tahia carefully got onto the bedrock, we then took some people shots as well as some interesting shots of the falls backed by where the Navitelva River joined up with the fjord below.
It was a bit on the chilly and misty side here at the falls, but there were also mosquitoes around. So Julie and Tahia had no interest in going all the way to the bottom of the falls.
However, I did manage to scramble around before rejoining the makeshift road that led down to what appeared to be where a boat was supposed to be moored.
As I was scrambling along the rocks here, I then saw a direct view of the falls further upstream though it appeared to be somewhat partial since there was a protruding rock obstructing the view of the leftmost segment of the falls.
After having my fill of this falls, I then went back up to the car park at 11:25am. I told Julie and Tahia that I was now going to continue upstream to look for Roykfossen, which I knew from pre-trip research that this one was better than Navitfossen.
However, at first, I wasn't sure which trail I was supposed to take. It wasn't until I crossed the road bridge and then saw a hiking sign for Geitfjelltinden at a different clearing.
I just took a guess that this was also the trail for Roykfossen as there was no indication that there was another waterfall up this way. I just hoped that it didn't go straight to the peak of the mountain and away from the Navitelva.
So as I pursued the falls, I followed what looked like a 4wd path that went past a house. Then, the trail continued further up a muddy trail and the mozzies seemed to be have gotten worse.
There was then a signed junction where the trail continued past another muddy stretch, but I also was curious to see where the other path went.
That path ultimately went to what looked like a stream gauge though I didn't get a clean look at the waterfall that was next to it. There was also metal spiral stairs going down right into the water.
So as I resumed the main trail, it was climbing somewhat while also traversing an exposed granite section before the trail seemed to climb some more and follow the Navitelva again.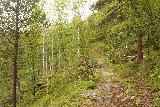 During this climb, I noticed in the distance an even larger waterfall than Navitfossen. This must be the Roykfossen.
However, I went to see if there was a better view than what I was getting so far.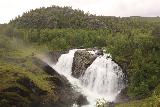 It was a bit overgrown here, but I kept going up the trail until there was a higher clearing above a bluff that seemed to have a more unobstructed and clearer view towards the impressive Roykfossen. I got there at about 11:55am.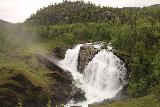 The falls was aptly named as it was indeed misting even though this view was at a distance. I could definitely feel some of the spray of the falls.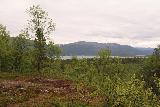 Unfortunately, the bigger nuissance was that I was getting eaten alive by mosquitoes. I probably should have put on deet, but at this point, I wasn't going to unsling the pack, reach in to get the DEET, then apply all the while I was getting swarmed by seemingly bigger mozzies than I was used to seeing (which were more like no-see-ums).
In any case, I did what I could to document the falls and try to be in the moment. But the swarming mozzies were getting pot shots at me, and they were even biting me on the head through the hair!
So after beating a hasty retreat, I then quickly made my way back to the trailhead. By about 12:15pm, I returned to the car where Julie and Tahia were curiously wondering where I went. Apparently they thought I was still at Navitfossen even though I told that I was pursuing Roykfossen.
At that point, we got back in the car and continued the long drive to Alta.
The drive continued to be beautiful in a similar manner to the Lyngen Alps across the channel. Indeed, other islands off the shore from the E6 seemed to feature more Grand Tetons-like jagged peaks though they were under the clouds.
By about 2pm, we finally made it to the Alta Sentrum, where we had to pay and display for parking. I had to fight quite a bit of road fatigue to make it here due to the long drive. So that didn't bode well for all the other long drives we were expecting to do over the next few days.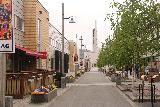 Julie and Tahia were looking for lunch, and we ended up going to this place called Du Verdens. It appeared that this area was kind of the city center where there was an interesting-looking church further up the pedestrianized walkway.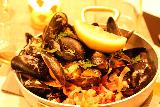 We didn't go all the way to the church. Instead, we just went right into the restaurant, where their lunch menu looked a little on the limited side, but the lady working the counter helped to accommodate Julie and she ended up with a dinner item of baccalao or dried cod or something with steamed veggies.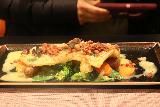 Meanwhile, I got mussels while Tahia got a GF-bread chicken sandwich.
The food hit the spot though it was a pretty expensive lunch mostly because Julie's dish almost costed as much as our two dishes combined.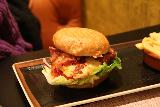 We made small talk with the lady who was helping us at the counter as she said that she was studying at a university near here. It turned out that she was French and hailed from the Loire Valley.
I guess in these parts, there seemed to be a greater mix of foreign influences as I also heard lots of American accents as lots of people were pursuing Nordkapp like we were intending to do.
After having our lunch, we then did a grocery run at the nearby Kiwi as well as some organic shop right across the throughfare from the Du Verdens restaurant in the mall.
By about 3:35pm, we got back in the car and then drove to the Alten Lodge.
This place was a little out of town, and it wasn't until about 4pm when we finally showed up.
By about 4:20pm, we finally got settled in the cozy lodge. Now, it was time for me to go solo and pursue the Pikefossen, which was expected to be the lone waterfall we'd be visiting in the Finnmark County of far north Norway.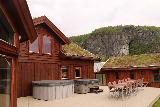 At first, the drive through the E45 went through the deep Alta Canyon though I never was able to figure out where you get that classic Alta Canyon view that I saw in the Adventure Roads in Norway book by Erling Welling-Strand.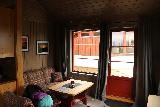 Once the E45 climbed out of the canyon, it then went through what seemed to be very forested lands with some lakes dotted here and there.
Once again, I was fighting road fatigue due to the long drive. But eventually at 5:55pm, I finally arrived at the car park for Pikefossen.
I saw that there was also a paved section that went to a lower part of the car park where there were picnic tables, and that was where I stopped the car.
As soon as I got out, I already felt the presence of more mosquitoes. Man, Solveig's Dad warned me about there being lots of mozzies in these parts, and he wasn't kidding.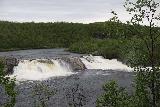 So I took my shots and videos of the cross-canyon top down views of the falls. I saw that there were also very steep trails going down to the bottom, but they seemed a bit dicey for me to attempt.
Instead, I kept following along a trail that skirted the rim of the canyon before it finally started to descend a less dicier footpath leading down to the rocky shoreline of the river.
Down here, I was getting a more direct look at the falls, but I got the feeling that this was more of a fishing spot since the falls itself wasn't tall but it was wide.
The signs here said as much regarding the importance of the Kautokeinoelva as a fishing river.
Still, despite the slight breeze and mist thrown my way, I was still getting mozzies swarming around me.
So once again, I hastily documented the falls and then took one of the steep shortcuts back up towards the car park and picnic area.
By about 6:30pm, I was finally back at the car.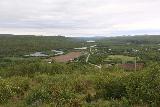 Next, I made a hasty drive back towards Alta. However, I was looking for the Alta Canyon view again, which led me towards both ends of what ended up being a very rough road that probably wasn't fit for passenger car driving.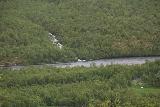 The southern end was definitely not fit for driving so that dashed any hopes of me trying to going up the Baeskades from the south towards our originally-booked accommodation at the Gargia Lodge.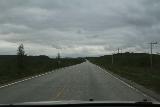 When I gave up on taking that rough unpaved road, I then continued on the fast-moving E45 going back down into the Alta Canyon before getting to the next turnoff closer to town.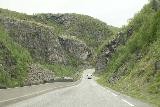 That one led towards the Gargia Lodge from a more paved road, but once again, this attempt was fruitless as I wasn't able to find the Alta Canyon view throughout the drive. Any further progress would have required me to go up the dicey unpaved and narrow road back into the Baeskades from the north.
So with that, I aborted this attempt at 7:55pm and then returned to Alta.
By that point, Julie's text messages got to me about getting stuff from the grocery store. So I did that before finally returning to the Alpen Lodge at 9:15pm.
And so ended this very long day of driving, but I knew that this was merely just the beginning as there were many more such long driving days ahead in the coming week starting with Nordkapp tomorrow…
Visitor Comments:
Got something you'd like to share or say to keep the conversation going? Feel free to leave a comment below...
No users have replied to the content on this page