Day 22 (July 4, 2019 – Tromso, Norway): "Light Sightseeing Day"
It was about 4:50am when I awoke. Once again, I overslept the 4:30am alarm, which seemed to become habitual at this point.
That said, Julie didn't get up until closer to 6am so I knew that we would be getting yet another late start.
Indeed, after having our self-cooked breakfast and cleaning and packing, we weren't leaving the apartment until about 7:25am.
The drive out from Svolvaer was scenic despite the weather being far less nice than it was yesterday. There were also more striking mountains, fjords, and even waterfalls though we didn't make any stops thinking that these were now a dime-a-dozen and that we had already experienced the best of the Lofoten Islands yesterday.
Besides, we had a marathon drive to get all the way to Tromso, and just getting to Narvik meant that I had to go at least 240km!
By about 8:20am, I was already getting some degree of road fatigue, but there was a delay at the Sortunnelen due to some construction work going on deep inside this 6.4km tunnel.
When the traffic finally started moving, we made another 90 minutes of progress before we made a restroom stop at around 9:55am as Julie needed it badly.
Next, we made more progress with our drive as we eventually made it to the north of Narvik on the E6 some time between 10:30am and 11am.
That was when we made a brief turnoff for Kvernmoen in search of a waterfall that was identified in our Statens Kartverk Veiatlas Norge book – i.e. we pursued this the old fashioned way.
However, this first pursuit was a dud as I suspected that the watercourse was held up by hydroelectricity or something. There wasn't any signage nor any indication that there would be a legitimate waterfall here.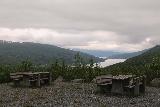 Not long thereafter, we then made a turnoff for some signage for a Krigsminne as there had been at least a half-dozen or so stops for the Battle of Narvik 1940. We weren't sure if this particular war memorial had anything to do with that.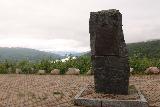 The only reason why we stopped here for a stretch was to see if this same memorial yielded better views of a somewhat sizable waterfall that we noticed from the road.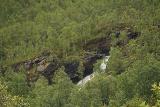 However, from this car park, aside from a fjord view of Ofotfjord and some picnic tables, the view of the waterfall here was only partial and not good at all.
I didn't bother doing any more exploring before we headed back out on the E6.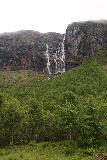 At about 11:25am, after turning off to the Rv84 at Fossbakken, we then pursued another SK-indicated waterfall. This time, we managed to find an attractive one that stood out, especially in comparison to the other lighter flowing waterfalls flowing into this steep valley.
After going into a hamlet at Moen, we managed to informally stop near a sign that pointed to "Sarajohka" which I knew was the name of the falls in a non-Norwegian language (possibly Finnish? or Sami?).
The only other waterfall that I was aware of that had this kind of name was Rovvejokfossen, which might also be known as Rovvejohka.
Anyways, after having our fill from the base of this waterfall from an unsanctioned spot on the narrow farm road, we then went back to Rv84 and found a pullout yielding a more complete view of Sarajohka.
Once we had our fill of this falls from this spot, we then drove back to the E6 (and avoiding washboards and potholes on the paved road we had taken to get here).
Then, we continued on the rather monotonous route (especially in light of the low-hanging clouds and rain that seemed to cast a ceiling on the whole scenery here).
Battling road fatigue, I ultimately made a stop at a Sami Market and WC somewhere not far before the turnoff for the E8 from the E6.
What was supposed to be a spontaneous WC stop for Tahia ended up being a bit of a prolonged shopping visit as well as an impromptu lunch of reindeer soup.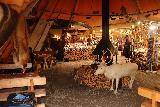 So we got to this Sami Shop at around 1:15pm, but we didn't leave until at least a half-hour later.
The drive along the E8 remained mostly featureless given the low clouds and rainy conditions, but as we were pulling into Tromso, we could see that the clouds weren't quite as low and the rain wasn't nearly as intense.
We first pulled over for the Arctic Cathedral at around 3pm. But after getting our shots from the outside, we snuck a peek inside to see if the 50 NOK per person was justified or not.
We decided it wasn't justified so we didn't go inside.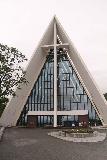 About 10 minutes later, we went back to the car, then drove across the long bridge right into the city center of Tromso.
By about 3:45pm, we eventually checked into the Enter City Hotel apartment (which we were reassigned to), and we managed to have a bit of a hectic time finding sanctioned parking.
The receptionist said there was a 180 NOK lot in a tight garage or a 190 NOK lot with more space in a different garage. What they didn't tell us was that there was also a more expensive underground parking lot that costed 280 NOK per day!
In fact, even though we had only been in there for 14 minutes, we learned that we didn't park in the correct spot. And so we had to use our EZ-Park app to pay another 218 NOK (which was greater than 190 NOK) on top of the 28 NOK to get out of the first lot I was in.
By about 4:10pm, we were finally settled into the fairly comfortable hotel apartment. Then by 4:25pm, we returned to the city to do a little sightseeing before running errands in terms of buying groceries for self-cooking tonight's dinner and tomorrow morning's breakfast.
Our tour of the city pretty much consisted of checking out the exterior of the City Library, an unremarkable pedestrianized street, and some waterfront views towards the bridge and the Arctic Cathedral.
We didn't do the Skansen, the Polaria Aquarium, the Northern Lights Museum, nor the Fjellheis (cable car). It was kind of deja vu in the sense that we also skipped out on these things the last time.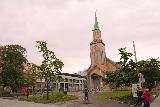 But at the end of the day, this place was merely a stopover, and I wondered if we had been better off staying along the E6 or something to not have to take this over hour-long detour (each way).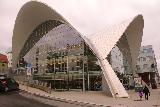 Regardless, we were back at the apartment at 6:10pm. And so ended this rather light day of sightseeing.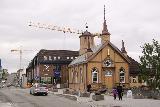 As much as I wanted each day to be efficient with good weather and good planning to maximize the enjoyment of the trip, sometimes we needed light days like this one.
Hopefully, this will provide me with enough rest to continue the marathon drive towards Alta and Nordkapp. I was definitely fearful that somehow it wouldn't work out for one reason or another. I can only guess that time will tell…
Visitor Comments:
Got something you'd like to share or say to keep the conversation going? Feel free to leave a comment below...
No users have replied to the content on this page