Day 21 (July 3, 2019 – Svolvaer, Norway): "Successful Day"
It was about 5:45am when I awoke to sunny skies! Given all the turbulent weather we had been having over the past three or four days, this was a welcome sight for sore eyes!
However, I did see some clouds off in the distance so who knows how long this will last?
I wound up sleeping through my alarms so I didn't get up as early as I would have liked at around 4:30am. And Julie didn't get up until after 6am.
So I knew that we'd be leaving the Villa Svolvaer a bit later than I would have liked. And that might impact when we'd return for our self-cooked dinner.
In any case, without a real plan other than to visit a waterfall and possibly extending that hike up to the Trolldalsvatnet near the town of A i Lofoten, I did a little last-minute research on what we should be doing today.
I wound up seeing that there was a beach at Ramberg and Haukland so that might interest Tahia.
I also saw that the best hikes for top down views of the Lofoten Islands were said to be at Reinebringen, Ryten, and Svolvaer Floya.
As for fishing villages, I knew we were going all the way to A i Lofoten at the very tip of the Lofoten Islands. However, Julie also had some vague ideas about which fishing villages to check out.
I also thought about visiting Nusfjord since LP said something about it. However, Solveig's father didn't think that place was anything special. So I guess we'll have to see for ourselves.
It wasn't until about 8:05am when we finally left the apartment. The blue skies still persisted, but I was fretting about more tourists on the road given our late start (especially since Solveig's Dad also mentioned that these roads were well-touristed).
The drive towards A was long. But since we weren't quite sure what or where we should pull over and take pictures, we were taking random spots and even taking pictures from the road itself!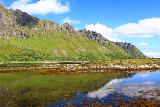 With the morning light and the calm waters, we were seeing reflections in the water in some spots.
But at some point, Julie talked me out of making too many stops, especially since she knew that we had a long drive with lots of activities to get in on this lone full day of the Lofoten Islands that we had today.
We especially reduced the number of stops when we saw a tour bus pull over by a bridge that we had stopped at after we were just about done. We didn't want to be caught behind this tour group, especially on the narrow roads.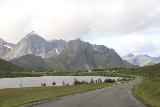 During the continuation of the drive, we had passed through the town of Leknes. If Svolvaer was the capital town in the Lofoten Islands, then the town of Leknes certainly gave Svolvaer a run for its money when we look at the size.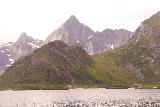 After Leknes, we then passed through some patches of rain with breathtaking sharp mountains backing the scenery and fronted by bodies of water.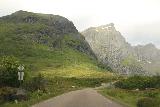 We even saw the Ramberg Beach though we didn't stop for it as the skies were overcast and still sprinkling.
Ultimately by 10:20am, we stopped at a shop in Sakrisoy. It was a very cute fishing village, and Julie said it was one of the main fishing villages that were worth checking out.
I couldn't help but notice that some of the views from the single-lane traffic-light-controlled bridges were very nice but we weren't able to take them giving the driving situations.
Instead, we stopped at this place called Anna's, and we took our beautiful morning shots while Julie went inside to buy some dried cod chips, a reindeer jerky, and a gluten-free almond cake.
We spent a bit more time here than I would have liked, but we used this place as a point of reference knowing that if we come back in good time, then we might buy more snacks since we were really digging the cod chips as well as the GF almond cake.
As we continued from Sakrisoy, we made a couple more roadside stops though there was one in particular in the distance that seemed really crowded. We made a mental note to stop there later on.
We still had to make it to A i Lofoten before it was time to head back towards Svolvaer and hit the other activities that we were planning to do today.
It wasn't until about 11:30am when we finally arrived at a car park at the other end of a tunnel. This seemed like the end of the road, and with the amount of cars parked here, I suspected that this was the car park for A i Lofoten.
Once we got out of the car, we walked towards the Brygge Restaurant, which Julie had targeted because they apparently had gluten-free options and they had good reviews.
However, when we got there, we learned that they were only serving a lunch buffet. At least it was reasonably-priced at 275 NOK per person (half the price of what the Hurtigruten dining room was charging). Plus, they had all sorts of seafood, which included bacalao, fish soup, and cod prepared with two different sauces as well as fresh shrimp and chicken wings.
I know it wasn't Julie's ideal situation, but at least she could have the shrimp.
Anyways, when we were done with the lunch, I had to leave Julie and Tahia in town to play board games (Tahia found a Monopol inside the dining area) so I could do the planned hike for a couple of hours.
So by 12:45pm, I was on my own but before going to the car, I walked all the way to the end of the fishing pier (rorbrua?) and got a nice view back towards A i Lofoten backed by the classical mountains of the Moskenes Island.
After having my fill of this nice view at the very end of the Lofoten Islands, I then returned to the car at 1:15pm.
I then drove back towards the town of Sorvagen, where there was a hiking car park that was completely full.
When I stopped the car at about 1:25pm, I was about to do an improvised parking job near a single-lane road when someone was leaving. So I quickly snagged that spot to make myself feel a little better about the parking situation.
Eventually, at 1:30pm, I geared up and started the hike.
I could already see early on the waterfall that might have been the featured one of this hike. In fact, I was even able to see parts of it from the road.
The trail also provided views towards the Sorvagvatnet lake, which was seemingly surrounded on the east side by homes.
As I went past some drinking water signs (i.e. the watercourses and lakes here were not for swimming), I then went up a somewhat steep but brief incline which yielded me a nice view of most of the cascade backed by the Stovla peaks.
I then walked up a muddy and not-so-obvious path that went up alongside the cascade, I eventually went up to the mouth of Stuvdalsvatnet, which looked like a natural lake though there were pipes between that and the waterfall as well as the Sorvagvatnet.
There was a bridge crossing the mouth of the Stuvdalsvatnet, and I briefly followed the trail towards one of the cabins near the mouth of the lake.
However, I suspected that any further progress would mean that I would have to spend much more time on the trail.
And with more activities that we had to do on this beautiful day, I couldn't afford to partake in a minimum three-hour hike to the summit of Tindstinden.
And there seemed to be no way to make it all the way to Munkebu, which was a mountain hut that was likely to be even farther away.
So by 2:15pm, I left the bridge at the mouth of the Stuvdalsvatnet, and then headed back to the trailhead.
Ultimately by 2:50pm, I made it back to the car park though I did include a quick side detour to a different segment of the cascade by the loop path for Sorvagvatnet.
After returning to the car, I then texted Julie to meet me at the car park for A i Lofoten. I eventually made it back there by 3:05pm, and barely five minutes later, Julie and Tahia made it back to the car.
And so we started to drive back the way we came. The weather seemed to continue to be more beautiful as the day wore on.
By about 3:40pm, we had returned to Sakrisoy. However along the way, we did make a very busy stop at what turned out to be a magical view of Sakrisoy's backside fronting beautiful sharp mountains while reflecting in the calm waters before.
While at Anna's Maten or something like that in the front of Sakrisoy, we wound up buying probably another $40 USD worth of snacks before we resumed our drive at 4pm.
We made a few spontaneous roadside stops, including one at 4:15pm that revealed a pair of attractive arched bridges leading to Fredvang.
Not long after that photo stop, we then parked at Ramberg Beach and walked down to the surprisingly fine white sand beach backed by sharp mountains. I'd say it was those mountains that made this beach though I'm sure the water must have been freezing cold.
We gave Tahia around 15 minutes to play around here, and we also took time to take family photos so I was wishing that I had brought down the tripod to take a good family shot.
The photos would have been really nice in the morning in good weather, but right now, we were kind of looking against the sun.
Finally at about 4:55pm, we left Ramberg Beach and then we followed some slower drivers towards Nusfjord, which was the last of the fishing villages that Julie was interested in checking out on this day.
By about 5:15pm, we managed to find parking in the public space at Nusfjord though it was still quite busy.
Once we got out of the car, we walked around the main fishing village and its stilted homes and buildings.
However, the impression that Julie and I got from visiting this place was that it wasn't all that scenic especially compared to A i Lofoten and Sakrisoy or at least Reine.
As we were having our fill of this somewhat underwhelming spot (by this time, I realized that Solveig's Dad was right about this place being nothing special), I then made one last attempt to salvage something from this visit by climbing up to a viewpoint.
Up there, I could see the fishing village down below backed by some interesting mountains, but it just didn't have quite the punch that the other fishing villages had.
Thus, by 6:05pm, we returned to the car and made long drive back to Villa Svolvaer.
It wouldn't be until about 7:45pm when we parked near the Svolvaer sentrum by the waterfront. And that was where we briefly checked out the outdoor marketplace that was closing up shop. We also checked out one of the piers, which yielded some sharp peaks backing the boat harbor as well as another bridge and pier further up ahead.
Julie and I observed that had we still been on the Hurtigruten, then this part, which wasn't too far of a walk from the ship, was probably the best spot to be given the rushed circumstances that cruise ships tend to create the environment of.
Finally by 8pm, we were back in the car. Indeed, there was definitely activity at the waterfront, and I had heard a lot of American accents, which was interesting to note.
I guess the Lofoten Islands were quite the international tourist destination that was probably on the order of Preikestolen, Kjerag, and Trolltunga, where it was less about Norwegians and more about foreign tourists from all over the world.
It was kind of like Solveig's Dad also warned me about. Still, we felt today's visit of the Lofoten Islands was a successful one. And given the fickle weather, it had to have happened on this fine day.
By 8:15pm, we were back at the apartment, where we were finally able to have our self-cooked dinner while ensuring that we're prepared for the rest of the trip as the long drives were ahead of us starting with a six-hour-plus drive to Tromso tomorrow…
Visitor Comments:
Got something you'd like to share or say to keep the conversation going? Feel free to leave a comment below...
No users have replied to the content on this page