Day 20 (July 2, 2019 – Svolvaer, Norway): "Venner"
It was 7:40am when we all awoke. There was some kind of announcement being made over the PA in the hallway, and I guess I had heard something that kind of woke me up.
I guess I had purposefully slept through my alarms, but I never heard Julie's.
With such a late wake-up, we hastily got going with getting our hygiene done as well as getting dressed for our last day on the Hurtigruten.
First up was breakfast. And since this was the latest that we got onto the dining area, it was quite busy.
Now knowing how easy it was to overeat in the brekkie buffet, we basically stuck with the tried and true stuff like poached eggs with fish eggs acting as a sort of whitish caviar, GF bread spread with Nugati, the hot stuff (though this time they had fish cakes instead of liver cakes), and the usual veggies, herring, cheeses, and yogurts.
The meal went along uneventfully until we were asked by a German lady sitting next to us about whether Tahia won the "guessing the Arctic Circle crossing time" game that they had played on the cruise ship.
Tahia said that she had guessed 7:59am, but apparently the actual answer was some time around 8:01am. And a little boy happened to win it by 17 seconds.
From there, we had a bit of a pleasant chat with the ladies about our travels. I knew that they were from a German-speaking area since I overheard them speaking Deutsch.
Upon learning that they were from Freiburg, Germany, that got us thinking about our travels in Germany and Austria last year.
Tahia revealed how much she enjoyed Neuschwanstein as well as reading about both Ludwig and Sisi.
So we also talked about our time in Wien (Vienna).
Then, we learned that the ladies had lost luggage that they were quite anxious about since apparently it got lost on a connection when they flew out from Frankfurt and ended up in Norway without the luggages over a connection.
Since there was a big heat wave throughout Europe, they also didn't have heavy clothing on them for the Norwegian cold temperatures.
So they weren't have a good time of it with the luggage situation, and they actually had to spend a lot of money to get by with expensive Norwegian goods just to stay warm.
Yet with all the ice-breaking, it seemed like Tahia was just that. She broke the ice with a lot of perfect strangers that we were meeting from around the world.
And that opened up a world of different perspectives as well as nice conversations that we might have otherwise not ordinarily had.
Just like with Solveig yesterday, we were suddenly having frequent conversations with her family.
Towards the end of brekkie, Tahia and Solveig saw each other, and they wanted to organize for some play time between breakfast and when we'd land at Bodo.
With both girls seemingly becoming fast friends, I had a feeling that it was going to be a difficult farewell when it came time for us to leave the ship later tonight in Svolvaer.
Anyways, they both wound up hanging out together playing with dolls as Solveig shared her Elsa figures, Smurfs figures, and even a squeezy green bubbly toy that was oozing out white stuff (I don't think that was intended).
The girls were left alone with me and Julie, and so the pressure was on me to translate or figure out whatever Solveig was saying.
It was kind of a test of my Norwegian and it was coming along ok though every once in a while, she'd say something that I couldn't totally figure out. I guess I still had a ways to go before I could hold a conversation with a seven-year-old.
Meanwhile, I was popping in and out of the outdoor deck taking pictures of the landscape near Bodo. The mountains were striking as many of them had sharp unicorn-like peaks not unlike say Cathedral Peak or Unicorn Peak in the high country of Yosemite National Park.
However, this was common landscape along the coast. And there was just enough clearing weather interspersed with squalls to try to capture the scene without getting drenched from the nasty weather we had been having practically the whole time on the ship.
In fact, I could even see that many of the mountains seemed to have a fresh bit of snow.
Eventually, it came time for Solveig to return to her mother and sisters as they were going on RIB boat into Saltstraumen. They had to have an early lunch at around 11:30am because they wouldn't have time for it once in Bodo at 12:40pm.
Julie and I determined that we wouldn't be eating lunch on the boat since it would be way too expensive. Instead, we'd seek out a gluten free place in town since we had a little over two hours ashore.
We also had to pack up our belongings and vacate our room by 12pm. So we were busy doing that.
Sure enough, when 12:40pm arrived, we docked and we promptly headed ashore.
Then, we made a beeline towards the city center though we quickly came to realize that we had to hike quite a bit (at least 600m) to even get to the city center.
While Eskild (sp?) the excursion guy on the PA announcements joked that this was not the prettiest town, it was true that we were walking along a fairly featureless and unremarkable Sjogata throughfare before getting all the way to the Guest Harbor at about 1:20pm.
That was where we found the Bryggerikaia Restaurant, which was Julie's preferred eating spot.
I managed to sneak in a few more photos of the guest harbor area before a particularly nasty squall came our way and started to dump heavy rain.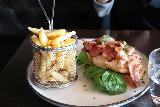 Inside the restaurant, we wound up eating mussels, an open-faced chicken sandwich for Tahia on GF bread, and a hearty fish soup.
We also had fries, but the garlic mayo was perfect for dipping the thick cut fries into.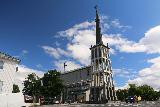 Eventually by about 2:10pm, we had to make a hasty retreat to the ship since it was a lengthy walk to get all the way there, and we had to ensure we'd be back before the boat took off at 3pm (at least by 2:45pm to be comfortably back).
Along the walk, we briefly checked out a couple of fancy church buildings with detached towers that had a bit of an open-air component to them.
Then, Julie and Tahia opted to return via the same Sjogate street while I decided to follow Dronningensgate, which was a semi-pedestrianized street that started at the familiar shopping mall called Glasshuset (The Glass House).
On our first trip to Bodo back in 2005, I remembered this place well because we actually shopped for music CDs, and that was where Julie picked up expensive CDs by Royksopp, Robyn, Lene Marlin, and more. I managed to pick up a CD by Ravi and DJ Lov for a bit of a fun Norwegian rap song.
Anyways, it was cool to see the very place that we had gone shopping back then despite a spectacularly failed attempt at taking a ferry boat to the Lofoten Islands back then (which kept us from visiting those islands as another one of the failures of that trip).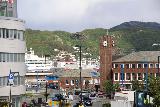 I'd eventually catch up to Julie and Tahia just in front of the MS Nordkapp where we finally arrived at the boat at around 2:30pm.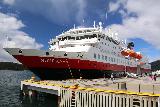 We had plenty of time left to spare in this instance, but this rushing was one of the big drawbacks of cruises and why we weren't very keen on doing them.
That said, the cruise experience also exposed us to meeting different people (especially with Tahia breaking the ice) and that would be one of the things I would miss most about the Hurtigruten cruise.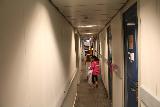 So back at the ship, just before it took off, we saw the RIB boat participants come back. When Solveig came back, Tahia waved to her, and after a few more minutes, she asked if Tahia wanted to go to the jacuzzi (bubblebadet – new word I learned from Solveig).
Of course since we longer had a cabin to let Tahia take a shower in, she had to follow Solveig to her room and use the facilities there.
Solveig was only too happy to oblige, and I was a bit relieved to see that Solveig's parents and sister were at the room to ensure that it was ok.
So they spent a pretty good time chilling out in the jacuzzi, and that was when I met Solveig's father who was the head chef on this Hurtigruten ship and was currently on a break.
We were pretty much talking about a bit of the Norwegian landscape, and that was when I learned that he was from Narvik. I also learned that Solveig's mother's name was Lena.
In any case, as they ladies were in the jacuzzi and the father and I were making small talk, I couldn't help but notice the striking coastal scenery that was behind the girls in the jacuzzi.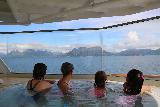 When I saw the father taking pictures, I had to take some myself just to show the kind of experience one could have when the weather cooperates.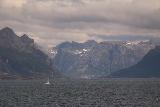 Upon noticing how I was paying attention to the mountains, he told me that these are "real" mountains compared to the ones by Kjerag.
I also learned from him that he was part of a search and rescue team as he pointed out to me that there always seemed to be about 10-15 people who either have to get rescued or who have died from exposure by being unprepared for the elements in Norway's backcountry.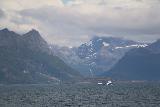 And when it came to the weather, he mentioned that last Summer was one of the driest ones they've had as they had no rain and consistent 26C days from May all the way to August. So perhaps all the rain we've been getting might have made up for the lack of it last year.
It was so dry, he said, that they were having forest fires while farmers had to slaughter their livestock because there was insufficient grass or hay to feed them.
Eventually by about 4:25pm, the bubble bathing was over, and Tahia was back in Solveig's big cabin to have a shower.
They then hung out with each other back at the cafe playing cards, then having an ice cream and tea. Tahia was never into tea before until she was hanging out with Solveig who seemed to love it (though adding sugar to that drink certainly helped, I'm sure).
At some point, Lena came up to join us (as well as to help translate as we got to a part where I couldn't figure out what she was trying to ask me), and we made more small talk with Lena regarding the food in Norway (especially with Julie in on the conversation now).
We learned that it seemed like the ingredients on the Hurtigruten were sourced locally from farmers who partnered up with them.
So Solveig's dad had his pick of good stuff to serve up to the customers in the dining room. And come to think of it, he had a pretty good gig regarding being in his element as a chef.
However, we also learned that he was away from the rest of the family some 23 days at a time while he had to work about 12-hour days with a couple hours of break in between on the Hurtigruten.
Thus, it's not all roses. I guess when it comes to work, there's always that bit that makes it work instead of play.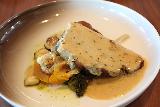 Then, by around 5:45pm, we had our final dinner aboard the ship at the bistro. This time, we had salmon and pork dishes.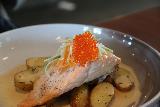 It wasn't much, but then again, Tahia just had ice cream and wasn't all that hungry. But at least we weren't paying 550 NOK per person for the big dining room.
By about 7:10pm, we had arrived in Stamsund, where I took some photos but it wasn't as scenic as I had imagined for the Lofoten Islands.
It was very cold outside, but I also couldn't tell the difference between scenic coastlines and islands since you can't tell where the land ends and where it begins again from the ship.
I concluded from this experience that you really have to hike to higher ground and look down at the coastlines or islands to really get a sense of the beauty of the Lofoten Islands. Hopefully, we have enough time and the weather cooperates enough, I thought to myself.
During the time I was busy taking pictures and Julie was busy doing stuff on the internet, Tahia was acting as the honorary receptionist with Jannecke (sp?) another one of the staff members on the Hurtigruten (and who Tahia was really getting attached to).
Indeed, Tahia was making lots of friends on the boat, and as the time was getting closer to leave, they were all going to be missed.
By 9pm, the ship was approaching Svolvaer. As it was doing so, I was busy taking pictures and Eskild came out with a big Norwegian flag.
He said that his son was on the MS Trollfjord, which was just pulling out of that harbor and on its way south.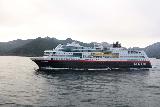 So the boat was making a bunch of horn sounds to each other while Eskild was waving to the other ship. It was a touching (if not comical) father-son moment, and I could see that this cruise line was a very big part of that family.
Julie plucked me back out from the freezing cold on the deck 5 front and back down into the reception area on the 3rd floor. That was where we got our stuff, then I had to go downstairs to retrieve the car.
Before I did that, Solveig and Tahia found each other once more. And they gave a very long and tight embrace as they knew it was time to say good-bye.
It was a moment that everyone in the reception witnessed, and it brought a tear or two to some who have watched, including myself and Julie.
Where else can you share such unexpected and beautiful moments than when you're out and about and living life traveling abroad?
By about 9:15pm, we had already left the ship and were re-united on the terminal. We then drove to a Rema 1000 where we grocery shopped and returned to the same old routine we've been having on land again.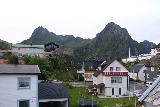 Then, at 9:50pm, we had a little struggle finding our apartment but we eventually did. Then, we had a little trouble figuring out that the key box was already open but finally figured that out at 10:05pm.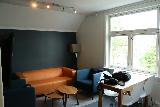 And so we unpacked and got settled in the apartment. It was nice to finally have space once again though it was a bit on the chilly side.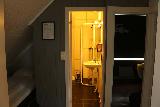 Also, since we were above the Arctic Circle, the skies stayed bright all night long. So we all had to employ eye patches to get a decent amount of shut-eye.
But with another squall that came in and dumped buckets on Svolvaer at around 11:30pm, I started to wonder whether the weather forecast was finally wrong or not (as it was supposed to improve come tomorrow).
With the internet not working at this apartment, I couldn't check the latest forecast. So I checked the phone, which was relying on a data-only plan since Tahia exhausted our Swedish sim card which had both data and voice.
And that said that tomorrow's weather was still shaping up to be good…
Visitor Comments:
Got something you'd like to share or say to keep the conversation going? Feel free to leave a comment below...
No users have replied to the content on this page