Day 19 (July 1, 2019 – Hurtigruten Cruise, Norway): "Pen Pals"
It was about 7:10am when we awoke. Once again, I had slept through the alarms so I didn't get around to do any catchup from the previous day's excursions.
We spent the better part of the morning having another buffet breakfast. This time it was the same fare as we had been having previously though the selection was quite extensive and quite high quality for a buffet.
By this point, my stomach was already feeling big, and whatever rationing and healthy eating with portion control by this point had already been undone in these two days of cruising. We still had another full day to go before we'd get off the boat in the Lofoten Islands.
At 9:50am, we had left the dining room, donned our waterproof pants and jacket, donned my bigger backpack which had a waterproofing bag that went around it, and proceeded to deck 3 where we were itching to get out of prison, so to speak.
When the door finally opened at around 10am, we could see straight away that it was raining outside in Trondheim, just like the forecast had predicted.
We had about 2.5 hours in the city, and I knew given our Alesund experience yesterday that we really didn't have a whole lot of time to spare.
So we proceeded to follow the fastest of the walkers who already seemed to have an idea of where to go to get to the Nidaros Cathedral, which seemed to be the main thing to see in this city.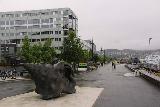 I was warned that this was a 30-minute walk, and after seeing one of the pedestrian signs well past the wharf area, I could see why.
Indeed, it was still another 1.4km walk to get from the harbor area to the Nidaros Cathedral.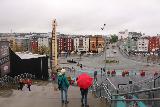 So if you figure in those walking times (at least 40 minutes each way), then we really didn't have a whole lot of time to visit the Nidaros Cathedral as well as having a lunch to avoid getting ripped off on the boat.
Anyways, after walking through the rain and trying to jog our memories of the city from 14 years ago (it wasn't ringing a bell), we eventually arrived at the Nidaros Cathedral at 10:50am.
We managed to approach the church from the side so it was an angle we weren't familiar with. However, the big green tower was unmistakable.
After buying our tickets for about 265 NOK for just the cathedral, we then swung over to the west face.
And that was where we saw the familiar imposing facade that we had seen and photographed 14 years ago (in better weather, of course).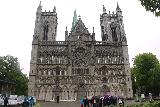 They didn't let us take pictures inside the cathedral so the visit didn't take long. There were a lot of red-robed younger individuals (both men and women) reminding guests of the no photos policy.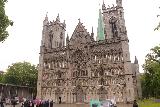 Julie seemed to be most impressed with the stain-glassed windows behind a modern-looking series of silverish organ pipes. She said it reminded her of St Chapelle Cathedral in Paris.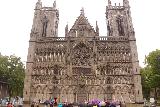 The imposing cathedral also had a bunch of smaller rooms and side navels to check out, but without a guide to really interpret this place, we were basically having merely a look around before having seen enough.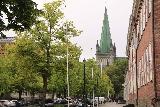 Right when we were about to leave, it looked like they were doing French and Norwegian language tours.
However, the English-language tour wasn't until 12pm so that would have cut it too close knowing that we had to be back at the ship at 1pm to comfortably be back in time for the 1:15pm departure.
After the cathedral visit, we were about to walk in the direction of the Torget before Julie remembered something the excursion guide on the ship said about the Gamlebybrua (the old town bridge).
So we went there instead, and by about 11:30am, we found the charming bridge, which fronted a pretty row of colorful houses lining a river or something like that.
It turned out to be quite the charming and low-key find, and it didn't seem like there were other cruise passengers checking this place out.
Next, we headed across the bridge and noticed a 7-eleven, where Julie picked up a sim card since Tahia exhausted the one we bought from Sweden with her YouTube videos.
We also noticed the bike lift going up a steep road that the excursion guide told us about. It was interesting to note that the lift was free, and it was intended to encourage the use of bikes in Trondheim.
Then, at 11:45am, we showed up to the Bakklandet Skyddstasjon, which Julie had read about regarding gluten-free dining.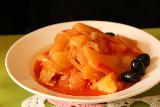 The establishment was in a tiny home, which was one of the few remaining registered historical landmarks left in Trondheim. We also learned from the friendly proprietor that she was celebrating her 10th year owning this joint.
That was kind of cool.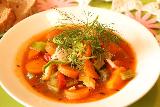 Anyways, we enjoyed a hearty meal of Jons Fiskesuppe (a medly of seafood with veggies), a baccalao fish soup, and a reindeer stew with gluten free bread.
It was a lunch that really hit the spot, and this lunch costed less than the cost of a single person's buffet lunch or dinner on the ship.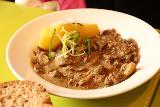 Eventually by 12:30pm, we were done with the lunch, which was just in time since the place really got busy as we left.
So we quickly walked back in the direction of Torget, which was basically the big roundabout or square that we saw from before.
Well, it acted as a roundabout 14 years ago on our first visit. This time, it looked like there was a lot of construction work going around it. So there was really nothing keeping us at Torget this time around.
We then continued making a beeline back to the Hurtigruten Nordkapp ship as the weather was vacillating between rain and mostly cloudy.
By about 1:10pm, we finally made it back to the ship after the long walk back.
With all that exertion, we were hot under all the waterproof gear (pants and jackets), and we couldn't wait to get them off.
For the rest of the siesta hours of the afternoon, we were chilling out in the bakery on the 7th deck. There, Julie was using the internet on her phone, Tahia and I were playing Whirlpool (the Hurtigruten version of Monopoly), and I was trying to get caught up on my blogging and photos while at the same time playing with Tahia.
By around 3:40pm, I took a break from this by heeding the announcement about some kind of scenic lighthouse that the ship was about to pass by.
Once I was up there on the 7th deck's outdoor rear section braving the sprinkles and the cold wind chill, I listened to the explanation by the excursion guide talking about the lighthouse.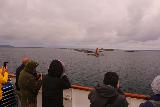 Apparently, it was occupied until about the 1940s when they started to automate the lighting of the outpost.
Nowadays, they rent out these privately-owned lighthouses for self-sufficient and isolated holiday stays.
The guide was saying that this has become quite a popular accommodation option though there was no association or organization to go through.
Instead, you just book direct with whoever happened to own or take care of the lighthouse in question.
In fact, when the boat passed by, we were waving to four people who were waving back from in front of the lighthouse.
By about 4pm, I returned to the bakery to get back to business (Tahia wanted to resume the Whirlpool game), but after 15 minutes, a Norwegian girl and mom wanted to engage Tahia in a little play time.
I thought that was kind of cool as they were sharing in tea time as well as some language lessons.
Indeed, these are the spontaneous and genuine experiences that makes travel very rewarding. Who knows where this new friendship might lead to?
It turned out that Tahia was playing tea time with the Norwegian girl, whose name was Solveig. She didn't speak English, but her mom helped to bridge the communication gap so the girls got along well despite the language barrier.
While they were busy playing, Julie and I got to finish up on some business – she did some reading up on the internet while I was busy catching up on blogging and photos.
When play time was over, we learned that Tahia now had a pen pal in Solveig. That would create an interesting dynamic in that we'd have to translate Norsk while they could translate the English that Tahia would write.
I don't know how long this relationship will last, but sometimes this opens doors in exciting ways that would otherwise be unavailable.
Regardless, the girls wanted to play some more, and in particular, Solveig wanted to play in the jacuzzi (which I learned from her that the Norwegian word was boblebadet or bubblebadet). Tahia loved playing in the water so we wound up arranging to play at around 5:30pm.
As the mother and I were making small talk, I learned that this family used to live in Stavanger. However, they wanted to give rural life a try and they ended up living in Sirdal, which was that beautiful town we saw between Rysstad and Stavanger.
Just as Tahia was getting dressed for the water play, I overheard an announcement saying something to the effect that the cruise route had changed to go through some narrow passageway that hadn't been done in the past.
They said it was another photo opportunity and so I figured I might seize the moment. However, someone had to watch the kids at the jacuzzi, and if I was that person, then I wouldn't be able to go take photos and experience the gorge.
When 5:30pm time rolled around, the mother and her kids (all three of them) were already in the jacuzzi. Meanwhile, I came out with a spare set of towels and Tahia quickly jumped right in.
Since there was an adult hanging out with the kids, I went to a different deck so I could try to experience the narrows.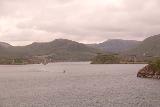 It turned out that I caught the part where we were passing beneath an arched bridge as we were entering a "narrow" section.
There were Norwegians waving little national flags as we were passing by. We were waving back.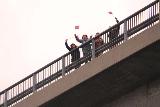 Meanwhile, the rain was falling but it was light enough that we didn't have to retreat.
However, the gorge wasn't as narrow nor as impressive as I was mentally thinking it would be. And perhaps this maneuver was more to avoid the choppy seas though pitch to the passengers that it was a side attraction.
Well, whatever the case, I got my fill, and when I returned to the jacuzzi area, everyone was starting to towel off. By this time, it was 6pm.
As Tahia was showering and blow drying her hair, Solveig came back down and went looking for Tahia. Upon hearing her voice, Tahia was eager to meet Solveig in the hallway.
Indeed, they were becoming fast friends.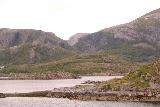 But alas, the Mom went looking for Solveig as it was time for them to go to their booked dinner. Meanwhile, it was time for us to have our dinner though we were eating at the bistro since it was more affordable for us than the dining room.
By 6:35pm, we were having dinner.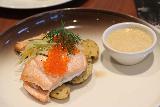 We wound up getting Tahia a typical Hurtigruten burger while I had some kind of beef tenderloin dish while Julie got a salmon dish.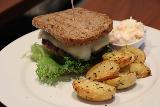 The food wasn't much, but it was enough for us considering how much we had eaten all day today. Heck, we even snacked between lunch and now (I ate up a bag of cherries) so it wasn't like we were starving.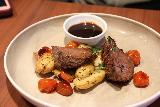 When dinner was over at 7:40pm, I noticed lots of coastal and island scenery just as the sun finally started to come out.
It was the first time in what seemed like days (at least since Bergen) that we had seen the sun during this cruise.
I wasn't sure if this would bring good tidings regarding the weather but I somehow doubted that would happen given the history of the weather behavior throughout this trip so far.
I also went to the reception area to ask about Torghatten, but the humorous excursion guy (who also makes announcements over the PA system) said that I'd have to inquire again when we arrive at Rorvik at around 10:30pm. Only then would we have the latest weather information that might govern the route that the captain would take.
Around this time, it was almost the deadline to submit guesses for predicting when the Hurtigruten would cross the Arctic Circle, which was supposed to happen some time tomorrow.
I recalled that we were supposed to dock in Bodo some time tomorrow morning or midday, and that was well north of the Arctic Circle. So I was explaining to her about the time we might expect the crossing if the boat was on time. However, it wasn't on time.
At about 8:30pm, it was time for Tahia to go to bed. However, the boat went out in the open water and I was starting to feel seasick.
So I retreated to the upper decks in the bakery where I could keep the laptop charged and finish off the blogging for the day.
All the while this was going on, I was admiring the scenery as I was looking against the sun while noticing god beams as well as some of the light squalls in the distance.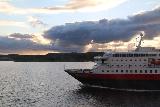 Light activity days like this one were actually quite welcome in terms of me getting caught up. After all, come tomorrow night, the road tripping resumes.
And one thing that at least Julie and I were really looking forward to was to regain our freedom and do things on our own terms. Hopefully, the weather also starts improving compared to what we've been dealing with up to this point…
Visitor Comments:
Got something you'd like to share or say to keep the conversation going? Feel free to leave a comment below...
No users have replied to the content on this page