Day 32 (July 14, 2019 – Roros, Norway): "Going Out Of The Way"
It was 6:15am when we awoke. Since brekkie wasn't until about 7:30am, I knew that it would take some time before we would start driving out to Roros.
It wasn't a short drive, and I was a little nervous about also fitting in a waterfalling excursion that was a bit out of the way at Njupeskar, which also didn't look like a short drive from Roros.
Regardless, we took our time with the good brekkie since there was the possibility that we might have to skip lunch (not a bad option in my mind since it would save us money).
Ultimately, it wasn't until about 8:40am when we finally left the Scandic Lerkendal.
It was quite dead as we were leaving town since it was a Sunday morning, but Sundays in general were typically dead in European cities.
And so we were off towards the Swedish border as we pursued the UNESCO Roros.
Along the drive, Julie realized that one of the worthwhile things to do there was to visit the Olafsgrunna (or Olaf's Mine).
However, they only gave tours on the hour starting at 10am. And given the GPS prediction for when we'd get to Roros, all of the sudden, the rush was on to at least try to catch the 11am tour.
Further adding to the pressure of the situation was that I also had to drive to Njupeskar in Sweden and back. It looked like a non-trivial drive, and it required a hike to boot!
Thus, I was probably doing a little bit of speeding as I was following faster vehicles in front of me and passing slower vehicles like the many RVs and trailers that seemed ubiquitous throughout Norway in the Summer.
At around 10:10am, there was a signposted stop for Eafossen. Upon crossing the bridge over its stream, we could clearly see the waterfall so it would have been a relatively quick visit.
However, we knew that we were cutting it close for making the 11am tour. The GPS predicted we'd get there around 10:52am.
So we didn't stop for Eafossen. Mentally, I had it in my head to try to visit it on the way out tomorrow.
Eventually we arrived at the Olaf's Mine at about 10:50am. They had a very spacious car park so parking wasn't an issue.
And since we had already read about the 5C temperatures in the mine, we made sure to bring a jacket and boots.
The mine tour started promptly at 11am. There was a guy speaking in Norwegian, then he went on to say, "If you didn't understand a word I said, go right over there to the other guide who will speak to you in English."
So we did that, then she promptly took us down into the depths of the mine from within the gift shop and ore displays.
We then grabbed a helmet and she walked us through roughly 1km or so of lit up pathways with frequent breaks to explain the various things we were seeing.
The most striking things about the mine tour were the copper that still remained in the mine. We could see green streaks against more orangish backgrounds, and it almost looked fake.
The thing was that the green we were seeing was what happens when copper reacts with water and air. It's not unlike the phenomenon we get when the 1 cent penny would turn green over time.
We then went below the copper layer where they stored and hauled things from here to the surface.
The mine was as old as the 1500s, but its heyday was more towards the early 20th century when the mine was used to produce metals for war materials.
After the war, the price of copper dropped and it no longer became profitable to run the mine to extract the rest of the copper. Apparently, operations ceased as late as 1972.
These days, the copper would probably be worth a lot, but to get equipment into this mine, or to use the existing old and out-of-date equipment, it would be too expensive to make back what copper could be extracted.
So I guess this circumstantial chain of events resulted in this being one of the oldest mines in existence that still had copper in it!
Another takeaway from our tour was that all the tunnels being built were by old-fashioned hand and chisel until we got to a more modern part of the mine, which had larger rooms (as they used dynamite and things powered by electricity).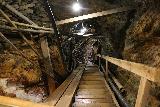 When the tour concluded at 12:20pm, we then returned to the car and found the Hotel Bergstaden, where we were staying for tonight. We got there at about 12:40pm.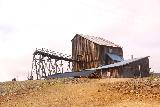 So we left the luggage in the lobby of the hotel, then we walked into the main walking street in the old mining town.
As we walked up the main walking street (called Kirkegata I believe), it was sloping uphill passing by boutique shops and cafes.
One of the cafes was called Kaffestuggu. That one caught Julie's attention so she ultimately chose that place to eat lunch at 1pm.
As Julie was busy ordering, I did a little more exploring of the main street, and I eventually made it up to the Roros Church. I went there trying to get the low down on when the church would close (just in case the lunch stop might put us over the closing time).
So when I got to the church entrance, the guy working the door didn't speak much English. He assumed that I wanted to pay to get in right this instance, but I asked him, "Hvem lukker kirken?" (not sure I asked it correctly)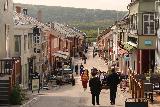 But he got the gist of it and told me "Klokka halv tre" (which I figured out meant 2:30pm after doing the math in my head).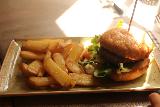 So with that bit of info, I went back to the Kaffestuggu and it was just in time for the food to arrive on the table. We wound up getting some kind of special of the day, which was like Swedish Meatballs, but it was a local Roros specialty (though it wasn't that far from the Swedish border).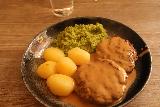 We also got a burger for Tahia and I to share, and Julie got a reindeer steak for something more compliant and gluten-free.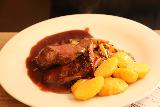 The lunch wound up being expensive at 600 NOK. Indeed, these expensive meals are really adding up, and I'm not looking forward to my bills when we get home.
At 1:40pm, we finished eating lunch. We then walked up to the Roros Church, paid our admission fees, and then promptly walked into the main hall, which was small but decked out in interesting mostly non-Christian symbols.
Apparently, the church was done during the peak of the copper mining heyday and so we noticed more seemingly mining symbols.
In addition to checking out the altar and organ area from the ground floor, I noticed that the side doors leading up stairs to balconies were also available. So I checked those out as well.
Just as we were about to leave, there was a lady explaining the church to an elderly couple in English. So I was listening in to her talking, which provided some interesting background information.
While she gave lots of tid bits, perhaps I only retained that all the blue colors in the church walls were the result of that color being the most expensive. Again, it was a display of opulence at the time.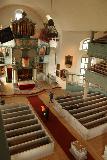 By about 2:15pm, we were done with the church visit as we had to check in to Bergstadens Hotel, especially since I still had a long drive and hike ahead of me to Njupeskar Waterfall in Sweden.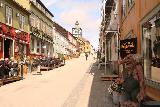 However, as we were walking downhill on Kirkegata, we realized that we completely forgot about the oldest preserved homes in Roros.
So we backtracked then went off to one of the side streets that led to Steggveien. That was where we saw a small block of turf-roofed buildings that were pretty much open-air museum exhibits with the facades pretty much left as they were in the past (with some restoration and maintenance work so they don't completely fall apart).
Inside one of the homes, there was a lady who was explaining to guests what this row was all about. We learnd from her that this area represented the poorest or lowest on the social status in Roros.
These people comprised the artists or servants of the middle class (i.e. support workers and miners) or the upper class (i.e. the bosses or managers).
She also said that the other blocks showing the homes of those in higher social classes were worth a visit though most of them had been converted into accommodations.
Right behind these homes were slag heaps, which provided some interesting views across the town as well as towards a river driving waterwheels or other machinery running the mines here.
By about 3:45pm, we were finally checked in and settled into the room at the Bergstadens Hotel. Now I could finally go on the Njupeskar excursion.
By about 3:55pm, I took off. Julie and Tahia stayed behind so they could walk more around Roros town or let Tahia play in some play area said to be five-minutes walk from town.
The drive turned out to be quite long, which was just as I had feared.
I wound up driving a combination of several numbered highways (I think it was 30, 26, 70…) until I finally encountered signage for the Fulufjallet National Park towards Morket just west of Sarna and well southeast of Idre.
The GPS did want me to take some unsealed road to cut through to Stromsillret, but apparently I added another 20 minutes or so to my commute by sticking with the paved roads.
It wouldn't be until about 6:35pm when I would finally park at the trailhead for Njupeskar Waterfall, which was still quite busy this late in the afternoon.
I wasted no time gearing up as I knew that this hike would take at least two hours or more.
The weather was much hotter in this part of western Sweden (over 20C) as compared with Roros, Norway (more like 13C or less).
And with the presence of lots of lakes in this part of Sweden, it also meant the mosquitoes were back.
The well-signed hike went immediately onto a boardwalk in stretches as the path traversed by some ponds and through a marsh. It ultimately got me towards the some shelter with BBQ facilities (I think it was called Gammelfjallslokken), where a family put it to good use.
Nearby this shelter and picnic area was also a calm and reflective standing pond, but I knew there's boound to be mozzies here, and sure enough, I was getting bit even though I was covered with long sleeve shirts and hikig pants.
As I continued the hike, it continued to make an ascent before arriving at the Njupeskarsstugen. There were shelters here, which I'd imagine were being put to use by hikers.
I wasn't sure how one would go about using these huts, but they didn't seem to be immediately being used at the time.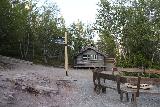 I also managed to get a more frontal view of the Njupeskar Waterfall, which was quite a fine view though there was some degree of view obstruction by the foreground plants and trees.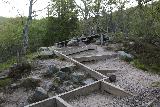 As I was busy snapping photos, I had to deal with the mosquitoes who were taking pot shots at me as I was busy trying to capture the scene before me.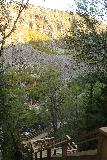 After maybe a bite or two (through my clothing, mind you), I finally decided to hastily put on insect repellent that Julie picked up from REI before the trip.
It was not DEET yet it was said to still effective somewhat in terms of keeping the mozzies at bay though it wasn't as if they were being opportunistic about finding other spots to draw blood from the parts of my body where I did't have the bug repellent layer.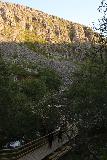 So I resumed the hike with still 300m to go.
The trail did a brief climb before descending a series of steps. The view of the falls weren't great from here, but I could see where the stream passed beneath a footbridge up ahead.
Once I got to the bottom of the steps, I was then able to see more of the Njupeskar Waterfall up ahead. A few people had just passed me at this point so I used them as photo subjects.
There was a junction on the other side of the bridge, which was where I decided I was going to make a loop out of this hike after checking out the falls.
In any case, I then followed the path further upstream as the Njupeskar Waterfall was now in plain sight right ahead of me.
By about 7:50pm, I arrived at the lookout platform for Njupeskar Waterfall. At the time, there were three other people checking out the falls.
There also seemed to be some additional scrambling immediately ahead just to see what the falls was like from closer to its spray zone.
After one couple went into the rocky scramble (by this time, more people showed up to the lookout platform), I followed suit and went somewhat closer to the falls to at least be close enough to feel the spray.
Once I had my fill of the falls, I then scrambled back and started the hike back to the trailhead just as a family of four was also doing the same thing.
The hike back went pretty quickly as any views back towards the falls were pretty much against the sun.
So after passing the family that was in front of me, the path passed through more mozzie havens (i.e. anywhere there was standing fresh water).
And by about 8:40pm, I had returned to the Naturum near the trailhead.
After taking off the gear, there was a Swiss guy who I managed to see from time to time on the trail who needed a ride back down to Morkret Camping.
Since my car had plenty of space without Julie and Tahia, I decided what the heck and let him have a brief ride with me.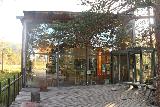 So I finally left the car park at about 8:55pm, and I was still surprised at how many cars remained at the trailhead this late in the day.
After a few minutes of backtracking a short distance to Morkret, I then determined that perhaps I should try to fill up on gas while I was in Sweden since things here tended to cost significantly less than its Norwegian counterpart.
However, the nearest gas station was in the town of Idre, which meant I had to backtrack on my drive and thus extend an already long drive back to Roros.
By about 9:40pm, I attempted to buy gas using the automatic machine, but alas, it wouldn't take my credit card. And so I lost the gamble on extending the drive just for gas that didn't work.
Instead, I had to take off again with a bit less gas in the tank.
The drive back to Roros went as fast as I could without speeding (at least where I noticed there would be speed cameras).
Eventually by about 11:35pm, I finally made it back to Roros. Along the way, I didn't stop for Isterfossen, which had a dedicated pullout or viewing area. However, it was nothing more than rapids by a road bridge so I didn't bother to stop for a closer look.
The drive was also dark enough to allow me to use my high beams to cut through some of the twilight darkness.
I guess we were now getting more south in lattitude so we were actually starting to experience legitimate nights. So we probably wouldn't be needing the eyepatches anymore.
Still, we had a few more days through more touristed and familiar parts of Fjord Norway, and so I was looking forward to when we would no longer be subjected to expensive food, expensive ferries and road tolls, expensive gas, and expensive lodging though I'm sure Denmark and Sweden wouldn't be that much cheaper.
Boy am I going to be paying for it when the bills show up as I get home…
Visitor Comments:
Got something you'd like to share or say to keep the conversation going? Feel free to leave a comment below...
No users have replied to the content on this page