Day 31 (July 13, 2019 – Trondheim, Norway): "Return To Hell And Beyond"
It was about 6:30am when I awoke. And by about 7:35am, we all went downstairs for another round of a pretty good included breakfast.
We took our time at the brekkie buffet since it was good stuff and this was supposed to be a pretty light day of touring.
After all, we had already done some of the things in Trondheim like the Nidaros Cathedral as part of a rushed visit from the Hurtigruten.
Plus, we did another photo run in much better weather yesterday afternoon.
So today, Julie and Tahia were going to visit the Stiftsgarden. I was wavering on whether to join them or to divide-and-conquer and visit Henfallet again just to see how much things have changed over the years since 2005.
After their visit to Stiftsgarden, they were then going to walk all the way to Pirbadet so Tahia could finally have her water park experience that she didn't get to have in Ostersund, Sweden.
By about 9:10am, we were back in the room. With these included brekkies (as with all buffets), I kept thinking that I have probably eaten too much. Either way, the healthy diet and routines that we kept that home were certainly taking a back seat to temptations on this trip.
By about 9:30am, I went to go get the car from the rear lot out back. Given how out-of-the-way Lerkendal was compared to the Trondheim sentrum, the plan was that we were going to divide-and-conquer after all.
However, since I have the car, I could drop them off near the Torget (which was next door to Stiftsgarden before their 10am guided tour) before I would drive out of the city towards the waterfall.
By about 9:40am, we finally drove off, and about ten minutes later, I dropped off Julie and Tahia at the familiar Torget.
The driving was fairly light this morning so I managed to navigate the city streets without too much issue. Then, I drove out east and ate more of the toll roads as I headed back out of Trondheim.
The drive itself was pretty uneventful though I was paying attention to the town of Hell since we apparently missed it on the way into Trondheim yesterday.
Shortly after leaving Hellstunnelen, I then had to get off at the next exit. And once I followed the signs for the Fv705, that was when I passed through the town of Hell.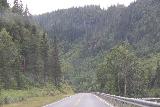 However, the signs came up suddenly and I decided that I'd stop by here after visiting the waterfall. But for now, I had to focus on the task at hand, then I could come back and do the funny stuff.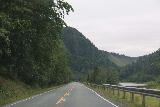 The drive was as long as I had remembered, but it was still a relatively quiet and relaxing drive.
Eventually after passing through the town of As i Tydalen, that was when I saw the familiar turnoff for Henfallet, which was 8km from the main road.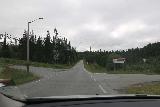 So after taking the turnoff, I then followed the signs past a bridge fronting Kvernfossen before going onto the unpaved road the rest of the way to the falls.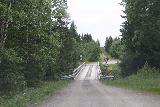 I remembered in the past that this road was a bit narrow and had a lot of grass growing up the middle between the tire tracks, but this time around, it seemed to be a lot more worn than back then.
By about 11:45am, I finally made it to Henfallet, where I was apparently the third car here.
Unlike the last time we were here 14 years ago, the car park was now a larger clearing instead of just a spot for a car or two.
Plus, it had a toilet facility (not there before), and there was a wooden boardwalk going towards a viewing deck.
The tourism infrastructure was definitely one of the big changes between the first trip and this trip as it seemed like there were more things catering to tourists than back then.
I briefly looked around to see if I could do a little more with Henfallet than just the viewing deck, and that was where I noticed a trail of use going steeply down towards the bottom of the gorge.
The path looked a bit steep, and I wasn't sure if this was something I wanted to pursue considering how long it took to get here and whether the experience would be any better.
So I opted to just get my views, then head back to the car.
The falls itself remained as big as I had remembered it, but it wasn't as gushing as before. Either all the waterfalls were getting less water than before despite the rainy Summer, or there was something perhaps more devious caused by climate change that might have impacted the behavior of the ice and snowmelt that most of these falls depended on.
By about 12:15pm, I was back at the car. While the falls was still nice, I was now wondering if this should still remain in the Norway Top 10 List or not as it now seemed kind of like most of the others we had seen on the trip.
As I was driving back, I noticed that the weather remained a bit overcast though some of the drizzle started to give way to partly cloudy skies. In fact, then sun was starting to break through the cloud cover just as I was leaving Henfallet.
By about 1:55pm, I returned to Hell. I ultimately parked in one of the many parking spots for the Rema 1k at the Hellsenteret where I then took the time to walk onto the bridge with the Hell sign.
As I did this, I noticed that there was another Hollywood-like sign for "Hell" on the hillside. And so with that, I took a few more snaps to share with Julie about being "on the highway to hell".
I never recalled that hillside sign being there before, but maybe this town was tongue-in-cheek playing up their name although I'm sure it ordinarily wouldn't be a big deal in the Norwegian language.
As I was headed back to the car, I noticed there were what looked to be an air traffic control tower, which led me to believe that this place was really an outpost town for the Trondheim airport.
Anyways, once I had my fill of Hell, I returned on the same toll roads along the E6 until I was back at the Scandic Lerkendal at 2:35pm. However, this place was full of people and there were absolutely no parking spaces available.
I wasn't sure what was going on but it looked like Lerkendal Stadium was filling up with people. I had recalled that the hotel staff saying something about a Metallica concert happening this weekend, and I wondered if this could be it.
If so, then we'd be screwed on the parking situation because I don't think they'd be leaving until well after midnight.
So I ultimately decided to just drive to the P-hus at Pirbadet and join up with Julie and Tahia.
We had communicated by text and so I realized that they were just on their way to Pirbadet. That meant that I could join them and spend this water play time with them as a family.
By about 2:55pm, I parked at the Pirbadet. They charged 31 NOK per hour so it wasn't going to be cheap. But at least we wouldn't have to spend around 80 NOK or more on a bus for all three of us in each direction.
By about 3:05pm, I got changed in the men's side, where the convention was to strip down, shower before going in, and then going into the pool area.
We brought our own towels from the hotel since we knew that we didn't want to have to purchase towels (like what they did in the water park and spa in Austria).
The facility seemed to feature a couple of giant water slides as well as a smaller one that some bigger kids were doing what the signs said not to do (like stand-sliding).
There were also platform dives and springboards in the deeper pools as well as a wave pool and rock wall.
Then, there was a current pool, where you can drift in circles as well as other chill out pools as well as a jacuzzi.
I wasn't sure if this was bigger than the Ostersund Camping one, but it probably didn't matter because Tahia was having a blast.
By about 5:25pm, we got out of the pool and changed back into street clothes. Even though we had until 6pm with our ticket, there wasn't enough to keep us here for that long.
Next, I managed to find free parking somewhere within walking distance of some kind of old harbor and canal area at around 5:40pm. The walking throughfare was lined with bars, and this place seemed like where the locals would hang out.
So while most of Trondheim seemed dead in the usual tourist haunts that we had exposed ourselves to on this trip, it looked like this was where it was at on a Saturday night.
Anyways, we ultimately walked closer to the main part of town for some Indian food since we knew that ethnic foods wasn't easy to find except in the big cities.
And we eventually went to this place called Taste of India.
We wound up having a pretty good dinner of a chicken saag, some lamb curry, and a fish rogan josh.
It was a satisfying meal though it was a bit on the expensive side for an Indian place. I guess everything in Norway was expensive, and having to eat all these costs were definitely weighing on us.
After dinner, we then walked back through the happening bar scene where we noticed some of the people were now dressed to impress. Julie and Tahia noticed some of the women were more scantily clad, and Tahia seemed to like some of those outfits.
I was a bit concerned about Tahia's tendency to favor those kinds of clothes seeing that it might attract unwanted attention when she comes of age.
Anyways, by about 7:50pm, we were back in the car and headed back to the Lerkendal hoping that the parking situation would improve.
By about 8pm, we were back at the Scandic Lerkendal, and I actually managed to score one of the free parking spots on the side of the hotel.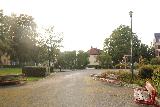 Apparently, the hoopla at Lerkendal was for some kind of match, which was well over by now. Metallica concert was somewhere in a different suburb, and so the fears I had about being screwed out of parking was unfounded.
And so ended this light touring day. Tomorrow, we were leaving Trondheim and heading for Roros, which was a UNESCO World Heritage area.
I wasn't sure what to expect out there since we hadn't gone out of the way to come here on our 2005 visit to Norway. So I was keen on seeing why this mining town got as much attention as they did.
And tomorrow was the day to finally find out…
Visitor Comments:
Got something you'd like to share or say to keep the conversation going? Feel free to leave a comment below...
No users have replied to the content on this page