Day 30 (July 12, 2019 – Trondheim, Norway): "Sweden's Waterfall Row"
It was about 5am when I awoke to Julie's alarm. I was very groggy because I probably only slept around four hours or less.
It took some time to get ready and leave though the urgency wasn't that strong since we had a reasonably moderate drive with some waterfall visits in Sweden along the way.
So we didn't leave the Ostersund Stugby until about 8:30am. By that time, it was lightly raining.
As we were driving, Julie was looking to buy one bottle of parsley in Sweden since we knew that buying such things in Norway was too expensive. The same went for gas though we already had almost a full tank so we had to wait until we got closer to the border.
By about 9:30am, we managed to find a Coop in one of the towns (Nylands, I believe) along the E14 and stopped there briefly.
However, Julie returned unsuccessful in her procurement of her parsley and we had to go across the small town to an ICA to finally find it. I guess the lengths at which we went to try to save a few bucks on buying in Sweden as opposed to Norway was quite strong.
Anyways, we resumed the drive and eventually wound up at a well-signed camping area for Ristafallet at 9:50am, which was just west of town). We had to pay about 20 SEK per hour to park here (we paid for one hour).
It was a pretty short visit as all we had to do was to walk about 225m down past the busy campgrounds before arriving at a viewing area right off to the side of the powerful waterfall.
We were looking somewhat against the sun so we didn't linger for too long. However, at the same time, we were drawn to the sheer power of the falls.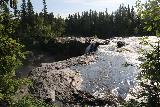 In fact, it looked like there was another side to this wide river falls as I noticed mist was rising on the far side of the falls unseen to us. So this falls was technically even wider than what the main lookout would lead on.
I briefly tried to see where the other trails were going, but I didn't think we were prepared to extend any hiking by 1km or longer (in each direction) though I wondered if the signage might have suggested that the other unseen falls required that long of a hike.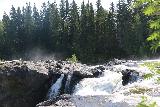 I noticed railings sitting in the middle, but I was skeptical whether that "island" was accessible or not. Perhaps a bridge might have been washed out at one point.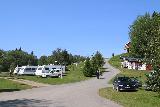 After having our fill of the falls, we returned to the car at about 10:30am.
Next, we resumed the drive further west on the E14 towards the town of Are. Just west of town, we turned off onto the Road 322 as we started to see a large sign for "Sweden's Largest Waterfall".
This turnoff then went a few kilometers towards another signposted turnoff for the Tannforsen Waterfall.
By about 11:05am, we arrived at the busy Tannforsen car park. Like with Ristafallet, the parking rate here was the same (20 SEK per hour). We once again budgeted for only an hour thinking this would be a quick stop.
But once we got onto the short trail to the first of the overlooks, we quickly realized that this waterfall had a lot going for it.
First and foremost, it possessed a lot of power.
Second, the lighting was perfect for a bold rainbow.
Third, it turned out that there were a few overlooks to take in this falls. So this wasn't as short of a visit as I had anticipated.
Anyways, we went nuts taking photos and videos first from the overlook near the waterfalls wide brink.
Then, we went up towards the brink itself to try to get a view of the falls with the lake downstream.
As we noticed people were down near the bottom, we then went down the paths towards a couple more lookouts where one of them yielded a wide semi-circular bold rainbow (including a secondary arc) with a nice frontal view of it.
The last overlook provided a little more context further downstream, but it also made the lake view seem flatter since it was pretty much at the outflow of the falls towards the lake (again, one of countless lakes in this part of Northern Sweden).
Julie said that this falls was probably her favorite of the trip; even better than Hallingsafallet. And it definitely made us consider this as one of Europe's best.
The signage said that this waterfall was allowed to flow freely and wild. And I'm imagine that this had a lot to do with the tremendous experience that we were getting with this falls.
Eventually at 12:10pm, we were back at the car. We probably walked around 1km in total to experience it all.
By this point, we were starting to get waterfall fatigued, but there was still one more to pursue today. And that one was Handolsforsen.
Our gas tank was still almost full so I opted to not fill up in the town of Are. But as we were heading further west closer to the border with Norway, it seemed like gas stations were becoming fewer and farther between.
In any case, at about 12:50pm we eventually arrived at the car park for Handolsforsen, which was basically a couple of small parking spaces near some kind of factory at the end of the official road just past the town of Handol.
Unlike the first two waterfalls we've visited, this parking was free. However, the signage here was way smaller than any of the other waterfalls that we saw today.
We then walked a path that eventually led us towards a swinging bridge as well as some kind of power station.
We could hear the waterfall tumbling beneath the swinging bridge and onwards further downstream. However, we also noticed that this particular waterfall seemed to have been manipulated.
When we compared this experience with Tannforsen, we could totally see the difference between a wild waterfall and a tamed one (for lack of a better term).
Anyways, we queued up to cross the swinging bridge (there was supposed to be only three people on it at a time). However, as we waited our turn, some people just went on and not waited.
So we eventually just got on so we wouldn't be stuck not going across.
Regardless, it realy didn't seem like this waterfall was a series of cascades and was nothing that special.
Once Tahia and I got to the other side of the bridge, I looked at the signs and saw that there was an utsiktpunkt (view point) roughly 0.4km away from the bridge.
But given the way it was pointing, it seemed to suggest that I had to go up. And as I did that, the path seemed to keep going on and on without seeing a viewpoint (perhaps I didn't go far enough).
So I turned back and rejoined Julie and Tahia. Tahia was busy playing on the rocks, but the thought did cross my mind about her getting too close to the moving water.
Fortunately, there were no dramas. And I was still able to take photos though I didn't bother scrambling all the way to the bottom of the falls for perhaps a bit of a different view.
By about 1:25pm, we were back at the car.
Indeed, both Julie and I were a bit underwhelmed with the experience, especially when Ristafallet and Tannforsen really set the bar in terms of enjoying the waterfalls on this day.
So with that, we decided that it wasn't worth lingering around this man-manipulated waterfall even though I knew we hadn't fully done this particular waterfall excursion as well as we could have.
Thus, we concluded the Swedish waterfalls on this day, which for the most part exceeded expectations.
Who knew that Sweden could have such amazing waterfalls that more than held their own against the Norwegian ones?
Anyways, at this point, both Julie and I had checked the weather forecast to see if anything changed from earlier this morning.
From the forecast, we knew that this afternoon would be nice weather, but tomorrow wouldn't be as nice.
So instead of waiting for our full day in Trondheim tomorrow to do a photo run, we decided to target doing it today after we check into our accommodation.
The tricky thing with this stay was that we actually weren't centrally located in Trondheim. Instead, we were staying in Lerkendal.
For some reason, we couldn't get a room in the city center several weeks in advance. We knew something was going on here, but we weren't sure exactly what it was.
Regardless, we'd probably have to either drive or take a bus into town, which adds a little more to the complications of accomplishing what we would want to set out to do today and take advantage of the nice weather.
Indeed, we made a beeline along the E14 west back into Norway (we weren't successful at filling up with cheap gas in Sweden compared to Norway prices), and then ultimately, we'd arrive at the Scandic Lerkendal at 3:25pm.
Apparently, we missed Hell on the way in, but I knew that I'd likely find it on the way to Henfallet, which I was planning on doing solo tomorrow.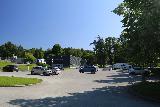 And as expected, the weather was beautiful in Trondheim. So after parking the car for free in one of the back lots (about a five-minute walk from the hotel) at 4:05pm, we then got settled in our room for the next two nights.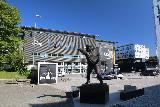 We also learned from the hotel staff that there was a Metallica concert going on tomorrow. So that would explain why most of the city center accommodations were booked out.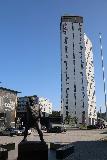 Then, at 4:15pm, we were back downstairs waiting for one of the buses that went to the sentrum.
The bus eventually dropped us off at the Nidaros Cathedral at 4:30pm. The driver was nice enough to tell us when to get off (as we were fidgeting with the phone to try to register with the app to pay the bus fare).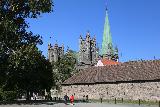 And so we returned to the Nidarosdomen for the first time since the rainy visit when we were allowed a couple of hours off the Hurtigruten.
What a difference the weather makes!
The contrast of the cathedral with perfect afternoon lighting and sunny blue skies made our photo ops here much better than the rainy day we first showed up in.
Then, we promptly walked back to the old bridge where the colorful homes lining the wharf area really stood out in much the same way as the Bryggen in Bergen.
There were a lot more people out here today than there were the last time we were here a couple of weeks ago, and even the restaurants and pubs were more open at this time.
After having our fill of our photo ops at the old bridge, we then walked towards Munkegata and Torget, where we ultimately arrived at Le Bistro at 5:30pm.
Julie was in the mood for French food since we were getting a bit tired of Norwegian food. And we ultimately had a dinner of duck confit, entrecote of beef, and two orders of a half-dozen escargots.
The meal wasn't cheap as expected, but since we were staying in a hotel, there was no way we'd be cooking.
When we were done with dinner at 6:25pm, I was feeling bloated, which I attributed to the sauce that went with my entrecote.
I was bent over in a bit of discomfort, and we still had to walk all the way to Pirbadet just to scope out the hours as well as to get a sense of how long of a walk this would be.
When we saw on the map that it was next to the Hurtigruten terminal, I kind of suspected that it would be at least a half-hour walk between there and the Nidarosdomen. And walking from there to Lerkendal would have been another 30 minutes at least.
During the walk, Julie and Tahia spent some time looking at some random shops. That didn't help my cause in terms of dealing with my bloat.
Still, we ultimately made it to Pirbadet at 7:15pm, where we saw that the water park there was reminiscent of the Great Wolf Lodge in Anaheim, California.
So that got Tahia all excited about tomorrow.
After finishing off this scouting run of the Pirbadet, we then walked back to the Bus Terminal, where we learned that the buses scheduled to go back to Lerkendal didn't run until 8:13pm. It was about 7:45pm when we got there.
As we were waiting, a young Norwegian couple overheard us and told us that we could also take the Bus line 3, which they were also taking. They said that in the evening, the bus goes nearby so we wouldn't have to wait so long for the bus we were after.
Thus, we took the bus, then we had a bit of a conversation with them.
We learned that they were living in Trondheim. We also learned about living expenses and got another bit of advice about checking out the Fjellstua in Alesund, but don't pay for the view. We should instead walk the 440+ steps and don't get all the way to the top.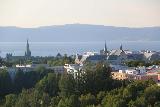 They said the views would be similar or the same, and they were lamenting how lots of the tourist attractions in the country were being held for ransom as people were trying to squeeze every bit of money out of them.
It certainly seemed that was the case as we were paying through the nose on parking and admissions, etc.
We also told them about life in Los Angeles since they had a genuine curiosity about it.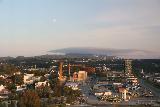 By about 8:20pm, we had to get off the bus as they pointed out that we were at our stop. So we said farewell to each other, and then we were on our way.
As soon as we got back to the hotel, we then went up to the top floor to check out their Sky Lounge there. We figured that like the Scandic Narvik, there ought to be pretty nice views over Trondheim.
When we got up there at 8:35pm, sure enough, the views were definitely grand. However, it was all indoors and it was kind of dead compared to the place in Narvik.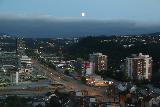 The west-facing windows were covered in mesh to block out most of the sun's rays. So that left the side windows to try to capture the Trondheim sentrum from a distance.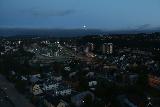 Tahia was also messing with the telescope there until she got it in a configuration where it was stuck and then she couldn't mess with it anymore.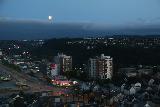 By the way, Julie thought this place's bar was dead because they didn't serve any food. The one in Narvik did, and there were lots of people there to witness the midnight sun.
They also had an outdoor viewing area, but this particular Scandic did not.
Anyways, once we had our fill of the Sky Lounge, we then retreated back to our room to finally call it a night.
With nothing else left on the agenda for Trondheim except to visit Stiftsgarden (which Julie and Tahia for sure would do first thing tomorrow morning) and me visiting Henfallet, tomorrow was figuring to be a pretty light touring day.
Visitor Comments:
Got something you'd like to share or say to keep the conversation going? Feel free to leave a comment below...
No users have replied to the content on this page