Day 29 (July 11, 2019 – Ostersund, Sweden): "Mismanaged Priorities"
It was about 6am when we awoke. Due to the 7:30am breakfast time at the Grong Gard, I managed to sleep in past my now-often-ignored watch alarm (which always was set for 4am, 4:15am, and 4:30am).
So it wouldn't be until around 8:25am when we finally headed out.
The breakfast at the Grong Gard wasn't that bed. We wound up loading up on soft-boiled eggs with caviar, bread with Nugati (no GF bread though), sild, and other usual koltbord stuff.
We needed to do this because we weren't expecting to have lunch though I'm sure Julie would find a way to make that happen.
Anyways, as we were driving off and headed towards the Rv74, we saw signage for the familiar Formofossen.
Since we were already here, we spontaneously decided to make the detour. So by 8:35am, we were back at the Formofossen car park, which was right where I remembered it (though it wasn't a formal car park back in 2005).
Like before, the drive was pretty well-signed though there was a bit of chaos by the railroad tracks where one easily could have driven into the construction zone instead of crossing the tracks to resume the drive on unsealed road briefly to the excursion.
Gone were some signs that I thought I saw about the salmon parasite and now there was a different sign in Norwegian that I'd imagine had to do with fishing restrictions as a result of the parasite.
Regardless, we quickly went down to the viewpoints – one at the brink, where there was now a shelter and picnic table, and one downstream with familiar steps then a ladder.
Like before, that ladder went to a very doozy of a last step to some rocks below that we didn't bother doing. Back in 2005, I swore the river level was high enough to touch the ladder.
Also unlike the last time, the weather was overcast. So there wasn't a whole lot of contrast with blue skies like last time.
Regardless, we had our fill of the falls and by 8:55am we were back at the car, where there was another couple in a campervan that showed up (so we weren't alone here like last time).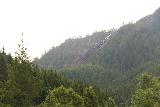 Next, we drove quickly east along the Rv74. We were typically caught behind slower drivers, but when we approached a long traffic stop for repavement work, we saw a waterfall in the distance.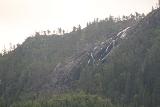 According to our Veiatlas Norge book, it seemed like that waterfall was called Bergfossen but on Norgeskart, it appeared to be called Finnkrufossen.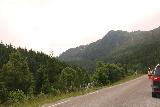 It seemed fairly legit, but we weren't sure if we had the time to stop for it let alone look for a place to experience more of it.
Regardless, the traffic stop happened at 9:20am, and it took quite a while before we were finally moving again.
Once we got past the construction, the drive then zoomed along the Rv74. By that time, Julie dozed off so she couldn't be the shotgun photographer.
And it was too bad because there was a massive waterfall across the canyon to the north that suddenly showed itself then disappeared behind trees. That one was a gusher and I was very surprised at not seeing signage nor pullouts for it.
Could this be the Bergfossen instead? I wasn't sure, but it was a shame that we couldn't have gotten any shots of it via shotgun photography while we could.
Because once we got past it, I never saw it again. But from further post mortem research into this particular waterfall, it looked like this was the Sisselfossen, which would have required a minimum of two hours of detour and hiking to experience, which we simply didn't have the time to do on this day.
We then passed through to Sweden without issues (it almost seemed like it was unmanned or something there), and then we pretty much continued through an area full of lakes.
I wasn't sure if they were natural lakes or man-made ones, but it really seemed like we were going through a land of many lakes (perhaps not unlike Minnesota, which earned its reputation as the land of many lakes).
Eventually, we got to a signed turnoff for Hallingsafallet, where we drove 21km on unsealed roads to its official car park where the last 4-6km had a few more potholes.
We got there at around 10:40am, and there were quite a few cars already parked here. So clearly, it was a popular place to be.
While Julie and I were looking at the signage, there was one older guy who kind of rudely told us to step aside so he could take a picture. Julie asked him how long the hike was to get to the falls, and he just ignored her.
Regardless, the walk to the first viewpoint of Hallingsafallet was actually quite short, and that first viewpoint was impressive!
We managed to get a direct look at the falls throwing up lots of mist and framing a deep canyon.
Aside from the annoyance of Tahia trying to be silly and photobombing or sabotaging our photos and videos as well as mosquitoes taking bites out of us, we took our time checking this spot out before walking over to the footbridge above the falls.
As we went there, we noticed a rainbow wafting in the mist with the morning sun that was popping in and out of the clouds.
On the other side of the bridge, there was a partial view of the brink but the rainbow there was almost a full semi-circle.
After having our fill here, I then headed back towards the picnic area with a more direct canyon view between the bridge and the main overlook. On the way up there, I saw the older guy again with his wife.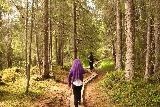 I smiled to them politely and the lady reciprocated, but the older guy kind of had this look of annoyance like we did something to him.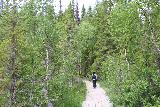 Anyways, we kept walking past the main overlook, then onto a boardwalk through a boggy part (and hence a breeding ground for mosquitoes I'm sure) before getting directly opposite the Hallingsafallet and looking against the sun.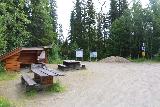 When the sun was hidden, this was another view of the mist and turbulence caused by the falls.
We took a few more moments to experience this spot before retreating to the car and trying to avoid more mosquito bites.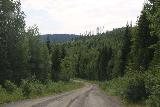 By 11:35am, we were back at the car, and we promptly headed back out just as more cars and RVs were rolling in. Clearly, this was not an unknown spot despite how far north in Sweden we were.
Further hastening our departure were the swarming mosquitoes as well. Some of them mananged to bite Julie and I through our hair and into our scalps. Meanwhile, others managed to bite through our clothing.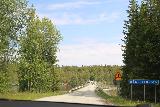 As we were leaving, the GPS routed us on an unsealed road with potholes along the southern shores of a long lake between Gaddede and Sjulsasen.
It turned out to be a rather lengthy and slower drive due to the potholes and rocks on the unsealed road.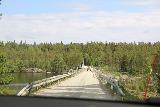 And after about 12:10pm, we finally crossed a dam at Bagedeforsen. That meant the lengthy unsealed detour was about 35 minutes.
In hindsight, I wondered if we were better off going backwards from the Hallingsafallet turnoff and backtracking to the Road 342.
At least after the price of backtracking, we would have been going significantly faster on the wider paved road as opposed to the unsealed southern shores despite what the GPS says.
Anyways, it was a bit smoother going along the Road 342 as we eventually entered the town of Stromsund at around 1:10pm.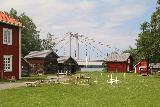 For the first time since our Swedish pre-paid sim card ran out of data (thus ending our pre-paid functionality thanks to Tahia's slime videos on YouTube), we were finally in a position to top up the card.
We eventually did the deed at a grocery store in town. And so we were finally back in a position to use the original pre-paid Swedish sim card, which included both data and voice (the MyCell Norwegian pre-paid sim card only supported data).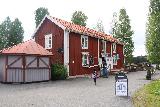 So we could finally confidently made calls to accommodations again, especially when it came to coordinating with apartment owners or representatives.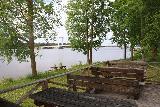 At 1:25pm, Julie had me go find some place called Tomten Cafe. It was in an area where it looked like there was a setup for some kind of event that was going on later today.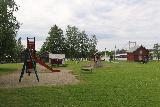 As we walked around the complex, we eventually found the place. However, we quickly came to realize that this place was really more of a bakery than it was a lunch spot.
And Julie couldn't have pastries for lunch, especially since none of this stuff was gluten free let along grain free.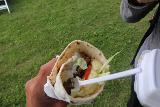 So with that, we were about to walk back to the car and pursue a different lunch spot despite the time restrictions (as I was getting worried about going out and coming back very late at night).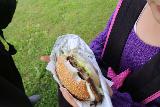 Then, Julie suddenly decided to buy a quick lunch from one of the food trucks setting up here.
We ultimately settled for a food truck that served up hamburgers on a gluten-free bun, some kind of fish cake wrapped in a pita, and some kind of beef kebab take-away dish.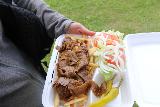 We then took the takeaway food and found a picnic table with a view of the Stromsund Bridge.
Eventually at 2:15pm, we returned to the car and resumed the drive after this rather random stop.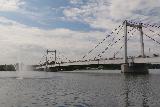 One thing that we were realizing upon this experience was that the prices of goods in Sweden seemed to be quite a bit cheaper than in Norway.
Anyways, we then drove out of the Stromsund park and continued driving on the E45, which crossed the Stromsund Bridge, and the drive went pretty quickly along a 100km/h speed limit.
Yet despite the speed limits, there were plenty of traffic cameras as well as slower campervans going 10-20 km/h slower than the limit.
Thus, we had to be careful passing these slower vehicles, and the opportunities tended to occur only on the straightaways.
By about 3:40pm, we finally got to the city of Ostersund, which contrasted with the Norwegian cities in that this city seemed to better support cheaper prices for goods and services.
And then, we manage to find some mom-and-pop grocery store, where we picked up some stuff for tonight's dinner and tomorrow's breakfast.
Eventually, by about 4:20pm, we arrived at the Ostersunds Stugby (basically Ostersund Camping), where we checked in.
Once we finally found our cabin, we then took stuff out of the car and placed them into the room.
By about 4:40pm, after getting organized, I managed to then get out of the cabin and start driving to a couple more waterfalls in Sweden before coming back.
I was hoping that between now and when I would get back that Tahia could finally get to play in a water park. This particular one was next door to Ostersunds Stugby, and I was hoping that both Julie and Tahia could be in the water park before closing tonight.
After all, that water park and family-friendly atmosphere here was the very reason why Julie booked this place.
Regardless, I drove off towards both Fettjeafallet and Linafallet.
The drive south of Ostersund started off sluggishly with lots of 50km/h or 60km/h zones for quite a bit of time. But when I got out of that, then the drive went along quite a few 100km/h straight highways along the E45.
Perhaps the things checking the speed were the presence of speed cameras (both with signed warnings but especially without them).
Deep into the drive, I then exited the E45 and took the Road 316, which ultimately led to Klovsjo.
After passing through Klovsjo, the GPS started to make me do turns through narrow streets or unpaved roads without any signage indicating as such for Fettjeafallet.
I had to rebel and keep the faith that I'd be seeing signs at some point.
It wasn't until I saw a sign saying something about Klovsjo Skiamradet (ski area?) that I finally started seeing the waterfall signs (with about 5km to go). And at that point, it wasn't a matter of guesses or taking leaps of faith anymore.
Ultimately by about 6:05pm, I just parked in a clearing where there was a signpost pointing at it for Fettjeafallet.
The last 4km was unsealed with some potholes along the way.
Anyways, I geared up and promptly started walking. The skies were partly cloudy at this point as the sun was sinking lower on the horizon though it still felt like it was earlier than 6pm.
I went quickly on this hike as it followed along the stream responsible for the falls. It was also flanked by a clear-fell logging area, which was something I seemed to be seeing a lot of on this trip.
Not long after I got past the 1km sign point, the trail started climbing and getting a bit rockier as it ascended alongside some intermediate cascades (a couple of them at least).
The trail continued to get rocky and uneven alongside the stream. And whenever I stood still, mosquitoes were taking pot shots at me even though I had put on DEET prior to starting the hike.
By about 6:55pm, after getting past a couple of bridges and a rockslide prone section, I finally arrived at a shelter with a view of Fettjeafallet.
It was an impressively tall waterfall with a couple of plunging drops as well as a few more supporting cascades.
I could also see that there were more trail markings along with faint trails leading closer up to the base of at least the lower of the main drops.
So I went up there and managed to document the experience as well as the views once I got to the end of where I was willing to go at 7pm (though it looked like I could have climbed up further if I wanted to).
I couldn't help but notice how the water tended to bubble a bit brown or goldish as the water undoubtedly had some kind of tannin staining to it. Thus, I'd imagine that the stream must have been sourced from peatlands or lakes that must be laced with dirt and swamps.
Eventually, I had my fill of the falls and started my descent.
When I returned to the shed, I noticed a young couple fly fishing (and braving the mosquitoes). They seemed surprised to see me (as was I seeing them).
After greeting each other, I continued my hasty return to the trailhead to see if I can pursue Linafallet.
It seemed like I was now hiking at a time when few people were around so I could actually hear bird calls (including a strange sounding squawk from one of the larger birds that were flying around).
I'd ultimately get back to the parked car at about 7:45pm.
Obviously pretty stoked about the Fettjeafallet visit, I had high hopes about Linafallet. And from looking at the research notes, I was under the impression that it was an easy roadside waterfall that might have a bit of power to it.
So I continued driving on the Road 316 before hooking up with the Road 315.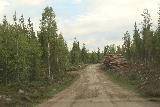 The GPS ultimately tried to make me go on some unpaved road for quite a ways after passing through Rojan, but I rebelled and returned to the E45 where I knew the going would be a lot smoother.
The GPS eventually had me turn off on some unpaved road for Vittvatnet. There was no sign for Linafallet, which started to make me worry a bit.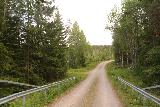 Still, I persisted as I followed my GPS along these unpaved roads, which made me a little nervous considering that it was getting late and I was squeezing in this last excursion, which I had hoped was roadside and easy to visit.
Eventually at about 8:35pm, I finally started to see tiny signs for Linafallet.
And after turning for it on the first sign, then crossing a bridge, I saw a couple more signs pointing to some obscure turnoff with an even sketchier 4wd-looking grassy road.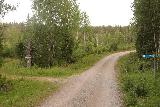 At first I drove that road to see where it went, but it was too sketchy for me to linger there with the car so I actually drove back through the grassy road towards a makeshift clearing I made for myself so I wouldn't get in the way if someone else wanted to drive that road.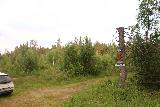 The thing that I realized as soon as I got out of the car here was that there were mosquitoes in swarms!
Even though I already had DEET on, they were still probing the parts of my body that didn't have the chemicals – under my clothing. And they weren't shy about trying to bite through my clothes.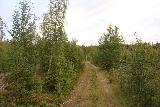 At first, I wasn't sure if the sign was pointing through the clear-fell logging area or if it was pertaining to the 4wd grassy road.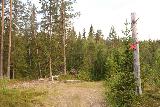 So I first explored the clear-fell logging area, but it quickly became apparent that that was not where Linafallet could be since the sounds of the watercourse seemed to have gotten quieter.
Regardless, I backtracked then hastened my steps and kept moving along the 4wd grassy road.
I'd eventually make it past some makeshift picnic table or something that looked broken, then down and up a hill before I finally encountered another Linafallet sign.
As I followed that sign, I went towards the stream, which was fringed by hard ledges.
Upon looking at the falls, it looked way punier than I was led to believe from the literature.
So I quickly scrambled to where I could get a somewhat clean view of the short waterfall, got my shots and videos, and then made a hasty retreat as the mozzie clouds were all over me once again.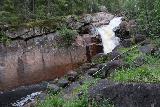 By about 9:05pm, I was back at the car. However, there were so many mozzies around that I hastily chucked my stuff into the back seat and hopped into the driver seat and made sure the door was closed and the windows were up.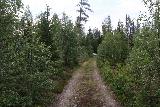 I didn't even bother changing shoes into something more comfortable thanks to these mosquito swarms.
I then made a hasty drive back onto the E45 before zooming north on the E45 to Ostersund.
By about 10:40pm, I finally returned to the Ostersunds Stugby and our cabin. There were still mozzies in the car when I got back, and I hoped that the wouldn't linger around inside the car (and potentially bite Julie and Tahia come tomorrow).
In any case, this was the end of this rather long driving and waterfalling day. Tomorrow, we're expecting to hit at least three more waterfalls before returning to Norway and winding up in Trondheim.
We were trying to make sure that we filled up gas and bought what groceries we needed to get today, because we were keenly aware now of the price discrepancy between Norway and Sweden (with the latter being way cheaper).
I guess our 5-week part of the trip in Norway was already making this trip easily the most expensive trip in terms of absolute cost.
And in that sense, we were all looking forward to the time when we would go to at least Denmark and Sweden again to at least break free from the high costs of everything (including parking and road tolls) in Norway.
Visitor Comments:
Got something you'd like to share or say to keep the conversation going? Feel free to leave a comment below...
No users have replied to the content on this page