Day 28 (July 10, 2019 – Grong, Norway): "Misleading Excursions"
It was about 5am when I woke up to Julie's alarm. The intent of the early wake-up was to give ourselves maximum time to experience more of the Kystriksveien while also doing stops for Laksforsen and Torghatten.
I was also hoping that we could check out the Helgelandsbrua (The Helgeland Bridge), which was said to be one of the more impressive ones on the Kystriksveien (Norway's national scenic coastal route between Steinkjer and Bodo).
However, we didn't actually leave the Hotel Svartisen until around 6:40am as we had brekkie and had to clean up the mess.
It was cloudy and cool this morning, and it seemed to have dampened the mood somewhat compared to the last few days when we were enjoying quite a bit of sunny skies.
The drive south along the E6 was a mostly uneventful affair. However, we had noticed a significant amount of road work going on.
It seemed like there was going to be a new E6 in place where the road would be straighter and wider, and it would finish some time in 2021.
But for now, we still had curvier roads with lots of 50km/h work zones and lots of slower vehicles causing caravans of cars along the way.
I recalled the E6 last time was a road fatigue-inducing drive in this stretch of Nordland and Nord-Trondelag counties (I think they consolidated Nord- and Sor-Trondelag counties). And this time around, I was also already battling road fatigue.
Given this situation, the late departure (hoping to get out by 6am), and the gloomy overcast weather, Julie talked me out of making the out-and-back detour to see the Helgelandsbrua.
She was thinking that it was not worth the extra two- to three-hour detour to check it out then come back to the E6 over a bridge.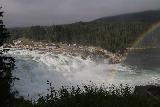 So we kept going, and it wouldn't be until about 8:15am when we arrived at the Laksforsen waterfall, which was one of those wide river-type waterfalls that we had done in the past.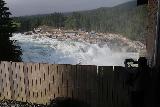 At this time of the day, there was a lovely morning rainbow in the waterfall's spray towards the left side of the building. The sun just started to come out when we arrived after getting a lot of the June gloom-type weather for much of the drive.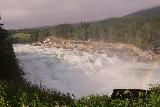 The cafe wasn't open until 9am, however, so we also couldn't use the toilet until then. In the mean time, we let Tahia sleep in the car while we were taking turns checking out the waterfall between now and the cafe's opening time.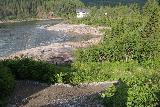 There was a lot of mist thrown our way where the morning rainbow was. So we went down the familiar steep path towards the bottom, where we got more direct views of the waterfall.
From down there, the falls looked quite a bit smaller, but at least the mist was being thrown away from us.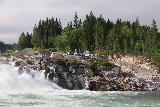 We also noticed quite a bit of work going on towards the opposite side of Laksforsen. We wondered if they were starting to build a hydroelectric facility or something to regulate this waterfall.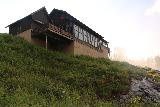 That would probably be a bit of an unfortunate development as far as touring this falls would be concerned. However, we also noticed that the salmon parasite issue was still a problem today according to some signage, and they forbid any fishing here.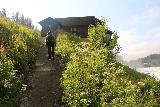 So perhaps whatever income could have been gained from that now had to be replaced by something else, and that something else was the regulation of the waterfall.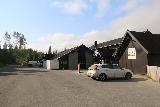 Regardless, when 9am finally came around, we paid 10 NOK to use the restroom, and then we were off by 9:05am.
The drive continued to be pretty featureless as we went through more long stretches of the E6 construction zones.
Then, we took the Rv76 west towards Torghatten.
That drive started off sunny as we were heading west, but then after going through a fairly long tunnel, we emerged out on the other end under gloomy skies again.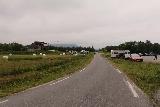 So by the time we finally rolled around to Bronnoysund and then to Torghatten's main car park, we were once again under the ceiling of low clouds concealing perhaps some more of the pretty mountain peaks around the Kystriksveien.
We eventually got to the very busy Torghatten car park at about 11:25am.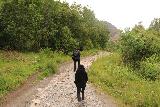 I was hoping that we could get the famous view of looking through the hole in the mountain with the context of that mountain shot, but clearly this car park was on the opposite side of the opening of the mountain and that we'd have to hike around 30 minutes to get up to the hole itself.
The signage here suggested that while it was possible to get to the west side of the arch, the sanctioned way would be to hike. I did see that there was a road to Indre Torget, but it wasn't clear if the views would still be available due to private driveways perhaps preventing that side of Torghatten from being seen.
It was kind of misleading to always show that image in the literature when you can't really get to see it unless you're investing a lot of hours or be willing to possibly trespass for it.
And so while I knew it was going to be a subpar experience to get up to the hole, we did it anyways since we were here.
The climb up wasn't long but it wasn't particularly easy since it was steep and rocky. At least when we did make it up to the hole, we could see through it and the tiny islets in the distance.
I did also notice the farm below though there didn't seem to be any vehicles down there, which suggested to me that it probably wasn't a sanctioned way for tourists' cars to be.
It would take a bit more time to do the rougher trail that would continue through the arch and go around the mountain (where I might have a chance to see the arch from the better western side). But with Julie and Tahia not interested in extending this excursion, we had to settle once again.
So by about 12:55pm, we returned to the car. As much as I wanted to drive to the other side of Torghatten, I guess the ladies had no interest in better photos of it and we wound up going straight to Bronnoysund.
We wound up parking in the town at 1:20pm for lunch at this place called Kred. It was basically a burger joint inspired by the Beattles.
It wasn't exactly the kind of healthy fare that Julie was looking for so we wound up getting a pair of burgers (one pulled pork and the other some kind of Highway to Hell of bacon and cheese) while Julie got a bacalao.
That said, the lunch was about 670 NOK, which was very pricey for just burgers.
Regardless, we were done by about 2:25pm, and then we continued the drive towards Grong along the Kystriksveien.
The drive was mostly unremarkable compared to the crazy scenery we saw further to the north, but I think the gloomy weather and the cloud ceiling had a lot to do with that.
So we zoomed through but just missed a ferry at 3:20pm so we had to wait another 20 minutes for the next one to show up at Vennesund (bound for Holm). That ferry wasn't cheap at around 180 NOK. Indeed, these ferry costs were definitely adding up.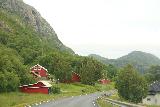 After continuing the drive from Holm, the route went more inland and as it followed along more lakes and fjord arms, the scenery started to resemble a poor-man's version of the Lysefjord with the knobby granite.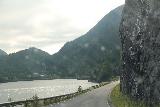 The sun and blue skies were back out during this stretch, and that made me conclude that whatever gloomy cloud ceilings that we had experienced most of the day was mostly a coastal phenomenon.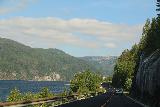 One particular spot had a nice waterfall, but we couldn't stop for it as there was either too many trees or a lack of pullouts to at least enjoy it. That seemed like a common thing in Norway as waterfalls tended to be taken for granted.
But in a relatively featureless drive like this, the waterfall would have been a welcome break.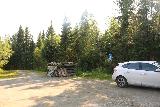 It wasn't until about 5:35pm when we finally arrived at Grongstadfossen.
The car park was familiar to me though it seemed though the narrow unpaved road seemed longer than I had remembered.
Plus, we noticed in the town of Hoylandet that there seemed to be some kind of festival going on. We weren't sure what was being celebrated, but it sure seemed like a lot of people were there.
Anyways, Julie and Tahia stayed in the car while I was out to the familiar picnic table and overlook of Grongstadfossen. At this time of the afternoon, it was somewhat against the sun, and the waterfall seemed to have less water than before.
Upon one person's recommendation (from our website feedback) to get closer to the falls, I looked for the tursti (trail) that would get a better view of the falls (perhaps at the bottom). However, there was a house at the end of the rough 4wd road as well as a significant amount of deforestation on the other side of the house.
There were wire fences put up perhaps to prevent people from getting into the logging zone, but I also couldn't find the trail to improve the view of Grongstadfossen.
After several minutes of scrambling and looking for the trail, I concluded that whoever managed this place and deforested, they also intentionally set up tree barricades (or felled trees) to obscure the path down.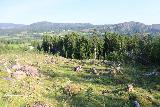 Now, it was pretty much a scramble of faith through poison oak to regain whatever former path was there despite signage suggesting that there was a trail somewhere around here.
With it getting late in the day, I eventually gave up my search and returned to the car at 6:20pm. So it was yet another example of some misleading expectations from the literature resulting in nothing or a subpar experience from such expectations.
In hindsight, we really should have taken the detour to the Helgelandsbrua as it could have been the highlight of this otherwise not-so-great day.
By about 6:50pm, we finally made it to the Grong Gard, which was a guesthouse-like farm stay that accommodated quite a few tourists.
Grong was a small town where we didn't think we'd have much choice of accommodations, but it was actually a surprisingly busy place.
The kitchen facilites were shared but each unit had their own private bath.
So we went to the Grong Sentrum to get some basic groceries at the Rema 1k there, then we returned to the Grong Gard at 7:45pm for a simple self-cooked dinner at one of the three shared kitchens.
Tahia and I were briefly playing in the tiny playground here while she was also trying her hand at skateboarding as there was a tiny one here for her to give it a go. Since I never really got into it, I couldn't teach her, and she was basically struggling to either move or to stay on.
Back at the upstairs shared kitchen where we pretty much occupied it for our dinner, we briefly conversed with one of the Norwegian guests who said they had been driving 11 hours from Oslo to get here. They also talked to us about the big earthquake around Los Angeles though after talking with Julie's Mom, it seemed like our home wasn't in bad shape.
I guess not everyone realizes that the epicenter in Ridgecrest was still a few hours drive away from the main Los Angeles basin. However, the fires caused by transformers blowing around the Lake Isabella and Kern River area was definitely not a good thing since those areas had already seen major fires but whatever was left was probably still tinder for a new wildfire.
Anyways, that pretty much ended the day as we eventually retreated to our room and went to bed.
Tomorrow, we were anticipating a short overnight stay back in Sweden, but it was mostly going to visit quite a few waterfalls before returning back to Norway to experience the fjords once again.
Indeed, we were now past the half-way point of this epically long trip, but I could already sense that Julie and Tahia were Nature fatigued, and they were already looking forward to Trondheim, Denmark, and Sweden though we still had another couple more weeks of Norwegian Nature to go…
Visitor Comments:
Got something you'd like to share or say to keep the conversation going? Feel free to leave a comment below...
No users have replied to the content on this page