Day 27 (July 9, 2019 – Mo I Rana, Norway): "Way Different Than Before"
It was about 6:20am when I awoke. I had purposefully overslept my alarm once again, and it seemed like my body was getting accustomed to ignoring this alarm, which wasn't a good thing for those days when we actually had scheduled departures like the flight home as well as the ferry to Denmark!
Still, with an anticipated light day of activities, I took my time getting ready while Julie and Tahia remained asleep.
It wasn't until about 8am when I was finally heading out to a somewhat sunny morning.
The target of today was to visit Bredekfossen, which was another one of those waterfalls that I'd like to have another crack at since the first time I did it 14 years ago somehow felt like I left a lot on the table.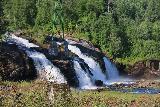 As I was making my way out of town, I stumbled upon a fairly ugly yet attractive waterfall at the same time right in the city of Mo i Rana.
I guess the thing that made it ugly were all the construction and roads right night to it as well as some beat up defunct buildings.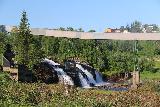 However, the flume running over the falls and further down the city was somehow alluring as well.
Since I still had Bredekfossen looming over me, I quickly stopped and documented this falls. I figured I might have time to come back and experience it more properly later in the day.
And if not, then I didn't feel like I was missing out on anything.
The drive out of Mo i Rana was somewhat uneventful. The only thing I noticed that was different than before was that there was actually a stretch of 90km/h highway, which I didn't recall was there the first time I was here.
There also seemed to be a lot of newly paved roads as well as a widening of the E6.
In fact, when I finally arrived at the old trailhead at Stormdalshei (Stormdal's Hi!) at 8:55am, I realized that it was no longer right off the E6. There was actually a separate smaller access road leading to the dead-end that contained this trailhead.
There were also a lot more parking spots alongside this new road as well.
I then drove over to a different car park at 9:15am, which was where I was intending to do the Bredekfossen hike as a loop. I noticed signage suggesting that this trailhead was for Telegrafsruta, which went into Svartisen-Saltfjellet National Park.
I also saw an assuring sign talking about Bredekrunden (the Bredek Loop).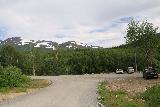 The parking lot looked spacious and I was only one of two or three cars here. There was some children's playground area as well as the same river that the swinging bridge over it by the old trailhead passed over.
After gearing up, I then proceeded to walk over the sturdy road bridge before reaching signage saying that the trail resumed to the left right onto some private driveway.
By about 9:25am, I then saw signage going right into an overgrown and narrow path that seemed to avoid the actual buildings of a particular farm.
I proceeded to go uphill on this narrow and overgrown path, when eventually led me to a grassy 4wd path.
This 4wd path kept gradually climbing and heading north, and I was getting concerned that perhaps I might be on the Telegrafsruta and not on the Bredekrunden.
The path had a bunch of unsigned forks that were false paths probably to other logging accesses. I even went through a deforested clearing that this farmer must have cut down his trees for whatever purposes.
That was until around 9:50am when I reached a signed junction where the Bredekrunden departed from the Telegrafsruta.
The trail then became single-track as it kind of undulated before reaching a really steep descent as it descended a mountainside towards a swinging bridge over a side arm of a river next to its confluence with the main arm.
Once I got to the other side of this scary-looking swinging bridge at 10:10am (good for one person at a time) did I then climb steeply on the other side before eventually flattening out.
This time, the trail followed a different river where I was starting to get frontal views of Bredekfossen except that it kept getting obstructed by trees.
So I was already in the mindset of looking for a way to experience the falls, which at this angle was backed by an attractively pointed mountain.
However, that didn't happen. And by about 10:25am, I made it to some kind of shed with a signposted junction. Apparently, I still had 0.4km to get to the Bredek Farm. And yet my mind was on trying to figure out how to experience Bredekfossen as none of the signage even suggested the presence of the waterfall.
After some mostly flat hiking with a slight descent and ascent before and after a second one-person swinging bridge crossing upstream of a cascade, I wound up arriving at the Bredek Farm at about 10:35am.
This place had an idyllic clearing with a partial view of the top of Bredekfossen itself.
However, after searching around the property, I didn't see a sanctioned or clear indication of a trail that would lead down to a better look at the waterfall.
It took a bit of time before I finally decided at 11am to just scramble across some overgrown parts of the field by following some kind of water channel before I saw a downhill sloping clearing.
When I finally made it to the bottom of this hillside clearing, that was when I finally saw a very steep path leading down closer to Bredekfossen.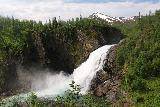 While the path was already steep to begin with, it seemed to be even steeper the further down I went.
I was sure glad that there had been dry weather over the last couple of days because this trail would be way too dangerous to attempt (due to muddiness on a steep slope) in wet weather.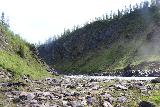 Regardless, I finally made it to the bottom at 11:15am. Indeed, that scramble sure was sketchy, and I was worried about trampling the Bredek Farm vegetation.
Personally, I felt that they really should be putting red Ts to make access to the falls more obvious without messing with the Bredek farm itself.
I took some time to document the gushing waterfall, which looked smaller from down here. However, I was definitely able to feel the power of the river and feel some of the spray that headed in my direction.
After I had my fill of the waterfall, I started to head back out. Eventually, I made it back up out of the sketchy part of the scramble hand-over-feet by about 11:30am. Then ten minutes later, I scrambled back across the farm's field and onto the main trail again.
At this point, I then continued the Bredekrunden, where by 11:50am, I made it to the third swinging bridge of the hike. This time, the single-person swinging bridge traversed the river just upstream of the brink of Bredekfossen.
As I crossed the bridge, I then found myself at the Stormdalsgarden junction at around 11:55am, which was a familiar part of the trail from when I first did this hike 14 years ago.
I then did some scrambling to seek out the old awkward top down view of Bredekfossen that I had gotten the first time around. This time however, there was a fallen tree (or intentionally cut up tree) to obscure the view and discourage doing this.
The only good thing about this view now was that the cave further downstream of the falls was a lot more visible. I wondered if that cave was accessible, but given the steep terrain surrounding the canyon, I figured it wasn't worth the trouble.
DNT certainly didn't have any markings for it.
Next, I continued the loop when I found the trail junction for Granneset at 12:10pm. However, this time, the signage suggested that Granneset was a hut, and it was only about 0.3km away from here.
Since it was so close, I decided to pursue that trail. Along the way, I noticed an unsigned spur trail that deviated from the one to Granneset. But before I would pursue that, I figured I'd get to Granneset first to see what it was like down there.
The trail descended before finally reaching a series of cabins and another idyllic clearing, which I got to at about 12:15pm. I wasn't sure if there was any active farm work going on here as there were some collections of firewood or felled logs inside one of the cabins.
There was also another couple with a dog that made their way down to Granneset before chilling out here. They were the first people I encountered on this trail.
After having my fill of Granneset, I then went back up to the unsigned spur. After following that for a couple of minutes, it then descended to an unsanctioned overlook perched high above the gorge with a direct look at Bredekfossen. I got there at about 12:25pm.
If there was a sanctioned view of the falls, I figured that this must be it. There was also a pretty clean look across the gorge at the Bredek Farm. However, the view of the cave wasn't as obvious given the foliage in the line-of-sight.
After getting back to the Granneset spur trail, I then resumed the Bredekrunden, which led me to another Stormdalsgarden trail junction by 12:40pm, and a Dunderland trail junction by 12:50pm.
I still had another 1.5km to get to the "original" trailhead that I had been to before at Stormdalshei. And after that, I still had to complete the loop hike by walking back to the other car park.
Anyways, after crossing a flat area with partial views back towards Hjartasen and the E6, the trail then made a fairly long descent (which I'm sure must have been somewhat brutal on the way up).
Still, I saw several other people on their way up to the Svartisen-Saltfjellet Nasjonalpark, which attested to how popular this trail must be.
Once I was finally at the bottom of the descent, I passed through the private property that I recalled was there before.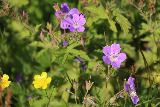 However, the trail routing was such that it appeared to skirt around the edges of the private property instead of passing through like the first time.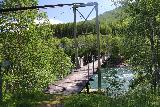 By about 1:15pm, I finally made it back to the last swinging bridge, which traversed the raging river following along the E6. At least this one can support more than one person at a time.
There was definitely more signage than I remembered in the past as far as stuff about the national park as well as where the trails were leading (to make it even more dummy proof for tourists).
It took me another five minutes to reach the Storforshei car park. And by about 1:35pm, I finally made it back to the car park that I was parked at for the Telegrafsruta.
Indeed, I definitely noticed more signage dedicated to the Svartisen-Saltfjellet National Park, which I recalled wasn't the case on that first visit 14 years ago.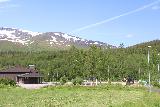 And thus, I finally drove back to Mo i Rana, where I rejoined Tahia and Julie at the Hotel Svartisen by about 2:25pm.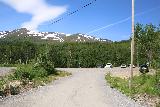 We had a late self-cooked lunch before we then went back in the car at 3:35pm to go check out the Gronligrotta. Again, this was something that Julie and I did as a guided tour in the past. We were hoping to catch the 4pm guided tour or at least the 5pm guided tour.
Well, when it came time to try to leave the city, we were snarled in some kind of traffic jam as the traffic was heavy at a key roundabout right by the waterfall that I had seen earlier in the day.
So it took a while to get out of town, and then it took a little more time to drive the unsealed road to get up to the Gronligrotta car park and reception area.
I got up there at about 4:20pm. I didn't recall the narrow unpaved road being somewhat rough and practically single-lane, but then again, my memory was fuzzy about a lot of things 14 years ago.
When we paid for our admission, we were told that we didn't have to wait for a guide to go in. We could just show our tickets to whoever is inside but all we had to do was the follow the lit paths.
We only had to hike a short distance downhill behind the reception area before reaching the cave entrance.
Once we were inside there, it felt quite a bit cooler in contrast to the warm weather outside.
And soon enough, we reached the familiar short waterfall and cascade, which was responsible for creating a bit of a misty moist air in the cave, which caused halo effects from the lighting.
Aside from being careful about the slippery surfaces, we managed to explore as much of the lit up paths as we could, including a so-called "Indiana Jones" room with a stuck boulder.
Tahia was busy being a clown inside the cave and causes a bit of a raucous.
I also noticed more dark passages that probably would require some degree of spelunking and a torch to explore the cave a bit further.
One thing that Julie noticed was that there was an absence of stalactites (or at least significant ones). Perhaps that attested to the mineral-poor waters that seeped into the cave.
I guess without a guide to explain it, we were just speculating about why this was the case when most other caves have more pronounced stalactites and stalagmites.
Eventually by about 5:25pm, we were back in the car. It was a nice little visit and it was good that we didn't have to wait because it was getting late in the day when we still wanted to walk around Mo i Rana and still have self-cooked dinner.
However, I saw that the Svartisen Glacier was only around 10km from Gronligrotta so I decided to just pursue it really quick before going back to town.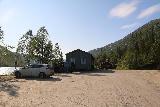 When we finally got there at about 5:45pm, I noticed that the east side of Svartisen was merely dirty ice as seen from the boat dock.
There was really nothing keeping us here for long so we didn't linger for long.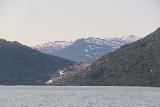 Eventually by about 6:30pm, we returned to the Hotel Svartisen where we parked the car and then went for a walk.
Since Tahia had been complaining and whining about wanting to have some black ice cream in the mall, we decided to rush over to the mall before they closed at 7pm so she could have the treat.
However, she refused to eat it after a few bites because it wasn't the charcoal vanilla that she expected. So that was a waste of time and money, and I was none too pleased about that.
Anyways, we then walked towards the Sea Man (Havmann), which started from a seemingly new pedestrianized area (a former car traffic road or two), then went underneath the train tracks, before going past some upscale apartments, then finally reaching the waterfront.
The lighting wasn't great against the evening sun, but it was still a nice spot to walk around and take pictures despite the ugly tankers and industry clearly visible at the waterfront.
After having our fill of this spot, Julie and Tahia stayed in town to go shop at the Coop Extra for some groceries and to cook dinner. Meanwhile, I was back in the car at 7:25pm to check out the city waterfall that I was at earlier.
By about 7:40pm, I had returned to that city waterfall after some informal parking at a construction site next to the waterfall. I didn't know its name, but I still walked around the pedestrianized accesses alongside the roundabout and E6.
So I was able to see this waterfall from all the different angles as well as checking out the flume from below.
By about 7:55pm, I had my fill of the waterfall, and I had filled up at the cheapest gas station in town that would actually take my American credit card (as not all of the automated gas station tellers would do it).
By about 8:05pm, I finally returned to the Hotel Svartisen to call it a night and have another self-cooked dinner with the family to both save on money, save on time, and enjoy each others' company once again…
Visitor Comments:
Got something you'd like to share or say to keep the conversation going? Feel free to leave a comment below...
No users have replied to the content on this page