Day 26 (July 8, 2019 – Mo I Rana, Norway): "Making Lemonade Out Of Lemons"
It was about 5:50am when we awoke. We must have slept through the alarm because we needed to get up earlier than that to ensure that we'd be in the breakfast room right when they opened at 6:30am.
Unfortunately, it wouldn't be until some time after 7:30am when we finally got into the breakfast room which was completely crowded with people from a Spanish Tour Group.
That meant that we couldn't eat in the dining hall. Instead, we brought our brekkie buffet up to a much quieter spillover seating area upstairs.
It also must have been chaos for Tahia since she couldn't see the buffet items with all the mass of humanity waiting in queues to get at the various foods here.
For a breakfast buffet that was included with the room rates, this one was not bad. It even had a small waffle maker as well as the usual assortment of koltbord stuff like fish (mostly sild, laks, and mackerel) as well as an gluten-free corner.
We also did the combo of soft-boiled eggs with fish eggs (like our own version of caviar).
Needless to say, our hopes of getting out of here by say 7am wasn't going to happen. Instead, we wound up leaving Narvik at around 8:15am.
For a day that would involve a lot of driving, this meant that we might have to be checking into our accommodation in Mo i Rana quite late.
GoogleMaps said our route would take nearly 12 hours without stops. So indeed, this was going to be yet another brutal day of driving (which now made about five straight days of at least 500km of driving).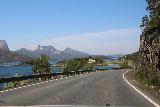 The drive south of Narvik along the E6 was actually a very scenic drive. As much as we wanted to keep driving, we kept being compelled to pull over and try to take pictures of what we were seeing.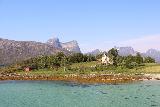 In some cases, we'd pass slow-moving RVs only for them to pass us when we were taking pictures.
At other instances, Julie was playing the role of shotgun photographer, where I'd try to get her to pick up my DSLR and take pictures through the windshield or out the passenger-side window.
Indeed, the pointy mountains we were seeing fronted by colorfully blue waters and red houses against blue skies were just breathtaking.
In fact, the mountains were very reminiscent of a cross between Yosemite High Country scenery and fjords. I'd even argue that Norway was more Yosemite than Yosemite because practically the whole country was Yosemite-heavy.
By about 9:35am, we made it to a ferry crossing over Tysfjorden.
It seemed like a fairly long one, too. So I took the opportunity to get out of the car so I could try to take pictures of the surrounding mountains. Unfortunately, it wasn't as scenic as the drive to get to the ferry in the first place.
And it wasn't until about 10:15am when we were finally about to leave the ferry.
Next, we drove another while south on the E6 in the direction of Fauske. It turned out that Tahia was stubborn about not using the toilet on the ferry nor any of the other WCs along the way.
So when it came time for an emergency stop, we begrudgingly stopped at some random spot at around 11:40am.
When Julie and Tahia went inside the cafe, she noticed a sign pointing the way to a waterfall as well as an overlook.
At that point, I grabbed the camera and tried to see if this place was a legitimate waterfalling stop.
Well, it turned out that indeed this place was a legit waterfalling stop. There was a wide waterfall (looking against the sun however) where there was a hydro contraption off to one side of it and a troll standing above the waterfall.
According to the signage here, this place was called Kobbelv Vertshus. So I guess this waterfall could be called Kobbelvfossen?
Downstream of the waterfall was a nice view of some fjord. Again, the water was beautifully colored, and there were homes dotted on the hillsides and mountains surrounding the head of this fjord.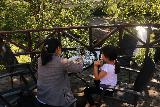 Tahia even took a few minutes to get down to the shore.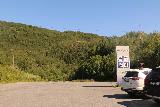 Regardless, Julie got a cheap takeaway lunch (it was actually a buffet lunch for one person that she stuffed into a takeaway box), but we wound up eating at one of the outside picnic tables.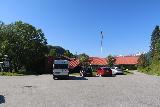 The water here was refreshingly cool and the food consisted of whale meat with chicken and lots of salad.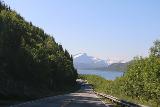 By about 12:15pm, we were back in the car. So what started as an emergency restroom break caused by Tahia wound up being an unexpected waterfalling stop.
I guess you just never know what kind of pleasant surprises come your way.
Next, we drove for a very long stretch as we eventually drove through Fauske then headed east on the Rv80 as we left the E6. Shortly before getting to Fauske, I noticed a turnoff and signage between a pair of tunnels leading to Rago Nasjonalpark.
On our 2005 trip, I wound up missing this turnoff as I had intended to do a long hike there towards Vaerivassfossen. However, I now knew better in that it was a brutally long hike, and I'd have to be spending multiple nights in Fauske or doing an overnight backpack to make it happen.
At least I finally knew where I went wrong the first time, even though it was good that I wound up skipping it on both of our trips.
Before reaching Bodo, we then went south on the Rv17, which was the famous Kystriksveien (i.e. Coastal Route). We were headed south, which meant we were looking mostly against the afternoon sun.
Along the way, we traversed a long bridge over the Saltstraumen. From glancing over the bridge as we drove past, it didn't look like there was a maelstrom going on.
So we kept going and didn't bother stopping for this. However, the mountains and the scenery around here by themselves without the maelstrom were actually quite good.
Next, we did more intense driving as we went through a combination of tunnels of twisty-narrow mountain roads supporting bi-directional traffic.
It wouldn't be until around 3:50pm when we finally found a stop for the Svartisen Glacier. We first stopped at a tourist information parking lot, which revealed a partial view of the glacier.
Against the blue skies, the glacier arm was still impressive, but it left a lot to be desired.
So we continued the drive towards the boat dock (with no intention of going on a boat tour to get closer), and when we found the boat dock at 4:05pm, we managed to get better views from here.
By about 4:25pm, we were back in the car. It took us some time to linger here because we were also trying to take family tripod shots.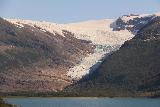 In any case, the boats leading to the viewing area and trailhead at the other side of the fjord didn't leave all that frequently. So that killed any intentions of us spending any more time here due to the boat.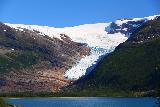 Instead, we continued the drive until we saw a signed pullout with an even better and more revealing view of the scenic arm of the Svartisen Glacier.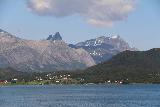 We took some time to take even more photos from here as it turned out that this was the spot we should have spent the most time at for photos. However, you can't call these things in advance, and you always have to be in the moment without assuming there's a later or next time.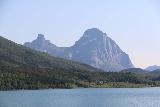 Anyways, seeing that we next had to make two ferry crossings to continue on the Rv17, we made a beeline for that first ferry.
Seeing that there were cars already driving in the other direction, I knew that they had just landed. And when we showed up to the dock at 4:45pm, apparently we had just made this ferry in time!
After getting off of this ferry (which revealed some nice views photo ops during the journey), we then followed a caravan of slow-moving trucks and RVs on the narrow roads towards Jektvik.
We ultimately got there at about 5:30pm, where we had to wait for a much longer ferry towards Kilboghavn.
It didn't seem like we had to wait long as there was a ferry about to show up dropped off vehicles at about 5:35pm. Unfortunately, after dropping off the cars, it then left empty-handed as no vehicles were allowed to go on board.
I didn't understand what this was all about as that boat eventually parked itself in the middle of a bay without moving.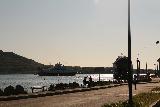 Then, there was another ferry that dropped off vehicles before it, too, did the same maneuver.
What was going on here?
Anyways, when I saw that there were vehicles repositioning themselves in one of the empty lines, I decided that maybe we should do the same so we wouldn't have to be behind slow-moving RVs that refused to use pullouts (which was the case with the RV in front of us).
So we positioned ourselves in one of the lines in lane 6 from lane 1 (our original spot).
And when one of the ferries returned to the dock, it looked like line 2 was moving first, then line 1. However, lines 6 and 7 didn't move at all.
When line 1 was done loading, the ferry took off without us!
I knew something was wrong when no one else was moving after line 1 was done loading, and I intended to catch up to the back of that line.
However, Julie told me to stay put and stop moving around. I guess that bit of advice backfired, but I also shouldn't have moved the car in the first place.
Seeing that apparently our ferry took off without us, I asked someone in the car next to us where the ferry they were waiting for was going.
It turned out that they weren't going to Kilboghavn. And at that point, I never felt so stupid.
So my heart sank and now I was wondering if we were stranded here as we weren't sure if there was going to be another ferry today.
Upon overhearing the mess that we were now in, one of the workers who was about to take care of the next ferry told me that there was going to be another ferry to Kilboghavn at 8:20pm. It was now 6:10pm so we had lots of time to kill.
Either way, I sure hoped that they would honor the ticket that I had already paid for.
At this point, what was done was done. As much as I kept replaying the potentially disastrous chain of events in my mind and the thinking that I was going through at the time, I knew that there was nothing more that could be done to change the past.
So now, with two hours to kill, we went looking for a place to eat dinner. We were also trying to figure out how we were going to do the check-in situation since the reception was only open until 11pm, which we would have made easily had we not missed our ferry.
After driving around and realizing that going backwards towards the cafes that we saw well past a pair of tunnels might not be a wise move, we then went back to Jektvik and saw a kro about 200m from the ferry dock.
There was a Joker (pronounced yoo-ker) that was closed as well as a Phoenix Cafe that we weren't sure if they were open or not.
It turned out that they were open but they weren't serving anything on their lunch menu. Our only options now were burgers.
The lady working at this cafe didn't speak much English so in order to communicate Julie's gluten allergy to her, I had to use my Norsk. I managed to get by and she understood Julie's situation seeing that she, too, was also gluten intolerant.
However, explaining the whole lectin avoidance regimen that Julie was doing as part of a Plant Paradox regimen to help heal her gut was something that was way too difficult to explain in a language that I wasn't fluent in.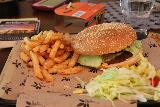 Regardless, Julie got a burger without the bun, while Tahia and I got the regular burgers. They weren't cheap as the whole meal costed us about 500 NOK (or close to $60 USD).
That said, we talked with the lady at the cafe who happened to be the mother of her rambunctious son who was 6 years old. I managed to get him into Duolingo, which was an app that a co-worker introduced me to, and I was using that app to quiz myself Norwegian to keep me engaged in the language here.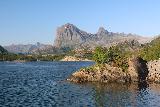 They seemed impressed that I was able to communicate with them in a little Norwegian (no one seems to expect that out of tourists), though I also warned them that Jeg kan snakke bare litt norsk.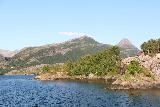 With so much time to kill, I used it to fix Tahia's falling-apart backpack with duck tape as we were finally able to tend to this issue as we hardly had any time to do anything else. As Julie told Tahia, "Sometimes, you have to make lemonade out of lemons."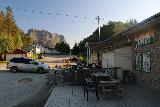 And such was the case here. At least the worst that could happen was that we were delayed by a couple of hours. It could have been worse (like if we caught the wrong ferry and got stranded on a different island!).
I was also getting caught up on Duolingo since I was demoted out of the Ruby League earlier this morning (perhaps a sign of things to come for today?).
Not only that, but had a bit of a friendly conversation learning about each others' schooling since the natural conversation gravitated towards her son as well as Tahia.
Before we knew it, it seemed like we were holding up this family from closing up shop. So we said our good-byes and thanked them.
I then went to the shores to take a few pictures from behind their restaurant and/or property.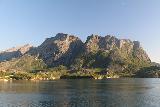 By then, it was about 7:50am when we returned to the car. And when we returned to the ferry dock, it appeared that it was just in time to board the ferry.
I felt a bit of a sense of relief once we finally got on the correct ferry to Kilboghavn. Of course, it was getting late, and I knew there was a bit of a drive to finally get into Mo i Rana to check in.
Sure enough, the ferry left on time at 8:20pm, and I managed to get quite a few photos of the landscape during this ride.
The scenery here wasn't as striking as the views from the road that we experienced throughout the drive along the Rv17 as well as the E6 south of Narvik.
Regardless, by around 9:15pm, we were all finally about to leave the ferry at Kilboghavn.
The leader of the caravan of cars was a large truck carrying lots of cargo. However, he eventually turned into a work site, which meant that we were now the leaders of the pack.
At that point, I was gunning it where the speed limit was unmarked (i.e. assumed to be 80km/h but I was probably going faster than that).
However, the group of vehicles would catch up to me whenever it got to 60km/h or less as they probably went faster than that speed limit whereas I was hesitant to do that.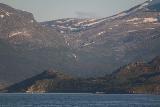 In any case, there would be no more shotgun photography as I was driving though there were a couple of missed opportunities at the start of this drive.
It wouldn't be until around 10:40pm when we finally arrived at the Hotel Svartisen in Mo i Rana. This was still 20 minutes before reception closed, which was necessary since Julie never got the e-mail containing the combo code to get the room key had it been after hours.
So with that squared away, we then went straight to the nearest Rema 1000 that we saw on the way in. We got there at 10:45pm, which meant we had about 15 minutes to do grocery shopping.
It turned out that this Rema wasn't well-stocked. So we didn't get everything we needed.
I was also not having luck filling up at any of the gas stations in town so far (especially since we were running out of fuel and many of the machines were finicky about non-Scandinavian credit cards).
Eventually at 11:30pm, we were finally settled in the hotel room with kitchenette at Hotel Svartisen.
Given all the setbacks from today and that I was starting to do a poorer job of staying in the moment on the trip (as opposed to thinking about what I was starting to miss from home), I went to bed concluding that this was just one of those days.
Every trip of this duration was bound to have its share of dramas. And boy was this feil a doozy but wasn't catastrophic.
I'd eventually sleep some time after midnight, and I'd sleep with the intention of sleeping in a little bit since tomorrow's activities was supposed to be on the lighter side.
At the very minimum, at least the drive wouldn't involve yet another 500km marathon though the day after would pick up right where we left off again…
Visitor Comments:
Got something you'd like to share or say to keep the conversation going? Feel free to leave a comment below...
No users have replied to the content on this page