Day 25 (July 7, 2019 – Narvik, Norway): "Lifting the Ceiling"
It was about 6:15am when I awoke. It was a bit later than I was hoping, but I guess when you barely sleep for a couple of hours, your body just has a way of making it so you get enough rest.
Julie actually had gotten up before me as she was busy cooking breakfast.
Upon looking at the webcam for Nordkapp (in total "what could have been" mentality), I noticed that it was still foggy just like it was last night. So even had I stayed, there was nothing I could have done to get that elusive midnight sun view at Nordkapp.
It just wasn't meant to be regardless.
It wasn't until about 8:15am when we finally armed and locked up the cabin to check out and leave to go south.
The sun was finally coming out though I was worried about being out a bit late tonight with the long drive plus the excursion that I was going to solo to Silverfallet in Bjorkilden, Sweden after checking into Narvik.
I knew that the drive was over 500km so that was going to take quite a bit of time.
The drive back along the E6 was for the most part uneventful. However, it did take quite a bit of time to get through Alta with the long sprawling town full of speed cameras and 50-60 km/h speed limits.
It took us at least over a half-hour to finally get through the town from the Alten Lodge.
Then, we had to pass a long caravan of RVs or campervans going very slow and providing not much opportunity to pass. So we had to pass each of the dozen or so vehicles one-by-one with limited opportunities to get by and no one bothering to use the pullouts or car parks (which weren't that many to pullover for other).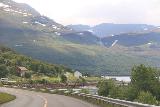 Once that was done, then we were cruising along the E6 though there was a great urge to stop and take pictures for the sharp peaks rising across the fjords alongside the E6 not long after noticing Fosselvfossen in the distance.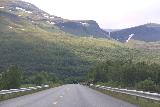 We weren't quite back at the Lyngen Alps when the weather and the scenery was already striking. In fact, it seemed like the ceiling of clouds were lifting as the weather improved.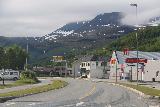 It wasn't until about 11:10am when we got around to pulling over at unmarked pullouts to look across the Lyngen Channel at the Lyngen Alps.
Like back in 2005, these mountains very much reminded us of what the Grand Tetons rising over Jackson Lake were like.
So we took some time to bring out the tripod and try for the rare family shots.
This took us a surprising amount of time, and it wasn't until about 11:30am when we were finally resuming the long drive.
Next, the drive continued past Olderdalen and ultimately entered the familiar Kafjorden.
Unlike on our 2005 visit, there seemed to be new tunnels to shorten this drive.
Of course, the waterfalls seen across the fjord were still compelling.
In fact, there seemed to be more streaks of water trickling down the mountainsides given the persistent rainy weather over the past few weeks of our trip.
As we got towards Balsfjord, we also saw some other significant-looking waterfalls, but by this point, even the gushing waterfalls seemed to be a dime-a-dozen and were easily taken for granted. They didn't even bother putting signs or viewing pullouts for them.
I guess it's easy to get jaded seeing waterfalls in Norway. It makes Yosemite seem like nothing since the whole country seemed to yield consistent Yosemite-like scenery as far as the granite domes and glacier-carved U-shaped valleys were concerned.
By about 2pm, we made a gas and restroom stop somewhere in Bardufoss, where I knew that the gas prices were pretty cheap compared to the 17 NOK per liter prices I had been consistently seeing elsewhere.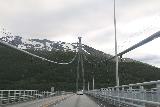 We continued on with the drive, which became a bit less featured the further south we went.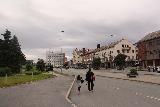 Finally, by about 3:40pm, we arrived at the Scandic Narvik, where we were staying for the night. It wasn't an apartment so we didn't bother grocery shopping (not that we would be able to anyways since today was a Sunday).
The city itself seemed to be a bit bigger than I had remembered, and the overcast skies seemed to conspire against us seeing the midnight sun down here (let alone on the cable car that we took back on our first trip in 2005).
Since our room still wasn't ready by about 4:25pm, we decided to walk to one of the few places that were open on a Sunday. We had a choice between Chinese food or Italian food.
We wound up eating at this place called Bella Napoli at around 4:40pm.
It turned out that the pizza was awful and Julie really had to pick out the lectin stuffs in her salad. She did like her chicken dish, however.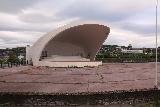 This meal was pretty much our lunner (i.e. no lunch). So we probably saved a little money by not having a third meal for the day.
By about 5:50pm, we were finally settled in the room. At that point, Julie and Tahia stayed in the room while I went back to the car to start and out-and-back excursion chasing waterfalls across the border in Sweden.
Given that it was likely that I wouldn't get back until around 10pm, I really had to get going.
So I promptly went back to the car and drove off under the overcast skies in Narvik.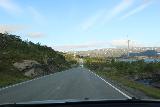 When I headed back across the bridge, I saw that I had to pay another road toll again, then when I turned right to get east on the E10, I had to pay yet another toll.
These things were adding up! So I mentally decided that I was going to take a longer way around the Ofotfjord to avoid paying more of these tolls than I have to.
Anyways, the drive east on the E10 quickly rose into what appeared to be highland moors. Along the way, I saw several alpine tarns as well as man-made lakes.
There was even an impressive waterfall by some defunct shop behind some area called Skogvann (Forest Water?).
Although the lighting was perfect on many things (including the Skogvann Waterfall), I didn't stop for fear that I might run out of time or be out way too late.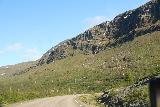 The hits kept coming as I had crossed the Swedish-Norwegian border without issue. There were cameras there but it didn't seem like there was a heavy presence of people manning it.
Once beyond, the speed signs were now in yellow with red borders instead of white with red borders.
I also noticed that people were really gunning it on the roads through the moors up here.
Along the way, I saw several thin and thick waterfalls coming down a massif that appeared to be melting lots of its snow accumulations. I bet that there was new accumulations resulting from the rains that had fallen for so much of the Summer so far.
Again, I wanted to stop for each of the waterfalls (and unlike in Norway, most of the falls and streams were signed as well as in Sami language apparently). However, I had to get to the target excursion of Silverfallet in Bjorkilden first.
Then, I could go back and visit each thing knowing how much time I'd have left at that point.
By about 6:55pm, I made it to a very large pullout signed for Rakkasjohka. It turned out that this was the Sami name for Silverfallet.
It was just past the turnoff for Bjorkilden and it was before the bridge over the stream responsible for the falls (though there was another smaller pullout on the other side of that bridge).
After stopping the car, I promptly followed a signed path that went to the bottom side of the bridge. There was a trail that went under the bridge and kept going uphill towards some access near Bjorkilden.
However, a sign pointed the way downhill for Silverfallet. And I followed that towards a bridge where I was finally able to get a direct view of the misty waterfall sending its spray right onto the footbridge.
I was also looking against the sun so it wasn't the greatest of photo ops. Still, I was impressive with the raw power of this falls as well as the views towards the lake.
Once I had my fill of the falls, I then did a little more exploring of the area to see if there were other ways to experience the falls. I did notice some trail closures that prevented this falls from being experienced as a loop hike.
Regardless, I went back to the car at 7:30pm and then started to head back to Narvik, which was now said to be about 75km away.
On the way back, I managed to stop for the signposted Loktajohka, which was one of several consecutive streams and waterfalls on the moors on the Swedish side.
I was expecting this to be a quick stop, but after seeing a sign pointing the way uphill to get closer to the falls, I had a feeling that I might be checking out this place longer than planned.
So I started to hike up to get closer to Loktajohka at 8:15pm. Then, I went on a somewhat muddy and uphill hike past someone's impromptu camping tent before approaching an active railroad.
There were also some apparent historic cabins nearby though they looked like they were still in use or at least had been used by random people.
After crossing the railroad, I continued the uphill hike, which went up steeply to a bluff. It was from there that I probably got the most comprehensive close-up view of Loktajohka.
I also looked in the other direction at the lakes and the road passing through the forests and moors of this remote part of Lapland.
However, I was also being swarmed by mosquitoes. Even though I had DEET on, I was still getting bit through my hair as well as through my clothes.
I continued the scramble to get right up to the base of the main drop. It was very muddy there, and there was lots of mist thrown everywhere.
After having my fill of the falls, I then went back downhill and returned to the car at 8:55pm.
I then continued the drive back towards Narvik, where I passed through the border again uneventfully, then stopped for Skogvann at about 9:20pm.
The lighting wasn't as good there anymore compared to earlier on in the drive up, but I still stopped and documented it.
After having my fill of the falls, I then drove back to the Scandic Narvik, where I took the non-toll route back as I had mentally told myself I was going to do.
Indeed, this route wasn't bad at all though there was some road construction work going on. Sure it was narrower than the E6 throughfare, but it also went by some nice views of the bridge as well as a war memorial.
When I got back to the Scandic Narvik at 10:15pm, I couldn't help but notice how the clouds appeared to have semi-cleared themselves as opposed to earlier on in the day.
Perhaps, we could check out the midnight sun on this night?
I got back to the room at 10:30pm, where Julie told me that the bad pizza we just had for lunner induced a bad bout of diarrhea and stomach pain. I guess no more pizza for Julie (especially the dairy used for the cheeses).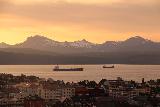 Julie encouraged me to check out the bar on the 16th floor of the Scandic. So when I went up there, I checked out the views where the sun was definitely visible above the horizon and above the mountains in the distance.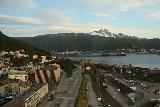 It wasn't quite the Nordkapp view where the sun would be above a flat horizon. Instead, this view over Narvik was fronted by mountains.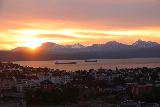 Regardless, I managed to talk Julie into doing the midnight sun viewing, and after cleaning up and getting ready for sleep, Julie and I went up to the 16th floor bar at around 11:55pm.
There were definitely lots of people still chilling out at the bar, and even more people checking out the midnight sun outside.
We were lucky to have seen the midnight sun when we did because just a few minutes later, some clouds started rolling in. At the same time, the sun was starting to sink behind the mountains in the distance.
Anyways, by about 12:05am, Julie and I returned to the room. We got cleaned up, and we tried to catch some badly needed shut-eye for the continuation of the long drive tomorrow as we were headed to Mo i Rana from Narvik via the Kystriksveien Route 17…
Visitor Comments:
Got something you'd like to share or say to keep the conversation going? Feel free to leave a comment below...
No users have replied to the content on this page