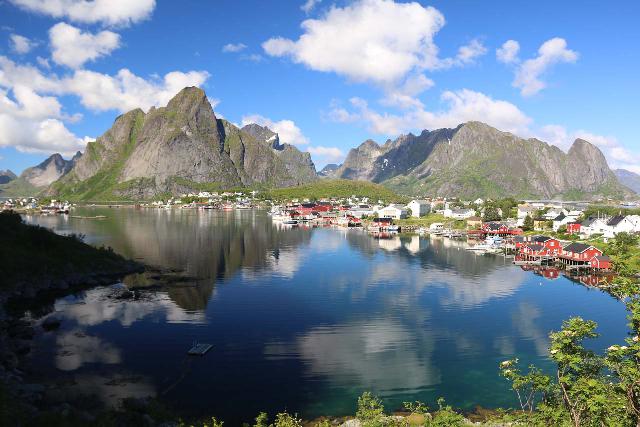 29-June 2019 to 14-July 2019:
We ultimately got there at about 5:30pm, where we had to wait for a much longer ferry towards Kilboghavn.
It didn't seem like we had to wait long as there was a ferry about to show up dropped off vehicles at about 5:35pm. Unfortunately, after dropping off the cars, it then left empty-handed as no vehicles were allowed to go on board.
I didn't understand what this was all about as that boat eventually parked itself in the middle of a bay without moving.
Then, there was another ferry that dropped off vehicles before it, too, did the same maneuver.
What was going on here?
Anyways, when I saw that there were vehicles repositioning themselves in one of the empty lines, I decided that maybe we should do the same so we wouldn't have to be behind slow-moving RVs that refused to use pullouts (which was the case with the RV in front of us).
So we positioned ourselves in one of the lines in lane 6 from lane 1 (our original spot).
And when one of the ferries returned to the dock, it looked like line 2 was moving first, then line 1. However, lines 6 and 7 didn't move at all.
When line 1 was done loading, the ferry took off without us!
Day 17 (June 29, 2019 – Hurtigruten Cruise, Norway): "Nickel and Dime"
As the boat took off, Tahia was busy going back and forth in the jacuzzi with me looking on.
The bottom of my pants were wet and I knew that its quick-dry abilities could only go so far.
Meanwhile, Tahia was probably bumming that I couldn't join her in the jacuzzi since my swimming trunks were in the luggage with the car, which I had no access to.
Various announcements were being made for the past few hours regarding safety briefings and excursion-booking deadlines (they were already selling Geiranger-Trollstigen-Molde tickets for tomorrow), but they also had a celebratory bubbly announcement right when the boat took off.
But when I made it up there, they were selling each glass of champagne for 99 NOK. I guess everything was pretty much nickel-and-dimed.
We even got ripped off at the buffet earlier on, which really made me not comfortable with the amount we were spending on this part of the trip.
I mean, nearly 1400 NOK (or over $160 USD) for a buffet dinner? Seriously?
Regardless, we were done with the jacuzzi at 10pm.
Outside, it was raining lightly. We knew that the weather in Bergen was wonderful for the entire time we were there despite its rainy and wet reputation.
But the irony was that the next part of the trip was more weather dependent. And that was the part that concerned me.
After all, we wanted to enjoy decent weather in the Lofoten Islands, which was in the about 3-4 days, and we wanted Nordkapp to be fine weather, which comprised I think day 6 or day 7.
Eventually, I tried to get caught up on my photo sorting and blogging, but I found myself dozing off from exhaustion.
So I promptly took a shower and went to bed shortly after Tahia and Julie did the same in our tight cabin. And so began the next leg of our epic Scandinavian Summer trip…
Day 18 (June 30, 2019 – Hurtigruten Cruise, Norway): "Dark Skies"
It was 6:30am when I awoke up to Julie's phone alarm. Still, I felt pretty well-rested.
When I got dressed and finished tending to my hygiene, I then went upstairs towards the Explorer's Bar, which was quite the popular spot last night.
The boat was actually moving and rocking quite a bit. And when I looked outside, I saw that it was foggy outside. The coastlines were definitely shrouded in a thick layer of mist.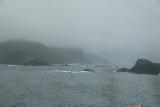 Well, if there had to be bad weather, it mind as well be while we're moving on a boat without much to see at the time.
The rocking and swaying of the boat kind of messed up my equilibrium somewhat (no surprise there as I get seasick very easily).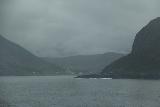 I used this time to try to get caught up on some of my photo and blogging work though it was getting increasingly difficult due to the motion sickness I was getting.
At some time after about 7:30am, Julie and Tahia found me at the Explorer's Bar at the front of the top deck of the ship.
They said they were going for the included breakfast buffet, and so I wrapped up and joined them soon thereafter.
After having last night's dinner buffet, the breakfast buffet seemed like a total indulgence in gluttony. There was simply too much food and too much temptation to get food.
We had been pretty frugal with portions and eating healthy, but it was all going out the window with the cruise meals.
That said, to the Hurtigruten's credit, the food served here was actually pretty good and fresh. Still, self control was hard to do, especially when we paid nearly an arm-and-a-leg per person for the privilege.
At around 9:15am, we were still in the Torget eating room on the ship, and we could see that we were getting to some town called Torvik.
It appeared that the weather there was improving, and it gave me hope that perhaps our Geiranger experience might not be so bad after all.
At 10am, we spent time listening to a funny presentation about the ship's excursions on offer before we then ultimately took some time having lunch at 12:05pm.
Once again, we overpaid for the buffet, and by this time, I was getting sick of overpaying for food as well as buffet food in general.
Whoever came up with this concept of all-you-can-eat was real devious, because portion control was near impossible, especially given that we were paying upwards of $80 USD per person on the lunch buffet!
As we were eating, we were seeing that there was starting to be more scenery as we looked out the window. Even though I suspected that we weren't in Geiranger, apparently we were in Sunnlyvsfjorden. And that place was no slouch itself in the scenery department.
So I wound up leaving the lunch a bit early (and removing myself from the temptation of overeating even more), and then I walked onto deck 5, which just so happened to have an outdoor deck that went all the way around the ship.
I took advantage of this as the weather was momentarily looking fine. However, I did see that there were some angry looking skies in the direction that we were headed.
I was hoping that it would be a short and temporary squall that we'd be passing through, but the skies looked really dark and angry with no end in sight.
Sure enough, we didn't even make it to the junction of Sunnlyvsfjorden and Geirangerfjorden and the rain was coming down quite hard.
On the 7th deck in the rear, there was a presentation by an excursion person pointing out the various sights along the way.
When I went up to that deck, I saw that all the people were huddled close together in the only shelter on the rear. It wasn't exactly a pleasurable touring experience.
So at some point, this way of touring was getting old, and I just kept the printout which let me know of the place names of the sights we were encountering on this part of the cruise.
However, I retreated back to the fifth deck where I was busy moving around trying to brave the bad weather while still trying to experience both Sunnlyvsfjorden and Geirangerfjorden despite my pants getting soaked.
As we went deeper into the foggy and heavily-rained-out Geirangerfjord, there were numerous waterfalls coming down like veins in much the same way that was reminiscent of the Milford Sound Highway in New Zealand.
Indeed, this was quite a different experience than what Julie and I had experienced the first time around when we were enjoying several consecutive days of sunny and cloudless weather, which included the Geirangerfjord.
Every time I tried to take a photo or a video, I knew I was risking water damage inflicted on the camera.
Even when I was under shelter, the rain was coming in at an angle since the cruise ship was moving around 18 mph.
As we got past the familiar Ljosurfossen, which now was accompanied by a plethora of thinner plunging waterfalls in parallel, the boat then went right into the tight bend where both Friaren and the Seven Sisters were right across from each other.
With the dark and low canopy caused by the clouds, I couldn't get the nice Geirangerfjord view framed by both waterfalls. It was kind of the scene that was re-drawn with creative liberties by one of the Frozen books from Disney when Tahia was all into it a few years ago.
Clearly, they had their inspiration from this place.
With my pants soaking wet, we eventually got past the worst of the squalls just as the boat was slowing down and coming to a stop near the head of the Geirangerfjord.
The boat didn't go all the way to the dock, and actually, we waited there a while so excursion passengers could ride a smaller boat to go ashore and go on their booked excursion.
The rest of us waved to those passengers (who would meet us further on in Molde). Meanwhile, other passengers may be coming aboard the Hurtigruten from Geiranger.
Eventually, after 15 minutes of stoppage, the boat then went back through the squally Geirangerfjord.
The weather seemed to have gotten worse at the Seven Sisters and it wasn't until we got past Ljosurfossen again did the weather finally start to improve.
By about 3pm, we had finally left the Geirangerfjord and I figured that the best of the photo ops had passed.
However, I was shivering from the combination of wet pants and wind chill from the moving ship. So I decided to go back inside and down to the 4th deck where there was an interesting lecture on how the fjords were formed.
This lecture finished some time near 4pm. But there was another one at 4:45pm, which was about getting to know Norway.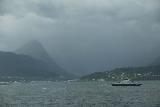 The lecture was finished at 5:15pm, and it was raining outside once again.
After listening to the pretty funny lecture, we then had Julie change the dinner reservations to 7:30pm upon learning that her original reservation of 6:30pm would have screwed us out of experiencing Alesund.
We so badly wanted to get out of the ship, and it would be a shame to be couped up in the ship in the lone hour that we had to get off the ship and experience a town before getting back on.
Once that was done, and once the ship landed after 6:30pm (we had put on waterproofs just in case), we then rushed our visit as we made a beeline to the main part of town as well as the Alesund church, which was quite a ways away.
In fact, we barely had enough time to simply walk all the way to the church before returning to the Hurtigruten about 7:20pm, which was ten minutes before departure.
Finally at 7:30pm, we had our dinner at the Kysten restaurant on the ship, which was actually their take on fine dining. However, we knew that ordering a la carte was cheaper than the overpriced dining room, which tonight was some 550 NOK per person for a three-course fixed-price menu.
We wound up getting a very good ravioli of king crab and reindeer stock bone broth, while Julie and I shared a couple of scallops.
Our mains consisted of a reindeer dish from Finnmark and I got a local pork dish from Trondelag.
And they prepared it with gluten-free in mind since they had time to prepare for this.
So in the end, we enjoyed the meal. And it was so good that we even indulged in the chocolate terrine, which was sweet and probably not a good cheat as far as healthy eats were concerned.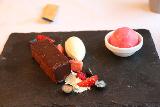 Dinner ended at 9:20pm. At that point, I asked the excursion person about Torghatten knowing that we woundn't have an opportunity to see it until around 1am tomorrow overnight.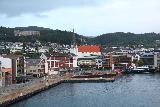 However, he said that the ship might not bother going there if the wather would be bad, and it was forecasted to be as such.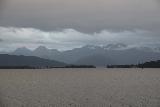 So, we'll just play it by ear and see if that's even worth staying up at night to check out. I know we're supposed to be checking it out as part of the Kysteveien (the famous coastal route) between Bodo and Grong.
Regardless, I finally retreated to bed to call it a day.
Day 19 (July 1, 2019 – Hurtigruten Cruise, Norway): "Pen Pals"
It was about 7:10am when we awoke. Once again, I had slept through the alarms so I didn't get around to do any catchup from the previous day's excursions.
We spent the better part of the morning having another buffet breakfast. This time it was the same fare as we had been having previously though the selection was quite extensive and quite high quality for a buffet.
By this point, my stomach was already feeling big, and whatever rationing and healthy eating with portion control by this point had already been undone in these two days of cruising. We still had another full day to go before we'd get off the boat in the Lofoten Islands.
At 9:50am, we had left the dining room, donned our waterproof pants and jacket, donned my bigger backpack which had a waterproofing bag that went around it, and proceeded to deck 3 where we were itching to get out of prison, so to speak.
When the door finally opened at around 10am, we could see straight away that it was raining outside in Trondheim, just like the forecast had predicted.
We had about 2.5 hours in the city, and I knew given our Alesund experience yesterday that we really didn't have a whole lot of time to spare.
So we proceeded to follow the fastest of the walkers who already seemed to have an idea of where to go to get to the Nidaros Cathedral, which seemed to be the main thing to see in this city.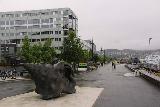 I was warned that this was a 30-minute walk, and after seeing one of the pedestrian signs well past the wharf area, I could see why.
Indeed, it was still another 1.4km walk to get from the harbor area to the Nidaros Cathedral.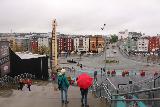 So if you figure in those walking times (at least 40 minutes each way), then we really didn't have a whole lot of time to visit the Nidaros Cathedral as well as having a lunch to avoid getting ripped off on the boat.
Anyways, after walking through the rain and trying to jog our memories of the city from 14 years ago (it wasn't ringing a bell), we eventually arrived at the Nidaros Cathedral at 10:50am.
We managed to approach the church from the side so it was an angle we weren't familiar with. However, the big green tower was unmistakable.
After buying our tickets for about 265 NOK for just the cathedral, we then swung over to the west face.
And that was where we saw the familiar imposing facade that we had seen and photographed 14 years ago (in better weather, of course).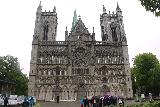 They didn't let us take pictures inside the cathedral so the visit didn't take long. There were a lot of red-robed younger individuals (both men and women) reminding guests of the no photos policy.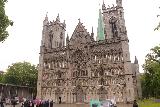 Julie seemed to be most impressed with the stain-glassed windows behind a modern-looking series of silverish organ pipes. She said it reminded her of St Chapelle Cathedral in Paris.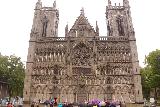 The imposing cathedral also had a bunch of smaller rooms and side navels to check out, but without a guide to really interpret this place, we were basically having merely a look around before having seen enough.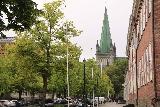 Right when we were about to leave, it looked like they were doing French and Norwegian language tours.
However, the English-language tour wasn't until 12pm so that would have cut it too close knowing that we had to be back at the ship at 1pm to comfortably be back in time for the 1:15pm departure.
After the cathedral visit, we were about to walk in the direction of the Torget before Julie remembered something the excursion guide on the ship said about the Gamlebybrua (the old town bridge).
So we went there instead, and by about 11:30am, we found the charming bridge, which fronted a pretty row of colorful houses lining a river or something like that.
It turned out to be quite the charming and low-key find, and it didn't seem like there were other cruise passengers checking this place out.
Next, we headed across the bridge and noticed a 7-eleven, where Julie picked up a sim card since Tahia exhausted the one we bought from Sweden with her YouTube videos.
We also noticed the bike lift going up a steep road that the excursion guide told us about. It was interesting to note that the lift was free, and it was intended to encourage the use of bikes in Trondheim.
Then, at 11:45am, we showed up to the Bakklandet Skyddstasjon, which Julie had read about regarding gluten-free dining.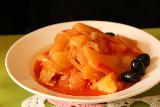 The establishment was in a tiny home, which was one of the few remaining registered historical landmarks left in Trondheim. We also learned from the friendly proprietor that she was celebrating her 10th year owning this joint.
That was kind of cool.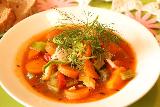 Anyways, we enjoyed a hearty meal of Jons Fiskesuppe (a medly of seafood with veggies), a baccalao fish soup, and a reindeer stew with gluten free bread.
It was a lunch that really hit the spot, and this lunch costed less than the cost of a single person's buffet lunch or dinner on the ship.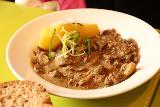 Eventually by 12:30pm, we were done with the lunch, which was just in time since the place really got busy as we left.
So we quickly walked back in the direction of Torget, which was basically the big roundabout or square that we saw from before.
Well, it acted as a roundabout 14 years ago on our first visit. This time, it looked like there was a lot of construction work going around it. So there was really nothing keeping us at Torget this time around.
We then continued making a beeline back to the Hurtigruten Nordkapp ship as the weather was vacillating between rain and mostly cloudy.
By about 1:10pm, we finally made it back to the ship after the long walk back.
With all that exertion, we were hot under all the waterproof gear (pants and jackets), and we couldn't wait to get them off.
For the rest of the siesta hours of the afternoon, we were chilling out in the bakery on the 7th deck. There, Julie was using the internet on her phone, Tahia and I were playing Whirlpool (the Hurtigruten version of Monopoly), and I was trying to get caught up on my blogging and photos while at the same time playing with Tahia.
By around 3:40pm, I took a break from this by heeding the announcement about some kind of scenic lighthouse that the ship was about to pass by.
Once I was up there on the 7th deck's outdoor rear section braving the sprinkles and the cold wind chill, I listened to the explanation by the excursion guide talking about the lighthouse.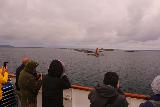 Apparently, it was occupied until about the 1940s when they started to automate the lighting of the outpost.
Nowadays, they rent out these privately-owned lighthouses for self-sufficient and isolated holiday stays.
The guide was saying that this has become quite a popular accommodation option though there was no association or organization to go through.
Instead, you just book direct with whoever happened to own or take care of the lighthouse in question.
In fact, when the boat passed by, we were waving to four people who were waving back from in front of the lighthouse.
By about 4pm, I returned to the bakery to get back to business (Tahia wanted to resume the Whirlpool game), but after 15 minutes, a Norwegian girl and mom wanted to engage Tahia in a little play time.
I thought that was kind of cool as they were sharing in tea time as well as some language lessons.
Indeed, these are the spontaneous and genuine experiences that makes travel very rewarding. Who knows where this new friendship might lead to?
It turned out that Tahia was playing tea time with the Norwegian girl, whose name was Solveig. She didn't speak English, but her mom helped to bridge the communication gap so the girls got along well despite the language barrier.
While they were busy playing, Julie and I got to finish up on some business – she did some reading up on the internet while I was busy catching up on blogging and photos.
When play time was over, we learned that Tahia now had a pen pal in Solveig. That would create an interesting dynamic in that we'd have to translate Norsk while they could translate the English that Tahia would write.
I don't know how long this relationship will last, but sometimes this opens doors in exciting ways that would otherwise be unavailable.
Regardless, the girls wanted to play some more, and in particular, Solveig wanted to play in the jacuzzi (which I learned from her that the Norwegian word was boblebadet or bubblebadet). Tahia loved playing in the water so we wound up arranging to play at around 5:30pm.
As the mother and I were making small talk, I learned that this family used to live in Stavanger. However, they wanted to give rural life a try and they ended up living in Sirdal, which was that beautiful town we saw between Rysstad and Stavanger.
Just as Tahia was getting dressed for the water play, I overheard an announcement saying something to the effect that the cruise route had changed to go through some narrow passageway that hadn't been done in the past.
They said it was another photo opportunity and so I figured I might seize the moment. However, someone had to watch the kids at the jacuzzi, and if I was that person, then I wouldn't be able to go take photos and experience the gorge.
When 5:30pm time rolled around, the mother and her kids (all three of them) were already in the jacuzzi. Meanwhile, I came out with a spare set of towels and Tahia quickly jumped right in.
Since there was an adult hanging out with the kids, I went to a different deck so I could try to experience the narrows.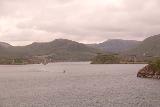 It turned out that I caught the part where we were passing beneath an arched bridge as we were entering a "narrow" section.
There were Norwegians waving little national flags as we were passing by. We were waving back.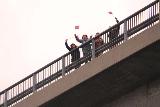 Meanwhile, the rain was falling but it was light enough that we didn't have to retreat.
However, the gorge wasn't as narrow nor as impressive as I was mentally thinking it would be. And perhaps this maneuver was more to avoid the choppy seas though pitch to the passengers that it was a side attraction.
Well, whatever the case, I got my fill, and when I returned to the jacuzzi area, everyone was starting to towel off. By this time, it was 6pm.
As Tahia was showering and blow drying her hair, Solveig came back down and went looking for Tahia. Upon hearing her voice, Tahia was eager to meet Solveig in the hallway.
Indeed, they were becoming fast friends.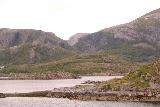 But alas, the Mom went looking for Solveig as it was time for them to go to their booked dinner. Meanwhile, it was time for us to have our dinner though we were eating at the bistro since it was more affordable for us than the dining room.
By 6:35pm, we were having dinner.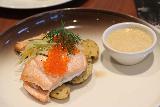 We wound up getting Tahia a typical Hurtigruten burger while I had some kind of beef tenderloin dish while Julie got a salmon dish.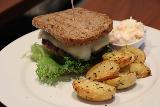 The food wasn't much, but it was enough for us considering how much we had eaten all day today. Heck, we even snacked between lunch and now (I ate up a bag of cherries) so it wasn't like we were starving.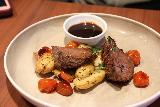 When dinner was over at 7:40pm, I noticed lots of coastal and island scenery just as the sun finally started to come out.
It was the first time in what seemed like days (at least since Bergen) that we had seen the sun during this cruise.
I wasn't sure if this would bring good tidings regarding the weather but I somehow doubted that would happen given the history of the weather behavior throughout this trip so far.
I also went to the reception area to ask about Torghatten, but the humorous excursion guy (who also makes announcements over the PA system) said that I'd have to inquire again when we arrive at Rorvik at around 10:30pm. Only then would we have the latest weather information that might govern the route that the captain would take.
Around this time, it was almost the deadline to submit guesses for predicting when the Hurtigruten would cross the Arctic Circle, which was supposed to happen some time tomorrow.
I recalled that we were supposed to dock in Bodo some time tomorrow morning or midday, and that was well north of the Arctic Circle. So I was explaining to her about the time we might expect the crossing if the boat was on time. However, it wasn't on time.
At about 8:30pm, it was time for Tahia to go to bed. However, the boat went out in the open water and I was starting to feel seasick.
So I retreated to the upper decks in the bakery where I could keep the laptop charged and finish off the blogging for the day.
All the while this was going on, I was admiring the scenery as I was looking against the sun while noticing god beams as well as some of the light squalls in the distance.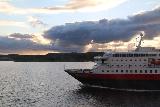 Light activity days like this one were actually quite welcome in terms of me getting caught up. After all, come tomorrow night, the road tripping resumes.
And one thing that at least Julie and I were really looking forward to was to regain our freedom and do things on our own terms. Hopefully, the weather also starts improving compared to what we've been dealing with up to this point…
Day 20 (July 2, 2019 – Svolvaer, Norway): "Venner"
It was 7:40am when we all awoke. There was some kind of announcement being made over the PA in the hallway, and I guess I had heard something that kind of woke me up.
I guess I had purposefully slept through my alarms, but I never heard Julie's.
With such a late wake-up, we hastily got going with getting our hygiene done as well as getting dressed for our last day on the Hurtigruten.
First up was breakfast. And since this was the latest that we got onto the dining area, it was quite busy.
Now knowing how easy it was to overeat in the brekkie buffet, we basically stuck with the tried and true stuff like poached eggs with fish eggs acting as a sort of whitish caviar, GF bread spread with Nugati, the hot stuff (though this time they had fish cakes instead of liver cakes), and the usual veggies, herring, cheeses, and yogurts.
The meal went along uneventfully until we were asked by a German lady sitting next to us about whether Tahia won the "guessing the Arctic Circle crossing time" game that they had played on the cruise ship.
Tahia said that she had guessed 7:59am, but apparently the actual answer was some time around 8:01am. And a little boy happened to win it by 17 seconds.
From there, we had a bit of a pleasant chat with the ladies about our travels. I knew that they were from a German-speaking area since I overheard them speaking Deutsch.
Upon learning that they were from Freiburg, Germany, that got us thinking about our travels in Germany and Austria last year.
Tahia revealed how much she enjoyed Neuschwanstein as well as reading about both Ludwig and Sisi.
So we also talked about our time in Wien (Vienna).
Then, we learned that the ladies had lost luggage that they were quite anxious about since apparently it got lost on a connection when they flew out from Frankfurt and ended up in Norway without the luggages over a connection.
Since there was a big heat wave throughout Europe, they also didn't have heavy clothing on them for the Norwegian cold temperatures.
So they weren't have a good time of it with the luggage situation, and they actually had to spend a lot of money to get by with expensive Norwegian goods just to stay warm.
Yet with all the ice-breaking, it seemed like Tahia was just that. She broke the ice with a lot of perfect strangers that we were meeting from around the world.
And that opened up a world of different perspectives as well as nice conversations that we might have otherwise not ordinarily had.
Just like with Solveig yesterday, we were suddenly having frequent conversations with her family.
Towards the end of brekkie, Tahia and Solveig saw each other, and they wanted to organize for some play time between breakfast and when we'd land at Bodo.
With both girls seemingly becoming fast friends, I had a feeling that it was going to be a difficult farewell when it came time for us to leave the ship later tonight in Svolvaer.
Anyways, they both wound up hanging out together playing with dolls as Solveig shared her Elsa figures, Smurfs figures, and even a squeezy green bubbly toy that was oozing out white stuff (I don't think that was intended).
The girls were left alone with me and Julie, and so the pressure was on me to translate or figure out whatever Solveig was saying.
It was kind of a test of my Norwegian and it was coming along ok though every once in a while, she'd say something that I couldn't totally figure out. I guess I still had a ways to go before I could hold a conversation with a seven-year-old.
Meanwhile, I was popping in and out of the outdoor deck taking pictures of the landscape near Bodo. The mountains were striking as many of them had sharp unicorn-like peaks not unlike say Cathedral Peak or Unicorn Peak in the high country of Yosemite National Park.
However, this was common landscape along the coast. And there was just enough clearing weather interspersed with squalls to try to capture the scene without getting drenched from the nasty weather we had been having practically the whole time on the ship.
In fact, I could even see that many of the mountains seemed to have a fresh bit of snow.
Eventually, it came time for Solveig to return to her mother and sisters as they were going on RIB boat into Saltstraumen. They had to have an early lunch at around 11:30am because they wouldn't have time for it once in Bodo at 12:40pm.
Julie and I determined that we wouldn't be eating lunch on the boat since it would be way too expensive. Instead, we'd seek out a gluten free place in town since we had a little over two hours ashore.
We also had to pack up our belongings and vacate our room by 12pm. So we were busy doing that.
Sure enough, when 12:40pm arrived, we docked and we promptly headed ashore.
Then, we made a beeline towards the city center though we quickly came to realize that we had to hike quite a bit (at least 600m) to even get to the city center.
While Eskild (sp?) the excursion guy on the PA announcements joked that this was not the prettiest town, it was true that we were walking along a fairly featureless and unremarkable Sjogata throughfare before getting all the way to the Guest Harbor at about 1:20pm.
That was where we found the Bryggerikaia Restaurant, which was Julie's preferred eating spot.
I managed to sneak in a few more photos of the guest harbor area before a particularly nasty squall came our way and started to dump heavy rain.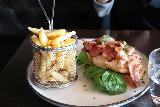 Inside the restaurant, we wound up eating mussels, an open-faced chicken sandwich for Tahia on GF bread, and a hearty fish soup.
We also had fries, but the garlic mayo was perfect for dipping the thick cut fries into.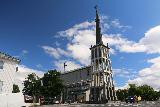 Eventually by about 2:10pm, we had to make a hasty retreat to the ship since it was a lengthy walk to get all the way there, and we had to ensure we'd be back before the boat took off at 3pm (at least by 2:45pm to be comfortably back).
Along the walk, we briefly checked out a couple of fancy church buildings with detached towers that had a bit of an open-air component to them.
Then, Julie and Tahia opted to return via the same Sjogate street while I decided to follow Dronningensgate, which was a semi-pedestrianized street that started at the familiar shopping mall called Glasshuset (The Glass House).
On our first trip to Bodo back in 2005, I remembered this place well because we actually shopped for music CDs, and that was where Julie picked up expensive CDs by Royksopp, Robyn, Lene Marlin, and more. I managed to pick up a CD by Ravi and DJ Lov for a bit of a fun Norwegian rap song.
Anyways, it was cool to see the very place that we had gone shopping back then despite a spectacularly failed attempt at taking a ferry boat to the Lofoten Islands back then (which kept us from visiting those islands as another one of the failures of that trip).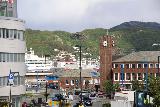 I'd eventually catch up to Julie and Tahia just in front of the MS Nordkapp where we finally arrived at the boat at around 2:30pm.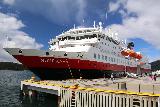 We had plenty of time left to spare in this instance, but this rushing was one of the big drawbacks of cruises and why we weren't very keen on doing them.
That said, the cruise experience also exposed us to meeting different people (especially with Tahia breaking the ice) and that would be one of the things I would miss most about the Hurtigruten cruise.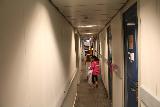 So back at the ship, just before it took off, we saw the RIB boat participants come back. When Solveig came back, Tahia waved to her, and after a few more minutes, she asked if Tahia wanted to go to the jacuzzi (bubblebadet – new word I learned from Solveig).
Of course since we longer had a cabin to let Tahia take a shower in, she had to follow Solveig to her room and use the facilities there.
Solveig was only too happy to oblige, and I was a bit relieved to see that Solveig's parents and sister were at the room to ensure that it was ok.
So they spent a pretty good time chilling out in the jacuzzi, and that was when I met Solveig's father who was the head chef on this Hurtigruten ship and was currently on a break.
We were pretty much talking about a bit of the Norwegian landscape, and that was when I learned that he was from Narvik. I also learned that Solveig's mother's name was Lena.
In any case, as they ladies were in the jacuzzi and the father and I were making small talk, I couldn't help but notice the striking coastal scenery that was behind the girls in the jacuzzi.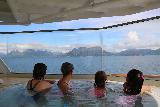 When I saw the father taking pictures, I had to take some myself just to show the kind of experience one could have when the weather cooperates.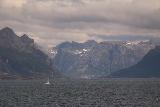 Upon noticing how I was paying attention to the mountains, he told me that these are "real" mountains compared to the ones by Kjerag.
I also learned from him that he was part of a search and rescue team as he pointed out to me that there always seemed to be about 10-15 people who either have to get rescued or who have died from exposure by being unprepared for the elements in Norway's backcountry.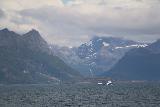 And when it came to the weather, he mentioned that last Summer was one of the driest ones they've had as they had no rain and consistent 26C days from May all the way to August. So perhaps all the rain we've been getting might have made up for the lack of it last year.
It was so dry, he said, that they were having forest fires while farmers had to slaughter their livestock because there was insufficient grass or hay to feed them.
Eventually by about 4:25pm, the bubble bathing was over, and Tahia was back in Solveig's big cabin to have a shower.
They then hung out with each other back at the cafe playing cards, then having an ice cream and tea. Tahia was never into tea before until she was hanging out with Solveig who seemed to love it (though adding sugar to that drink certainly helped, I'm sure).
At some point, Lena came up to join us (as well as to help translate as we got to a part where I couldn't figure out what she was trying to ask me), and we made more small talk with Lena regarding the food in Norway (especially with Julie in on the conversation now).
We learned that it seemed like the ingredients on the Hurtigruten were sourced locally from farmers who partnered up with them.
So Solveig's dad had his pick of good stuff to serve up to the customers in the dining room. And come to think of it, he had a pretty good gig regarding being in his element as a chef.
However, we also learned that he was away from the rest of the family some 23 days at a time while he had to work about 12-hour days with a couple hours of break in between on the Hurtigruten.
Thus, it's not all roses. I guess when it comes to work, there's always that bit that makes it work instead of play.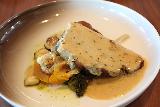 Then, by around 5:45pm, we had our final dinner aboard the ship at the bistro. This time, we had salmon and pork dishes.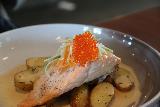 It wasn't much, but then again, Tahia just had ice cream and wasn't all that hungry. But at least we weren't paying 550 NOK per person for the big dining room.
By about 7:10pm, we had arrived in Stamsund, where I took some photos but it wasn't as scenic as I had imagined for the Lofoten Islands.
It was very cold outside, but I also couldn't tell the difference between scenic coastlines and islands since you can't tell where the land ends and where it begins again from the ship.
I concluded from this experience that you really have to hike to higher ground and look down at the coastlines or islands to really get a sense of the beauty of the Lofoten Islands. Hopefully, we have enough time and the weather cooperates enough, I thought to myself.
During the time I was busy taking pictures and Julie was busy doing stuff on the internet, Tahia was acting as the honorary receptionist with Jannecke (sp?) another one of the staff members on the Hurtigruten (and who Tahia was really getting attached to).
Indeed, Tahia was making lots of friends on the boat, and as the time was getting closer to leave, they were all going to be missed.
By 9pm, the ship was approaching Svolvaer. As it was doing so, I was busy taking pictures and Eskild came out with a big Norwegian flag.
He said that his son was on the MS Trollfjord, which was just pulling out of that harbor and on its way south.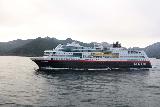 So the boat was making a bunch of horn sounds to each other while Eskild was waving to the other ship. It was a touching (if not comical) father-son moment, and I could see that this cruise line was a very big part of that family.
Julie plucked me back out from the freezing cold on the deck 5 front and back down into the reception area on the 3rd floor. That was where we got our stuff, then I had to go downstairs to retrieve the car.
Before I did that, Solveig and Tahia found each other once more. And they gave a very long and tight embrace as they knew it was time to say good-bye.
It was a moment that everyone in the reception witnessed, and it brought a tear or two to some who have watched, including myself and Julie.
Where else can you share such unexpected and beautiful moments than when you're out and about and living life traveling abroad?
By about 9:15pm, we had already left the ship and were re-united on the terminal. We then drove to a Rema 1000 where we grocery shopped and returned to the same old routine we've been having on land again.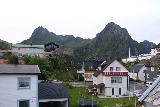 Then, at 9:50pm, we had a little struggle finding our apartment but we eventually did. Then, we had a little trouble figuring out that the key box was already open but finally figured that out at 10:05pm.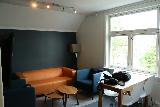 And so we unpacked and got settled in the apartment. It was nice to finally have space once again though it was a bit on the chilly side.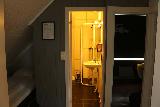 Also, since we were above the Arctic Circle, the skies stayed bright all night long. So we all had to employ eye patches to get a decent amount of shut-eye.
But with another squall that came in and dumped buckets on Svolvaer at around 11:30pm, I started to wonder whether the weather forecast was finally wrong or not (as it was supposed to improve come tomorrow).
With the internet not working at this apartment, I couldn't check the latest forecast. So I checked the phone, which was relying on a data-only plan since Tahia exhausted our Swedish sim card which had both data and voice.
And that said that tomorrow's weather was still shaping up to be good…
Day 21 (July 3, 2019 – Svolvaer, Norway): "Successful Day"
It was about 5:45am when I awoke to sunny skies! Given all the turbulent weather we had been having over the past three or four days, this was a welcome sight for sore eyes!
However, I did see some clouds off in the distance so who knows how long this will last?
I wound up sleeping through my alarms so I didn't get up as early as I would have liked at around 4:30am. And Julie didn't get up until after 6am.
So I knew that we'd be leaving the Villa Svolvaer a bit later than I would have liked. And that might impact when we'd return for our self-cooked dinner.
In any case, without a real plan other than to visit a waterfall and possibly extending that hike up to the Trolldalsvatnet near the town of A i Lofoten, I did a little last-minute research on what we should be doing today.
I wound up seeing that there was a beach at Ramberg and Haukland so that might interest Tahia.
I also saw that the best hikes for top down views of the Lofoten Islands were said to be at Reinebringen, Ryten, and Svolvaer Floya.
As for fishing villages, I knew we were going all the way to A i Lofoten at the very tip of the Lofoten Islands. However, Julie also had some vague ideas about which fishing villages to check out.
I also thought about visiting Nusfjord since LP said something about it. However, Solveig's father didn't think that place was anything special. So I guess we'll have to see for ourselves.
It wasn't until about 8:05am when we finally left the apartment. The blue skies still persisted, but I was fretting about more tourists on the road given our late start (especially since Solveig's Dad also mentioned that these roads were well-touristed).
The drive towards A was long. But since we weren't quite sure what or where we should pull over and take pictures, we were taking random spots and even taking pictures from the road itself!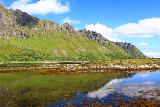 With the morning light and the calm waters, we were seeing reflections in the water in some spots.
But at some point, Julie talked me out of making too many stops, especially since she knew that we had a long drive with lots of activities to get in on this lone full day of the Lofoten Islands that we had today.
We especially reduced the number of stops when we saw a tour bus pull over by a bridge that we had stopped at after we were just about done. We didn't want to be caught behind this tour group, especially on the narrow roads.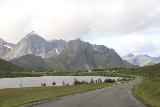 During the continuation of the drive, we had passed through the town of Leknes. If Svolvaer was the capital town in the Lofoten Islands, then the town of Leknes certainly gave Svolvaer a run for its money when we look at the size.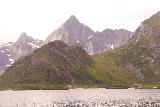 After Leknes, we then passed through some patches of rain with breathtaking sharp mountains backing the scenery and fronted by bodies of water.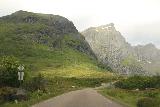 We even saw the Ramberg Beach though we didn't stop for it as the skies were overcast and still sprinkling.
Ultimately by 10:20am, we stopped at a shop in Sakrisoy. It was a very cute fishing village, and Julie said it was one of the main fishing villages that were worth checking out.
I couldn't help but notice that some of the views from the single-lane traffic-light-controlled bridges were very nice but we weren't able to take them giving the driving situations.
Instead, we stopped at this place called Anna's, and we took our beautiful morning shots while Julie went inside to buy some dried cod chips, a reindeer jerky, and a gluten-free almond cake.
We spent a bit more time here than I would have liked, but we used this place as a point of reference knowing that if we come back in good time, then we might buy more snacks since we were really digging the cod chips as well as the GF almond cake.
As we continued from Sakrisoy, we made a couple more roadside stops though there was one in particular in the distance that seemed really crowded. We made a mental note to stop there later on.
We still had to make it to A i Lofoten before it was time to head back towards Svolvaer and hit the other activities that we were planning to do today.
It wasn't until about 11:30am when we finally arrived at a car park at the other end of a tunnel. This seemed like the end of the road, and with the amount of cars parked here, I suspected that this was the car park for A i Lofoten.
Once we got out of the car, we walked towards the Brygge Restaurant, which Julie had targeted because they apparently had gluten-free options and they had good reviews.
However, when we got there, we learned that they were only serving a lunch buffet. At least it was reasonably-priced at 275 NOK per person (half the price of what the Hurtigruten dining room was charging). Plus, they had all sorts of seafood, which included bacalao, fish soup, and cod prepared with two different sauces as well as fresh shrimp and chicken wings.
I know it wasn't Julie's ideal situation, but at least she could have the shrimp.
Anyways, when we were done with the lunch, I had to leave Julie and Tahia in town to play board games (Tahia found a Monopol inside the dining area) so I could do the planned hike for a couple of hours.
So by 12:45pm, I was on my own but before going to the car, I walked all the way to the end of the fishing pier (rorbrua?) and got a nice view back towards A i Lofoten backed by the classical mountains of the Moskenes Island.
After having my fill of this nice view at the very end of the Lofoten Islands, I then returned to the car at 1:15pm.
I then drove back towards the town of Sorvagen, where there was a hiking car park that was completely full.
When I stopped the car at about 1:25pm, I was about to do an improvised parking job near a single-lane road when someone was leaving. So I quickly snagged that spot to make myself feel a little better about the parking situation.
Eventually, at 1:30pm, I geared up and started the hike.
I could already see early on the waterfall that might have been the featured one of this hike. In fact, I was even able to see parts of it from the road.
The trail also provided views towards the Sorvagvatnet lake, which was seemingly surrounded on the east side by homes.
As I went past some drinking water signs (i.e. the watercourses and lakes here were not for swimming), I then went up a somewhat steep but brief incline which yielded me a nice view of most of the cascade backed by the Stovla peaks.
I then walked up a muddy and not-so-obvious path that went up alongside the cascade, I eventually went up to the mouth of Stuvdalsvatnet, which looked like a natural lake though there were pipes between that and the waterfall as well as the Sorvagvatnet.
There was a bridge crossing the mouth of the Stuvdalsvatnet, and I briefly followed the trail towards one of the cabins near the mouth of the lake.
However, I suspected that any further progress would mean that I would have to spend much more time on the trail.
And with more activities that we had to do on this beautiful day, I couldn't afford to partake in a minimum three-hour hike to the summit of Tindstinden.
And there seemed to be no way to make it all the way to Munkebu, which was a mountain hut that was likely to be even farther away.
So by 2:15pm, I left the bridge at the mouth of the Stuvdalsvatnet, and then headed back to the trailhead.
Ultimately by 2:50pm, I made it back to the car park though I did include a quick side detour to a different segment of the cascade by the loop path for Sorvagvatnet.
After returning to the car, I then texted Julie to meet me at the car park for A i Lofoten. I eventually made it back there by 3:05pm, and barely five minutes later, Julie and Tahia made it back to the car.
And so we started to drive back the way we came. The weather seemed to continue to be more beautiful as the day wore on.
By about 3:40pm, we had returned to Sakrisoy. However along the way, we did make a very busy stop at what turned out to be a magical view of Sakrisoy's backside fronting beautiful sharp mountains while reflecting in the calm waters before.
While at Anna's Maten or something like that in the front of Sakrisoy, we wound up buying probably another $40 USD worth of snacks before we resumed our drive at 4pm.
We made a few spontaneous roadside stops, including one at 4:15pm that revealed a pair of attractive arched bridges leading to Fredvang.
Not long after that photo stop, we then parked at Ramberg Beach and walked down to the surprisingly fine white sand beach backed by sharp mountains. I'd say it was those mountains that made this beach though I'm sure the water must have been freezing cold.
We gave Tahia around 15 minutes to play around here, and we also took time to take family photos so I was wishing that I had brought down the tripod to take a good family shot.
The photos would have been really nice in the morning in good weather, but right now, we were kind of looking against the sun.
Finally at about 4:55pm, we left Ramberg Beach and then we followed some slower drivers towards Nusfjord, which was the last of the fishing villages that Julie was interested in checking out on this day.
By about 5:15pm, we managed to find parking in the public space at Nusfjord though it was still quite busy.
Once we got out of the car, we walked around the main fishing village and its stilted homes and buildings.
However, the impression that Julie and I got from visiting this place was that it wasn't all that scenic especially compared to A i Lofoten and Sakrisoy or at least Reine.
As we were having our fill of this somewhat underwhelming spot (by this time, I realized that Solveig's Dad was right about this place being nothing special), I then made one last attempt to salvage something from this visit by climbing up to a viewpoint.
Up there, I could see the fishing village down below backed by some interesting mountains, but it just didn't have quite the punch that the other fishing villages had.
Thus, by 6:05pm, we returned to the car and made long drive back to Villa Svolvaer.
It wouldn't be until about 7:45pm when we parked near the Svolvaer sentrum by the waterfront. And that was where we briefly checked out the outdoor marketplace that was closing up shop. We also checked out one of the piers, which yielded some sharp peaks backing the boat harbor as well as another bridge and pier further up ahead.
Julie and I observed that had we still been on the Hurtigruten, then this part, which wasn't too far of a walk from the ship, was probably the best spot to be given the rushed circumstances that cruise ships tend to create the environment of.
Finally by 8pm, we were back in the car. Indeed, there was definitely activity at the waterfront, and I had heard a lot of American accents, which was interesting to note.
I guess the Lofoten Islands were quite the international tourist destination that was probably on the order of Preikestolen, Kjerag, and Trolltunga, where it was less about Norwegians and more about foreign tourists from all over the world.
It was kind of like Solveig's Dad also warned me about. Still, we felt today's visit of the Lofoten Islands was a successful one. And given the fickle weather, it had to have happened on this fine day.
By 8:15pm, we were back at the apartment, where we were finally able to have our self-cooked dinner while ensuring that we're prepared for the rest of the trip as the long drives were ahead of us starting with a six-hour-plus drive to Tromso tomorrow…
Day 22 (July 4, 2019 – Tromso, Norway): "Light Sightseeing Day"
It was about 4:50am when I awoke. Once again, I overslept the 4:30am alarm, which seemed to become habitual at this point.
That said, Julie didn't get up until closer to 6am so I knew that we would be getting yet another late start.
Indeed, after having our self-cooked breakfast and cleaning and packing, we weren't leaving the apartment until about 7:25am.
The drive out from Svolvaer was scenic despite the weather being far less nice than it was yesterday. There were also more striking mountains, fjords, and even waterfalls though we didn't make any stops thinking that these were now a dime-a-dozen and that we had already experienced the best of the Lofoten Islands yesterday.
Besides, we had a marathon drive to get all the way to Tromso, and just getting to Narvik meant that I had to go at least 240km!
By about 8:20am, I was already getting some degree of road fatigue, but there was a delay at the Sortunnelen due to some construction work going on deep inside this 6.4km tunnel.
When the traffic finally started moving, we made another 90 minutes of progress before we made a restroom stop at around 9:55am as Julie needed it badly.
Next, we made more progress with our drive as we eventually made it to the north of Narvik on the E6 some time between 10:30am and 11am.
That was when we made a brief turnoff for Kvernmoen in search of a waterfall that was identified in our Statens Kartverk Veiatlas Norge book – i.e. we pursued this the old fashioned way.
However, this first pursuit was a dud as I suspected that the watercourse was held up by hydroelectricity or something. There wasn't any signage nor any indication that there would be a legitimate waterfall here.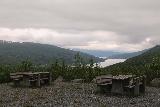 Not long thereafter, we then made a turnoff for some signage for a Krigsminne as there had been at least a half-dozen or so stops for the Battle of Narvik 1940. We weren't sure if this particular war memorial had anything to do with that.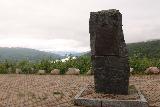 The only reason why we stopped here for a stretch was to see if this same memorial yielded better views of a somewhat sizable waterfall that we noticed from the road.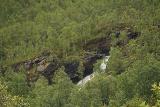 However, from this car park, aside from a fjord view of Ofotfjord and some picnic tables, the view of the waterfall here was only partial and not good at all.
I didn't bother doing any more exploring before we headed back out on the E6.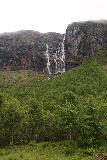 At about 11:25am, after turning off to the Rv84 at Fossbakken, we then pursued another SK-indicated waterfall. This time, we managed to find an attractive one that stood out, especially in comparison to the other lighter flowing waterfalls flowing into this steep valley.
After going into a hamlet at Moen, we managed to informally stop near a sign that pointed to "Sarajohka" which I knew was the name of the falls in a non-Norwegian language (possibly Finnish? or Sami?).
The only other waterfall that I was aware of that had this kind of name was Rovvejokfossen, which might also be known as Rovvejohka.
Anyways, after having our fill from the base of this waterfall from an unsanctioned spot on the narrow farm road, we then went back to Rv84 and found a pullout yielding a more complete view of Sarajohka.
Once we had our fill of this falls from this spot, we then drove back to the E6 (and avoiding washboards and potholes on the paved road we had taken to get here).
Then, we continued on the rather monotonous route (especially in light of the low-hanging clouds and rain that seemed to cast a ceiling on the whole scenery here).
Battling road fatigue, I ultimately made a stop at a Sami Market and WC somewhere not far before the turnoff for the E8 from the E6.
What was supposed to be a spontaneous WC stop for Tahia ended up being a bit of a prolonged shopping visit as well as an impromptu lunch of reindeer soup.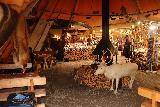 So we got to this Sami Shop at around 1:15pm, but we didn't leave until at least a half-hour later.
The drive along the E8 remained mostly featureless given the low clouds and rainy conditions, but as we were pulling into Tromso, we could see that the clouds weren't quite as low and the rain wasn't nearly as intense.
We first pulled over for the Arctic Cathedral at around 3pm. But after getting our shots from the outside, we snuck a peek inside to see if the 50 NOK per person was justified or not.
We decided it wasn't justified so we didn't go inside.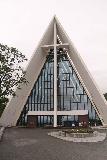 About 10 minutes later, we went back to the car, then drove across the long bridge right into the city center of Tromso.
By about 3:45pm, we eventually checked into the Enter City Hotel apartment (which we were reassigned to), and we managed to have a bit of a hectic time finding sanctioned parking.
The receptionist said there was a 180 NOK lot in a tight garage or a 190 NOK lot with more space in a different garage. What they didn't tell us was that there was also a more expensive underground parking lot that costed 280 NOK per day!
In fact, even though we had only been in there for 14 minutes, we learned that we didn't park in the correct spot. And so we had to use our EZ-Park app to pay another 218 NOK (which was greater than 190 NOK) on top of the 28 NOK to get out of the first lot I was in.
By about 4:10pm, we were finally settled into the fairly comfortable hotel apartment. Then by 4:25pm, we returned to the city to do a little sightseeing before running errands in terms of buying groceries for self-cooking tonight's dinner and tomorrow morning's breakfast.
Our tour of the city pretty much consisted of checking out the exterior of the City Library, an unremarkable pedestrianized street, and some waterfront views towards the bridge and the Arctic Cathedral.
We didn't do the Skansen, the Polaria Aquarium, the Northern Lights Museum, nor the Fjellheis (cable car). It was kind of deja vu in the sense that we also skipped out on these things the last time.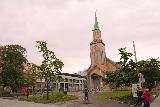 But at the end of the day, this place was merely a stopover, and I wondered if we had been better off staying along the E6 or something to not have to take this over hour-long detour (each way).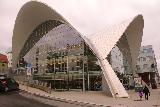 Regardless, we were back at the apartment at 6:10pm. And so ended this rather light day of sightseeing.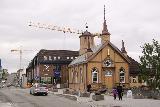 As much as I wanted each day to be efficient with good weather and good planning to maximize the enjoyment of the trip, sometimes we needed light days like this one.
Hopefully, this will provide me with enough rest to continue the marathon drive towards Alta and Nordkapp. I was definitely fearful that somehow it wouldn't work out for one reason or another. I can only guess that time will tell…
Day 23 (July 5, 2019 – Alta, Norway): "Foreign Influences"
It was about 4am when I awoke to my alarm for a change. I did this because I knew that if we wanted to save some driving, we had to cut through the Lyngen Alps across a pair of ferries, which only departed about once an hour.
I had fancied visiting a waterfall within the Lyngen Alps, but that might have been a bit too ambitious in terms of fitting in excursions plus long drives in a single day.
Anyways, today and tomorrow were the result of making last-minute changes to our bookings as a result of the weather. We were originally supposed to go all the way to Nordkapp and stay at a camping spot there to view the midnight sun.
However, we instead opted to stay in a cabin in Alta for two nights because the weather looked lousy for Nordkapp on this night. Tomorrow didn't appear to be a whole lot better, but at least it wasn't forecasted to rain late in the evening.
Even with the early wake-up, we still didn't leave Tromso until about 6:10am. Even though the parking lot we were at said 190 NOK for a 24-hour period, for some reason, our EZ-park said we still had to pay 218 NOK. I don't get that at all.
Regardless, the drive out from Tromso was under the familiar heavy overcast skies with some light rain in spots.
But instead of driving back to the E6 all along the E8, then going north on the E6 to Olderdalen (a drive that would take over 3 hours), we went along the Rv91 towards Breivikeidet, where we were to catch the first of two ferries.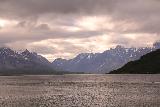 We ultimately got to Breivikeidet at about 6:55am, and we could see that we were about 25 minutes too soon.
There were about 4 other cars in front of us though.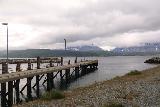 Nonetheless, I took advantage of this prolonged waiting time by using the facilities here as well as taking pictures across the Ullsfjord towards some of the impressive Tetons-like peaks in the distance.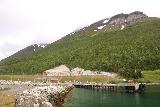 The weather was a bit on the chilly and windy side here, and I could see that in the distance were some rain haze that we had passed through earlier to get here.
Eventually, the ferry boat showed up on time, and we had driven on while paying as we went.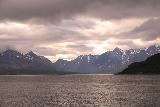 Once the ferry got to the other side of the Ullsfjord, we then took the Rv91 south then east towards Lyngseidet, where we were to take the next ferry.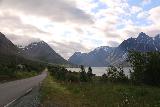 Along the way, we were getting breathtaking views of the Lyngen Alps as we were passing through the head of a small fjord and right through to the Lyngen Channel at the other side of the valley at Lyngseidet.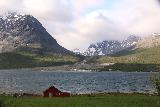 It was tempting to make as many roadside stops as possible because the scenery here was just awesome even with some high clouds casting a ceiling over the skyscraping pointed mountains.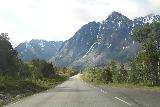 Ultimately by about 8am, we waited to board the next ferry from Lyngseidet to Olderdalen.
When we were finally able to board at about 8:10am, the guy who ran our credit card knew that we were from the states and said to us as he handed us the ticket, "One ticket to Mexico."
That drew a chuckle out of us.
Regardless, once we parked the car, I knew that since this was a longer ferry than the one that traversed the Ullsfjord, I could get out of the car and look around for an outdoor deck so I could take photos.
Sure enough, as the ferry took off, I was on the chilly outdoor deck at the third level, where I took numerous shots of the surrounding mountains fronted by cute homes.
Finally some time after about 8:45am or so, we were now on the E6 and resumed the familiar drive north.
We were still in familiar territory as I knew we had taken breathtaking shots of the Lyngen Alps on our first trip when the skies were much more clear and blue while the Lyngen Channel was calm enough to produce some reflections.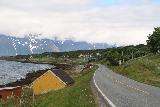 I managed to stop at a couple of informal pullouts mainly to photograph both the Lyngen Alps as well as a very big waterfall that I wasn't sure had a name or not.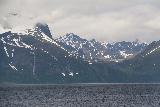 Plus, I also noticed glaciers in the nooks of the Lyngen Alps as well as a few smaller or ephemeral waterfalls.
I felt that Julie and Tahia missed out on this one as they were sleeping as I was driving.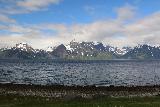 Nonetheless, we moved on as we resumed our drive towards Sorkjosen, Storslett, and ultimately towards the Navitfossen Waterfall.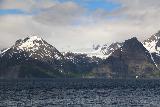 I knew that when we would pass the trailhead of Fosselvfossen, we would have gone into unchartered territory for us.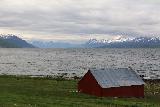 I had contemplated doing the Fosselvfossen one more time, but I also knew that I had to take some extra time to go up the steep trail to get closer to the falls. And that was time I doubted that we had today.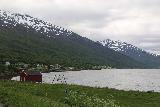 Besides, I recalled in the past that the lady at the Fosselvfossen Camping let me park there to do the hike. I doubt that this courtesy would be extended this time around 14 years later!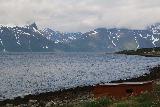 Anyways, when we got to the Fosselvfossen Camping, I did see that there appeared to be some kind of clearing across the street near the bridge. I wasn't sure if this was sanctioned parking or not.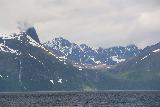 Kind of like with Espelandsfossen in Granvin earlier on in this trip, nothing was signed explicitly.
Regardless, we kept on going, and resumed our drive.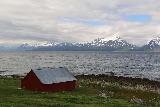 When we got closer to the turnoff for Kvaenangsbotn (Fv367), we saw a clearly signposted turnoff for Navitfoss. So clearly, this place appeared to be more pretty inviting and conductive for a visit.
Thus, we turned off the E6 and took the unpaved road for 7km towards Navitfoss Camping.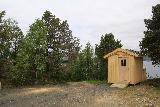 However, this unpaved road seemed to have quite a few potholes so I had to be careful about where I was positioning the car as I was crossing each one.
I wasn't sure if they tires on this car was able to handle such shocks, and as I knew that we were in pretty remote and spread out parts of Norway in the far north, now would not be the time for roadside assistance induced by driving over potholes.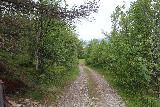 Ultimately by about 10:45am, we parked the car at a clearing that was right across from the Navitfoss Camping.
We weren't sure if this was sanctioned day-use parking as all the signage here pointed to the Navitfoss Camping but not to the actual waterfall itself.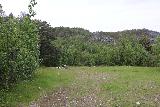 There were also some newly-built houses that might act as shelters or something in the same clearing that we were parked in.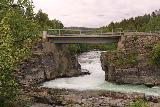 We saw that there was some kind of makeshift road that might have also acted as a trail to get closer to the Navitfossen waterfall. So after gearing up briefly, we all went to check it out.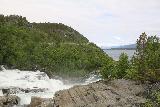 It didn't take long before we saw a big clearing with some evidence of intentional fires perhaps to keep warm. Shortly behind this clearing, we went onto some geometrically-shaped bedrock flanking the top of the Navitfossen Waterfall just downstream from the road bridge.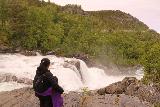 When Julie and Tahia carefully got onto the bedrock, we then took some people shots as well as some interesting shots of the falls backed by where the Navitelva River joined up with the fjord below.
It was a bit on the chilly and misty side here at the falls, but there were also mosquitoes around. So Julie and Tahia had no interest in going all the way to the bottom of the falls.
However, I did manage to scramble around before rejoining the makeshift road that led down to what appeared to be where a boat was supposed to be moored.
As I was scrambling along the rocks here, I then saw a direct view of the falls further upstream though it appeared to be somewhat partial since there was a protruding rock obstructing the view of the leftmost segment of the falls.
After having my fill of this falls, I then went back up to the car park at 11:25am. I told Julie and Tahia that I was now going to continue upstream to look for Roykfossen, which I knew from pre-trip research that this one was better than Navitfossen.
However, at first, I wasn't sure which trail I was supposed to take. It wasn't until I crossed the road bridge and then saw a hiking sign for Geitfjelltinden at a different clearing.
I just took a guess that this was also the trail for Roykfossen as there was no indication that there was another waterfall up this way. I just hoped that it didn't go straight to the peak of the mountain and away from the Navitelva.
So as I pursued the falls, I followed what looked like a 4wd path that went past a house. Then, the trail continued further up a muddy trail and the mozzies seemed to be have gotten worse.
There was then a signed junction where the trail continued past another muddy stretch, but I also was curious to see where the other path went.
That path ultimately went to what looked like a stream gauge though I didn't get a clean look at the waterfall that was next to it. There was also metal spiral stairs going down right into the water.
So as I resumed the main trail, it was climbing somewhat while also traversing an exposed granite section before the trail seemed to climb some more and follow the Navitelva again.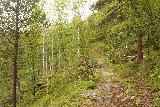 During this climb, I noticed in the distance an even larger waterfall than Navitfossen. This must be the Roykfossen.
However, I went to see if there was a better view than what I was getting so far.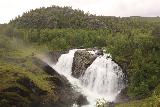 It was a bit overgrown here, but I kept going up the trail until there was a higher clearing above a bluff that seemed to have a more unobstructed and clearer view towards the impressive Roykfossen. I got there at about 11:55am.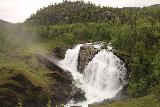 The falls was aptly named as it was indeed misting even though this view was at a distance. I could definitely feel some of the spray of the falls.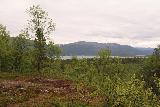 Unfortunately, the bigger nuissance was that I was getting eaten alive by mosquitoes. I probably should have put on deet, but at this point, I wasn't going to unsling the pack, reach in to get the DEET, then apply all the while I was getting swarmed by seemingly bigger mozzies than I was used to seeing (which were more like no-see-ums).
In any case, I did what I could to document the falls and try to be in the moment. But the swarming mozzies were getting pot shots at me, and they were even biting me on the head through the hair!
So after beating a hasty retreat, I then quickly made my way back to the trailhead. By about 12:15pm, I returned to the car where Julie and Tahia were curiously wondering where I went. Apparently they thought I was still at Navitfossen even though I told that I was pursuing Roykfossen.
At that point, we got back in the car and continued the long drive to Alta.
The drive continued to be beautiful in a similar manner to the Lyngen Alps across the channel. Indeed, other islands off the shore from the E6 seemed to feature more Grand Tetons-like jagged peaks though they were under the clouds.
By about 2pm, we finally made it to the Alta Sentrum, where we had to pay and display for parking. I had to fight quite a bit of road fatigue to make it here due to the long drive. So that didn't bode well for all the other long drives we were expecting to do over the next few days.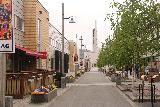 Julie and Tahia were looking for lunch, and we ended up going to this place called Du Verdens. It appeared that this area was kind of the city center where there was an interesting-looking church further up the pedestrianized walkway.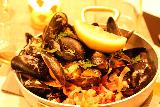 We didn't go all the way to the church. Instead, we just went right into the restaurant, where their lunch menu looked a little on the limited side, but the lady working the counter helped to accommodate Julie and she ended up with a dinner item of baccalao or dried cod or something with steamed veggies.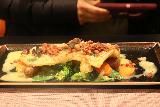 Meanwhile, I got mussels while Tahia got a GF-bread chicken sandwich.
The food hit the spot though it was a pretty expensive lunch mostly because Julie's dish almost costed as much as our two dishes combined.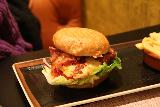 We made small talk with the lady who was helping us at the counter as she said that she was studying at a university near here. It turned out that she was French and hailed from the Loire Valley.
I guess in these parts, there seemed to be a greater mix of foreign influences as I also heard lots of American accents as lots of people were pursuing Nordkapp like we were intending to do.
After having our lunch, we then did a grocery run at the nearby Kiwi as well as some organic shop right across the throughfare from the Du Verdens restaurant in the mall.
By about 3:35pm, we got back in the car and then drove to the Alten Lodge.
This place was a little out of town, and it wasn't until about 4pm when we finally showed up.
By about 4:20pm, we finally got settled in the cozy lodge. Now, it was time for me to go solo and pursue the Pikefossen, which was expected to be the lone waterfall we'd be visiting in the Finnmark County of far north Norway.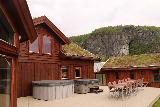 At first, the drive through the E45 went through the deep Alta Canyon though I never was able to figure out where you get that classic Alta Canyon view that I saw in the Adventure Roads in Norway book by Erling Welling-Strand.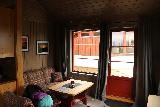 Once the E45 climbed out of the canyon, it then went through what seemed to be very forested lands with some lakes dotted here and there.
Once again, I was fighting road fatigue due to the long drive. But eventually at 5:55pm, I finally arrived at the car park for Pikefossen.
I saw that there was also a paved section that went to a lower part of the car park where there were picnic tables, and that was where I stopped the car.
As soon as I got out, I already felt the presence of more mosquitoes. Man, Solveig's Dad warned me about there being lots of mozzies in these parts, and he wasn't kidding.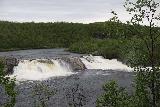 So I took my shots and videos of the cross-canyon top down views of the falls. I saw that there were also very steep trails going down to the bottom, but they seemed a bit dicey for me to attempt.
Instead, I kept following along a trail that skirted the rim of the canyon before it finally started to descend a less dicier footpath leading down to the rocky shoreline of the river.
Down here, I was getting a more direct look at the falls, but I got the feeling that this was more of a fishing spot since the falls itself wasn't tall but it was wide.
The signs here said as much regarding the importance of the Kautokeinoelva as a fishing river.
Still, despite the slight breeze and mist thrown my way, I was still getting mozzies swarming around me.
So once again, I hastily documented the falls and then took one of the steep shortcuts back up towards the car park and picnic area.
By about 6:30pm, I was finally back at the car.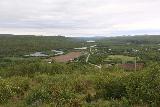 Next, I made a hasty drive back towards Alta. However, I was looking for the Alta Canyon view again, which led me towards both ends of what ended up being a very rough road that probably wasn't fit for passenger car driving.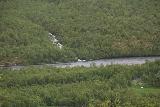 The southern end was definitely not fit for driving so that dashed any hopes of me trying to going up the Baeskades from the south towards our originally-booked accommodation at the Gargia Lodge.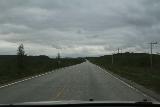 When I gave up on taking that rough unpaved road, I then continued on the fast-moving E45 going back down into the Alta Canyon before getting to the next turnoff closer to town.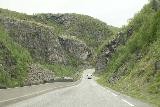 That one led towards the Gargia Lodge from a more paved road, but once again, this attempt was fruitless as I wasn't able to find the Alta Canyon view throughout the drive. Any further progress would have required me to go up the dicey unpaved and narrow road back into the Baeskades from the north.
So with that, I aborted this attempt at 7:55pm and then returned to Alta.
By that point, Julie's text messages got to me about getting stuff from the grocery store. So I did that before finally returning to the Alpen Lodge at 9:15pm.
And so ended this very long day of driving, but I knew that this was merely just the beginning as there were many more such long driving days ahead in the coming week starting with Nordkapp tomorrow…
Day 24 (July 6, 2019 – Alta, Norway): "Night Rider"
It was about 6:55am when I awoke. I had intentionally slept in on this day knowing that we were intending to have a very light sightseeing day.
However, the evening would be a different story, because the forecast called for partly cloudy skies at around midnight.
Hopefully, the forecasts were on so we might have a chance to catch the midnight sun before leaving for Narvik.
The problem with this plan was that we were going to be quite sleep-deprived as it was at least a three-hour drive from our accommodation to Nordkapp.
Would it even be worth the drive to make it up there?
Anyways, as we were tending to our daily hygenic chores, Julie's phone seemed to indicate that there had been another strong earthquake around LA county (more like Ridgecrest, which was closer to Olancha and Trona).
The latest earthquake was said to be 7.1, which was even stronger than the 6.1 that was measured a couple of days ago. So that suggested that the first earthquake was the foreshock to the main shock.
After Facetiming both Julie's Mom and my mom, it seemed like nothing bad had happened regarding home.
So with that, we had a fairly lengthy breakfast and we didn't leave the cabin until about 10:15am, which was a very late start to the day.
For now, the rain from earlier this morning appeared to have stopped. Still, with the weather looking not so nice here in Alta, it made me wonder when the clouds would be clearing so we might have a chance to experience the midnight sun tonight.
It took a while to drive back through the town of Alta given the combination of distance from the Alten Lodge as well as the numerous 50km/h and 60km/h speed zones with traffic cameras.
So it wouldn't be until about 10:45am when we finally arrived at the Alta Museum on the far western end of Alta. There were already two tour buses that pulled up here at the time.
After paying about 280 NOK for all of our admissions, we then proceeded to check out the inside exhibits, which contained a lot of the preserved artifacts, including faded rock art that was protected in glass.
The exhibits seemed to then go through from the stone ages towards more 17th-19th centuries before covering the more modern aspects of Finland and the Sami culture in the downstairs exhibits.
There were also interesting displays regarding the World's Most Important Room (i.e. seed banks stashed away in Svalbard to defend against the inevitable doomsday likely from Global Warming or pandemics or world wars).
Once we had our fill of these exhibits, we then went to the auditorium, which displayed a lot of the Sami fashions.
Then, we went outside and walked to the closer exhibits on the left side. There, we saw bright red rock art, which were painted.
Julie and I were skeptical how rock art could be so bold and well-preserved, and we suspected that there had been some modern intervention to bring out the rock art (and thus make them photo friendly).
After getting through the painted rock art, we then walked towards a Lavvu (i.e. a Sami teepee) where there were a couple of young workers showing off some reindeer hides as well as some tools from Sami culture.
Tahia went in there and saw some of the crafts that she could take a part in making.
And indeed, for 50 NOK, we let her converse with one of the young workers who taught her how to make a small Sami purse, which was out of fish skin.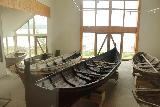 During that time, we also conversed with the worker, who happened to be Sami.
We learned quite a bit about how the Sami were kind of like what Eskimos or Inuit would be to North America. Either way, the cultures were primarily nomadic given the harsh conditions.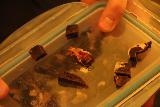 We also learned that the bay the museum overlooked was translated to mean "seal skin bay" or something like that.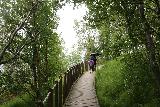 He even gave us some dried reindeer heart meat to try out, which was actually pretty good. It was still gamey though not as gross as say eating the heart or liver directly.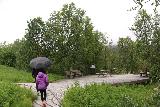 Regarding the painted rock arts, the worker said that they were augmented by modern means to make the art stand out just as Julie and I suspected. I figured this was the case because older rock art would fade more easily, and perhaps those we saw in the museum behind glass were as original and well-preserved as this evidence can be.
Anyways, the Sami worker seemed genuinely pleased that we were here learning more about the culture. He seemed glad to share his culture with us while others were popping in and out of the Lavvu for a few seconds.
When Tahia was done with her Sami purse, we then continued our walk towards the unpainted rock art. And that involved a bit of a longer walk than the one we had just done earlier.
When we got up to the rock art, we could see that these were much harder to see without the painted aids. Still, they were visible before the rain started to fall again.
Once the rocks got dark and wet, it became much harder to spot to the Sami rock art.
The rain pretty much ended off our walking tour of the Alta Museum, which was actually a surprisingly impressive place.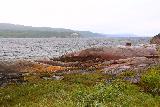 It was especially interesting to see some private homes, and their backyards could literally be said to contain these UNESCO World Heritage rock arts.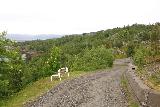 By about 1:05pm, we were back at the warmth of the museum just as the rain became a bit harder and more persistent.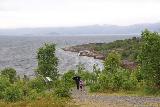 Once inside the museum, we enjoyed a couple of gluten-free desserts as well as some tea. It really looked like Tahia got into tea thanks to Solveig. We figured that Norwegian kids got into tea since they had to endure much colder winters than we did.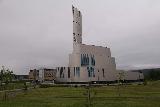 It wouldn't be until about 1:55pm when we finally got back to the car and ended our visit to the Alta Museum.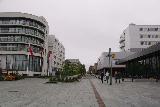 Next, we drove towards the Alta Church, which had a sleek modern design with a spiral roof or something like that.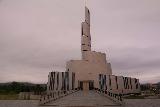 Then, we made a brief stop at one of the Rema 1000 stores to pick up some ingredients for lunch and possibly dinner tonight. Since we didn't have a kitchen in Narvik tomorrow, we felt that we didn't need to buy frozen goods (especially if we were planning to leave Alta early in the morning).
After our grocery run, we then headed back towards the Alten Lodge.
Along the way, we stopped for this three-tiered waterfall that we kept noticing each time we popped in and out of Alta Town.
We tried to see if it was possible to drive closer to this waterfall, but in the end, it looked like most of the land in Seterdal Valley belonged to some local farmer or two.
So we contented ourselves with taking pictures and videos from a rather hideous-shaped road full of craters and massive potholes. Clearly, the owners using this road were used to having 4wd with high clearance.
After having our fill of this "Alta Waterfall", we then finally made it back to our cabin at the Alten Lodge at 3:10pm.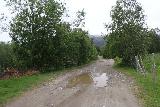 By this time, it was raining again. But it didn't matter to us for the time being as we were going to have a late lunch, then a long siesta after lunch.
Hopefully, that siesta would revive us enough to spend at least 6 hours on both the road and in Nordkapp towards midnight today.
We'll have to see if this actually plays out…
So I wound up falling asleep at some time after 4:30pm with the intent to wake up two hours later. However, Tahia tried her best to be a clown and prevent me from sleeping (thereby increasing the road fatigue risk tonight).
Eventually by about 6:45pm, I woke up again. However, upon looking at the North Cape webcam, it looked like it was still foggy and depressing out there.
I sure hoped that the forecast was correct in this instance to justify a long drive out there to catch the midnight sun…
We took our time eating dinner, and Julie and I were debating about whether or not we should even bother with Nordkapp based on the foggy webcam that seemed to persist even though the forecast called for only about 40% or less cloud cover by about 11pm.
I've seen poor webcams in the past only to be pleasantly surprised when we were actually there like at the Eagle's Nest last year.
However, this one might be a different story since the actual Nordkapp was way at the coast facing the sea. Who knows if there were local fog that wasn't within the resolution of the weather forecast itself.
By about 8:45pm, I ultimately made the decision to pursue Nordkapp by myself. Julie and Tahia stayed behind so they can get rested and be ready for leaving for Narvik tomorrow.
Whether we'd be leaving by 6am as scheduled or much later than that remained to be seen…
So I drove off and so far in the Alta vicinity, it was mostly cloudy with some drizzle spots. There was also some degree of fog immediately on the highland plateau above the basin containing Alta.
In fact, the roads here were actually surprisingly straight shot for the most part, but the fog was what made other tourist drivers very hesitant (though they refused to use the pullouts).
Regardless, the traffic was light enough that I was able to pass them no problem.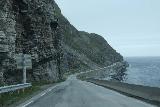 The drive was long as expected as the road transitioned from the E6 to the E69 at Oldenfjord, but along the way, I spotted some surprise scenery and waterfalls as the drive was surprisingly very scenic despite the gloomy weather presiding over much of the drive.
There was one waterfall that was tall, long, and stringy near some Silver Shop facing the Berents Sea.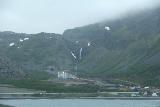 Then, there was another seemingly gushing waterfall right next to the output of a tunnel that was in the process of being built (perhaps to bypass a narrower and longer tunnel that had a couple of blind turns that required people to go 30 km/h).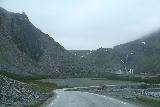 This particular waterfall looked very legit, but with all the ugly infrastructure set up in support of the tunnel construction, it wasn't meant to be a tourist attraction for the time being.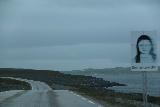 There was a WC and rest stop all the way by the coastline hugging a bay around this spot so perhaps there were greater plans for this place.
In any case, this would have been a rest stop to take a breather from the long drive to Nordkapp from Alta (at least in my mind). After all, it was still about 244km from Alta to Nordkapp, and from this waterfall, it was still over 120km or so further.
The drive resumed somewhat uneventfully though I was seeing that there was a lack of speed cameras in tbe places that were devoid of power lines so I was definitely over fartsgrensen (over the speed limit).
Still, when the weather shifted from locally mostly cloudy to foggy once again (especially in the final stretch leaving Honningsvag to Nordkapp), I saw more drivers that were taking it very slow and refusing to use pullouts.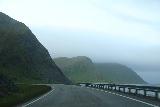 It was also quite windy out there as the low clouds were blowing in and seemingly in constant supply.
I guess in this case, the web cam didn't lie, and it was still staying this way despite what the forecasts said. So my worst fears came true on this day.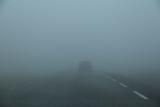 It just wasn't meant to be to see the midnight sun at Nordkapp.
When I got to the entrance booth within the thick fog at 11:40pm, I decided to turn around and not pay the 285 NOK per person fee. It just wasn't worth it to persist here.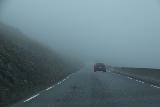 The guy at the booth did say that the ticket was good for 24 hours so I could go in and out of here, but I knew it was a lost cause. Despite my best efforts to delay our visit to Nordkapp with tonight being the final chance, it just wasn't going to happen.
Besides, I still had a long three-hour drive to get back to the Alten Lodge.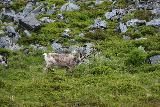 So I now went against the light traffic from people hoping as I was to catch the midnight sun at Nordkapp.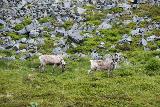 Eventually, I got back down from the dense fog and back through Nordkapp Camping (where we were originally supposed to stay last night) then through Honningsvag, where I was then able to gun it again.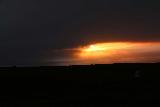 Along the way at around 12:30am, I started to see some pink clouds. And at one fleeting moment, I saw the appearance of elusive midnight sun and its orangish-reddish glow.
So I guess I did manage to see the midnattsol; it just wasn't at Nordkapp.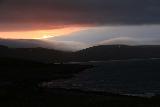 I also spotted more reindeer grazing by the roadside (making me keenly aware of the road hazard that they present) as well as a long brown fox (an arctic fox? though he scampered off before I was able to reach for the camera and take a picture of it).
At about 1:05am, I was back at the giant waterfall by the tunnel-under-construction, where I found a pullout and took a brief break to assess the area and document it despite the low lighting and thick overcast skies.
Continuing on, I managed to fill up over 450 NOK worth of gas at the cheapest gas stand that I had found at Skaidi. Just as I was leaving, I noticed a fairly big rabbit scurrying across the road.
I guess the animals were definitely out and about at this time, which coincided with the least amount of human activity. That said, it wasn't devoid of people as there were still people on the roads as well as others doing round-the-clock fly fishing.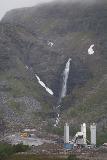 Finally at 2:35pm, I was back at the Alten Lodge. And I wasted no time to brush my teeth and take a shower.
Thus, the sleep-deprivation adventure ended.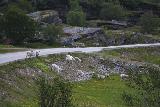 Sure I didn't get what I came for in terms of a midnight sun sighting at Nordkapp, but I did get other ancillary benefits and saved a little money (though I did pay a lot for gas for this nearly 500km drive).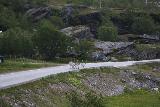 Anyways, I crashed some time at around 4am. I'm sure I wouldn't be feeling great when it came time to leave for another 500km drive for Narvik…
Day 25 (July 7, 2019 – Narvik, Norway): "Lifting the Ceiling"
It was about 6:15am when I awoke. It was a bit later than I was hoping, but I guess when you barely sleep for a couple of hours, your body just has a way of making it so you get enough rest.
Julie actually had gotten up before me as she was busy cooking breakfast.
Upon looking at the webcam for Nordkapp (in total "what could have been" mentality), I noticed that it was still foggy just like it was last night. So even had I stayed, there was nothing I could have done to get that elusive midnight sun view at Nordkapp.
It just wasn't meant to be regardless.
It wasn't until about 8:15am when we finally armed and locked up the cabin to check out and leave to go south.
The sun was finally coming out though I was worried about being out a bit late tonight with the long drive plus the excursion that I was going to solo to Silverfallet in Bjorkilden, Sweden after checking into Narvik.
I knew that the drive was over 500km so that was going to take quite a bit of time.
The drive back along the E6 was for the most part uneventful. However, it did take quite a bit of time to get through Alta with the long sprawling town full of speed cameras and 50-60 km/h speed limits.
It took us at least over a half-hour to finally get through the town from the Alten Lodge.
Then, we had to pass a long caravan of RVs or campervans going very slow and providing not much opportunity to pass. So we had to pass each of the dozen or so vehicles one-by-one with limited opportunities to get by and no one bothering to use the pullouts or car parks (which weren't that many to pullover for other).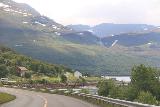 Once that was done, then we were cruising along the E6 though there was a great urge to stop and take pictures for the sharp peaks rising across the fjords alongside the E6 not long after noticing Fosselvfossen in the distance.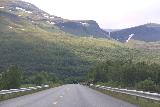 We weren't quite back at the Lyngen Alps when the weather and the scenery was already striking. In fact, it seemed like the ceiling of clouds were lifting as the weather improved.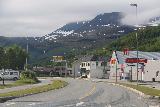 It wasn't until about 11:10am when we got around to pulling over at unmarked pullouts to look across the Lyngen Channel at the Lyngen Alps.
Like back in 2005, these mountains very much reminded us of what the Grand Tetons rising over Jackson Lake were like.
So we took some time to bring out the tripod and try for the rare family shots.
This took us a surprising amount of time, and it wasn't until about 11:30am when we were finally resuming the long drive.
Next, the drive continued past Olderdalen and ultimately entered the familiar Kafjorden.
Unlike on our 2005 visit, there seemed to be new tunnels to shorten this drive.
Of course, the waterfalls seen across the fjord were still compelling.
In fact, there seemed to be more streaks of water trickling down the mountainsides given the persistent rainy weather over the past few weeks of our trip.
As we got towards Balsfjord, we also saw some other significant-looking waterfalls, but by this point, even the gushing waterfalls seemed to be a dime-a-dozen and were easily taken for granted. They didn't even bother putting signs or viewing pullouts for them.
I guess it's easy to get jaded seeing waterfalls in Norway. It makes Yosemite seem like nothing since the whole country seemed to yield consistent Yosemite-like scenery as far as the granite domes and glacier-carved U-shaped valleys were concerned.
By about 2pm, we made a gas and restroom stop somewhere in Bardufoss, where I knew that the gas prices were pretty cheap compared to the 17 NOK per liter prices I had been consistently seeing elsewhere.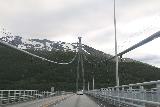 We continued on with the drive, which became a bit less featured the further south we went.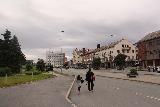 Finally, by about 3:40pm, we arrived at the Scandic Narvik, where we were staying for the night. It wasn't an apartment so we didn't bother grocery shopping (not that we would be able to anyways since today was a Sunday).
The city itself seemed to be a bit bigger than I had remembered, and the overcast skies seemed to conspire against us seeing the midnight sun down here (let alone on the cable car that we took back on our first trip in 2005).
Since our room still wasn't ready by about 4:25pm, we decided to walk to one of the few places that were open on a Sunday. We had a choice between Chinese food or Italian food.
We wound up eating at this place called Bella Napoli at around 4:40pm.
It turned out that the pizza was awful and Julie really had to pick out the lectin stuffs in her salad. She did like her chicken dish, however.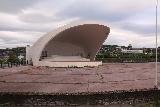 This meal was pretty much our lunner (i.e. no lunch). So we probably saved a little money by not having a third meal for the day.
By about 5:50pm, we were finally settled in the room. At that point, Julie and Tahia stayed in the room while I went back to the car to start and out-and-back excursion chasing waterfalls across the border in Sweden.
Given that it was likely that I wouldn't get back until around 10pm, I really had to get going.
So I promptly went back to the car and drove off under the overcast skies in Narvik.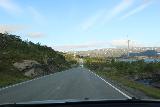 When I headed back across the bridge, I saw that I had to pay another road toll again, then when I turned right to get east on the E10, I had to pay yet another toll.
These things were adding up! So I mentally decided that I was going to take a longer way around the Ofotfjord to avoid paying more of these tolls than I have to.
Anyways, the drive east on the E10 quickly rose into what appeared to be highland moors. Along the way, I saw several alpine tarns as well as man-made lakes.
There was even an impressive waterfall by some defunct shop behind some area called Skogvann (Forest Water?).
Although the lighting was perfect on many things (including the Skogvann Waterfall), I didn't stop for fear that I might run out of time or be out way too late.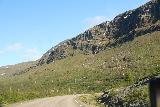 The hits kept coming as I had crossed the Swedish-Norwegian border without issue. There were cameras there but it didn't seem like there was a heavy presence of people manning it.
Once beyond, the speed signs were now in yellow with red borders instead of white with red borders.
I also noticed that people were really gunning it on the roads through the moors up here.
Along the way, I saw several thin and thick waterfalls coming down a massif that appeared to be melting lots of its snow accumulations. I bet that there was new accumulations resulting from the rains that had fallen for so much of the Summer so far.
Again, I wanted to stop for each of the waterfalls (and unlike in Norway, most of the falls and streams were signed as well as in Sami language apparently). However, I had to get to the target excursion of Silverfallet in Bjorkilden first.
Then, I could go back and visit each thing knowing how much time I'd have left at that point.
By about 6:55pm, I made it to a very large pullout signed for Rakkasjohka. It turned out that this was the Sami name for Silverfallet.
It was just past the turnoff for Bjorkilden and it was before the bridge over the stream responsible for the falls (though there was another smaller pullout on the other side of that bridge).
After stopping the car, I promptly followed a signed path that went to the bottom side of the bridge. There was a trail that went under the bridge and kept going uphill towards some access near Bjorkilden.
However, a sign pointed the way downhill for Silverfallet. And I followed that towards a bridge where I was finally able to get a direct view of the misty waterfall sending its spray right onto the footbridge.
I was also looking against the sun so it wasn't the greatest of photo ops. Still, I was impressive with the raw power of this falls as well as the views towards the lake.
Once I had my fill of the falls, I then did a little more exploring of the area to see if there were other ways to experience the falls. I did notice some trail closures that prevented this falls from being experienced as a loop hike.
Regardless, I went back to the car at 7:30pm and then started to head back to Narvik, which was now said to be about 75km away.
On the way back, I managed to stop for the signposted Loktajohka, which was one of several consecutive streams and waterfalls on the moors on the Swedish side.
I was expecting this to be a quick stop, but after seeing a sign pointing the way uphill to get closer to the falls, I had a feeling that I might be checking out this place longer than planned.
So I started to hike up to get closer to Loktajohka at 8:15pm. Then, I went on a somewhat muddy and uphill hike past someone's impromptu camping tent before approaching an active railroad.
There were also some apparent historic cabins nearby though they looked like they were still in use or at least had been used by random people.
After crossing the railroad, I continued the uphill hike, which went up steeply to a bluff. It was from there that I probably got the most comprehensive close-up view of Loktajohka.
I also looked in the other direction at the lakes and the road passing through the forests and moors of this remote part of Lapland.
However, I was also being swarmed by mosquitoes. Even though I had DEET on, I was still getting bit through my hair as well as through my clothes.
I continued the scramble to get right up to the base of the main drop. It was very muddy there, and there was lots of mist thrown everywhere.
After having my fill of the falls, I then went back downhill and returned to the car at 8:55pm.
I then continued the drive back towards Narvik, where I passed through the border again uneventfully, then stopped for Skogvann at about 9:20pm.
The lighting wasn't as good there anymore compared to earlier on in the drive up, but I still stopped and documented it.
After having my fill of the falls, I then drove back to the Scandic Narvik, where I took the non-toll route back as I had mentally told myself I was going to do.
Indeed, this route wasn't bad at all though there was some road construction work going on. Sure it was narrower than the E6 throughfare, but it also went by some nice views of the bridge as well as a war memorial.
When I got back to the Scandic Narvik at 10:15pm, I couldn't help but notice how the clouds appeared to have semi-cleared themselves as opposed to earlier on in the day.
Perhaps, we could check out the midnight sun on this night?
I got back to the room at 10:30pm, where Julie told me that the bad pizza we just had for lunner induced a bad bout of diarrhea and stomach pain. I guess no more pizza for Julie (especially the dairy used for the cheeses).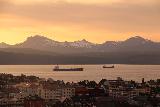 Julie encouraged me to check out the bar on the 16th floor of the Scandic. So when I went up there, I checked out the views where the sun was definitely visible above the horizon and above the mountains in the distance.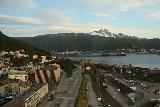 It wasn't quite the Nordkapp view where the sun would be above a flat horizon. Instead, this view over Narvik was fronted by mountains.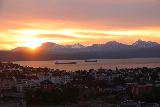 Regardless, I managed to talk Julie into doing the midnight sun viewing, and after cleaning up and getting ready for sleep, Julie and I went up to the 16th floor bar at around 11:55pm.
There were definitely lots of people still chilling out at the bar, and even more people checking out the midnight sun outside.
We were lucky to have seen the midnight sun when we did because just a few minutes later, some clouds started rolling in. At the same time, the sun was starting to sink behind the mountains in the distance.
Anyways, by about 12:05am, Julie and I returned to the room. We got cleaned up, and we tried to catch some badly needed shut-eye for the continuation of the long drive tomorrow as we were headed to Mo i Rana from Narvik via the Kystriksveien Route 17…
Day 26 (July 8, 2019 – Mo I Rana, Norway): "Making Lemonade Out Of Lemons"
It was about 5:50am when we awoke. We must have slept through the alarm because we needed to get up earlier than that to ensure that we'd be in the breakfast room right when they opened at 6:30am.
Unfortunately, it wouldn't be until some time after 7:30am when we finally got into the breakfast room which was completely crowded with people from a Spanish Tour Group.
That meant that we couldn't eat in the dining hall. Instead, we brought our brekkie buffet up to a much quieter spillover seating area upstairs.
It also must have been chaos for Tahia since she couldn't see the buffet items with all the mass of humanity waiting in queues to get at the various foods here.
For a breakfast buffet that was included with the room rates, this one was not bad. It even had a small waffle maker as well as the usual assortment of koltbord stuff like fish (mostly sild, laks, and mackerel) as well as an gluten-free corner.
We also did the combo of soft-boiled eggs with fish eggs (like our own version of caviar).
Needless to say, our hopes of getting out of here by say 7am wasn't going to happen. Instead, we wound up leaving Narvik at around 8:15am.
For a day that would involve a lot of driving, this meant that we might have to be checking into our accommodation in Mo i Rana quite late.
GoogleMaps said our route would take nearly 12 hours without stops. So indeed, this was going to be yet another brutal day of driving (which now made about five straight days of at least 500km of driving).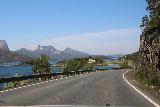 The drive south of Narvik along the E6 was actually a very scenic drive. As much as we wanted to keep driving, we kept being compelled to pull over and try to take pictures of what we were seeing.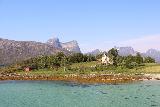 In some cases, we'd pass slow-moving RVs only for them to pass us when we were taking pictures.
At other instances, Julie was playing the role of shotgun photographer, where I'd try to get her to pick up my DSLR and take pictures through the windshield or out the passenger-side window.
Indeed, the pointy mountains we were seeing fronted by colorfully blue waters and red houses against blue skies were just breathtaking.
In fact, the mountains were very reminiscent of a cross between Yosemite High Country scenery and fjords. I'd even argue that Norway was more Yosemite than Yosemite because practically the whole country was Yosemite-heavy.
By about 9:35am, we made it to a ferry crossing over Tysfjorden.
It seemed like a fairly long one, too. So I took the opportunity to get out of the car so I could try to take pictures of the surrounding mountains. Unfortunately, it wasn't as scenic as the drive to get to the ferry in the first place.
And it wasn't until about 10:15am when we were finally about to leave the ferry.
Next, we drove another while south on the E6 in the direction of Fauske. It turned out that Tahia was stubborn about not using the toilet on the ferry nor any of the other WCs along the way.
So when it came time for an emergency stop, we begrudgingly stopped at some random spot at around 11:40am.
When Julie and Tahia went inside the cafe, she noticed a sign pointing the way to a waterfall as well as an overlook.
At that point, I grabbed the camera and tried to see if this place was a legitimate waterfalling stop.
Well, it turned out that indeed this place was a legit waterfalling stop. There was a wide waterfall (looking against the sun however) where there was a hydro contraption off to one side of it and a troll standing above the waterfall.
According to the signage here, this place was called Kobbelv Vertshus. So I guess this waterfall could be called Kobbelvfossen?
Downstream of the waterfall was a nice view of some fjord. Again, the water was beautifully colored, and there were homes dotted on the hillsides and mountains surrounding the head of this fjord.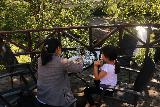 Tahia even took a few minutes to get down to the shore.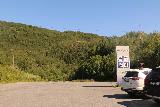 Regardless, Julie got a cheap takeaway lunch (it was actually a buffet lunch for one person that she stuffed into a takeaway box), but we wound up eating at one of the outside picnic tables.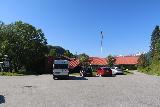 The water here was refreshingly cool and the food consisted of whale meat with chicken and lots of salad.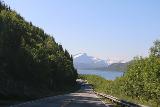 By about 12:15pm, we were back in the car. So what started as an emergency restroom break caused by Tahia wound up being an unexpected waterfalling stop.
I guess you just never know what kind of pleasant surprises come your way.
Next, we drove for a very long stretch as we eventually drove through Fauske then headed east on the Rv80 as we left the E6. Shortly before getting to Fauske, I noticed a turnoff and signage between a pair of tunnels leading to Rago Nasjonalpark.
On our 2005 trip, I wound up missing this turnoff as I had intended to do a long hike there towards Vaerivassfossen. However, I now knew better in that it was a brutally long hike, and I'd have to be spending multiple nights in Fauske or doing an overnight backpack to make it happen.
At least I finally knew where I went wrong the first time, even though it was good that I wound up skipping it on both of our trips.
Before reaching Bodo, we then went south on the Rv17, which was the famous Kystriksveien (i.e. Coastal Route). We were headed south, which meant we were looking mostly against the afternoon sun.
Along the way, we traversed a long bridge over the Saltstraumen. From glancing over the bridge as we drove past, it didn't look like there was a maelstrom going on.
So we kept going and didn't bother stopping for this. However, the mountains and the scenery around here by themselves without the maelstrom were actually quite good.
Next, we did more intense driving as we went through a combination of tunnels of twisty-narrow mountain roads supporting bi-directional traffic.
It wouldn't be until around 3:50pm when we finally found a stop for the Svartisen Glacier. We first stopped at a tourist information parking lot, which revealed a partial view of the glacier.
Against the blue skies, the glacier arm was still impressive, but it left a lot to be desired.
So we continued the drive towards the boat dock (with no intention of going on a boat tour to get closer), and when we found the boat dock at 4:05pm, we managed to get better views from here.
By about 4:25pm, we were back in the car. It took us some time to linger here because we were also trying to take family tripod shots.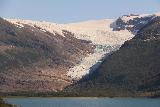 In any case, the boats leading to the viewing area and trailhead at the other side of the fjord didn't leave all that frequently. So that killed any intentions of us spending any more time here due to the boat.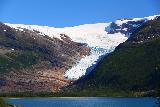 Instead, we continued the drive until we saw a signed pullout with an even better and more revealing view of the scenic arm of the Svartisen Glacier.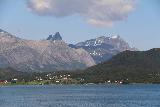 We took some time to take even more photos from here as it turned out that this was the spot we should have spent the most time at for photos. However, you can't call these things in advance, and you always have to be in the moment without assuming there's a later or next time.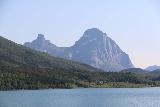 Anyways, seeing that we next had to make two ferry crossings to continue on the Rv17, we made a beeline for that first ferry.
Seeing that there were cars already driving in the other direction, I knew that they had just landed. And when we showed up to the dock at 4:45pm, apparently we had just made this ferry in time!
After getting off of this ferry (which revealed some nice views photo ops during the journey), we then followed a caravan of slow-moving trucks and RVs on the narrow roads towards Jektvik.
We ultimately got there at about 5:30pm, where we had to wait for a much longer ferry towards Kilboghavn.
It didn't seem like we had to wait long as there was a ferry about to show up dropped off vehicles at about 5:35pm. Unfortunately, after dropping off the cars, it then left empty-handed as no vehicles were allowed to go on board.
I didn't understand what this was all about as that boat eventually parked itself in the middle of a bay without moving.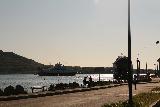 Then, there was another ferry that dropped off vehicles before it, too, did the same maneuver.
What was going on here?
Anyways, when I saw that there were vehicles repositioning themselves in one of the empty lines, I decided that maybe we should do the same so we wouldn't have to be behind slow-moving RVs that refused to use pullouts (which was the case with the RV in front of us).
So we positioned ourselves in one of the lines in lane 6 from lane 1 (our original spot).
And when one of the ferries returned to the dock, it looked like line 2 was moving first, then line 1. However, lines 6 and 7 didn't move at all.
When line 1 was done loading, the ferry took off without us!
I knew something was wrong when no one else was moving after line 1 was done loading, and I intended to catch up to the back of that line.
However, Julie told me to stay put and stop moving around. I guess that bit of advice backfired, but I also shouldn't have moved the car in the first place.
Seeing that apparently our ferry took off without us, I asked someone in the car next to us where the ferry they were waiting for was going.
It turned out that they weren't going to Kilboghavn. And at that point, I never felt so stupid.
So my heart sank and now I was wondering if we were stranded here as we weren't sure if there was going to be another ferry today.
Upon overhearing the mess that we were now in, one of the workers who was about to take care of the next ferry told me that there was going to be another ferry to Kilboghavn at 8:20pm. It was now 6:10pm so we had lots of time to kill.
Either way, I sure hoped that they would honor the ticket that I had already paid for.
At this point, what was done was done. As much as I kept replaying the potentially disastrous chain of events in my mind and the thinking that I was going through at the time, I knew that there was nothing more that could be done to change the past.
So now, with two hours to kill, we went looking for a place to eat dinner. We were also trying to figure out how we were going to do the check-in situation since the reception was only open until 11pm, which we would have made easily had we not missed our ferry.
After driving around and realizing that going backwards towards the cafes that we saw well past a pair of tunnels might not be a wise move, we then went back to Jektvik and saw a kro about 200m from the ferry dock.
There was a Joker (pronounced yoo-ker) that was closed as well as a Phoenix Cafe that we weren't sure if they were open or not.
It turned out that they were open but they weren't serving anything on their lunch menu. Our only options now were burgers.
The lady working at this cafe didn't speak much English so in order to communicate Julie's gluten allergy to her, I had to use my Norsk. I managed to get by and she understood Julie's situation seeing that she, too, was also gluten intolerant.
However, explaining the whole lectin avoidance regimen that Julie was doing as part of a Plant Paradox regimen to help heal her gut was something that was way too difficult to explain in a language that I wasn't fluent in.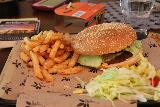 Regardless, Julie got a burger without the bun, while Tahia and I got the regular burgers. They weren't cheap as the whole meal costed us about 500 NOK (or close to $60 USD).
That said, we talked with the lady at the cafe who happened to be the mother of her rambunctious son who was 6 years old. I managed to get him into Duolingo, which was an app that a co-worker introduced me to, and I was using that app to quiz myself Norwegian to keep me engaged in the language here.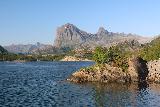 They seemed impressed that I was able to communicate with them in a little Norwegian (no one seems to expect that out of tourists), though I also warned them that Jeg kan snakke bare litt norsk.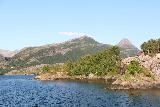 With so much time to kill, I used it to fix Tahia's falling-apart backpack with duck tape as we were finally able to tend to this issue as we hardly had any time to do anything else. As Julie told Tahia, "Sometimes, you have to make lemonade out of lemons."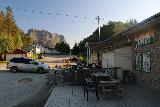 And such was the case here. At least the worst that could happen was that we were delayed by a couple of hours. It could have been worse (like if we caught the wrong ferry and got stranded on a different island!).
I was also getting caught up on Duolingo since I was demoted out of the Ruby League earlier this morning (perhaps a sign of things to come for today?).
Not only that, but had a bit of a friendly conversation learning about each others' schooling since the natural conversation gravitated towards her son as well as Tahia.
Before we knew it, it seemed like we were holding up this family from closing up shop. So we said our good-byes and thanked them.
I then went to the shores to take a few pictures from behind their restaurant and/or property.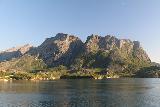 By then, it was about 7:50am when we returned to the car. And when we returned to the ferry dock, it appeared that it was just in time to board the ferry.
I felt a bit of a sense of relief once we finally got on the correct ferry to Kilboghavn. Of course, it was getting late, and I knew there was a bit of a drive to finally get into Mo i Rana to check in.
Sure enough, the ferry left on time at 8:20pm, and I managed to get quite a few photos of the landscape during this ride.
The scenery here wasn't as striking as the views from the road that we experienced throughout the drive along the Rv17 as well as the E6 south of Narvik.
Regardless, by around 9:15pm, we were all finally about to leave the ferry at Kilboghavn.
The leader of the caravan of cars was a large truck carrying lots of cargo. However, he eventually turned into a work site, which meant that we were now the leaders of the pack.
At that point, I was gunning it where the speed limit was unmarked (i.e. assumed to be 80km/h but I was probably going faster than that).
However, the group of vehicles would catch up to me whenever it got to 60km/h or less as they probably went faster than that speed limit whereas I was hesitant to do that.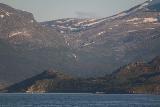 In any case, there would be no more shotgun photography as I was driving though there were a couple of missed opportunities at the start of this drive.
It wouldn't be until around 10:40pm when we finally arrived at the Hotel Svartisen in Mo i Rana. This was still 20 minutes before reception closed, which was necessary since Julie never got the e-mail containing the combo code to get the room key had it been after hours.
So with that squared away, we then went straight to the nearest Rema 1000 that we saw on the way in. We got there at 10:45pm, which meant we had about 15 minutes to do grocery shopping.
It turned out that this Rema wasn't well-stocked. So we didn't get everything we needed.
I was also not having luck filling up at any of the gas stations in town so far (especially since we were running out of fuel and many of the machines were finicky about non-Scandinavian credit cards).
Eventually at 11:30pm, we were finally settled in the hotel room with kitchenette at Hotel Svartisen.
Given all the setbacks from today and that I was starting to do a poorer job of staying in the moment on the trip (as opposed to thinking about what I was starting to miss from home), I went to bed concluding that this was just one of those days.
Every trip of this duration was bound to have its share of dramas. And boy was this feil a doozy but wasn't catastrophic.
I'd eventually sleep some time after midnight, and I'd sleep with the intention of sleeping in a little bit since tomorrow's activities was supposed to be on the lighter side.
At the very minimum, at least the drive wouldn't involve yet another 500km marathon though the day after would pick up right where we left off again…
Day 27 (July 9, 2019 – Mo I Rana, Norway): "Way Different Than Before"
It was about 6:20am when I awoke. I had purposefully overslept my alarm once again, and it seemed like my body was getting accustomed to ignoring this alarm, which wasn't a good thing for those days when we actually had scheduled departures like the flight home as well as the ferry to Denmark!
Still, with an anticipated light day of activities, I took my time getting ready while Julie and Tahia remained asleep.
It wasn't until about 8am when I was finally heading out to a somewhat sunny morning.
The target of today was to visit Bredekfossen, which was another one of those waterfalls that I'd like to have another crack at since the first time I did it 14 years ago somehow felt like I left a lot on the table.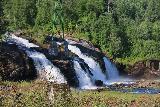 As I was making my way out of town, I stumbled upon a fairly ugly yet attractive waterfall at the same time right in the city of Mo i Rana.
I guess the thing that made it ugly were all the construction and roads right night to it as well as some beat up defunct buildings.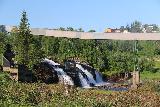 However, the flume running over the falls and further down the city was somehow alluring as well.
Since I still had Bredekfossen looming over me, I quickly stopped and documented this falls. I figured I might have time to come back and experience it more properly later in the day.
And if not, then I didn't feel like I was missing out on anything.
The drive out of Mo i Rana was somewhat uneventful. The only thing I noticed that was different than before was that there was actually a stretch of 90km/h highway, which I didn't recall was there the first time I was here.
There also seemed to be a lot of newly paved roads as well as a widening of the E6.
In fact, when I finally arrived at the old trailhead at Stormdalshei (Stormdal's Hi!) at 8:55am, I realized that it was no longer right off the E6. There was actually a separate smaller access road leading to the dead-end that contained this trailhead.
There were also a lot more parking spots alongside this new road as well.
I then drove over to a different car park at 9:15am, which was where I was intending to do the Bredekfossen hike as a loop. I noticed signage suggesting that this trailhead was for Telegrafsruta, which went into Svartisen-Saltfjellet National Park.
I also saw an assuring sign talking about Bredekrunden (the Bredek Loop).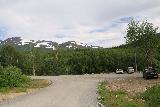 The parking lot looked spacious and I was only one of two or three cars here. There was some children's playground area as well as the same river that the swinging bridge over it by the old trailhead passed over.
After gearing up, I then proceeded to walk over the sturdy road bridge before reaching signage saying that the trail resumed to the left right onto some private driveway.
By about 9:25am, I then saw signage going right into an overgrown and narrow path that seemed to avoid the actual buildings of a particular farm.
I proceeded to go uphill on this narrow and overgrown path, when eventually led me to a grassy 4wd path.
This 4wd path kept gradually climbing and heading north, and I was getting concerned that perhaps I might be on the Telegrafsruta and not on the Bredekrunden.
The path had a bunch of unsigned forks that were false paths probably to other logging accesses. I even went through a deforested clearing that this farmer must have cut down his trees for whatever purposes.
That was until around 9:50am when I reached a signed junction where the Bredekrunden departed from the Telegrafsruta.
The trail then became single-track as it kind of undulated before reaching a really steep descent as it descended a mountainside towards a swinging bridge over a side arm of a river next to its confluence with the main arm.
Once I got to the other side of this scary-looking swinging bridge at 10:10am (good for one person at a time) did I then climb steeply on the other side before eventually flattening out.
This time, the trail followed a different river where I was starting to get frontal views of Bredekfossen except that it kept getting obstructed by trees.
So I was already in the mindset of looking for a way to experience the falls, which at this angle was backed by an attractively pointed mountain.
However, that didn't happen. And by about 10:25am, I made it to some kind of shed with a signposted junction. Apparently, I still had 0.4km to get to the Bredek Farm. And yet my mind was on trying to figure out how to experience Bredekfossen as none of the signage even suggested the presence of the waterfall.
After some mostly flat hiking with a slight descent and ascent before and after a second one-person swinging bridge crossing upstream of a cascade, I wound up arriving at the Bredek Farm at about 10:35am.
This place had an idyllic clearing with a partial view of the top of Bredekfossen itself.
However, after searching around the property, I didn't see a sanctioned or clear indication of a trail that would lead down to a better look at the waterfall.
It took a bit of time before I finally decided at 11am to just scramble across some overgrown parts of the field by following some kind of water channel before I saw a downhill sloping clearing.
When I finally made it to the bottom of this hillside clearing, that was when I finally saw a very steep path leading down closer to Bredekfossen.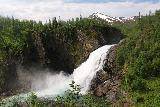 While the path was already steep to begin with, it seemed to be even steeper the further down I went.
I was sure glad that there had been dry weather over the last couple of days because this trail would be way too dangerous to attempt (due to muddiness on a steep slope) in wet weather.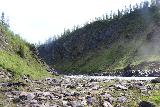 Regardless, I finally made it to the bottom at 11:15am. Indeed, that scramble sure was sketchy, and I was worried about trampling the Bredek Farm vegetation.
Personally, I felt that they really should be putting red Ts to make access to the falls more obvious without messing with the Bredek farm itself.
I took some time to document the gushing waterfall, which looked smaller from down here. However, I was definitely able to feel the power of the river and feel some of the spray that headed in my direction.
After I had my fill of the waterfall, I started to head back out. Eventually, I made it back up out of the sketchy part of the scramble hand-over-feet by about 11:30am. Then ten minutes later, I scrambled back across the farm's field and onto the main trail again.
At this point, I then continued the Bredekrunden, where by 11:50am, I made it to the third swinging bridge of the hike. This time, the single-person swinging bridge traversed the river just upstream of the brink of Bredekfossen.
As I crossed the bridge, I then found myself at the Stormdalsgarden junction at around 11:55am, which was a familiar part of the trail from when I first did this hike 14 years ago.
I then did some scrambling to seek out the old awkward top down view of Bredekfossen that I had gotten the first time around. This time however, there was a fallen tree (or intentionally cut up tree) to obscure the view and discourage doing this.
The only good thing about this view now was that the cave further downstream of the falls was a lot more visible. I wondered if that cave was accessible, but given the steep terrain surrounding the canyon, I figured it wasn't worth the trouble.
DNT certainly didn't have any markings for it.
Next, I continued the loop when I found the trail junction for Granneset at 12:10pm. However, this time, the signage suggested that Granneset was a hut, and it was only about 0.3km away from here.
Since it was so close, I decided to pursue that trail. Along the way, I noticed an unsigned spur trail that deviated from the one to Granneset. But before I would pursue that, I figured I'd get to Granneset first to see what it was like down there.
The trail descended before finally reaching a series of cabins and another idyllic clearing, which I got to at about 12:15pm. I wasn't sure if there was any active farm work going on here as there were some collections of firewood or felled logs inside one of the cabins.
There was also another couple with a dog that made their way down to Granneset before chilling out here. They were the first people I encountered on this trail.
After having my fill of Granneset, I then went back up to the unsigned spur. After following that for a couple of minutes, it then descended to an unsanctioned overlook perched high above the gorge with a direct look at Bredekfossen. I got there at about 12:25pm.
If there was a sanctioned view of the falls, I figured that this must be it. There was also a pretty clean look across the gorge at the Bredek Farm. However, the view of the cave wasn't as obvious given the foliage in the line-of-sight.
After getting back to the Granneset spur trail, I then resumed the Bredekrunden, which led me to another Stormdalsgarden trail junction by 12:40pm, and a Dunderland trail junction by 12:50pm.
I still had another 1.5km to get to the "original" trailhead that I had been to before at Stormdalshei. And after that, I still had to complete the loop hike by walking back to the other car park.
Anyways, after crossing a flat area with partial views back towards Hjartasen and the E6, the trail then made a fairly long descent (which I'm sure must have been somewhat brutal on the way up).
Still, I saw several other people on their way up to the Svartisen-Saltfjellet Nasjonalpark, which attested to how popular this trail must be.
Once I was finally at the bottom of the descent, I passed through the private property that I recalled was there before.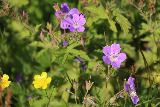 However, the trail routing was such that it appeared to skirt around the edges of the private property instead of passing through like the first time.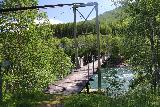 By about 1:15pm, I finally made it back to the last swinging bridge, which traversed the raging river following along the E6. At least this one can support more than one person at a time.
There was definitely more signage than I remembered in the past as far as stuff about the national park as well as where the trails were leading (to make it even more dummy proof for tourists).
It took me another five minutes to reach the Storforshei car park. And by about 1:35pm, I finally made it back to the car park that I was parked at for the Telegrafsruta.
Indeed, I definitely noticed more signage dedicated to the Svartisen-Saltfjellet National Park, which I recalled wasn't the case on that first visit 14 years ago.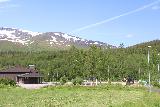 And thus, I finally drove back to Mo i Rana, where I rejoined Tahia and Julie at the Hotel Svartisen by about 2:25pm.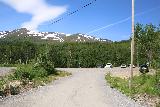 We had a late self-cooked lunch before we then went back in the car at 3:35pm to go check out the Gronligrotta. Again, this was something that Julie and I did as a guided tour in the past. We were hoping to catch the 4pm guided tour or at least the 5pm guided tour.
Well, when it came time to try to leave the city, we were snarled in some kind of traffic jam as the traffic was heavy at a key roundabout right by the waterfall that I had seen earlier in the day.
So it took a while to get out of town, and then it took a little more time to drive the unsealed road to get up to the Gronligrotta car park and reception area.
I got up there at about 4:20pm. I didn't recall the narrow unpaved road being somewhat rough and practically single-lane, but then again, my memory was fuzzy about a lot of things 14 years ago.
When we paid for our admission, we were told that we didn't have to wait for a guide to go in. We could just show our tickets to whoever is inside but all we had to do was the follow the lit paths.
We only had to hike a short distance downhill behind the reception area before reaching the cave entrance.
Once we were inside there, it felt quite a bit cooler in contrast to the warm weather outside.
And soon enough, we reached the familiar short waterfall and cascade, which was responsible for creating a bit of a misty moist air in the cave, which caused halo effects from the lighting.
Aside from being careful about the slippery surfaces, we managed to explore as much of the lit up paths as we could, including a so-called "Indiana Jones" room with a stuck boulder.
Tahia was busy being a clown inside the cave and causes a bit of a raucous.
I also noticed more dark passages that probably would require some degree of spelunking and a torch to explore the cave a bit further.
One thing that Julie noticed was that there was an absence of stalactites (or at least significant ones). Perhaps that attested to the mineral-poor waters that seeped into the cave.
I guess without a guide to explain it, we were just speculating about why this was the case when most other caves have more pronounced stalactites and stalagmites.
Eventually by about 5:25pm, we were back in the car. It was a nice little visit and it was good that we didn't have to wait because it was getting late in the day when we still wanted to walk around Mo i Rana and still have self-cooked dinner.
However, I saw that the Svartisen Glacier was only around 10km from Gronligrotta so I decided to just pursue it really quick before going back to town.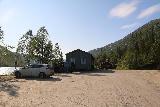 When we finally got there at about 5:45pm, I noticed that the east side of Svartisen was merely dirty ice as seen from the boat dock.
There was really nothing keeping us here for long so we didn't linger for long.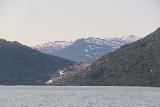 Eventually by about 6:30pm, we returned to the Hotel Svartisen where we parked the car and then went for a walk.
Since Tahia had been complaining and whining about wanting to have some black ice cream in the mall, we decided to rush over to the mall before they closed at 7pm so she could have the treat.
However, she refused to eat it after a few bites because it wasn't the charcoal vanilla that she expected. So that was a waste of time and money, and I was none too pleased about that.
Anyways, we then walked towards the Sea Man (Havmann), which started from a seemingly new pedestrianized area (a former car traffic road or two), then went underneath the train tracks, before going past some upscale apartments, then finally reaching the waterfront.
The lighting wasn't great against the evening sun, but it was still a nice spot to walk around and take pictures despite the ugly tankers and industry clearly visible at the waterfront.
After having our fill of this spot, Julie and Tahia stayed in town to go shop at the Coop Extra for some groceries and to cook dinner. Meanwhile, I was back in the car at 7:25pm to check out the city waterfall that I was at earlier.
By about 7:40pm, I had returned to that city waterfall after some informal parking at a construction site next to the waterfall. I didn't know its name, but I still walked around the pedestrianized accesses alongside the roundabout and E6.
So I was able to see this waterfall from all the different angles as well as checking out the flume from below.
By about 7:55pm, I had my fill of the waterfall, and I had filled up at the cheapest gas station in town that would actually take my American credit card (as not all of the automated gas station tellers would do it).
By about 8:05pm, I finally returned to the Hotel Svartisen to call it a night and have another self-cooked dinner with the family to both save on money, save on time, and enjoy each others' company once again…
Day 28 (July 10, 2019 – Grong, Norway): "Misleading Excursions"
It was about 5am when I woke up to Julie's alarm. The intent of the early wake-up was to give ourselves maximum time to experience more of the Kystriksveien while also doing stops for Laksforsen and Torghatten.
I was also hoping that we could check out the Helgelandsbrua (The Helgeland Bridge), which was said to be one of the more impressive ones on the Kystriksveien (Norway's national scenic coastal route between Steinkjer and Bodo).
However, we didn't actually leave the Hotel Svartisen until around 6:40am as we had brekkie and had to clean up the mess.
It was cloudy and cool this morning, and it seemed to have dampened the mood somewhat compared to the last few days when we were enjoying quite a bit of sunny skies.
The drive south along the E6 was a mostly uneventful affair. However, we had noticed a significant amount of road work going on.
It seemed like there was going to be a new E6 in place where the road would be straighter and wider, and it would finish some time in 2021.
But for now, we still had curvier roads with lots of 50km/h work zones and lots of slower vehicles causing caravans of cars along the way.
I recalled the E6 last time was a road fatigue-inducing drive in this stretch of Nordland and Nord-Trondelag counties (I think they consolidated Nord- and Sor-Trondelag counties). And this time around, I was also already battling road fatigue.
Given this situation, the late departure (hoping to get out by 6am), and the gloomy overcast weather, Julie talked me out of making the out-and-back detour to see the Helgelandsbrua.
She was thinking that it was not worth the extra two- to three-hour detour to check it out then come back to the E6 over a bridge.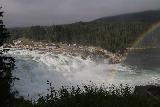 So we kept going, and it wouldn't be until about 8:15am when we arrived at the Laksforsen waterfall, which was one of those wide river-type waterfalls that we had done in the past.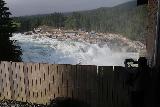 At this time of the day, there was a lovely morning rainbow in the waterfall's spray towards the left side of the building. The sun just started to come out when we arrived after getting a lot of the June gloom-type weather for much of the drive.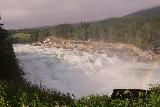 The cafe wasn't open until 9am, however, so we also couldn't use the toilet until then. In the mean time, we let Tahia sleep in the car while we were taking turns checking out the waterfall between now and the cafe's opening time.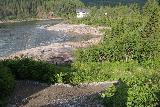 There was a lot of mist thrown our way where the morning rainbow was. So we went down the familiar steep path towards the bottom, where we got more direct views of the waterfall.
From down there, the falls looked quite a bit smaller, but at least the mist was being thrown away from us.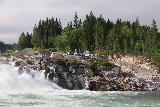 We also noticed quite a bit of work going on towards the opposite side of Laksforsen. We wondered if they were starting to build a hydroelectric facility or something to regulate this waterfall.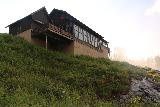 That would probably be a bit of an unfortunate development as far as touring this falls would be concerned. However, we also noticed that the salmon parasite issue was still a problem today according to some signage, and they forbid any fishing here.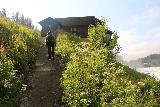 So perhaps whatever income could have been gained from that now had to be replaced by something else, and that something else was the regulation of the waterfall.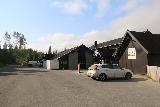 Regardless, when 9am finally came around, we paid 10 NOK to use the restroom, and then we were off by 9:05am.
The drive continued to be pretty featureless as we went through more long stretches of the E6 construction zones.
Then, we took the Rv76 west towards Torghatten.
That drive started off sunny as we were heading west, but then after going through a fairly long tunnel, we emerged out on the other end under gloomy skies again.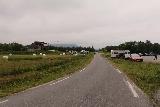 So by the time we finally rolled around to Bronnoysund and then to Torghatten's main car park, we were once again under the ceiling of low clouds concealing perhaps some more of the pretty mountain peaks around the Kystriksveien.
We eventually got to the very busy Torghatten car park at about 11:25am.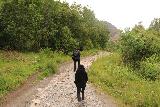 I was hoping that we could get the famous view of looking through the hole in the mountain with the context of that mountain shot, but clearly this car park was on the opposite side of the opening of the mountain and that we'd have to hike around 30 minutes to get up to the hole itself.
The signage here suggested that while it was possible to get to the west side of the arch, the sanctioned way would be to hike. I did see that there was a road to Indre Torget, but it wasn't clear if the views would still be available due to private driveways perhaps preventing that side of Torghatten from being seen.
It was kind of misleading to always show that image in the literature when you can't really get to see it unless you're investing a lot of hours or be willing to possibly trespass for it.
And so while I knew it was going to be a subpar experience to get up to the hole, we did it anyways since we were here.
The climb up wasn't long but it wasn't particularly easy since it was steep and rocky. At least when we did make it up to the hole, we could see through it and the tiny islets in the distance.
I did also notice the farm below though there didn't seem to be any vehicles down there, which suggested to me that it probably wasn't a sanctioned way for tourists' cars to be.
It would take a bit more time to do the rougher trail that would continue through the arch and go around the mountain (where I might have a chance to see the arch from the better western side). But with Julie and Tahia not interested in extending this excursion, we had to settle once again.
So by about 12:55pm, we returned to the car. As much as I wanted to drive to the other side of Torghatten, I guess the ladies had no interest in better photos of it and we wound up going straight to Bronnoysund.
We wound up parking in the town at 1:20pm for lunch at this place called Kred. It was basically a burger joint inspired by the Beattles.
It wasn't exactly the kind of healthy fare that Julie was looking for so we wound up getting a pair of burgers (one pulled pork and the other some kind of Highway to Hell of bacon and cheese) while Julie got a bacalao.
That said, the lunch was about 670 NOK, which was very pricey for just burgers.
Regardless, we were done by about 2:25pm, and then we continued the drive towards Grong along the Kystriksveien.
The drive was mostly unremarkable compared to the crazy scenery we saw further to the north, but I think the gloomy weather and the cloud ceiling had a lot to do with that.
So we zoomed through but just missed a ferry at 3:20pm so we had to wait another 20 minutes for the next one to show up at Vennesund (bound for Holm). That ferry wasn't cheap at around 180 NOK. Indeed, these ferry costs were definitely adding up.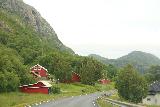 After continuing the drive from Holm, the route went more inland and as it followed along more lakes and fjord arms, the scenery started to resemble a poor-man's version of the Lysefjord with the knobby granite.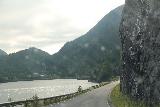 The sun and blue skies were back out during this stretch, and that made me conclude that whatever gloomy cloud ceilings that we had experienced most of the day was mostly a coastal phenomenon.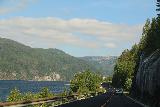 One particular spot had a nice waterfall, but we couldn't stop for it as there was either too many trees or a lack of pullouts to at least enjoy it. That seemed like a common thing in Norway as waterfalls tended to be taken for granted.
But in a relatively featureless drive like this, the waterfall would have been a welcome break.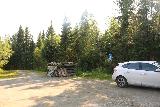 It wasn't until about 5:35pm when we finally arrived at Grongstadfossen.
The car park was familiar to me though it seemed though the narrow unpaved road seemed longer than I had remembered.
Plus, we noticed in the town of Hoylandet that there seemed to be some kind of festival going on. We weren't sure what was being celebrated, but it sure seemed like a lot of people were there.
Anyways, Julie and Tahia stayed in the car while I was out to the familiar picnic table and overlook of Grongstadfossen. At this time of the afternoon, it was somewhat against the sun, and the waterfall seemed to have less water than before.
Upon one person's recommendation (from our website feedback) to get closer to the falls, I looked for the tursti (trail) that would get a better view of the falls (perhaps at the bottom). However, there was a house at the end of the rough 4wd road as well as a significant amount of deforestation on the other side of the house.
There were wire fences put up perhaps to prevent people from getting into the logging zone, but I also couldn't find the trail to improve the view of Grongstadfossen.
After several minutes of scrambling and looking for the trail, I concluded that whoever managed this place and deforested, they also intentionally set up tree barricades (or felled trees) to obscure the path down.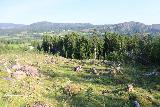 Now, it was pretty much a scramble of faith through poison oak to regain whatever former path was there despite signage suggesting that there was a trail somewhere around here.
With it getting late in the day, I eventually gave up my search and returned to the car at 6:20pm. So it was yet another example of some misleading expectations from the literature resulting in nothing or a subpar experience from such expectations.
In hindsight, we really should have taken the detour to the Helgelandsbrua as it could have been the highlight of this otherwise not-so-great day.
By about 6:50pm, we finally made it to the Grong Gard, which was a guesthouse-like farm stay that accommodated quite a few tourists.
Grong was a small town where we didn't think we'd have much choice of accommodations, but it was actually a surprisingly busy place.
The kitchen facilites were shared but each unit had their own private bath.
So we went to the Grong Sentrum to get some basic groceries at the Rema 1k there, then we returned to the Grong Gard at 7:45pm for a simple self-cooked dinner at one of the three shared kitchens.
Tahia and I were briefly playing in the tiny playground here while she was also trying her hand at skateboarding as there was a tiny one here for her to give it a go. Since I never really got into it, I couldn't teach her, and she was basically struggling to either move or to stay on.
Back at the upstairs shared kitchen where we pretty much occupied it for our dinner, we briefly conversed with one of the Norwegian guests who said they had been driving 11 hours from Oslo to get here. They also talked to us about the big earthquake around Los Angeles though after talking with Julie's Mom, it seemed like our home wasn't in bad shape.
I guess not everyone realizes that the epicenter in Ridgecrest was still a few hours drive away from the main Los Angeles basin. However, the fires caused by transformers blowing around the Lake Isabella and Kern River area was definitely not a good thing since those areas had already seen major fires but whatever was left was probably still tinder for a new wildfire.
Anyways, that pretty much ended the day as we eventually retreated to our room and went to bed.
Tomorrow, we were anticipating a short overnight stay back in Sweden, but it was mostly going to visit quite a few waterfalls before returning back to Norway to experience the fjords once again.
Indeed, we were now past the half-way point of this epically long trip, but I could already sense that Julie and Tahia were Nature fatigued, and they were already looking forward to Trondheim, Denmark, and Sweden though we still had another couple more weeks of Norwegian Nature to go…
Day 29 (July 11, 2019 – Ostersund, Sweden): "Mismanaged Priorities"
It was about 6am when we awoke. Due to the 7:30am breakfast time at the Grong Gard, I managed to sleep in past my now-often-ignored watch alarm (which always was set for 4am, 4:15am, and 4:30am).
So it wouldn't be until around 8:25am when we finally headed out.
The breakfast at the Grong Gard wasn't that bed. We wound up loading up on soft-boiled eggs with caviar, bread with Nugati (no GF bread though), sild, and other usual koltbord stuff.
We needed to do this because we weren't expecting to have lunch though I'm sure Julie would find a way to make that happen.
Anyways, as we were driving off and headed towards the Rv74, we saw signage for the familiar Formofossen.
Since we were already here, we spontaneously decided to make the detour. So by 8:35am, we were back at the Formofossen car park, which was right where I remembered it (though it wasn't a formal car park back in 2005).
Like before, the drive was pretty well-signed though there was a bit of chaos by the railroad tracks where one easily could have driven into the construction zone instead of crossing the tracks to resume the drive on unsealed road briefly to the excursion.
Gone were some signs that I thought I saw about the salmon parasite and now there was a different sign in Norwegian that I'd imagine had to do with fishing restrictions as a result of the parasite.
Regardless, we quickly went down to the viewpoints – one at the brink, where there was now a shelter and picnic table, and one downstream with familiar steps then a ladder.
Like before, that ladder went to a very doozy of a last step to some rocks below that we didn't bother doing. Back in 2005, I swore the river level was high enough to touch the ladder.
Also unlike the last time, the weather was overcast. So there wasn't a whole lot of contrast with blue skies like last time.
Regardless, we had our fill of the falls and by 8:55am we were back at the car, where there was another couple in a campervan that showed up (so we weren't alone here like last time).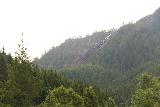 Next, we drove quickly east along the Rv74. We were typically caught behind slower drivers, but when we approached a long traffic stop for repavement work, we saw a waterfall in the distance.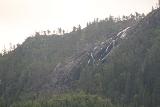 According to our Veiatlas Norge book, it seemed like that waterfall was called Bergfossen but on Norgeskart, it appeared to be called Finnkrufossen.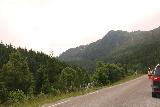 It seemed fairly legit, but we weren't sure if we had the time to stop for it let alone look for a place to experience more of it.
Regardless, the traffic stop happened at 9:20am, and it took quite a while before we were finally moving again.
Once we got past the construction, the drive then zoomed along the Rv74. By that time, Julie dozed off so she couldn't be the shotgun photographer.
And it was too bad because there was a massive waterfall across the canyon to the north that suddenly showed itself then disappeared behind trees. That one was a gusher and I was very surprised at not seeing signage nor pullouts for it.
Could this be the Bergfossen instead? I wasn't sure, but it was a shame that we couldn't have gotten any shots of it via shotgun photography while we could.
Because once we got past it, I never saw it again. But from further post mortem research into this particular waterfall, it looked like this was the Sisselfossen, which would have required a minimum of two hours of detour and hiking to experience, which we simply didn't have the time to do on this day.
We then passed through to Sweden without issues (it almost seemed like it was unmanned or something there), and then we pretty much continued through an area full of lakes.
I wasn't sure if they were natural lakes or man-made ones, but it really seemed like we were going through a land of many lakes (perhaps not unlike Minnesota, which earned its reputation as the land of many lakes).
Eventually, we got to a signed turnoff for Hallingsafallet, where we drove 21km on unsealed roads to its official car park where the last 4-6km had a few more potholes.
We got there at around 10:40am, and there were quite a few cars already parked here. So clearly, it was a popular place to be.
While Julie and I were looking at the signage, there was one older guy who kind of rudely told us to step aside so he could take a picture. Julie asked him how long the hike was to get to the falls, and he just ignored her.
Regardless, the walk to the first viewpoint of Hallingsafallet was actually quite short, and that first viewpoint was impressive!
We managed to get a direct look at the falls throwing up lots of mist and framing a deep canyon.
Aside from the annoyance of Tahia trying to be silly and photobombing or sabotaging our photos and videos as well as mosquitoes taking bites out of us, we took our time checking this spot out before walking over to the footbridge above the falls.
As we went there, we noticed a rainbow wafting in the mist with the morning sun that was popping in and out of the clouds.
On the other side of the bridge, there was a partial view of the brink but the rainbow there was almost a full semi-circle.
After having our fill here, I then headed back towards the picnic area with a more direct canyon view between the bridge and the main overlook. On the way up there, I saw the older guy again with his wife.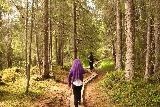 I smiled to them politely and the lady reciprocated, but the older guy kind of had this look of annoyance like we did something to him.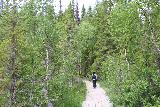 Anyways, we kept walking past the main overlook, then onto a boardwalk through a boggy part (and hence a breeding ground for mosquitoes I'm sure) before getting directly opposite the Hallingsafallet and looking against the sun.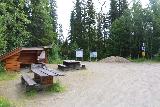 When the sun was hidden, this was another view of the mist and turbulence caused by the falls.
We took a few more moments to experience this spot before retreating to the car and trying to avoid more mosquito bites.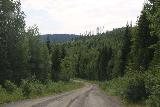 By 11:35am, we were back at the car, and we promptly headed back out just as more cars and RVs were rolling in. Clearly, this was not an unknown spot despite how far north in Sweden we were.
Further hastening our departure were the swarming mosquitoes as well. Some of them mananged to bite Julie and I through our hair and into our scalps. Meanwhile, others managed to bite through our clothing.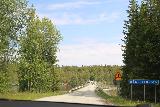 As we were leaving, the GPS routed us on an unsealed road with potholes along the southern shores of a long lake between Gaddede and Sjulsasen.
It turned out to be a rather lengthy and slower drive due to the potholes and rocks on the unsealed road.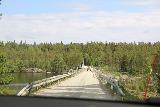 And after about 12:10pm, we finally crossed a dam at Bagedeforsen. That meant the lengthy unsealed detour was about 35 minutes.
In hindsight, I wondered if we were better off going backwards from the Hallingsafallet turnoff and backtracking to the Road 342.
At least after the price of backtracking, we would have been going significantly faster on the wider paved road as opposed to the unsealed southern shores despite what the GPS says.
Anyways, it was a bit smoother going along the Road 342 as we eventually entered the town of Stromsund at around 1:10pm.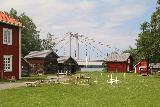 For the first time since our Swedish pre-paid sim card ran out of data (thus ending our pre-paid functionality thanks to Tahia's slime videos on YouTube), we were finally in a position to top up the card.
We eventually did the deed at a grocery store in town. And so we were finally back in a position to use the original pre-paid Swedish sim card, which included both data and voice (the MyCell Norwegian pre-paid sim card only supported data).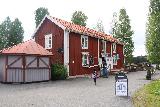 So we could finally confidently made calls to accommodations again, especially when it came to coordinating with apartment owners or representatives.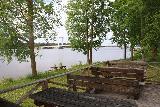 At 1:25pm, Julie had me go find some place called Tomten Cafe. It was in an area where it looked like there was a setup for some kind of event that was going on later today.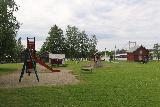 As we walked around the complex, we eventually found the place. However, we quickly came to realize that this place was really more of a bakery than it was a lunch spot.
And Julie couldn't have pastries for lunch, especially since none of this stuff was gluten free let along grain free.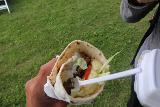 So with that, we were about to walk back to the car and pursue a different lunch spot despite the time restrictions (as I was getting worried about going out and coming back very late at night).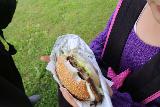 Then, Julie suddenly decided to buy a quick lunch from one of the food trucks setting up here.
We ultimately settled for a food truck that served up hamburgers on a gluten-free bun, some kind of fish cake wrapped in a pita, and some kind of beef kebab take-away dish.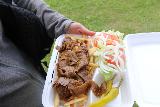 We then took the takeaway food and found a picnic table with a view of the Stromsund Bridge.
Eventually at 2:15pm, we returned to the car and resumed the drive after this rather random stop.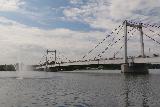 One thing that we were realizing upon this experience was that the prices of goods in Sweden seemed to be quite a bit cheaper than in Norway.
Anyways, we then drove out of the Stromsund park and continued driving on the E45, which crossed the Stromsund Bridge, and the drive went pretty quickly along a 100km/h speed limit.
Yet despite the speed limits, there were plenty of traffic cameras as well as slower campervans going 10-20 km/h slower than the limit.
Thus, we had to be careful passing these slower vehicles, and the opportunities tended to occur only on the straightaways.
By about 3:40pm, we finally got to the city of Ostersund, which contrasted with the Norwegian cities in that this city seemed to better support cheaper prices for goods and services.
And then, we manage to find some mom-and-pop grocery store, where we picked up some stuff for tonight's dinner and tomorrow's breakfast.
Eventually, by about 4:20pm, we arrived at the Ostersunds Stugby (basically Ostersund Camping), where we checked in.
Once we finally found our cabin, we then took stuff out of the car and placed them into the room.
By about 4:40pm, after getting organized, I managed to then get out of the cabin and start driving to a couple more waterfalls in Sweden before coming back.
I was hoping that between now and when I would get back that Tahia could finally get to play in a water park. This particular one was next door to Ostersunds Stugby, and I was hoping that both Julie and Tahia could be in the water park before closing tonight.
After all, that water park and family-friendly atmosphere here was the very reason why Julie booked this place.
Regardless, I drove off towards both Fettjeafallet and Linafallet.
The drive south of Ostersund started off sluggishly with lots of 50km/h or 60km/h zones for quite a bit of time. But when I got out of that, then the drive went along quite a few 100km/h straight highways along the E45.
Perhaps the things checking the speed were the presence of speed cameras (both with signed warnings but especially without them).
Deep into the drive, I then exited the E45 and took the Road 316, which ultimately led to Klovsjo.
After passing through Klovsjo, the GPS started to make me do turns through narrow streets or unpaved roads without any signage indicating as such for Fettjeafallet.
I had to rebel and keep the faith that I'd be seeing signs at some point.
It wasn't until I saw a sign saying something about Klovsjo Skiamradet (ski area?) that I finally started seeing the waterfall signs (with about 5km to go). And at that point, it wasn't a matter of guesses or taking leaps of faith anymore.
Ultimately by about 6:05pm, I just parked in a clearing where there was a signpost pointing at it for Fettjeafallet.
The last 4km was unsealed with some potholes along the way.
Anyways, I geared up and promptly started walking. The skies were partly cloudy at this point as the sun was sinking lower on the horizon though it still felt like it was earlier than 6pm.
I went quickly on this hike as it followed along the stream responsible for the falls. It was also flanked by a clear-fell logging area, which was something I seemed to be seeing a lot of on this trip.
Not long after I got past the 1km sign point, the trail started climbing and getting a bit rockier as it ascended alongside some intermediate cascades (a couple of them at least).
The trail continued to get rocky and uneven alongside the stream. And whenever I stood still, mosquitoes were taking pot shots at me even though I had put on DEET prior to starting the hike.
By about 6:55pm, after getting past a couple of bridges and a rockslide prone section, I finally arrived at a shelter with a view of Fettjeafallet.
It was an impressively tall waterfall with a couple of plunging drops as well as a few more supporting cascades.
I could also see that there were more trail markings along with faint trails leading closer up to the base of at least the lower of the main drops.
So I went up there and managed to document the experience as well as the views once I got to the end of where I was willing to go at 7pm (though it looked like I could have climbed up further if I wanted to).
I couldn't help but notice how the water tended to bubble a bit brown or goldish as the water undoubtedly had some kind of tannin staining to it. Thus, I'd imagine that the stream must have been sourced from peatlands or lakes that must be laced with dirt and swamps.
Eventually, I had my fill of the falls and started my descent.
When I returned to the shed, I noticed a young couple fly fishing (and braving the mosquitoes). They seemed surprised to see me (as was I seeing them).
After greeting each other, I continued my hasty return to the trailhead to see if I can pursue Linafallet.
It seemed like I was now hiking at a time when few people were around so I could actually hear bird calls (including a strange sounding squawk from one of the larger birds that were flying around).
I'd ultimately get back to the parked car at about 7:45pm.
Obviously pretty stoked about the Fettjeafallet visit, I had high hopes about Linafallet. And from looking at the research notes, I was under the impression that it was an easy roadside waterfall that might have a bit of power to it.
So I continued driving on the Road 316 before hooking up with the Road 315.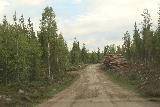 The GPS ultimately tried to make me go on some unpaved road for quite a ways after passing through Rojan, but I rebelled and returned to the E45 where I knew the going would be a lot smoother.
The GPS eventually had me turn off on some unpaved road for Vittvatnet. There was no sign for Linafallet, which started to make me worry a bit.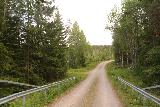 Still, I persisted as I followed my GPS along these unpaved roads, which made me a little nervous considering that it was getting late and I was squeezing in this last excursion, which I had hoped was roadside and easy to visit.
Eventually at about 8:35pm, I finally started to see tiny signs for Linafallet.
And after turning for it on the first sign, then crossing a bridge, I saw a couple more signs pointing to some obscure turnoff with an even sketchier 4wd-looking grassy road.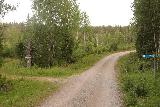 At first I drove that road to see where it went, but it was too sketchy for me to linger there with the car so I actually drove back through the grassy road towards a makeshift clearing I made for myself so I wouldn't get in the way if someone else wanted to drive that road.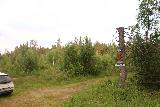 The thing that I realized as soon as I got out of the car here was that there were mosquitoes in swarms!
Even though I already had DEET on, they were still probing the parts of my body that didn't have the chemicals – under my clothing. And they weren't shy about trying to bite through my clothes.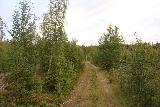 At first, I wasn't sure if the sign was pointing through the clear-fell logging area or if it was pertaining to the 4wd grassy road.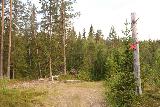 So I first explored the clear-fell logging area, but it quickly became apparent that that was not where Linafallet could be since the sounds of the watercourse seemed to have gotten quieter.
Regardless, I backtracked then hastened my steps and kept moving along the 4wd grassy road.
I'd eventually make it past some makeshift picnic table or something that looked broken, then down and up a hill before I finally encountered another Linafallet sign.
As I followed that sign, I went towards the stream, which was fringed by hard ledges.
Upon looking at the falls, it looked way punier than I was led to believe from the literature.
So I quickly scrambled to where I could get a somewhat clean view of the short waterfall, got my shots and videos, and then made a hasty retreat as the mozzie clouds were all over me once again.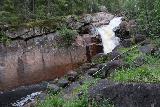 By about 9:05pm, I was back at the car. However, there were so many mozzies around that I hastily chucked my stuff into the back seat and hopped into the driver seat and made sure the door was closed and the windows were up.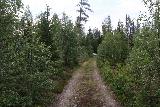 I didn't even bother changing shoes into something more comfortable thanks to these mosquito swarms.
I then made a hasty drive back onto the E45 before zooming north on the E45 to Ostersund.
By about 10:40pm, I finally returned to the Ostersunds Stugby and our cabin. There were still mozzies in the car when I got back, and I hoped that the wouldn't linger around inside the car (and potentially bite Julie and Tahia come tomorrow).
In any case, this was the end of this rather long driving and waterfalling day. Tomorrow, we're expecting to hit at least three more waterfalls before returning to Norway and winding up in Trondheim.
We were trying to make sure that we filled up gas and bought what groceries we needed to get today, because we were keenly aware now of the price discrepancy between Norway and Sweden (with the latter being way cheaper).
I guess our 5-week part of the trip in Norway was already making this trip easily the most expensive trip in terms of absolute cost.
And in that sense, we were all looking forward to the time when we would go to at least Denmark and Sweden again to at least break free from the high costs of everything (including parking and road tolls) in Norway.
Day 30 (July 12, 2019 – Trondheim, Norway): "Sweden's Waterfall Row"
It was about 5am when I awoke to Julie's alarm. I was very groggy because I probably only slept around four hours or less.
It took some time to get ready and leave though the urgency wasn't that strong since we had a reasonably moderate drive with some waterfall visits in Sweden along the way.
So we didn't leave the Ostersund Stugby until about 8:30am. By that time, it was lightly raining.
As we were driving, Julie was looking to buy one bottle of parsley in Sweden since we knew that buying such things in Norway was too expensive. The same went for gas though we already had almost a full tank so we had to wait until we got closer to the border.
By about 9:30am, we managed to find a Coop in one of the towns (Nylands, I believe) along the E14 and stopped there briefly.
However, Julie returned unsuccessful in her procurement of her parsley and we had to go across the small town to an ICA to finally find it. I guess the lengths at which we went to try to save a few bucks on buying in Sweden as opposed to Norway was quite strong.
Anyways, we resumed the drive and eventually wound up at a well-signed camping area for Ristafallet at 9:50am, which was just west of town). We had to pay about 20 SEK per hour to park here (we paid for one hour).
It was a pretty short visit as all we had to do was to walk about 225m down past the busy campgrounds before arriving at a viewing area right off to the side of the powerful waterfall.
We were looking somewhat against the sun so we didn't linger for too long. However, at the same time, we were drawn to the sheer power of the falls.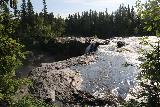 In fact, it looked like there was another side to this wide river falls as I noticed mist was rising on the far side of the falls unseen to us. So this falls was technically even wider than what the main lookout would lead on.
I briefly tried to see where the other trails were going, but I didn't think we were prepared to extend any hiking by 1km or longer (in each direction) though I wondered if the signage might have suggested that the other unseen falls required that long of a hike.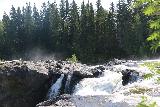 I noticed railings sitting in the middle, but I was skeptical whether that "island" was accessible or not. Perhaps a bridge might have been washed out at one point.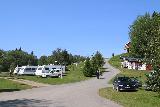 After having our fill of the falls, we returned to the car at about 10:30am.
Next, we resumed the drive further west on the E14 towards the town of Are. Just west of town, we turned off onto the Road 322 as we started to see a large sign for "Sweden's Largest Waterfall".
This turnoff then went a few kilometers towards another signposted turnoff for the Tannforsen Waterfall.
By about 11:05am, we arrived at the busy Tannforsen car park. Like with Ristafallet, the parking rate here was the same (20 SEK per hour). We once again budgeted for only an hour thinking this would be a quick stop.
But once we got onto the short trail to the first of the overlooks, we quickly realized that this waterfall had a lot going for it.
First and foremost, it possessed a lot of power.
Second, the lighting was perfect for a bold rainbow.
Third, it turned out that there were a few overlooks to take in this falls. So this wasn't as short of a visit as I had anticipated.
Anyways, we went nuts taking photos and videos first from the overlook near the waterfalls wide brink.
Then, we went up towards the brink itself to try to get a view of the falls with the lake downstream.
As we noticed people were down near the bottom, we then went down the paths towards a couple more lookouts where one of them yielded a wide semi-circular bold rainbow (including a secondary arc) with a nice frontal view of it.
The last overlook provided a little more context further downstream, but it also made the lake view seem flatter since it was pretty much at the outflow of the falls towards the lake (again, one of countless lakes in this part of Northern Sweden).
Julie said that this falls was probably her favorite of the trip; even better than Hallingsafallet. And it definitely made us consider this as one of Europe's best.
The signage said that this waterfall was allowed to flow freely and wild. And I'm imagine that this had a lot to do with the tremendous experience that we were getting with this falls.
Eventually at 12:10pm, we were back at the car. We probably walked around 1km in total to experience it all.
By this point, we were starting to get waterfall fatigued, but there was still one more to pursue today. And that one was Handolsforsen.
Our gas tank was still almost full so I opted to not fill up in the town of Are. But as we were heading further west closer to the border with Norway, it seemed like gas stations were becoming fewer and farther between.
In any case, at about 12:50pm we eventually arrived at the car park for Handolsforsen, which was basically a couple of small parking spaces near some kind of factory at the end of the official road just past the town of Handol.
Unlike the first two waterfalls we've visited, this parking was free. However, the signage here was way smaller than any of the other waterfalls that we saw today.
We then walked a path that eventually led us towards a swinging bridge as well as some kind of power station.
We could hear the waterfall tumbling beneath the swinging bridge and onwards further downstream. However, we also noticed that this particular waterfall seemed to have been manipulated.
When we compared this experience with Tannforsen, we could totally see the difference between a wild waterfall and a tamed one (for lack of a better term).
Anyways, we queued up to cross the swinging bridge (there was supposed to be only three people on it at a time). However, as we waited our turn, some people just went on and not waited.
So we eventually just got on so we wouldn't be stuck not going across.
Regardless, it realy didn't seem like this waterfall was a series of cascades and was nothing that special.
Once Tahia and I got to the other side of the bridge, I looked at the signs and saw that there was an utsiktpunkt (view point) roughly 0.4km away from the bridge.
But given the way it was pointing, it seemed to suggest that I had to go up. And as I did that, the path seemed to keep going on and on without seeing a viewpoint (perhaps I didn't go far enough).
So I turned back and rejoined Julie and Tahia. Tahia was busy playing on the rocks, but the thought did cross my mind about her getting too close to the moving water.
Fortunately, there were no dramas. And I was still able to take photos though I didn't bother scrambling all the way to the bottom of the falls for perhaps a bit of a different view.
By about 1:25pm, we were back at the car.
Indeed, both Julie and I were a bit underwhelmed with the experience, especially when Ristafallet and Tannforsen really set the bar in terms of enjoying the waterfalls on this day.
So with that, we decided that it wasn't worth lingering around this man-manipulated waterfall even though I knew we hadn't fully done this particular waterfall excursion as well as we could have.
Thus, we concluded the Swedish waterfalls on this day, which for the most part exceeded expectations.
Who knew that Sweden could have such amazing waterfalls that more than held their own against the Norwegian ones?
Anyways, at this point, both Julie and I had checked the weather forecast to see if anything changed from earlier this morning.
From the forecast, we knew that this afternoon would be nice weather, but tomorrow wouldn't be as nice.
So instead of waiting for our full day in Trondheim tomorrow to do a photo run, we decided to target doing it today after we check into our accommodation.
The tricky thing with this stay was that we actually weren't centrally located in Trondheim. Instead, we were staying in Lerkendal.
For some reason, we couldn't get a room in the city center several weeks in advance. We knew something was going on here, but we weren't sure exactly what it was.
Regardless, we'd probably have to either drive or take a bus into town, which adds a little more to the complications of accomplishing what we would want to set out to do today and take advantage of the nice weather.
Indeed, we made a beeline along the E14 west back into Norway (we weren't successful at filling up with cheap gas in Sweden compared to Norway prices), and then ultimately, we'd arrive at the Scandic Lerkendal at 3:25pm.
Apparently, we missed Hell on the way in, but I knew that I'd likely find it on the way to Henfallet, which I was planning on doing solo tomorrow.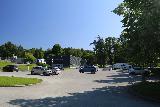 And as expected, the weather was beautiful in Trondheim. So after parking the car for free in one of the back lots (about a five-minute walk from the hotel) at 4:05pm, we then got settled in our room for the next two nights.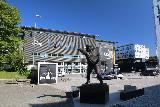 We also learned from the hotel staff that there was a Metallica concert going on tomorrow. So that would explain why most of the city center accommodations were booked out.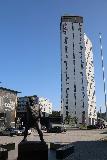 Then, at 4:15pm, we were back downstairs waiting for one of the buses that went to the sentrum.
The bus eventually dropped us off at the Nidaros Cathedral at 4:30pm. The driver was nice enough to tell us when to get off (as we were fidgeting with the phone to try to register with the app to pay the bus fare).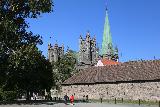 And so we returned to the Nidarosdomen for the first time since the rainy visit when we were allowed a couple of hours off the Hurtigruten.
What a difference the weather makes!
The contrast of the cathedral with perfect afternoon lighting and sunny blue skies made our photo ops here much better than the rainy day we first showed up in.
Then, we promptly walked back to the old bridge where the colorful homes lining the wharf area really stood out in much the same way as the Bryggen in Bergen.
There were a lot more people out here today than there were the last time we were here a couple of weeks ago, and even the restaurants and pubs were more open at this time.
After having our fill of our photo ops at the old bridge, we then walked towards Munkegata and Torget, where we ultimately arrived at Le Bistro at 5:30pm.
Julie was in the mood for French food since we were getting a bit tired of Norwegian food. And we ultimately had a dinner of duck confit, entrecote of beef, and two orders of a half-dozen escargots.
The meal wasn't cheap as expected, but since we were staying in a hotel, there was no way we'd be cooking.
When we were done with dinner at 6:25pm, I was feeling bloated, which I attributed to the sauce that went with my entrecote.
I was bent over in a bit of discomfort, and we still had to walk all the way to Pirbadet just to scope out the hours as well as to get a sense of how long of a walk this would be.
When we saw on the map that it was next to the Hurtigruten terminal, I kind of suspected that it would be at least a half-hour walk between there and the Nidarosdomen. And walking from there to Lerkendal would have been another 30 minutes at least.
During the walk, Julie and Tahia spent some time looking at some random shops. That didn't help my cause in terms of dealing with my bloat.
Still, we ultimately made it to Pirbadet at 7:15pm, where we saw that the water park there was reminiscent of the Great Wolf Lodge in Anaheim, California.
So that got Tahia all excited about tomorrow.
After finishing off this scouting run of the Pirbadet, we then walked back to the Bus Terminal, where we learned that the buses scheduled to go back to Lerkendal didn't run until 8:13pm. It was about 7:45pm when we got there.
As we were waiting, a young Norwegian couple overheard us and told us that we could also take the Bus line 3, which they were also taking. They said that in the evening, the bus goes nearby so we wouldn't have to wait so long for the bus we were after.
Thus, we took the bus, then we had a bit of a conversation with them.
We learned that they were living in Trondheim. We also learned about living expenses and got another bit of advice about checking out the Fjellstua in Alesund, but don't pay for the view. We should instead walk the 440+ steps and don't get all the way to the top.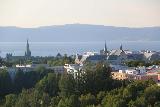 They said the views would be similar or the same, and they were lamenting how lots of the tourist attractions in the country were being held for ransom as people were trying to squeeze every bit of money out of them.
It certainly seemed that was the case as we were paying through the nose on parking and admissions, etc.
We also told them about life in Los Angeles since they had a genuine curiosity about it.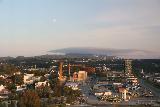 By about 8:20pm, we had to get off the bus as they pointed out that we were at our stop. So we said farewell to each other, and then we were on our way.
As soon as we got back to the hotel, we then went up to the top floor to check out their Sky Lounge there. We figured that like the Scandic Narvik, there ought to be pretty nice views over Trondheim.
When we got up there at 8:35pm, sure enough, the views were definitely grand. However, it was all indoors and it was kind of dead compared to the place in Narvik.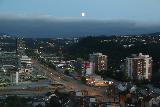 The west-facing windows were covered in mesh to block out most of the sun's rays. So that left the side windows to try to capture the Trondheim sentrum from a distance.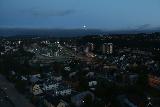 Tahia was also messing with the telescope there until she got it in a configuration where it was stuck and then she couldn't mess with it anymore.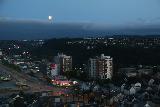 By the way, Julie thought this place's bar was dead because they didn't serve any food. The one in Narvik did, and there were lots of people there to witness the midnight sun.
They also had an outdoor viewing area, but this particular Scandic did not.
Anyways, once we had our fill of the Sky Lounge, we then retreated back to our room to finally call it a night.
With nothing else left on the agenda for Trondheim except to visit Stiftsgarden (which Julie and Tahia for sure would do first thing tomorrow morning) and me visiting Henfallet, tomorrow was figuring to be a pretty light touring day.
Day 31 (July 13, 2019 – Trondheim, Norway): "Return To Hell And Beyond"
It was about 6:30am when I awoke. And by about 7:35am, we all went downstairs for another round of a pretty good included breakfast.
We took our time at the brekkie buffet since it was good stuff and this was supposed to be a pretty light day of touring.
After all, we had already done some of the things in Trondheim like the Nidaros Cathedral as part of a rushed visit from the Hurtigruten.
Plus, we did another photo run in much better weather yesterday afternoon.
So today, Julie and Tahia were going to visit the Stiftsgarden. I was wavering on whether to join them or to divide-and-conquer and visit Henfallet again just to see how much things have changed over the years since 2005.
After their visit to Stiftsgarden, they were then going to walk all the way to Pirbadet so Tahia could finally have her water park experience that she didn't get to have in Ostersund, Sweden.
By about 9:10am, we were back in the room. With these included brekkies (as with all buffets), I kept thinking that I have probably eaten too much. Either way, the healthy diet and routines that we kept that home were certainly taking a back seat to temptations on this trip.
By about 9:30am, I went to go get the car from the rear lot out back. Given how out-of-the-way Lerkendal was compared to the Trondheim sentrum, the plan was that we were going to divide-and-conquer after all.
However, since I have the car, I could drop them off near the Torget (which was next door to Stiftsgarden before their 10am guided tour) before I would drive out of the city towards the waterfall.
By about 9:40am, we finally drove off, and about ten minutes later, I dropped off Julie and Tahia at the familiar Torget.
The driving was fairly light this morning so I managed to navigate the city streets without too much issue. Then, I drove out east and ate more of the toll roads as I headed back out of Trondheim.
The drive itself was pretty uneventful though I was paying attention to the town of Hell since we apparently missed it on the way into Trondheim yesterday.
Shortly after leaving Hellstunnelen, I then had to get off at the next exit. And once I followed the signs for the Fv705, that was when I passed through the town of Hell.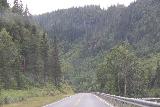 However, the signs came up suddenly and I decided that I'd stop by here after visiting the waterfall. But for now, I had to focus on the task at hand, then I could come back and do the funny stuff.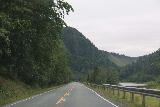 The drive was as long as I had remembered, but it was still a relatively quiet and relaxing drive.
Eventually after passing through the town of As i Tydalen, that was when I saw the familiar turnoff for Henfallet, which was 8km from the main road.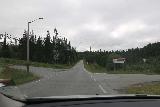 So after taking the turnoff, I then followed the signs past a bridge fronting Kvernfossen before going onto the unpaved road the rest of the way to the falls.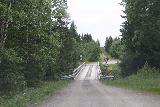 I remembered in the past that this road was a bit narrow and had a lot of grass growing up the middle between the tire tracks, but this time around, it seemed to be a lot more worn than back then.
By about 11:45am, I finally made it to Henfallet, where I was apparently the third car here.
Unlike the last time we were here 14 years ago, the car park was now a larger clearing instead of just a spot for a car or two.
Plus, it had a toilet facility (not there before), and there was a wooden boardwalk going towards a viewing deck.
The tourism infrastructure was definitely one of the big changes between the first trip and this trip as it seemed like there were more things catering to tourists than back then.
I briefly looked around to see if I could do a little more with Henfallet than just the viewing deck, and that was where I noticed a trail of use going steeply down towards the bottom of the gorge.
The path looked a bit steep, and I wasn't sure if this was something I wanted to pursue considering how long it took to get here and whether the experience would be any better.
So I opted to just get my views, then head back to the car.
The falls itself remained as big as I had remembered it, but it wasn't as gushing as before. Either all the waterfalls were getting less water than before despite the rainy Summer, or there was something perhaps more devious caused by climate change that might have impacted the behavior of the ice and snowmelt that most of these falls depended on.
By about 12:15pm, I was back at the car. While the falls was still nice, I was now wondering if this should still remain in the Norway Top 10 List or not as it now seemed kind of like most of the others we had seen on the trip.
As I was driving back, I noticed that the weather remained a bit overcast though some of the drizzle started to give way to partly cloudy skies. In fact, then sun was starting to break through the cloud cover just as I was leaving Henfallet.
By about 1:55pm, I returned to Hell. I ultimately parked in one of the many parking spots for the Rema 1k at the Hellsenteret where I then took the time to walk onto the bridge with the Hell sign.
As I did this, I noticed that there was another Hollywood-like sign for "Hell" on the hillside. And so with that, I took a few more snaps to share with Julie about being "on the highway to hell".
I never recalled that hillside sign being there before, but maybe this town was tongue-in-cheek playing up their name although I'm sure it ordinarily wouldn't be a big deal in the Norwegian language.
As I was headed back to the car, I noticed there were what looked to be an air traffic control tower, which led me to believe that this place was really an outpost town for the Trondheim airport.
Anyways, once I had my fill of Hell, I returned on the same toll roads along the E6 until I was back at the Scandic Lerkendal at 2:35pm. However, this place was full of people and there were absolutely no parking spaces available.
I wasn't sure what was going on but it looked like Lerkendal Stadium was filling up with people. I had recalled that the hotel staff saying something about a Metallica concert happening this weekend, and I wondered if this could be it.
If so, then we'd be screwed on the parking situation because I don't think they'd be leaving until well after midnight.
So I ultimately decided to just drive to the P-hus at Pirbadet and join up with Julie and Tahia.
We had communicated by text and so I realized that they were just on their way to Pirbadet. That meant that I could join them and spend this water play time with them as a family.
By about 2:55pm, I parked at the Pirbadet. They charged 31 NOK per hour so it wasn't going to be cheap. But at least we wouldn't have to spend around 80 NOK or more on a bus for all three of us in each direction.
By about 3:05pm, I got changed in the men's side, where the convention was to strip down, shower before going in, and then going into the pool area.
We brought our own towels from the hotel since we knew that we didn't want to have to purchase towels (like what they did in the water park and spa in Austria).
The facility seemed to feature a couple of giant water slides as well as a smaller one that some bigger kids were doing what the signs said not to do (like stand-sliding).
There were also platform dives and springboards in the deeper pools as well as a wave pool and rock wall.
Then, there was a current pool, where you can drift in circles as well as other chill out pools as well as a jacuzzi.
I wasn't sure if this was bigger than the Ostersund Camping one, but it probably didn't matter because Tahia was having a blast.
By about 5:25pm, we got out of the pool and changed back into street clothes. Even though we had until 6pm with our ticket, there wasn't enough to keep us here for that long.
Next, I managed to find free parking somewhere within walking distance of some kind of old harbor and canal area at around 5:40pm. The walking throughfare was lined with bars, and this place seemed like where the locals would hang out.
So while most of Trondheim seemed dead in the usual tourist haunts that we had exposed ourselves to on this trip, it looked like this was where it was at on a Saturday night.
Anyways, we ultimately walked closer to the main part of town for some Indian food since we knew that ethnic foods wasn't easy to find except in the big cities.
And we eventually went to this place called Taste of India.
We wound up having a pretty good dinner of a chicken saag, some lamb curry, and a fish rogan josh.
It was a satisfying meal though it was a bit on the expensive side for an Indian place. I guess everything in Norway was expensive, and having to eat all these costs were definitely weighing on us.
After dinner, we then walked back through the happening bar scene where we noticed some of the people were now dressed to impress. Julie and Tahia noticed some of the women were more scantily clad, and Tahia seemed to like some of those outfits.
I was a bit concerned about Tahia's tendency to favor those kinds of clothes seeing that it might attract unwanted attention when she comes of age.
Anyways, by about 7:50pm, we were back in the car and headed back to the Lerkendal hoping that the parking situation would improve.
By about 8pm, we were back at the Scandic Lerkendal, and I actually managed to score one of the free parking spots on the side of the hotel.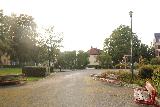 Apparently, the hoopla at Lerkendal was for some kind of match, which was well over by now. Metallica concert was somewhere in a different suburb, and so the fears I had about being screwed out of parking was unfounded.
And so ended this light touring day. Tomorrow, we were leaving Trondheim and heading for Roros, which was a UNESCO World Heritage area.
I wasn't sure what to expect out there since we hadn't gone out of the way to come here on our 2005 visit to Norway. So I was keen on seeing why this mining town got as much attention as they did.
And tomorrow was the day to finally find out…
Day 32 (July 14, 2019 – Roros, Norway): "Going Out Of The Way"
It was 6:15am when we awoke. Since brekkie wasn't until about 7:30am, I knew that it would take some time before we would start driving out to Roros.
It wasn't a short drive, and I was a little nervous about also fitting in a waterfalling excursion that was a bit out of the way at Njupeskar, which also didn't look like a short drive from Roros.
Regardless, we took our time with the good brekkie since there was the possibility that we might have to skip lunch (not a bad option in my mind since it would save us money).
Ultimately, it wasn't until about 8:40am when we finally left the Scandic Lerkendal.
It was quite dead as we were leaving town since it was a Sunday morning, but Sundays in general were typically dead in European cities.
And so we were off towards the Swedish border as we pursued the UNESCO Roros.
Along the drive, Julie realized that one of the worthwhile things to do there was to visit the Olafsgrunna (or Olaf's Mine).
However, they only gave tours on the hour starting at 10am. And given the GPS prediction for when we'd get to Roros, all of the sudden, the rush was on to at least try to catch the 11am tour.
Further adding to the pressure of the situation was that I also had to drive to Njupeskar in Sweden and back. It looked like a non-trivial drive, and it required a hike to boot!
Thus, I was probably doing a little bit of speeding as I was following faster vehicles in front of me and passing slower vehicles like the many RVs and trailers that seemed ubiquitous throughout Norway in the Summer.
At around 10:10am, there was a signposted stop for Eafossen. Upon crossing the bridge over its stream, we could clearly see the waterfall so it would have been a relatively quick visit.
However, we knew that we were cutting it close for making the 11am tour. The GPS predicted we'd get there around 10:52am.
So we didn't stop for Eafossen. Mentally, I had it in my head to try to visit it on the way out tomorrow.
Eventually we arrived at the Olaf's Mine at about 10:50am. They had a very spacious car park so parking wasn't an issue.
And since we had already read about the 5C temperatures in the mine, we made sure to bring a jacket and boots.
The mine tour started promptly at 11am. There was a guy speaking in Norwegian, then he went on to say, "If you didn't understand a word I said, go right over there to the other guide who will speak to you in English."
So we did that, then she promptly took us down into the depths of the mine from within the gift shop and ore displays.
We then grabbed a helmet and she walked us through roughly 1km or so of lit up pathways with frequent breaks to explain the various things we were seeing.
The most striking things about the mine tour were the copper that still remained in the mine. We could see green streaks against more orangish backgrounds, and it almost looked fake.
The thing was that the green we were seeing was what happens when copper reacts with water and air. It's not unlike the phenomenon we get when the 1 cent penny would turn green over time.
We then went below the copper layer where they stored and hauled things from here to the surface.
The mine was as old as the 1500s, but its heyday was more towards the early 20th century when the mine was used to produce metals for war materials.