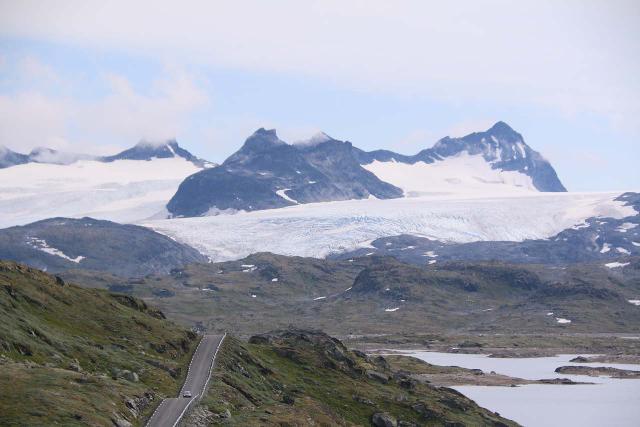 29-June 2019 to 14-July 2019:
It was during this stretch that when the next round of rains finally came (and with even more vigor than before), that I finally unslung the backpack, took out the rain poncho, put the car keys in the backpack (hoping they didn't malfunction due to water), and put on that rain poncho to protect both my chilling wet body as well as the backpack's contents.
Going down seemed to be every bit as treacherous as going up was hot and tiring. I really had to watch my step as I was going down, and my knees were feeling the aches and pains of receiving so much pressure with each step.
And it was during this long descent that the next round of rains definitely came down hard, which made the really steep parts of the hike even muddier and more slippery…
Day 33 (July 15, 2019 – Sunndalsora, Norway): "Wrong End Of Guesses"
It was 6:55am when I awoke in a rather groggy state.
With the long late afternoon excursion to Njupeskar Waterfall in Sweden (about three hours drive in each direction), I didn't get back to Roros until after 11:30pm.
So I didn't wind up sleeping until around 2am, and that meant I barely got sufficient sleep.
The first thing we did was to get our stuff into the car, which seemed easier on the public lot. The parking was free until 9am, but I had a feeling that we wouldn't be done before 9am.
So after loading up the car with our luggage, I then moved it to the other lot on the other side of the railroad, which was spillover parking for Hotel Bergstaden.
However, since it was an unpaved lot, that's why I waited to move the car so I wouldn't have to do heavy lifting on the unpaved stretches.
We ultimately went for breakfast at around 7:45am, and it turned out to be one of the better breakfasts of the trip.
At least I felt it was better than Scandic simply because there a lot of variety of local foods from the region. I felt that the Scandic had a lot of choices but they were of the processed variety.
The local stuff here was really what made this buffet breakfast surprisingly very good. There were local meats, locally produced cheeses, etc.
So we took our time eating breakfast and savoring this place. I figured that we had time on our side on this day, especially since it was already cold and producing drizzle that was reminiscent of Seattle on this day (whereas we had good weather yesterday).
It just goes to show you how variable the weather can be in Norway, even in a spot as far away from the fjords as Roros.
It wasn't until 9:30am when we finally left.
While we could have taken a shorter driving route direct to Oppdal, we wound up taking the longer route because we needed to pursue Eafossen, which we had skipped yesterday.
I also needed to fill up gas, but I thought that perhaps there ought to be cheap gas closer to the E6 on this longer route. I wondered, however, if we would have been better off filling up on gas for just over 16 NOK per liter in Roros, which was surprisingly cheap considering how remote this place was.
The drizzle persisted throughout the drive, and by about 10am, we finally arrived at the well-signed Eafossen.
Fortunately for us, the drizzle calmed down when we showed up.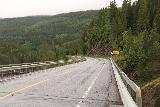 We first checked out the angled views of the falls from the picnic area, which had some minor bush obstructions on most of the picnic tables. I recalled only one of them yielded perhaps the cleanest view.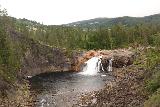 I then walked onto the road bridge, which had a shoulder, but it was still a little nerve-wracking to go on there with cars whizzing by.
We then went back towards the souvenir shop and toilet, where we went down a hill towards signage at the top of the waterfall. It was there that we realized that this place was once the site of a smelter in support of the mining.
In fact, the protection zone for Roros also included this waterfall and former smelting site. I think the signs also referred to this falls as Hyttfossen as well as denoting this place as part of the UNESCO protection ring where Roros was at the center of.
We then scrambled to the base of the falls just by the former smelting ruins (now just a bunch of rocks), where we took a few more people shots as well as the falls itself.
By about 10:30am, we were back at the car.
At this point, I had a decision to make. Either continue heading back to the E6 via the way we came in pursuit of cheap gas, or to go back to Roros, then take the shorter route cutting across to Oppdal.
The decision was all about where I could fill up for cheaper gas betting that I might do better than the 16.1 NOK prices I saw in Roros.
I ultimately decided to go back the way I came, but I ultimately didn't find such a gas station that had cheaper gas than what was in Roros.
Then, when we went south on the E6, we found ourselves stuck in a traffic jam at around 11:40am, which was the result of a lot of road work to improve the E6.
In the end, I regretted the decision to go back this way because the E6 was not any faster. What was worse, it looked like the gas was consistently over 17.4 NOK per liter, which was way more than the Roros prices.
When we got to Oppdal, I finally gave in to filling up some gas for 17.5 NOK/L.
Julie and Tahia spent some time getting lunch takeaway, but it was raining now. This pretty much confirmed that I made the wrong choices on this day, and I worried that we were losing out on the window of acceptable weather as the weather had momentarily calmed down at this time.
As we left Oppdal at 12:55pm, we also left the E6. Thinking that the road construction woes were behind us regarding the E6, it turned out that the Rv70 wasn't a whole lot better.
That was because there was work to try to mitigate the threat of landslides or rockslides. So that caused quite a bit of a delay, which made me nervous because I knew that it was a race against time to do the waterfalls at the Amotan-Jenstad Farm area before the next batch of bad weather would show up.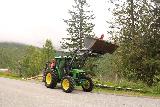 At 1:50pm, we finally made it up the steep, single-lane road to the Jenstad Farm. Like before when Julie and I were here in 2005, there was a car park area as well as a more parking spaces at the upper car park.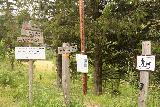 The upper car park was smaller, but it was also where we parked at one point on our last Norway trip in 2005.
Anyways, we decided to just keep the car parked at the lower lot since everyone else was parked there. There was also an automatic ticketing machine to pay for parking.
They asked for 30 NOK (which amounted to around $3 or $4 USD, which wasn't bad considering how long we intended to spend here to do the hikes to all the major waterfalls here.
Since Julie and Tahia hadn't done a whole lot of hiking (let alone waterfalling) on this trip, I figured that waterfalling the Jenstad area would be good for them.
So we ultimately decided that we were going to visit the falls in the same order that we had done so in the past – Reppdalsfallet, Svoufallet, and then Linndalsfallet.
Walking to the Reppdalsfallet lookout was kind of like deja vu as we only had to walk for a couple of minutes towards a power line pole.
From there, we got a fairly clean view of the impressive cascading Reppdalsfossen.
Next, we then skirted the edge of the grassy farm area and headed towards a picnic table near the base of the farm lot.
When we got to the picnic area, there was more signage directing where hikers should be doing the descent to pursue Svoufallet.
The trail then descended beneath the open grassy farm area and entered into a narrow trail flanked by trees and bushes.
Towards the bottom of the descent, the views started opening up again.
And while we were content to get a glimpse of the gushing Svoufallet from not all the way to the bottom on our 2005 visit, this time around, we were determined to finish the experience by going all the way to the picnic table in a grassy clearing that a Norwegian family was already doing.
As we approached the picnic table, they vacated it and started to hike back up.
So for a brief moment, we got to enjoy this satisfying waterfall without other people around. However, Tahia kept conspiring to ruin our people shots so this wound up taking a bit longer than expected.
After having our fill of Svoufossen, we then hiked up partway along the way we came. However, we then veered off to climb a different trail that I knew would ultimately lead us back to the lower car park.
So we did that.
And while we all sweated and breathed heavily from the steep ascent, we then encountered sheep along the trail.
Once they pretty much went away from ourselves and other people, we ultimately returned to the car park at about 3:30pm.
The steep ascent pretty much took a lot out of both Julie and Tahia. So they were already content with the roughly 2.2km upside-down loop hike that took in both Reppdalsfossen and Svoufossen.
Neither of them wanted to bother with Linddalsfossen so it was like deja vu again compared with 2005 when I'd have to do that hike solo.
And so I proceeded up the steep start of the ascent with started right next to the parking payment machine and proceeded to go into a somewhat overgrown path.
Towards the end of the initial grassy ascent, there seemed to be some kind of equipment off the side of an unpaved road that I was about to cross. Some of that stuff seemed to have obscured the path though it was close enough to the road that I was able to get to it.
Once on the road by 3:45pm, I found myself near some kind of toll road boom arm. It made me wonder if it was possible to reduce the hike by taking this toll road, or if this road went somewhere beyond what I was expecting.
Regardless, we didn't want to pay this amount, especially given the weather. Luckily for me, it was momentarily calm at the time, but who knows when the weather will turn again?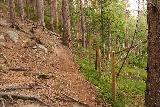 Beyond the toll boom, the trail continued its ascent. It already induced sweat beads all over my body, and when I crossed another path or road that seemed way less used, I then found myself on a narrower path that continued its ascent.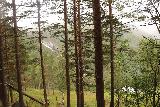 It didn't take long after that before the trail started to flatten out and undulate somewhat. That was when I noticed that the trail skirted some kind of electric fence, which was something I didn't recall was there the first time I did this hike.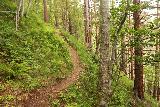 Some time after encountering the fence, the trail then began the next phase of its ascent. And this time, the ascent seemed longer, steeper, and more narrow.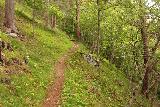 Indeed, I sweated and breathed heavily even more. And as I was getting towards the top end of this relentless climb, it seemed like the weather had already started to turn.
By about 4pm, I found myself at the top of this second major ascent, and by this time, the rain had definitely come. So I was very concerned about the waterfall being blocked by clouds at this point.
Thus, I hastened my steps even more as the narrow trail then came upon a familiar bluff as I finally started to hear Linddalsfossen.
Sure enough, by 4:05pm, I was finally at the familiar waterfall, which still looked massive and it still dropped into a deep canyon below the cliff's edge.
It was now raining pretty hard as I sensed that my camera was suffering as I was busy documenting this waterfall.
While there was temptation to get right up to the edge of the bluff that I was at in order to show how deep the canyon went, I was a bit too hesitant to get that far out considering that the bluff was sloping the wrong way.
After having my fill of this spot, I did a little more exploring and continued following the trail, which ascended more.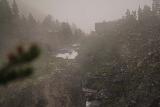 I managed to encounter two more lookout spots, and one of them seemed to be where I noticed the view of Linndalsfallet as seen in a brochure must have came from.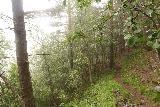 Just then, the rain came even harder, and I noticed mist and clouds starting to touch the top of the waterfall. They were already obscuring some of the surrounding snow fields sitting high atop neighboring mountains.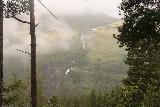 By about 4:30pm, I headed back down. By then, it had stopped raining but the clouds definitely hung low. Thus, the place seemed to have taken on a foggy appearance so I could forget about looking across the Jenstad Farm towards both Svoufallet and Reppdalsfallet on the way back.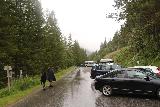 By about 5pm, I returned to the car park, where it was once again raining.
My pants wound up getting a bit wet from brushing up against some of the overgrowth, and I probably should have worn waterproof pants in hindsight (though its non-breathability would have surely meant that I'd be wet from the inside out by my own sweat).
Indeed, with the cloud ceiling lower, we drove off and descended the single-lane road back towards the Rv70, where we'd continue the drive through Sunndalen and towards Sunndalsora, which was town that had our next accommodation.
At 5:15pm, just when we got started on the westbound road, we stopped at a rasteplass yielding a somewhat awkward view of a waterfall by the Amotan-Jenstad turnoff that we had captured in the past that had a bit more volume.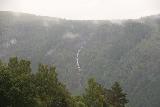 This rest stop also seemed new, and it seemed as if there had been significant investment in more tourism infrastructure unlike the last time we were here in 2005.
Next, we continued our drive towards Sunndalsora in which now the weather had turned really bad as the clouds hung low and obscured the tall valley walls as well as the waterfalls tumbling beneath them.
This drive definitely wasn't the valley of waterfalls-type experience that Julie and I had 14 years ago. So I was hoping that I might get a chance to do this again either later tonight or maybe entertain coming back tomorrow even though we'd be staying in Andalsnes by then.
By about 5:40pm, we stopped at a new rasteplass. This time, it was for Vinnufossen though the low clouds made it such that you could only hear it but not see it.
Julie and Tahia took advantage of the restroom facility here as they badly needed to go.
Finally by 6pm, we arrived at the Traedal Hotel, which turned out to not be in the sentrum of Sunndalsora, but we could see that from the lofty vantage point of the hotel, we would otherwise get a nice look right into the Tingvollfjorden.
When we settled into our room fifteen minutes later, we looked out the window of our bedroom and saw that we were also able to get a look at Litledalen with its steep walls as well.
Unfortunately, the cloud action ensured that even this view was non-existent on this particular afternoon or evening.
As for dinner, we ultimately settled on the dinner buffet in the accommodation. Since it was raining hard outside, we just didn't feel like driving back to town. Besides, their buffet seemed to cost in the neighborhood of 200 NOK or something like that with Tahia eating free.
The dinner buffet consisted of laks and roasted chicken, which was the kind of simple and "clean" food that Julie needed without needing to worry about what else they put into the food.
Some of the stuff out on display also seemed like they could have been breakfast items, too, like the salad.
There was also a pretty delicious apple crumble or something like that with whipped cream. That was a nice little indulgence.
When dinner was over, I then went back to the car to start an excursion towards Naustafossen.
I figured that with the weather being so bad, I didn't have a prayer of visiting Mardalsfossen as planned nor going back out to Sunndalen to see Vinnufossen or any of the other waterfalls along the valley we had just passed through.
I reasonably knew that Naustafossen had a better chance of being seen in bad weather though there were no guarantees when it came to the weather in Norway, especially with respect to visibility.
Regardless, by about 7:30pm, I was back in the car and heading towards Karvatn. I knew that distance-wise, it shouldn't be a long drive.
However, there was a ferry in there, and after our experiences on this trip, ferries always make me nervous.
As I was driving out of town, I happened to follow a long caravan of cars that apparently just started to move. I don't know how long they were waiting before the tunnel leading out of Sunndalsora and towards Kristiansund as well as the ferry at Rykkjem, but given the size of this caravan, they must have been sitting there a while and my timing was perfect.
The tunnel was about 6km so following the leader car and all the other cars before me took a while.
Once we emerged from the tunnel, the weather seemed to have momentarily calmed down a bit but the clouds remained low and threatening.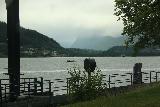 By about 8pm, I waited for the ferry at Rykkjem. I was merely one of three or four cars waiting to get on.
When it came time to get on the ferry at 8:15pm, I notice that only one car was headed back on the return. I guess this wasn't exactly a popular ferry route.
While on the ferry, when it came time to pay for its use, the guy seemed to try to RFID my credit card. And by doing that, it didn't seem to work.
I asked him if we should be using the chip instead (in Norwegian since he didn't speak much English). But he seemed to insist that he had to use the RFID.
Well, when the ferry was about to land, he gave up and tended to payment for the other cars on the ferry.
I wasn't sure if he just let me on this ride for free or if he was going to make me turn back. But whatever the case, I did learn from him that the last ferry back was around 11:25pm so I did have sufficient time to make my visit and come back to Sunndalsora via this ferry.
I definitely didn't want to be driving all the way back to Trondheim then going back the way we had driven earlier along the E6 to Oppdal before Sunndalsora, which would have been the case if the ferry wasn't available.
When the ferry landed, he waved all the cars through (including mine) so while I was on the other side apparently without paying, I was very afraid that we'd run into the same complications on the way back.
Anyways, as I was driving the road towards Todalen, I noticed there was a pink X on the signage for Todalen which made me concerned that I might not be able to access Karvatn.
Nonetheless, since I was already here, I persisted on the drive into Todalen Valley, and found myself on a lightly-trafficked road (though there were a handful of cars going out the other way).
As I was entering the valley, the weather started to turn bad again. What was worse was that the visibility started to get bad as the clouds went low and the rain came down harder.
In addition to the prospect of bad weather wasting my time on this bit of a leap of faith to see Naustafossen again, I had to pay attention to some of the potholes on the narrow unpaved road to Karvatn.
By the way, I saw signage saying that the road to Todalen was closed but the road to Karvatn remained open so strengthened my resolve to see through this Naustafossen excursion.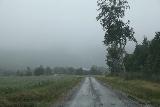 Eventually by about 9pm, I had arrived at the Karvatn car park. Unlike the last time Julie and I were here, the farm here seemed to have been significantly expanded and seemingly more accommodating to tourists that I had recalled.
There were also more signage about the Trollheimen Mountains, which was said to be one of the places in Norway with the cleanest air and water given how undeveloped that mountainous area was.
As for the weather, it was still bad. In fact, my worst fears seemed to have come true when I could hardly see Naustafossen from the car park nor on the approach.
Well, since I was here, I mind as well carry on with the task at hand. But I had to take the time to put on waterproof pants and the rain poncho with heavy jacket as it was quite chilly and rainy outside the car.
After gearing up, I then proceeded on the familiar walk though there was more signage directing where I should be walking.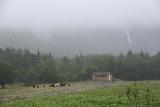 The route seemed a bit different than before where I recalled being able to cut to the right immediately after the bridge.
This time, the route had me go straight from the bridge before going right, which seemed to cut around a good chunk of the farm.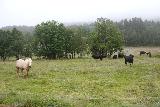 While going this way, I noticed a white horse corraling some cows. But it was also trying to come at me as if I was supposed to be corraled with the cows!
He kept huffing or approaching me, but when I stood my ground, it seemed like I was confusing the horse.
The thought did cross my mind that I might get attacked, which was the last thing I would have expected on a hike to a waterfall in Norway. So I just minded my own business and kept on keeping on (though I did snap a photo or two in the rain).
The path then curved back to the right to rejoin the familiar path that was closer to the river. At that point, the path became more tree-lined and it even flanked what appeared to be cabins that I never recalled were there before.
Shortly after arriving at the cabins at 9:30pm, the signposted path then forked to the left, which left the farm road and went onto a wide grassy trail that looked really muddy.
I did recall the last time Julie and I were here that we had to contend with mud, but on this day, with all the rain, the muddiness seemed to be even worse.
So I spent a good deal of time trying to figure out how to get across one muddy patch after another without my boots sinking too deep into the muck.
Eventually at 9:40pm, I finally made it to the bridge at Naustafossen. Unlike the last time where I was content to capture the falls from the bridge and then turn back, this time, I checked out the other side of the bridge as well as the surrounding area.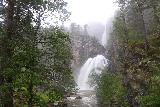 On the other side of the bridge was some kind of machinery or hydro contraption. I really wasn't sure what it was, but I noticed that the trail didn't seem to continue from here.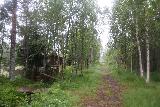 Back on the near side of the bridge, I saw a Naustafossen sign as well as a very misty flat clearing where it might be possible to stand even closer to the gushing base of the falls.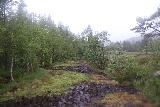 I also noticed a steep path going onto some kind of ridge or bluff for a more top down view of the falls. I had entertained going up there and seeing how else to experience Naustafossen, but as the rain came down even harder and the mist descended even lower than before, I decided not to push my luck.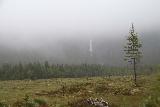 Besides, it was now getting late and that ferry was still on my mind.
So I turned back and was at least happy that I could document this experience while the clouds didn't totally obscure the falls when seem from closer up.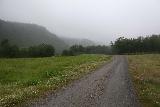 After going back across the muddy path, then along the now-quiet trail back across the farm (the horse and cows weren't there anymore), I was back at the car at 10:15pm.
Indeed, the weather was lousy now and I was starting to feel a bit of a chill given the persistent wetness (despite me wearing three layers).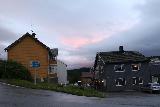 On the drive back, I found myself waiting for the 11pm ferry. It didn't take long before I and another vehicle got on the ferry, and this time the same guy who couldn't handle my credit card payment managed to be successful this time around.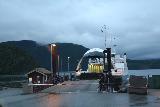 Instead of relying on the RFID, he used the chip on the credit card (as I had suggested earlier). I think this ferry ride was 84 NOK which was close to about $10 USD.
Eventually, I was back on the Rykkjem side and let the local driver who was behind me pass. I knew he would be going very fast, and indeed he did.
I tried to keep up with him since I figured he might know where the speed cameras were and seeing that far ahead would give me a heads up on any oncoming vehicles (which would be helpful in the more narrower stretches of road).
As we passed through the 6km tunnel again, we didn't have to wait for too long since traffic was light at this time of the evening. It was dark enough in the twilight night that high beams were needed and the street lights and some building lights were on.
It felt strange to re-welcome night after all the perpetual daylight over the past few weeks we were in Norway. But I didn't mind this one bit.
Finally at 11:40pm, we were back at the Hotel Traedal. I noticed that the Nuvi was off by 30 minutes later when it came to predicting when I'd be back at the accommodation.
I guess the Nuvi never accounted for waiting for the ferry as well as the slow ride across the water. I guess you can't rely on the Nuvi's prediction times since I wouldn't be going 80km/h or whatever the speed limits would be all the time.
Regardless, I left the wet poncho and waterproof pants in the car. And I hastily retreated to our warm room to crash for the night. Hopefully, the weather would play nice tomorrow…
Day 34 (July 16, 2019 – Andalsnes, Norway): "Weather and Waterfalls"
It was about 5:05am when I awoke to a phone call for Julie. Apparently, it came from a number that she didn't recognize so she left it at that.
Still, it woke me up and I was now up for good.
The included brekkie at the Traedal Hotel started at 6am, but we didn't get down there until about 6:30am.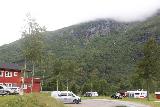 The food selection was pretty basic (especially when compared to the fancier ones we've had at the Scandics and the Hotel Bergstaden in Roros).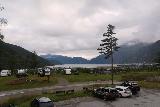 It was basically a few of the typical cured herrings, some laks, some hard-boiled eggs, tubes of caviar, and jars of nugati to go with some bread loafs in which you cut slices yourself.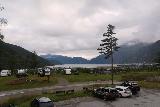 For the greens, it was pretty much the same salad bar as last night's dinner.
So we didn't take long to eat, and by 7:05am, we checked out and started the drive towards the Atlantic Ocean Road.
It was a recommendation by Solveig's Dad to check out this place, especially since I believe this was the road where I saw on YouTube that waves would crash against the road.
I wondered how such a road could be driven, or how a road could survive against the forces of Mother Nature.
I hadn't planned on driving this road, but I did some improvisation and managed to fit in this morning to check it out.
Julie and Tahia were pretty much out for most of the drive as they were trying to get caught up on sleep. It was an irony considering that I was probably the person who was getting the least amount of sleep (especially since I was the driver).
Anyways, we ultimately got to the Atlantic Ocean Road at around 9:10am.
The road itself wasn't as dramatic as I had envisioned. And perhaps a lot of that had to do with the fairly calm weather we had been getting this morning.
Thus, there were no waves crashing against the shore, and it was pretty much just a typical road with some bridges spanning islands as well as flatter jetty ones.
We made a brief stop to try to somehow capture the essence of this road in photographs, but in the end, the overall effect of this drive was pretty underwhelming.
It did make me wonder if we made a mistake in not checking out the Helgelands Bridge when we were leaving Mo i Rana for Grong.
Anways, we ultimately were out of the Atlantic Ocean Road shortly after 9:50am, and we then drove directly towards Andalsnes.
Included in the route was one ferry ride. Those things make me a little nervous considering the snafu we had earlier in the trip, plus the delays in waiting for the boat, as well as the costs associated with taking them.
Anyways, we ultimately arrived in Andalsnes at around 11:50am. But we knew it was too early to check into our apartment.
Thus, we went instead to some kind of shopping area, where we eventually ate at this place called Soltinn Geist.
The view from the restaurant was over the Rauma River, and with the gorgeous weather we were getting, it also seemed like today would be the day I should do a long circular loop route solo that encompassed Eikesdalen, Mardalsfossen, and the Aursjovegen Road.
I was also planning to take advantage of the good weather to check out the waterfalls in Sunndalen as well.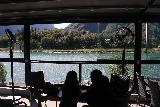 Now one thing that was weighing on my mind was the revelation that our website's photos were down. Since we were abroad and time was so precious, I knew that it would ultimately come down to me to figure this out.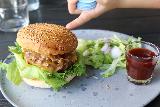 Already in a sleep-deprived state with another actioned packed set of activities each day, I was planning on pulling an all-nighter to mitigate this particular issue with Amazon servers.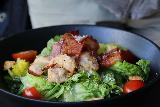 nyways, our meal at Soltinn Geist was pretty much a reindeer burger and a chicken salad. The dinner menu that Julie was hoping to order from wasn't available at this time.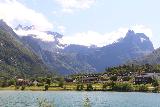 After the lunch was over, we then drove over to the Andalsnes sentrum, where we parked in one of the street parking spaces and Julie went to meet and greet the apartment owner.
Upon doing that deed, we got the keys, and he instructed me on where to park.
By about 1:30pm, we were all settled, and it was nice of him to let us check in before 3pm.
That was because I still had a lot to do on this day. So the earlier the start, the earlier I can wrap things up and get back to the apartment to rejoin Julie and Tahia.
I had a feeling that today's solo excursions plus the driving would mean that I might not be back at the apartment until after 11pm.
Anyways, I then headed out and left Tahia and Julie alone in Andalsnes to enjoy the fine weather and check out the town a bit.
Meanwhile, I was driving towards Eresfjord and Eikesdalen, and that drive alone wasn't very trivial due to the narrow roads as well as the steep grade of the road up to the mountain pass before descending into Eresfjord and Eikesdalen.
But slowing down my progress was making frequent stops as the good weather and the scenery across the fjord towards Andalsnes was very compelling.
Then, when I descended into Eikesdalen, I made more spontaneous stops along the way as I couldn't get enough of the attractive valley as well as the lake Eikesdalsvatnet.
Even though Mardalsfossen was against the sun, I still tried to take advantage of any pullouts or picnic areas to try to capture the entirety of the regulated waterfall.
I knew that once I got to the trailhead, I wouldn't be able to get that kind of view again.
Anyways, it wouldn't be until about 3:40pm when I finally arrived at the Mardalsfossen car park. There was a toll of 40 NOK to park at this trailhead.
Unfortunately, the machine printing the parking tickets to pay and display wouldn't take my international credit card so I had to revert to a different card, which actually worked. But I wasn't keen on paying the foreign transaction fee.
Once I geared up, I then promptly started the walk to get closer to Mardalsfossen.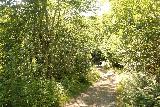 The weather was quite sunny and warm, but with the long shadows, it wasn't as hot as I had anticipated.
Nonetheless, the uphill hike seemed to have been widened and more signposted than from our first visit back in 2005.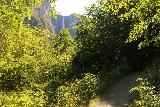 I remembered back then that the trail was narrower after going through a flat stretch where mountain bike traffic was allowed.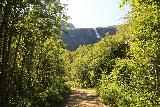 After teasing glimpses of the waterfall on the flatter mountain biking stretch, once the trail got narrower, we didn't really see much of it until the end.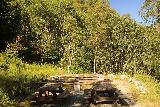 This time around, however, it seemed like the trail tended to present views of Mardalsfossen along the way.
There were also some rest benches set up as well as a group resting area near the bridge over the Mardola Stream.
In that group resting area, it was a very good spot for viewing Mardalsfossen before continuing uphill to get even closer to the falls.
By about 4:35pm, I finally arrived at Mardalsfossen. As expected, I was pretty much looking against the afternoon sun. Plus, there was quite a bit of mist being thrown around so I had to actively wipe the camera lens.
I saw one lady go past the official end of the trail and scramble onto rocks for a closer look.
I eventually followed suit and got to a part where the rocks were getting blasted by the spray from Mardalsfossen crashing against its rocks at its base. Again, with all the mist, it was challenging to take a good photo or video, let alone against the afternoon sun.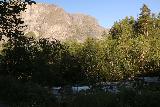 Looking across the Mordola Stream and slightly downstream, I was also able to check out the other familiar waterfall, which was a sloping cascade that I believe to be a segment of a different Mordole Stream.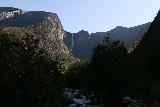 It might have gotten a name like Ytre Mardalsfossen or something like that.
Regardless, once I had my fill of the falls, I then made my way back down at about 4:50pm.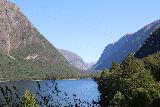 By about 5:20pm, I was back at the car. By this time, I noticed that the shadows had appeared to have grown longer both on the trail and on the car park.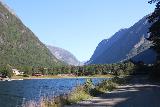 So that kind of hastened my need to get going and onto the Aursjovegen, which I intended to complete this time around as opposed to last time in 2005, where I only went part way.
Indeed, the drive through the head of Eikesdalen Valley beyond Mardalsfossen and Eikesdalsvatnet was half in shadow. But the waterfalls there were familiar.
I only made a couple of stops while taking roadside shots from within the car when no one was around. The scenery was just that compelling. But I didn't stop for every one like before and tried to single each waterfall out.
Instead, I was aiming for context of the waterfalls and the valleys.
When I got to the start of the Aursjovegen Road, there was an automated toll boom, which only lifted once payment was made at the spot.
This time around, the payment machine took the international credit card.
As I was ascending the narrow, unpaved, single-lane road, there wasn't much traffic going the other way. It almost felt like I was alone though of course there were sprinklings of cars going past back down to Eikesdalen.
However, I made frequent stops because it seemed like every turn had a nice view towards Eikesdalen or towards the head of valley itself with waterfalls. However, there didn't seem to be as many waterfalls draping into the head of the valley as I had remembered from our 2005 visit.
Clearly, many of those falls we had seen must not have been permanent. However, the scenery here was still compelling so progress was very slow as I just had to pull over or stop the car every few minutes!
By about 6:20pm, I had pretty much ascended the Aursjovegen to the point that it seemed like I was on the plateau and it stopped making the steep climb.
By this time, I had reached some mountain hut next to a tarn while there were still other thin waterfalls spilling on the opposite side of the valley or canyon belonging to Eikesdalen that was still somewhat deep even this far into the drive.
Eventually by 6:55pm, I had made it to the Aursjohytta, which was a kind of developed hut right by a dam holding up a reservoir pretty much where I transitioned out of Eikesdalen and into Litledalen on the Sunndalsora side.
I was still in the plateau area as there were many lakes, but the evidence up here was clear that a good chunk of these lakes were held up for hydro purposes. In any case, I noticed that the scenery was more compelling on the Eikesdalen side so far.
As I continued the drive and the road kept continuing along the highland plateau, I went by more tarns and reservoirs as well as an odd waterfall against the sun.
Then, the road started to descend into Litledalen Valley and the scenery started to become compelling again.
This was new territory for me since we didn't have time to complete the experience the first time around, but I could clearly see that there were more waterfalls as well as switchbacking roads in a less touristy Trollstigen-like manner.
As I descended further into the valley, I once again made frequent stops.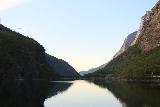 But when I got towards the bottom of the descent, I was surprised to see even more very tall waterfalls on both sides of the valley.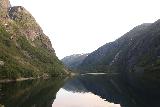 There was one in particular that was very tall and striking, and I wondered if this was the tall waterfall that I noticed on the first trip in 2005. I have a blurry photo of it as I was driving from Todalen back to Sunndalsora, but this experience confirmed that there was indeed a very tall waterfall here.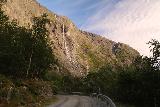 Could this be the Tagfossen that I had read about on one of the signs by the Vinnufossen Waterfall Rasteplass that we noticed yesterday?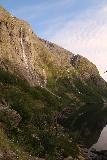 Not only that, but the Tagfossen was by a lake that produced very nice reflections back into the Litledalen Valley.
It really felt like the hits just kept coming, and the amount of times I had to stop the car and try to take it all in was simply overwhelming.
Anyways, I'd eventually exit the mouth of Litledalen Valley and return to the familiar Sunndalsora. I then headed east back into Sunndalen as clearly the weather was way more improved to allow time to experience this place the way it should be.
Indeed, by about 8:25pm, I had finally returned to the Vinnufossen Rasteplass, where I took some time to photograph Vinnufossen. However, just on the opposite side of the valley were more strands of waterfalls side-by-side.
From the Rasteplass, it looked like I had to walk 0.9km to get to a path that would bring me in closer to Vinnufossen for a closer look, but I was content to get my shots from a field though the views weren't direct.
When I returned to the car at 8:50pm, I continued east to see if there were more waterfalls to check out. However, I wound up stopping the car again somewhere by the Vinnu Airport sign, where I noticed an even more direct view of the falls between the "sti til Vinnufossen" and the turnoff for the Vinnu Airport.
As I returned to the car at 9pm, I then continued to go east to see what else we had missed the first time around (as well as to make sense of our memories and photos of this place from back in 2005).
At some point, the waterfall concentrations dwindled and I'm sure I might have spotted more had I kept going, but it was getting late, and I was content to just turn around at a waterfall that I had marked on the GPS when the weather was worse.
And as I was heading back west and the setting sun was now starting to hide behind some tall cliffs before me, I made even more stops and road shots because the scenery was utterly intoxicating.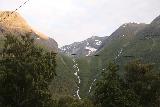 I really wished that we could have done this yesterday when we had more time, but alas, Mother Nature works by her own rules and her own timings. All we can do is to respond to what she throws at us.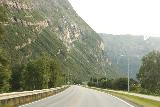 Ultimately by 9:40pm, I finally got back to Sunndalsora to pump cheap gas.
As I was leaving town, there was more road work going on inside the tunnel leaving the more westbound route, and thus I felt like I was gonna get back to Andalsnes later than I had hoped.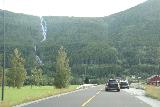 Julie texted me that she had food in the refrigerator when I would get back.
Anyways, after leaving the 6km tunnel and following another long caravan of cars and RVs, I noticed yet another miscellaneous waterfall that I couldn't stop for, but it looked thick enough to warrant a road shot.
Indeed, only Norway could have so many waterfalls that you'd ignore them for you can't stop every time. It would take forever!
With twilight now upon me, I tried to go as reasonably fast as I could given the semi-narrow roads leading back towards Eresfjord. As much as I wanted to stop and take twilight shots of the clouds turning pink, I couldn't. The GPS already predicted that it would be after 11:30pm when I'd return to Andalsnes.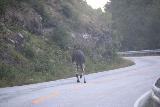 When the road started to climb up out of Eresfjord as I was finally heading west towards Andalsnes, at the end of one of the steep switchbacks, I noticed a big brown thing on the road.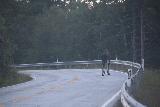 It turned out as I was getting closer that it was a moose! That was the first time on this trip that I had seen one!
I tried to whip out the camera and take a photo as best as I could. I don't think most of them turned out and I managed to get its behind as it was walking away from me. No luck in terms of seeing its profile and getting that shot to brag about.
As the moose departed the road, I then continued the drive.
And on the descent from the mountain pass back towards the fjord en route to Andalsnes, I noticed a couple of deer grazing in someone's pasture. I couldn't stop for them so I didn't take a picture, but it underscored the wildlife-vehicle collision risk that I was all too familiar with.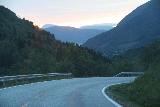 That sure made the drive a little more stressful considering that these megafauna tended to come out when people weren't around, which was right about now.
Eventually at 11:40pm, I had finally made it back to the Andalsnes apartment.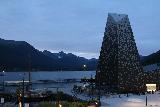 With Julie and Tahia sleeping, I pretty much tried to have my late dinner, get cleaned up, and still process all that had happened on this eventful day.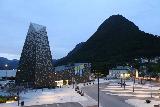 After that was done, I also stayed up to work on fixing the images not showing up on the website (where I wasn't sure of the solution since I had tried at home earlier before the trip, but apparently it didn't work).
It probably wasn't until around after 3:30am when I had finally figured it out, and only then could I go to sleep.
I was intending to get up early soon to do the Romsdalen drive alone before checking out of the apartment, but somehow, I had a feeling that it wasn't going to take place as early as I had hoped…
Day 35 (July 17, 2019 – Alesund, Norway): "Righting Another Wrong"
It was about 5:40am when I awoke. Apparently, I had hit snooze one too many times to my 4am-4:30am alarms.
But I guess the human body has a way of telling (or making) you get the rest you need to function.
And as much as I needed more sleep, I tried to seize the moment and just go out on the drive through Romsdalen and back to Andalsnes.
Julie was also up at this time, and she was concerned about my lack of sleep. But she was right into making brekkie knowing that there was still packing to do before leaving for Alesund on this day.
I ultimately decided that I would skip breakfast at this time and have it when I get back. Then, I'd treat it more like a brunch or something because I wasn't sure whether I'd be back by 10am or closer to checkout at 11am.
So by 6:05am, I started to leave for Romsdalen.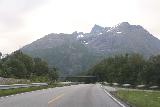 As I was heading south on the E136 into Romsdalen, I was already compelled to take pictures from the road as there were striking knobby as well as craggy peaks flanking both sides of the narrow valley.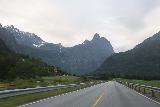 I think one of them was the Romsdalshorn. I was pretty unclear about the names, but maybe I'll need to go back at Norgeskart and double check the topology and place names against this experience.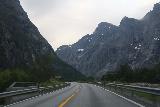 I had read that Romsdalen was Norway's answer to Yosemite Valley, but after this trip and seeing Norway as extensively as we have, I now tended to think of Yosemite as merely a microcosm of the kind of scenery you get everywhere in Norway.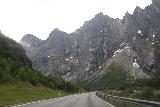 Heck, even the Yosemite High Country with its Unicorn Peaks and Cathedral Peaks amidst the granite domes were typical scenery in Norway.
Clearly, the geologic processes that gave rise of Yosemite Valley and its high country was totally on display throughout every valley and fjord in Norway. So maybe I should be talking about Yosemite as an example of Norwegian scenery instead of vice-versa?
Anyways, at 6:25am, I stopped the car for the Trollveggen Center. There was a giant car park as well as a few truck drivers using the spacious lot as a resting place to combat road fatigue, I'm sure.
I wasn't exactly sure which of the monoliths or cliffs was the actual Troll Wall itself as they all kind of blended in with each other. All I knew was that on the north or west side, there were some imposing cliffs topped off by some kind of formations. Maybe that was it. Who knows?
After having my fill of this stop, I then continued slowly driving through Romsdalen. Now, I was starting to see tall waterfalls coming down both sides of the valley pretty much like the last time we were here in 2005.
Most of them didn't have official stops and I pretty much resorted to using bus stops or road shoulders if available to stop and take pictures and videos of the gorgeous scenery around me.
Unlike the first time we zoomed through this valley coming from Dombas to Andalsnes, this time, I was taking my time and trying to savor each of the significant waterfalls coming into the valley.
I was also looking for Mongefossen, which I knew was regulated, but it wasn't obvious which of the strands of water coming into Romsdalen was it.
However, I suspected the ones with the power lines coming down near them would probably be it since I knew that it hardly ever had good flow given that it was regulated.
At about 7am, I stopped the car for Vermafossen. Again, there was no obvious pullout or signpost for it, but there were a couple of bus stops in the area to stop the car temporarily (I'm not even sure this is a good move considering buses use these spaces) to try to get out of the car and savor the scenery.
Vermafossen this time around didn't seem to quite have the volume as in our first trip back in 2005.
Ten minutes later, I stopped for Slettafossen, which actually had a car park somewhat and some infrastructure to better experience this attraction.
Unlike the first trip, I took the time to try to really experience this waterfall. There was one other guy I was sharing the waterfall with this early in the morning.
And sure enough, I could see that you get decent views from the bridge looking down at the torrent.
When you go beneath the bridge, you only see bits and pieces of the raging torrent of water, but you do get to appreciate the power of the Rauma River squeezing through this chute beneath the footbridge.
It was a good thing I did this early because I could see that tour buses come here (due to the bus parking spaces) and that would make for a rather intense experience here.
As I resumed the drive, I got towards the boundary of the More of Romsdal and Oppdal counties.
I was particularly looking for what the maps called Kleivafossen, which was a convergence of a pair of waterfalls down below on the Rauma River.
I managed to find what I thought could be the pullout closest to the short walk down to the converging falls, which was a big space with a traffic cam on it now.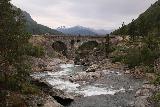 But unlike 2005, this time around, whoever owns the land here erected a driveway fence, and it appeared that it was no longer sanctioned (was it even sanctioned 14 years ago?) to go down there without off-trail scrambling and/or trespassing.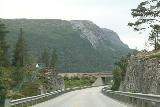 So after investigating each of the pullouts and seeing that there wasn't a safe way to get there anymore, at 7:50am, I turned around and headed back up towards Andalsnes.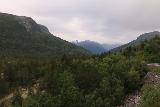 During that time, I did investigate what the Sagelva signs were for, and it turned out that it wasn't anything special as it was more of a farm or some kind of kid-friendly excursion.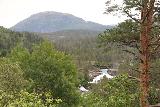 On the return drive along the E136, I noticed there were now more cars so taking road shots became a little harder since I'd find people tailing me suddenly. So I tried to use the pullouts whenever I could.
At 7:50am, I returned to the pullout with the traffic cam as I was going back and forth determined to see if I could find Kleivafossen once again.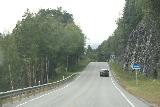 But it turned out that even with this persistence, the best spot to make the scramble like back in 2005 was at the traffic cam, and now it looked like there was no longer any sanctioned access to the converging falls.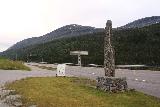 I wondered if it was always that way (just that it wasn't fenced back then), or if something changed over the years regarding ownership that changed this situation.
Anyways, it was a lost cause to try to pursue the falls so I resumed driving back north towards Andalsnes.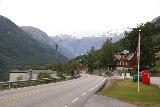 Now, I was trying to make stops for photo ops that I missed on the way going south. I totally noticed that the perspective and experience is very different depending on the direction you drive.
It seemed like I noticed some things going in this direction that I wouldn't have noticed in the opposite direction.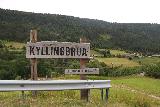 Regardless, while pursuing a pullout to see if there was a better or more sanctioned one for Vermafossen, I happened to check out the signposted Kyllingbru car park.
When I made the stop, it looked like someone's gas station with some extra space for parking.
Curious about what the Kyllingbru was, I followed the narrow trail across the E136 downhill for a bit. Eventually, I reached a dead-end with a view towards a tressel bridge that actually had trains going over it (I'm guessing the Rauma Railway used it).
Apparently, this was a historic bridge according to the signage here.
Anyways, after having my fill of this interesting little stop (one that I totally skipped the first time in 2005), I regained the elevation loss on the short 250m path.
I was back at the car at 8:10am.
As I went north and west on the E136, I was keenly looking for a pullout to more easily experience Dontefossen. However, the only pullout that I could find was a rather beat up unpaved one that scraped the underside of the rental car.
I made this stop at around 8:20am, but I didn't see other ones for the neighboring falls like Gravdefossen nor Skovagrovafossen (sp?).
As there were more cars, includin RVs and trucks, on the road, I made a handful of more stops along the way to re-experience the 2005 visit since that was the direction we were driving.
Among the stops included an attempt at capturing Mongefossen again as well as a stop looking towards a campsite near the bridge and road leading to Isterdalen and the Trollstigen.
That last stop featured reflections in the water backed by attractive mountains as well as the activity of the campground.
By about 9:25am, I was back at the apartment, which was a bit quicker than I had anticipated despite my later start.
However, I could see upon my return that neither Julie nor Tahia were ready to take off (i.e. they weren't dressed nor were they packed). In fact, Tahia was still procrastinating on her eating as usual (it alwasys seemed like a battle between Julie and Tahia on every meal when it came to healthy stuff).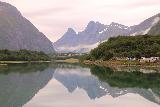 It wouldn't be until about 10:10am when we were finally leaving the apartment.
So now we were on the road to Trollstigen as we were bound for Alesund.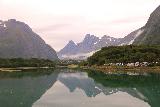 When we got to the familiar Trollstigen, we could see that there were clouds covering up both Stigfossen and Tverrdalsfossen ("Trollfossen").
That was a bummer since we were hoping to re-create the good experience that we had 14 years ago here.
So rather than waiting out the clouds at the bottom, we kept driving up the popular road, which was already full of cars and buses. We didn't even stop for the bridge fronting part of the Stigfossen because of the fog.
And much of the drive up remained mostly foggy so we were starting to lose hope that the Trollstigen experience would be good at all at the top.
Still, I was holding out hope that the clouds would clear once we got to the top, and we managed to park the car in the now fairly sizable car park at 10:45am.
The first thing I noticed was that the car park was on the left side of the Rv660 towards Valldalen (instead of on the right). They also built up a very fancy center and dining facility.
As we got out of the car and used the facilities, we then walked onto what seemed to be new paths. So instead of settling for a single view at the end of the track with no railings, there were now multiple forks to the path leading to different lookouts.
There was also an artificial terrace just downstream of the new sleekly-designed visitor center. That kind of called into question whether the stream for Stigfossen was now regulated (in a different manner).
We took the time to check out each one of these lookouts, but perhaps the most popular one was the one at the end. That was where there was a platform with see-through glass-like pane with a nice view allowing us to capture part of Stigfossen with the classic Trollstigen serpentine road.
As luck would have it, there were moments when the clouds disappeared to reveal the classic panorama. However, just as suddenly, clouds would reappear and fog up parts of the view before disappearing again.
I guess that's how fickle and variable the weather in the mountains of Norway can be.
We spent a good deal of time at these overlooks while savoring the experience (despite the international crowd as clearly this was a target for just about everyone around the world).
When we were done having our fill of the overlooks, we then returned to the fancy visitor center to have a lunch as Julie insisted on eating there.
I wasn't particularly keen on spending more money to eat, especially since our breakfast was so late in the morning. I also wasn't keen on losing another hour here.
But she got her way, and we wound up spending time mostly waiting for the food (of burgers and a chicken salad), but we chatted and noticed some things around here like the playing up of the troll theme in touristy spots.
As we were sitting and looking through the windows (next to a set of seats where the sloping ceiling was low enough for me to have to limbo beneath it to get through), we also could see the clouds moving in and out of the scene.
It wasn't until about 1:05pm when we were back in the car.
As we drove out, we couldn't help but notice that now there were way more cars around here. Indeed, there were now cars parked along the Rv660 further uphill from the main car park. There were also at least a half-dozen Norwegian workers directing traffic.
At about 1:25pm, we stopped at a large pullout for the Norddal-Rauma border. There, we got a nice view of the "Valldalen Waterfall" as well as the Valldalen below.
The last time we were here, the entire valley was covered in snow. Now, the snow was mostly gone except for the mountaintops.
Looking in the other direction, there was an alpine lake or tarn as well as a few distant waterfalls all draining towards Stigfossen. There was also a cascade on the main stream that I think the signs suggested was called "Strupen".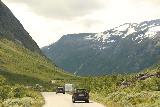 Next, we then headed through the Valldalen, but there were a frustrating number of very slow drivers who refused to use the pullouts (especially the bulky and wide RVs). Clearly, not many drivers are considerate nor are there pull-over laws that are enforced.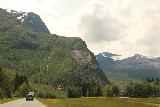 Because it was starting to get late in the afternoon to fit in a Muldalsfossen hike in Tafjorden before getting to Alesund, we didn't stop for one of the many jordbaer (strawberry) stands in this valley.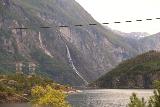 There were a bunch of them, but I didn't feel like stopping for them and subjecting myself to more delays as well as getting behind more inconsiderate RV drivers.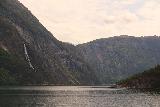 With some protesting from Julie, I'd eventually pass most of them, but passing on the narrow and winding roads in Norway was always a question of high risk over questionable reward.
Anyways, by about 2:15pm, we finally arrived at the Muldalsfossen car park. Like before, it was just on the other side of a long and narrow (and poorly lit) tunnel that went beneath the Hegghurfossen (sp?) as well as a landslide that might have caused the "Tafjord accident".
Like the last time, I got out to do this hike solo with Julie (and now Tahia) waiting in the car taking their siesta.
So with that, I headed along the road, crossed the bridge, then went up the brutal switchbacks leading up to the Muldal Farm.
This time, I noticed signs at each switchback saying which of the 13 switchbacks I was on. The same signs also showed that the utsikt was past the farm.
So it was nice that they did this as now it was clear where I had to go to get to a good view of Muldalsfossen. Such indicators weren't available in 2005 and thus I didn't properly experience this waterfall.
Hence, this was why I was back to try to correct that mistake.
At about 3:15pm, I finally made it up to the bridge upstream of Muldalsfossen. I was very hot and sweaty at this time.
Now, without hesitance, I continued through the farm and onto a trail that briefly climbed before going down a steep descent that I knew I wasn't going to like on the return hike.
For all that effort in going up and now having to give back a good deal of that elevation in an apparent upside-down W-shaped elevation profile for this hike, I wondered why there couldn't be just a shorter direct path from the car park to the overlook.
But as I was making the descent, I realized that the same geology that gave rise to the Tafjord accident was probably the same reason why it wasn't possible to make a direct route – i.e. the terrain was too vertical to have that.
Indeed, I really had to work for this waterfall, but the flip side was that it seemed like I was having it all to myself.
When I finally got to the first overlook at 3:35pm and the last overlook at about 3:45pm, I could see the entirety of the impressive Muldalsfossen.
While it had less volume than in the 2005 experience, at least I finally got to see it properly. There was even a small rainbow in the falls when the sun would temporarily show itself.
After having my fill of the falls, I then made the sweaty climb back up to the Muldal Farm (at 4:10pm), and then I mostly trail ran on the 13 switchbacks back down to the car park.
Along the way, I saw a couple on an ATV hauling up goods. So I guess that's why the trail at the switchbacks was so wide and well-kept. It was because it was also a use road for the residents of the Muldal Farm.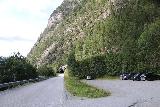 So by about 4:40pm, I finally made it back to the car (in half the time it took for me to go up the switchbacks to the farm). I gotta say that it was very nice to have this experience away from the tourist crowds and the lemmings effect (and all the stuff both good and bad you have to deal with).
And so we finally drove off and headed towards Alesund. It was a road fatigue-inducing drive, but we eventually got to check in at 6:10pm.
By about 6:20pm, we then went to our actual unit and finally started to settle in.
The town was on hills in much the same way that reminded us of San Francisco. So that meant that we had to do a lot of hill walking to get to town and back.
When we were all settled by 6:30pm, we came to appreciate that this apartment was just as nice as the previous one in Andalsnes in terms of space. There were also partial views of the water surrounding this peninsula.
By about 6:50pm, we finally got around to walking into town. It was too late to do grocery shopping and cook dinner so Julie was keen on finding a spot in town.
At about 7:20pm, we ultimately wound up eating at the Lyst Cafe.
Julie was in the mood for bacalao while we also got a reindeer steak dish and a burger for Tahia.
As usual when we have three mains, the dinner was a pricey one. But I guess that's the price paid for coming to Alesund late and for not cooking.
When we were done with dinner, we then went back to the local Coop before they closed. Then, we took the stuff back to the apartment (uphill walking) and getting there at 8:45pm.
Only after dropping off the groceries and the non-essential stuff did we finally go back into town to pursue Fjellstua.
The walk through town involved going past some construction zone (looks like they're remaking one of the streets fairly extensively) before finding the public park at the base of the 418 steps leading up to Fjellstua.
I recalled the locals we met in Trondheim (one of whom was from Alesund) said that we don't need to go to the top to get good views since they charge for the view.
So with that in mind, we went up the steps and took in the views over the mostly cloudy skies with the sun trying to set beneath them.
It was a regal view though I wondered in hindsight if we should have just passed through Alesund with a stop to take in the Fjellstua view.
After all, like the first time we were here, Alesund seemed like a dead town.
Plus, it seemed like quite a drive (around 90 minutes) to get here and then have to go back tomorrow in the direction of Geiranger over a similar distance and time frame.
Regardless, we savored the experience, and we even went up to the Fjellstua despite a sign saying it costed 30 NOK to be on the terrace.
However, no one was enforcing it nor collecting fees so we just savored the experience and appreciated the fact that the forecasts weren't as dire as the reality (in terms of rain happening this afternoon).
As we headed back to the apartment, we let Tahia play on a jungle gym in the public park before heading back to the apartment. Along the way, we saw the construction zone once again as well as a building that looked like it was demolished.
Whatever was going on here, the signage suggested that there were big plans to really give the city a makeover. So perhaps in the future, this city wouldn't be as dead as it felt in our experiences.
I guess that local that we met wasn't kidding when he said there wasn't much to do in Alesund.
Regardless, by about 10:20pm, we were back at the apartment and finally doing the deeds and chores to clean up and crash for the night.
Tomorrow was supposed to be Geiranger, and that was the place where we wanted good weather again, but the forecasts didn't call for that. So we'll have to see how that turns out when we get there…
Day 36 (July 18, 2019 – Geiranger, Norway): "Finally Feeling Like Summer"
It was about 6am when I awoke to Julie's alarm. With the forecast that had called for fair weather in Geiranger until the early afternoon, the time was ticking on us to get there and experience the fjord before we figured the bad weather would start to take over.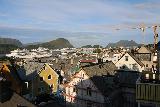 Despite the forecast, however, it was looking more and more like at least Alesund was going to have a good day as the skies were clear and the temperatures seemed to be warming up fast.
As we were taking our time having our own cooked breakfast, we were looking at a couple of big cruise ships about to dock in Alesund. Although yesterday seemed to be dead when we made our visit, at least this morning seemed to be the opposite.
When we did the Hurtigruten and it arrived in Alesund, it was a Sunday evening, which was the epitome of being dead. Hardly anything was open, and there was no time to get up to the Fjellstua at that time.
I wondered if the southbound Hurtigruten ships might have it better though, and I wondered if they would show up at a more reasonable time with more time ashore.
Regardless, it wasn't until about 8:40am when we finally left Alesund and did the fairly long drive back east towards Geiranger.
The original plan was to drive to Hellesylt, then catch a rather expensive and infrequent long ferry from there to Geiranger.
However, after seeing that in order to make that happen, we had to take yet another ferry to get to Hellesylt, then we'd want to visit the Hellesyltfossen, which I recalled from research wasn't compelling enough to go out of our way to do, and then wait for one of the ferries to make it all the way to Geiranger.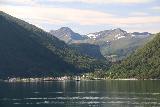 After having done so many ferries and seeing how slow and expensive they can be, the decision was made to just drive straight to the ferry that went to Eidsdal from some seemingly random spot west of Valldal. That was the direct driving route, but that also meant that we'd be doing one of the typically crowded tourist cruises on the Geirangerfjord.
So with that plan in mind, we had a pretty uneventful drive out towards the ferry, and we just so happened to catch the 10am ferry just in time. It was a very busy ferry, which wasn't surprising as this was part of the tourist route along the Rv63 that included the Trollstigen further to the north. And now it would take us back south to Geiranger.
Once we got to the other side, we followed a frustratingly long caravan of cars that were mostly held up by RV drivers as well as other less-experienced tourist drivers not used to the narrow twisty roads; all of whom refused to use pullouts.
With so many blind turns and limited opportunities to pass, this became another one of those risk-reward excersises in whether to save time or be subject to the long lines and crowds caused by the inconsideration of those in the front.
I ultimately decided to make my passes (at the protest of Julie who didn't like it when I passed vehicles on these roads; especially one as busy as the Rv63), and as a result, we wound up at the Ornesvingen Viewpoint by about 10:30am with some space for us to at least get there and find a place to pull over.
I was really looking forward to doing a walk that would take us to the top of Gjerdefossen with a top down view into the fjord, but I could see straight away that there was an uphill path blocked by a fence that appeared to prevent trail access anymore.
So that relegated us to checking out this developed viewing platform where some water seemed to have been channeled towards an artifical waterfall spilling next to the very busy viewing deck.
This was indeed like an international spot as there were tour bus crowds and people from all over the world not speaking Norwegian. And that was to be expected when you get to a place as well-publicised as the Geirangerfjord.
Anyways, without the ability to do any walking, we were pretty much relegated to just doing what everyone else was doing. And that was to try to fit in our shots amidst the crowds.
Perhaps impacting the experience were shadows cast by clouds that appeared to be patchy and moving around. So that probably kept our photos from being postcard moments, but we still at least got to experience the fjord from this spot, which was something we didn't do back in 2005.
After having our fill of this spot, we then continued driving down the Ornesvegen, which descended several switchbacks. There was one switchback in particular that seemed to have a side view of Gjerdefossen though I didn't recall there being an obvious spot to pull over.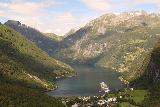 We then drove through Geiranger and decided to get up to a different viewpoint on the opposite side of the fjord. We figured that we mind as well get our views while the weather was good now. Then, we could focus more on Geiranger itself for the rest of the day.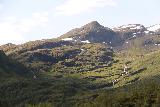 At this familiar viewpoint, I had recalled that it used to be more of a big space for a view that could support buses and quite a few vehicles.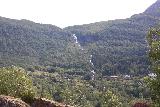 However, this time around, it seemed like there were fewer spots in a more awkward pullout detour while there was a Hotel Utsikten (or something like that) that offered up similar views as well as a scramble onto exposed cliff edges that we could clearly see from the higher vantage point we were at.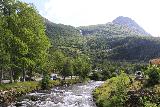 Again, the clouds were still moving around and casting shadows here and there on the scene, but the view was still as beautiful as it was back in 2005 when we had an even more cloudless day.
Once we had our fill of this place and then figure out how to get through between buses and cars to get out of the limited parking spaces at this viewpoint, we then headed back down the mountain towards Geiranger.
Eventually by about 11:50am, we would drive to the Hotel Union to drop off some luggages so our belongings wouldn't bake in the car given how warm it was today.
By about 12pm, we had already dropped off our luggages in an unattended baggage room in the hotel, and we scored a shaded parking spot at the hotel itself.
Once all that was done, we then walked down to the town of Geiranger along a pretty atmospheric Waterfalls route that pretty much followed alongside a rushing cascade right into the small tourist town at the head of the fjord below.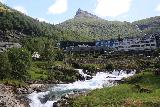 I never recalled this path being there before, but it was all developed and all busy. It started from the Fjord Center right across from the Hotel Union, and it followed along a series of steps with plenty of photo ops all the way down to the camping area. Then, it was another short flat walk across the camping area to the town itself.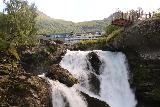 All along the way, we took our time looking against the sun and trying to capture the whole experience.
It seemed like this waterfall was the resulting stream from the joining of the one responsible for the Grinndalsfossen as well as a separate one for the Storseterfossen (the latter of which I intended to do the hike for later this afternoon).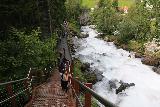 I wondered whether this was how the Hotel Union got its name (from the union of the two streams right around its property; not unlike the Union Falls in Yellowstone).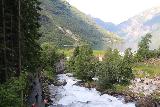 Regardless, we ultimately made it down to the tourist town which had a small arcade for pedestrians lined with shops and eateries.
Upon seeing that the desired fjord cruise for 1:30pm was fully booked, we had to change plans.
Seeing how expensive the cruises were, we decided that Julie and Tahia should do the scenic cruise at 3pm while I would go off on my own and hike up to the Storseterfossen on my own.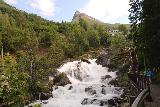 After all, I knew from the 2005 experience that the tourist cruise was crowded back then. And I knew that it would probably be worse this time around as there was definitely way more people these days than 14 years ago.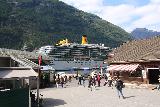 So with that plan in mind, Julie and Tahia went ahead and booked the tickets for the 3pm cruise. And then we went to have a lunch by this place next to the booking and info center at 1pm.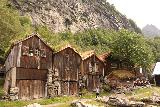 We wound up sitting outside next to the calm waters of the Geirangerfjord with a look towards some old-looking wooden buildings or sheds that I was certain were shops on the other side facing the pedestrian walkway.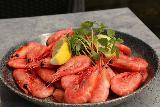 When the sun wasn't hiding behind the clouds, we were probably at risk of getting a sunburn (especially since we forgot to bring our hats from the car).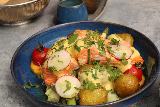 Still, we got ourselves a sea trout dish and a "snack" of fresh shrimp. The shrimp was a bit messy to peel and eat, but it was fresh and quite a fun way for all of us to interact over this meal.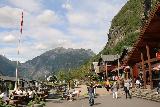 Because we only got one main and an appetizer, the cost of this meal was actually quite reasonable (by Norwegian standards) as it was less than 500 NOK total.
We also got some gluten free bread instead of the standard ones to soak up the sauces.
By about 1:55pm, we were done eating.
At that point, I started to walk back up to the Hotel Union while Julie and Tahia stayed behind to linger in the town of Geiranger until their 3pm cruise.
As I walked back up the same waterfall trail (opting not to go up the road and by the church back up to Hotel Union), I got another chance to experience the waterfalls and views.
It was still quite warm and partly cloudy so I was working up a sweat on this walk.
By the time I made it back to the Hotel Union at 2:30pm, I could see that the parking situation was a bit more intense.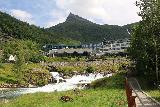 So I debated whether to leave the car and hike the extra hour in each direction to get up to the Versteras Restaurant to get started on the Storseterfossen Hike. Or, whether I should drive up the single-lane road from Hole Hyttas up to the Versteras Restaurant instead and save that extra bit of effort.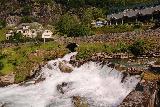 In the end, since I knew what I was getting into, I ultimately decided to just drive up and see what happens. After all, I figured that the parking situation might improve by the time the Norsk Fjordsenter would close later today.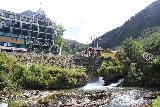 So I drove up the familiar switchbacks until reaching the signposted turnoff. Then, I found myself in an unfamiliar position of driving the familiar single-lane road.
However, this time, there were lots of pedestrians on this road (unlike last time). And it made me wonder if I should have done as they did and not drive this road.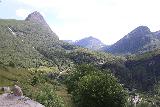 I was already expecting a difficult parking situation as well as limited opportunities to pull over and less oncoming car traffic through.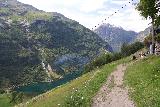 But when I finally made it to the end of the road at the Vesteras Farm and Restaurant, fortune smiled upon me and it appeared that I managed to score a parking spot next to the spots reserved for customers only at about 2:50pm.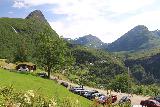 Given how warm it was and the exposure to the sun, I cracked the windshield and then geared up.
Once that was done, I did a little scouting of some other trails that went to other viewpoints of the Geirangerfjord. But one was at least 2km in one direction while another was 3km in one direction.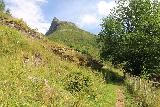 As much as I wanted to take advantage of the good weather (it still hadn't rained yet as forecasted), I had to stay focused and finish the Storseterfossen hike first before entertaining other options.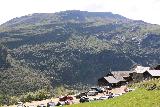 So with that, I wound up taking a trail that left immediately from the Vesteras Restaurant. I didn't remember this trail being here before as I thought I had to backtrack on the single-lane road, and then take the uphill path at the signposts from that road.
It turned out that this trail was actually a bit on the rough and steep side as it seemed to have shortened the hike by about 400m in each direction.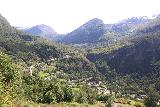 So while I had anticipated doing a 4km round trip hike, it might ultimately have been reduced to 3.2km round trip if I was to go back down this way.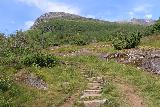 But as I was really working up a sweat, I figured that maybe I should go back the more conventional way just to make it a bit easier on myself in terms of being less accident-prone given how rough and steep this Vesteras route was.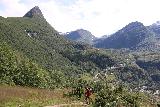 Eventually, I'd join up with the larger path, which then proceeded to continue going up a bunch of stone steps. But it seemed like the worst of the climb was over by this point.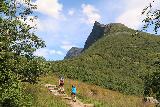 In fact, these stone steps seemed like they were new. I had recalled Julie and I needing to walk up a bunch of steep grass with some "footholds" in the grass (basically from other people doing the same thing) to get up to this point.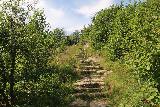 So I'm sure for erosion control, they must have choppered in giant rocks to form the path in this manner to ensure that the landscape wouldn't erode over time.
Still, with all the uphill hiking still ahead of me (even though the worst of the steep parts was over), I was sweating beads.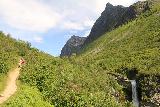 I also noticed a lot more people (especially families and kids) on the trail. So even as physically demanding as this hike was, it was still a "family-friendly" excursion as far as Norwegians were concerned.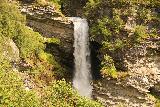 By about 3:30pm, I managed to get a frontal view of the falls. This time, it seemed like such views were available from the trail instead of off some side spur trail to an outcrop.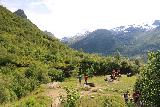 Clearly, this trail was also re-routed from the old one though it probably wasn't that noticeable to all but the most observant repeat visitors.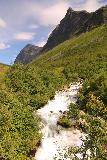 I also noticed that there were spray-painted red Vs instead of red Ts. I wasn't sure if they put "V" here because of the Vesteras Farm or if they meant to put "vei" or "veg" (which I understood to mean "path" or "road").
I knew that this was probably the only opportunity I'd have to see Storseterfossen from its frontside. And even then, it was only a partial view as the vegetation still blocked its base.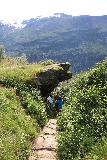 Nonetheless, seeing a pointy mountain backing the falls was still a nice sight.
By about 3:40pm, I then made it to the makeshift resting spot right above Storseterfossen. From there, I followed the familiar path around the bluff and down a narrow rail-bolted path to the backside of the waterfall.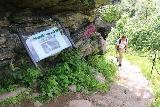 It was wet and slippery here, but with the railings in place, it seemed like the dropoff hazard wasn't as exposed nor as bad as the signs had made it out to be.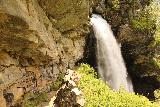 Still, there was one section where I really had to duck low in order to get through.
There was one father-son combo who made it here with me. And after having my fill of this spot, I then headed back up just as some people were coming down (and it would be a bit tight to squeeze past each other).
Once back at the top, I was enjoying the views once more from the top of the falls down into the valley as well as upstream towards some cascades leading to the main falls above.
I also checked out the very brink of the falls, where there were railings set up to prevent anyone from getting too close to the edge. I had recalled on the same year we first were here in 2005, that there was story about someone who fell from here.
I wasn't interested in extending the hike further upstream at this time. So by 3:55pm, I headed back down.
As I mentally thought to do, when I returned to the junction at 4:15pm, I took the longer way back down since I was more sure-footed on these stone steps.
By about 4:30pm, I was back at the car park for the Vesteras Restaurant.
At this point, I decided to not pursue the other viewpoints from the hiking trails leaving from the Vesteras Restaurant. And instead, I drove back down to the Hotel Union since the parking situation was weighing on my mind.
By the time I got there at about 4:50pm, it turned out that the parking situation wasn't as bad as I had thought. I first found a spot across the street closer to the Norsk Fjordsenter, but then I did a double-take and saw that there was a vacated spot in the Hotel Union lot. So I went there.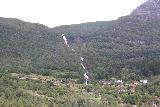 Julie and Tahia were still coming back from their cruise so I went ahead and checked into the hotel for her.
Forgotten in all this sightseeing was that we were very fortunate to have had such good weather. Indeed, the forecast had called for rain, and then the forecast gradually improved to mostly cloudy with some chance of rain all day.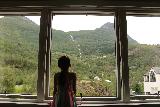 But it turned out to be great weather until the time I got back to the Hotel Union. At this point, I could see that clouds were definitely hovering overhead and wanting to dump some rain.
Anyways, by about 5:30pm, I finally got settled in the room as I had the luggage lugging duties. And when Julie and Tahia finally made it back before 6pm, we had some time to wind down the day and figure out whether we should eat the dinner buffet at 6:30 or do the a la carte dinner at 8:30.
Julie ultimately decided to go for the buffet (which was not cheap but still cheaper than the Hurtigruten), we had this smorgasbord of good stuff to choose from.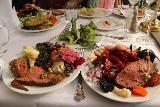 As with all buffets, it was always too much food to handle as we had to fight the urge to overeat to unhealthy levels while at the same time trying to pace ourselves and get our money's worth.
In addition to all the eating, Julie and Tahia gloated about how good the weather was down in the fjord. And Julie said she managed to get good views and recaptured better shots of the Seven Sisters.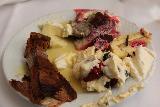 From the stories told by the cruise, it sounded like they didn't change the stories over the years. They still talked about the Suitor (Friaren) across from the Seven Sisters. And they also talked about the farms (especially by Skagefla) managing to avoid paying taxes because they could draw the only ladder access to the farm when the tax collector showed up.
Speaking of the Skagefla Farm, there was a nice view of the farm fronting the Seven Sisters and the Geirangerfjord from there. However, that required this cruise and a steep hike from the water up to the farm.
Julie said that they did pick people up during the trip, and undoubtedly that was what they did.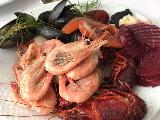 Anyways, we left the restaurant fully stuffed some time after 8:30pm. And afterwards, we finally got to indulge Tahia on going for a swim at the Hotel Union.
She was really looking forward to this ever since she learned that this was one of the few places on this trip with a pool.
It turned out that there was an outdoor heated bubblebadet (jacuzzi or thermal pool) as well as a lukewarm-heated swimming pool on the inside. There was also a small kiddie pool with a small slide in a neighboring room.
As Tahia and I were enjoying the pools, it was now very clear that it was probably going to rain tonight given the dark clouds that were hovering overhead, which made it a bit chilly on the outside pool though the heated waters felt nice.
Some time after 9:30pm, a Chinese family showed up and there was a young girl who wanted to play with Tahia. Upon learning that Tahia could speak Mandarin, they became swimming buddies just like that.
So instead of heading back up to the room before 10pm, I let her play until 10:30pm as it seemed like she was making yet another friend.
Her Mandarin wasn't strong because she didn't fully understand everything the girl (who was 9 years old) was telling her, but they were playing in all the pools together.
I believe they were from Beijing because her swimming cap had Chinese writings in simplified characters. That kind of underscored the international high-roller aspect of the guests staying in this hotel (as there were people from all over the world here).
But for over $370 USD for the night, we knew that all we could afford was this single night, and Julie only picked it because of the swimming pool.
So eventually at 10:30pm, we finally made it back to the room. However, they didn't have towels in the pool area so we managed to take one from a basket in the spa behind the desk.
I wasn't sure if that was sanctioned or not, but we needed the towel anyways. And we decided to drip and get up to the room so we could shower and get all that chlorine off in our own room.
And with that, we ended off this rather successful day where Mother Nature seemed to be kind to us (as opposed to the not-so-rosy forecast we had been fearing the whole time).
Tomorrow, we were expecting to experience glaciers of the Jostedalsbreen, but the driving wasn't going to be long to get to Olden.
So perhaps we could sleep in and have a good included brekkie at the hotel at around 7:30am before taking off…
Day 37 (July 19, 2019 – Olden, Norway): "Melancholy Beauty"
It was 4:15am when I awoke to my alarm. It was gray and raining in the Geiranger area outside.
Indeed, with the variable weather, it was a good thing that we managed to do our touring yesterday. For today was a transition day, and I had braced myself for a bad weather day even though we were supposed to be visiting glaciers.
Glaciers tended to be in high elevations since those would be the only places cold enough to support year-round ice. But with Global Warming, who knows where such places can exist anymore?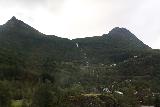 As much as I tried to get up and caught up on the blogging, I found myself going back to sleep at 5am. And it wouldn't be until about 7am when we finally woke up once again.
I guess that despite the limited space in our room at the Hotel Union, it was still comfortable enough to get a little more caught up on Zs.
So after a very impressive breakfast buffet, we finally left in the car at 9:15am.
It felt like we were one of the last ones to leave as we were one of the few people left in the dining hall for breakfast. And the tour bus crowds who were on a tighter schedule had definitely left by now.
Also with the late start, I was afraid that there would be many more cars on the road, especially the slow-moving RVs and buses. So that was something we just had to deal with.
It was raining outside in Geiranger. But as we drove out along the Rv63, we could see that the weather was somewhat holding up.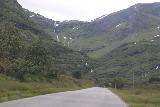 Then, we noticed waterfalls in the distance, and that triggered in me a memory of spontaneously visiting Kvanndalsfossen based on an obscure sign that we noticed on the way to Geiranger from Loen.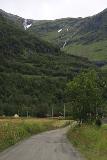 Well, this time around, it was those waterfalls we saw in the distance from the road, and so I just decided that if the weather was going to be bad anyways, why not make this stop and see what has changed on this trail over the years.
So after seeing the familiar turnoff and sign leading to the campgrounds right at the start of the trail to Kvanndalsfossen, we got there at 9:35am. However, just as we pulled up, I could see clouds already racing into the head of the valley.
And I just knew that that was my adversary when it came to experiencing the Kvanndalsfossen Waterfall – fog!
So I quickly geared up and headed out while Julie and Tahia opted to stay in the car and get caught up on some more sleep.
I then followed the familiar trail-arrowed path leading past someone's cabin (and a car parked on the trail) before making the familiar uphill hike to get closer to the waterfall.
There was some kind of stone wall and some agricultural contraption along the way (which I didn't recall from before), and then I promptly induced a sweat going up the steep mostly grassy, mossy, and bouldery path up.
It was a seemingly relentless uphill hike to get back up to the familiar view of Kvanndalsfossen, which was somewhat partial from what I recalled.
When I got there, I saw the same sight, but I also saw that the trail kept going up. So I decided right then and there to keep going beyond where I had stopped the last time.
As I kept climbing up, the trail continued to be steep. But by this time, the clouds that I tried to race to get to the falls before being fogged over had already overtaken me.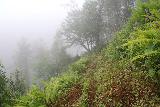 So I found myself climbing up into the low clouds and fog. And at this point, I was just trying to see where this trail was going even if the falls was now clouded over in fog.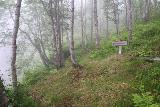 By about 9:55am, I finally got up to the Kvanndalsfossen sign. By this time, I was a hot and sweaty mess despite being drizzled on.
Even though the signs suggested that I was at the falls, I wasn't all that happy with the view.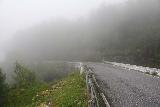 So I saw that the trail kept on going up, and I pursued it to see where it kept going to.
About five minutes later at 10am, I ultimately made it up to the Rv63 road. Unfortunately, there was nothing up here to see as there was no road shoulder so it wasn't like I could have pulled over then scrambled down to Kvanndalsfossen.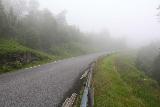 Indeed, I wasn't sure why this trail was here. So I scrambled back down the trail until I started to see Kvanndalsfossen again, and then I tried to document the falls as best as I could despite the subpar viewing experience.
At least the benefit of getting up here was that I could partially see a more vertical drop component of the falls than I had previously seen before.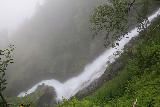 Once I had my fill of the falls, I continued the descent back towards the car. However, along the way, I saw a faint scrambling use-trail that went onto a bluff or ridge with dropoffs on all three sides (except for the side I had to use to scramble to).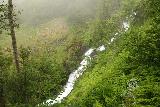 I had to really choose my steps carefully as this unsanctioned path was probably not kosher to most visitors seeking out the falls, and I'm pretty sure that DNT nor any other authority wouldn't recommend this path.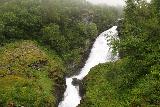 But whatever the case may be, when I finally got to the end of the spur at 10:05am, I found myself looking finally looking directly at the main drop of Kvanndalsfossen when I looked upstream.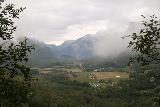 As luck would have it, the falls was no longer was shrouded in fog as the clouds lifted just enough for me to view it properly.
When I looked downhill from the bluff, I could partially see the valley that I had just come from (where Julie and Tahia stayed behind in the car at the Dalen Campgrounds).
Now, I could go back down the trail and return to the trailhead knowing that I had finally completed the Kvanndalsfossen experience.
By about 10:30am, I was back in the car and I had to have the AC turned on to both defrost the windshield as well as to cool myself off. By this time, it was raining once again.
Next, the drive continued climbing as we went higher up into the mountains and went up more narrow roads and switchbacks.
There were of course more slower drivers not using the pullouts so I had to pass each one of them given the few opportunities available on these mountain roads.
We'd eventually reach up to a point where the Rv63 junctioned with the Rv15. That's where we turned right and headed towards Stryn instead of towards Lom.
On our 2005 trip, we did go the other way towards Lom and ultimately towards Rondane National Park. I had recalled that that was where the fastest road of the trip took place as I swore there was a very high speed limit there as we were zooming through the highlands.
In any case, we were now passing through long tunnels and between scenic lakes backed by stark mountain scenery.
Julie was once again playing the role of shotgun photographer as the scenery was too compelling to not try to capture some of the beauty that was on display during this drive.
By about 11:15am, we had noticed a sign for Ovstefossen. Shortly after that sign, there was a very large pullout.
Surely a waterfall sign with a pullout of that size must be worth stopping for!
So we did just that and got out of the car. At first, we thought that Ovstefossen was this tall waterfall opposite the canyon that was cut by a rushing river.
But it turned out that Ovstefossen really pertained to that rushing river and turbulent, cascading waterfall right below us.
I saw that there was a walking path pretty much alongside some railings as well as some lower overlooks as seen from the pullout. So I decided to pursue them even though I hadn't budgeted time to do this during the trip planning.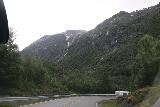 Given the hasty nature of my visit, I wasn't properly dressed for hiking on wet rocks and mud, especially since I could see that the falls was spraying parts of the trail.
However, I was spurred on by the sense of curiosity of where this trail led to and how much of the Ovstefossen that I might finally get to see. After all, the roadside views weren't great since we were upstream from the main parts of the crashing waterfall.
As I continued my descent (knowing that I was going to have another hot and sweaty climb back up) and reaching other lookouts along the way, I was seeing more of the profile of the falls though I was never able to get a clean look at it from the front.
When I got down to the lowest viewpoint, it didn't seem like the trail went any further. So I captured the falls as best as I could given the mist and close proximity to the falls, and then I hastily made my way back up at 11:30am.
By about 11:35am, I was back at the car where there were a few more people who had stopped to take a look at this waterfall.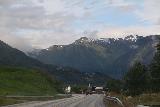 We then resumed the drive downhill as we encountered more breathtaking valley scenery with every descending hairpin turn. This was one place where I didn't mind being behind slower drivers who refused to use the pullouts.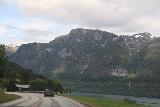 Once the road more or less flattened out at the bottom, we found ourselves passing through the town of Stryn, which seemed big and bustling.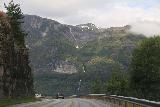 But we didn't stop here to have lunch knowing that we still had more places to go and things to do before checking into our accommodation near Olden.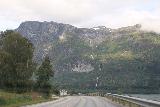 After passing through Stryn, we then followed the Nordfjord past other small hamlets lining the fjord until we got to the town of Loen.
Unlike the last time Julie and I were here 14 years ago, this hamlet seemed to be a lot more developed than before. I remembered this place being a quiet spot with a hotel that we stayed at (and probably wound up spending the most money we had ever spent on doing laundry as they charged by the piece).
Anyways, we knew that there was a road that went inland from the fjord at this town, and that would lead us to the Kjenndalsbreen Glacier.
Last time we were there, the road going all the way to the glacier was closed though we were able to get far enough for a non-direct view of the Ramnefjellsfossen waterfall as well as a few nice views of the Lovatnet lake under beautiful blue skies.
Although the skies weren't as clear as they were 14 years ago during our visit, the forecasted non-ideal weather still seemed to be held at bay.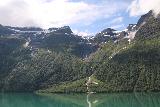 Anyways, we followed a caravan of cars along more single-lane roads deeper into the Lodalen Valley.
We'd eventually reach an old-fashioned envelope and drop-slot fee payment kiosk, where we were part of maybe a half-dozen cars that stopped to fill out the form, tear out the carbon copy, and drop the envelope part with a few kroner coins in it.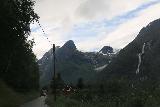 Then, we continued on the drive, which at this point was now unfamiliar territory as far as Julie and I were concerned.
As we continued the drive deeper into the valley, we started to notice the glacier in the distance. There were definitely some compelling blue-ice sections that really lured us close to its terminus.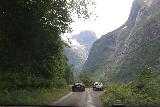 And after going past a junction (where the spur we didn't take seemed to have led to a cafe or cantina), we eventually got to a bridge crossing over the stream that was the outflow of the melting Kjenndalsbreen Glacier.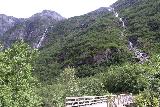 We saw that there was a pullout just past the bridge, and that was where we momentarily stopped the car to get out and check out the glacier from this vantage point.
In fact, the view was so compelling here that we took out the tripod and had that rare family shot with interesting background. It was the kind of scenario where I might be able to take this photo and use it to remind myself of where we've been when I'm at work looking at the desktop wallpaper.
As we resumed the drive, we finally made it to the end of the road at 1:20pm. Here, we saw a spacious car park but we were surrounded by pretty waterfalls including a few crashing ones that were clearly the outflow of some glaciers higher up the mountains.
One of the neighboring glaciers to the Kjenndalsbreen could be the Krunnebreen. And the crashing waterfalls that came from it could very well be the Krunnefossen.
Indeed, the scenery here was so beautiful that it compelled Julie to debate with me whether we should give this whole experience a 4.5 or 5, which would make this place world class compared with the likes of Iguazu Falls or even Kaieteur Falls.
While I think Julie got a little carried away with calling this a 5, there was no denying that this was at least a very solid 4 and possibly even a 4.5 experience though there wasn't a particular waterfall that we could point to and say that was the scenic rating it deserved.
Anyways, after having our fill of the car park area, we then took the short 400m trail to a lookout of the Kjenndalsbreen Glacier.
When we got there, we could see that plenty of people continued along a more bouldery trail leading closer to the glacier's terminus.
And in the past, we would have done that trail to get even closer to the glacier. However, with obvious signs of Global Warming, the glacier terminus was way up the mountain now. So we didn't even bother getting closer than this vantage point.
By about 1:55pm, we were back at the car, we then started to head out when we spontaneously decided to take the other spur road towards a cantina or cafe.
By about 2:10pm, we found ourselves parking at the Kjenndalsstova. At this spot, we were getting a nice direct view of the Ramnefjellsfossen waterfall as well as the head of the Lovatnet lake.
Apparently, this was one of the sites of the towns that got destroyed by a tsunami created by a major landslide that fell right into the lake.
The other town that was destroyed was apparently right across the lake according to the Norwegian literature (actually a Bergens Tidende headline and newspaper clip) that was on display at the cafe here.
While Julie and Tahia went into the cafe to order some lunch, I spent a good deal of time walking all the way to the lakeshore to capture the compelling scenery of Ramnefjellsfossen fronted by Lovatnet while flanked by tall and steep mountainsides.
The scenery here was so compelling that when Julie joined me in taking pictures here while waiting for the food, I told her that this was the kind of experience that really made me feel alive and fully aware that we were having one of those rare moments when we realized right then and there that we were having a magical moment within Nature.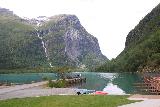 After having our fill of taking our photos and videos here, we then went into the Kjenndalsstova for a basic lunch of a reindeer burger as well as a local trout caught from this lake.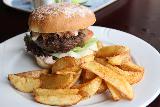 As we were enjoying the views from out the restaurant window, the Estonian worker that came by to see how we were doing chatted with us about this place.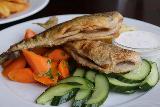 We were curious whether the relatively quiet (and magical) experience that we were having was typical, but she kind of bursted our bubble when she said that earlier in the week, there would be bus tours and a lot more people that would come here.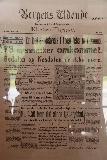 Julie and I looked at each other and wondered how buses could clog up the single-lane road it took to get here!
By about 3:15pm, we were fully satisfied with the lunch and we finally made it back to the car.
Now, we had to drive back out of the single-lane road where I'm sure we'd catch up to slower drivers while also stopping at pullouts to let oncoming traffic pass through.
It was the kind of road that would scare the heck out of me from our first trip, but as I was encountering more and more of these roads, I've been finding out that I'm not as intimidated nor as nervous about them anymore.
At about 3:35pm, we then stopped at a P along the single-lane road with a compelling view of both the Ramnefjellsfossen and the Lovatnet. There were about three or four other cars parked here, but it was really the wedding photography that was going on here that caught Julie and Tahia's attentions.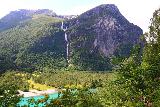 The wedding photographer seemed to have an American accent, which made us wonder if she was a transplant American living in Norway.
Regardless, we left them to their own business while we were simply mesmerized by the waterfall and the colorful lake.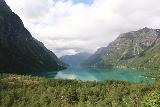 I could tell from the shape of the lake at this vantage point that this was the place we stopped and turned around to look back in 2005. After all, this was where the turning point where the road was closed back then.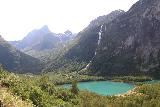 Boy were we glad that this time around, we could make it all the way! And we were even more thankful that the weather still hadn't turned on us despite the rainy beginnings when we had left Geiranger.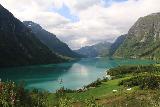 Eventually, we got out of Lodalen (and skipped the scary Bodalen side road, which was now a toll road apparently), and we ultimately got to the town of Olden.
Knowing that we were in a campground for this night but a shared kitchen, we decided to just stop by a Coop as well as a Bunnpris for some basic groceries so we could self-cook at the camp.
But we had to buy the supplies now before checking in since the Naesset Camping (where we were booked for the night) was a few minutes drive further west of Olden.
As Julie was doing her grocery run at 4:05pm, Tahia and I were busy resting in the car while also listening to Radio Stryn. It turned out that they were playing a couple of Highasakite songs that I was familiar with while listening to Triple J Radio at work (an Aussie station) and that really perked up my ears, especially when I heard Golden Ticket.
When they also played Samurai Swords back-to-back with Golden Ticket, I started to wonder if this local radio station really supported this Norwegian band because they might be from this area (or at least the Sogn og Fjordane county).
They also played Robyn and some other Scandinavian acts, and I thought to myself that this was the Norwegian radio station that came closest to the music experiences that Julie and I had back on our first Norway trip 14 years ago!
After all, that was how we discovered bands like Royksopp, Kent, and Robyn, but we also got exposed to Tsjiriau from Ravi og Dj Lov as well as Briskeby, Lene Marlin, Robert Post, and others.
It was too bad that most of the Norwegian stations didn't back announce or show on the display the names of the songs and bands being played because there were quite a few that we wanted to purchase and download when we'd get back home.
Regardless, when Julie came back with the foodstuffs, we then drove to the Naesset Camping, and we'd ultimately check in at about 4:40pm.
Once we got all settled in the very tight accommodation (basically their "motel" as opposed to their even more basic hytta, which were the red cabins lining the shores of the fjord) at 4:55pm, I then was finally able to solo my excursion to the Briksdalsbreen Glacier while Julie and Tahia would stay at the camp to chill out and to cook dinner.
So I headed out and followed the familiar narrow roads leading to the head of the Oldedalen Valley.
Knowing that there would be compelling scenery along the way, this time, I came prepared to stop at any pullouts that I could find or also double as shotgun photographer and stop the car in the road whenever there was no traffic around me.
Ultimately by about 5:45pm, I finally made it to the familiar car park for the Briksdalsbreen, where there was now an automatic dispenser for pay-and-display tickets. I didn't recall having to pay for parking here the first time we were here 14 years ago.
Anyways, after gearing up then paying and displaying 50 NOK ticket, I proceeded to go on the familiar walk.
Unlike the first visit, I noticed more signage as well as things like the Kaiser Wilhelm's Sti which I wasn't sure was pertaining to the trail I was on or whether it was referring to a different trail that somehow pertained to the German Chancellor.
Anyways, I had noticed that there was a more dedicated path for foot traffic that was apart from the Trollbil (Troll car) that was an ATV shortcut to bypass most of the walking to get up to the glacier.
In the past, I remembered having to walk the same road all the way up.
By about 6:20pm, I made it to the familiar footbridge fronting the Kleivafossen. Unlike the first time, this time there was a lot more spray going onto both the bridge and the road than last time. It made me wonder if all this extra volume of water was the result of Global Warming on the Briksdalsbreen.
I was a bit apprehensive about how much the glacier had been impacted over the years, and this would be the first time that I might have that before-and-after shot that we saw many examples of when we had visited Glacier National Park a few years ago.
Regardless, I kept going past the spray zone, and then I went up one of the handful of switchbacks before I noticed that there was a footpath that cut directly up most of the switchbacks. I could have sworn that the first time we did this, we had to walk up each of these switchbacks!
So with the relatively shorter hiking distance, I ultimately reached the top of the falls and ultimately past the bridge with a view of the Briksdalsbreen.
By about 6:40pm, I made it to the 1770 Terminal Moraine, where I could clearly see in 2019 that the glacier had been significantly smaller than what Julie and I experienced back in 2005.
Eventually after going past the end of the Trollbil dropoff, I then continued on the trail until reaching a moraine flanking a semi-lake/river with a view of the Briksdal Glacier at 7:05pm.
That was when it hit me.
On our first visit, Julie and I actually went all the way to the ice terminus of the glacier. Back then, we had even noticed icebergs in the lake fronting the Briksdal Glacier.
Now, it was no longer possible as the ice terminus was way up the mountain! Where the ice used to be, there were now waterfalls.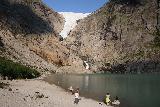 And where there were iceberg in the lake, the lake was so fast moving that there was no chance of seeing icebergs anymore. It would have floated away and ultimately broken up as it would be carried away over Kleivafossen.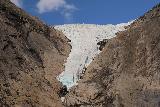 That was how far this glacier had retreated in the 14 years between our visits to Norway!
To think that this could happen so quickly within our lifetime really hit home that the demise of human habitability on planet earth could easily happen within our lifetimes.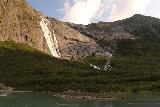 Forget about any of the predictions or headlines or whatever people want to say in the media these days. The reality painted a different picture.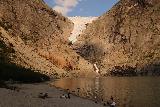 So even though I was once again witnessing how Mother Nature could showcase such natural beauty in the landscapes, it was a melancholy beauty in that it also exposed the stark realities behind what we were seeing.
And this was the very feeling that made me most concerned about Tahia's well-being as she was inheriting a world that may ultimately be unfit for human survival in her lifetime let alone ours.
But speaking of the beauty, I also noticed that across the valley, there was an impressive waterfall that I swore never had this kind of volume before.
Since it was coming from another bluish glacier high up on the mountain (which I believe was the Tjotabreen), it seemed to be a consistent theme that there are waterfalls where there were once glaciers.
Anyways, I didn't feel any need to hike further and closer to the rock wall where the glacier once stood on our first visit.
And so I headed back out by 7:25pm as clouds kept causing shadows to go in and out of the scene and muting some of the colors I was seeing on both the glacier as well as its surroundings.
Since the hike back was mostly downhill, it didn't take long for me to return to the car park some 50 minutes later with plenty more of photo stops.
When my wrists and hands were getting these familiar bug-bite bumps, that's when I also came to the realization that the annoying black flies that kept buzzing around me (on both visits) really do bite!
So apparently these flies were like midges or something. But none of them bit us on our first visit (maybe we were smart and had bug spray on when I didn't apply any of it on this visit).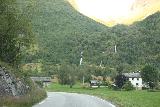 Anyways, I ultimately got back to the Naesset Camping at 9:10pm as I took my time driving back out of Oldendalen Valley (snapping a few more pictures along the way, of course).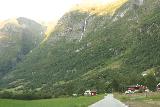 And that was when I was finally able to have a dinner as Tahia and Julie had already eaten and showered.
Not much later than that, I did the same and slept on the upper bunk.
And as we were further south in Norway as well as getting shorter days as we continued to drift past the Summer Solstice that we had experienced earlier on this trip, the nights were also starting to get properly dark so we wouldn't really need the eyepatches to sleep anymore…
Day 38 (July 20, 2019 – Skjolden, Norway): "The Race Against The Weather"
It was about 4:20am when I awoke to my own alarm. Upon looking out the window of our tiny little "motel" room, it looked rather clear and promising.
However, I knew that based on the forecast from last night that this was going to be short-lived. For there was rain in the forecast for later this afternoon that would also go all the way through the next day.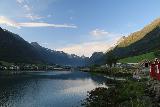 So when it came to touring on this day, it was in our best interest to get out as soon as possible and experience as much as we could before the weather would finally come.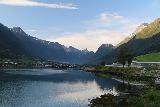 That said, it wasn't until about 6:50am when we had gotten all our things together (including bedsheets and towels that we had bought on this trip since we didn't want a repeat episode of getting ripped off renting this stuff) and took off.
As we were heading out, we were listening to Radio Stryn again, and once again, they were playing Highasakite. This time, they were playing "Someone Who'll Get It", which was an appropriate song about Global Warming and the demise of humanity.
They also played another song back-to-back by the same band that I hadn't heard of before.
But it just went to show me that this local radio station really supported this band, which I'd imagine might come from this area. And that would make sense since they probably witnessed the very thing we did at the glaciers.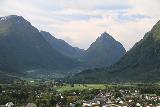 It's hard not to be fatalistic about the fate of our world given such observations. However, if my theory was correct, then they probably lived this and knew the implications long ago.
Regardless, we drove off and ultimately decided to make a detour into the Myklebust Valley after a scenic drive along the Nordfjord before cutting over a developed pass towards Byrkjelo.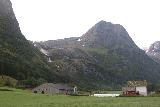 After a brief out-and-back exploration of the quiet Myklebust Valley, we saw quite a few more changes here as opposed to our last visit.
This time, there seemed to be a giant cow farm fronting the "Nonfossen" Waterfall. As I was taking pictures there, it seemed like the cows were gathered behind the fence and looking towards us as if we were going to give them something.
Looking across the valley, we saw the familiar Strupenfossen, which was a three-tiered crashing waterfall fed by the glacier also responsible for the Ramnefjellsfossen that we saw yesterday.
Once we had our fill of this inner part of the valley, I then drove us back to the public car park (that I swore wasn't there) closer to the mouth of the valley at 8am.
At that point, I decided that I was going to solo hike to Sanddalsfossen to see what else had changed since the last time we came here (other than the weather).
The skies were already starting to become overcast as it was apparent that the weather was already encroaching on us the further south and east that we were going. So that kind of changed the scenery somewhat from the beautiful scenery with reflections and blue skies that we had enjoyed on our first visit here.
Regardless, I now followed the signage pointing the way to Sanndalsstoylen. It was a familiar path, but I wondered about the old access which I recalled seemed to lead through a developing hydro plant just downstream of the waterfall.
This time, however, I saw that there was still a bridge over the stream responsible for the waterfall. However, there were crates and other agricultural stuff that seemed to be positioned in a way to discourage going over that bridge.
I still crossed that bridge and continued hiking uphill towards the base of the Sanddalsfossen. And by 8:25am, I finally made it up to the dam.
Just past the dam, there was fencing preventing any further progress to the base of the falls. So in the end, I didn't get a particular good view of the falls (kind of like before) as it was all unsanctioned, I'd imagine.
Still, there was signage as if the kraftstasjon authorities had expected there to be public traffic here.
But when I looked across the reservoir, I saw that there was another road leading down to some additional infrastructure as well as some kind of house or hut at the top of the neighboring hillside.
That gave me the idea that perhaps the trail continuing beyond the waterfall to Sanddalstoylen might also yield the best view of Sanddalsfossen.
So with that, I headed back down towards the bridge at 8:35am, and then I decided to hike up the switchbacks of a wide farm road going farther than I would up going the last time (when I thought that this wasn't the right way).
By about 8:55am, I made it up to perhaps the best views of the Sanddalsfossen that I was going to get as it was just past the house that I thought I might have seen from by the dam. It was just beyond the last of the switchbacks (by the way, that last switchback also yielded a nice view back towards the Sanddalsvatnet and Myklebustdalen).
There wasn't any formal signage nor anything official about the falls, but I was high enough above the local treeline to finally see this waterfall in its entirety. Thus, I'd imagine that this was the proper and sanctioned way to experience the Sanddalsfossen.
At this point, I wasn't going any further and I could see that the clouds were definitely overhead now.
By about 9:15am, I had made it back to the car where both Julie and Tahia were still asleep. There was definitely a strong smell of cows throughout the return walk.
That led me to believe that this whole valley probably was dedicated to cow farming and perhaps in support of the ubiquitous Tine brand that I'd imagine had a monopoly over the entire dairy industry in Norway as their labels were everywhere in the milk sections of every supermarket!
Next, we then made another detour towards Gloppen, where we'd visit Eidsfossen once again.
By about 9:40am, both Julie and I checked out the familiar waterfall just like last time. And at least out in these parts, the sun still prevailed.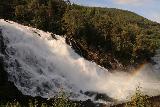 The turnoff and potholed road leading down to the falls was well-signed though it was easy to miss given how fast traffic moved on the E39.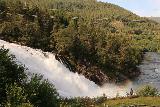 Still, I knew that it was coming since I already had a clue of what the drive was like based on our last visit here 14 years ago.
Regardless, with the blue skies, we got to see a nice rainbow at the base of the waterfall when viewed from the top.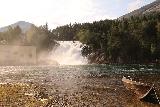 We also went down to the bottom where we saw a fly fisher as well as an ugly building next to the falls, which undoubtedly harnessed the power of this rushing waterfall.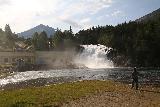 After having our fill of the falls at 10am, Julie and I returned to the car (in between, we also drove down to the base whose view was not as sanctioned). The whole time, Tahia was asleep in the back seat of the car.
After filling up for gas at a slightly cheaper price than all of the Nordfjord region in the nearby town of Sandane (though not as cheap as I had hoped), we then drove back in the direction of Fjaerland.
Back on our first trip, there was a toll station somewhere along this route that amounted to highway robbery. I wondered what kind of toll we were going to see this time around!
By about 11:20am (after going through some tunnels and following behind caravans of slow-moving RVs), we ultimately got to some kind of spillover car park for the Boyabreen Glacier.
It was about a 300m walk or so from here to the cafe. We wondered if we could have driven over to the cafe, but we figured there were lots of people here for one reason or another and not at the other car park, which we were walking towards.
We could already see the impressive Boyabreen Glacier even during this walk as well as some surrounding waterfalls. But just like our past trips, it seemed like quite a bit of the ice had retreated further up the mountain and were replaced by waterfalls.
When we ultimately made it to the cafe where there was a decent view of the glacier, Julie and Tahia decided to grab a bite at the cafe there. We saw that there was plenty of space for parking, and perhaps in hindsight, we should have done just that especially since we were now eating at the cafe.
Meanwhile, as they were waiting for the food, I walked the remaining trail all the way to the lake where the former terminus of the glacier used to be.
This glacier didn't quite have the scenic allure of both Kjenndalsbreen and Briksdalsbreen, but it was an easy visit comparably speaking anyways (which also made this place popular). I regretted not stopping for this glacier in the past when we had the chance.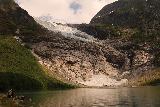 By about 12:10pm, we were back at the car. With dark clouds now clearly overhead once again, I had a feeling that the weather was only going to get worse the closer to Skjolden (site of our next accommodation) that we were getting.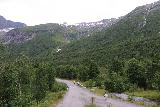 So we continued the drive through more tunnels and curvy mountain roads. We also followed behind more cars with foreign license plates or rental cars from Norway that I knew weren't local drivers given how slow they were going.
The annoying things about these drivers were that the vast majority of them didn't use pullouts so we had to make some daring passing maneuvers to not be subject to the delays that they were imposing on us as well as the caravan of cars behind us.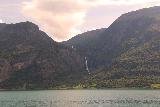 Eventually, we made it to the Rv55 when we got to Sogndal. We then drove north on that road towards both the turnoff for the Urnes Stav Church as well as a view of Feigefossen that I knew we were going to have across the Lustrafjorden.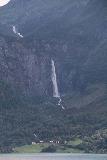 It wouldn't be until about 1:15pm that we found a bus stop with such a view across the fjord for the Feigefossen. It was still overcast though with some sun breaking through.
And we didn't take too much time at this pullout as we still had to backtrack to get to the Urnes Stav Church. But at least Julie said she liked this waterfall due to its freefalling characteristic (said to be the second highest such waterfall in Norway).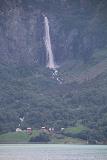 Tahia stayed in the car having her siesta the whole time and Julie and I experienced this waterfall from afar.
Next, we drove back in the direction of Urnes and filled up some cheap gas at the Yx station near the turnoff. Then, it turned out that we caught the boat ferry across the Lustrafjorden just in time for departure between Solvorn and Urnes (at around 2:05pm).
This ferry was small and it was weird in that we had to back into the ferry. There were also lots of pedestrians on this ferry as they were probably doing a quick round-trip from Solvorn and back.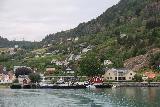 Speaking of Solvorn, it seemed like a charming little town on the western shores of the Luster Fjord (Lustrafjorden), but Julie and Tahia recognized the Walaker Hotel which was in a Rick Steves video.
So I guess this must have been a popular spot for American tourists at least, and perhaps this might have been a suitable base to experience this arm of the grand Sognefjorden (the longest fjord in Norway).
I was always under the impression that this hotel was closer to Urnes on the east side of the fjord, but it just goes to show you that sometimes perception and reality are two very different things. And that's why you still have to go to these places despite what you've read or seen or heard about before going on such trips.
As we were being ferried across the fjord, the rain definitely started to fall. It was still light enough that it didn't discourage our visit to the Urnes Stavkirke, but it was definitely becoming a factor for anything else we were going to do on this day.
I was still holding our hope of driving up to Jotunheimen National Park on the famous Sognefjellet Road, but it was looking less and less likely that it was going to happen.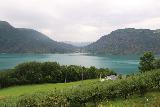 Anyways, after being let off the ferry, we had to drive up a narrow single-lane road towards a car park for the Urnes Stave Church. There was another single-lane road that we were apparently supposed to walk up to get to the church itself.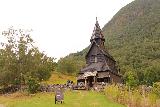 Upon Julie's request, I had to drive up that road to reduce the walking, and when we found out that there wasn't any sanctioned parking spaces, I decided to drop them off to save the walking, and then I'd drive back to the sanctioned lot to walk up the road.
Thus, I finally parked the car at 2:30pm and proceeded to do the uphill walk by myself.
Roughly ten minutes or so later, I finally made it back up to the Urnes Stavkirke where Julie and Tahia were already taking pictures around the impressive stavkirke.
Apparently, there was supposed to be an upcoming English-speaking tour that would let you inside the church. However, the signage said there was no photography allowed inside the church so I tried to get what shots that I could from the outside.
However, when the lady who was going to be our guide showed up, we all followed her to the side of the stavkirke, where there were intricate patterns organized in columns.
She was explaining in a bit of a French-English accent that this was the oldest stavkirke in Norway at around 1185 AD though it had gone through some transformations over the years.
But apparently, this was the fourth stavkirke and some of the things we were seeing on this church were actually replicas or moved over from the so-called third stavkirke. I wasn't sure what the history was behind the first and second stave churches let alone the third and fourth ones, but we could probably look that up later.
In any case, we were paying full attention to the young lady, who was obviously on a Summer job.
It was raining again when we were getting our talk on the outside, and I think she was cognizant of that (which was why she wanted to go through the outside part first before going inside).
But once we went inside, we could readily see that this had a pretty impressive and ornate interior. She'd go on to explain that quite a few of the bling pieces that we saw were actually donations from families local to the area.
Indeed, there was a shimmering painting to the left and a rather ornate altar. It was still mostly dark inside the stavkirke as the only window to the place was up above where sunlight would shine on some Jesus icon.
There were other details that the guide went over regarding where the women sat and who got to sit in the cages as well as some of the cross-beams that were put in place to stabilize the structure after it transformed into a more Lutheran faith following the Reformation.
When the French guide was done with her talk, she then allowed there to be non-flash photography, which everyone took quite a bit of time to do as it wasn't expected.
Then, after finally having our fill of the interior, we then went outside towards the utsikt (lookout), but we ultimately found that the best views were from the ramp as we could look back at the stave church with part of the Lusterfjord in the background.
With the trees in the way, we couldn't quite get the angle that we wanted, but it was still quite nice.
Finally at about 3:40pm, I had already walked back down to the car while Julie and Tahia took their time picking wild raspberries along the single-lane road.
By this time, the rain was definitely coming down now. And since we were on the single-lane road connecting Urnes to Skjolden where Feigefossen was along the way, I ultimately decided that I should just get the Feigefossen hike out of the way even though it would be in bad weather.
So by about 4pm, I finally made it to the familiar Feigefossen car park. Julie and Tahia stayed back in the car to avoid the worsening weather.
Meanwhile, I donned my rain poncho and waterproof pants, and then I proceeded to go along the single-lane road before going on the uphill trail leading closer to the base of the falls.
The hike was just as uphill as I had remembered it. At least it was all uphill going past a swinging gate before reaching up to an overlook with a full view of the Feigefossen.
By the time I was up here, it was quite rainy and I couldn't whip out the camera for too long.
However, when I continued on the trail, I then had to descend a slippery and muddy path before the trail ascended once again.
So with all that climbing, I knew that the unbreathable rain poncho and waterproof pants were making me sweat and wet from the inside out, which kind of defeated the purpose of having such rain gear in the first place.
Nonetheless, I was at least protecting the camera as well as my pen and pad.
By about 4:45pm, I had finally made it to the end of the trail. There was one other guy who made it up here with me, and he didn't take long to take his shots and go.
And I didn't blame him considering that the rain was really starting to come down now.
Anyways, when I had my fill of the falls, I followed suit and went downhill and then back uphill to the overlook. I really didn't like that uphill part on the return.
At about 5pm, I was back at the utsikt and took a few more photos of the Feigefossen waterfall before heading back down.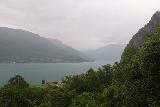 Ultimately by about 5:30pm, I finally made it back to the car as a hot and sweaty (and wet) mess. It was still raining, and I had to resign myself to the fact that trying to fit in the Sognefjellet Road on this day was just wishful thinking.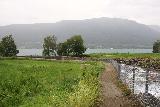 Anyways, we resumed the drive on the single-lane road towards Skjolden, and eventually by about 5:50pm, we finally checked into the familiar Skjolden Hotel.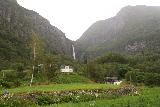 Julie and I stayed here 14 years ago, when the day we left started the first in a string of many consecutive days of sunny weather in Norway.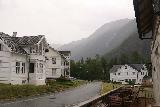 Given the fickle weather we had been experiencing on this trip, we came to appreciate that perhaps our good fortune with the weather back then was more of an anomaly rather than the rule.
By about 6:10pm, we finally settled into the fairly small room after doing a little improvised parking near the hotel. There was some kind of wedding that was going on at this hotel, which further constrained the parking situation.
The room itself faced towards the mountains instead of the fjord. I recalled that the last time we were here, we also got views looking towards the fjord. So I'd imagine that we must have gotten the cheapest (and last-minute) rooms that they had available. Perhaps this wedding had something to do with it.
But with the cold and wet weather, we weren't going to do anything more on this day. And with the weather forecast calling for still bad weather tomorrow, we were in a situation where we had to make lemonade out of lemons again.
Regardless, we went to the Eide Gard as we knew that eating at the Skjolden Hotel was a recipe for getting ripped off. Plus, nothing else was open because it was getting late and it was getting to be Sunday tomorrow as things were closing up shop for Saturday night already.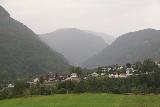 At 6:50pm, we ultimately got back in the car and drove over to the Eide Gard Farm. We did have 8:30pm reservations for the Skjolden Hotel dining room just in case, but we weren't going to go back after seeing that this place was still open and had a decent menu.
Even though the farm was situated with a view towards the east, we wouldn't be seeing much as the clouds were low and touching the ground and the rain was still coming down.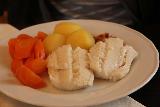 We wound up having some kind of cod dish and some Norwegian meatballs. The meatballs were actually tasty enough that we got another order of it.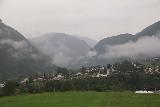 Anyways, the internet was working at this place so Julie and Tahia spent more time surfing the web (because the Skjolden Hotel one was spotty and wasn't working when we were there), and it wouldn't be until about 8:25pm when we were finally leaving.
By 8:35pm we were back at the room where we got cleaned up and tried to get some shut-eye. However, there was music blaring well into the night (past 1am was my recollection) due to the wedding reception. Plus, the walls of the Skjolden Hotel were pretty thin.
So we'd just have to put up with this but eventually I went from conscious to unconscious at some point, and then I finally got my Z's knowing that the prospect for another day of embracing the suck was high tomorrow…
Day 39 (July 21, 2019 – Skjolden, Norway): "The Hail Mary"
It was about 5:30am when I awoke. For the moment, it had stopped raining (or at least slowed down) but it had been raining all night long.
I wasn't sure when the wedding party ended, but with the music playing loudly during that time, I must have been dead tired to have been able to sleep despite the noise.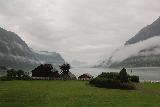 Given the lousy weather that was forecasted in addition to the resumption of rain this morning, we all took our time having the included breakfast.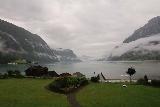 So after several visits both upstairs and downstairs as I kept forgetting stuff on the way to the car, it wouldn't be until about 9:25am when I was finally leaving on my own to hike out in the rain.
It was already raining hard, and I knew it wasn't going to be fun.
I was debating with myself whether to do the Vettisfossen hike first or whether to do the Drivandefossen hike, which was a new waterfall that we hadn't visited before.
I ultimately decided that since Drivandefossen was closer to Skjolden, I figured that at least that waterfall would be a slam dunk. With Vettisfossen, there was a lot more risk given the presence of clouds possibly obscuring the view of the falls.
So my GPS waypoint had me driving south on the nearly single-lane Rv55 towards Luster. Once I got down there, it then had me cutting inland.
Thus, I pretty much did just that.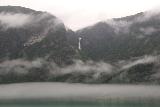 Along the way, I found a pullout allowing me to get a good look at the Mordolefossen which lookdd pretty much like a smaller twin of the Feigefossen waterfall.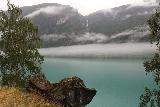 With low clouds swirling around, I got my shots before they drifted in and obscured the view of this waterfall across the fjord.
When I finally made it to Luster, I then drove inland as directed. I then found myself in a fairly attractive valley though the clouds were still overhead and there was a bit of a gloomy mood that the weather had created.
I then continued following the GPS which now had me going up some very narrow unpaved and switchbacking road. I didn't see any signage for the Drivandefossen, which got me worried.
By about 10am, I ultimately wound up at a junction high up in the clouds where one fork led to a barricade that wouldn't let me climb any further by car.
There was another sign for "Folafadle" but that seemed to lead to some kind of private set of farms.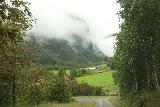 Did the GPS mess me up, I thought to myself?
Well, I decided that the waterfall wasn't up on this narrow and winding path. So I backtracked down to the base of the valley.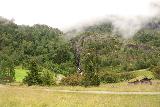 When I got back to the bottom, I then pursued the main road deeper into this valley. But then I found myself on a very narrow single-lane farm road leading towards more farms. Clearly, this wasn't the right way to go.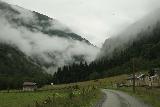 Upon a second inspection of some of the maps and place mats that I took with me from the Eide Gard Farm last night during dinner, I saw that the Drivandefossen was actually behind the town of Skjolden and not Luster!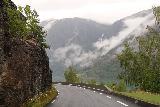 At least that explained why I didn't see any Asetevatnet signs!
So I backtracked the way I came. At least the weather seemed like it was holding up at this time. But I knew that this was turning out to be a waste of time.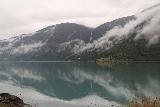 By about 10:30am, I was finally back at the town of Luster and the Rv55. Now, I had to head north on the Rv55.
On the way back to Skjolden, the clouds were definitely hanging low and obscuring the Mordolefossen though I had scout out and stop for a few more of the pullouts that would have yielded a view of the falls.
Most of these pullouts were before and after the Ottatunnelen. There was also some kind of B & B there on the south end of the Ottatunnelen.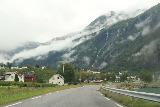 Then, I finally made it back to Skjolden where I then saw signs leading into the Morkrisdalen. I also noticed signage pointing the way to Drivandefossen as well.
As I drove deeper into this valley, I saw that the weather was improving even though it was still raining on and off en route.
I then noticed a fairly sizable waterfall to my left side behind a river rushing through the valley. As I continued driving across the falls, I noticed that there was a concealed upper drop that looked quite attractive.
When the paved part of the road ended, I then found myself on an unpaved road, which shortly thereafter led me to a signposted trailhead for the Asetevatnet.
There were at least three or four other cars here when I showed up at 11am, which was way later than I was expecting.
With the weather seemingly stabilized though still variable, I still had only my waterproof pants on but I decided I wouldn't need to wear the rain poncho right away. So I had it all crumpled up on the outside of my day pack for now.
The trail to Drivandefossen immediately started climbing, and it kept climbing and climbing.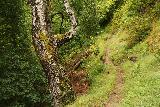 With the non-breathability of the waterproof pants, I was sweating beads. I was especially getting wet from the inside out of my waterproof pants.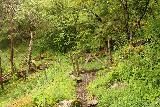 By this time, I had already given up on waterproof pants and would bring it back to the Skjolden Hotel for the Vettisfossen hike later this afternoon.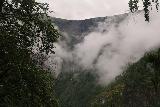 By about 11:25am, I made it up to some kind of gate that probably denoted the boundary of some pasture and the national park protected lands.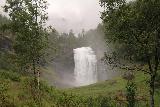 Ten minutes later, I finally climbed up to the misty Drivandefossen, which was pumping out a lot of mist and probably made getting the most frontal views a bit impractical.
With my camera lens already failing to auto-focus on a full zoom-in, I was resigned to the fact that this expensive but flexible Canon Lens was already on its last legs.
Meanwhile, the weather was stabilizing for the moment. As much as there were dark clouds around the area, the forecast seemed to have called for a momentary break in the action before the resumption of even more intense rain some time around 2pm or 3pm or so.
With hindsight being 20/20, I probably should have done the Vettisfossen hike first, but given the snafu that costed me an hour to find Drivandefossen, I guess it was what it was.
By about 12:05pm, I finally made it back down to the car. Now that I knew that the Drivandefossen was the same waterfall that I had seen on the drive in, I had it in my mind to stop for it as I was driving out.
There was some kind of van tour or shuttle that dropped off some more elderly visitors. I don't think they knew what they were getting themselves into, but the driver seemed to suggest that it was only a 15-minute walk to get to the falls.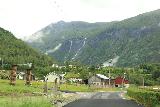 In my mind, it might be a bit longer than that given the slippery footing, but it was still not too teribble of a hike.
Sure enough, as I re-encountered the waterfall, I did just that. I even noticed some kind of rest bench on one side of the opening in the road that at least gave me a shoulder to stop at and get out of the way of passing traffic.
I managed to induce a lemmings effect as there were a couple of other cars doing the same thing as me right around the time that I was wrapping up with my photo and video run.
Finally at 12:30pm, I had finally returned to the Skjolden Hotel. Julie and Tahia were still in the room so I was able to change out of the waterproof pants and back into my normal hiking pants.
I think I had finally come around to never using waterproof pants again when it came to doing hikes in the rain. The non-breathability was a definitely deal-breaker for me.
Anyways, the weather was surprisingly turning out to be quite tame when I left the hotel to resume the main excursion for the day.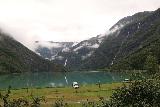 Right off the bat as I was heading east past Skjolden, I made another stop at some campground with a nice view towards Fortun over Eidsvatnet with both the Asefossen Waterfall and the Liingafossen Waterfall in the distance backing the lake.
It was a familiar spot where I recalled taking similar views from closer to lake level, but this time, I was on some hill that might have been private (not sure) that yielded better context than before.
Like I always say, lake views are always best when from the top down or at some kind of elevation looking down. That way, the lake doesn't make everything look flat.
Anyways, I resumed the drive up the Rv55 which involved going up a lot of switchbacks. But with the scenery becoming compelling the higher up I went, I frequently stopped to try to take pictures of the context of the valley below.
And in the process, I was letting motor homes pass by, which meant that I would have to be stuck behind them with limited opportunities to pass them (every time being a risky move especially on marrow mountain roads in Norway).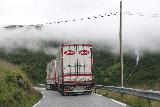 I would eventually get behind a big rig that was using the narrow switchbacks of the Rv55 as we were climbing up to Turtagro. And since I was planning to take the mountain pass road from Turtagro to Ovre Ardal, I wasn't sweating trying to pass this guy.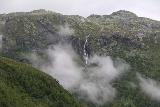 Once I was at the turnoff at Turtagro, I then took the signed junction which took me up a different climbing and narrow road.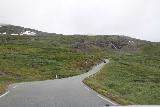 Along the way, I noticed a few more distant waterfalls appearing between some clearings in the clouds though for the most part, they were swirling and hanging low, which gave the scenery a bit more of a moody and mysterious air to it.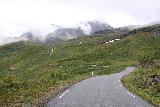 The road eventually got up to the highland moors where the stark beauty of the tree-less tundra sprinkled with some lakes and waterfalls made it really feel like I was driving on top of the world.
As the road descended, there were a few more impressive cascades that the road was skirting by before it got really narrow and steep in a series of switchbacks on a single-lane road.
Like with towns like Odda where there was an industrial town that could be deemed ugly, it happened to be situated in a very beautiful head of a fjord.
I guess the same could be true of Ovre Ardal, which seemed to be a big mix of residential buildings though there were also aluminum smelters I think, which was why there might also be a heavy presence of hydroelectricity, including on the road I was on linking Turtagro with Ovre Ardal.
I didn't have time to try to capture much of that scenery from above though because I had to concentrate on the narrow switchbacking road descending into town.
I could see that there was some break in the weather here as even the sun managed to peek through the clouds from time to time. But I could also see further in the connecting fjord that there appeared to be some menacing dark clouds on their way into this valley.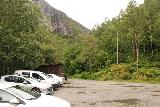 At about 2:05pm, I finally made it to the trailhead parking for Utladalen. I happened to find (or at least carve out) one parking spot so save myself from having to walk from the larger car park at Hjellefossen.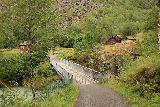 I had to race against the dark clouds coming over though I kind of knew that it would be a futile effort. I just hoped that Mother Nature had enough mercy on me to at least let me experience Vettisfossen without the clouds blocking the view.
That was all I was asking for.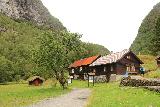 So I geared up and brought my rain poncho. Having ditched the waterproof pants, I hoped that the poncho was enough. However, I feared that depending on when the rain would show up, I might be sweating from the inside out again.
Regardless, I knew that I also had to try to protect the camera from getting too drenched from the incoming rain. So that was a necessary evil I guess.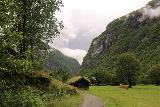 By about 2:20pm, I was finally getting started with the hike.
From checking the phone, the bad weather was supposed to take over at around 2pm. But so far, it seemed like it was momentarily at bay but it was definitely threatening to come with full force.
I hastily made my way past the Naturhus Exhibition and kept going past the crashing Avdalsfossen only pausing for a brief moment to capture the scene from beyond the spray zone, which seemed to be more extensive than the last time Julie and I were here.
It took me about 15 minutes to get to this point.
I then kept hiking beyond some narrow landslide-prone parts of the Utladalen Valley as many of the vertical walls showed signs of such landslides.
When I made it to a short spur trail descending towwards Holjafossen at about 3:05pm, I then went up a paved climbin road the eventually went before a series of segmented waterfalls as the road ultimately straightened out and led towards the Vetti Farm.
Just at this time, it was starting to rain.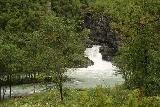 It appeared that the weather had finally caught up to this area, and now I was at a point where doubts started to creep into my mind about experiencing Vettisfossen because rain usually meant low clouds, which usually meant obstructed views.
Still, I went this far already, there was no turning back.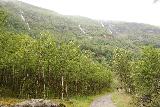 The rain was coming hard enough that I really should have donned the rain poncho at this point, but I opted to keep moving forward without it knowing that there was going to be a brutal climb ahead of me once I got to the Vetti Farm and then pursued the trail leading to the top of Vettisfossen.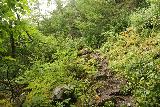 When I finally made it to the Vetti Farm turnoff at about 3:20pm, I was already started to feel quite a bit of wetness in my clothes from not putting on the rain poncho.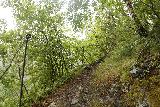 But at least there was some tree cover at this point as I followed the sign pointing the way up to the top of Vettisfossen (and opted to not continue along the other signposted path leading to the base of Vettisfossen that I had done before 14 years ago).
And as anticipated, the path was very relentlessly steep as it climbed for what seemed like forever.
With the rain still coming down, my clothes really started to feel wet. But I kept on without wearing the rain poncho because I knew that this ascent was making me sweat big time and that poncho would make the wetness from the inside-out worse.
If I was going to be wet one way or the other, I mind as well not handicap myself with the rain poncho.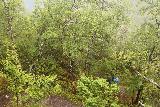 The persistent rain eventually made it where the relentless climb ultimately got up into the low clouds. At this point, I was hoping against hope that the hike would bear the fruits of finally seeing Vettisfossen from the top.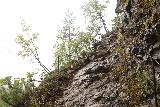 But it wasn't looking good, and it was almost as if my moving on was like a Hail Mary that the only shot I had at this point was to keep going. I already made it so far, why stop now?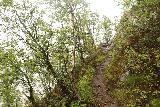 By about 4:05pm, I had finally got to a poorly-signed junction in the trail. I had already gotten past the apex of the climb and was going on somewhat flat and muddy stretches for a few minutes now. There were some planks set up to traverse the muddiest of stretches.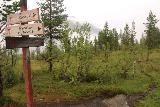 The weather was seemingly calm up here, but it was also spooky with fog.
Luckily at this poorly-signed signpost, someone scribbled "Vettisfossen" on the arrow that pointed towards Skogadalsboen. Indeed, this was a bad sign because there was no indication about Vettisfossen here so that could have been real confusing and easy to take one of the other trails leading away from the falls.
In any case, that scribble that someone was kind enough to do kind of assured me that I was on the right path.
After a few more minutes of getting through the swamps and towards the bridges traversing the feeding stream for Vettisfossen, the path then made another steep climb before ultimately reaching a wooden lookout platform a few minutes beyond the bridges and bluffs that were just upstream of Vettisfossen.
Once I finally made it to the lookout platform at about 4:20pm, I caught a break in the weather (there were at least two rain episodes that I had to endure to get to this point).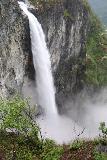 However, upon looking down at the falls, it looked like clouds had just rolled in and obscured the bottom parts of Vettisfossen.
I was cursing my luck that all that effort yielded this subpar view at the moment. However, experience also told me that these low clouds tended to come and go so I was determined to wait it out before I would finally experience the falls in its entirety.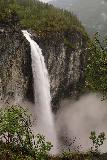 Sure enough, the clouds ultimately parted before the next batch of low clouds moved in and did the same thing. And it was during this window of opportunity that I saw that I still couldn't really see the bottom of this waterfall without some real daring scrambling to the edge of the cliffs beyond the railings.
There was no way I was going to entertain that given such slippery conditions.
Still, I could definitely appreciate that this was the highest freefalling and unregulated waterfall in Norway at 275m, and that height figure was no joke given all the climbing it took to get up here.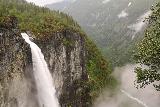 As I was trying to capture the scene with Julie's old iPhone (that served us well on this trip as a backup unlocked phone to take pre-paid sim cards), I found out that apparently my wet shirt might have done a little water damage to it since the cover was worn out so it exposed the connector at the bottom.
I also saw that my notebook that I was scribbling notes on was also wet and seemingly ruined.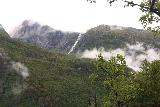 So after writing what I needed to write and fighting Julie's phone to at least document Vettisfossen with it so I could text Julie with this, I then put the stuff into my backpack so it wouldn't have to endure another round of rains and wetness.
At this point, my Les Stroud shirt was drenched. And it also felt like that with my pants, which I had enough foresight to put my wallet (but not the car keys) in the backpack to have another layer of protection against the wetness of the elements.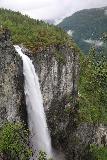 It was mesmerizing watching the low clouds drift in and out of the bottom of Vettisfossen, and I thought to myself that I had made the right decision to go to the top of the falls instead of the bottom like before because those same clouds would have made it a frustrating experience from the bottom.
Indeed, it felt like my Hail Mary was answered, and I was ecstatic that I had finally got to experience Vettisfossen in this manner, which haunted me for all these years that I was never really able to see more than a little over half of the falls from the bottom before.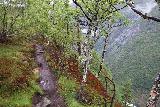 I was also aware that there was another steep path across the valley that would have yielded a complete view of Vettisfossen in full context. However, with the way the clouds were, I definitely didn't entertain that option. Besides, it would have been an even longer hike than what this was, which was already an additional half-hour in time commitment beyond going to the bottom, which was the shortest path distance- and time-wise.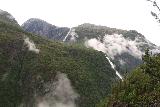 Ultimately at about 4:35pm, I started to leave the lookout platform, but then I noticed other trails of use that skirted by the cliffs.
While the views of Vettisfossen got worse along this path, I couldn't help but notice that there was another pair of gushing waterfalls right across the valley!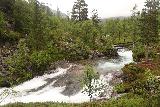 I knew there were other waterfalls that were unregulated in this valley, but I certainly didn't expect to see another one of those on this excursion! I'm pretty sure that this one had a name, but I'd have to figure out such information later.
In the mean time, I was spending time trying to document what I had been seeing before the next batch of weather was surely going to come.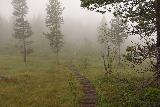 Eventually at about 4:45pm, that was when I finally had to leave the scenery and head back down the trail.
It was during this stretch that when the next round of rains finally came (and with even more vigor than before), that I finally unslung the backpack, took out the rain poncho, put the car keys in the backpack (hoping they didn't malfunction due to water), and put on that rain poncho to protect both my chilling wet body as well as the backpack's contents.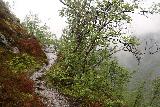 Going down seemed to be every bit as treacherous as going up was hot and tiring. I really had to watch my step as I was going down, and my knees were feeling the aches and pains of receiving so much pressure with each step.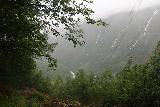 And it was during this long descent that the next round of rains definitely came down hard, which made the really steep parts of the hike even muddier and more slippery.
The shoes were getting heavier because the hiking boots were now completely soaked from the inside out and still accumulating water with the pouring rain.
For sure the new hiking boots that I used on this trip definitely got broken in big time given all the elements that it had to face.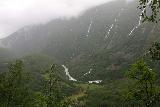 Mercifully, by about 5:35pm, I finally made it back to the Vetti Farm. Now it was pouring rain so I didn't even bother exploring the old path just to see how much things had changed over the years, especially the steep rope- or garden-hose-assisted descent to get back down alongside the river en route to the base of Vettisfossen.
With the conditions so miserable and now my hiking boots feeling the weight of accumulating water (so each time I lifted my legs, they felt heavier thanks to the waterlogged boots), I just tried to ride the momentum of the downhills and trail run.
Eventually by about 6:20pm, I had finally made it back to the trailhead in the pouring rain.
With everything practically a soaking mess, I had to turn on the heater and AC at the same time to try to de-humidify the car as much as possible to allow all the soaked stuff (including Julie's old iPhone and my notebook as well as camera bag, etc.) to dry.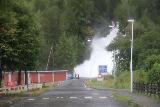 I did pause briefly to try to document Hjellefossen from the other car park, but it would be foolish of me to get out of the car and try to properly experience it under the inclement weather at this point.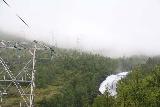 Now, I was trying to make it all the way back to Skjolden. It was getting late and the weather wasn't letting up.
When I finally climbed back up the mountain road leading to Turtagro from Ovre Ardal, I once again paid the 90 NOK to use this toll road, and then descended back down towards the familiar valley between Turtagro and Skjolden.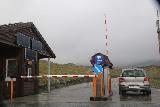 I was in communication with Julie as apparently now the iPhone was well enough to at least let me send Julie texts.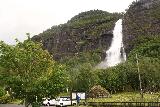 And eventually, when I got to the Vassbakken Kro, which I recalled Julie and I having a nice simple dinner here in the past, this time around, Julie told me to come back to the swim center next door to the Skjolden Hotel where they had already bought dinner and gave me Tahia's leftovers.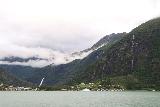 I'd eventually return to the join up with them at 8pm, where I gladly ate Tahia's leftover burger stuff and fries (having skipped lunch today).
I was gladly telling them about my adventures while they told me about their time in Skjolden where Tahia finally got to swim once again. She also got to go up the difficult rock walls in the same complex.
As I was getting towards the end of dinner, I then had this idea to try to pursue Kvinnafossen to at least see how much things have changed over the years for this waterfall.
It seemed like a very crazy idea to push my luck and fit in one last excursion out to the falls before it got dark and then return some time before midnight (hopefully), but I was thinking that perhaps the wet stuff in the car could use an additional opportunity for de-humidification.
Besides, I knew there was cheap gas along the way, and I also knew that Kvinnafossen was a roadside waterfall.
Before I took off though, we did converse with the Hotel Skjolden receptionist at the time, who offered to use a heater to dry off my wet hiking boots and socks. That was a nice gesture on his part.
We also made some small talk about the beauty of this area while he had a genuine interest in our backgrounds and about America.
Anyways, by about 8:45pm, I took off once again and was on my own.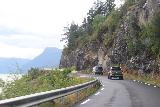 This time as I was going along the narrow parts of the Rv55 towards Luster and Sogndal from Skjolden, I was fortunate to be following a local driver, who was like the ideal pace car for me.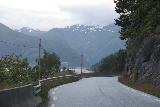 He also seemed to know when to anticipate oncoming traffic and when to gun it on the more visible parts. So we were making very good progress before he turned off at a campsite closer to the turnoff for Jostedalen (which I didn't bother with on this trip since we didn't have the time).
I was on my own at that point, hoping that I didn't set off the speed cameras as I was going as fast as I could towards Hella, where I knew the Kvinnafossen was not far from (just west of Leikanger).
Sure enough, by about 10:05pm, I finally arrived at the Kvinnafossen, which seemed to have a slightly larger car park area than before (but not by much – maybe room for three or four cars or maybe a half-dozen if people parked properly).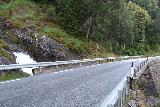 But I didn't have to contend too much with space issues considering how late in the evening it was at this point.
With the even lighting from the long shadows and the semi-overcast skies, I managed to capture Kvinnafossen which seemed to have slightly less flow than from our June 2005 visit. But it still seemed to possess the same character all the same.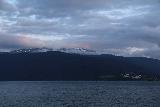 Looking across the vast Sognefjord, I could see pink clouds just getting the last of the sun's rays before sunset.
After having my fill of Kvinnafossen at 10:15pm, I then drove back the way I came. With the lighting low enough to make me use high beams, I had enough confidence to get through a bit of the narrow sections and even pass some of the slower drivers who were caught out in the dark and quite scared of the single-lane parts of the Rv55 (perhaps they were all too content to let me pass).
I also finally filled up on cheap gas and avoided the super high prices of over 17 NOK per liter (paying instead around 14.7 NOK per liter) somewhere near the Urnes turnoff.
By about 11:35pm, I had finally returned to Skjolden, where it took me some time to get the wet stuff out of the car and into the room to try to take advantage of the heater for a couple more hours before I'd finally go to bed at some time after 2am…
Day 40 (July 22, 2019 – Flam, Norway): "Norway In A Nutshell"
It was 5:55am when I awoke. And I happened to awake to see the sun for the first time since we've been in Skjolden on this trip!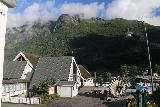 Similar to the last time we were here 14 years ago, we left Skjolden under beautiful weather, and it looked like we were going to experience the same thing this time around.
Funny how history repeats itself like that.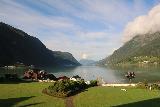 After enjoying the views from the breakfast room and balcony one last time while also having a decent included breakfast, we then finally left Skjolden at about 8:45am.
With the nice weather, we finally got a chance to drive up the famous Sognefjellsvegen Road towards Sognefjellet. This was in the heart of the Jotunheimen Mountains, which were said to be the highest in Norway.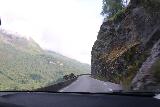 And this would also provide a chance for Julie and Tahia to finally experience the same mountain roads that I had been driving yesterday to get all the way to Utladalen though the detour to Sognefjellet would all be new to us.
Julie was now assuming the role of "shotgun photographer" since I was busy concentrating on the road while she got to take my DSLR and try to take pictures of the scenery as I was driving. It seemed like this was the only way to capture some of the beauty we were seeing considering how few and suboptimal the pullouts tended to be throughout Norway.
After getting up the same switchbacks on the Rv55 while passing slower-moving RVs when we had the chance (which Julie always made just nervous by telling me "Don't Pass!"), we then made it up to the main part of the Sognefjellsvegen Road.
Here, we could see bluish glaciers still pressing down on the highest of Norway's mountains as well as attractive alpine tarns and lakes in the foreground.
We tried to get that famous view of the Rv55 road leading straight to the largest of the glaciers near the Sognefjellshytta, but there were still some stubborn clouds concealing the glaciers as of this morning at around 9:45am near the Mefjellet Lookout.
We figured that we mind as well keep driving on the Rv55 just to see what else this road featured before coming back when hopefully the clouds would have cleared by then.
By around 10am, we stopped for an attractive pair of twin waterfalls that were coming down side-by-side in a manner similar to Latefossen. However, we were looking against the sun that had still yet to breach the cliffs supporting these falls.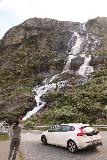 But just as we were getting into the swing of documenting this waterfall, a tour bus happened to pull into this pullout and dump a crowd of people.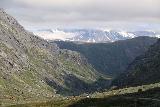 Not only did they make for a more tense experience at this pullout, but they also parked in a very hideous spot where now just about every shot towards the waterfalls included the big boxy bus.
That was kind of a dick move, but what were we going to do?
We just documented what we could and then continued on with the drive. I guess these were the kinds of behaviors that tended to become more commonplace (including slower drivers not using the pullouts, which forced people to make daring passing maneuvers with blind turns on mountain roads) that were part of the high season experience.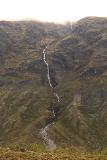 Speaking of the refusal of slow drivers (especially of the RVs) to use the few pullouts available to them, I had this idea that I bounced off Julie about how the authorities could easily enforce this rule in much the same way I'd imagine they would enforce speeding with the speed cameras.
And that is that they could cite such vehicles causing long caravans of cars simply by capturing their registration numbers as they passed traffic cams.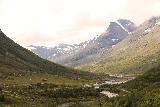 Then, if you see that the following traffic cam and other traffic cams thereafter showing the same registration number and long line of cars, then you know such a driver was not using pullouts and causing a potentially hazardous situation with forcing other drivers to make a dangerous pass so as to avoid or mitigate being forced into an unnecessary delay.
I doubt that they're doing this now, but it seemed like a sensible way to curb the effects of clogging the mountain roads without using the resources available to them to get out of the way of everyone else.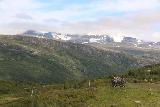 I know we always have this problem back at home because the pull over rule may be in the law but they never seem to be enforced (at least not in California).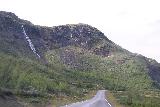 Anyways, by the time we made it well past what seemed to be the most dramatic of the scenery, we decided that it wasn't necessary to keep driving all the way to Lom. Indeed, the features of the drive seemed to be more ordinary the further northeast that we went.
So at 10:15am, we turned around and headed back the way we came.
Now, we were experiencing the scenery once again but this time hopefully with better circumstances concerning the clouds.
Already we could see that the twin waterfalls we had stopped for earlier was having terrible lighting as the sun was definitely right against the viewing angle from the pullout. So we didn't bother trying to document this experience again.
By around 11am or so, we then returned to the Sognefjellshytta, which was very busy. At least as we were looking back towards the largest of the glaciers along the Sognefjellsvegen, we could finally see that the clouds had at least lifted enough for us to see the attractive blue glaciers there.
So our exercise in patience paid off!
With time getting short as we still had a ways to go with still activities to do on this day, we didn't do the 1.1km loop hike that we saw a bunch of other people do.
Instead, we were just content with the views of the tarns and glaciers here, and by 11:15am, we were back in the car.
As we were heading back towards Turtagro, we stopped a few more times for the pullouts (including the Mefjellet Lookout) where we got those leading lines views of the road leading the eyes towards the glaciers of Sognefjellet.
It was only after around 11:45am, when we were finally gaining momentum in driving towards Laerdalsoyri and beyond via Ovre Ardal.
So yes, we had to go back over the 90 NOK toll road between Turtago and Ovre Ardal, and so Julie could see for herself the scary single-lane switchbacking road leading down to the industrial town below.
Once that was done, we then took the Rv53 past several tunnels on the way to Laerdalsoyri. We then made a brief stop in Laerdalsoyri at about 1:30pm where Julie was hoping to have a lunch stop.
But it turned out that Julie only managed to buy some cherries and some other groceries for our apartment in Flam later on. I managed to use this shopping time to explore the Old Town, which kind of reminded me of the line of wooden houses and buildings that Stavanger's old town had.
By about 1:45pm, we were back in the car and now headed towards the Borgund Stave Church.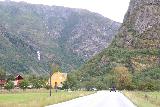 Along the way, we made a brief stop in the back of the town of Laerdalsoyri to check out Stodnafossen but with the lack of signage and infrastructure to better experience this falls, this was really more of a backdrop waterfall for the town.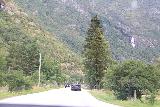 So at 1:55pm, we were done checking it out from some dead-end in the road and then proceeded to drive further east towards Borgund.
By about 2:25pm, we finally arrived at the Borgund Stave Church site. We did the lemmings effect and opted to park in the more distant car park thinking that this was where we were supposed to park.
It turned out that we could have parked closer to the visitor center facility.
Regardless, we paid our admission, then checked out the stave church, which was pretty much a self-guided do-it-yourself visit that also allowed us to go inside its humble interior.
While this was one of the few intact standing stave churches in Norway, it definitely lacked the history and appeal of the one in Urnes, which was apparently the only such church in Norway to attain UNESCO World Heritage status.
Still, it was a nice visit where the focus was on capturing the church with the V-shaped valley settings.
There were also other buildings nearby, including a more modern looking church in a red building.
When we were done with our visit, we returned to the visitor center to have ourselves a humble bit of vegetable and beef soup so we'd at least be held over before self-cooking for dinner in our apartment in Flam later today.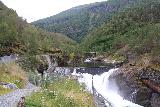 By about 3:25pm, we were back in the car, and then we drove the Kongevegen Road instead of the E16 as we pursued Sjurhaugfossen.
After a false stop at Vindhella, we finally found the Sjurhaugfossen at a more official car park on a side road just outside the E16 tunnel at around 3:45pm.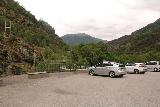 Due to its position, it was real easy to miss, and that was perhaps why we had missed it the first time around 14 years ago when we were passing through this area between Laerdalsoyri and Hemsedal.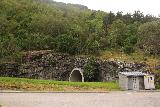 At 3:55pm, we were back in the car as this waterfall was not really a legit one as it was pretty much a couple of shorter rapids and smaller falls channeling deep below in the gorge.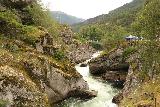 I did see signage for the Store Sokni Waterfall on the map sign and thought we might be able to pursue it, but as we drove back towards Laerdalsoyri, we didn't see it. So apparently, it was on a part of the Kongevegen that we had to walk, which we just didn't have the time for.
Now, we were headed back west on the E16. Tahia was actually very excited about going through the Laerdalstunnelen, which was a massive 24.5km tunnel with at least three "ice" or blue-lit sections to keep drivers awake through all that darkness.
I recalled the last time we did this how easy it was to get road fatigue through here, but I was also a bit sleep-deprived back then. This time, even though I was also sleep-deprived, at least our driving stretches were shorter and more manageable (after learning from past mistakes).
Anyways, as we went through the tunnel, Julie was prepared with my DSLR playing shotgun photographer as we got to the interesting parts of the tunnel. And Tahia seemed genuinely excited about pointing out those signature blue sections of the tunnel.
It seemed like they also added some yellow lighting on the sides of the blue sections, which I didn't recall in the past (maybe my memory was just faulty at this point).
Regardless, the tunnel didn't feel as long as before, but it was probably because Tahia and Julie's collective excitement kept things interesting.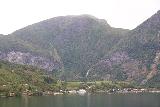 By about 4:55pm, we finally arrived at the Brekke Gard Apartments in Flam, which was well after we had filled up for gas and did a restroom break there shortly outside the Laerdalstunnelen.
By this time, it definitely looked like the weather was turning for the rain that was predicted in this area, and we still wanted to fit in a Flam Railway excursion.
Once we checked in, we were given a choice of which apartment to stay at (by the farm or more central by the rail station), and for the over $300 USD we were paying to stay here, Julie smartly chose to be more centrally located.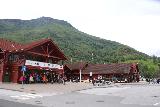 Immediately after settling into the spacious apartment, which was right on top of the Mall of Norway, we promptly went right down to the visitor center to book the train tickets.
It turned out that we showed up just in time for a 5:25pm departure. So we booked the tickets and ran to get onto platform 4 and the train itself.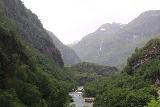 And pretty much once we got on the train, it took off. It was not unlike the last time we were here when we happened to catch a train 14 years ago just as it took off.
Unfortunately as we were riding the train, it became very evident that we were sitting on the wrong side. Of course, all the seats on the proper side were already occupied. So that kind of made the experience on this train somewhat a bummer.
We vowed to be more opportunistic about capturing photos from the train on the proper side on the return.
In any case, we did get Tunnshellefossen and its farm from the wrong side of the train.
And we also got out amongst the crowds to experience the hudre dancing before Kjosfossen.
But other than that, the weather was already turning and it was definitely raining as we were riding through the Flam Railway towards Myrdal.
When a lot of the people were getting off at the Myrdal station and we sat there for about 10 minutes, we managed to score a spot closer to the front of the train on the correct side.
Then, when the train took off, we happened to stop for the Kjosfossen once more to experience it once again.
And then, we finally got to enjoy the benefits of sitting on the correct side though now we were contending with mist and low clouds as the valley views looked a lot darker and more obscured than before.
I guess that's just how fleeting photo ops moments can be in Nature sometimes.
By about 7:30pm, we were back at the Flam Railway station. It was definitely raining by this time and we quickly made our way to the Coop right across from our centrally-located apartment.
We picked up some stuff and then proceeded return to the apartment for a self-cooked dinner.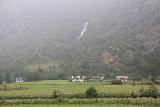 The dishes turned out to not be clean and the dishwasher didn't seem to be working. So we had to hand wash everything, including the previous occupants' mess. That sucked. And although Julie complained about it over Booking.com, I had a feeling that nothing was going to be done about it.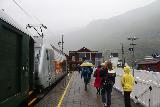 Anyways, with that, at least we were now out of the elements, but the weather forecast for tomorrow didn't look very good either. So at this point, we were now trying to figure out how we were going to plan around the weather given the circumstances.
At least that was one benefit for all the self-driving that we were doing throughout Norway.
You just never know what Mother Nature throws at you in the fickleness of the Norwegian Fjords and Mountains. But at least we had the flexibility to make adjustments on the fly.
It's the story of our trips in just about every one of them since we've been doing this…
Day 41 (July 23, 2019 – Voss, Norway): "Viking Lessons"
It was about 6am when this time it was Tahia's alarm that woke everyone up.
Outside, we could see that the cloud ceiling looked low as expected. It had also been raining as the ground was very wet.
So given the weather that wasn't a surprise to us, the mentality of this day was to make it a light day in terms of sightseeing activities.
Then, we'd really have a go at it tomorrow when the forecast was said to be much better than today.
Of course, that would mean a lot more driving as tomorrow was supposed to be a long driving day between Voss (where we were checking in today) and Rysstad (where we were checking in tomorrow).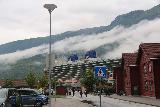 But the last-minute change of plans due to the weather meant that we should spend a good half-day driving from Voss back to Flam then going on the Naeroyfjord and Aurlandsfjord Cruise before being shuttled back between Gudvangen and Flam.
Once we finally recover the car at Flam, then we'd make the longer drive all the way to Rysstad.
Or at least that was the plan. But as far as today was concerned, we'd just focus pretty much on sightseeing between Flam and Voss, especially in the Naerodalen Valley. We'll play it by ear how the weather was going to affect us.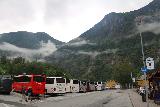 In any case, while Julie was getting ready to cook breakfast, I acted on this plan by going downstairs to the booking center and booked the 9am cruise from Flam to Gudvangen, then the shuttle back.
At least we took advantage of the central location of the apartment so the high price we paid to stay here wasn't totally for naught.
I also noticed how the parking situation was when we expected to come back tomorrow, and it seemed like we were fine.
So with all that slow deliberate startup out of the way, we finally loaded up the car at about 10:30am. It wasn't raining yet.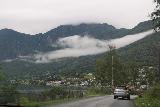 And then, we spontaneously decided to pursue the Stegastein Lookout, which was definitely something we didn't do before on our trip 14 years ago. In fact, I don't even think this developed lookout even existed back then!
Regardless, I knew about the single-lane roads, and the lady working the booking office even tried to discourage me from doing the drive and booking a shuttle bus tour instead.
Little did she know that I had been driving these kinds of roads all throughout this trip as well as during our last trip to Norway 14 years ago.
So the prospect of driving steep single-lane roads supporting bi-directional traffic didn't faze me.
Perhaps what was more annoying were cars (more like RVs) that shouldn't be on this road that caused the big traffic jams. Even tour buses made their way up there.
And there were plenty of moments where people were so terrified by the narrowness of the road that they were super slow and actually hurt their own causes by increasing the likelihood of oncoming traffic meeting them in a bad spot on the road somewhere between the switchbacks.
So it wasn't until about 11am when we made it to the limited car park for Stegastein.
At least we weren't in the low cloud ceiling, but we could definitely see that there was weather approaching from the Flam area headed our way in Aurland.
As far as the fjord views were concerned, it was definitely no Geiranger. There weren't much in the way of impressive waterfalls, but there were interesting fjord contours and it kind of gave us a foreshadowing of what we could expect on the cruise tomorrow.
After having our fill on the funny-shaped lookout that seemed to drop off into oblivion at its end (except for the window that acted as a railing barricade), we then headed back to the car.
However, that wasn't before we chilled out a little bit in the restroom where there was a view that we could have argued was better than the main overlook.
It was similar to the experience at Skjervsfossen except this restroom seemed to be more used though it definitely had the nice view.
Next, we drove back down the Stegastein though we did pull out on the way down, which also seemed to have a nicer view of the Aurlandsfjord than the Stegastein itself.
Then, we made it back down to Aurland before returning to the E16 en route to Voss.
At about 12:15pm, after passing through a pair of long tunnels (including a 7km tunnel and an 11.5km tunnel), we then stopped the car at the familiar Shell station, which sat pretty much across from Kjelfossen waterfall.
We spent a bit of time checking out the area, where I took advantage of the pedestrianized path paralleling the E16 so I could try to capture Kjelfossen better than on the previous trip.
I also noticed that there were some other smaller waterfalls in the area that were attractive and spilling just outside the town of Gudvangen.
It turned out that perhaps the most direct views of Kjelfossen took place at either of the two bus stops just west of the Gudvangen turnoff.
The entire time I was photographing the falls and surroundings, the weather was still holding up. Even though it had been overcast with some ominous looking clouds, the clouds remained high and the rains remained locked away in the clouds themselves.
After having my fill of documenting Kjelfossen as well as some of the surprise or temporary waterfalls arond Gudvangen, we then started to enter the Viking Town that was here.
We paid the admission to get into the Viking Town. Then, we checked out a few of the exhibits including a trademan who gave Tahia a seal skin fur with her name on it in runes.
We also check out a pottery area where the kids could use their imaginations to come up with stuff while the adjults helped to try to heat up and solify each of the kids' handiwork with the clay.
We then listened in to an English-speaking guided tour, which was run by a guy who had quite the sense of humor.
His style was like that of the Night Watchman in Rothenburg, Germany, except he demonstrated some of the weapons and tools that were used back in the day.
He went from station to station explaining what the significance of each one was. He also related to the audience by talking about how Hollywood tended to get the Vikings all wrong (disheveled clothing, brute barbarians, etc.).
I thought he did a pretty good idea of how Hollywood got it wrong, and how even things like Naeroyfjord might have been a bastardization of something else that the name had.
At about 2:20pm, we were finally having lunch within the Viking Town complex. The tour had ended and we had ourselves a modestly-priced meal of pork leg, lamb sausage, and chicken.
It was a simple meal, but often times the simple meals tended to accommodate Julie's gluten avoidance better.
It wasn't until about 3:30pm when we finally returned to the parked car after letting Tahia shoot the bow-and-arrow as well as throwing an axe at a target.
I think Tahia found this to be a fun visit, which I guess was a welcome change of pace for being overloaded with Nature (though I found that strange since they hardly did any hiking with me).
In any case, upon looking at the Shell station's price, I saw that it had jumped from around 16.3 NOK to something on the order of 17.3 NOK. And I had the photo evidence to prove it!
I guess that goes to show you just how fickle even the gas prcies could be in Norway.
Anyways, at 3:45pm, we made our way through the Naeroydalen Valley and up to the Stalheim Hotel. For the first time ever, we had been passing through this rather long tunnel (probably 8km or so). We had completely ignored this on our trip 14 years ago.
Up at the Stalheim Hotel, the overclast clouds were actually being quite kind to us in that it didn't produce rain nor did they obscure most of the valley walls that we were now surrounded by.
We spent some time taking pictures of the familiar narrow Naeroydalen Valley though the cloud ceiling ensured that we wouldn't be seeing any of the peaks flanking the valley.
This was a nice chill out spot on the Terrace, and it wasn't as if it was overrun with tour buses though I could totally see that scenario playing out.
The signs here said that public use of the Stalheim Terrace was during the daylight hours (some time between 10:00 and 17:00 I believe) so we freely went tried to relive the experience we had before when the weather was sunnier and we were looking against the sun.
Kjelfossen in the distance looked quite visible though its uppermost parts seemed to be blocked by clouds.
When we had our fill of the Stalheim Hotel Terrace at 4:05pm, we then went back in and descended the steep Stalheimskleiva serpentine road. It was said to have an 18% grade so low gears were definitely a mandatory thing.
On the way down, Julie was once again playing the role of shotgun photographer as we were zig zagging from one steep switchback to the next.
It was a smart thing that they kept this road one-way because I wasn't sure how cars could make this climb, especially if shared by tour buses.
We also took our time going down so we could examine any pullouts that would allow us to experience Sivlefossen as well as Stalheimsfossen.
It turned out that one pullout for Sivlefossen had a deformed part of the road that caused us to scrape our underside of the car. I don't ever recall having to deal with that before, but I could see that it seemed as if someone caused this deformity when the tar was still probably malleable and fresh.
Eventually by about 4:30pm, we made it down to the familiar car park for the short walk to the base of Stalheimsfossen. There, Julie and Tahia didn't want to leave the car so I went ahead and did this myself.
And it was probably a good thing that I did this on my own because just as I got started, a tour bus showed up. So now I had to race them to ensure I got a decent experience before the mass of humanity would descend on this place and cause a bit of a chaotic scene.