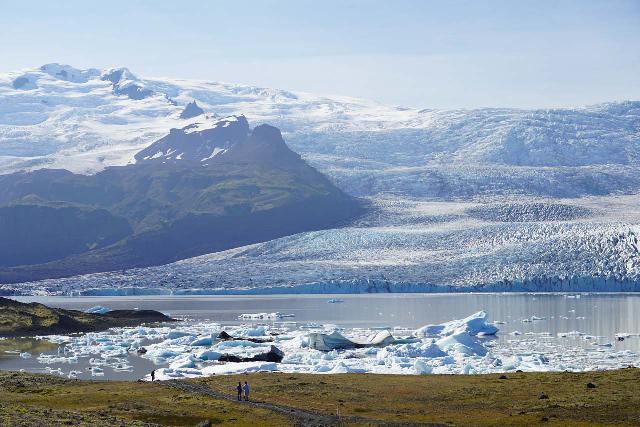 3-August 2021 to 11-August 2021:
Once we were on the other side, we then followed some informal-looking use-trails leading us further along the slope of the grassy mountain before reaching a dead-end at the edge of a cliff looking downstream at the glacial river itself…
While looking in that direction, there was a partial rainbow arcing from the lower left to the top of the gorge downstream, but as I panned over to the waterfall itself, that was when I saw a massively wide and turbulent waterfall on perhaps Dettifoss-like proportions.
In fact, the whole time we were experiencing this waterfall, I was thinking that it might force us to recalibrate our 1-5 rating scale, and it certainly got us to reconsider our current Top 10 Iceland Waterfalls list…
Days 0-1 (August 3, 2021 to August 4, 2021 – Reykjavik, Iceland): "Perpetual Sunset"
It was about 4:30am when we awoke to my alarm, which bought us some time to wrap up on the packing and any other things to attend to before Dad and Mom arrived at 7:15am to go to the airport.
Dad was kind of acting as our Uber driver since we wanted to ensure that there would be no COVID-19 complications going into this trip, especially since we were quite nervous about catching anything at both the airports and within the airplane.
We certainly didn't want an airport shuttle being the venue of contraction.
We'd ultimately arrive at LAX by around 8am, but we wouldn't get dropped off until around 8:20am because there was quite a bit of traffic at the LAX terminals, where it seemed like air travel was close to being all the way back.
Heck, we saw how hectic it was when there were crazy lines going outside of both the Southwest and Delta terminals.
Luckily, the Alaska Airlines terminal wasn't as hectic, and we'd eventually figure out that we had to go to the Assistance line since we wanted our bags to be checked through to Keflavik, Iceland as we were about to get ticketed for our connecting flight to Portland.
It took some time to get processed through that Assistance line because there were a handful of other people in front of us that had to get processed for bringing pets onto their flight to Costa Rica or Liberia or something while others were senior citizens.
Anyways at 9am, we managed to get past TSA pretty uneventfully though it got pretty crowded within that line, and whatever social distancing guidelines for maintaining 6 feet of separation between people was pretty much out the window.
This was especially the case since we had to lower our masks so the security person could make a positive ID before getting us get to the X-ray machines.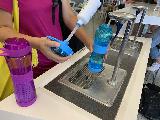 From there, we ultimately got to our assigned terminal for our flight to Portland after filling up on some water (and making use of some bottle filters that some company wanted us to try out) and then we did that connecting flight without incident.
We did notice that on the return flight, we weren't going back through Portland (going through Seattle instead), and I wondered if they changed the flights on us, especially since it was only a 90-minute layover which didn't give us much time.
At least on the way there, we had a two-hour layover, and after a rather rough landing, we needed the two-hour layover since the Portland airport made us walk all the way out of the secure area and have to re-enter through the security lines.
So it wouldn't be until about 2:15pm when we got to eat at the airport as we didn't want to eat on the plane after having seen how tight it was in there as social distancing was impossible, and we pretty much only had around a half-hour left before the boarding time for the next flight.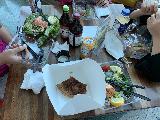 We realized that the place called Caper's Market in the international terminal at PDX was a participant in the Global Priority Pass that came with our Chase Sapphire program.
So we got to take advantage of it as we splurged by getting loads of kombucha, a quiche with bacon, a salmon salad, and a couple of other beverages.
Our pass allowed us pretty much about $84 per pass ($28 per person plus two guests), and we wound up spending upwards of $130 over two cards.
Even Mom got into the act after lunch as she got some croissants and let Tahia get some chips.
Eventually, we got down to our gate for Iceland Air by around 2:50pm, which was just in time for their boarding.
And after going through the formalities of showing our vaccination status and showing them that we had pre-registered and gotten the bar code from the Iceland government's COVID site, we eventually got situated on the plane and it took off on time at around 3:45pm.
The flight itself was pretty uneventful though every row seemed to be occupied. The flight wasn't as crowded as the Portland one, but it was pretty much a single-aisle plane for 7 hours and our COVID-19 concerns were well founded.
Nevertheless, we managed to get some interrupted shut-eye throughout the flight, and I managed to fit in reading some LP info as well as my Icelandic language lessons up to the half-way point of the book.
I also watched this interesting Icelandic movie called Gullregn ("The Garden"), which was really an excuse for me to pay attention to the Icelandic dialog though I found the movie itself pretty entertaining.
It concerned this mother and son's relationship where they gamed the welfare system of Iceland by faking some disabilities until the son managed to bring home a Polish girlfriend that seemed to really jeopardize whatever dysfunctional thing the mother had going.
Anyways, I couldn't help but notice that the outside never really got dark as the skies seemed to be in perpetual sunset throughout the flight before the plane landed on time at around 6am Icelandic time (they were 7 hours ahead of LA time).
Then, we managed to get through Passport Control, which was a busy time as there were two flights that arrived at the same time.
We did find it strange that at the Passport Control and at the customs after the luggage claim that no one really checked for our vaccination status or certificates.
We thought that was kind of a worrying sign for us given how much the Delta variant had been spreading, and whether it had already taken hold in Iceland but no one seemed to heed it (though we did have to take a negative PCR test vaccinated or not as one of the boarding conditions).
It wasn't until about 6:35am when we got past the passport control, and then after taking some more time to pick up the rental car, it was about 7:30am when we finally got to start loading up the Kia Sorrento.
We actually paid another $619 to get the excess reduction cost down to 0, which made our car rental costs jump up to $6000, which was nearly 50% more than what we paid for four international plane tickets!
As we drove off, I realized that my Garmin Nuvi didn't have the proper map for Iceland, which was a concern, but at least we still had the included GPS in the rental SUV though it was quiet.
After getting to a gas station somewhere near Keflavik, we got a couple of sim cards so we can get internet, and we took some time to get that set up so we could at least make a booking for the Blue Lagoon, which was scheduled for 11am as the 10am slot disappeared during our booking process.
At about $227 for all four of us, that was a bit concerning as we were already bleeding even more money on this expensive trip (after having bled lots of money for all the home repairs we had to do throughout the month of July).
So we then moved on in the direction of Grindavik as we saw that there was a lobster soup place that was open (the only one besides gas stations at this time), and we managed to get there at 8:55am.
The cafe was charming as it was situated on the third floor of some kind of active working building, and we struck up a conversation with the lady at the cafe who spoke very good English.
She was telling us that the post-COVID tourism in Iceland was not all the way back and that it was mostly Americans coming to Iceland, but she was also concerned about the spreading of the Delta variant as she was certain it was going around in the country.
Regardless, we pretty much stuffed ourselves on multiple helpings of lobster and vegetable soup, and then by about 10:15am, we got back in the car.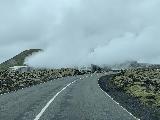 By about 10:30am, we made it to the familiar parking lot for the Blue Lagoon, which was now under a cold drizzle as we were fumbling through our luggage for swimming gear while also trying to stave off the cold as we were getting wet from the intermittent light rain.
Anyways, after all that was done, we then got into the gender-separated locker and shower areas within the Blue Lagoon, and then we spent pretty much the next couple of hours enjoying the warm waters of the Blue Lagoon itself.
This place seemed to be more overrun with international tourists than it was back in 2007 when Julie and I were first here as I didn't hear a whole lot of Icelandic being spoken (it was actually more American as the lady at Grindavik was telling us).
As for our experiences, our rather expensive tickets did cover things like a free drink (so we gotten some kind of green smoothie as well as a couple of apple ciders from Somersby), and then we did some mudding up of some white silica mud to put on our faces.
This time, they had someone give each customer some spoonful of the mud instead of us picking up the mud ourselves, and the footing of the Blue Lagoon seemed more developed than the seemingly smooth but natural surface the first time around.
Eventually at 12:55pm, we were back in the car, but then we had to drive to Reykjavik where I was struggling to stay awake after the long flight and the jetlag that was definitely setting in.
Fortunately, we made it to the Downtown Reykjavik Apartments at around 1:45pm, where we were given instructions to get the keys and then into our rather spacious apartment, which was way roomier than the tight room Julie and I were in back in 2007 at what I think was the Metropolitan Hotel.
I wasn't sure if that place was still here, but this apartment (which wasn't cheap) was quite the upgrade from that experience 14 years ago.
At 2:15pm, we got settled into the apartment, but then I know I succumbed to some much needed napping, and it wasn't until about 5pm when we finally got out of the apartment and did some grocery errand at the Bonus nearby.
Unfortunately, I only learned at the time that the $50 sim card that we had used for my own phone was already exhausted from a combination of my MalwareBytes Privacy VPN and the Gaia GPS using the cell coverage simultaneously with my GPS!
Well, good thing the sim card was exhausted and we weren't running up charges on our phone plan!
Anyways, we bought about $100 USD worth of groceries before getting it back to our apartment at around 6pm, and then at 6:15pm, we went to some nearby food court called Hlemmur Matholl.
It was actually reasonably-priced food where we had gotten a duck confit, a cod, brussel sprouts, and a margarita pizza (from a different booth) while Tahia got some spring roles from a pho kiosk in the food court.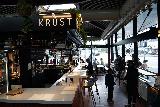 Unfortunately, there was only seating inside and it was already busy in there as outdoor seating was limited thanks to a combination of rain plus a single sheltered table that was already taken up by some smokers.
So it was yet another superspreader kind of venue where we had no choice but to lower the mask to eat, but with all the people around us, it was definitely a concern that someone among us was likely carrying the virus and spreading it.
Nevertheless, the food was delicious and it planted in our minds that we might come back here tomorrow evening for another go at dinner if we don't find something else.
At 7:05pm, we were done eating, and then we decided to retreat to the room because it was suddenly raining quite a bit harder.
But when the rain calmed down at around 7:45pm, we then finally embarked on a bit of a walking tour of Reykjavik, which was something that we hadn't done 14 years ago.
Our walking tour pretty much followed along Laugarvegur, which was kind of like an artsy walking street with some very light vehicular traffic.
Along the way, we went looking for a way to buy hakarl (something I didn't get a chance to try though the Greenland shark numbers were unknown and likely to be endangered so that caused some degree of responsible tourism concerns considering whales and puffins were also on some menus).
We weren't successful finding a chance to snack on hakarl, but we did try some kind of Greek doughnut called Look Koo Mas or something like that, which was actually quite good and was kind of a cross between the Spanish chocolate con churros and the tsao bing you tiao from the Chinese breakfasts.
We wound up walking all the way towards the Harpa Concert Hall at 9pm, which had this reflective pond in front of it though for some reason I thought it was on a much larger pond and the building was in the water itself (which it wasn't).
There was quite a bit of construction going on next door, but at least we were getting our shots of this architecturally interesting building before heading back in the other direction looking for Baerinns Betzu's hot dog stand, which was in a seemingly upscale area.
I swore it was in a non-descript part of the waterfront back 14 years ago, and we were also looking for Saegreifinn's fish soup place (that might have been the place that had the hakarl as well as whale meat) though we didn't have time to get there as Tahia was really complaining now.
Anyways, we then made a beeline following some rainbow-lined street towards the Hallgrimskirkja, which was still quite busy with people taking pictures around it as it was getting to around 10pm.
It was still like a perpetual sunset at this hour when we walked up to the impressive church, and the red-painted door somehow kept making me think of Game of Thrones even though I had never really watched that show.
Finally at 10:25pm, we made it back to the apartment once again to finally crash for the night.
The rest of the night was kind of a blur when I finally crashed into bed at midnight as tomorrow as I was dozing off trying to tend to photos and blogging tasks.
Tomorrow was going to be more of a hiking day as we'd likely divide and conquer so Julie and Tahia could recover a bit, but there wouldn't be an opportunity to do the Fagradalsfjall volcano hike on this day as our body clock was still messed up to even entertain doing that…
Day 2 (August 5, 2021 – Reykjavik, Iceland): "Win Some and Lose Some"
It was about 5am when I awoke to the alarm, but Tahia was already up and she quickly suppressed the alarm after a couple of rings.
Clearly, she was looking to sneak in some screen time on Mom's iPad, which has now reached obsessive proportions, and we had do something about it (like forcing Mom to change her passcode though it would make it hard for Mom to remember what she changed it to).
That created quite a bit of drama in the morning when both Mom and I left the apartment at 6:50am after having our breakfast while Tahia was sulking because she didn't get any additional screen time upon our departure.
Anyways, it was pretty quiet in the morning as we made our way east out of Reykjavik as we headed towards Hvalfjordur and the Glymur Trailhead.
And like the last time that Julie and I made this drive 14 years ago, we made a stop along the way at Sjavarfoss.
Now, that place actually had a signed parking area as well as a trail going by the stone corrals at the bottom leading to the base of the waterfall.
I recalled that trail wasn't there before, and it kind of illustrated just how much things had changed since the days when Iceland was more of a boutique destination back in 2007.
These days, it was one of Europe's more popular destinations, and with that came more infrastructure to make things easier on tourists.
So we went down the trail and over a slippery Japanese bridge before hiking amongst the stone corrals (for sheep, I'd imagine) and then eventually along the banks of the Fossa just downstream of Sjavarfoss.
It was just Mom and I as we got a bit of a closer perspective for this waterfall than what Julie and I experienced 14 years ago, and we even got more profile views of the falls from this close up.
We then had our fill of this place as we returned to the car at 8:05am, and we next continued our way towards the head of Hvalfjordur, where we saw another interesting waterfall by the road en route.
Then, we took a 3km unpaved road continuing east from the head of the fjord, and eventually by about 8:20am, we arrived at the familiar Glymur Trailhead, which was right at the dead-end of the unpaved road.
We were the third car that was here without our early start, and we wasted no time gearing up and starting our anticipated hike that I had planned to take about 5 hours.
This time, there were signs explaining the trail leading to Glymur, and there were also helpful signs along the trail pointing the way to the falls, which promptly had us going in a clockwise manner as it took us towards the eastern banks of the Botnsa River.
Unlike the first time that we were here, we didn't have to follow any yellow dots spraypainted on rocks as the trail was now quite obvious, especially at the junctions.
And so we had no trouble making our way towards the double arch "cave" which I learned was now called Thvottahellir.
After making our way through the "cave", we then descended along the western banks of Botnsa, where we were greeted by a lady that was enjoying her experience as she rested at the base of the double arch beneath Thvottahellir.
Mom and I suspected that she must have gotten an early start since she was on her way back, and perhaps she might have been part of the big van that was parked at the trailhead (as perhaps it was a small tour group).
By about 9:20am, we arrived at the familiar log bridge with a wire to hold onto, but this was a bit trickier this time around as compared to the first time because this required a bit more balance as well as a stretch where we had to balance on rocks to even get to one end of that log.
Good thing we had brought trekking poles to get across it more easily.
Once we had gotten to the other side, we then continued following the well-signed path as we next had to make a steep climb.
But unlike the hike 14 years ago, we didn't need to follow more of the spray-painted yellow dots as we used to make our way up directly up the loose rocks.
This time around, there were chain-aided wire ropes as well as a more established (albeit slippery) trail that led us up this steep and narrow path before reaching the continuation of the established trail along the edge of the narrow canyon carved out by the Botnsa.
By about 9:40am, we started to experience the handful of lookouts providing us partial views upstream towards the impressive Glymur Waterfall.
Along the way, we started to see other people showing up and passing us as we were definitely no longer alone at this time.
And we'd continue along the trail to see even more viewpoints as Mom and I didn't have as much trouble with this trail as Julie and I did 14 years ago when the trail wasn't as well-defined.
By about 10am, we arrived at the signposted Stedjanos View, which yielded us a nice view of the full height of Glymur while standing next to some kind of phallic rock.
We'd then continue our way towards another viewpoint labeled "View 5" further along at 10:10am, which actually had a dedicated viewpoint (basically a perimeter of stacked shale flakes acting as railings) that I swore wasn't there before.
Next, we continued our ascent up towards even more viewpoints as we had gotten more frontal views of the Glymur Waterfall while being passed by another American family along the way as they were making quick progress.
Speaking of the quick progress, we had nowhere near as difficult a time as before as the trail was definitely more signed and more obvious to follow with even more roped sections for leverage as well as some roped off areas to discourage trail erosion.
Eventually by around 10:25am, we managed to get up what was perhaps the closest frontal view of Glymur, which I recalled might have been the turnaround point for Julie and I 14 years ago.
And in another 20 minutes, we got up to yet another viewpoint of the front of Glymur, which got us yet another frontal partial view of the waterfall.
This time, we started to see a couple going down the other side of the waterfall, which attested to how fast they were hiking compared to us.
Anyways, we were now going through uncharted territory as far as I was concerned, and eventually we reached a sign that told us we had to wade across the Botnsa in order to get to the trail on the other side of the river.
That American family that had passed us earlier was already on the other side perhaps drying up their feet before resuming their hike, and now it was our turn to do the same.
For some reason, I thought there was supposed to be another one of those log bridges, but instead, we had to brave the cold water barefoot and use our trekking poles to maintain balance across the slippery bedrock and rather sharp rocks (in a bit of a Naked and Afraid flashback).
By about 11:25am, we made it to the other side of the Botnsa River, where we then sat on the wet grass and waited for our feet to dry before putting them on and resuming the hike ten minutes later.
We saw further downstream that there was another waterfall further upstream, but we decided against doing that as we could see dark clouds surrounding us while I noticed further down by the Hvalfjordur that it was misty with rain down there.
Anyways, after making one more stop at a rock cairn with an unusual view of Glymur's upper tiers from the other side of the river, we followed the easier trail downhill for 3km back towards Hvalfjordur.
There was a 3.2km path along the rim of the canyon by Botnsa, but we weren't up for that as we were now content to make our way straight back to the trailhead.
Along the way down, we were passed by a couple more groups and it also rained on us as we were more than half-way through so we had to get our rain ponchos on and I had to bust out my backpack cover to help Mom's backpack stay dry.
Finally at about 12:55pm, we made it back to the Glymur Trailhead, where there were lots of cars parked there in a bit of a surprise as apparently this spot wasn't as unknown or as empty as the last time Julie and I were here back in 2007.
Next, we then drove towards Thorufoss and it was a good thing that we had fit in our Sjavarfoss visit earlier on because it was totally raining en route.
Eventually at 1:35pm, we made it to the familiar Thorufoss car park, which was a lot wider and it was labeled with a signpost that I swore wasn't there before (yet another one of the infrastructure improvements over the years).
But just as we had pulled up, the weather started to pour hard and so we were stuck in the car trying to wait out the squall.
I guess the timing couldn't have been better because we both were still jetlagged and both needed the power nap so we actually dozed off while waiting out the downpour.
Eventually at 2pm, the rain started to calm down, and then we started to get out while it was still sprinkling while there was a rainbow further down the valley.
And so we took some time to check out the Thorufoss Waterfall from the edge of the canyon rim, but then I noticed that there was a trail that appeared to go down to the base of the waterfall so we then promptly pursued that path.
Eventually, we'd get down to the misty base of the waterfall, which didn't seem like any of this path was sanctioned as it was a little on the narrow and rough side and could easily be inundated if the river level would be any higher.
There was one midge that managed to get into my eye as they were swarming around us (earlier on, Mom had gotten a midge that went into her ear before she extracted it).
There were other people that followed our lead as we were making our way back up, and we spent a few more minutes experiencing the waterfall from the familiar canyon rim before returning to the car at 2:35pm.
Next, we continued the drive back towards the Thingvellir Road as we then made our way towards Trollafoss, but the GPS wanted to take me towards the Stardalur route.
Instead, I followed the more familiar route towards the Hrafnholar Farm, but there was a bit of confusion about getting to the waterfall with only a blue map sign providing any hint of the waterfall's existence.
After a bit of confusion and taking a rather dicey road leading to a lower parking area, I ultimately decided that perhaps there was an easier riverside route from the Hrafnholar Farm on the other side of the river.
So we backtracked and then got to some pullout next to the Hrafnholar Farm at 3:25pm, and then we proceeded to do the rather narrow and muddy riverside trail that eventually got us towards some kind of dilapidated dam structure alongside the river.
Unfortunately, the trail pretty much disappeared at this dam, and so after doing a little exploring, we decided that we weren't going to be able to make it to the Trollafoss from here and so we had to concede defeat.
Just as we were heading back, we saw that there were a few other people making their way to Trollafoss from the rim of the canyon, and in hindsight, I guess we should have stuck with our instincts and taken that path earlier on.
But I still remembered getting to a hard descent and only ended up with a partial view of the waterfall some 14 years ago so I wanted something that I thought was easier.
I guess if we have time to come back here, I'll have to make time to do that again to see if we can finally have success, but it wasn't going to happen on this day as it was getting late in the afternoon.
So you win some and you lose some, and it just wasn't happening on this day.
By about 4:35pm, we made it back to the car as the hike was a fail but at least we learned something about what not to do on this go (you always get some takeaway even with fails).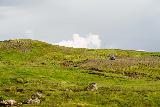 And finally by 5:05pm after a little bit of traffic in downtown Reykjavik, we made it back to the Downtown Reykjavik Apartments where we rejoined Julie and Tahia.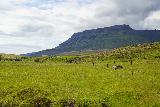 For the rest of the evening, we scoped out the other apartment that we would eventually stay at for the end of the trip (which only had street parking which wouldn't be a good thing since our apartment now had plenty of parking on the property itself).
But I think we could no longer cancel without penalty so we might just have to put up with the inconvenience of not finding parking (and possibly paying more for a dedicated structure; so it wouldn't be as cheap if you factor in the parking).
Anyways, we then decided to return to the Hlemmur Food Court again since Julie's desire to try the Old Icelandic House required reservations and was all indoor seating.
By 6pm, we managed to score outdoor seating so we could eat in peace without the COVID-19 risk inside, and this time we ended up eating cauliflower, brussel sprouts, and duck confit from Krost while having arctic char from Skal, and a gambas and pescado taco from Fuego.
It was a nice dinner again at reasonable prices, and at least we know that we can always fall back on this place as long as we beat the rush, which we did as tour groups started to show up around the time we were done eating at 6:45pm.
When we returned to the Downtown Reykjavik Apartments at 7:30pm after a brief errand run in search of replacement umbrellas that broke on us, we took a look at the web cams as we were intending to go to the Fagradalsfjall Volcano for some night hiking and lava viewing.
But from looking at the web cams, we saw that there wasn't much activity, and the safetravel.is website stated that there was no visible lava activity from the trails (though some of the webcams did show activity but they were positioned probably at less accessible spots).
The lone camera that did have tourists in front of it didn't show activity (other than steaming) and so we deemed that it wasn't worth the trouble to deprive ourselves of sleep just to see steaming black lava. It certainly wasn't the fountain of lava display that was touted back in March and even in June!
And so we decided to get caught up on sleep again as we crashed for the night. Perhaps when we return to Reykjavik, we might get lucky and get another lava fountain eruption, but it definitely wasn't in the cards for us on this visit.
Indeed, you win some and you lose some and that was a second loss after the Trollafoss fail on this day…
Day 3 (August 6, 2021 – Reykjavik, Iceland): "The Golden Crescent"
Knowing that we were going to do the Golden Circle today, the whole family pretty much got up to the alarms at 5am.
I spent some time getting caught up blogging about yesterday's happenings while having a kefir and fruits breakfast, and eventually by about 6:40am, we finally headed out.
The intent for today was to head straight for Bruarfoss (or Bruararfoss), which was a waterfall that Julie and I didn't get a chance to do on our first trip back in 2007.
I had to choose between doing that waterfall versus doing Thingvellir first thing in the morning, and I figured that if we had time to spare then we could try to fit it in at the very end of the day or at the end of the trip.
And so we drove the familiar roads past numerous roundabouts as we went north and then east on the Thingvallarvegin, which was pretty much under gloomy overcast skies that pretty much covered all the mountains on the otherwise scenic drive.
Everyone was still trying to get caught up on sleep and getting over jetlag so I was pretty much the only person awake shortly after getting past some horse farms that at least got Tahia's attention.
Anyways, after getting past an extensive 50km/h zone while driving near Thingvellir National Park, we'd eventually reach the Bruarfoss Trailhead at 7:55am, which was signposted, and it was pretty much next to a road bridge over the Bruara.
So I guess the waterfall that we were visiting was aptly named since Bru was the Icelandic word for bridge.
Nevertheless, it took us some time to get started, and so we wouldn't start hiking until about 8:15am.
While doing the hike, I learned about 20 minutes later that my Cotton Carrier Strapshot was stuck and so I had to detach it from my camera as well as from my backpack.
It seemed like everything was breaking on this trip, but this was quite disappointing because our Cotton Carrier wasn't that old (we only bought it last year)!
Anyways, I had to get readjusted to not being able to use the Cotton Carrier anymore and rely more on the camera bag again, but perhaps even more scary was that the strap that I was used to using was no longer available so I really had to watch out for dropping the camera.
Speaking of which, I think what did the Cotton Carrier in was during the Glymur hike yesterday, the camera dropped after trying to put it in the Strapshot, and unfortunately, I didn't have the string attached so it fell to the ground and probably bent or dented the interface peg.
After all, it kept getting stuck, and I guess this thing wasn't as sturdy as they claimed it was (or perhaps the force of the fall from the camera was too great?).
Regardless, the hike went on pretty uneventfully as we first hiked on a wide open track before getting to some signage and some rock bridge over a side stream that then went into a rather muddy stretch with quite a bit of vegetation flanking us.
By this time, we took out our trekking poles to make it a little easier for Tahia and Mom to maintain their balance amongst the muddy terrain, but by 9:05am, we ultimately made it to the Hlauptungufoss, which was the first of three waterfalls on this hike.
This was a rather powerful chute as the Bruara was squeezed into a narrow ravine full of sharp and interestingly-shaped volcanic rocks.
It was also quite slippery here so we made sure to stay back from the edges while trying to take photos of the pronounced glacial-flour blue waters that did kind of seem like a smaller version of Salto Grande in Patagonian Chile.
After having our fill of Hlauptungufoss at 9:20am, we then continued along the trail just as a couple of other parties had passed us (so we weren't alone anymore).
But by about 9:35am, we then saw the Midfoss, which was the aptly-named middle of the three waterfalls though this one was more of a series of rapids and small cascades.
So we didn't linger as long for this waterfall as we did for the first one, and so we continued on as the trail would keep following the Bruara River while splitting into parallel or optional trails that ultimately converged further along (so it didn't matter which path we took).
The hike would continue as we followed along the river before there was a split in the path where we took the path on the right as it ascended somewhere near some Summer homes.
Apparently, those Summer homes were what established private property, and the former access to Bruarfoss was closed due to trespassing reasons.
And as far as inconsiderate tourists who flout the rules and respect of the locals, I also saw discarded tissues by the trail, which was also not cool.
Eventually by about 10:10am, we made it to the bridge fronting the Bruarfoss, where there were already about a half-dozen people or so there.
About half of the people there had tripods and were busy clogging up the passageways to we'd have to squeeze by the person just to get on the bridge.
Nevertheless, when Julie saw this waterfall, she apparently instantly recognized it as an Instagram waterfall, and for the next several minutes, we took some time using the bridge as a tripod so we could take long exposure shots as this waterfall was conducive to that.
It was too bad there was no sun that would really bring out the powder blue of the Bruara River, but the river was still quite a pronounced blue nonetheless.
So by about 10:35am, we had our fill of the Bruarfoss just as quite a few more people were showing up, and then we proceeded to follow the now-straightforward path back to the car.
There were lots of people now going in both directions though it wasn't as crazy as I'd imagine Geysir and Gullfoss would be, which was our next two attractions that we were about to hit.
Throughout the return hike, I kept playing Song 2 from Sigur Ros in my mind as I was thinking back to how this Icelandic family that we met while trying to buy an Icelandic GPS and map back in 2007 introduced us to Sigur Ros (which was later reinforced by hearing them on Triple J Radio in Australia).
I always thought Sigur Ros was the perfect band for the mood that Iceland can invoke, where it was pretty much natural beauty that can give you a good cry, which is pretty much Sigur Ros' music now that I think about it.
Well, by about 11:45am, we finally got back to the car, where sure enough, the trailhead parking was quite busy now (whereas we were only one of two cars when we had gotten started).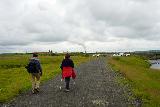 Next, we drove further east on the Golden Circle Route, where we then got to the Geysir Visitor Center at noon, which was basically a large car park area with restaurants, shops, WCs, and other things.
It was definitely way more developed than when Julie and I remembered it in 2007, but then again, perhaps the folks here learned from the past and made sure tourists would be parking at this built-up area instead of closer to Geysir like I had remembered doing back 14 years ago.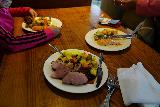 In fact, I noticed that there was signage indicating that the main entrance was further up the road somewhere between the nearest parking and this visitor center complex so perhaps they're trying to get all the people walking through that main entrance.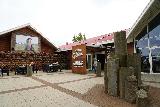 Anyways, before visiting the Geysir area, we decided to head inside the cantina, where we got some average cafeteria-style food, which made us appreciate how spoiled the Hlemmur Mattholl was in Reykjavik for each of the previous two dinners.
We wound up having lamb, meatballs, and three trout, which was the catch of the day. Unfortunately, we couldn't eat outside with this cafeteria food so we had to take a chance by eating inside.
Once we had our fill of the lunch, we then got into visiting Geysir, where we pretty much walked towards Strokkur and watched it go off about 4 times during our visit (the last two times had impressive eruptions while the first two were head fakes).
We knew that the legit Geysir wouldn't go off so we pretty much cut short this visit and got back to the car at 1:30pm.
Next, we headed out towards Gullfoss, where we'd eventually get to the familiar spacious upper car park (instead of taking the more limited lower car park) at 1:40pm.
As soon as we parked the car, we saw an impressive glacier in the distance, which I suspected (and later confirmed) that it was the Langjokull, which was the source of the Hvita River that Gullfoss was run on.
With my telephoto camera, I took a few distant shots of the glacier in the distance, but after that was done, we then returned that heavy telephoto back to the car while I had my more legit all-purpose camera so we could document our experience at Gullfoss.
The first thing that struck Julie and I about our visit was that the trail leading to the overlooks at Gullfoss seemed much more developed that we remembered them being.
While Julie and Tahia made a beeline for going down to the lower overlooks and eventually the trail leading to the brink of profile of the two tiers of Gullfoss itself, Mom and I took the upper path leading to a more regal overlook of Gullfoss.
From up here, Mom finally got to see this Top 10 waterfall (at least for our World List) though I was bumming that we didn't see any rainbows even though the sun was coming in and out at the time.
Eventually, we'd go down the steps and rejoin Julie and Tahia where we'd take a few obligatory shots from somewhere in front of the lower car park while we also noted some of the changes that were made down here.
The first thing we noticed at this lower level was that the car park wasn't for tour buses anymore, and we suspect they're trying to funnel tour traffic towards the upper car park where there's more shopping and restaurants up there.
Leaving tourists down here at the lower lot seemed kind of useless since most tour group people want the creature comforts, which was totally lacking at the lower lot.
Regardless, we'd ultimately get to the misty brink of the lower falls and the front of the upper falls of Gullfoss, where it was quite crowded here and we were glad that we had been wearing masks given the high concentration of peoples from around the world here.
When I saw that the sun was still out while we were this far out by the drops of Gullfoss, I decided to head back as soon as I could to take photos of Gullfoss with rainbows.
So I made quick work of the trail and then took some rainbow shots from the lower lookout area where the rainbow stretched across its full width.
Then, I quickly went up the metal steps so I can get right back to the higher overlook to get more rainbow shots of it fronting Gullfoss, which I did manage to do.
And it was good timing because I barely had a few minutes before the dark clouds pretty much engulfed the sun while the squalls started to get closer and closer.
Ultimately by about 3pm, we made it back to the car right before the squalls would overtake us.
And so we headed west before going south as we were headed to the Faxi Waterfall, and we'd ultimately get there at about 3:20pm.
Unlike the last time Julie and I were here when we just went to find some place to park and then walk down to the bottom to experience the falls more personally, we saw that there was a kiosk and barrier charging tourists 700 ISK to park, which was yet another change from our visit 14 years ago.
Although I wasn't too pleased about bleeding money so fast on this trip, I did agree with needing to charge people to visit so the proceeds could at least go back towards maintenance and upkeep of the tourism infrastructure.
This was something we could certainly learn and apply from the Europeans since they seemed to have this concept done correctly.
Regardless, after checking out the wide Faxi Waterfall from the uppermost lookout, we saw that you could drive down to the lower unpaved lot somewhere below some restaurant.
And so Mom went back to the car so she could drive down there while I was taking my time going down to a middle viewing platform (none of this stuff was there 14 years ago), and then when I met up with Mom down below, we took the rest of the path down to the familiar base of Faxi and the salmon ladder.
It was quite misty down there, and we had to share the lone dry spot with another American group of visitors, but we'd eventually get our shots and then be joined by Julie a few minutes later, before we had our fill and then headed back up to the car at 3:45pm.
Even though it was getting late in the afternoon, I thought that perhaps we could still fit in a brief visit to Thingvellir and the Oxararfoss Waterfall before getting back to Reykjavik.
And so we did exactly that so perhaps we could lessen the sightseeing burden on our final three nights in Reykjavik at the end of this trip.
Thus, the drive went along pretty uneventfully though there were some mean looking squalls in the distance surrounding us, but none of that rain really affected our drive.
By about 4:40pm, we had finally made it to the Oxararfoss car park, but it seemed like the P2 Kastalar car park was closed to the general public.
I also got out of the car and used the pay machine (750 ISK to park here) so we wouldn't get fined for parking here without paying (and paying that administrative fee for penalties per our Avis rental car contract).
And after spending some time to use the restroom down by the P2 car park at 5pm, we then backtracked and went up some steps and wooden boardwalks towards the Oxararfoss.
This time, I didn't recognize the path at all, and when I got to the viewing deck area fronting Oxararfoss at 5:15pm, I saw this even this spot was totally built-up and new.
Indeed, improved tourism infrastructure was definitely the rule rather than the exception, and it further illustrated that our last visit to Iceland was really at a time when most tourists hadn't really noticed it yet.
We'd eventually have our fill of Oxararfoss, and then we headed back down the car park, where Julie and Tahia stayed with the car while Mom and I continued following the path along within the fissure en route to the Logberg (Law Rock).
It was a little bit of a recreation of the visit that Julie and I made here 14 years ago though we went even further towards some overlook, but at least we got a taste of the interesting formations around the Law Rock at around 5:55pm.
Heck, we also noticed a cascade near the Drowning Pool, which was actually above yet another cascade that was tumbling below the footbridge.
With time running out at the end of this busy day, we'd ultimately get back to the car at around 6:10pm, and finally we could make the drive back to Reykjavik for our final night in town before the end of the trip.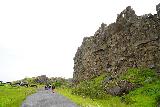 Ultimately by about 6:55pm, we made it back to the Downtown Reykjavik Apartments, but none of the parking spaces in the back were available so we had to settle for the tight spaces in front of the building.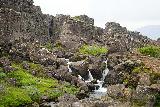 And with that, Mom Julie had prepared some shrimp pasta as we were trying to empty out the fridge knowing that tomorrow we were going to be in a small hotel near Vik at the southern tip of Iceland.
The rest of the evening was pretty much spent getting caught up on today's blogging action while naming and organizing photos and videos.
However, I was particularly frustrated at the lack of ability to find the names of Icelandic songs that we had been hearing on the radio the entire day via the K100.5 FM station.
I probably spent more time than I should have trying to figure out what this song with horns was called after hearing it at least about a half-dozen times over the past two days.
And man I wished they'd back announce these songs (which they didn't) nor was there song info for each of the songs showing up on the radio while they were being played by the radio station.
Heck, they didn't even bother with the playlist on their website which was further disappointing so I guess I'd have to catch lightning in a bottle again in the hopes that I can at least get some songs that would bring me back to this Icelandic trip…
Day 4 (August 7, 2021 – Vik, Iceland): "Hvilikur Dagur"
It was 5am when I reluctantly awoke to the alarm, and shortly thereafter, my Mom also got up.
It took Julie and Tahia a bit more time for them to get up, but eventually when they did, I had already had a kefir with fruits breakfast and started loading up the car.
I eventually had some eggs to finish up (as part of our effort to clean out the fridge of all the $100 USD worth of groceries from our first full day in Iceland) before I finished loading up the car at 6:30am and then I waited for the rest of the group to catch up.
Eventually, we ultimately got into the car at 6:45am and headed out of Reykjavik to start our journey going counterclockwise on the Hringvegurinn (Ring Road).
I thought it was a good sign that we were starting to see sun in the morning for the first time on the trip, but as we headed further to the southeast towards Selfoss, that sun was shortlived as we entered fog and then eventually it started raining again.
The conditions would persist like this until we would get to the familiar Seljalandsfoss at 8:25am.
There were already quite a few cars parked here, but there were also lots of empty spaces as well as it seemed like we were ahead of the tourist crush at the moment.
Both Mom and I were eager to get started, but Julie and Tahia stayed in the car to keep on sleeping.
Anyways, Mom and I promptly donned our rain ponchos because it was still kind of raining when we got out of the car, but we also knew that we were going to be subject to the spray from the waterfall.
After I had to fumble with the pay and display machine to forfeit 700 ISK to park here, I then caught up to Mom who started to get to the looping part of the walk that goes behind Seljalandsfoss.
We then slowly made our way into the spray zone where the metal steps as well as the rocks were slippery and we really had to watch our steps.
Also, the wind generated by the waterfall further conspired to blow our rain ponchos upwards, which wouldn't do me much good since I was also using it to protect the mirrorless camera.
Nevertheless, we then slowly and gingerly made our way across the backside of Seljalandsfoss making sure the steps we took were sure and steady as we didn't want a slip and fall here.
Then, on the other side of the waterfall, there was even more spray getting onto a very slippery wooden platform with a loose wooden railing that didn't offer a whole lot in terms of support.
But aside from that hard part, we then went down steps and ultimately rejoined the road where I then backtracked to take more photos from a bridge upstream to the falls.
Just then, there seemed to be the tour bus invasion as scores of people started to make their way counterclockwise onto the Seljalandsfoss loop.
As the first people started to come down the other side, that was when I headed back in the other direction to catch up to Mom as we were both headed to Gljufrabui.
Unlike 14 years ago where Julie and I drove from one car park to another (for Gljufrabui), this time, Mom and I walked the 560m or so passing by at least two other waterfalls before making it to the familiar chasm hiding Gljufrafoss.
I also explored a small cave and a dead-ended path (not sure what those trails were for), but then we ultimately got into the spray zone in the tight confines of Gljufrabui where there were already several handfuls of people crowding there to get there shots (social distancing notwithstanding).
I swore that the last time I was here with Julie 14 years ago, I had no choice but to get my feet wet to get into the tight confines of Gljufrabui (maybe because June back then was peak flow?).
But now, it seemed like it was fairly straightforward to get into the chasm without even getting the feet wet, and Mom was able to get in there without needing to change her shoes.
Regardless, I then whipped out the iPhone and took photos as well as a video to really showcase what it was like down there.
Then, when it was about time to leave, that was when I finally whipped out the Sony to try to get a video as well as a handful of shots.
Eventually, we had our fill of Gljufrabui, and then we walked back along the same trail to get back to Seljalandsfoss after a little bit of a misunderstanding with Julie as she ultimately got to Gljufrabui with the car and then came back (good thing our texting was still working).
Finally, when Julie came back with Tahia, we then took some family shots with the tripod as we shot against the sun breaking through the clouds (so it wasn't the greatest given the sun artifacts).
By 10:15am, we were back in the car as I took the Canon EOS 70D neck strap from the old EOS 70D camera with the telephoto lens and then I put it on the Sony A7 III camera since that was the more valuable tool and the Cotton Strapshot was pretty much done for the rest of the trip.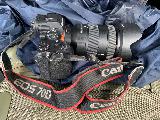 While I was tending to this business, the souvenir and snack shop at Seljalandsfoss finally opened, and Julie brought back a lamb stew or soup, which was surprisingly delicious as they were generous with the lamb meat.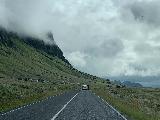 So after finally having this quickie snack (it wasn't really a meal), we then finally left the increasingly busy car park at 10:30am.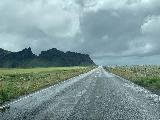 Next, we drove towards Skogafoss where it started raining again as we had arrived at 11am.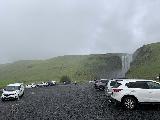 During this visit, we noticed that the Hotel Edda Skogar that we had stayed at the last time we were here 14 years ago was no longer active.
Apparently as Iceland grew in popularity, reusing schools in the Summer to act as accommodations was no longer necessary as there were other accommodations that sprouted up ever since tourism boomed between 2010-2017 or so.
It just goes to show you just how much of a boutique destination Iceland was back in 2007, and I recalled we even were able to stay a few free nights since we had booked lots of Hotel Eddas around the country and summoned enough for those free nights.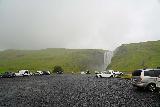 Anyways, we were concerned about some kind of burnt smell that the car seemed to be emitting, and so we popped the hood and noticed that the engine oil was quite black.
Had the car not been maintained with an oil change and thus it was burning the oil?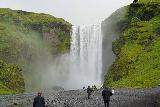 That was concerning to us if that was the case because it was already Saturday today, and I knew that most services would likely be closed for the entire weekend. So we were really worried about the car breaking down in the middle of nowhere.
Regardless, when we finally started to get out of the car, suddenly, the rain started to come down pretty heavy as we sought shelter underneath the rear hatch.
Still, we were getting pretty chilled to the bone and had to layer up as well as don our rain ponchos while each of the ladies held up umbrellas.
It took quite a few minutes for the rain to calm down, but eventually when it did, we then decided to walk along the Skoga River en route to the base of the waterfall along with a whole host of other people doing the same thing.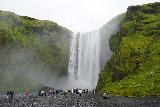 Gone were the days of just a handful of people visiting this place like in 2007 as now there were literally several dozens of people approaching the falls and pretty much messing up any pictures where I tried to get the people for a sense of scale (and not too close to us to overwhelm our framing).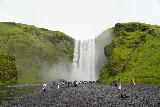 We eventually managed to take some people shots with the iPhone while I briefly went closer to the spray zone at the base of Skogafoss though I was content to get my shots and videos before stopping.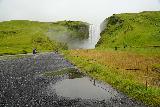 Eventually at 11:55am, we got back to the car, and then Julie called Avis to see if we can get to a mechanic to check it out, but unfortunately, a mechanic in Vik was not available, and we weren't going to drive two hours back to Reykjavik under shortened hours.
Ultimately, the person on the phone said that engine oil for diesel vehicles are supposed to be black, and that perhaps the burning smell (while a concern) might be nothing more than just typical operations (perhaps because there was dust or dirt burning underneath the car when driving unsealed roads).
And while we were tending to these maintenance issues (or potential issues), Mom took some time to go up the steps and check out the top of Skogafoss as well as to explore the next waterfall further upstream.
She'd eventually get back to the car at 12:25pm, and by this time, I decided that perhaps we shouldn't pursue Kvernufoss since I had already done that 14 years ago and the weather was turning foul again.
Besides, there was still a glacier to visit before getting to our next accommodation, and so we decided to pursue that glacier, which was called the Solheimajokull Glacier.
Fortunately, that drive was pretty short as we got to the car park for the glacier at 12:45pm, and even though it was still somewhat raining when we arrived, it wasn't going to stop us from experiencing this place.
Yet I still wondered that with such an easy glacier to get to, how on earth did we miss this place 14 years ago?!?
Even though it was pretty busy at this trailhead, it didn't feel as overwhelming as it was at Seljalandsfoss or Skogafoss.
And for that, we managed to maintain social distance though we were probably one of the few people wearing our masks as we weren't confident that other people haven't contracted the delta variant and are spreading it.
The walk was pretty nice as it was wide and it provided glimpses of some blue icebergs that floated downstream from the actual glacier terminus.
We also noticed some signage down below near the shores of a lake suggesting that the glacier terminus might have been that far out in the not-to-distant past.
When we eventually got the sanctioned lookout for the Solheimajokull Glacier, we could clearly see that there were some people that went past the roped area of the lookout area and descended closer to the terminus of the ice.
The last time Julie and I were this close to a real glacier was when we visited the Briksdal Glacier in Norway back in 2005 (it wasn't possible on our last visit in 2019). So it had been a while since we managed to get a good glacier experience.
And so after taking our obligatory shots at the overlook, we then headed down the gravelly slopes and pathways along the shores of the lake at the terminus of the Solhaimajokull Glacier, and eventually we'd get close to the ice where other people were.
That was where we noticed an "Ice Arch" high up by where the paid tours onto the glacier were taking place, but we also spotted some ice caves and/or tunnels.
It was hard to leave this place as we tried to explore this place and really enjoy it to the best of our ability as the glacial ice was rapidly melting given all the falling water coming from the ice).
So who knows if we're ever going to see this place again, let alone another glacier with substantial size?
But eventually, we finally had our fill of the Solheimajokull and it was time to return to the car, where we pretty much went back the way we came in.
By about 2:25pm, we had finally made it back to the car park, where I realized that we had spent way more time than I had originally anticipated, but in this case, it was worth it.
Next, we drove further to the east as we headed to the Hotel Dyrholaey, and we'd eventually get there at 2:45pm.
Although the receptionist said that it was too early for our rooms, we did manage to drop off our belongings inside so we could drive a bit with less of a burden and theft risk.
Then, we were back in the car at 3:20pm, where we promptly continued further to the east to get into the town of Vik.
As we entered the town, Tahia immediately recognized that the church standing above the town was actually the one on the LP cover!
We were quite impressed with Tahia's attention to detail for matters like this as we never saw that coming.
Anyways, by about 3:30pm, we eventually settled on this place called The Soup Company, which was what we were in the mood for given the chilly and rainy weather we had been experiencing.
This place had a free refill of any soup of your choice, and so we tried out different things like some kind of chicken tortilla soup (who knew you could have this in Iceland?), their signature lava soup (basically some kind of gulash soup), a meat soup (the one in Seljalandsfoss was better though), and Tahia's croque monsieur panini.
For all intents and purposes, this was a lunner that kind of hit the spot though we did have concerns about eating inside.
Nevertheless, when we were done with the meal, we then stopped by the Kr Super Market in downtown Vik at 4:35pm, where we let Julie run her errands in the store while I did some exploring to see if there were some photos to take of the surrounding area.
As I was doing this, I had noticed that there was a short trail with a signpost pointing the way to "Black Sand Beach".
And when I got there, I was impressed by the relative lack of activity down there while also looking towards the spires known as the Reynisdrangar.
I had texted Julie to let her know about this beach when she was done shopping, and I figured she'd summon my Mom and Tahia to come over though it did take them awhile to finally join me there.
So we killed some more time letting Tahia build her own volcano out of the volcanic black sand at the beach, and it wouldn't be until about 5:25pm when we made it back to the car.
Finally, we drove from Vik back towards the car park for the Reynisfjara, which was surprisingly crowded considering it was getting quite late in the afternoon at 5:40pm.
Once again, Julie and Tahia wanted to nap and stay in the car while Mom and I went ahead and wasted no time in getting towards the beach at Reynisfjara.
There were also lots of other people going to and from the Reynisfjara beach, which meant that I had to bust out my double mask as you just never know when people are crowding around you what they're carrying.
While Mom and I took some time to try to compose photos of the basalt columns right up against the black sand beach, there were waves that pretty much threatened to reach up to the columns themselves while there were also the possibility of sneaker waves catching people off guard.
When we started to notice that there were puffins amongst the birds hovering above us in the inaccessible parts of the basalt columns, that was when I ran back to the car to get my long telephoto lens.
Upon coming back, I was pretty much caught between checking out the Reynisfjara with my Sony A7 III camera while trying to capture puffins up above with the 100-300mm zoom lens attached to the Canon EOS 70D.
I also took some time looking back in the other direction towards the sea arches at Dyrholaey, which was something Julie and I did the last time we were here but we weren't sure that we were going to pursue it on this trip.
Mom and I also explored the other side of the basalt columns of Reynisfjara, which put us in the mouth of some basalt "cave" (more like an alcove) as well as another section of beach beyond it.
To be honest, I thought the scenery on the other side was a bit overrated or at least underwhelming so we didn't linger there and increase our risk of getting caught by a sneaker wave.
Anyways, this was yet another place that I found hard to pull away from, but ultimately by about 6:45pm, we had ourselves a bit of a dessert snack of hot chocolate and waffles topped either with berries or some form of dark chocolate.
It was kind of a welcome diversion, and Europeans sure recognize that people are willing to spend as long as they're in a happy mood, which this scenery tended to do.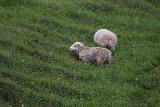 At about 7:15pm, we returned to the car, where we then proceeded to drive back to the Hotel Dyrholaey and get there by 7:30pm.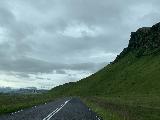 Before retreating to our rooms, Mom and I went to the other side of the building to check out parts of the Myrdalsjokull Glacier.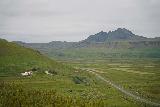 But aside from that, by about 7:50pm, we made it back to our respective rooms and pretty much tended to little tasks (like blogging, organizing photos, getting underwear washed, etc.) before crashing for the night.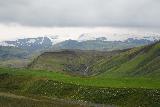 At least I finally found the mysterious song that I kept hearing over the Icelandic radio stations, and recognized that it was Hvilikur Dagur ("What A Day") by Fridrik Dor, which pretty much summed up this day.
Although we didn't hit up all the targeted waterfalls on this day, at least we got to experience a great variety of scenery to break up the waterfall-heavy themed trip.
And with as much as we had accomplished on this day (just as the weather seemed to be improving and promising to improve tomorrow), perhaps tomorrow wouldn't be too ambitious or overloaded considering that we don't have to do them again if we don't need to…
Day 5 (August 8, 2021 – Vik, Iceland): "Bittersweet Symphony"
It was about 5:30am when I awoke to a scratchy throat as well as feeling a little cold in the room.
I was a bit freaked out that perhaps I might have contracted the delta variant of the coronavirus, and I was replaying through my mind how I could keep myself from getting the rest of the family sick.
However, as I brushed my teeth and got ready for the day, the symptoms seemed to have subsided (though it doesn't mean I'm not contagious as COVID-19 has proven to be easily transmitted without symptoms).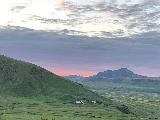 By about 6:40am, I was already feeling better and had gotten into the car under partly cloudy skies though the weather looked to be significantly improved from what we had experienced in the first 4 days so far.
The ladies got into the car and proceeded to munch on some fruits and skyr as our breakfast on the go, and we pretty much headed out right against the morning sun.
The plan for today was to visit Skaftafell National Park, but we also planned on seeing glaciers, especially since it seemed like today was going to be a rather sunny day – something that was noticeably absent throughout all our days in the Capital Region.
The drive east along the Ring Road was pretty uneventful as continued against the morning sun and the skies were continuing to clear up.
We also passed by a new-looking bridge that appeared to be for the F208 to Langmannalaugur, which was a familiar road that we took ourselves to get to Holaskjol as well as going on a 4wd tour to visit Ofaerufoss and Landmannalaugur.
As we approached Kirkjubaejarklaustur, we then turned towards the small hamlet as we had noticed that Systrafoss was actually flowing on this visit (unlike our last visit 14 years ago)!
And so we wasted no time getting all the way to the end of the main drag through the old village of Kirkjubaejarklaustur, and we ultimately got to some space for parking our car (though it wasn't clearly signed if this was a private lot or not).
Regardless, Mom and I stopped to get out of the car to check out Systrafoss at around 7:40am.
Just as we were taking pictures and then pursuing a short trail past a picnic area before going deeper into the "forest", we ultimately deemed that the best shots were from across the road.
After going past a picnic table and then up a narrow well-shaded trail next to some kind of huge rock formation, we'd eventually get to a pair of somewhat overgrown views of Systrafoss as well as checking out some kind of abstract troll adjacent to a pot.
Once we were done having our fill of Systrafoss through pictures and videos, we then got back in the car at 8:05am and proceeded to continue east along the Ring Road as we pursued Skaftafell National Park.
The drive further to the east was pretty much against to sun so it was difficult to appreciate some of the familiar roadside attractions like Foss a Sidu as well as some of its neighboring waterfalls that we hadn't noticed before.
But given the nice weather, we also appreciated views of impressive glaciers in the distance that were all arms of the vast Vatnajokull Glacier.
That said, I did notice a lack of that unpaved stretch of sandur where the Ring Road once went through black sand lined with yellow reflectors as the only indicator to keep us in our lane.
However, this time around, it was all paved and it was as if there was nothing special about the road itself other than a long one-lane bridge with a couple of "pullouts" on the bridge itself.
Then by about 9am, we turned into the Skaftafell Visitor Center access road, which got me to realize that all those glacier arms were really the arms of Skaftfellsjokull and Svinafellsjokull as well as the wide glacier arm of Skeidararjokull.
After paying another 750 ISK for this parking lot (seems like every national park was doing this in Iceland these days), we then started walking towards the visitor center area of the new Vatnajokull National Park.
The park was now a huge expanse of East Iceland and North Iceland, where it joined Skaftafell National Park (the former reserve that we were now in) and the Jokulsargljufur National Park, which was the one in the north encompassing Dettifoss among others.
After making the WC stop, we then proceeded with the hike at 9:25am, but using Gaia GPS, I decided that we shouldn't do the typical out-and-back way route to Svartifoss like we had done the first time Julie and I were here in 2007.
Instead, we should take the "cheater's way" (a road that went to the closest trailhead for Svartifoss) except we should hike it as apparently there was some road infrastructure discouraging going up that way like we did before.
At the very least, that would keep us socially distant, especially for an uphill stretch where lots of people would be breathing heavily and I'd bet no one on that stretch (especially from the tour buses) would be wearing masks.
And so we went ahead and noticed a small hidden waterfall just before one of the bridges before going uphill alongside the familiar one-lane road and then noticing a couple of lookouts for the Thjofafoss, which was the lowermost of the waterfalls on the same stream that Svartifoss was on.
After having our fill of Thjofafoss, we then got to the familiar Hundafoss, which had a rather unusual perspective of the waterfall juxtaposed with the glaciers backing the lookout that seems more developed that I remembered it from 2007 as it was now a metal platform protrusion.
We then kept going uphill as there were some informal trails going down towards the river leading to what I'd imagine was the base or brink of Magnusarfoss, but we just kept going as we'd eventually get up to the start of the hike from the "Cheater's Way" at 10:20am.
Then, we crossed a bridge and went up the much wider and well-trafficked trail up towards Svartifoss as we then made it to the opening at Midheidi at 10:45am.
The trail now had these metal or rubbery things on them, which was there to improve the grip and limit the trail erosion I'd imagine, which definitely weren't there before.
Anyways from the Midheidi vantage point, we could get our first clean look at Svartifoss fronted by a footbridge as well as some attractive reddish mountains in the distance.
Next, we descended towards the waterfall and got there at 11am where now there was a lookout platform as well as fencing trying to discourage people from scrambling further up to the base of the waterfall.
When I went up to the top of the lookout platform, I saw that there was a pleasant morning rainbow going across Svartifoss, which was a nice reward for seeing that waterfall in good weather for the first time on our trip.
It took some time for the ladies to join me at the waterfall, but when they did, Tahia and Julie wasted no time enjoying themselves along the river where Tahia took off her shoes and went right into the cool water while Julie looked after her.
In the meantime, I told Julie of my intentions of going up to a lookout called Sjonarsker as I noticed that it wasn't far away based on what I saw on my pre-downloaded Gaia GPS map.
Mom joined me on our pursuit of Sjonarsker (thinking in the back of my mind that maybe we might see Morsardalur and Morsarfoss), and after going across a bridge and then on an uphill stretch, we got nice views behind us of the Vatnajokull Glacier as we went.
By about 11:35am, we made it to the Vorduskarstofa junction and then went the final 200m to the Sjonarsker, where there was a metal pillar acting like a compass with views all around of the Vatnajokull Glacier overlooking back towards the trail, Skeidararjokull in the other direction, and some reddish mountains in the direction of Morsardalur.
Unfortunately, this part didn't reveal Morsarfoss so I had it in my mind that we should use the telephoto to try to see it from a distance somewhere along the ring road at one of the picnic areas.
So Mom and I had our fill of Sjonarsker, and then we headed back down in the direction of Svartifoss until we heard Julie and Tahia yelling back in our direction as they saw us coming down as they were at the Midheidi clearing.
They told us that they were heading down already and so that put in our minds that we could briefly backtrack and meet them down by Magnusarfoss (again thanks to Gaia GPS for letting us know the trail network here).
Mom eventually went ahead and caught up to Julie and Tahia, but I was busy taking pictures when we got back down by the main trail, which was very close to Magnusarfoss, which I got to at 12:10pm.
Unfortunately, this time, the view of the waterfall was a bit overgrown and hard-to-see so no one really stopped for it, I noticed.
About 5 minutes later, I then got to the familiar Hundafoss view, but now I was on the newly-built metal lookout (instead of the fenced lookout on a ledge like it used to be).
Then, I continued on the mostly downhill trail as I made quick progress paused only by more gorgeous views of the Skaftafellsjokull and Svinafellsjokull in the distance as I was making the steep descent.
Eventually by about 12:30pm, I made it down to the Skaftafell Cafe, where the ladies were also done using the WC and we then went into the cafe in search of a quick bite for lunch.
Unfortunately, the grub inside the cafe was breaded and gluten-filled stuff that Julie couldn't have so Mom and Tahia stayed at the cafe to eat what was there while Julie and I went to the Glacier Goodies food stand for a little outdoor eating.
It turned out that the Baby Back Ribs and the Lobster Soup hit the spot over there, and it was actually nice and quiet alone time for us as we didn't have Tahia trying to steal our phones to get screen time for once.
Anyways, it wouldn't be until about 1:20pm when we finally made it back to our parked car and then proceeded to head over to the Svinafellsjokull.
However, as we tried to drive to its main parking area, there was a roadblock with signage saying something about a landslide preventing vehicular access there.
So we took some photos and then were about to resign ourselves to not being able to experience this glacier until driving a little further east revealed another unpaved and unsigned road that had a lot of cars parked at the end of it.
And once we got there at 1:35pm, we learned that we had ended up at a spot called Freysnes.
Regardless, we wasted no time getting out of the car and started walking closer to the Svinafellsjokull, which was already atmospheric as we could see the upper reaches of the steep glacier arm on the way.
After getting past some small pond or lake (likely pressed down by the Svinafellsjokull when it was a longer arm than it was today), we then got up to the ridges overlooking the terminus of the blue glacier.
Although there were people that went down to the dirty parts of the glacier terminus, we were content to get our views from the ridge for the full picture of the Svinafellsjokull.
Clearly, it had seen better days and I once again wondered how on earth we had missed out on this spot 14 years ago!
Anyways, after lingering here and going nuts taking lots of photos while contemplating the beauty of the place before us while also realizing the bittersweet implications of how much this glacier must have receded, we then returned to the car park at 2:30pm.
With it getting late and knowing that we're going to have a long drive back to Vik (where hindsight being 20/20, we probably should have stayed closer to Skaftafell instead of having a second night at Vik), we then decided to pursue Fjallsarlon to alleviate the burden of tomorrow's long drive to Seydisfjordur.
And so the drive proceeded further to the east where I saw more glacier arms (though the ladies were all asleep and missed out), and eventually at about 3:05pm, we made it to the quite busy Fjallsarlon car park.
From there, we wasted no time getting out of the car and doing a loop hike taking in the pretty glacial lagoon as well as wide glacier itself which also featured lots of blue ice.
After getting us to an overlook, the trail then descended towards the shore of the lagoon where we could get real close to the icebergs there, and we wound up going nuts again taking more pictures while Tahia was interacting with the ice as safely as we would allow her to.
Once again, I couldn't help but wonder how much of this glacier receded since the last time we were in Iceland though this was yet another example of how I wondered how we could have missed this spot back then!
Anyways, after reluctantly getting ourselves to leave, we finally returned to the car at 4:25pm where now we had to get back to Vik, which wasn't going to be for at least another 2.5 hours.
During the drive back, Mom and Julie took shots of the glacier arms that they had missed on the way there due to napping, but now they were rolling down the windows frequently to take shots while I was focusing on the road.
At about 5:15pm, we eventually got to a picnic area labeled Haouldukvisl, which finally yielded a very distant view of the Morsajokull Glacier and finally the elusive Morsarfoss waterfall, which supposedly replaced Glymur as the tallest waterfall in Iceland.
But upon looking at this falls even from the distance where my powerful 300mm zoom brought it in enough to not be a tiny fraction of the frame, it was still mostly covered in ice towards the waterfall's base.
And both Julie and I agreed that this place wasn't truly bigger than Glymur even though perhaps topographically it might be, but that's where you really have to see the places in person to truly understand what's legit and what's just internet fodder for useless discussions and claims.
Indeed, Julie was like "nah, this doesn't count" though I'm sure others would disagree and get into semantics since there's still no consensus definition of what counts as a waterfall.
Anyways, the drive would continue as there was no way we'd be making stops at Kirkjubaejarklaustur to see Stjornarfoss nor Kirkjugolf as I had planned.
And eventually at about 6:50pm, we would make it to the Halldorskaffi since we knew that Sudvik was too booked out, and besides, we had eaten at Halldor's Cafe in Vik 14 years ago.
It turned out that we must have beaten the rush still (probably because Europeans tend to have later dinners after 7pm than Americans do since this felt late for us), but we managed to score outdoor seating as the interior was too packed with people.
Ultimately, we ate a Halldors Burger, Tiger Prawn Pasta, Trout, and a real tasty Lamb Fillet dish, which everyone seemed to like.
I even managed to squeeze in a fill-up of diesel fuel while we were waiting for the food.
And so by about 7:50pm, we were finally back in the car and by about 8:25pm, we were back at the Hotel Dyrholaey.
We had contemplated continuing all the way to Skogafoss and Seljalandsfoss for some sunset pictures, but I was a bit tired and wasn't sure it was worth pursuing them so we could deprive myself of sleep as surely we wouldn't be back until closer to midnight had we done that.
Nevertheless, part of me wanted to seize the moment and do it, but after being out on the road for as long as we were, I just didn't feel like spending another 2-3 hours on the road again this late at night.
And so with that, we crashed in the room as we still had a long drive ahead of us tomorrow knowing that we had to backtrack for another 2.5 hours just to get back to Fjallsarlon before continuing with the marathon drive all the way out to the East of Iceland…
Day 6 (August 9, 2021 – Seydisfjordur, Iceland): "Jump Into The Fog"
It was about 4am when I awoke to the alarm, which allowed me to get caught up on some blogging and some photos and videos processing that somehow didn't finish and forced me start over after spending two hours on it yesterday (damn Adobe Bridge)!
So it took quite a while to get things done while everyone else was asleep, and it wasn't even until about 6am when Julie finally woke up as even Tahia put the pressure on to get Julie up.
We were actually supposed to have left the hotel at 6am given the long day of driving that was ahead of us.
Anyways, we ultimately got into the car at about 6:30am, where we had left groceries in there since we figured that Nature provided natural refrigeration considering that our rooms at Hotel Dyrholaey didn't even have a refrigerator.
We actually ate our stuff inside the car (considering how COVID unsafe it was to do so in the hotel) so we quickly ate our skyr and fruits.
Then, when we headed out, we could see that it was a very clear day, which made us anticipate having a field day in terms of sightseeing (perhaps a repeat of yesterday's fine weather).
The familiar drive out east along the Ring Road was pretty uneventful save for a cop waiting to nab speeders (but I had my cruise control on) as well as one close call where I hugged the shoulder a little too much and nearly went off the road during my cruising!
Indeed, without making any stops, everyone was pretty much asleep except me, and we'd ultimately get past the Skaftafell NP area before approaching the glacier lagoons that we had contemplated visiting yesterday.
However, as we were about to turn the corner after getting past the Svinafellsjokull entrance, we saw that there was a layer of low clouds or fog that seemed to hover over the area and change up the perfectly clear day.
Instead, it became more of driving under the low cloud ceiling which instantly changed up the scenery as it now pretty much covered most of the glaciers that would have been visible.
And so after getting past the familiar Fjallsarlon, I could see that it was somewhat visible but the fog really changed up the scenery from the blue ice that we were seeing yesterday to nothing more than a partial view.
But the further we went, we were getting deeper into the increasingly thickening fog, and I knew that the Jokulsarlon experience was going to be nowhere near as good as the Fjallsarlon experience was yesterday.
I was hoping to compare the two experiences now, but I guess the fog just wasn't going to let that happen.
Anyways, by about 8:55am, we turned into the west side of the Diamond Beach, where there were already a handful of cars checking out the icebergs that were washing towards the famous black sand beach.
Julie and Tahia were still in the car asleep as apparently the thought of being close to the icebergs and ice chunks contrasting against the black sand beach wasn't enough to get them out of their slumber.
So Mom and I went ahead and went right onto the beach in the direction of the icebergs that we saw from the car park already.
I made a beeline for a long bluish iceberg that was kind of stuck near the rock-stacked jetty, where I unexpectedly encountered what appeared to be a family of ducks chilling out.
They didn't seem to mind me trying to take pictures of this blue iceberg though they them started to slowly walk away as I was trying to better position myself for a photo.
The water coming from Jokulsarlon upstream was running at a very fast rate so it was going to be very bad news should someone get into the water, and that was first and foremost on my mind as far as Tahia was concerned once she gets to experience this place.
I could also see that Diamond Beach was technically on the other side of this fast-running glacial river according to Gaia GPS.
However, it seemed like the side we were on was already the best in terms of seeing the icebergs up close as they were pretty much all washed to this side.
And so began a pretty long stretch of being mesmerized by the icebergs and the nearly clear "diamonds" contrasting the black sand beach that were further up ashore (attesting to how high up the tides must have been earlier on).
Even though it was still foggy and it cast a rather gloomy air about this place (thereby preventing the glacier arm responsible for Jokulsarlon from being seen), we still got to really experience Diamond Beach.
Indeed, seeing the blue icebergs up and close as well as the clear pieces really brightened our moods and drew lots of camera clicks.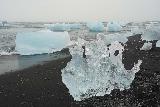 However, when I saw how quickly more icebergs were moving from Jokulsarlon then passing under the bridge before getting in front of us, that was when it dawned on me that each of those icebergs that washed out to the ocean was adding to the sea level rise around the world!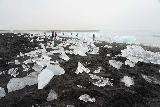 Heck, I never recalled that Diamond Beach was a thing when Julie and I first came to Jokulsarlon in 2007, but now after seeing so many icebergs washed ashore, it made me wonder if this was something that would become more of a thing as Global Warming spirals out of control.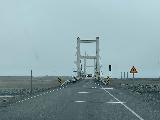 It took a while before Julie and Tahia finally got out of the car, and then we spent even more time letting Tahia and Julie become dazzled by the display of "diamonds" before them.
We did have to keep a close eye on Tahia (let alone ourselves) because there were some waves that threatened to engulf people standing too close to the icebergs.
But aside from that, we pretty much did our thing even as a tour bus dropped a huge busload of people and dramatically increased the number of people visiting this site before they left.
It was a good start to the day even though we knew the Jokulsarlon experience was impacted by the fog, and by about 10am, we were finally done with the Diamond Beach.
By 10am, we had our fill of Diamond Beach and then we went across the bridge and headed up to Jokulsarlon five minutes later.
Unfortunately, as expected, the glacier arm of Vatnajokull (didn't know its name) responsible for the huge icebergs that we saw (even bigger than the ones we saw at Fjallsarlon yesterday) couldn't be seen through the fog.
That said, we just spent a few minutes to take some shots of the huge icebergs that were actively cracking and calving before we had our fill by about 10:35am, and then we resumed our long drive further along the southeast of Iceland.
The drive would then weave in and out of the fog as sometimes we'd see more attractive glacier arms to the west, and Mom found a new hobby of taking pictures of the glaciers fronted by glacial rivers whenever we'd be near or on one of the many single-lane bridges along the Ring Road.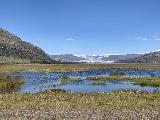 In a spontaneous go, we then decided that it was getting close to noon so perhaps we should stop by Hofn so we could have an early lunch and eat their best restaurant as far as getting langostines (i.e. "lobsters") was concerned.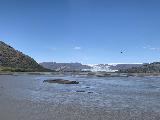 Sure enough, by about 11:40am, we arrived at the Pakkhus in Hofn, but the namesake harborside town was shrouded in fog once again so seeing the glacier arms across the harbor was lackluster thanks to the thick fog.
The Pakkhus Restaurant was still closed until 12pm so we had to kill some time, but once they finally opened (just as more people were showing up in anticipation of eating here), we ultimately got seated and splurged by ordering 2 langostines, a langostine soup, and a langostine sandwich.
When the food came out and we finally started eating the much anticipated langostines (not lobsters), we were blown away by how fresh the food was as it was easily one of the best meals we've had on this trip.
Of course each langostine was nearly $90 USD by itself so this was also one of the most expensive meals of this trip, but it turned out to definitely be worth the detour and the extra time spent here.
Even the "lobster" soup and the "lobster" rolls (oops, I mean sandwich) were really good though Tahia had already stuffed herself on junk food so she didn't get to fully appreciate the food she was getting.
By about 12:55pm, we were back in the car as it seemed like the fog was starting to lift and the sun was starting to come out, but we were already getting late on time as we still had some 250km to go before getting to Egilsstadir and then head east to Seydisfjordur from there!
Plus, we still had at least 3 or 4 waterfalls to stop for en route!
And so even though the fog was starting to burn off at Hofn, we couldn't linger, and then as we kept driving north along the Eastfjords, the fog came back and it was pretty much this way for the rest of the afternoon whenever we were driving along the Ring Road.
By about 2:10pm, we arrived at the familiar "waterfall by Djupivogur", but now it seemed like there was some cottage or guest house or something that prevented any public access to get in front of that waterfall.
Instead, we had to backtrack from Bragdavellir Cottages and go across the bridge and then follow the road Hamarsel before finding an informal pullout near some bridge as the unpaved road turned a corner.
From there, we got out of the car and tried to take pictures of the distant waterfall before heading towards the bridge going over the Hamarsa.
That bridge was in bad shape, but then when I saw that there was some kind of wire fence on the other side of this fence, that was when I realized that you can't get to the front of the waterfall without staying at the cottages.
So that was a bit of a bummer.
Regardless, since we were close to the car, I got out the super telephoto lens, and then took pictures and videos of the distant waterfall bringing the entity closer with that lens.
And by about 2:30pm, we were back in the car to resume our drive.
By about 2:55pm, we then arrived at what seemed like the Fossa car park, which was on the south side of the Fossa River.
However, Mom went past a protective stile, and then onto the rocks where she went as far as she could towards some large lake or pool, and told me that there was no waterfall there.
That was when we realized that we should drive past the bridge and then take the steep road up to get to what my notes referred to as the Nykurhylsfoss or Sveinssteksfoss (or even Fossardafoss according to Gaia GPS after the river).
So by about 3:10pm, we were up above the steep road and at the better car park, where we were treated to nice views over the Fossarvik and surrounding mountains as the fog didn't quite fully penetrate this inlet.
Then, we went down to the well-established overlook where we then looked against the sun down at the impressive waterfall before having our fill of it.
As we walked back to the car, I briefly explored behind another stile just to see where this trail went, but it was quite overgrown and rather exposed to steep slopes so I decided against pursuing it for too long.
I surmised that it might have gone towards the top of the waterfall, but we were running short on time so I didn't want to push my luck on this one.
By about 3:30pm, we were back in the car again, and then we continued the drive towards the next waterfall, which was Folaldafoss.
To get to this waterfall, we had to drive Axarvegur (Road 939) which seemed to be part of the re-designated part of the Ring Road despite being unpaved, and we'd eventually get to the Folaldafoss picnic area at 3:45pm.
When we showed up, there was only about one other car here, but as we were checking out the views, there were instantly another two or three cars that showed up to really made the car park and picnic site rather busy.
Anyways, Mom and I pursued a trail that went closer to the Folaldafoss waterfall, which was on a pretty straightforward trail.
Unfortunately by the time we got closer to the waterfall, we were kind of looking against the sun at it while it was in half shadow so we had to get creative with trying to shield our cameras as well as getting even closer to get the sun to be obstructed by the neighboring cliffs.
Just as I was busy taking videos and pictures while Mom started heading back, there was an Indian family that showed up and started to pretty much enjoy themselves and stick around here for good so that was when I excused myself and headed back to the picnic area.
By about 4:15pm, I was back at the car and rejoined the ladies.
By now, we were starting to get waterfall-fatigued but we still had one more waterfall to go on this day before finally getting to our accommodation – Flogufoss.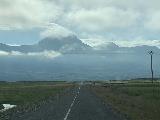 According to the Garmin Nuvi, I should have kept going up the gravel road on the Axarvegur before heading back in the other direction down the valley to reach the Flogufoss.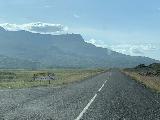 However, not knowing how the roads would be, I ultimately decided to backtrack to the 1 and then follow the coastal route towards Breiddalsvik before taking the 95 inland in the direction of Flogufoss.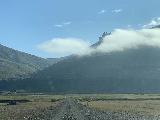 This was a more distant route, but I figured it was a more sure route as far as I was concerned though we pretty much went back into the fog in doing this.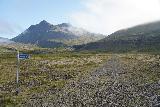 In fact, the fog in this inlet was rather thick and as we drove up the 95, the fog still reached pretty deep inland until it finally started to clear somewhat as we were approaching the 966 road heading west across the Breiddalsa River.
After a little back-and-forth as we had trouble finding the proper place to pull over to visit Flogufoss, we ultimately decided to park next to the Flaga sign at 5:25pm, and then Mom and I started to hike the rather dodgy, rocky 4wd road closer to Flogufoss.
The walk was somewhat straightforward as we would eventually get beyond the 4wd road and then onto a more narrow trail that seemed like it was "blazed" by people who have visited this place before.
I got the feeling that this was more of a locals or photographers waterfall as the trail didn't seem to be maintained at all and it was pretty much an informal trail.
But it ultimately skirted alongside some embankment before finally dropping down into the gravel stream of the Flogua before crossing to the other side and then climbing onto a hill for a closer and more intimate look.
We'd eventually get to a point where we could see some strange pinnacles called the Flogutindur, which backed the Flogufoss, but the fog kept swirling around the falls and conspired to block the view of it.
In fact, Mom had given up on trying to photograph the thin falls with the Flogutindur behind it, but it started to momentarily clear up just as she was heading back.
And so I got what shots I could of the scene before finally heading back to join her on the way back to the car, which we'd get to at 6:30pm.
From there on out, we then finally made the home stretch to our accommodation as we opted to take the inland route up to the head of the valley and then follow some highland route (away from the fog) all the way to Egilsstadir, which seemed to be much bigger than it was in 2007.
Then, we ultimately went up the steep road to the pass before going down into Seydisfjordur, but we could see that there was a thick blanket of fog and that there wouldn't be any waterfalls to be seeing as long as that blanket was around.
Plus, the drive itself was rather dangerous since visibility was so limited as we were hitting each switchback without much advanced warning.
Finally at 7:55pm, we made it to the Media Luna Guesthouse, where we promptly checked in and got into our rather nice family room.
After getting our stuff put into our fine guesthouse room (which had an upstairs loft), we then headed out for a late dinner at this place called Kaffi Lara El Grillo Bar.
We saw that it was very busy inside the establishment, and it wasn't really COVID safe to be eating in there despite it being quite cold in the fog outside.
But we nevertheless snagged one of the tables as far away from the cigarette smoke as we could be, and then we proceeded to finally have our dinner under the cold, which consisted of some Baby Back BBQ Ribs, some pork chop, and lamb loin.
Apparently, they had ran out of their signature foil-wrapped baked cod so that was a bummer.
Anyways, after having our meal, we finally retreated to our room at 9:45pm, where we then crashed for the night after this very long but fog-affected day.
I sure hoped that the fog wouldn't be affecting our stay in Seydisfjordur any more than today, but I had a feeling that it was going to be a stubborn presence…
Day 7 (August 10, 2021 – Seydisfjordur, Iceland): "From Controversy To Internet Darling"
It was about 4:55am when I managed to awake without my alarm, which was set for 5:30am, and upon looking out the window, I could see that the fog was significantly reduced, which raised my hopes of getting out and about and experiencing the east-facing waterfalls above Seydisfjordur.
However, as I was busy trying to get caught up on blogging and photo/video organization matters, by about 5:50am (when Mom went downstairs), that was when I saw that the fog had returned!
Bummer! And it happened so quickly!
It seemed like fog was the bane of our Seydisfjordur experience, and now I wondered if we were going to have to deal with this for other parts of Iceland that involve coastal scenery.
Nevertheless, the fog didn't seem to be as thick as it was last night so Mom and I took a punt and decided to go up above Seydisfjordur to see if at least Mulafoss and Gufufoss might be above the blanket of fog.
So by 6:25am, we got into the car, and then we drove up above the town, where by about 6:35am, we made it up to a picnic area somewhere near the pass between Seydisfjordur and Egilsstadir.
Up by this waterfall, it seemed like the fog didn't reach this high above the fjord though Gufufoss definitely was shrouded in the fog.
Anyways, when we got out of the car, I noticed that the trail led towards the organ-shaped rock that once stood at the overlook for Seydisfjordur.
I swore that in the past, the road leading down to the fjord actually passed by this lookout with some parking space to check out the views down to the town of Seydisfjordur.
But I guess these days, this overlook was more or less hidden, and only those who bothered to stop for the picnic area like we did would get a chance to experience this overlook.
Since the view down to the fjord was mostly blocked by fog, we then descended what looked to be some use trails before they started to disappear and we then had to look for rocks or signs of past activity to try not to trample the moss.
Eventually, we got down to a precarious cliff edge where we finally got a somewhat angled view towards the main drop of Mulafoss, which didn't have a dedicated pullout or car park for it further down the switchbacking road.
So we took some time to document this waterfall, which was mostly bathed in the early morning sun, but then we went back up after having our fill of this spot.
Along the way up, I then decided to check out what was across the footbridge though once I got to the other side, it seemed like the steps were hanging off the ground and were loose.
I wasn't sure if that was intended or not, but it definitely gave me the sense that this trail perhaps wasn't truly sanctioned.
Anyways, eventually by about 7:35am, we returned to the car, and when we drove back down towards Seydisfjordur, we saw that the pullout for Gufufoss wasn't occupied and neither was the fog shrouding this spot.
In fact, once we pulled over and we started to walk closer to the impressive waterfall, we saw that the sun was starting to break through the fog, and it even started to yield rainbows across the waterfall's mist.
For this reason, it was hard to leave Gufufoss, but at least we finally got to see it properly so now I didn't feel like we had these Seydisfjordur waterfalls hanging over our heads for this and the next full day of staying here.
Eventually by about 8:15am, we returned to the car just as the fog continued to roll back.
For kicks, I thought I might find the trail leading downstream towards another waterfall below Gufufoss.
However, when I did a cursory inspection of any hint of trails going downhill, that was when I could tell that while the falls was still there, it seemed like whatever semblance of trail that connected the two waterfalls was either overgrown or was no longer maintained.
So with that, we drove back down to the Media Luna Guesthouse where we got back there at 8:25am.
It wouldn't be until about 8:55am when we got back in the car so we could get to the local supermarket to pick up something to eat as breakfast.
While the ladies were busy shopping, I took the liberty to take some pictures around the bridge as well as towards some of the waterfalls that I spotted here.
Anyways, when the ladies got out of the supermarket, it seemed like Julie ultimately picked up croissants (both chocolate, plain, as well as something that was ham and cheese like croque monsieur style) along with fruits and skyr.
We then ate back at the room, which ultimately filled us up, and it wasn't until about 10:05am when we were finally leaving towards Studlagil Canyon, which was the target for today.
Eventually by about 10:10am, we were then on our way towards Studlagil.
The drive along the Ring Road was pretty uneventful except for noticing the Rjukandi Waterfalls, which definitely stood out against the clear skies (just like they did in our 2007 visit).
And even the signed turnoff onto the 923 Road demonstrated to us that there was infrastructure not only bringing attention to Studlagil Canyon but also affirming when to turn and leave the Ring Road.
Once we got onto the 923 Road, it didn't take long before the pavement became gravel road, which kind of slowed things down, but the drive remained pretty straightforward.
We'd eventually get to a turnoff for the Klaustursel Farm, where there was yet another turnoff on our left, which we knew to take based on our pre-trip research even though the GPS insisted that we continue on this road towards a car park for the overlook trail of Studlagil Canyon.
By about 11:35am, we then arrived at what appeared to be some limited parking for Studlagil Canyon near a WC, and from there we geared up and expected to start the hike from here based on what was said in the literature.
However, we noticed that there were two bridges going across the Jokulsa River, where one of the bridges was the oldest steel bridge in the country while the other bridge was a more modernized one.
Given that I had thought that there wasn't going to be a car park for Studlagil Canyon on the other side of the bridge, we just started walking.
However, after seeing car after car going down the rough and narrow single-lane road, Julie finally asked someone heading back on the trail, who told us that there was a big car park up ahead.
So with that, Julie and Tahia went back to the car while Mom and I continued hiking (as part of me wondered if we'd making it to the car park before Julie would pick us up).
And sure enough, when Mom and I started to see the car park up ahead in the distance, that was when Julie showed up with the rental SUV, and ultimately picked us both up.
By about 12:25pm, Julie stopped at the large car park, where we had to start to find room on a grassy part of the lot as there were many cars already parked here.
I guess it was a good thing this car park was established as it pretty much cut the overall hike in half, but I did wonder whether this car park would be sustainable over time.
Heck, I even noticed that there was a drop box near the trailhead where the landowner requested that donations be made for establishing this car park on his property.
But clearly, it was obvious to me that no one was putting anything in the drop box as people happily used this car park and hiked towards Studlagil Canyon.
It only took a few paces before the trail went right in front of the basalt-columned Studlafoss, which was a bit thin flowing (we actually saw a few waterfalls across the river en route to the trailhead that were bigger than this one).
However, that waterfall was totally against the sun and after taking a few obligatory shots and videos (just in case), I figured that later in the afternoon when we'd come back would be the time to get a good look at this waterfall.
And so the rather gently undulating trail on the wide 4wd road was pretty much on loose rocks though people quickly figured out to keep walking on the edges of the trail where there was more or less dirt or grass to avoid the ankle-busting rocks.
But aside from that, the hike felt long but uneventful except for the constant presence of the blue Jokulsa River to our right and a waterfall that was spilling into it.
Eventually by about 1:30pm, we finally descended upon Studlagil Canyon where we could clearly see hundreds of people that managed to descend within the basalt columns next to the Jokulsa River.
We also noticed that across the river was a metal trail leading down to an overlook, and there were also many people (though not as many as on our side) checking out Studlagil Canyon from that viewing deck.
In fact, I thought that the view would have been lousy from there because most of the basalt columns were right below their feet while we were looking right across the river at the long line of columns.
Upon further inspection of where people were going and how they got to the bottom, I noticed that there were two places that people could go to get down below the canyon rim.
We naturally took the first one, which required us to get past a rather sketchy exposed and muddy path that was sloping towards dropoffs before getting to a drier patch that was more manageable as we made the descent very carefully.
Then, after scrambling a little more, we were pretty much below a tiny waterfall that stained the basalt some kind of orangish color, and that was where we ultimately had our picnic lunch.
Of course, I also took some time to explore this particular area of Studlagil Canyon, and I kind of wished that there was some degree of overcast skies so the lighting would be even and easy-to-photograph for both sides of the canyon's interior.
Anyways, this experience was very impressive because I don't think we had ever been in the presence of so much basalt, and there were even columns of basalt "islands" in both directions of where we were chilling out.
As I looked further upstream, I noticed that there were actually two waterfalls within the Jokulsa River in addition to the light-flowing orangish one that we were picnicking by.
And as it seemed like all these people were enjoying the experience of being within this place, which was an Instagram darling as it blew up in popularity a few years ago, I couldn't help but wonder the history behind this place.
You see, when Julie and I were last in Iceland in 2007, this place wasn't even on anyone's radar because the Jokulsa River was at a far higher level and submerged Studlagil Canyon until the controversial Karahnjukar Dam was completed in 2008 and operational in 2009.
Yet it wasn't until I think 2018 when a local tour guide found this place (perhaps to the chagrin of the landowner of the trail accessing the canyon) that it started becoming known on the internet and well, it pretty much became an Instagram darling in much the same way as Norway's trifecta of Preikestolen, Kjerag, and Trolltunga.
Regardless, when I had my fill of taking family pictures as well as our picnic, I then went ahead and went back up to the trail so I could pursue the other spot that people were going down to.
That was where I found myself standing atop one of the basalt islands which afforded me a top down view of the pair of waterfalls on the main river as well as a butterflies-in-the-stomach view across a long line of basalt and looking back towards our picnic spot which had good lighting.
The ladies were still down by our chill out spot, and they could see me because they could identify my bright orange Ferrosi pants.
Eventually, I had made it down to the second "cathedral" part of Studlagil Canyon, which was below the basalt island that I was standing on earlier as well as across a long row of basalt columns creating that hallway effect.
Again, it was too bad the lighting was shadowy on one side and bright on the other, but the visual impact of being within this "hallway" of basalt columns was really unique.
But as much as I was tempted to scramble past the rope and go further down this basalt hallway, there were way too many people crowding that interior, which made things rather dicey from a coronavirus standpoint (despite being outdoors).
So I opted not to go down into that germ factory (primarily consisting of a large group of Italian tourists).
By 2:30pm, after having my fill of this spot, I then rejoined Julie, Tahia, and Mom, as they were already up and out of Studlagil Canyon and began the hike back to the car park.
Again, the hike back to the car park was uneventful, but there were some high clouds obscuring the sun for a bit, and that made the return hike a little cooler.
However, we (especially Julie) had gotten tired of walking on the loose rocks, and she eventually went to the other side of the rope fence to make better progress and give her feet a break.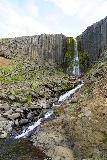 That was when there was one older Icelandic couple mentioned to her that she was on the wrong side of the rope though she played it off like she acknowledged what she was saying but was wondering why she was singled out.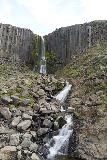 At the same time, I thought to myself that this might lessen the impression of Icelandic locals on how tourists were behaving in their country, and I could totally see where they're coming from.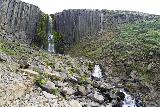 That said, there were many other visitors that did the same thing and caused even further erosion onto the grass, and I guess that kind of justified to Julie that she was fine following someone else's blazed trail.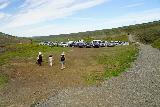 By about 3pm, we finally returned to the Studlafoss, which now benefitted from much better lighting as the high clouds helped to maintain somewhat even lighting.
And after documenting the waterfall, we then returned to the even busier car park at 3:20pm, and we were quite surprised that there were even more cars both in the lot and approaching the lot!
Clearly at some point the landowner's gonna have to straight up charge for use of his land as a trailhead and price it high enough to fund people to collect and enforce the parking spaces (especially if it gets full) so the farmer himself could still work the fields.
Regardless, with everyone pretty much beat by the end of this hike, we then promptly drove back up the rather rough road until we got back across the bridge to make a WC stop and then continue the drive towards the Rjukandi Waterfall.
By about 4pm, we made it to the Rjukandi car park, which I swore wasn't there before, and then Mom and I promptly got out of the car and followed an established trail leading up to the base of the waterfall, where there was a rope fence acting as the lookout.
After briefly documenting the falls at the end of the trail at 4:15pm, we then got back to the car five minutes later, and continued with the drive back in the direction of Seydisfjordur.
By about 5pm, we then arrived at the familiar car park for the Fardagafoss Waterfall, and like 14 years ago, this trailhead access didn't seem to have changed over the years.
Again, it was just Mom and I doing the hike while Julie and Tahia were busy staying in the car to read Julie's Kindle or something.
And during the hike, there was one Indian family that showed up and quickly passed us as they were seemingly in a rush to get to the falls and back.
Meanwhile, Mom and I were also on a deadline since we had made a booking for a 7pm dinner (which was made yesterday), and we pretty much had about an hour to do this excursion and still be in time for dinner back in Seydisfjordur.
And like I remembered it from 14 years ago, the trail didn't take long before revealing an intermediate waterfall, which got us to pause and take some photos and videos.
Then, the trail continued its ascent as we'd eventually reach a lookout area, where Mom followed the wider main trail while I followed a use-trail that went to a trio of boulders with a more frontal look at the Fardagafoss and its hidden lower cascades at around 5:35pm.
By this time, the Indian family were already starting to make their way down so it was just Mom and I enjoying the falls and taking the usual pictures.
And with the afternoon sun sinking lower on the horizon, it kind of gave a softer orangish glow onto the Fardagafoss' upper drop.
Anyways, after having our fill of this falls, Mom started heading back while I was investigating the continuation of the trail.
It turned out that the trail eventually ended where I saw there was some chains bolted onto a rock wall at a particular steep area that I knew was going to the bottom of Fardagafoss.
Well, I wasn't too keen on increasing the risk of getting injured pursuing the scramble to the base of the waterfall, and I was content with my viewing experience before I headed back down to rejoin Mom going down the trail towards the trailhead.
At least on the return hike, we had gotten regal views against the muted afternoon sun in the direction of Egilsstadir and the Tungufljot reservoir or lake, and by about 6pm, we made it back to the parked car to end the last of the excursions on this day.
The continuation of the drive up and over the pass was uneventful save for passing a couple of slow drivers that refused to use the pullouts.
And then when we headed down the road to Seydisfjordur, we could see that the fog had come back though it was nowhere near as thick as it was yesterday.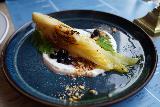 By about 6:20pm, we made it Aldan for dinner, where the waitress suggested that we should sit on the inside and not on the outside given that it was going to get colder real fast (if it wasn't cold already).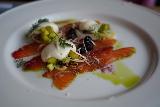 I think Julie finally gave in recalling last night's experience at the Kaffi Lara El Grillo Bar next door.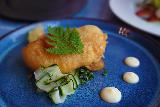 And so we went ahead and had our dinner at a corner table inside the joint, where we'd eventually have the tapas style dinner consisting of hanger steak, lamb prime fillet, cabbage, battered cod, and gravlax.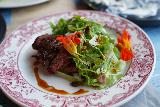 While the food was definitely gourmet in a sort of Jose Andreas style, it was also rather overpriced and we pretty much left the meal somewhat still hungry.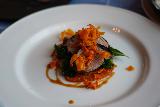 So by the end of the dinner, Julie and Tahia drove back to the Media Luna Guesthouse while Mom and I returned to the Kaffi Lara, where I had to wait in line to get the foil-baked cod that we didn't have last night.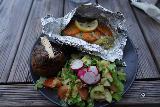 It took a bit of a wait to finally get the secondary dinner, but after having our fill of that, we then walked back in the even thicker fog (so all the waterfalls around town were shrouded again) back to our accommodation and got there at 8:30pm.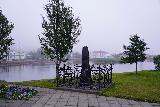 Regardless, if Hotel Aldan's restaurant was the creme de la creme of Seydisfjordur, then I guess we ought to consider having dinner in Egilsstadir tomorrow.
We'll see how that goes, but in the meantime, we pretty much wound down the day as we were all exhausted from yet another eventful day of hiking and checking off things off our Icelandic bucket list (though it was all new to both Mom and Tahia)…
Tomorrow, we had a lot of hiking to do, and perhaps even more driving, so it was going to be yet another full day and we needed the sleep because we needed to have an early start…
Day 8 (August 11, 2021 – Seydisfjordur, Iceland): "Changing The Scale"
It was 4:30am when I awoke to the alarm, and I immediately got to trying to catch up on blogging and file management duties concerning the photos and videos that we had taken in each of the last two days as I was quite behind.
So it wasn't until about 7am when we were finally in the car and started the day by heading to Hengifoss.
It was actually raining in Seydisfjordur when we had gotten in the car, and the rain seemed to have gotten heavier when we were going up the pass.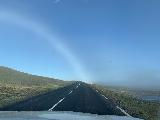 The rain briefly gave way to sun when we were at the pass, but then on the other side of it, the clouds came back as we were heading down into Egilsstadir, which was a bit different than each of the last two days that we did this drive (where it was sunny in Egilsstadir).
Anyways, we proceeded to follow the GPS as it took us along the southern shores of Lagarfljot and through the Halldorsskoga Forest, where it seemed like the rare trees that we knew were growing in Iceland were actually quite a bit taller than they were 14 years ago.
Apparently, they don't get forest fires the way we tend to get in North America, and I guess that's a testament to the typically cold weather and wet climate that Iceland tended to get.
Regardless, the low cloud ceiling was a concern as we were making the drive to Hengifoss as I was afraid that the clouds might conspire to block our views of the waterfall.
Nevertheless, this was supposed to be the first excursion of the day, and I was hoping that the weather would at least cooperate even if the hiking conditions weren't ideal.
With hindsight being 20/20, were we better off doing Hengifoss as well as Strutsfoss yesterday and punting Studlagil Canyon for today? Well, we can't cry over spilled milk, and the decision was already made.
Eventually by 7:50am, we arrived at the Hengifoss car park, where we were the very first people here, but it wasn't until about 8:10am when we had gotten started with the hiking.
It couldn't have come sooner because it was a bit windy and cold at this time of the morning with the overcast skies and rain threatening.
So while the ladies were bundled up with jackets, I knew that this was going to be a rather warm hike given that it was all uphill so I actually didn't bother putting on a jacket as we hiked.
And we'd proceed with the uphill trail as we were trying to find that balance between sweating from wearing too many layers and freezing from wearing too few layers.
By about 8:20am, we made it to a lookout of a waterfall on the Hengifossa (or Stekkalaekur according to Gaia GPS), where it seemed like the authorities had put in lookout infrastructure that definitely wasn't there 14 years ago.
In fact, the trail even had those non-slip things on the surface as well as more steps, which made things a bit less slippery than they were the first time Julie and I were here.
After having our fill of this first waterfall, we then proceeded going further uphill as we would eventually get to the lookout for basalt-columned waterfall of Litlanesfoss (or Studlabergsfoss) at 8:45am.
It was too bad that on this day, we couldn't see both Litlanesfoss and a hint of Hengifoss further up the mountain due to the low cloud ceiling, but it was still quite the scenic sight given the pronounced basalt columns on either side of Litlanesfoss.
After having our fill of this waterfall, we then proceeded with the uphill hike as we noticed there were more people down by the car park heading up the trail.
At about 9:05am, we then got to the first lookout for Hengifoss, which was actually where Julie and I had turned around the first time we were here thanks to a badly eroded section of the trail.
However, this time around, the trail seemed to be a lot wider and perhaps maintained in a way to be less prone to erosion unlike our 2007 experience.
Not finishing the hike was a regret that I've had since that 2007 trip, and on this day, I was determined not to make that same mistake again.
And luckily, at least for the time being, Hengifoss was showing itself even though there always seemed to be the threat of clouds coming back in to obscure the waterfall.
Since I was the first person here while the ladies were still catching up, I decided to keep going and not wait for the rest of the party given the fickle nature of the clouds.
And so after having my fill of this distant view of Hengifoss, I then kept going on the trail as it rounded the eroded stretch and eventually got to the end of the maintained part of the trail where there was a lookout that seemed to be in the middle of some maintenance.
In fact, I noticed that there were other parts of the trail that seemed to have been attacked by falling rocks, which highlighted the rockfall danger of being this close to Hengifoss, and I wondered how much longer would it be before another rock would smash the wooden boardwalk.
Again, I managed to get some shots of Hengifoss in before the clouds seemingly wanted to hide behind the clouds.
When Mom showed up, both Julie and Tahia were still behind so I went ahead and let Mom know that I was going to keep scrambling just to the point where I was no longer comfortable to proceed just to get past a cliff that was obstructing the lower part of the waterfall's drop.
At least I could get a clean look at the red strata that was behind the waterfall, which I was determined to learn a bit more about what these strata were and how they got there.
Anyways, during my scramble with Mom looking on, I was onto the unmarked scramble as I was hiking on a field of loose rocks as well as giant boulders that were deposited here.
I always kept one eye to see if the next falling rock was going to happen now or not, and I was trying to choose my steps wisely though an Indian family along with an Icelandic guide caught up and passed me as they were quickly making their way to the base of the falls.
Eventually, a few minutes later, I got to a part where the trail forced me to either hug a slippery, sloping ledge or go into the water, and that was where I opted to go no further.
And just as I was busy taking pictures, I could clearly see that the clouds had descended upon Hengifoss and pretty much start covering up the waterfall.
In fact, shortly after I was done documenting the experience, I then returned to the main lookout at 9:45am where the ladies were waiting for me while striking up a conversation with one couple that was here.
By this time, Hengifoss was now completely shrouded in clouds, and it would stay that way when we headed back down again.
By about 10:15am, we made it back down to Litlanesfoss, where we had already passed by several hikers making their way up, but Hengifoss remained shrouded in clouds.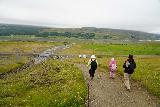 By about 10:35am, we finally returned to the car park, where we saw there were already dozens of cars parked, which attested to how popular this place was.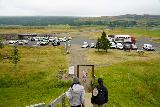 Good thing we had gotten our early start when we did so could remain socially distant, but we also managed to get our views of the falls as the clouds seemed to stubbornly remain over Hengifoss and conspiring to disappoint the hikers experiencing the falls now!
With it still being rather chilly and overcast, we then wasted no time proceeding towards the head of Sudurdalur as we drove deeper into the valley, then going across a pair of bridges spanning the Jokulsa and another parallel stream.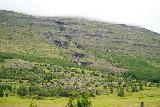 Then, the road continued along the Sudurdalsvegur, which was mostly paved until the final 8km stretch, which was then unpaved road all the way to the Strutsfoss car park at end of the public part of the road (there was a driveway and sign marked "Private" just to the left of the car park).
We managed to arrive at 11am, and once again, we were the first and only people at this trailhead.
There was an interesting-looking WC at this trailhead, which made for interesting trailhead photo fodder, but Mom and I wasted no time getting started.
But since both Julie and Tahia were too weary to want to do another hike, they decided to stay in the car.
In the meantime, I was eager to finally see what Strutsfoss was like, especially since I had made an attempt that ended up failing back in 2007 as I apparently took the incorrect road and was stopped by a dead-end the last time we were here.
At first, the trail made us going towards the Jokulsa River and go around the lower reaches of the private farm before the trail went uphill while still skirting the private property.
Even though the weather wasn't really threatening rain, I couldn't help but notice that there were rather low-lying clouds covering the direction of the canyon where I expected Strutsfoss to be.
So once again, the whole time we were concerned about clouds blocking us witnessing of the waterfall.
Regardless, we proceeded on the faith that the clouds would relent at some point once we'd make it to the end of the trail, but in the mean time, we had to guess where Strutsfoss was as we'd continue heading generally uphill en route to Strutsfoss.
As the trail went beyond the fencing of the adjacent private farm, we then entered a gently undulating path that went between some interesting vegetation with these black leaves or bean stalks or something.
There were also lots of wildflowers as well as some interesting gullies in the mountains adjacent to us and across the Felisa Stream.
However, the low-lying clouds continued to be a concern as we couldn't tell if we should have been able to see Strutsfoss while hiking or not.
Eventually after quite a bit of time of uneventful hiking (though our minds remained occupied by the behavior of the clouds), we ultimately got to a cairn at 12:15pm as the trail turned into the side canyon containing the Strutsa Stream.
From here, we could see that Strutsfoss was now quite clearly visible, but its upper drop continued to be semi-shrouded in clouds which made photographing it tricky.
Nevertheless, we could see that there was still the continuation of the trail as it followed these red-topped sticks, but the trail climbed rather steeply as it continued.
Somewhere during the steep and sweaty ascent, we saw that Strutsfoss was momentarily revealed in its entirety for a fleeting moment so we stopped to take pictures before continuing up the steep, sweat-inducing hill.
Eventually, by about 12:30pm, I had made it up to the top of the hill where Strutsfoss' upper drop remained stubbornly shrouded in clouds (though not completely all the time), and then I descended to a cliff edge at the very end.
That part of the trail was also quite steep, and I made sure to stand on a rock to prevent any slip-and-fall or any further unstable momentum leading me over that cliff edge.
From this perspective, I was able to get a good look at the surrounding red strata lining the cliffs fronting Strutsfoss as well as seeing another thinner waterfall to the left side.
However, I waited patiently for Strutsfoss to reveal itself entirely, but its upper drop still remained stubbornly semi-shrouded in clouds save for a brief moment here and there where I did my best to take pictures but it was hard to take the whole context without the top looking washed out.
Anyways, from this vantage point, the upper tier was at more of an angle compared to the lower drop, but it always seemed like some part of the waterfall had a visual obstruction so there wasn't really an all satisfying view of it no matter where in the trail we were.
So by about 12:45pm, we were finally on the way back from the end of the trail, and just as we were carefully descending back to the cairn, we could see that the clouds had finally started to clear up around the upper end of Strutsfoss.
Now why didn't the clouds do this while I was standing at the very end of the trail?
Nevertheless, we took a few more photos of Strutsfoss though the whole contextual view wasn't as compelling as at the end of the trail.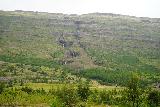 Regardless, it was getting late and we were sure that Julie and Tahia were anxiously wondering what's taking us so long so we eventually hastily made our way back as much as I was tempted to go back up to the end of the hike.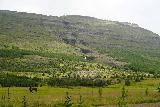 As we were headed back along the trail, I would periodically look back at Strutsfoss where now it was clear that we could see the upper part of the waterfall for a long stretch of the trail.
I guess that was what we missed out on during the approach to the falls, which probably would have hastened our pace and motivation.
Anyways, by about 2pm, we were finally back at the car, and so we wound up hiking for around 3 hours, which was way longer than I had anticipated.
By the time, there was a second car that was parked here, and it seemed to be an older Icelandic couple that was just getting started.
Perhaps obscure places like this weren't really touristed by foreigners, and it's really only visited by locals or countrymen that I'm sure would be looking for ways to avoid the tourist crush.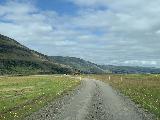 So after doing a greeting with a "Godan daginn" to them (to which they responded in kind), I then went to the interesting looking WC, which was really nothing more than a literal outhouse with a pit toilet.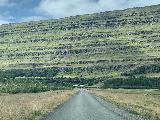 Afterwards, we then drove towards Skriduklaustur, which was where there was a lunch spot that we were eager to get to as both Mom and I were quite hungry, and we weren't really into driving all the way to Egilsstadir for lunch only to backtrack towards Karahnjukar for our last waterfall excursion of the day.
By about 2:20pm, we made it to Skriduklaustur and its turf-roofed building, and we promptly had a lunch where we were able to sit outside, which was just fine since it was a buffet lunch anyways.
We pretty much loaded up on their mains of lamb, cod, and butter chicken, but they also had freshly made bread, veggies (both cooked and raw), and other things like a quiche, lamb nugget, and tiny pylsur.
They also had a wild mushroom soup as well as cauliflower soup, and after at least a couple of main servings, we noticed that they then switched out the table offerings for nothing but dessert (so I guess we showed up just in time for a legitimate lunch).
However, the gorging didn't stop there as we then had ourselves multiple helpings of their cake buffet, where obviously their chocolate cake and whipped cream were the best, but they also had sticky date and an interesting Icelandic skyr cake.
There were also other sweets like apple pie, cookies, and other things, but Julie even got a waffle since she had read good things about it except it turned out to not be crispy so it was just average.
By 3:45pm, we were done eating and we were as full as full can be, which is always the case whenever we eat at buffets, which is why we're not fans of them.
That said, we're talking about Iceland here, and compared to yesterday's overpriced tapas dinner, this place was actually reasonably-priced for the volume of food that we got so we felt like we didn't need to eat dinner today.
In fact, by the time we got back into the car at 4:10pm, we needed to exercise once again, and that was when we headed up into the highlands in the direction of Karahnjukar and Laugarfell to pursue the last waterfall excursion.
As we drove up the Karahnjukarvegur, we went up a handful of switchbacks before we were then into the moorish highlands or plateau as the paved road went between alpine tarns and vast stretches of moss and marshes.
In the distance, we could kind of see that the Vatnajokull Glacier was visible as we were heading towards its eastern side.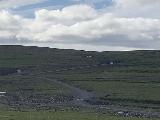 Anyways, the drive was still challenging for me because I was fighting off food coma, and getting to the trailhead couldn't have happened soon enough as we finally took the 2km unpaved side road down to Laugarfell.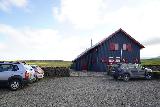 Once we arrived at the car park at 4:45pm, there seemed to be a cottage or something (it was actually a changing area for a hot springs).
As tempted as Mom and I were to do a large 8km loop encompassing the target waterfalls of Studlafoss and Faxi as well as Kirkufoss, at least according to Gaia GPS, we had 1.3 miles to reach Faxi (making it 2.6 miles round-trip).
And that should be at least the target of this hike and then see where we end up afterwards.
So with that, we got started with the hike, and even Julie and Tahia joined along, which was surprising because there wasn't much that was said about this hike, and that it might be a little more challenging than the earlier established hikes we've been used to.
In fact, as we left Laugarfell and started on the path, we first had to get over a fenced stile before trying to follow faint trails amongst the moss while always on the lookout for sticks with red-painted tops, which acted like trail cairns.
Pretty much almost right off the bat, we saw a waterfall that we were able to get both a profile view as well as a frontal view of it.
Then, after having our fill of this falls, we then walked further downstream along the Laugara Stream though it did get tricky to follow the path as we'd see red-topped poles spaced a bit away from the actual paths themselves.
And then, we'd get to an even more confusing stretch where there was a field of mossy boulders and mud, where we then had to veer more to the right and make our way towards the continuation of the Laugara.
With offline navigation still available with Gaia GPS, I was able to confirm that we were going the right way, and eventualy we'd get down to another attractive cascade where we were above its main drop below.
As we continued with the hike, it continued to descend alongside the Laugara, and the pole-lined path eventually took us down to the brink of Studlafoss, which was the anticipated basalt-flanked waterfall by the same name as the one by Studlagil Canyon.
Then, we continued descending as we started to see the turbulence of the Jokulsa i Fljotsdal where there seemed to be a huge waterfall down there, but on the way down, we managed to get more frontal views of Studlafoss, which was against the evening sun at 6pm.
After having our fill of Studlafoss, we then continued the descent all the way down to the Jokulsa i Fljotsdal where we encountered a footbridge going in front of and over the front of another cascade on the Laugara Stream.
Once we were on the other side, we then followed some informal-looking use-trails leading us further along the slope of the grassy mountain before reaching a dead-end at the edge of a cliff looking downstream at the glacial river itself at 6:25pm.
While looking in that direction, there was a partial rainbow arcing from the lower left to the top of the gorge downstream, but as I panned over to the waterfall itself, that was when I saw a massively wide and turbulent waterfall on perhaps Dettifoss-like proportions.
In fact, the whole time we were experiencing this waterfall, I was thinking that it might force us to recalibrate our 1-5 rating scale, and it certainly got us to reconsider our current Top 10 Iceland Waterfalls list.