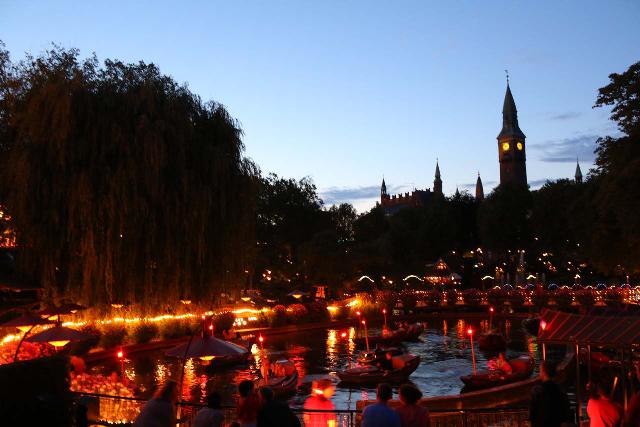 26-July 2019 to 3-August 2019:
Naturally, we stopped at the no reservations line, which was not moving at all. Instead, the reserved lanes got to go right onto the ferry that was right at the dock at around 11am.
This must have been the 10:50am ferry that we had read about online (and the very one we tried to catch to facilitate our ability to arrive in Frederiksborg Castle in Hillerod without passing through Copenhagen.
The GPS really tried hard to get us on the driving path (which meant no ferries), and it had predicted that we would have gotten to the slot before noon.
But with us apparently not going to be going onto this particular ferry, I was now wondering if we had made a mistake in relying on ferries as clearly we weren't going to make it to Frederiksborg Castle until at least well past noon.
And that would mean that we would have less time to enjoy Copenhagen on this day…
Days 0-1 (June 12-13, 2019 – Stockholm, Sweden): "Gloomy Beginnings"
It wasn't until about 10:30am when we finally left the house for LAX.
It took quite a bit of time for Julie to get packed and ready to go. But even though we thought we had covered our bases, it turned out that we realized there were still forgotten things by the time it was too late and we were already at the airport.
One of the forgotten things was my stainless steel water bottles, which would force me to use plastic bottled waters as my primary means of hydration (and the subsequent leaching of the plastics into the water, especially for long hikes).
Who knows what else we forgot to bring?
Anyways, we did the usual routine of waiting for the Uber driver at about 11:20am to get to the final leg of arriving at LAX with the luggages.
It was humid and somewhat overcast at El Segundo, and man did Julie pack a lot of stuff in our luggages, which I knew would not be a good thing when in Europe when we'd have to lug all this stuff across cobblestone streets and up stairs in each of the accommodations.
But in her defense, she had to bring along all those supplements and meds as part of her remedies for her persistent gut issues.
Once in LAX at 12pm, we had no issues getting checked in although there was some slight unexpected drama in that they moved one of our seats so we weren't sitting together. Surprisingly, none of our luggages exceeded the 23kg weight limit though one of them was right on the nose.
Apparently, one of the seats were broken and thus we wound up with the situation where I ended up being the odd person out. The flight was too full for the ticketing agent to do anything for us.
That said, at least the lady helped get the TSA pre as part of our Global Entry to be put onto our boarding passes. We mind as well since we already paid for the privilege of going through the whole Global Entry thing.
After seemlessly getting through the security, we sat at the PF Changs at 12:35pm. It turned out that with the Priority Pass from our reserve card, we each got $30 credit.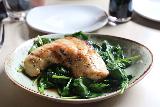 I knew I would have to pay the tip out of pocket, but we figured that might be a better experience than the KAL lounge that we did last time where it was all you can eat, but the food was definitely not compliant and would likely set Julie off.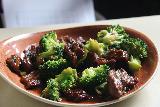 After the pleasant (albeit sugary) meal at PF Changs was over, we then went over to the gate 155 where we waited for our SAS Airlines flight direct to Stockholm.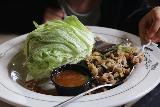 Unfortunately, the boarding was delayed just as we got there at the original boarding time of 1:45pm. And it wouldn't be until around 2:30pm when we finally boarded the plane.
And the plane wouldn't take off until around 3:15pm, which was an hour after the original departure time of 2:15pm, which I knew that that meant that we would have one less hour to enjoy Stockholm and all the other associated delays I'm sure.
The flight itself was fine as far as getting settled in and trying to stay relaxed through the roughly 10-hour flight.
I got to watch Bohemian Rhapsody and A Star Is Born. Then, I tried to get some shut-eye.
I wound up only getting 2 hours of shuteye because at 11pm LAX time, someone was complaining about someone else reclining her seat in front of him. And as annoying as this can be, it was her right to do it.
Ever since that guy was making a big stink about it, I couldn't fall back asleep, and so I had to kill the rest of the time watching a couple of more movies in A Private War as well as Nancy (though we landed and the entertainment was switched off just as it got to the good part at the end).
Eventually 11am, the plane finally landed, but I was feeling a bit bloated no doubt from some of the so-called gluten free meal on the plane (which was far from being compliant nor healthy). In hindsight, Julie should have just let me have the normal meal.
After getting through a very slow passport control line, it wouldn't be until around 12:30pm when we finally wound up at the Hyrbilscenter (the Rental Car Center at the Stockholm Arlanda Airport), where we grabbed a ticket and waited patiently for us to pick up the rental car along with a crowd of other people.
It wouldn't be until about 1:25pm when we finally got the rental car in a frustratingly long wait. Apparently, Hertz Gold Members kept jumping the queue in front of us, and it made me wonder if we did indeed have such membership privileges (that would have saved up an hour).
After some awkwardness in getting used to the car (in the drizzling rain) that we'd be driving for the next seven weeks, we finally drove off towards the center of Stockholm, where we were staying at the famed Gamla Stan (Old Town).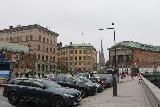 Eventually after some awkward driving around on the island, we managed to find temporary parking at around 2:30pm, which costed me about 26 SEK (exchange rate was roughly 9 SEK to 1 USD) for an hour.
We then lugged our stuff into the familiar narrow lanes and cobblestoned streets that seemed very typical of European city centers, and then we found the Lady Hamilton Apartments. It was definitely quite centrally located.
That said, the apartment was actually at a different spot outside the main reception, which was more like the hotel part. Once we finally got settled in at about 3pm, that was when we realized that there was more stuff we didn't bring – toothbrush, backup USB cable for my Garmin Nuvi, etc.
This always seems to happen no matter which trip we're on.
Next, we returned to the parked car so we could drive over to the spot on Gamla Stan where there was open-air parking with some kind of EZPark app.
Given the amount of pedestrian activity, in this part of Gamla Stan, we definitely succumbed to the impulse to just try to soak up the atmosphere and take pictures as we went.
We knew that we had to spend more time in this area exploring and just soaking up this central part of Stockholm.
We eventually got to the spot at around 4pm after Julie had struggled with getting the app installed.
The parking rates for 24 hours seemed to be about 510 SEK per day or thereabouts. That's about $50 USD, which was pricey, but I guess it wasn't too bad in the grand scheme of things.
Then, we finally walked over to the Stortorget part of Gamla Stan where we promptly walked right over to the Stortorgskalleran (for a much-needed lunner) while watching people go in and out of the main square of the Gamla Stan.
After the meal, we then did some errands by visiting a couple of grocery stores – one by the metro stop and one at a Coop on the other side of the island.
The grocery shopping was Julie was excruciatingly long since Julie couldn't get by with reading the Swedish ingredients list. I had to help her out with my limited Norwegian lessons and making assumptions of the similar words between the two languages.
Nonetheless, the weather remained on the drizzly side, which meant that the weather was likely to be rainy further west in the Norwegian fjords, which made me nervous about the hiking conditions for Kjerag, Preikestolen, and Trolltunga.
So it wouldn't be until about 8pm when we were finally done with the groceries (at least buying enough for the next two nights) and finally doing one last self-tour of the Gamla Stan.
We really didn't have any plans, which I knew was a recipe for disaster in terms of missing out on stuff and wasting time, but at the end we'll just have to see what we'll end up having time for tomorrow.
As for the now, we just walked towards the Kunglinga Slott exterior as well as checking out some of the alleyways of the Gamla Stan.
We fancied visiting this palace first thing tomorrow when they open (at around 10am), but then after finally reading Rick Steves Scandinavia, Julie then suddenly fancied visiting the Vassamuseet and the Skansen. I knew that we probably wouldn't have time to do all those things and still hit her gluten free joints in town.
So who knows how it'll all turn out tomorrow.
Anyways, by about 8:45pm, we had returned to the apartment, and finally crashed for the night to get showered and to get some shuteye to try to overcome the jetlag that I knew we were in for…
Day 2 (June 14, 2019 – Stockholm, Sweden): "Dignitary Impacts"
It was 5:30am when I awoke. Tahia was already awake and she had bragged that she had been awake since 4am.
Little girl even tried to wake us up at 1am in the morning as the jetlag clearly had gotten to her (as much as we tried to get her to respect the new sleep cycle after the flight).
Outside, it was already bright outside, but it was still overcast. It made us wonder if we were ever going to see the sun during our time in Stockholm.
Next, Tahia and I spent some time eating some uncooked breakfast like the Swedish yogurt mixed in with some raspberries and blueberries.
I also got caught up on the blogging from yesterday's hectic pair of days of traveling and our awkward beginnings in Stockholm.
Then, when Julie finally got up at around 7am, she promptly got right to cooking breakfast while Tahia and I were busy washing the dishes.
It took some time and I was worried that the Vasa Museum was going to be very crowded by the time we got there since it was highly doubtful that we'd get there right when they opened at 8:30am. After all, it was already 8:25am when we left the apartment.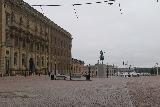 As we were walking towards the Slottbakken to catch a bus to the Nordiska Museet (or at least the Djugardensbrod across the bridge from the desired museums), which was right in front of the Vasamuseet, we noticed a heavy police presence.
They were busy setting up some kind of parade of some sort where it seemed like the Kunglinga Slottet was going to be closed.
We also realized as this procession was about to get started that the trams and buses didn't seem to be running anywhere around the Gamlastan.
So we had to walk across the bridge, then we followed along a nice greenspace area towards one of the main streets (I believe it was called Hamngatan) that had the tram line and bus lines.
When we saw that the tram stop had a cop there, we asked him if it was open today. That was when he told us that it wasn't running today because there was a visit from the South Korean President.
So that explained the police presence and why we couldn't use any of the mass transit. Indeed, we'd have to hoof it, but the predicted 25 minutes of walking along the Strandvagen wasn't too bad.
And sure enough, when we followed the Strandvagen along the waterfront, we were following a wide boulevard that respected both bike traffic as well as vehicular traffic. There was also a large pedestrian street closer to the waterfront with lots of parked boats.
Across the street were lots of classic-looking buildings, which really gave us a sense of deja vu that harkened back to the time we were walking around Victoria Harbor on Vancouver Island. However, in this instance, Stockholm definitely had legitimate old school charm compared to anything we'd find in North America.
So the stroll was a bit pleasant, and we'd eventually get to a bridge where there was a comical sign that said boring people walk to the left and fun people walk to the right. I guess we were boring people on this overcast day.
After crossing the bridge, we then followed the Vasamuseet signs until we eventually got to the pretty quiet entrance at 9:15am. The serenity of this place kind of caught us off guard.
After all, Rick Steves mentioned that unless we were here right when this place opened at 8:30am, it was going to be quite busy. I wondered if the folly of the South Korean President's visit meant that the lack of mass transit availability allowed this place to be delightfully quiet.
Indeed, after paying our 300SEK for Julie and I (Tahia was free), we spent some time taking pictures and walking around before joining the English-speaking 9:30am tour. That was when the tour guide named Emily confirmed that it was unusually quiet because there was no cruise participants but also because of the South Korean President's visit.
During the tour, we learned (also confirmed after reading about it on Rick Steves Scandinavia) that the Vasa was a warship commissioned by the Swedish king.
It was meant to intimidate the opposition, especially the Polish whom they were at war with at the time.
However, this boat was too topheavy and poorly designed, and it sank during its maiden voyage on August 4, 1620. Apparently, it sank in minutes, but due to this folly, we wound up with one of the best preserved historical ships as it was restored and managed to maintain 98% of its original materials.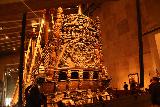 So we could see clearly the kinds of living conditions as well as the symbols being used, especially with respect to the lion, which was the symbol of the Vasa family. That would explain all the lion symbols that we saw in the Gamlastan.
The sinking of the ship also resulted in the deaths of 30 people or so. But regardless, this was the perfect example of how one tragedy or folly resulted in a historically important treasure as well as lesson learned (including how to preserve such a thing) for other such historical monuments around the world.
When the tour was over, we walked around and took pictures of the impressive warship. That was when we noticed that the Vasamuseet got really crowded with loads of tour groups.
So this was what this place would have normally been like!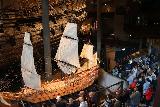 There was an interactive game that let the kids try to steer the ship with a simulator providing feedback on how well you've done. There was a line to use it so we didn't stick around for it.
Instead, we went downstairs to watch one of the movies about the Vasa warship, which chronicled its development, subsequent sinking, then the excavation.
The movie was told in Swedish (at least we happened to catch that) but they always had English subtitles. If anything, matching up the Swedish with the English subtitles helped to confirm how much Norwegian I had learned to this point (as many of the words and the grammar seemed similar).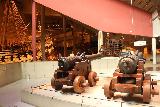 After the movie, it took us time to get out of the museum since both Tahia and Julie were busy in the boutique shopping.
So it wouldn't be until about 10:45am when we were finally done with the visit, and about 11am when they finally got out of the boutique.
By this time, there were busloads of people heading towards the Vasamuseet, and it felt like we got out of there just in time before the madness occurred.
Even though we saw the number 7 tram heading back towards Gamlastan (though we weren't at a stop in time to catch it), we figured that we mind as well walk back alongside the waterfront.
There seemed to be a lot of people waiting for ferries or boat rides, but we didn't bother doing any of those. They seemed to be sold out anyways.
Eventually we returned to the Gamlastan (now I understood it to mean "old town", which was the island we were on) and the line of guards had disappeared at the backside (or frontside depending on how look at it) of the Kungslinga Slottet.
As we walked alongside the Palace, we noticed there were black cars pulling up in front of the Riksdagshuset (The Parliament House) and we happened to catch some dignitaries exiting the car and shaking hands with some people.
We wondered if those were the South Korean President and some Swedish government figures.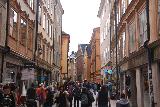 Anyways, we continued to walk back towards the familiar alleyways of the Gamlastan before heading back uphill towards the backside of the Kunglinga Slottet.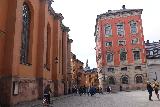 Back there, it appeared that the public still couldn't go inside the main part of the palace, and there seemed to still be guards and rope lining the main entrance. So I had a feeling that it was still closed.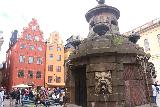 And indeed, when we showed up to the ticket counter, they said that just about all of the rooms except one or two were open. So that would explain why there was no line to enter the palace.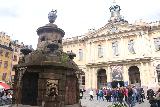 I guess we decided right then and there that we'd have to punt this visit for when we return to Stockholm at the very end of the trip on the first day of August. Hopefully, we don't run into this kind of situation again.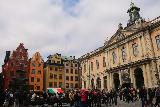 Seems like we always keep running into situations like this. I recalled about 5 years ago in Cardiff, Wales, UK, there was a NATO summit going on with Obama and company in attendance. And that caused the closure of the Cardiff Castle while making the city look like a police state.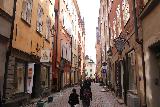 Even when we went to Austin during SXSW, there were lots of police seemingly trying to protect wherever Obama was going to speak.
And in Edinburgh, there was a Royal Tattoo that really impacted our ability to experience the front of the Edinburgh Castle thanks to bleachers being put up to cover most of its front.
I guess such was our luck when it came to main city attractions.
Next, we then walked over to this place called Under Kastanjen, which Julie looked forward to going to due to the fact that they had gluten free Swedish Meatballs.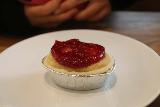 When we got there at 12pm, we managed to snag one of the tables (seating was tight though) and Julie spent around 460 SEK for some filling dishes of the Swedish Meatball in gravy and mashed potatoes. Meanwhile, she also got the Swedish Traditional Plate, which really reminded me of the old Norwegian koltbord breakfast that we had on our first trip to Norway.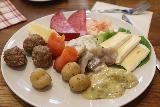 The Traditional Plate also had three meatballs (but no gravy) as well as laks (salmon), cured cod or herring, and more potatoes.
Tahia got some gluten free almond raspberry tart while we shared the mains with her.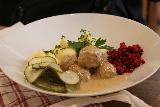 The food was quite filling, and when we returned to the apartment at 1:20pm, we all decided right then and there to crash for a siesta. It was just when the sun was starting to come out, which was the first time we had seen it on our trip.
By around 3:30pm, I managed to get up from my siesta, and it took another 30 minutes before Tahia and Julie finally got up from their long siesta. By this time, the skies appeared to be cloudless and it seemed like the Gamlastan took on a different character as the color of the buildings started to stand out more.
By about 4:25pm, we finally went back down into town to do a little more exploring; particularly this charming pedestrianized street that was right behind the Riksdagshuset.
We went back into the main square of Gamlastan (Stortorget) where the square seemed to be much more photogenic than before though there were afternoon shadows making the colorful buildings trickier to photograph.
Then, we walked down to the street going behind Riksdagshuset, and we followed this street across a bridge and onto a more modern looking pedestrianized street.
There was still lots of foot traffic going up and down this throughfare, but it didn't hold too much interest for us before we turned around and headed back the other way to return to the Gamlastan.
We then walked the main pedestrianized alleyway called Vasterlanggatan, which we slowly explored and crowded amongst the pedestrians also using the alleyway.
Ultimately we returned to the supermarket by the Gamlastan T-banen station, where we then did one more grocery run so Julie could cook for tonight's dinner and tomorrow morning's early breakfast.
Inside the grocery shop, they were giving our free samples of an organic ice cream, which Tahia managed to help herself to a couple of different flavors. So she was on cloud 9.
Anyways, after another 280 SEK of groceries (mostly chicken and veggies), we ultimately returned to our apartment via Kakbrinken (a more direct alleyway approach to the T-banen station instead of going down the Tyska brinken like we did yesterday), and eventually by 6pm, we returned to our apartment to call it a day.
We still had to get organized to get out of Stockholm by early tomorrow (only paid for parking via the EZPark app until 6am) so we had to retrieve the car and have our luggages ready so we don't get cited for bad parking.
For the better part of the rest of the evening, we had a self-cooked dinner. Julie also prepared breakfast for tomorrow morning knowing that there wouldn't be time to cook and spend too much time cleaning due to our early departure and the logistics of the parking and lugging luggage situation.
That said, with Julie's congestion from her incoming cold getting worse, at around 8:30pm she put me on an errand to pick up some more lemons from the local supermarket at the Metro station.
So I used this opportunity for one last bit of solo sightseeing.
I managed to do it right after picking up the lemons, then I walked towards the waterfront on the north side of the island of the Gamlastan.
With the late afternoon lighting going on, the buildings were glowing softly with the fading evening sun.
I managed to walk to the south side of Gamlastan towards Sodermalm though I managed to only get to what appeared to be a stand of people looking towards the sunset with some American music coming from somewhere.
At first, I thought it was some kind of performance, but as I got closer, it was merely a bar.
After having my fill of this part of town (which continued further south into the low-key and less-touristed Sodermalm), I then backtracked to the Stora Nygattan, and then made my way back up to the Stortorget via Kakbrinken.
There, I got one last go at the Stortorget in more low key atmosphere before finally retreating to the apartment for good. Along the way, I noticed the difference in atmosphere, especially at the many bars along the pedestrianized streets.
Even the older people seemed to get into the act as many were well dressed and looking to eat at probably a finer establishment. Indeed, it seemed like Stockholm took on a different character at this time of the evening.
Back at the apartment, Julie was still pre-preparing food for tomorrow morning. However, Tahia noticed on Julie's phone that "something's wrong!"
When Julie looked at her text messages, she saw that some of our bookings were getting cancelled because we didn't have the right credit card information (the old one was compromised and apparently Julie didn't get around to changing some of our advanced bookings to the new credit card info).
So Julie spent the next 90 minutes trying to take care of this (Booking.com's system wasn't the greatest for doing this kind of thing; and some of the accommodations didn't allow credit card updates so we'll have to play those by ear).
When she was done, I was finally able to get back control of my computer, but by then, it was 11pm. I knew that sleep wasn't going to be plentiful on this night.
And so we ended off our first stint in Stockholm a bit on the low key side. There remains lots of unfinished business as well as anxieties about how the weather will pan out when we have to do the long hikes further to the west in Norway.
But like with all of our trips, we'll just have to make adjustments last minute and roll with the punches (just like with the unpleasant surprise about the credit card info needing to be updated on our advanced bookings).
It's how we've always been doing things in our past international trips (particularly in Europe), and this trip would be no different…
Day 3 (June 15, 2019 – Gothenburg, Sweden): "Cutting Across Sweden"
It was about 3:30am when I awoke. The original time I had for getting up was 4:30am, but Tahia managed to facilitate the early wakeup since she had been up since 2:30am while making sure to make some noise or try to tickle me.
An immature child who also happened to be jetlagged was a recipe for sleep deprivation, to say the least.
Still, I figured that this might help us get a head start on the day so perhaps it could be a blessing in disguise.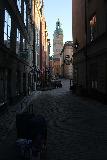 Indeed, Julie and I did what we could to get the pre-prepared breakfast nuked and heated up while I was also busy putting away dishes that were run last night.
Knowing that there was no way things would keep in the car (and that there might not be any chance of refrigeration until much later in the day), we had to empty out the fridge and eat everything we could.
That made for a rather filling breakfast.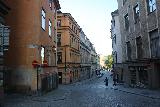 And when all was said and done, it was about 5:05am when we finally managed to bring our heavy luggages downstairs into the quiet and mostly empty Stortorget part of Gamlastan.
Once Julie finally came down with her belongings, we then walked over to the Lady Hamilton Hotel reception (I'm sure making quite a bit of noise in the process as the luggages were rolling against the cobblestone streets and Tahia was talking loudly).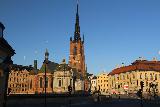 Then, we left the stuff by the reception while I went to walk over to the car park at Riddarholmen.
By about 5:25am, I retrieved the car but not until after I managed to sneak in a few photographs of the attractive church juxtaposed against the cloudless blue skies.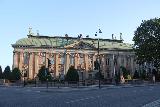 At 5:30am, I finally pulled up to the reception and then we proceeded to load up the car and leave Stockholm. Even though we had some unfinished business on our first day-and-a-half, we planned to return to Stockholm at the very end of the trip for two more nights at the very beginning of August before flying home.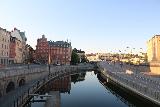 Hopefully by then, we would have accomplished all we wanted to do in this surprisingly well-touristed city. And hopefully, we wouldn't have to deal with the complications arising from having the South Korean President show up.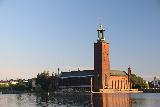 So after a little awkwardness in trying to navigate our way out of the city center, we then drove onto the E4 and eventually onto the E20 as we made our way southwest.
The original plan on this day was to drive straight to Silverfallet near Skovde before heading to Trollhattan to see the dam release of the waterfall at precisely 2pm. And then make the final approach to Goteborg.
However, I decided at the last minute to drive to Stalpet (to save on the amount of driving and stopping on the last leg of our journey), then head up to Silverfallet, and finally make our way into Goteborg.
It was going to be a very long day of driving, but I figured we mind as well get used to that battle rhythm considering we had a lot more driving to do throughout this trip.
And so as we zoomed our way through the countryside, Julie noticed immediately how empty and sparsely developed things were as soon as we left the urban confines of Stockholm.
Indeed, it seemed like a universal thing throughout Europe where we would see dense development and populations in the cities, then practically no development in the rural regions.
Contrast this with the urban sprawl we get exposed to back at home, where it seemed like the attitude towards development was that there must be plenty of land so we should exploit the hell out of everything by being wasteful and not treating the land as a resource to be taken care of.
That was probably the single biggest threat to the whole idea of why the United States has such poor public transportation with the exception of major cities like New York and Chicago. Further to the west of the Rockies, such public infrastructure was practically non-existent (even for cities like San Francisco; though up in Vancouver, they did a better job of this).
Anyways, as we were driving, I couldn't help but notice that we had passed through some exits for Linkoping, which I remembered from my early days at UCLA as the place that had the University of Linkoping, where they had a server running the NannyMUD.
That was a multi-user domain game where people who get on there and play a text-based game though it was really more of an excuse to chat with people from around the world (mostly to try to hit on others).
Regardless, now that we were driving through this very rural area, it definitely didn't fit my preconceived notions of what I was expecting to see regarding more development and less farms and forests out in these parts.
The good weather that we had been seeing was giving way to pockets of clouds and even the odd rain squall.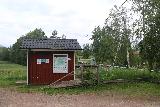 But eventually at about 8:45am, we finally arrived at Stalpet, which was pretty well-signed for the last 3km from the route 32 near Aneby.
This was a roadside waterfall though we found a designated parking spot near the Stalpet Cafe and Handverk.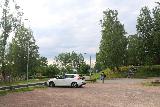 It was a good opportunity to stretch out and go for a little bit of a walk though it was a bit on the muggy side with the overcast skies.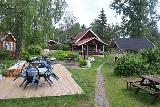 Since it was still early on this Saturday morning, it was quiet here and the cafe was not open. The chairs were folded onto the table tops as we walked across the cafe and onto a set of wooden steps descending into the gorge fronting the double-barreled Stalpet Waterfall.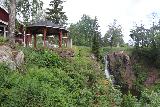 As Julie and I were busy getting ready to take pictures from the picnic table at the bottom (though the view was obstructed by a tree fronting the lookout), Tahia decided it was a good idea to climb onto the wooden railings.
Unfortunately, one of them gave out and she managed to bruise or hurt herself as a wooden beam was driven into her lower stomach as the fell onto it.
She was crying hard, but I figured this was one of those things where she had to just learn for herself the consequences of not considering the low risk approach of not doing such moves.
I hope experience would at least teach her that doing those things was a bad idea.
Anyways, after having my fill of the picnic table view at the bottom, I then went up the steps on the opposite side of the canyon.
That was where I saw perhaps the best overlook behind a fence looking directly down towards the front of the twin falls of Stalpet.
It appeared that Julie and Tahia weren't interested in going up to where I was at, and instead they went through their newly accident-created path beneath the wooden railing and towards some unsanctioned look at Stalpet.
Meanwhile, I explored more of the rim of the gorge around Stalpet getting more profile views before walking onto the bridge just upstream of the falls. And that was where I noticed that this waterfall could very well be regulated as just upstream there was a calm bog and there was machinery to essentially "turn off" this waterfall.
We got back to the car at 9:25am as Julie and Tahia were waiting for me to wrap up what I was doing.
We then drove west on the 49 towards the E4, but that wouldn't last long as we then went north on the 26 (eventually after some detour at a roundabout), where there was some road work going on so it wasn't like we could smoothly take the 26 north to Skovde.
Instead, we seemed to have followed a caravan of cars along some parallel side road criss-crossing the Hwy 26 before finally going onto it well to the north.
As it was getting close to noon, we decided at the last minute to look for a place to eat around the Skovde area. Julie settled on this golf restaurant called Mattias Golfrestaurang since they seemed to have some options for going gluten free.
So we wound up driving a short distance west of Skovde towards some golf course, and that was when we finally pulled up to the Mattias Golfrestaurang at 11:45am. Once inside, it was very quiet as a handful of people were eating outside in the sun.
Meanwhile, we learned that the food served here was buffet, but it was reasonably priced at about 145 SEK per person. And they had plenty of veggie options as well as some gluten-free options regarding the salmon and the beef strips.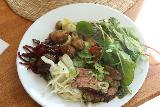 So we wound up having a pretty satisfying meal, and it only costed us 330 SEK for the three of us, we then drove further north towards the Silverfallet. We didn't see any signs for it but we decided to trust the iPhone directions (instead of my GPS) as we followed the main roads before backtracking to the southwest.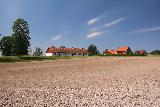 Eventually, we finally saw a Silverfallet sign near the Karlsborg area, which looked like someone's farm. We at first pulled into a very big car park within someone's farm, but seeing that some people continued to drive up the hill, we decided to check that out.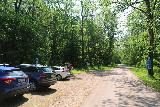 So we wound up seeing at least three more car parks, and we finally parked at a shadier spot with a sign saying the Silverfallet was about 0.5km away from this trailhead.
We finally got started at around 1:35pm.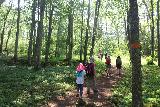 Just as we were getting started with the hike, there was a pretty large group that overtook us and went ahead. Clearly this place was a bit more popular than I had thought.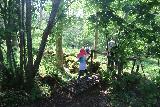 Eventually after a pleasant bit of a walk, we passed by some sign at a junction in Swedish. We weren't sure what it meant, but we assumed that the path on the right was going to the bottom of the waterfall while the path on the left went to the top.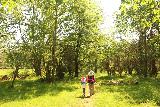 So we kept left but we wondered where that other path went.
It was very sunny on this day so it was also very hot. It was amazing just how quickly the weather and the temperatures turned from one moment to the next.
Anyways, we eventually made it to the uppermost of the cascades of Silverfallet at 2pm. The big group of people were busy chilling out and exploring around this humble spot. However, there wasn't that much water in the stream so it wasn't like Tahia had that great of an opportunity to play in the water here.
Other kids were also trying to do the same thing – looking for an opportunity to play in the water and beat the heat.
Julie and Tahia were a bit hasty in looking to see what other waterfalls were here, and so they backtracked to that junction. However, I pursued a different path that I noticed that followed along the stream in the downstream direction.
It turned out that the I managed to follow some electric fences (what an intersting way to keep people away from the cliff ledges), and after passing by a couple of tiny waterfalls, I finally descended steps and then a steep slippery slope leading down to the stream in front of a very attractive tier of Silverfallet.
I didn't see Julie and Tahia around so I assumed that I might see them somewhere further downstream.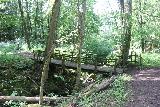 So after having my fill of this spot in front of the falls (and getting a mosquito bite on my finger in the process), I then continued along the trail in the downstream direction before seeing another small but attractive tier of Silverfallet.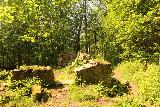 There was like a four-way junction of trails where I didn't bother persuing the trail across the bridge though I did notice some kind of "Alum" sign, which appeared to talk about aluminum extraction.
Meanwhile, I continued downstream past some kind of cattle guard before approaching some kind of ruins fronting another small tier of Silverfallet.
Curious about where this trail went, I continued following it before the forest gave way to an open field with some wildflowers. It eventually got to some kind of trailhead near the red buildings we had seen near the hot and open car park.
So I turned back around and went back upstream in pursuit of Julie and Tahia. I'd eventually rejoin them at around 2:40pm as they ultimately backtracked and went the way I wound up going. So they wound up at perhaps the most attractive of the Silverfallet waterfalls that I noticed.
And we then enjoyed this falls as a family.
I got them to continue going downstream with me to see another tier. Then, we followed a trail that ultimately took us to the handicapped parking and trailhead.
By this time, Julie wasn't up for hiking uphill along the narrow road to recover the car, so I did the deed while they waited.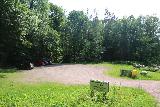 By about 3:05pm, I finally recovered the car, turned on the AC to cool things down, and then, I picked up the ladies five minutes later.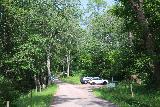 Next, we drove west towards the E20, and then we followed that highway (though they didn't have dedicated lanes so we had to seek passing opportunities to get by slower drivers while not overdoing it as there were plenty of speed cameras in this stretch).
Finally at about 5:15pm, we got into Goteborg, but there was a confusing maze of streets to get around. And it turned out that with some kind of Gay Pride Parade, we weren't able to check in at the Hotel Vanilla because it was within the blockaded zone.
So someone directed us away from where we needed to drive, and we briefly illegally stopped nearby so Julie could go check in and seek further guidance on what we could do to check in.
Eventually, we decided to do some last minute grocery shopping right before closing time at 6pm so we could eat in. But even in getting out to the Nordstan shopping mall, it was an adventure given the sharing of the roads with the trams as well as more police blockades.
It was tense driving, and I managed to annoy some of the cops (including a traffic light that put me in a situation where I blocked a tram because of where I had stopped so as to not run the light).
But hey, I did what I could do given the lack of direction and being unfamiliar with the city (which seemed to be undergoing lots of construction in addition to having the Gay Pride Parade).
But ultimately, we found a random parking spot just outside the Nordstan shopping mall and I stayed in the car with Tahia so she could keep on napping. Meanwhile, Julie went into the shop at 5:40pm and we spent the next 45 minutes or so just chilling out waiting for Julie to do her thing.
Eventually, Julie returned to the car at around 6:30pm, and finally at around 6:45pm, we finally parked on the property through a very narrow corridor before finally stopping the car.
By now, it was drizzling or sprinkling. And we had to lug our belongings quite a long ways into the reception, then through the hallways before going back downstairs to our room, which turned out to be right next to the hidden parking lot we parked the car in.
Oh well, you live and learn I guess (in that we didn't have to do all the hefty lifting and rolling to get here).
And with that, we finally got settled at 7pm.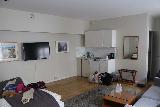 Julie got right into preparing dinner but meanwhile, I wanted to explore the city. So I got my camera and started back towards the reception where I spoke with the receptionist about what I might be able to do for the next couple of hours.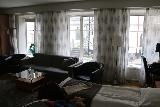 I also asked about whether I would be able to drive in and out of the garage first thing tomorrow morning seeing that we didn't have control of the garage door at the corridor entrance. But I was disappointed to learn that only reception can control that garage and that wouldn't be until 8am.
So much for doing an early start to visit Ramhultafallet waterfall while Julie and Tahia would be sleeping in and having breakfast… That would certainly set us back another 3 or 4 hours I'm sure…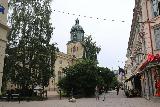 Anyways, as far as touring Goteborg, she recommended that I walk to the Haga and ultimately to the Slottskogen. Even though the weather wasn't the greatest, I figured I mind as well seize the moment and see what Goteborg had to offer the visiting tourist. After all, it wasn't on Rick Steves Scandinavia, and I'm guessing there was probably a reason for that.
Anyways, I followed the Kungsgatan eventually towards the Haga area, which the receptionist said was an attractive old town full of old buildings. So that was my target for this brief seize-the-moment visit in Goteborg.
I had to get through some inconvenient construction zones, but after seeing where the locals were going, I eventually figured out how to get across and ultimately into the Haga area. By now, it was pretty consistently sprinkling, but it wasn't so bad that I needed rain gear.
Inside the Haga area, I was a grid of interesting quiet streets though the main throughfare appeared to be the Haga Nygata where it was lined with closed up shops and quiet cafes.
I ultinately walked as far as the Tredje Langgatan and Linnegatan intersectiono. But I didn't ccontinue any further as I saw there were more shops and cafes, but it was now west of the Haga area.
So as I backtracked through the Haga, I saw a tower that turned out to be the Skansen Kronan. I decided right then and there that I should go up the steps and see what kind of views I might be able to get up there.
After working up a little bit of a sweat, I ultimately made it to the base of the tower. There were some people sightseeing or chilling out around the base of the tower, but there was also an apparent private party going on inside the tower itself.
Anyways, I managed to get some nice views (especially towards the southeast, and it kind of reminded me of the low-key feel I had when exploring around the Graz in Austria last year (though I'd argue that Graz was more charming than Goteborg).
Nonetheless, in that sense, I could see why Rick Steves didn't cover this city, but still, I enjoyed making my own discoveries and not necessarily just doing what a guidebook says to do.
After having my fill of the Skansen Krogan at 8:10pm, I finally headed back down into the Haga, and then made my way towards the Inom Vallgraven district (where the Hotel Vanilla was). However, I kept hearing loud music in the distance, and it drew me towards it just to see what the source of that music was.
So I ultimately found myself walking through what I think was Sodra Larnig or something like that, and then I found myself in a wide open area near Balte-Spannar Parken. That was when I saw what was clearly a crowd of people checking out an open-air concert that was apparently free.
Well, there were also some pretty aggressive UNHCF people who were really pushing hard for spontaneous commitments to donate to the cause of helping out refugees around the world. Unfortunately, I wasn't ready to make that kind of commitment on the spot as I tend to be more calculating in my moves and not giving into just giving money and personal info away to total strangers on the spot.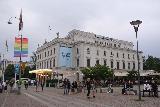 Still, I was very understanding of the cause, and perhaps after looking over the UNHCF website a bit more, maybe I can contribute to the cause on my own time and my own dime but not now.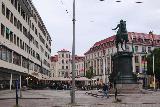 After checking out the pretty bouncy concert, I then finally walked back to the Kyrkogatan, where I then returned to the room where Julie and Tahia just finished their meal, and I finally had my late meal at 9pm.
And with that, I helped Julie wash the dishes and clean up, before cleaning up my sweaty sticky body and finally going to bed at close to 11pm.
It was the end of a rather exhausting day, but at least I planned on sleeping in a bit considering that I couldn't do the original plan of driving out to Ramhultafallet and coming back before Julie and Tahia would be sleeping in and having breakfast.
Instead, we'd have to wait until 8pm to go out there since reception wasn't open until then. So no one would be opening the garage door. I guess this was the forcing function for me to slow down though that would put more pressure on what we can do tomorrow in terms of visiting Ramhultafallet as well as Elgafossen and Sarpsfossen before arriving in Oslo on a Sunday evening…
Day 4 (June 16, 2019 – Oslo, Norway): "Self-Catering Afterthoughts"
It was 4:30am when I awoke. But unlike the prior days on this trip, our little girl didn't wake up until 5:15am. Clearly, she was getting accustomed to the European daily rhythms at this point and the effects of jetlag were wearing off.
Upon waking up, Tahia wished me a happy father's day. How sweet!
The morning was another hectic time where we were all busy getting packed while at the same time, we were washing fruits, washing dishes, and Julie was cooking.
During the course of her making chicken, the smoke alarm went off.
That was when we realized that the windows were closed and that there was no vent for the kitchen in this studio. Clearly, along with the lack of kitchen tools like strainers, spatulas, etc., having the apartment feature at the Hotel Vanilla was an afterthought.
I wondered after this little bit of drama that we're the reason they'd reconsider or do away with having the self-catered option at the Hotel Vanilla.
Indeed, while all this was going on, a firefighter knocked on the door. When he came in, he saw what was going on then spoke into his CB radio in Swedish something about "lager mat" (making food).
He was good humored about it though he also mentioned how the smoke alarm we had set off could only be shut off by someone else. It wasn't like the ones we were used to that were more autonomous. After all, all the effort fanning out the smoke and opening the windows was futile as this alarm wouldn't shut off the alarm by itself.
So anyways, by about 7:50am, the car was all loaded up and we were almost ready to go except Julie managed to get herself stuck in the garage as the keycard didn't work to get herself back into the lobby from the garage.
We eventually figured out how to open the gate for pedestrians but it was hard to close it so when reception tried to open the gate remotely so we could drive out, it wouldn't open.
Finally, a lady from the reception came out and did the deed (of closing the gate fully) then the larger gate was able to open. And thus we were finally leaving by 8am.
It was drizzling on and off this morning, which was nothing new.
But as we were driving towards Ramhultafallet, it seemed like the GPS wanted us to go a different route. Instead, I pursued a route that I had read about and stuck with that (trying to ignore the smaller roads that the GPS had wanted us to take).
Thus, we forced our way south on the E6 before taking the exit 58. Then, we followed some rural farm roads (paved and pretty empty) as we ultimately found our way onto a road between Fjaras and Satila.
Only after ignoring one GPS instruction on taking us onto an unsigned unpaved road, we then found the signposted turnoff for the Ramhultafallet, which the first indication of any sort of the waterfall that we saw on this drive.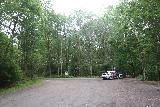 After following the final 3km of this stretch of narrow road, the last 500m was unpaved before we arrived at the parking area for the Ramhultafallet at 8:55am.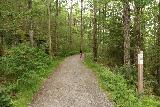 We then got geared up and followed the 250m path past some private house towards a picnic area before getting onto the rocks right at one of the tiers of the Ramhultafallet waterfall.
There was also a 300m path to the top of the falls, but we knew that we were not going to pursue that path given the time constraints (this excursion was intended to be a very early hike while Julie and Tahia would have been allowed to sleep in but the Hotel Vanilla wouldn't let us drive out of the garage until reception opened at 8am resulting in this delay).
The waterfall itself was a multi-tiered waterfall one with an attractive uppermost drop mostly hidden from our point of view at the middle drop.
Looking further downstream, there looked to be more drops before the falls spilled into the adjacent lake.
The falls appeared to have seen better flow in the past (i.e. it would have better flow earlier in the Spring) but it still had decent flow for our experience.
As we explored more of the area, we saw that there was a set of stairs getting us closer to one of the lower tiers closer to the lake.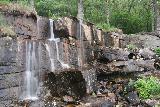 However, getting to those steps was a bit steep and slippery. Julie happened to slip and fall on one of the wet rocks during this descent and she managed to get her whole backside muddy.
So that ended her visit as she felt more inclined to return to the car, get changed, and get cleaned up. Good thing she didn't injure herself on this fall.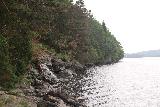 Meanwhile, Tahia and I were checking out the lower tier, which was a small wall. Someone had placed a cairn at the far side of this falls.
After having our fill of this part of the falls, Tahia headed back to the car to rejoin Julie. However, she pointed out to me that there was another set of steps leading down even further to the lake.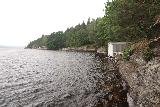 Upon exploring that, I saw that there was a tiny dock where I could see the last tier of Ramhultafallet going right into the lake. I could also see in the opposite direction towards other boating infrastructure.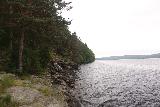 Finally, before taking off, I scrambled up towards the base of the uppermost drop of Ramhultafallet. This probably had the tallest drop of all the drops.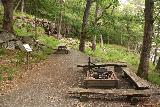 With such an idyllic setting, this waterfall did indeed remind me of the experience we had at the Grande Cascade de Tendon in northeastern France. Indeed, I was apt to give this waterfall at least a 2.5 despite the lower flow.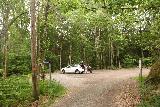 Anyways, by 9:45am, I rejoined Julie and Tahia. I saw Julie holding a very dirty hand towel, which she used to wipe off as much mud as she could from her pants, her small backpack, and even her Keens.
This time, as we drove off, I followed the GPS east towards the 156 via Satila and Harkila.
Eventually, I got onto the busier route 156 with a line of cars hesitant to overspeed the rural road as there were lots of speed cameras along the route.
Once we got onto the Hwy 40, we headed west back towards Goteborg as the drizzle became stronger and more persistent.
Then, we finally drove north on the E6 towards Oslo as we were in for a very long drive.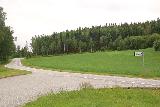 It wouldn't be until about 12:25pm when we finally made it to the well-signed car park for Elgafossen. We got off the E6 for the 163, then we followed the 163 before heading north right for the Norwegian border along route 165.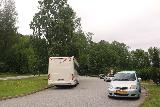 There were a handful of cars and motorbikes coming in and out of this pretty busy car park (limited parking but seemed to have plenty of space for us at the time).
And luckily for us, the weather appeared to have calmed down right when we showed up as most of the drive to get up here involved a good deal of persistent drizzle.
Anyways, we could see the Elgafossen with a tinge of brown in its impressive 46m drop, and it was easily the best waterfall we had seen on the trip so far.
I guess that's really saying something that the first Norwegian waterfall we saw on this trip also happened to surpass all the Swedish waterfalls seen so far. At least Sweden can claim part of this waterfall as the Elga watercourse just so happened to define the border between Norway and Sweden.
In fact, I had read a sign here that said a Norwegian girl married her Swedish love on the Elja, which was symbolic of the borderless identity and union of Sweden of Norway in this area (especially given the past conflicts between the countries).
Regardless, we walked across the bridge over the tannin-laced stream and then followed a short path leading to some ruins as well as a trail that provided a frontal view of Elgafossen from a bridge as well as a trail that led up alongside the steep falls where we saw people standing at the brink of the falls at the top.
When I got up there myself, I could see that there was a bridge spanning the Elja with both the Norwegian and Swedish flag symbols on that bridge.
The views of the top of the falls from both sides were commanding. Julie and Tahia stayed behind at the bottom and Tahia was busy giving me the "Loser" sign while I was up at the top.
After having my fill of this spot, I then went back down where I captured more of the front of the falls from the bridge as well as some of the scrambling spots slightly uphill.
The floodlighting lights looked to be a bit of an eye-sore and we weren't sure why they were there. But regardless, perhaps someone was using the Elja to provide a bit of small scale hydroelectricity for their needs.
By about 1:35pm, we returned to the car. From here on out, we were crossing into Norway to spend the better part of five weeks touring the entirety of the country.
With their reputation for being very expensive, I'm sure when we leave Norway for Denmark then return to Sweden, that it might feel like a bit of a respite (even if Scandinavia in general tends to be expensive).
Regardless, the main part of the trip was coming up, and I hope to slay the demons that have haunted me all those years after our past mistakes made on our first trip to Norway back in 2005…
This writeup continues on the write-up "Writing Wrongs", which covers our journey in Southern Norway…
Day 44 (July 26, 2019 – Aarhus, Denmark): "Readjustments"
This writeup is a continuation of the write-up "Approved By Nature", which covers our return to Fjord Norway leading all the way south to Kristiansand…
It was about 4am when I awoke. It was actually before sunrise, which was unusual on this trip. But it was still clear weather as it was light enough to see the weather.
The rest of us got up as we knew that we couldn't screw up the long ferry to Denmark so we took the early wake-up very seriously.
And sure enough, by 5am, we were all packed up and ready to go and we checked out of the Scandic Kristiansand.
We really wished we could have had their breakfast for one last time on this trip (as we had come to appreciate the Scandic breakfasts in Norway), but we couldn't wait until 7am for that.
By then, the ferry to Denmark would have been long gone.
We were in the car by 5:10am and the quiet streets made for easy driving as we slowly looked for the proper way to show up to the ferry terminal.
Fortunately, the signs were easy enough to follow (and not get misled by the GPS which had us turn on small streets again), and we wound up showing our confirmations at the gate, and then we parked in the correct lane by 5:20am.
It took some time for this line to move so I spent some time in the car catching up on my blogging while Julie and Tahia were getting a few more Zs in.
Eventually, the line moved to get onto the ferry boat, and we promptly got there some time before 7am.
Then, when we got out of the car, we promptly walked up to the top deck, where there was a breakfast buffet that we paid around 350 NOK or something like that for the three of us.
Considering how expensive things were in Norway, this was actually a surprisingly reasonable rate for a buffet, but alas, it was certainly no Scandic when it came to breakfast buffets.
They did have herring and the usual sausages, eggs, vegetables, fruit, and bread. But there was no toaster, no caviar or fish eggs, and limited pastries (basically Danishes).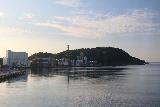 In the end, that was the reason why the prices were as reasonable as they were. But it also bought us the ability to sit comfortably at a table and watch the ferry boat move across the Skagerrak.
At some point during the journey, we all dozed off, but in between those times, I did get some more blogging in as I was way behind given the loaded itineraries that we were adhering to throughout Norway.
By about 8:50am, we were back in the car waiting for the imminent docking of the ferry at Hirtschals.
Once we got off in a pretty orderly fashion, it didn't take long before the Hirtschals road expanded into a freeway.
So we went from around 90km/h to 110km/h, and then it freed up into going 130km/h. I swore that in all the time we drove around Norway, the speed limit never got past 90km/h (or at least I couldn't remember when it ever got to 100km/h).
That just illustrated how curvy and mountainous Norway was compared to Denmark. Plus, there seemed to be many more people and cars in Denmark just based on our limited experience on the highway so far.
The drive occurred uneventfully and we ultimately arrived in the city of Aarhus at 11am.
Julie saw that there was an organic store somewhere in the city so we briefly made a stop to allow her to make her dark chocolate run there.
I also did a brief fill-up of gas when I did the math and realized that even with the poorer exhange rates, the gas in Denmark was still cheaper than what we were paying for in Norway (at roughly 10 DKK per liter).
Eventually at around 11:10am, we finally made it to the Scandic Aarhus, where Julie checked in though we knew that the room wouldn't be ready until later this afternoon.
So we left our luggages behind and parked in the Q-park downstairs, which was actually quite warm.
We then wasted no time in working with the receptionist when she learned where we were going tomorrow and suggested taking the Aarhus to Sjaellands ferry instead of just driving all the way.
So we booked the rather expensive 9am ferry at around 599 DKK for all of us and the car, and we also booked tickets to go to Den Gamle Byen in Aarhus, which was one of the must-do things that Julie had targeted while in this city.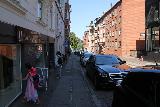 By about 11:40am, we finally started walking around the city.
And on this warm and sunny day we were already walking slowly and trying to stay in the shades wherever we could as we were making a roughly 20-minute walk to get from the Scandic to Den Gamle Byen.
We'd eventually get there at around 12pm or so, and got into the outdoor folk museum. By now, we had gotten used to visiting these kinds of things from the one in Oslo to Bergen to another one in the Viking Town in Gudvangen.
So we came to appreciate how informative and immersive these types of museums could be and really looked forward to doing this one. It also re-opened our minds to visiting Skansen when we'd get back to Stockholm, which we didn't consider doing at the time.
The Old City (which Den Gamle Byen meant) seemed to have a lot of people as well as a lot of buildings with open doors allowing people to go inside and have a peek.
There were also many more people dressed in period pieces while also not breaking character (much of which was in Danish unless they knew you didn't speak the language).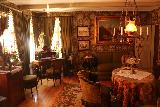 Plus, this place was pretty extensive as we were walking from structures that were recreated or around in the 1800s and it would ultimately get up to the 1970s near the exit.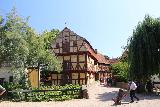 So indeed, this was like a time machine.
We had a basic lunch at around 12:25pm where we welcomed the shade of the tent canopy that we ate under.
And it was conveniently close to some games and attractions for the kids like a standing swing as well as a little merry-go-round that Tahia enjoyed.
There were also a self-help knock-the-cans over with a throwing bag game as well as a couple of different bowling type games.
We then spent the next couple of hours touring the rest of the complex, where we actually backtracked to visit the Mintmaster's Mansion as well as the Mayor's Mansion, which were the highlights of our visit.
When we got to the more modern part of the visit, we saw the Nazi occupation exhibit as well as walked into an electronics store where they were selling big boxy TVs and records by the likes of ABBA, David Bowie, the Beattles, and more.
By 3:40pm, we had left Den Gamle Byen, and proceeded to walk back to the Scandic Aarhus.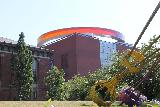 By 4:05pm, we finally checked into our air-conditioned room. And the AC was definitely a welcome feeling after all the time we spent in the hot Summer sun.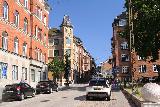 It took some time for us to get settled in the hotel room, but eventually at around 5pm, we finally headed back into town. This time, we were walking in the other direction towards the Latin Quarter and cathedral (said to be the largest one in Scandinavia).
It was pretty much a lazy stroll through Sondergade which was lined with shops and cafes (much like any other outdoor mall in a city center), but the dom was always within sight as we were approaching it.
We also noticed a canal lined with more busy cafes all being used by people having a sip and people watching or having a chat in the Danish hygge style.
We then spent some time around the church and the theater before finally meandering into the Latin Quarter, which was basically a few more alleyways and old buildings along with some restaurants.
At around 6:05pm, we ultimately found ourselves at the Mefisto Restaurant, where Julie liked the menu enough to go there (especially when she learned that they can accommodate gluten free preparations).
While the restaurant started off not so busy when we were there, we ultimately didn't get out of there until well after 8:20pm.
Most of that time was spent waiting for our food as we could clearly see that the restaurant staff was very busy.
We got a fish dish (for Julie's clean eating) as well as some peelable prawns.
I got a three-course meal that included a lobster pot pie as well as a beef tenderloin and some kind of berry with ice cream dessert.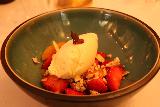 I think that this place was so busy that they even mixed up orders and given us dishes that we didn't ask for. For example, they gave us French Fries which we weren't charged for.
And we also got a second dessert, which we weren't charged for.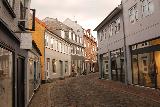 I guess all the excess food was the least we could have concessions for considering we were spending well over $120 USD for this dinner. We were also charged 60 DKK (about $10 USD) for tap water! (just like Germany and Austria all over again)
This experience all but made me want to not want to eat out when we're in Copenhagen tomorrow and the day after.
When we were finally out of the restaurant, I was surprised to suddenly see that we were surrounded by gray skies.
Where did all these clouds come from? It was practically cloudless and hot all day long!
Anyways, with the slightly cooler temperatures, we then did a bit more walking around as we pursued some kind of quaint alleyway called the Mollerstien.
We took a route that walked along the canal to get there, and we also noticed quite a bit of activity going on at the Mollerparken, where a bunch of younger folks were having picnics, having a chat, or playing some social games.
By about 9:05pm, we were finally back at the Scandic Aarhus, where all of us were dead tired from the day's touring.
Still, with tomorrow's commitment for the ferry at 9am, we couldn't sleep in.
Indeed, I sure hoped that the decision to do the ferry would pay off since that would mean we'd head straight east to Frederiksborg Castle instead of making a giant U route through Copenhagen before heading north to Frederiksborg Castle and back.
Ferries have always made us nervous, and here we were going to tempt fate again with another one…
Day 45 (July 27, 2019 – Copenhagen, Denmark): "More Ferry Lemons"
It was 4:15am when we awoke. Outside, I saw clear skies though it was still dark, but it was starting to get bright.
It took us some time to get ready to pack up, check out, and get moving, but at least we had time to at try the Scandic breakfast which started at 7am. Our ferry wasn't scheduled to leave until 9am.
That said, the breakfast turned out to be nowhere near the quality of the Norwegian breakfasts that we had been spoiled with.
This Scandic brekkie didn't have any herring, no caviar, no Nutella nor Nugati, no smoked laks, etc. It pretty much just had standard stuff like scrambled eggs, sausages, baked potatoes or wedges, lots of non-compliant bread, and even non-compliant yoghurt or non-compliant milk products.
So we actually didn't spend that much time at the breakfast here, and we took our time before getting into the car at 8:10am.
In my mind, we still had nearly an hour before our ferry took off, but we were being prudent about getting there early for we weren't clear when the deadline for check-in was.
By about 8:40am, we made it to the ferry terminal, which was very automated. Our reservation was in the system, and it was just a matter of us recalling our confirmation number before the turnstile boom let us through.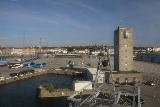 Without incident, we managed to board the ferry, and as scheduled, we ultimately got back to our car at around 10:10am.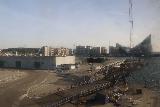 Pretty much in a semi-orderly manner, we got off the ferry when the time came, and we were in a long caravan of cars driving out of the peninsula and towards Copenhagen.
And as much as the GPS wanted us to go south and then around to Copenhagen before going north to Frekeriksborg Castle (the big attraction of the day that Julie targeted), we saw that there was a more direct route going directly east.
However, that would involve yet another ferry that we didn't know that we had to take. And that particular ferry seemed to leave every half-hour.
So we targeted the 9:50am departure one, but there were too many slow drivers in front of us to even make that.
By the time we ultimately made it to the ferry docks between Rorvig and Hundested at around 10am, we saw that there was a reserved line and a no reservations line.
Naturally, we stopped at the no reservations line, which was not moving at all. Instead, the reserved lanes got to go right onto the ferry that was right at the dock at around 11am.
This must have been the 10:50am ferry that we had read about online (and the very one we tried to catch to facilitate our ability to arrive in Frederiksborg Castle in Hillerod without passing through Copenhagen.
The GPS really tried hard to get us on the driving path (which meant no ferries), and it had predicted that we would have gotten to the slot before noon.
But with us apparently not going to be going onto this particular ferry, I was now wondering if we had made a mistake in relying on ferries as clearly we weren't going to make it to Frederiksborg Castle until at least well past noon.
And that would mean that we would have less time to enjoy Copenhagen on this day.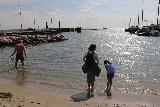 Anyways, the ferry that was docked had already sailed off, and all the remaining cars had to get out and buy the ferry tickets (costing us around 226 DKK or roughly $35 USD or so) to get across.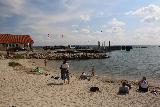 The ferry boat didn't look particularly big, and I was wondering if we would even make the next ferry since it looked like the cars with reservations would have first dibs on getting onto the boat.
Would the next ferry boat arrive an hour later as it said online?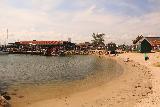 Regardless, it was what it was, and now we were trying to make lemonade out of lemons again. And we had that opportunity to do it by letting Tahia play on a small beach next to the ferry docks.
At first, little girl was reluctant to wake up from her nap, but this was an unexpected water and sand castle play time so she eventually realized what a rare opportunity this was to her.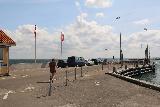 By around 11:20am, the next ferry boat arrived, and the non-reserved line finally started to move after all the reserved cars got to get on.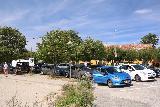 Unfortunately, the boat wouldn't load the car in front of us and we were stopped at around 11:25am. So that meant we'd have to wait for the next ferry after that!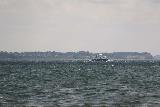 Well, the bright side was that the ferry was apparently every half-hour instead of an hour as feared. However, the lesson learned here was to make reservations for all ferry crossings in Denmark. There were simply too many people here, and this particular ferry was tiny.
That said, we didn't even know about needing this ferry crossing until we today. So that's why we didn't make reservations.
But at least Tahia got another half-hour or so of play time in the strand. So I'm sure she was enjoying herself. Meanwhile, I was having more ferry anxieties as we simply hadn't had very good luck with such modes of transport on this trip.
Another lesson learned here was when in doubt, try to avoid ferries as much as possible unless there was absolutely no other choice!
By the way, with the extra time here, I noticed that there were UNESCO signs near this dock. I couldn't imagine why this was the case, but upon reading one of the tourist literature here, I saw that the bronze-age horse-and-chariot figurine was discovered by a farmer somewhere here.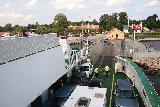 There was also a castle ruins and fort somewhere in the vicinity as well. So I guess that's how this place became under the UNESCO geopark designation, but I'm quite sure that we wouldn't be able to visit any of those things on this day.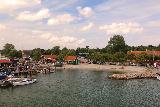 Anyways, by about 11:50am, we finally got to board the next ferry that showed up. This time, we were one of the first two vehicles to get on, and we happened to be lined up right in the front of the ferry.
The ferry itself took off pretty much as scheduled and I wasted no time going up to the upper decks to take pictures.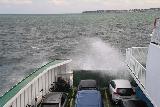 When I was about to head back downstairs to rejoin Julie and Tahia who opted to stay in the car, I couldn't help but notice that there was the sea splashing against the ferry and spraying the cars in the front of the ferry, including ours!
That drew a few laughs from the people looking down at the action taking place, but there was no way I was going to try to get into the car while the seawater was splashing and spraying all the vehicles in the front.
Some people were even taken off guard and got a big drenching as they stood by their cars. And I was hoping that Julie and Tahia managed to roll up the windows as I had left the windows rolled down when I went up the deck.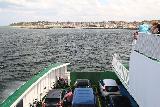 So that was yet another unexpected surprise about taking ferries – that we could get sea splashed by waves that weren't even that big. But I think it was the fact that this ferry was quite small as I had never recalled any of the Norwegian ferries on this trip being this much trouble!
Well, with the ferry dramas finally over when we were let off the ferry at around 12:30pm, we finally got to drive the final stretch to Hillerod and the Frederiksborgslot.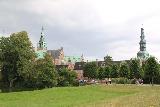 We ultimately got to the grand castle at around 1:05pm, which was about 2 hours behind what it would have been had we just ignored all the ferries in the first place! Again, another strike against taking ferries!
By the time we got out of the car and walked towards the castle, it looked like there were dark clouds that wanted to cause rain on the area. But all that was produced was some light sprinkles.
There was also a wedding that appeared to have concluded at the castle as there were a lot of well-dressed people making their way out of the castle. It looked like there was an Asian person involved in this wedding because we saw that half the people leaving happened to be Asian.
Anyways, Julie learned that the Copenhagen Card was a really good value as it included all the major castles and mass transits. And we wound up paying on the order of 200 euros total for all three of us, which amounted to probably around $300 USD or 1800 DKK roughly.
The question was whether we were going to make this card work for us over the next couple of days, but at least we started to use this card on this Frederiksborgslot visit.
Right off the bat, we were already inspired by the giant towers rising above on the castle surrounded by a classic moat.
Once inside the castle, we then went from room to room where each one seemed to be very elaborately decorated. Indeed, we had read from Rick Steves that this place was like the Danish Versailles, and that summarization wasn't far off!
Julie already thought that this place was one of the great castle visits that we've done in Europe.
They even let you take pictures inside, which was something we couldn't do in just about any of the castles in Germany and Austria.
Perhaps the highlights of this visit included the fancy church (which was closed due to the wedding, but we were able to see it from the second floor) and the Great Hall.
There was even a grand garden in the back of the castle very reminiscent of the Versailles Palace as well as the Schonbrunn Palace.
Of course as I was taking it all in, I couldn't help but wonder if the people governed by the Danish monarchy would resent such concentrations of wealth.
I'm sure these days they make money for the country (something that we should really re-consider how we price the National Parks in the USA), but if life was so hard for the commoners, what makes royalty and associates more deserving of resources and tax revenue than everyone else?
Perhaps the most functional governments wouldn't have such concentrations of wealth as I'm sure resources could be used for more functional purposes. And that's like the classic catch-22 when it comes to displays of wealth versus functional governments.
Yet in Denmark, we never really hear about revolts against the monarchy, and this institution has been around for centuries – perhaps the oldest functioning monarchy left in Europe!
Anyways, by 3pm, we were back in the car. While it was cloudy and threatening rain when we first showed up, it was clearing skies and quite warm weather when we left.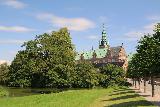 Next, we drove into Copenhagen where we finally arrived in front of our apartment by 3:45pm.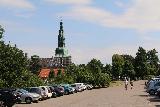 As Julie was getting the apartment key and figuring out how stocked the apartment was, I was studying the parking situation.
Apparently, we could park where we were at right across the street for free starting at 5pm and for all weekend long until Monday at 8am. We just had to pay for the remaining hour to bridge us to the 5pm.
Luckily for us, this was an EZ-Park spot, and we used the app to cover us for our time in Copenhagen.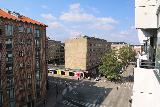 By about 4:20pm, we were all settled in the apartment, which was quite warm. We actually had to open the balcony door as well as the front door in order to get some form of airflow through the apartment.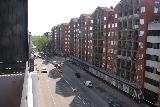 We then went downstairs where there were three grocery stores all next door or across the street from each other. What was funny was that I heard that they were all owned by the same entity as they were essentially Coops.
Anyways, we were done with our grocery run by about 5:05pm, and then we did a self-cooked dinner to avoid overpaying for sit down restaurants after the Aarhus dinner experience taught us that we had to pay for things like tap water as well as for expensive foodstuffs.
So it wasn't until about 6:50pm when we were done with dinner (which consisted of steaks bought for just 15 DKK seasoned with rosemary and some greens).
We were now in position to finally go downstairs and tour Copenhagen.
We first walked towards the Nyhavn area, which was the famous harbor lined with colorful buildings and charming old-school boats. There were also lots of human activity from people having beers along the walkways as well as others trying to soak in the scene at a sit down bar or restaurant.
Tahia and I indulged ourselves each with a waffle cone ice cream from this place called Vaffelbageren.
It wasn't cheap ice cream as I wound up paying about 85 DKK for the both of us, but at least Tahia got her ice cream fix so that kind of pacified her for the time being.
After having our fill of the Nyhavn, we then walked towards some bridge that traversed the wide canal with a view of some happening spots on one side, and an opera house across from some children's theater play area on the other side.
It was right out of a scene from one of the Rick Steves videos that we had borrowed from the library.
Anyways, we had to watch out for the fast-moving bikers who were quick to reinforce their right-of-way against pedestrians who happened to stray into the bike lanes.
We even had to cross such lanes in order to get to some of the better viewing spots on the bridge.
Indeed, we were trying to soak in the atmosphere of this main part of Copenhagen, which was just buzzing with activity on this Saturday evening.
It was very festive regardless of whether we were walking along the canals, across the bridges, noticing fancy spires, etc. Indeed, we last felt this kind of magical feeling of being in the middle of the action when we were first in Vienna.
However, Copenhagen struck me as the kind of place that was very much like Vienna except with wider streets.
Overall, it still felt magical. And yet, we still had another place to go, which was a bit away from the hustle and bustle of the Nyhavn area – the Tivoli Gardens.
Once Julie finally figured out how we were supposed to get to the Tivoli Gardens, we eventually returned to the Nyhavn before finding the bus stop for line 66 at around 8:05pm.
By about 8:25pm, with the aid of GoogleMaps on our phone, we made it to the Tivoli Gardens.
With our Copenhagen card, we were able to go inside the park without needing to pay anything. However, we knew that we'd have to pay for the rides, which we decided to do a la carte since it was already late in the evening and we had no intention of needing to do unlimited rides when the lines were already long to begin with.
Still, as we walked into the park, we were struck by how Disney-like this place was. Actually, it should be the other way around – Walt Disney was actually inspired by Tivoli Gardens and patterned Disneyland off of this place.
So indee, we were now seeing the OG of theme parks.
Anyways, there was still too much light to properly take photographs so we decided that we were going to go on at least one ride to experience this place directly.
While there were lots of rides to choose from, we ultimately decided that we could do at least the Roller Coaster as a family, which costed us 2 tickets per person (or 6 total). And at 30 DKK per ticket, this was adding up to about 180 DKK for the ride, which was like close to $30 USD.
After the ride, which reminded me of a smaller version of Colossus or something that was very up and down where the intent was to get you off your seat and feeling the zero-Gs, we did some more walking around the park before deciding that we needed to do another ride.
This time, we had split up so Tahia and Julie could ride the Star Flyer (the tall sling shot ride) since that had a small enough height restriction that Tahia could get on. Meanwhile, I did the Demon by myself, which seemed to be the park's signature roller coaster with loops, corkscrews, and barrel rolls.
Each of those rides costed 3 tickets, which amounted to 270 DKK total or close to $40 USD.
When we were done with our respective rides, twilight night had hit the park with a magical bluish and purple skies. And the lights were coming on, which created a very photo friendly scene for a fleeting amount of time.
We ultimately captured the pagoda, some attractive lake with some boat rides on it, as well as a concert where a band was playing some kind of jazzy music that people in the front were swing dancing to.
We also tried to capture the Taj Mahal, though the twilight had faded by that time as the skies were turning black.
It wouldn't be until about 10:40pm when we finally left the Tivoli Gardens.
Indeed, while Tahia didn't get to do Legoland at Billund as originally planned (we instead did Aarhus yesterday), perhaps the Tivoli Gardens was the better makeup for that as she clearly had fun and didn't want to leave.
Eventually by about 10:45pm, we waited for the bus 66 to take us back towards the Nyhavn area, by which we then walked back to the apartment to finally unwind this very busy day.
By about 11:25pm, we were back at the apartment, where it took us some time to get cleaned up and finally call it a night. It wasn't until about 2am when I finally went to bed.
Tomorrow we'd have a full day in Copenhagen though Julie would continue to have control of the itinerary as the intent was to visit as many of the castles as we could that was within our Copenhagen card.
In hindsight, I was wondering if we could have used a third night in Copenhagen, but the circumstances were such that the apartment was sold out and we couldn't add a third night without changing accommodations.
So it was what it was. We'll just have to make do with the limited time we have in this magical city…
Day 46 (July 28, 2019 – Copenhagen, Denmark): "Royaled Out"
It was about 6am when I woke up to Julie's alarm. When I looked outside, it was already bright and sunny.
So I went about my business still trying to get caught up with blogging (though I was nearly two weeks behind when it came to reviewing and picking photos from the trip).
However, when 8:05am rolled around, all of the sudden, I saw dark clouds rolling in quickly. And before we knew it, the weather was already turning to light rain just like that!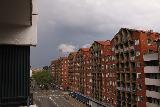 Minutes later, the rains turned heavy as the clouds got darker and we started to hear the roar of thunder.
Then, as we were having breakfast, we saw many flashes of lighting. One was pretty close to us as the gap between a bright flash and the accompanying loud thunder was barely less than a second apart!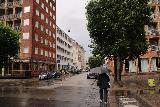 With the weather being as intense as it was, we opted to take our time eating our self-cooked breakfast. Even though the Rosenborg Castle (Julie's first target on today's itinerary) was actually open at 9am, it wouldn't be until about 9:50am when we were finally heading out.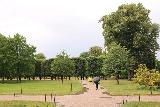 During that time, we walked in the opposite direction of the Nyhavn and onto a pretty extensive park-like yard.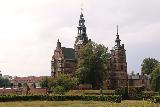 As we were starting to see a grand and tall building before us, it started to rain again just as the weather felt like it was letting up.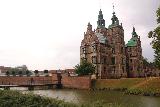 I guess the weather couldn't decide between calming down or pouring down with rain with still thunder and the odd flashes of lighting popping up from time to time.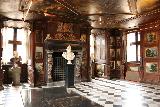 Eventually by about 10:15am, we arrived at the Rosenborg Castle just when the next batch of rain came in.
So as Julie was redeeming the tickets from the Copenhagen Card, Tahia and I happened to witness the changing of the guard, which passed right through the archway separating the ticket and garderobe with the museum shop.
Once we were done putting the pack and waterproofs in the locker, we then proceeded to go into the touring part of the Rosenborg Castle.
We started on the ground floor where we visited a series of rooms including a bedroom, a writing room, a dark room, a garden room, and an interesting marble chamber among others.
We then went on to higher floors where we encountered hallways and corridors as well as other rooms and cabinets full of ornate objects.
When we got up to the highest floor, we encountered the Great Hall, which featured some lion status on one side of the hallway and a throne on the other side.
After having been in the Frekeriksborg Castle, I was beginning to wonder if all of these Danish castles have these Great Rooms or Great Halls, which seemed to be one of the signature features of this royal family and its castles.
We also saw a room full of glass objects as well as a room full of porcelain objects. It seemed that one of the features of royalty back then was that they had the means to travel the world.
And having collections of intricate porcelains from China or speaking multiple languages and being well educated seemed to be a priviledge for the rich.
Once we were done with the Rosenborg Castle part of the visit, we then descended to the basement and the treasury.
Down here, there were a bunch of gold objects from swords to shields as well as all sorts of other trinkets.
In one casing, there was a very ornate singular crown.
In another casing, we saw a pair of velvety crowns sitting side-by-side with each other.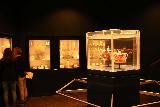 The crown jewels were the highlight of this tour according to Julie, and with the primary purpose of our visit to this castle out of the way at 11:10am, we then pursued some nearby waffle joint that was said to serve some gluten free Belgian Waffles.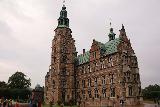 That alone was what prompted Julie to chase down this place as soon as our visit to the Rosenborg Castle was over. After all, gluten-free places were hard to find, especially when it came to Belgian Waffles.
So after leaving the castle, we then used Google Maps to continue walking towards that waffle joint called Social.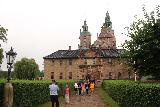 It started raining again just as we were leaving the Rosenborg complex, and we wound up walking several blocks eventually getting past a bridge over a wide river or canal.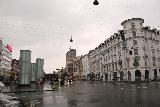 Out here, there were more old school buildings flanking wide city streets (further reinforcing my perception that Copenhagen was like Vienna but with wider streets).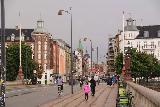 On the other side of the river, we finally found the underground joint called Social, which was actually a coffee shop.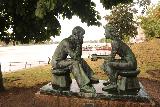 Once inside at around 11:35am, Julie was told that the gluten-free Belgian Waffles were no longer offered there. So it turned out that we had walked such a long ways only to not have what she was after.
I guess this just goes to show you how easy it was to be disappointed if you make part of your trip dedicated to chasing foodie things.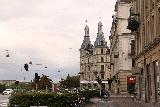 Regardless, Julie was unfazed and instead pursued gluten-free crepes, which was back on the front side of the bridge that we had just crossed.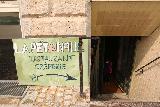 It wouldn't be until around 12pm when we made it to this place called La Petanque, which seemed like a well-hidden spot underground and quite the cozy or hygge spot next to some kind of public square of space that was a little light on people activity.
It was still overcast when we showed up, but we could already see that the thunderstorm had already passed by this time.
Inside La Petanque, we wound up having a filling lunch that included a dozen escargots and a couple of pretty big galettes that reminded us of some of the places we ate at in France (partcularly Paris) last year.
I wound up getting some recommendation that had spicy slices of charcuterie meat in it (almost like a pepperoni) which also had walnuts, blue cheese, and egg.
Julie got something else with eggs and spinach along with bacon.
We also got a glass of hard cider.
It turned out that this was enough food, and we really didn't have the room to indulge in a sweet crepe though the banana flambee looked really good.
By about 1pm, we were done with lunch, and we started to head towards the bus stop that would take us to the next castle or palace of the day – Christiansborg.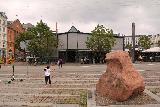 But along the way, at 1:05pm, Julie noticed some kind of Farmer's Market. We started off by going inside some Cleaver's Market, which was full of different butcheries.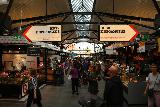 Then, as we left that building, we found ourselves before fruit and vegetable stalls that were outdoors.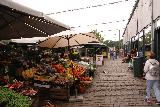 There was yet another indoor series of markets though we didn't go inside that one.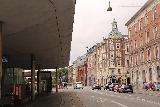 Although we could have lingered here for a while, we still had stuff to do to make use of our Copenhagen Card, and that was what had the priority since most of those paid excursions had deadlines or closing times.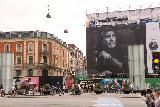 So by about 1:25pm, we finally boarded the 14 bus, which ultimately took us nearby some canals that also served as a moat around part of the Christiansborg Palace.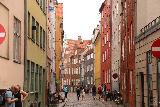 It took a bit of a walk to go through an atmospheric garden and courtyard before getting into the grand dark building.
Once inside that building, we used the garderobe and exchanged our proof of Copenhagen Card payment for tickets to get up to the Reception Rooms, which were the main purpose of our visit here.
There were other things like the Royal Stables and Library that we opted not to do.
Anyways, the tour pretty much took us upstairs where we went from one grand hall, or guest waiting room, or library, or salon to another.
The tour ultimately ended at the very grand Hall of the Giants, which was where the butikk and toilets were.
Perhaps the highlights of this visit was the Queen's Library (kind of reminiscent of something we saw in places like Admont, or the State Library in Vienna, or even Melk) as well as the Great Hall (something that seemed to be a main feature of each of the Danish slots we've seen so far).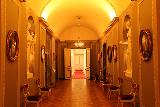 In one instance, there was room full of modern and colorful-looking paintings that kind of reminded us of the grand murals showcased at the Radhuset in Oslo.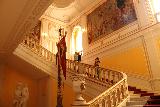 Once again, it kind of showcased what concentrated wealth can do, and so while it was cool to look and stroll through, I kept thinking about the inherent injustices behind such things and how the Danish monarchy managed to avoid a revolution not unlike that of the French Revolution.
Anyways, this place definitely had a more modern feel to it as compared to both Frederiksborgslot and the Rosenborgslot.
We were done visiting the Christiansborg Palace at around 2:25pm.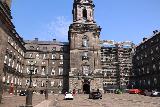 Next, we walked out towards the 1A bus stop after going back and forth and in circles through the Christiansborg complex not quite sure which way to go.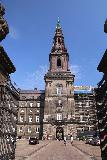 We wound up catching the 1A bus at around 2:50pm, and it turned out that we made a big circle, especially since one of the stops on the way was the Christiansborg Palace's backside, once again!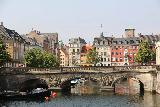 Anyways, it wasn't until around 3:05pm when we made it to a stop near Amalienborg.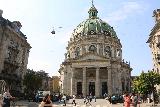 We walked maybe a couple of blocks before we noticed a huge Marble Church or Dome that looked very much like a grand capitol building. We vowed to come back here and have a look when we were done with Amalienborg.
By this time, I was already royaled out, but I was game to check out what was special about this place.
Julie said that this was where the current royal reside though from the absence of flags being flown, it seemed like they were all away somewhere else during our visit.
At Amalienborg, there was a giant square surrounded by more grand buildings with one of the streets leading back to the Marble Dome while the opposite end led to one of the grand opera or play buildings by the grand canal.
Our visit pretty much went from one collections room to another as well as a few study chambers. But by this time, I had already seen so many of these rooms today that these modern facilities and residences seemed like more over-the-top showcases of concentrated wealth.
It was getting quite hot as the sun was now out and the thunderstorms that really hit the city hard earlier this morning and midday were more like a thing of the past.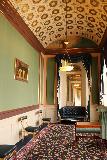 Thus, I tended to chill out by the open windows which actually had some degree of airflow as I was waiting for both Julie and Tahia to be done with their self-guided tour.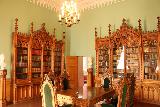 So at 3:35pm, we were finally done with our visit.
Next, we then walked back towards the Dome to see what the inside was like. Admission was free, but apparently, it was possible to climb up to the top of the dome for views at precisely 1pm.
Well, that didn't happen on this visit.
Next, with all the waterproof gear that Julie and Tahia had worn as well as the rain poncho and umbrellas that we were carrying, we decided to head back to the apartment since we were within walking distance from there.
We figured that would at least relieve us from some of the weight as well as the change in the weather.
We ultimately got back to the apartment at around 4:05pm, but it wouldn't be until around 4:35pm when we got to the next bus stop that would take us back towards Christiansborg towards Ved Stranden, where we were going to catch one of the original Copenhagen Canal Tours.
The long gap in times was due to Julie not finding the black phone, which she apparently dropped in the car when Julie tried to change shoes in there.
Anyways, we only realized the inclusion of the Canal Tour during our Amalienborg visit that our Copenhagen Card also included such a tour. And so we had to make sure that we got to do that.
By about 4:50pm, we finally got around to boarding one of the Grand Canal Tour boats, and in order to cover our bases, I sat on one side of the boat while Julie and Tahia sat on the opposite side.
While the cruise was relaxing as it took off and serenaded with a lady giving a talk in multiple languages (English, Spanish, and Danish on our tour), it was a bit awkward to take pictures.
Still, after getting into the swing of things, especially ducking under all the low bridges, we ultimately got our fix as we passed by the familiar opera houses en route, passed between old buildings and popular hang-out spots that we had checked out last night, and even went all the way out past some incinerators fronted by warships as well as the Little Mermaid.
It turned out that the Little Mermaid statue was facing towards the land and was kind of not the greatest angle to see it from the boat.
The lighting was also good in the late afternoon to see it on land. So maybe we might give it a go when we'd get back on land.
Our boat tour ultimately ended at around 6pm.
Next, we tried to walk to a bus 26 stop that would have taken us to the Little Mermaid, but it took a very long time for a bus 26 to even show up. Upon looking at the schedule, it was now once every 20 minutes for the bus to show up as the ever 10-minute interval was between 15-18.
Thus, we ultimately decided to abort our attempts at seeing the Little Mermaid from land, and maybe try to see it first thing in the morning tomorrow when we'd attempt to drive over there on the way out of Copenhagen.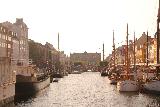 Thus, we took the 66 bus back to Nyhavn, were we then walked the familiar happening new harbor back to a couple of different waffle cone ice cream joints.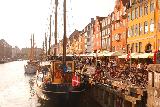 We indulged Tahia for a couple of gelato scoops and a waffle stick at a different joint than the one we did yesterday. However, I went back there to get my fix of cookies and cream in a waffle cone.
So we spent some time getting sticky and indulging our sweet tooth before returning to the grocery stores by our apartment.
By about 7:10pm, we were back at Irma's to buy the necessary produce for our own self-cooked dinner, and by about 7:35pm, we were done with the grocery run and back upstairs in our room.
We were thinking of going back out into town later tonight so Julie could try another gluten-free crepe place in town, but after realizing that she was breaking out in more rashes from all the cheating from today, she decided better to not to do it on this night.
And so we ultimately settled down for the night as we packed and just relaxed given the really long day of royal touring.
I still wasn't sure about whether we really took full advantage of our Copenhagen Card because of how expensive it was, but I had to believe that with 5 or 6 things covered by the card, we must have made it pay for itself, right?
Anyways, we did contemplate doing another Copenhagen activity tomorrow morning before leaving for Nynashamn, but the aquarium that we had targeted wouldn't open until 10am and that wouldn't sit well with a 9-hour drive that included two waterfalls.
So that pretty much nixed that idea.
And with that, we ended this eventful day though we really wished we had a third night in Copenhagen. But alas, things worked out the way they did, and now we had to look forward to the final phase of our trip as we'd return to Sweden to end off this epic Scandinavian adventure…
Day 47 (July 29, 2019 – Nynashamn, Sweden): "Last Bit Of Nature"
It was about 5:15am when I awoke to the sounds of cars whizzing by on the streets below our apartment. Apparently, the city wakes up pretty early.
I used some of the time between now and when Julie finished preparing the breakfast to get all the way caught up on blogging (before setting my sights on organizing and categorizing the photos).
As usual, it took a bit of time to get ready, and I was already getting nervous about not leaving on time by 8am (or earlier) nor not having time to drive to and properly check out the Little Mermaid statue without the baggage of relying on infrequently arriving buses.
However, it wouldn't be until around 8:10am when we finally left the apartment. That was because Tahia took forever to eat, and Julie got her start too late after 6am.
Julie really should have gotten up earlier (like when I got up), and that would have allowed her to not to be too rushed but at the same time not to miss out on sights due to complacency.
We also wound up with a very full brekkie consisting of kefir, fruits, skyr, cooked eggs, bacon, and veggies.
We really had to empty out the fridge and any of the perishables since we knew that they wouldn't keep without refrigeration from the long drive today as well as the ferry ride and sightseeing in Visby tomorrow.
So we tried to finish off the caviar as well as the pesto jar (though I had nothing left to eat with the spread by now so we wound up bringing it and hoping it wouldn't spoil during our journeys today and tomorrow).
And in the end, given our fairly late start, I gave up on the idea of driving to the Little Mermaid.
This was especially when I realized after researching on GoogleMaps that driving all the way to Nynashamn via both Forsakar and Danska Fallet waterfalls would require nearly 10 hours of driving (and this was without stops!).
So by my calculations, this day would take at least 12 hours, and so by us leaving after 8am, it meant we wouldn't be at the apartment to check-in until at around 8pm.
I sure hoped that we wouldn't regret missing this photo op, but I wasn't particularly pleased with the complacency costing us the ability to at least experience one of the iconic and most well-photographed spots in Copenhagen.
Regardless, Julie didn't seem to care too much about the Little Mermaid even though our experience from the boat wasn't the greatest as we were looking at the statue's backside.
And so we drove off and used the iPhone to navigate our way out of the city and towards the international bridge. My Garmin Nuvi apparently didn't have Copenhagen properly loaded so any routing involving the city wouldn't work.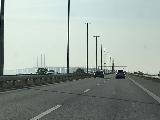 But once we got past the friendship bridge, which was a long bridge spanning Copenhagen, Denmark and Malmo, Sweden, the GPS started working again.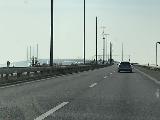 At the far end of the bridge, we had to pay a toll the old-fashioned way (with toll booth collectors), and then right after that, we had to pull up to a police officer who checked passports.
I think of all the Scandinavian border crossings we had been doing throughout this trip, this was the first such time that they checked for passports. I guess Sweden had to make sure that funny things didn't happen by land from the main part of Europe to Sweden though the lax border crossing via ferry still seemed pretty loose compared to this option.
Anyways, after being asked where we were going and counting passengers to match up with the number of passports shown, we were on our way to resume the very long drive.
While we could have stayed with the smooth E roads all the way to Nynashamn, we ultimately drove further east along the E22 before turning off at the Road 19 and taking it south to the town of Degeberga.
The Forsakar Waterfall was signposted from town and was only about 1km from the Road 19 so I was right to ignore the GPS and iPhone routings, which had us trying to take these other smaller roads to get there.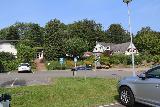 By about 9:55am, we ultimately parked at the pretty empty but big car park for the falls. Apparently, they expect to get quite a few visitors here.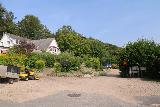 We then proceeded to gear up and hike towards the falls, which kind of went against my hope that this was nothing more than a roadside waterfall.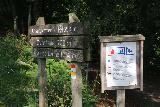 But it turned out that after getting past the not-yet-opened cafe as well as some private buildings, there was a signed fork in the trail where going up the steps to the left led about 650m to an overlook for the Forsakar Waterfall as well as some upper car park another 400m after that.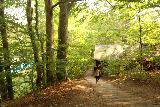 They didn't sign anything indicating another path to Forsakar going to the right as it went towards the pool. So the natural inclination was to take the path uphill on the left.
As we did that, we were entering a forested area flanked by some fields and a fence that might have belonged to some farm. It was as if we were right on the border of some kind of reserve that protected this waterfall.
The path continued to be gradually uphill as it rose above a gorge below to our right, where we knew the stream responsible for the waterfall meandered.
By about 10:30am, we finally made it to the overlook for Forsakar, which was on a metal platform at the bottom of some steps. It looked like a newly-built platform, and we could clearly see that there were some steep false paths that the authorities didn't want people to go on to further erode the slope.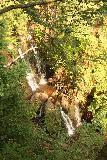 Anyways, the falls was pretty tiny by this trip's standards, but when you consider that we were in the far south of Sweden, and it was probably one of the closest waterfalls to Copenhagen and the flat country of Denmark that we'd encounter on this trip, it actually was a pretty nice Nature stop.
And while the views of the falls from here showed both of the tiers, there were always some degree of tree branches getting in the way so it wasn't the greatest of views.
As we got our fill of the falls just as a Swedish mother and daughter duo showed up, we all headed back the way we came. However, on the way back, I noticed a trail that appeared to have connected this upper trail with the lower trail that kept teasing us from below.
Julie and Tahia stayed on the main track back to the car park while I pursued this path, which was actually quite a rather tame path leading to the base.
However, given the amount of leaves covering the track, it seemed like not many people have gone this way, and when I got to the bottom, I saw signs facing the lower trail saying not to climb up the path. Funny, I didn't see any signage saying not to go down this path.
Regardless, I was now on the lower trail and I walked back along that trail in the upstream direction until I got to the bottom of the Forsakar Waterfall at about 10:40am.
From down here, it felt a bit cooler and less muggier than above, and it also felt serene as I was all alone down here.
When I had my fill of the falls, I then followed the lower trail all the way back to the swimming pool and the car park area. There was also a rather dingy toilet near the fork in the trail here that came in handy since I didn't see any other facilities along the way, especially with the cafes being closed.
Finally at 10:55am, I rejoined Julie and Tahia at the car park and quickly headed back towards the E22 bound for Kristianstad. We had the AC turned up pretty high given how warm, sunny, and somewhat muggy the weather was at the time.
After driving towards Kristianstad (but not actually getting into the sentrum of the city), we then took the Highway 21 towards the northwest. We were now bound for the Danska Fallet.
Along the way, we had a little more struggles trying to get the gas station machines to read our credit card, but we ultimately found one at a mom-and-pop station that worked (the one seen by the Highway 21 didn't work – again).
So that further confirmed that it really depended on which kind of machine the gas station used in order to fill up with or without hassle.
Regardless, we then pretty much followed the Road 21 for quite a ways before we eventually followed along the Road 24 all the way to the E20 on the western side of Sweden.
Once we got to the city of Halmstad, we then headed east on the Road 25, which eventually got us to the town of Simlangsdalen.
That was when we saw signs for Danska Fall as it went south on a semi-narrow road ultimately leading to the rather busy and full car park at its trailhead.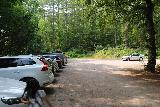 We got there at about 1:15pm, and at first, we had to do the European thing and just carve out our own parking spot opposite the official ones to our right. But just as we were about to leave the car, someone had left so we quickly pulled into that spot.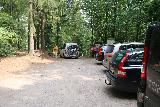 We then went back out and did the walk as a family towards the Danska Fall. It was nice to be able to do this walk as a family since I swore that of all the waterfalls that I had visited on this trip, Julie and Tahia may have only visited about 25% of them.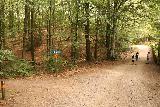 So having this little family moment on the pretty tame and wide trail was special though that also meant that I had to put up with Tahia's tendency to want to photobomb or mess up our photos and talk over our videos.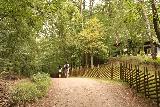 Regardless, after getting past the sounds of a lake near the trailhead, then getting through a farm with a couple of cows grazing in it (near a toilet in the middle of the trail), we eventually got to the Danska Fall at about 1:45pm.
The interesting thing to note about this visit was that we heard lots of Swedish being spoken. We didn't hear much in the way of English being spoken, and that kind of reinforced in my mind that we were visiting a spot that locals knew about but not so much the international tourist crowd.
And I found that to be refreshing because the touristy spots somehow doesn't really feel as genuine as if we were part-time locals really getting the authentic Swedish experience.
Anyways, Danska Fall was a wide but short segmented waterfall. Its left segment looked like it had a dam that Tahia noticed just upstream of it. However, the right segment was more cascading and had more of the volume, and that one didn't seem to be regulated.
Perhaps the striking thing about this waterfall was that it had a bit of a brown tannin-laced color to it, which made me think that it was draining some kind of peatlands.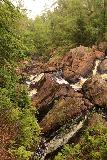 And that would make sense since it was very hot and humid here as there were signs that this area might get a bit of a tropical thunderstorm kind of rain dump at any moment.
Once we had our fill checking out this waterfall, we quickly made our way back to the car as we knew the hard yards for driving towards Nynashamn was just ahead of us.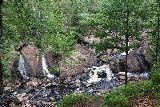 I lagged behind them as I stopped to use the toilet by the farm along the trail as well as making a quick detour to check out the lake near the trailhead.
When I got to that lake, I noticed that there were guests staying at some cabin right on its shores. There was fencing put up to discourage the public from getting to the lakeshore from there, however.
So I had to follow a different faint path that eventually led me to a family chilling out by the lakeshore with a rope swing set up for the kids to take a dip in that part of the lake.
The family seemed surprised to see me as apparently I crashed their little party, took photos, and politely excused myself. I think I heard one of the kids saying something in Swedish to the rest of the family about "some random kid in photo" in reference to my photos (not knowing that I did study Norwegian prior to this trip and could make out some words).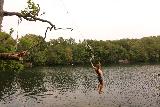 But in any case, I was back at the car with Julie and Tahia at 2:15pm, and all of us couldn't wait to turn on the AC and dry off the sweat that was beading from our bodies from the muggy weather here.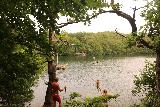 I found it surprising that it could get so muggy considering we were still at pretty high latitude compared to the rest of Europe, but I guess that's the kind of idiosyncrasies with the climate that we could appreciate by exploring more than just the obvious cities and touristy spots.
Next, we continued driving east on the 25 towards the E4. All along the way, I noticed lots of speed cameras (possibly even more than what I saw in Denmark and definitely more than what I saw in Sweden).
I guess the big difference between driving in Norway and here (as well as Denmark) was that the roads tended to be more like actual highways so the speed limits were pretty consistently about 110 km/h or 120 km/h. At no point in the Norway part of the trip did I recall speed limits exceeding 90 km/h and that was pretty rare. It was usually at around 80 km/h or less.
Nonetheless, as we got onto the E4 near Ljungby, we then followed this highway all the way towards Stockholm. It was a brutally long drive, but things got interesting as we were passing through cells of thunderstorms dropping squalls before clearing up again.
As we got towards Lynkoping, there was a major traffic jam. Luckily, our iPhone informed us about an alternate route that we should take to avoid the accident.
I found it ironic that we had to pass through the town of Linkoping because I knew it was a university town with a bit of a haphazard UCLA connection. As mentioned earlier from the start of the trip, my connection with it stemmed from an old MUD (multi-user domain) text-based game that preceded the internet back when I was at UCLA.
Linkoping happened to be the location of the server of that game called the NannyMUD, which was housed in the University of Linkoping.
Anyways, when we got back on the E4, we then passed through a seemingly more menacing storm cell over Norrkoping (funny how all the towns here had -koping in their names like Jonkoping, Linkoping, Norrkoping, and later Nykoping, and I wasn't sure what the deal with that was).
This larger storm cell produced a faint rainbow as well as vertical cloud bursts when looking out the rear view. Apparently, we managed to avoid the worst of the squall, but I wondered if that might have had something to do with the car accident that happened near Linkoping.
We then continued towards Norrkoping where we entertained the idea of visiting Kungsfallet as well as having a dinner. But Julie eventually thought better that we should try to check in to our accommodation in Nynashamn first then worry about dinner later.
So we ultimately skipped the man-made Kungsfallet en route to Nynashamn while making another couple of gas stops en route.
Eventually, we got off the E4 and headed south on the small roads towards Nynashamn. In hindsight, I probably could have stayed on the E4 then followed the 73 directly south.
But this was the one time we followed the GPS's not-so-great directions as they always sought the shortest distance and not the most sensible route.
Eventually by about 7:55pm, we finally arrived at the Skargarshotellet, which was where we were staying in Nynashamn. It was right across the street from the Destination Gotland Ferry that we were going to take tomorrow. So it was a sound strategy to leave the car at the hotel and not take it onto Gotland, especially since we were only visiting Visby for two nights.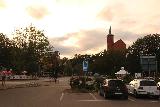 Once we got the room keys, we then drove towards the Nynashamn harbor where we had ourselves a dinner of smoked laks, herring, mackerel, and peelable shrimp at around 8:10pm.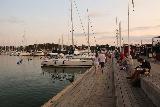 It hit the spot though I think I might have had upset my stomach with the mayo that I was eating the shrimp with.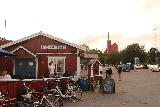 There were a lot more black things in the heads of the shrimps here, which made us believe that the waters around here were much dirtier than the fjord waters of Norway.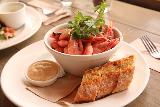 We certainly observed this phenomenon with the tap water as well.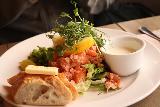 After having our fill of dinner, we then headed back to the accommodation. Fortunately, there was hidden backside parking that we took a non-descript road to get to that we knew would have spaces available. Then, we showed the parking avgift (permit) that was good for three days.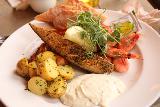 And by 9:40pm, we were finally settled into our tight room. It was just a place to stay so we didn't mind the humble settings.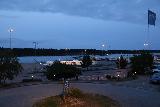 However, there were mosquitoes in the area and we managed to get bit by the little buggers.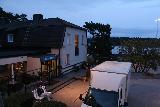 That at least planted in my mind that we had to bring the bug repellent onto Visby with me as we were now having to decide what to bring onto the ferry with us tomorrow morning. We certainly weren't going to bring everything so we had to treat this part of the trip as if it was a backpack in a way.
Regardless, after cleaning up and opening the door to our balcony (hedging against the mozzie threat to at least keep the room from being way too stuffy), we finally crashed from this rather long day where we drove all the way across Southern Sweden from Copenhagen to near Stockholm.
Indeed, the final part of our trip over the last 4-5 days was about to begin…
Day 48 (July 30, 2019 – Visby, Sweden): "I Love Visby"
It was about 4:25am when I awoke to my alarm. I also heard sounds of the ferry docking and unloading cargo as well as letting vehicles go free.
Julie and Tahia got up some time after 5am, and that was when the hectic rush to get to breakfast by 6am started so that we could walk across the street to get to the ferry terminal at least an hour before departure time at 7:55am.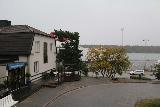 So we did that, got to the fairly decent breakfast (considering we were at a pretty basic accommodation) by 6am as desired, and then we checked out and got our stuff to the car by about 6:35am.
The issue now was that it was raining when we were lugging stuff to the car. I could have sworn that the forecast called for mostly cloudy skies, but I guess you never really know if the thick clouds would produce rain or not.
And in this case, it did. So Julie's luggage (the one that we consolidated our stuff into to pack light) was a bit wet.
Anyways, we then put the rest of the stuff we thought we wouldn't need into the car.
Then, we promptly rushed our way into the ferry terminal to both avoid the rain and to ensure that we would be on the ferry without issue.
It was pretty much like the airport check-in procedure as we had to check in the larger luggage while we hand-carried the rest of the stuff. I also stuffed extra clothes and my laptop into my day pack, while we hand-carried the breakables and insulated grocery bag along with Julie's little pack full of meds and Tahia's pack.
By about 6:50am, we were waiting to board the ferry, which became gradually busier the closer it got to the departure time.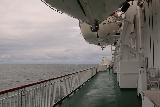 We ultimately got onto the ferry and our assigned seats, which was a bit tighter than most of the airplanes we've been on (well, mostly the US carriers, which was saying something), and then the boat promptly took off.
During this time, I was intending to do some blogging and choosing photos, but it turned out that all of us dozed off during the three-hour journey. So I didn't really get anything done, but I guess our bodies collectively needed to sleep as well.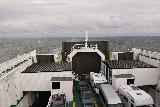 By about 10:55am, after some announcement that the car deck was available and that they were landing in about 10 minutes more, everyone queued up and we followed along.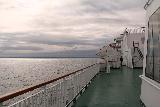 As people were going into the car deck, I was wondering whether I should have brought the car onto Gotland Island because I kept seeing pictures of picturesque sea stacks and a natural arch at sunset. But I knew that we would only be able to go there with a car.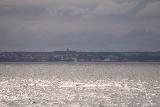 And since we were only spending two nights in Visby, I wasn't sure if it would be too rushed to try to pull that off and still adequately experience the medieval town of Visby.
So in the end, I knew it was a hard decision to make, but I sure hoped that I made the right one.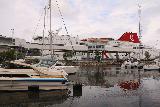 I still held out hope that maybe we might be able to rent a car last minute while on Gotland Island, but we'd have to play that by ear whether it was still economical to still salvage a car on Gotland as opposed to eating the extra $100 USD to bring the car onto the ferry.
Once people started to disembark from the ferry, we were walking through corridors in much the same way that we'd be doing when we'd be leaving an airplane. Heck, we even got to a baggage claim area so we could claim our lone checked baggage.
Then, when we recovered that, we went on a bit of a walk along the docks to get towards the town of Visby. We were already able to see some of the attractive buildings from the cruise ship, but we were now approaching them with luggages in tow.
We eventually got to a Tourist Information Kontor at 11:35am. Unlike other parts of our trip where we had our Rick Steves Scandinavia guide to help us decide what to do and how to go about exploring cities or towns, for some reason, our book didn't have Visby even though we saw him cover it on a DVD borrowed from the library.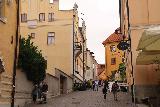 So we actually relied on the information provided by a clerk at the TI center, who gave Julie a map marked with the suggested walking route. He also helped us do a stored luggage service for 40 SEK, which we went ahead and did since we didn't know if we'd have a place to put them had we taken it up to the apartment that we were staying at.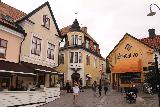 Once we dropped off the luggages, we then went up to a lunch spot, where Julie wanted to eat at this place called the Strykjarnet Creperie and Logi.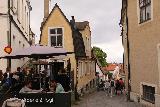 There was a bit of a queue to get seated and to eat. So Julie did a little scoping out of other restaurants as well as looked for our apartment in the mean time.
She eventually found the apartment, and so we got out of the long line for the creperie and went to the apartment hoping that we could at least get the keys early rather than later.
It turned out that there was one key in the locker, but it didn't seem to be ours. There was one cleaning lady who showed up with keys and asked if we needed one. It turned out that she did have the keys to our apartment, and thus we were allowed to check in as it was around 12:15pm at the time.
So in hindsight, it turned out that we didn't need to spend 40 SEK to do luggage storage, but regardless, we at least dropped off some of the extra stuff we didn't need to lug around that we didn't do luggage storage for (like my laptop, my extra clothing, and some other nick nacks).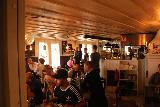 Then, we went back to the creperie where the line was slightly shorter than when we first showed up. And after perhaps another 20-30 minutes more, we then were finally seated at around 12:50pm.
Inside the creperie, it was a charming little place as if we were eating inside someone's house. Of course, it was a bustling restaurant as it seemed to be the most popular joint in town.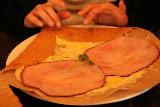 We wound up ordering a galette madame (which had an assortment of seafood prepared with cream sauces) and Julie got some kind of crayfish galette except it too had cream in it so she couldn't really have it.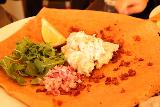 Tahia got a ham, cheese, and egg galette. Plus, we got a Normandie Apple Cider glass though this Cidre Deux bottle was so good that I wanted to have another one (though Julie talked me out of it).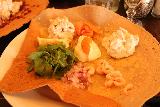 Since Julie couldn't really eat her galette with the cream-smothered crayfish, she had to order another galette with chicken. So it was kind of like over-ordering, but I knew that she had some hard luck when it came to foodie experiences (like when she anticipated but couldn't have GF Belgian Waffles in Copenhagen).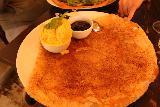 So while Tahia and I got a dessert crepe of saffron with some kind of cinnamon and brown suger inside it (they wouldn't do flambee since Tahia wasn't old enough for rum), Julie got her chicken galette though I'd still have to eat what she couldn't finish (so I was also due for overeating as well).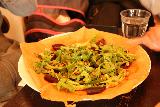 In the end, we paid just under 900 SEK, which was close to a $100 USD meal, but I swore that if we ordered this kind of quantity in either Denmark or Norway, we'd have paid up through the nose. So this further reinforced in my mind that Sweden was actually a bit of a bargain compared to the other Scandinavian countries.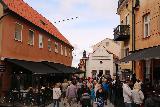 By about 2:05pm, we were done eating and headed back down to the Tourist Information Center so we could pick up our luggages and bring them back up to our apartment.
We ultimately accomplished that at around 2:35pm, which was quite a workout as we had to walk a bit uphill just to return to the apartment, and then we had to go up three or four flights of stairs.
It was a good thing that we minimized the amount of luggages to bring along as a result.
Only after we got our stuff back up to our apartment did we return to the Tourist Information Center to finally start our suggested walking tour of Old Visby.
We began by walking the Strandgatan towards some archway that took us towards the Tage Cervins gata. We saw some kind of Burmeister House, which was closed when we showed up.
We then walked across the Almedalen Park, which was busy with families letting kids play in a jungle gym there, but we also caught a look across the park and its fountain towards some church spires way in the distance.
Next, we walked along the Fiskarporten, which was just outside the medieval walls of Old Visby. There, we saw what appeared to be a sea wall (if there was a beach there before, it would have been long since gone due to the sea wall not letting new sand in).
Then we went back inside the walls and walked along the the Studentallen and city walls while noticing one particular alleyway that was lined with roses and a view of the same dark church spires we had seen earlier on.
This alleyway was probably cuter than the Mollerstien that we saw in Copenhagen a few days ago. That said, lingering around here was probably bordering on intrusion of privacy for the residents who still live along this alleyway.
It wasn't easy to get people shots because Tahia tried to ruin them, but people also tended to get in the way since it was a narrow alley strip that was very compelling for anyone to want to come in and linger around.
So once we had our fill of this spot, we then continued walking north along the city walls into the Botaniska tradgarden, which was a cute little botanical garden with an impressive display of an assortment of flora as well as ducks and a pagoda as well as a diamond-shaped floral arrangement in the center of the park.
We then continued north along the city walls towards an opening in the corner where we then examined the city walls from the outside.
We managed to swing around to the Snackgardsporten, where we got in and climbed up some wooden walkways to get a look from higher up one of the few towers that we got to interact with.
This experience kind of reminded me of our Bacharach experience in the Rhine part of Germany last year.
After having our fill of the tower, we then went back outside the walls and headed east getting a look at the other towers and some of the wall breaches.
Right around this time, the weather seemed to be changing from mostly cloudy to the sun starting to break through.
Unfortunately, we were looking against the sun towards this side of the wall, and we eventually returned into the Old Visby town via the Norderport.
From there, we walked along the Odalgatan towards the St Nicolai Church, which was one of the oldest ones around as it was said to be built by Domenicans in around 1200 AD, I think.
We couldn't go inside this particular churh ruins because there was some kind of function being set up.
Next, we swung around the church and walked the St Nikolaigatan towards the St Clemens church ruins. Inside that church, we did get to go inside and take a few photos. Apparently, this one was typically only open in the mornings, but there must have been a function or event that allowed this place to stay open.
After having our fill of the St Clemens Church, we then walked towards the churches of St Drottens as well as St Lars.
The St Drottens was another ruin that we could go into to take pictures but little else.
However, the St Lars ruins was more impressive, and it appeared that they let you go up some narrow steps onto a second level, where we were then able to walk around half the entire church and get more elevated views towards the center.
I don't know how many other church ruins that let you do that, so that was a pretty cool experience.
After having our fill of the St Lars Church, we then walked towards the Stora Torget, which I knew must have meant the Big (or Great) Square.
And indeed, this square was happening as there were tent stalls dominating one side of the fairly sizable square. It was also surrounded by cafes and a grocery store that we knew we were going to pay a visit to so we could self cook and save a little money later on.
There was also the ruins of the Santa Katarina Church, which was closed because there were some kind of singing rehearsals going on.
While the lighting wasn't the greatest for taking pictures across the square towards the church, it was pretty nice for looking in the other direction towards the dark towers that apparently belonged to the Domkyrkan Santa Maria.
So we then walked towards that church, where we then spent some time inside its fairly open interior. Where most of the other churches charged for admission and didn't allow photos, this particular one was pretty lax about that stuff.
Thus, we lingered for a bit before we then went up some steps towards an overlook at the Kyrkberget. There, we got decent light towards the church, but we were pretty much looking against the sun across the rest of Old Visby. Clearly, it was a better view in the morning, and I'm sure we could get there when we start touring tomorrow.
It was clear that there was no way we'd finish the suggested walk today as it was getting late in the afternoon at this time. We only managed to do about half of it so the rest of the walking tour would have to be finished tomorrow.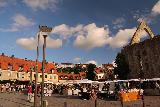 The suggested walking tour was pretty spot on and atmospheric, and we were hoping to get similar results on the walk tomorrow.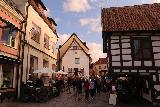 That pretty much sealed the deal in terms of justifying my choice of not bringing the car because this would have been way too rushed to try to pull that off without a third night on Gotland.
Anyways, once we were done with the sightseeing, we then headed back down to the Stora Torget where we then went into the ICA for a grocery run at about 6:05pm.
We ended up buying quite a bit of stuff for tonight and tomorrow's breakfast, but we'd probably have to come back for a second dinner unless we change our minds and eat out again.
We even indulged in buying some local Gotland-produced organic ice creams as well as apple cider fermented from locally-produced apples (wondering how much different that would be compared to the Normandie-produced ciders from France).
Once all was said and done, we finally made it up to the apartment at 7:05pm. And thus we could finally carry on as if we were temporary locals in Old Visby (as we had been doing throughout the trip).
With the trip winding down, we were intending to take it easy for the rest of the night, but Tahia then remembered that we had promised to take her to a playground while Mommy was cooking.
And that time was now.
So I ended up going back downstairs with her at around 8:35pm and we headed straight down towards the Almedalen playground.
Along the way, I could see that the sun was about to set. So while Tahia was euphoric about playing on the slides and the swings, I snuck over to the sea wall area to try to photograph the sunset.
There weren't any nearby objects that I could use as subjects with the sunset so I'm sure my shots were just miscellaneous shots with a setting sun.
However, after the sun had set some time after 9pm, it was the magic of the purple skies that occurred during the magic hour afterwards.
So when it came time to come back to the apartment as we had to eat dinner and keep it from getting too cold, we had an opportunity to capture some of the magical twilight amidst the Old Visby town.
It started with having Tahia pose in front of the attractive #ILoveVisby sign fronting the tourist information center backed by an ivy-covered building.
It continued with more twilight alleyways as we went up the slopes back up towards the action near our apartment.
In the end, we had returned to the apartment at about 9:20pm. I wished I had another half-hour or so of trying to find other photographic spots that presented themselves in the magical twilight hour, but alas, it was family time around the dinner table.
I'd imagine we'd be having similar low key evenings for the remainder of this trip as we were looking forward to returning to the creature comforts and familiarity of home.
Of course, I'm not looking forward to the bills and the work that face me upon our return. I guess you can't have it both ways in life.
There's always something to bum about, but at least we'd gotten this trip packed with invaluable moments that I'm sure we'll still be experiencing as we try to savor what's left of this trip…
Day 49 (July 31, 2019 – Visby, Sweden): "Head Fakes"
It was about 7am when I awoke as I had totally allowed myself to sleep in. I had thought about how this was going to be a very light touring day of the rest of Visby, which wasn't a big city (or at least the old city wasn't big).
So I took a lot of time picking photos (I was still behind by almost two weeks), and then Julie eventually woke up to prepare a full breakfast.
There were blue skies when I looked out the window throughout the morning, but when we finally headed out at 10:30am, it seemed like there were plenty of clouds surrounding the town.
We had come out of the apartment thinking we would finally have a day of shorts and T-shirt, but alas, it was windy and a bit nippy.
I didn't bring my jacket so I was busy trying to stay in the sun as we were walking towards the overlook above the St Maria's Church.
We ultimately got there and managed to take pictures with the sun behind us towards Old Visby and the waterfront. We also took pictures of the St Maria Church once again with favorable morning light as well.
Once we had our fill of this utsikt, we then returned to the apartment so we could get a jumper and put on long pants.
After doing that, we then headed back to the Stora Torget, where we went back to the Bakyilkan Restaurant at 11am. I think the nice lady at the restaurant reception recognized us, and she was very nice to us when she tended to our table (though she had to tend to all the other tables as well).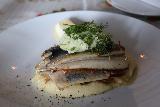 Although they didn't have some of their dinner menu items like the rainbow trout, they did have the fried herring as well as the fish soup. Both of those dishes, this place was famous for according to TripAdvisor.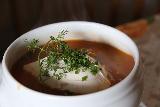 We also got some peelable shrimp, and all of the food was made to be gluten and dairy free as well as for the bread that they gave us. The bread was thick but had enough crunch from toasting to be appealing.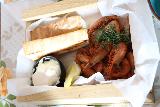 It turned out that we couldn't finish all the bread, but it was good enough to take away in one of the plastic covers that came with a different food we bought from the ICA while Julie went there while Tahia and I were waiting for the food to show up.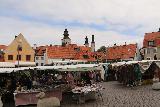 By the time we were done eating the reasonably-priced lunch, the skies had overtaken the Stora Torget (let alone all of Visby), and thus the blue skies and sunny Summer heat were not to happen on this day.
We then returned to the apartment so we could put back some stuff that we didn't need (like Julie's meds).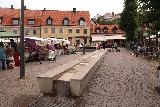 Once we got back there at 12:10pm, we then took out most of Julie's meds from the backpack I was carrying. We also got rid of some Tahia's swimwear since we knew that we weren't likely to need them on this gray day.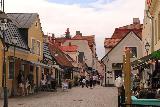 As soon as we left the apartment, we went past the Creperie and Logi towards an utsikt. The one that the info center suggested turned out to be the very same one that I captured while we were waiting in line to eat at the Creperie and Logi yesterday at lunch.
Julie thought this viewpoint wasn't as good as the one we had just visited by the St Maria Church (mostly because it lacked the ruins that the other one featured), but we got our pics nonetheless.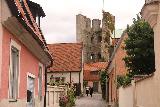 Next, we made a stroll along Adelsgatan from the Wallersplats all the way to the Soderport (a gate in the wall of Old Visby). Along the way, there were more eateries and shops in typical European city center outdoor mall-type fashion.
Things got interesting towards the Soderporten as we saw a house (now a boutique) built right into one of the town walls as well as a walkway and platform that used to have access and the ability to look back at the square and Adelsgatan from a higher vantage point.
Unfortunately, we couldn't get up to that platform anymore as it appeared to have been locked and overgrown for a while.
We then went back within the confines of the city walls as we sought to complete the suggested walk though we had to start deviating at this point. The TI person suggested we follow along the city walls towards the ferry terminal where we could get some ice cream.
However, a different tourist map suggested visiting the ruins of St Hans. So we ahead and started in that direction as we walked back along Adelsgatan and then Bergrand as we were lured by some building with a couple of spires.
It turned out that that building happened to be some kind of theater. The streets that ran by it seemed very quiet compared to the main throughfares of Old Visby.
Apparently, only locals go to this theater.
Anyways, we then walked along the Vardklockegatan, which ultimately led us back to Wallersplats and the Creperie and Logi.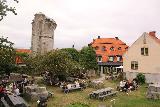 However, we then briefly went down the St Pers grand, where we walked by some crooked leaning houses before arriving at the ruins of St Hans.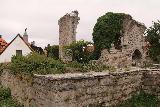 Apparently, this used to be the biggest church in Visby, but now what was left were a pillar and some wall with an arch in it. There also appeared to be some kind of restaurant activity going on here.
While it wasn't as visually appealing as some of the other ruins that we saw in the northern and central parts of Old Visby, it was still a worthwhile diversion nonetheless.
But now we pretty much completed the self-guided walking tour of Old Visby, and now we had a whole afternoon to spare. So we spontaneously decided to go down to the Avis Office by the Tourist Information Center to see if the office was open.
Lo and behold, when we went down there at about 1pm, they were open this time! So we walked in and asked the lady working there if they had a compact car available.
They only rented for 24 hours at a time so we had to eat a 1080 SEK fee that included insurance, but that was adequate and roughly the same as what it would have costed us to bring our own rental car onto the ferry back at Nynashamn.
After going through the formalities and making our payment, we got the car at 1:25pm and then we were on our way to Faro, which we were warned of the ferry wait times as there was a crossing to get onto that island.
The drive out of Visby was for the most part uneventful. Even though I didn't have my GPS with me (and I felt naked without it as I had relied on it for just about this entire trip), the directions were straightforward enough to follow the Route 148 all the way to Farosund, which was the town that had the free ferry crossing to the Faro Island.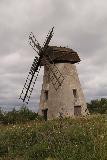 We ultimately got to the queue for the ferry over to Faro at about 2:20pm. There were lots of cars waiting to get onto the ferry, and we happened to be parked in the queue next to some broken windmill.
Julie managed to take a few shots from the car, but I was kicking myself for not taking the time to get out of the car and getting better photos of that windmill. To my defense, I was worried about leaving the car and then the ferry line would move without me.
Anyways, we wouldn't be onto the ferry until about 3:05pm. Then, when we were deposited on the other side of the crossing, we instantly saw how long the line was to return.
Indeed, the line was very long, and I had to guess that it was at least a two-hour wait to get through all that. So we definitely weren't looking forward to that wait time.
We eventually followed the route into the hamlet of Faro, where we saw a signed turnoff leading to Lauterhorn. That was where we'd eventually reach the Digerhuvund, which was said to be the most famous of the sea stacks or rock formations along the coast of Gotland.
After getting through some of the narrow roads reminiscent of the Norwegian roads that didn't have center divider lines, we then took the single-lane paved road (with unpaved shoulders to allow for scooting by each other) until we eventually got to whatever the iPhone suggested we should stop at.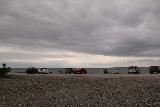 We ultimately wound up at one of the handful of stops signed for Digerhuvund at around 3:35pm, and here under the overcast skies, we saw lots of formations and tide pools.
Clearly, the tides had gone higher but now it was apparently low tide.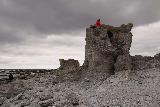 We did some scrambling around as I was hoping that the natural arch that I saw in the post cards for this area would ultimately be here. However, after several minutes of trying to find it, apparently, we came to the realization that the natural arch I was seeking was not here at all.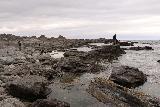 Fortunately, we still got some phone signal at Digerhuvund, and we ultimately found out that the arch we were seeking was at Gamlehamn. We also saw that there was a bigger arch at Lergrav, and after seeing where it was on the map (it wasn't on Faro Island), we were targeting a visit there on the way back to Visby.
So when we got to the car at 4:05pm, we then made our way in that direction, which was back towards the ferry crossing.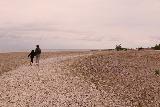 After finding the signed turnoff for Gamle Hamn, we then followed another similar semi-narrow road that led to a car park and trailhead at around 4:25pm.
It turned out that the trail to the Coffee Pot Arch or whatever the signs here suggested it be called, was quite tame. And we had no trouble finding the interesting arch formation.
After getting our people shots and having our fill of the arch, we then got back to the trailhead by about 4:50pm.
We ultimately drove back towards the 148, and it didn't take long before we were caught in the very long queue to get back on the ferry and get back across this channel. Our arrival in the queue was roughly at around 5:05pm.
After waiting for what seemed like forever (it was actually about an hour before even getting to a sign saying it was another 30 minutes from that point), we'd eventually get to a part where we could photo another windmill near the waiting line for the ferry.
It wouldn't be until about 6:25pm when we finally boarded the ferry. It turned out that they were running at least three ferries at the same time now. So that probably helped to facilitate the movement of the lines in both directions.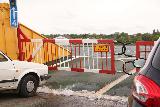 Once we finally got off the ferry, we then drove towards Lergrav.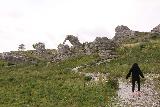 We ultimately got there at about 6:45pm without incident. There was one other car parked here right across from the Lergrav Fisk and Cafe.
But more importantly, we saw that there was the arch up the hill accompanied by many other rock stacks.
So we wasted no time in getting past the fence and going right up the span of the impressive arch. We had the flexibility to maneuver around to see how we could compose the arch in our photographs while revealing something interesting through the arch's span.
By about 7:05pm, we were back in the car. Julie and Tahia lingered a bit longer outside the car so they could pick some berries that they discovered alongside the trail.
Granted, these berries were a bit on the sour side, but I had a feeling that they were going to be used with our kefir or Icelandic skyr (if available) when we'd make that part of our healthy breakfast in the morning tomorrow.
Eventually at 8pm, we'd finally return to the Old Visby town and return the rental car in the tight lot behind the Avis office.
There was no one at the door as it was closed so I used their key drop slot to make it official that we were about to part ways with our one-day rental.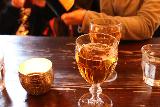 By about 8:15pm, we had walked up the familiar streets leading the way to the apartment, where we'd drop off the stuff we wouldn't need to carry with us for an evening meal.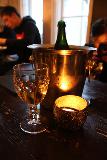 Since Julie thought that it was too late to go grocery shopping and for cooking tonight, we ultimately decided to eat back at the Creperie and Logi since there wasn't much of a queue anymore at this time of the evening.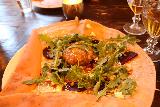 So it didn't take long for us to get seated, and we ultimately ordered a full bottle of Cidre Doux, a lamb patty galette with beetroot, a chicken galette with beetroot made dairy and gluten free (and almost served without the chicken!), and some kid-sized ham-and-cheese crepe.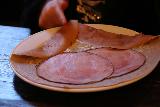 The food was filling and it definitely hit the spot, but Julie thought after this second go that the galettes here were only mediocre compared to authentic French standards, which we had just experienced back at Copenhagen a few days ago.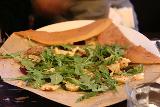 Still, the aim was to try some of the locally-produced ingredients, and we at least did that with the seafood galettes yesterday and now the lamb patty galette today. We ultimately decided against getting a dessert crepe. So the bill was about about 2/3rd of what it was yesterday.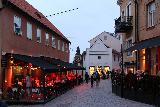 By about 9:15pm, we were back at the apartment again.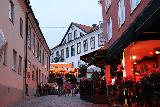 And with that, Julie and Tahia made one last grocery run at the ICA in the Stora Torget, while I was the first in the family to relax and try to get caught up on the blogging and photo selecting. When she came back, she said the square was quite alive, and I figured given that Europe tends to be festive at night, but here we were winding down and missing that action as we were dead tired.
And so ended this day that was full of head fakes. After all, we had thought we were finally going to get a blue-sky-dominated weather only to be overtaken by clouds barely an hour into our walking tour continuation.
There was also the thinking that we'd have shorts and T-shirt to wear, but instead, we had to wear long sleeves and a jacket as the temperatures were a bit on the nippy side.
And then, we didn't think we'd be driving around Gotland before leaving tomorrow, but we did. And we were glad we did so we finally felt like we got to complete the Gotland experience besides just staying in Visby.
Now, we were looking forward to returning to the mainland, where our final stop before returning home was Stockholm.
We had to do some more research on opening and closing times of various palaces and outdoor museums.
We had targeted Drottningholm Palace, Kunlingaslot, and Skansen, and so it looked to be pretty busy back in Stockholm. But that was par for the course on this trip, and we sure hoped that there'd be no more closures and weird scheduled events unlike the first time we were here over a month ago…
Day 50 (August 1, 2019 – Stockholm, Sweden): "Back To The Familiar"
It was about 6:10am when I awoke. This wake-up didn't involve an alarm, but I did hear the sounds of vehicles moving from outside the apartment so there was definitely some degree of activity going on in terms of shopowners and restauranteurs getting ready for the day.
As I looked outside, I saw that there was wet ground, which meant that it must have rained just like it did a couple of days ago when we showed up.
Anyways, since we opted to take the later ferry instead of the 7:05am ferry back to Nynashamn, we had some time to kill.
So I spent a bit of time organizing photos from the Norway part of the trip (I was now about 10 days behind), while Julie was preparing a pretty full breakfast.
By the end of all the morning's activities, we had finally checked out and left the apartment at about 10:40am.
We then took the scenic route by going down to the Stora Torget where Julie made one last run inside the ICA Torgkassen there, and picked up a small bottle of olive oil. It looked like they didn't stock the little dessert that had nutella filling inside a chocolate-covered cookie or biscuit or something.
Anyways, we then continued back through the city streets of Old Visby as we headed in the direction of the Tourist Information Center before continuing along the long walk towards the ferry terminal.
We made one stop to look at the ice cream place that was suggested by the TI person, but it turned out that Julie discouraged us from having ice cream in the morning. So we didn't do it.
Eventually we made it to the ferry terminal by around 11:20am, and we had plenty of time to chill out before it was time to board the ferry. That settling part didn't happen until about 12:45pm.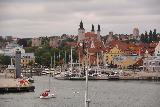 Once on the boat, I took some time to go to the sun deck to look back towards Old Visby for a bit of an elevated perspective that we didn't get when we came into Visby.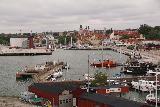 Then, after having my fill of photographing Old Visby from the boat, I then retreated to our assigned seating, where I spent the next 90 minutes or so choosing photoraphs and trying to get caught up while Julie waited in the long queue to buy lunch on the ferry boat.
Tahia was being a bit of a pest as she was bored from both Julie and I each doing different things that didn't directly involve her.
It didn't take long for the boat to start moving.
After Julie came back with the food, which consisted of some smoked salmon salad dishes among other things, I then fought to stay awake to tend to business during this three-hour cruise.
However, not long after eating what Julie brought back, I too, was overwhelmed with fatigue and wound up sleeping on the ferry cruise. In fact, all three of us slept during this time, which kind of acted as our afternoon siesta.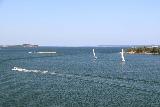 By the time we all woke up, it was just about 3:15pm, which was roughly 30 minutes before docking at Nynashamn.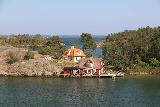 When we looked out the window, we could see that there was land, and so I figured that I could quickly go out to the sun deck for a few minutes before returning to gather our belongings and joining the crowd waiting to get off the ferry.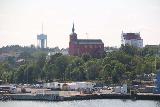 Surprising all of us, there was suddenly blue skies and not many clouds overhead! Indeed, it was almost as if the veil of clouds hovered over only Gotland.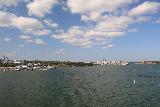 Anyways, the ferry docked as scheduled at 3:45pm and then we promptly got back to the car with our belongings at 4pm.
However, we noticed that there was a yellow parking ticket attached to our windshield wiper, and now we were trying to figure out why as we clearly had our avgift displayed. Did we park in the wrong lot?
So Julie went over to the hotel to ask the owner why. Meanwhile, we drove the car around to the front so Julie wouldn't have to walk back over.
Just as Tahia and I were waiting for Julie to do her inquiry, I couldn't help but notice that there was a lot of activity going on at the parking lot at this time. I could it was check-in time and indeed there was definitely a lot of competition for the parking spots in the front of the hotel, where we tried to look for parking a couple of days ago.
So we definitely had no shot of getting any of these spots with the way things were going given this observation.
When all was said and done, Julie came back with a receipt that said that we had to pay 80 SEK for the owner to "take care of it."
She basically left the owner our parking ticket, and in good faith, it would be resolved. Apparently, the ticketing cop wrote on the violation that "he didn't see the permit", which was strange because it was in plain sight right where he placed the ticket on the windshield.
Anyways, this made me a bit nervous that we could be out another 80 SEK and still be forced to pay the 550 SEK fine as well as being out another 200 SEK for the two additional nights of parking there (in the worst case scenario).
I guess with all the expenses paid so far on this trip, it figures that we'd be having to pay even more for this trip.
So with that, we finally headed back to Stockholm. This time, unlike a couple of days ago, we took the Hwy 73, which was pretty much a freeway. In hindsight, we should have continued on the E4 towards Stockholm, then taken the 73 to Nynashamn given how smooth this drive was (even if it was a slightly longer route).
As we were driving north to Stockholm, we knew that it was a pipe dream to try to visit any of the palaces in Stockholm since they all closed early at around 5pm. However, we did read that the Skansen was closed pretty late.
That said, we kind of suspected that most of the period actors as well as the buildings with the interesting historical re-creations might be closed by the time we get there, too.
Still, it was a bit much to try to fit in everything onto tomorrow, especially if we wanted to visit the Drottningholm Palace, which involved an hour-long boat ride in each direction. We also wanted to visit the Kunglingasslot, which was only open until 5pm, and everything pretty much opened late at 10am (including the boat ride so it wouldn't be until 11am when we'd get to the Drottningholm Palace if we tried to be as efficient as possible).
Anyways, by the time we got into the Stockholm city limits, we then followed Julie's iPhone directions since we knew that it was a long walk to the Djurgarden Island, which was where we walked to the Vassamuseet back at the beginning of the trip.
We didn't have the luxury of doing that walk again, especially since it was getting late in the afternoon and we still wanted to have a crepe dinner, and we also needed to check into the Lady Hamilton Apartments in the Gamle Stan again.
So we promptly followed the tricky driving directions and drove the very route that we had walked. Indeed, familiarity with this area was good because I would have been overwhelmed with confusion had I not had this orientation earlier on in this trip.
I could totally understand why Rick Steves said that you must be a Swedish Meatball to want to drive around in Stockholm, as there were tunnels as well as trams that took the right-of-way even if we had a green traffic light (something that wasn't obvious).
There were also lots of pedestrians walking around, which further complicated the driving, especially when we had to cross the very crosswalks that we had walked before during our first two days of this trip.
By about 5:05pm, we finally made it to some Q-park surface parking lot. Unfortunately, we couldn't download the app that they used since we weren't from Sweden, I guess. So we had to pay for parking the old fashioned way, which also meant that we had to project when we'd be done.
We wound up paying for 3 hours at 70 SEK per hour, which wasn't cheap, but it was yet more parking fees to be paying on this day where we were surprisingly getting hit hard with parking fees (both sanctioned and unsanctioned).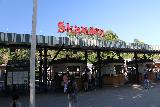 We then quickly walked to the Skansen, where we got in for 500 SEK for all of us, but the ticketing person warned that most of the buildings were closed for the day (as we had feared).
Still, he was very helpful to us in that he gave us a map and pointed out which buildings might still be open until 7pm. So that pretty much set the itinerary that we were going to do while in Skansen.
After walking up the steps (not knowing that there was an escalator leading up to the charming Village Quarter), we saw that there were already nice views back in the direction of the amusement park and Skansen entrance.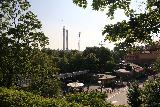 Speaking of which, so far, the Skansen entrance area reminded us of a theme park, which made us a little weary about the overall experience compared to the other outdoor museums that we had visited throughout Scandinavia.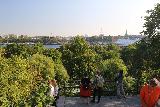 But then again, this concept of outdoor museums was something that we had never experienced before until we showed up to Scandinavia, and it grew on us. We actually had a chance to visit Skansen at the beginning of the trip, but we didn't know how much we'd enjoy the experience.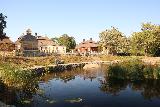 So now that we were trying to make up for it, I had the feeling that we'd still be not quite getting the full experience that we had hoped like we did at Aarhus or Oslo or even Bergen. Indeed, in hindsight, we should have done the Skansen after the Vasamuseet since we had the whole day to experience it back then (especially after having walked that far).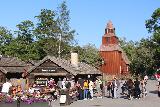 Regardless, we're here now, and we were trying to make the best of the situation knowing that tomorrow would be an all palace day.
As we walked around the restaurant at the top of the stairs, we noticed that there was a stage set up and lots of people lining up. Apparently, there was some kind of concert going on here or something.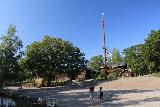 We then made a beeline for Bollnas Square, which was an atmospheric center of the Skansen even though all but the cotton candy stand were closed.
We then promptly headed over to the Deslbo Farmstead. Inside there, was one open door where we poked in our heads and saw an interesting room where a period actor was making linens.
She initiated the conversation with Tahia explaining how much labor went into making the linens from the hard fibers all the way to the soft hairy thing after lots of treatment was done. Only then could they use the loom to make more elaborate things.
The lady also showed a few toys (including one made out of pine cones) to illustrate what kids did back then to keep themselves occupied.
It was an engaging and informative conversation, and it once again affirmed why the Scandinavians did it right with the outdoor museum idea. I'm sure Tahia got something out of that visit.
Next, we walked over to the Bollnas House, which turned out to be another farmstead. Inside was a younger lady dressed in the period, and we had a friendly conversation with her about the house and where it was from.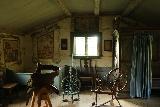 Apparently, this farmstead was moved (or reconstructed) from the center of Sweden (not quite as far north as Lappland), and that the period was around the 1800s.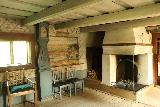 While these period actors didn't really act as if they were from the times they were representing, it was nice to be able to engage with them to learn about what it was like here.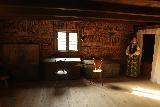 The people in Aarhus were definitely acting their part but it also made them less engaging according to Tahia.
I guess it was kind of a subjective call how much in character you want people to be versus how much engagement you want.
Next, we then headed over to the Kyrkhult Farmhouse, where there was a gentleman dressed in white talking about how this house once housed 12 farmer families. It was roomy with a fireplace as well as makeshift beds where dressers had a dual purpose.
This particular house came over from the south of Sweden, where we were familiar with considering that it was muggy and humid down there when we went to the Forsakar Waterfall.
After having our fill of this house, we then went next door to the Seglora Church. The door was open here as well, and we went inside to take pictures, but we didn't talk to the lady in period here as she was talking with someone else and we didn't really have an interest in learning more about the church.
Next, we then went over to the Printer's home, but that building wasn't open. It was closer to the exit and instead of this building, we wound up going to a different building where the Iron Monger's house was.
That particular one next door to the printer was open, and it was the 1930s so we could clearly see the more modern applicances. There was a lady in there who we spoke to briefly as the owner of this home also had a daughter with some interesting portraits on display as well as a daughter's room.
After having our fill of this place, we then went looking for a WC and wondered what we should do next.
At first, Julie wanted to eat at a cafe overlooking the Engineering workshop and Furniture Factory. However, I knew that we still had time to let Julie have her crepe fix and still check in if we were pretty much already done with our Skansen visit.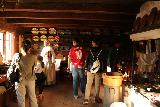 So as we made our decision to wrap up our Skansen visit (over an hour earlier than how much we had paid for parking), we then noticed that there was one more circled building on our map that we hadn't visited yet.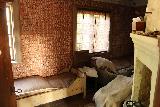 It was about 6:45pm at the time so we only had about 15 more minutes before they'd close.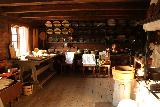 Thus, we went ove to the Skogaholm Manor, where there was one open door amongst the four buildings there, and inside, we saw there were two period actors. One was an older lady preparing food and there was a younger man who was also helping out.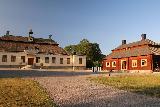 It turned out that this was an aristocratic home, where we learned that they had a more varied diet than the poorer farmers who had a far less varied diet and subsisted on dried herring and some porridge.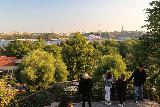 Of course, the food we saw on the table was more aristocratic food since it was nothing like what she was describing for poor folk.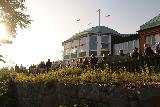 We also saw some of the kitchenware made of copper (something we were familiar with when we had visited Roros), and that got Julie into asking about whether the famous Swedish donuts were made from these very things back then in this 18th century home.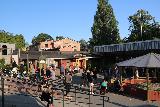 When all was said and done, we left the Skansen complex at around 7:05pm. We didn't get a chance to visit the lynx nor the wolf (which Tahia wanted to do), but we knew that those weren't the focus of this visit and we were running out of time.
Anyways, it was a good thing that we left when we did because now the lines for the concert as well as getting into the Skansen itself got really long. In fact, they were so long that they even bled towards the Q-park that we had parked at.
So it was a bit tricky driving to get out of there, and then there was more tricky driving back through the city as we were now headed towards the crepe place, which we thought was too far of a walk south of the Gamlestan.
Eventually at about 7:30pm, we finally made it to the Creperie Fyra Knop. It was a good thing that we had gotten familiar with the parking signs so we knew that there was free parking in front of the restaurant after 7pm.
Inside the quaint and cozy creperie, we had ourselves genuine French galettes of Kapten Haddock (basically smoked salmon and other toppings), some kind of ground beef crepe wth spinach and cheeses taken out so Julie can have it both gluten and dairy-free, and then Tahia had the typical complet crepe without the fried egg.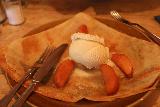 I also got an apple cider though even the sweetest one here was a bit on the hard side compared to the one we had in Visby.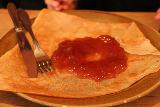 Tahia and I also each got a dessert crepe, where I got one with Cavalros (sp?) with the Normanden (basically fried apple and vanilla ice cream) while Tahia got a simple crepe with strawberry marmelade.
Julie finally got her fix as she was very happy with this place. I guess you knew that you were going to get good galettes when the primary language spoken by the workers here was French.
And so this was probably the last such fix we were going to have as places like this simply doesn't exist back in the States.
By about 8:40pm, we were back in the car and finally headed to the Lady Hamilton Apartments to check in.
By about 8:55pm, we finally made it back to the front of the familiar Lady Hamilton apartments, where we promptly checked in and dropped off all the stuff from the car.
Unlike the first time we were here, we only had to walk across the street to a studio apartment. So that made things very easy in terms of getting the car unloaded and emptied out.
Once the car was emptied out, Julie and Tahia stayed in the apartment while I went to park the car. When I got over to the lot by the Riddarholmen at 9:20pm, I used the EZ-Park app to set up the parking for the next full day and night, but there was a 24-hour time limit here.
It also costed about 514 SEK to park for this 24-hour period, and there was no free parking in this part. I guess given the 550 SEK parking ticket for the two-day parking in Nynashamn, it was actually more expensive to park in Gamlastan for the same period – and this was sanctioned parking!
I wondered how much the parking violation fee was for this area, but I sure wasn't interested in finding out the hard way.
Just as I started to leave the car, I couldn't help but notice the attractive twilight lighting at the waterfront here. I didn't have my DSLR with me so I had to use my iPhone instead.
And thus, I took my time to get back to the apartment while trying to take pictures during this magic hour.
By about 9:45pm, I finally made it back to the apartment, where Julie and Tahia were in a rush to get to the grocery store as they were closing up at 10pm, which was only in 15 minutes!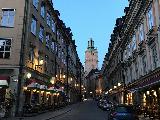 So we made a beeline back to the familiar grocery store by the Gamlastan Metro station, and we promptly picked up some veggies and chicken, but there were no eggs and no kefir.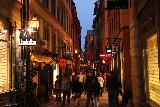 One lady overheard our lamentations about how everything was gone or non-existent in the grocery store, and she explained to us how things were here regarding how perhaps the egg delivery guy simply didn't make his delivery or something or had an accident.
Regardless, that little dialog turned into a very interesting post-shopping dialog with her about living in Sweden as she was apparently an ex-patriot from the Boston area though she also lived in Berkeley for a while (including getting a few mosquitoes trying to get free shots at us as we talked).
We learned a bit about the Swedish mentality as well as some of the politics that worried her, especially when the topic of conversation gravitated towards the US politics. She even worried about how some politicians in Poland suggested that Auschwitz didn't even happen!
I guess history easily repeats itself, and we definitely were in some trying times, especially with regards to Global Warming as it hit Stockholm pretty hard. She said that we had just missed a heat wave, which was kind of the story of our trip actually, as it was chilly and rainy for just about our entire trip.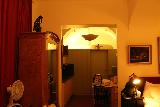 Anyways, when the conversation ended at around 10:30pm, we were back in our apartment about 5 minutes later but not before picking up the elusive eggs from a 7-11, as Julie managed to snag the last one that just happened to be organic!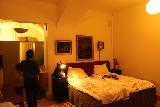 With that, we finally could get cleaned up and settled in the apartment.
Both Julie and Tahia were really looking forward to going home (especially Tahia) though Julie was also trying to pre-book tickets for the Drottningholm Palace visit first thing tomorrow morning as she was determined to have one last go at really experiencing Stockholm before going home the day after…
Day 51 (August 2, 2019 – Stockholm, Sweden): "Best Meal Of The Trip"
It was about 6am when I awoke to Julie's alarm. Julie didn't get up until almost 7am.
We had until about 10am before we had to catch the boat ride to the Drottningholm Palace so Julie cooked up a full breakfast.
It wouldn't be until about 9:30am when we finally left the apartment ready for the day.
There was already quite a bit of activity going on in Gamla Stan, but we were headed straight for the city hall, which turned out to be in the opposite direction of where most of the tourists were at or where they were going.
By around 9:45am, we were waiting in line for one of the queues going to the Drottningholm Palace. There were multiple lines for different boats, and Julie had to ask around before we finally got the right answer.
The City Hall was actually quite an attractive building, and it was the building that I had been seeing against the setting sun all these times I was parked at the Riddarholmen area. So at least now I finally understood what was where in this instance.
By 10am, we were on the crowded boat, which was quite packed and difficult to maneuver around or take pictures (without other heads in the way).
So it was really more of a relaxing cruise and boat ride with three stops en route to the Drottningholm Palace. It really wasn't much of a meaningful photo op.
Eventually by almost 11am, we finally docked before the Drottningholm Palace, where we promptly got off and followed the shores of the waters alongside some statues before going through the main entrance to the palace.
Inside the palace, we went straight up to the residences since we had already pre-purchased tickets. We then strolled around the complex, where we went from room to room.
Some of the hallways and grand rooms were quite Versailles-like so there was definitely a familiarity between all of these royal buildings; regardless of whether we made our visit in Austria, Germany, UK, etc.
They all seemed to possess Roman or Greek statues as well as medieval portraits with childlike faces on adult bodies.
It didn't take long before we finished our visit to Drottningholm Palace, did a very brief visit to the garden, and then went right back to the boat docks to try to catch the 12pm boat so we could be back in Stockholm in time for a lunch as well as a visit to the Kungliga Slot.
Even though our ticket was printed for 1:30pm, we were hoping to go back earlier so we could at least have a lunch break as well as fitting in the Kungliga Slot visit before they close at 5pm.
Eventually, we were successfully able to take the boat back at 12pm.
Then, shortly before 1pm, we walked through Riddarholmen en route to our familiar square (where we hadd just driven to park the car). We couldn't exclusively follow the bridge all the way to Gamla Stan because of construction work going on.
Thus, we had to go through Riddarholmen.
Finally, after a little back-and-forth bickering between Julie and I regarding priorities and sense of direction, we ultimately decided to take the subway (instead of the bus which had no way of accepting payment on the spot).
It wasn't a cheap subway as we had to pay 45 SEK per adult (though children ride free on weekends and Friday counted as a weekend) so we paid 90 SEK or $10 USD for a single ride.
The tickets we bought didn't have a bar code so we couldn't get in the normal way like other subways. Instead, we had to wait in line to show the info person, who was tied up with long inquiries by people trying to figure out how to use the Metro.
After waiting for what seemed like forever, Julie finally interjected and showed the tickets to the clerk who finally let us through.
Once there, we were finally riding the Metro at 1:45pm, but we had to take a detour because the direct green line to Skanstull was closed due to construction.
So we actually had to take the red line from Gamla Stan to Slussen, then we had to catch the green line from Slussen to Skanstull. It was confusing at first, but it was yet another obstacle that we had to overcome while taking the expensive metro.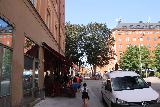 Finally, we got off at the Skanstull stop (thanks to an Asian local who was able to answer Julie's questions about whether we were on the correct train in the right direction), and we ultimately started walking towards the waffle place that Julie had coveted since yesterday.
Eventually at 2:15pm, we finally made it to the Alskade Traditioner, which was basically like a diner establishment that specialized in crispy waffles.
We wound up getting an Eggs Royale (which contained smoked salmon, hollandaise sauce, eggs, and other stuff that was in the Eggs Benedict), Skagen (basically open-faced peeled shrimp in Vegan mayo), and a kid's ham and cheese waffle.
The waffles were crunchy as if they were prepared like toast. In fact, I swore they could have been toast substitutes.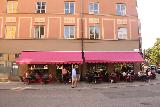 They were said to be gluten free though we suspected that they weren't grain-free since you can't make anything that crispy without some form of grains or corn.
Nonetheless, it turned out that this place was worth the cheat because we ended up eating up our savory waffles with gusto. Nothing was left on our plates.
We also ordered a brownie waffle for dessert, which turned out to be brownie materials made as a waffle with chocolate ice cream, nougat, chocolate sauce, blueberries, and strawberries. I didn't modify the order since I figured that they knew which flavors were best (though I would have preferred vanilla ice cream instead of chocolate ice cream).
In any case, we also ate up the dessert waffles as we enjoyed that as well.
Indeed, Julie finally got her waffle fix that she had been waiting all trip long for, and it took this meal on the last full day of our trip for that to happen. It must have been an orgasmic experience for her given all the disappointments that she had to endure to this point (especially in Copenhagen when the waffle place stopped doing gluten-free waffles).
We certainly thought this was the best meal of the trip, and if this was the last time we were eating out on this trip, it was quite the doozy.
By about 3:05pm, we were done eating and started to walk off the meal back towards the Skanstull station.
By about 3:20pm, we finally were back on the station, paid another 90 SEK for the tickets, and then rode the trains back to Slussen and then Gamlastan.
Once we got out of the Gamla Stan, we then walked right up through the main square (Stortorget), and then finally to the Kungligaslot, where we paid for admission as well as leaving our stuff in the locker.
We only had until 5pm to complete our visit, and it was already 3:35pm. We had to make sure we finished our visit before closing time or else our stuffs would be stuck in the locker and we wouldn't get them out!
So onwards we went as we started with the Treasury, which was a very short visit. No photos were allowed in there, but we did witness a bunch of blinged out trinkets and crowns.
Then, we went straight up to the Royal Apartments, which started with the State Rooms. The lady who checked for tickets gave Tahia a pamphlet to look for animals during our visit. The hint she gave was that the swan was in the current room.
And so began the scavenger hunt that Tahia and I engaged in while Julie was paying attention to the residences and imagining what royal life must have been like (much like the other palaces and castles that she enjoyed visiting throughout Europe).
While the rooms were pretty impressive, I think I occupied most of my time by helping Tahia out looking for the animals.
We wound up finding all three animals in the State Rooms, and then we found all the animals in the Guest Apartments.
But when we got to the State Apartments, it seemed like we weren't very successful as we only managed to find 3 out of 7.
When we got to the Bernadotte Apartments, we managed to find all but one of the animals.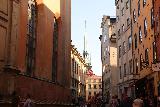 And so in the end, we managed to find 13 out of 18. We weren't going to go back to find the rest as it was getting to closing time.
Finding these animals were quite like looking for a needle in a haystack as some were real tiny and on tapestries or on trimmings or even on objects. They indeed could have been anywhere, but I figured that Tahia had a real strong attention to detail and managed to find some of the stuff that I thought was real hard to find.
By the time we got back to the ticket office, we were the last people to grab our stuff out of the lockers, which we did by around 4:45pm; 15 minutes before closing time.
Finally at 4:50pm, we made it back to our studio apartment. Tahia and I stayed behind so we could pack up, drink water, and get ready to leave tomorrow while Julie went back into town to go grocery shopping for self-cooking for tonight's dinner.
When Julie got back, we just had a simple dinner of curry shrimp and fennel with arugula.
We did entertain going back out to Djurgarden to check out Grona Lund amusement park and spend the rest of our Swedish kroner in cash, but the more we thought about it, the more we realized that it would cost us 360 SEK on admission, another 390 SEK on a 20-ticket ride coupon (probably good for only 2 rides since the good roller coasters cost 3 tickets per person each ride), and we would have the long walk or have to drive and park.
Then, we had to deal with the sleep deprivation since it would be another late night out and we'd have to get up early to get to the airport in time to return the car, take the shuttle bus to the airport, get through all the airport formalities, and then finally go home.
So we just took it easy on this night. And any unspent Swedish kroner, we would have to exchange it back to USD and lose out on the exchange rates and commissions.
Regardless, we had spent enough on this trip (one of the most expensive trips we've ever done), and now we were looking forward to going home to try to earn back some of all that money and savings that we've definitely dipped into.
Still, I know when we look back on this epic trip, we're going to look at it fondly. Once again, we learned a lot on this journey, dealt with the bad weather or non-ideal weather, corrected a lot of the mistakes from our first trip in Norway, and we have loads of content to sort through to put on the website.
In short, it's going to be even busier when we get back at home, but this is a good kind of problem to have.
And we'll have to look forward to the next trip to live life to its fullest within our means…
Day 52 (August 3, 2019 – Los Angeles, California, USA): "Expensive Repellent"
It was about 4am when I awoke to my alarm. Lookout outside the window of the quiet Gamla Stan apartment, it was still a little dark outside.
But with everyone looking forward to going home, Julie and Tahia each had no problem waking up to their respective alarms at 4:30am.
We each had quick pre-cooked breakfast of eggs, some fruit, cod liver oil shots, and trying to drink up the rest of our water and almond milk (which Julie decided not to use to make crepe so it fell on me to finish it).
By about 5:15am, I had already went to retrieve the parked car from Ridderholmen and had parked in front of the apartment so we could load it up.
Shortly thereafter, we then checked out and slowly drove out to Arlanda Airport. The GPS had its own idea about getting out of the city center of Stockholm, but seeing signs clearly marking the route to the E4 and E20, I followed the signs instead.
We eventually got to the freeway and it was all smooth sailing to the airport as it was clearly signposted. Along the way, we made sure to fill up at a Circle K, which were actually quite abundant.
And by around 6:30am, we arrived at the Hertz rental car return, which was quite busy.
By the time we got all the stuff out of the car and left the keys on the dashboard, we then quickly caught a packed shuttle bus where the doors barely closed around me as I was the last one to get on (not easy with two heavy pieces of luggage).
Once we got to the airport at Terminal 5, we then did a lot of histrionics involving self-service checking in. Fortunately, the airport provided scales so we could ensure that none of the checked bags were overweight.
It turned out that we had to do a little rearanging to ensure that each of the big luggages were 23kg or less. The rest would have to go on the carry on.
So far so good as we got our boarding passes, exchanged Swedish kroner back to USD, and then went to security.
The only thing that was a bummer was that the insect repellent that was in our liquid bag was apparently a little too big for carry on. So we had to toss it.
That ended up being some pretty expensive natural bug repellent. I guess we should have packed that repellent in our checked luggage in hindsight.
Woulda, coulda, shoulda.
By about 7:25am, we were through security, and we pretty much had the next 2.5 hours to dilly dally around in the shops. The gate that we were at only had a single cafe and a toilet. That was not the place to be for that amount of time, especially since there was a passport control right in front of that waiting room.
So we decided to linger out at the bigger duty free area, where I could plug the laptop into a socket and get working.
Meanwhile, Julie and Tahia were out and about shopping. It was about 7:50am when we were on our own. We agreed that by 9am, we would meet up again and then go through passport control.
The rest of the airport formalities pretty much went without incident aside from a slight boarding delay.
Eventually, the long haul direct flight also went fairly smoothly though there was some pretty extensive turbulence as we were flying through most of Canada and then when we were about to land.
During that time, I had been fighting a headache ever since I was busy trying to finish picking photos for the blog from this trip while on the plane.
I then indulged Tahia with some of the airplane games that were on the entertainment system from playing fruit popping games to trying to compete with a chess genius, where we only got up to a 7 1/2 year-old version of him before he was proving to be too good for us.
It was good quality time with Tahia, especially since we had an entire row to ourselves (the plane wasn't fully populated).
When we got dropped off from LAX to Uber (the Global Entry thing really made things smooth) by 1:35pm, we ultimately made it back home at 3:05pm after a brief lunch since Julie had a craving for brisket.
Aside from having to reset the internet router at home as well as a scary incident where I thought I had lost two external hard drives (something always seems to act up when we get home as well as the expected jetlag), at least the cars started and we were on the road to normalcy…
Visitor Comments:
Got something you'd like to share or say to keep the conversation going? Feel free to leave a comment below...
No users have replied to the content on this page